Happy Sunday Funday! Last week I met Eileen Myles and Nicki Minaj's new album leaked and I bought Drake tickets. I'm kind of sad this week is ending, actually. But maybe this next one will be even better! Maybe I will spend it celebrating the week that just passed.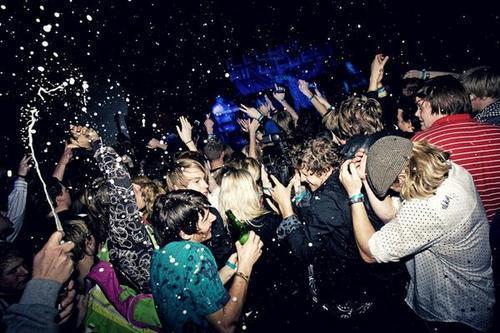 This week is starting off with LGBT history, health, and Huckabees.
Please Look at the Heroes Gallery
The Advocate has existed now for 45 years, and what better way to celebrate than honoring 45 LGBT figures? as it stands, some of our favorite team players are now getting homaged, including the one and only Ellen,  Billie Jean King, Rosie, Tammy Baldwin and a bunch of other fine ladies.
Chicago Cares About LGBT Health
The Chicago Department of Public Health yesterday announced the launch of an action plan to improve the overall health of the city's queers.
Highlights include promoting the collection of sexual orientation data in medical records, encouraging LGBT health information and research efforts within the medical community, making known resources for reporting violence and reducing violence, cultural competency training, and more inclusion of LGBT people in health programs.
Mike Huckabee Says Something About Bullying, It's Kind Of Sort Of Cool
Mike Huckabee surprised a lot of people this week when he urged viewers of his FOX television program to see Bully:
The Bully documentary has a top Republican supporter with Mike Huckabee using his television show and an op-ed to call on everyone to see it regardless of their political party. 
"I hope that there will be lines around the block and down the street," he wrote in The Daily Beast. 
Huckabee called the movie "life-changing" on his Fox News television show during an interview with director Lee Hirsch, and he promised to do everything he can to get people to theaters after seeing the stories of the bullying victims and being "profoundly moved by their plight." 
Britain's Gay Marriage Push
Prime Minister David Cameron and a Conservative-led coalition (in the UK the Conservatives appear to have working minds) are embarking on a mission to grant gays the right to marry in Great Britain. Gay couples there are free to seek civil partnerships, but not marriages.
Carson Daly Apologizes
Carson Daly apologized Wednesday for offending all of the gays on his show with a weird, lame homophobic joke:
"This morning on my radio show I attempted to make fun of myself & offended others by mistake. I sincerely apologize," Daly tweeted Wednesday.
In addition to the tweet, the "Voice" host released a statement, saying, "We live in a time where gay, lesbian, bisexual and transgender individuals find courage every day to overcome adversity, stand up to bullying and find equality. I'm truly saddened that my words today suggested otherwise."
A HIPPO
This hippo was brought to you by me reading Jezebel.