feature image via artactivistnia.com, photo by Sunshine Velasco
In her interview with Nia King, author of Queer and Trans Artists of Color: Volume Two, scholar and activist Lexi Adsit notes that the most important thing about her work is that "we trans women of color are taking over the world. Yeah, I think that's about it." Nothing proves her more right than the volume in which her words appear.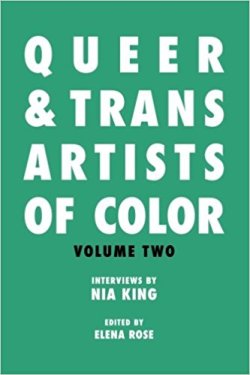 Queer and Trans Artists of Color: Volume Two, with interviews by King and edited by Elena Rose, is a collection of 16 interviews with queer and trans artists of color that inspire, empower and give an intimate glance into the creative process of some of the most interesting artists in the world.
Like its predecessor Queer and Trans Artists of Color: Stories of Some of Our Lives, Volume Two is a collection of transcripts from King's podcast We Want the Airwaves. Here, she curates a body of work that is as diverse in creative media as it is in artists' backgrounds. On one page, King holds an intimate discussion with Amir Rabiyah about ethnic identity as second-and third-generation kids; on another, Dr. micha cardenas discusses electronic civil disobedience and embodiment in the early days of the internet; on another, Grace Rosario Perkins explores language, identity and intergenerational understanding. The impact is both inspiration and reminder: there are as many ways to be an artist as there are ways to be people. And as Ajuan Mance notes, both can be foundational: "I always say there are two things I have been my whole life — one is Black, and the other is an artist."
While the volume's cohort and creative body of work are tremendously diverse, common threads run through. How can people with multiple marginalizations navigate the academy or the art world? How can artists — particularly trans and two-spirit — use monstrosity and myth as inspiration? What is the frank role of dis/ability in the creative process? And what conversations can we have about successes and shortcomings in the lives of people who make a living off their art?
Sometimes, these conversations take the form of strategy, as when Vivek Shraya recounts the decision to self-publish:
"I ended up publishing the book on my own, and four months later, I started getting rejection letters. What was amazing was that by then I had already done a Canadian tour, the book was being taught in universities, and I thought to myself, 'Wow, if I had waited for an institution to fund this project, none of these wonderful things would have happened.' For me, God Loves Hair has been a testament to really believing in yourself."
While sometimes, they're more abstract, as when Indira Allegra discusses the relationship between textiles and police violence, as well as narrative:
"I think of weaving in the same way I think about editing video or writing. We're laying in lines of narrative, laying in lines of meaning, whether that's working between footage and audio, and weaving that digital information — clipping footage in one place, altering the color and putting that clip over in another place — or I'm writing a poem and stacking up lines or stanzas, or I'm actually weaving threads on the floor loom."
Some interviews also stand out more than others. In Rose's interview with King, she explores her "sermons in disguise," how "monstrosity" as a category excuses violence against marginalized people, her empowering take on trans women's frequent affair with folkloric symbolism, and finally meditates on the development of identity alongside dis/ability. Rose remarks:
"This is a woman's body and a lot of people have tried to claim ownership over it, a lot of people have tried to kick me out of it, and I've held on. You can chase me with as many torches and pitchforks as you like, but as a monster I come from a lineage of Might. This is not just something to be ashamed of, this isn't just something to be frightened of, this isn't a source of internalized disgust, it's a source of community, and it's a source of power, and if you're going to treat me like a fearsome thing then maybe you should actually be scared."
Equally fascinating are Allegra's interview; Tina Takemoto's exploration of queer life in Japanese American incarceration camps and creative engagement with an archive; and Mance's deliberation on the expectations and reality of Black women's literature, the "African diasporic aesthetics of excess" and being stuck between the responsibility to create honest critical work and feelings of betrayal in creating less-than-noble representation. Every artist stands out as exceptional in their field. Volume Two is best experienced with an open laptop, so you can look up every artist as you go, and is a reading list in itself: an invocation to research the work of and to support the queer and trans artists who are creating and changing the world.
For all its worth, at times Volume Two can feel challenging and even frustrating. The absence of many brilliant creators — those geographically unable to attend Bay Area interviews — feels notable. Many of those who are included overwhelmingly reside in academia, and at times their interviews can feel inaccessible to those without a related degree. King writes, "While I appreciate how thoughtful the academics I've interviewed are with their words, I did worry that perhaps the second book lacks some of the urgency or honesty of the first book. I think [volume one] was a little more raw in terms of people speaking from the heart and 'telling it how it is' without worrying if their ideas were articulated in the most polished way." In the end the best way to consider each volume is together: the second is less powerful when divorced from the interviews in the first, while the first feels lacking without its accompaniment. Each text is stronger when considered as part of a whole.
But even with its shortcomings, the work in Queer and Trans Artists of Color: Volume Two is now more important than ever. It is critical that we celebrate and support the creative resistance of queer and trans artists of color. Read and buy this book and its companion to enrich your furious creative resister soul. Do it to materially support the artists who need it most. Mostly, do it because this collection is phenomenal. It's the exact book you need to be reading today.