"When you read the words that call your bluff, everything changes." That's how Hannah Paasch explains the power of discovering your Enneagram type. In Paasch's new book Millenneagram: The Enneagram Guide For Discovering Your Truest, Baddest Self, the self-described "mob boss of misfit queers" delves deep into this "personality typology" and explains why we might consider caring about it in 2019 while the world seems on the verge of burning down.
Queer people love taxonomies. We love astrology and Harry Potter houses and magnificent, evolving systems of language. Maybe it's because dominant culture has shoved us into and thrown us out of so many boxes that we decided to grab the reins and categorize ourselves on our own terms.
The Enneagram, which sorts people into nine main "types" numbered one through nine, has experienced a surge of popularity in the last few years. Philosopher Oscar Ichazo created and first taught the system in the 1960s; he incorporated influences from numerous spiritual and intellectual traditions. Paasch studied Ichazo's work and many others who have written and studied the Enneagram before writing her own book on the subject.
Paasch said the Enneagram, which she has studied for 11 years, has accompanied her through different phases of her own spiritual journey and helped her emerge on the other side of toxic fundamentalism.
"Coming out of the trauma of fundamentalism, there are so many things about me that I was never given language for, and sexuality and gender are at the top of that list. It's like going through a second adolescence, and I have an opportunity and responsibility to re-parent myself," Paasch said. "I write about the survival stories that get us this far. There's no use in shaming [ourselves] for those things but being aware of them is essential to writing more life giving chapters."
Paasch sees the nine types as illuminating nine different ways that we are not present in our own lives, ways in which we fail to see our own stories clearly. By reengaging with ourselves, it's possible to chart a path "toward being vulnerable in the most important relationship which is with the self. I have to see myself and offer myself the love and connection that I need so that I'm not projecting those needs onto other people," Paasch said.
Millenneagram — the book, the podcast, and the viral hashtag — is about interpreting the test for all types of misfits so we can arm ourselves with the well-being we need to fight the battles we care about most.
"I am passionate about helping my fellow queers, fellow activists, and fellow folks on the margins harness tools of growth and self integration in order to effectively do activist work, to engage with the terrifying world that we live in today."
Paasch refashioned the traditional language of the Enneagram to make it feel more relevant to a younger, contemporary audience. Even the types have new names. The One, typically called the perfectionist or reformer, becomes The Machine. The Eight, usually referred to as the challenger or the boss, becomes The Dragon. The updated names are just the start of a totally new perspective on the Enneagram. Paasch writes like she tweets, with brash phrasing, abundant pet names for every type, and a lot of four-letter words. When explaining how you can use the Enneagram to become aware of the "puppet strings" of the ego and use them to find your better self, she writes "You're nobody's Pinocchio, bitch. You're a real boy (or girl or nonbinary human) now."
Reading Millenneagram is kind of like getting a pep talk from your smartest friend about how you deserve to be happy, but it's also your own damn job to get yourself there. There are all sorts of quizzes you can take to help you figure out your type, but Paasch encourages readers to discern their own type by seeing which one truly resonates with their understanding of themselves. Your type is the one that "runs away with your purse." Because the Enneagram is more about understanding motivations, ego, and passion than outward behavior, neither a quiz nor another person can type you with any certainty. You can start with discerning whether you identify most with the Intuitive Triad, Feeling Triad, or Thinking Triad.
Beyond the broad traits of the number, each number has wings (the numbers on either side of it), the passions that tempt it, the "survival story" that helps explain the places of scarcity and fear that drive it, the ways stress and health impact the number, and more. I can't explain the whole system in a book review but I will tell you that the book explains it incredibly well!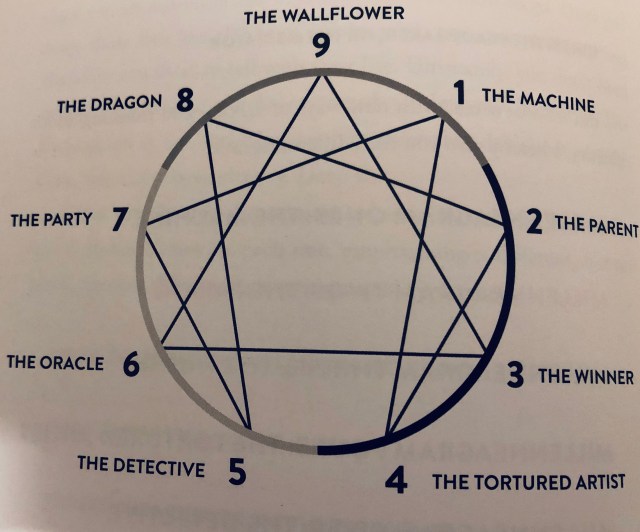 Millenneagram came into the world through a fluke: an editor at Harper Collins Publishers attempted to order a Millenneagram mug from Paasch's website, something went wrong with the shipping, and in the midst of trying to resolve the issue the editor asked if Paasch would be interested in writing a book. It's not the kind of thing you can plan for, but it wouldn't have been possible without Paasch's dedication to studying the system and her effort to keep putting creative Tweets and content out about it — driven, she says, by her Four number, the "Tortured Artist."
I'm not saying you'll get a book deal if you find out your Enneagram type, but it might just lead you to something great, something exactly and truly you.