I was running late, as usual, through New York's baking streets. Once I got in through the locked doors and sign-in process that I couldn't quite figure out because I left my head in the air conditioning of the train, I found myself in a room filled with people trying to sort themselves into corners based on what draws them to another person. I felt weird and sweaty, so I didn't jump in immediately, but I stood closest to intellect, because I can't resist a huge brain. The diverse groups spoke animatedly to one another about why this was their turn-on. When a spokesperson from each group spoke I watched the ASL interpreters gracefully explain what one of the members had suggested as the group's reasoning. It was a magical place where theatre was happening.
Last year I might have been as confused as you probably are about where I was and what I was doing. This year I met Maggie Kennan-Bolger and learned all about devised theatre through Queering History and then The Birds and The Bees: Unabridged. This time she is working with Green Chimneys NYC to present Not Just Another Coming Out Story. She wants to illustrate the lifelong process of coming out and the struggles that don't magically disappear after the first time you come out as an LGBT person. Maggie has gathered the stories that people don't always hear in the traditional coming out tale and is highlighting this in a workshop that features some of the youth from the Green Chimneys NYC program, as well as Broadway professionals.
Green Chimneys NYC is this awesome program that helps LGBT youth, most of whom are/have been homeless or in the foster care system. It helps them get jobs, learn important skills, find community, and a space to survive and hopefully thrive. On this day we were in one of their locations in Manhattan doing an inter-generational workshop. I told my stories of coming out and a kid told me his stories of the school he has to walk into every day and get harassed and beat-up. We talked about moments of revelation and times where we struggled. There were drawings of life-rivers and discussions of masculinity. We suggested themes we wanted to see in a show about coming out. These discussions, as well as thousands of surveys, will miraculously turn into a show with Maggie's genius at the helm.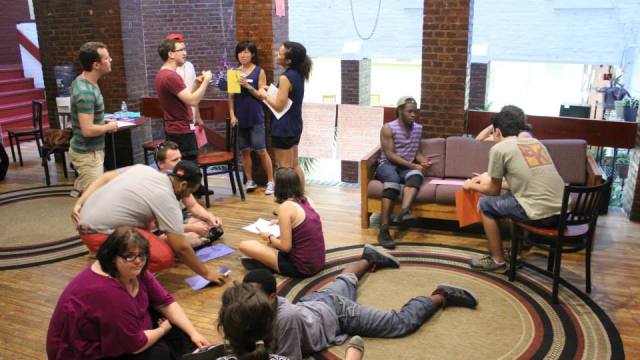 Queering History was a very similar structure as this show, in that it was devised and then read in workshop form by Broadway professionals and several of the youth from Green Chimneys NYC. That show was amazing, so I am sure this one will be of equal quality. If you are in New York I urge you to go see what will inevitably be an important and entertaining piece of theatre.
Not Just Another Coming Out Story
Speyer Hall at University Settlement: 184 Eldridge St. New York, NYTuesday, August 13th @ 8pm
Tickets: $20, discounts available
For tickets, visit the show's website.
For more information, visit the show's Facebook page.