This season's tarotscopes feature The Muse Tarot and the Compendium of Constellations.
Friends, I hope that within Taurus season you were able to find some comfort, some pleasure, some safety and security in spite of the daily stress and anxiety that so many of us are still living with. Our work with the Hierophant urged us to make space for balancing awareness, for honoring our past while sitting fully in our present, for respecting our personal and communal histories even as we establish rituals and daily habits that feel entirely our own. And while it may be tempting to stay in this practical, sensual energy of Taurus, even to pull it forward into this new season, we're moving now into a space of flexibility, discovery, and collaboration. We have a chance here to leave some of that heavy earth energy behind and embrace curiosity, new information, powerful connection. And no matter where you are in your own personal cycle, as a collective we are sharing energy and ideas, finding opportunities to be social, and letting our attention dance between multiple projects. It's time now for a lighter kind of magic.
Our first air season of this new astrological year, Gemini's ability to adapt, to connect, to dazzle, can bring us a new feeling of energy and excitement. It's here that we allow our intellectual selves to really shine, to indulge our curiosity and expand our ideas, our impulses, our instincts. What is capturing your imagination? What thoughts or inspirations or projects keep buzzing around in your mind, demanding your attention? What new dreams are lighting you up? Gemini wants us to gather and share information, to keep pressing and pushing, to let our joy and passion fill us up until we're overflowing with magic. While Aries season helped us establish our goals and create some necessary structures, and Taurus season urged us to slow down and focus on the physical, Gemini demands that we take full advantage of the safe spaces that these previous seasons have established. We can find a new kind of freedom in this season of air, letting our minds expand and create, exploring every new idea and concept with excitement and joy. Now that you have more room, more opportunities, where will you go?
Gemini is so good at finding creative solutions to problems, at figuring out how to share their excitement with others even when they can't occupy the same space. How are you staying connected? What new methods have you found for staying in touch with friends, partners, lovers, communities? How are you flirting, enticing, commanding attention? Take a page from Gemini's book and let your instincts guide you, giving the ideas that pop into your head space to breathe and grow, to evolve, to shift. Nothing is too silly to consider, and sometimes the most powerful new projects begin with the quickest, most fleeting thoughts. How are you adapting to your environments, finding new ways to meet your own needs? Where are you already collaborating, and how can you continue to prioritize your connections? Zoom fatigue is real and loneliness can feel so overwhelming these days, but Gemini's flexible mindset gives us new opportunities to experiment, to get messy, to try something different. What isn't working, and what new ideas do you have to change things up? How can you adapt? Where can you play?
Our archetype for this season is the Lovers, a card of partnership, collaboration, and understanding. We tend to focus on the love part of this card, making it all about romance and long-term relationships, but the Lovers goes beyond traditional ideas of partnership to encompass everything that helps us connect to the people we love — creativity, communication, exploration, collaboration, expansion, even vulnerability. This is a card of harmony, of flow, of loving and being loved. We can find freedom within our most intimate relationships, not only with others but with ourselves — but that freedom only comes when we reveal our full truth, honor every piece of who we are. The Lovers allows us to accept ourselves in all of our facets and nuances, to celebrate the people that we are and the ways that we are evolving, growing, transforming. And when we fully embrace the energy and intention of this card, we can honor our wants and needs without feeling selfish, can make space for our desires without feeling greedy, can recognize just how important our dreams really are and go after them without hesitation. What have you learned to love about yourself? What makes you proud, passionate, joyful? What standards have you set for yourself, and how have they shifted over time? How do you decide what you deserve?
Many of our cards for Gemini season ask us to embrace the heart and soul, to tap into our intuition, to trust our instincts. This is a chance to celebrate our creativity and grant ourselves the freedom to explore, letting our hearts find joy and connection, honoring the desires and cravings of our souls. But for others, this is a time of using Gemini's curiosity to dive inward, to consider what truths we're uncovering, what needs are coming forward. If you find yourself wrestling with grief, with loss, with sadness, make space for those emotions, and honor them. There are opportunities for transformation and awareness here, but it's important to begin by letting ourselves feel what we need to feel, for being gentle and generous with ourselves. Sometimes, freedom is something that we have to accept, to choose, and it may be that you have to leave behind some heavy ideas or narratives before you can allow yourself to soar.
In this season of Gemini, be kind to yourself, and take opportunities to play, to try new things, to consider (or reconsider) any mental boundaries you've set for yourself. Where can you innovate? How can you find new ways to connect to others, to love yourself? What are you feeling drawn towards, and where are you aching to explore something different? Experienced tarot readers or astrologers can plug the cards I've drawn for their sun, moon, and rising signs into the template below to create a custom reading for this season. And if you know your Mercury placement, you can also include that in your reading for a fuller picture of your Gemini season.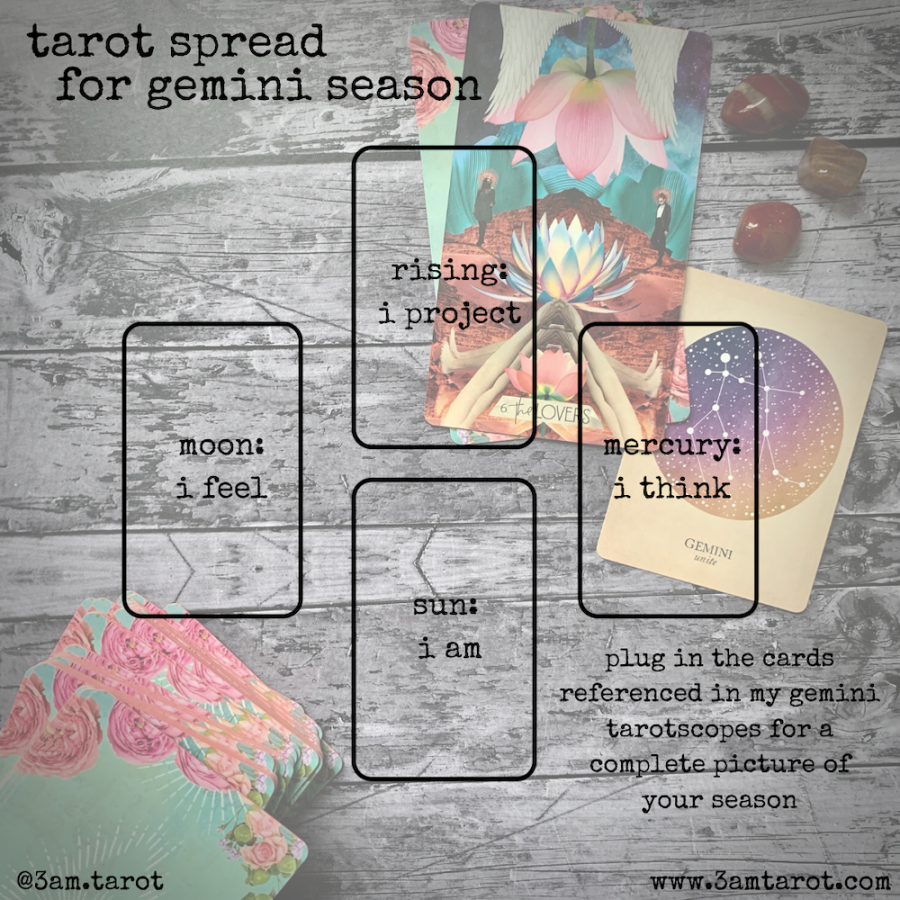 I recently published a piece on working with the combined energies of the Emperor and the Hanged One here on Autostraddle, and also released a new free tarot study for working with specific cards in the major arcana last week. Check out my daily card draws on Instagram, and you can get my latest longform tarot writings delivered straight to your inbox by signing up for my new Substack. I also offer personal, custom readings through my website, along with larger spreads, writings, and two e-books for learning tarot.
As always with these tarot readings, take what you need and leave what you don't. Have a beautiful and safe Gemini season!
Aries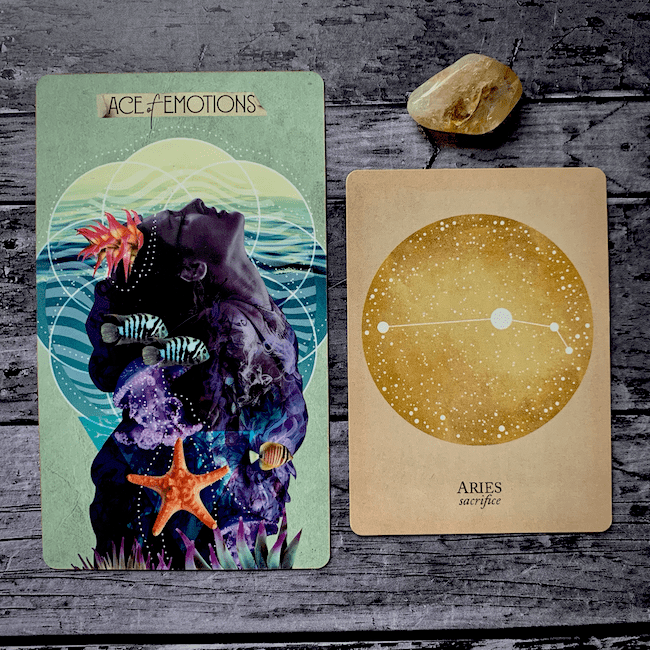 Ace of emotions
You are a powerful creature of fire and passion, of inspiration, of movement — and while you've been taking time to celebrate and reconnect with your communities, you may find yourself experiencing some rich new emotions this season, some surprising personal revelations. A new possibility is opening up before you, offering powerful connection and deep relationships and intuitive magic, but you'll have to step forward to accept it, have to choose this path in order to reap the rewards. How is your view of the world, of your communities, of yourself, changing? What is coming into clearer focus, and what new potential is revealing itself?
Consider any hidden longings that you've been trying to ignore, any new dreams that may make you uncomfortable. How are you suppressing your own desire, and why? Is something within you craving a new kind of friendship, love, connection? The opportunity you're looking for won't come without effort, and may require some deeper work, some vulnerability, in order to manifest fully. Spend time in introspection and consider where your heart is leading you, what is capturing your imagination and filling your fantasies. What are you craving? What do you desire? And how vulnerable are you willing to be in order to find it?
Taurus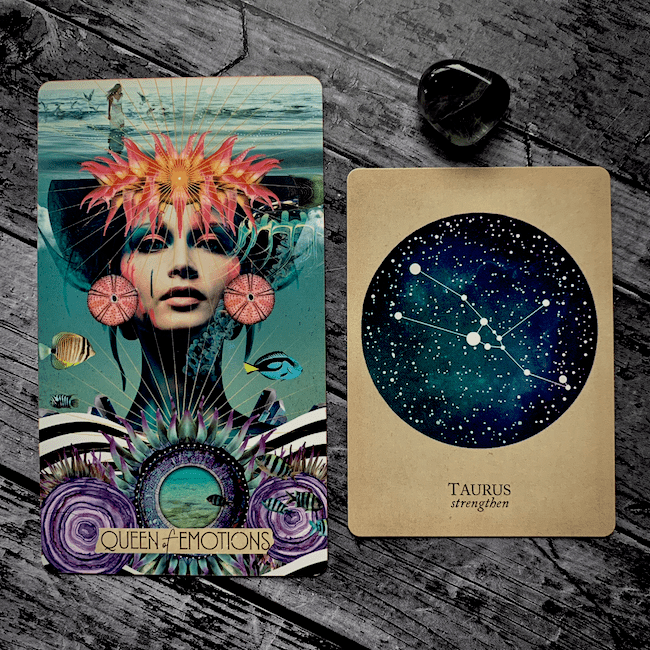 Queen of emotions
As we wrap up your season and move into this airy, adaptable new space, you may find yourself leaning on your intuition a bit more, even forsaking your more sensible, pragmatic mindset for one that centers your heart. How does it feel for you to trust yourself? What do you learn from your emotions, and how do you react when they bubble up? How often do you make space for your intuition to speak, and is it difficult to let your heart call the shots? After your season of practical magic and intentional movement, it may feel like your head is in the clouds, like you're getting lost in your own dreams — but there's magic to be found in the unknown, and if you can give yourself the space to explore, you may learn a lot about yourself this season. Pay attention to the ways that you make decisions right now, and be intentional about listening to that little voice inside of you. Where are you yearning to be creative, to expand, to explore? What connections or communities might bring a new kind of pleasure and satisfaction to your world? What is the universe trying to tell you, and are you willing to listen?
Gemini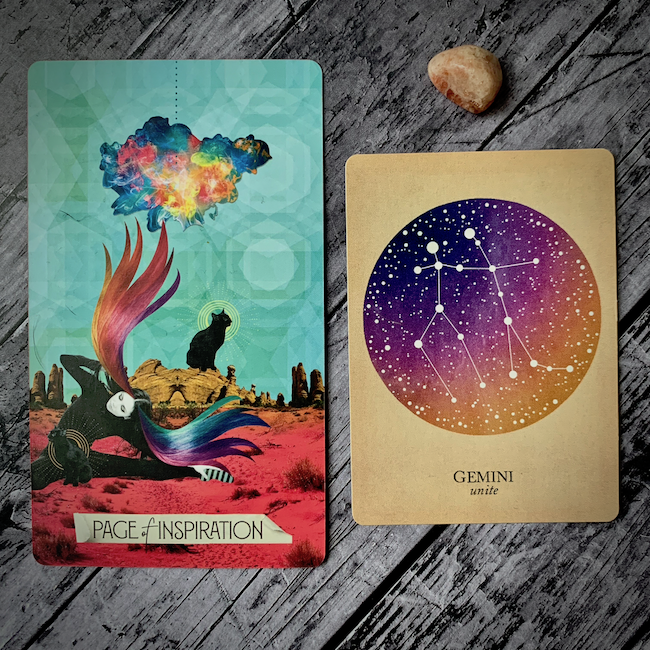 Page of inspiration
Happy birthday, Gemini! After a season of reflection, awareness, and mystery, you may find yourself brimming with ideas and inspiration, eager to charge forward and create something new, something beautiful. There may be a new sense of inspiration and creativity bursting forward, urging you to hit the ground running and explore this feeling of fire and passion, of joy, of enthusiasm. It may feel like you can't stop coming up with ideas this season, filling notebooks with scribbles and constantly moving into new beginnings. And as exciting as that rush can be, don't get so caught up in the magic of creativity that you forget to choose a project and move forward. Beginnings are powerful, but they aren't the only piece that matters. You're a brave soul, someone with the courage to constantly try new things, to learn from your mistakes — but where is all of that potential leading you? What are you circling around? Enjoy the magic, the sense of possibility, and consider where you actually want to go next. Which ideas resonate the most? And how can that help you find a new sense of personal direction?
Cancer
Death
Last season was one of reflection and emotion for you, a chance to look back at where you've been, at who you've become. But this time of Gemini may yank you firmly into the present, forcing you to reckon with what you need to release or say goodbye to. And while this may not be a welcome card to see, this archetype can teach us a lot about what we really need and want, and what has been holding us back.
Death is rarely a card that catches us by surprise, instead indicating a loss that's been a long time coming, something necessary and unavoidable — but that doesn't mean that it's always easy to deal with, and you may find yourself moving through rich, painful grief over the next few weeks. Be gentle with yourself and take the time to mourn, to acknowledge your feelings, to honor any surprising emotions of relief or freedom without judgement. As difficult as this transition may be, it's also a deeply necessary one, and may allow you to make some surprising shifts or begin a new period of growth. What new truths are you discovering about yourself? What else are you being asked to adjust or release? And how does this change help you focus on what truly matters?
Leo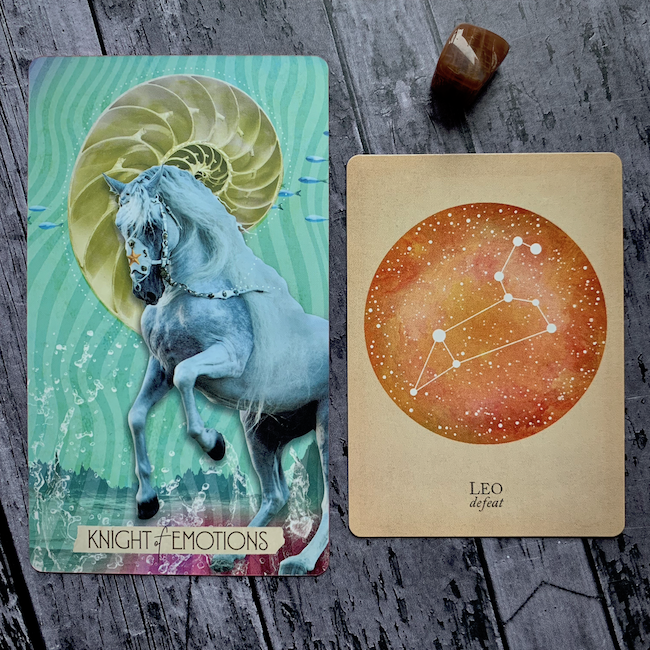 Knight of emotions
With the same card in your readings for both Taurus and Gemini seasons, this pattern indicates that you are moving through a period of intense desire, of powerful attraction, of deep longing. (You may find it helpful to look through the Taurus season reading again, to consider what resonates and what you might have overlooked or avoided.) And while it's possible that you've had romance on the brain, this card can also speak of creative pursuits, of intuitive understandings, of letting the heart lead. What are you feeling drawn to right now? How are you balancing your head and your heart? What desires are coming forward, and how are they shaping your movements?
Consider what you've been dreaming of, what longings are distracting you or filling up your mind and heart each day with new wants — which pieces of that vision are the most clear, the most insistent? Are they fun and silly fantasies, ways to pass the time with pleasure, or are these the kinds of cravings that shake you to your core? Try to slow down and spend some time in real introspection, giving your heart a chance to speak clearly, intentionally listening. Why are you aching for this particular thing, person, situation? What can this longing teach you about yourself? And what are you willing to risk in order to achieve it?
Virgo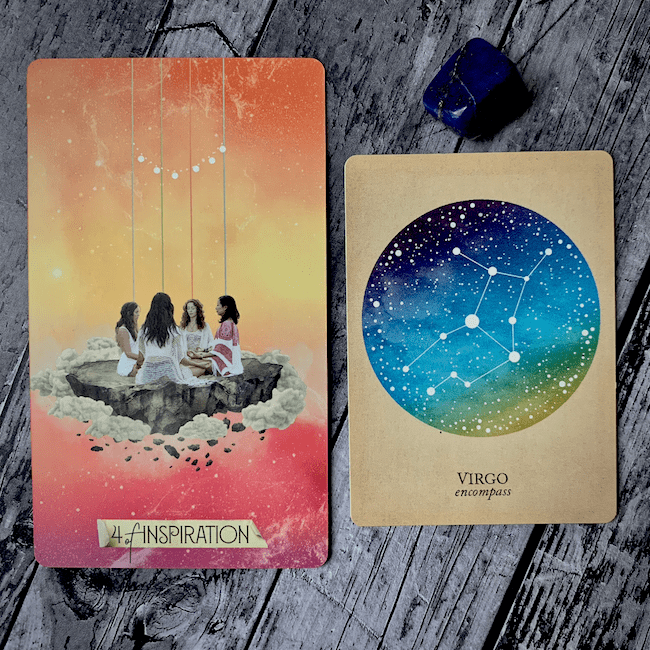 4 of inspiration
After last season's frustrating and scattered energy, you may find yourself with renewed focus and motivation in this time of Gemini. Enjoy the rush of movement, this sense of power and determination and the knowledge that you are doing exactly what you are meant to be doing. If the time feels right for celebration, do it — give yourself an opportunity to breathe, to have a little fun, to loosen up. How is your creativity thriving within the structures that you've established? Where is your imagination leading you, and how does it feel to make space for your natural fire to burn brightly?
While you're so good at creating plans and establishing frameworks, Gemini needs space to fly and explore, to play. Work to balance your sense of organization and desire for perfection with the occasional experiment — it's okay to keep moving even if you don't have a perfectly developed destination, to allow yourself room to expand and evolve along the way. You may have a brilliant plan and be following it closely, but leave yourself room to adapt when needed. If you can be both flexible and focused, things will keep moving in the right direction.
Libra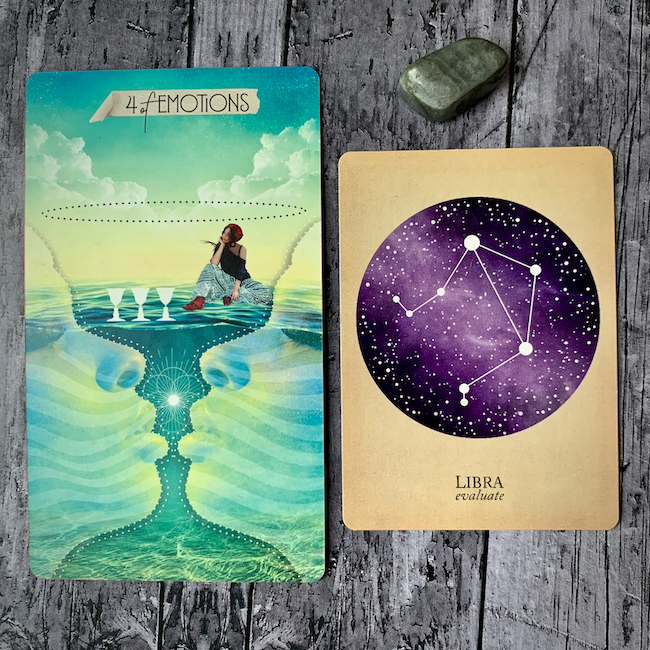 4 of emotions
You've been wrestling with some powerful and perhaps painful truths lately, identifying personal narratives that have been limiting your growth and trying to move in new directions. This kind of work can be difficult, and in all of that internal processing and discovery, you may have (perhaps unintentionally) isolated yourself a bit, cutting yourself off from the communities or relationships that help you keep things in balance. It's also possible that you find yourself a bit bored this season, restless and frustrated with your relationships or communities, with the changes to routine and the ways that you find yourself limited. What's causing this shift? How are you controlling the ways that others can connect with you, reach you? What are you hiding from? Boundaries can be useful, helpful, even necessary — but build those walls too high and you may find yourself cut off in ways that you weren't anticipating, making it difficult to find growth, inspiration, and progress. What emotions are you smothering, and how might reconnecting with those you love help you acknowledge them? What are you really afraid of?
Scorpio
5 of materials
It may have felt lately like you've been in a stable, reliable place — but there may be some shifts on the horizon that leave you feeling a bit bereft, uncertain of what resources you really have, and questioning the things that you thought you knew. And as difficult as that sensation can be, chances are that you have help available to you, if you're not too proud to ask for it. What problems have you been ignoring, and where have you been pushing forward in spite of the warning signs? What can you do to find a sense of security, to get your work and ambitions back on track? What do you really need, and what are you just used to having?
Consider what you may have been avoiding, a conversation or request or necessary shift in daily structures. How are you getting yourself stuck? What's holding you back from making a needed change? What problems have you been obsessing over, and how can you focus on finding solutions instead of feeling sorry for yourself? Don't be afraid to ask for help — sometimes allowing ourselves to be vulnerable can make space for deep, powerful evolution. How can you show yourself some necessary tough love?
Sagittarius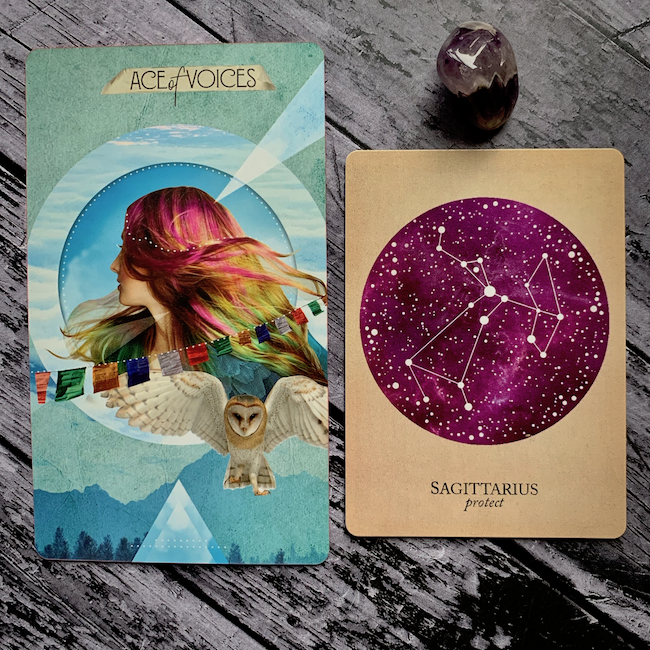 Ace of voices
You've been going through seasons of awareness, of insight, of powerful internal discoveries — and for you, Gemini season will be all about looking deeper into those new truths. What have you been learning? Where have you been putting your energy, your analysis, your ambition? What problems are you solving? What shifts are occurring within you? And what is inspiring your creativity, urging you to dig deeper? It may be tempting to immediately turn any new ideas into actions, to dive straight into the fiery and exciting process of creation and manifestation, but give your mind time to explore and expand, to look at the world through fresh eyes and see how your ideas evolve. There's a powerful opportunity here to let your perspective shift, and you may feel things clicking into place if you're willing to stand still for a time, as frustrating as that may be for you. How is your mind adapting to the challenges that you've been facing? What new truths are being revealed? And are you brave enough to see where those revelations may lead you?
Capricorn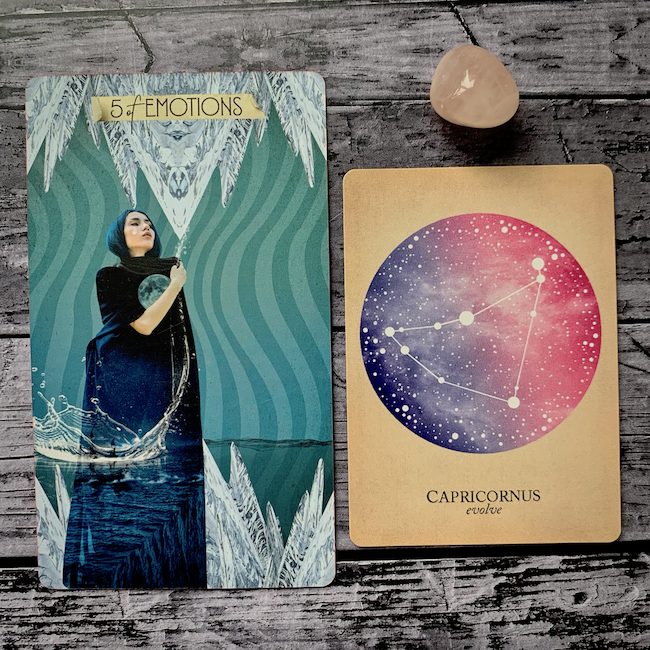 5 of emotions
You may find yourself dealing with feelings of loss, frustration, or sadness during this season, having to let go of a dream or idea or promise that has come to mean a lot to you. It's not always easy for you to give yourself permission to feel deeply, to be disappointed or upset, so be gentle with yourself, and take space to let your emotions breathe and settle. Loss is real, and trying to brush past it won't do you any favors in the long run, so take the time to cry, to yell, to vent to friends, and honor the feelings that you have.
When you're ready to see the good, you may find that there is still much to celebrate, and that there may even be some new possibilities that you hadn't noticed before — but don't push yourself to move until you're ready, until you've taken space for processing and healing. You don't have to be poised and perfect all the time — sometimes you need to let loose, to make space for your emotions even when they're messy, ugly, all-consuming. There is power in release, and you may find real healing in accepting what you feel. What are you learning about yourself through this process? Where may your dreams or desires need to shift or evolve in order to come true? And how can you carry this new wisdom forward?
Aquarius
Page of voices
Last season, you found ways to set some important and necessary mental boundaries, giving yourself space to rest and process, to heal, to recover. But after that time of quiet awareness, Gemini season will descend like a whirlwind, bringing new ideas, inspiration, and insights. You may find yourself buzzing with energy, craving innovation and change and endless possibilities. Don't completely abandon the boundaries that you so carefully created last season, but do let your instincts guide you, chasing the truth you've been after, giving your mind the space to explore and expand as needed. If you find yourself craving a new path forward, or wanting to try something a bit off-the-wall, go for it, and enjoy living in the moment instead of always thinking ten steps ahead. This season you have a chance to find power and magic and stimulation in experimentation, in leaving behind old assumptions or patterns and embracing a new sense of intellectual freedom. Where is your mind leading you? What feels exciting? And where might your curiosity open up new doors for your future?
Pisces
2 of inspiration
The emotional journey that you may have started recently might find new power and promise in the coming weeks, as you feel a sense of excitement and magic building. What connections have you made, and how is your heart making space for new inspiration, new creative manifestation, new opportunities? What feels possible, and what feels inevitable? You may generally prefer to stay in a space of dreaming and imagination, to let your heart call the shots and trust your intuition fully, but this season you might find yourself needing to make some important, concrete decisions that will shape your path forward. Give your instincts an opportunity to speak, trusting your gut and enjoying the rush of anticipation and excitement that keeps developing within you. There are plenty of good options ahead, so choose the path that attracts you the most, that feels the most ripe for possibility. What do you want to create, to build, to become? How can you best use your natural magic? And what choices can you make that will allow you even more creative freedom?