This season's tarotscopes feature The Muse Tarot and The Spacious Tarot Expansion Pack.
Pisces has a reputation for being dreamy, artistic, and sensitive — and as the final sign in the zodiac, it's true that Pisces' mutable water gives this sign the ability to feel deeply, empathize generously, and connect fully. Mutable signs come at the end of each season and are known for flexibility and adaptation, an ability to bring a fresh perspective to situations. As a water sign, Pisces can be more vulnerable to heavy emotions, but also has a seemingly bottomless capacity for exploration and discovery, a willingness to sift through mystery and find diamonds in the rough. And whether or not you have any personal planets in this sign, Pisces can teach every one of us more about sitting in the strange, the magical, the unclear, and letting things slowly come into focus on their own time.
Our birth card for this season is the Moon, a card of wildness and imagination, one tied to the number nine (card 18 // 1+8 = 9). The Moon and nine both explore the unknown, but not in a way that demands that it be categorized and understood: instead this is holding space for that which may never be known, which lives in our subconscious, which scatters into shadow when we look at it too closely. We all have strange jewels buried within us, as Elizabeth Gilbert writes, and finding those jewels in unexpected places is part of the wonder of being human. The act of searching is just as important as whatever we may discover, and is a lifelong process — one that cannot be rushed.
Where are you expanding, emerging, exploring? What are you discovering, and how are those discoveries changing you? How are you evolving, and how active are you in that evolutionary process? Change is part of being human, and being willing to be flexible in how we define ourselves, in the stories we tell ourselves about who we are allowed to be, can have a major impact on our ability to grow. Remember that Pisces is the final sign of the zodiac, which may have you feeling reflective or introspective about where you were last year at this time. What ambitions did you set in Aries season of 2022? What has come to fruition? What have you learned about yourself? How have you changed?
In this season of Pisces, make space for your own mysteries, and give yourself opportunities to dream without expectation or limits. Experienced tarot readers or astrologers can plug the cards I've drawn for their sun, moon, and rising signs into the spread below to create a custom reading for this season. Pisces is traditionally ruled by Jupiter, planet of expansion and abundance, but modern astrologers also consider Neptune an additional ruler, planet of inspiration and illusion. If you know your natal placements for these planets, you can include them in your reading for a more complete picture of your Pisces season.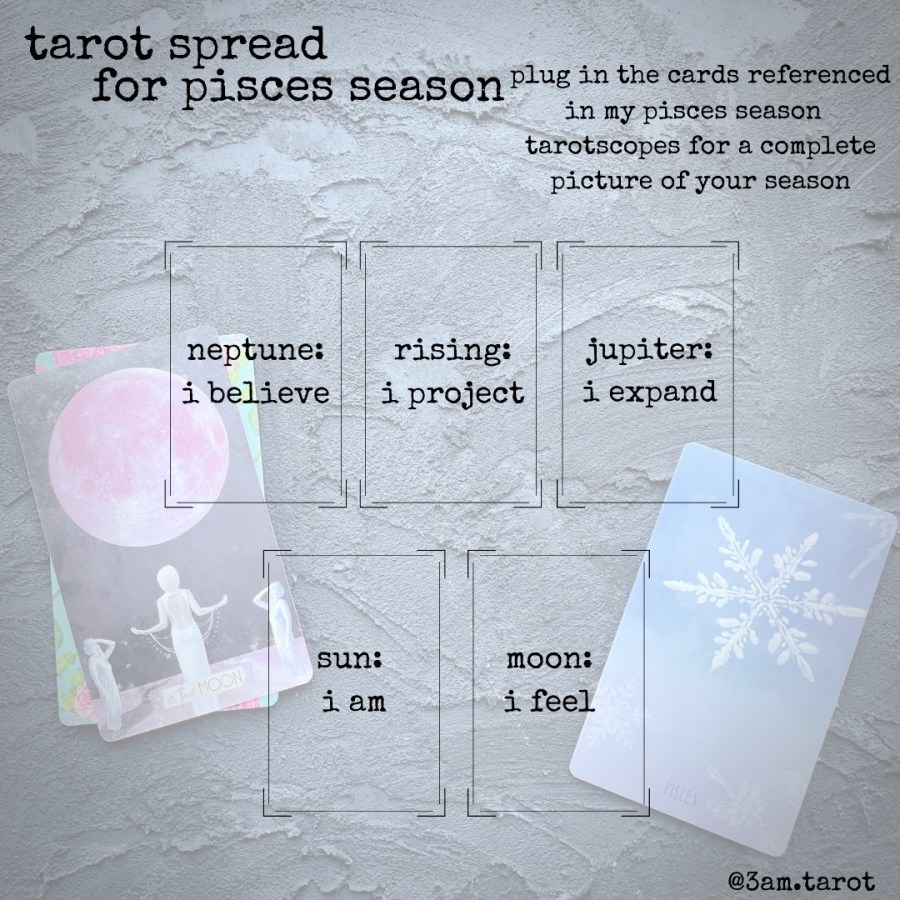 Finding the Fool: A Tarot Journey to Radical Transformation will be in the world in a little over a week! If you haven't already pre-ordered it or requested it from your local library, these are both incredible ways to support debut authors. I'm so proud of this book and I hope you find it useful, supportive, and affirming in your own journey with the cards! The best way to stay up-to-date on my writings, offerings, and latest tarot spreads is by subscribing to my newsletter, Devils & Fools. I'm offering client readings on a limited basis again, as well as some new email courses, and subscribers always get first dibs on these offerings. You can also still find me on Twitter, Instagram, and TikTok.
As always with these tarot readings, take what you need and leave what you don't. Happy Pisces season!
---
Aries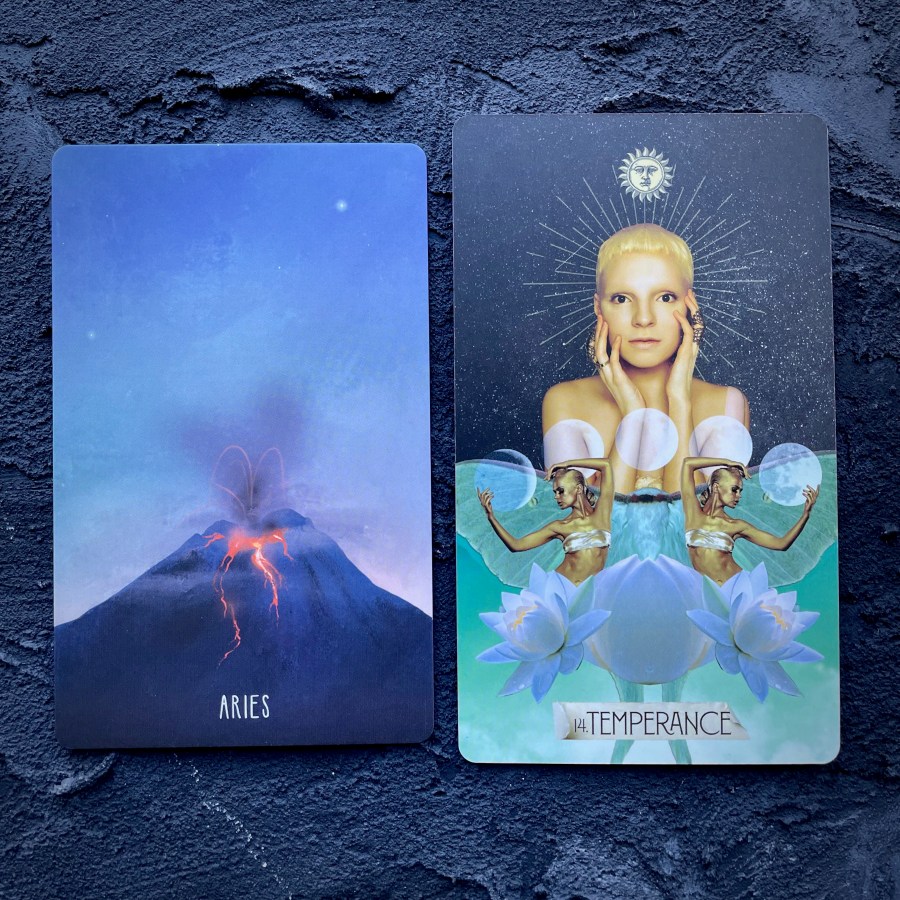 Temperance
You're known for your heat and your sparks, but as we move into this season of dreamy, mutable water, Temperance asks you to slow down, be intentional, and consider the ways that you are integrating your hopes and dreams with your reality. We all have parts of ourselves that we don't understand — but in learning to love those strange pieces, in allowing them to take up space and even have their own demands, we learn more about who we are, and who we want to be. And even more importantly, we learn how those odd pieces fit in with our more conventional ones. What is taking up space in your heart? What have you been learning about yourself through both challenges and victories?
Taurus
The Hierophant
Your steady, solid earth keeps you grounded, responsible, and focused — and your birth card of the Hierophant understands the importance of history and tradition, the ways that what we do in the present helps us more deeply appreciate the past. But it can be easy to get stuck in how things have always been, to forget to make space for expansion and growth when we're busy clinging to the ways that things have always been done. This season, you may receive invitations to explore, to try something different — this is a chance to discover something different, something unexpected. How could play and experimentation help you make meaningful change?
Gemini
9 of voices
Your clever mind and sharp tongue can help you navigate even the stickiest of situations, and this season, you may find that you're so comfortable in a particular mindset that you find it strangely difficult to see beyond those thought patterns and internal narratives. But you're more flexible than most, and have the capacity to ask important questions, to adapt to your surroundings, to breathe into struggles rather than being suffocated by them. Where have you been limiting your own perspective, and how can you give yourself opportunities to learn? What idea might have reached its natural conclusion, and be pointing you to something new?
Cancer
The World Cosmos
It's hard to know when things are really finished, isn't it? Not every story has a neat ending, a tidy conclusion — yet there are times when we feel ourselves settling into contentment, acknowledging an ending, celebrating our accomplishments. This season, give yourself permission to take pride in how far you've come, to honor the journey that you've been on. Even if you still think that you have lots to do and many more tasks to complete, reflect on where you've come from, and how much you've changed in the last month, year, decade. What do you love about yourself? And how hard did you have to work to become this person?
Leo
7 of materials
This is a season for devotion, for tending your efforts, for paying attention to what you care about and how that thing anchors and stabilizes you. Leo gets a lot of shit for craving the spotlight, but everyone longs for recognition in one way or another — and this season, consider the road you're on, and where it's taking you. How are you tending your own garden, and what is growing? Are the seeds that you planted becoming what you intended? If you find yourself off-course, give yourself permission to make adjustments rather than forcing yourself to pretend you want something other than what you set out to achieve. What are you making, and how does it measure up to your dreams?
Virgo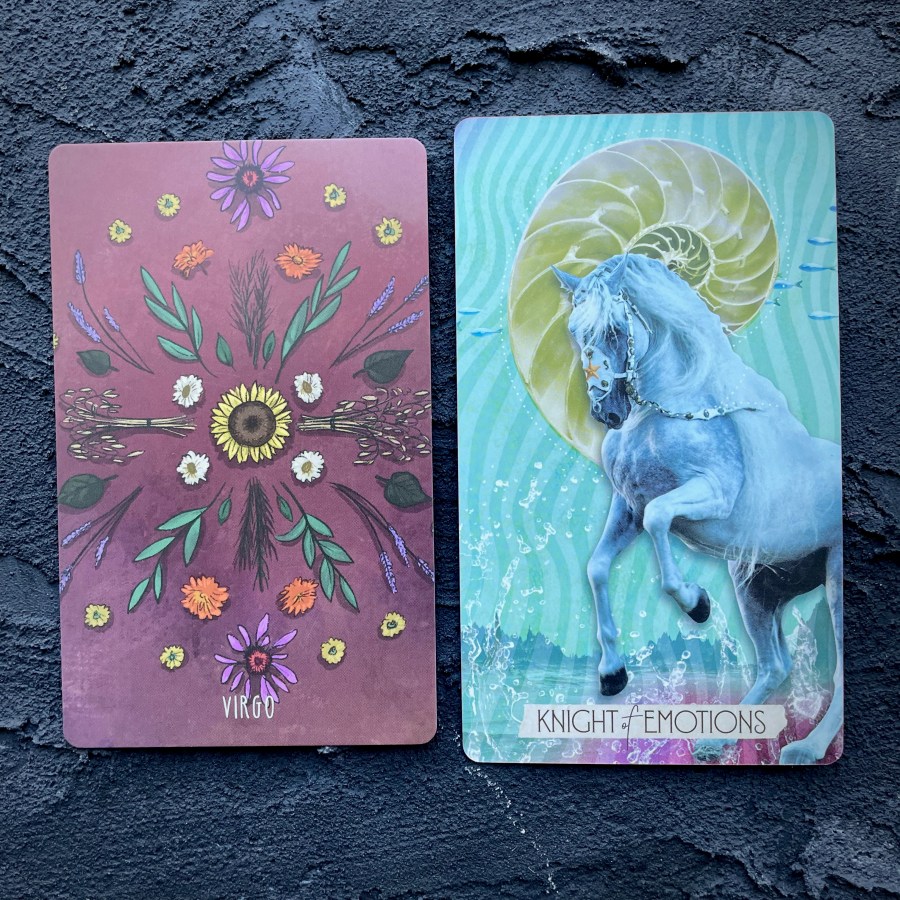 Knight of emotions
Sometimes it's fun to play the white knight: to be the savior, to be the one others turn to for support and care, to know how to fix challenges and lift people up. But other times, it can be exhausting to have stay optimistic, to feel like every problem is yours alone to solve. In this season of mutable water, consider the ways that you show yourself love, that you save yourself instead of always putting your energy into others. What would it look like to romance yourself, to fall in love with yourself? How can the knight of emotions teach you about honoring your own desires, instead of always putting other people first?
Libra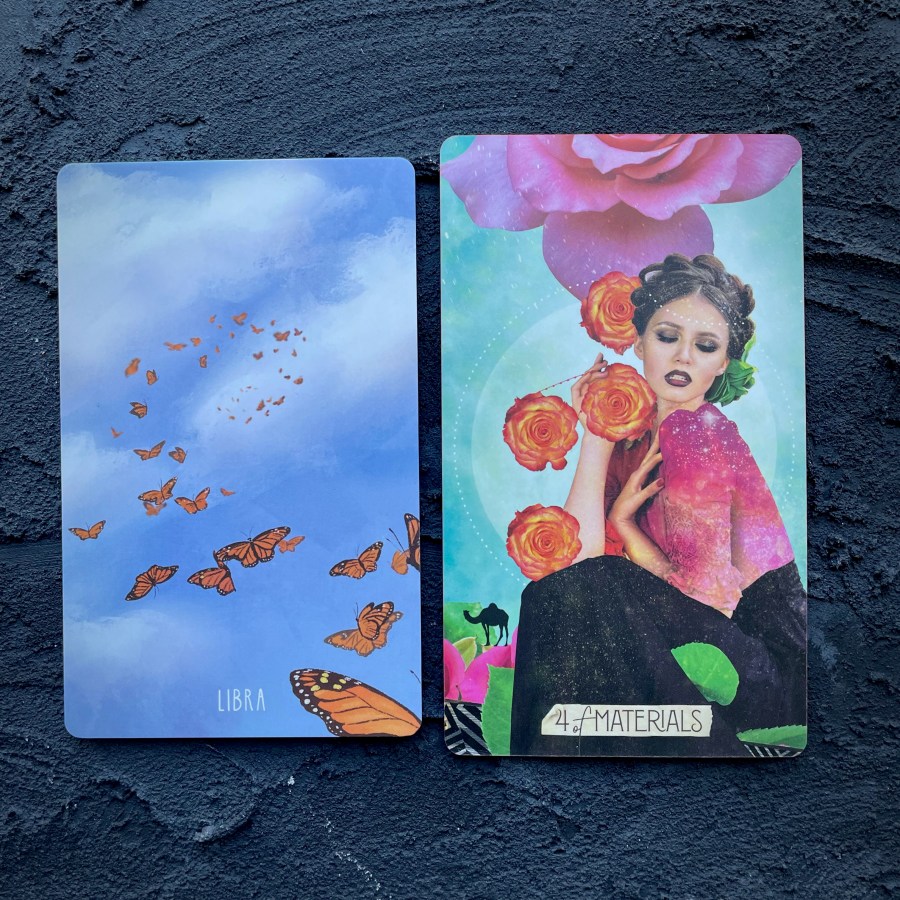 4 of materials
Sometimes when things feel challenging, scary, or even just uncertain, we cling to what we have even more tightly, afraid to let it out of our sight for a moment. But there's a difference between setting healthy boundaries around our resources and refusing to share anything, and it takes wisdom, clarity, and humility to recognize the difference. This season may bring opportunities to grow what you have, to share and receive in equal measure — but that requires a light, loose grip, rather than locking things away. How do you balance generosity with protection? What does it look like to be honest about what you need, instead of worrying about what you have?
Scorpio
Knight of materials
Remember MapQuest? We would print out instructions and then follow them as closely as possibly, calculating miles and hoping that we wouldn't miss a turn — because any errors meant that we'd be stuck, uncertain of where to go next unless we could figure it out on our own. The knight of materials can be like this, setting a course in advance and then feeling unable to deviate from it in any way. But as you move into Pisces season, remember that you have the power to be flexible, to look up from your printed instructions, to adapt as needed if the path doesn't follow the course you expected. Where are you being stubborn around a long-term goal?
Sagittarius
Death
We have the chance to make a lot of choices in our lives, to decide who we want to be and where we want to go and how we want to spend our time. But sometimes, things end no matter how hard we may fight to keep them — and the wisdom lies in recognizing when something has reached its natural conclusion, in allowing something to finish with dignity rather than keeping it around past its expiration date. It's okay to grieve when something ends, rather than pushing to find that sunny optimism you're so famous for. But it's also okay to be relieved, even to feel a sense of pride in something something through to its finale. What are you ready to release? What does this ending make room for?
Capricorn
The Fool
It's easy to get so caught up in what we should do that we can sometimes lose sight of what we actually want to do. And wanting is not bad — it's beautiful! Wanting something can help us recognize what we value, what we need, what helps us to feel wholly and truly ourselves. This season, give yourself some space to dream and play, to wonder and wander, to consider where you would go if all constraints were lifted and you were completely free to do as you please. What craving is beginning to reveal itself? What keeps popping into your imagination? And what would it look like to let that fantasy become reality?
Aquarius
The Wheel
We all go through patterns and cycles in our lives, but this season, you may be more aware of the Wheel's turns than usual. Call it luck, call it destiny, or call it something completely different, but there are certain things that are within our control, and certain other things that will always be larger than us. Pisces is about dreaming and compassion and mystery, but it also gives us room to surrender to all that we cannot change — and as we shift from your season into this new one, give yourself permission to release the things you truly cannot control. What does it feel like to be at the mercy of the universe? Which patterns do you relish, and what do you learn from them?
Pisces
Ace of voices
Happy birthday, Pisces! While your season may be known for dreamy water and deep intuition, the ace of voices serves as a reminder that you possess a sharp mind, one capable of powerful observations and rich, necessary insights. Whether it's a new idea or an important realization, you may find some of your perceptions shifting this season, helping you hone in on something you want to pursue, need to understand, or hope to accomplish. Pay attention to your surroundings, relationships, and decisions this season, and give yourself space to look at things from unexpected, even strange perspectives. What do you see when you keep your mind completely open? What is changing, and what might that mean for the ways you move through the world?