Honestly, in the past when I've thought about Cleveland, what came to mind is the fact that people think Liz Lemon is a supermodel there. (She is a supermodel, duh). But when I went to Cleveland with a group of other journalists to learn more about the Gay Games, which Cleveland will host this year, I got to do and see so much more. I really enjoyed myself in the Cleve! Which is such a good thing, because that's where the Gay Games are gonna be come August (well, Cleveland and Akron)!
Positively Cleveland and the Gay Games invited Autostraddle to take a look at their facilities for the games and experience some of food and fun Cleveland has to offer the impending influx of queermos. Here's what we found out:
What Are the Gay Games?
The Gay Games is an amateur sporting event held every four years. It's got thirty six different sporting events, from ballroom dancing to badminton. But it's also got band and choral events and a ton of visual art happening. It's open to all athletes of all skill levels over the age of 18, not just the gay ones. But it's safe to say that this event is largely queerfabulous, with about ten percent of the athletes identifying as allies only. The ninth Gay Games (abbreviated as GG9) will be held in August 9-16, 2014.
And Why Are They in Cleveland?
Much like the Olympics, the Federation of Gay Games selects a location out of the cities that bid for it. Cleveland beat Boston and Washington, D.C. for GG9. Why? They've got first rate facilities and, you guys, they're really into us! Let's obviously talk about the facilities first—both Cleveland and Akron are putting their best foot forward.
The Renaissance Hotel in Downtown Cleveland, the official host hotel, is hosting events like ballroom dancing and darts. For events that need just a touch more room, Cleveland is transforming large parts of the Cleveland Convention Center, a gargantuan space that will be able to house the 800-900 volleyball players while also providing them with high enough ceilings. For the Gala Choral and Band events, Playhouse Square is going to lend a hand and a stage or two. Fun fact, Playhouse Square is the largest performing arts center in the U.S. outside of New York City with gorgeous wall murals by James Doherty. The complex is full of 1920's charm and has been beautifully restored. Definitely a place to dress up and pretend you're a flapper.
If you happen to be sailing, you'll be sailing on Lake Erie with the Edgewater Yacht Club. If you're running the 5k, you will whimsically be running through the zoo. All golfers will gather in Akron at the Firestone Country Club. Like, guys, I didn't know there were enough places in Ohio to host this many events. And there are. And they're all gorgeous. And they are all quite close together.
Then I have to say how struck I was by how much everyone wanted us, the gay journalists, there. And by how much everyone wanted the Gay Games and all the queer athletes to be there. I thought it was because we were on what was basically a tour of the GG9 facilities and the restaurants and hotels that Cleveland wanted to highlight. But I went and talked to a couple people completely outside the tour, and the answer was unanimous: If they come, we will welcome them. And, in the case of the two gentlemen selling pasta in the West Side Market, we will welcome them—and feed them pasta. That more than anything makes me super excited for the Gay Games in Cleveland.
Where Can We Stay?
InterContinental Cleveland
This is where I stayed and, like everyone else I met on this trip, the InterContinental was PSYCHED to have us.
The rooms were spotless and silent. Pretty standard on the decor, and excellent if you're a person with allergies to smoke. You see, the InterContinental is right across from the health center. So close, in fact, that no one can smoke on the premises due to its proximity to the hospital. It's got an upscale restaurant on the ground floor (Table 45, we'll talk about that in a minute) with killer cocktails. And! It's on the HealthLine rapid bus system, so you can very easily get to the hullabaloo of the Games without being quite in the center of things. To make sure you get the discounted rate for those participating in GG9, book through this site or book directly if you're just gonna hang out in Cleveland for the restaurants and fun stuff to do.
Renaissance Cleveland Hotel
This is the official sponsor hotel, and therefore is in the thick of everything with some events even being held on premises. If downtown access (and the ability to smoke directly outside the hotel) is super important to you, this is a great choice. Plus it feels opulent and is even within walking distance of both the opening and closing ceremonies.  Again, if you're participating in the games, you definitely want to book through this special GG9 website. If you want to just have a weekend trip, you can book directly through their website.
Gay Games 9 Dormitory Housing
This might be the best option if you're an athlete planning to stay for the duration of the games, because the dormitory goes for maximum $59 per night. The thing is, you've got to rent a room for the entirety of the games. There's also not a whole heck of a lot of detailed information yet, but rates and a booking system should be posted by the end of January 2014. In the meantime, feel free to email GG9 if you want to be notified of dormitory developments.
Where Can We Eat and Drink?
The Greenhouse Tavern (a.k.a., home of the only beet burger I've ever loved)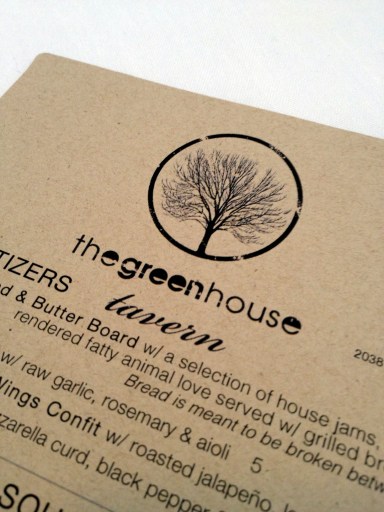 Okay, I'll tell you about the actual Greenhouse Tavern in a hot second, but we have to start by talking about this beet burger. Y'all. I hate beets. But I like burgers. And being a vegetarian, I am generally limited to whatever the hell kinda vegetarian burger an establishment has. And I know for a 100% fact that my most loathed veggie burger is the beet burger. Until this beet burger.
This beet burger is the food of the gods. This beet burger is deserving of poetry. When I bit into this beet burger, a choir of gay angels serenaded me and I heard nothing but their angelic, crystalline voices until I had finished the beet burger.
What I'm saying is, you should go eat at the Greenhouse Tavern.
Also, now I'll actually talk about the Greenhouse Tavern. It's the brainchild of Chef  Jonathan Sawyer and it's a farm-to-table establishment. They implement as many green practices as possible (including the LEED-certified building and composting) and the goal is to impact the local economy and the local food scene as much as possible. Chef Matt Danko, the pastry chef, put it brilliantly when he told us, "Refurbished furniture from Ohio. Potatoes from Ohio."
Matt highly recommends you order the fermented mango with cognac and sweet soy sauce—he's really proud of that one. He also let me know that the restaurant is known for its roasted pig's head, but I am a vegetarian so I could not speak to that one. The Greenhouse Tavern is also one of two rooftop bars in the city, and that will be extremely useful knowledge to have come August. Vegetarian and gluten-free friendly.
Table 45
Table 45 is located on the ground floor of the InterContinental but welcomes everyone, hotel guest or not. Chef Zach Bruell's concept with Table 45 is world cuisine—that is, a mixture of many different styles and ingredients from North Africa, South America, Europe and Asia. I experienced happy hour here, and that comes with complimentary hors d'oeuvres. They're also psychic mind readers. I asked my server what I wanted to drink and told him I don't like super sweet cocktails but I couldn't make up my mind. He very wisely suggested a Negroni, which is gin, vermouth and campari. Far more boozey than sugary. When I went poking around the hors d'oeuvres and found that nothing was vegetarian, out they came with some kick ass spring rolls.  There are areas of the restaurant that are bumpin' and party-esque, and there are also quieter corners. I'm a drink, talk and lounge kind of person and I found a corner that was perfect for me.
Spice Kitchen + Bar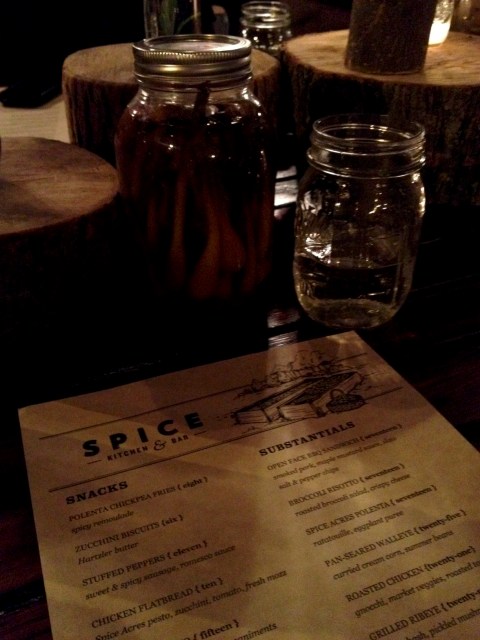 80% of everything you see on the menu at Spice Kitchen + Bar comes from within a 100 mile radius of Cleveland, and much of it from their own farms—Spice Acres and the three primary gardening properties that are owned and operated by Spice of Life farmers and chefs. Everything else from family-owned farms. Nothing you see on the menu is out of season and thus the menu is constantly changing. There is at least one constant though, and that's the polenta chickpea fries. GET THOSE FRIES. Ahem. Honestly, get whatever you want. Every journalist in Spice ordered something different and everyone absolutely loved what they ate. Thank you, Chef Ben Bebenroth!
Bon Bon Café
A stellar breakfast place willing to bend their menu items to accommodate vegetarians! Even though eggs florentine wasn't on the Bon Bon Café menu, they let me order it anyway. All the journalists split some of the house special—cinnamon sugar donuts with a choice of three dipping sauces (chocolate, sweet mascarpone and caramelized banana). I legitimately could not tell you which dipping sauce was best. And usually chocolate is an easy first. And it wasn't. Because everything was so good.
Provenance
Chef Doug Katz's Provenance is actually inside the Cleveland Museum of Art and they have an adorable Prix Fixe menu every day that highlights one of the exhibits in the museum. But more than that, they have this gnocchi.
This gnocchi has mushrooms, peas and a white sauce. And y'all. Much like with that beet burger, I hate mushrooms. Hate 'em. And you know what? I ATE ALL OF THESE. They also have floor-to ceiling windows that look out over the sculpture garden, so you can feel quite posh as you chow down on what might be the best gnocchi in Cleveland.
Market Garden Brewery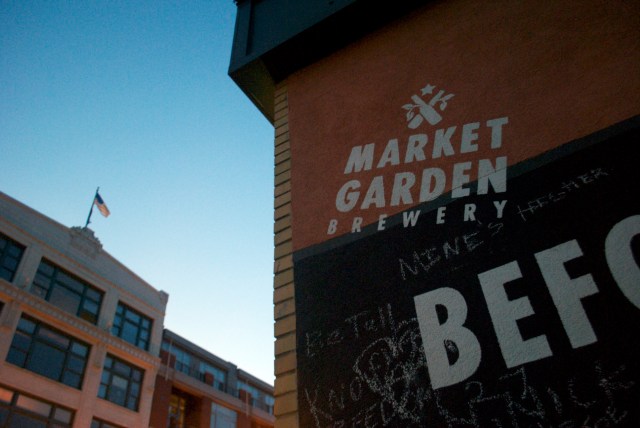 Cleveland has got craft beer on lock. And Market Garden Brewery is the place on this trip that I wish was down the street from my house. Brewmaster Andy Tveekrem worked for Dogfish Head before brewing up these flawless Cleveland beers. Naturally, I got a flight so I could sample as many of them as possible. And I got a pretzel to make sure I was coherent enough to recommend them to you.
I tasted the Wee Heavy Wallace (Scotch Ale), the Franklin Castle Pumpkin Spice Ale, the Bernie 19 (Amber Ale) and the Strawbeery Tart (strawberry wheat beer). And though I liked all of them, my favorite was the Wee Heavy Wallace by far and away. Highly recommend. Plus if you're in town for GG9, they've got a lovely patio perfect for August nights.
Pier W
I had been told that pierogies were a thing in Cleveland, and a thing I should try to put in my mouth. So I was super pleased when, on my last morning in Cleveland, I discovered that pierogies were a part of brunch at Pier W. While the food was great (and yes, the pierogies were delicious), the real draw of Pier W is the panoramic view of Lake Eerie. It was lovely. Such a relaxing place to chill out and properly brunch it up with my gaggle of gays. Highly recommend for Sunday brunch.
And What Can We Do Other Than Be Gay and Play Games?
Twist Social Club
I didn't spend very long at Twist because it was after 10 and I'm basically 85 in my soul and it was past my bed time. But when we rolled up, the big front windows were open and the party had spilled onto the sidewalk. And on that patio were two fabulous drag queens in full regalia. One with a beard. Basically I was in heaven. And I also loved that this was a drink and talk bar. Yes, there was loud music, but the outdoor space was absolutely the highlight for me. Chill in the nice weather, sip on your cocktail and chat away the evening.
Bounce/Union Station Video Café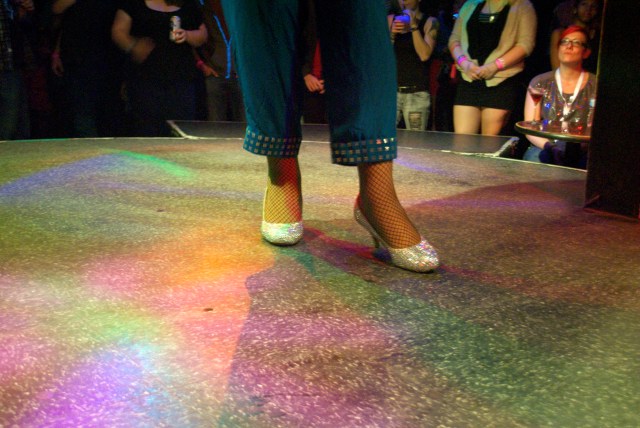 Bounce/Union Station is a two-fer, with a restaurant in the front and a dance party in the back. I went on a Friday night, which means drag night. And this particular show featured Carmen Carrera! She's super cool, y'all.
I did find it weird that it seemed totally cool at Bounce to reach out and touch the queens? Like, that was super never the case at any drag show I've attended in New Jersey or New York. And even if the club policy said it was cool, I would never recommend reaching out and touching a performer while they're working. So this is my tiny little vote for "please don't reach out and touch drag performers or any performers at all really without being explicitly invited by them to do so." And now back to our regularly scheduled programming to let you know that the owner of Bounce said he was hoping to pull out all the stops for the week of GG9.
West Side Market
Markets are one of those things I try to visit in every town and city I travel to because entire communities gather on market day. You can get a feel for what's happening in a city when you visit a market. Cleveland's West Side Market is no different. Built in 1912, this indoor/outdoor market features a huge selection of, well, everything. I'll just let the picture speak for itself.
MOCA Cleveland
I loved the Museum of Contemporary Art in Cleveland. Then again, I love contemporary art in general. But in this case, the building was as much of an attraction as the art itself. Designed by Farshid Moussavi, an Iranian-born London-based architect, it's actually her first building in the United States and her first museum. The unique shape of the building is due to the fact that base of the building is a hexagon and the top is a square. Transparency is very important to the MOCA structure, so just about everything is glass. It's even got a glass-walled loading dock so you can see the art being loaded in. Flexibility is another key component—the spaces are mutable and transform as the museum needs them, from housing exhibits to performances and readings. The center stair is actually a stair within a stair. Like, a staircase. Inside another staircase. As for the collections rotate 3 times a year and are very site specific, so much so that sometimes pieces are destroyed after their time is up because they were made for the MOCA space and can't/shouldn't be exhibited anywhere else. While I was there, an installation piece captured my fancy—iTunes on Color by Lauren Yeager interpreted the colors of the rainbow using light and music from the artist's iTunes library, experienced by the audience as they descended down a side staircase.
Cleveland Museum of Art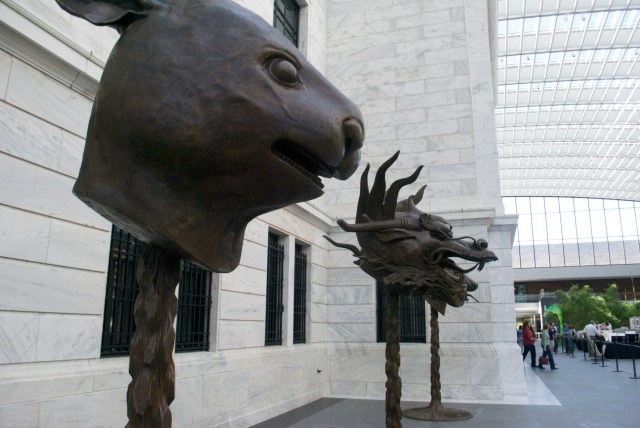 The Cleveland Museum of Art offers free admission to their standard collections. Yup. Free. It's one of the only major museums in the country to still do that. They're also crazy tech savvy, so you know I was really into it. They boast Gallery One, an entirely interactive way of experiencing art through multimedia. Within that, museum-goers can explore the Collection Wall, the largest multi-touch screen in the nation.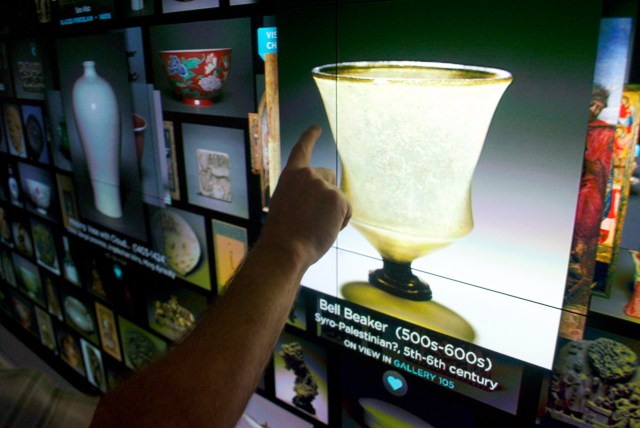 You can dock one of the rentable iPads and proceed through the collection on the wall, saving the things you want to be sure to see in the museum to your rented iPad. Then your iPad will tell you how to get there. Your rented iPad can also present you with new ways to look at the standard collection—you can choose different kinds of tours and look at the artwork in ways other than the way they're laid out. I did a Heroes and Villains tour, which I really enjoyed. The iPads are also equipped with this handy little app called ArtLens, which you can also put on your personal devices to avoid renting equipment. For certain pieces of art, you can hold your iPad up and it'll scan the art and tell you fun facts. I found that aspect a little distracting, but can totally see how it would appeal to some younger adventurers just starting to sink their teeth into the art world.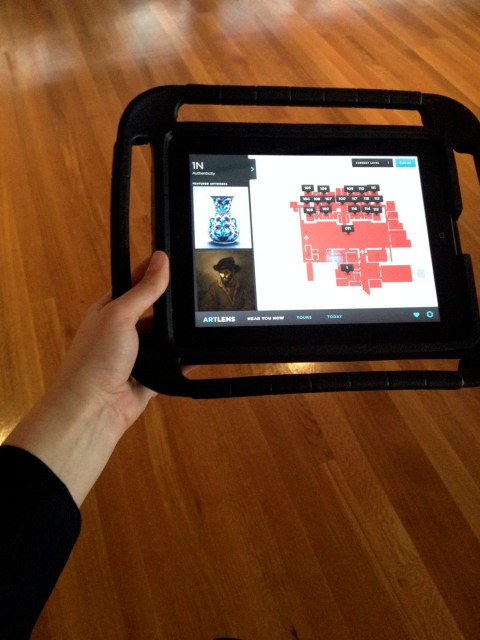 Cleveland Botanical Gardens
Botanical Gardens are another thing I try to visit in every place I travel. I just love them—I'm always relaxed and inspired. If I have the time, I love to bring my journal in and sit on a bench. I always find inspiration in a botanical garden. Once again, I'll try to let the pictures speak for themselves.
Festival Village
This will be the centerpiece of socializing during GG9. Festival Village is going to house two stages for entertainment, as well as local vendors and food trucks, parties, alcohol, roving performers, a collaborative and interactive visual arts space, AHA lighting project's fabulous lighting installations and even a pin swap. Open daily during the games, hours vary.
Yes yes yes, The Rock and Roll Hall of Fame, WE KNOW
We all know that the Rock and Roll Hall of Fame is Cleveland. We all know that, no matter how we feel about rock and roll, we will all go visit it when we are in Cleveland. Especially if we all go to GG9 because the closing ceremonies will be there. Telling you about the Rock and Roll Hall of Fame is a moot point. We will all go. So here is a picture of the Beatles guitar. That was my favorite thing.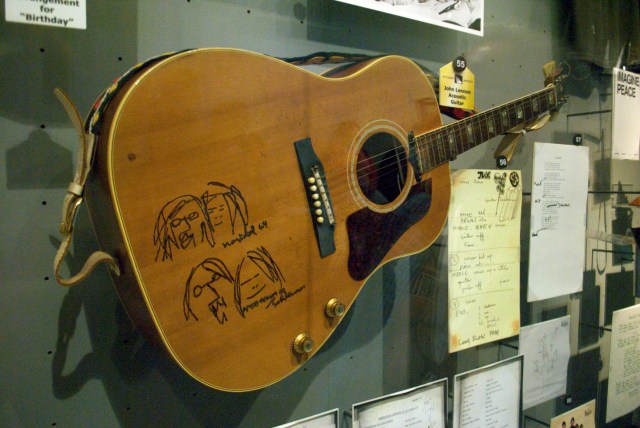 OMG, Shut Up, Let's All Go To Cleveland. How Can We Participate?
There are several ways you can participate in the Gay Games this coming August.
register to be an athlete. You and/or your team can register to play. And yes, there are medals you could win. General registration is $195, and that ends May 31st. Then after you do that, you register for your specific event(s). Those prices vary, but they are raising by a bit on January 8th. So register ASAP! Sound a bit steep for you? Check out the Gay Games scholarship application, deadline of February 15th.
apply to entertain! If you're a musician, comedian, DJ or other kind of entertainer, you might be just what the Gay Games are looking for. The application deadline is January 31st and you'll be notified by April 1st.
volunteer. This is an event of monumental proportions and GG9 needs all hands on deck. If you happen to have hands to spare, fill out a volunteer application form.