This guide is co-written by Autostraddle community members, Erica and Isabel! The Queer Girl City Guides are compiled and written by volunteer community members who are excited to share their favorite places and experiences with you. They cannot be independently verified by Autostraddle. We also recognize that cities change and venues close with time. Due to team restrictions, these guides may not always remain up-to-date as time goes on. Feel free to share your own info about these locations in the comments!
---
Bonjour! We're Erica and Isabel, two American Straddlers living the Queer Girl City life in Paris, France. We're looking forward to sharing all of the best and queerest parts of Paris with you, whether you are swinging through for a quick visit or moving here forever.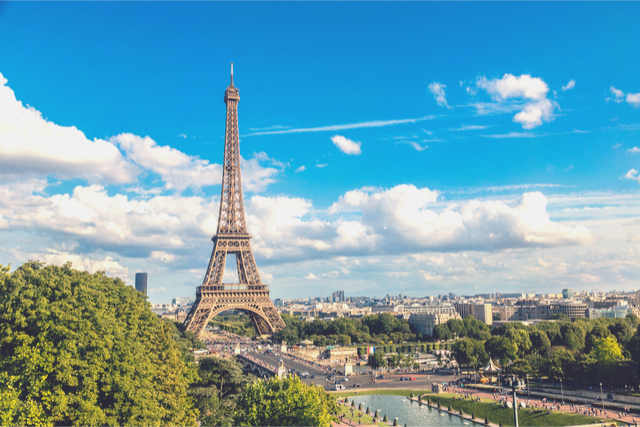 ---
Getting Around: The Arrondissements, Transportation, and a Note about Gendered Language
Paris is divided into 20 arrondissements, or zip codes, numbered in a snail shell pattern from the middle going clockwise outward.
The 18th, 19th and 20th arrondissements are where you're more likely to find women holding hands, with whom you can successfully exchange knowing grins and nods. These arrondissements are less gentrified and fancy. They also tend to be calmer since there'e a lower concentration of typical tourist sites. If you'd like your afternoon to be focused on spotting hip queers instead of visiting museums, you should install yourself on a terrasse in one of these arrondissements.
Public Transportation
Paris has three main forms of transportation: the metro, the RER, and the bus. Driving in Paris is a nightmare and we do not recommend it.
The public transportation is easy to navigate and is reasonably priced. Depending on how long you're in town, you'll either want to get a ten-pack ("carnet")  or pay for one ticket. One important thing to know is that each ticket lasts for an hour and a half after you validate it (at least in theory; we've gotten burned on this a few times).
A downside to Paris's public transit is that it's not universally accessible to people with reduced mobility, especially people in wheelchairs. Many of the metro stations (except on line 14 and RER E, the newest ones) require maneuvering multiple flights of stairs, with no guarantee of an escalator or the ability to roll between the train and the platform. Buses are equipped with ramps, but, in the world's most inexcusable move, drivers will sometimes lie and tell wheelchair users that their ramps are out of order because they don't feel like stopping. The RATP website for route planning has a checkbox for accessible routes.
A Note on Gender and Language
There's no commonly used gender-neutral pronoun for people or gender-neutral suffixes for adjectives in French. The rule in French is that masculine adjectives prevail when discussing subjects of mixed genders. Modern and progressive French people generally try to be more inclusive in their speaking and writing. For example, some people will write "toutEs" or "tout-e-s" and say "toutes et tous." Recommendations for a more egalitarian grammar can be read here. The gender neutral pronoun "iel" (il/elle) is used by some people, but most people will not have heard of it and might scoff and try to correct you (not that this should deter you!). Additionally, there are no gender-neutral honorifics. Unless you are in a specifically queer setting, be prepared for you or your androgynous companion to receive a cheery yet constant barrage of "Bonjour, messieurs-dames!" ("Hello, Mr. and Ms.!"), though they may try to correct themselves with a "Ah… mesdames" after their #heteronormativityfail.
---
Bars/Clubs/Parisian Nights
La Mutinerie
176-178 rue Saint Martin, 75003
Ah, La Mutinerie. If we could only include one entry in this guide, it would be this. We actually met for the first time at this beloved dyke bar! La Mutinerie – meaning "mutiny" – calls itself a bar that is also a "festive, cultural, and political space," and it feels like a true refuge from the omnipotent gay male bars nearby in Le Marais and Paris's hetero spaces elsewhere. The first Parisian lesbian I asked for her opinion on La Mutinerie described it as "fun; sticky."
La Mutinerie is a place where you can play pool, experience performance art (ex/ Alok Vaid-Menon performed to a packed house), check out the lending library, dance to music ranging from dancehall to reggaeton and trap during weekly DJ sets, get a queer haircut or a tattoo (monthly events), attend a queer film screening, learn how to hack, or participate in a trans support group.
It's a community center, a place to get drunk and dance, watch baby dykes be adorable and amazing, and a true holdout in the age of the dying lesbian bar.
If you are queer and live in or visit Paris, you MUST stop by La Mutinerie!
Bar Ouf
182 Rue Saint Martin 75003
Immediately next to La Mutinerie is the slightly calmer, less crowded Bar Ouf. Bar Ouf (slang for "fou," meaning "crazy" or "madcap," with positive connotations), is where spiky-haired women in tank tops, bandanas, and cargo pants come to play cards and board games earlier in the day and then play pool, drink, and smoke on the sidewalk in front of the bar at night. Some men have reported not being welcome because of their perceived gender, while others have reviewed it favorably. Bar Ouf seems to be intended as a "mostly-women space", take that for what you will.
Rosa Bonheur
2 Allée de la Cascade, 75019 (inside Parc des Buttes Chaumont) // Port des Invalides, 75007 (on the river Seine)
Rosa Bonheur was a French artist, animalière (a new word I just learned meaning a "painter of animals"), and sculptor who lived in Paris in the 19th century and is buried in the famed Père Lachaise cemetery. Rosa Bonheur is also a pretty awesome bar with two outposts; one floating on a boat on the Seine and one at the top of the hill in Parc des Buttes-Chaumont. The owner of both bars is a queer woman who uses her venues to support queer endeavors and events. Overall, both locations are extremely queer-friendly, some nights they host parties specifically for the LGBTQ+ community. The music is good and both bars are well-designed for dancing.
3W Kafé
8 Rue des Ecouffes, 75004
3W stands for "women with women." Thursday nights are for karaoke and burlesque, cabaret parties are also held every few Fridays. To be honest, this bar is known for being somewhat old-fashioned and not extremely popular, but you will be sure to find ladies making out with each other there so we have included it. There's a "Gay Tea Dance" on Sundays for queer men and women that goes only 2am.
This is the evil twin of 3W Kafé. This bar/club is also known for being somewhat old-fashioned and not extremely popular, but you will be sure to find ladies flirting. It's the bar that saves you when you are drunk, it's already 2 am, you want to be surrounded by queer ladies and everything else is closed!
Old fashioned queer dance place! Kitsch, playing american and other pop music, and open to queers of all genders. People come here to have fun and dance, and probably not to impress anyone besides themselves.
Best karaoké place ever, located in the basement of a queer and hetero-friendly bar. This is one of the only places where you can sing until 2 am on weekdays. There is always a drag show to close out the night. It makes you feel like you are in Priscilla, Queen of the Desert.
La Kidnapping is a queer woman and trans people party that started around 2009 and takes place with irregular frequency (but soirées can be detected by following their Facebook page). Kidnapping parties are very queer, unapologetically weird, and quite proud of their happy mess. These parties are also used to fundraise for various causes.
Held every two months either in the circus tent Cabaret Sauvage in Porte de la Villette or at La Machine du Moulin Rouge in Pigalle, Wet For Me is the "biggest, but not necessarily best" party of queer Parisian nightlife. People of all genders are welcome; the only requirements seem to be to love dancing to really, really loud electronic music and to look effortlessly edgy. Get pre-sale tickets online, usually 14-16 euros, because these parties are often sold out or require long wait times to get in.
Barbi(e)turix is like a Paris-specific event planning/ community website hybrid. They have a regularly-maintained website with excellent resources for being a queer woman in Paris (it's like this guide, but x100). On top of the  relevant articles, there's event promotion. They also create and distribute a fanzine around Paris. Their artwork and language are very cisgender woman-centric (lots of vulva imagery), but in practice their events and media have appeared to be welcoming and inclusive of trans people.
Jeudi OK is a weekly party thrown in conjunction with another queer-friendly group. They usually take place at Wanderlust and the entrance fee is free before 10pm and 5 euros after. We have not personally been to a Jeudi OK party, but they seem pretty electronic/hardcore/sticky.
---
Community Spaces
Paris/Île-de-France LGBT Community Center
63 rue Beaubourg, 75003
The LGBT Community Center provides a safe space to hang out, free legal advice, discussion groups and counseling. There's also exhibits, in-house activities, snacks and condoms, and resources with info on over 80 LGBTQ-related groups and organizations from around France. There are one million pamphlets available on any LGBTQ-related topic you can think of, including: health, sex, youth homelessness, and niche interests like queer ballroom dancing.
Les Grands Voisins
82 avenue Denfert-Rochereau, 75014
Les Grands Voisins is a bustling cultural hub and maybe the best place ever. It offers visitors a cafe, a cafeteria, a bar, a plant store, galleries, concerts, artist studios, craft workshops, film screenings, meditation and yoga classes, campgrounds, vegetable gardens, and bee hives! Down the street from the entrance to the famous catacombs and in the site of the old Saint-Vincent-De-Paul Hospital, about 2,000 people live in the Les Grands Voisins' ("The Big Neighbors") mixed-use occupancy housing, including refugees and those seeking emergency shelter. Residents prepare and serve healthy hot lunches for about 5-10 euros and a 15 euro brunch on the weekends. All of the people frequenting Les Grands Voisins are not necessarily queer, but it is for sure a safe space to be out.
La Colonie
28 Rue la Fayette, 75010
Artist Kader Attia opened this super cool three-story space for "art, music, critical thinking, debate, and cultural activism" in 2016. Intended to highlight and support the voices of minorities, La Colonie draws a very racially diverse, often very queer crowd to their dance parties, lectures, conferences, and film screenings. They are also a popular venue during Queer Week, hosting events such as a Witchcraft Workshop, Projections: Queer Rituals, Magic,  Witches on Fire dance party, a Decolonizing Sexualities conference, and an Anti-Capitalist and Decolonial Trans-Party Panel.
Queer Week is an annual event (usually mid-March) that includes movie screenings, discussions on various intersectional topics, workshops on subjects like kink and polyamory, an exploration of queer sites in Paris, lectures on historical figures important to the LGBTQ+ movements in France, and excellent parties.
---
Films and Theatre
MK2 Quai de Loire and MK2 Quai de Seine
7 Quai de la Loire, 75019 // 14 Quai de la Seine, 75019
These two movie theaters face each other from opposite sides of the Bassin de la Villette in the north of Paris. The theaters and the surrounding cafés and restaurants have been described by a local queer as "where you could go on a Sunday night on a date, or out with a friend or an ex, and then run into another ex." Accurate, in our experience.
The aforementioned movie theaters also host a pretty great LGBT+ annual film festival in late November.
Rosa Bonheur x Cinema du Pantheon
13 Rue Victor Cousin, 75005
In addition to being a popular nightlife facilitators in Paris, Le Rosa Bonheur also hosts ongoing free film screenings through the Cinema du Pantheon theater by Jardin de Luxembourg. They tend to be of interest to queers and are often in English. The theater is comfortable and has been open for over 100 years! Recent screenings include Look at the Pictures (the Robert Mapplethorpe documentary), Tom of Finland , and Jackie.
Le 7e Genre
39 Blvd Strasbourg, 75010
One Monday per month, the 7e Genre gathers Paris' queers cinephiles at the Brady Theater to view films with LGBTQ themes. Calling themselves the "cine-club that defies norms," selected films tend to be a mix of old and new, French and international. In 2017 their line-up included lesbian classics Go Fish and the Watermelon Woman. Le 7e Genre also often raffles off free tickets to LGBTQ screenings at Forum Des Images (a movie theater in Les Halles) via their Facebook page.
The theatre company "La Compagnie dans le Ventre" ("The company in the belly") is directed by the inimitable (and often in various states of undress) Rébecca Chaillon. Many of their works revolve around themes of bodies behaving in unconventional ways, including being queer. You can follow their Facebook page to see if they will be performing nearby when you are in town!
---
Bookstores and Magazines
Violette & Co
102 Rue de Charonne, 75011
This feminist and queer bookstore is so wonderful that we can't help but sigh gently in delight when we walk in. With sections dedicated to topics like "Polyamour/kink" and "Afrofemism/futurism," and with most books by queer and women authors, this is the kind of store that you wish were your own living room. Even if you don't read in French, it is still worth a visit.
Les Mots à la Bouche
6 rue Sainte-Croix de la Bretonnerie, Paris
Very popular LGBTQ (with an emphasis on the G) bookstore in Le Marais. Friendly environment, extensive selection of both new and rare books, magazines, comics, and films, with additional inventory downstairs. Definitely worth a stop!
Well Well Well  is a lesbian and queer oriented French zine that was started as the project of Paris-based activist journalist Marie Kirschen. Because Well Well Well is created completely by volunteers and does not profit from ads, it's only been released once per year. The thick magazine is full of interviews with and articles on queer ladies, including icons from around the world and local queers fighting their own fights and telling their own stories. There are also comics, illustrations, and photography. Well Well Wells can be found in these locations throughout town.
Friction is an online magazine that primarily reviews queer events and opines (from a queer point of view) on other non-mainstream events and news. It also has some interviews.
Simonæ is a feminist magazine that's sort of like Autostraddle, but for not just queer people and also it's in French. The name of the magazine reflects their commitment to using non-gendered language. In their writing, they sometimes use "æ" as the adjective suffix for people of unknown gender or agender people. If you want to practice reading in French, this is an excellent source of material!
---
Marches
Gay Pride, la Marche des Fiertés, is a yearly event that began in 1977. Like in most large cities, it's pretty huge. When I asked someone where was the best place from which to watch the parade, she responded: "We are the parade!" Many organizations have floats, with one of the most relevant ones being the Lesbotruck. It feels a bit less corporate than large Pride marches in the United States. For example, companies do not distribute rainbow swag to the onlookers. However, some people feel like Paris pride has become too gay-male and party-focused.
Pride de Nuit (Night Pride) is the intersectional, activist, honoring-Pride-as-a-riot response to the "gentrification of our battles" (meaning, the accusation that Paris Gay Pride has become diluted to serve mainly the interests of wealthy, white, gay men and, to a lesser extent, lesbian women). It has taken place for the past three years on the night before the Pride parade. The 2017 Pride de Nuit manifesto can be found here. It affirms that the participating organizations fight for policies and justice for intersex individuals, documented and undocumented migrants and refugees, sex workers, incarcerated people, and others who have been marginalized by mainstream pride and economic liberalism.
Existrans is a march for trans and intersex people and their allies that has taken place every year since 1997. The Collectif Existrans, the organizers of the event, also organize Paris Transgender Day of Remembrance. While this march is considerably smaller than the Pride marches, it is sizable nonetheless, and the sense of solidarity among the marchers is very strong.
---
Groups and Collectives
Self-ish's mission is to create space for women and queer, trans, and non-binary folks to express themselves in a safe and supportive environment. As you might imagine, the overall scene is both incredibly endearing and very fierce. Marie or "Eiram," the awesome human who started Self-ish, is bilingual and committed to making events inclusive – open-mic nights feature artists and performers sharing work in both English and French. They host events in locations around the city once per month or so, and have held pop-ups in amsterdam, Berlin, and Brussels.
Paris's chapter of the global Lesbians Who Tech (LWT) organization started holding casual meet-ups late 2015, and the community has been growing ever since. The first Paris LWT Summit happened in June 2017. Meet-ups are held about every two months in a bar. They usually feature presentations by local techies followed by hours of mingling, chatting, and networking. If you are a queer person in tech, or if you just like vegan sliders and PowerPoint presentations, check it out!
Polychrome is a collective that organizes events on the subjects of representations of the body, gender, and desire. The events include guest lectures/visits, movie screenings, conferences, performances, and parties, at a rate of about four-to-eight per month. You can learn about their events on their website or on the QueerParis Facebook page.
---
Parks
Parc des Buttes-Chaumont
1 Rue Botzaris, 75019
In the 19th arrondissement, Parc des Buttes-Chaumont is a popular hangout for shirtless gay men, and women that are either gay or just so happen to have asymmetrical haircuts. The caves, waterfalls, suspension bridges (one designed by Gustave Eiffel), a temple, an artificial lake, two great bar/cafés on opposite ends, and spectacular views make this parc truly special.
Parc Montsouris
2 Rue Gazan, 75014
In the southern 14th arrondissement is the lovely Parc Montsouris, opened in 1869 by the Emperor Napoleon III. Beloved by locals but lesser known by tourists, this little pocket of serenity boasts two black swans, rose gardens, innumerable lawns for picnicking, playing soccer, hammock-ing, unicycling, and sunbathing. There's also at least three playgrounds for children. The outer circumference of the park is about a mile, making it a desirable exercise destination for neighbors.
Jardin des Plantes
57 Rue Cuvier, 75005
The main botanical garden for France, Jardin des Plantes is great to walk around in, admire the botany and horticulture, and smell the flowers! The Museum of Natural History is also on the grounds, and right across the street is the Grand Mosque of Paris, the perfect place to enjoy a mint tea and traditional sweets in the courtyard (the hammam is also a fun experience). For us, it's one of the most interesting parks in all of Paris!
---
Soccer (and Other Sports)
Many women's soccer clubs and teams are not explicitly queer, but overall the women's soccer scene is overwhelmingly queer. The two most open-to-newcomers and chill teams are the following:
Football Club Arc-en-Ciel has existed since 1997, and is Paris's first football club created for the purpose of fighting homophobia. Intersectionality-speaking, the club now firmly takes stands against discrimination based on religion, gender, place of origin, age, and health and ability level. They have three women's teams based on age and seven- or eleven-a-side playing, and are accepting players of any ability level.
Les Dégomeuses is a soccer team that focuses on refugee support, anti-racism/sexism/transphobia, and the inclusion of girls, women, and trans people in sports. There are twice-weekly, optional practices, and they participate in several tournaments per year. The team welcomes cis and trans women, trans men, and genderqueer players of all levels. They organize several tournaments throughout the year for soccer clubs and refugees. In 2017, the team released a brochure on girls and women in soccer called "À toi de jouer : filles et garçons, égaux sur tous les terrain" ("Your turn to play: girls and boys, equal on all fields"). The Dégos welcome new players each September, although it is possible to check out practice year-round!
Two other rec teams that play competitively but are slightly more difficult to integrate one's self into are the Cacahuètes Sluts and USTB . They are composed of more tightly-knit friend groups, but are always in theory accepting new players.
UGirlz is a women's sports community that facilitates the organization of friendly matches for five-a-side soccer. They organize games for members only, and also advertise games, workshops, or teams that are public or just need an extra few girlz. You can join UGirlz or lurk on their Facebook page for a chance to play.
Although you might blink in confusion at the name, Sous les Shorts des Filles ("under the shorts of girls") is a non-profit organization that offers women the chance to practice and try new sports in a convivial, casual setting. They partner with local teams in all kinds of sports – including volleyball, soccer, rock climbing, ping pong, LARPing, aquagym, judo, Gaelic soccer, foosball, etc. – to organize small tournaments and practice sessions every few weeks. They are open to all on a first-to-sign-up-via-Tumblr-first-serve basis. Trans inclusive.
---
Coffee and Food
What you've heard is true, the restaurant scene in Paris is amaaazing. If memorable and high-quality food is important to you, we recommend budgeting for a few nice meals into your Paris plans, about $20-30 per person for a sit-down lunch and $25-50 each for a special dinner. Note that tipping is not expected as it's built into the prices (service compris). If you felt the service was exceptional, leaving an additional 5-10% is a good idea. Also,none of our recommendations are explicitly queer, but they are very tasty and have been consistently welcoming in our experience.
Cafés
Ten Belles
10 Rue de la Grange aux Belles, 75010
Ten Belles is Paris' equivalent of Portland's Stumptown or L.A.'s Intelligentsia: it's expensive, but the coffee is undeniably excellent and quite strong. The people who work there are English-speaking and only a little pretentious, and the ambiance is très cool. This little hipster cafe takes their food offerings more seriously than most. They also sells pastries and very tasty sandwiches. No wifi – but the cafe's popularity lends itself better to a coffee date (potentially romantic or otherwise) than working, anyway.
Le Pavillon des Canaux
39 Quai de la Loire, 75019
At the northern point of the Basin de la Villette sits a giant house. Except this is a special house, because every room (even the bathroom) has been designed to accommodate people sitting and having a meal or a drink. The kitchen downstairs features an extensive menu of coffee, juices, delightful cocktails, and other alcoholic beverages. They have consistently excellent baked treats and serious brunch on weekends and holidays. Le Pavillon also offers various workshops and classes, culinary, crafty, and otherwise, and a monthly schedule can be found online.
Aux Ours
236 rue des Pyrénées, 75020
Aux Ours might be a bit out of your way – it is located in Gambetta, the beating heart of the 20th arrondissement – but if you want to see no tourists and don't mind inhaling vast quantities of cigarette smoke, you can do no better. An espresso or café allongée at the counter is one euro and the food, both Sunday brunch and daily offerings, is always satisfying. In the summer, the tables are moved outside and are full from morning til night. In the winter, a seafood vendor sets up shop next door and patrons enjoy fresh oyster platters with white wine.
Bakeries
Du Pain et des Idées
34 Rue Yves Toudic, 75010
Bakeries are ubiquitous in Paris (in the best way possible), but this beautiful one near Canal St. Martin is our favorite. From the fruits rouge (red fruit and cream cheese) escargot to the sweet and eggy sacristain to the hearty pain des amis bread, this place can do no wrong. Don't be dissuaded by the long line – it moves quickly and is well worth your time. If the picnic table outside the bakery is full, walk down the street and dig into your blue bag of delicacies on the banks of the canal. Beware, in a bold move for a place that sells essential breakfast items, Du Pain et des Idées is closed for the weekends.
Maison Landemaine
Various locations
There are several excellent bakery/pastry shop chains in Paris, and Maison Landemaine is one of our favorites (okay it's tied with Maison Kayser). Their baguette traditional is more sourdoughy than those from other bakeries. They also have perfect quiches, pizzas, and pains au chocolat.
Restaurants
Soul Kitchen
33 rue Lamarck, 75018
Soul Kitchen has a popular fixed price lunch that's around 15 euros for a salad, main dish (the options change daily), and dessert. In the mornings and afternoons they also offer a large selection of juices, coffees, and pastries, all served by super friendly and lovely staff. Soul Kitchen is a friends-owned-and-operated joint and they recently started closing on the weekends so that they can spend time with family. Free wifi.
Abri
92 Rue du Faubourg Poissonnière, 75010
For 26 euros, under-the-radar Abri ("shelter" in French) serves a four-course meal that is creative, delicious, and beautifully-presented. The Japanese chefs prepare food in the middle of the small restaurant and actually customize each meal to the customer to ensure that regulars try something different each time. The desserts crafted in the back of house are consistently awesome. They're also super sensitive to asking about food allergies at the beginning of the meal. Reservations are a must!
If you like Abri, you might also enjoy: French Bar au Vin, Clown Bar, and Au Passage.
Le Tricycle and Jah Jah by Le Tricycle
Le Tricycle – 51 Rue de Paradis, 75010 // Jah Jah by Le Tricycle – 11 Rue des Petites Écuries, 75010
In a city where cheese and charcuterie reign supreme, hip, healthy vegan spots are hard to come by. Not only are Le Tricycle and Jah Jah by Le Tricycle (an offshoot, but started by the same owners) super cool and delicious, they're also the first Afro-vegan restaurants in Paris. What started as a food cart mounted on a tricycle evolved into two brick-and-mortar storefronts, where friendly, English-speaking staff serve vegan hot dogs, bento boxes, bowls, salads, and juices. Roasted cauliflower, lentils, carrots, beets, avocado, and plantains dominate each restaurant's menu, and many dishes are served with delish dipping sauces. There is super pleasant upstairs seating at Le Tricycle and plenty of tables in the spacious Jah Jah, as well.
So Nat
5 Rue Bourdaloue, 75009
How brightly colored can food be and how cutely can it be packaged?  How many emojis can be used in place of words in an actual business' social media announcements? SO NAT answers these questions and more. Their food is fresh, healthy, beautiful, and delicious. Plus, SO NAT is woman-owned and can be found around town participating in various eco-focused festivals and catering at parties.
Sandwiches and Crepes
L'As Du Fallafel
34 Rue des Rosiers, 75004
Some call it an overhyped tourist trap, while others swear by this Le Marais institution's Middle Eastern offerings. If you're not deterred by the line winding down the block or the heckling from the workers on the sidewalk trying to dissuade you from choosing the falafel restaurant across the street, for six euros the falafel sandwich is one of the most filling vegetarian-friendly meals in Paris. The falafel balls are hot and generously portioned, the roasted eggplant is awesome, and the guys preparing the pitas at the take-out counter are friendly.
La Droguerie
56 Rue des Rosiers, 75004
Right down the street from L'as du Fallafel is La Droguerie, a funky hole in the wall creperie. La Droguerie is a cut above your average crepe stand, with both sweet (Parisians love Nutella) and savory (get ready for the crispy melted cheese) crepes available in a variety of combinations. It's also location ripe for people-watching.
Au P'tit Grec
68 Rue Mouffetard, 75005
Located in the Latin Quarter's super photogenic Rue Mouffetard is Au P'tit Grec, the Left Bank's most popular crepe joint. Filled with students from the local Sorbonne, Au P'tit Grec offers huge crepes for cheap. As its name suggests, Au P'tit Grec has a Greek influence in several of its menu offerings, such as a savory crepe stuffed with feta cheese, grilled eggplant, tomatoes, and egg, in addition to the classic gamut of sweet – lemon, sugar, Nutella, banana.
Creperie Plougastel
47 Rue du Montparnasse, 75014
In street that is jam-packed with crepe restaurants, the unpretentious Creperie Plougastel is our favorite. There's rarely a line, the cider cups are adorable, and the crepes are super solid. If it doesn't meet your needs, there are literally about 11 other Breton (from the Brittany area of France) crepe places to choose from on this one block.
Breizh Café
109 Rue Vieille du Temple, 75003
Breizh Cafe is a slightly fancy creperie option. They take reservations, offer special crepes filled with top-notch seasonal ingredients like scallops and pears, and have Aesop soap in the bathroom (we're obsessed, but it's way too frugal to buy my own). There's also an epicerie selling high-quality imported foods from Brittany next door. There's no to-go option. Reservations a must for afternoon dining, they take the call between 9:30am and 11:30am.
Chez Alain Miam Miam
39 rue de Bretagne (inside the Marché des Enfants Rouges) // 33bis rue Charlot, 75003
Alain is maybe the king of Parisian sandwiches. The line is always so long here that we've only been once, but it was super memorable! We were the first customers there at 9am and Alain chatted with us as he finished chopping onions. He then took about ten minutes crafting each of our three sandwiches, giving us samples to choose which cheese we preferred, slicing the meat, and then letting the fresh bread, cheese, meat, and bounty of vegetables all melt together into "the best sandwich you've ever had," according to Alain, who is not lacking in confidence. Once we unwrapped our still-hot sandwiches at the Versailles gardens an hour and a half later, we couldn't disagree. Goddamn, Alain. Be prepared to wait over an hour for your sandwich if you come at peak times.
---
Shopping
Guerrisol
Guerrisol is Paris' equivalent to Goodwill or Savers. They're spread throughout the city, but our favorite is in the 14th arrondissement by the Alesia metro. You have to be somewhat motivated to sift through the racks and piles of clothes — some of which, admittedly, are ripped, stained, or just plain musty — but it can definitely be worth it. We've found vintage French designer tops (Cacharel, Agnes B., Paul & Joe) for three euros, perfect condition Japanese denim for 2.50, and some super cool handmade dresses. We've never spent more than five euros on a single item, and some days pants, tops, and swimsuits are as cheap as 1.50 euros. Prices change daily depending on when new shipments are coming in.
Chinemachine
100 Rue des Martyrs, 75018 // 10 Rue Des Petites Ecueries, 75010
If you're a little more Buffalo Exchange than Goodwill, Chinemachine is for you. Embracing a "buy, sell, trade" model, Chinemachine is noticeably less expensive than the city's many consignment stores, and they sell everything from A.P.C. to Christian Dior to a French grandma's old (but chic, of course) sweater. The staff tend to be a little cooler than thou, but that doesn't stop us from coming back again and again.
A.P.C. Surplus
20 rue André Del Sarte, 75018
A.P.C. is known for its minimalist, classic designs. Think striped shirts, raw denim, patterned button-downs, and chic trench coats. While A.P.C. is available in the US, in Paris we have the luxury of having access to the A.P.C. outlet – er, "surplus" – where everything is 30-50% off, all the time. Jeans are typically 80 euros instead of 160, t-shirts are 30 instead of 60. Might be a good place to get a new suit or interview outfit, depending on your budget.
Porte de Vanves Flea Market
Avenue Marc Sagnier & Avenue Georges Lafenestre, 75014 Paris
Saturdays and Sunday 7:30am-1:30pm
The marche aux puces – flea markets – in Paris are a bit of a thing, with tourists flocking to the most famous one at Porte de Clignancourt on weekends. However, if you venture south you'll find a flea market of manageable size, with fair prices, and friendly (albeit mostly non-English speaking) vendors. Bring cash, get there early, and practice your numbers in French ahead of time (especially 1-20, as most items will be under 20 euros). Great for housewares and kitchenware, antique books and photographs, knickknack souvenirs, and jewelry.
Nous
19 Rue Clauzel, 75009
I've taken each of my two exes to this adorable blink-and-ya-miss-it ceramics and homewares store and have confirmed that queers of all gender expressions love it! Nous is the perfect place to stock up on mugs for lesbian nesting and plates and cups to throw the intergenerational queer dinner party of your dreams. This business is woman-owned and carries products made in France, Japan, and the US by artisan craftspeople. They also have a pretty fabulous website that in addition to listing all of their covetable products, also features interviews with makers whose crafts they carry. There's also interviews and house-inspo photos from meals shared with stylish friends.
Pigalle Basketball
17 Rue Duperre, 75009
Pigalle is a Parisian high-end streetwear brand started by Stéphane Ashpool, who also happens to love basketball and the '90s. In 2014, Ashpool opened Pigalle Basketball as an outpost to sell custom-designed and Nike collaboration products. Most clothing styles are unisex, and your girlfriend is going to look really hot in their Pigalle Basketball tank top. The shop has become famous due in part to its location across the street from the super photogenic and quite beautiful Pigalle basketball court. It's run by super friendly staff and prioritizes establishing relationships with the neighborhood youth who often stop by the shop to say hi and borrow basketballs before darting across the street to shoot hoops.
Decathlon
203 boulevard Macdonald, 75019 // 113 Avenue de France, 75013 // 26 Avenue de Wagram, 75008 // 23 boulevard de la Madeleine, 75001
Decathlon is the sporting goods store that's the combination of REI and Dick's Sporting Goods, but with an even more complete inventory. You may ask: "Does Decathlon carry [obscure equipment] for [literally any sport]?" The answer is "yes, yes it does."  It's the Parisian equivalent of Home Depot for queer women – technically it's for everyone, but we claim illegitimate ownership. Beware: Decathlon is one of those stores where you walk around and suddenly realize you NEED things that you previously did not know existed.
If you promised to bring your queer friends back home a souvenir from Paris, find local designer/illustrator Marthe'Oh in pop-up markets around the city or order directly from her website. Her repertoire includes screen-printed shirts and bags, patches, scarves (so French), and colorful prints. Her designs have some tongue-in-cheek queer humor that was not immediately obvious to me as a non-native French speaker. For example, one of her most recognizable shirts, designed around the time the gay marriage was about to be legal in France (and was therefore being protested against vigorously), said "GENRE" which means both "gender" and is also a way to say "bullshit."
---
Cut your Queer Hair
Les AffranchiZ
5 Rue des Envierges, 75020
Once, we passed a purple graffiti-covered shopfront and the freshly shaved undercut of a woman sitting inside caught our collective queer eye. We went in to determine whether Les AffranchiZ might merit inclusion in a QGCG. When we mentioned this article to several of the people working there, they told me happily that half the staff was queer. And the clientele? "Oui, aussi ;)." Les AffranchiZ – the was name chosen to mean "emancipated" or "without prejudice" – does cuts and coloring, uses organic or 100% natural products, and fosters a safe and comfortable space for clients.
Les Mauvais Garçons
34 Rue Saint-Louis en l'Île, 75004 // 60 Rue Oberkampf, 75011 // 3 rue Neuve Popincourt, 75011
Translated to "The Bad Boys," Les Mauvais Garçons is a barbershop pretty clearly geared towards handsome cisgender men looking for a hipster cut with an old-school aesthetic. However, my partner (who isn't a cis man) has had only very positive experiences getting fades (haircuts include wash and a quick scalp massage!) at the Île Saint-Louis location.
---
Get or Stay Healthy and Moisturized
Healthcare Options
Thank goodness for community-driven initiatives like Gyn&Co. The website facilitates access and care for people who don't fit the "dominant model," as the site says — anyone who is disabled, queer, non-white, seropositive, trans or intersex, etc. The Map page is very helpful.  Care providers can also be searched for by category and name. Importantly, there are separate pages on knowing your rights relating to health and what to do in case of abuse.
Website in French, but doctor pages list different languages spoken.
Pharmacies
Pharmacies in Paris are in a league of their own. Identified throughout the city with flashing neon green crosses doing acrobatics, Paris' 993 pharmacies stock medication, homeopathies, cosmetics, vitamins, hair care products, beauty treatments, tampons/pads, and first aid. The folks who work at the pharmacies tend to be very knowledgeable, highly trained, and speak at least some English. In this sense, Paris is a pretty good place to get sick. However, be aware that pharmacies in Paris are much more geared towards medication than somewhere like CVS in the US; you will likely not find snacks, magazines, disposable cameras, etc. in a French pharmacie.
Citypharma
26 Rue du Four, 75006
Facial care in Paris is a thing , with Citypharma in Saint-Germain being the epicenter of it all. If you're claustrophobic, do not come here. If you love a good deal and thrive off a Parisian Black Friday type of environment, it's a thrill. The two-story building is perpetually overflowing with very stylish older French women and tourists stuffing their suitcases with bulk products, which are cheaper here than anywhere else in the city.
---
Know Your (Legal, Queer) Rights
When You're Ready to Take Your International Relationship Beyond "Facebook Official."  If you decide to officially commit to your French partner, you are in luck! There are two types of legally-recognized unions in France and queer couples can do either of them. Civil unions, called pactes civil de solidarité (PACS), are seen like an intermediate for marriage, with neither all of the benefits not all of the responsibilities granted. PACS are limited to non-married, cohabiting adults who are not direct ascendants/descendants or siblings. (Cousins can be PACSed.) Since 2013, same-sex marriage has been legal in France, with all of the rights and obligations as straight marriage.
Childbearing/Adoption. Until mid-2017, the outlook for IVF (procréation medicalement assistée, or pmA) for queer lady couples was bleak (pmA was legal only for straight couples who couldn't conceive the traditional way, or who risked passing on serious genetic disorders). However, at the time of writing, President Macron has begun laying the groundwork to open pmA to queer couples and single women. Great! Surrogacy arrangements are not legal in France. PACSed couples cannot adopt children jointly; only one partner will have legal rights to an adopted child. Married couples can adopt jointly, and one partner can legally become the parent of a spouse's partner.
Employment/Housing. Discrimination based on sexual orientation and gender identity for employment, housing, and other public and private services are all illegal!
Gender. As of January 1, 2017, transgender individuals may change their legal gender without undergoing gender affirmation surgery. Trans people no longer need to have a psychiatrist assess their need to change their legal gender, but they still need to provide evidence that their assigned-at-birth gender is not their actual gender to a judge (Tribunal de Grande Instance). Trans activist organizations are currently asking for the removal of this procedure.
---
Bonus Tourist Info
If you're under 26 years old, an EU citizen or long-stay visitor, and/or a student – be sure to bring photo ID! Many places all across the city offer free or reduced admission to folks who fit in those categories.
Sainte-Chapelle
8 Boulevard du Palais, 75001
It costs about ten euros to get in (compared to nearby Notre Dame which is free) but, this 14th century slice of history is truly magical. Let the photo be a teaser – part of Saint-Chapelle's glory is the "surprise" element of just how truly lovely the upstairs chapel is, especially on a sunny day! Another option for visiting is to attend a classical music concert in the evenings: student tickets are twenty euros and you can linger for a bit after it ends.
Palais Garnier
8 Rue Scribe, 75009
Hot tip: at the Garnier Opera House, you can get partially obscured tickets to ballet and opera performances for ten euros! Considering it costs eight to ten euros just to tour the incredibly ornate 19th century opera house, and event tickets are otherwise 40+ euros, this is a steal. The seats are typically not terribly obscured (at the box office they'll show you the map of what's available so you can pick) and the theater itself is unbelievable. The Marc Chagall ceiling is super special and the performances are typically top-notch. Plus, you'll feel so cool and fancy and it's fun to look at everyone at intermission. The view off the balcony at sunset is gorgeous!
---
Get ready to fall in love ❤️