Whenever the United Kingdom is mentioned, images that tend to flash in peoples' minds are often of the Royal family, Buckingham Palace, Big Ben, the Houses of Parliament–all iconic imagery of the UK's capital city, London. It's rare that people living outside the UK will have even heard of Birmingham. But Birmingham happens to be a colourful and vibrant city, with culture and diversity rich enough to rival London's.
So here's a few interesting facts about Birmingham:
It's the second most largest and populous city in the United Kingdom (the first being London) with over three and a half million people. So obviously it can't be too bad here!
It's one of the UK's top three gay destinations.
During the Industrial Revolution it was hailed as "the first manufacturing town in the world."
To fans of literature and theatre, the fictional setting of "Brumleywp_postsin An Inspector Calls (J .B Priestly) was inspired by the City of Birmingham.
To fans of heavy metal, all the original members of Judas Priest, Napalm Death and Black Sabbath came from Birmingham.
I've lived in Birmingham all my life. Well, in actual fact I have lived in a small town twenty minutes just outside central Birmingham called Sutton Coldfield (where the only claim to fame we have is being the birthplace of former American Idol presenter Cat Deeley, but I regress). As far as I can remember I have always loved visiting different places in Birmingham and truly believe there is no other city in the world like it. I also think it is important to set the record straight and bring to light some of Birmingham's positive points, as some British people do tend to have a harsh, unfavourable view of this city. Then again, British people usually have an unfavourable view of everything!
Lesbian Bars/Nights and Cafes/Restaurants
Hurst Street is the keystone to the Birmingham gay community, as well as being a fundamental aspect of the UK's LGBT history. It's where the LGBT community lives and plays, but there's something here for everyone! There are many clubs, lounges, and cafes to choose from whether you want a relaxing daytime drink with a friend, or to party long into the next day. I've narrowed it down to some of my favourites:
The Nightingale Club (Essex House, Kent St) Nightingales first opened in 1969, making it the oldest running venue of the gay scene. It is also the most popular venue, and LGBT people from all over the country will flock to Birmingham just to visit it. The place is absolutely HUGE—it has three floors, a balcony, an outdoor smoking area, stages, dance platforms and even a games arcade area! A warning to heed though—if you present more femininely, there is a chance you might be approached by some desperate, inappropriately behaved men. I'm not saying it's a general occurrence, but nearly every time I have been to Nightingales I have had a crude comment from some creep who thinks he can get me and my girlfriend in a three-way. Nevertheless, I have not let those experiences prevent me from visiting Nightingales again as the fun and friendly atmosphere and positive energy that radiates from the place is one that anyone—gay or straight—would enjoy.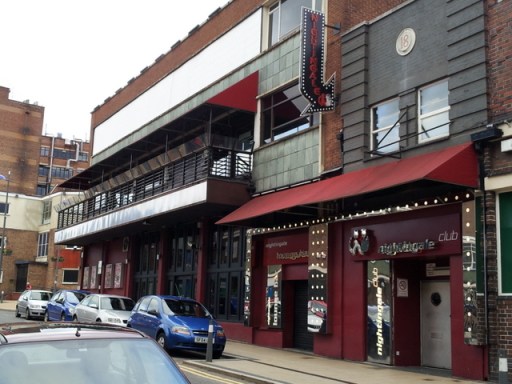 The Loft Lounge (143 Bromsgrove St) If nightclubs aren't your style, then I would also highly recommend another personal favourite, the Loft Lounge. This place also holds sentimental value to me as it is where I took my girlfriend for dinner on her eighteenth birthday, back when we had only been dating a few months. Speaking of dinner, the food is both affordable and delicious (the potato wedges are to DIE for!) and the staff were really helpful and attentive when me and my girlfriend dined there. Apart from a dining area, there are sofas and booths where you can relax with friends and coffee during the day, and a large outdoor area for when it gets too hot. The Loft Lounge open every day all week, and also offers services for stag/hen dinners and civil ceremonies. Although the Loft Lounge has appeal for all ages, I have noticed that it does tend to attract the more mature LGBT generation.
Missing Bar (48 Bromsgrove St.) The Missing Bar is exactly what it says it is—a party bar. Imagine your typical English pub combined with a small dance club… then throw in a bunch of gays, lesbians, drag queens and everyone else under the LGBT spectrum. It tends to be where most of the punters start off their night before heading to the big nightclubs. On Saturday nights it opens its upstairs bar and function room, or as it's more commonly referred to, "The Attic.wp_postsIt has a stage and pole dancing podiums (for anyone who feels like showing off their skills) and is right next to an outdoor smoking area. One of the best things about The Attic is that it is FREE to hire the room for private functions (though you may have to pay a refundable deposit and for the DJ).
The Fox (17 Lower Essex St) The Fox is the only bar that markets itself mainly to lesbians, as most venues tend to be mixed with all kinds of people from the community. However, that's not to say that others aren't welcome! The Fox reminds me of how I'd have imagined a dyke bar to be in the 50's. The posters of pin-up type ladies on the walls, the chortling butches that hover around the pool tables holding bottles of beer… something about the place just makes it feel kind of retro. Personally though, the thing I like most about the Fox is the effort they've made with their garden, as you can see below: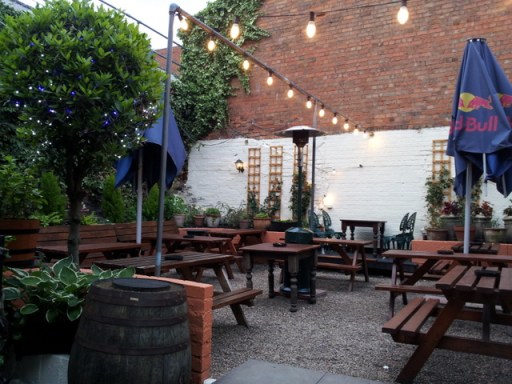 Purple Bar and Lounge (10-11 Hurst St.) If you fancy sipping cocktails in a modern yet stylish environment, then Purple is the place for you. It's a fun addition to the gay village as it has loud, brash drag acts. My girlfriend and I only recently discovered Purple whilst researching for this article, but I decided to mention it because it was the ONLY place where the staff gave me a warm smile when I came in with my camera, rather than look at me like I was a mad tourist.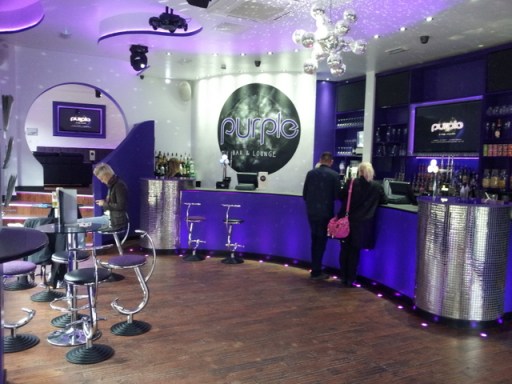 Sidewalk (125-127 Hurst St) Sidewalk was previously known as a popular venue called "The Angel,wp_postsbut has recently been refurbished. The interior design is intended to replicate a San Francisco warehouse (not that I know what one of those look like). It is a place me and my girlfriend have not yet checked off our lists (because we like to eat out a lot, mind the pun!) however it seems to be quite reasonably priced. For example if you want a three course meal on a Sunday it only costs £10.95!
Other places worth mentioning:
Eden Bar (116 Sherlock St) Was voted the best bar at the Birmingham Zone Awards 2010 and also features DJ Dan, whom won Zone's best bar DJ
Bar Jester (42 Holloway Circus)
Club Chic (28 Horse Fair)
Equator Bar (123 Hurst St)
Local or Professional Sports of Interest
British people are famous for their sentimentality and patriotism over the sport of football (soccer, in America). However, although women footballer clubs do exist, and there is a very popular gay men's football club, Birmingham Blaze, I am yet to find one specifically created by and for lesbians. We do have a Gay Outdoor Club branch, which provides recreational sport activities and organises walks on the first and third Sundays of the month. There is also a Midlands Out Badminton Club which meets every Saturday in Perry Barr.
College Life in Birmingham
There are nine universities located in the West Midlands: Aston, Coventry, Keele, Staffordshire, Birmingham City, Warwick, Birmingham, Wolverhampton and Worcester. It is also home to three university colleges, which are Harper Adams, Newman College and University College Birmingham. As far as I know, every one of them has an active LGBT society. In fact, it would be considered highly unusual if one of them didn't! This is because, from my own experience as a student of Wolverhampton, the university environment is the most comfortable and accepting place to be out as LGBT. In my entire first year of Uni, I have not once experienced any form of homophobia, although I could just be lucky.
Activities that University LGBT Societies will organise vary. For instance, I know that Birmingham City University tend to arrange sit down meals as a way to meet up, whereas the society at Wolverhampton University are more prone to organise pub crawls to all the LGBT venues in Wolverhampton.
Many of the popular clubs in central Birmingham will reduce their drink prices on Student Nights, with Thursday night typically being the popular night for student clubbing. Places like Nightingales and Missing will reduce some of their alcoholic beverages to as little as one pound! (That's about $1.56 in American equivalents.) For this reason, I highly recommend Thursdays as the ideal night for clubbing, as although the clubs shut a little earlier than on a Saturday, prices at the end of the week can be a little expensive.
Gay Pride
Birmingham is known to have a COLOSSAL Gay Pride that is visited by people from all over the country. It is usually held during the bank holiday weekend in May, however in 2012 was moved to June in order to avoid clashing with the Queen's Diamond Jubilee celebrations. The highlight of Pride is the street parade that travels throughout central Birmingham, and includes a colourful mix of street performers, drag acts, costumes, stilt walkers and gigantic floats representing different venues or local LGBT activist groups. Every year the Pride takes a different theme—2011's Pride celebrated the diversity of age groups, cultures and ethnicities within the LGBT community, whereas in 2012 the theme was inspired by the It Gets Better campaign. The parade finishes in Hurst Street, where there are hundreds of souvenir stalls, as well as a massive street party that literally doesn't stop for two days!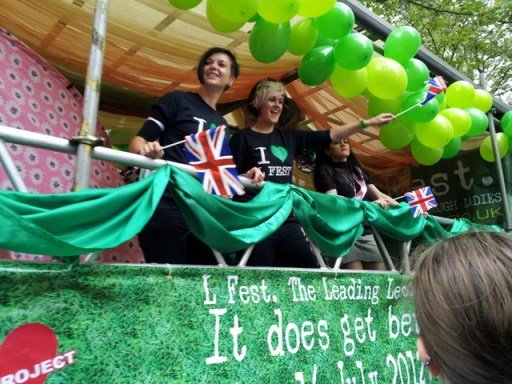 Sadly, I could not attend 2012's Pride as I was away at the time, however I was told by people who had been there that it was a major disappointment compared to the other years. This is likely down to the UK's current economy, which has forced the organisers of Prides around the country to raise the costs of attending Pride. Many sections that would have previously been free to enter were now limited access (unless you had pre-bought a special wristband). I am hoping that in the future this scheme will be dropped, as for years I have become accustomed to attending Pride for free and this is extremely off-putting, but only time will tell.
SHOUT Festival
Another queer event held in Birmingham is the SHOUT Festival, which celebrates LGBT art and culture. If you're into your music, dance, art, photography, comedy, theatre etc. then this is definitely an event worth checking out. It also showcases local talent, so if you are interested in participating go to shoutfestival.co.uk for more details. Like Pride, every year SHOUT adopts a theme; for instance 2011 was centred on groups in the LGBT community that are frequently ignored or marginalized, such as people of color. Last year's festival also welcomed speaker April Ashley, who was the first person in the UK to undergo gender reassignment surgery. The organisers seem to have skipped 2012's festival, apparently to re-strategize the event.
Dating Scene
Although I haven't been on the dating scene for a while having been with my girlfriend for coming onto two years now, from what I have experienced it is very easy to meet people. Although I like to think this is due to my amazing wingman skills, two of my friends that I have taken out to Hurst Street have managed to at least get a phone number from someone in one night. The pattern usually goes like this—you spot someone, you start edging closer by doing a sexy dance, you make eye contact, you buy them a drink, you make the typical small talk before sucking on their face, and then three weeks later you've moved in with them. I'm kidding of course. But you get my point.
LGBT Bookstores
The only book store that comes to mind as being LGBT is Prowler (29-30 Stephenson St). Oddly, it is located at quite a distance from Hurst Street at a place called Stephenson Street, which for those not familiar with Birmingham's geography is a stone's throw away from Birmingham New Street Station. It stocks a small collection of lesbian filmography, magazines (it is the only place I know of that stocks Curve magazine) and books, however today it is a franchise marketed more towards gay men than lesbians, which is a shame as it used to be quite accommodating to both.
Best Tattoo Artists
The tattoo place that is often visited by LGBT people is, unsurprisingly, one that is located in the Gay Village. With the owner Jake having nearly forty years of tattooing experience under his belt, Tattooing by Jake (147 Bromsgrove St) is one of the longest running and finest tattooing parlours in Birmingham. Jake also happens to be my great uncle, and tattooed the shoulder piece I had for my eighteenth birthday.
LGBT Health Services
Healthy Gay Life (HGL) (Centre for Community Health, Frank St) is a health clinic located in the Gay Village. It claims to that some of their services are available for lesbian and bisexual women, for example counselling, psychotherapy and access to support groups. However, it does seem to have more resources for the sexual health of men than it does women; it has very little information or advice on protection for lesbian sex i.e. dental dams. That said, the clinic has won Zone's "Best Achievement for a Communitywp_postsaward twice, so it must be doing something right.
Social Groups
Acting Out—an LGBT theatre group for those who want to show off their acting skills, or simply help out backstage.
Bi Women's Discussion Group—held on the fourth Saturday of every month at the HGL Centre. Gives bisexual women the opportunity to meet and discuss topics such as personal experiences, biphobia, the media, bi and trans issues etc.
Brum Bi Group—open for both men and women and held during the second Tuesday of the month. Is where bisexual people from around the Midlands can meet for a gathering and to organise social events.
Fox Film Club—a film night held by the Fox pub every third Sunday of the month. Worth going as admission is free!
Older Lesbian Network—meets every second Saturday of the month at the HGL centre. It is where older lesbians can meet, socialise, and bring food as a way of showing off their culinary skills! Apparently they also meet for theatre outings and meals. Meetings also include open discussions over a pre-arranged topic.
Outskirts—a trans* social group that aims to increase confidence and self-esteem in women. Will often arrange social meals, followed by a night of clubbing.
Places to Avoid
Be careful not to venture too far out of the Gay Village into the neighborhoods surrounding it. The surrounding area is mainly industrial sites and, not only is it dull and looks unattractive, it can also be dangerous if you are on your own. Of course, every city has its areas best left avoided, however there are two towns that I will mention in particular to avoid, and these are Erdington and Kingstanding. This is because, from my own personal experience, they are hostile environments (and thats in general, not just to LGBT people) violence and gang crime is common and drug use is at large. And if ANYONE on here I from either of these places, I apologise in advance as I know not all people from these areas are bad. I just wouldn't recommend them to tourists. Luckily, you would have to get the train from central Birmingham to reach these areas, so I doubt any of you would accidently stumble across them.
Other places worth mentioning
Birmingham Hippodrome (Hurst St) A theatre best known as home to the Birmingham Royal Ballet (which I highly recommend, as I saw a performance years ago and it was FANTASTIC). However, even if ballet isn't your cup of tea it also hosts performances of opera, touring West End shows, pantomime, drama and stand-up comedy. If that isn't enough, the Hippodrome also welcomes people to take part in their dance programme Dance Xchange.
Electric Cinema (47-49 Station St) The oldest cinema in the United Kingdom. I love it because it has stayed true to the Art Deco style it was built in, and truly is the finest place to see a film. The experience you get here is unlike any other cinema chain—you can hire sofas in order to watch the film comfortably, and there's a waiter service available where you text them what snacks you want and they BRING THEM FOR YOU! Doesn't get any better than that right? If you don't believe me, just ask Katy Perry. She spent her 27th birthday there.
Birmingham Back to Backs (55-63 Hurst St) If you are interested in a history lesson on the people who made Birmingham what it was, the Back to Backs is a good place to start. You are taken on a guided tour around the back to back houses—which are literally old houses that were built back to back around a court yard. It covers the lives of ordinary people ranging from the 1840s to the 1970s, and the organisers have really done their best to make it as interactive as possible. They have even tried to make it smell like it would have when people were residing there. What was even more interesting, not long ago the company did a collaboration with Gay Birmingham Remembered and theatre groups to research to history of four LGBT people from Birmingham. This was developed into performances on the site, and explored the social and political issues these people faced in their time. These performances were eventually published on a DVD.