Hey Friends!
There are two episodes left until the end of Pose's second season but the story definitely isn't winding down. Last weeks episode tackled questions on leadership and responsibility and this weeks episode doesn't veer far off from that thematically. However, in addition to responsibility and leadership, the characters struggle with growth, accountability.
In the first scene of the episode, Pray is talking Ricky through his new normal. He tells him what meds he has to take and how his relationship with his body needs to change to protect his health as best as he can. It's scary because they're scrambling to maintain as much control as possible but they both know that a lot of it is out of their hands. Pray even tells Ricky to eat his vegetables which sounds real parental until Ricky starts flirting again. Instead of going home, Ricky makes some bullshit excuse about Elektra's love life and Pray allows him to crash on the couch. Ricky doesn't stay on the couch. He hops in Pray Tell's bed, which finally prompts them to have the "what is this" conversation. Ricky is into Pray — duh — and Pray is maybe into Ricky or maybe he needs someone, anyone. Pray's intentions aren't clear yet and neither are Ricky's for that matter. He started flirting with Pray before his diagnosis but maybe Ricky needs to feel like he can be cared for.
Pray and Ricky have sex and I keep rewatching the scene. It's stunningly beautiful and it carries a lot. Every time I watch it, I remember that this is Billy Porter's first on-screen love scene and boy, it's a hell of a first. Black people caring for each other or holding any sort of intimate space together is something that I rarely see on TV. With Black queer people and specifically Black gay men, intimacy is near nonexistent. Black masculinity is politicized and weaponized so much that sometimes I think it walks into the room before I do. As a person who identifies with masculinity — though I'm still figuring out what that means for me — I find myself trying to be smaller, or less threatening or less of whatever people project onto me. Sometimes that looks like smiles that are a little too wide; other times, it's a stiff jaw and eyes that only look straight ahead. Regardless of how I try to mold myself to survive, it's never restful.
In the last scene of their night together, Ricky is laying on Pray and they both look rested. There are a million valid concerns or critiques about their relationship. There's a significant difference in power and self-knowledge, they're both in really vulnerable places in their lives, and Ricky really needs to learn to be his own person. All valid and I'm concerned too but I think, for now, this is what they both need.
The next scene is my other favorite couple! Angel and Papi (are we really going with Pangel?) flirt and make cute over Angel's bebe cover. We find out that the evil photographer dude continued to be a creep but didn't ask Angel to pose for any more pictures or tell anyone that she's trans. Angel says maybe this is the end of it but she doesn't sound like she believes it and neither do I. What's frustrating though is that we see flashbacks of the photographer very obviously invading her space and the people around shoot looks at each other but no one does anything. Don't do nothing if someone's being hurt in front of you. After more flirting, Papi takes Angel to his friend's apartment and tells her that she can rent it if she wants. The way Papi sees it, Angel needs a new place to match her life changes, and she can afford it now. Angel seems to agree. They share a moment by the apartment's gorgeous windows. They can see the piers where they both used to work from the apartment. So much has changed.
The scene switches back to Pray, but this time he struts into the emcee meeting and I couldn't stop laughing. Pray deserves a little happy. His fellow emcee's notice his glow — mostly because he accepts a category change without complaint — and it doesn't take long for him to tell them about Ricky. They're understandably concerned; someone even calls Ricky an infant but they still give him support. What's worrying Pray the most is telling Blanca.
At Blanca's house, Damon and Ricky prep dinner. Apart from them, the house is empty so Damon tries to use the moment to let Ricky know he's done punishing him, and they can be together now. Ricky tells him about his status and also kind of accidentally lets Damon know he's sleeping with Pray. Damon's upset and hurt, so he tells Ricky to get out. Then he folds over by the window and screams. Poor thing.
The next time we see Damon, he's at his graduation. He's performing and the entirety of Evangelista — plus Elektra, Pray and Lulu — show up to support him. He dances his heart out and does really well because Damon's always been good at channeling his emotions through dance. After the performance Blanca shares a beautiful moment with Helena, Damon's teacher. She tells Blanca that "It's been a delight to teach Damon, but it has been an honor to know [her]". I really like their friendship and I hope it continues outside of Helana's teaching relationship with Damon.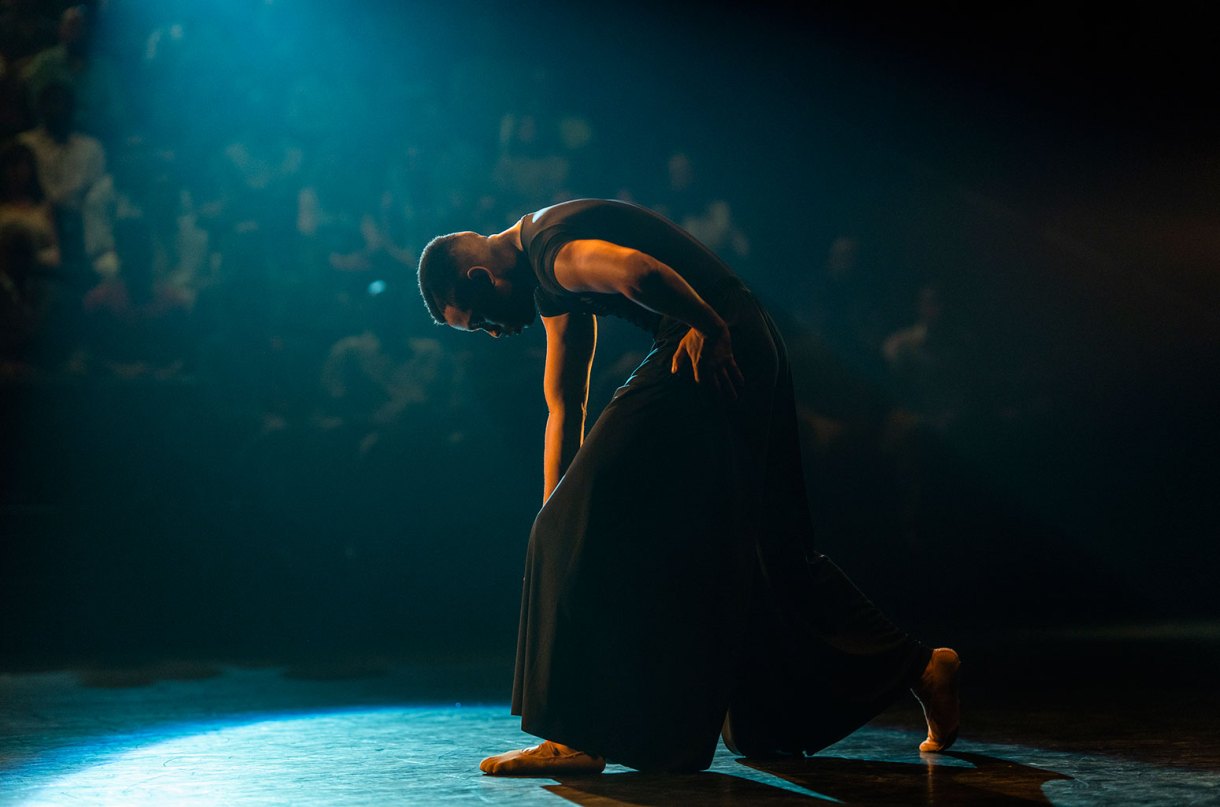 Everyone heads to Evangelista for Damon's party and Angel gets maybe a little too much to drink because she starts ribbing Damon; he snaps back, and all of a sudden it's not good-natured teasing anymore but a full-blown argument. Damon decides to let Blanca know that Angel and Papi were doing coke and Lulu adds that she saw Angel using in the bathroom so now we know Angel didn't stop when she said she would. Angel denies it so Blanca steps in to protect her and Damon takes it as Blanca not believing him so he yells at her too. Then, he lets everyone know that Ricky tested positive and is sleeping with Pray. It's a lot to drop on the whole house and this scene is heavy but it's also hilarious. Elektra and Lulu are in the background the entire time being nosy as hell. At some point, Lulu gets up to leave but Elektra makes her sit back down. This episode was one of my favorites this season and this scene is a big part of why.
The fight comes to a head when Damon calls Pray a slut and Pray lunges at him but he's stopped by Blanca, Lulu, and Elektra. Pray lets them know that Damon is telling the truth and everyone's disappointed. They tell Pray that as an elder, it's an abuse of his position to be sleeping with one of the kids. Pray reminds everyone that Ricky is grown. Okay, that made me feel a bit icky because Ricky is 23 but who the hell am I to judge you know? I think it's complicated but Elektra and Blanca's concerns are valid.
Later at this week's ball, the tensions have not died down. Angel is still maintaining her innocence, Blanca's still pretending to believe it and Damon's still hurt. His hurt doesn't stop him from taking home a trophy, but instead of celebrating with his house, he goes to the dressing room alone. There, he's contacted by someone who claims to "work closely with Malcolm McLaren."
After the ball, Blanca and Pray have another go at it. Pray tells Blanca that she has favorites and Blanca doesn't take it well. He's not wrong though. Their fight is enough to send Pray home with a bottle and when Ricky comes over, Pray's already defensive drunk. Ricky surprises me — he takes care of Pray. He half carries him to bed, takes his shoes off and — despite Pray's certainty that Ricky won't stay the night — makes him breakfast in the morning. They share another moment together and my heart physically melted at the look on Pray's face when he sat down to breakfast.
While Pray and Ricky are eating, Blanca meets Angel for breakfast at a restaurant. Blanca tries to shrug off all the drama of the past few days — and she's also kinda mean to Pray — but Angel calls her out on it. Angel also tells Blanca the truth about the coke and stops her from blaming Papi. She lets Blanca know that the coke was her idea and that she has a place to stay, so Blanca should kick her out. It's hard for both of them, but they hug it out. When Blanca arrives home, Damon's packing his bags. I thought he was moving out and he kind of is, but it's only temporary. Damon's been selected to go on tour with Malcolm McLaren. In Europe. He says he won't go but Blanca does what she does best and gives him the support he needs to leave the nest. With Angel and Papi gone and Damon leaving, Evangelista is empty. Blanca goes to Elektra to process and she's helpful in her way. She reminds Blanca that parenting is often a thankless job and her kids will appreciate her when she's dead. I've missed their moments together.
Then Damon leaves. He makes up with his siblings and says goodbye to Blanca who seems to be taking it well but in the final scene, she makes herself dinner for one and breaks down crying. I'm hurting for Blanca. Her kids helped her rediscover her strength. In fighting for them, she learned to fight for herself. I think it's necessary for Blanca — like a lot of mothers — to find herself outside of her children and I'm excited to see where her story takes her.