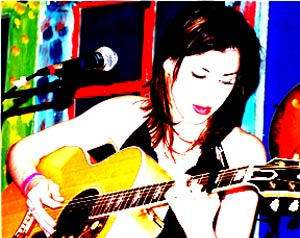 Between Glee and American Idol we hear different arrangements of well known songs on a weekly basis. Sometimes artists completely reinvent a hit song  like Hugo turning Jay-Z's  "99 Problems" into an alt-country jam or Ryan Adams turning Oasis' rockin' "Wonderwall" into an achingly painful acoustic plea. THIS is where the magic lies.
FYI, I intentionally chose rare covers you may not be familiar with already to expand your mind and ears!
Playlist of Amazing Cover Songs
99 Problems – Hugo (original by Jay-Z)
One – Aimee Mann (original by Harry Nillson)
Sealion Woman – Feist (original by Nina Simone)
Baby One More Time – Travis (original by Britney Spears)
Wonderwall – Ryan Adams (original by Oasis)
Sea Of Love – Cat Power (original by Phil Phillips)
The Future – Teddy Thompson (original by Leonard Cohen)
Bad Things (True Blood theme) – Black Rebel Motorcycle Club (original by Jace Everett)
Black & Gold – Ellie Goulding (original by Sam Sparro)
Rolling in the Deep – John Legend (original by Adele)
Shelter – Kelly Clarkson (original by Ray LaMontagne)
Crazy – Ray LaMontagne (original by Gnarls Barkley)
Toxic – Stevie Ann (original by Britney Spears)
Jolene – The White Stripes (original by Dolly Parton)
Like I Love You – Bell X1 (original by Justin Timberlake)
King of Pain – Alanis Morissette (original by The Police)
I Wanna Hold Your Hand – Glee / Chris Colfer (original by The Beatles)
Listen to the entire playlist here!