Welcome to Queer IRL, a monthly Autostraddle community photo series that gathers little clips of lesbian, bisexual, queer and otherwise-identified women, trans and non-binary folks, just living our lives in 2017.
Let me tell you a little something about yourself: you have really, really been looking forward to this gallery. Since like, January. Over 225 of you rolled up into my inbox with your furry/feather/gilled/planted pals! That's so many. In fact, this is our largest gallery to date!
If you're even barely considering adopting a new pet friend of your very own, I have to warn you: this gallery will for sure put you over the edge. Proceed with extreme caution.
Ok it's time for pets!! Place a bet: how many goats do you think are in here?
---
Ariana and Archer / 25, 6 / Our Apartment in Los Angeles, CA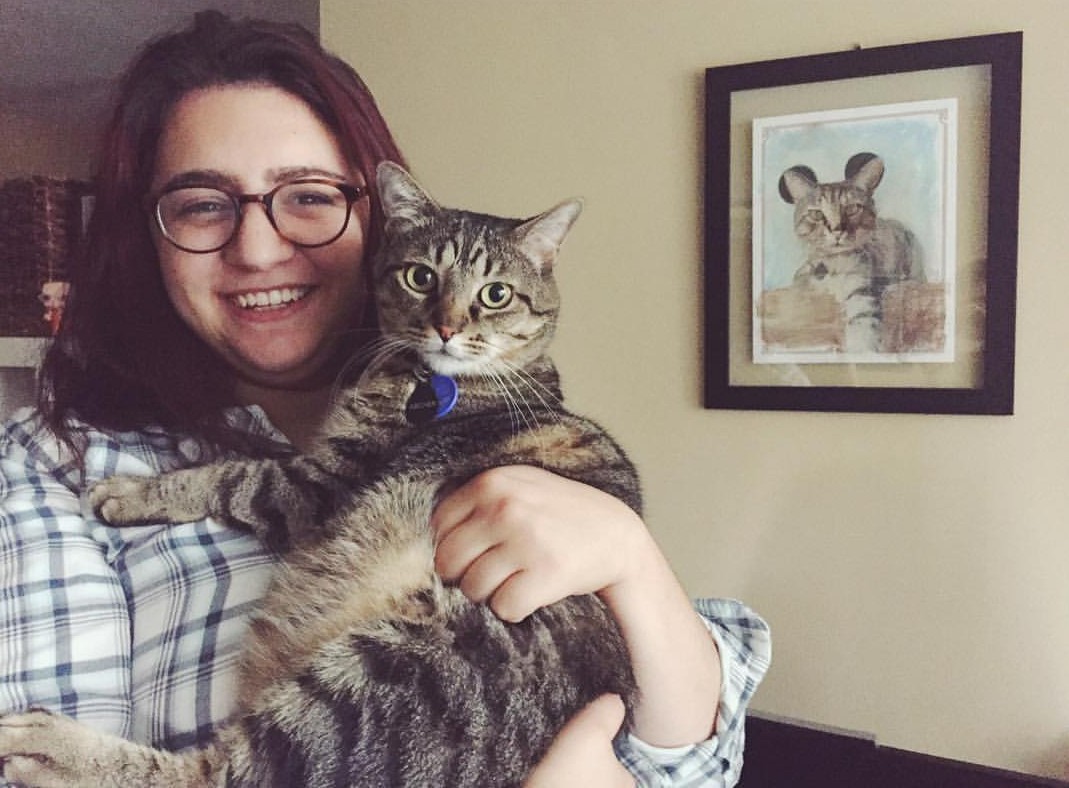 "I adopted Archer from the South LA Animal shelter in 2013. He was the derpiest looking cat I'd ever seen. He was so friendly and chose me. We've been inseparable every since. I say inseparable because he was most likely abandoned as a kitten and has separation anxiety…he needs to always be near me or touching me. I named him Archer because like Sterling Archer (from FX's Archer) he's a loud-mouth ladies man that is also a mama's boy! He's been there for me through a lot – death of a family member, moving, break-ups, new jobs – but he still manages to brighten my day with cuddles and quacks (his meow is so deep and raspy it sounds like a quack!) This photo is us in front of the portrait I got of him a Disneyland which you can apparently do if you bring in a photo."
---
Liz and Harper / 32, 5 / Los Angeles, CA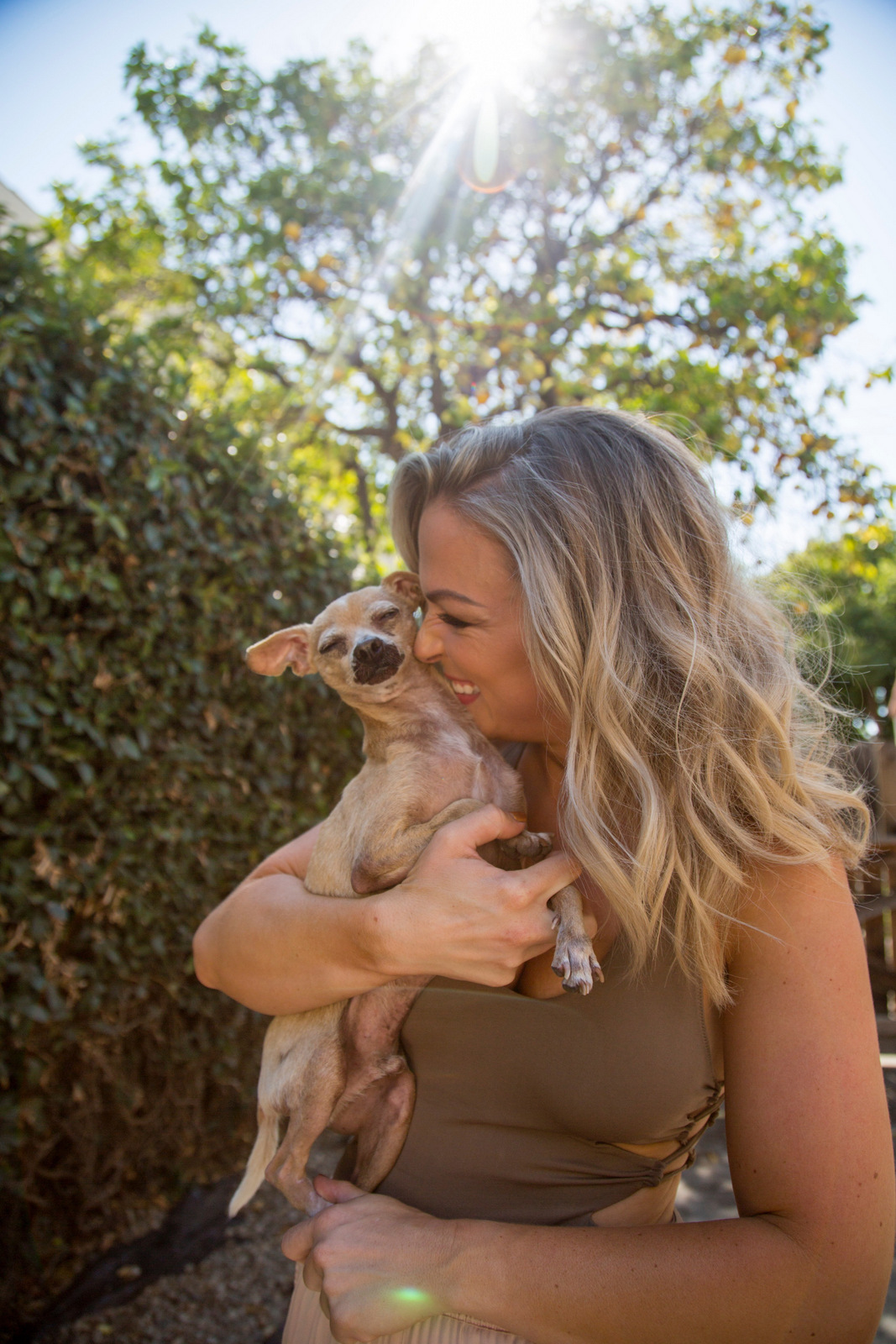 "Four years ago I fostered Harper through a small dog rescue in LA. He was severely malnourished and had pneumonia. He only weighed three pounds! After three months of nursing him back to health, there was no way that I could part with this little nugget! He is my first ever dog and I am in love.
Harper came with his name but sometime I think I should have named him Napoleon. The best thing about him is that he is that he loves the outdoors and hiking as much as I do! Harper might be small but he is very active like his Momma. We enjoy dog beach visits, long walks, hikes, and morning cuddles. The weirdest thing about him is that he has crooked front legs and a goofy little run. Love my little man!"
---
Haley and Wilma / 34, 8 / Atlanta, GA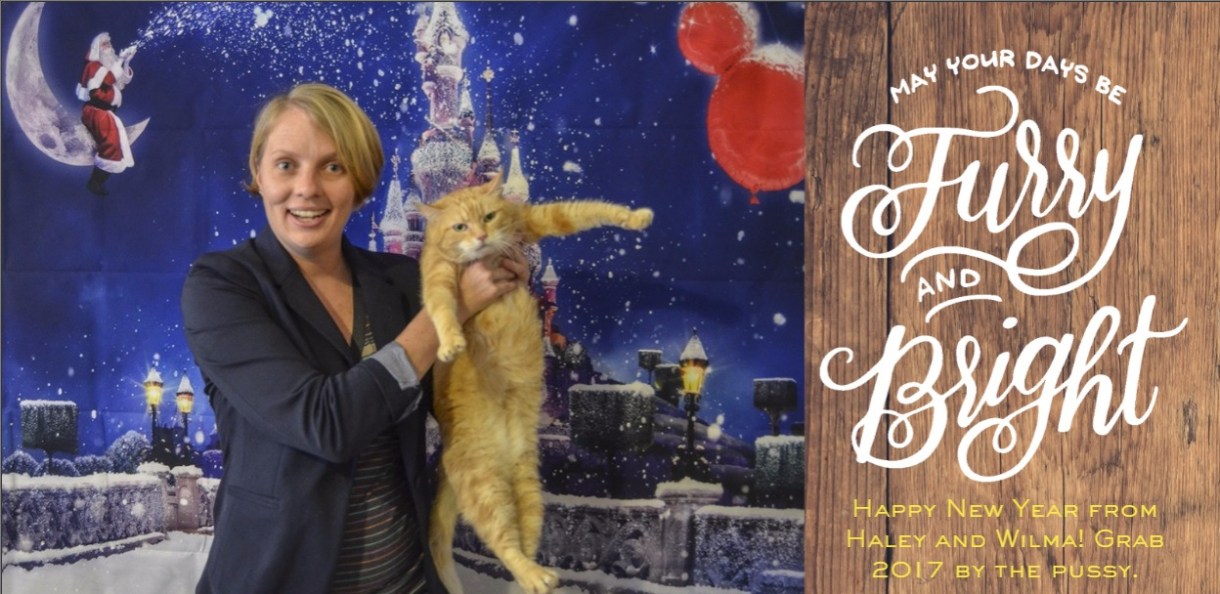 "Rescued from the Atlanta Humane Society in the sweltering heat of August 2010, Wilma was originally supposed to be a kitten. Fortunately, her owner fell in love with her striking green eyes and decided to take a chance on a grown-ass cat.
All gruff and no meow, she takes her summers in the hall closet, and winters under a quilt. Unlimited belly rubs are the norm, with no time limit 'til impending bites or scratches like ordinary cats. She likes hair bands, quarters, and milk caps, though not in that order. Never a playful cat, she will ignore toys for weeks on end then stay up playing with them on a three-night bender, foregoing sleep for the thrill of the hunt like her ancestors upon the savannah."
---
Lisa, Sampson, and Kiernan / 40, 6 months, 24 / Houston, TX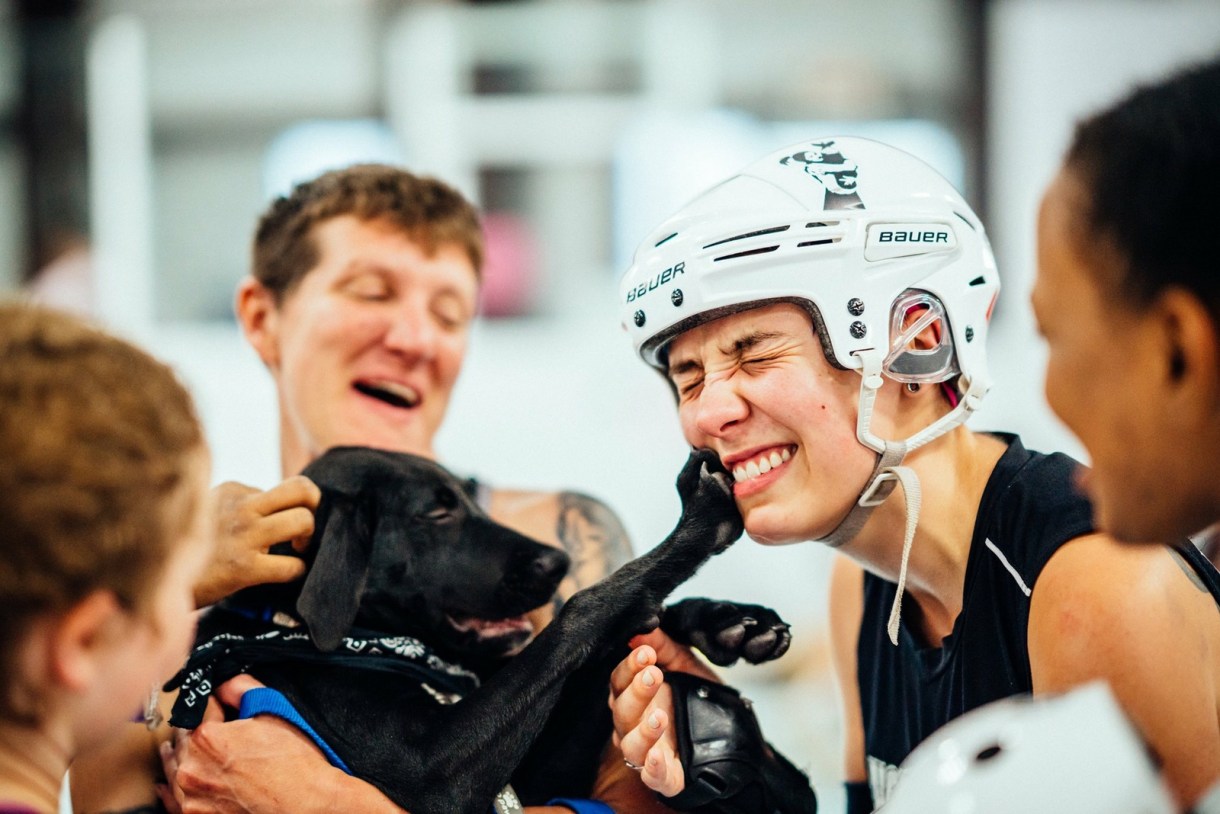 "We got our pretty boy at Houston SPCA. He frequents roller derby bouts and is a very enthusiastic supporter!
*not pictured, cats Fritz (18), Gumdrops (6), Kiri (3), Korra (3), Lilith (1), and Ramona (~3 mo)"
---
Alex and Kiki / 23, 6 months / Denver, CO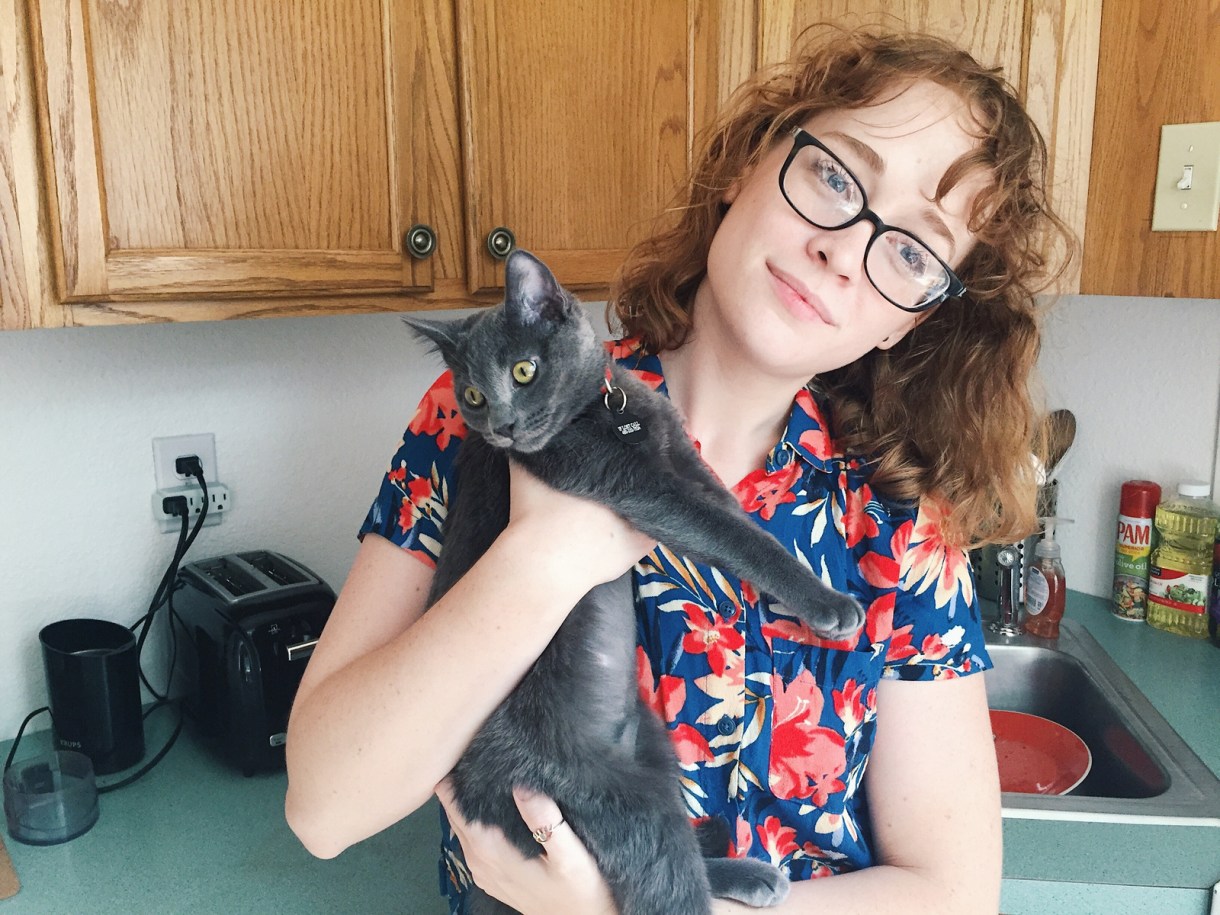 "Kiki was found all alone in an alley by a friend. I saw her photo on their Facebook adoption post and just immediately knew she was supposed to be a part of my family. I've had her since she was only six weeks old! I love the film Kiki's Delivery Service and couldn't let go of the idea of naming my smoky grey cat after an adorable witch. Kiki loves her fancy cat food, Trader Joe's knock-off Cheerios, destroying my plants and climbing up her favorite people to sit on their shoulder."
---
Shannon and Sprinkle Dot / Tucson, AZ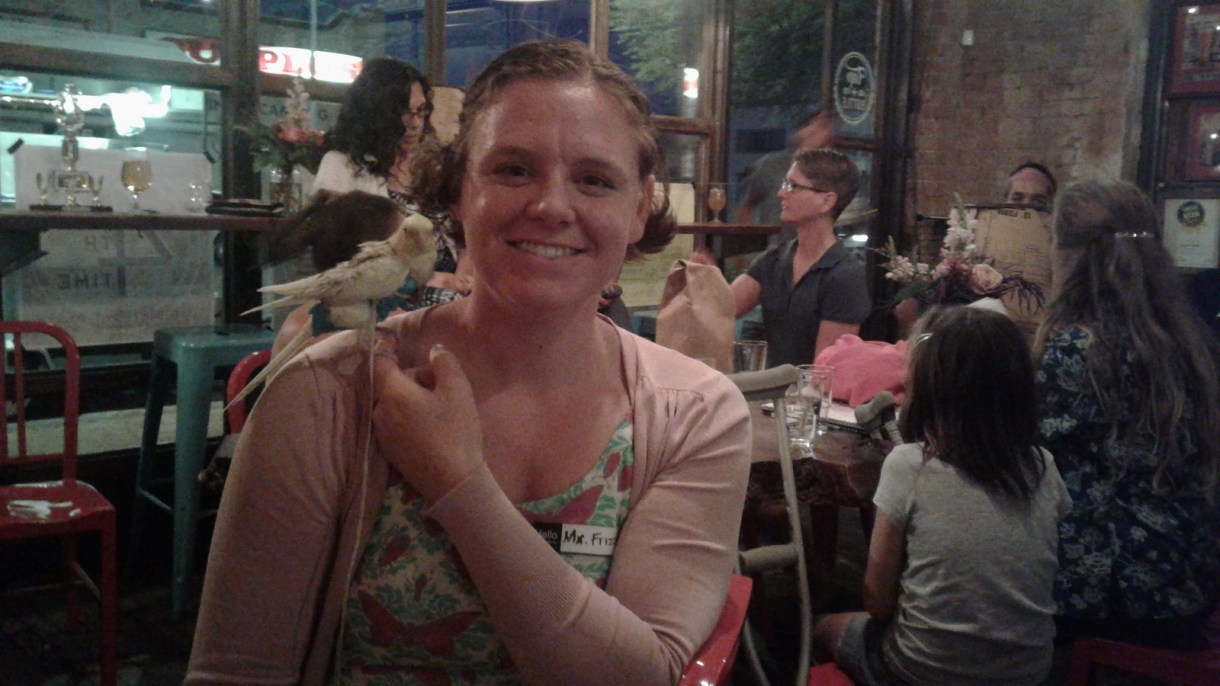 "This is one of my cockatiels, Sprinkle Dot, at the adult spelling bee in Tucson, AZ wearing the diaper and flight harness that I sewed for her. She likes to ride along on my bicycle and hang out in trees at the park. My preschool-aged child named her and our other birds when they were naked chicks (not pictured: Cinnamon and Vanilla). We often take a bird with us when we go places. They're very sweet and social. Instagram: @superfreshcandypants"
---
Coco and Dog Mary Oliver / 24, 4 / Brooklyn Bridge Park, NY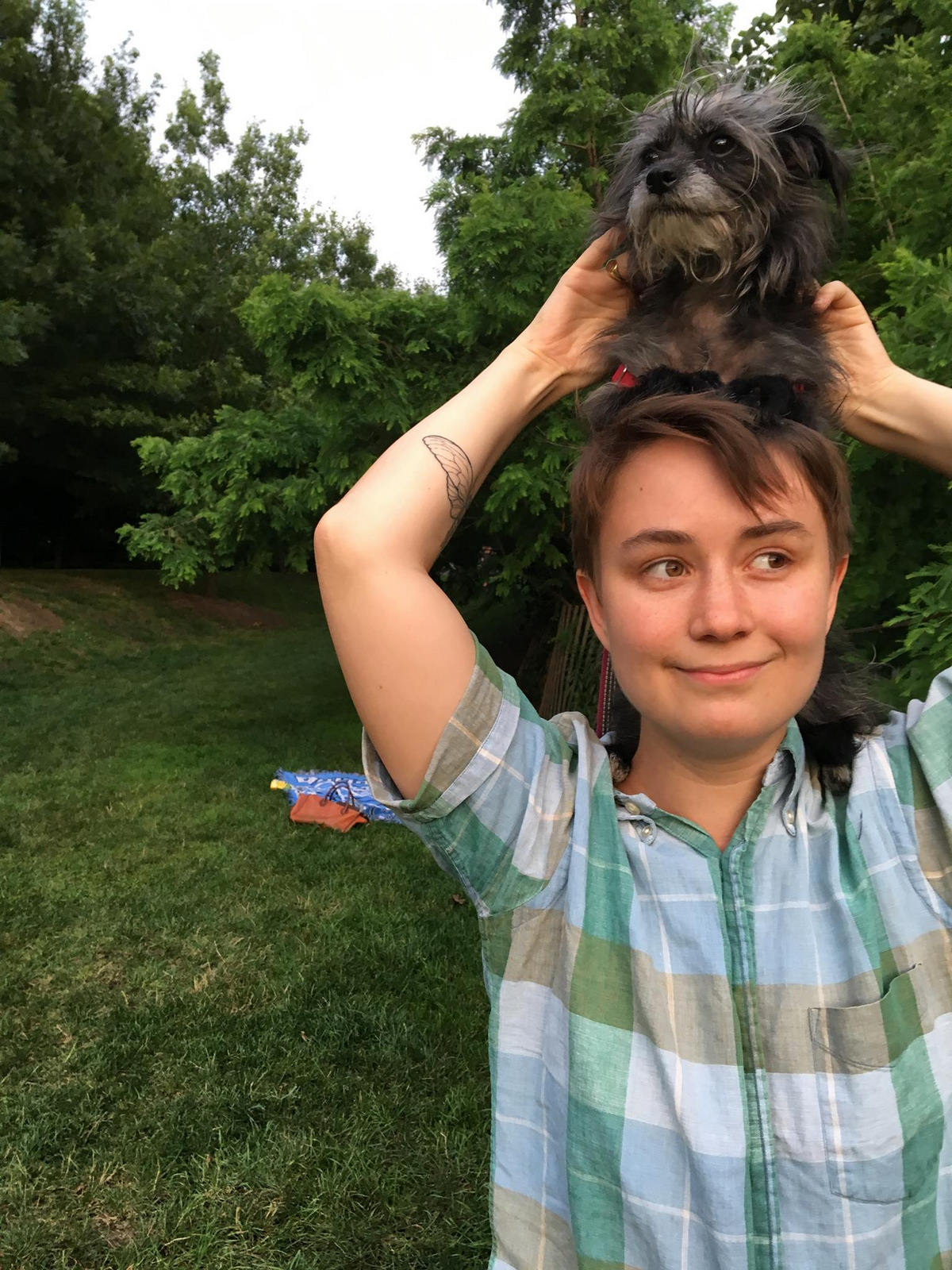 "This is my pup Dog Mary Oliver (nee Oreo), who goes by Ollie or DMO. I adopted her after moving to New York because I couldn't survive grad school on glitter trash island without the "soft animal of [my] body." That's a line from Mary Oliver's poem "Wild Geese." Ollie was an owner surrender from the Manhattan ACC; her adoption fee was only $20.16 as part of an "elect to adopt" campaign. Because my lease technically didn't allow dogs, I went with my partner at the time (also queer) and one of his dogs; we played the "co-habitiating couple" act. We met a dog I originally wanted, then I threw up at like 10 am on the street outside the East Harlem shelter, then we went inside and met Ollie. He signed all the papers, but I walked out with her.  It was all very gay. Now I live in one of those New York apartments that's 90% hall, and Ollie and I like to play this game where I jump and pretend like I'm going to chase her and she scrambles down the hall so fast she body slams into to the wall while turning the corner. I could go on or you could just follow her femme Aries adventures on Instagram @dogmaryoliver."
---
Brigid and Elliot / 22, 2 / Louisville, KY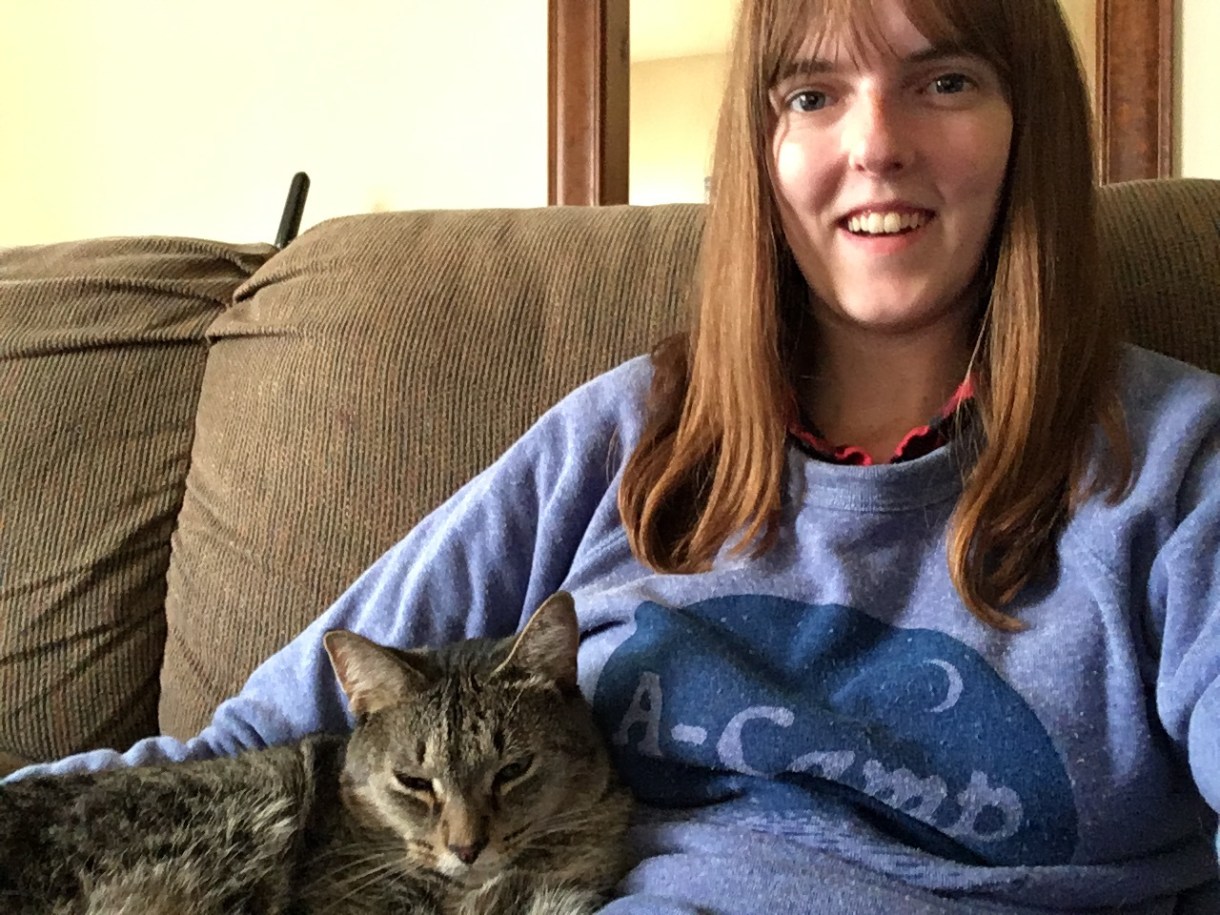 "I adopted Elliot from a shelter about a year ago; I fell in love with his chatty and cuddly personality! He loves attention and is a total lap cat. I love coming home from work and just spending time with him. In this picture we're watching Star Trek: The Next Generation. He loves it and luckily I do too!"
---
Rebecca and Stella / 24, 3 / Charles Village, Baltimore, MD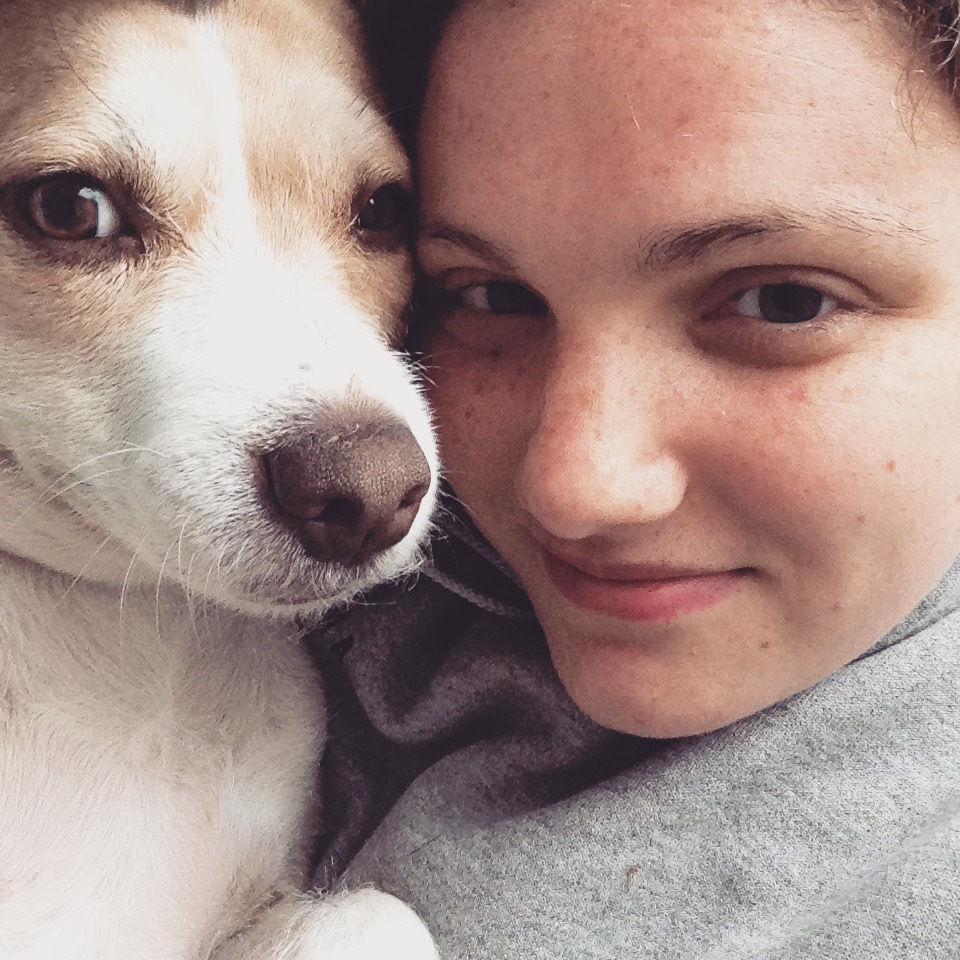 "This is my beagle mix, Stella.  I adopted her last July after finally moving into a place that allows dogs.  She's named after Gillian Anderson's character in The Fall, but fun fact: if you name your very independent dog Stella, every trip to the dog park turns into A Streetcar Named Desire.  Our favorite things to do together are go for long walks around Hampden in Baltimore and snuggle on the couch watching The X-Files.  The best thing about Stella is that she's very sweet and affectionate and loves every single human she's ever met, and the weirdest thing about her is that her favorite treat is tortillas."
---
Katy and Toby / 24, 3 / Denver, CO
"I adopted Toby from a shelter a little more than a year ago. The 110-pound mastiff/lab mix came into my care with the name Toby, and it suited him so well that I stuck with it. He's very skilled at lying down and eating things off the counter. We love going on walks together and snuggling. Toby is known for his impressive drooling and relentless pursuit of squirrels, ducks, geese and rabbits."
Korra and Jodie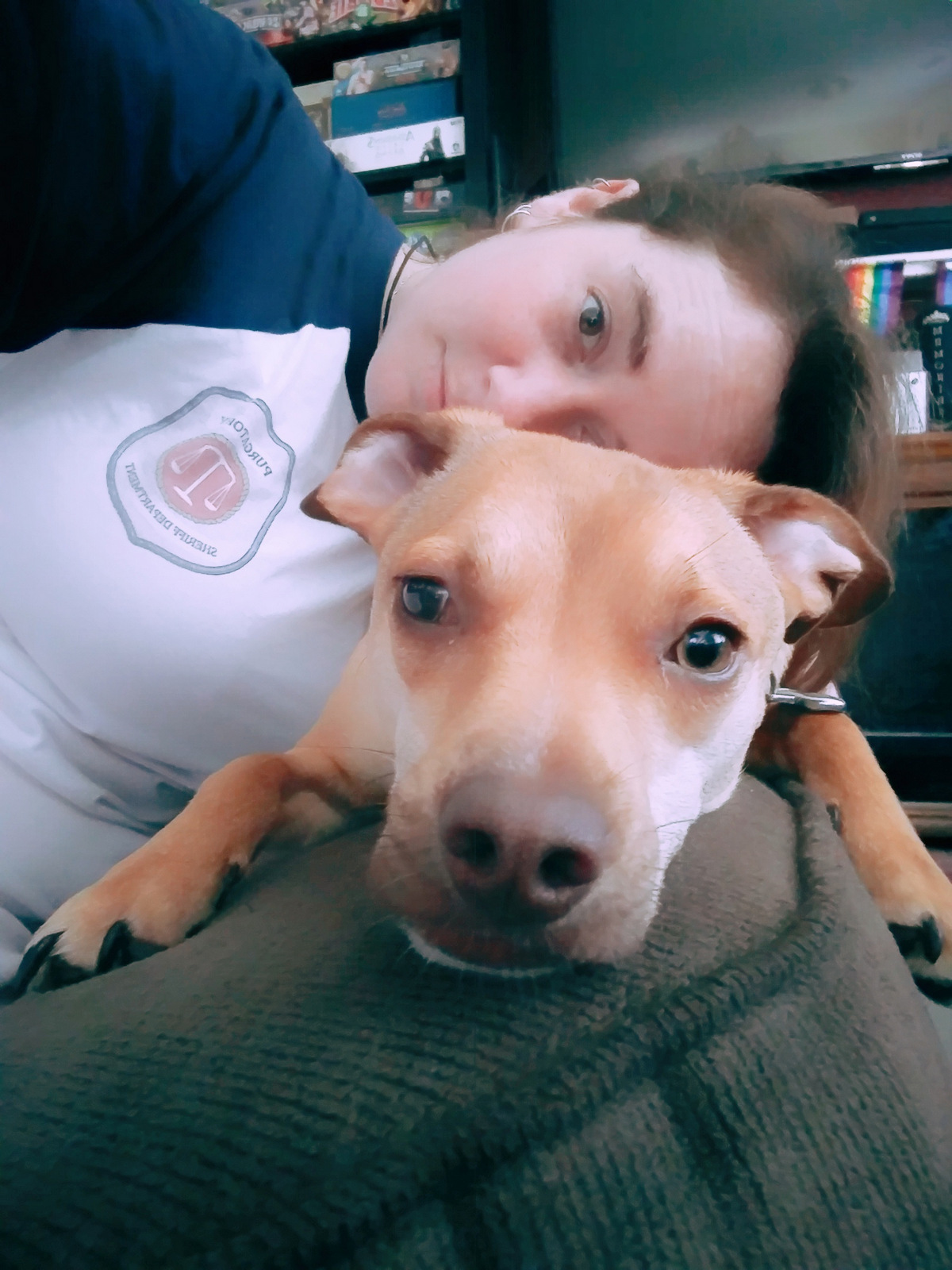 "Korra is a 11 month old Chihuaha/Staffie mix, who was born blind in both eyes. We hadn't intended to get another dog, after our Yorkie, Rolo, died of inflammatory bowel disease in December. But something made me want to look on Pet finder one day in April and there she was. When we called the rescue, they told us that there had been a lot of interest in her, until people found out she was blind. Then they didn't want her. We loved her from the minute we met her. She is a crazy ball of energy, who doesn't let the fact she can't see, stop her in any way. She is completely fearless. Wouldn't have her change for anything."
---
Cassy Lamothe and Risk / Shelburne, VT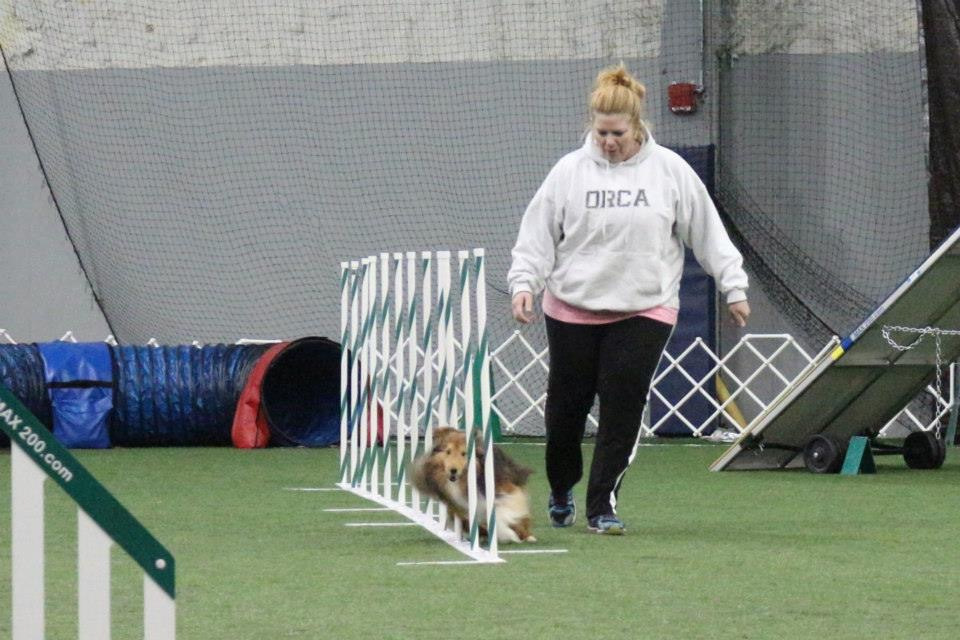 ---
Izabella and Dr. Beverly Crusher / 21, 3 / Houston, TX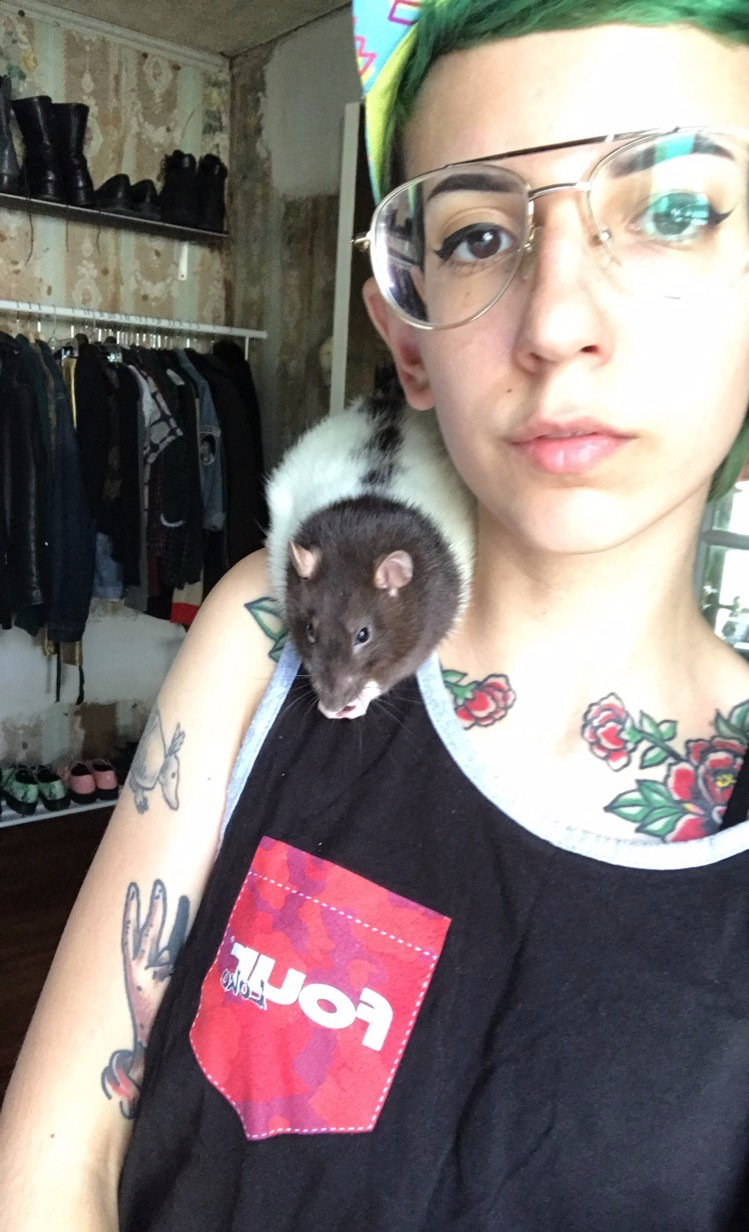 "I went with my partner to a pet store to buy fish food and Crusher and her cage mate were dying to get our attention. My partner and I had only been together for about a month and a half but I knew we needed them. We spent hours trying to figure out names for them; they had to be the perfect duo but not something too cliche, so we decided on Dr. Beverly Crusher and Counselor Deanna Troi.
Our favorite thing to do together is take naps and her favorite snack is spaghetti (same tbh). And for being over 1 pound, she is surprisingly nimble and loves to climb my leg while I'm cooking. She is my little chubby baby and my best friend."
---
Giorgia and Oscar / 21, 2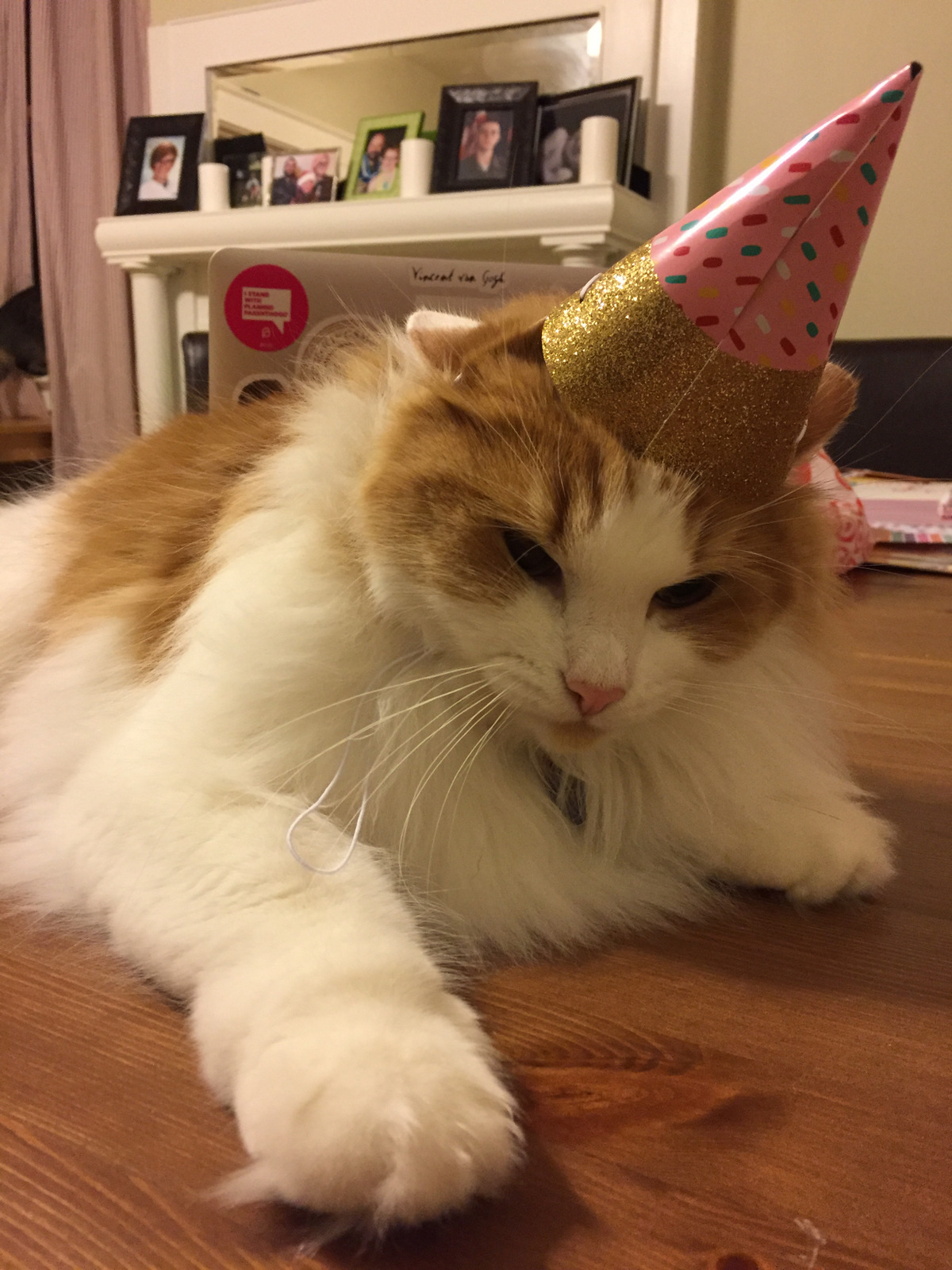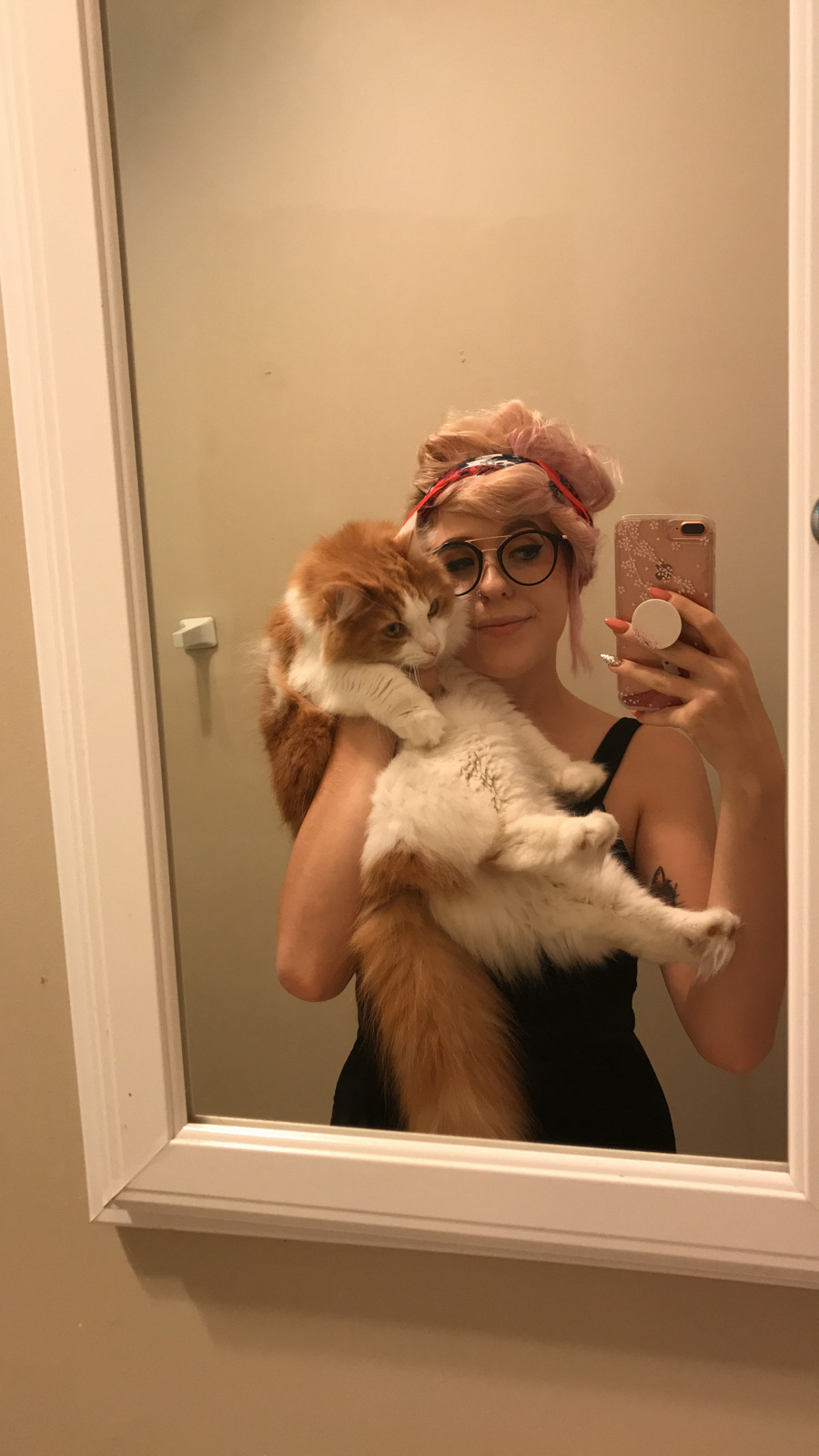 "I was a foster mom for cats for years and never kept any of the kittens I helped birth. Oscar was a tiny scrap that no one wanted, she hid in my room and never came out. Two years later she rules my heart and home. Best/silliest thing about her is that she hates all toys except for Nerf bullets and bouncy balls. Every three months I buy her a pack. She stands on the second floor and drops the bouncy ball down each step, meows because it's far away, then goes to get it and repeat the process. I hold her in her baby carrier and dance around while I do my paperwork. She's the biggest Planned Parenthood supporter I know! No insta for her, but lots of her on mine! My Insta is @authenticvangogh."
---
Sara and KitKat (aka Angel Prince of Darkness) / 34, 7 / Little Rock, AR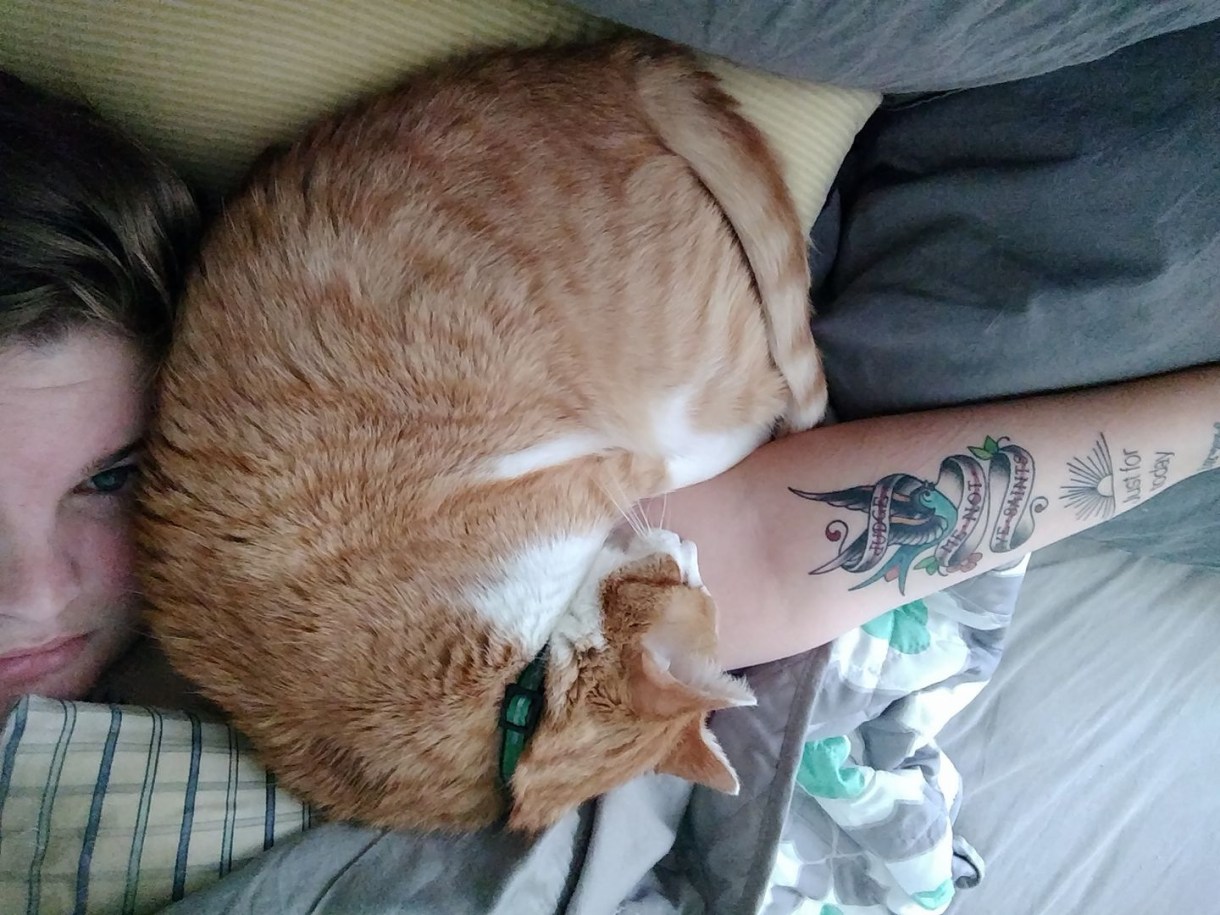 "My fiancee wanted a cat, so I set about finding one to adopt. This crazy guy wasn't being picked because he has FIV and his foster's description of him seemed to fit what I was looking for. I never wanted a cat before, but now he's my baby boy and barely gives my fiancee the time of day. Drives her nuts! As you can see, he has no concept of personal space."
---
Justine and Tucker / Kalamazoo, MI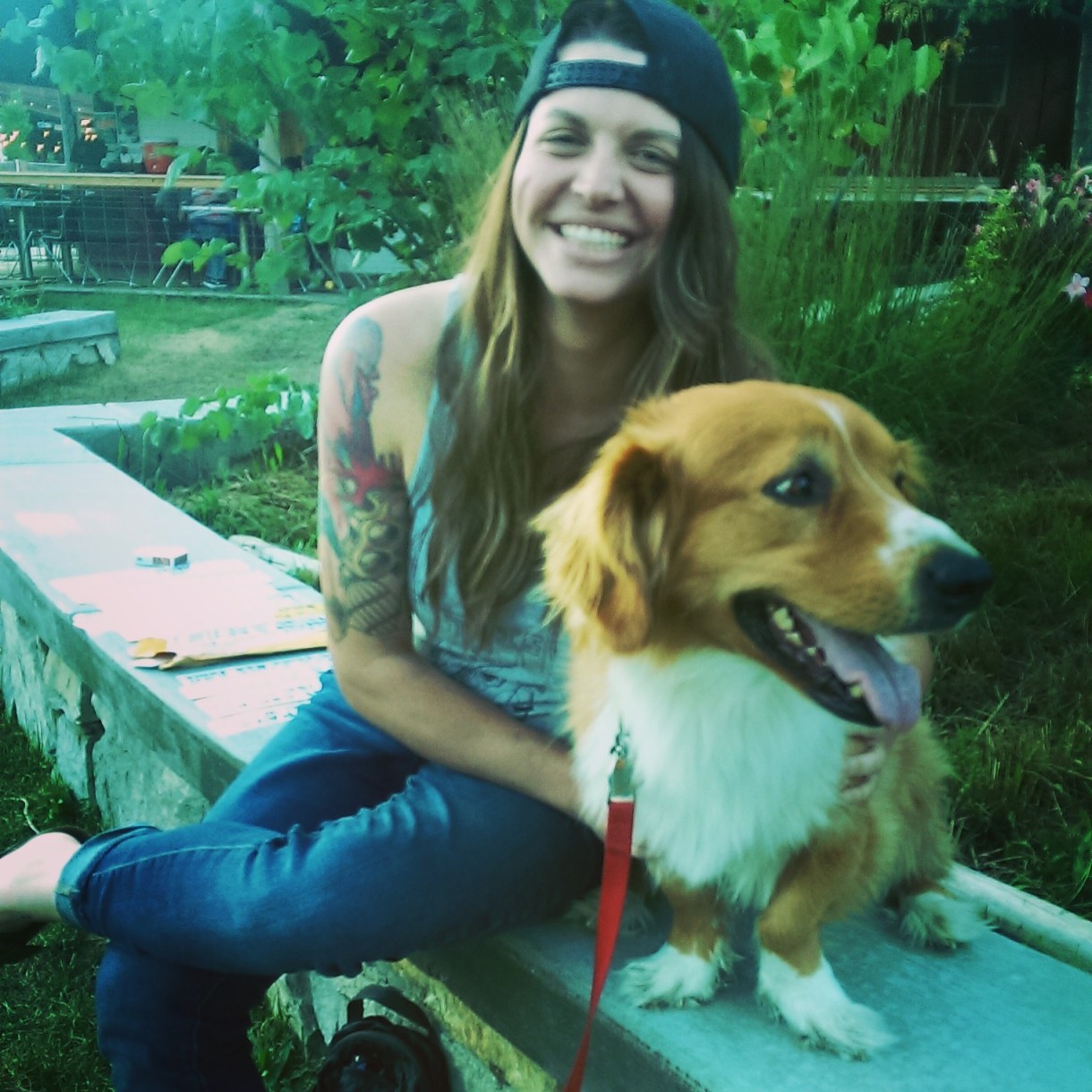 ---
Kelli and Ruby / 27, 6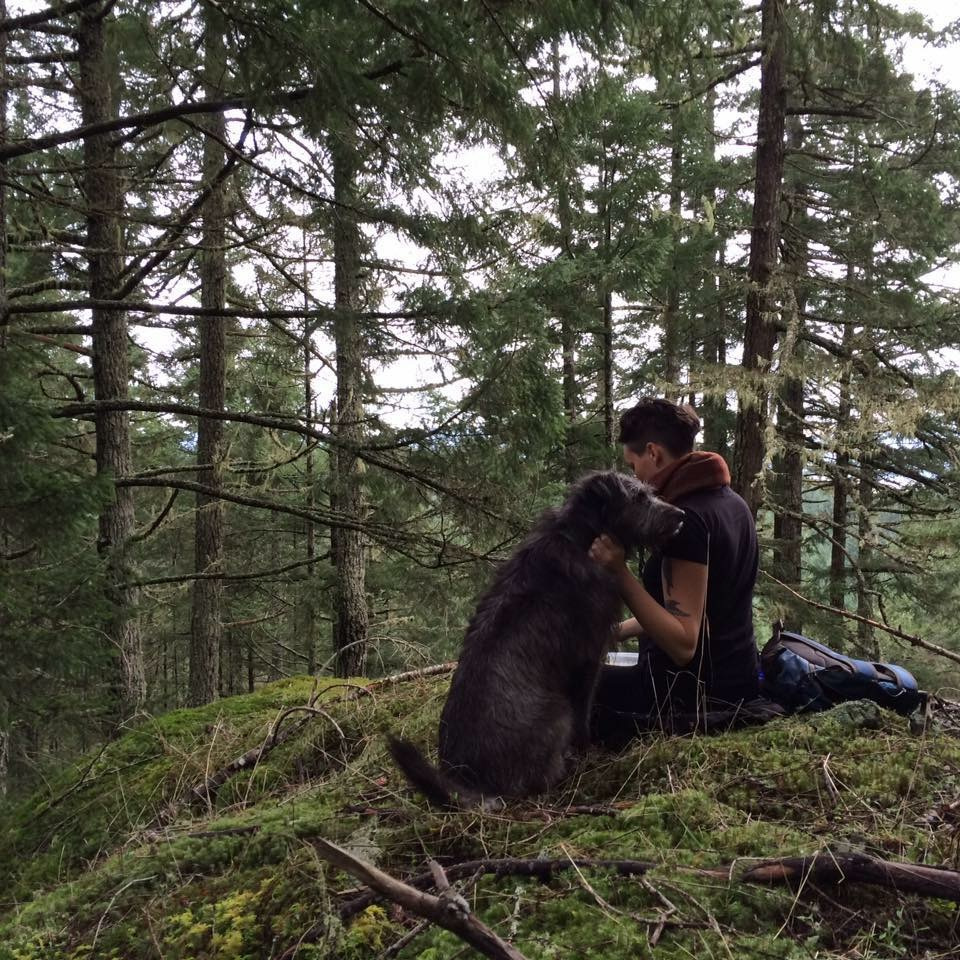 "My family and I adopted her as a puppy from the SPCA. In the first picture, we had gone on a hike together in January 2016. We got lost on the mountain, and ended up spending the night in the forest in a bed of pine boughs. Needless to say, we bonded. Every time I visit my parents now, Ruby is beside herself when she sees me — probably because she's relieved that I haven't died on a mountain somewhere. This second picture was taken yesterday; Ruby wouldn't leave my side, and crawled onto the couch with me as though she's a lap dog. Ruby likes deer, licking the hands that pet her, and sleeping under my parents' bed."
---
Xoe, Christiana, Callie, Bonzai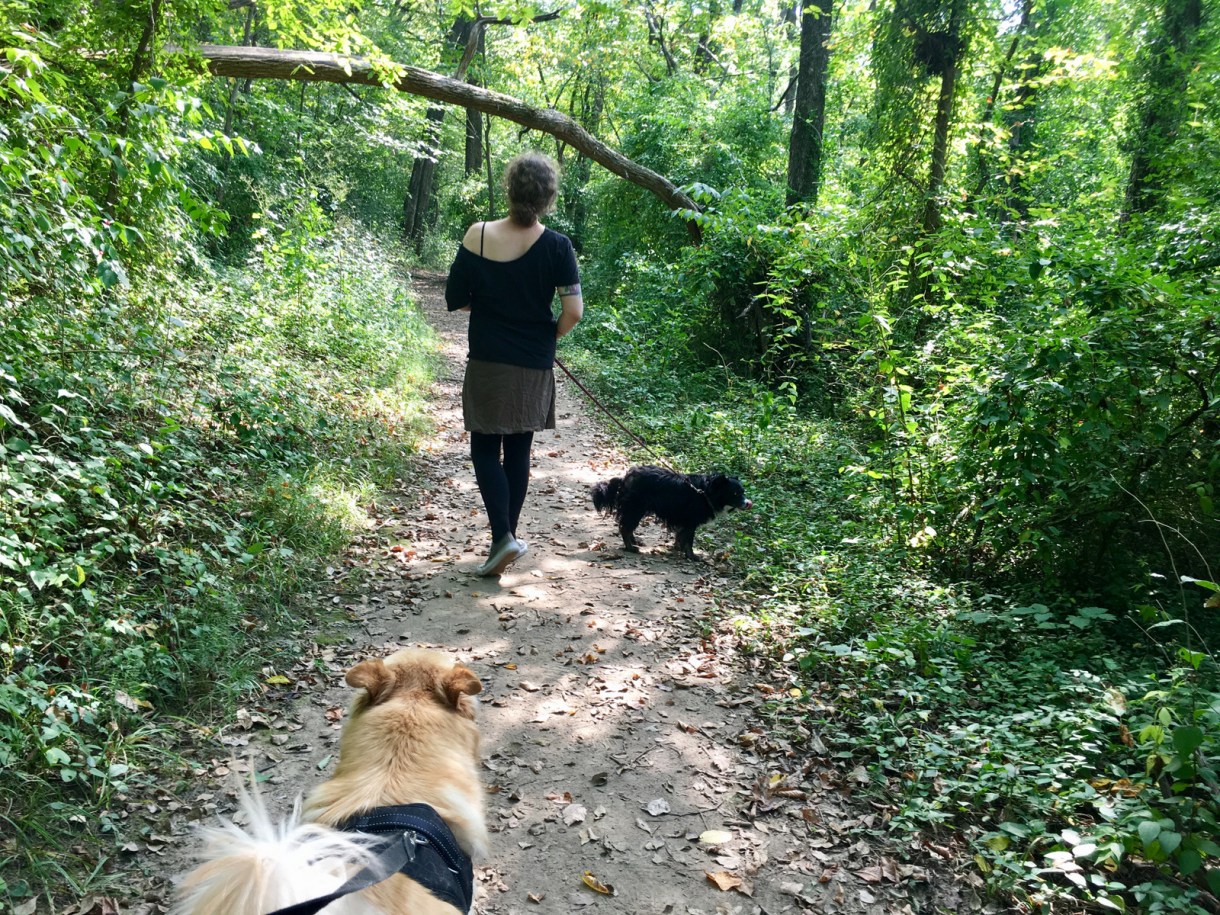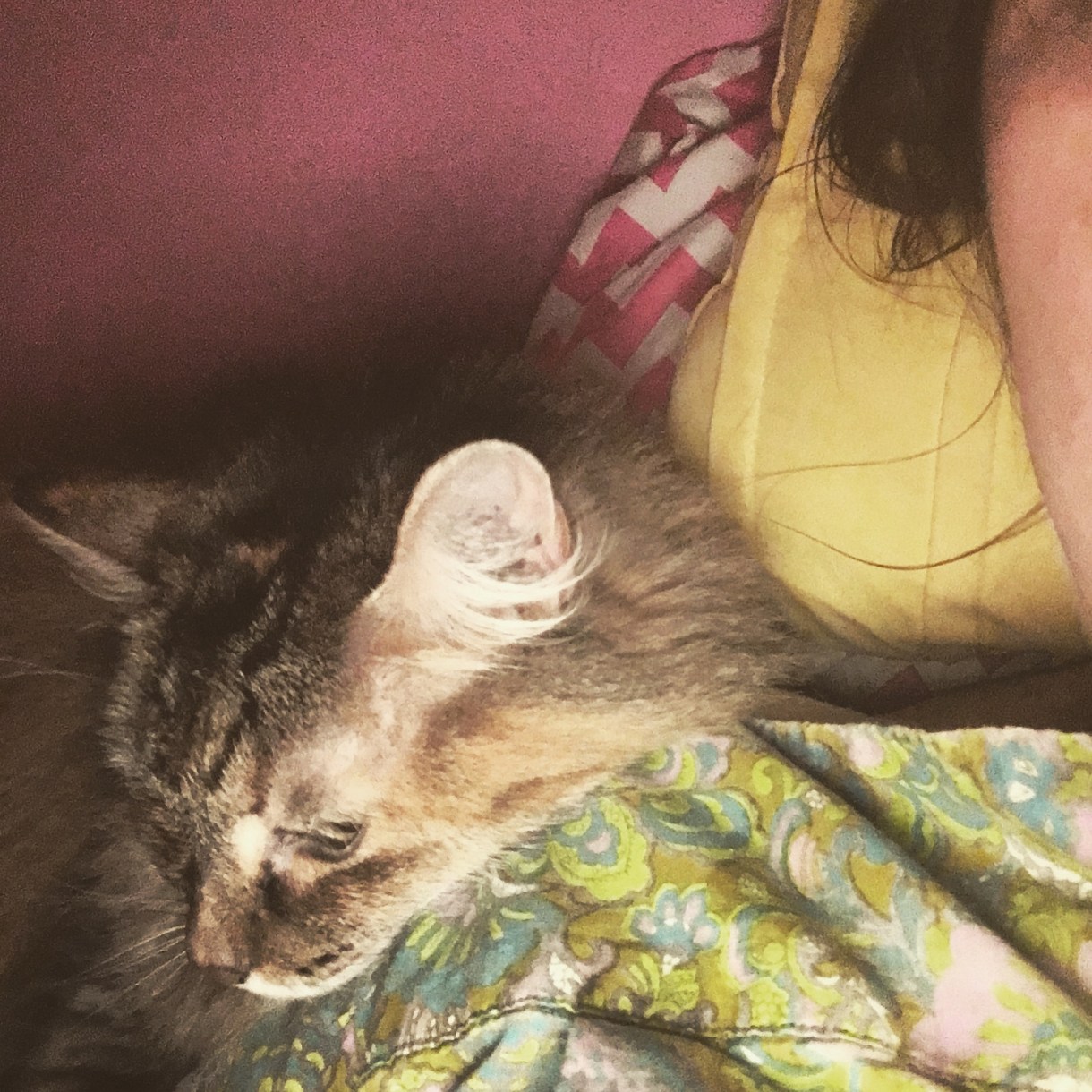 "First is me, Xoe, with our cat Callie. We are both of indeterminate age. Second, my beautiful wife Christiana walking in the woods with our two puppers, Bonzai (the small black chihuahua/Australian shepherd mix) and Boba (the golden honeybear chow/lab mix). Both dogs are around 9 years old. Christiana is significantly older. We are all pictured doing our favorite things: Callie and I snuggling, Christiana, Boba and Bonzai walking in the woods."
---
Jordana and Lady Galadriel / 26, 7 / Childhood Home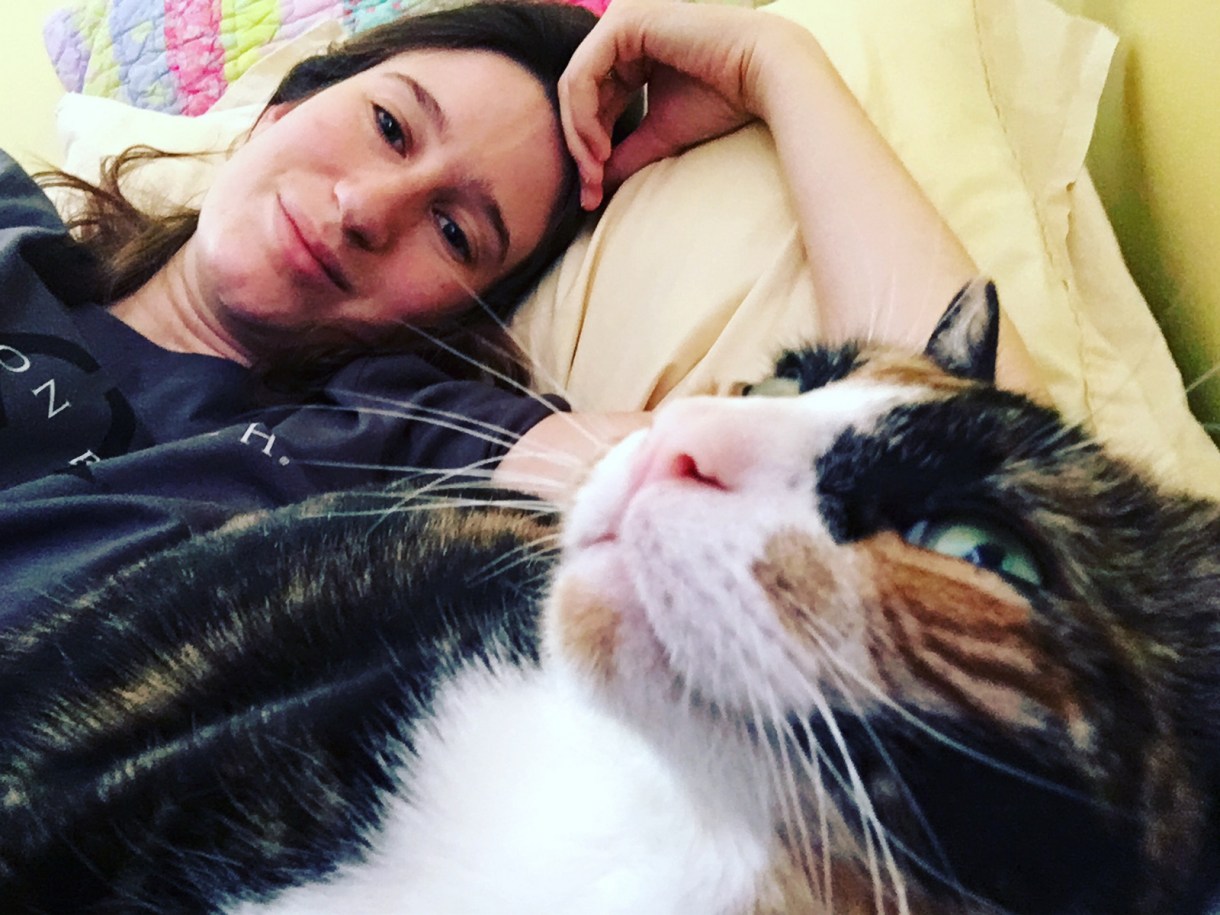 "My mother found Lady Galadriel on a website after the untimely passing of our previous girl cat. We usually adopt rescues, but Lady Galadriel's beauty could not be denied and my mother fell in love. Lady Galadriel came with the name Zara, and that is still what most people call her. But I never felt connected with the name (and as you might know, a cat must have three different names) and neither did she. So once, we were watching Lord of the Rings and Lady Galadriel appears on screen in all her terrifying glory, and I glance over to the girl cat to see if she's paying attention, and I swear she was literally glowing. Like an elfin goddess. She named herself.
Lady Galadriel's best quality is her unrelenting beauty. She is keenly aware of it and uses it to her advantage at every turn, especially in the manipulation of our boy cat, Moishe. LG and I enjoy snuggling and spooning when I am home for a visit, as evidenced by the picture. She is a creature of leisure and our time together is spent as such. Her weird thing is that she addicted to biting charging cords. We think she gets a little shock/high out of it. We are working on it and have covered all the cords in our house so that she does not hurt herself. But yeah it's a weird thing.
---
Deborah and Vasi (Vasi the Asshole) / Washington DC
"Vasi is an Anantolian Shepherd (known as Kangals in Turkey). Discovered the breed when I lived in Turkey and fell in love with them. I had a sad break-up and my therapist at the time recommended before I got into a new relationship, I start with nurturing a plant, if I can keep that alive for 6 months move to a pet, after a year of pet ownership maybe then think about a relationship again. When it was time to move to the second stage, I remembered the dogs I fell in love with in Turkey…thus Vasi came into my life. He is my 170 pound mamas boy."
Christina and Freddie Prince Jr the 2nd / 5 / New Orleans, LA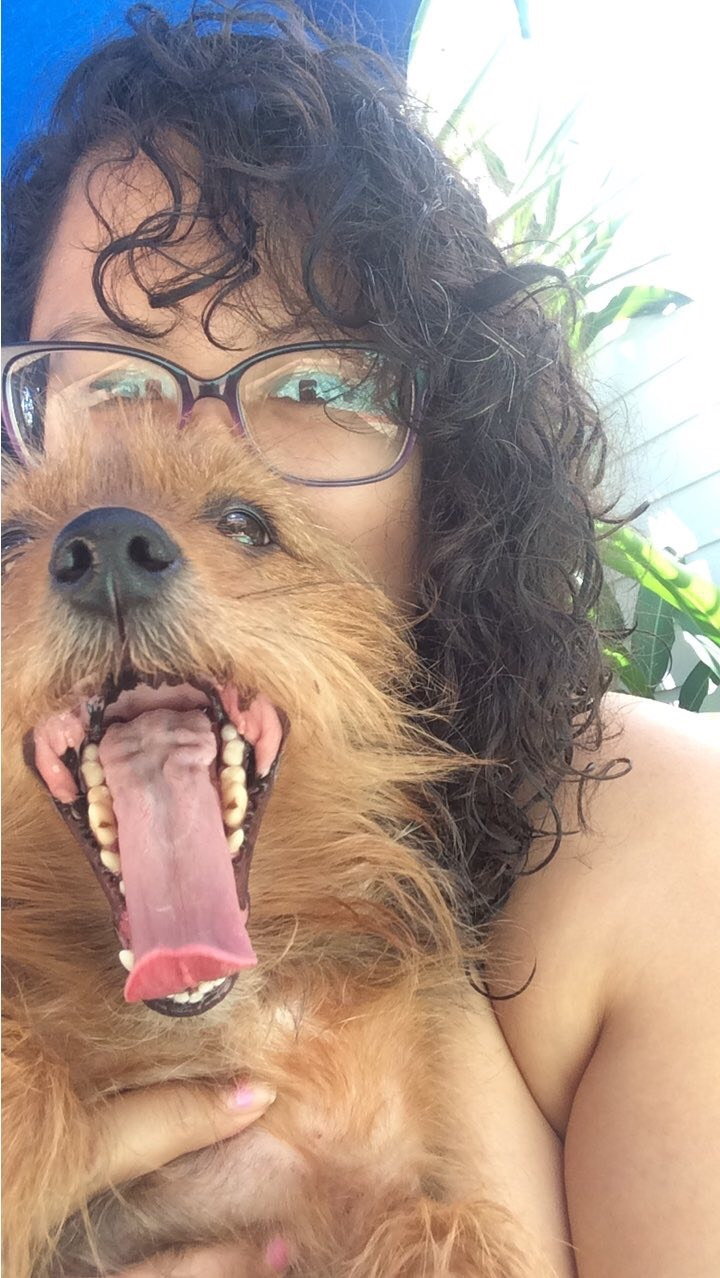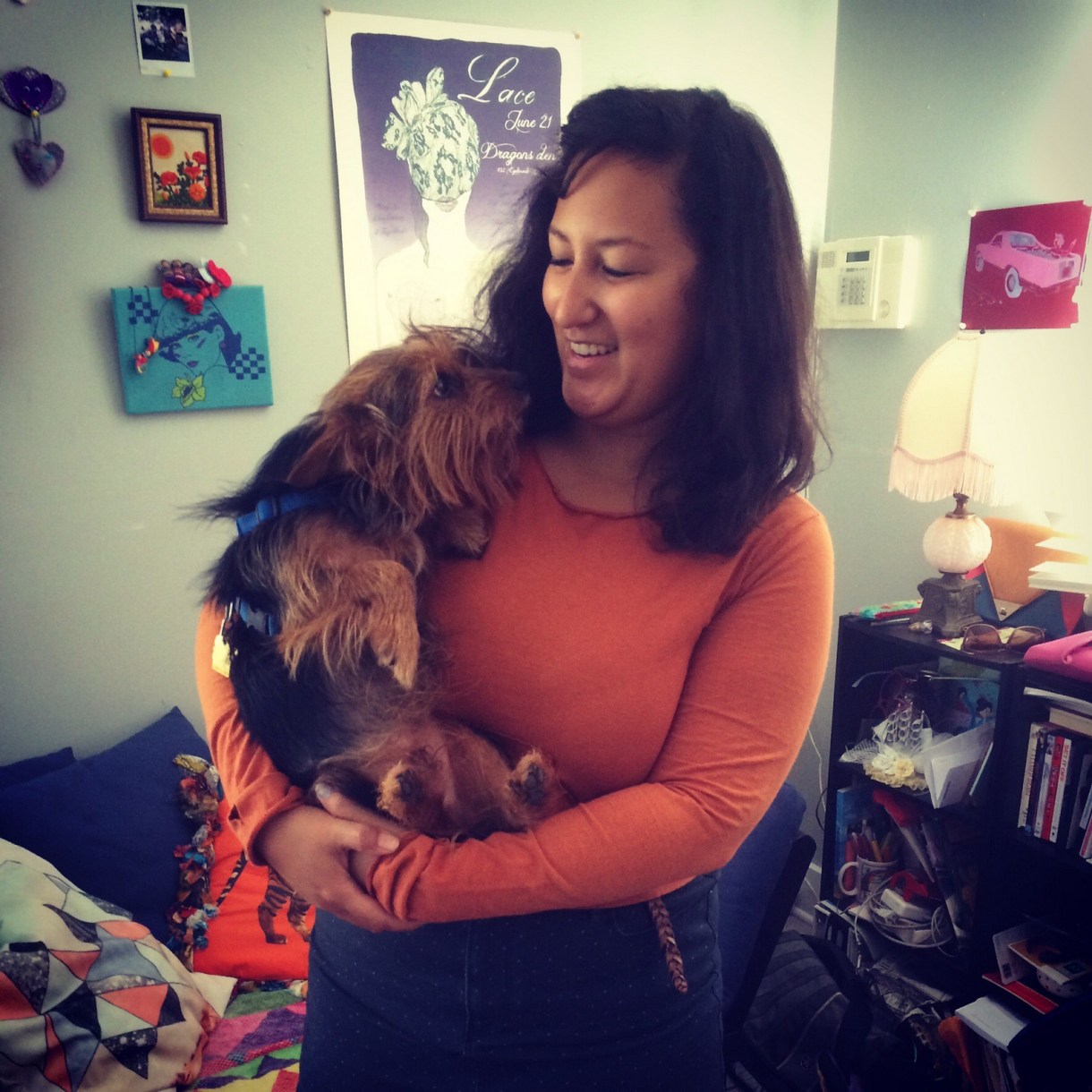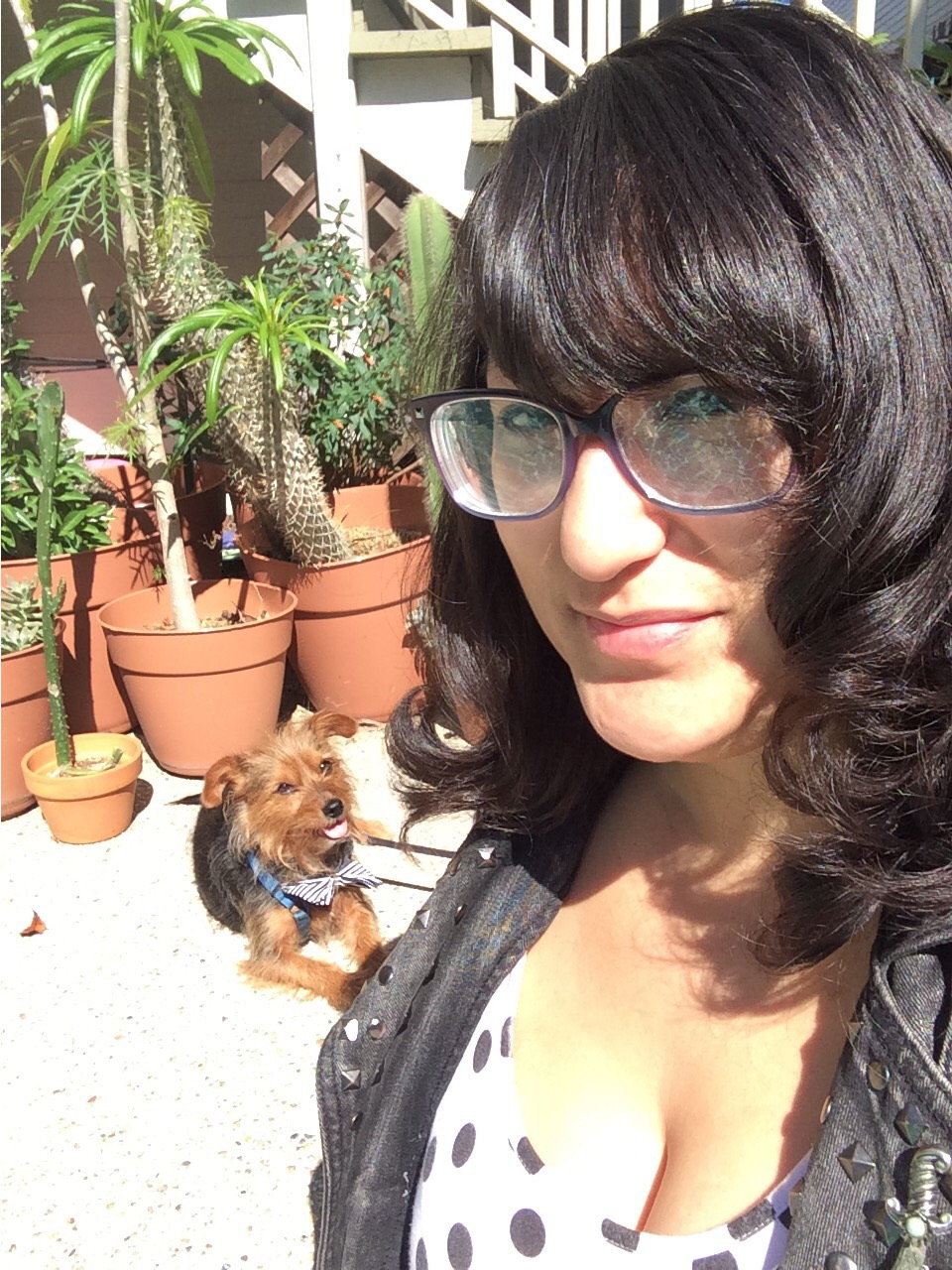 "I adopted Freddie a couple years ago from the Southern Animal Foundation. In the shelter he was so chill I thought he would be a sweet little lap dog. Little did I know that he was just frontin and would turn out to be a high strung, ready to party dog, jump on your face kind of dog. Since I brought him home he has caused me to have several near heart attacks. Every now and then he gets loose, rampages through the Lower Garden District and finds his way back home when he's ready. Once he jammed his little foot down my bathtub drain and it took several hours, friends w/ tools, the ASPCA, and an emergency vet to get him free. My heart was nearly broken earlier this month when he became a paraplegic. To help regain the use of his legs he takes meds 3x a day, has biweekly home visits w/ an acupuncturist, and I give him daily massages. Learning to meet his needs has been a real challenge but I believe that this little guy is worth it. I don't know if he will regain the use of his legs but if he doesn't recover I will make him the most beautiful blinged out dog cart of all time."
---
Michelle and Mitzi / 23, 2 / Buena Park, Chicago, IL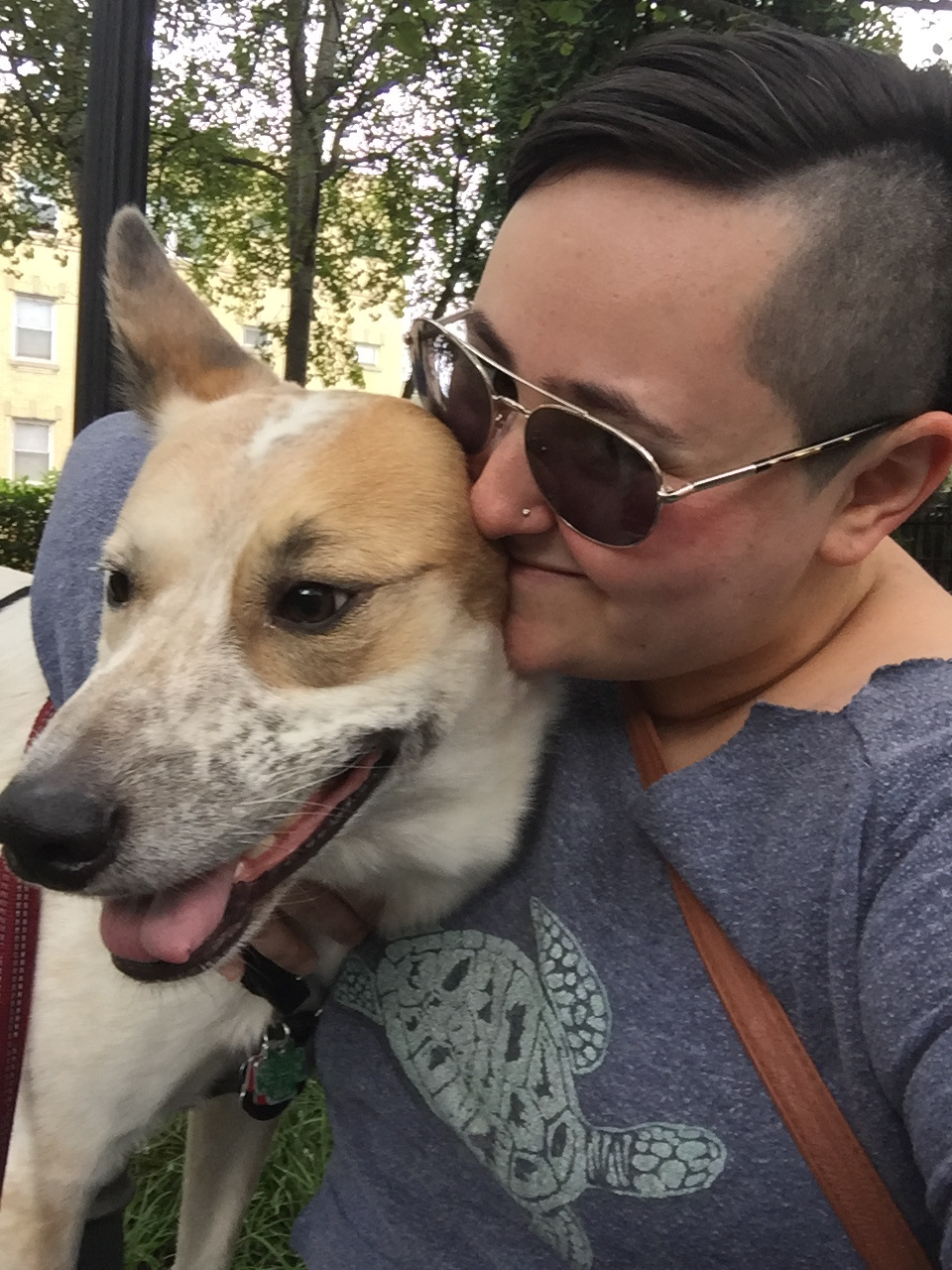 "I adopted Mitzi in Tempe, Arizona two years ago during the worst six months of my life. Then she changed all that by adding energy and vibrancy to my life! I love that she has the name of a little Jewish grandmother and that our names sound cute together. The day we met, Mitzi proved to like me right away when she started licking my ears as I was filling out the adoption paperwork. She really likes licking ears! Mitzi and I have moved across the country twice now, first to Chicago and now to New York. We love to hike and go to the beach together, and of course we love to cuddle."
---
FE and Gordie Howe / 28, 2 / Indian Peaks Wilderness, CO
"The ever vigilant, ever anxious Gordie Howe (named after the Detroit hockey legend) came into my life a couple months ago when I saw his photo in my local shelter's newsletter. Thanks to a mix of kismet and my own low impulse control I adopted him that day. Its been a beautiful life of early morning cuddles, long hikes in the Rockies, and swimming in any body of water he can find. Chief among Gordie Howe's hobbies are army crawling across my apartment floor and barking at any and all dude bros on skateboards."
---
Susan and Mouse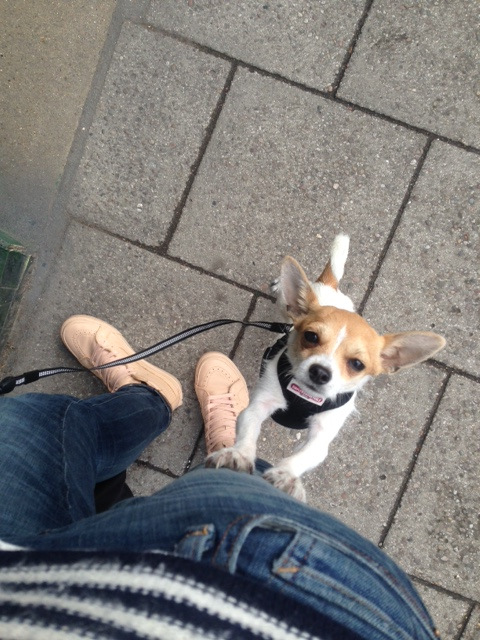 "This was taken outside Virginia Woolf's country cottage retreat."
---
Kelly and Cherry / 31, 4 / Home and Work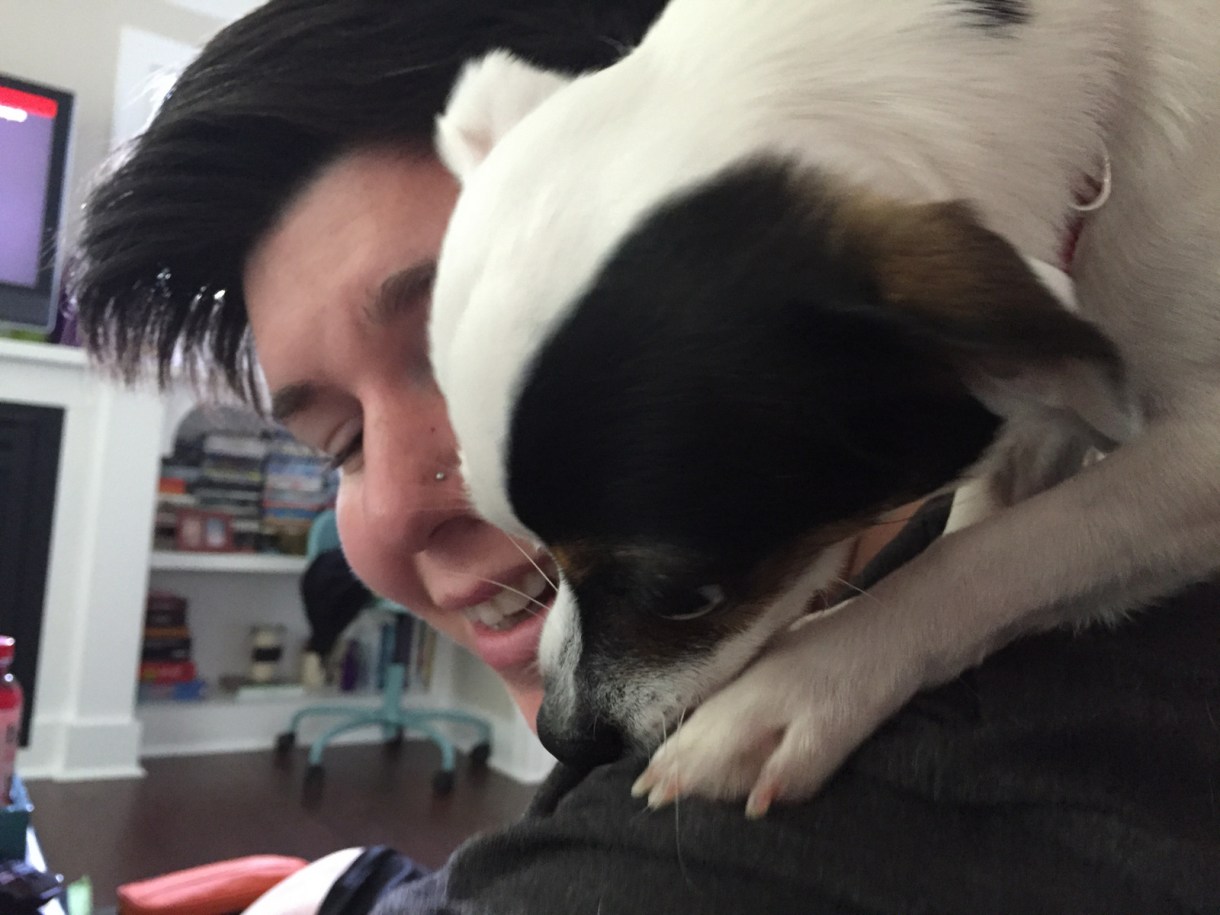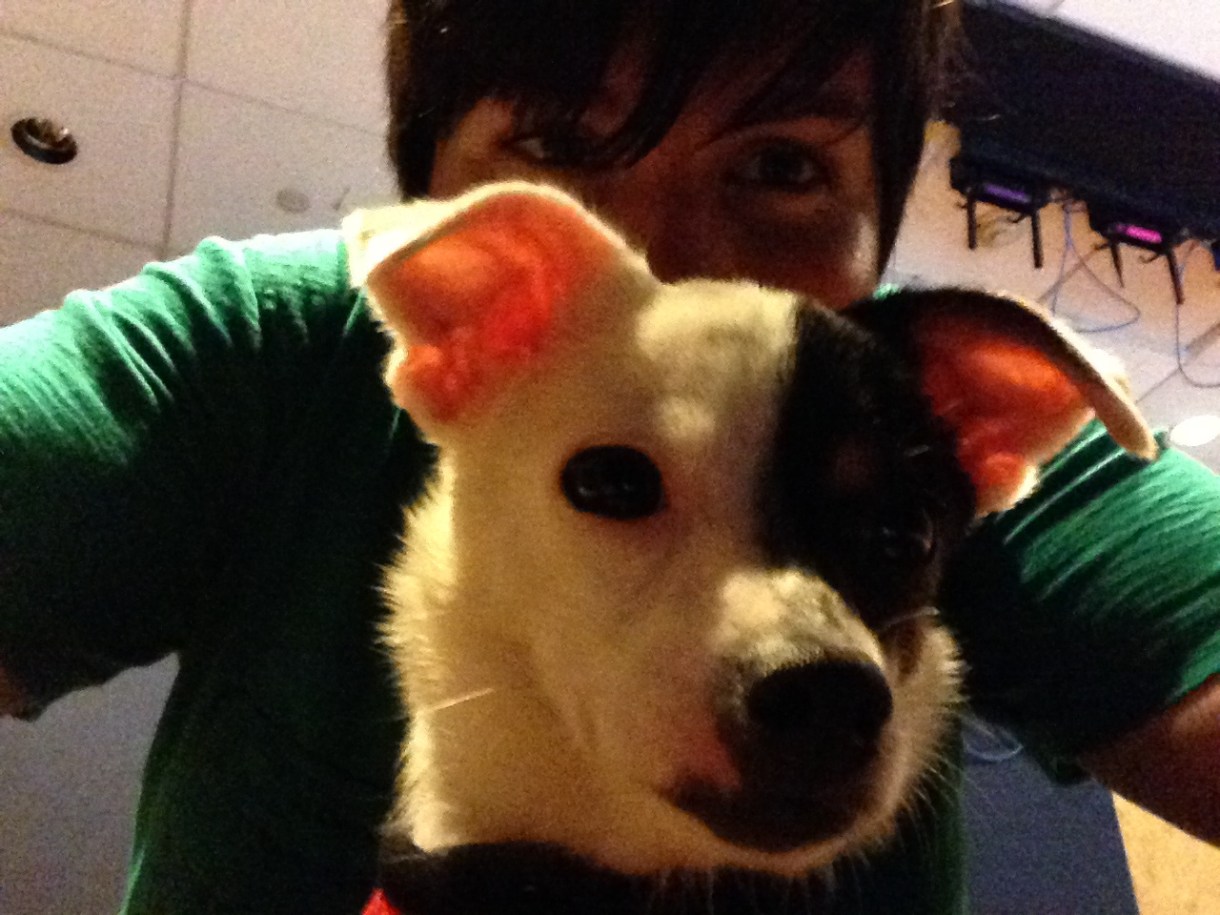 "My wife (then fiancée) and I volunteered at an animal rescue called Forgotten Friends of Long Island. We'd started volunteering there because we lived in a small apartment and didn't feel like we had space to have a dog, but both of us love dogs and needed to get our canine fix somewhere. The rescue predominantly brought in larger dogs, which we would not have had space for in our small apartment, so we figured there would be no temptation to adopt. However, they would occasionally bring in smaller dogs, Cherry being one of them. Cherry came into the rescue significantly underweight and was very scared and very sad, so we decided to foster her at our apartment, pending her ability to get along with our cats. Things went so fabulously, and we fell so completely in love with her, that we could not bear to give her up to anyone else, and we decided to make her an official part of our family.
She is extremely loving and loyal to her people. We like to spend time chasing each other around in our backyard, hanging out with her cousin dogs at my brother in law's house, and Netflix and chilling at home."
---
Nell and Gem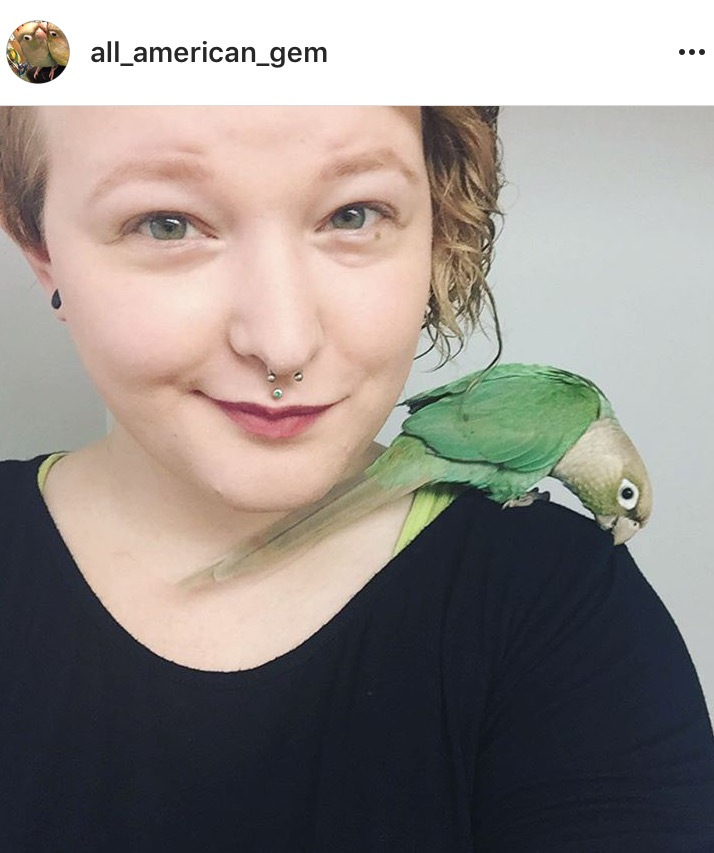 "She's my whole world, and she is the best thing that's ever happened to me. (She's also probably a boy, but that's ok.) She's a Capricorn, loves grapes, gives "kisses", and is potty-trained. I adopted her when she was a year and a half old. She's going to be three on Christmas! Her Instagram is @all_american_gem.
---
Alyssa, Megan, Murle and Whitcomb Hillier-Geisler  / 29, 32, 9 and 9 / Salt Lake City, UT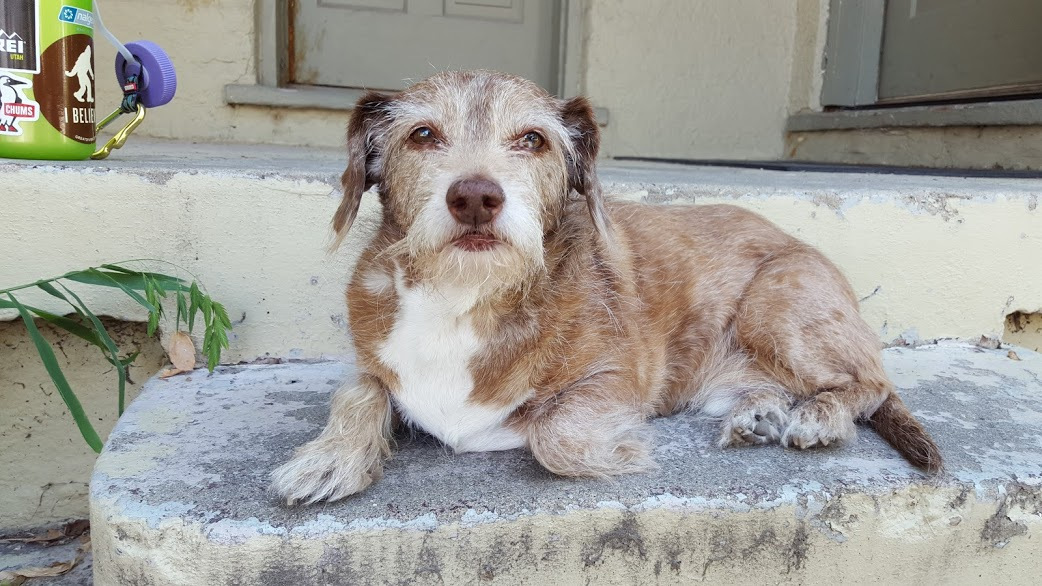 "This is our typical Saturday morning with Whitcomb (cat, adopted from the Washington, DC Humane Society) and Murle (adopted from Salt Lake City Humane society). Megan wanted a big dog and didn't understand why Murle always looked wet and sad. But after a few visits, we decided to take him home to his kitty-brother. Whitcomb enjoys being a jerk, eating, and stealing the dog's bed. Murle is a noble beast who enjoys hiking, camping, snoozing, and Netflix marathons. He is terrified of the cat and is charmingly respectful of his space. Check out more of Murle Dog being the best dog to ever dog on Instagram #MurleDog. And if you must, you can see more Whitcomb at #WhitcombCat."
---
Jess and Poncho / 23, 10 / Sioux Falls, SD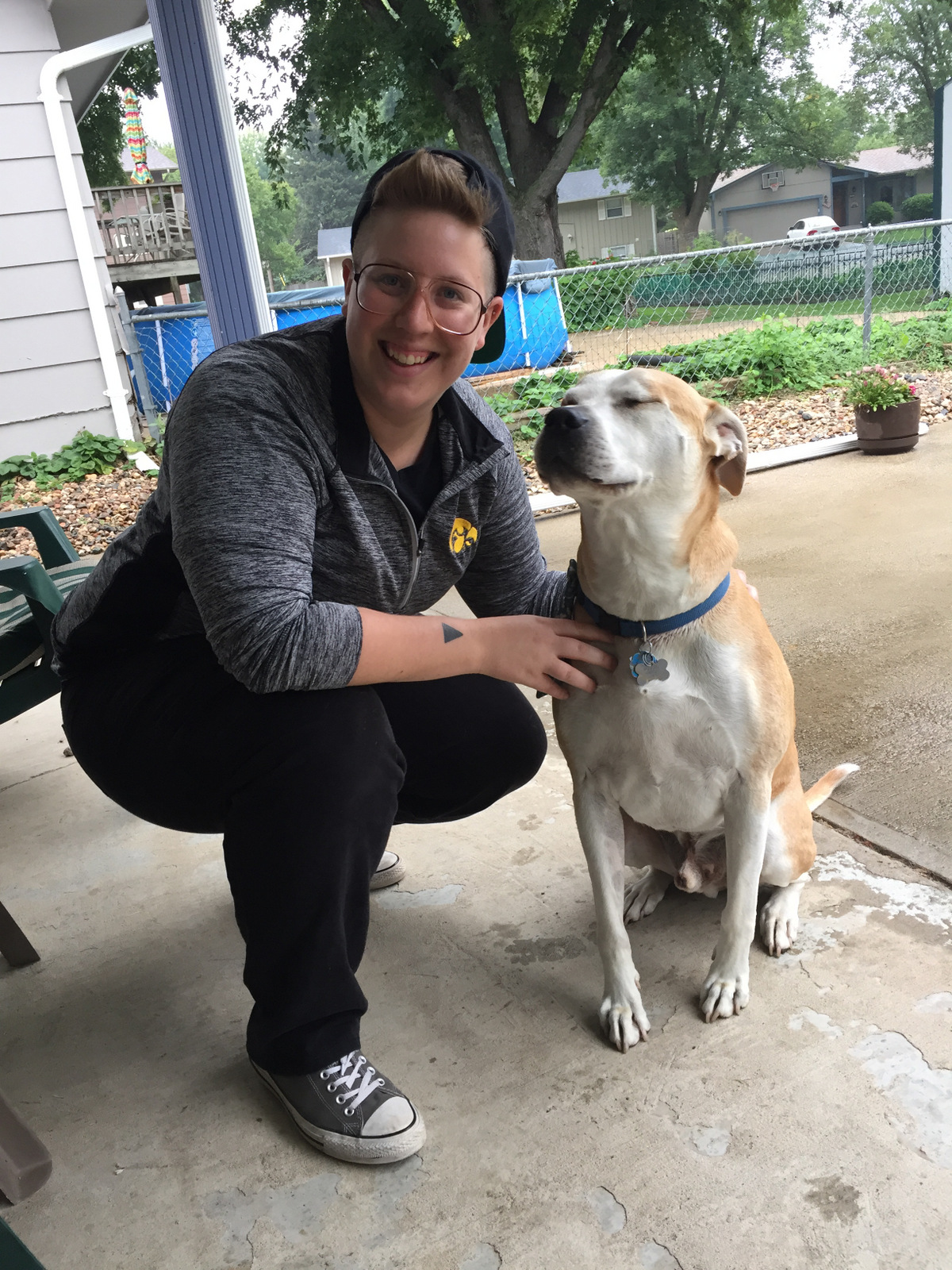 "Last summer while I was living with my parents, I convinced them to adopt this adorable little man from the local Humane Society. He is truly an 80 pound gentle giant and enjoys napping, going on long walks, and laying in the sun (I enjoy all of those things as well). He also enjoys belly rubs and any treat that contains meat."
---
Emma and Puck (Puckje) / 28, 2 // A Couch in Nijmegen, Netherlands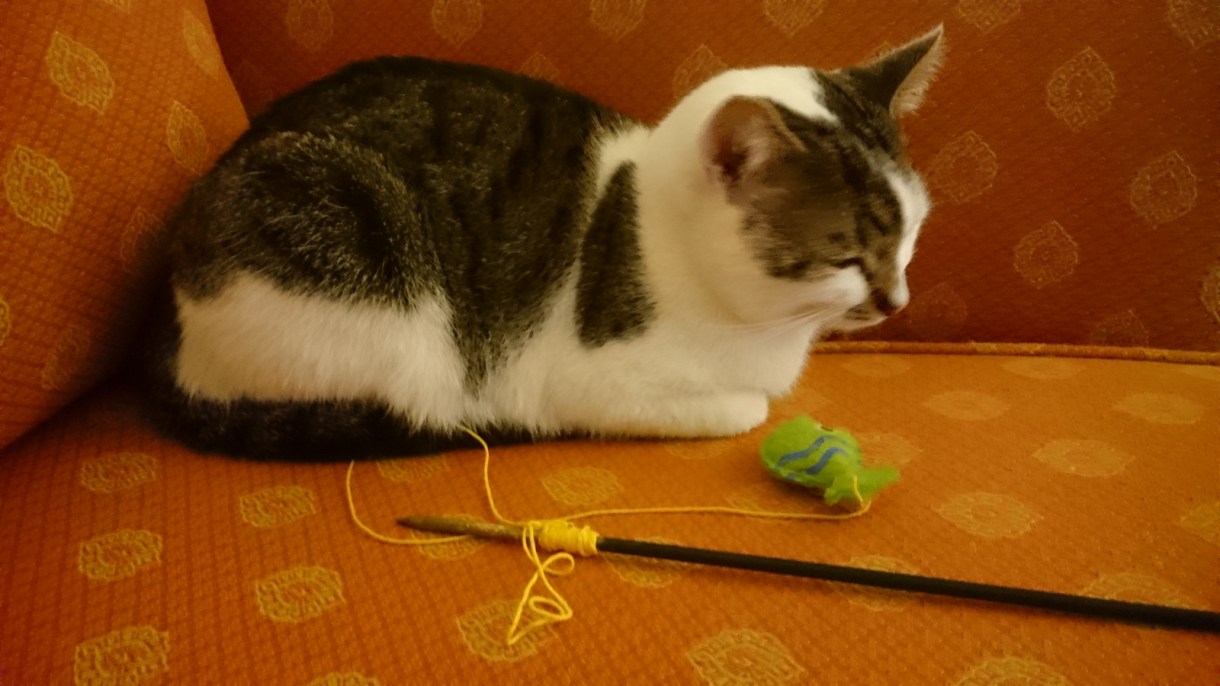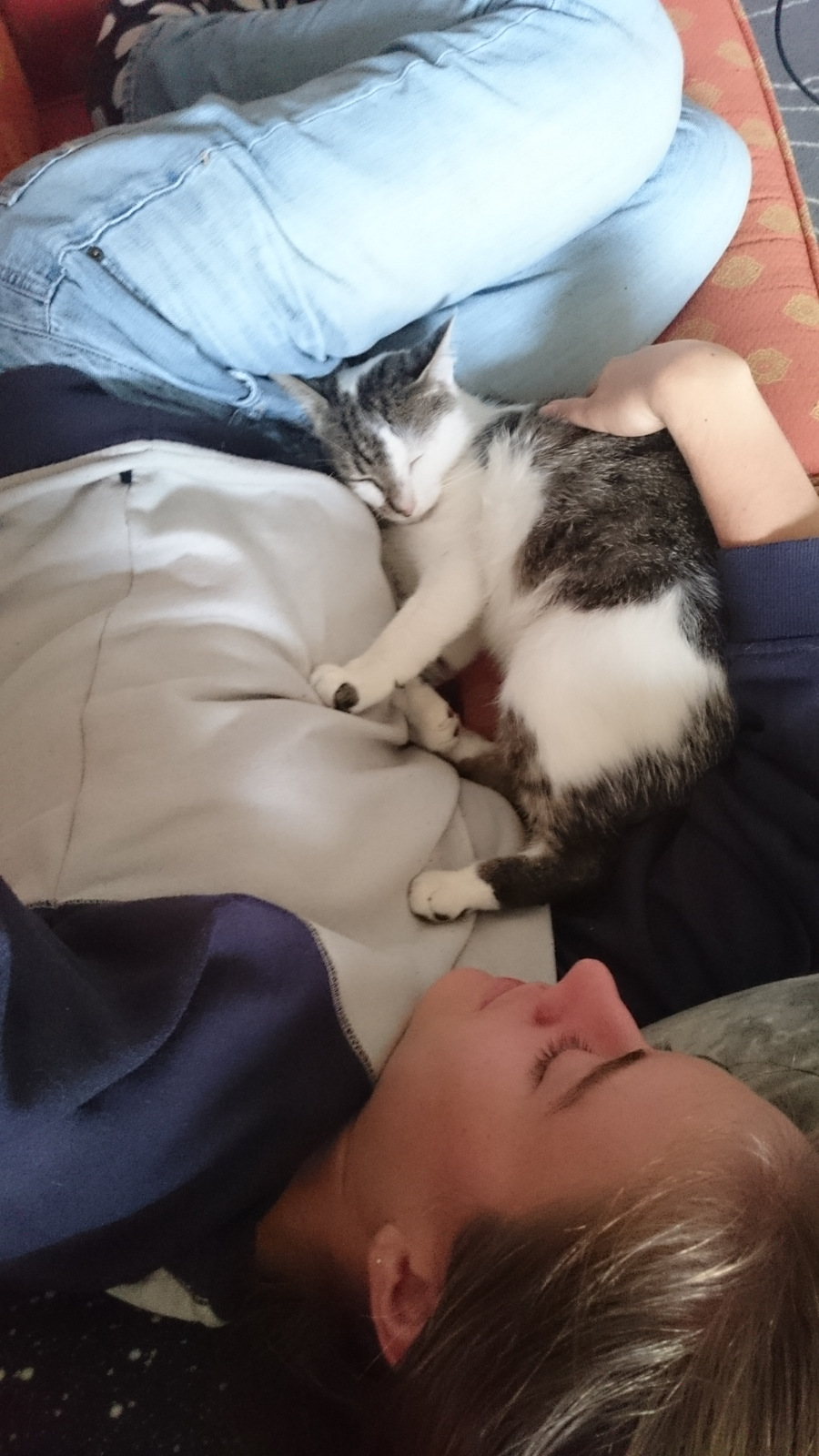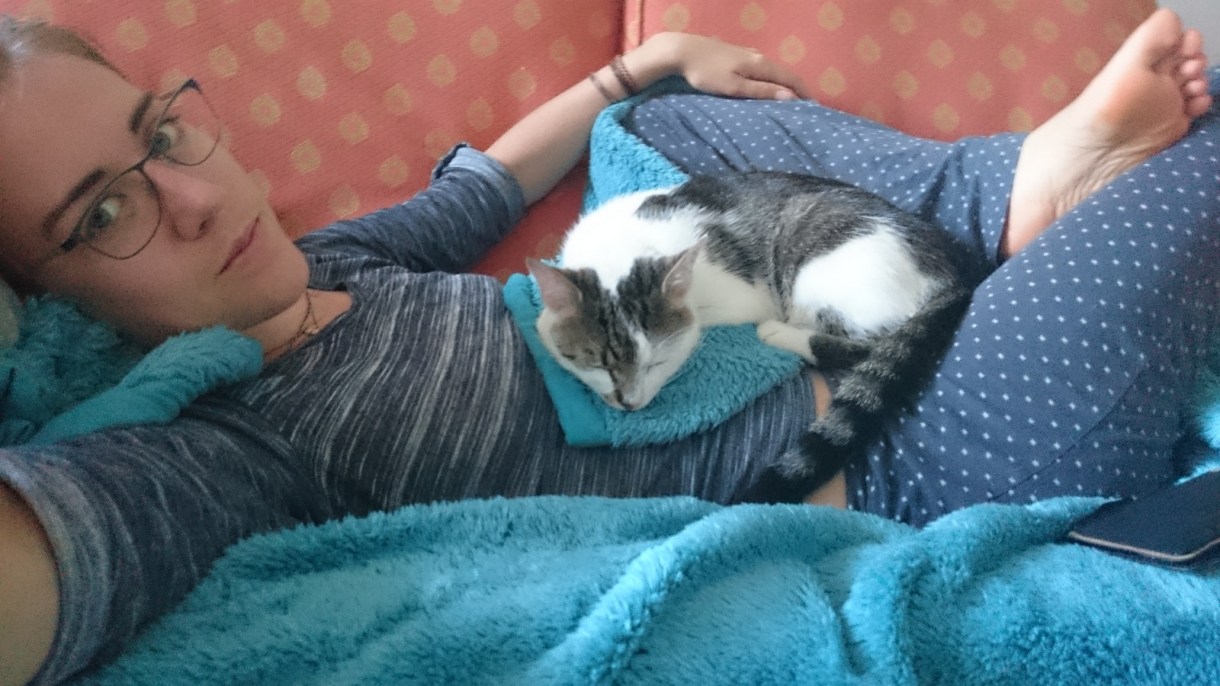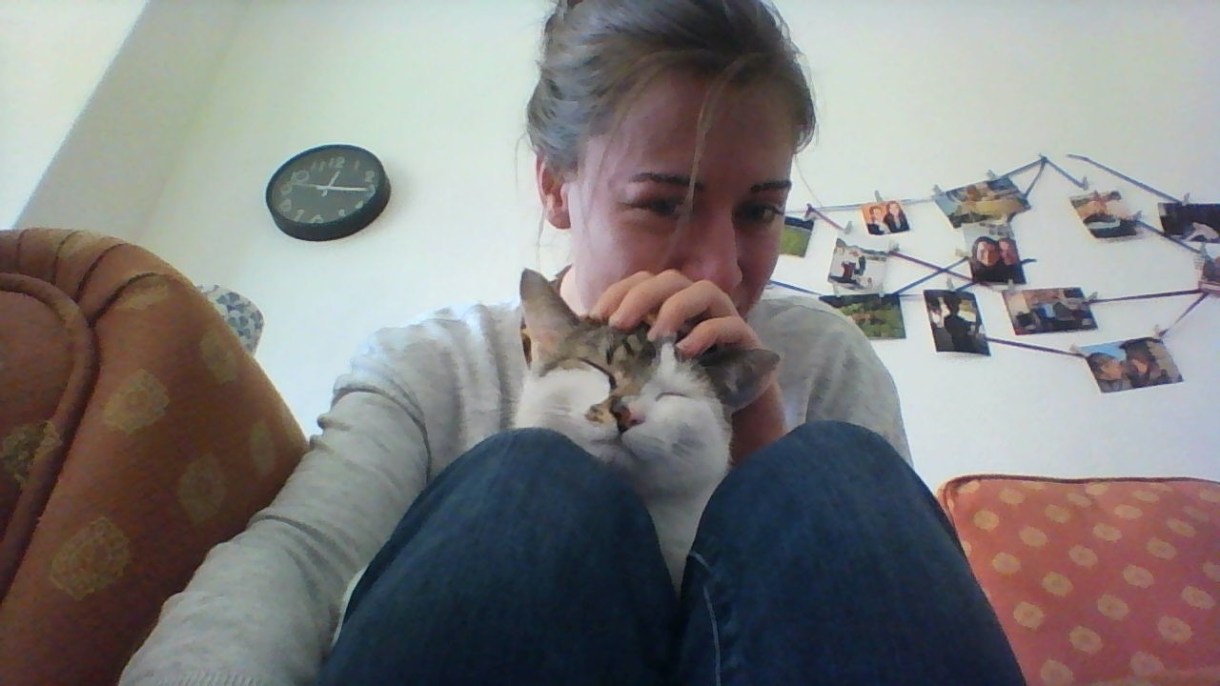 "I was looking for a cat for a long time and saw a post online about a cat who lived in a 3rd floor apartment and wasn't allowed outside, but had too much energy and needed a new home. I visited and it turned out the owner had a 4-year-old kid who terrified, and was terrified of, Puck. He was aggressive because he was highly stressed, and in March I brought him to live at my much more relaxed place, where he can get outside 24/7 and doesn't feel threatened. He's never been aggressive to me, although he was very very scared of me at first, but he warmed up over the first month or two and now seems like a very happy chappy. I'm pretty sure he's the mayor of our block now.
A colleague who I'd confided in about Puck's Instagram account recently embarrassed me by telling my entire team, and my techphobic boss came to my office the next day saying, "Your cat is so cute! I googled him and found him on Instagram!", which was not what I'd expected from that scenario.
His favourite toy is one of those sticks with a fish dangling from a string, and he'll play with me for ages, but when he's done he takes the fish in his mouth and drags the whole toy, string and stick trailing behind him, to cuddle it somewhere."
---
Ruthie and Basil / 22, 4 / Tacoma, WA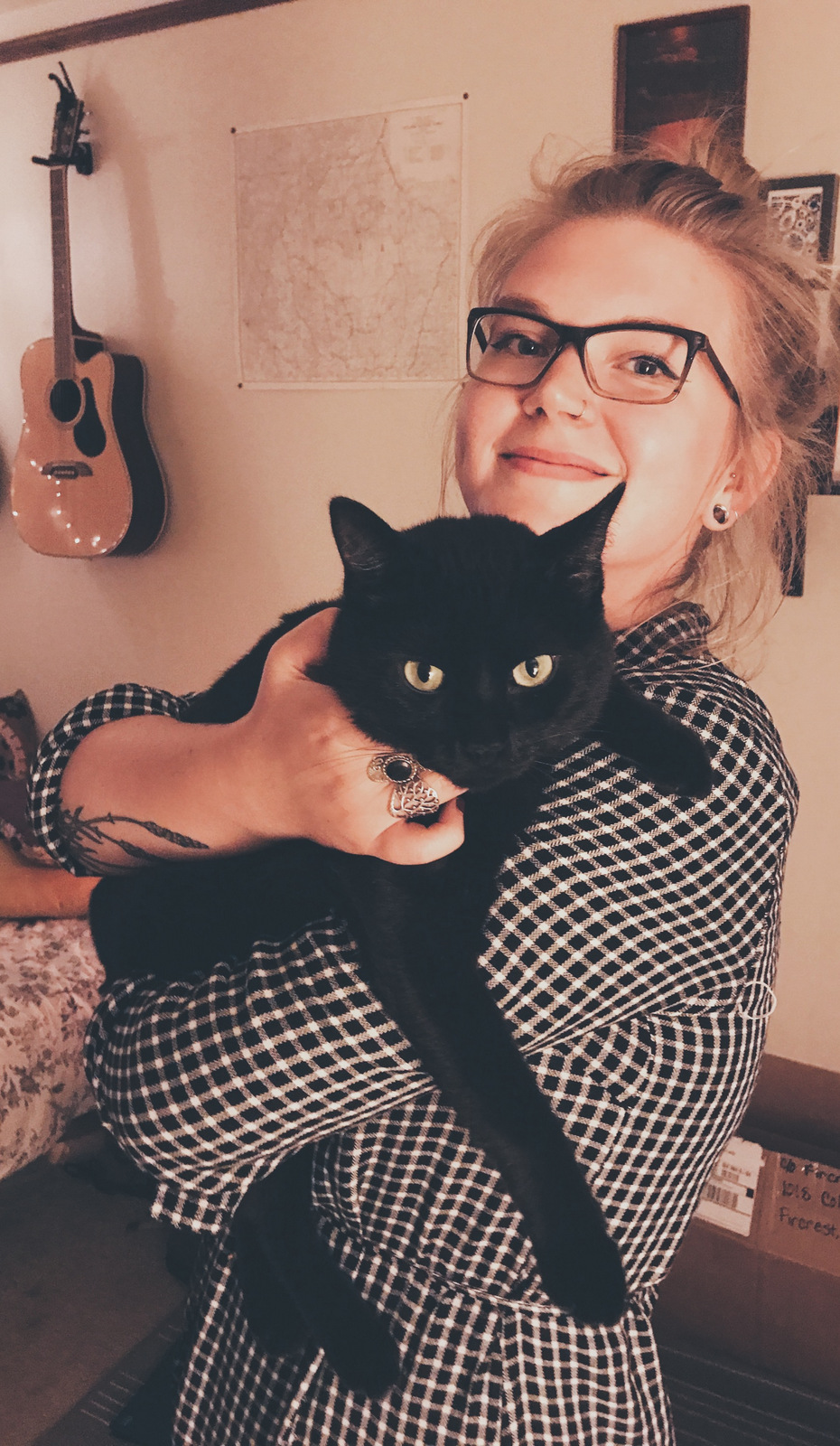 "Hey there! My name is Ruthie and this is my lil bundle of joy Basil! I got this sweet bb from the Humane Society about 4 months ago and he has quickly won over my heart. He loves to watch the birds outside, hold my hand with his teeny paws, and scream at me every morning at 4am for food. I love his little vampire fangs, his awk inverted nipple, and his big green eyes. He's the best goofy goober in all the land."
Katie and Babbitt (Babz) / 24, 2 / NYC Pride March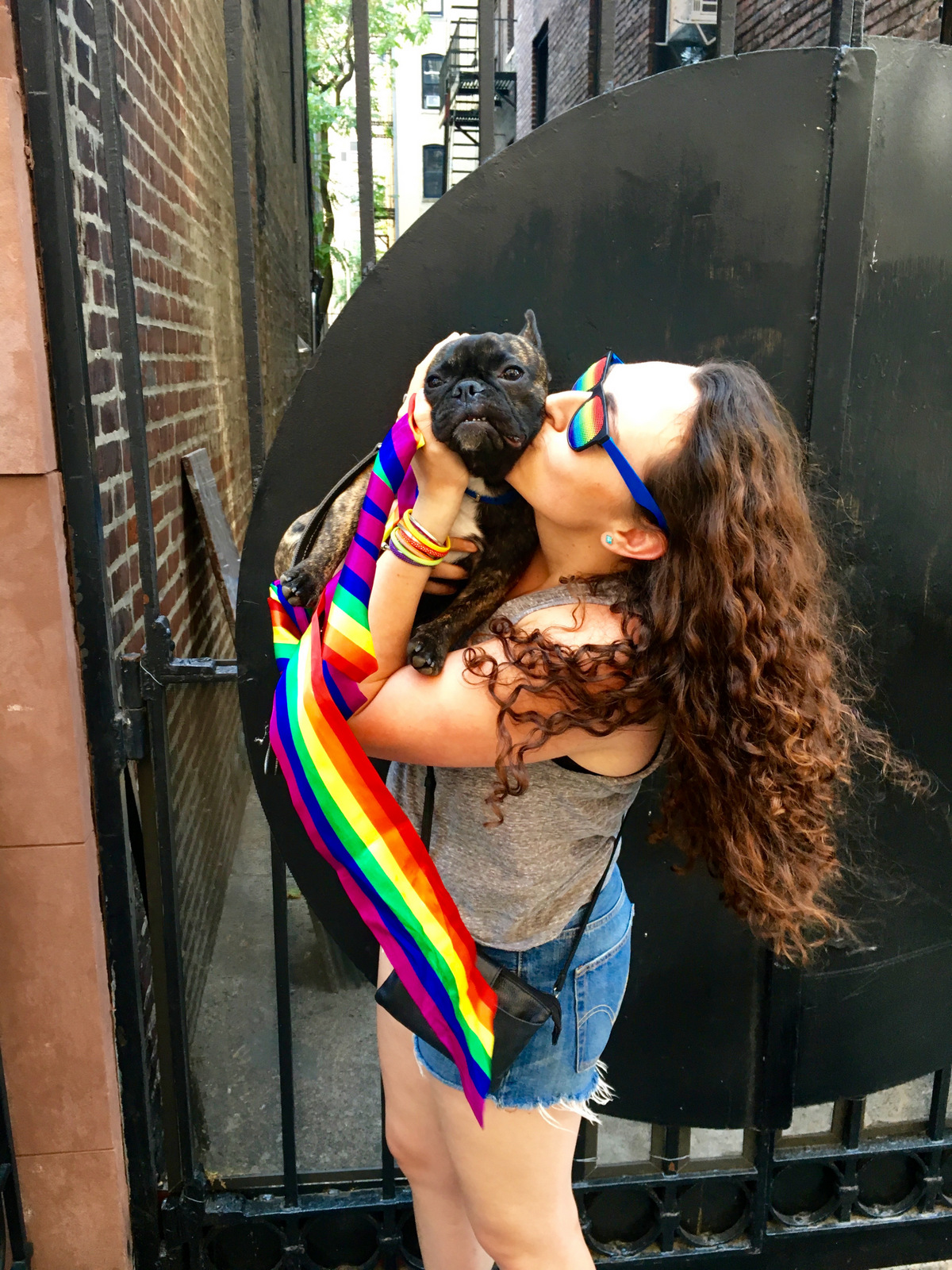 ---
Erin and Frida / 31, 8 / San Jose, CA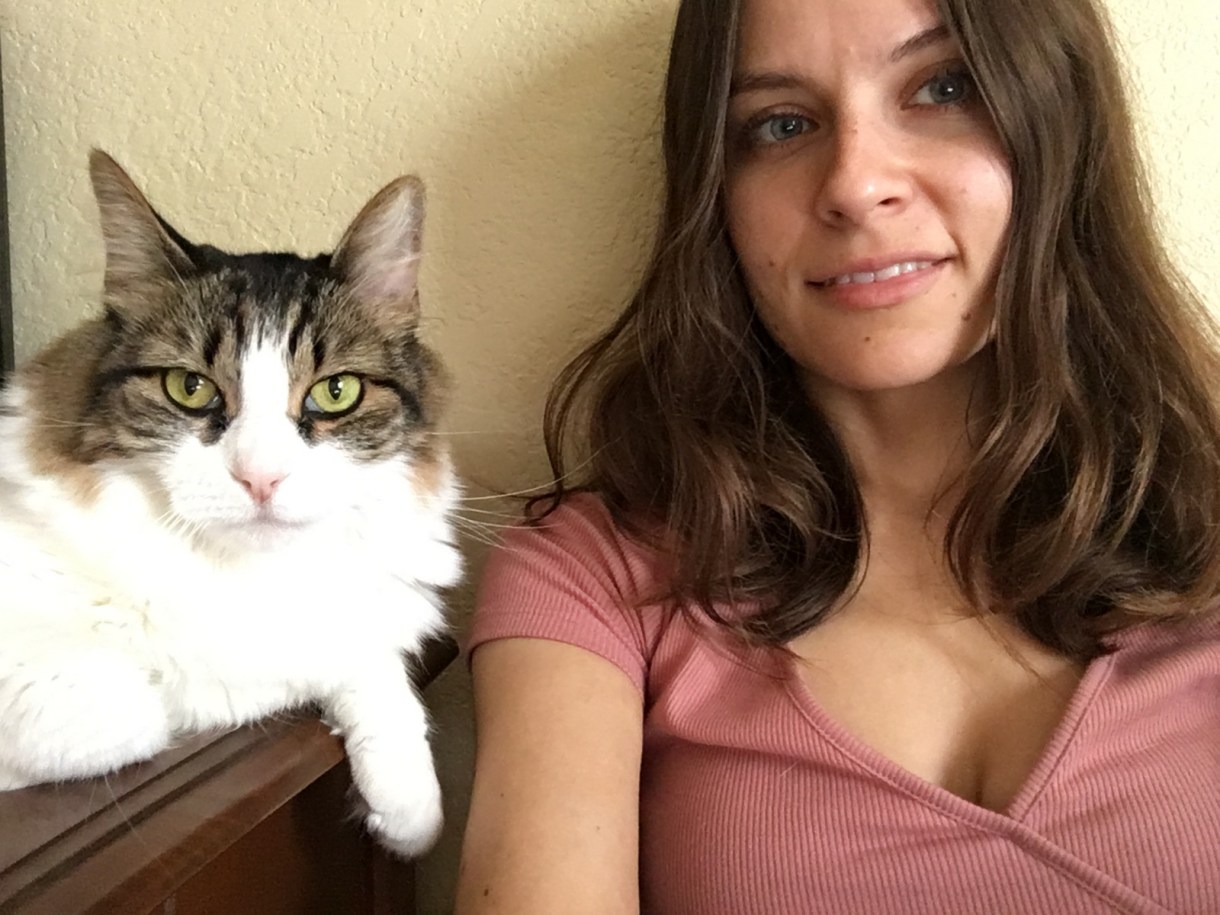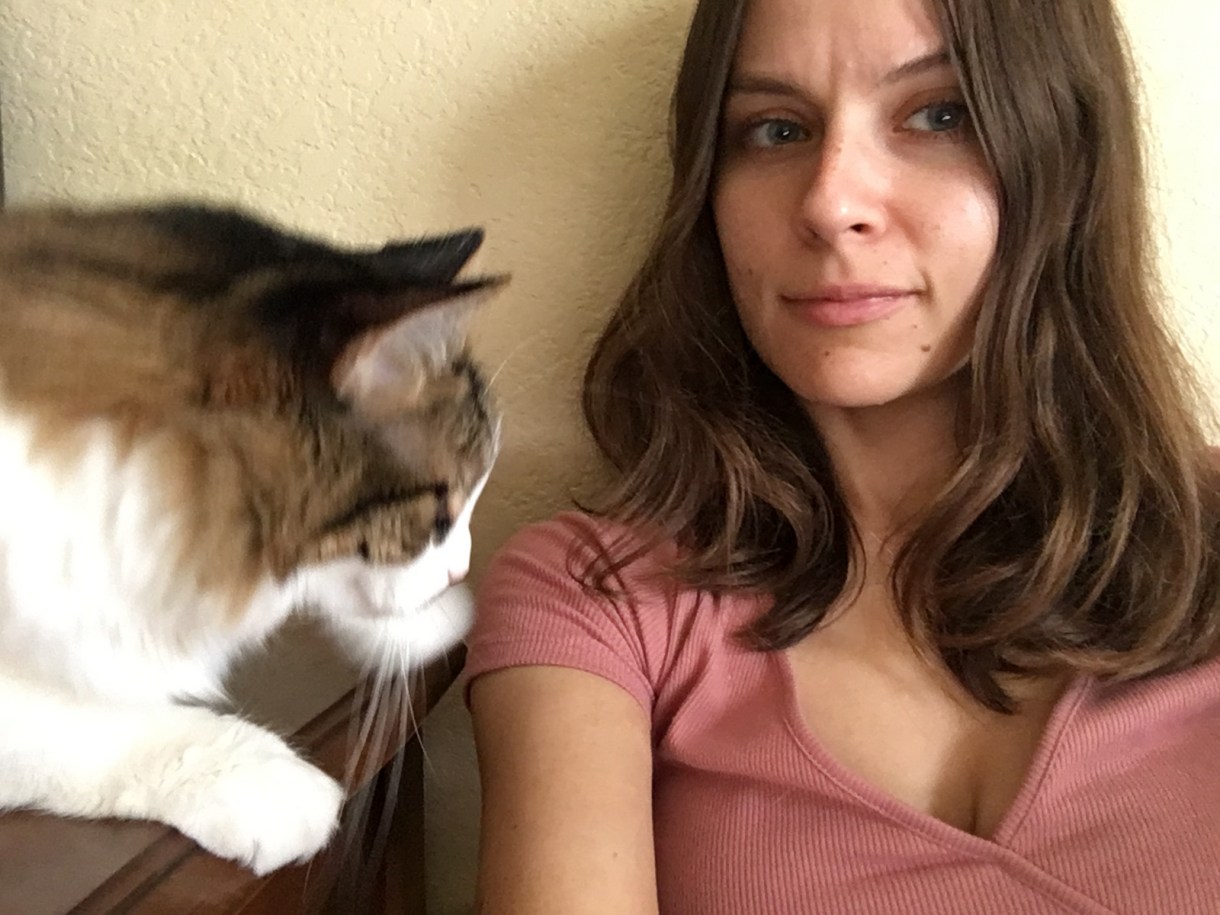 "Frida is a sweetie. She is also very desperate for loving. You could give her your undivided attention for the rest of your life and it still wouldn't be enough. If she were a human, she might be what folks refer to as 'thirsty'. Here she is now looking down my shirt. That's probably why we get along."
---
Ari + Kermit / St. Louis, MO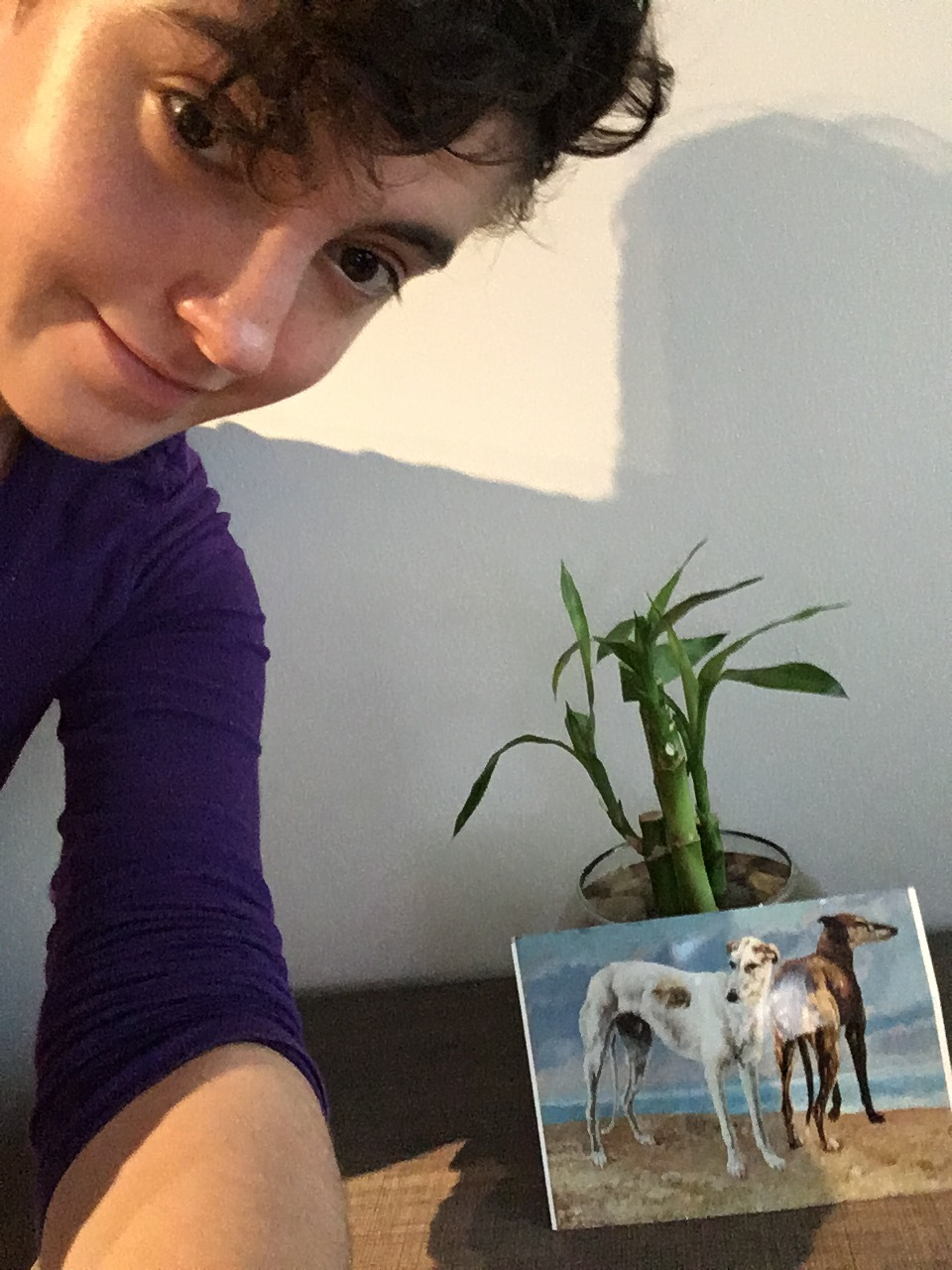 "Kermit, the lucky bamboo plant, my only pet right now. I bought him when I moved in cause I had to leave my succulents back in Boston. But someday when I'm a real adult with a real job and not a confused grad student, I want to adopt a rescue greyhound, so I got this postcard to motivate myself."
---
Claire, Audrey and Murphy / 29, 11, 2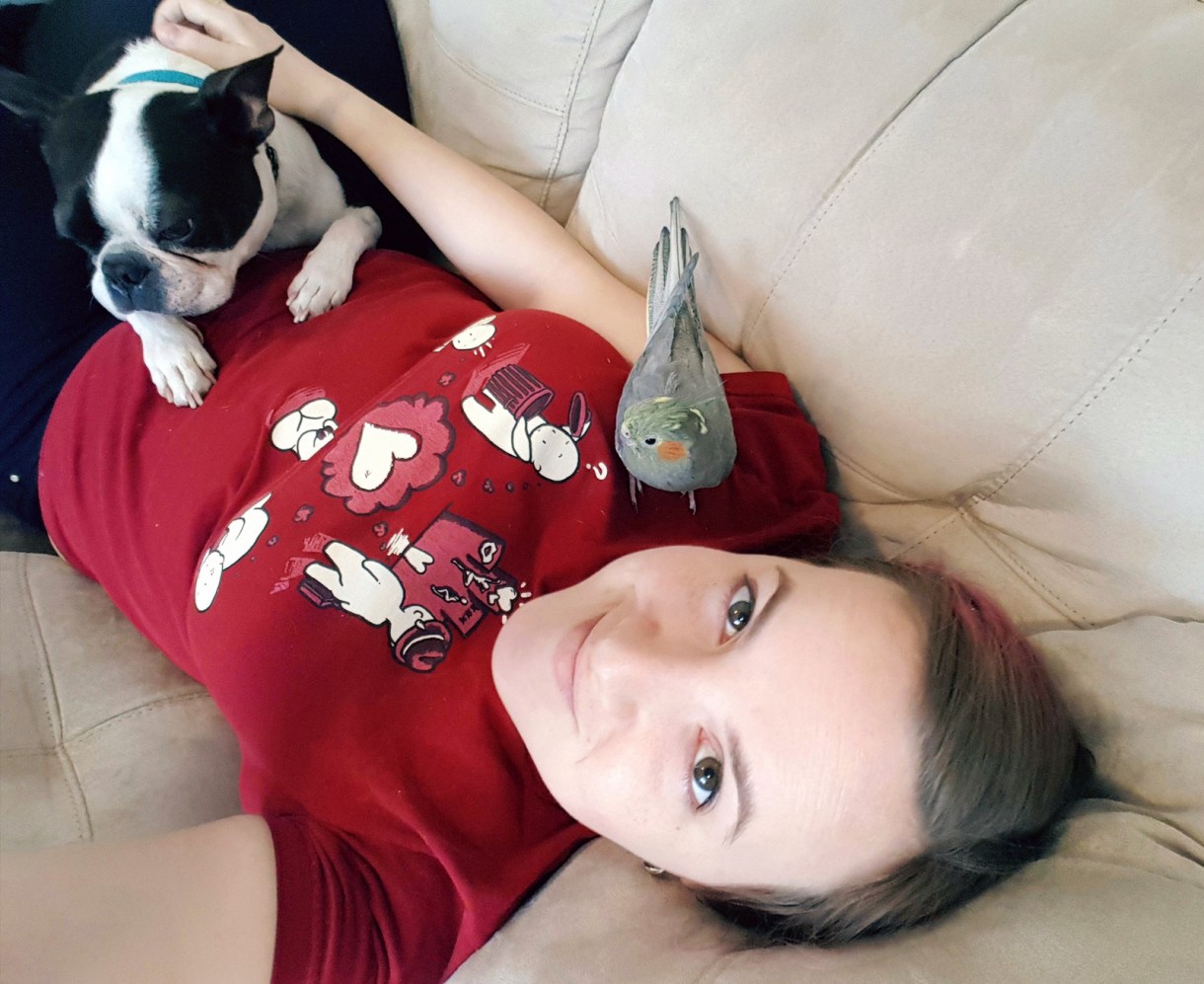 "Getting a picture with the siblings together isn't super easy as they tend to keep a respectful distance from each other, but they like to be on me. Audrey is a rescue so I don't know precisely her age, but I've had her for ten years. Cockatiels can live over twenty years, so she'll be around for a while. She screams a lot and sometimes bites my girlfriends, but I adore her. Murphy is afraid of power cords, storms, and Audrey. If I leave the door open he'll try to jump in my lap while I pee. They'll both do tricks for sweet potato."
---
Claire and Harvey Milk / 26, 3 / Union City, CA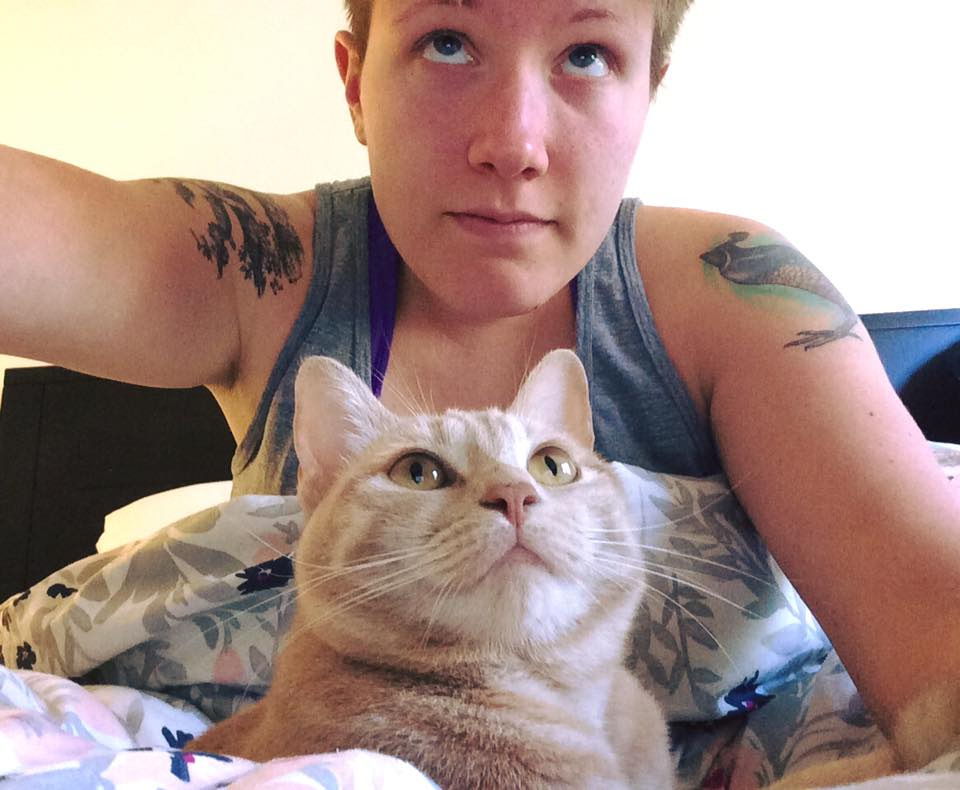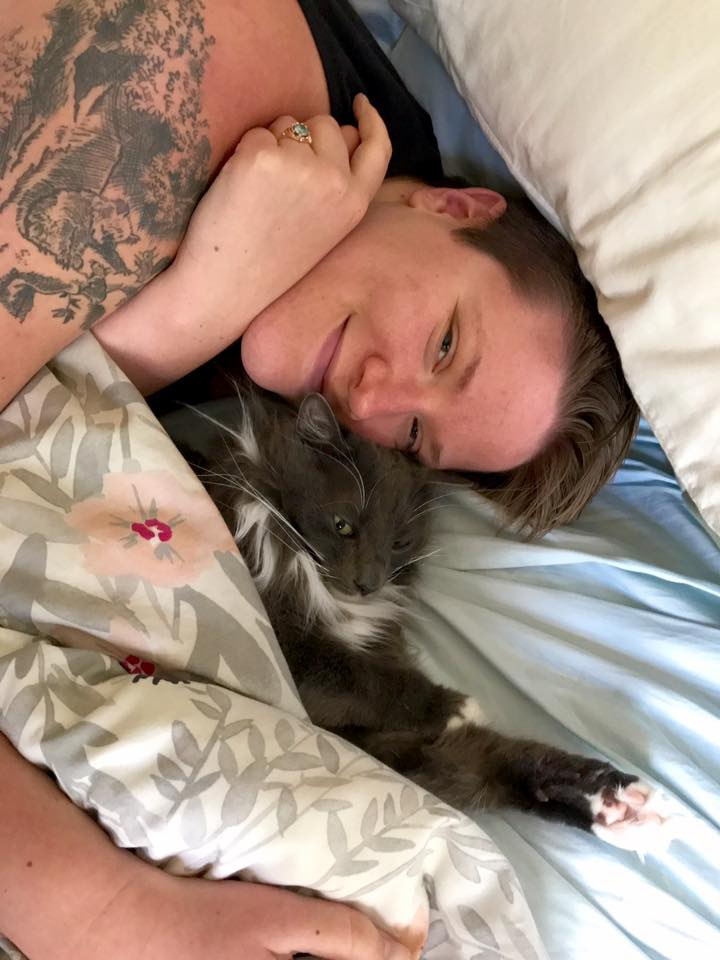 "Harvey (full name City Supurrvisor Harvard Pigpen Poopy-pants Milk Karvonen-Quigley) was plucked out of his feral colony to be socialized at three weeks old and has been a spoiled bottle baby ever since. My fiancée and I adopted him at a year old after he had been returned to his foster mother due to allergy issues. We got him as a playmate for our other cat (Buttermilk Pancake, apricot tabby, phenomenal woman), and they ended up hating each other for over a year. We named him Harvey Milk because he looked so distinguished and we wanted to name him after someone famous and gay, but it turns out he is the world's dumbest cat (sorry actual H. Milk). His favorite things to do are chase his sister, cuddle his other mom more than me (rude), and be pet on the bridge of his nose. The weirdest thing about Harvey is probably his incredibly high falsetto voice, while his petite sister sounds like a quacking duck."
---
Amanda, Sarah, and Macie / 29, 36, 9 / Columbus, OH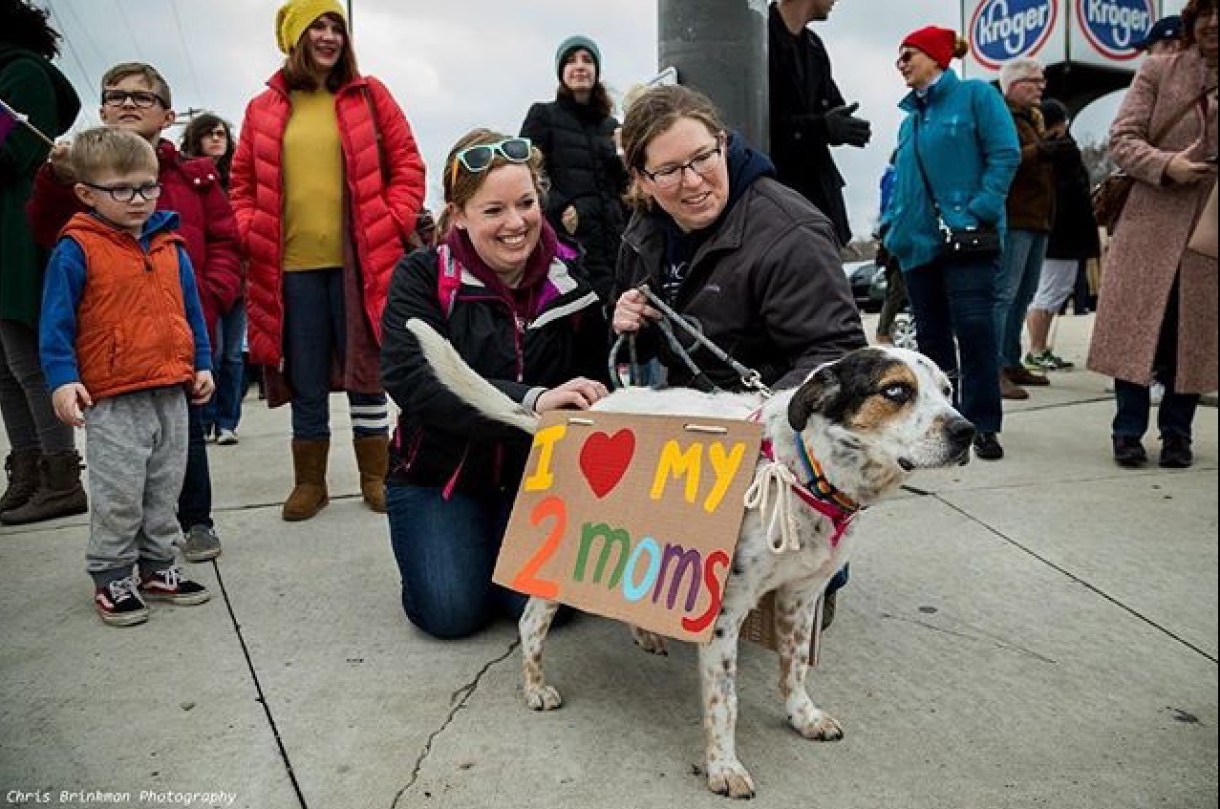 "Sarah met Macie (née "Kandy") in a shelter in Albuquerque. At three, she was well-accustomed to life on the streets; this was her third visit to this particular shelter. Sarah thought, "that is the ugliest dog in the shelter," and knew immediately that she had to have her. The shelter warned Sarah that since the dog had already run three times, she should expect her to run again, but once Macie got home with Sarah, there was nowhere else she wanted to go… unless there was a cat to chase.
A few years later, Sarah and Macie welcomed Amanda into their family after a very long trial period during which Macie frequently caused a ruckus. Her main goal was to reclaim her half of the bed. She finally gave up, but still steals all the pillows. The recent presidential election brought out Macie's activist side, pictured. A desert dog, Macie prefers to be on dry ground at all times. She enjoys chasing bunnies, barking at cats, arranging big piles of pillows in which to nest, and having her armpits scratched."
---
Hannah, Della and Bella / 25, 6, 3 / DuPont State Forest, NC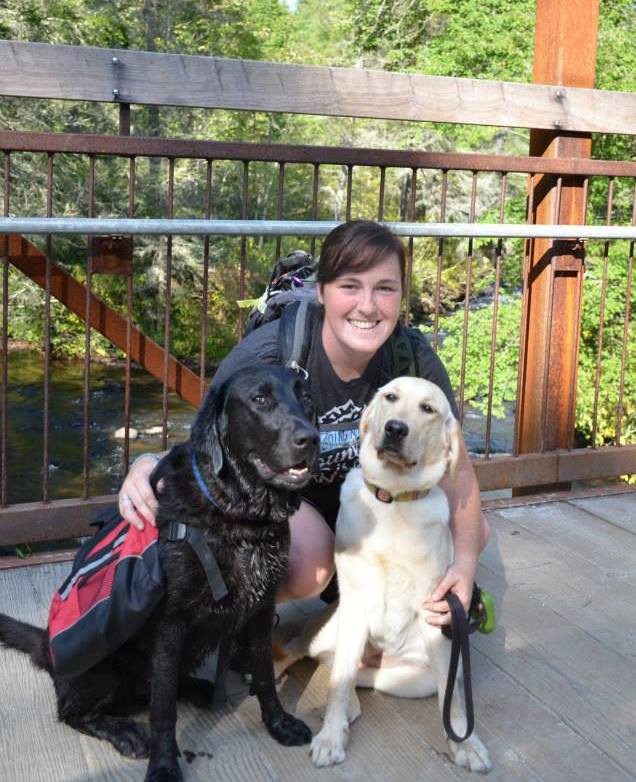 "In the picture is Della (black lab golden retriever cross, 6) and Bella (yellow lab golden retriever cross, 3). While in college at the University of Georgia, I became involved with the Guide Dog Foundation for the Blind and America's VetDogs. GDF provides guide dogs for visually impaired individuals. AVD provides service dogs for Veterans. I became a puppy raiser for the two sister organizations. Della was the first puppy I was given to raise for GDF. She ultimately did not complete the training program due to allergies, so I adopted her! She is now my furever dog. Bella graduated from America's VetDogs and is now a working service dog for a Veteran in NY! Bella graduating as a service dog was one of the proudest moments of my life! I have always loved exploring the outdoors, especially the mountains of North Carolina! These adventures are always made better with fur babies!"
---
Marcela and Mora / Atlanta, GA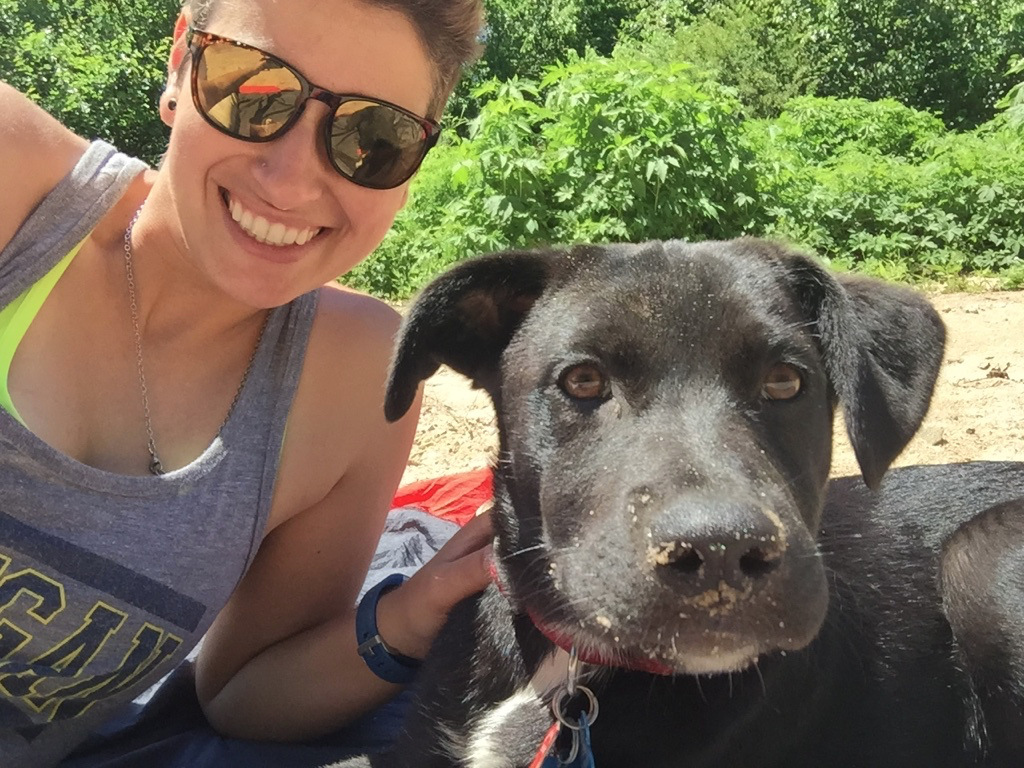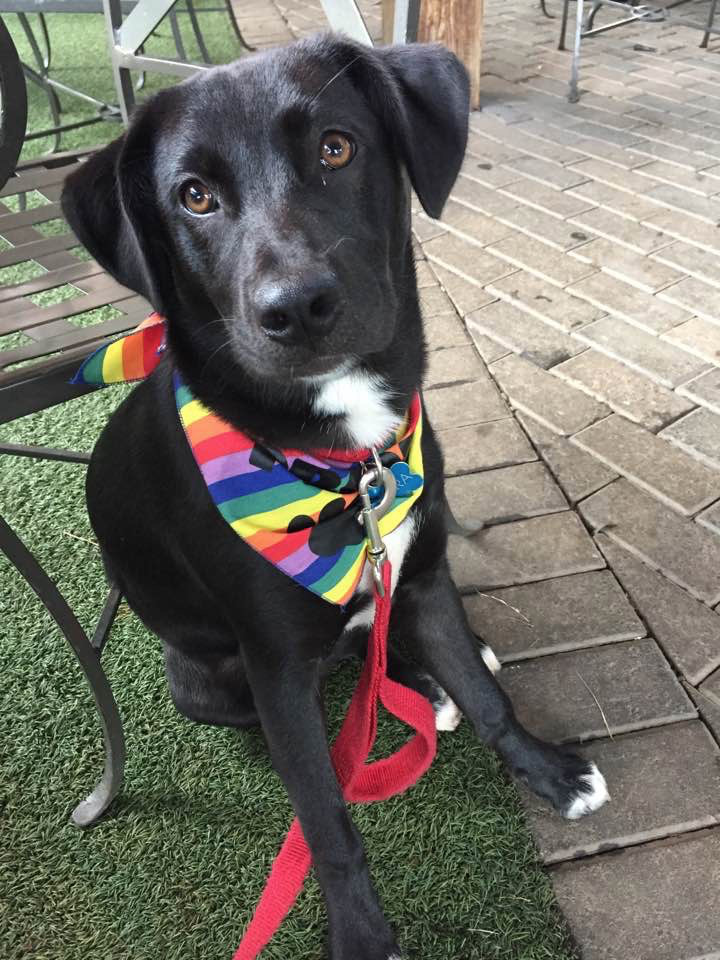 "This is Mora Benitez. She's an 8-month-old black lab mix. I adopted her from Hero Dog Rescues here in Georgia. In the first picture, we are chilling after a full day of swimming at Morningside Nature Reserve in Atlanta. The second picture was taken at Park Tavern in Piedmont Park while she was staring longingly at bacon. Mora likes socks, water, and cheese. We have that in common. We spend most weekends hiking, swimming, at gay brunch (that's a thing in Atlanta), or snuggled up watching Wynonna Earp. In her free time, Mora likes to hang out in the bathtub.  Surprisingly, she refuses to go anywhere near the tub when I try to actually give her a bath."
---
Liz and Bob Barker / 36, 6 / Austin, TX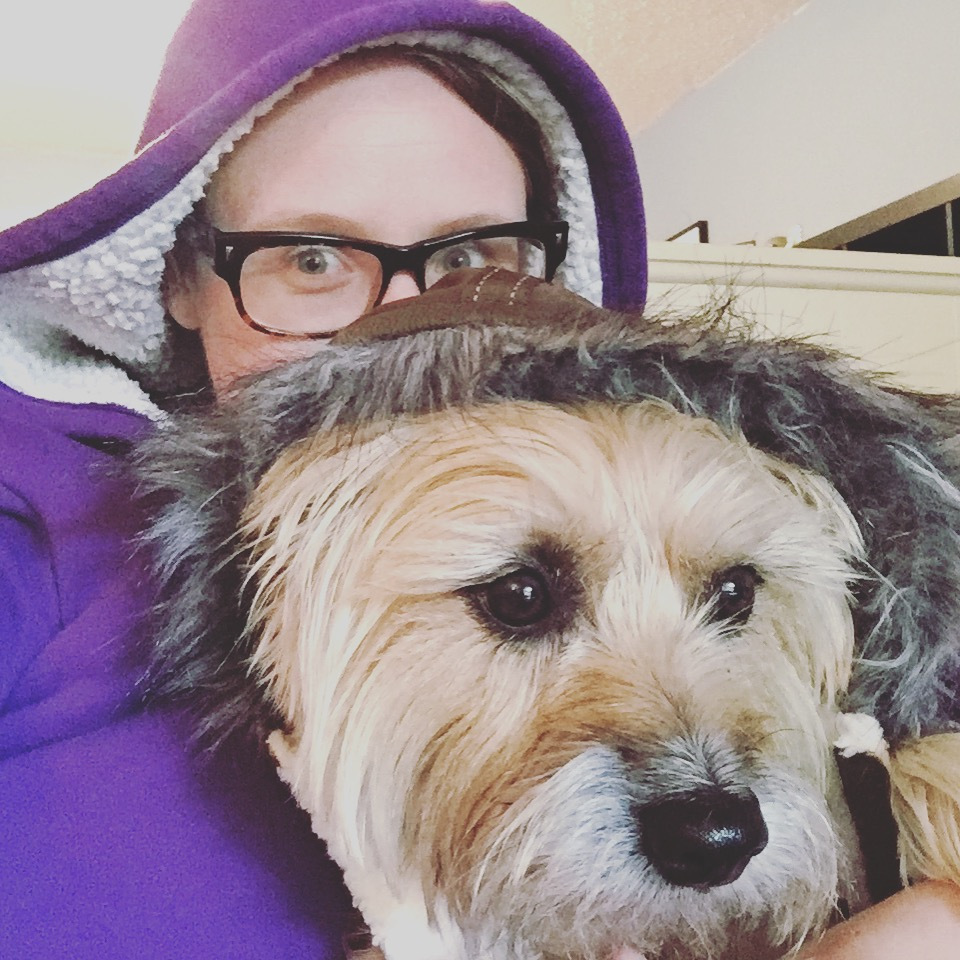 "Bob was our neighbor's dog and when he went into hospice he asked us to take care of him. We were skeptical, but now we are huge fans. His original name was Bobby, but he barks at the UPS person, so my friend Sinclair renamed him Bob Barker and it stuck. He'll sometimes burrow into your armpit when you are least expecting him to, and our house has been 100% squirrel free since we moved in. We watch a lot of Golden Girls — Bob is a Dorothy, for sure. The weirdest thing about him is he is obsessed with mangos. Instagram: @bobbarkerthecairn"
---
Kelly and Ouija / 30, 3 / Philadelphia, PA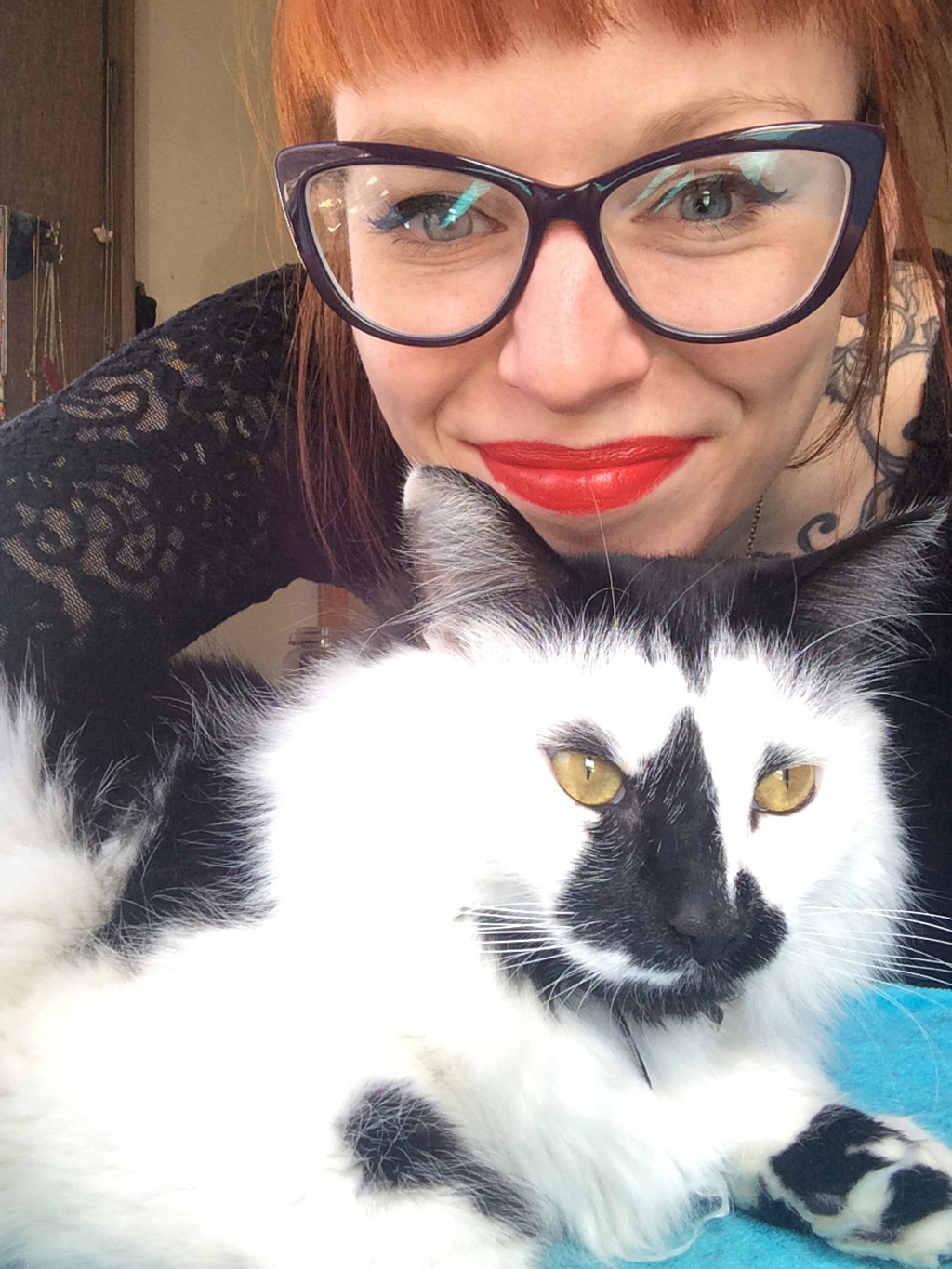 "I was fostering cats as well as volunteering weekly at a local shelter after my cat with FIV passed away.  I wanted to still feel the energy of cats around me, but was totally unable to feel like I could commit to a new kitty so soon after losing my previous one, so fostering and volunteering seemed like a great compromise. Months of volunteering went by before this weird little creature was placed in a cage toward the back of the room.  I think he hypnotized me.  I couldn't take my eyes off his bright golden eyes, fluffy white fur and unique markings on his face.  Not to mention that his eyeliner was so on point.  I couldn't stop thinking about him, but also freaked out a little that I wasn't emotionally prepared to parent a new cat so soon.  It turns out that Ouija didn't care, so he hypnotized me the next week that I saw him and made me adopt him two days later.
Some friends helped me pick out the name Ouija since the markings on his face resemble a planchette.  Ouija and his boyfriend Cosmo have an Instagram – ouijaandcosmo. Ouija isn't a super snuggly or cuddly cat, but somehow knows how to comfort me when I'm feeling shitty. He'll let me throw him over my shoulder and carry him around like a baby, or do very cute upside down flops.  He's got the best cat paws that look like an Oreo McFlurry, and is insanely good at taking photos."
Lily and Lizzy / 25, 9 / Fave Couch
"Lizzy came to me when her previous owners decided they couldn't take care of her anymore. I had always wanted a dog and she ended up being perfect for me. She is super chill, the perfect couch potato companion. The best thing about Lizzy is that she sings. It's definitely more of a howl, but it's really cute and it never gets old. She likes cuddling for hours on end (preferably wedged between me and the couch), watching the squirrels in our backyard, and walking in the park. When she first came to us, she was very shy and timid, but now she is hella sassy and I don't think it's possible for me to love her more than I already do."
---
Lily and Agatha Kitty / 22, 5 months / Tuscaloosa, AL
"Agatha was a last-minute decision before my move to Tuscaloosa in late July; a hometown friend had adopted her and then turned out to be allergic, and as a lifelong lover of other people's cats I swooped in and took her South with me.
Yes, I like Agatha Christie.  No, I have not seen the Doctor Who episode.
Agatha's favorite activities include biting my toes when I'm trying to get writing done, and playing fetch with a pipe cleaner.  She does not have her own Instagram, but she's pretty much taken over mine (@truthinjest42, if you want to see pictures of her hanging out in the pantry, etc.).  If I tried to tell you how much she's improved my life in the last two months, you would laugh at me for being maudlin.  So I'll just say that she is the World's Best Kitty and I love her with a ridiculous and undying love, even when she attacks my hands while I'm typing, like she is right this minute."
---
Amanda and Benny / 25, 6 / Vancouver Pride
"Benny is a rescue mutt from the streets of San Bernardino who came to Vancouver, BC in 2012 through a local rescue organization. We were instant best friends and he's been my main dude every since (but shhh don't tell my fiancée. She gets a little jealous). Benny spreads nothing but joy and white dog fur to everyone he meets. He gives me purpose on the days I don't feel I have one. You can check him out on Instagram at #dailybenny."
---
Brooklyn and Ruby / 26, 5 / Queen Elizabeth Park, Vancouver BC, Canada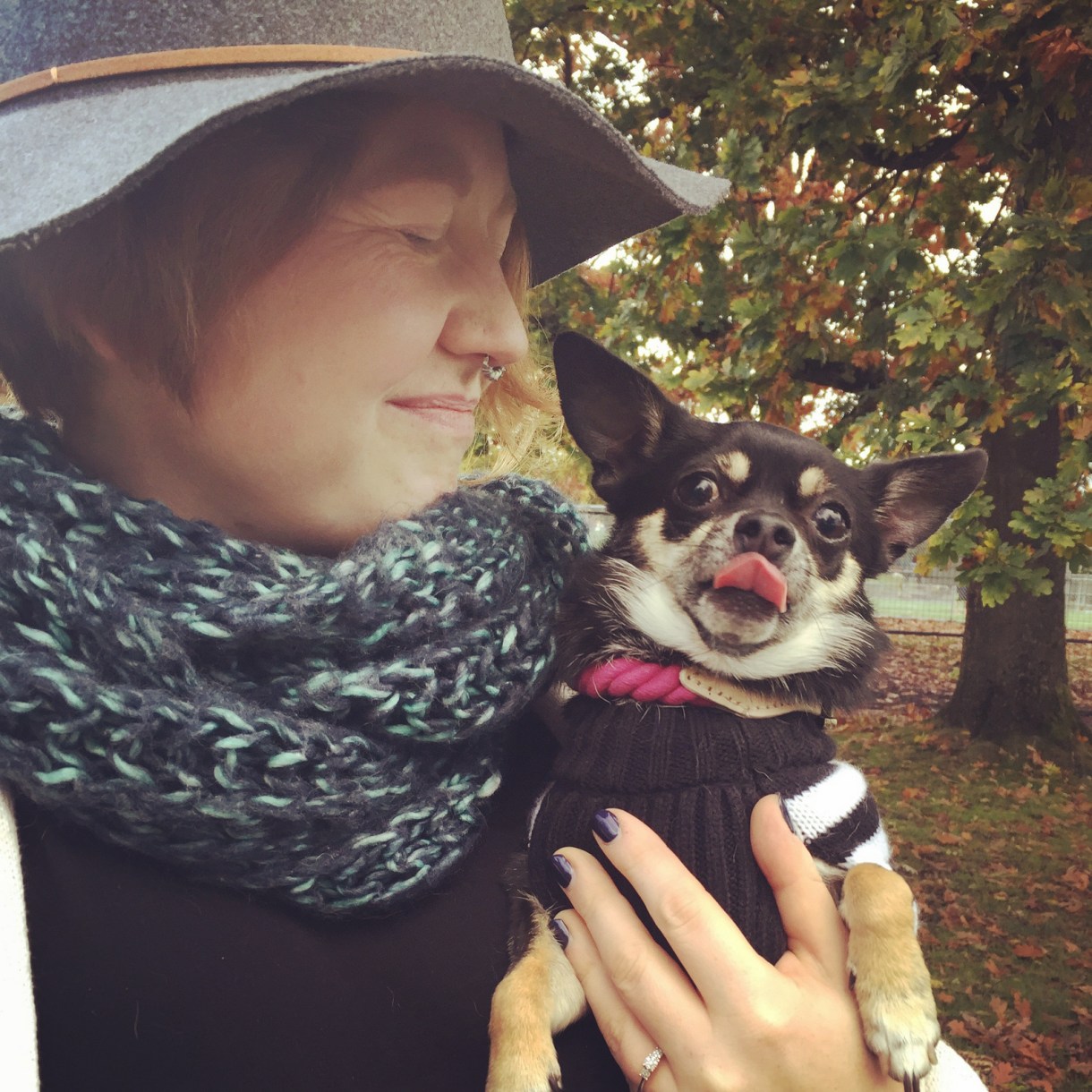 "One hot summer day in July, Ruby came on an airplane all the way from Ontario and we fell in love instantly.  She gave me a reason to wake up each day after I came out of an abusive relationship. Through the past 5 years, we've found new love and accomplished great things. Her favourite toy is a squeaky blue hedgehog that my fiancée bought her at the beginning of our relationship."
---
Kalyna, Bishka, and Frankie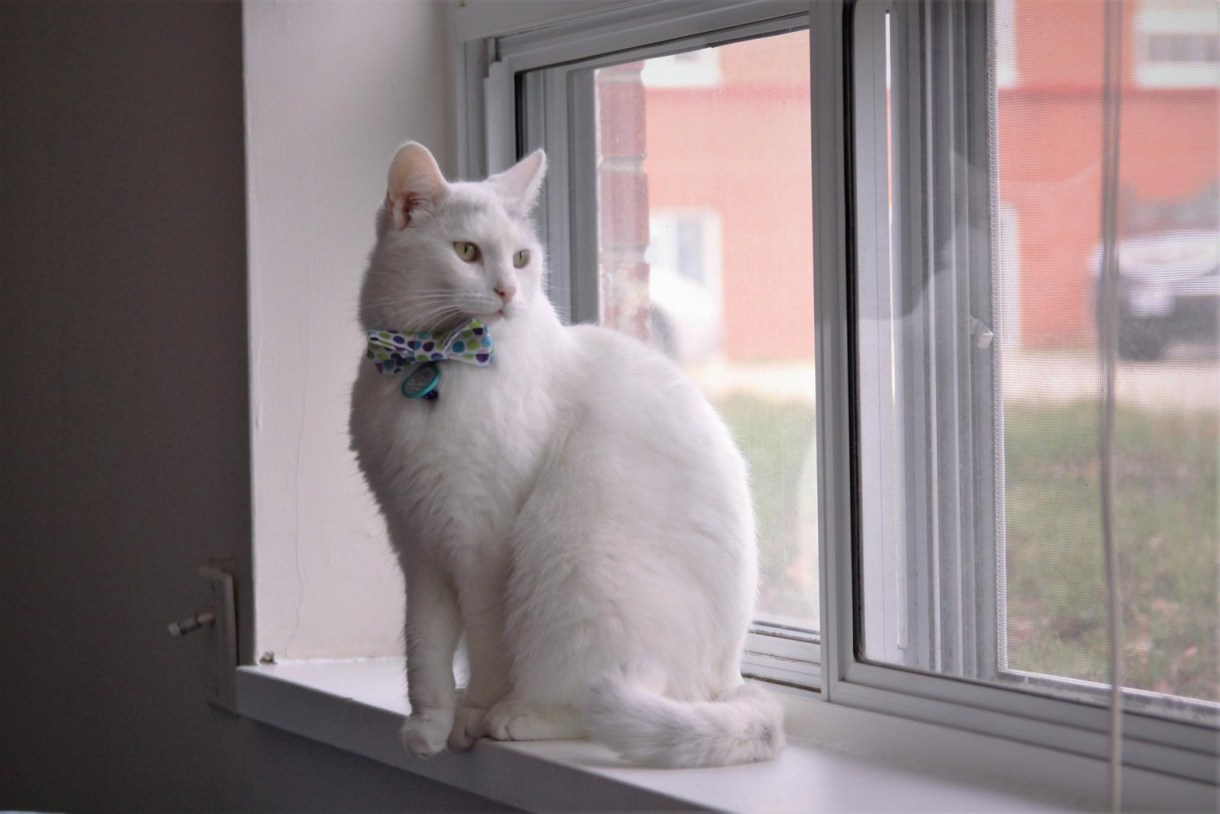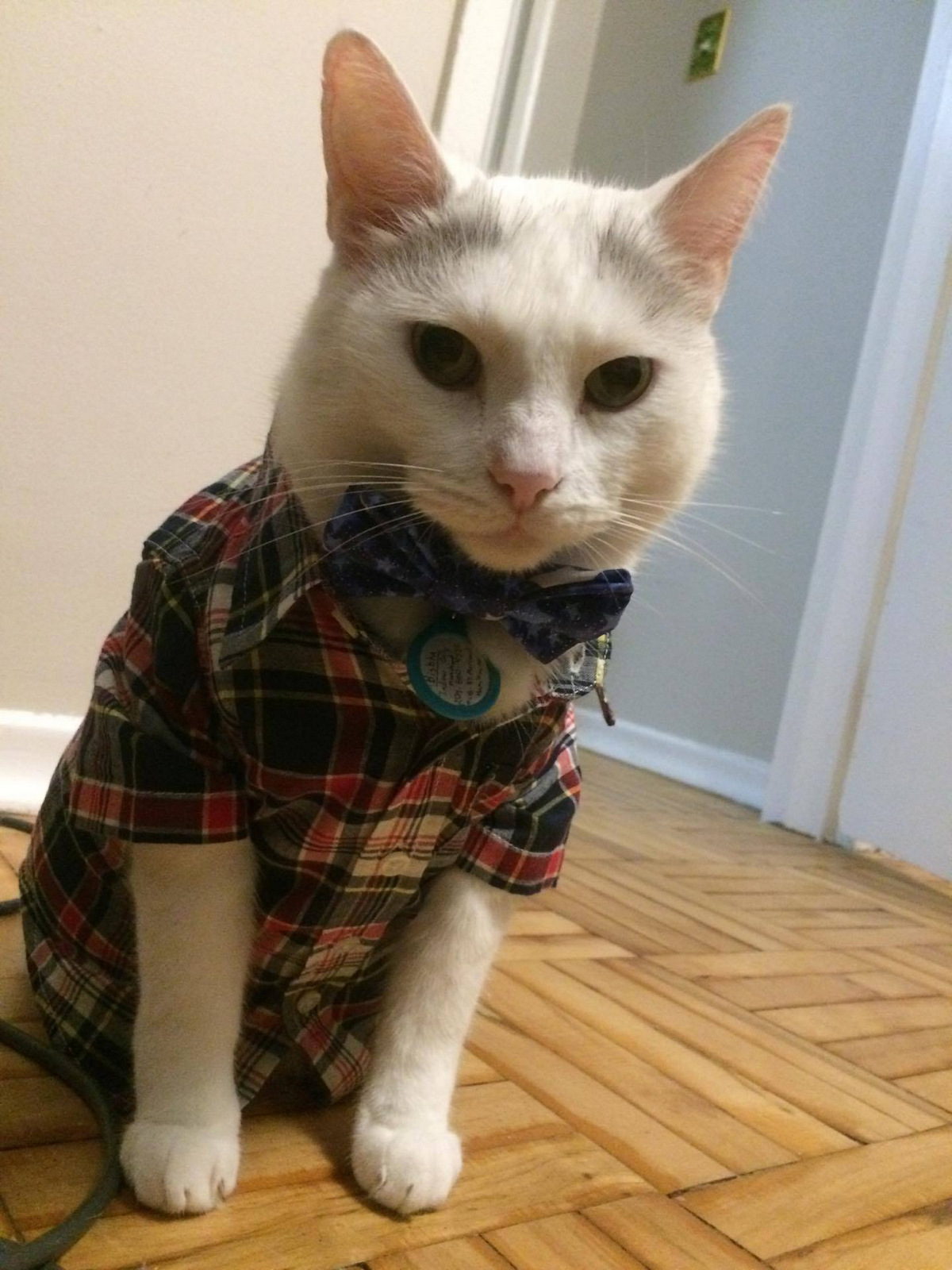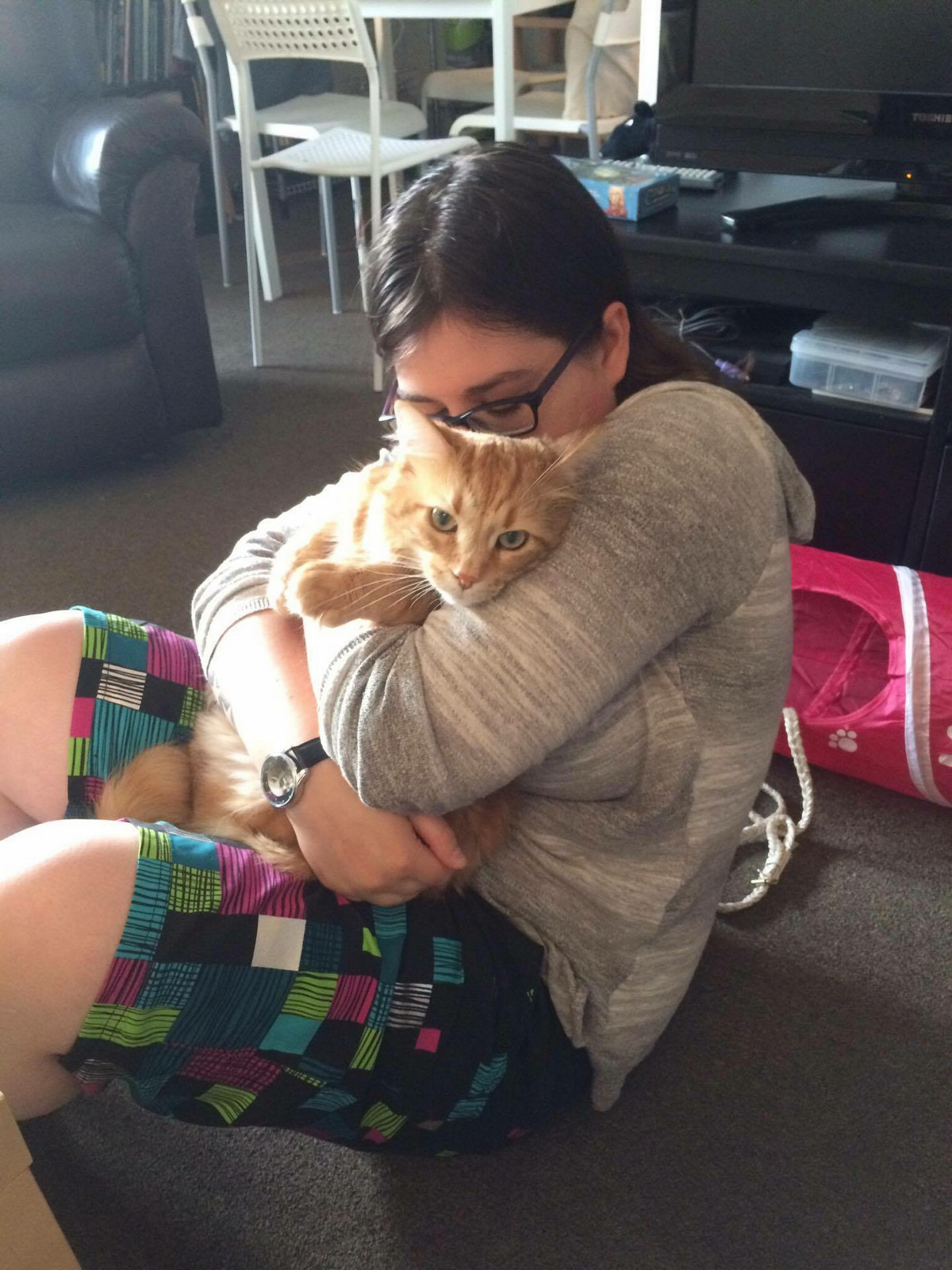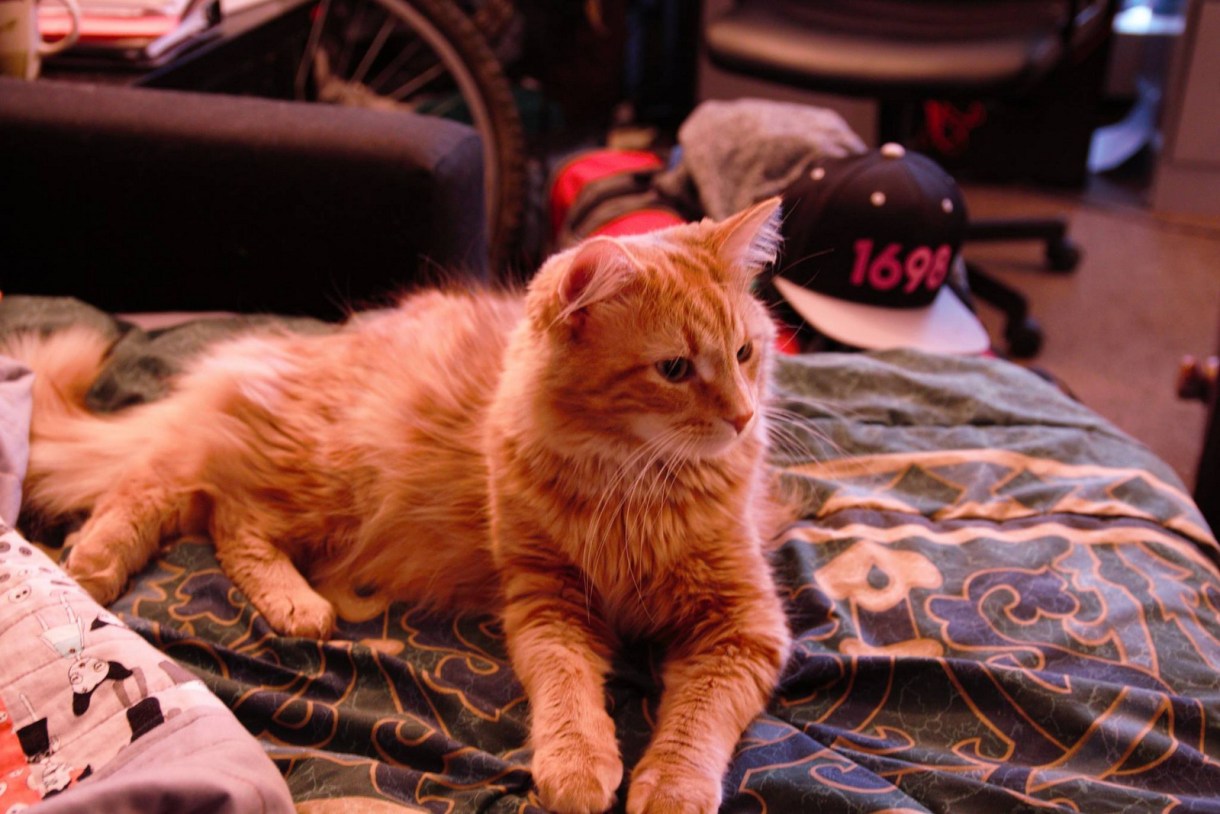 "Bishka was found wandering the streets of my office admin's neighbourhood and was put up for adoption after my admin's husband developed a bad allergic reaction to the cat. I was in Lithuania when my admin sent an office email advertising the cat, so in a classic move, I Replied All in a frantic email, saying that I'd take the cat if someone could look after her for one month until I was back in the country. I got her on November 7, 2016 and I don't know how I would've survived the stress of the US election if I didn't have this sweet and sassy girl to keep me company.
I named her Bishka because it's the diminutive for Albina – the name of my celebrity "root".  Albina in various languages means "white", and her namesake is known for being a mercurial ice queen which fits perfectly with my cat's tendency to be incredibly affectionate for 15 minutes but protest loudly for the rest of her life if you dare to pet her outside those confined periods. Bishka is a very lesbian cat because she hates male cats, rocks an alternative lifestyle wardrobe without complaint, and is really good at processing her feelings openly and loudly. She's very much a teenager in her angst and emotions, and my girlfriend and I have been pouring our energy in helping her manage her stress, but sometimes all we can do is let her storm off and have her tantrums in private because her moms will just never understand how life is so unfair.  She loves using hands as a pillow and sometimes will knead fleecy blankets while simultaneously chewing on them (something I've dubbed her "nom-and-knead")                                                                                                                                                                                           Frankie is my former cat whom I lost in a breakup which makes him an honourary lesbian cat.  My ex-girlfriend and I got him on her birthday two years ago because our friend couldn't keep him anymore. He had been abandoned the previous summer on our friend's farm and had been adjusting poorly to being an outdoor cat, so he's much happier with an indoor life. He's a very lanky boy, unaware of how big he actually is and still acts like he's a cutesy little kitten despite dwarfing most other cats. He's a bratty little brother to his sister (my ex's dog) but is a mushy sweetheart who likes to show affection by using my wrists as his scratching post. His name is Frankie because our friend who found him thought it suited him as an Irish ginger, and my ex had a boss named Frank who was a great role model, so the name stuck."
---
Ari and Athena / Massachusetts Avenue in Cambridge, MA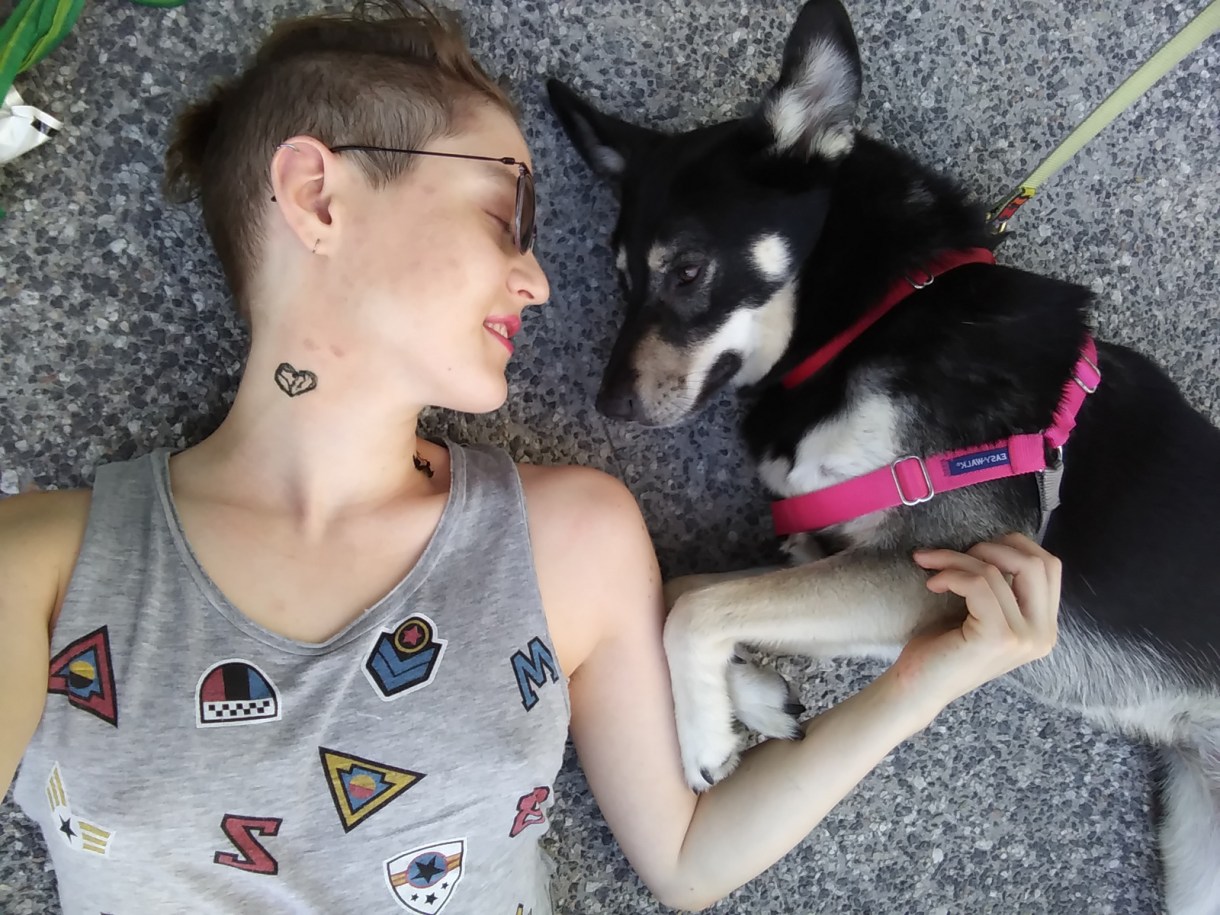 "I'm a pansexual genderqueer graduate student who can't afford dog friendly housing. I was walking back from my favorite plant shop with my new spider plant, my first new pet in a long time. I saw this fabulous dog tied to a gate lying on her side and wagging her tail. Approaching slowly, I quickly found she wanted to exchange kisses for pets. After a while, someone who worked next door said his boss wanted him to call animal control. I told him I'd wait with her until her family came back. Athena and I laid on the cool stone, relaxing. Her mother and boy came back, which is how I know Athena's name. I gave them a quick heads up about the averted animal control call, and the boy thanked me solemnly. So no, Athena and I don't live together, but for a little while on a Sundayafternoon, I was her human."
---
Carrie and Bri / 27, 13 / San Jose, CA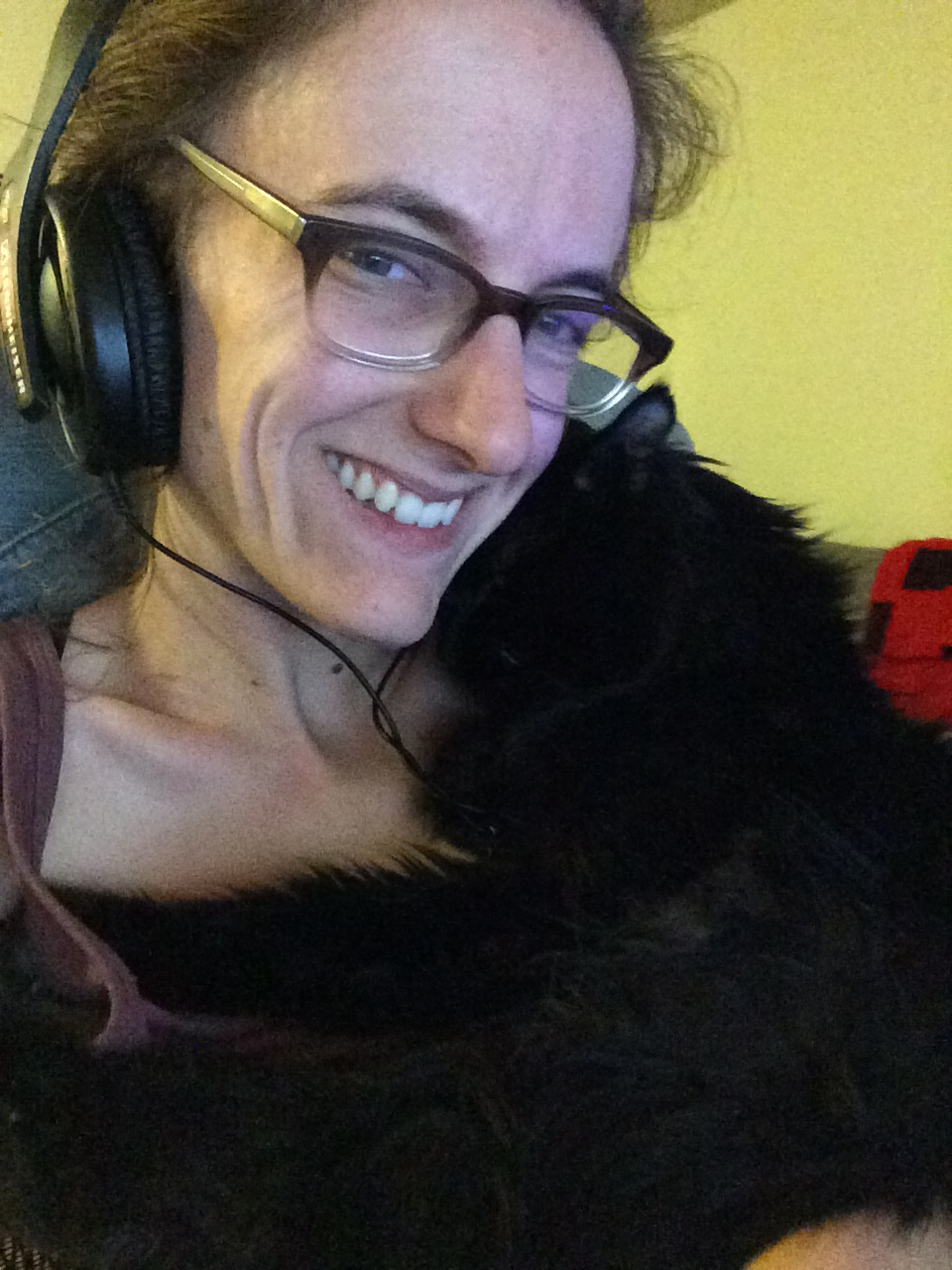 "I adopted Bri (short for "Umbreon") four years ago and she's the cuddliest and chillest old lady cat. Our favorite activity to do together is 3D modeling or playing Overwatch while she sleeps in my lap, occasionally waking up to loudly beg for treats and/or swat at Overwatch character Bastion's pet bird Ganymede."
---
Eli and Bruno / My House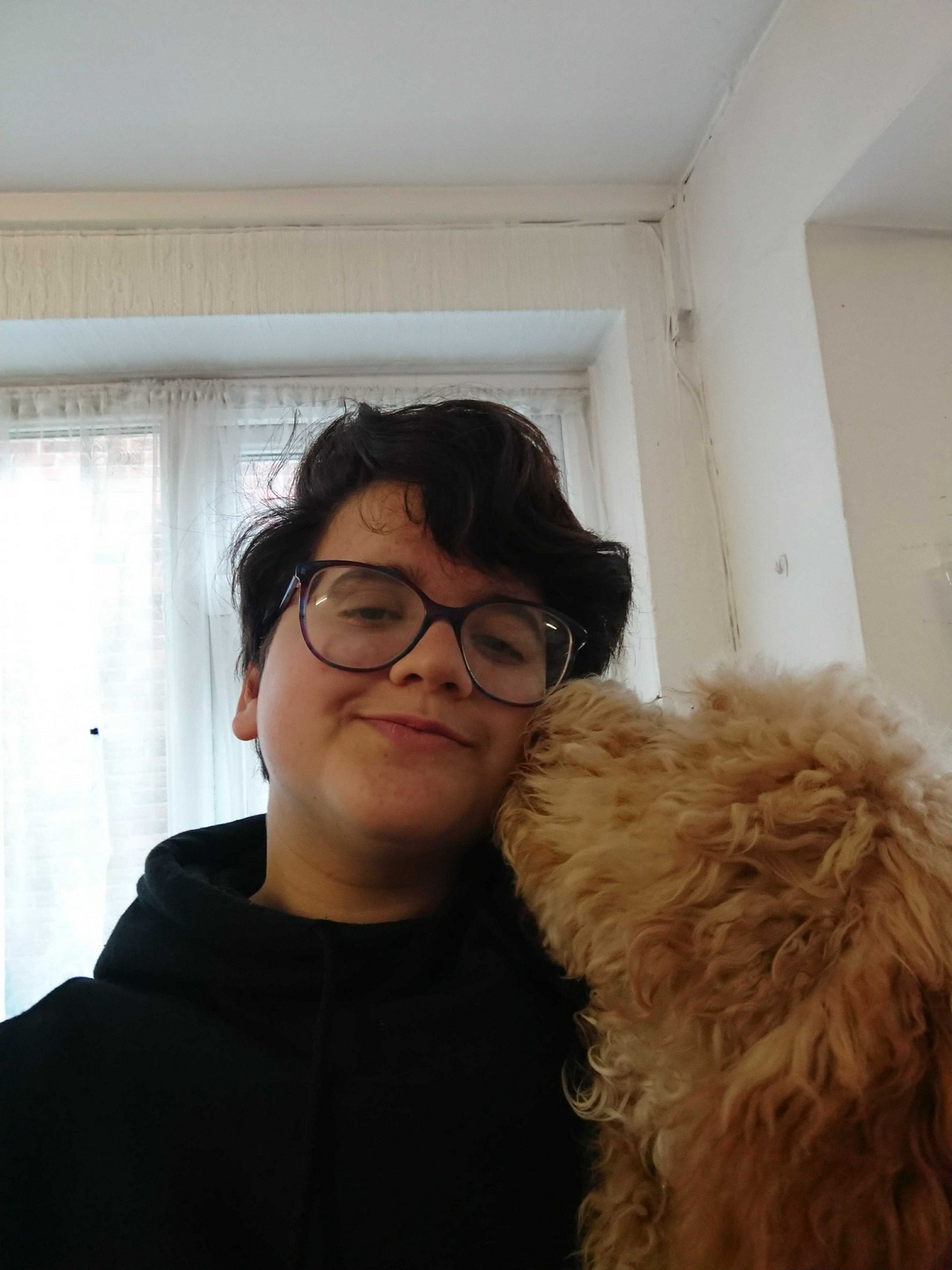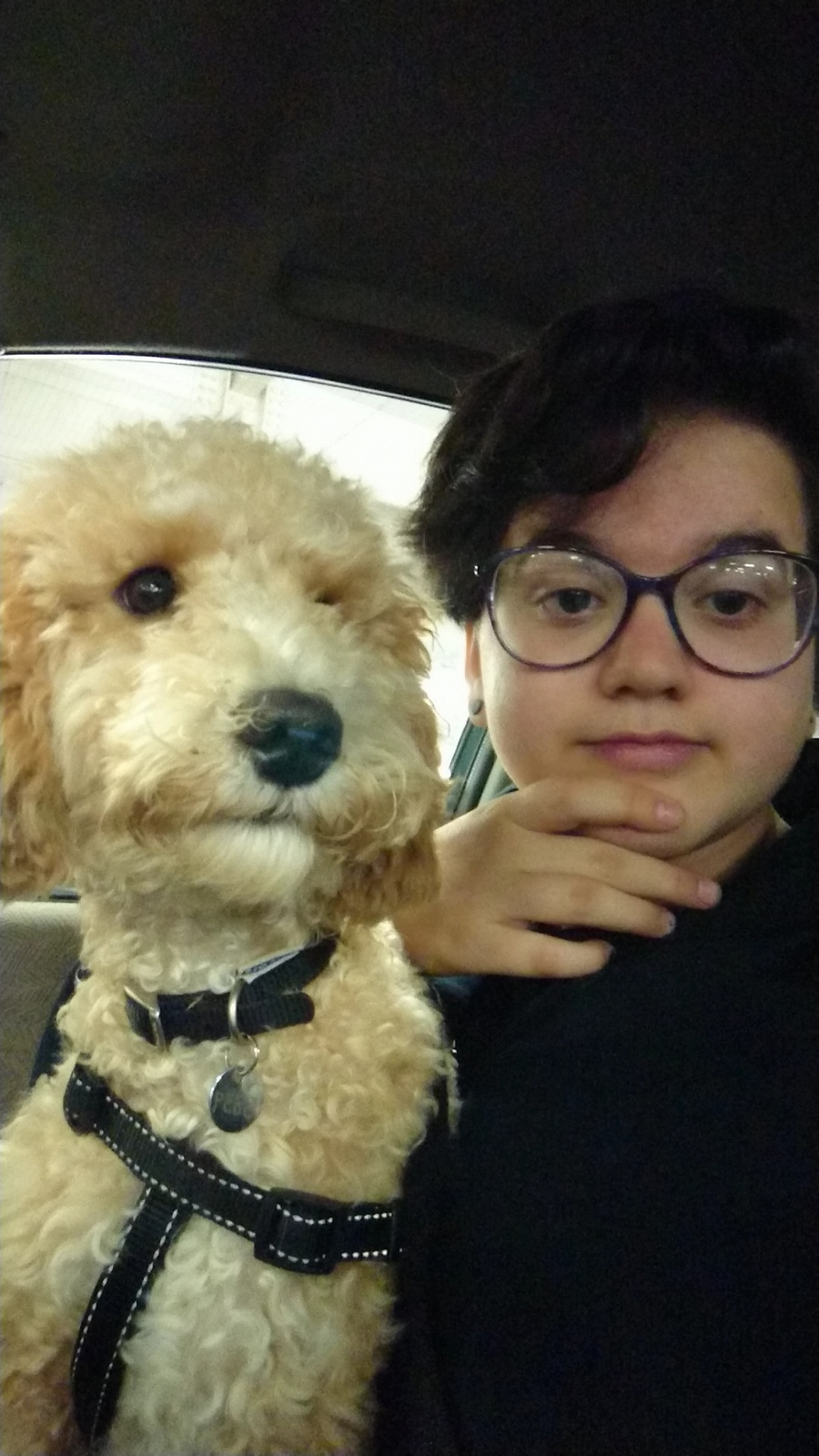 "Last year I had a breakdown, dropped out of college and didn't leave the house for weeks on end. Until we got Bruno! He's going to be a hearing dog when he's older, so there's a lot of training we have to do which got me busy again. He's always so excited to see me when I come in the room (even if it's only been ten minutes) which does wonders for my self esteem. I've also accidentally trained him to sit on my lap as soon as I sit on the floor. Now I'm going back to college and have plans for the future. He's also leaving in a few months which I prefer not to think about."
---
Sterling and Boris / 29, 4 / WY
"Boris was raised as a show cat for the first year and a half of his life (before my girlfriend and I adopted him), but he doesn't let his past career as a supermodel go to his head at all. He maintains a wide variety of interests and hobbies, including, but not limited to: devouring cans of Fancy Feast with an urgency unrivaled by lions attacking prey in the wild, sitting atop his carpet tree and gazing knowingly at the world below, staring through the window at birds and/or squirrels while flicking his tail wildly and making very menacing hunting noises, chewing on plastic bags, giving hugs by wrapping his paws all the way around my neck, purring enthusiastically one centimeter away from my face in the early hours of the morning, running in frantic circles across the carpet at unexpected moments, chasing feathers and/or red dots and/or his own tail, and meowing in a way that sounds uncannily like "hello." Things he does not enjoy include: vacuum cleaners, walking on a leash, wearing hats, waiting until the second alarm goes off to be served breakfast, and being denied a third can of dinner at night."
---
Jessica, Adrian and Choco / 25, 1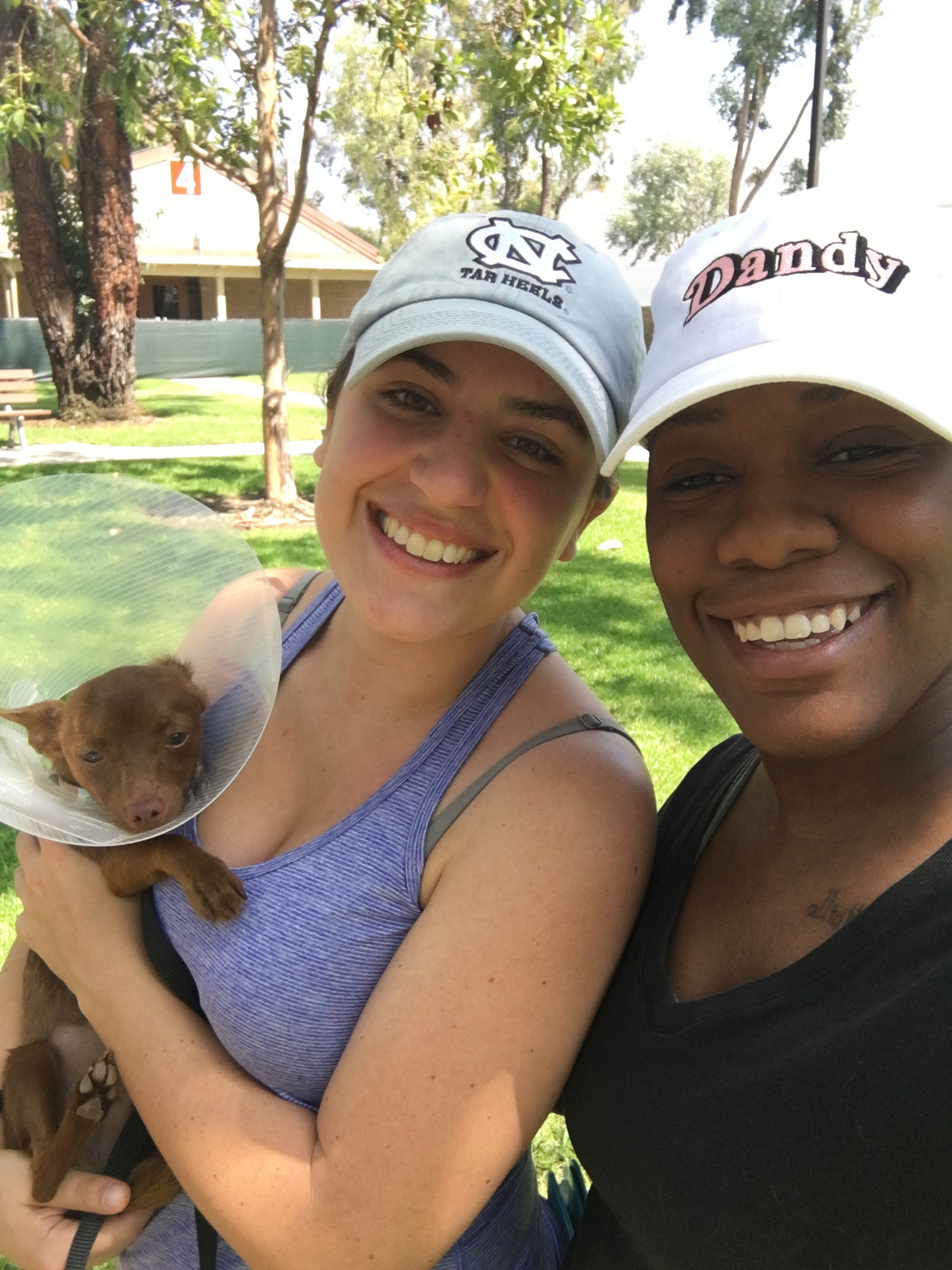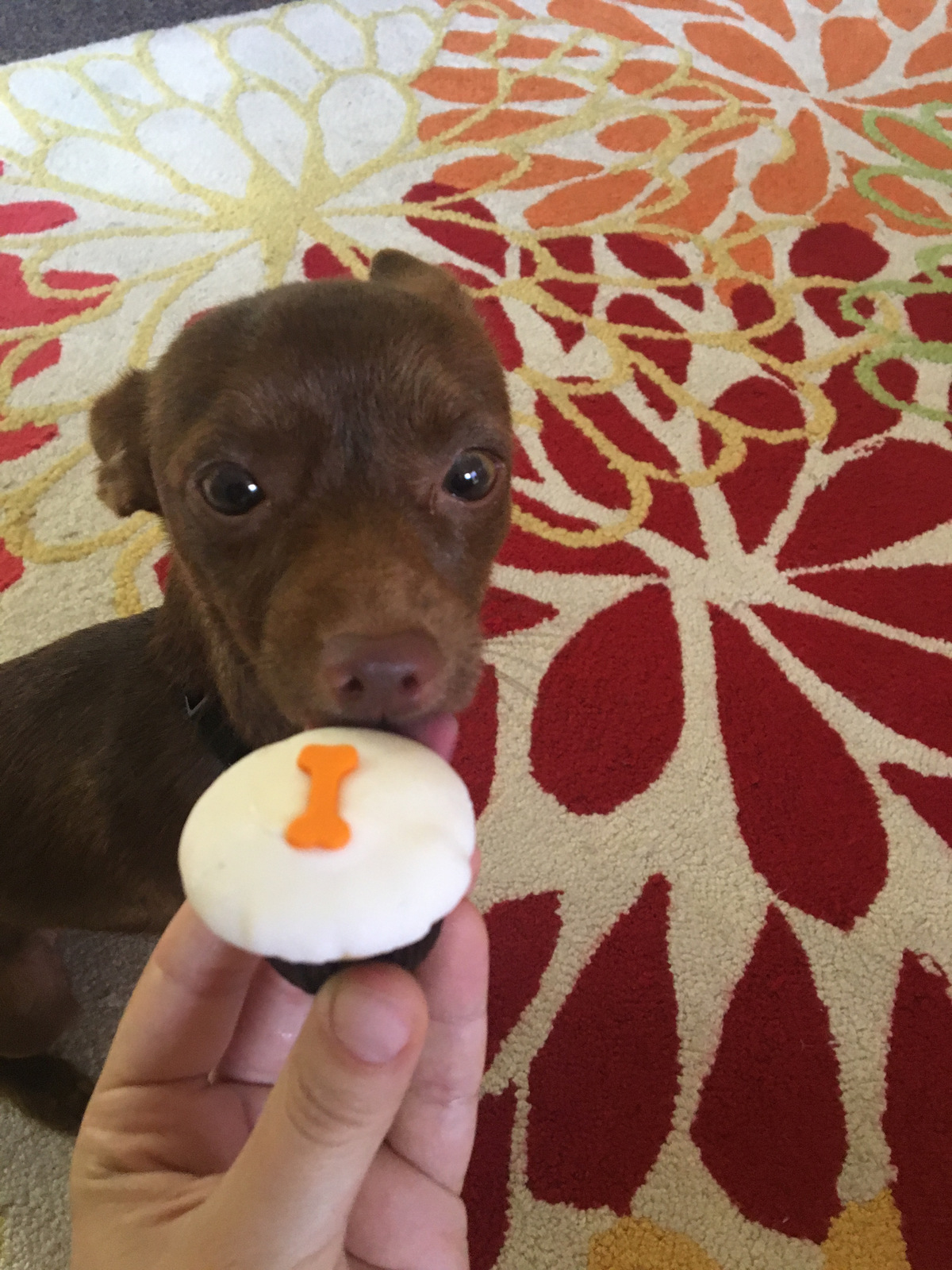 "My partner Adrian and I adopted our sweet pup Choco from a shelter in Irvine, CA on National Dog Day. The day started with Adrian trying to buy me a house plant to cheer me up and escalated into a trip to an animal shelter and then escalated into me looking into Choco's eyes and falling in love and taking him home. All the other dogs were barking and jumping, but little 6 pound Choco was cowering in a corner with his tail between his legs and this pathetic cone on his head. I reached my hand into the cage and he walked up and leaned his sweet little head into my palm. That was it for me. The best thing about Choco is that he's a quiet little cuddle bug. He'll hop onto your lap and find the warmest crevice and drift off. The most unexpectedly excited person to hear about Choco was my grandma, who called me out of the blue and said "I HAVE A GREAT GRANDSON!" She said she has to call her friend Nancy to tell her she's now outnumbering her in grand-"children." We love Choco and we hope he loves having two moms!"
Grania and Murphy/ 43, 5 / Maser street art, Grantham St, Dublin, Ireland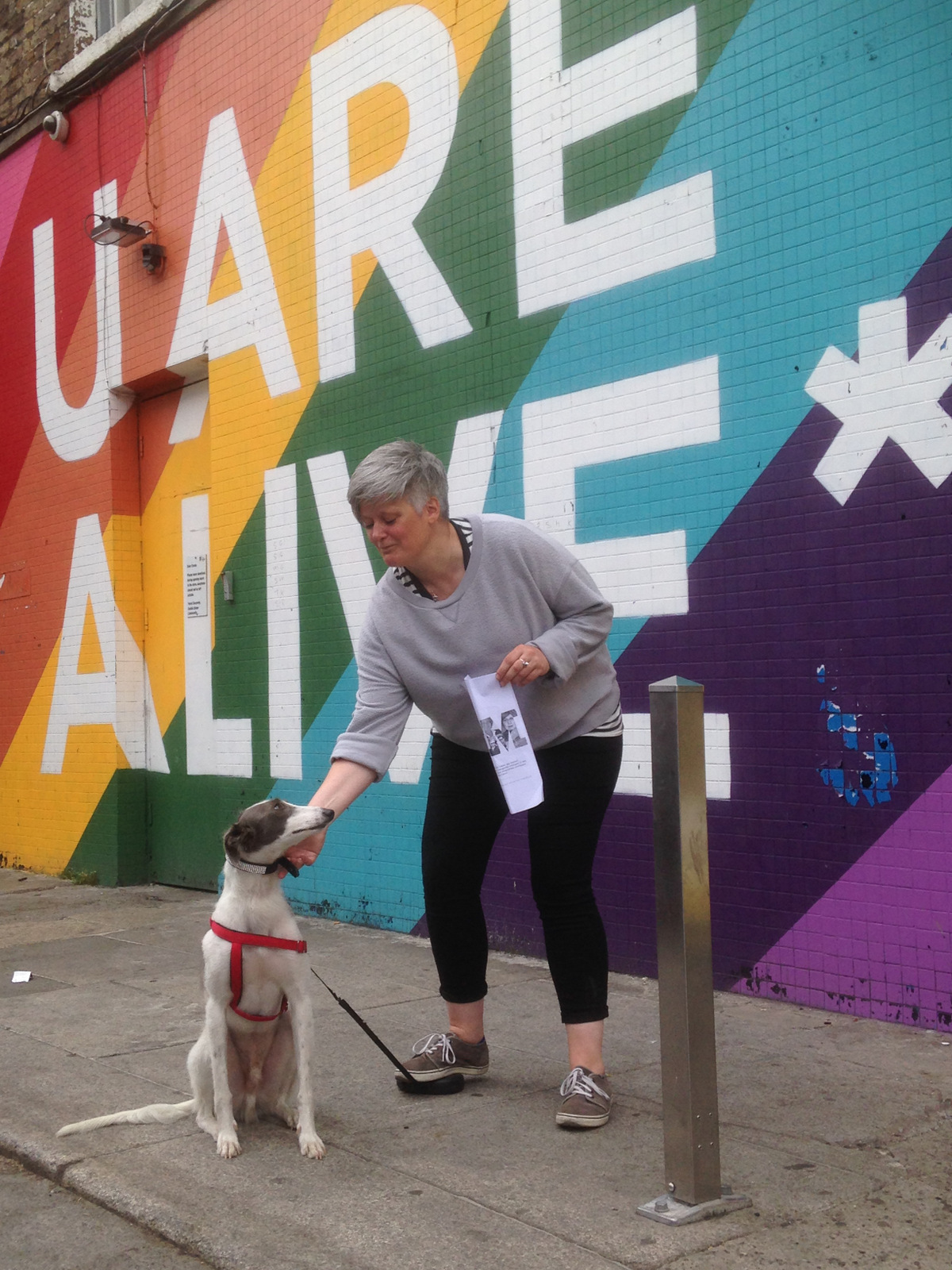 "Murphy is a Lurcher rescue, and a certified bad-boy lamb-killer, who is now in an urban human-veggie household. He came with the name, as he had three owners in 6 months, we decided to keep the name. Althought as it was easter 2016, the centenary of the Irish uprising, we did consider naming him Countess Sparklybitch in honour of Countess Markiewicz, a heroine of the uprising. Murphy may have been sporting a diamanté collar at the time.
He is a furry ball of energy. Docile and devoted on the lead, a ferocious sprinter off it. And his fur is enticingly soft, which is why he loves being petted by everyone he meets. Murphy frequents Instagram here."
---
Anoma, Robin, Jameson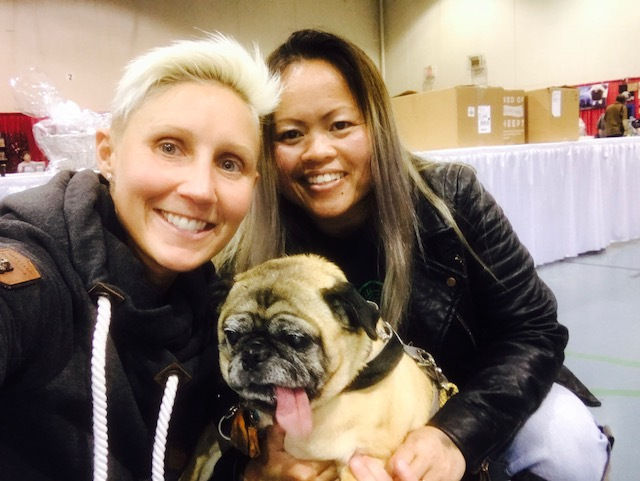 ---
Allison and Rosie / 25, 2 / San Antonio, TX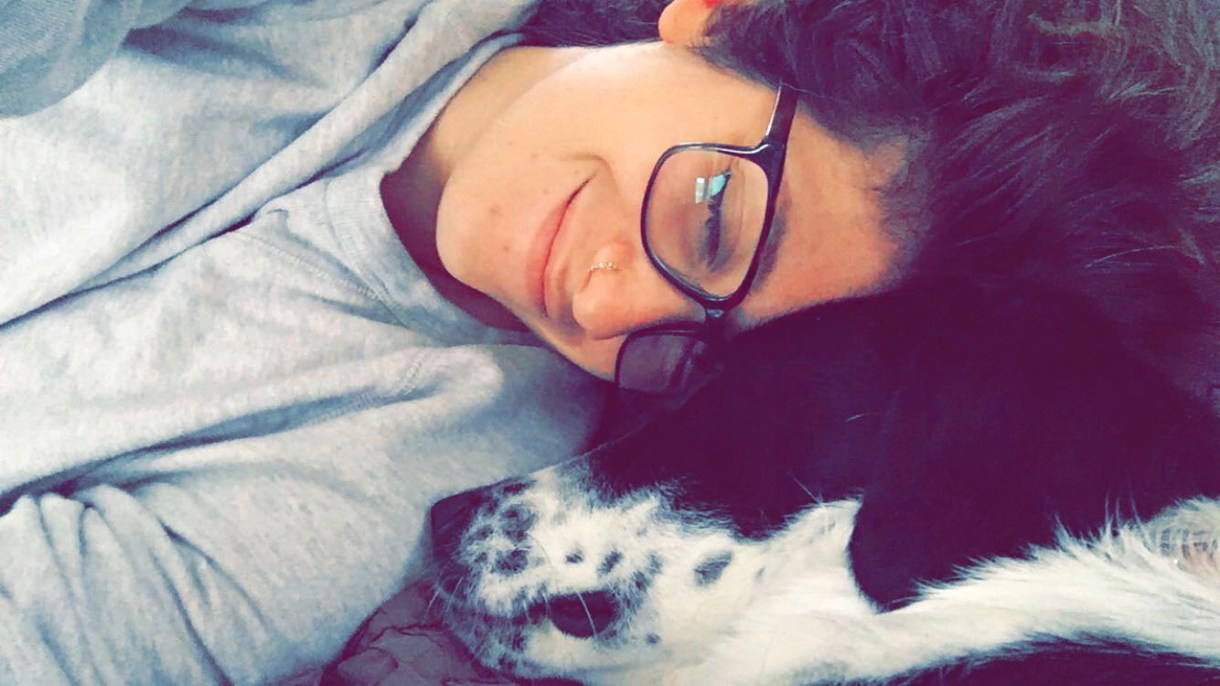 "I adopted Rosie from a shelter when she was seven months old. She already had the name Rose, which is my middle name after my great-grandmother who died in the Holocaust. I call her Rosie now to make that slightly less weird. Rosie and I both love swimming, eating ice cubes, and being bratty bottoms."
---
Rebecca and Molly / 29, 3/ Broadstairs, Kent, UK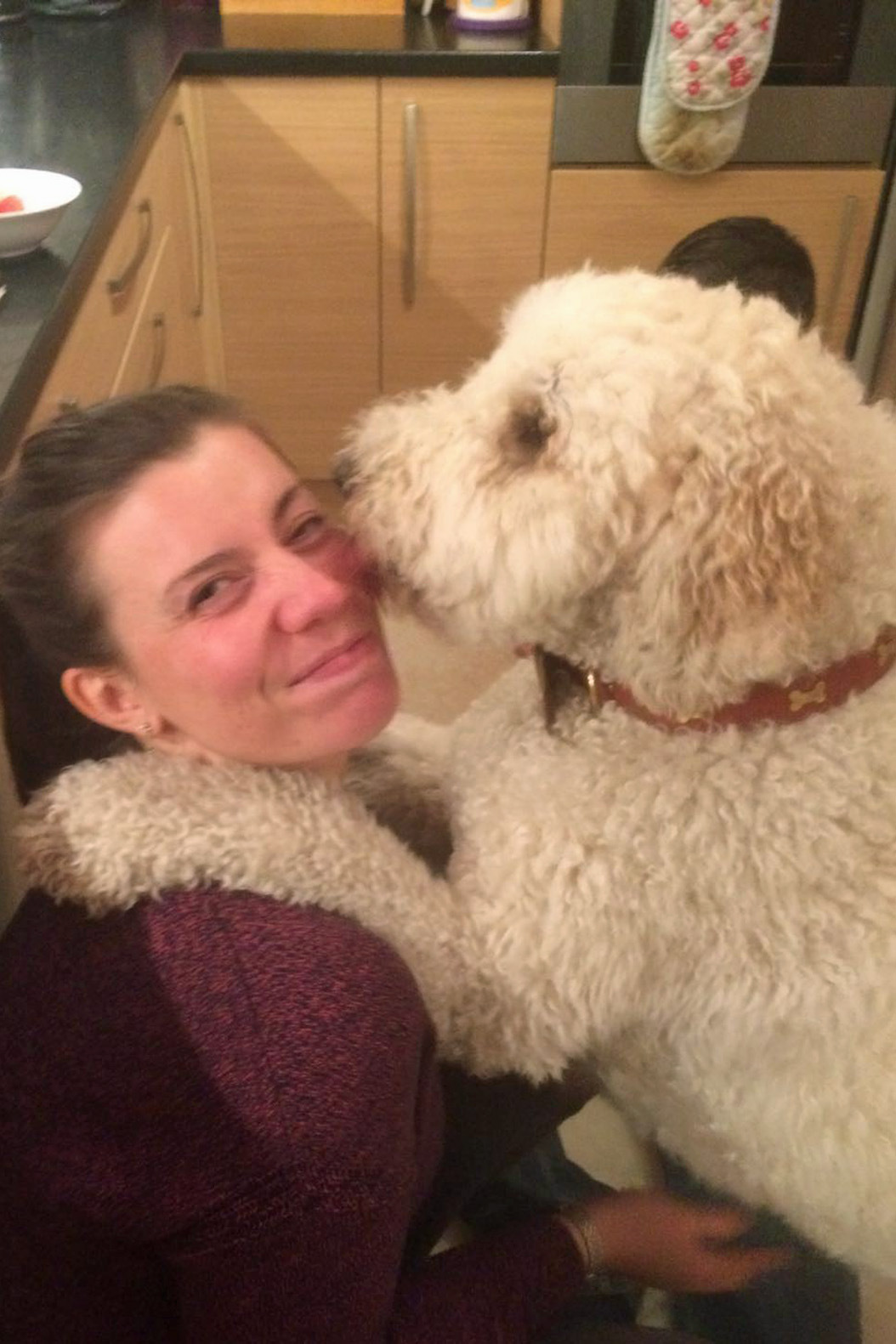 "OK, strictly speaking Molly is my mother's dog… but I helped select her when she was a puppy and collected her from the breeder when we she was ready! We got Molly from some friends of my brothers whose dog had a litter of puppies and my mum chose the name 'Molly' because "she looks like a Molly." Personally, I wanted 'Nora' because she gnawed things but I gracefully conceded.
Molly is the most loving, cuddly, family focused dog I've ever come across. Her favourite things to do are licking people's faces with extreme intensity; trying to catch shadows; chasing torch beams and barking at seagulls when they sit on the roof. She dislike bath time, the sea, anything water-based, objects/ people with big heads (especially motor cyclists), toys that make the wrong kind of squeak, dogs that are bigger than her, the neighbour's cat, horses and most of all – anythingthat bangs. She's needy, a bit of a wuss and a total princess but my goodness, I love this dog."
---
Dominique, Pebbles, Penny / Struble Trail, Chester County, Downingtown, PA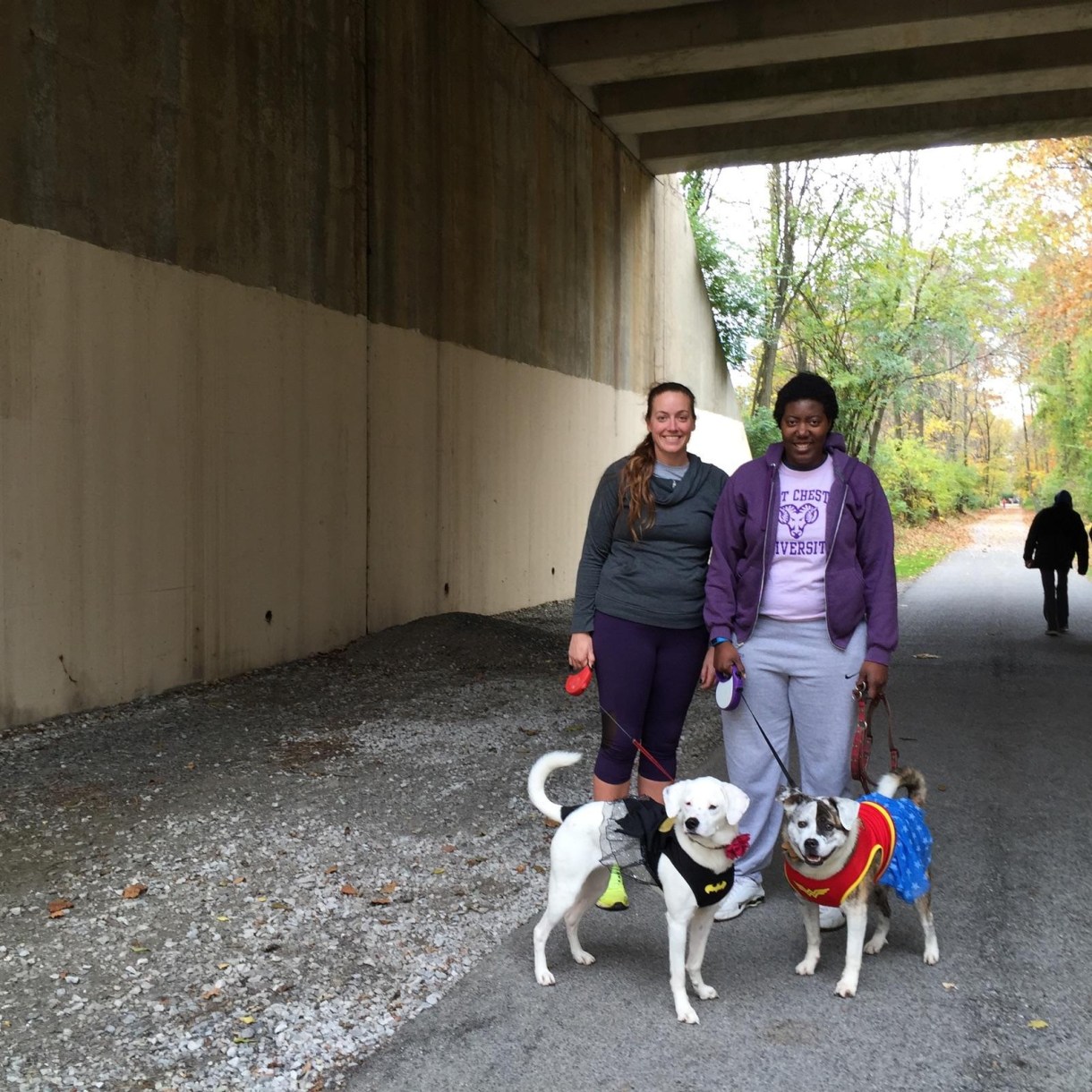 "Both of my girls were adopted from the Brandywine SPCA in West Chester, PA. We got Pebbles in March 2011, when she was about a year old. We were told that she was supposed to be be mostly a mix of Mastiff and Shiba Inu but they were clearly wrong because she's only 55 lbs today. Pebbles was returned to the SPCA because she is an alpha dog and the people that adopted her before us already had an alpha in their house so she was causing issues with trying to take over.
We adopted Penny in March of 2013, when she was a puppy and only a couple months old. She was all white with only a few spots and she was the last one of the litter when we saw her. After seeing her on a Friday and going in to look at her on Saturday morning (the puppies always go super fast at any SPCA), we barely got her. This little boy and his mother spent some time in a room with her before we did and they ended up not taking her. When they walked away we got our shot! We knew we definitely wanted to take her home. And just had to introduce her to Pebbles and make sure that they got along before we could. She is supposed to be mostly Walker Hound but most people think she's a Dalmatian because she has a lot of black spots on her coat. She has a large black dot on her butt (which you can kind of see in the pic) and she literally gets more and more spots everyday as she gets older. My girlfriend and I are constantly finding new ones. And she's so skinny-looking that people always mistake her for a puppy still.
The simultaneous best and most frustrating thing about Pebbles is that she is straight up a DIVA. She's beautiful and very spoiled and she knows it. She literally stops and stares at any person that she sees when we're walking because she both wants and thinks that they have to stop to pet her. The best, and also simultaneously sometimes infuriating, thing about Penny is that she is a true dog in that she loves to chase squirrels and rabbits in our backyard, she bites and tears up things she's not supposed to (the worse are shoes, tissues and plastic bags) and she loves to chew on various dog bones.
The best thing about both of them is that they LOVE people. So no one is ever in any danger of being bit or attacked by my dogs. We like to go on long walks together. On most mornings if I'm feeling up to it, I'll take them for 3-4 mile walks.
We have come to the conclusion that Penny is autistic. That's a real thing in dogs. There are lots of things that she can only do certain ways. For instance when we had a couch right by our front door, literally every time we came in from our twice daily walks she had to immediately jump over the back of it, off of it and then run outside thru her doggy door. Then she'd come right back in. Also our front door opens up so that it can block the stairs which are to the right as soon as you walk in. If this door is open, and Penny wants to come down the stairs she is unable to do so until the door is closed and she can then get around it because she has to come down the stairs into the living room in a specific way every single time. And these are just TWO of the many idiosyncrasies that she has and that she goes through on a daily basis. Also Penny rarely if ever gives kisses. She will smell your face for like a full 30 seconds but she will probably not lick it.
The weirdest things about Pebbles are that she won't accept a treat from your hand. You have to literally drop it on the floor and then she'll eat it. And she always, and I mean always, ducks her head when you go to pet her on the top of it. Sadly, I think this might have something to do with why she was returned to the SPCA. Like someone probably hit her on the head a lot to discipline her."
---
Ali, Katie, Kasper / Calgary, Canada
"Kasper and Katie came into my life as a package deal. She was the first girl I ever loved and he was the first doggo to steal my heart. I went from being dog indifferent to dog obsessed. On a birthday trip to Mexico in 2016 we decided to adopt a scruffy little street girl and name her Roo (like Quintana Roo). These pups make us laugh and get us outside every day during the long Calgary winters."
---
Chandler and Thor / 22, 6 / Missoula, MT
"I went to animal control to pick up a 30 lb lab mix named Cocoa. By the time I got there, she was gone. I walked around the kennels for a while and this beautiful brindled dog caught my attention by sitting perfectly still, and staring at me. I walk over and said "Hi, handsome. I'd love to take you home, but you're Too Big!" I turned to go, and behind me I hear this DEEP, MOURNFUL "WOO-oof!" I turned to look at him, and he was still sitting stock still, except for the faintest, hopeful tremble of the tip of his tail. This 80 lb boxer/mastiff cross has been mine ever since, and I'm grateful everyday that he picked me. If you want to see more of him, you can follow him on Instagram!"
---
Jess, Pepper / Parents' farm on Cape Cod, MA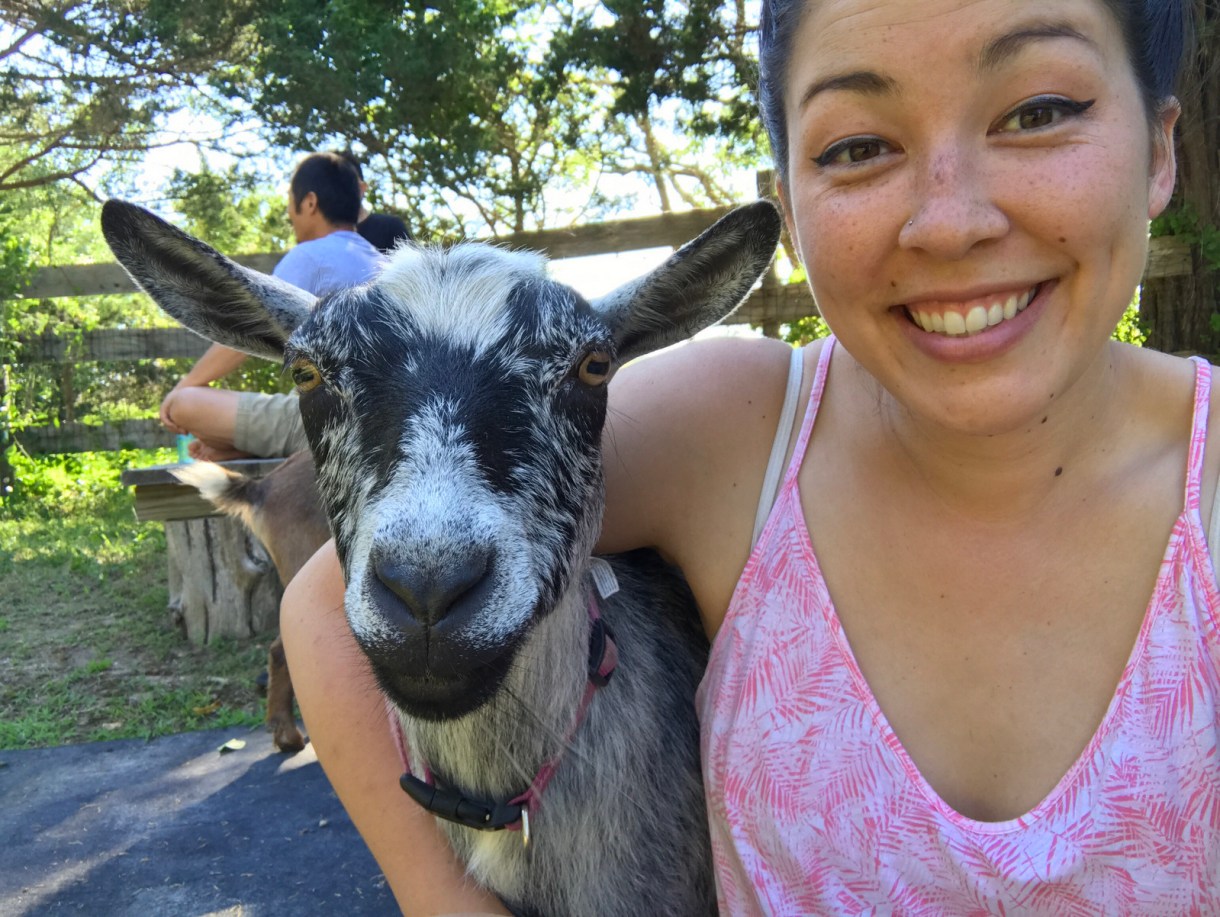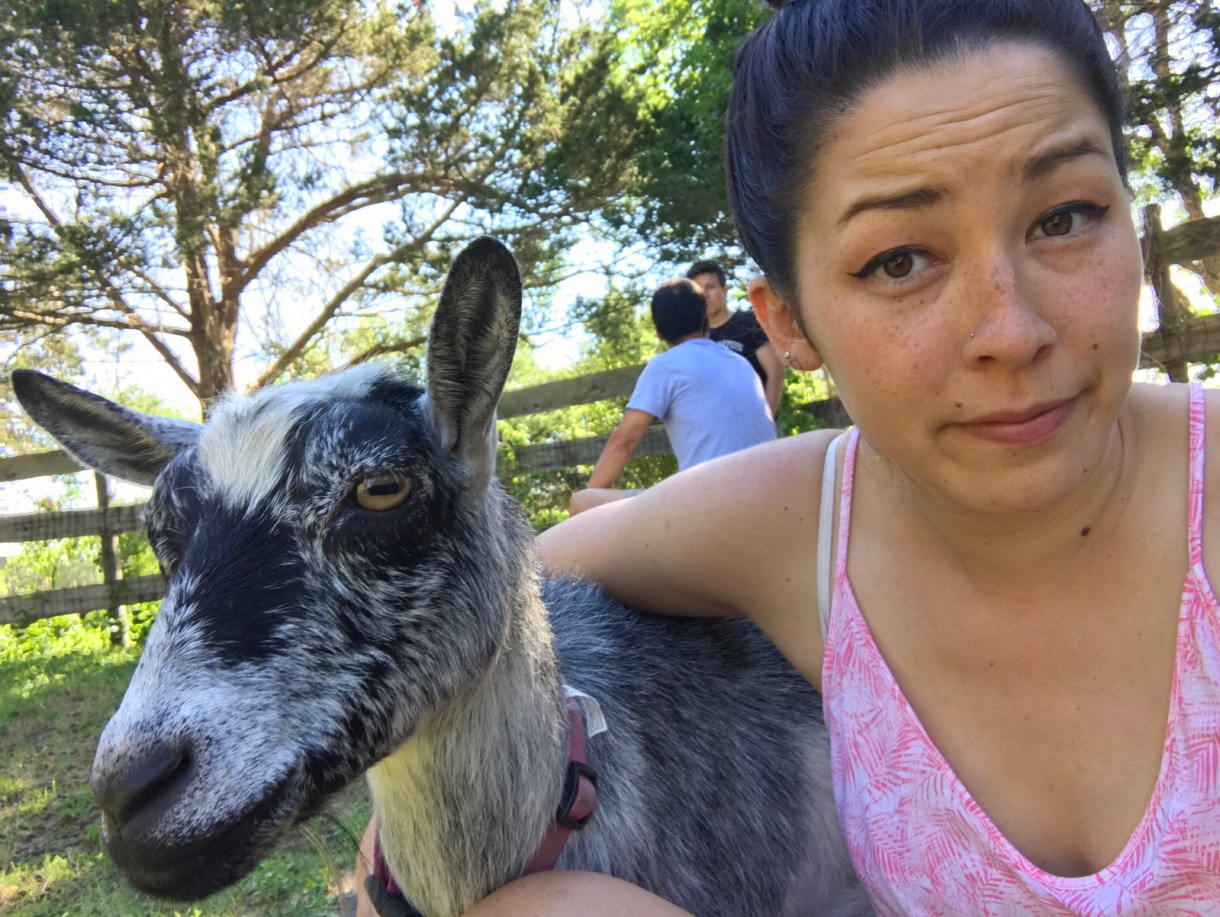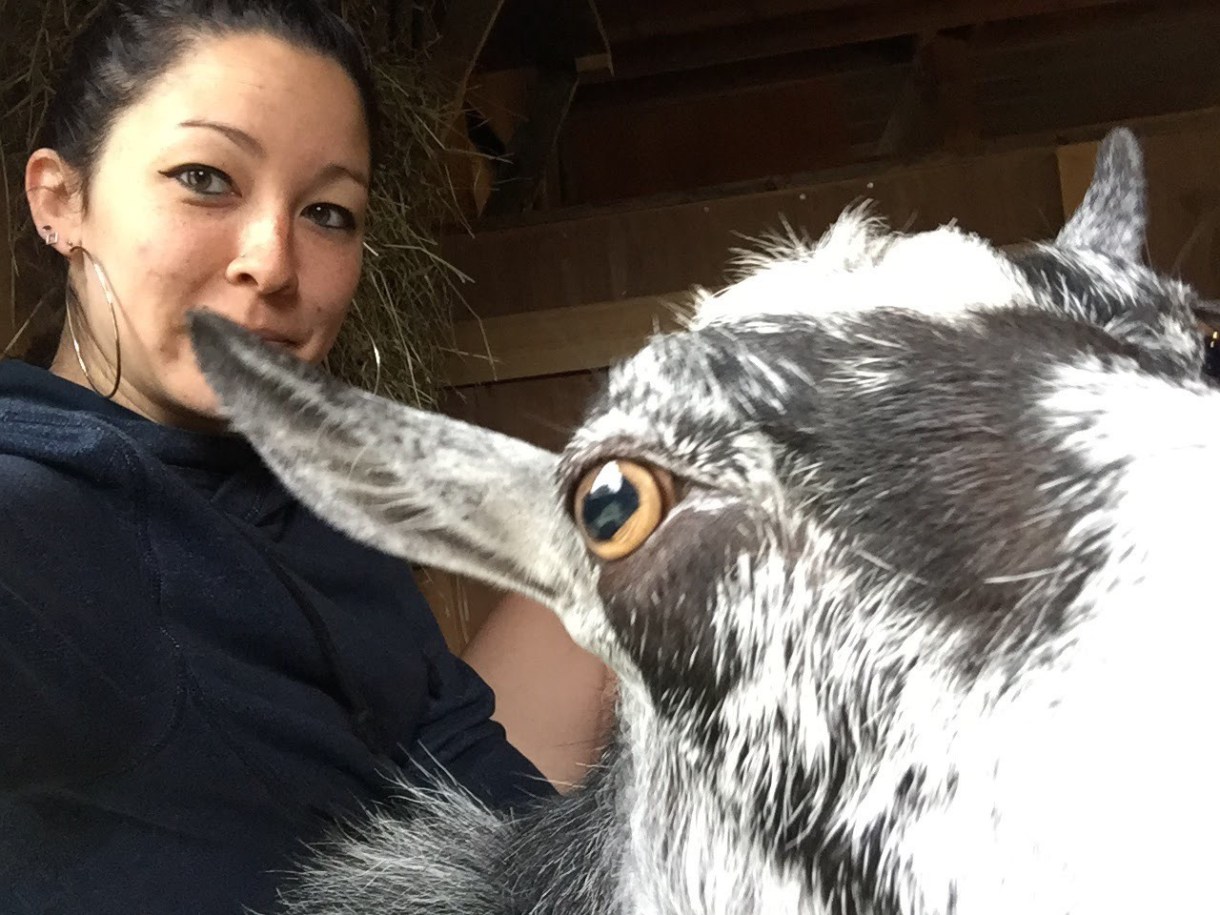 "My parents have lived all over the US and finally moved to Cape Cod in the hopes of having a farm. My mom really wanted goats and they have quickly become part of our family in ways I didn't think goats could. They came with their names, which we didn't want to change, though we have come with an array of nicknames for them individually and as a group ("goatles" being the most frequent one). Their favorite foods include poison ivy, Brussels sprouts, fresh hay, and apples as a treat. They split their time between eating, sleeping in the sun, staring at nonexistent danger, ramming each other's heads, and trying to run away from the wind — all of which are activities we practice as a family. They aren't particularly best friends, but they snuggle during the winter out of survivalism and seem to tolerate one another's existence. They are outrageously cute and when they're in heat and screaming, they sound like terrifying demons, which is fun for everyone."
---
Kristen and Milo / 26, 4/ Washington, DC
"Kristen discovered Milo on a Craiglist ad posted by a woman fostering rescued kittens. Milo, along with his litter, was found in a plastic bag in a Target parking lot back in 2013. His black and white spots immediately caught Kristen's eye, and after a brief home visit, Milo started his new life at nine weeks old at Kristen's apartment in Northwest DC. Previously unnamed, but called "Panda" or "Oreo" by his foster mom due to his markings, Kristen decided on the name Milo from her favorite children's movie, Milo and Otis.
Milo and Kristen's favorite activity is throwing massive shade at anyone that crosses their path (see photo). Other past times include Milo playing with his catnip-filled rainbow toy, play fights that end up in Kristen's favorite sweaters being ruined, and a good ole fashioned sand-paper tongue licking on Kristen's nose."
---
Hahna and Ramona / 28, 8 months / Madison, WI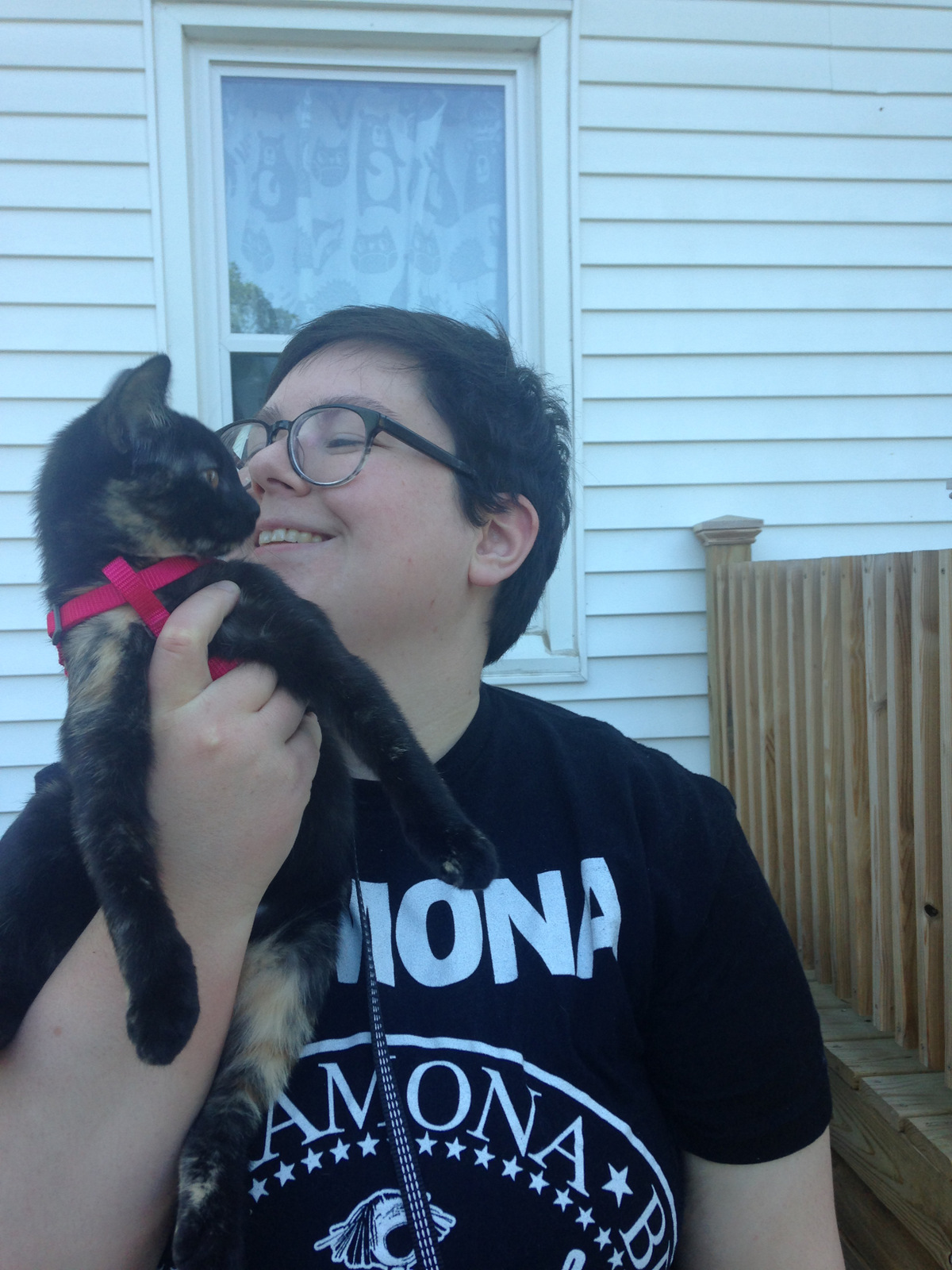 "My partner and I adopted Ramona in April from a local pet rescue called Underdog. She is named after Beverly Cleary's Ramona Quimby. We got her when she was Ramona Age 8 Weeks but she quickly grew into Ramona the Pest. Introducing her to my partner's cat, Iggy, was a long process but now they cuddle and play together (when she's not chasing him out of sun beams and off of laps). Ramona is such a delight! She's leash trained (that's her cute pink harness in the photo) so we'll go outside for some bug hunting (she loves to watch ants) and sunbeam time. Our other favorite activities together include sleeping in, playing with her favorite string on a stick toy, and ear scritches."
Cole and Banner (Snug)/ 30, 9 / Surf City, NC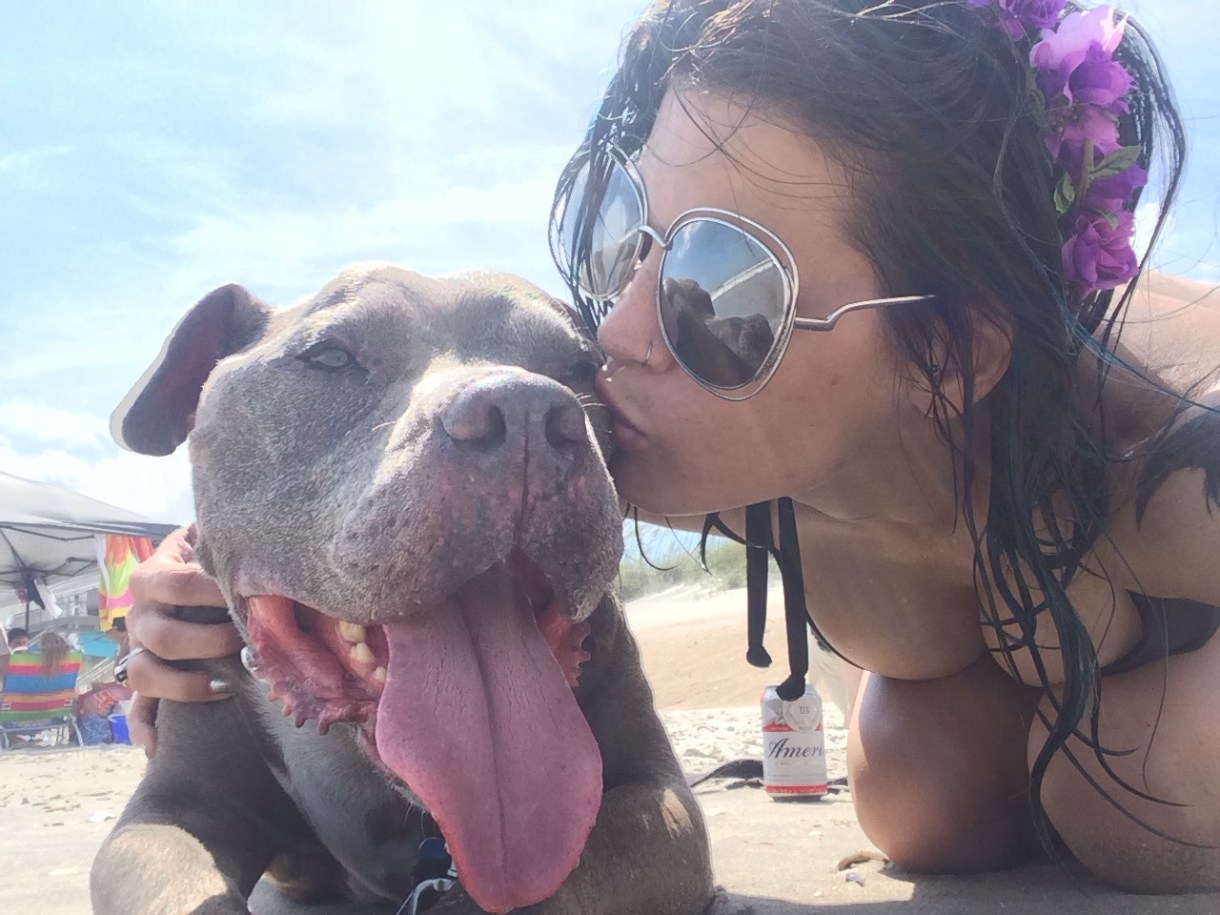 "I was fostering animals in 2010 with my partner at the time from the county shelter I was working at, and Banner Snug was one of our fosters. He was picked up off the streets near Raleigh, NC and was a pathetic gargoyle covered in fleas, heartworm positive, and 20 lbs underweight. He actually got adopted by someone else, and I cried for daaays. But a month later, it ended up not working out, and he came back to me and his forever home.
My partner named him after Bruce Banner. But he's my snug baby and an Emotional Support Animal for my PTSD  who is very good at his job so I usually call him Snug. The best thing about him is his ability to make anyone fall in love with him, and his ability to heal through the power of snuggin. He didn't choose the snug life, the snug life chose him. He likes to watch me make dinner – he's a great assistant for taste testing. We usually watch wrestling together and snug on the couch. I think that might be his favorite. The weirdest thing about him is he is terrified of water. Unless it's snow or ice cubes, he's  out."
---
Jay and Zaboo / 22, 18 (RIP 4.1.99 – 7.17.17) / Portland, OR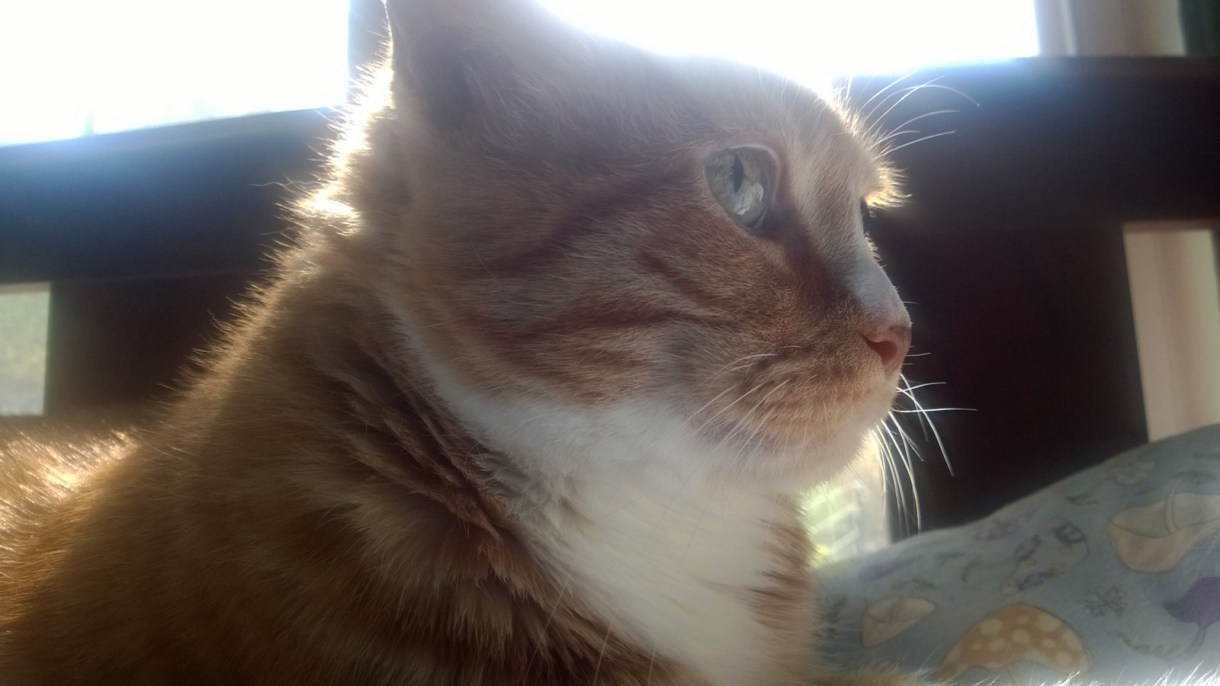 "Zaboo and I chose each other when I was four and my mom took me to the humane society to adopt a cat. He was the first one I looked at and that was enough for me. I fell in love and felt a connection. But my mom made me walk around and look at all the others while I just wanted to go back to him. I had already decided on Zaboo as a name (based on the PBS show Zoboomafoo) and it fit him so well! He was a soulmate, a weirdo that comforted me and reminded me to laugh and play a bit every day. He was ready to play with anything anytime, he was young at heart forever, and would even sleep with his toys. Two years ago for Christmas, we gave him a small stocking of cat toys and he played with each one thoroughly before taking it to a special place to keep safe and returning to find the next new treasure. We grew up together and it hasn't been very long without him and I miss him immensely. When he was a kitten, he had a thing about sleeping around my head at night but his purr was always so loud and he snored which would keep me awake. I would give anything now to hear and feel his purr one more night. Make a couple extra moments of joy with your lovely animal friends this week."
---
Ren (they·them) and George / 31, 3 / St. Louis, MO
"My wife and I brought George home after the parrot I grew up with passed away. We were going to give him a different name, but he could already say "George," so we decided on the car ride home that he would keep it. George is my emotional support animal and helps so much with my anxiety disorder. He can tell when I'm upset and dashes over to make sure I'm okay. Parrots require a high level of care since they are tame rather than domestic, and I consider his needs my full time job. Caring for him is the most rewarding work I've done. He is silly and ridiculous, and constantly brings me joy. You can find more photos and stories about George on his blog."
---
Jenn and Owen Wilson (Wilson) / 30, 4 / Back Porch in State College, PA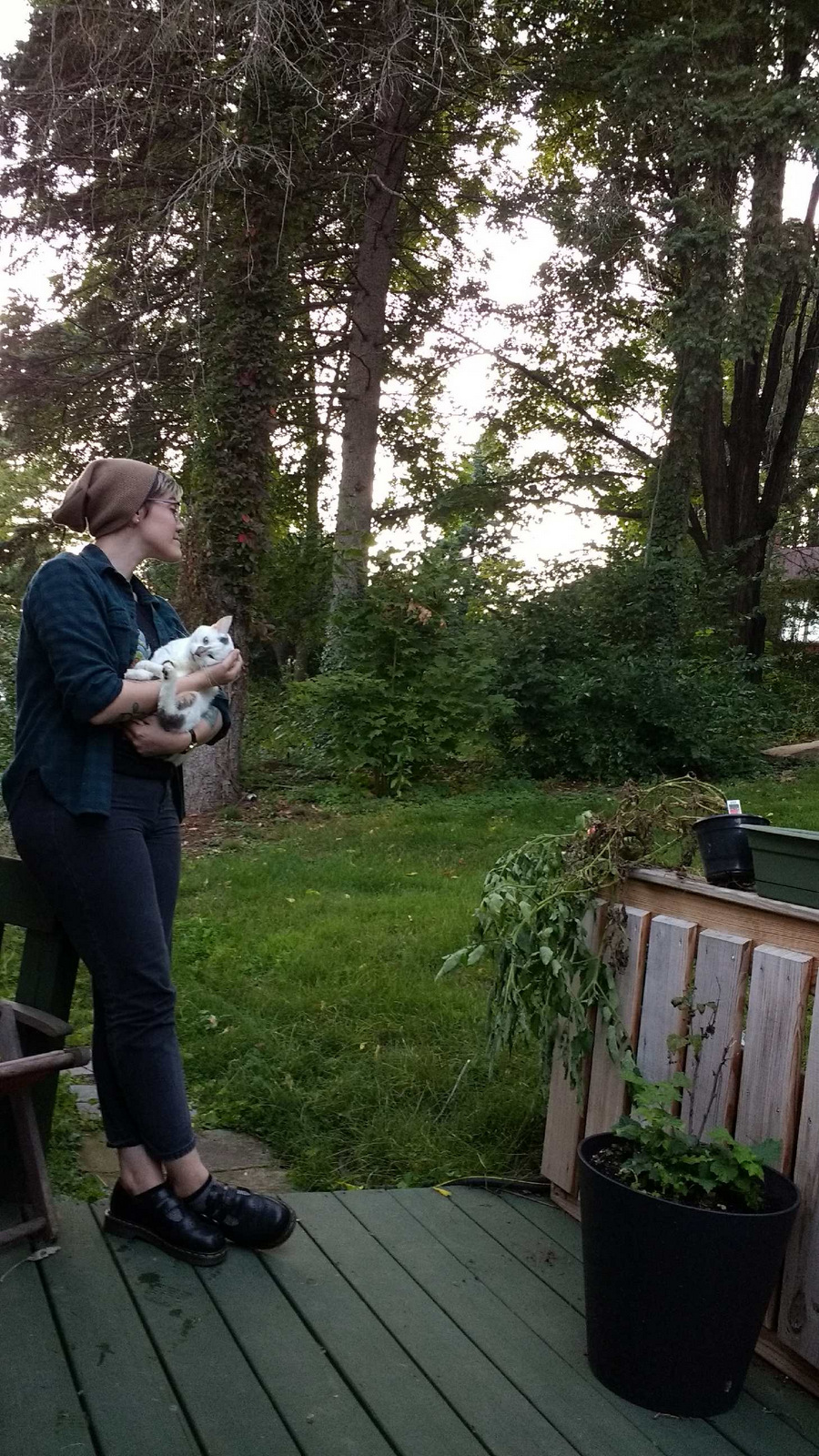 "Wilson was an accidental (but not really) adoption. The week before Christmas 2013, my perfect prince cat, Bartok, fell suddenly extremely ill with a respiratory infection. He passed away in soon after, and my entire heart was broken. Bartok's best friend, a giant fluffy Maine Coon named Swayze (he's very fancy and an excellent dancer, just like the late Patrick for whom he is named), was as grief-stricken as I was. He roamed the house, crying out for his friend, and searching all of Bartok's favorite hiding spots. I thought we'd never heal. On a random trip to a local pet shop the following March, my roommate and I encountered Wilson. He was weird and lanky, thrusting his long arms out of the cage at us. I fell in love, and though we decided to go grocery shopping first so we could "think about it," it was pretty obvious that he'd come home with us that day.
Swayze took Wilson under his catwing, showing him around the house, teaching him how to be our cat, and grooming the shelter off of him. They became, and still are, best friends. Over the last few years, Wilson has become the most lovable cat I've ever met. Our vet was shocked when he made himself totally at home in the office, unlike most animals, and he is instantly every new person's bff. He is most at home curled up on my chest, whatever the time of day. He's got a quirky fang from before I met him, and he never learned how to properly meow, so he's got a tragic-sounding little chirp-cough that he lets out when he's feeling especially needy. I love him (and Swayze) more than nearly anything else. Instagram: derpcatofficial"
---
Becky and Obie / 30, 15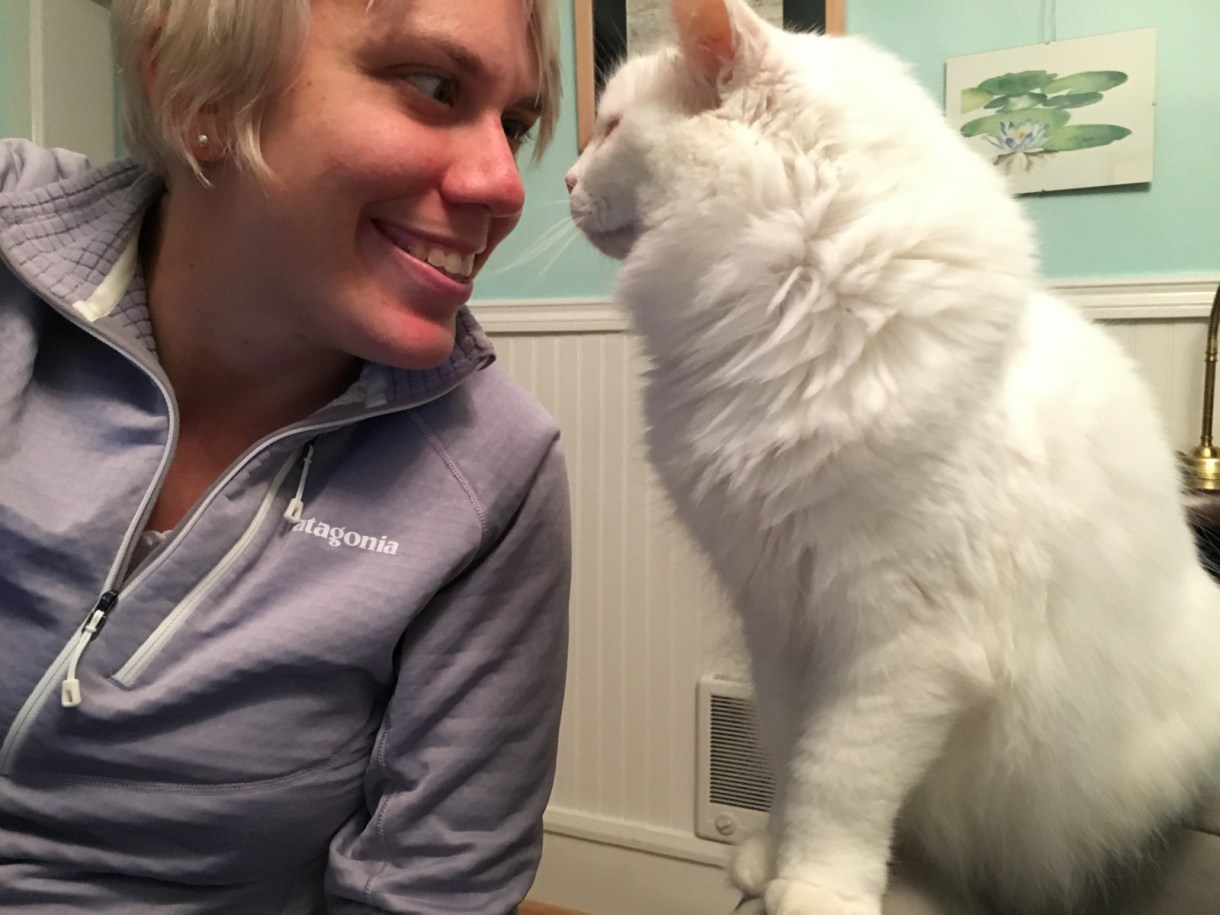 "Obie came into my world just a few months ago because a girlfriend of a friend was moving out of town and needed someone to take the cat temporarily. The cat's other mom (the ex of the girlfriend) wasn't able to take him at the time. This feels like the queerest cat-obtaining story I can imagine. He came with his name – he is named after Obi-Wan Kenobi. We're a great team. I put food and water in his bowls and scratch his chin; he snuggles on me and, more importantly, I feel like he's opened my heart and taught me how to love another being in a way I totally did not expect. When I dyed my hair platinum blonde I realized we kind of look alike. Obie is a wizard. He pees and sometimes even poops in the toilet (he came that way). He does not flush."
---
Mia Li and Bonnie Oldman Wigglestein / 27, 2 / Ocean Beach Dog Beach, San Diego, CA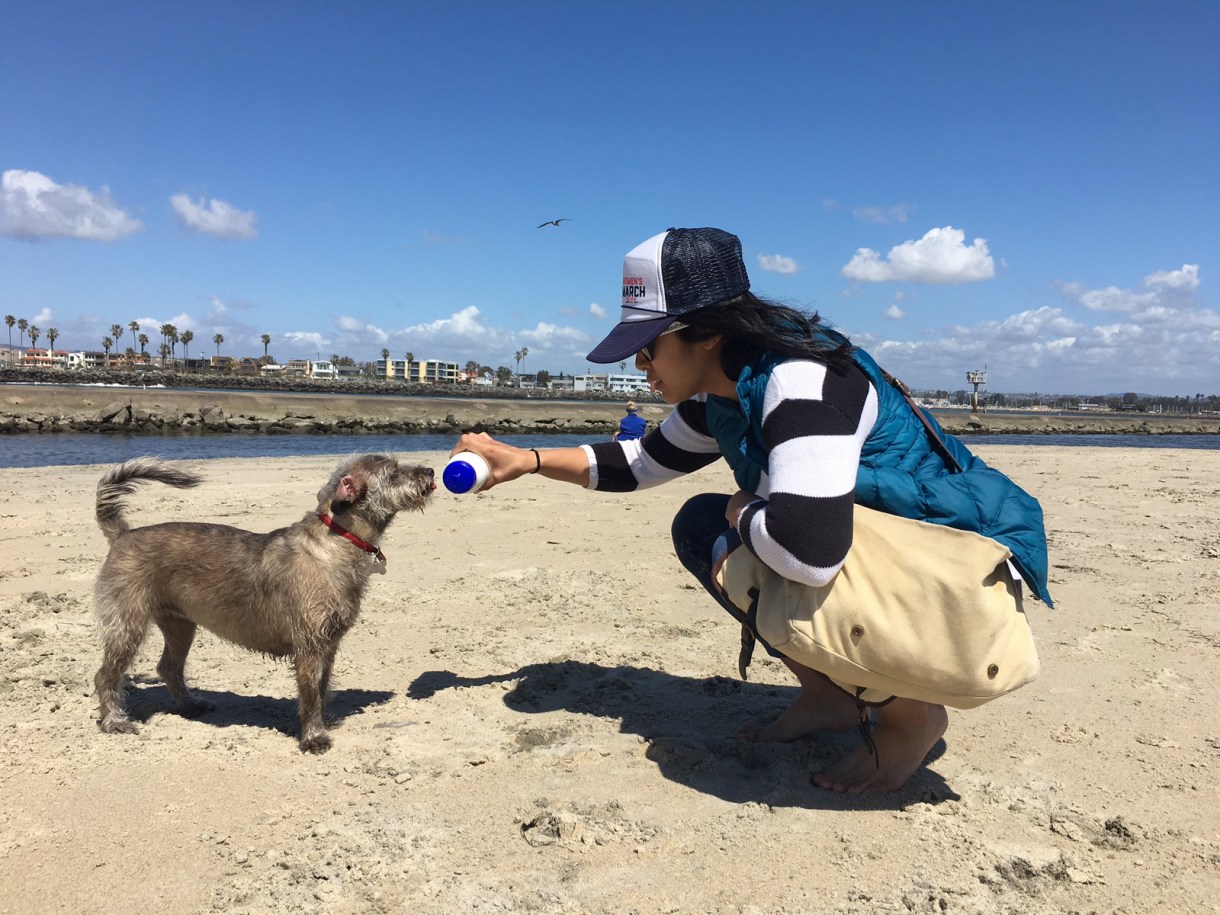 "I adopted Bonnie after finishing mourning my senior dog that had passed away. I was intending on adopting another senior, but when I interacted with Bonnie at the humane society she smelled like home. Bonnie smelled exactly like toasted rice. When she was younger she would wiggle so hard from excitement she would knock herself over."
---
Emma and Potato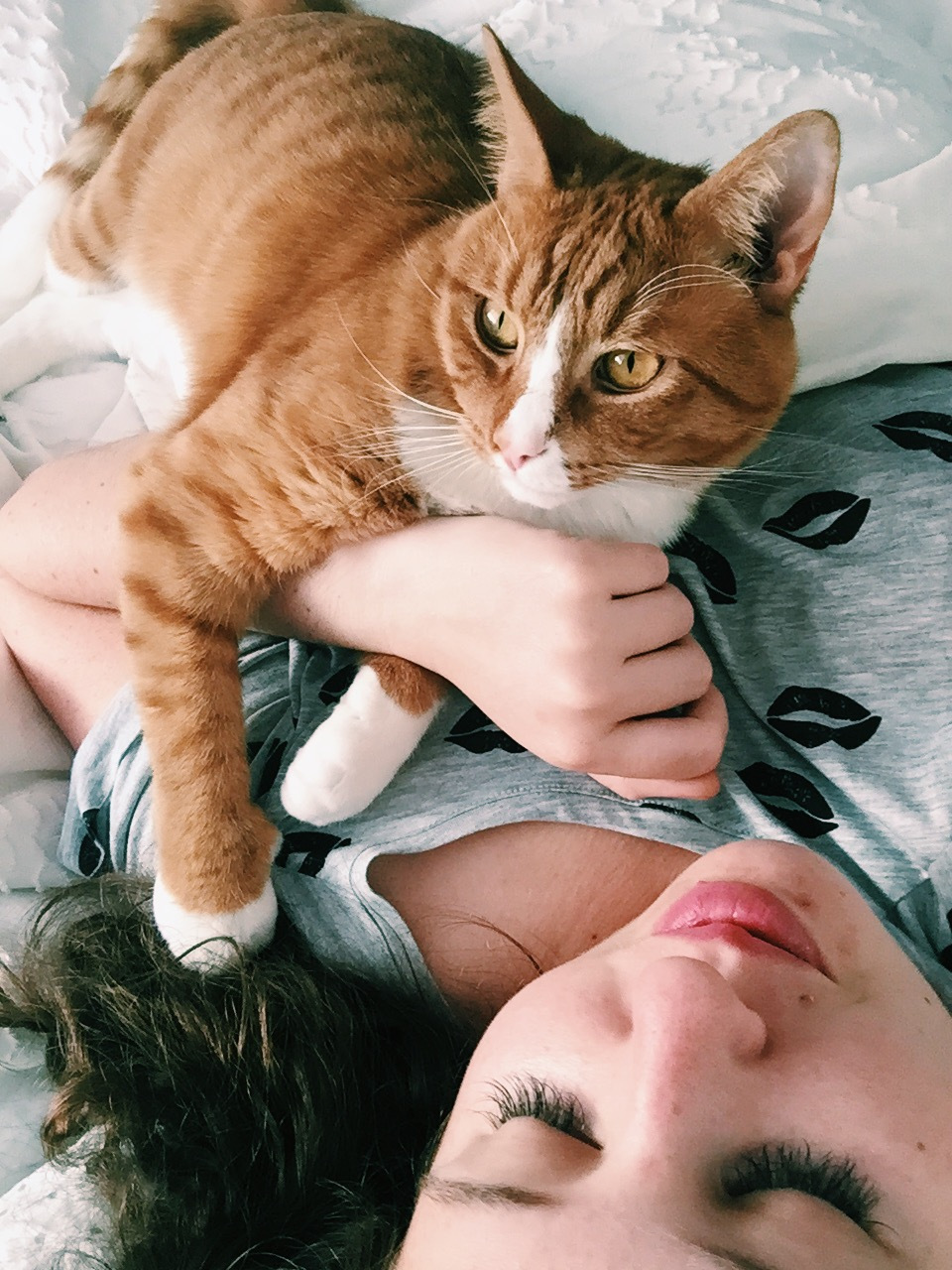 "In true lesbian style, my ex convinced me to adopt Potato three months into our relationship. But P and I are stronger than ever! His favorite hobbies include chasing lasers, listening to Drake, and licking my face way past when I'd like him to stop licking my face. I sometimes like to ask him if I adopted a cat or an actual potato. It's still unclear, honestly. You can follow him on Insta at @potatochadband."
---
Elise and Percy / 22, 3 / CO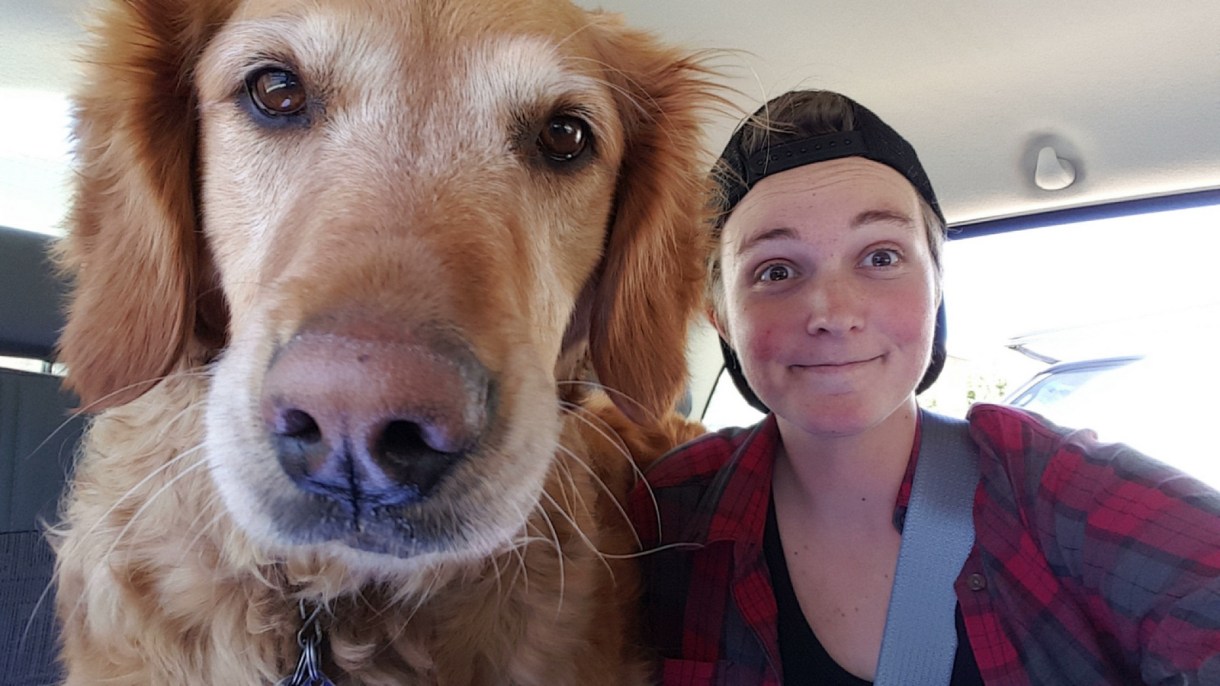 "Percy was my aunt's dog. She was sweet and well-trained and loved her ladybug toy. She would sit on my aunt's front lawn (no leash) and keep watch on the neighborhood. Sometimes, she took herself down to the river for a walk. She was great at comforting people and happy to play or cuddle but not too needy – such a perfect combination. I spent the summer of 2016 in their small mountain town and loved the time I got to spend with Percy. Unfortunately, she passed away from liver failure just a few days after I left for home. I cherish the time that I got to spend with her that summer, romping through the woods and wildflowers. "
---
Sofie, Cassie, Paluza / Kitchen Table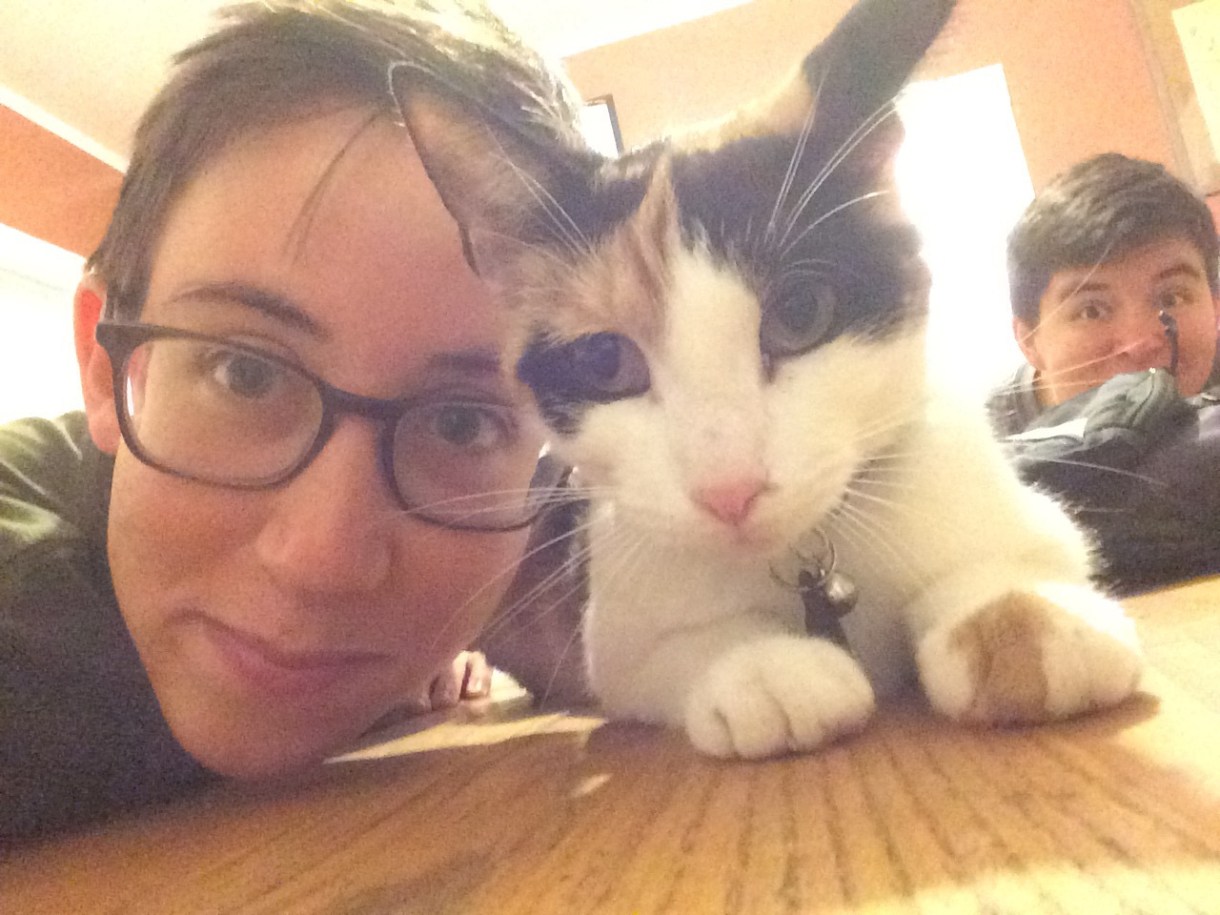 "Paluza is a dog in a cat's body: she greets us at the door; she [vocally] begs for food; she fetches her favorite toy, a stick."
---
Fiona and Batman / 25, 4 / Prospect Park, Brooklyn, NY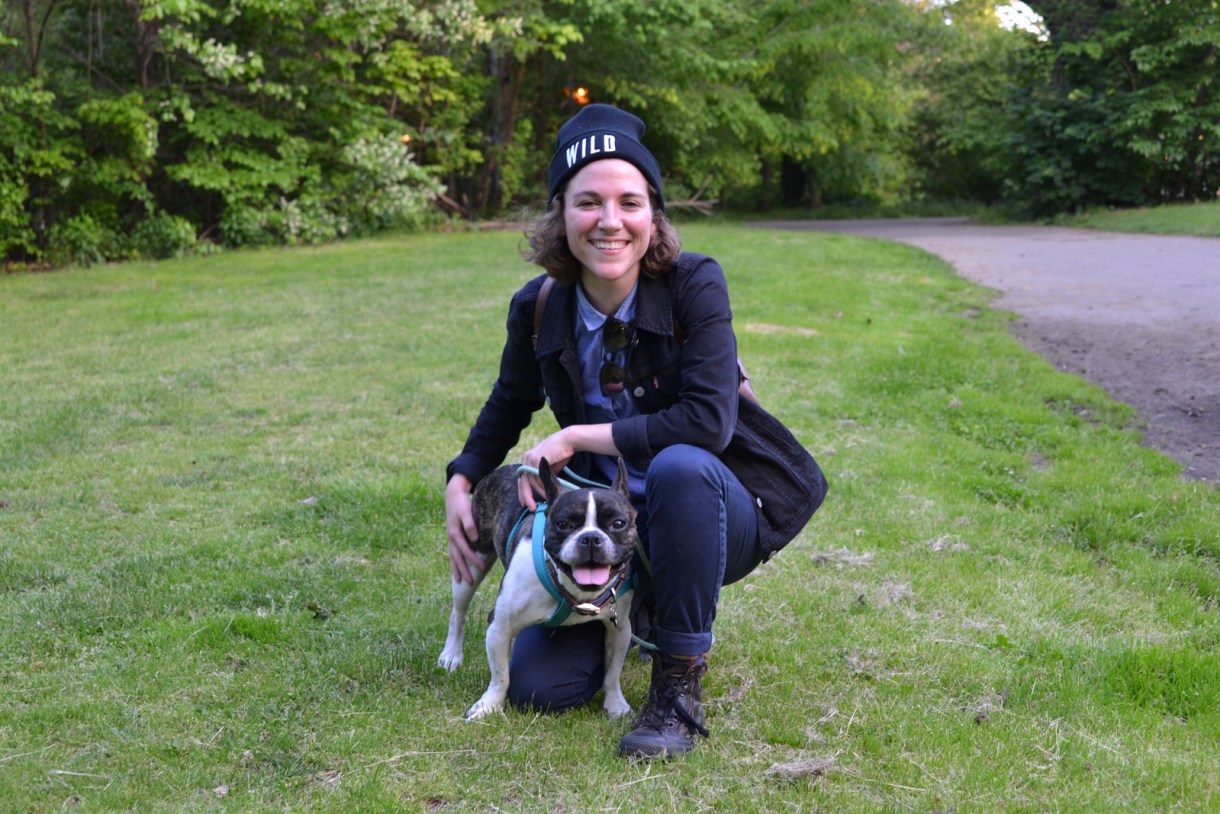 "I adopted Batman about a year ago from AC&C on the UES. He was surrendered by his owner who was a single mom with a newborn baby. Sounds like she couldn't afford him anymore — when I got him he was being fed half the amount of his daily intake and was less than half the weight he is now. My friend worked at AC&C and alerted me once he was taken into their system, as I had been looking to adopt a similar breed for about a year!
I changed Batman's name from Brian… it didn't seem to suit him. I saw his shadow and it just clicked! He is super cuddly and definitely a companion dog. His three favorite things are wood chips, piles of leaves, and long grass. We go to Prospect Park at least once a day, since I live so close, and he loooves the dog beach and off leash areas. His Instagram is @keepingupwithpup"
Sammy and Lilith / 21, 2 / Fayetteville, AR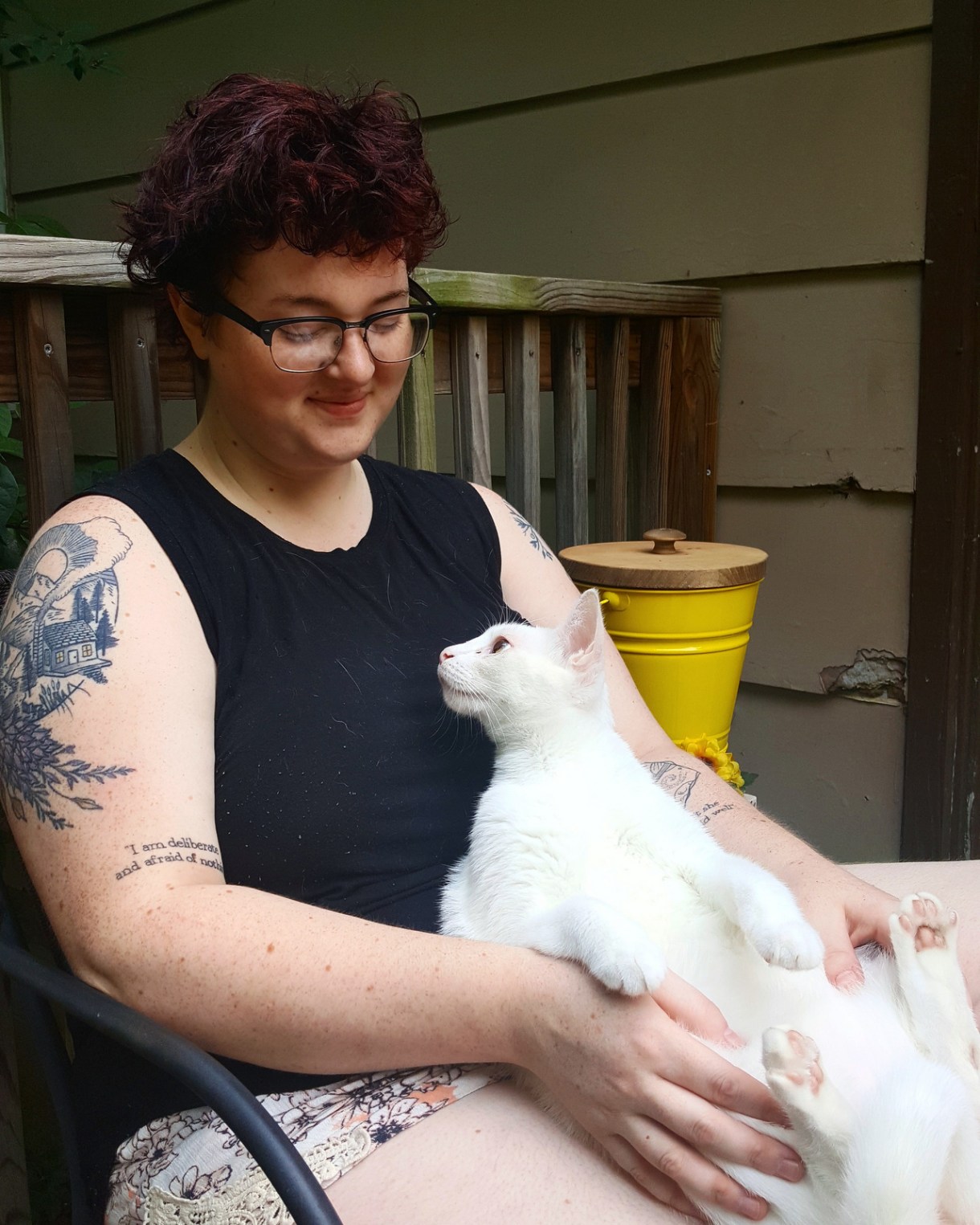 "Lilith was one of a wild litter born near my grandparents' house. She is deaf (though I only realized this later) so she wasn't as spooked by human sounds as her sibs were. She would sit at a little bit of a distance from us and watch us speak and move around. One day when she was old enough I picked her up and brought her home with me. I named her Lilith after the biblical Lilith; I found her soon after leaving an abusive relationship and my current partner and I have a theory about cats taken in after a traumatic experience, that they take on your most protective/strong/badass qualities, and I kinda like to think Lilith did that. She likes to watch the light coming in through the windows in the mornings and evenings, she sits at her favorite light-watching spots at the exact same times every day. She is crazy about smelling things, sometimes I take her to the park and let her sniff all the new things and she gets very excited about little gusts of wind. She isn't an outside cat and hates the feeling of grass on her feet. She has an Insta, lilith_cant_hear_you."
---
Megan and Scout/ 31, 2 / Austin, TX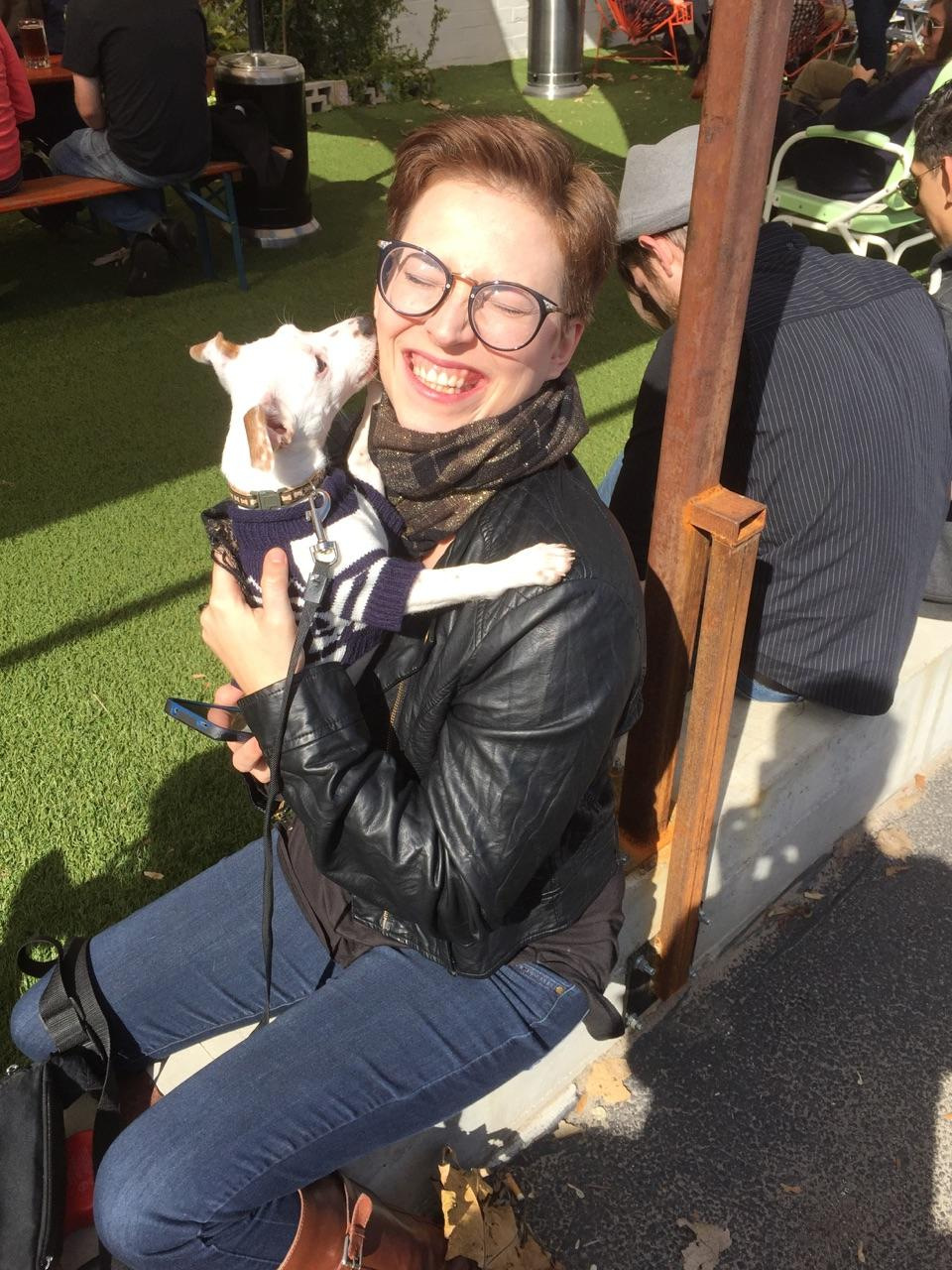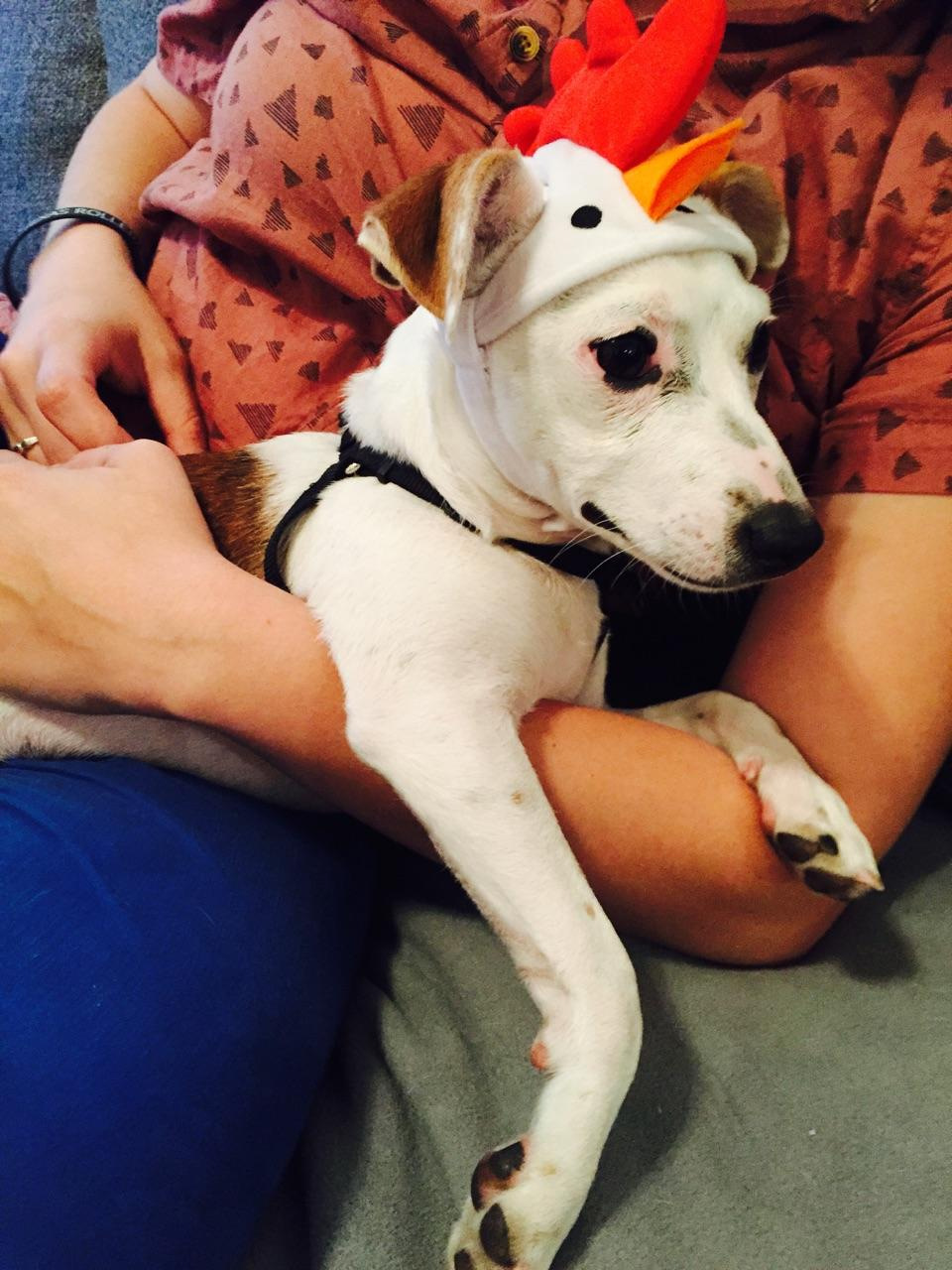 "My girlfriend Erin (also pictured) and I decided to get a dog. A week later she texted me a pic of her holding the cutest tiniest lil pupper in her coat. She had already bought her off a Craigslist ad from a couple who were divorcing and couldn't keep her. It took a week or two to decide. Erin just likes the name, but I agreed cause I love To Kill a Mockingbird. She's so affectionate and snuggly when she's not screeching in your face.
She likes when I throw her toys, but doesn't like to give them back. She's addicted to licking lotion. It's really hard to keep any on your face or body. We've taken to shutting ourselves in the bathroom until it absorbs."
---
Annika, Luis, Balou, Luz / 27, 3, 11, 13 / Willich, Germany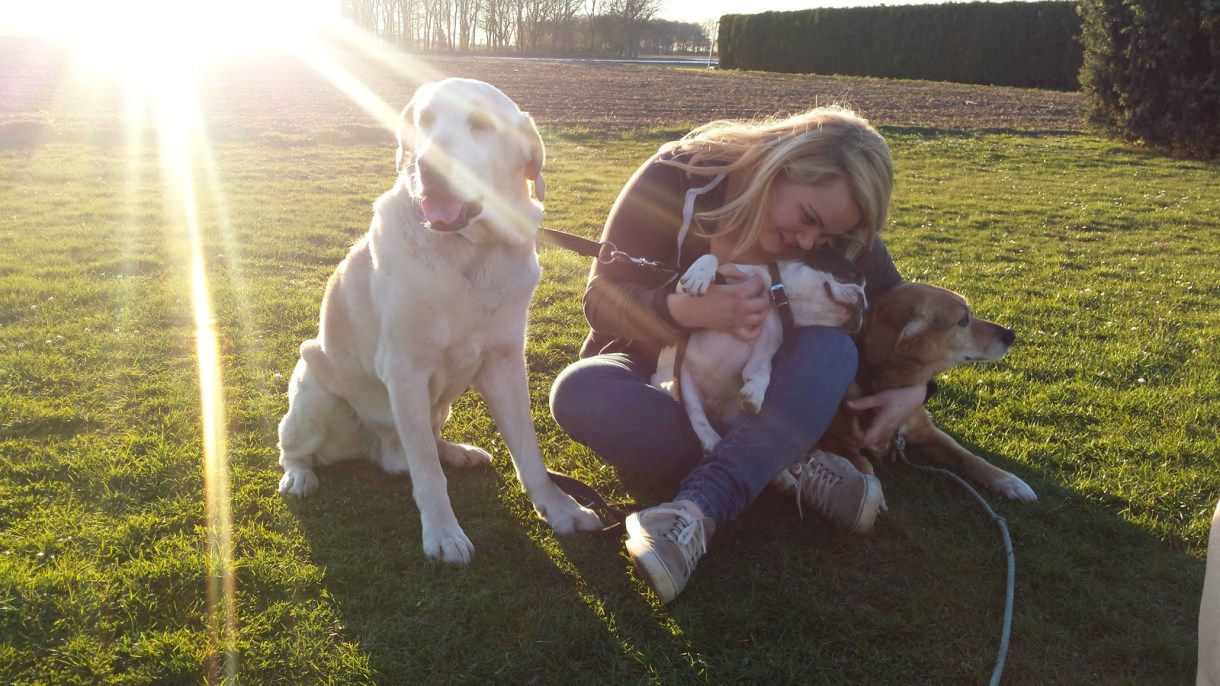 "All three dogs are rescued. Balou was in a French shelter and about to die; Luz was in a Spanish shelter; and Luis lived in kind of bad conditions. We love to cuddle and have long walks through the fields and lakes in our area. Luis the French Bulldog is a fashion model and has its own Insta @frenchie_luis"
---
Kerri and Pan / 33, 14 / Bronxville, NY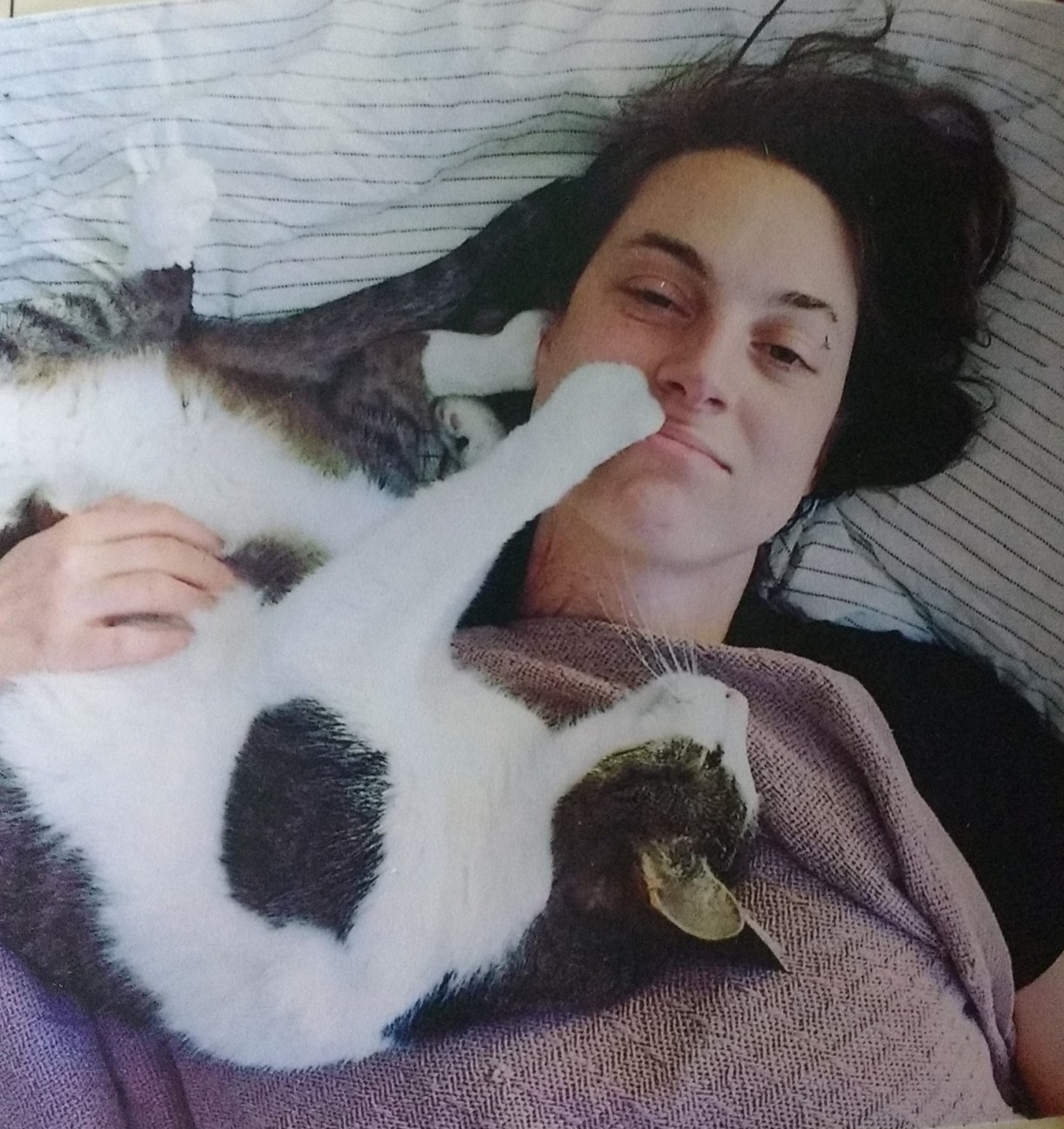 "Once a sickly kitten born in the barn of a farmer who didn't want him, Pan got his name because of his "bandy goat legs" (though he's not actually bandy-legged… they're just long and skinny). The farmer brought him to me in the middle of a crowded restaurant and we've been that classy together ever since. Pan's hobbies include waking me at 5 am to drink from the tub faucet, ripping up paper, chasing bottle caps, and, of course, cuddling hard."
---
Dufrau and Budgie/ 34, 19 / Cambridge, MA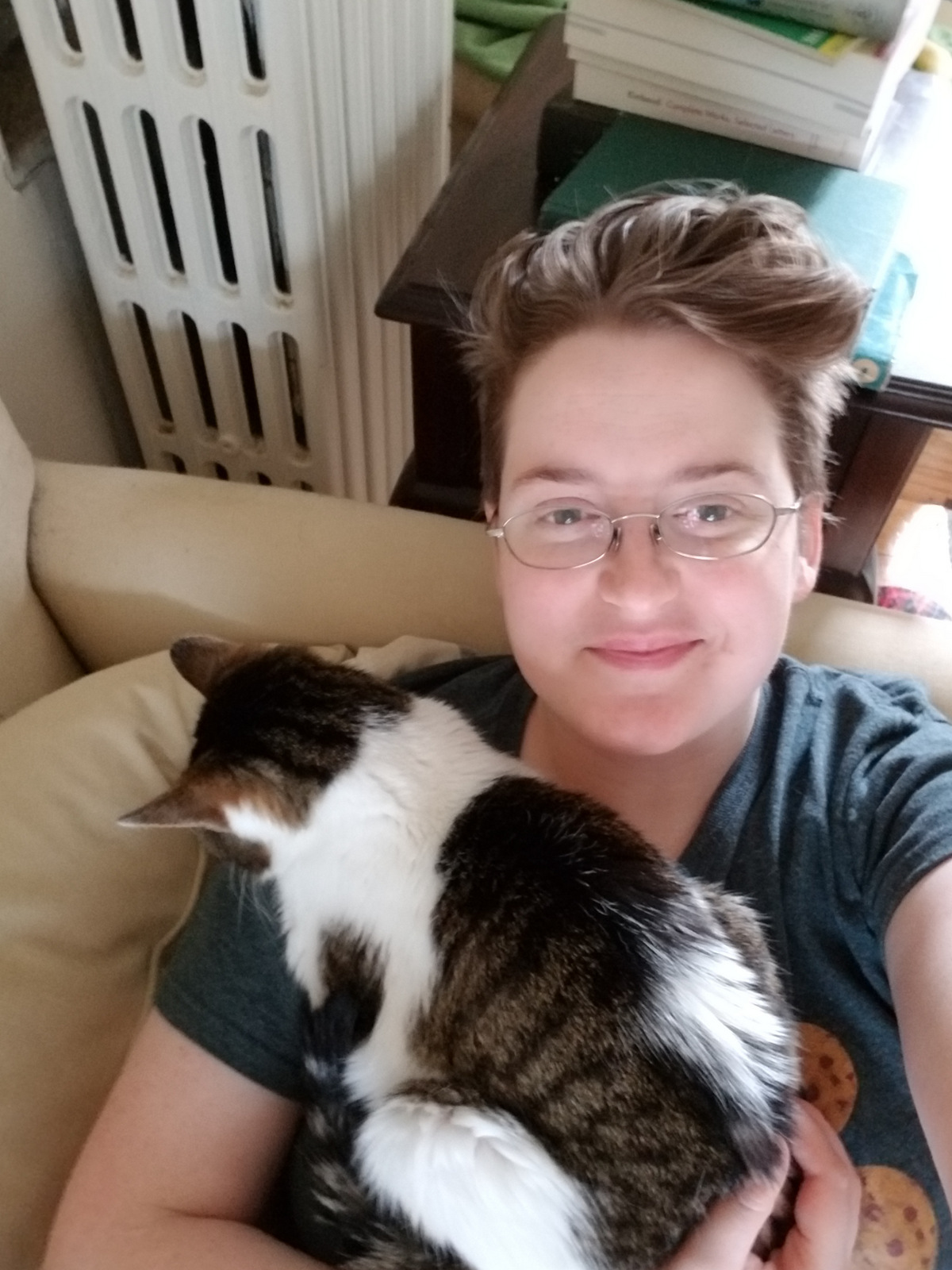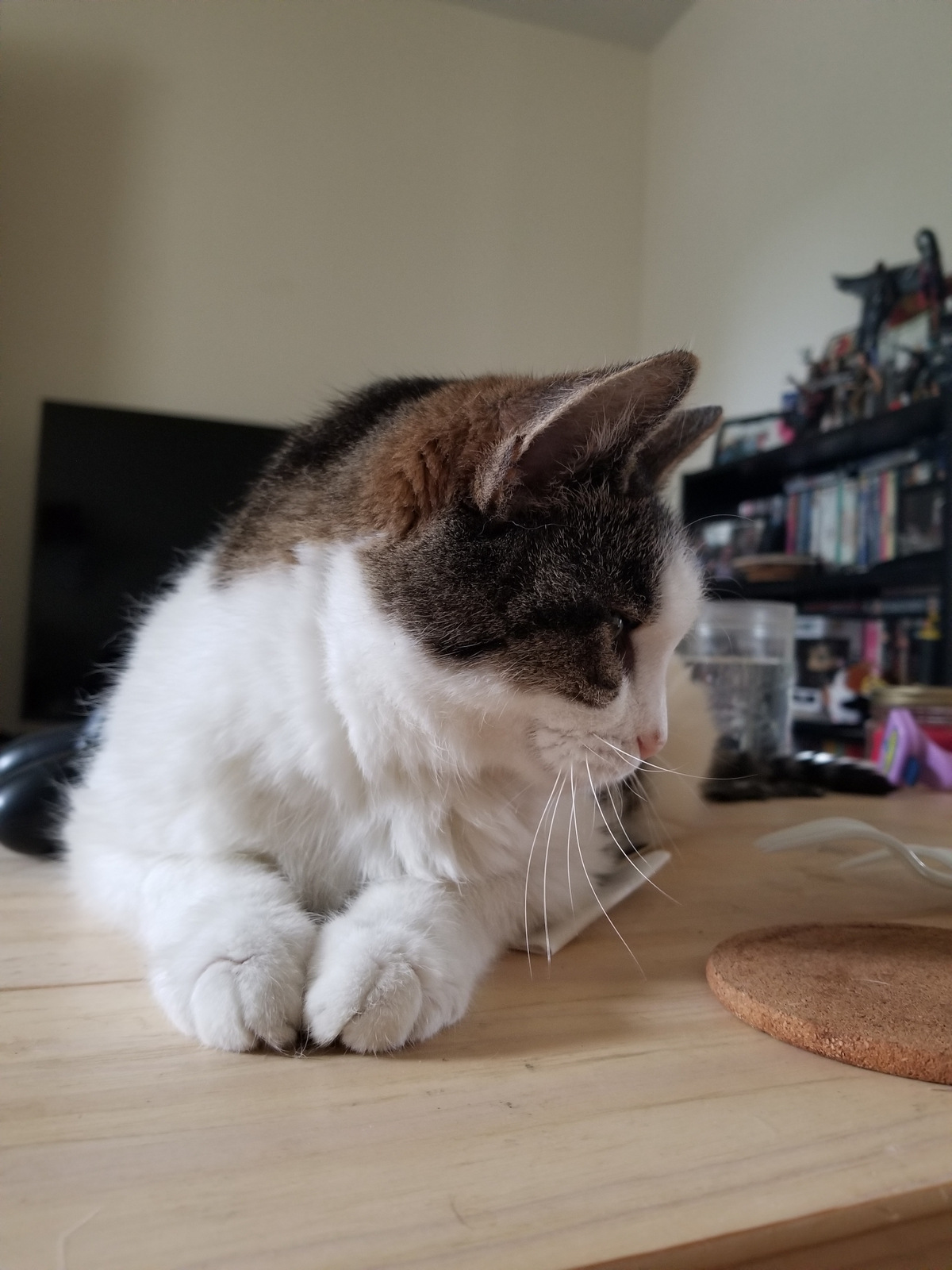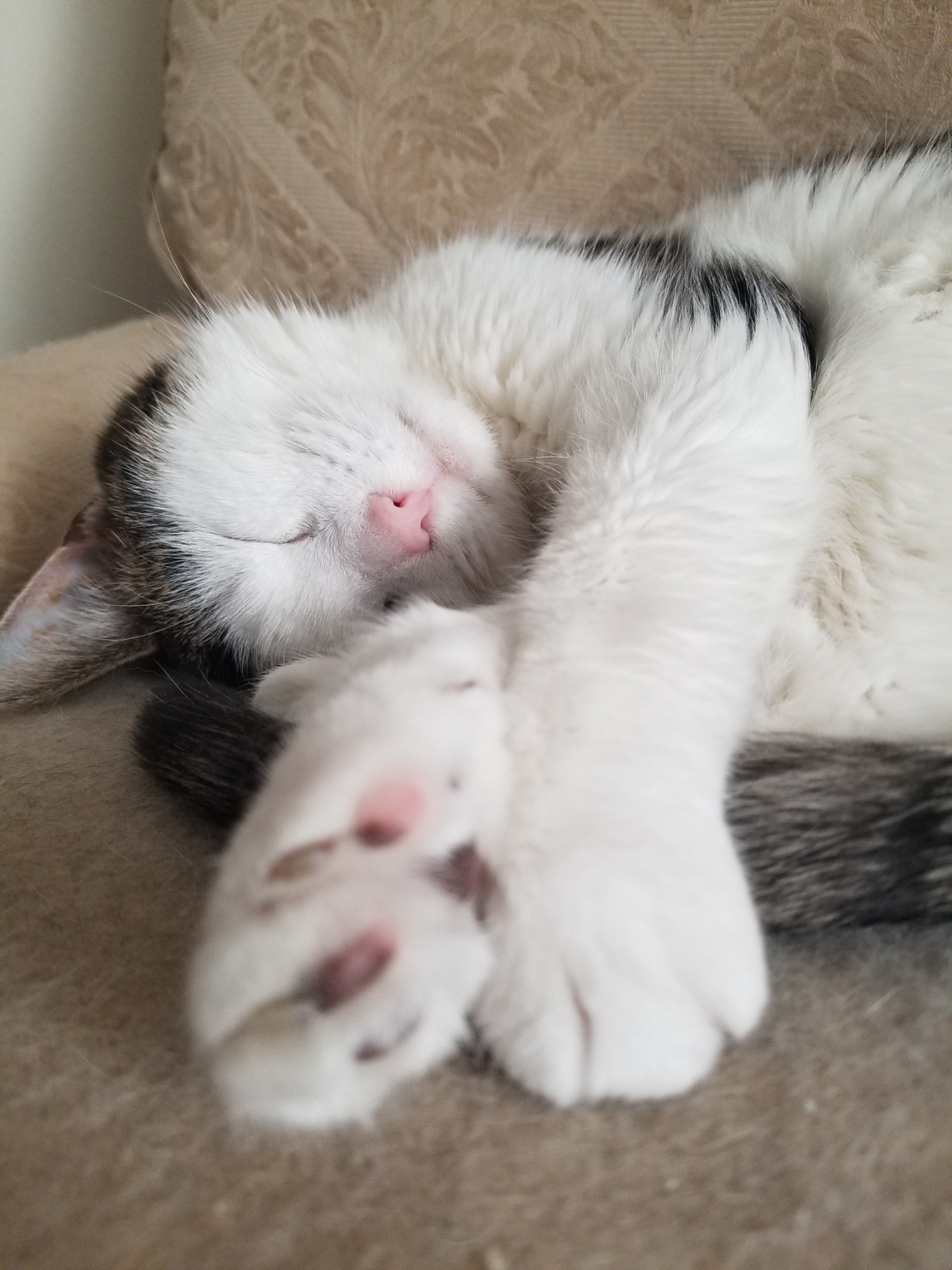 "Budgie was born in my mom's closet when I was in high school. I stayed home from school to help her get born and she has been my soulmate ever since. I don't know where her name came from? When she was born we called her Elvis because her stripes hadn't come in yet and it looked like she had a tiny black pompadour. I have no idea when or why she became Budgie, but it suits her. She's my tiny (5 lb!) boss. She yells at me every morning (she's deaf now, so she yells VERY LOUD) and then demands a spot on my shoulder whether I'm lying down or sitting up. She's a shy old broad, but lately she's been more open to meeting people and it makes me so proud. My Instagram is basically her Instagram. Some Very Good Yelling Budgie content there IN MY OPINION."
---
Maxx Ryan and Kodak / 45, 7 / Wilmington, DE
"We (my ex and I) found him while at the SPCA in Philadelphia. He was this little black skinny with big ears pup who had been found as a stray in a scary part of the city. We adopted him and brought him home to be a part of the family. Five years later, we went our separate ways and I kept Kodak. He became my companion, my most loyal and trusted bff. The name Kodak came to us, as we are both photography lovers. I love black and white film…so I decided Kodak (since he was mostly black with white spots) was the perfect name.
The best thing about him was his loyalty. No matter where you were in the house, he was by your side. When you were sad, he comforted you. Sick, he would sleep all day with you. Excited, he would bring you every one of his balls to throw! Kodak loved to be home, he wasn't as active as you'd think he would be. The weirdest thing about him, he would never tear apart his "babies", and he cry if you gave him real bones. Like he was sad they were not alive anymore. He suddenly passed away 1 month ago at age 7. He had a tumor on his liver that was undetected and it lead to internal bleeding. My life will never be the same, but I will hold his memories close to my heart, and I miss him more than anything. Nothing will ever take his place. I still cant believe he is gone."
---
Laura, Savannah, Chewie and Howie / Columbus, OH
"Chewie is polydactyl – he has an extra toe on his paws! This makes it look like he's always wearing adorable furry mittens. Howie's personality is more like a dog than a cat (think Dug from Pixar's Up, if Dug were a cat). He loves people, always brings us his toys, and likes to lick our hands, arms, and elbows, especially when we're trying to go to sleep. This photo was taken at our wedding this summer. They only let us keep those matching bowties on them for about 30 seconds!"
---
Armeney and Captain Killian / 32, 2 / Our Home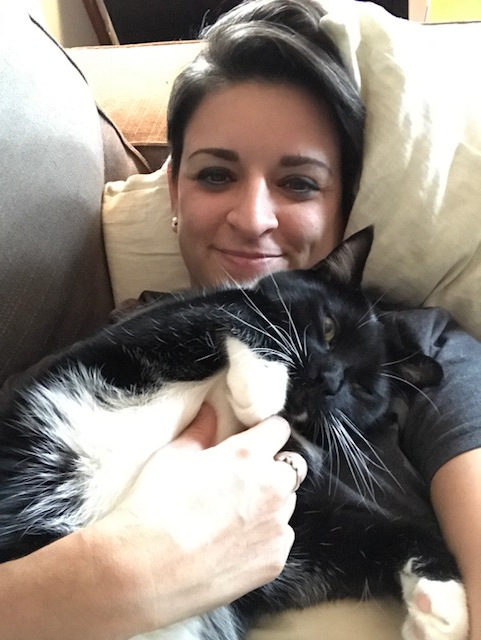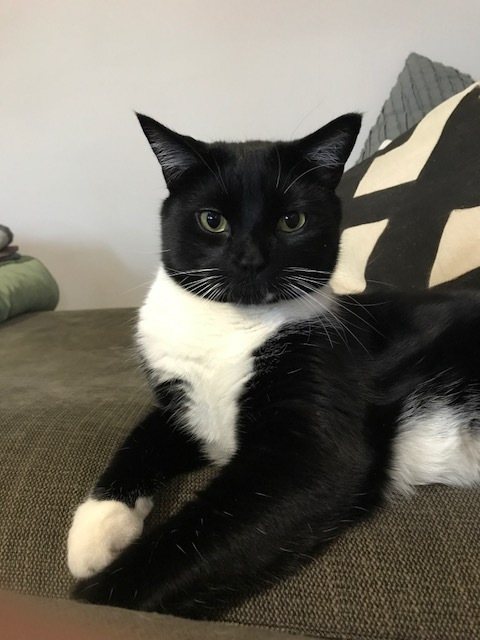 "I decided to expand my love-and went to MSPCA (shelter) and that's when he chose me! Captain Killian Jones was the name of a badass but sensitive pirate (AKA Captain Hook!) on ABCs Once Upon A Time. I love Disney, and I love this shows take on Disney origin stories, so that's where his name came from. The best thing about him is his unconditional love. Whenever I'm upset, he cuddles extra close.
We watch OUAT, and Glee. We also love watching The Bruins – seriously – he sits three inches from the tv and watches the entire game! The weirdest thing about Captain Killian is he demands a personal escort to his food bowl in the morning, and only in the morning. Instagram: @captkillian."
---
Danno and Oliver-Reilly / 23, 7 / Ashland, OR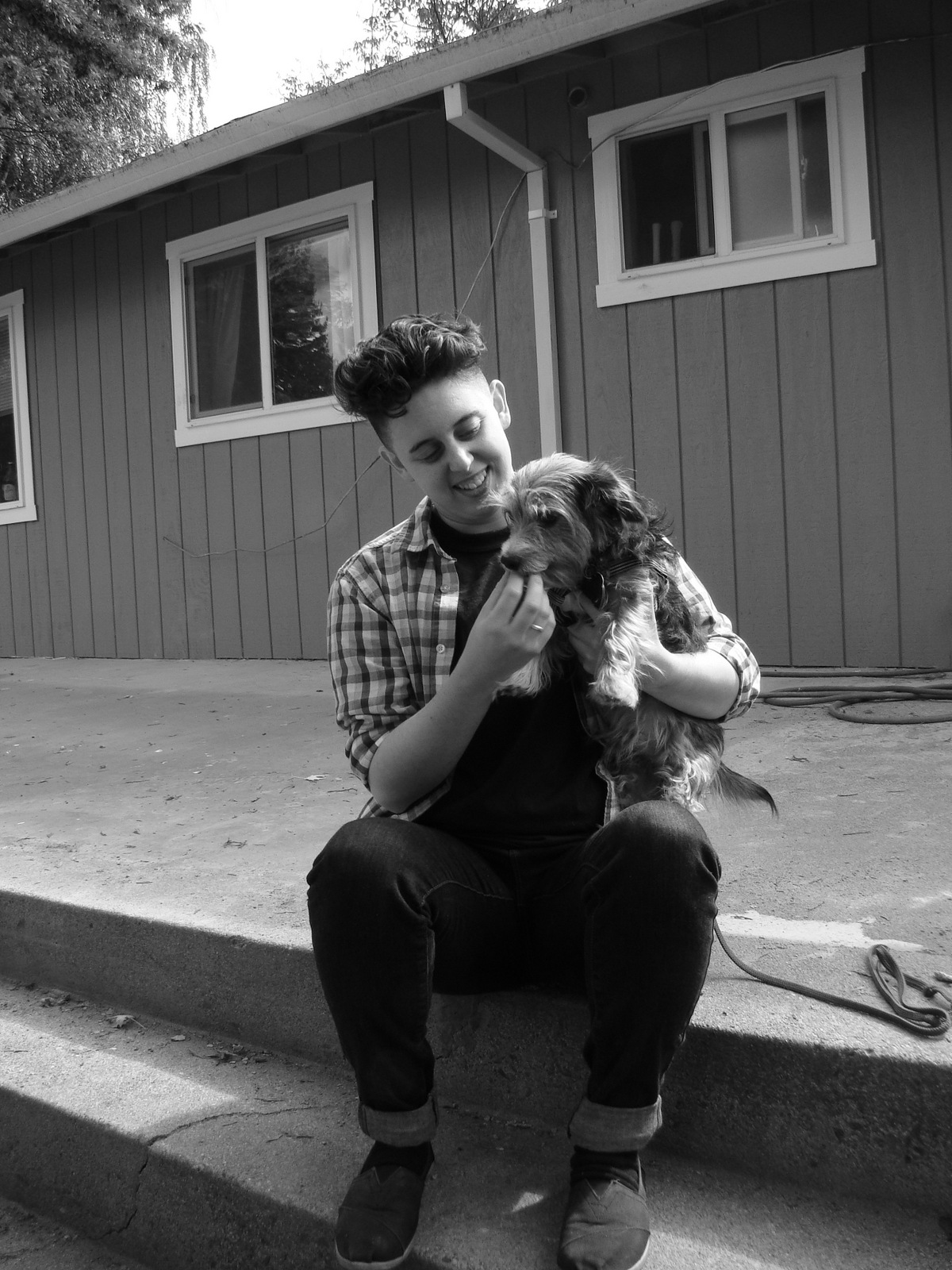 "Ollie is a little bundle of energy who also naps hard after – so we get along great. It's officially our 1-year together!"
---
Suzy and Bok / 36, 2 / Reading, UK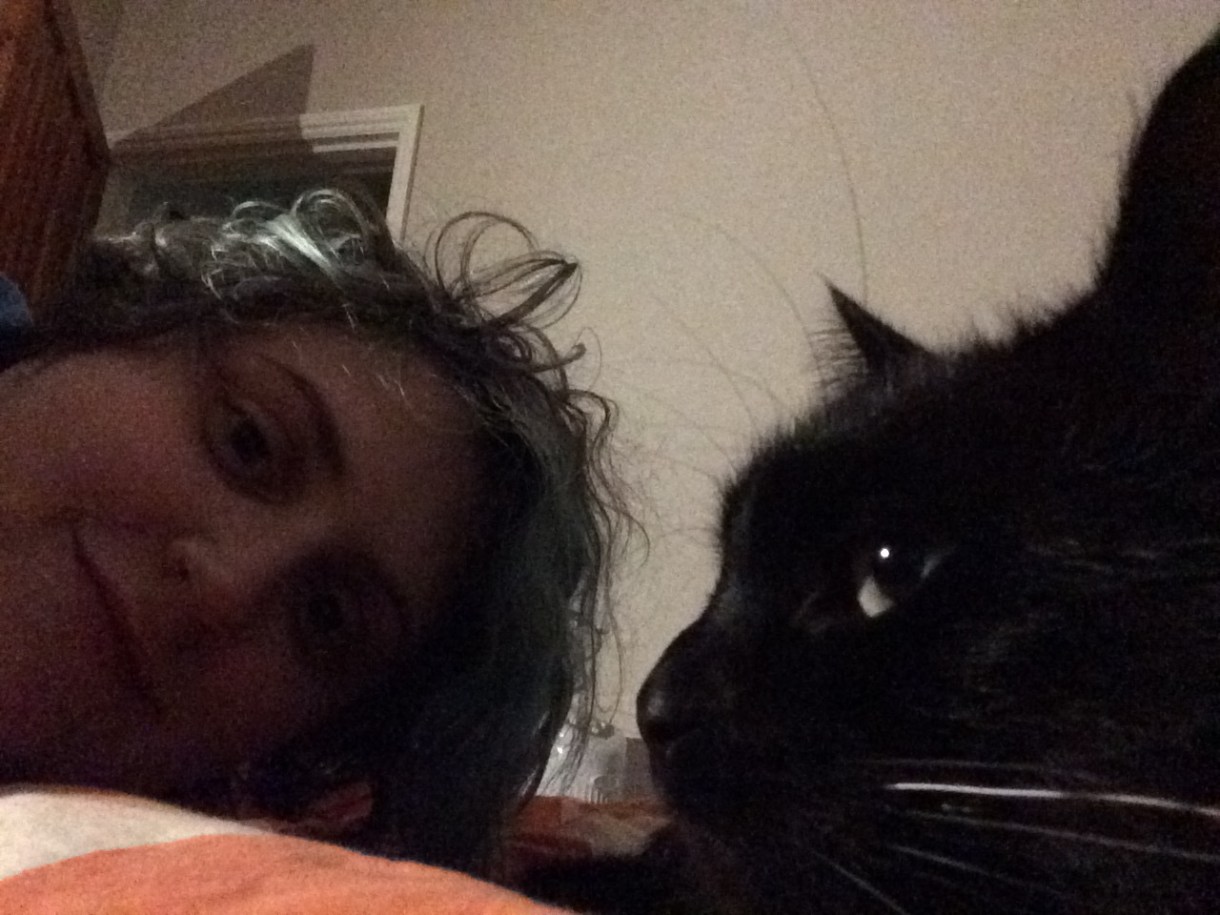 "Bok is a rescue cat (thanks Cats' Protection). Her name comes from a very doomy Doctor Who arc from the 70s. She is always excited to see me and gets super pleased with herself when she brings me gifts (usually live worms). She is camera shy."
Kristina and Sandy / 22, 4 / NJ
"We adopted Sandy from a local shelter about two years ago, where she was rescued as a stray from South Carolina along with her four puppies. She's my unofficial emotional support dog, crosses her paws when she lays down, and recently started contributing to dismantling the patriarchy/crushing gender norms by peeing with her leg up. We're just a dog person and a people dog going on adventures together and eatin' snacks. Instagram: @krstnasmth"
---
AJ and Butch / 25, 9 / Boston, MA
"I adopted Butch last summer, I visited him to see if we would be a good fit and once I entered the room, he immediately reached up and hugged me. I could TAIL we had a PAW-sitive connection. and his name was too purr-fect to change. He's a cat who loves to be in a baby sling while I'm working from home or watching movies (aka Netflix & sling). His Instagram is @ButchWithTheBowtie"
---
Queer Girl and Cyrus / 33, 12 / Northern CA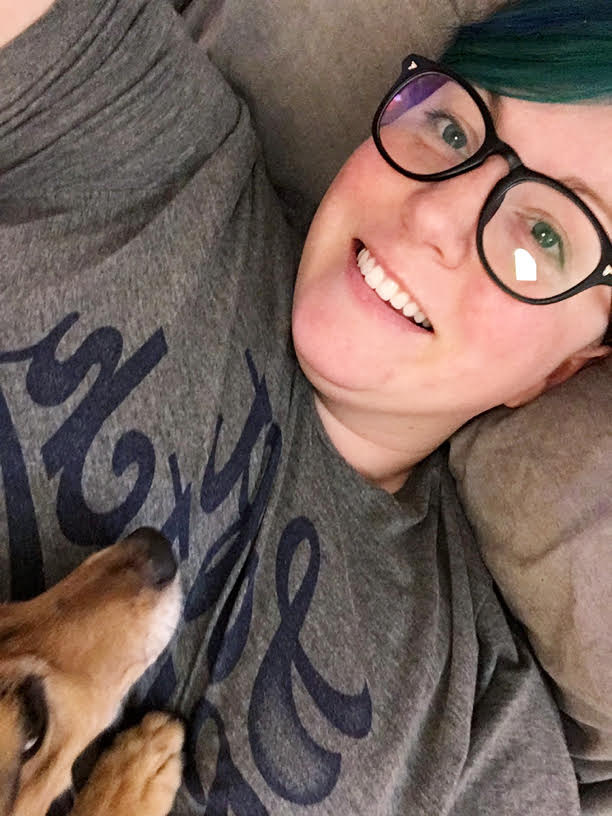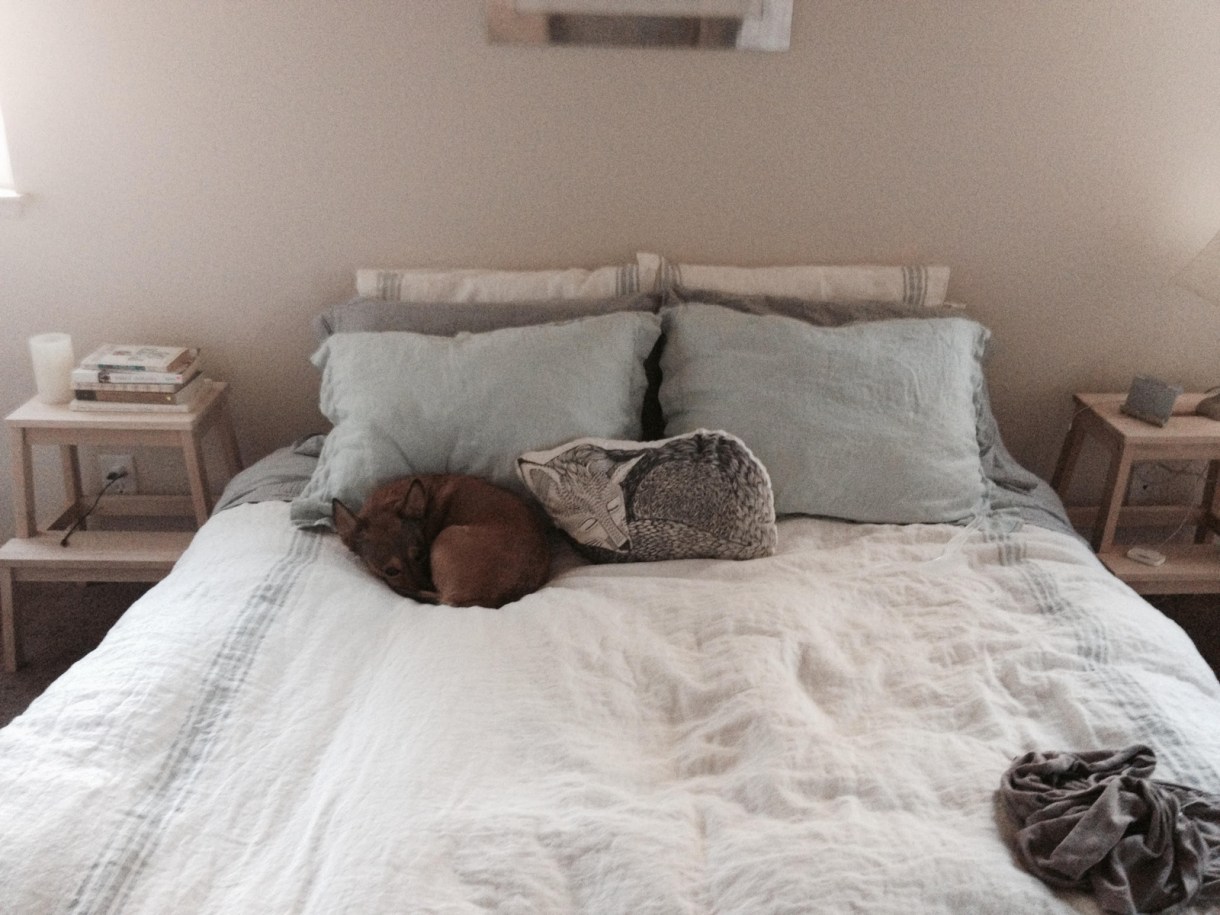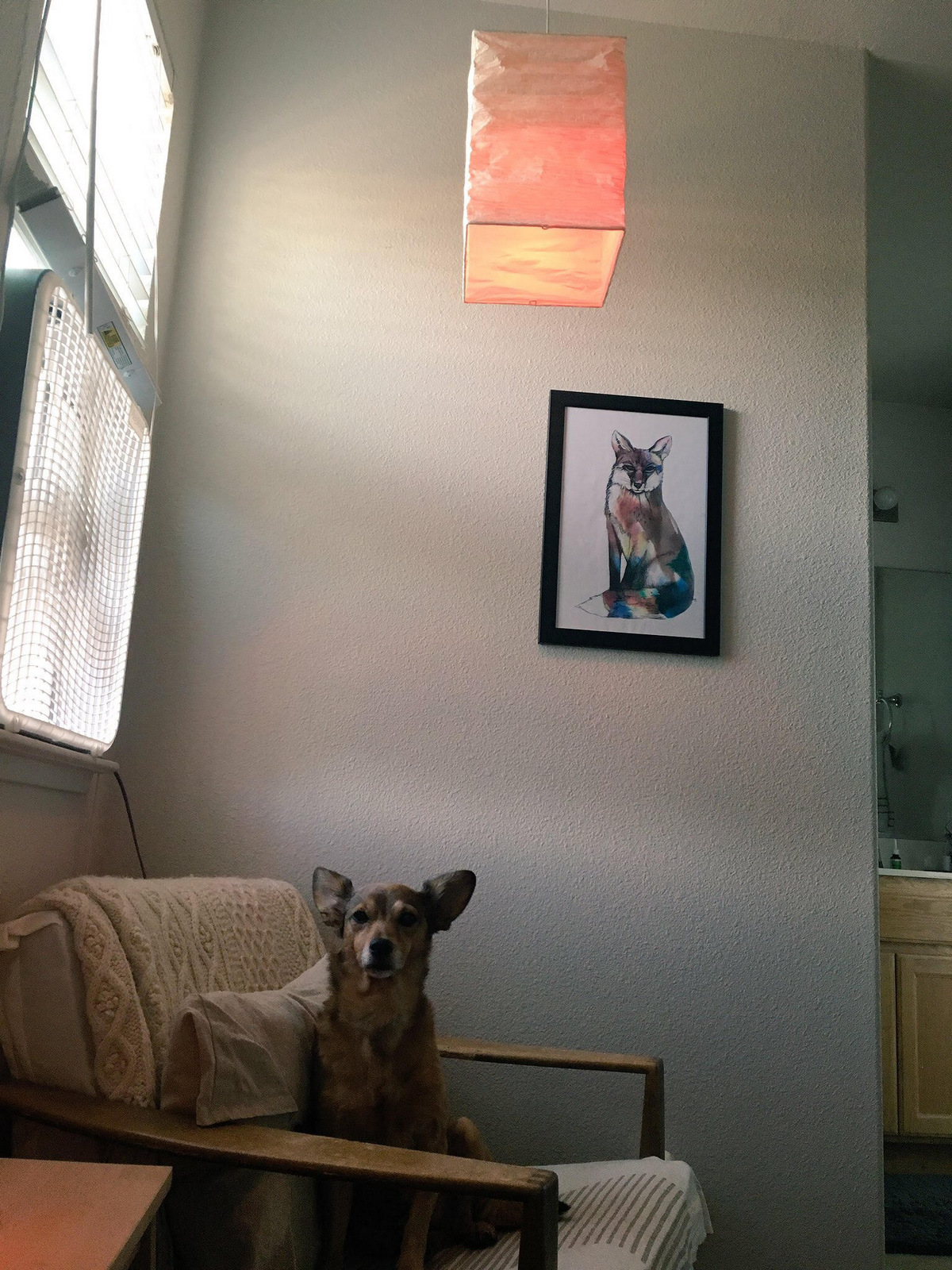 "Cyrus came to me when he was just four months old from a woman who did informal dog rescues. She brought him into my work one day and I was SMITTEN, but told her I couldn't get a dog yet, being all of 21 years old and living in a new tow, it was too much responsibility. She smiled and said "let me leave you my number, just in case." I called her twenty minutes later to tell her I'd changed my mind. He's my very best buddy. He loves the snow and will hold an apple between his paws as he eats it, and just six months ago, I finally taught him to fist bump. I cannot even tell you how much he is a Good Dog."
---
Mickey and Reptar / 26, 3 / Suburban Apartment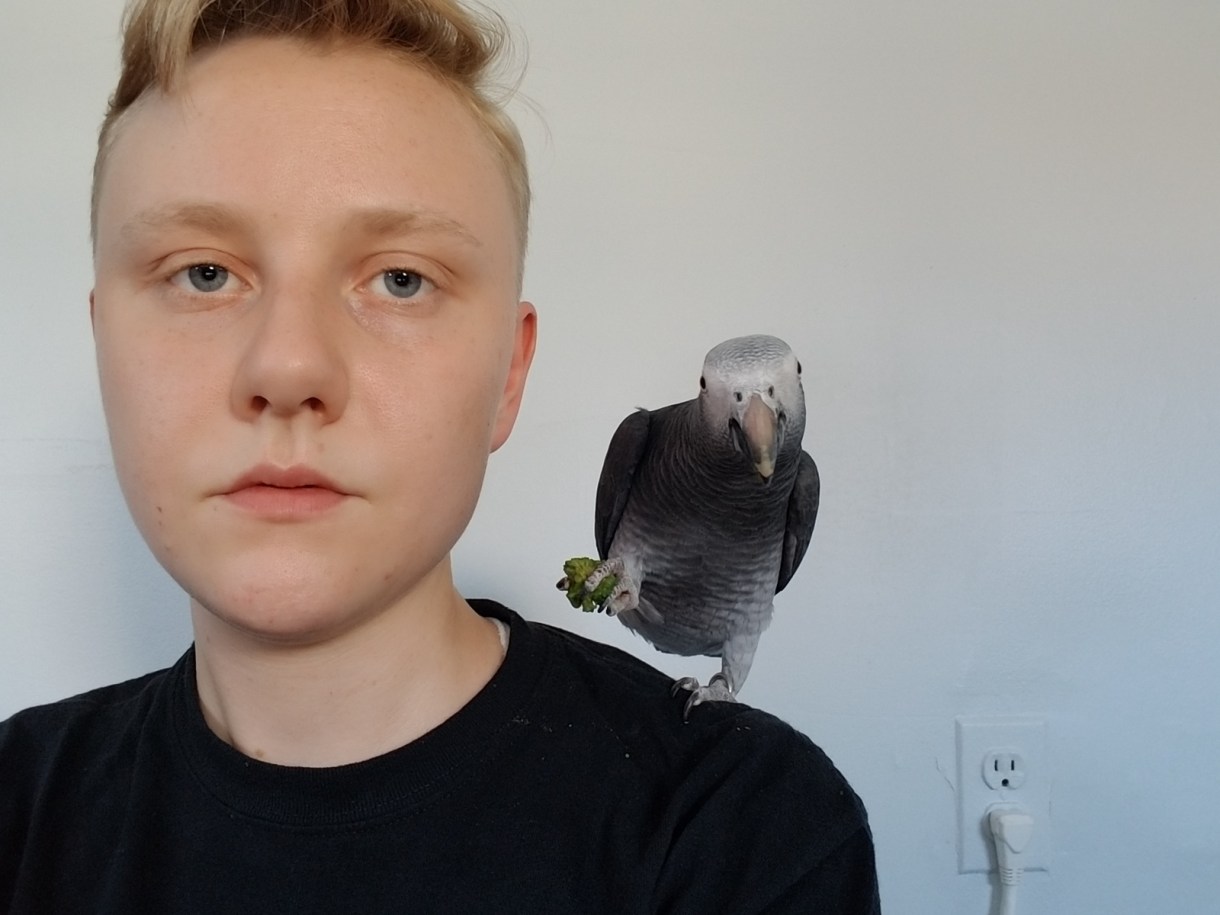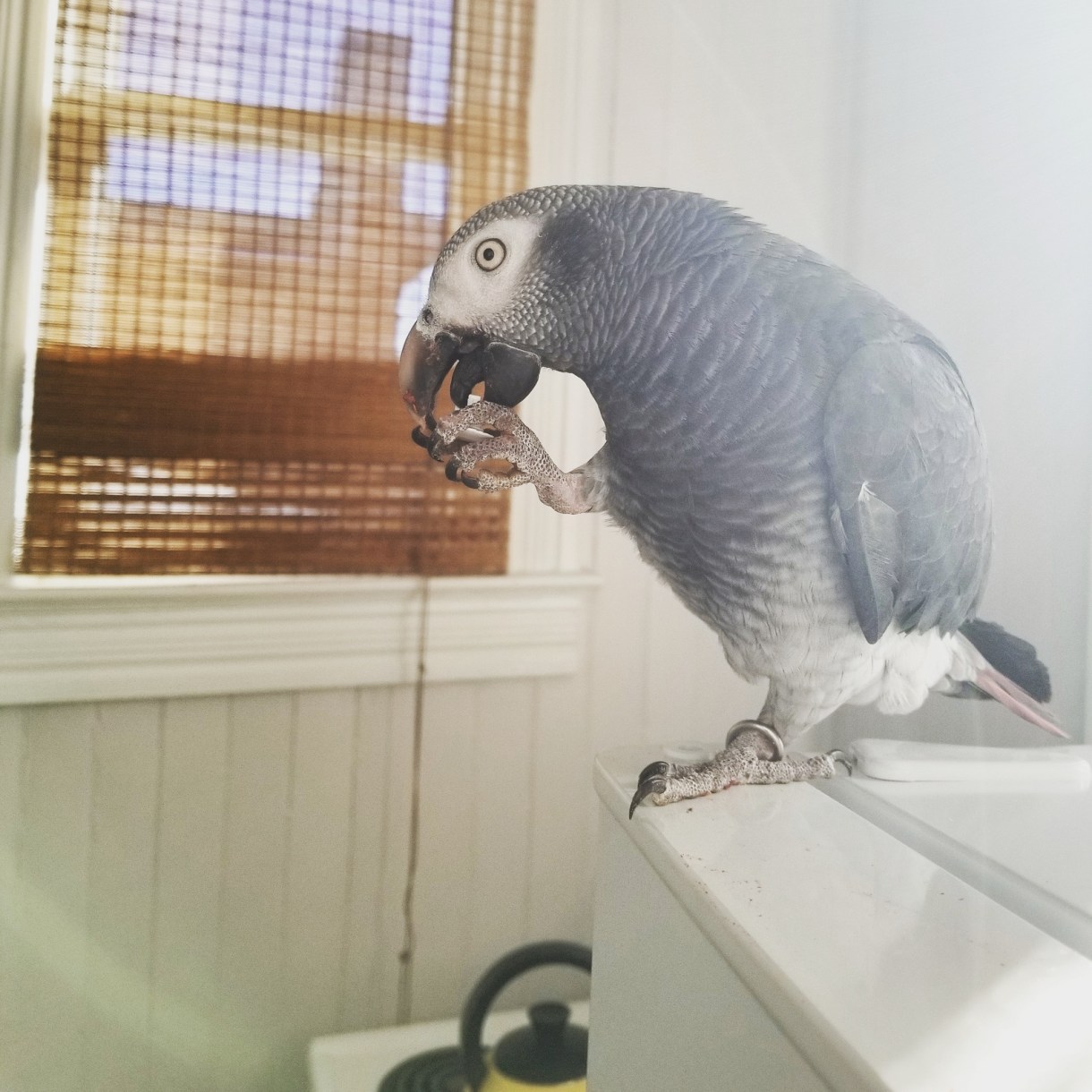 "Once, when I was very depressed, and needed a reason, I put a down-payment on a parrot that hadn't even hatched yet. This is like the pet equivalent to deciding, on impulse, to have a human child with a one-night-stand (only worse, because it's a bird). He bites, he's afraid of shoes, and he's the only reason I get out of bed."
---
Elissa, Yvonne, Archie / Holland Lake, MT
"His favorite activity is camping and hiking with us and sleeping in the yard. He was the runt of the litter and a gift to Yvonne. He likes to lick and sit on feet which keeps them nice and toasty in the winter."
---
Jo and Whisky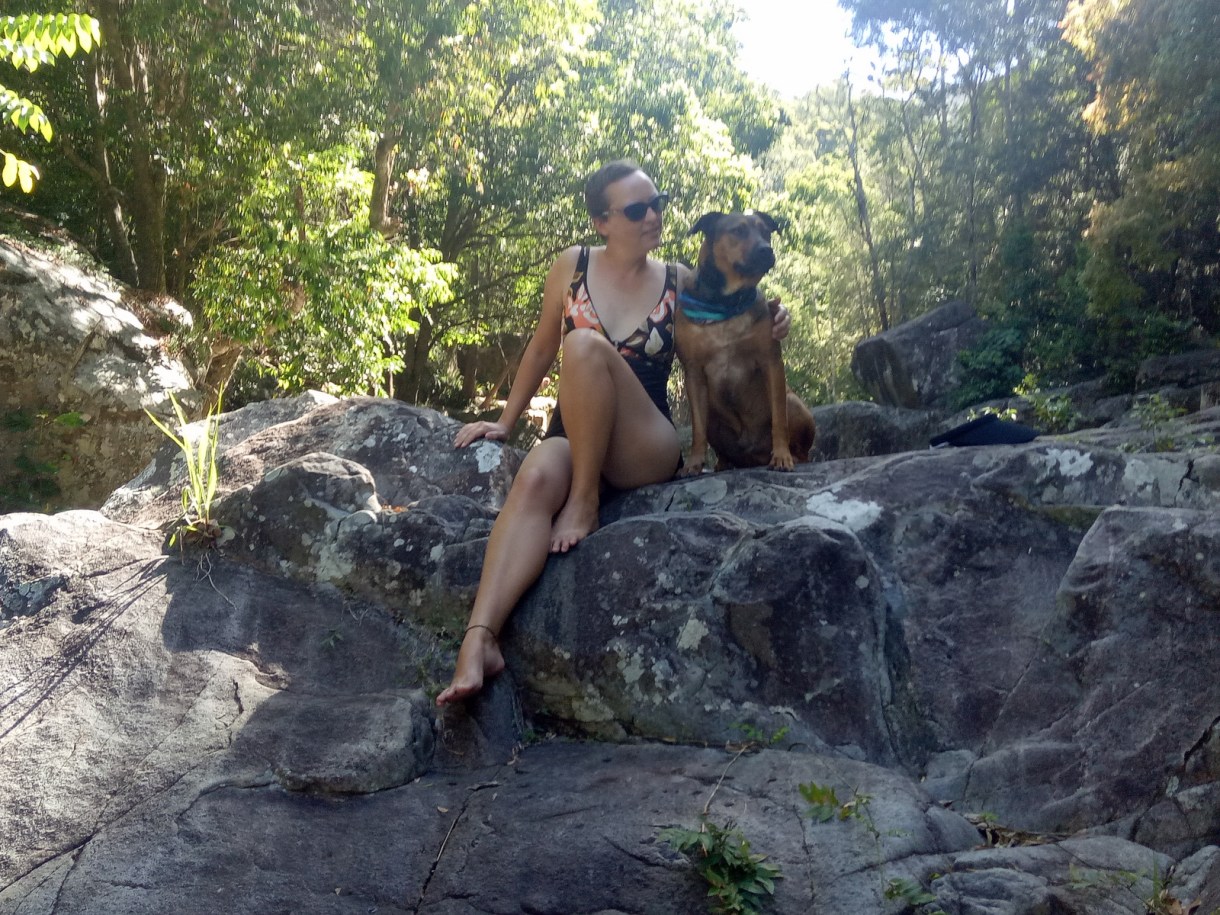 "I found Whisky through a rescue group in Queensland, Australia who assured me he was good enough with other dogs and cats to be able to come to work with me (I work as a veterinarian). I chose his name because he looks like a delicious whisky and I think it's a pleasantly gender neutral name. One of the best things about Whisky is that he's a big lap dog and always cuddles with me. We like to walk, swim, cuddle, and sleep in. One of the weirdest things about Whisky is that he loooves a sleep in, I'm often the one waking him up for a walk and breakfast."
---
Kay and Willow / 19, 3 / Deep Bay, Ontario, Canada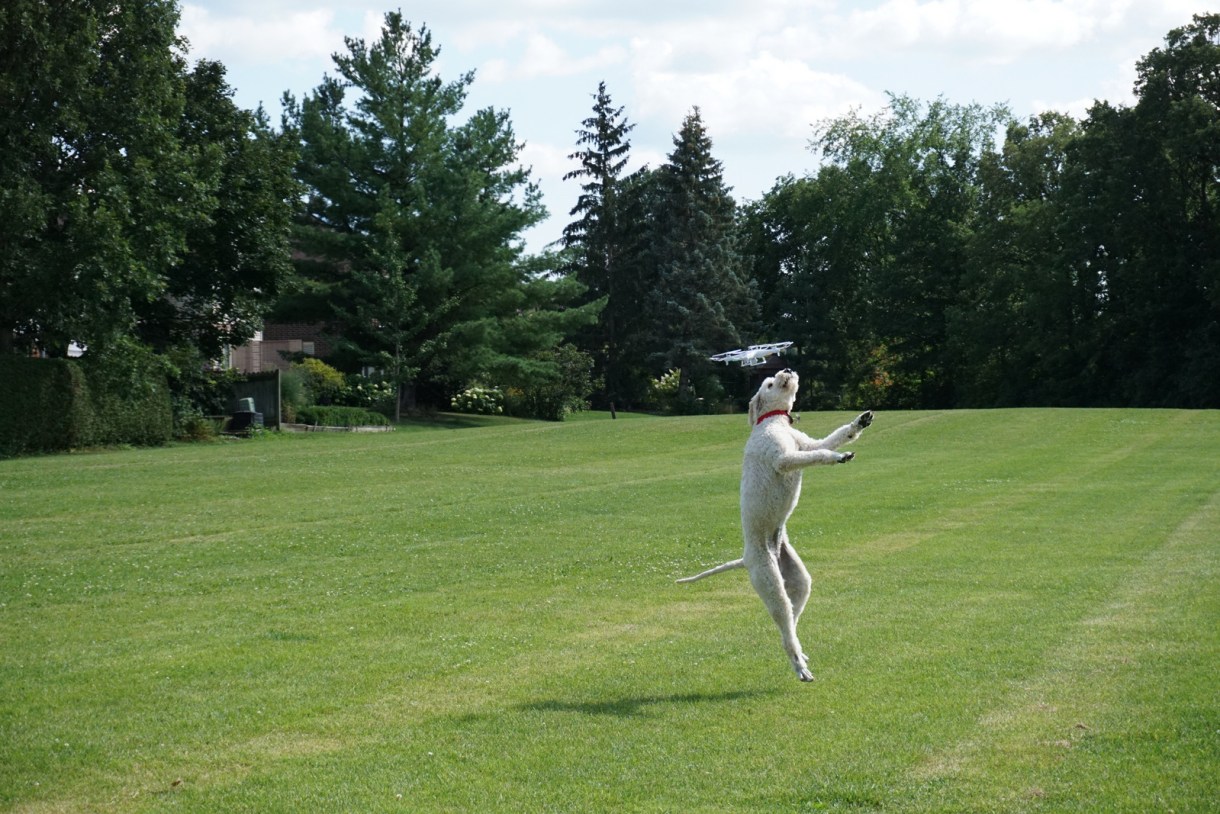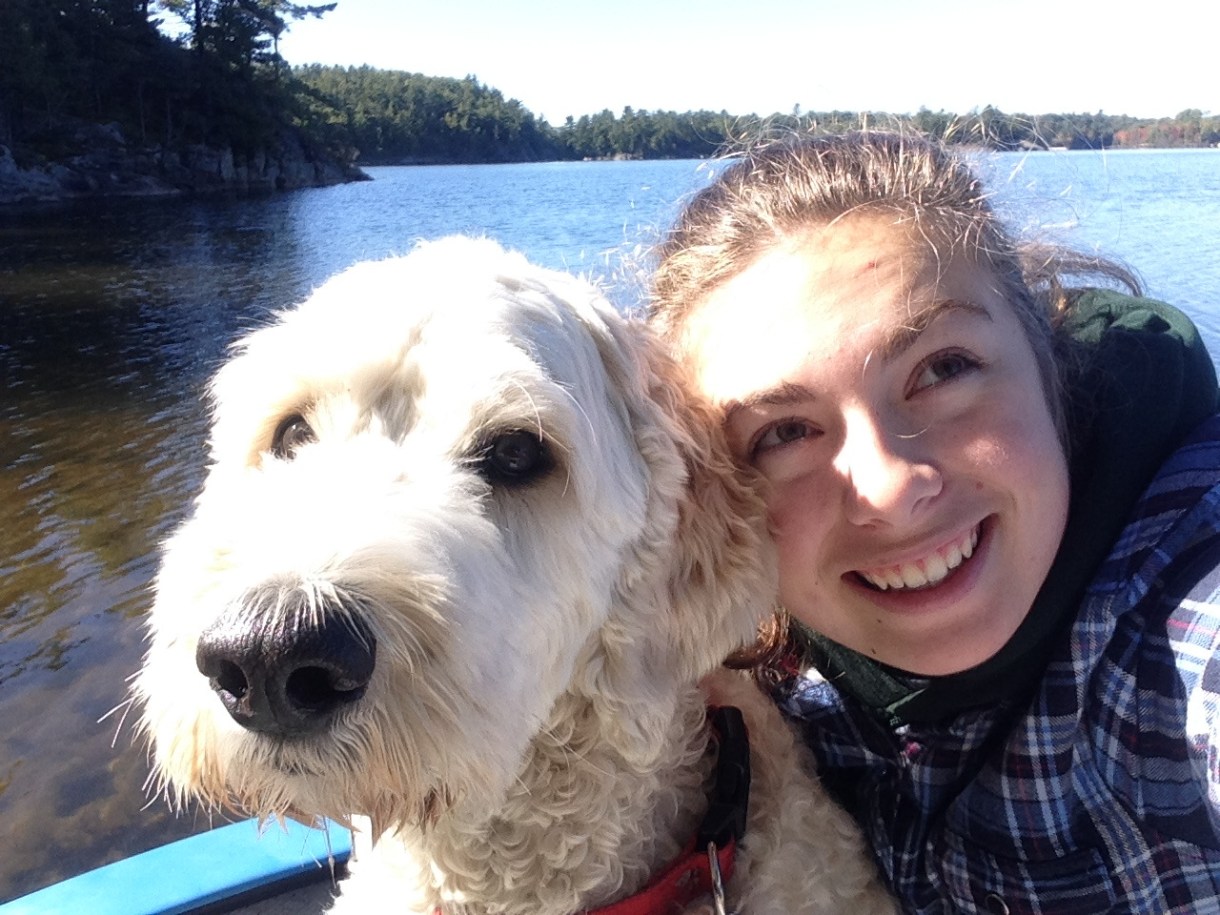 "After ten years since our last furry friend, my parents gave the okay on Christmas day. A few weeks later we went to "just look"… were they trying to convince themselves? She came back with us. Believe it or not, her name wasn't a Buffy thing! We're very outdoorsy so she was almost named after a national park or mountain, but Willow seemed to peak her interest the most. The best thing about her is she's soft, dopey, generally very happy (despite the pictured pose), and very bad at all traditional dog things except running, barking, and swimming.
The dog is obsessed with snow and the cold, so I build her mountains in the backyard to slide down and we go cross-country skiing together. She likes to kayak well enough, but gets seasick. Aside from a human-like attachment to a teddy bear, Willow hates to miss out on any travel/adventure so she'll pull crazy Houdini maneuvers to get into the car or boat and refuse to move. Also, while terrified of loud noises she'll chase drones to the ends of the earth."
---
Abi and Ziggy / My Garage in Austin, TX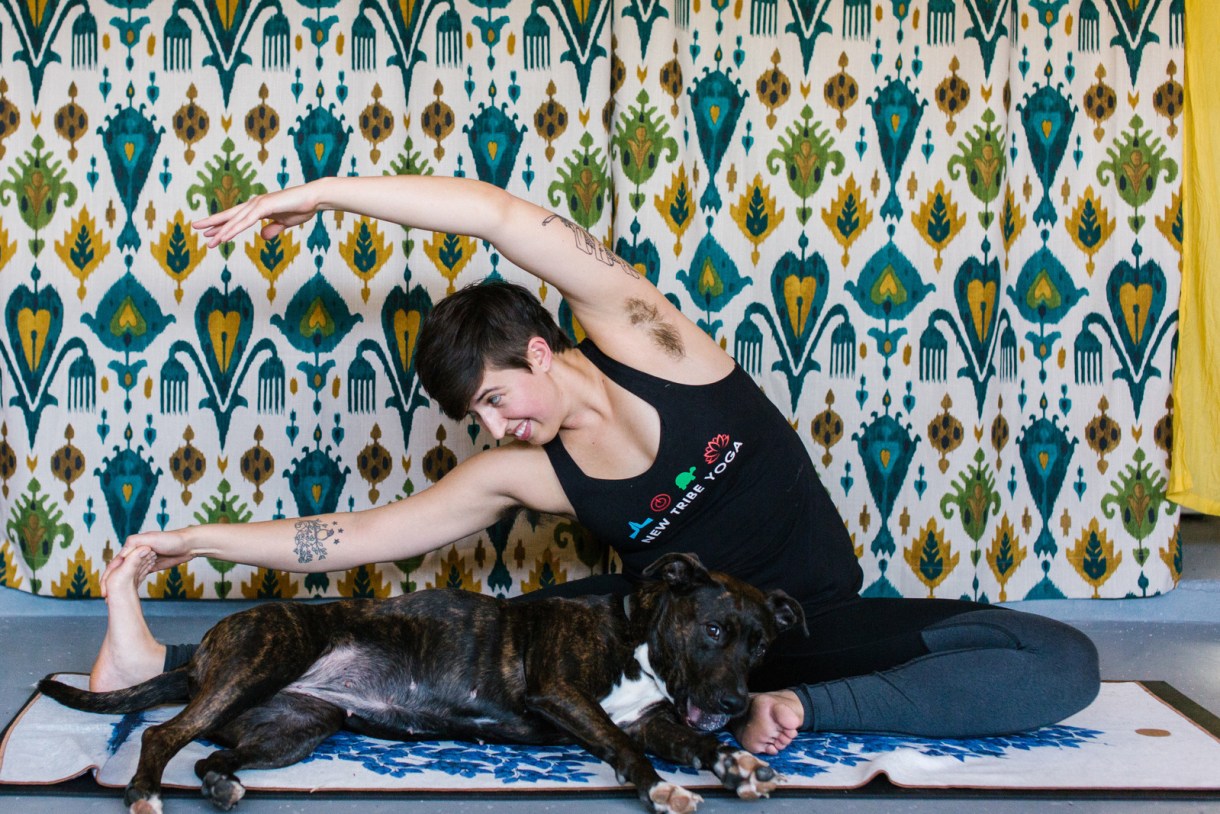 "Ziggy is the result of a classic bottoming out story where I ended a four year relationship, lost my job, needed to move halfway across the country to live with my grandmother, and decided it would be a good idea to get a puppy. I WAS SO RIGHT. I adopter her when she was eight weeks old from Colorado Puppy Rescue in Denver, CO. Ziggy is short for ziggurat, which means "strong tower." I knew I was going to need a strong tower in that crazy time of my life, and Zig has lived up to her name. Ziggy does not have her own Instagram but you can keep up with her adventures with the hashtag: #ziggythepittie."
---
Emily and Riley / 25, 7 months / NY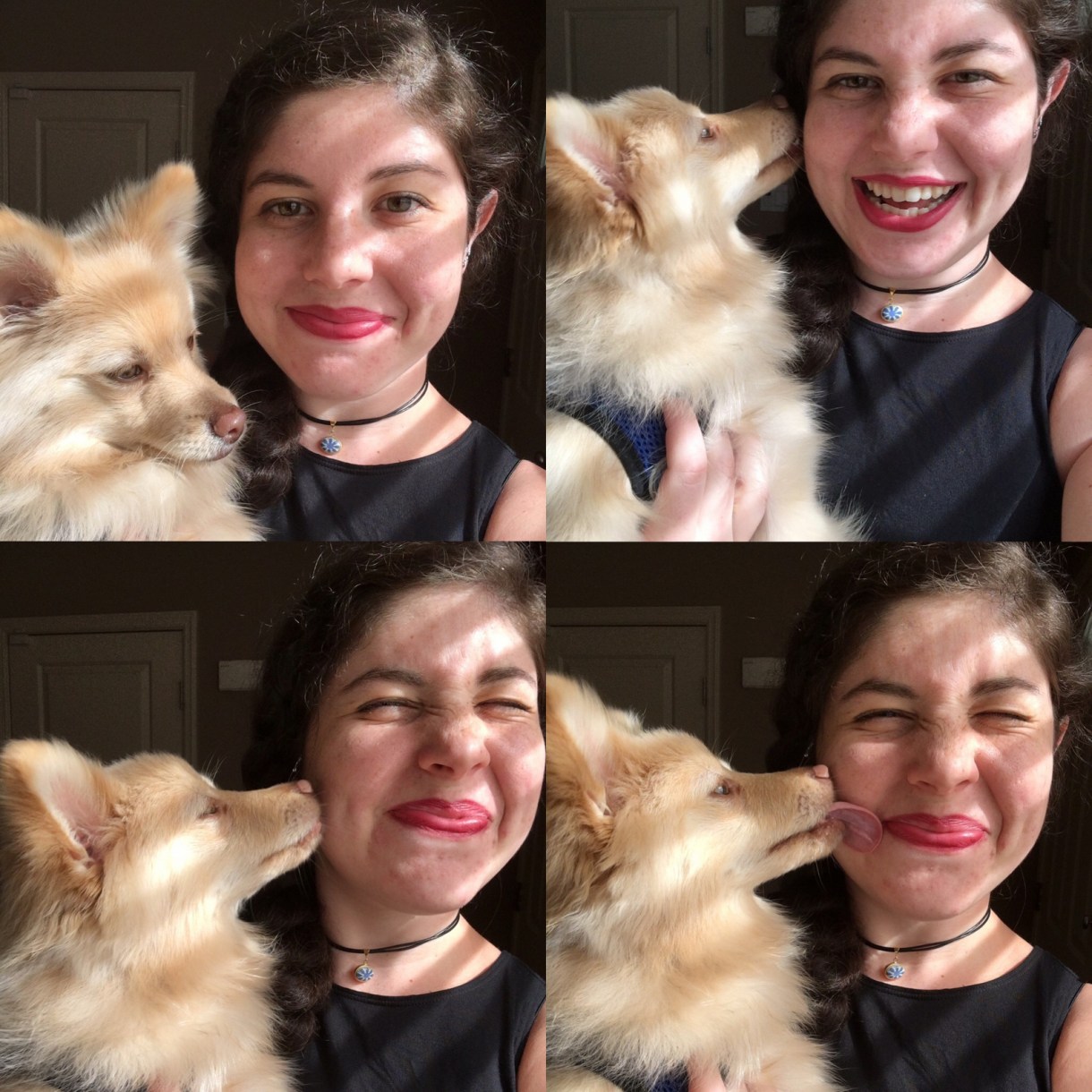 "Riley the pomeranian was adopted from a pitbull rescue. He came with his name and we couldn't think of anything better, so we kept it. His favorite game is called Find It, where I put a piece of food on the ground and say "find it", and then he finds it. It's thrilling."
---
Nicole and Matti / Backyard in Arlington, MA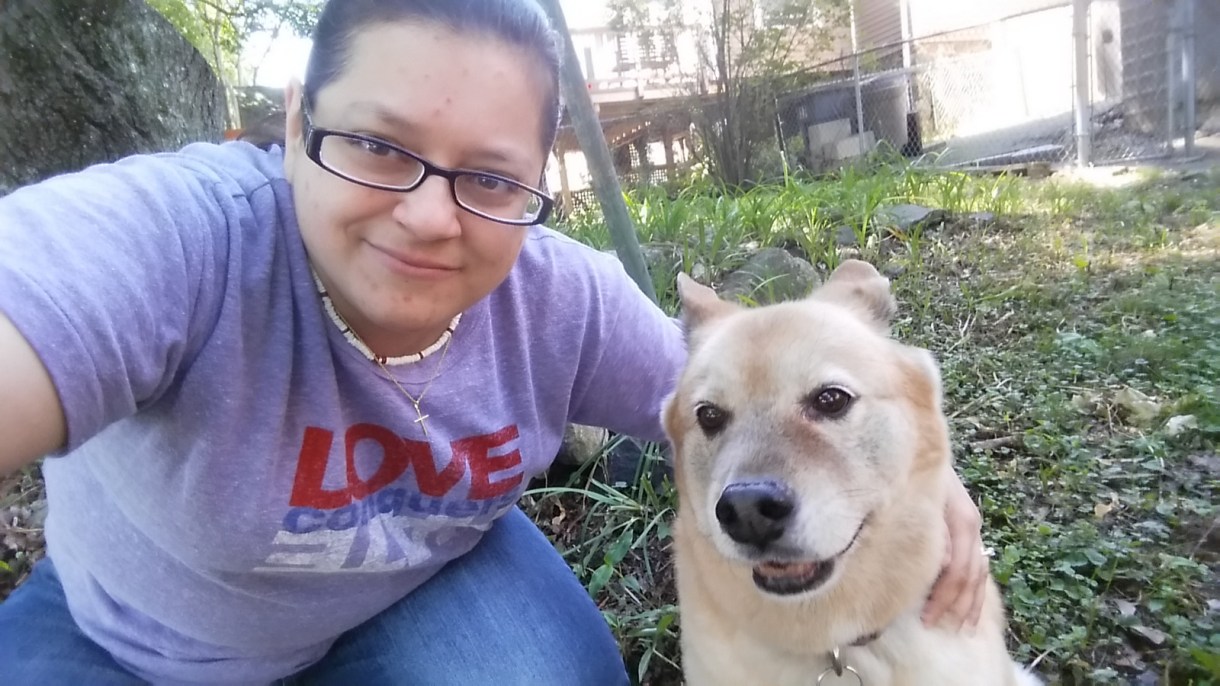 "Matti is a shelter pet. I went to the local animal shelter in Cleveland, TN (where I lived at the time) and I was looking specifically for a German Shepherd pup. It just so happens that they were bringing in a litter of shepherd puppies just as I arrived. They put them all in a cage with another random puppy. I wanted to do a quick look over the other cages before revisiting the shepherds. As I was walking back through the kennel I heard a puppy squalling and lo-and-behold if one of the shepherds wasn't dragging this fluffball of a pup with a bent tail around by its ear. My heart said I had to rescue her so I took her instead of a shepherd.
I was seeing a girl at the time who reignited my interest in baseball cards and more specifically Don Mattingly, so we named her after him.
Matti is an amazing pup. She must have been a person in her other life because she is super smart and chill and thinks she is human. She has no interest in other animals. She just wants to chill with her peeps. She is getting old now and kind of acts like a senile old woman sometimes. She moves super slow in front of me like a retired Florida driver, she stares at me and ignores my requests, and she tends to do the opposite of what I ask her to do these days. Ex. Standing on the deck: "Go potty." She looks at me, looks at the yard, looks at me. "Okay, come inside then." She stares at me and then goes out into the yard."
Kris, Haywood, Alfred Fraggle, Luna Fluffgood / 34, 10, 4, 1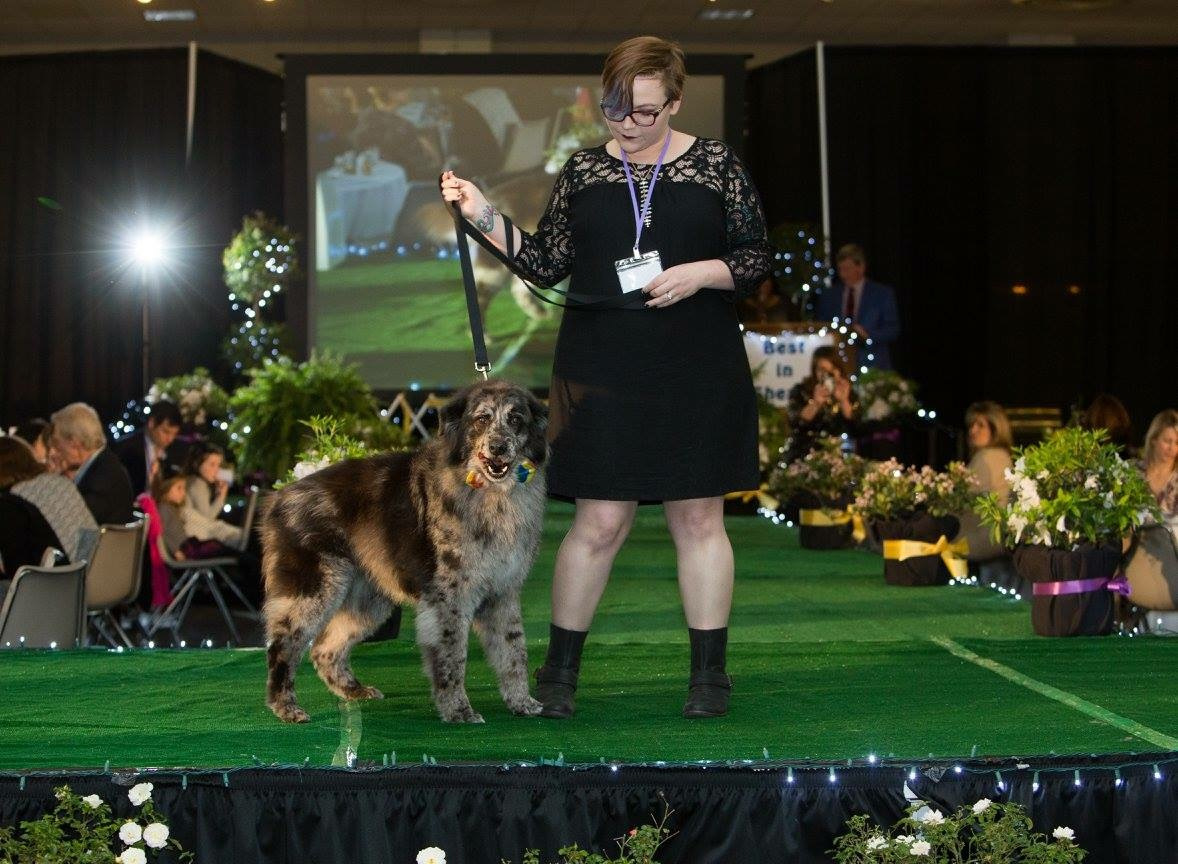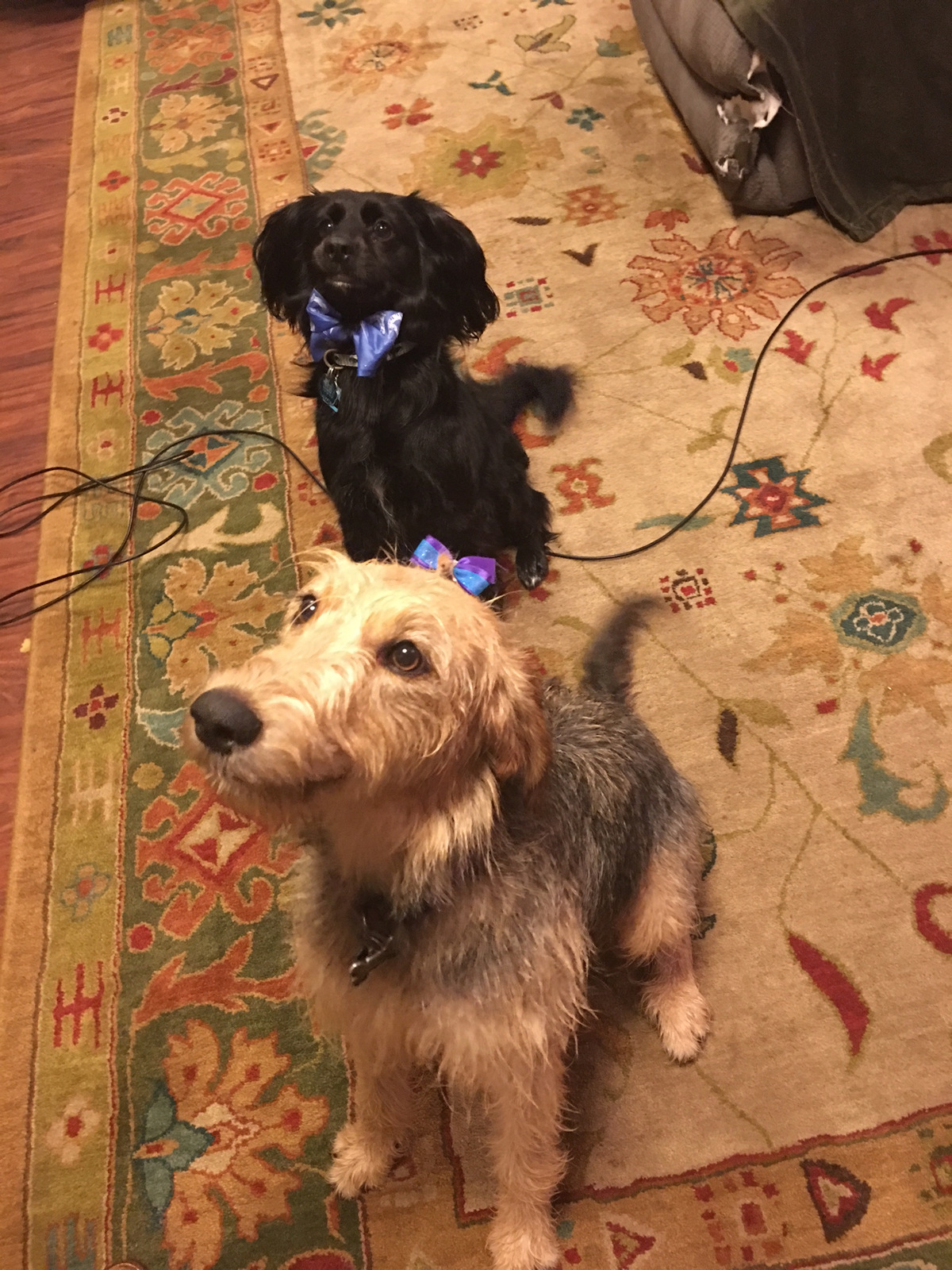 "Haywood and I were in a dog show for our local low-cost spay and neuter clinic. He is a rescue from Haywood County, NC and that's where he got his name. He's very large and very snuggly. Alfred Fraggle and I take a lot of selfies together. He has extremely fluffy ears and is a very glamorous boy.  Luna Fluffgood is the newest member of the family, and the only girl dog. She eats couches and other furniture on the regular but I still love her. She and Alfred Fraggle are best friends, and love to watch squirrels through the front window."
---
Leigh and Whiskey / 30, 5 / Richmond, CA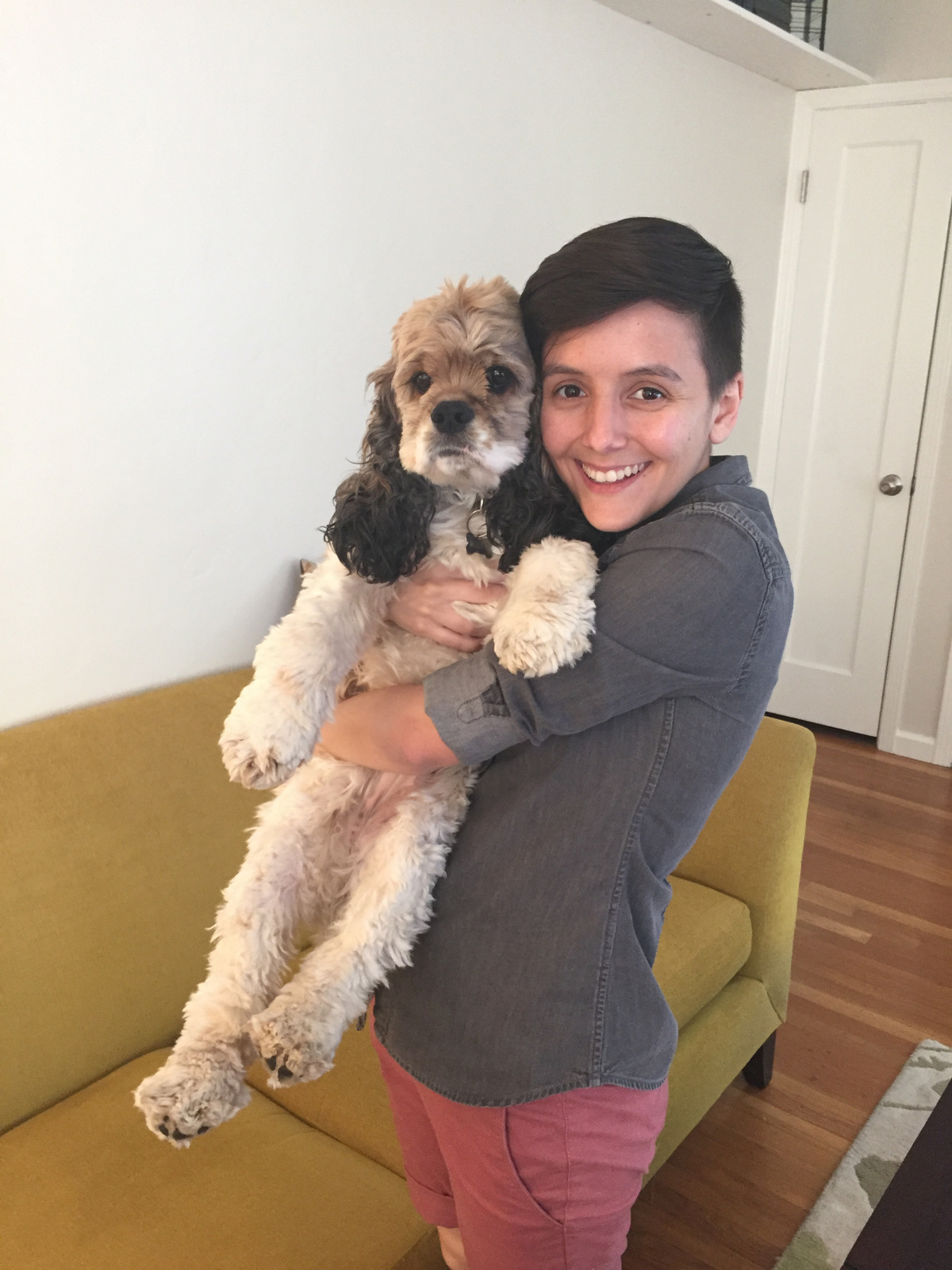 "We got Whiskey when she was a puppy in CT (we lived in Boston at the time). We named her after Whiskey in Dollhouse (she only ever wanted to be the best!) although now we just sound like alcoholics a lot. She's a weirdo who likes to carry her first couple pieces of kibble and eat them over a carpet in another room before settling in for a meal, and she's a great cuddler as long as you don't steal her corner of the couch. (She'll just stare at you sadly until you move)."
---
Stephanie and Harley P. Roy (HPR) / Clough State Park in Weare, NH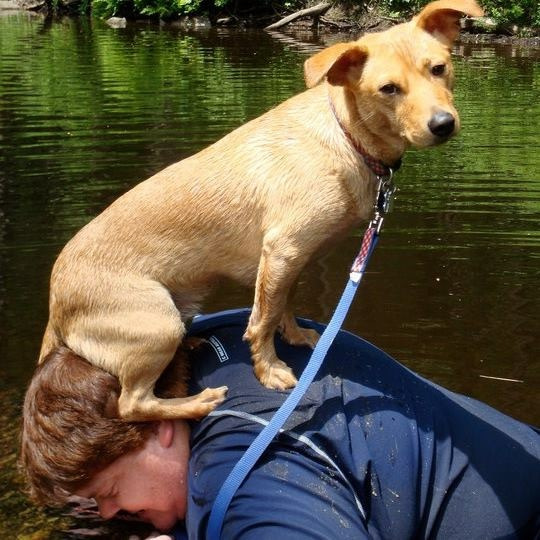 "HPR is originally from Tennessee. She and countless other doggo's were transported to New England for adoptions. We initially went to see another dog but the other animal was not good with kitty cats, so unfortunately was no longer a viable option for our home. Just as we were leaving a Humane Society staffer stopped us at the door to inform us the vet just released 200 dogs for adoption. We walked around for what seemed like hours and I kept coming back to HPR.  She is literally the most loving creature I've ever come across in my life.  So gentle, so willing to please, so intelligent…
We do everything together. I work from home, we are rarely apart.  The one thing we don't do together is swim. Turns out the dog is afraid of water."
---
Joyce and Taro / 27, 2 / Los Angeles, CA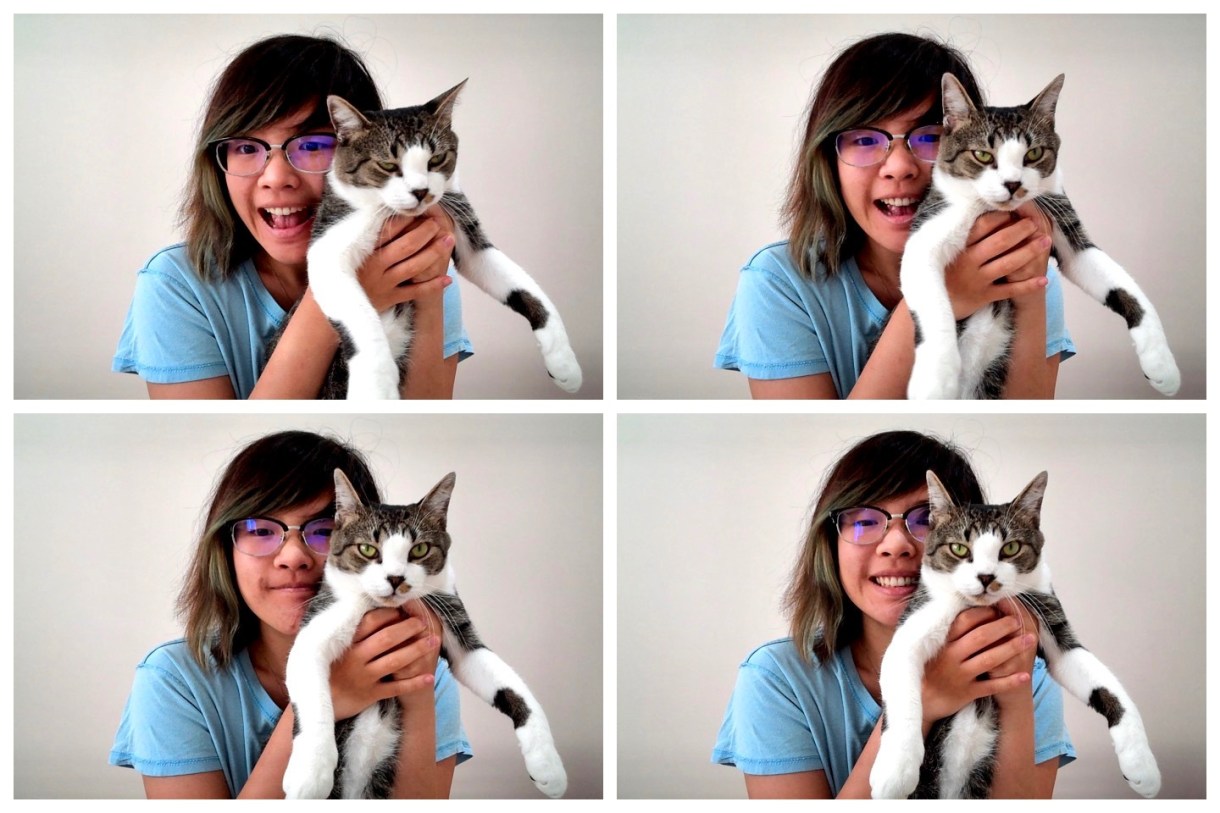 "Taro chose me at a rescue here in LA. I was doing a meet n' greet with some other cats when he ran towards me and stole the treat in my hand. With that he stole my heart also. I wanted to name him something food related, and the name needs to be cute in Taiwanese, too, because I won't allow my children to forget their roots (no pun intended). Taro / 芋仔 is basically a Taiwanese potato, and he's a little potato for sure. He greets me at my bedroom door every morning! And he keeps me company every day as I work from home. I take him on walks on a leash, but it inevitably turns into him walking me, so really who's the owner here? The weirdest thing he does is climb into my lap, fart, and then leave. The worst."
---
Isis and Neo / 22, 2 / Berkeley, CA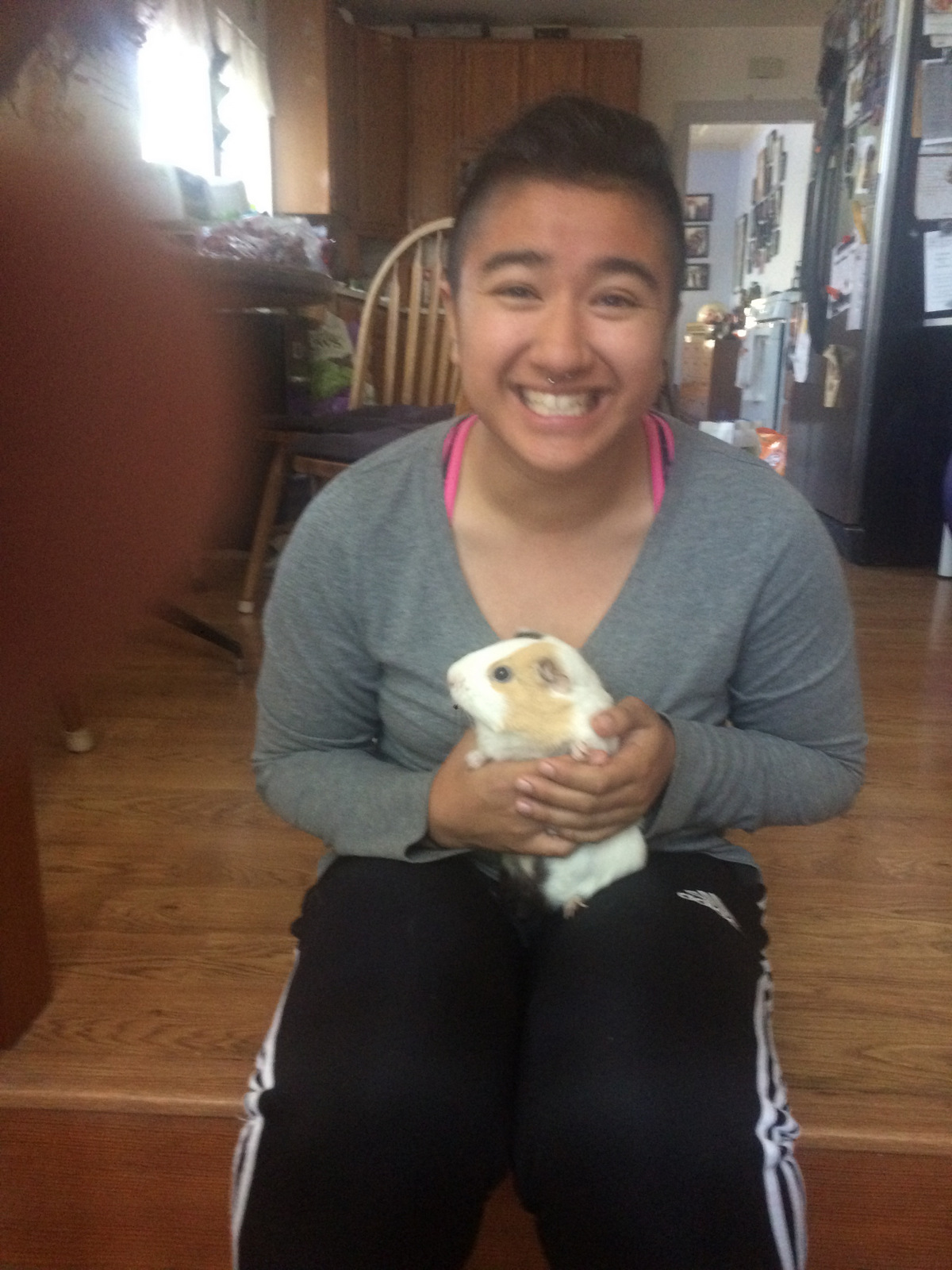 "Neo, short for Neopolitan, has the signature three swaths of color that are distinctive in the ice cream she is named after.  She and her companion, Bambi, are both primarily taken care of by my father, whose thumb makes an appearance in this photo as well. She loves carrots, but will very willingly stretch out over the side of her enclosure for whatever tidbit of veggie you offer her. I've done some cute sketches of her and Bambi, but mostly our interactions consist of her squeaking for treats and me giving in without much protest."
---
Desiree and Oskar / 29, deceased (RIP)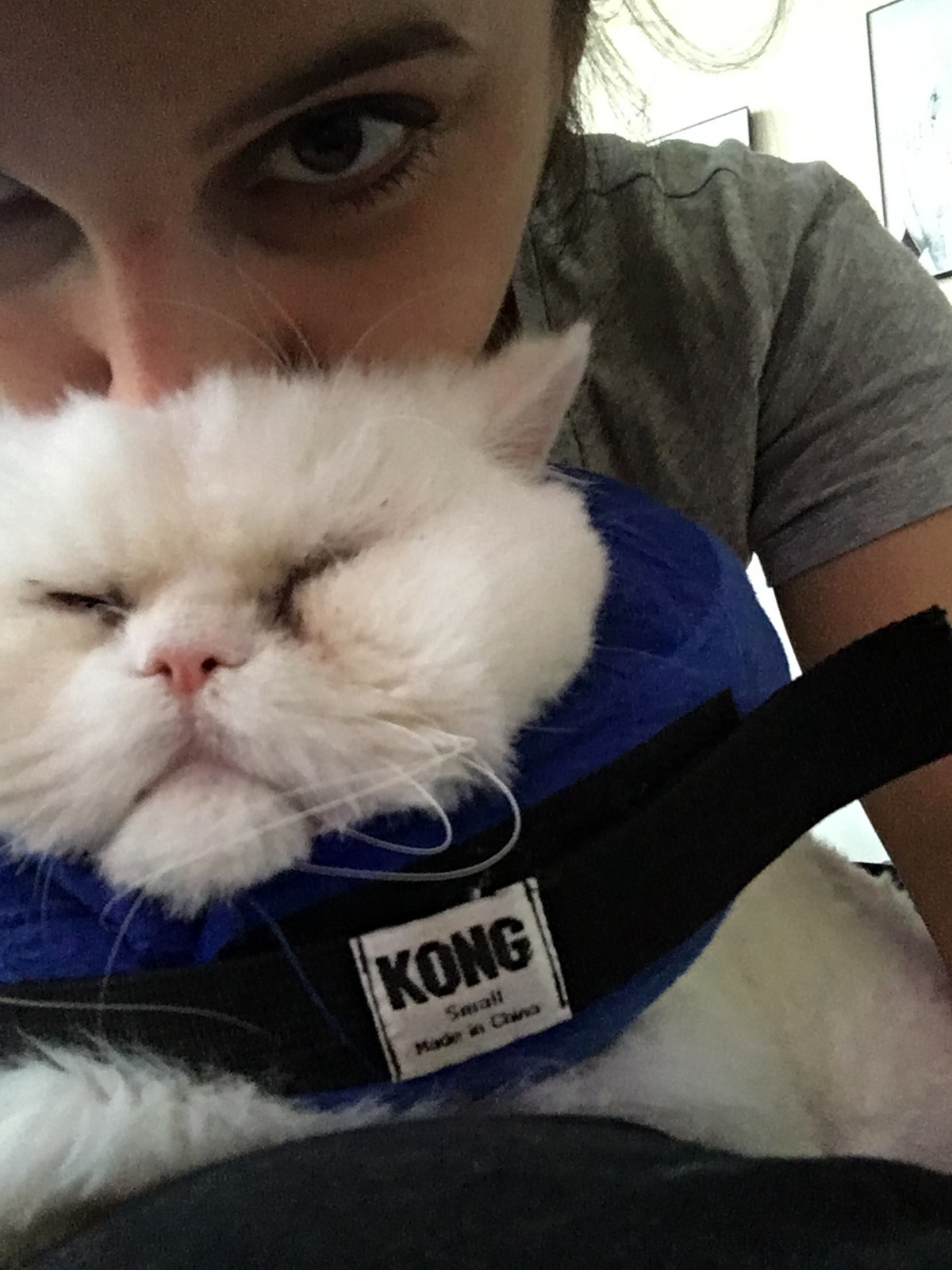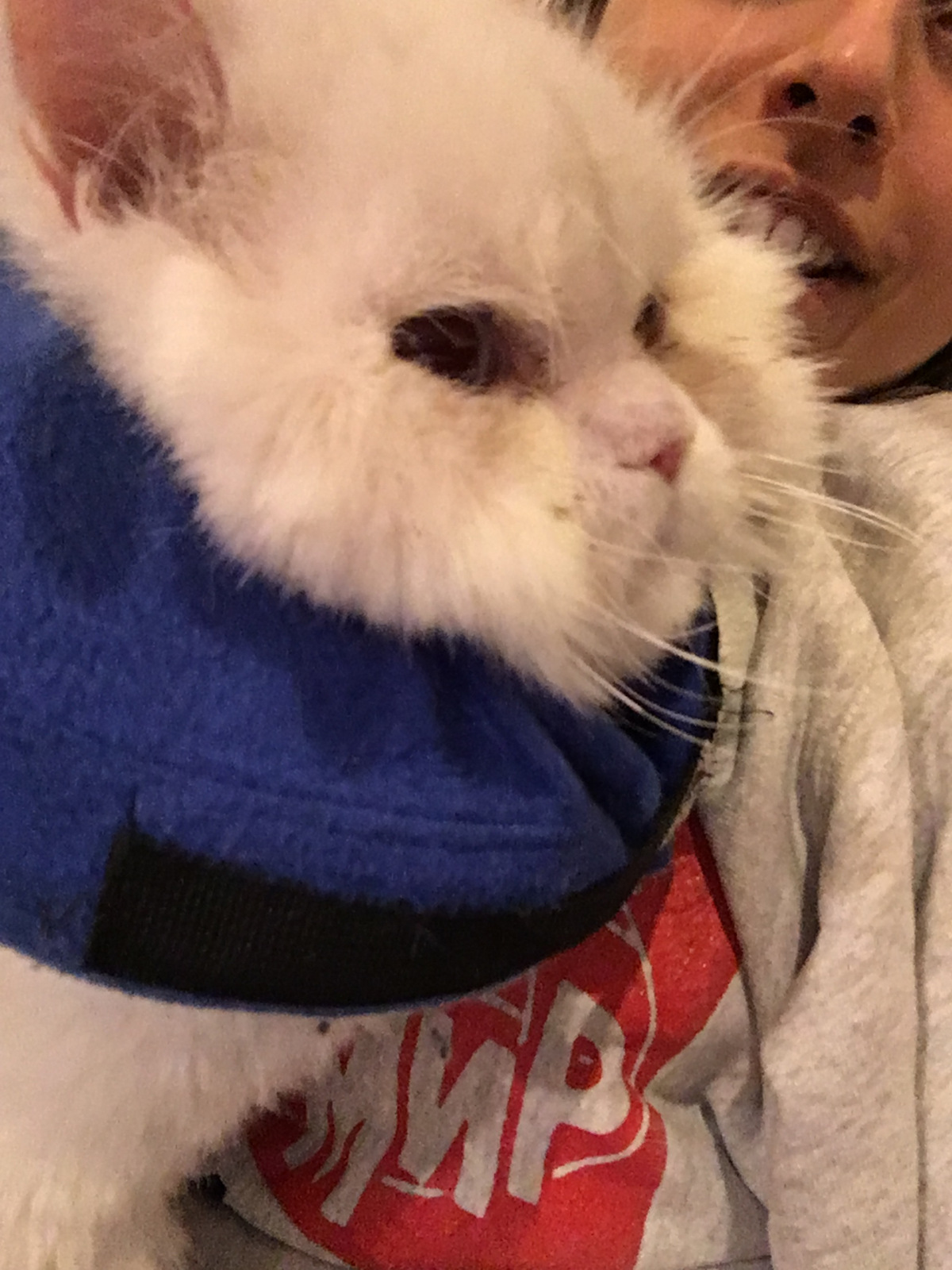 "I used to be one of those people who looked through Craigslist's pet section to feel warm about the possibility of soft, furry critters in my home. When I stumbled across Oskar (formerly Madonna), possibility turned into NEEEEEED: I must have this baby! So I scooped him up and we became momma and momma's boy pretty soon after. Poor punk had heart disease, as well as some allergy we could never figure out, hence the blue donut. He passed this spring after our spending only four years of our lives together. I'll never forget his sweet sweet snuggles and soft paw reaches to touch my face at the most heartwarming moments. Such a good boy."
---
Elyse and Lucky / 22, 11 months / Lebanon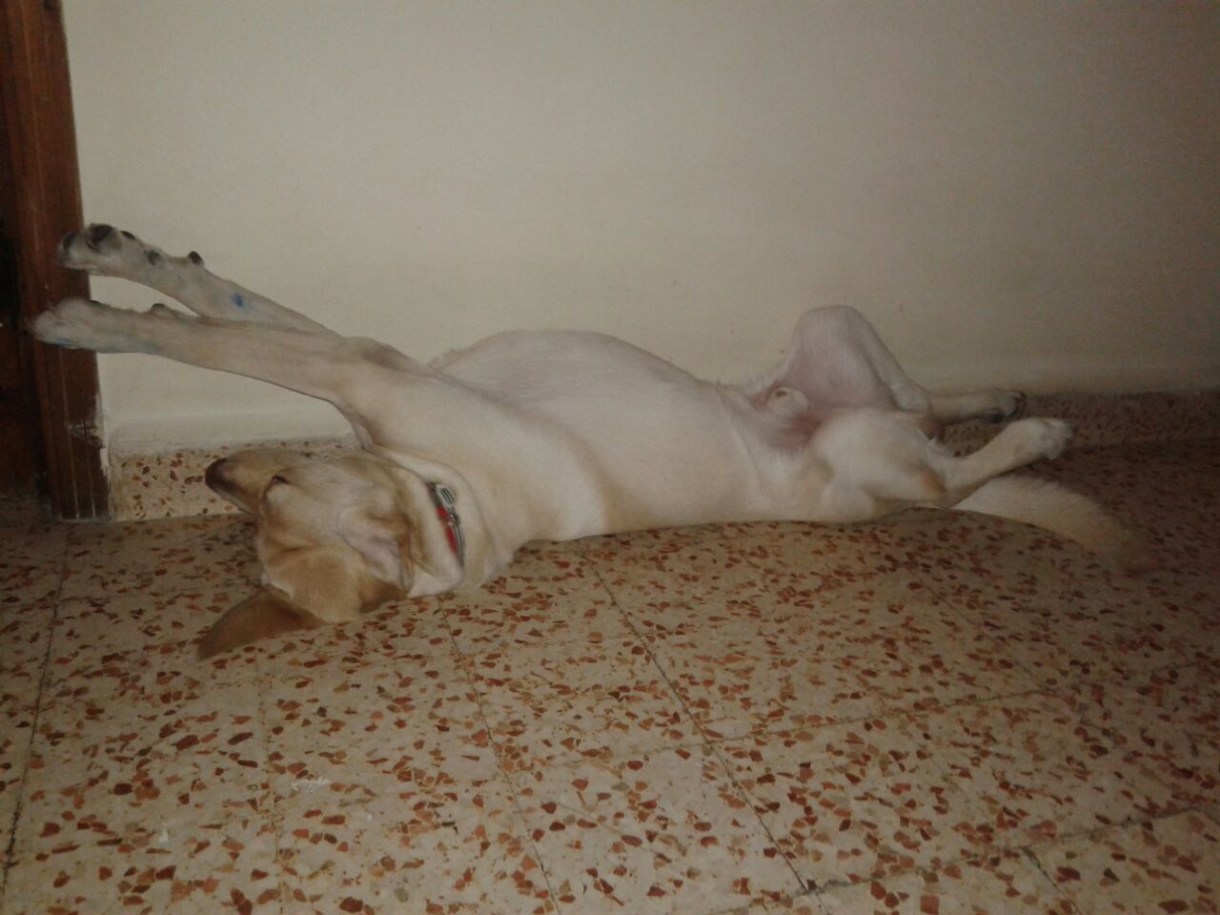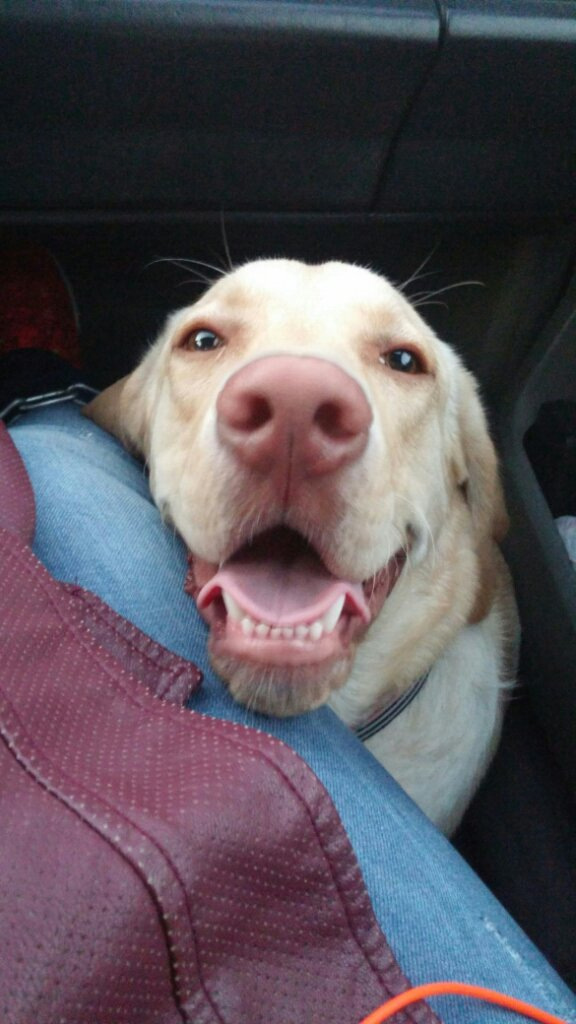 "Lucky was abandoned by his owner with a friend in a hangar, I had just lost another dog, Rex, and was crying for weeks until lucky came home one day. I had just gotten home from university and I fell in love with this tiny little blonde ball of fur. He was two months old the first time we met and we've been inseparable ever since. My mother calls me his momma because I coddle him so much. My brother adopted him for me and he was already named, and the name suits him so I never changed it. Lucky is very compassionate and loving, he has a sense of when I'm upset and never fails to put a smile on my face. When we have time, Lucky and I go running, or running around the garden in my hometown, or taking long swims on the beach and ruining my dad's car because Lucky won't let me dry him off. From the way he sleeps on his back with his paws extended to the way he pees, everything he does is weird but in the most lovable way."
---
Meredith and Finn / Charlotte, NC
"I found Finn at the ASPCA though a pet finder website. He has a little black dot on his chin (which unfortunately you can't see here) and when I saw his picture on the website I immediately fell in love. When I got to the shelter another woman was holding him and I waited for an hour for her to leave. Luckily she couldn't make up her mind and he was mine! My favorite thing to do with Finn is cuddle on the couch but his favorite thing to do is bring live small animals into my house. There have been bugs, lizards, frogs, birds and snakes. He's lucky he's so darn cute! The weirdest thing he does is drink out of the faucet in the sink next to mine in the bathroom every morning while I'm getting ready. He's a nut and I love him."
---
Cara and Jake / 22, 8 / San Diego, CA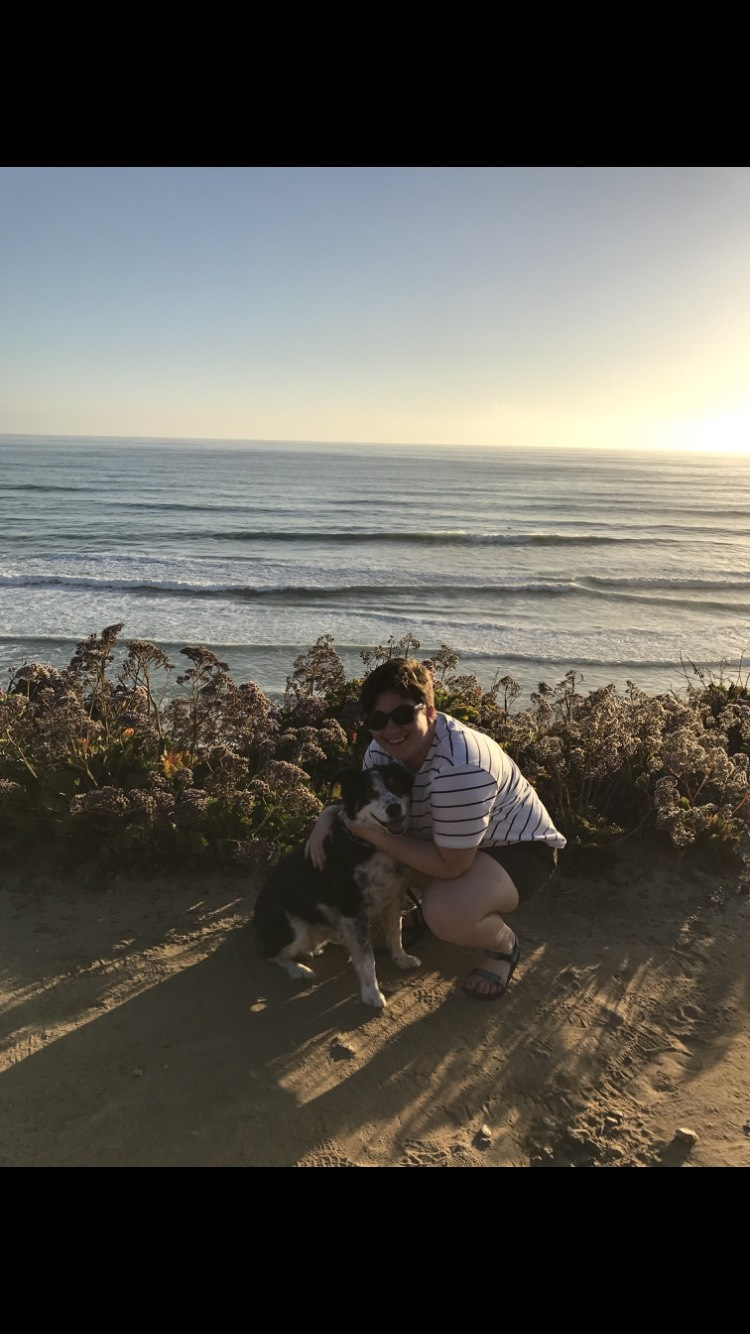 "We got Jake my freshman year of high school as a rescue! He came with his name and really just fit it. His previous owners bobbed his tail, so when he gets excited his whole back half wiggles. He and I have this in common. We like long walks on the beach, belly rubs (yes, both of us), and snuggles. Jake is convinced he is a lap dog, and does not understand why he cannot sit on top of you at all times."
---
Grace and Addie / 25, 2 / Bozeman, MT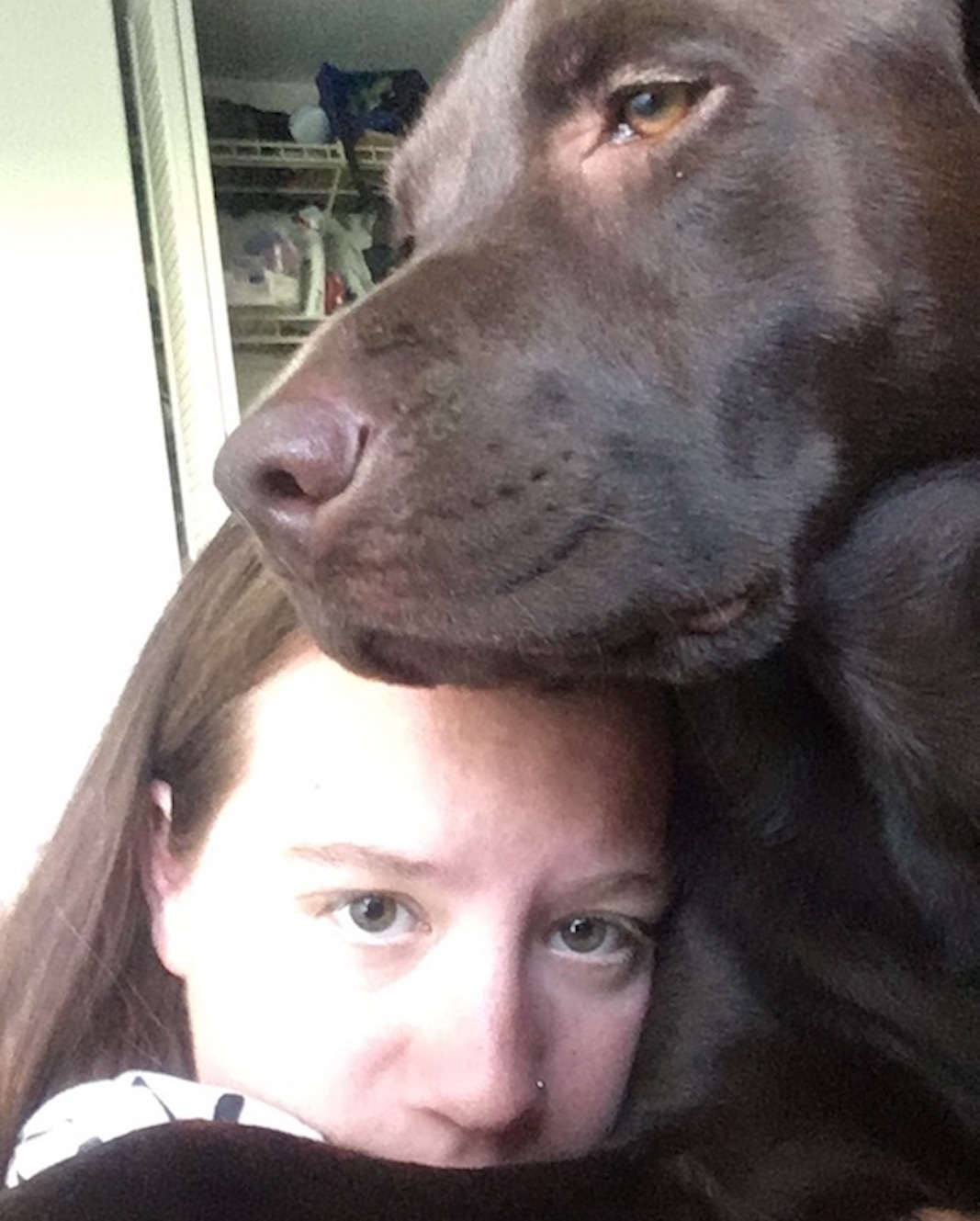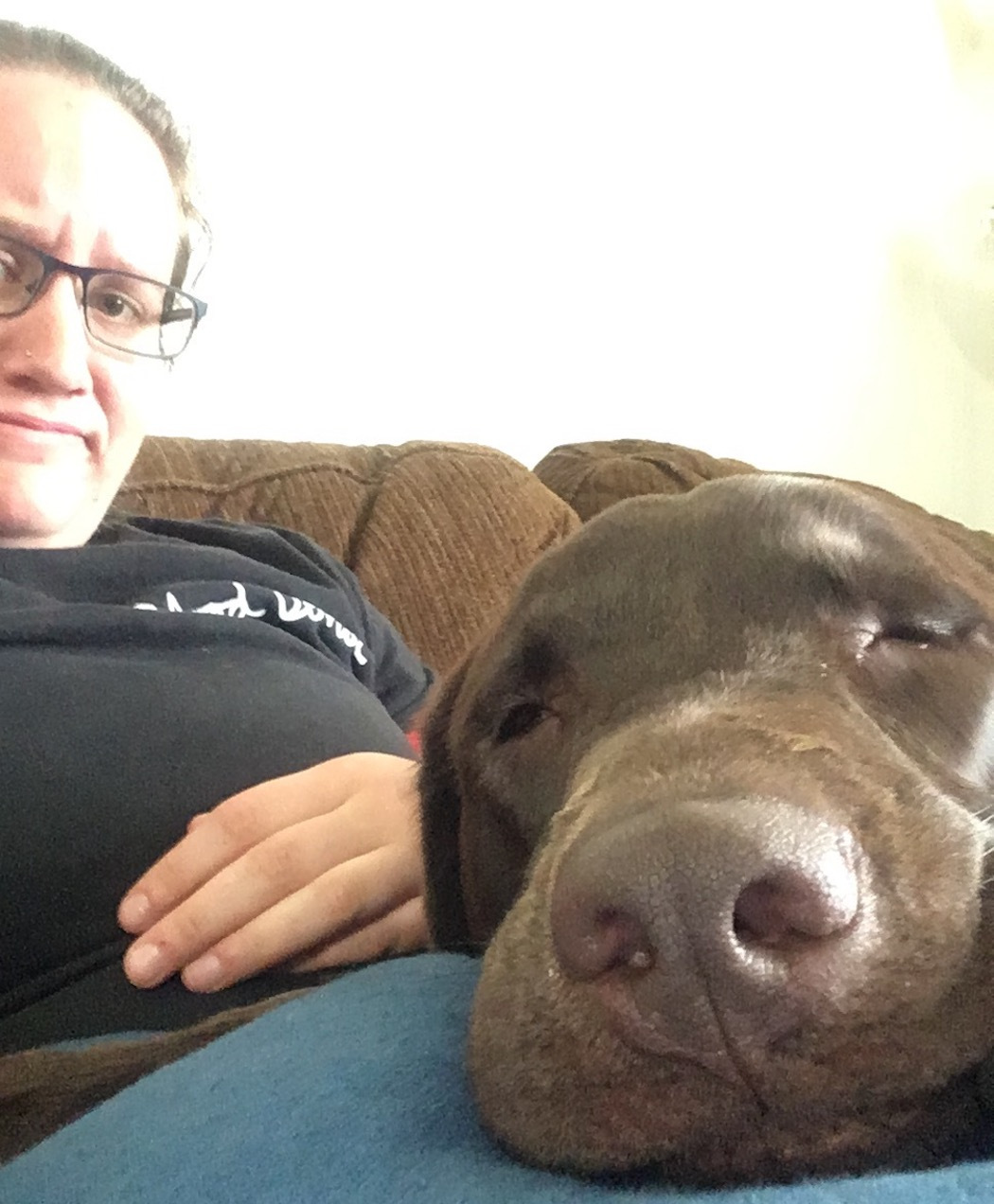 "Addie is my diabetic alert dog — she can smell when my blood sugar goes up or down long before I can sense it, and she tells me about it. Thus, she goes everywhere I go, and thinks anywhere that is not literally on top of me is too far away. Things she loves include: antlers, long hikes, sitting in desk chairs like a person, and treats. She wakes me up by sitting on top of my head every single morning."
Emily, Isabelle, Mali / Anglesey, Wales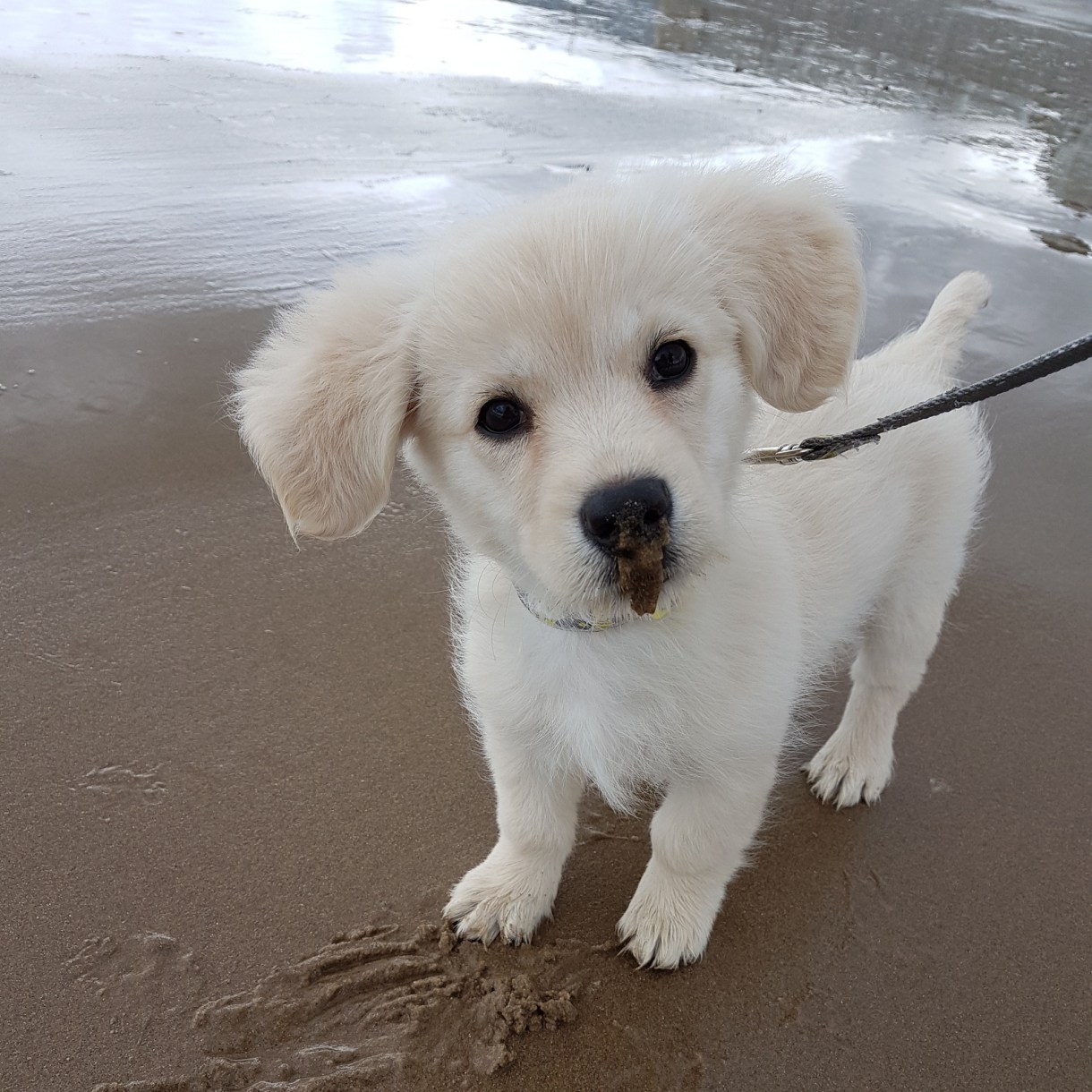 Her mother was found pregnant in the pound, so Mali came from a foster care. Now the mother and the litter of seven have found new homes. Mali is a little welsh name for a little welsh dog. The best thing about her is that she came to us when we really needed her and she's always happy. We love to visit beaches, cuddle, watch TV and play. Her favourite show is Westworld (she hates Twin Peaks). Instagram: @malibu_puppup
---
Ella, Dijana, Octavia, Albus / 28, 34, 1, 3 / Melbourne, Australia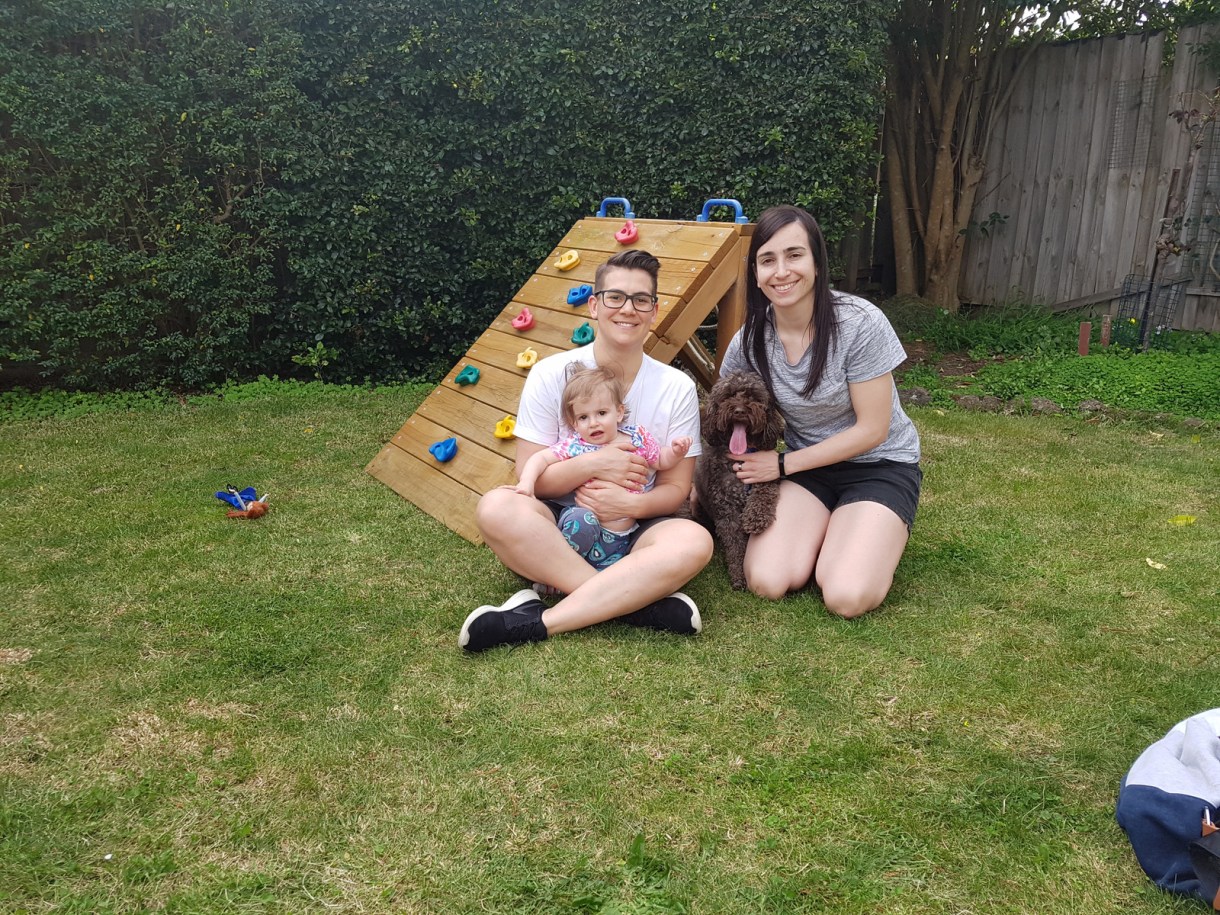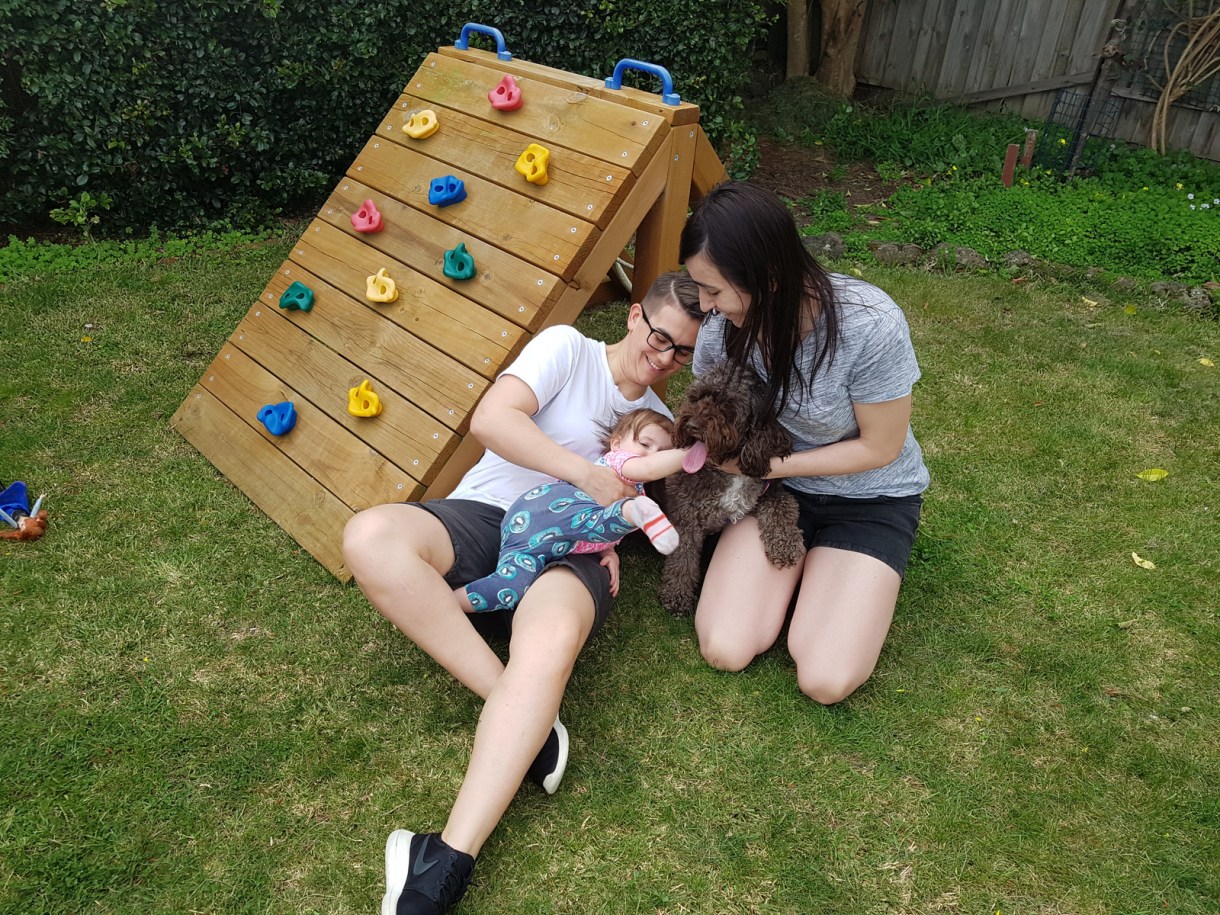 "I (Ella) nagged until Dijana agreed to get a dog. I told her she could name him but ended up giving her a shortlist of approved because she wanted to call him Choc Chip. It worked out because he loves her the most and I can't even be mad because they have such a beautiful bond. He is the gentlest soul in the world and Octavia is obsessed with him, she feeds him all her food and gives him all her toys. He is definitely the heart of our family."
---
Alice and Mio / 24, 2 months / Italy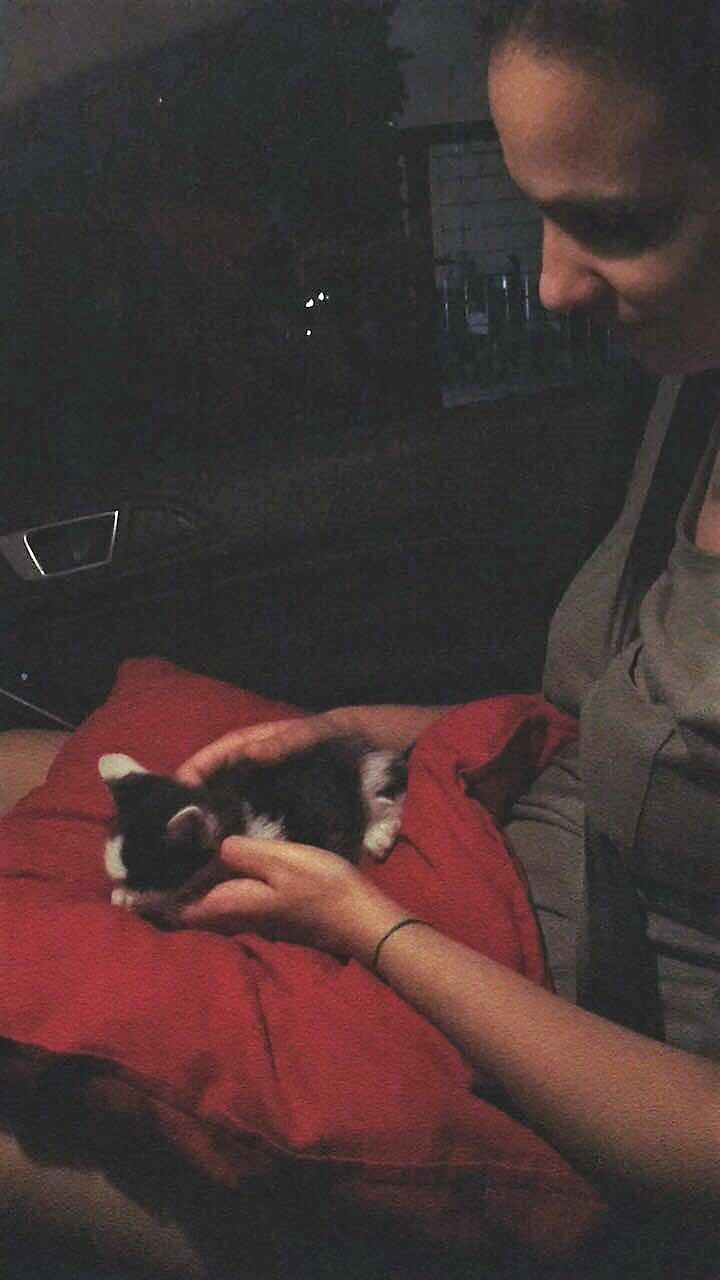 "Ok, so I have so many pictures of my dog that I do not actually know how I can possibly choose, so I decided to send this picture instead (don't worry, I talked about it with my puppy first. He understands my choice). Here I am melting while holding the tiny tiniest kitten I have ever seen in my whole life. My best friend found him in front of her house one morning last week and he looked so scared and so lost! We took him in and tried to figure out if he was a stray kitten or if someone had lost him, and thankfully we managed to find his owners through Facebook (this really sweet middle-aged couple who, when we brought him back, spent 15 minutes showing us pictures of Mio and his brothers when he was even smaller. So cute.). I want a cat now. This is me coming out as both a dog person and a cat person."
---
Kimber, Kenzi, Digby / Winnipeg, Manitoba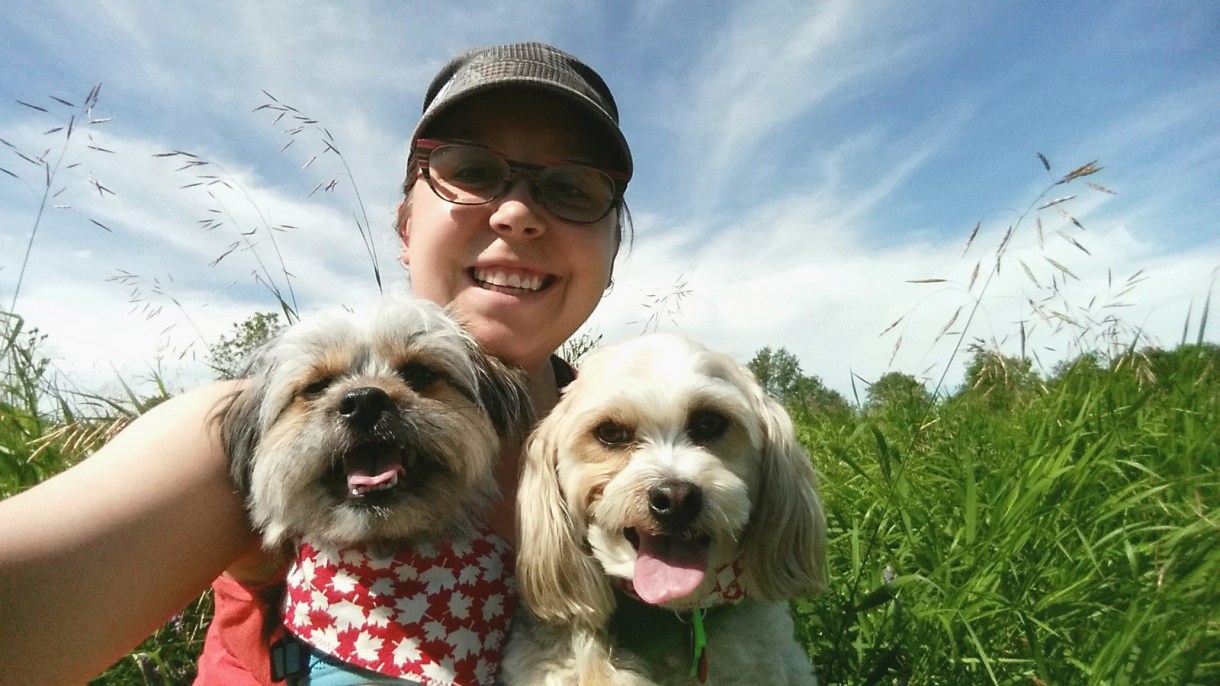 "Both Digby and Kenzi are rescues I adopted as puppies. I met Digby's pregnant mama in her foster home and Kenzi I saw on the rescue's website with her mama and sister. Both of my pups are named after TV characters. Kenzi's namesake is from Lost Girl; Digby is named after the dog on Pushing Daisies. EVERYTHING is the best thing about my pups. They are fantastic companions and are just as happy running through the park as they are chilling on the couch with me watching Netflix."
---
Collins and Madison / East Nashville, TN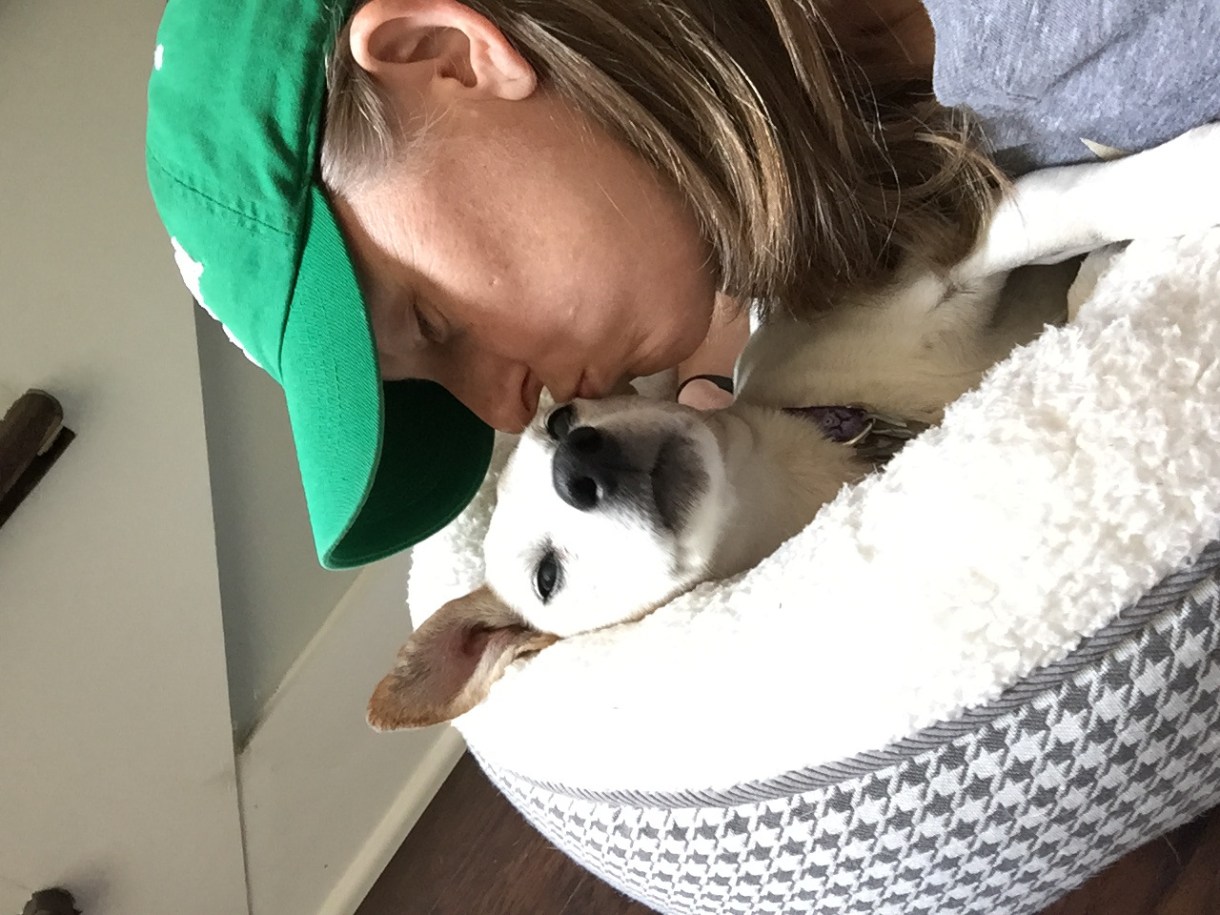 "Her dad, Jasper Jack, was how my dad decided to cope with being an empty nester back in the late 90s and I loved him so much that after college I decided I wanted one of my own. Both her and her father are named after small towns in northern Florida. I remember driving past the exit for Madison (to the west) and Jasper (to the east) Florida on I75 on the way to my grandmother's house every summer during my childhood. My grandmother's been gone for nearly 10 years now and Jasper's been gone for almost 5. But my dad and I still love on this little girl as much as possible.
The best thing about Madison is that even though my job keeps me away from her every weekday, she's always so happy to see me when I get home. That enthusiasm hasn't waned even though she's greeted my return nearly 5,000 times. Oh, and the cuddles. This dog knows how to cuddle. The weirdest thing about her is that similar to many Jack Russell Terriers, she can jump straight up in the air pretty high, almost like a kangaroo. Rather than making her feel weird about that, we gave her a nickname, The Roo! No Instagram (she likes her privacy) but sometimes she'll let me post her picture on my Twitter. You can find us at: twitter.com/collins3779"
---
Caitlin and Callie / 33, 2 / Northern CA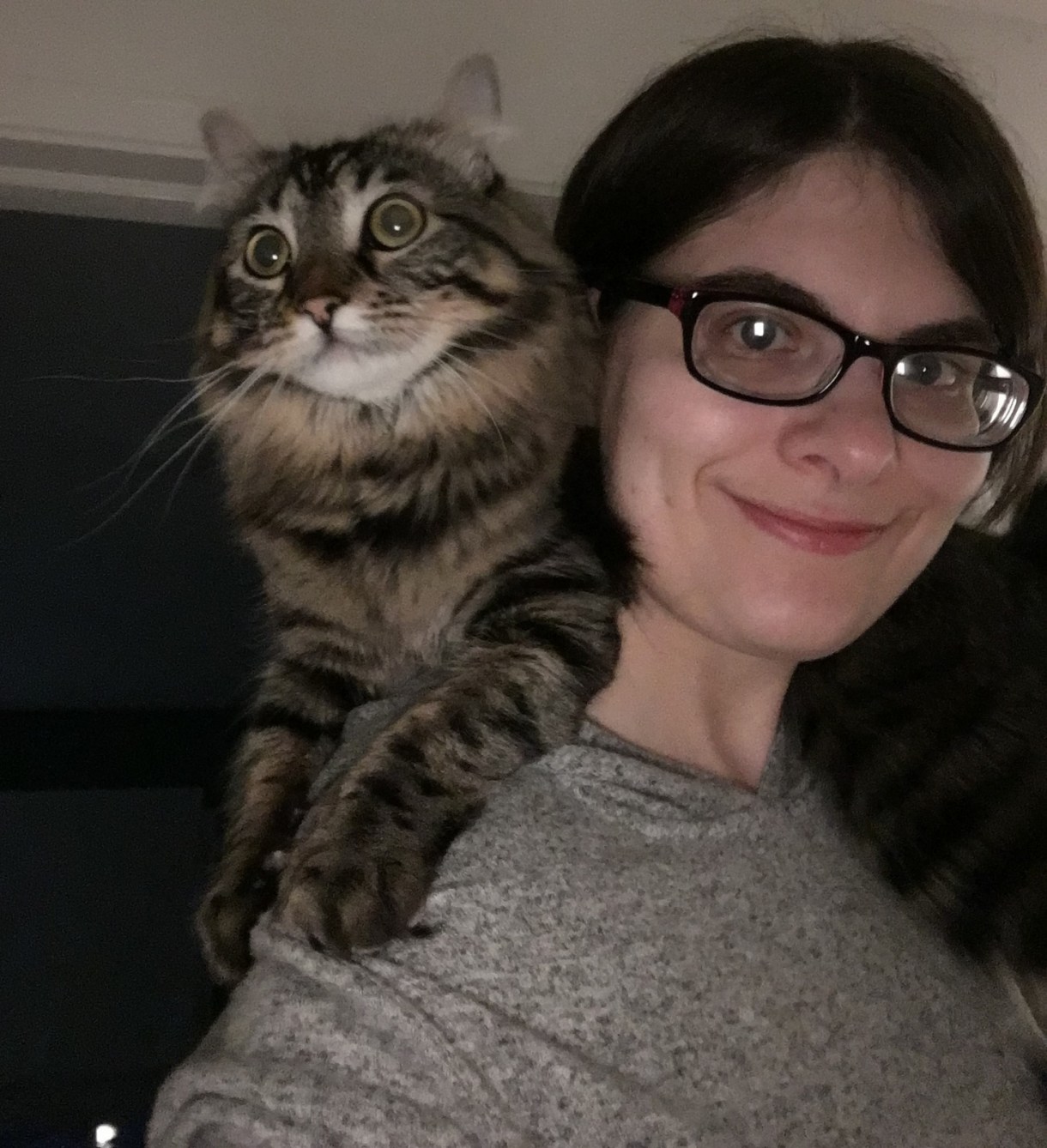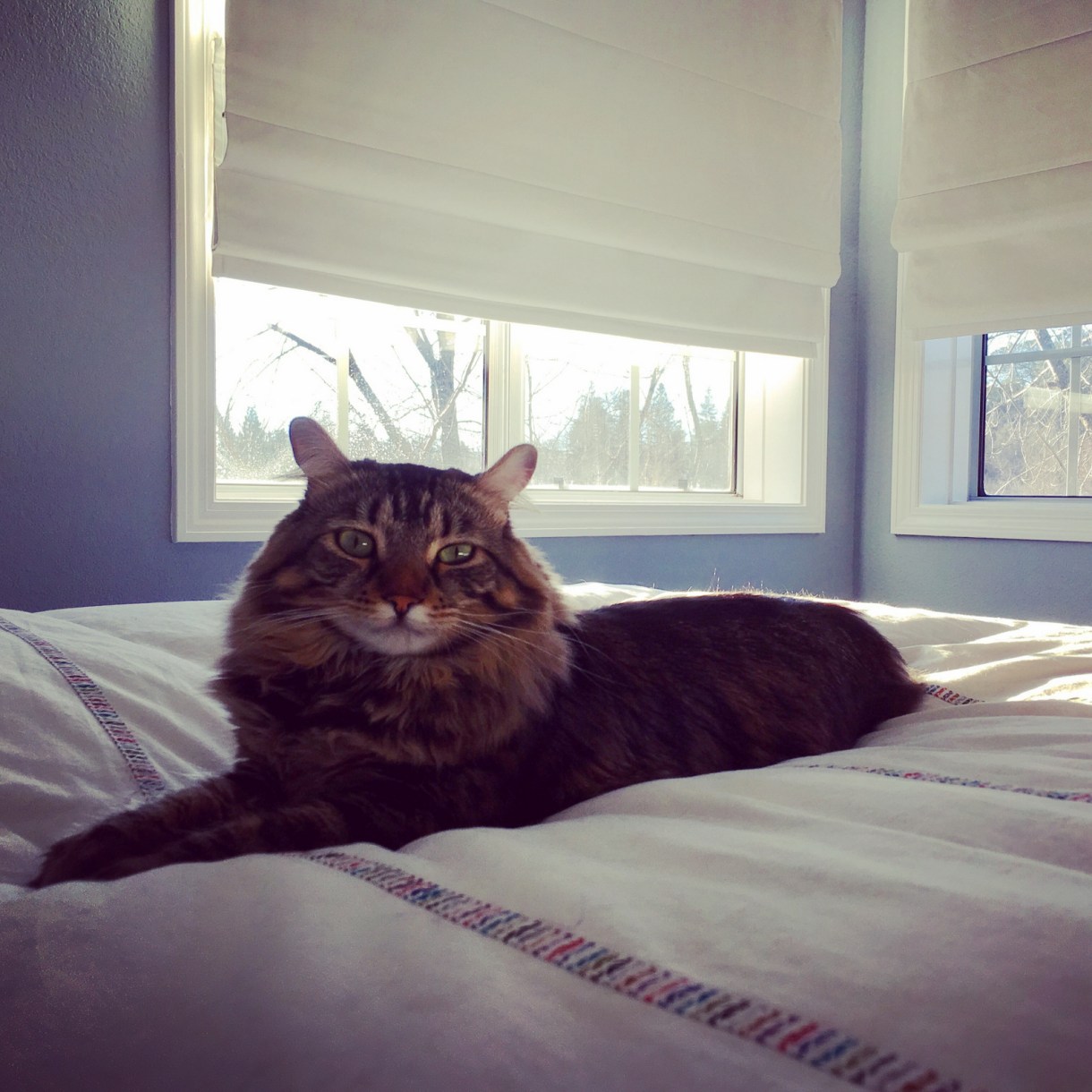 "This is my little monster, Callie, which is short for Callisto. She's a Highlander, bred from the Desert Lynx and Jungle Curl (apparently these are not actual wild cats, which is a shame because I've been telling people they are!). She has the signature bobbed tail, but her ears are not completely curled, just slightly curved and very stiff. I found her at PetSmart's kitten adoption day and it seemed like fate. My boss had offered me tickets to a Giants game and I would have accepted if my friend had been able to go. Instead of going to that baseball game I found myself at PetSmart looking at all of the cute kittens. When I finally got to Callie's cage I knew I had to take her home with me. I wasn't even planning on getting a kitten at that time, but when you find the one, you know it. She was already 6 months old and I do not know how she came to be at a shelter. I'm just glad I found her! That was towards the end of August 2015. Two years later and she never ceases to amaze me. She is the funniest, weirdest (sometimes worst) cat I have ever had. There is never a dull moment with Callie around! She likes to steal things (rubber bands, toys, clothing); she doesn't meow (except for a funny little rasp); she likes shoulder rides (but they have to be her idea); she plays fetch and even knows the names of her toys. I don't know what I would do without this crazy cat in my life! Callie does, in fact, have an Instagram. I didn't intend to turn it into a Callie account, but she's so photogenic! @identitytokens"
---
Amanda, Heather, Freckles / 32, 34, 1 / Madison, WI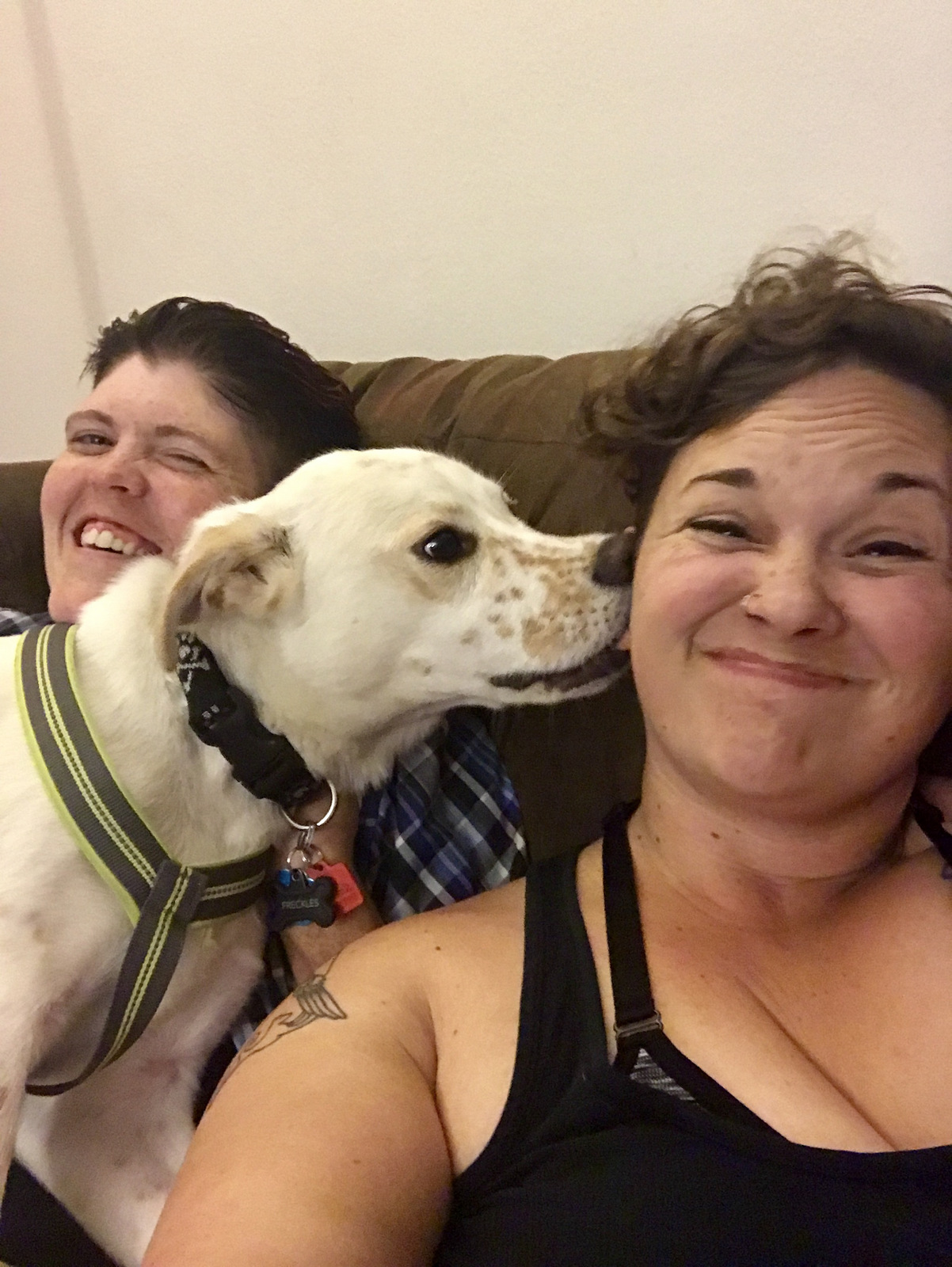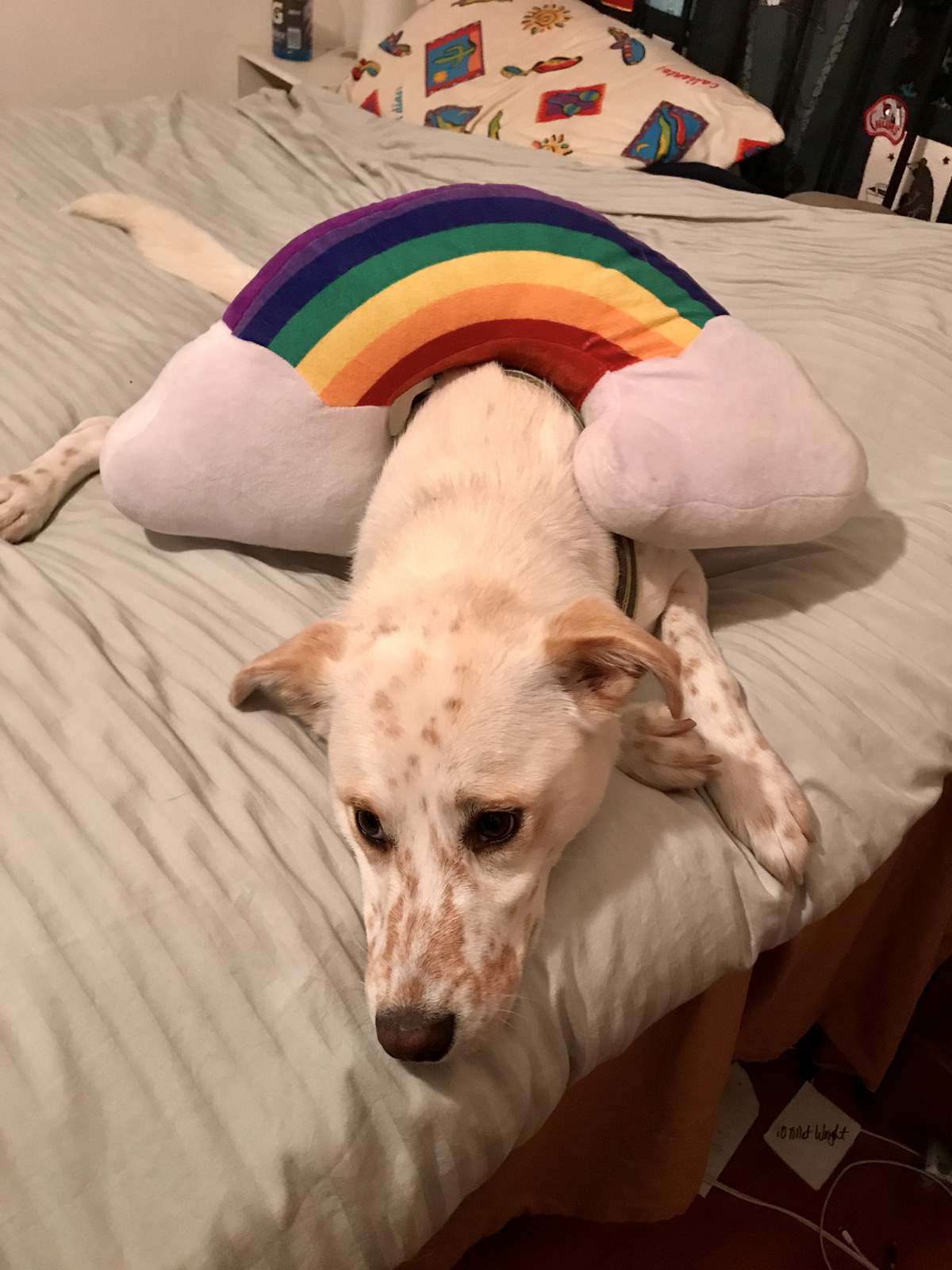 ---
Amanda and Junebug / 24,4 / Fort Wayne, IN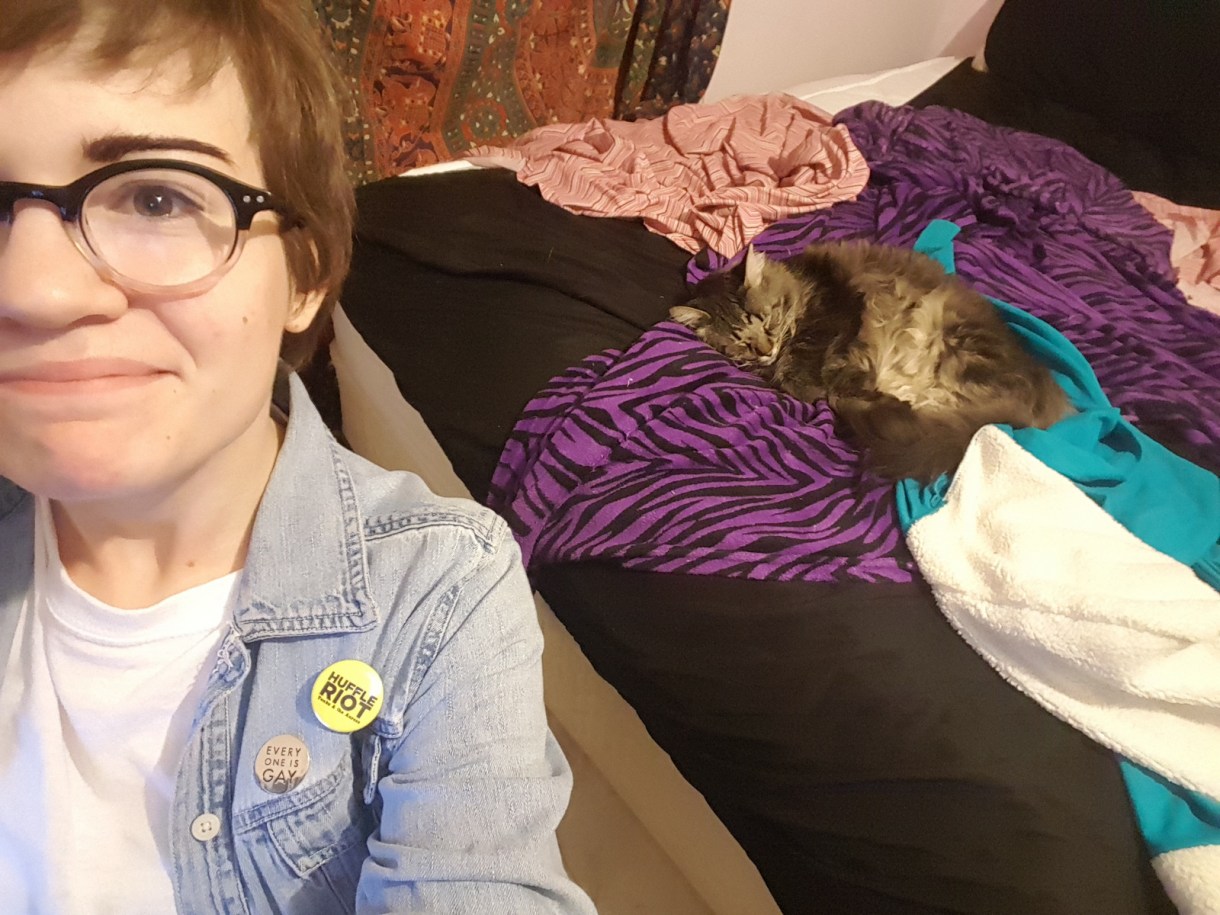 "Junebug was an scraggly outdoor cat when he wandered up to my old apartment's porch in June of 2015 (hence his name). The first time I saw him he was drenched from a summer rainstorm. Me, my partner, and our downstairs neighbor started feeding him. I was pretty adamant about not adopting another cat because Alo, my partner Tre and my first cat, had recently died. My heart was sore and we were already taking care of two other cats at the time. But one day we noticed June was sick so one emergency vet trip later (to treat an upper respiratory infection) and a week of trying to lure him out from under the porch stairs to take his medicine, and he came inside to live with us. While we lived at that apartment, he'd walk me halfway to work (until we reached the bridge) and often slept on the porch with my partner (occasionally warding off the family of raccoons that lived in our backyard). He's the sweetest boy. He loves to play fetch and sleep on top of people. I can't imagine my life without him."
---
Kate and Ollie  / 26, 8  / Columbus, OH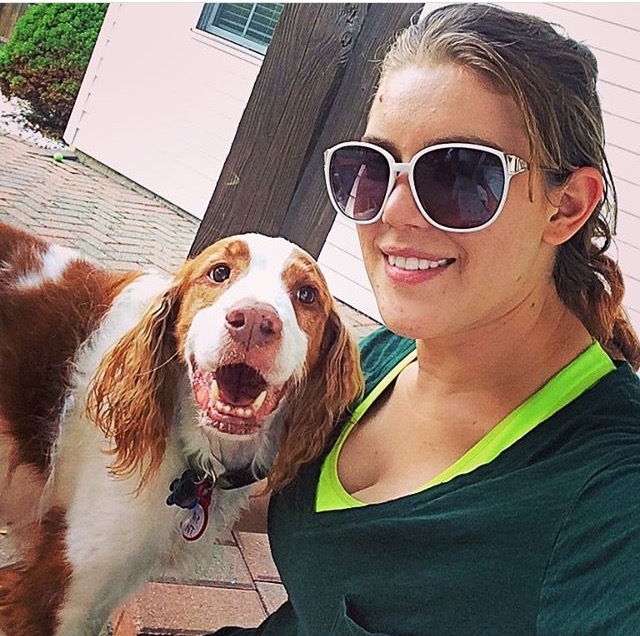 "Ollie (Oliver) is a Brittany who had a terrible case of sibling rivalry when my sister began having human children. His name is Ollie, though we call him "ollieollieoctopuuuss "or "ollieball" or just "ball" or an expletive, depending on the day. This guy is the best thing about coming home. His need for attention (almost) rivals mine, and I love watching him transform from a zoomer into an elegant hunting dog when he's in his element: the woods. He once licked his own penis so much he gave himself smegma and needed to go to the doggie ER."
---
Linda and Cleo / 30, 1 / Stellenbosch, South Africa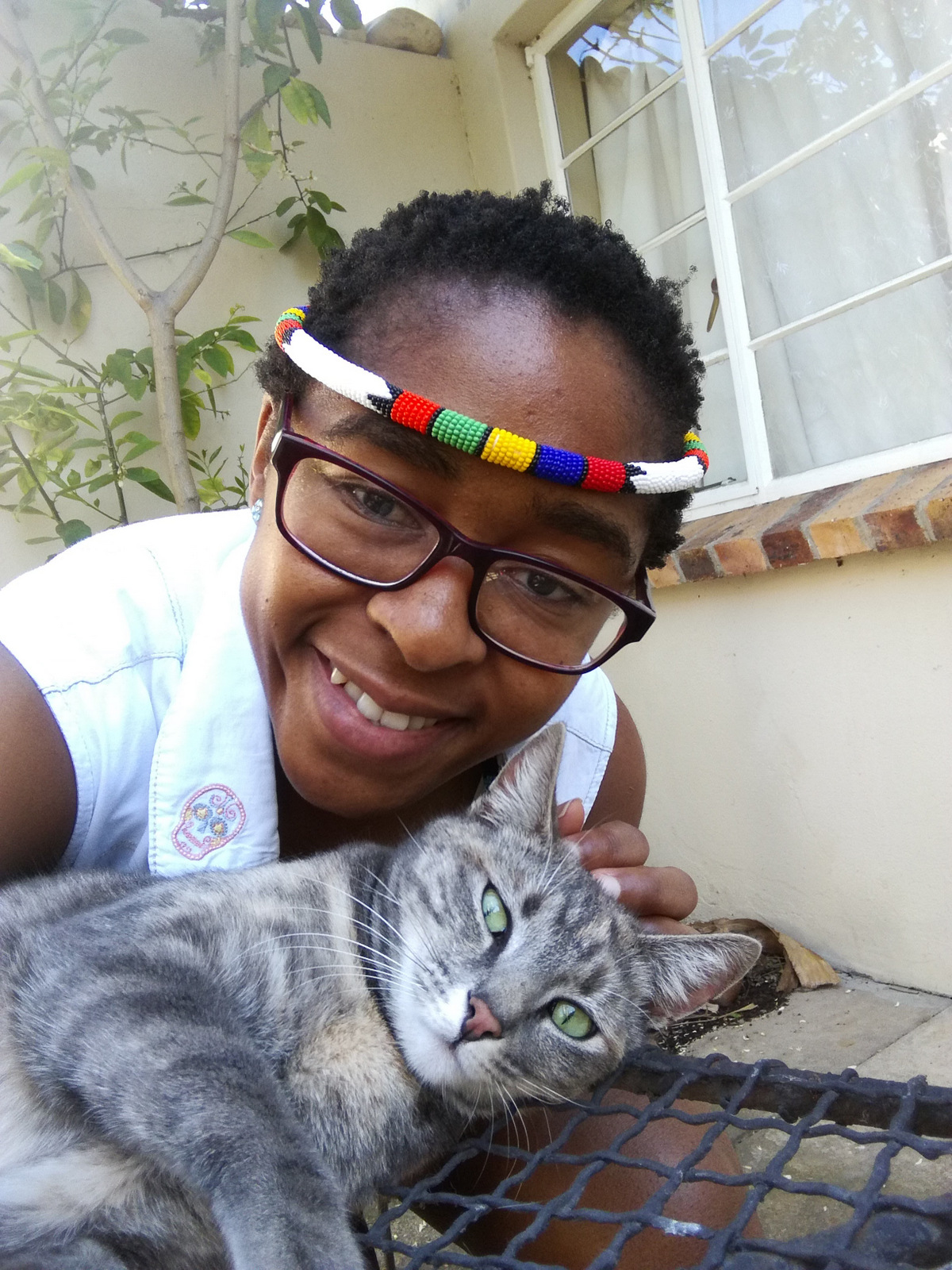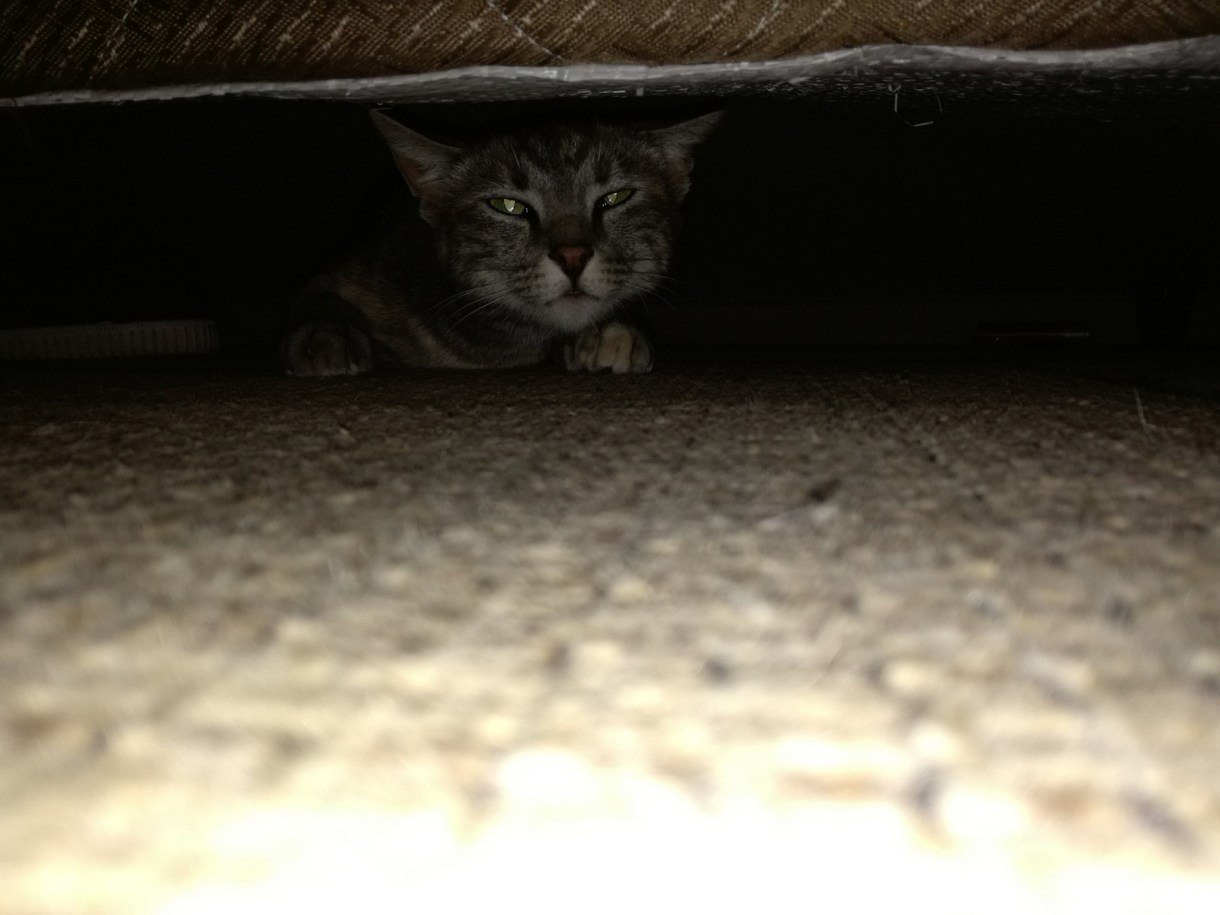 "I was not a cat person at all until this lovely lady came into my life. Cats scared me! In fact, the first time we met she ran towards me and I screamed so loud my neighbors came to investigate. After I calmed down she came back and immediately wormed her way into my heart. She was a scared little stray that somehow saw me and decided I was home. I have never been so grateful for anything else! Needless to say I have said "I love you" and "you're so cute" everyday for the past year she's been in my life.
Black South Africans rarely have pets (especially cats), and my mom begged me for months to not keep her because of fleas and snakes. When she finally met Cleo she also fell in love. She now has a stray cat that she's kinda adopted (she's named her, feeds her but Jojo's not allowed in the house). That's the power of Cleo. She loves being silly/making me laugh, stalking things, climbing trees, digging holes in the garden and cuddling with her mommy."
Erin and Ollivander / 24, 4  / Pittsburgh, PA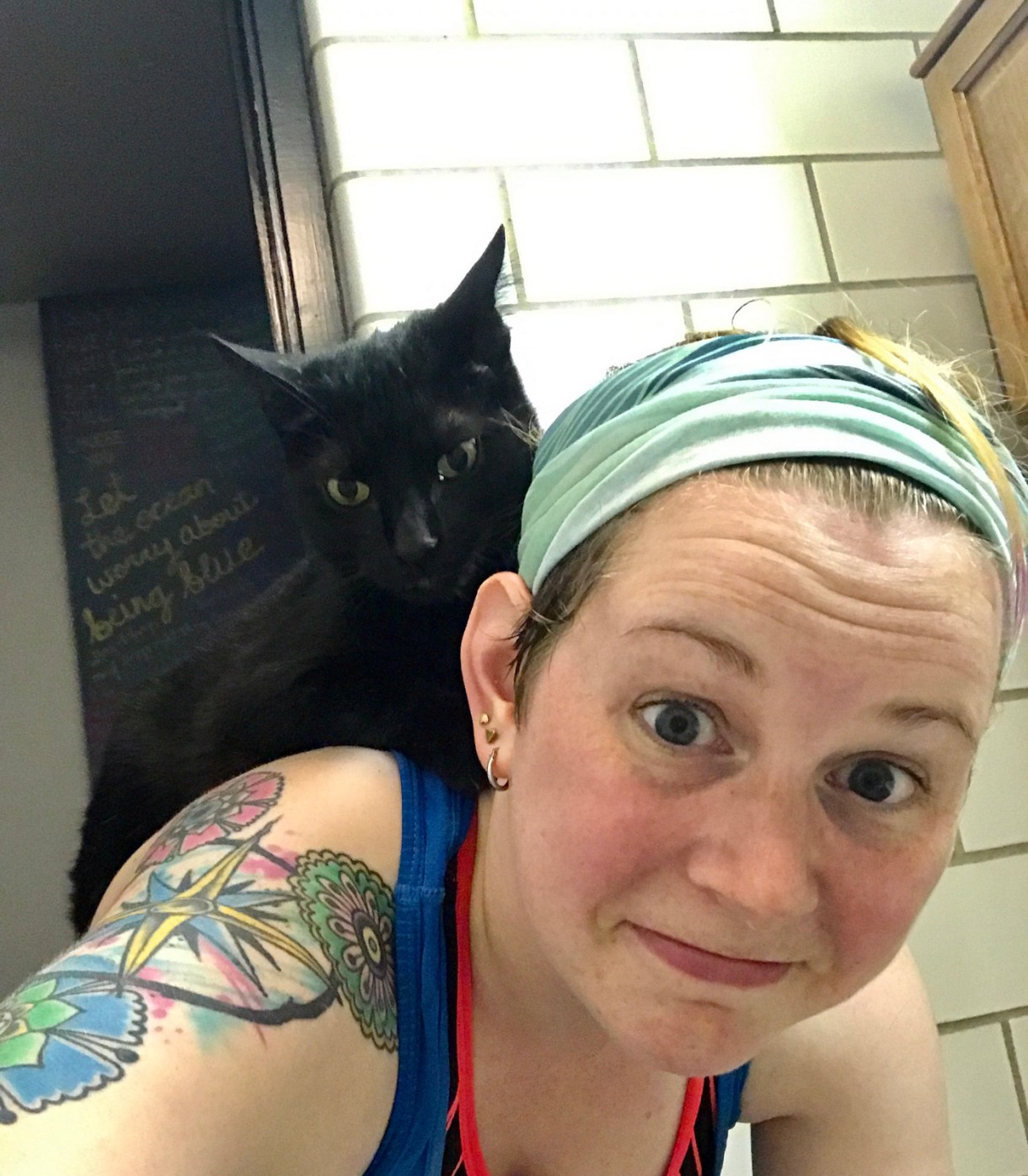 "I decided to take Ollie in after my girlfriend at the time could no longer keep him, and it was one of the best decisions I've ever made. Unlike most cats, Ollie hates to be left alone. He meets me at the door to yell at me every time I come home from work. If I'm walking around my apartment, he's either laying on my shoulders or flinging himself on the ground in front of me so I'll pet him."
---
Shea, Beau, Arrow / 27, 7 months / Chicago, IL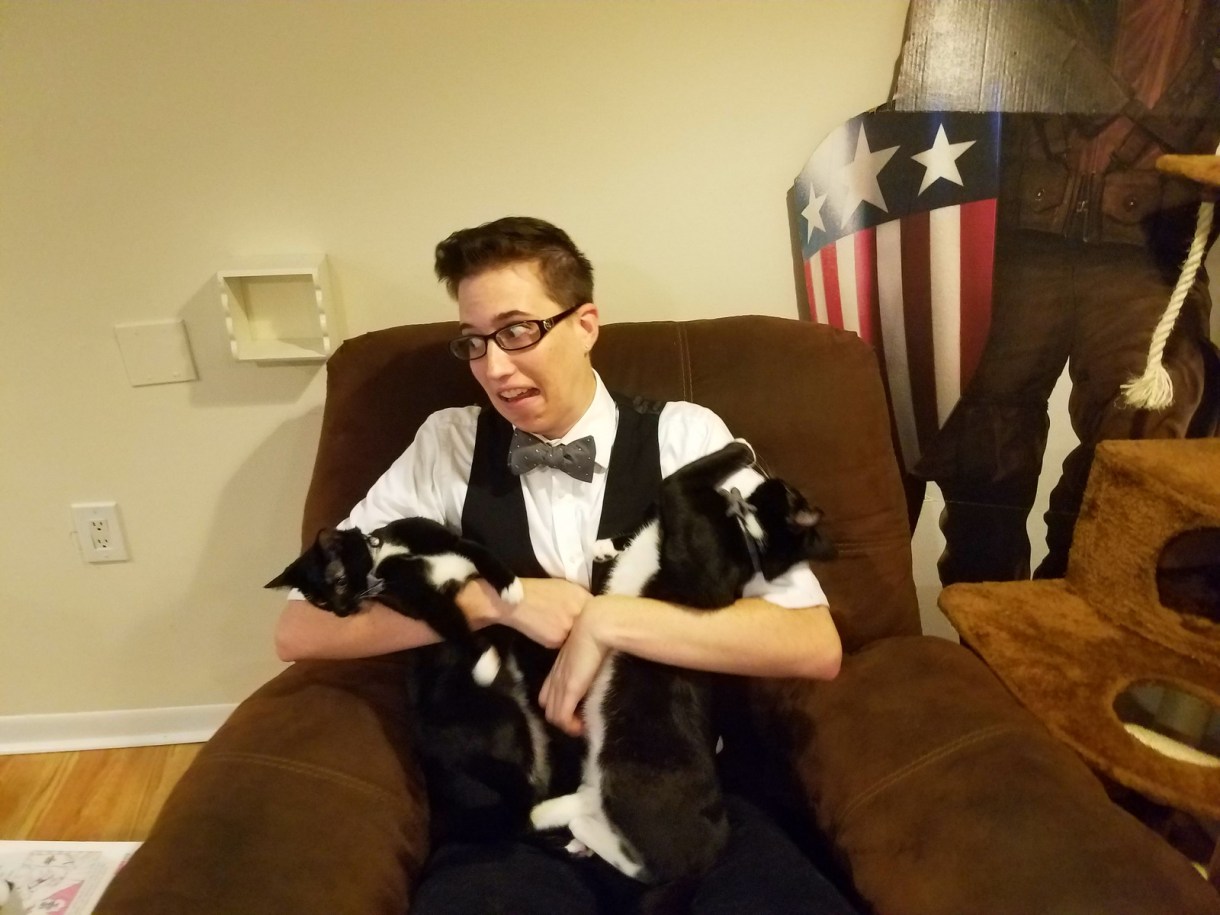 "These two goobers were found on one of the train cars at my work, they were barely a day old and we think their mom missed the ride to the repair shop. Luckily my boss let me watch them/feed them at my desk until they were old enough to stay at home. Beau is an aggressive cuddler. Arrow is recklessly brave. Seven months ago they fit in one hand and now look them!"
---
Nunu and Rous Rose / 28, 140 (dog years) / Limburg, Belgium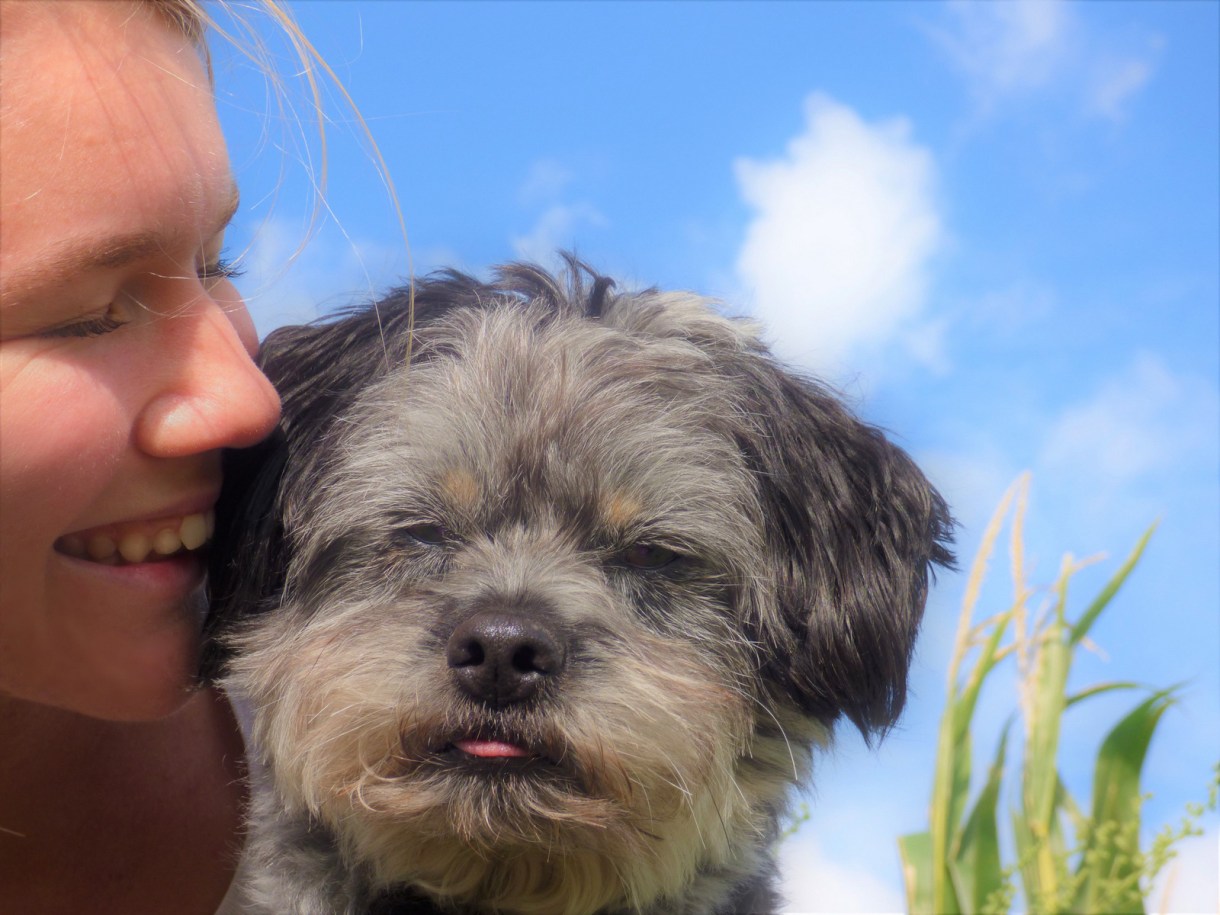 "Hello Autostraddle! My name is Nunu and this is my pet gaymo Rous. She loves it when I allow her to scratch the luscious curls on my belly, but not so much when I jump onto the table and eat half the curry it took her 3 hours to make, proceeding to spend the next two days adorning the floor and furniture with explosive diarrhea. The absolute best thing about her is that she allows me onto her bed, even though she knows she's not supposed to do that 'cause she needs to appear dominant (ha, as if). The worst is that she gets mad when I bark my loudest bark at our neighbour's lesbian harem of chickens. It's just that I really want in, but I don't know how to ask."
---
Eva, Katie, Hazelnut, Henry / 34, 29, 2, 3 / Sandbanks Provincial Park, Prince Edward County, Ontario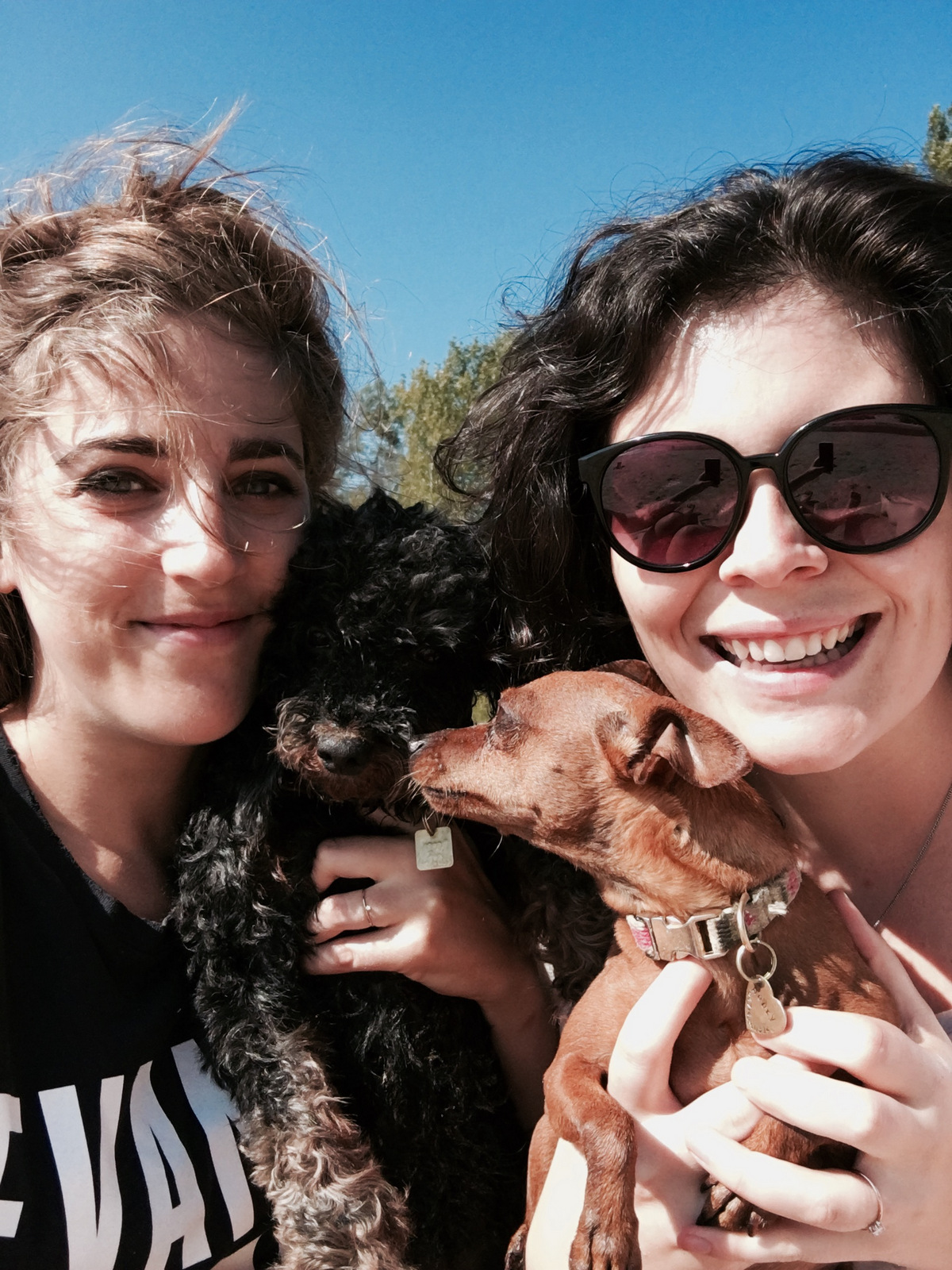 "We took this pic the morning after getting gay engaged! The dogs were there and obviously ate one of the ring boxes. Henry was only a twinkle in his mom's eye when I became obsessed with Minpins and contacted a lady about getting me one. Hazel we found on Petfinder! She was being fostered in Thailand, and as soon as we saw her, we were like, 'Uh oh, we love her.' I sent Katie the adoption link and she called me weeping from her work bathroom about how she should be ours. A week later, we picked up our curly nugget from the airport! Henry's full name is Henry Tim Riggins. Henry because he's a little gentleman, and if you don't get Tim Riggins, I can't possibly explain it. Hazel's full name is Hazelnut Clover, and it's because we like old lady names. Plus nature-y things. The alliteration with her brother's name is also good!
As our dog walker put it, 'Henry has the best personality to size ratio of any dog I've ever met.' Plus, his bulgy little round eyeballs. Hazel is infinitely generous with her love. Some of our favourite activities include: snacking, snuggling, running around in the woods, scritches, under-our-shirt-snuggles, socializing with other pups, hard chilling with their dog cousins, pooping when we don't have poop bags. Henry is truly a top-notch weirdo. If he doesn't like the way a garbage can is placed in a room, he will bark until someone adjusts it to his liking. Hazel's obsessed with bushes. She makes a beeline towards them, and then just like…snuffles around inside for a good long time. Instagram: @henrythesmall. I'm really busting my butt trying to make him an #influencer, but he couldn't care less about his brand. He'd rather try to lick up our noses."
---
Sarah and Cheddar / 29, 6 months / San Francisco, CA
"I had wanted a cat for a while and finally decided to take the plunge. I met Cheddar at the local SPCA and he definitely picked me. He looked right at me, walked over to the window, and I knew he was the one. I had picked out several names before I went to adopt a cat, and Cheddar was on the list if I ended up with an orange kitty. It seemed to fit him perfectly. The best thing about him is how much personality he has. He's silly, full of energy, and does the funniest things — currently, he's obsessed with playing with ice cubes. He brings a lot of joy to my life and helps remind me that even when bad things happen (like him throwing up or breaking something), I can handle it."
---
Jess, Syd and Teva / Southern OR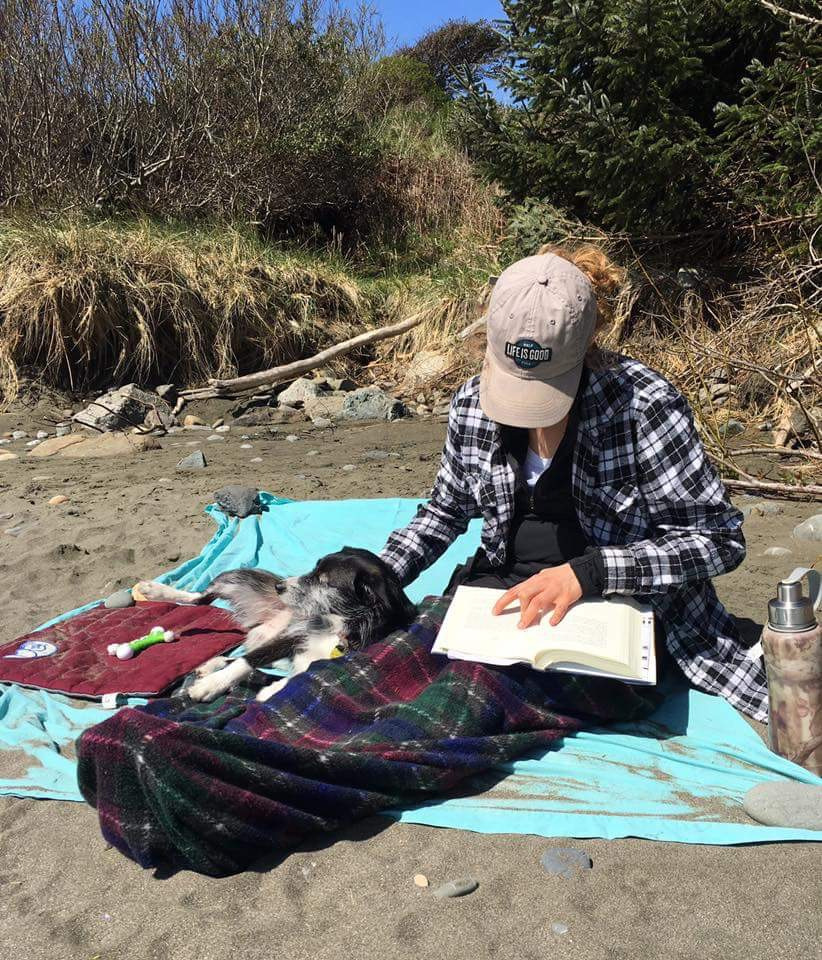 "Syd fell into my lap nine years ago after previous owner died. She's calm, confident, and doesn't put up with others bullshit. She's basically everything I want to be in dog form. Teva is a shelter mutt and is the best adventure buddy a queer gal in the PNW could ask for."
---
Diana and Katniss / 24, 2 / Isle of Palms, SC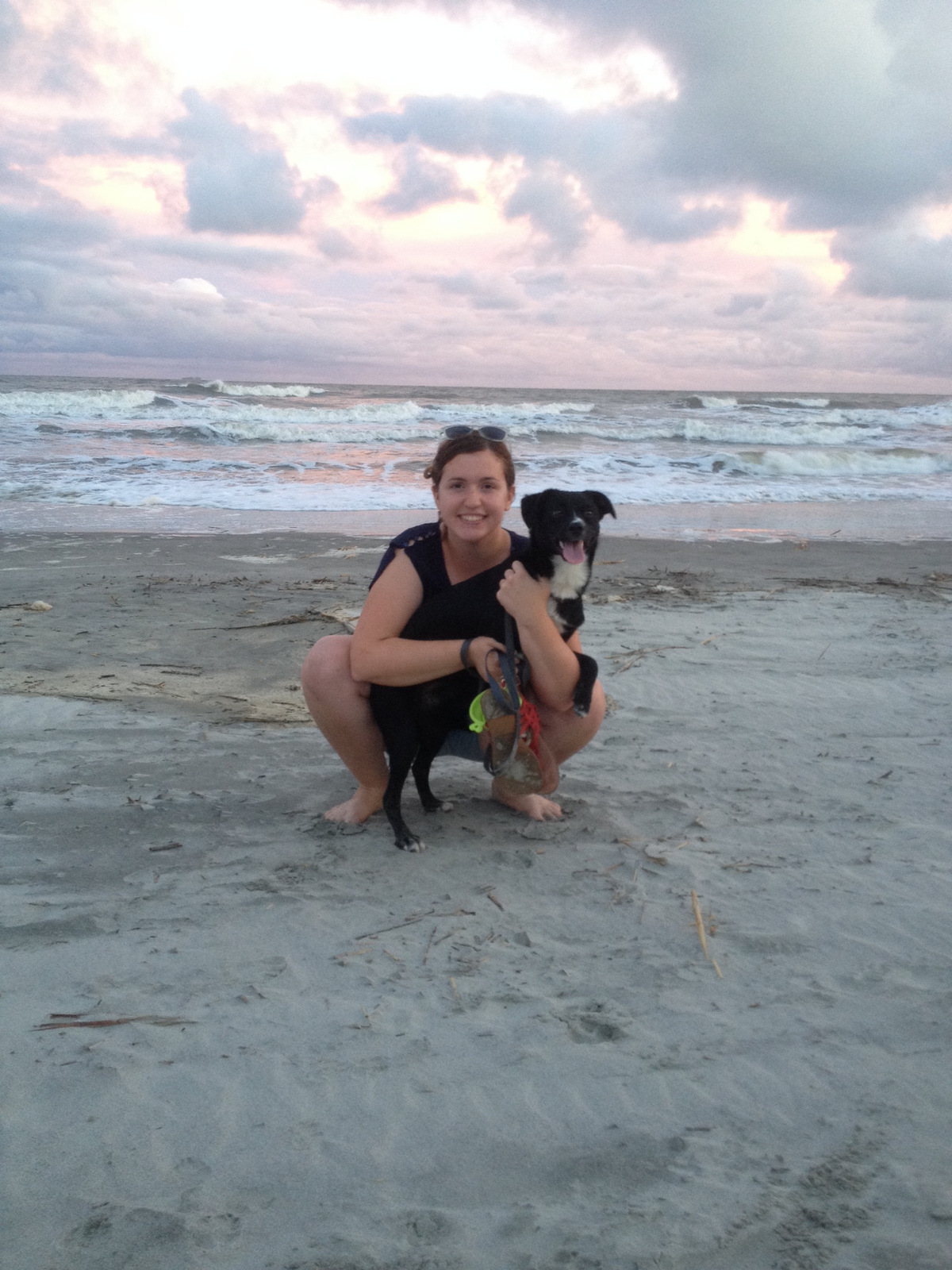 "I adopted Katniss when I was living in North Carolina from the Humane Society. She and her siblings were all named after Hunger Games characters by the shelter staff. We now live in Atlanta and go to the dog park every day so she can run off her seemingly endless energy. She's also my personal paper shredder. My girlfriend's mom calls her "a good lookin' dog.""
---
Mary and Goose / 30, 2 / Charleston, SC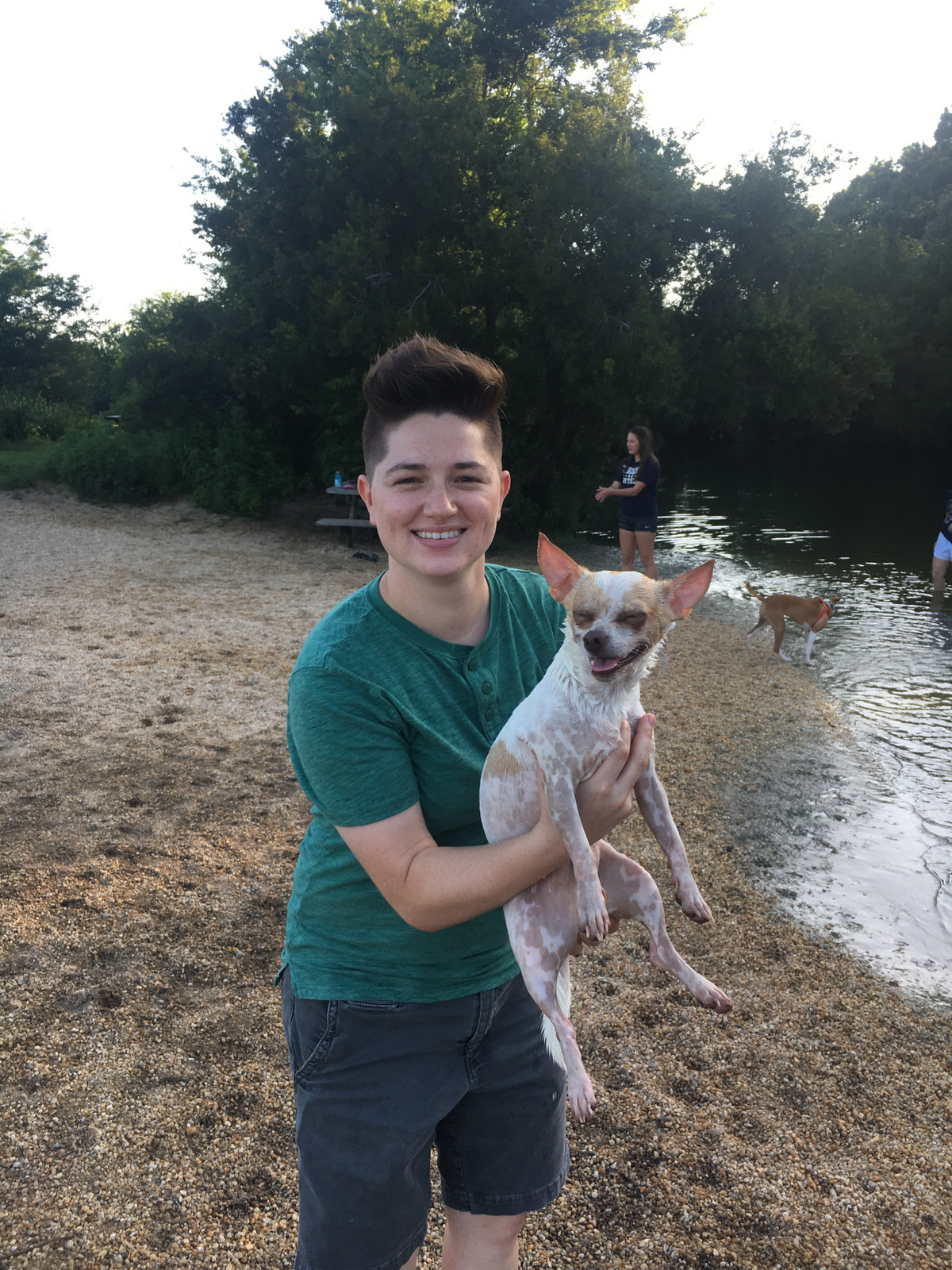 "Goose has a wonderfully shrill voice, and gives great high fives."
---
Anna, Anna, Kristen Stewart (Stewie), Teddy / White River State Park, Indianapolis, IN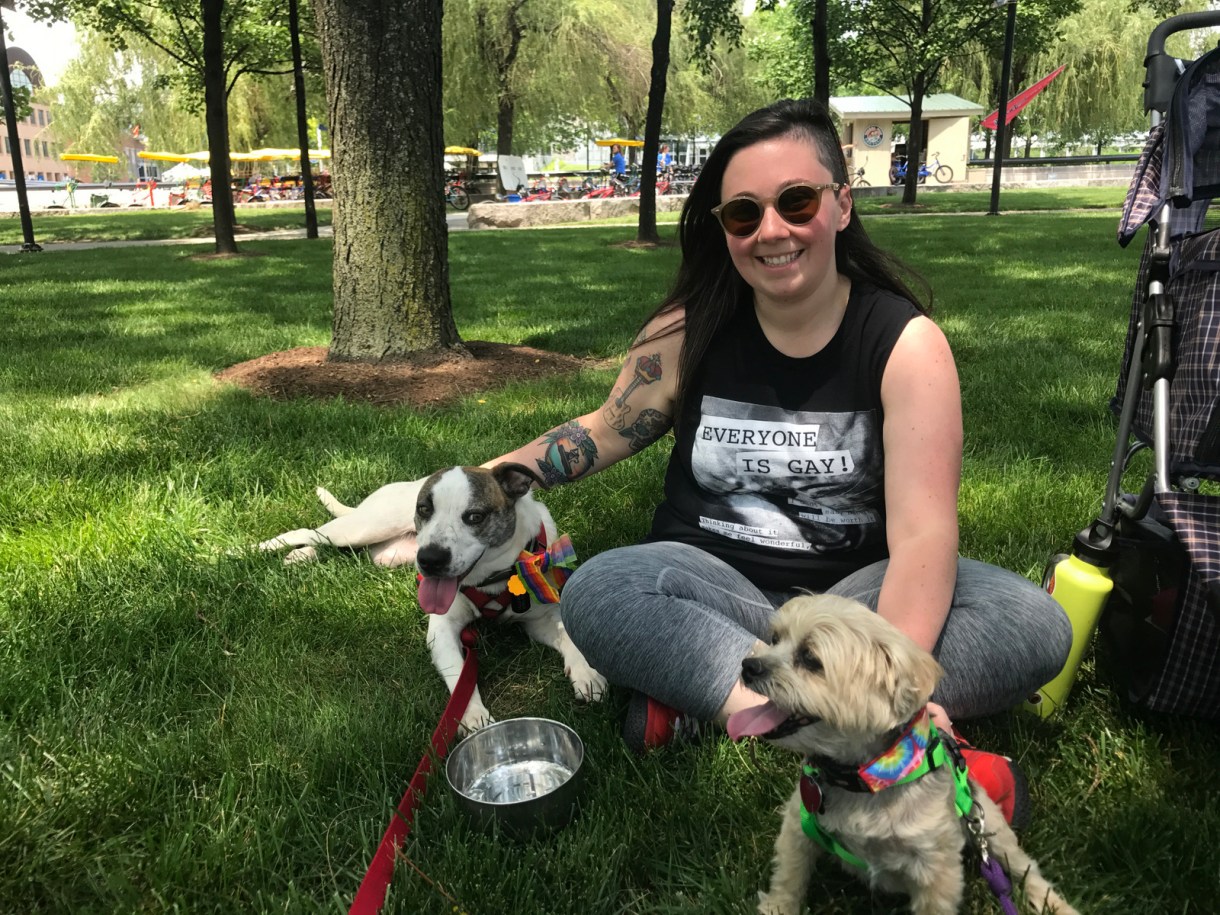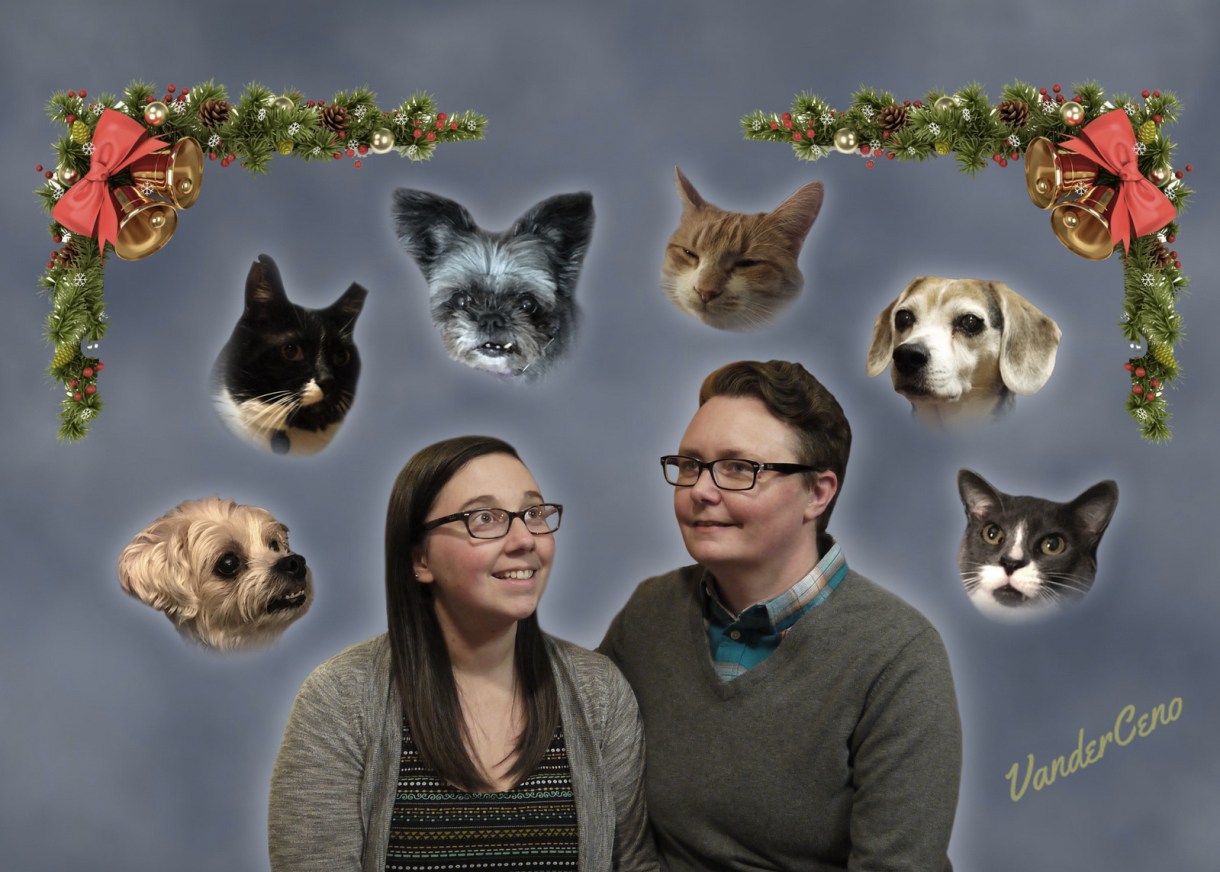 "Stewie and Teddy are both incredibly high maintenance pups who make up for it by being adorable and cuddly. Stewie, whose full name is Kristen Stewart (because let's face it, they look exactly alike), was surrendered by her previous owner to Indianapolis Animal Care Services. One of the amazing volunteers there paired us with her after listening to what we wanted in a dog — medium size, not super energetic, does well with other dogs and cats. We could tell right away that Stewie had an old soul and we wanted her to be part of our little petting zoo family. Her brand of high maintenance is having really bad separation anxiety, but with the help of a behavioral vet and anti-anxiety meds, we are slowly but surely making progress. Our favorite thing to do together is a tie between hugging each other, and walking in parks (mainly to see the squirrels). She also looks really adorable while eating green beans.
We got Teddy a year ago. We were at PetSmart getting cat food, and there just happened to be an adoption event for a local shelter. We saw this little teddy bear looking pup in a cage, and went over to him and fell in love. We originally decided against adopting him, but after driving about a mile away from the store, we decided to turn around to go back and adopt him. Not long after getting him home, we noticed he was panting really hard and his breathing seemed labored. Being my household's Jewish mother figure, I was naturally worried. It was a Sunday, so we took him to an emergency vet and after some tests, we found out he was in diabetic ketoacidosis and the outlook wasn't great. So after only having him a few hours, we had to leave him in a vet hospital overnight and were expecting about $3000 in vet bills. Luckily he responded to insulin quickly and we brought him home the next day! And now we have the pleasure of giving him insulin shots at 7 AM and 7 PM every day!
The weirdest thing about Teddy is that when he cries, it sounds like a human doing a dolphin impression. Our favorite activities to do together are belly rubs, and giving hand shakes for carrot treats. They don't have their own Instagrams, but you can find them using their official hashtags: #DogKristenStewart and #TeddyTooters.
Also attached: Our 2016 Christmas card. From left to right: Teddy, Bo, Mogwai, Mister, Rosie (may she rest in peace), and Detective Olivia Benson (may she also rest in peace; 2017 has been a shit year!)."
---
Emma and Leo / 36,3 / Madison, WI
"Leo is a Shih Tzu/Bichon mix who came to stay at my house for a weekend 5 months ago and never left. It's a long story. He lived in a Chicago high rise before and had never learned any commands or been house-trained. He's a work in progress! Even so, I've never loved an animal the way I love Leo. My housemate gives me shit when she catches me singing to him, which happens all the time. The best thing about him is morning snuggles and his derpy face. Leo loves going out with me- he's a favorite at my local beer garden. When I give him a biscuit, he will carry it around in his mouth for a while and then "bury" it under my pillow. He doesn't have an Instagram yet, but he's definitely the mascot of my crew. (Also, he loves being on the water and is a pro at stand up paddle boarding)."
Annette and Monster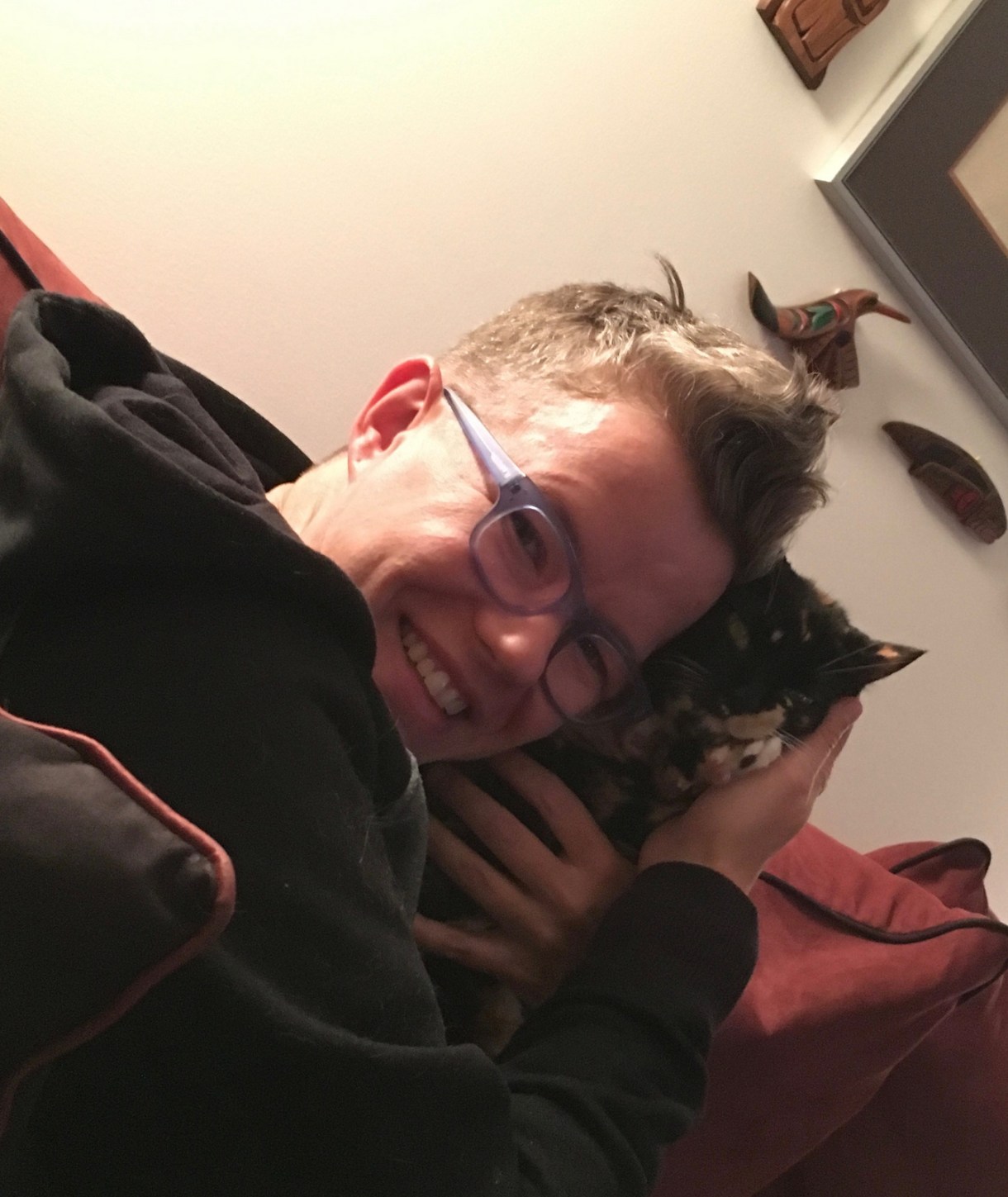 "I adopted Monster from the local cat rescue when she was 1 year old. She is the cat version of Toothless in How to Train your Dragon: suspicious, territorial, but friendly and loyal once she gets to know people. And she is the queen of the stink eye!"
---
Aurora and Cinnamon (Cin) / 22, 2 / Missoula, MT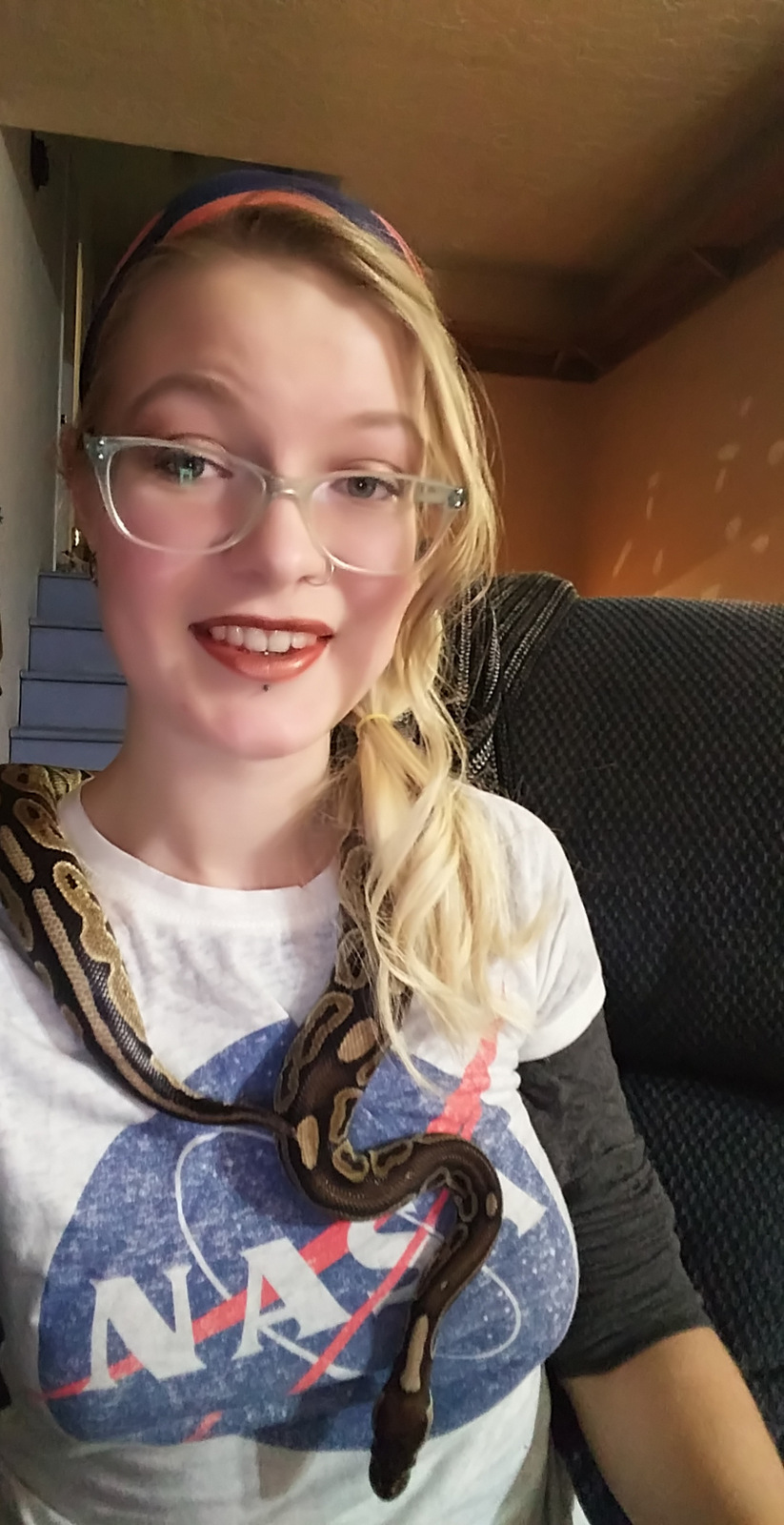 "My pet is a ball python named Cin, short for Cinnamon. Owning a snake is a lot like owning a very high-maintenance house plant, except that you also have to feed them rats and you don't get to look at them as often. Even though we don't interact much, I feel really lucky to have  gotten to watch her go from being about 9 inches long to closer to 3 feet. I love that I never feel guilty when I realize that I haven't taken her out of her cage in a month, because she doesn't miss it. It makes her a very good pet for a person who sometimes struggles with responsibilities."
---
Bee and Beau / 28, 4 / Sacramento, CA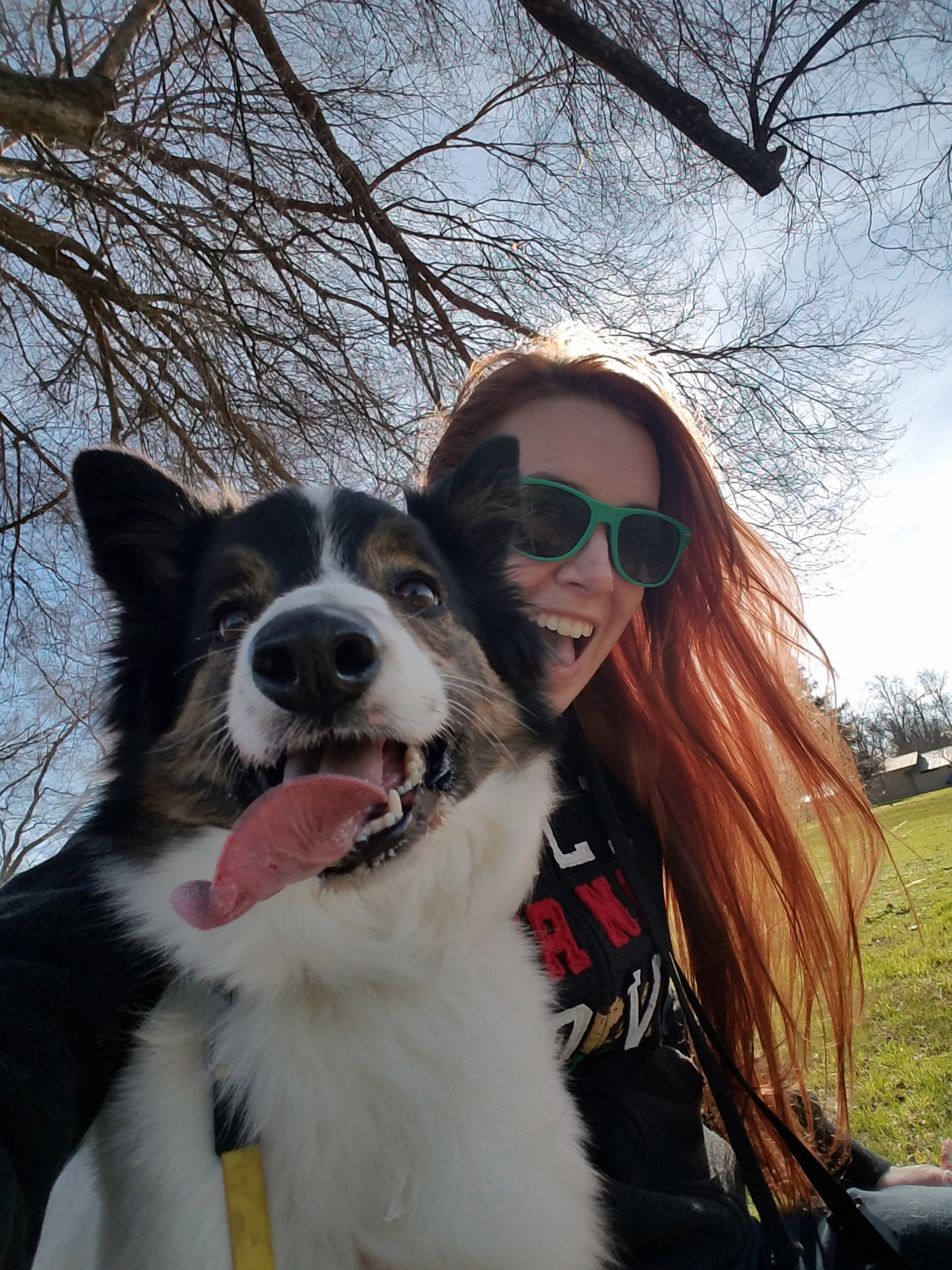 "Beau (short for Beauregard) is a border collie mix who was orphaned when his mom, a stray, was hit by a car shortly after his birth.  He and his littermates all got their names from a vintage advertising campaign (Google Elsie and Elmer… it's a wild time).  He was adopted out to a family who didn't train or socialize him, and then returned him to the rescue after three years as a terrified mess. I adopted him last October and he is the greatest thing in my entire life. He's ridiculously goofy, incredibly asymmetrical, and super loving. (He was never injured, but born with a lower jaw that is both crooked and over an inch shorter than his upper jaw, giving him his signature dork look.) He is also very neurotic, anxious, and doesn't understand how to interact with his peers (but come on, that sentence describes all of us, right???  No?  Just me?  Okay.).  His favorite activity is flying, but unfortunately the combination of gravity and his lack of wings reduces this to just a lot of jumping/leaping. His Instagram is @beausregards.  While he probably hasn't met you, he still loves you very much and believes you are perfect even if you are a little bit (or a lot a bit) of a weird mess too."
---
Sarah and Nancy / 24, 7 / Newcastle upon Tyne, UK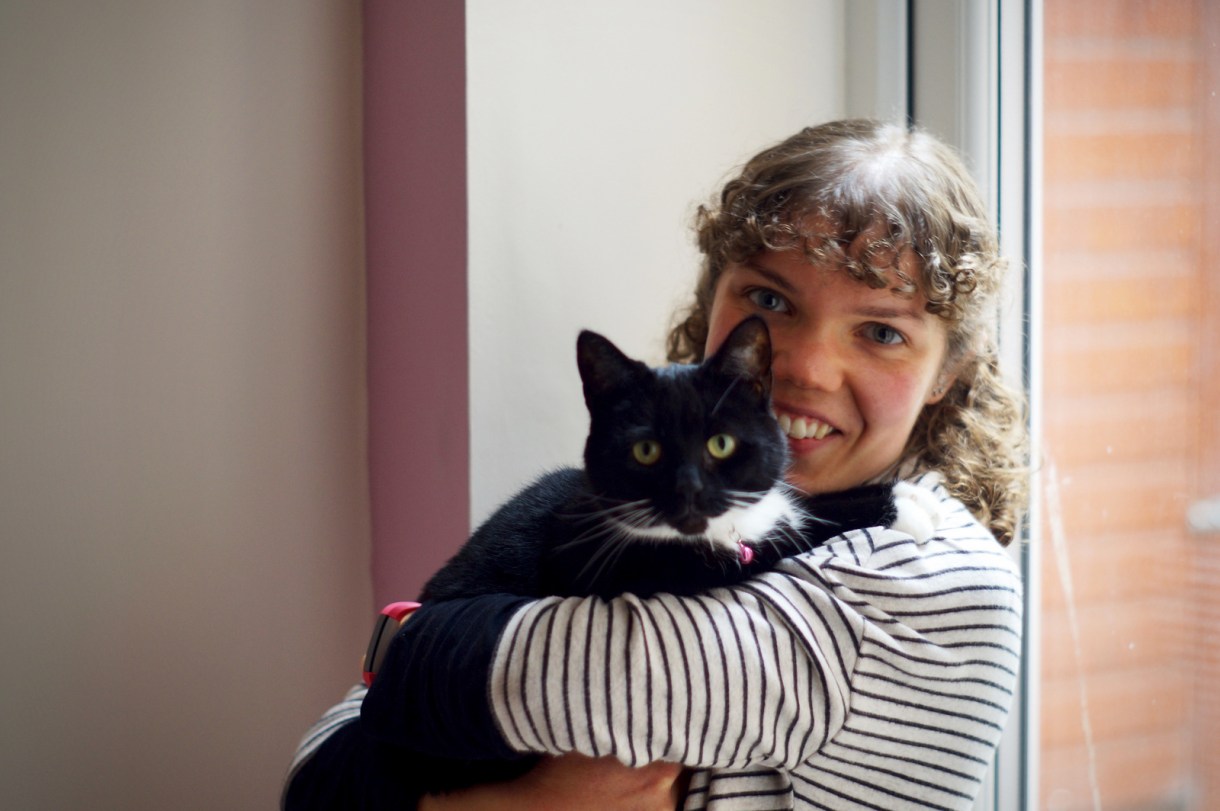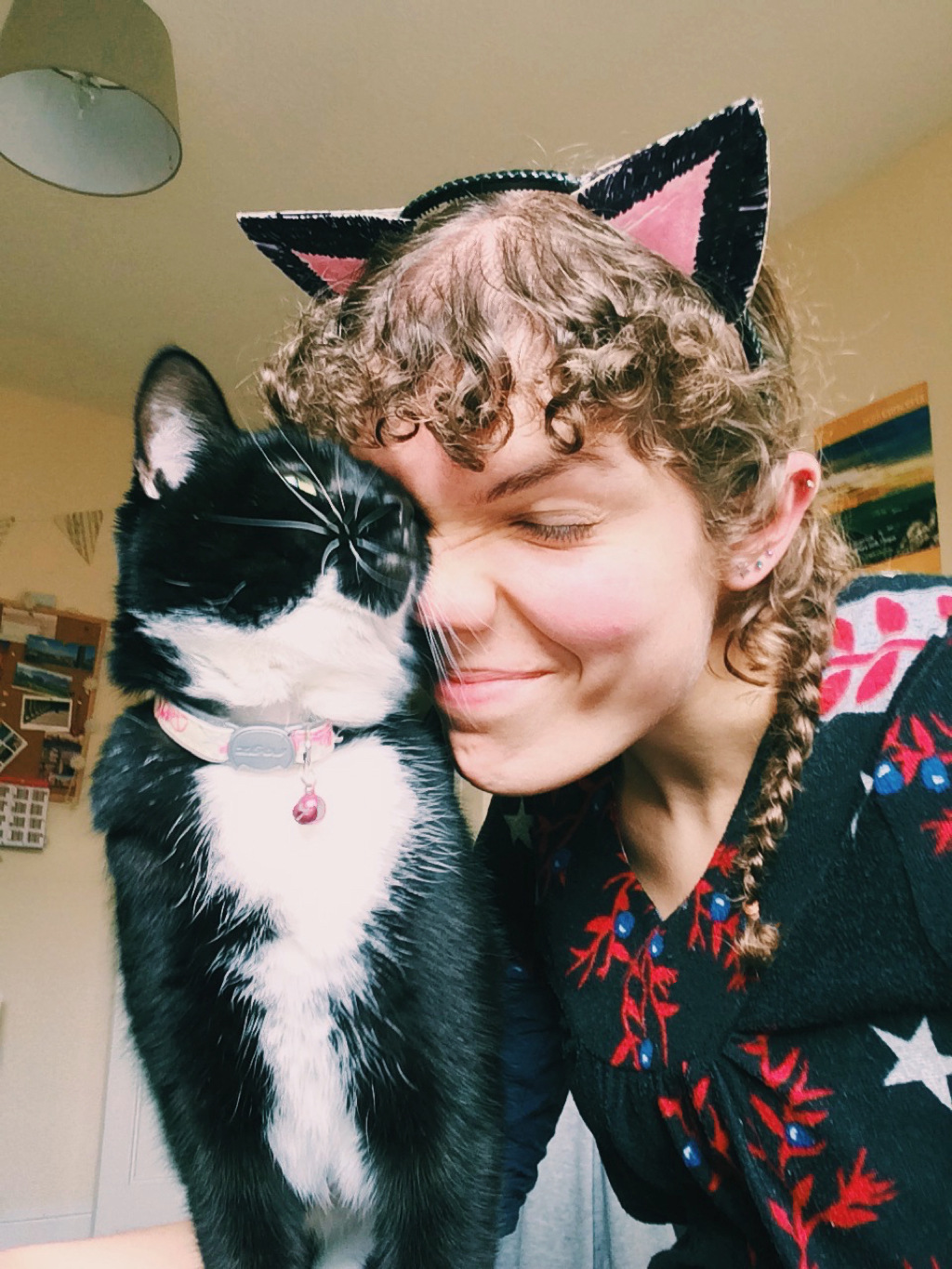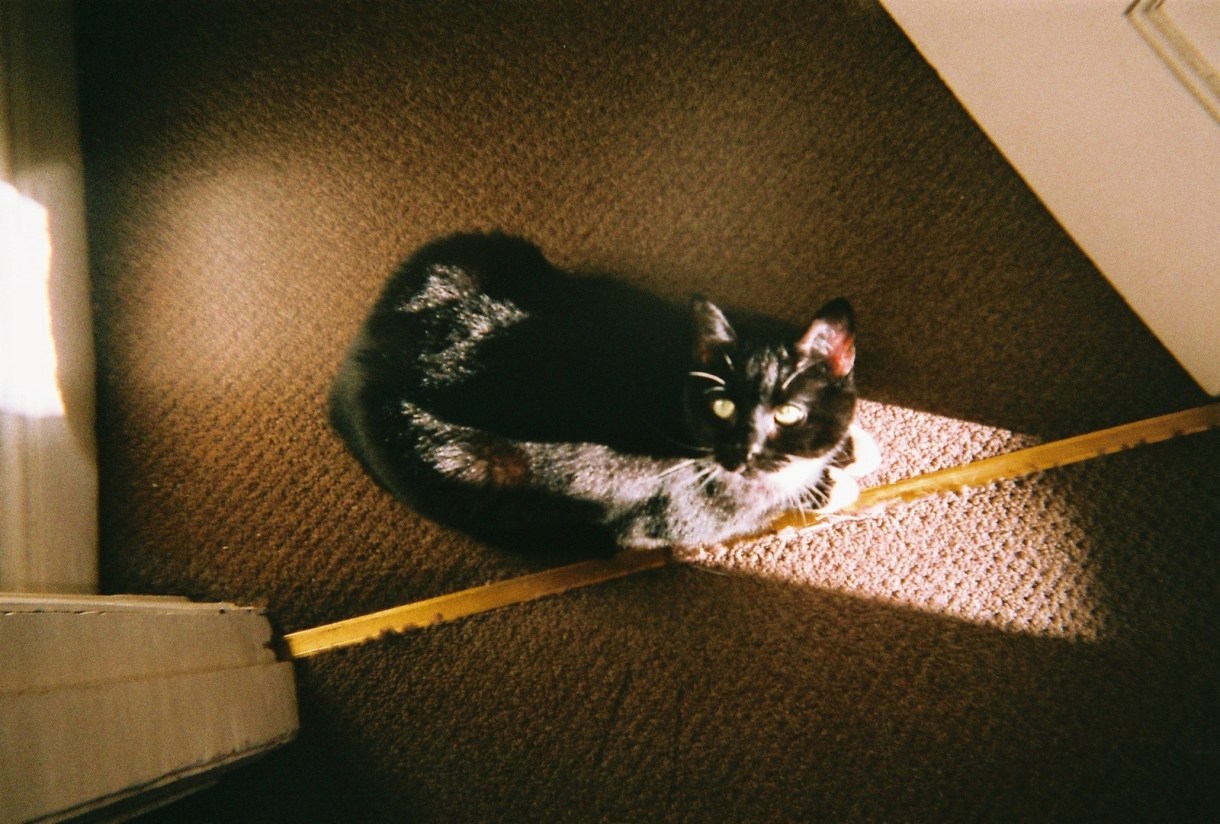 "I got this small furry menace about three and a half years ago, just before embarking on my masters degree. She came from my local Cats Protection shelter and it was love at first sight – when I went into her pen she immediately climbed on my lap and began purring, head butting all over me and dribbling profusely. She is named after a character from the Benjamin Britten opera 'Albert Herring'. Getting Nancy is unmistakably the best decision I have ever made. Her hobbies include: interfering when I am trying to do yoga, sitting directly on any work I am trying to do, and chasing my knitting needles (which she is weirdly more fond of than the wool itself). Right now I am mad at her because I found out that she has been climbing up onto the top of my boiler when I am asleep, eating my spider plant (which is up there specifically to try to avoid ingestion by cat) and then throwing it up on the floor underneath the table, but it won't last. She loves cuddles and if she thinks it has been too long since I cuddled her she will come and yell at me until I sit down and she can jump on me. She is my whole world and I would be so much less of a functional human without her."
---
Jess, Amanda, Mr. Spock / 25, 29, 2 / Burlington, Ontario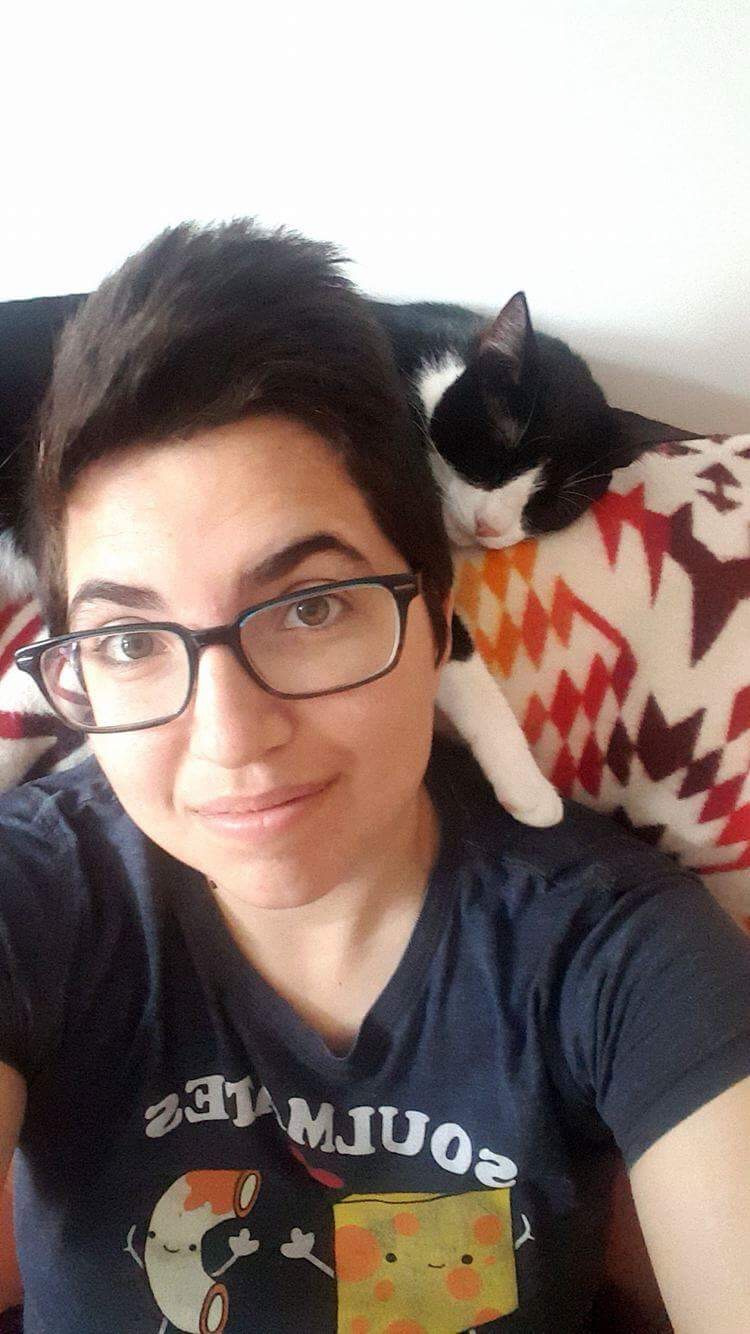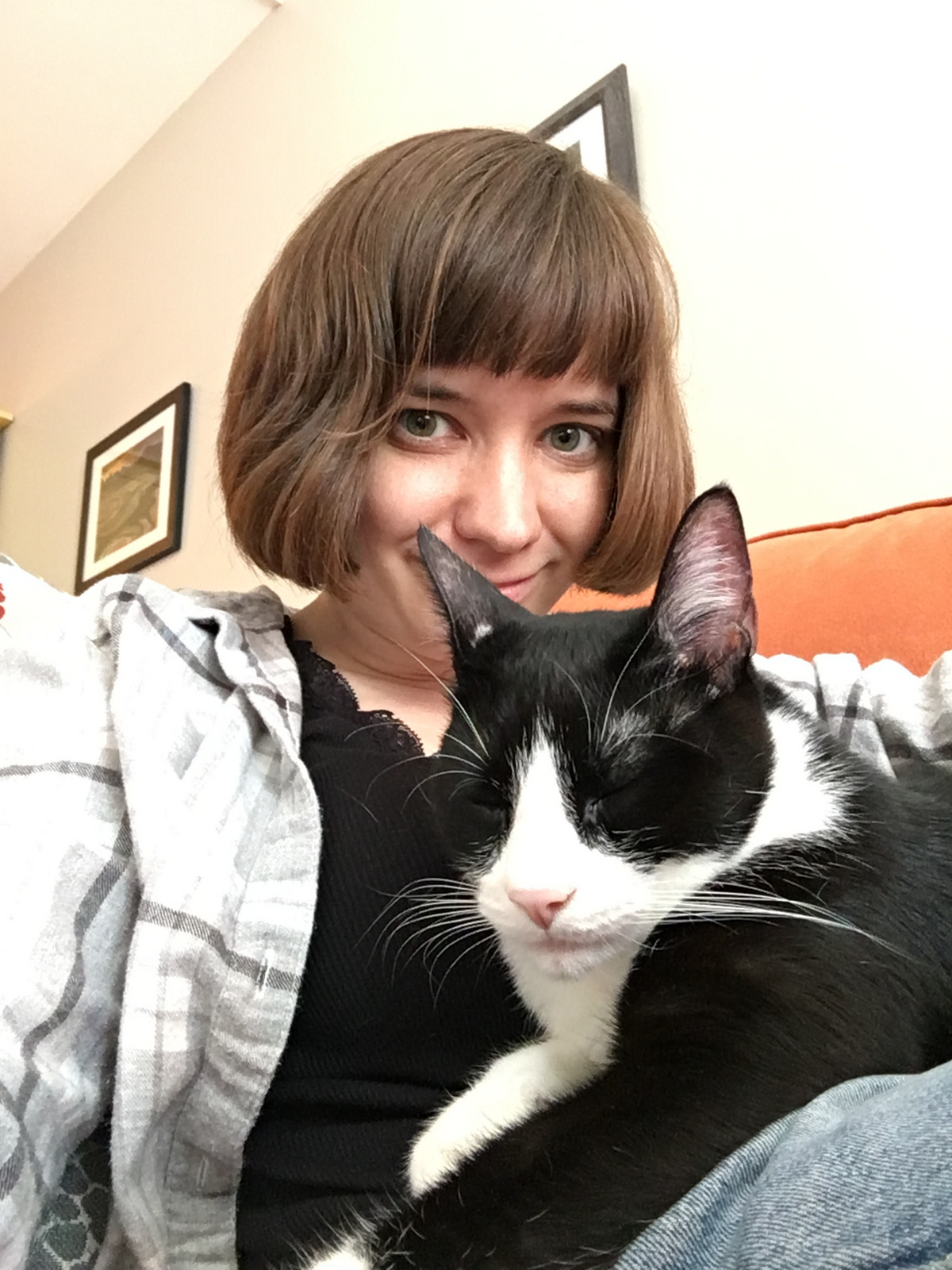 "Mr. Spock is from a shelter. Amanda got him as a kitten, and about eight months later, Jess started spending a lot of time in his home. Now he runs to the door when Jess is walking down the hallway, and he "talks to" Amanda semi-constantly so that she doesn't forget that he is her first priority. He talks to Jess too, but prefers to chase her and be chased by her. Our little family likes to cuddle together while we read, play video games, or talk into the evening. Mr. Spock still has his loud kitten purr."
---
Maddy, Emily, Olive, Marty / 22, 25, 7, 8 months) / Cleveland, OH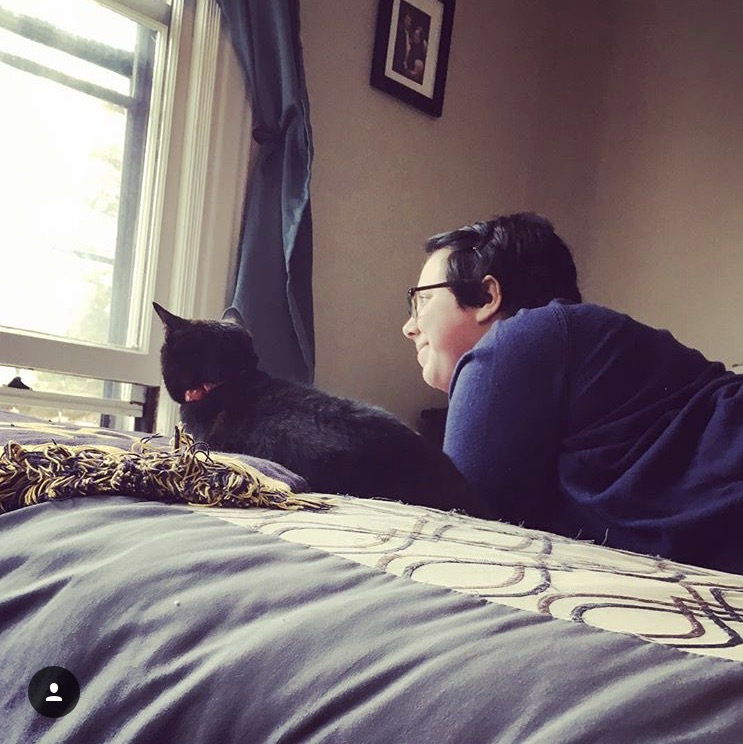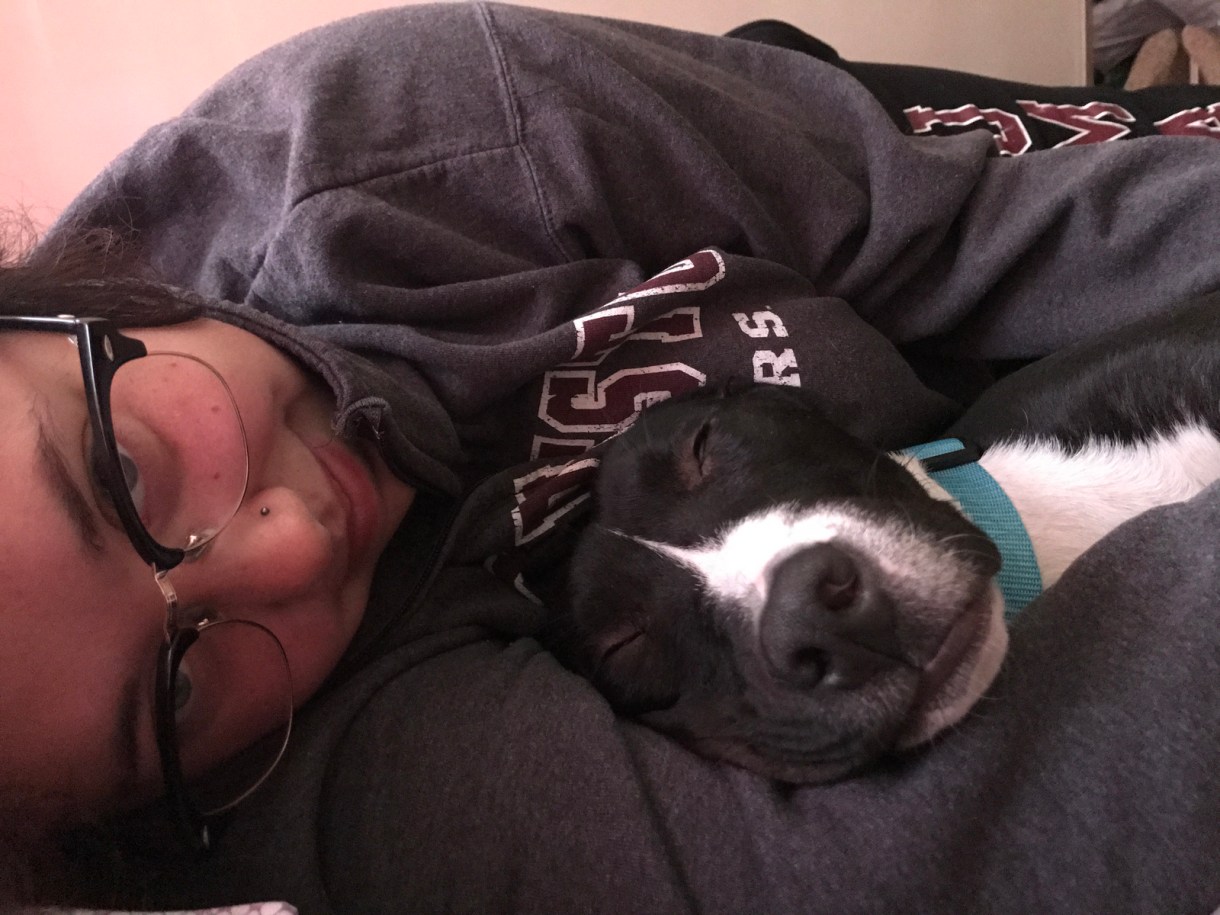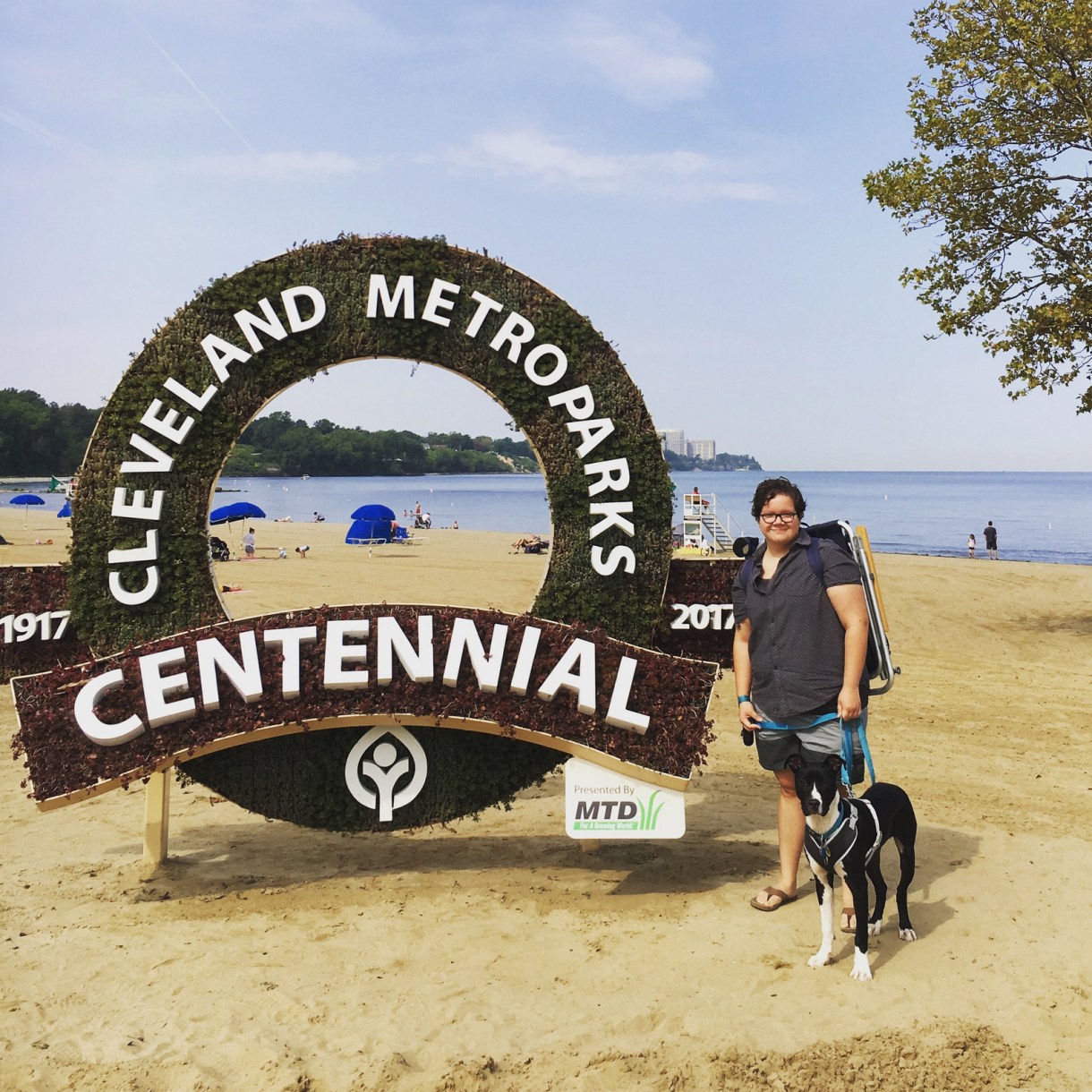 "Olive joined our family first, after her previous owner moved to Mexico from Baltimore for ~*true love*~. Emily picked her up at the Vince Lombardi rest stop on the Garden State Parkway and the rest is history.  She likes screaming, wet food, and climbing through the blinds in our bedroom.
We adopted Marty this July from an animal shelter, where they had originally been calling him Bull Shark. That name is much too intimidating for this little nerd, so we chose Marty to sound like our pets were an old married couple. He likes going to the dog park, carrying flowers in his mouth, and chasing Olive. There are no pics of all of us together because Olive is not interested in her brother and there just aren't enough hands among us."
---
Bettie, Jen, Spuds / 34, 33, 6 / Sheffield, UK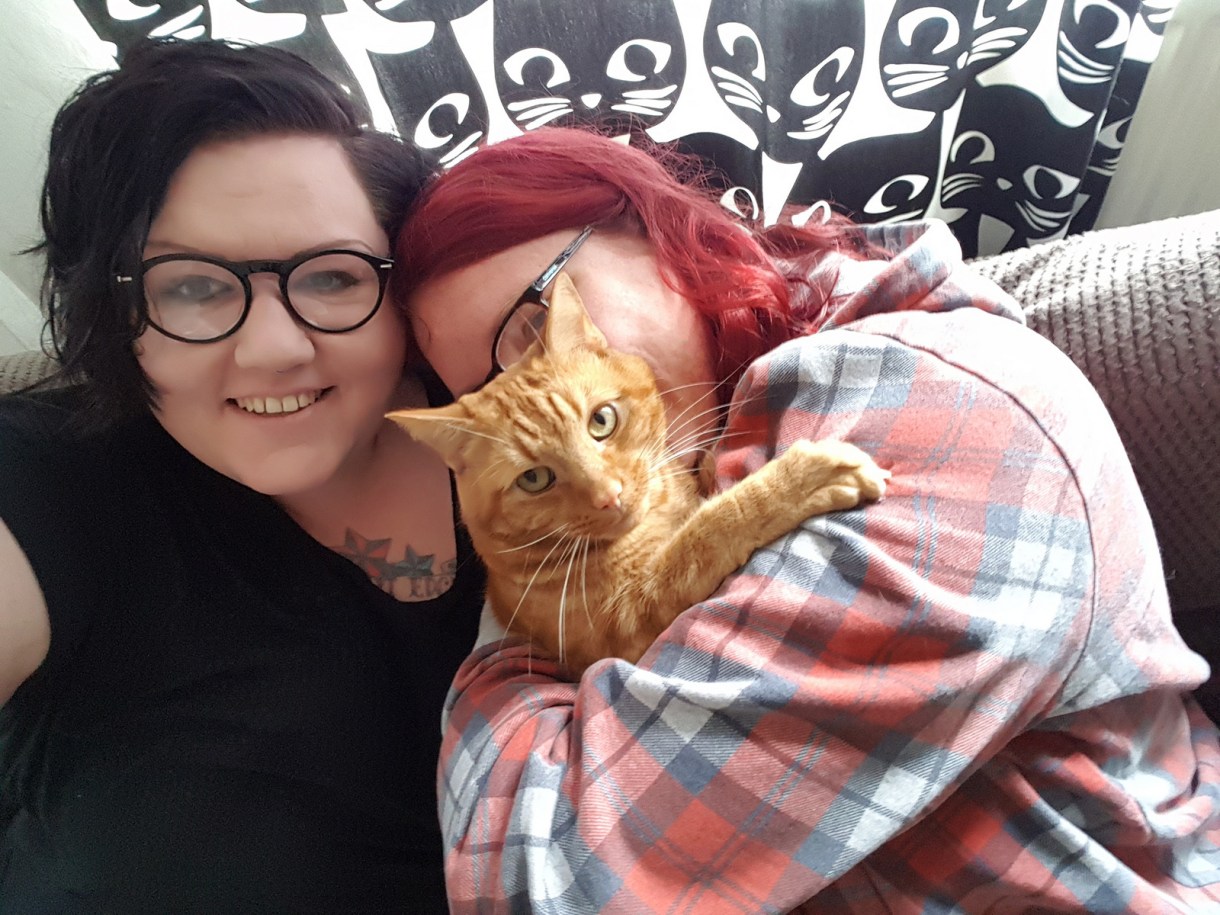 "We don't know exactly how old he is. He likes listening to Slayer and dislikes having his photo taken so this was the best of a bunch of photos of blurry lumps of fuzz."
---
Kaitlin and Fez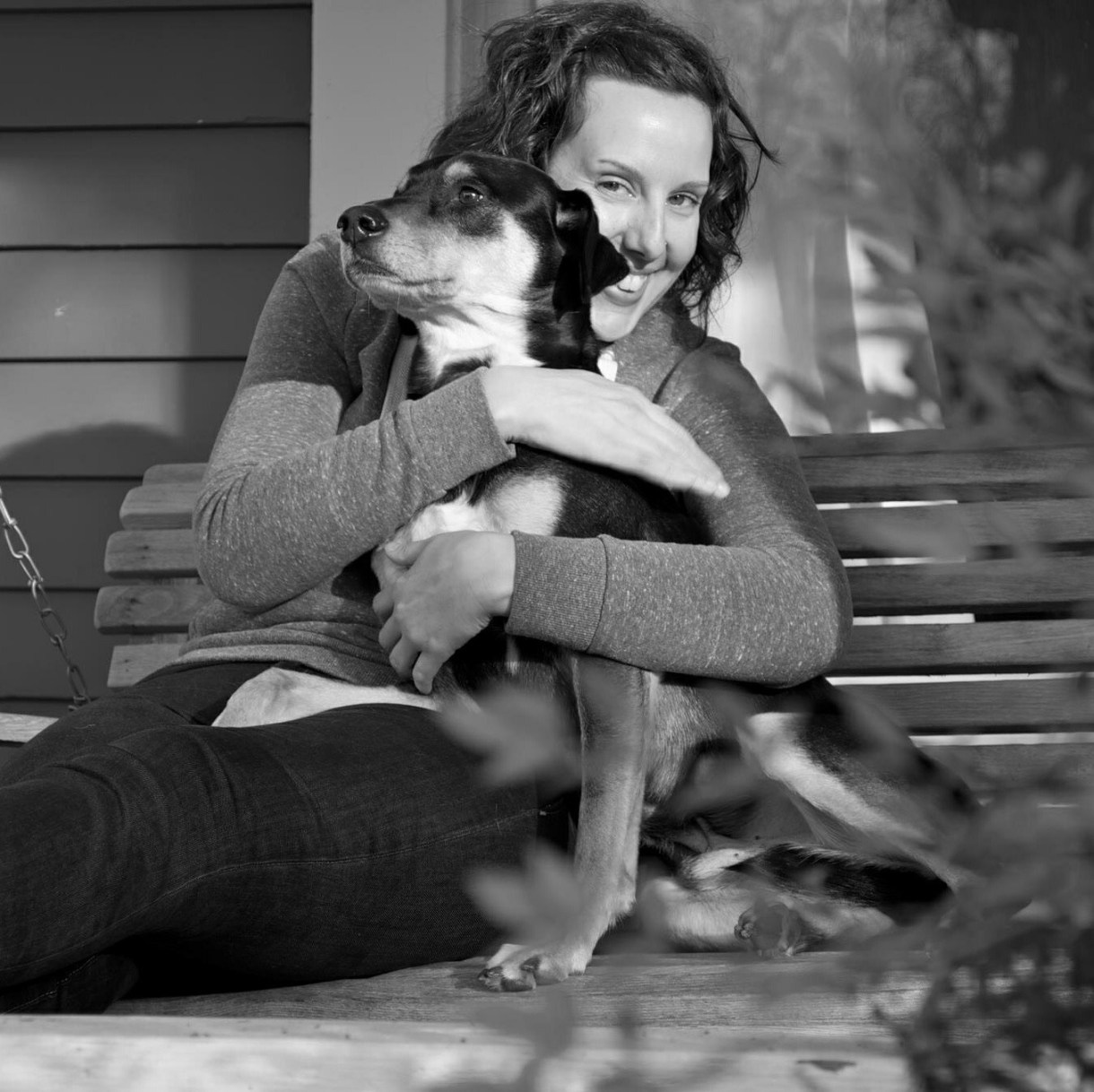 "He came with that name, and everyone who meets him comments on it, "Like from That 70's Show?!" We took him in from a friend of a friend (whose life had become too busy for a dog) when he was seven. He's an anxious old man who needed some serious stability (and Prozac). He took to us right away and soon became our adventure buddy. The best thing about this guy is his unconditional love (I know, I know). His ability to comfort us will forever amaze me. It's a mutual thing—I'm his person and he seeks me out when he's extra anxious. He's also pretty good at getting anyone to rub his belly.
Some things we like to do include chasing squirrels, cuddling in bed and hogging all the blankets from my wife, camping trips in the Pacific Northwest, and cooking dinner together (I cook, he lays at my feet/gets in the way). The weirdest thing (just one?) about him is his love for car rides and adventures, but being so anxious that he makes himself carsick. It didn't take us long to realize he needs anti-anxiety meds for road trips. Fez doesn't have an Instagram account, but he does have a hashtag. See more of this handsome dude at #fezbot."
---
Danielle and Neville / 27, 10 / My Bedroom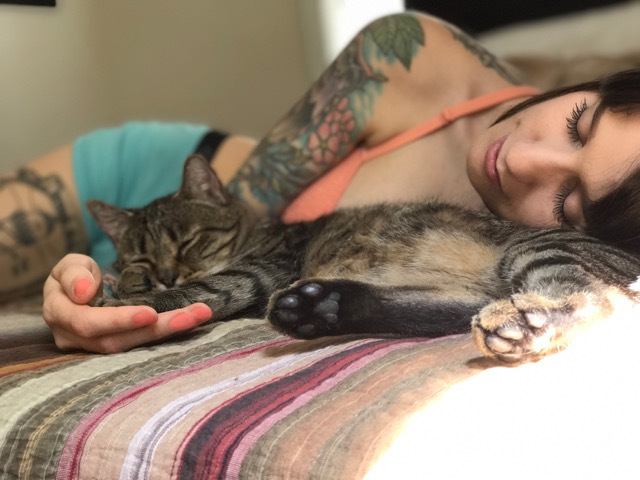 "I adopted Neville from the San Francisco Humane Society. Upon first meeting him he immediately flopped down and rolled on his back, then looked up at me with the sweetest eyes. I knew I had to take him home.  He had been in the shelter twice and was two years old when I adopted him. His previous family had gotten a call from the Humane Society that he was found but never came back for him. I decided on the name Neville because I'm a huge Harry Potter fan, it was an easy choice and I knew right away that the name would suit him very well. The best thing about him is that every time I don't feel well he is right by my side all day, a very loyal companion. We like to cuddle in bed and also go out on the patio or to the park to lay in the sun, he's an indoor cat but likes car rides and adventure. If he's not sleeping he's making biscuits on his favorite blanket. He has a crackily little meow and a super tiny tail that most people comment on upon meeting him but I think he's perfect."
---
Chandra and Zuzu / 41, 9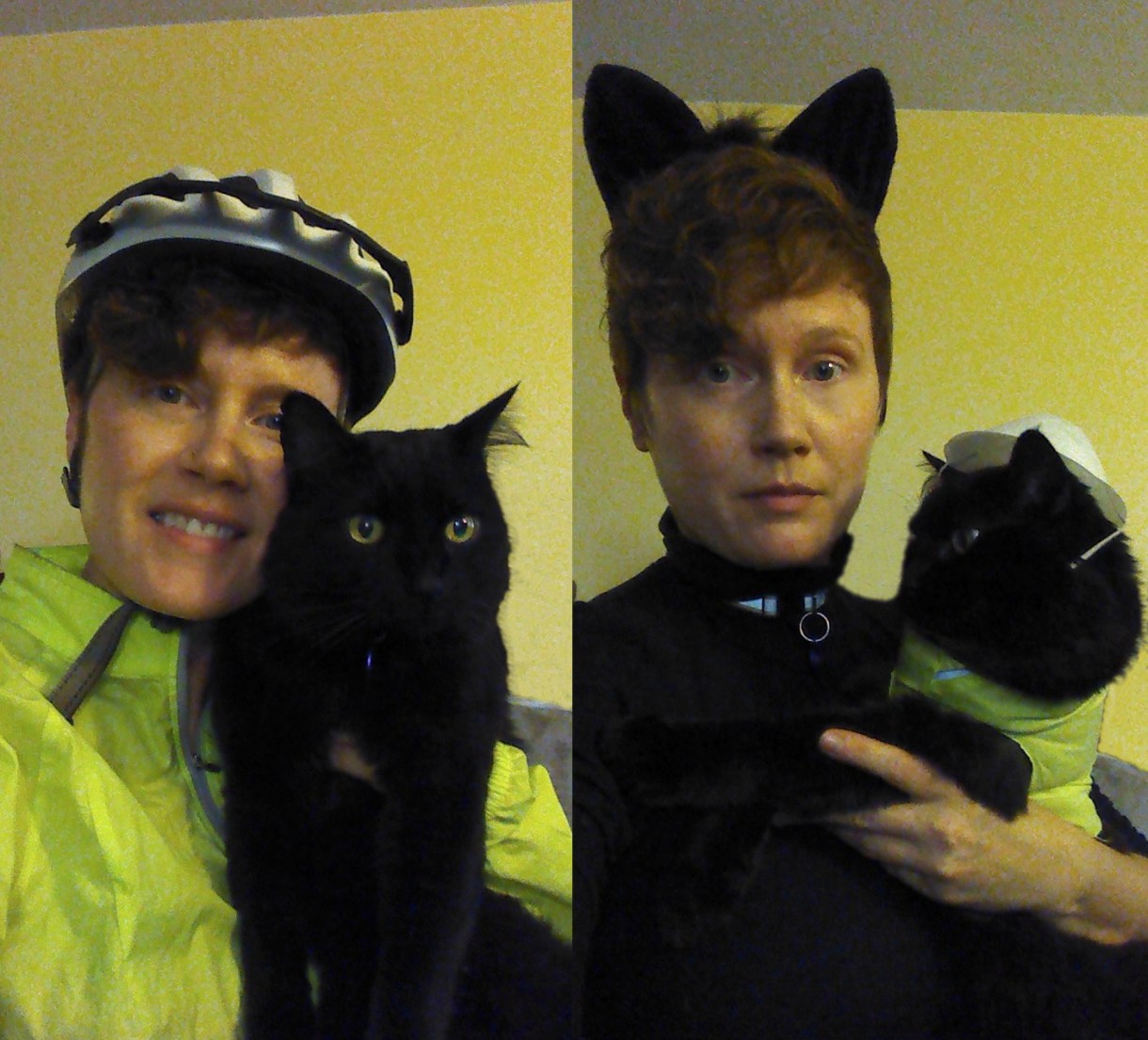 "His former owner named him Zulu, and a few years after I adopted him I started to learn about cultural appropriation and question whether I should call him that. So I started calling him Zuzu instead. (But he's a little monster, so I really should have gone with Zuul.) He is super smart, cheeky and affectionate, and way more outgoing than me. He makes friends immediately with everyone. His companionship has gotten me through some really tough and lonely times. I love him with all my heart (and am crying now). Our favorite things to do together include snuggling! Bopping foreheads! Lying on a blanket in the yard! He LOVES hide-and-seek and chasing games, so we do that a lot too. He will only drink out of his water dish if it's in the bathroom? Also when he is displeased with the weather, he throws temperature tantrums to warm himself up so he can go back outside."
Becca, Meagha, Orion, Purrseus / 30, 28, 6, 6 / Seattle, WA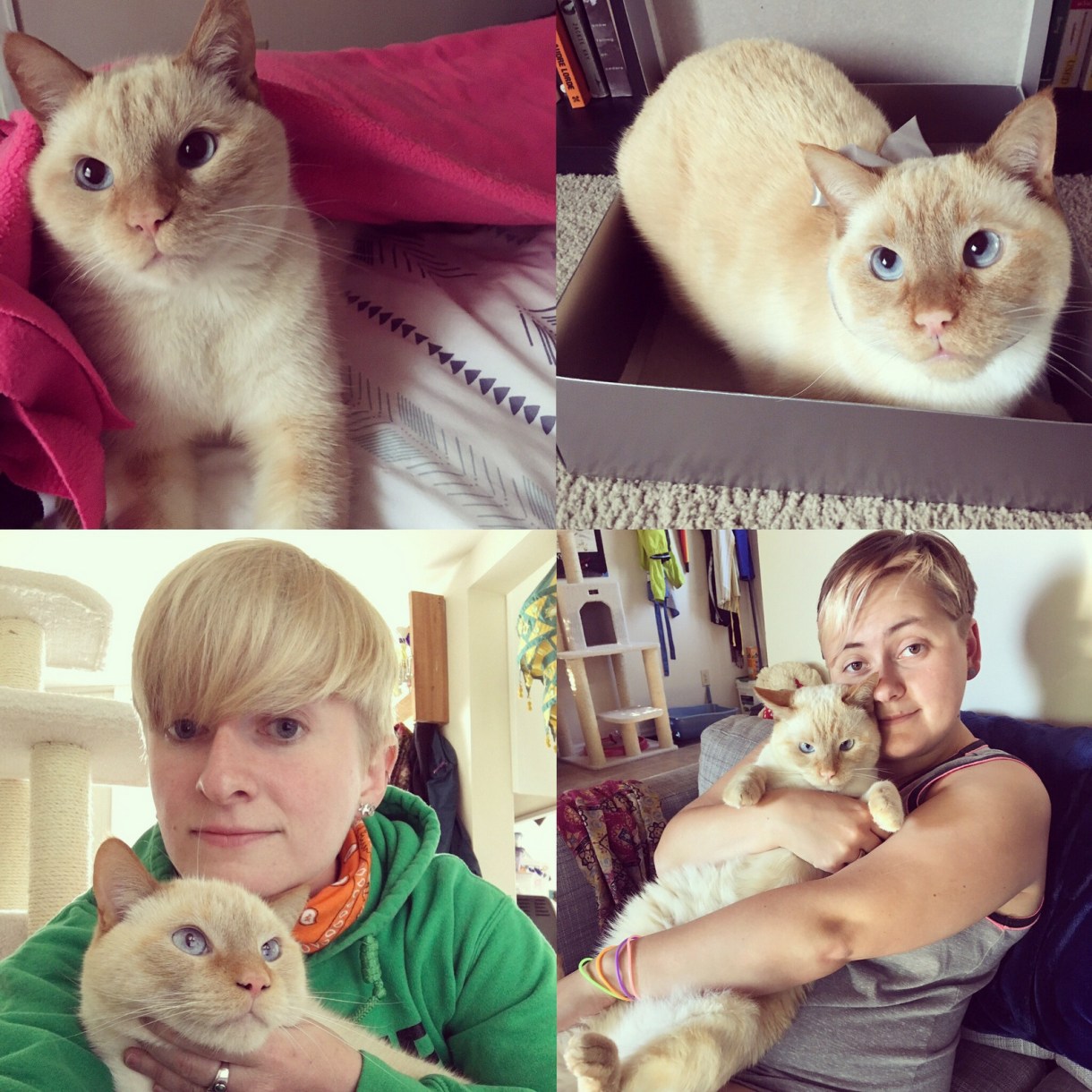 "We adopted this two flamepoint Siamese brother cats when Becca saw a post on the neighborhood Facebook group looking to rehome them, because their loving owner was extremely allergic to them. We had been searching for a cat to fill our home with, and though Becca swore up, down and sideways that our small house could not have two cats – that ship sailed when we fell in love with these two. As is true with many Siamese cats, they are very food-motivated, talkative, and have an insatiable need for affection. Purrseus' (right) favorite thing to do is snuggle Meaghan's cheeks in the early morning, and Orion's (left) favorite thing to do is chase his laser pointer and stand uncomfortably on Becca's lap when he is feeling needy. Other shared interests include: running through the house wildly at odd times, sitting on top of the refrigerator, and being complete unable to catch flies."
---
Cat and Clark / 24, 8 months / IL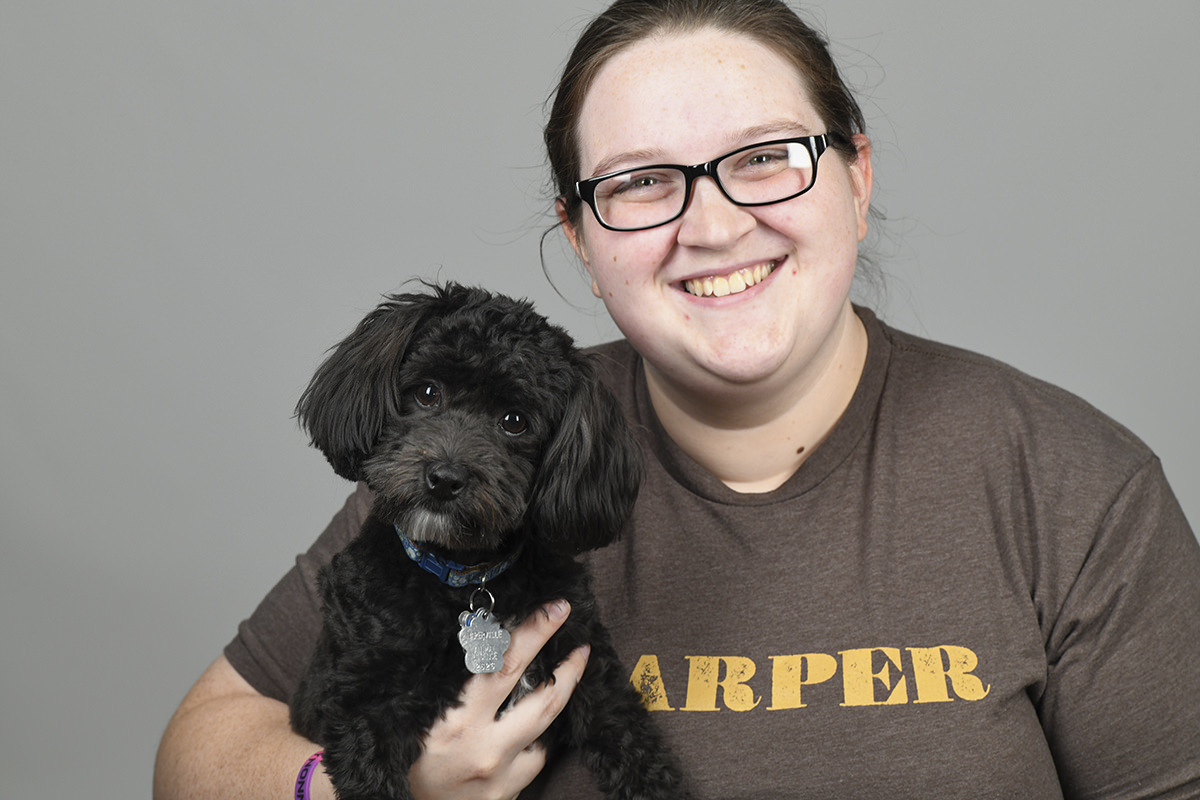 "We met at a pet store and after playing with him for awhile, even though I hadn't intended to go home with a dog, I took Clark home. He is named after Clark Kent, because I'm a huge Superman fan, but also sort of Clarke Griffin from The 100 (I was binging the show the week I took him home and he was confused as TV people kept saying his name.) He's a snuggler when he sleeps which is ALL THE TIME. We take long walks and our current favorite thing is prancing through the leaves together. He falls asleep in the strangest position. He once fell asleep half standing on my shoulder."
---
Nic and Grand Duchess Faolin Von Pixelface (Pixel) / 35, 5 / WA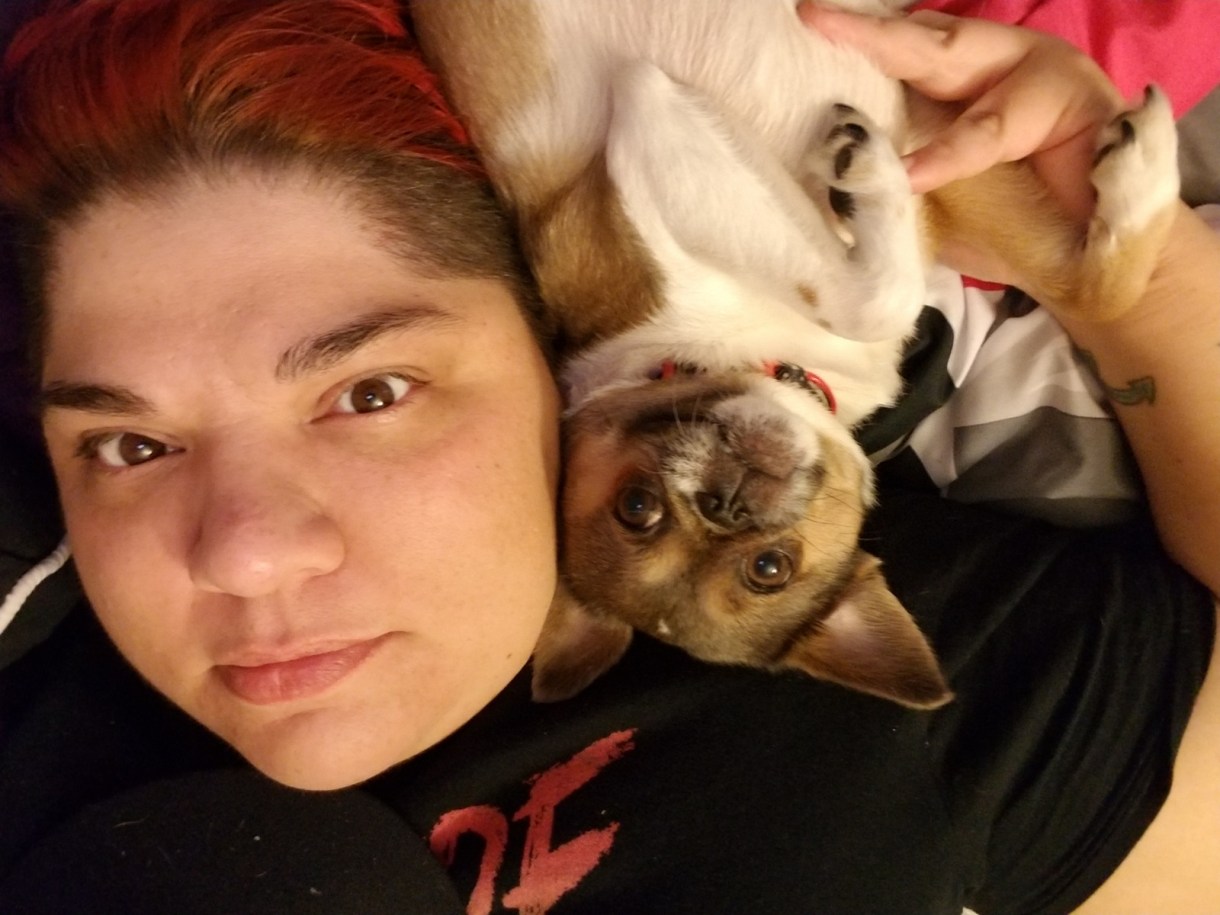 "Pixel was the unwanted one in her litter. Being a Peekingese/Mini Pin mix, she was the only short haired one and no one wanted her so we adopted her. The first half of her name is after a video game character (Guild Wars 2) and the second half is because of the single white dot or pixel on her forehead.  She's not the brightest dog, as she tends to trip over her own feet, run into walls,  and bark at her own reflection, but she's always up for a snuggle if I'm feeling down."
---
Nic and Oreo / 30, 6 / NJ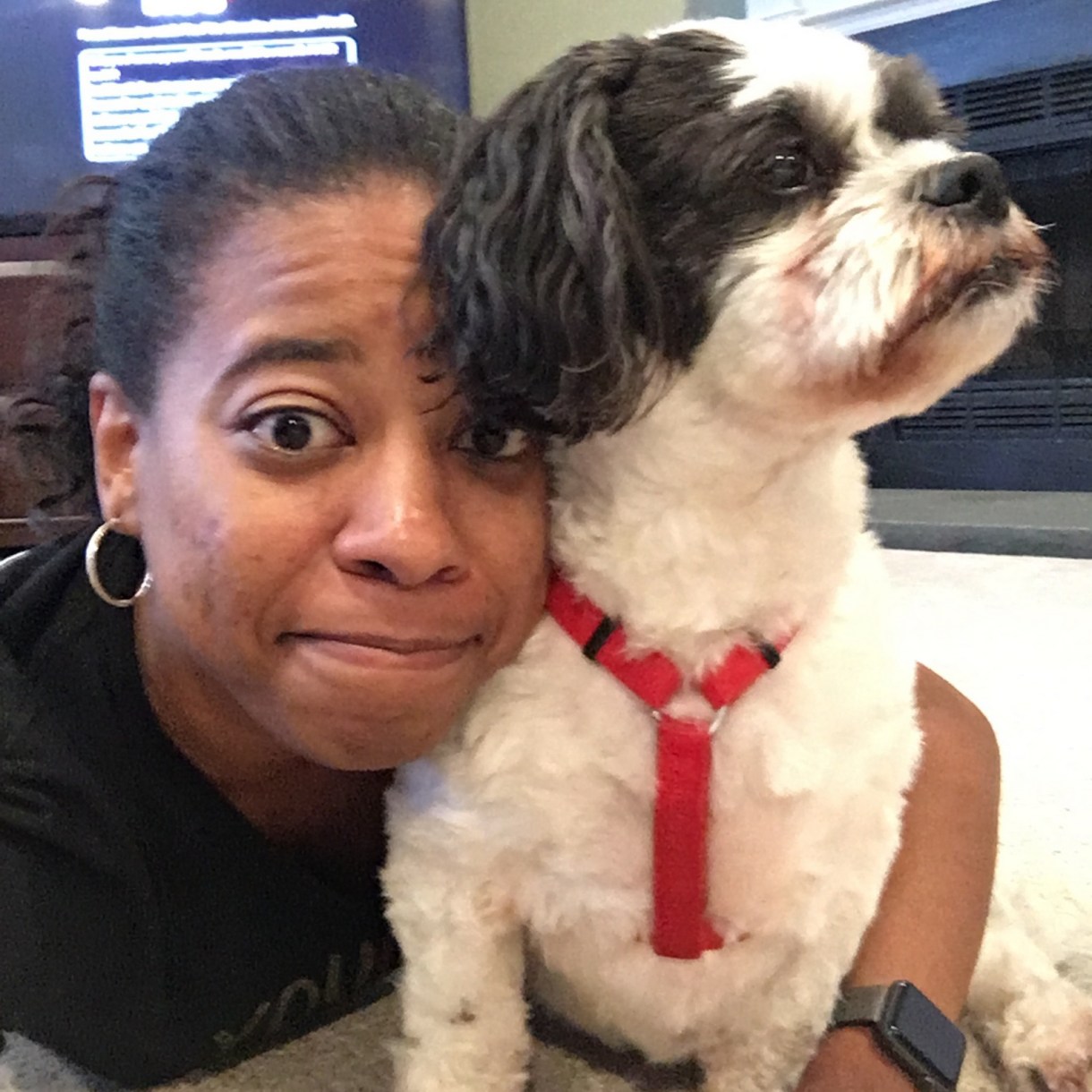 "So Oreo is technically my Mom's dog. She got him when my brother and I moved out in an effort to replace us I guess?? Well joke's on her because now that they have him, I'm at the house more than ever."
---
Mel and Giles / 28, 3 / Lincoln, NE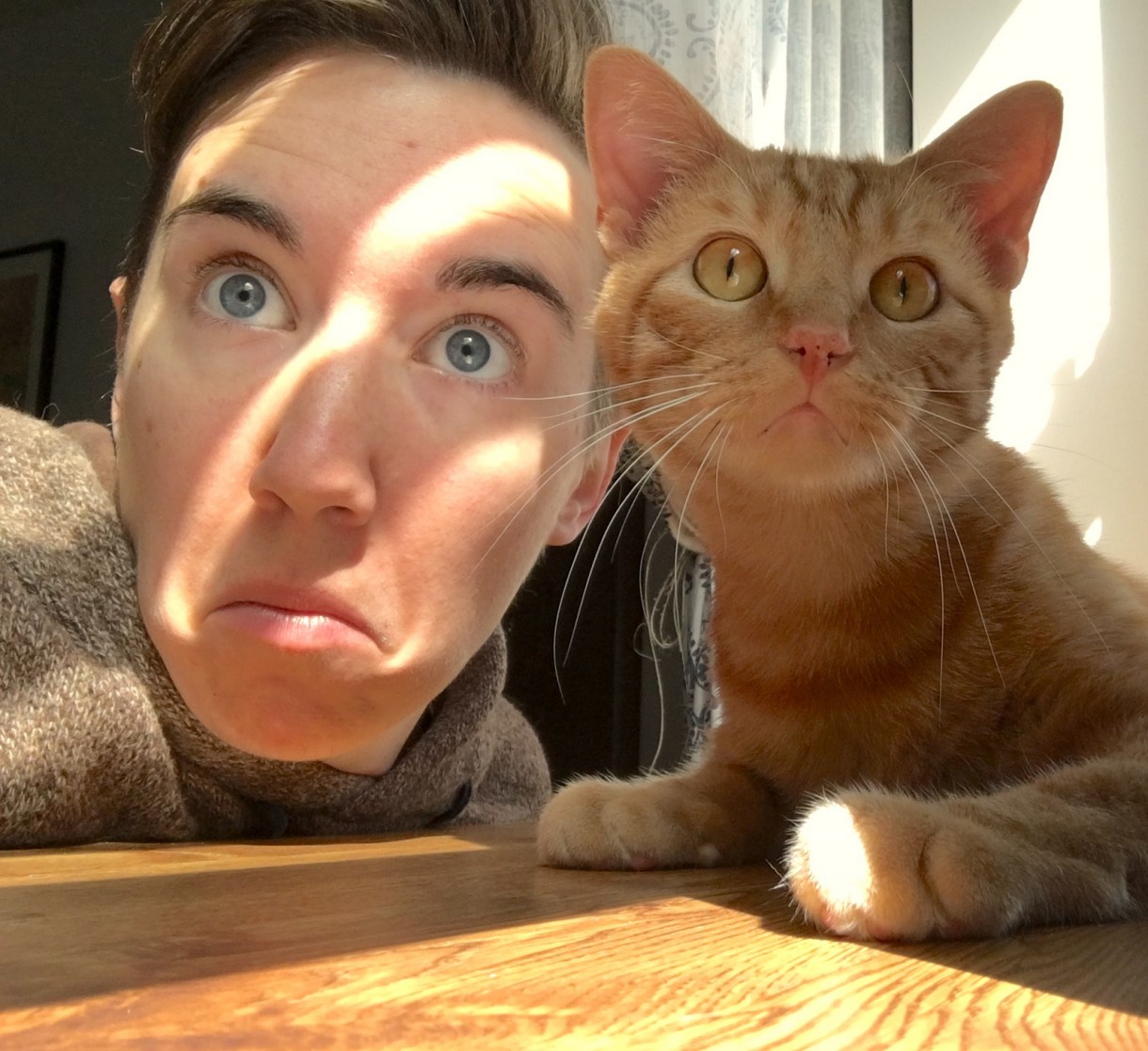 "I adopted Giles from the local no-kill cat shelter two years ago. He's named after one of my favorite Buffy characters, Rupert Giles. He's currently going through his Ripper phase, so my slayer training is on hold until he gets to his stuffy librarian phase. He's so friendly and so good at head boops. And he likes – er, tolerates – being held which is important to me as I insist on picking him up every day. His favorite thing is to snuggle and nap. And talk. He likes to talk a lot. His weirdest habit is pulling out the hair on his little back. We aren't sure if there's something he's allergic to or if it's an anxious response. But he sometimes has bald spots and it's very worrisome."
---
Jade and Lady Bird / 25, 6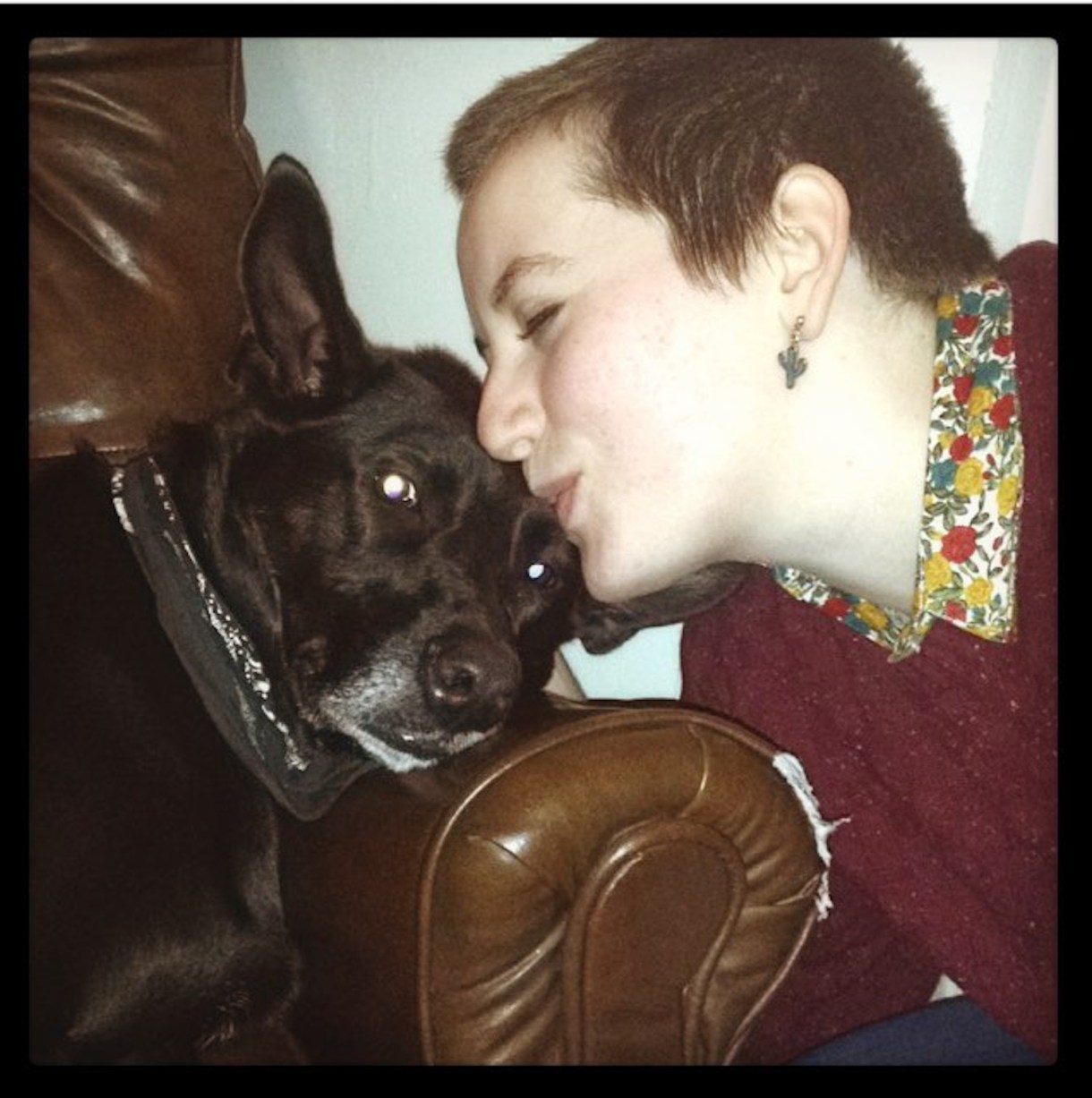 "Lady Bird is my dog-niece. She belongs to my best friend, but I lived with her for a year and she slept in my bed every night. My favorite thing about her is she makes a great little spoon to my big spoon. The best thing she ever did was wake me out of a night terror. She looks like a hell hound but is actually the biggest most sensitive baby."
---
Devney, Chau, Buck / 27, 26, 13 / Ann Arbor, MI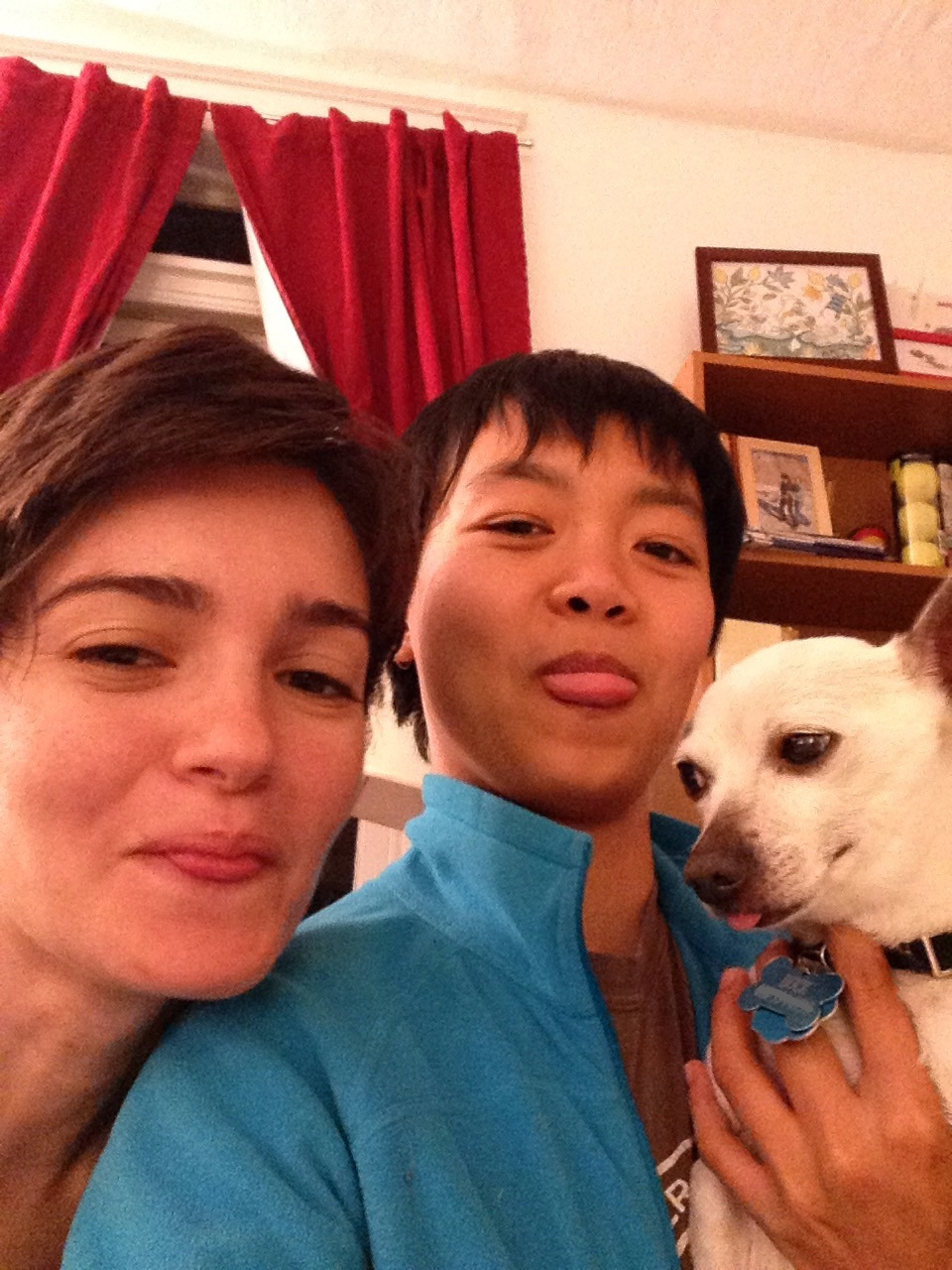 "Buck had his front teeth taken out, and now his tongue sticks out sometimes. Chau has taken care of him his whole life. He camped with us when we drove from CA to MI. He's our favorite grumpy old white man. Chau just built him his first doggie door!"
---
Melissa, Chloe (Bunny), Arnie / 26, 10, 10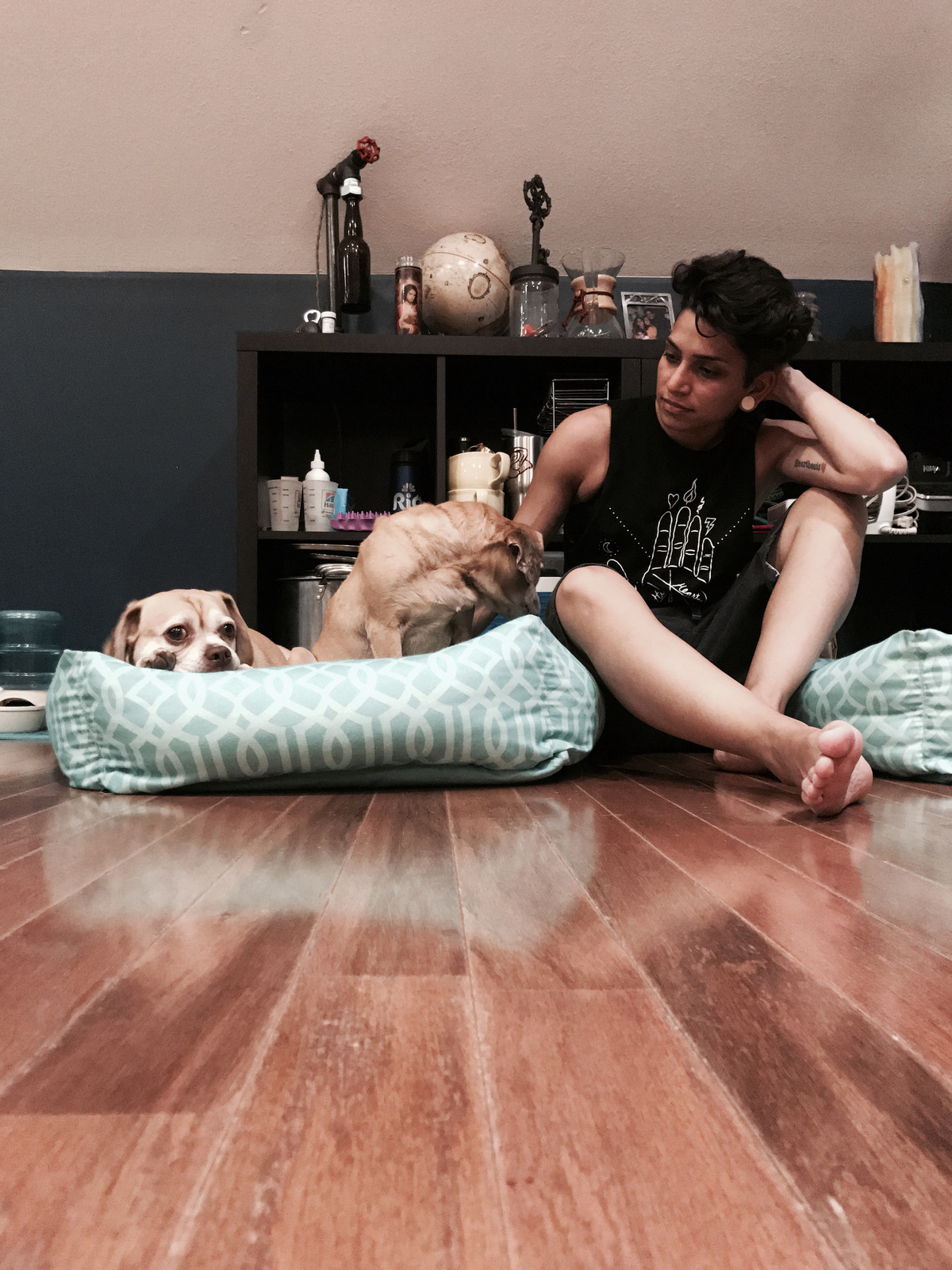 "Arnie's birth name was Annabelle. I'm not exactly sure how she identifies. She responds best to Arnie and I support her any way I can. Arnie always smells her butt in photos. There's nothing I can do about it… sorry. This is my family after a long day of house work and lounging in the sun. I love my little family."
---
Alice and Brice / 31, 3 / Upstate NY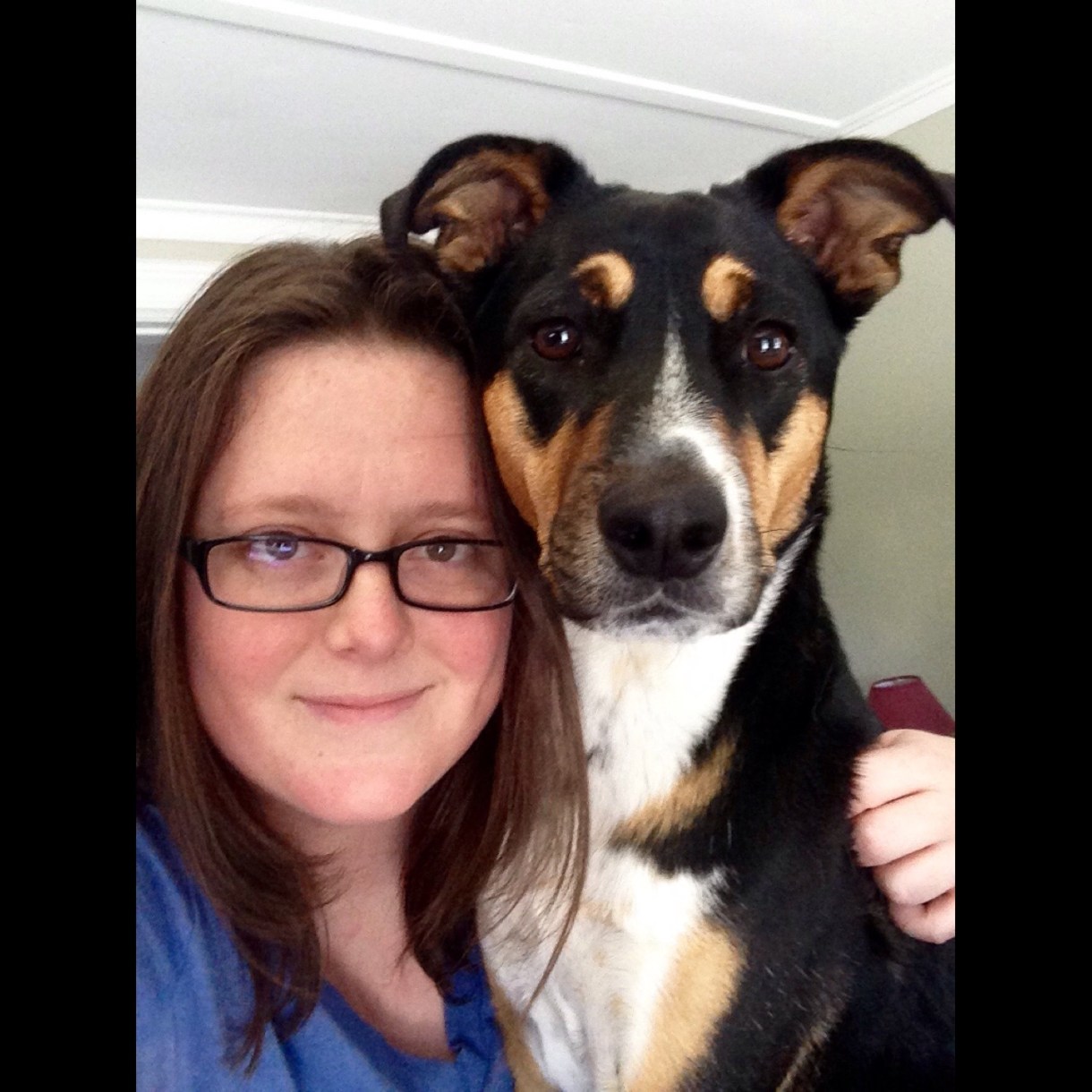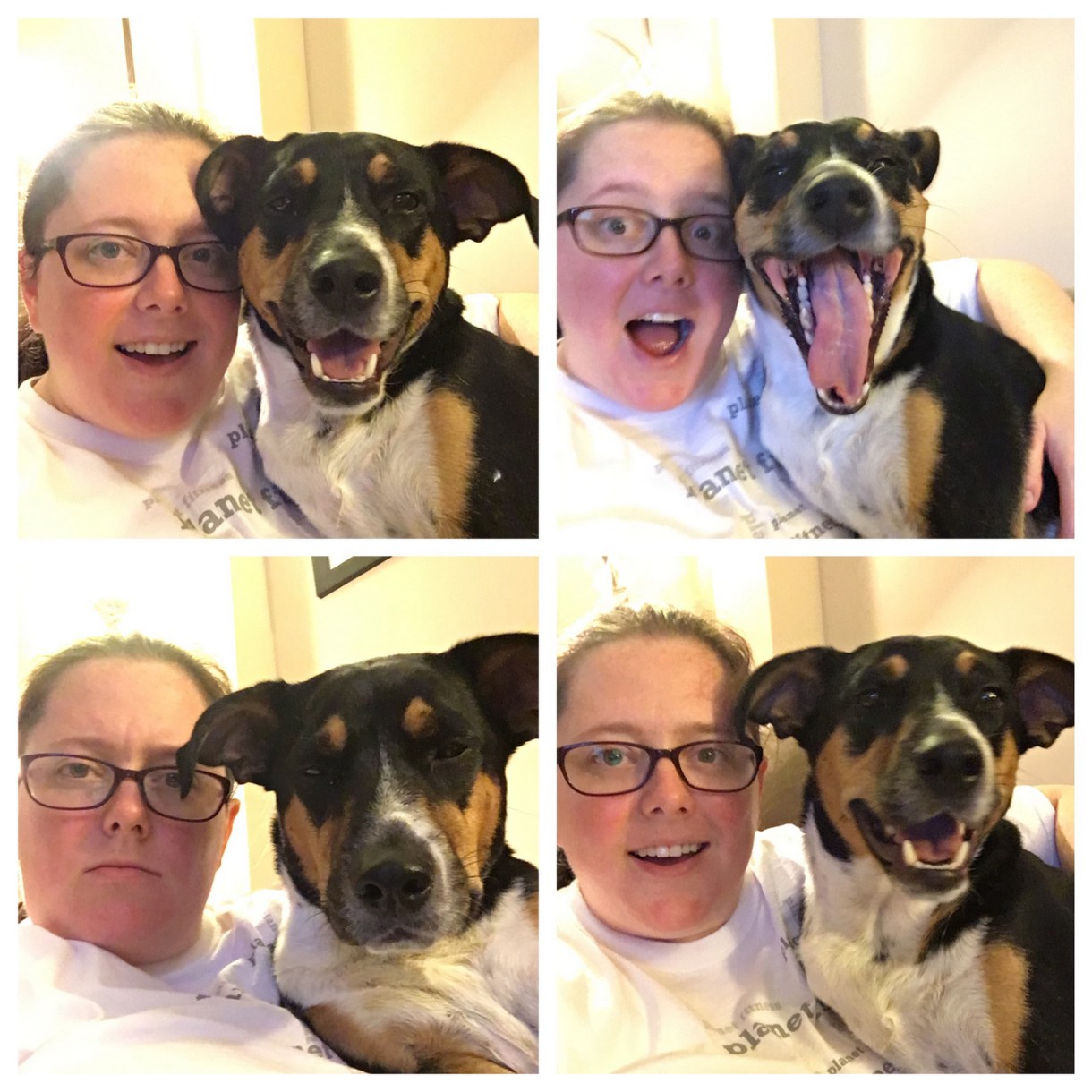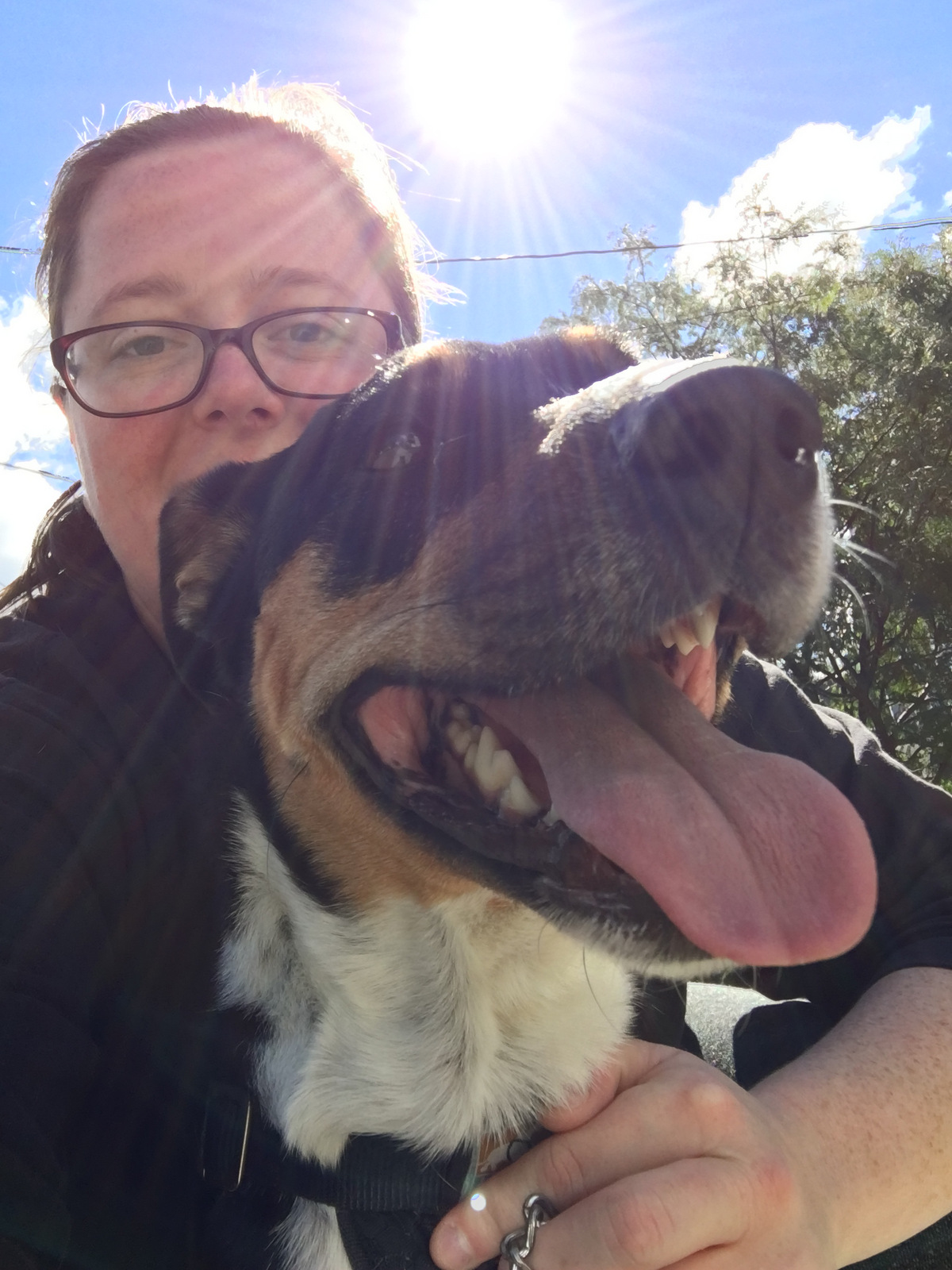 "Brice's preggo momma was brought into a rescue two days before giving birth to him and his seven siblings. I brought him home at 9 weeks old, and he's named after Williams-Brice Stadium, the football home of the University of South Carolina Gamecocks. Loves: lap snuggles, peanut butter, long walks, catching snowballs, spazzing over bully sticks,  and butt scratches.  Fears:  strange bearded men, tape measures, the basement, rolling suitcases, elevators, and getting rained on. He's the weirdest weirdo I've ever met, and I love him more and more every single day."
---
Heather and Scooby Morrissey / 31, 4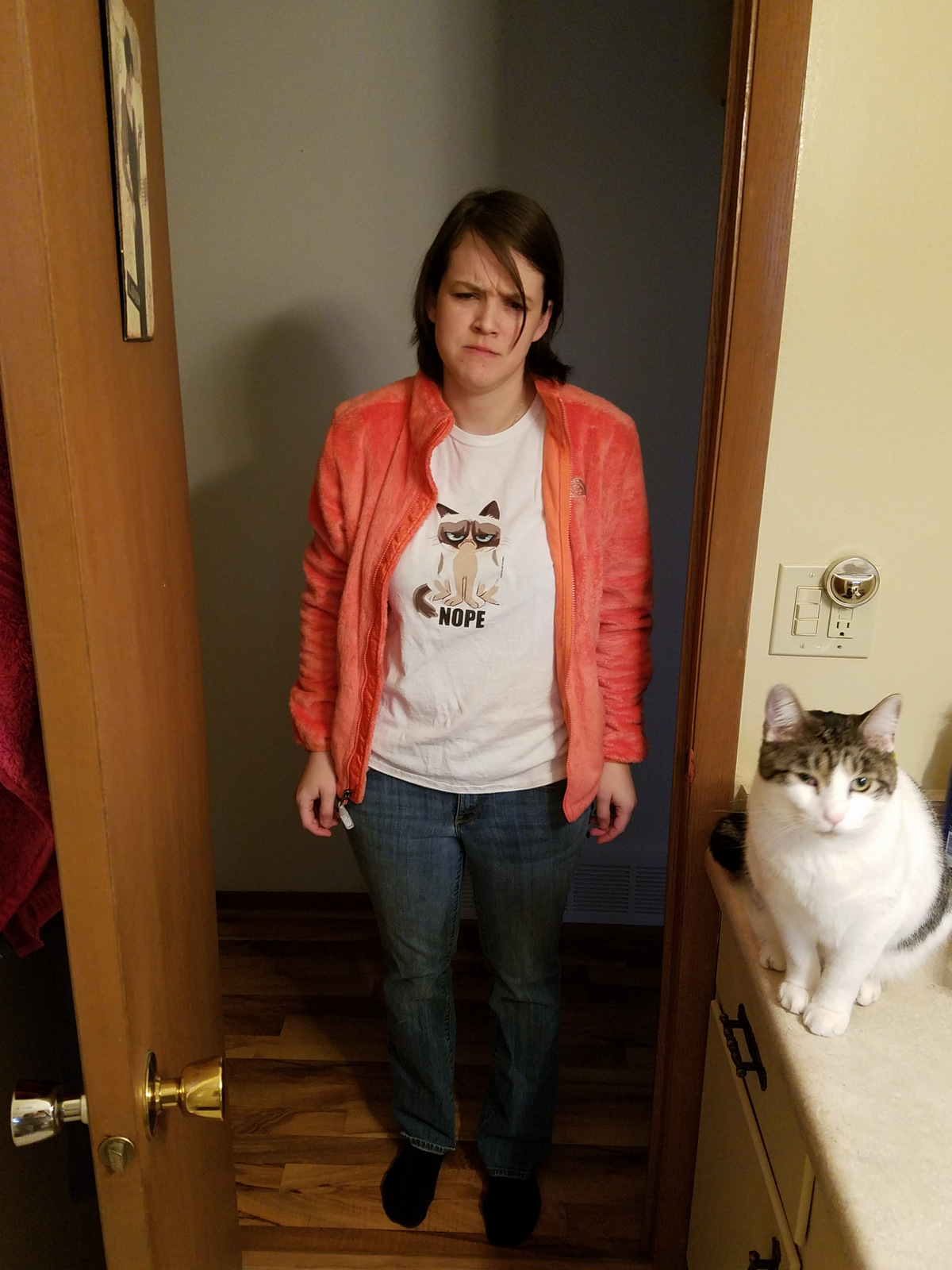 "He looks a lot like our cat, Scrappy, so we went with the name Scooby. The best thing about him is that he loves to snuggle. His weirdest trait is that he likes to chew on everyone's hair. He will ninja walk on the back of the couch and start chomping on hair."
Caro and Artemis / 30, 4 months / Deep in the Woods in New Brunswick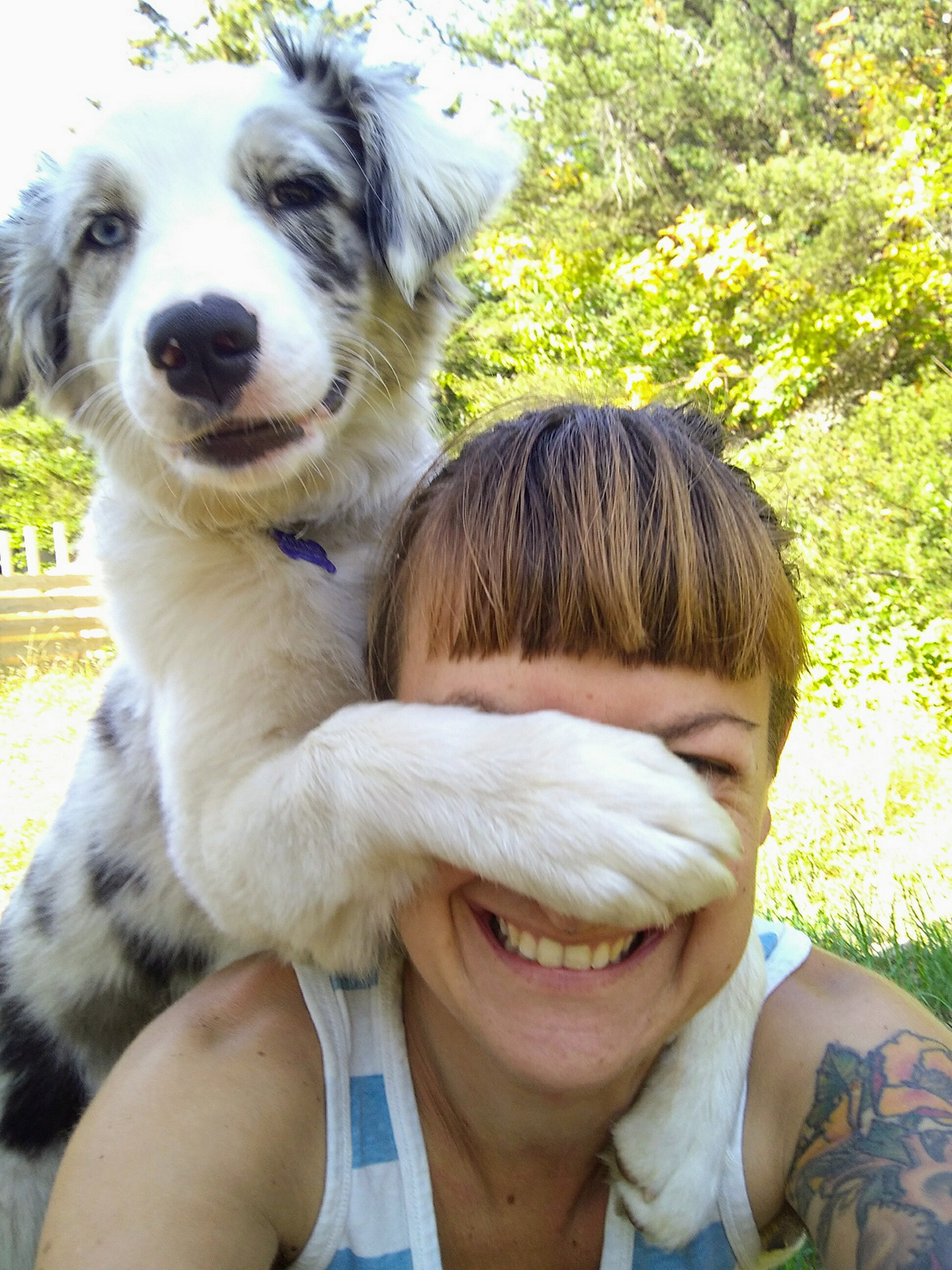 "Me and my playful pup, Artemis, spend our days running wild through the woods of New Brunswick watching out for bears and hunting mushrooms. She's my most most favourite companion and does the cutest, hoppy bounces for balls and frisbees thrown into the field of wildflowers. We're living our best life."
---
Allyson and Sammy / 29, 8 / Portland, OR
"I rescued Sammy from Candy Land in 2009 and he's been promoting the homosexual agenda ever since. We're pet photographers! No kidding! (He usually stays home.) Find us on Instagram: @woodardphotos."
---
Kat and Gravy / 29, 4 / My Couch, Los Angeles, CA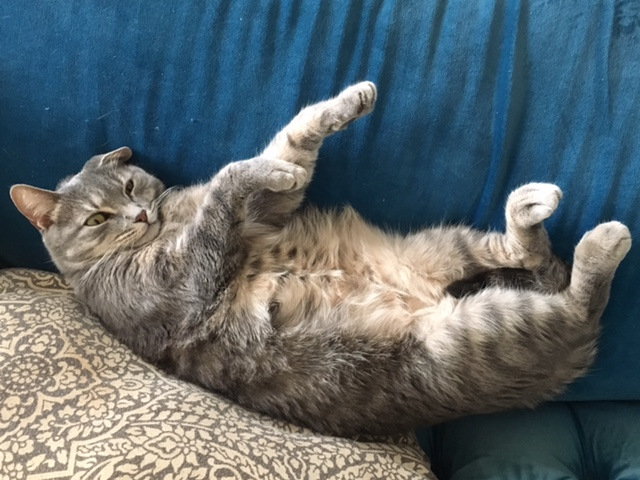 "The joke is that I conjured this snuggly noodle with my mind. One night I was about to head to bed when I heard a cat crying outside. I opened my front door and looked across the driveway to see a cat hunkered under a bush. I said "hi!" and she came right into my apartment. It was Thanksgiving weekend so I decided to call her Gravy. I figured she belonged to someone, but she had no chip and no one ever claimed her after lots of Found Cat posts and fliers! So, because I wanted a cat so badly, the universe sent me Gravy.
She's just the best sweetest cat. She demands to be the little spoon, she comes when she's called, lets me put my face in her belly, and makes super cute grumbly noises when she's getting settled in bed. Her favorite things are chin scratches, getting to lick the can when I make tuna, and chattering at birds (but one time got over excited and jumped THROUGH a window screen to try to catch one, falling two stories. She was fine, I was traumatized.)
I don't think she does anything weirder than the normal weird cat things, but she did one time bring a live bird into my room. She's an indoor cat and all the windows have screens. Proof that cats go through portals. No Instagram but she does have a specific tag, #jeangravyboat."
---
Hope and Scarlett / 21, 11 / NYC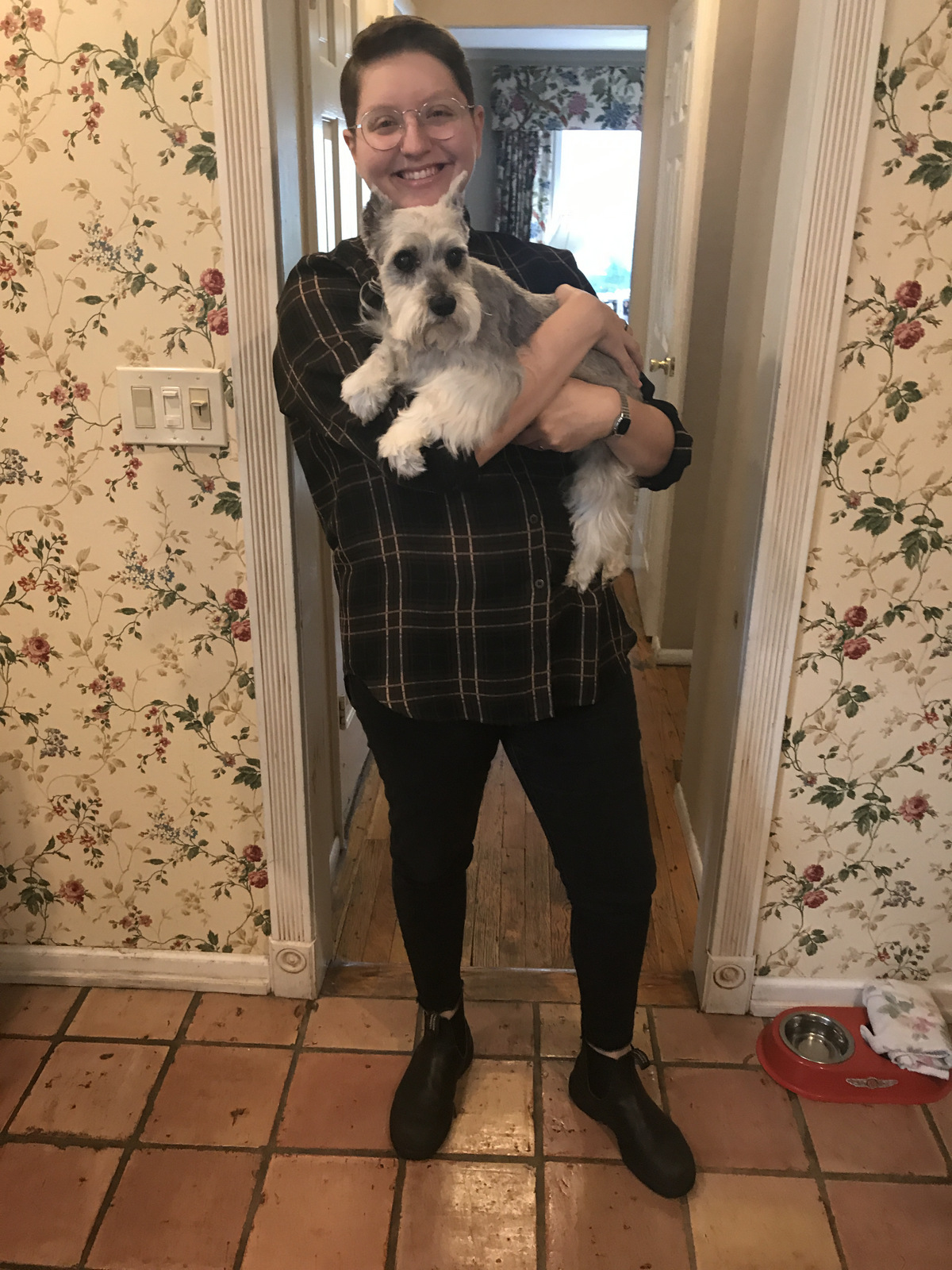 "Scarlett is your typical fierce femme from the Midwest who made her way to the big city. She's a sadgrrrl who doesn't play well with others, but her face always lights up for some blueberries. We love playing fetch, snoozing, and watching The L Word together (in no particular order, of course).  Follow her on Instagram @scarletttheminischnauzer."
---
Lisa and Oscar / Phoenix, AZ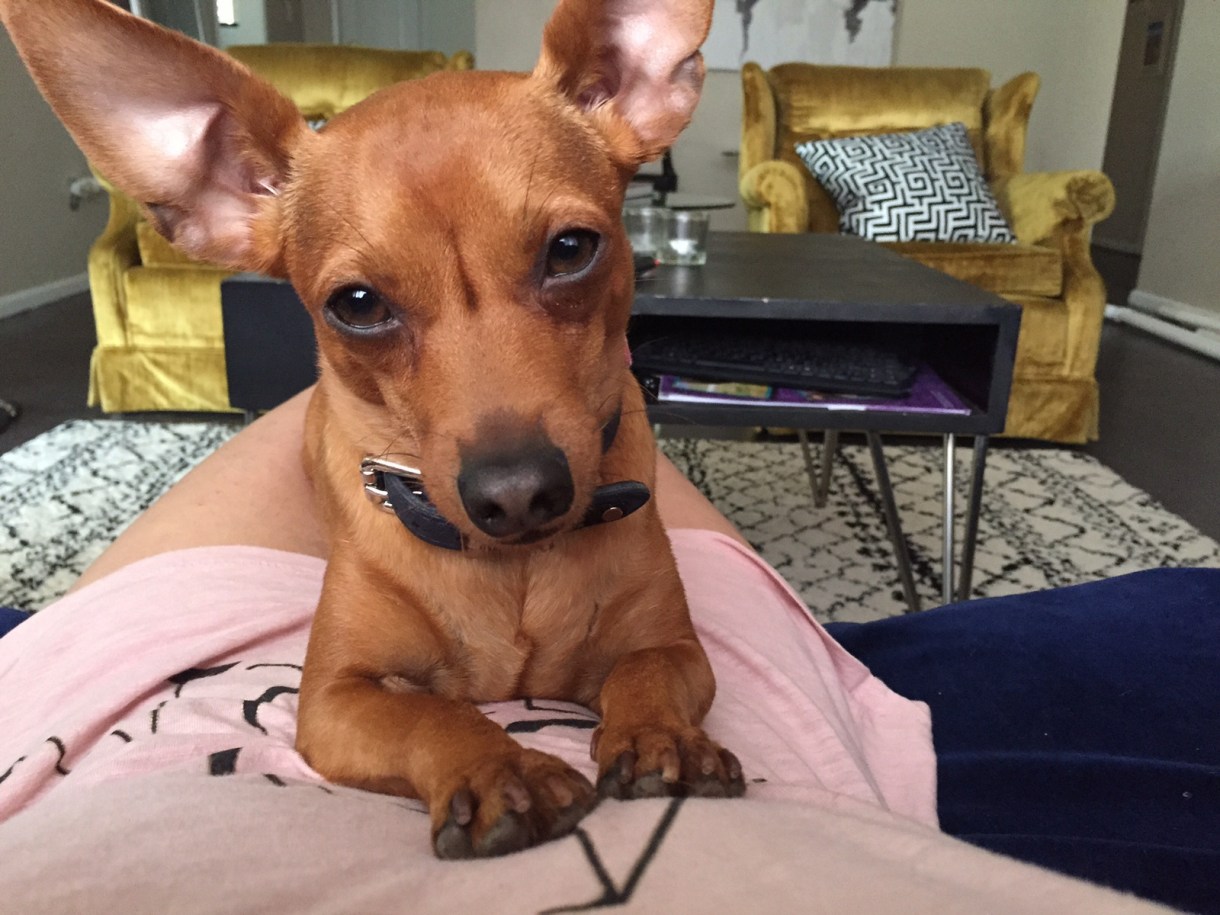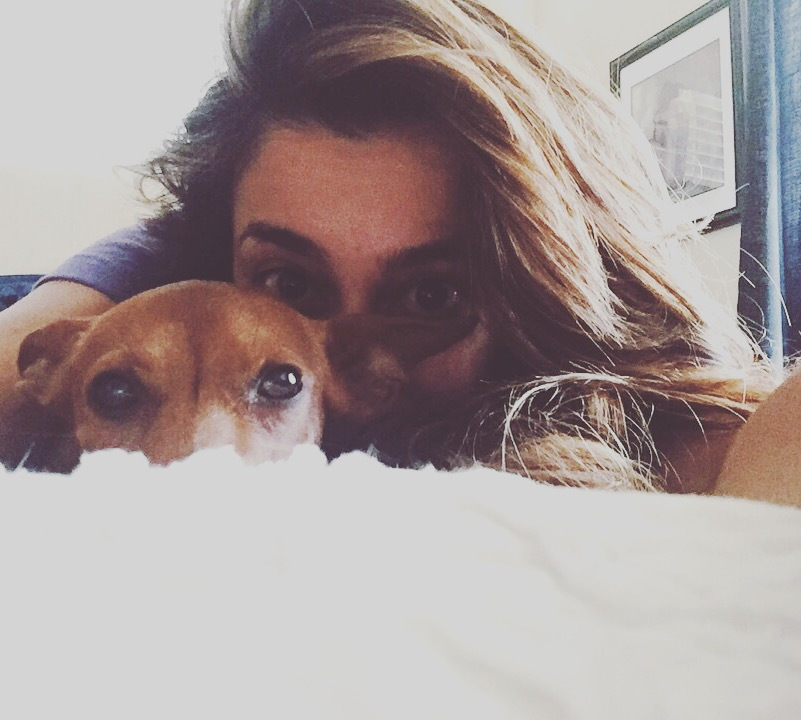 "My wife brought him home, at 9 months, as a foster and we never let him leave. Oscar was his given name… we just added Wilde. He is fearless, and always bossing our big dog Nash around. Oscar loves the dog park, walks to get coffee and sleeping in, burrowed under the covers. When he wants attention he will just stand on top of you and stare… deep into your eyes. If you ignore him he will paw at your chest and face and continue to stare. No Instagram, but #oscarwildethedog."
---
Hollis, Paw, Win (Little Shit), Theoden / 24, 15, 9, 7 weeks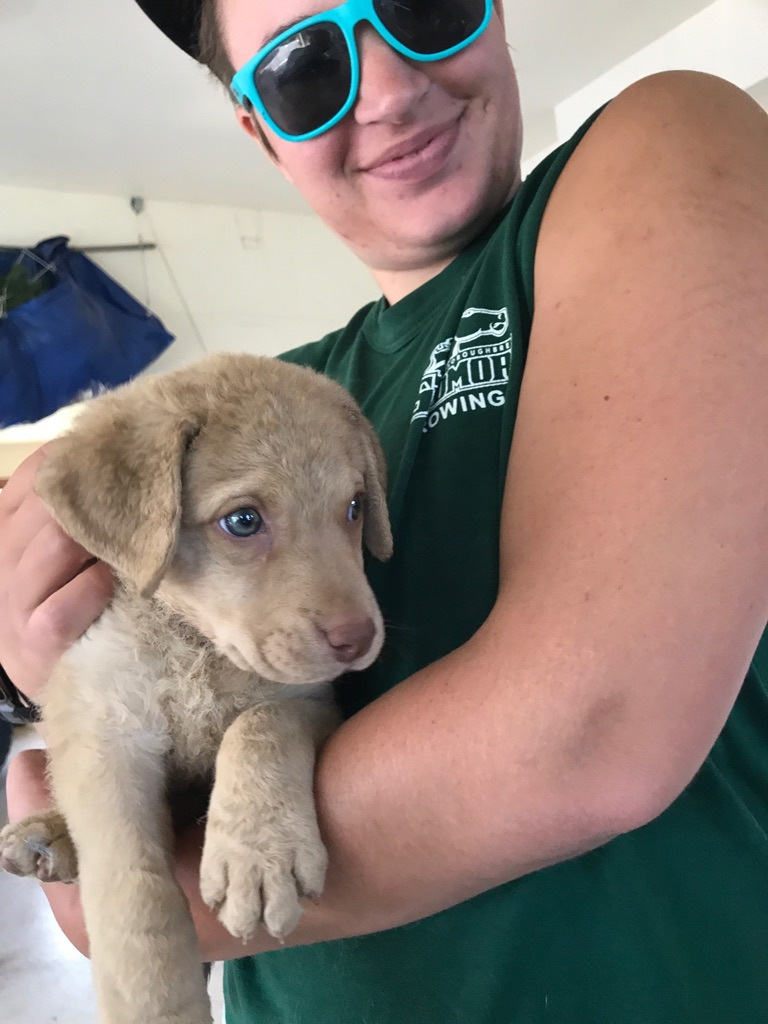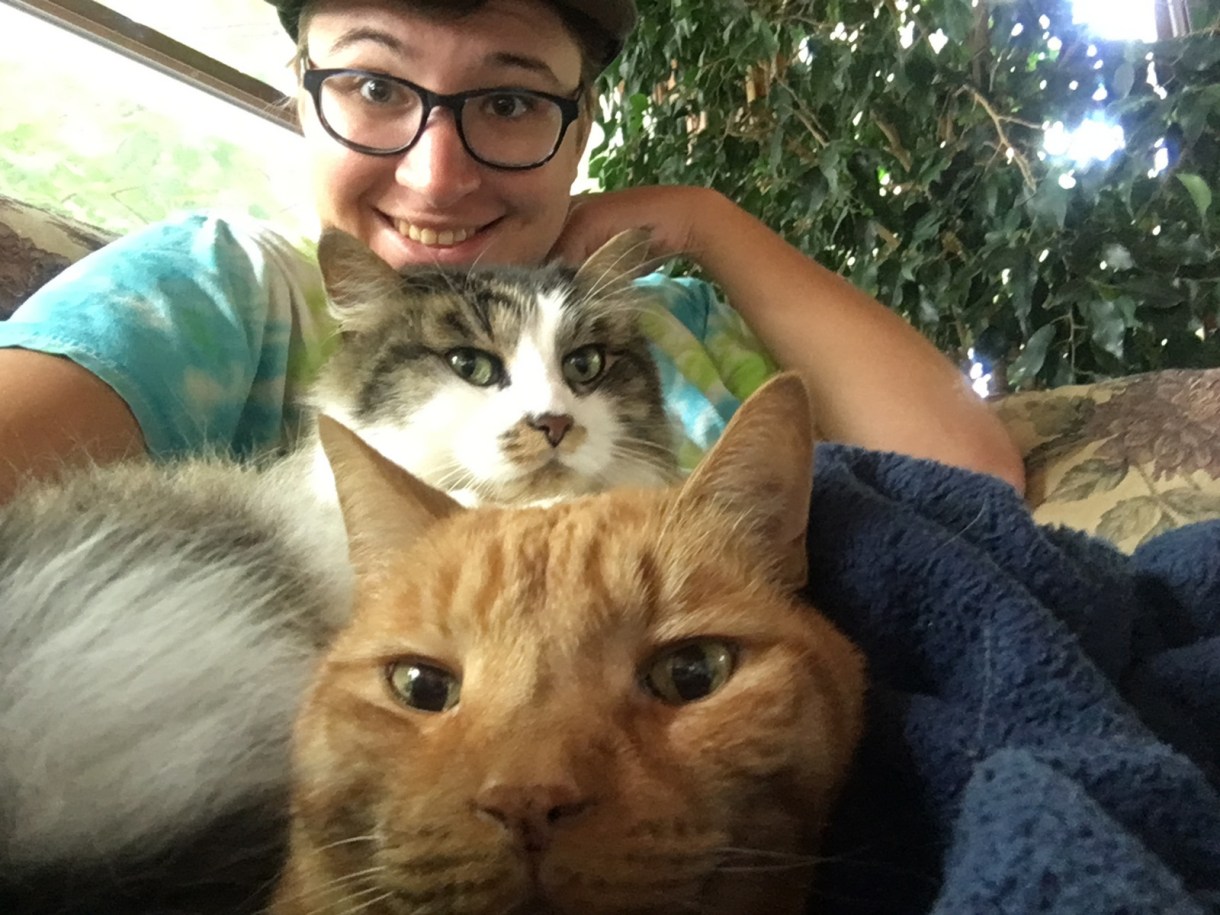 "Both cats are rescues that came into my life via my mom's patients finding ~6-9 month old kittens that had been dropped off in the vicinity of their farms.  Paw's full name is Firepaw because I was 10 and very into the Warrior Cat series. Win's full name is Winston because we were told we had a male kitten and with the floof and the person we got her from being a dog breeder we figured we didn't need to check ourselves…until our "male" cat went into heat. She's earned the name Little Shit because she is an escape artist of an indoor cat, she's a small cat despite the floof, and when the indoor cat escapes you have the tendency to yell "SHIT!" as her floofy butt scoots by you out the door and across the lawn. I think it's important to note that they don't normally get along AT ALL but after I was gone for a long weekend they missed me so much Win had to sit on top of Paw so they could both be near me at the same time (she's a little jealous and possessive while Paw is an indiscriminate lap-sitter).
I'm not 100% solid on Theoden's name right now because I have not brought him home as of writing this BUT I'm pretty sure that's what I'm going to go with so long as I can find a decent adjective to go with "King" for his Official Breed Papers since Theoden is a word for king in one of the many conlangs of Tolkien and it's a character that I 1. like 2. know the conlang translation off the top of my head 3. the name isn't an insult (sorry Faramir you might be my favorite but I can't put "Sufficient Jewel" on any official record because that is just BAD FORM DENETHOR and you just don't do things like that, jeez). As you can probably guess I am a gigantic nerd who grew up on Tolkien (though several Star Trek names were up for consideration too).  He will hopefully have the temperament and brains to become a service dog doing some mobility work and medical alert and/or response (since the alerts I'm hoping for are generally natural alerts and difficult to impossible to train) for me."
---
Amelia and Alfoe / 28, 2 / Brisbane, Australia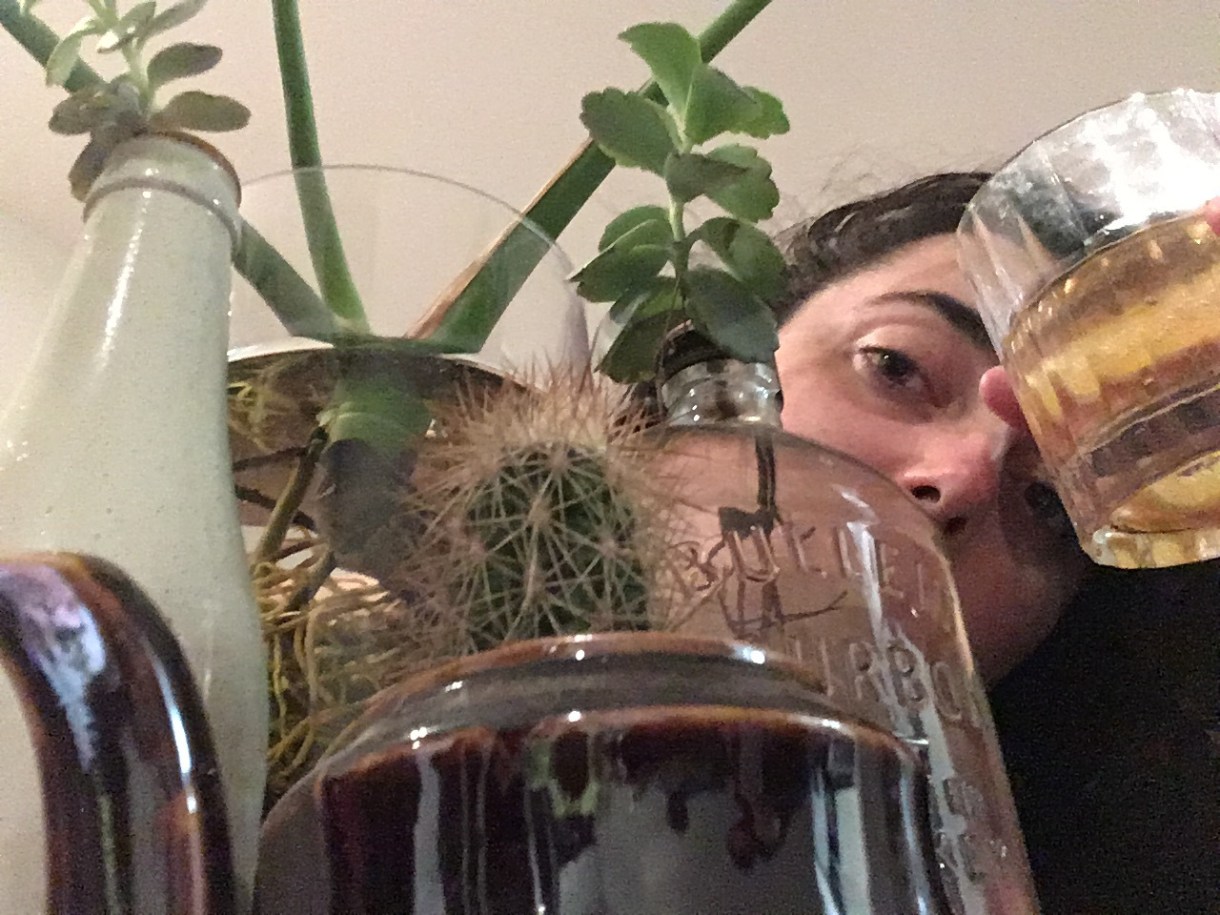 "I stole Alfoe (Alien Foetus) under the cover of darkness from a council-owned cliff, and he has grown happily in water ever since. He's a beautiful little man, and is complemented by the unnamed plants that gather around him."
---
Chelsea, Lisa, Breemer, Little Cat / 27, 26, 9, 9 / Brisbane, Australia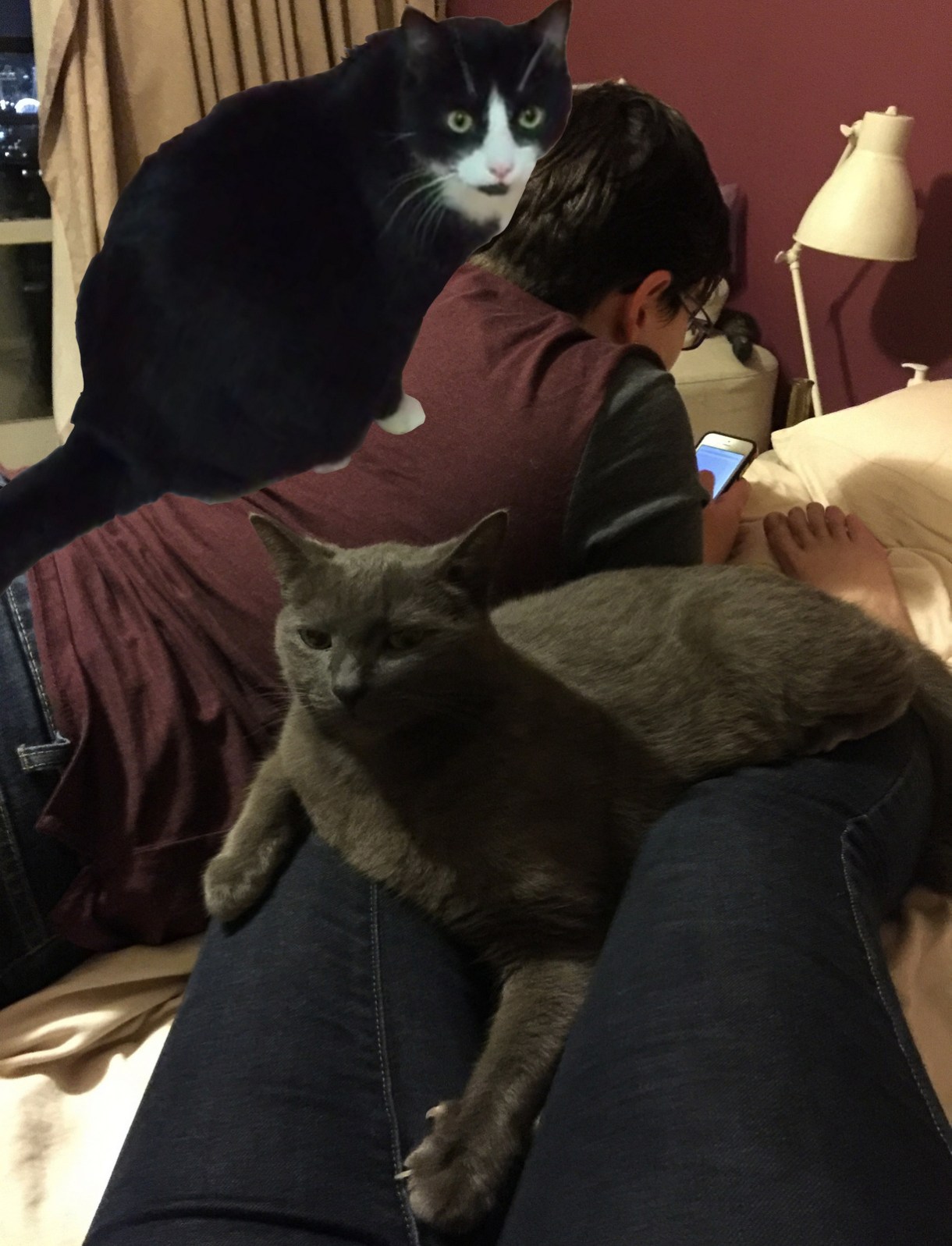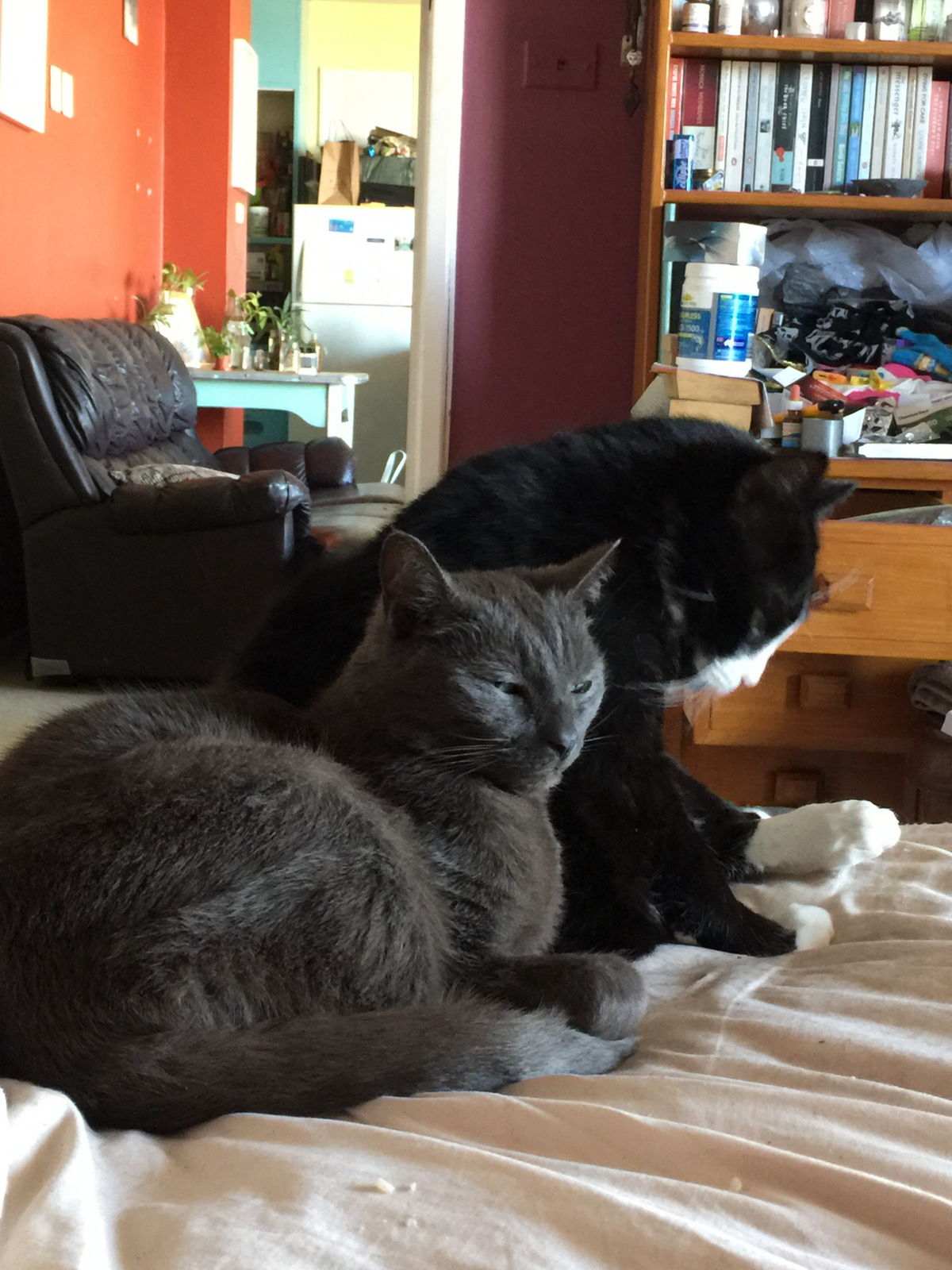 "We only had one photo with 3 of us and had to photoshop in Little Cat. Breemer (grey) enjoys cuddles and sunbathing. Little Cat (black/white) enjoys stealing Breemer's food and belly scratches."
---
Camille and Mischka / Silay City, Negros Occidental, Philippines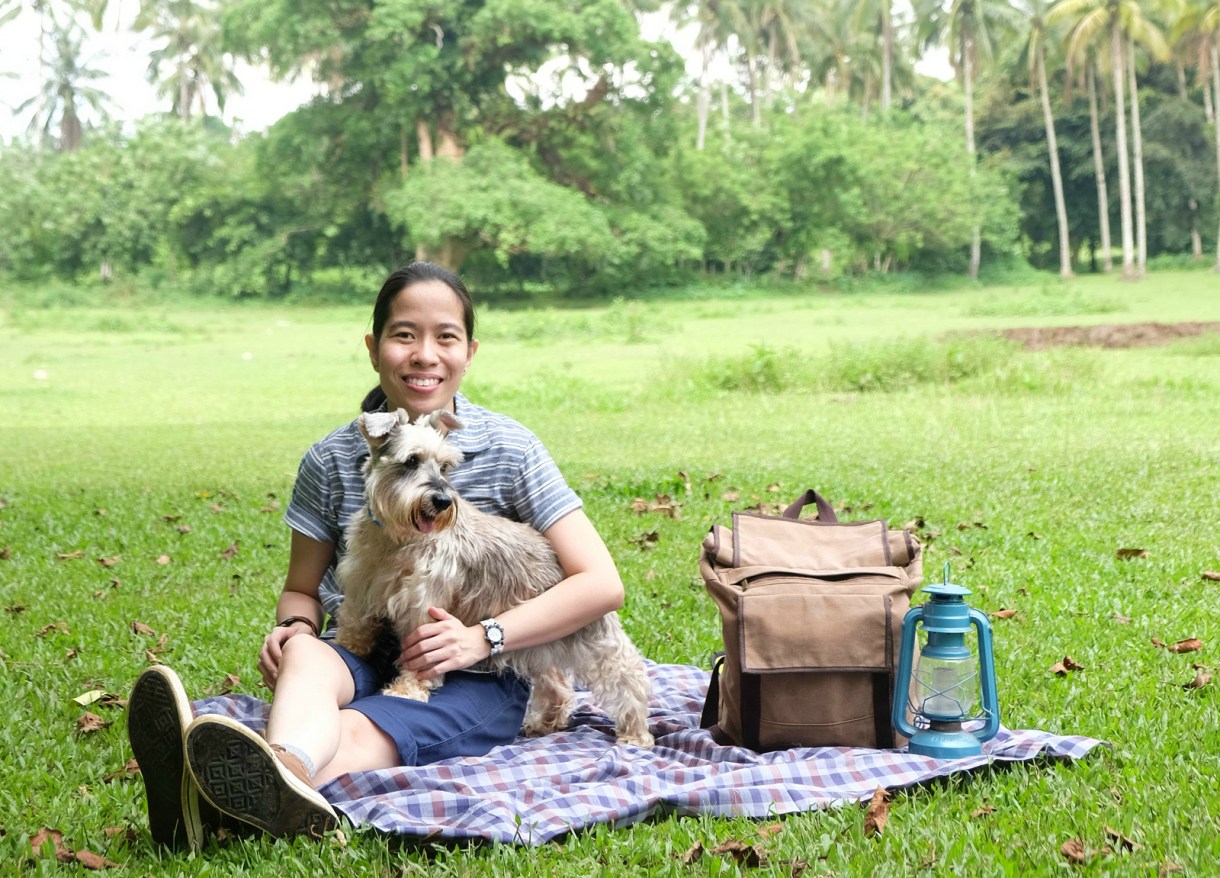 "An eight year old Mischka came to our home with a bag full of her stuff. She was being passed around amongst relatives of my cousin's best friend because of her barking and clinginess. That was almost five years ago. What started as an over the weekend "free trial" kind of arrangement turned out to be the best thing I ever signed up for! I've always wanted to adopt a dog, I just didn't expect it to be a lovable, sweet potato obsessed, Mini Schnauzer, who is my shadow."
---
Alissa and Fergie / 24, 18 / My Mum's Bed, Germany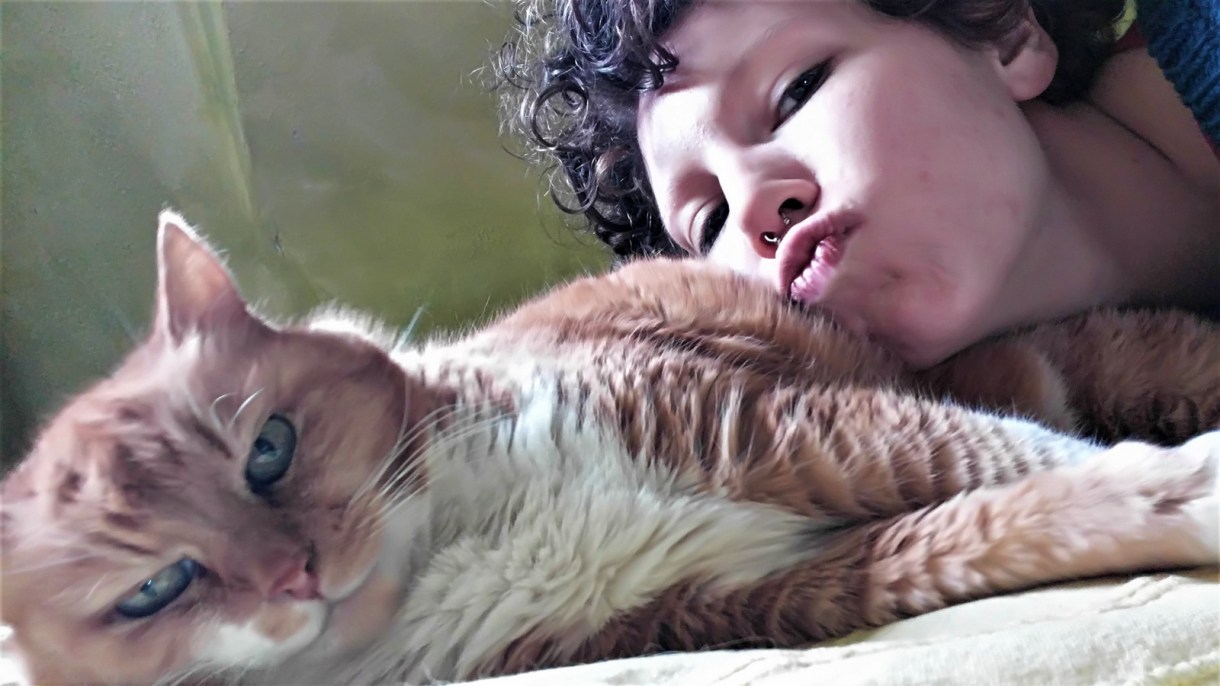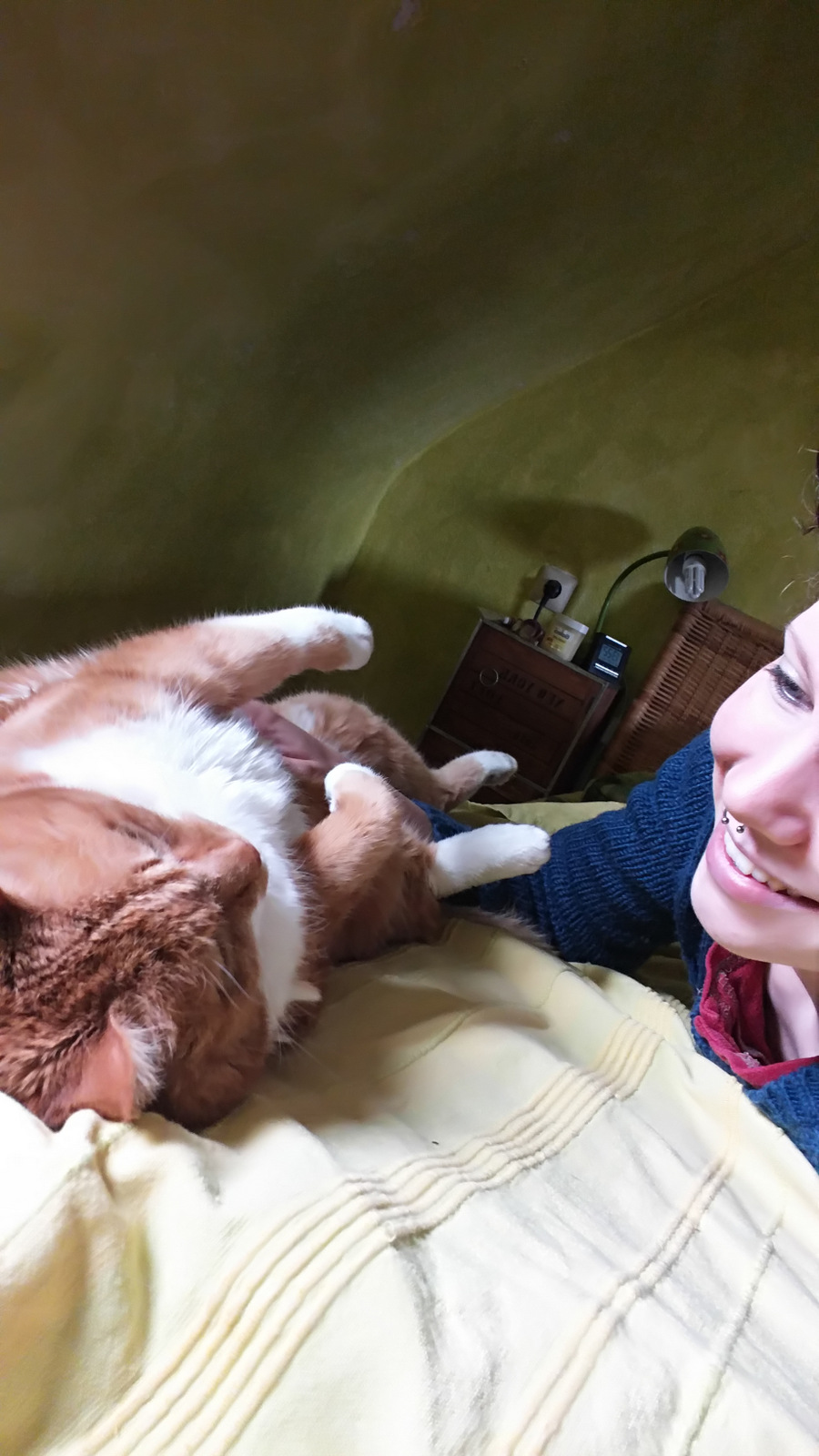 "I got this beautiful fierce cat for my sixth birthday. It was love at first sight. She was SOOO small. At breakfast, she would always choose me or one of my parents to climb onto the chair via human leg. It was painful and cute at the same time. Her name is NOT inspired by the Black Eyed Peas singer, they didn't even exist back then (although Fergie the singer is nice too). She was named after Duchess Fergie who nobody knows anymore (because of her red hair). The name was obviously not my idea, but I still like it.
The best thing? So hard to say! I've learned a lot from her. I'm connected to her. I just love her so much! She is independent, wants to cuddle only when she decides to, knows how to persuade you to feed her, gets what she wants. She makes you understand her opinions on things through different meows and facial expressions. Don't worry, she'll let you know if she's not pleased! But she'll also let you know when she's happy by laying on her back and purring, which will increase if you rub her belly with a foot (she accepts hands as well but feet are her true love). She is a fierce independent cat that don't need no man. This is a relationship of total mutual trust and I'm scared of her nearing death, but so so happy to have this amazing creature in my life."
Megan, Brenda, Scout, Nathan / 25, 26, 4, 5 / Charleston, SC
"Nathan was a birthday gift from Brenda to me. I came home one day and our house was destroyed, then Nathan popped up out of a little cardboard box with the look of Satan in his eyes. We adopted Scott a few years later when we realized Nathan may stop biting our ankles if he had a friend to play with. We have had a long line of pets with human names, Nathan's full name is Nougat Nathan. Scout is in honor of Brenda's time as a Girl Scout. Nathan sometimes forgets he has a tail then gets spooked when he rediscovers it. Scout makes direct eye contact with everyone and it makes some people very uncomfortable. Cute! We like to watch reruns of Will and Grace (see tv in background)."
---
Christy and Reddy / 43, 3 / Costa Mesa, CA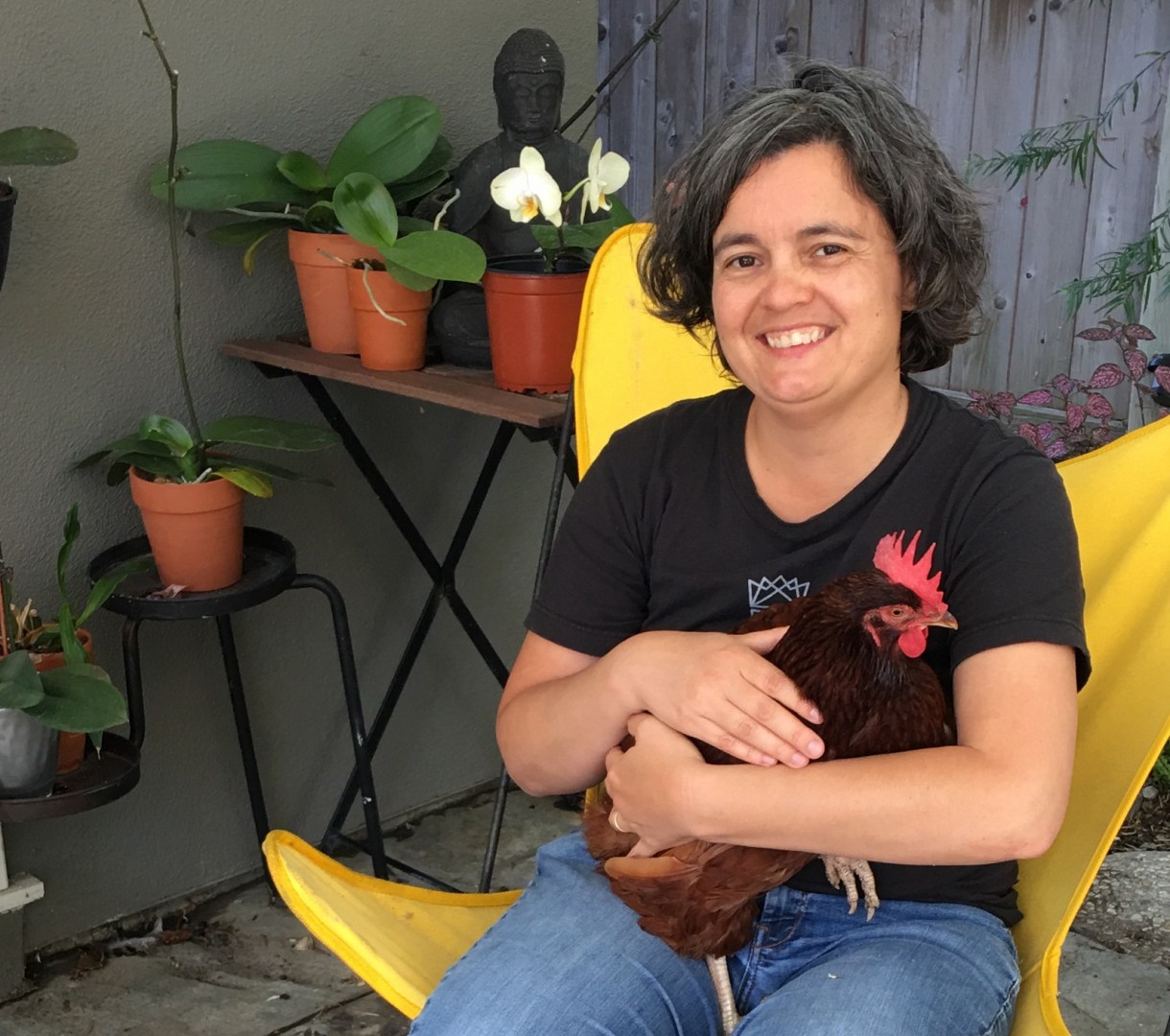 "Our family got Reddy as one of four chicks from the local feed barn. For while they lived in a cardboard box in the laundry room. She was the smallest of the group and would sometimes do a face plant, instantly falling asleep in the pine shavings. We'd all freak. "Is she dead?"  Needless to say, she's alive and well. I guess she was just really tired. Of all our chickens, she's my fave. I love her for her countless eggs and her easy going personality."
---
Emily and Lily / 20, 4 / Pacifica, CA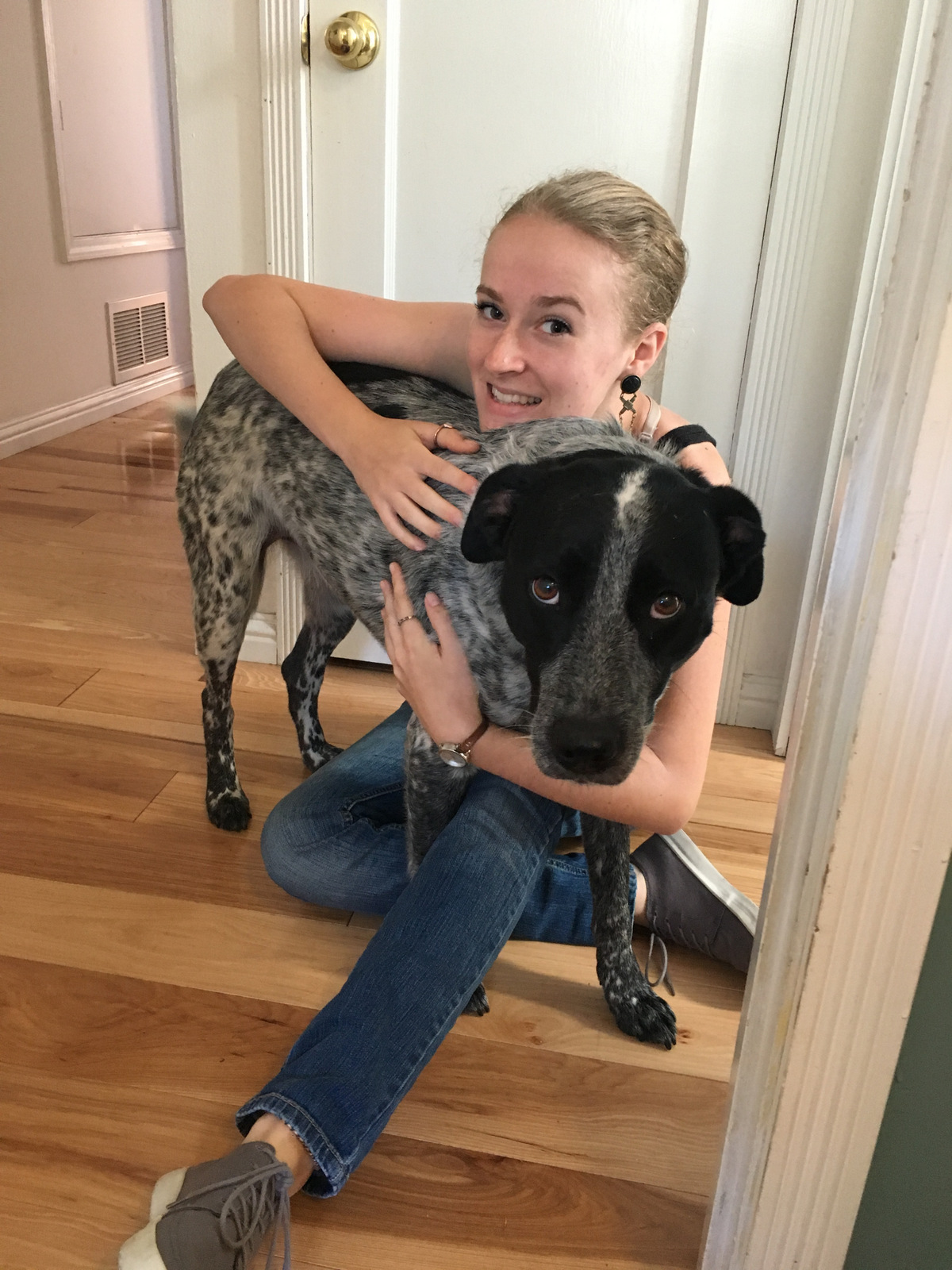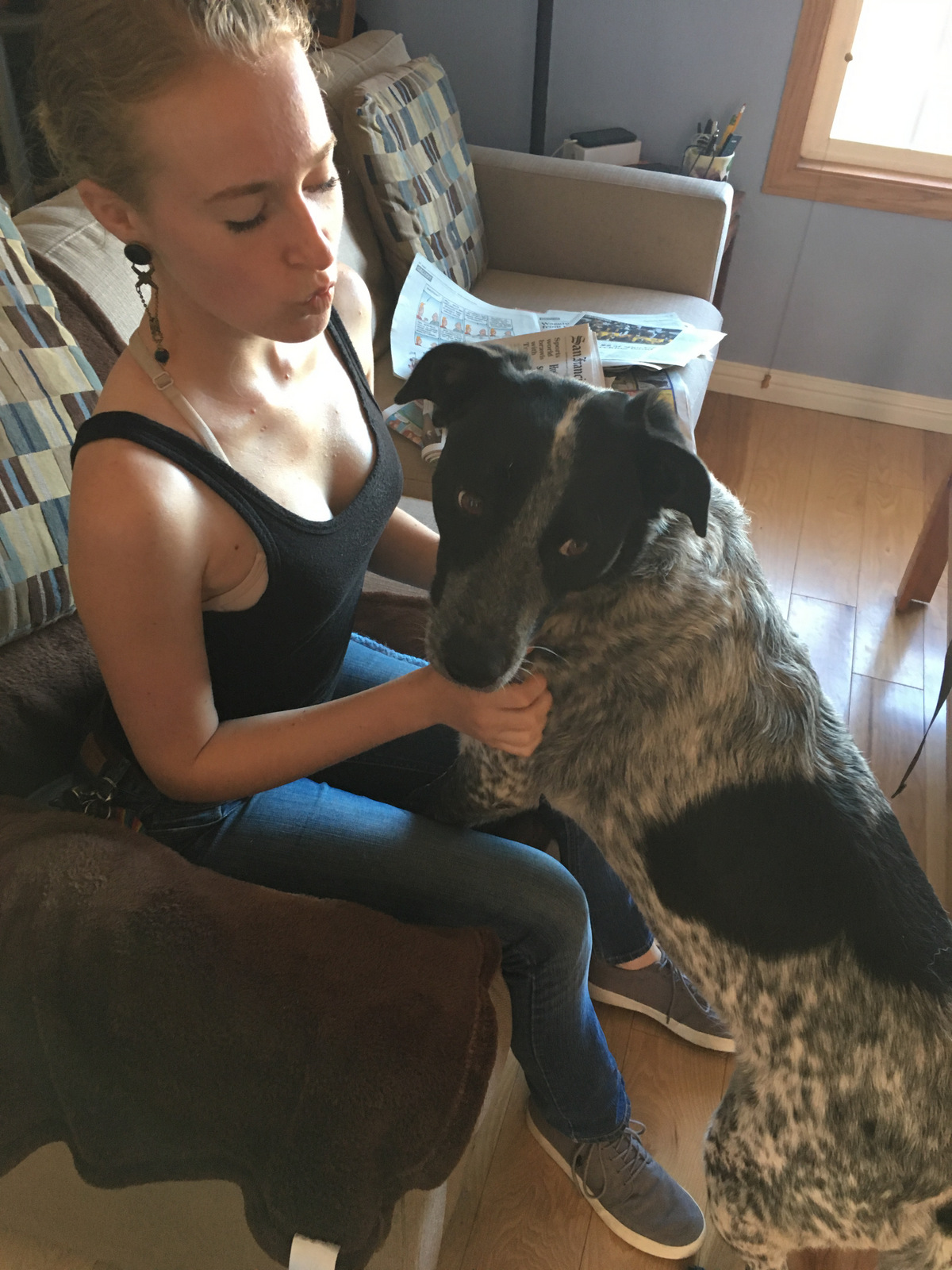 "Lily came to us about three years ago from the San Francisco SPCA when we were "just looking," but, you know, famous last words. How could you say no to that little face? She's a black Labrador/Australian cattle dog mix; her hobbies include eating the fuzz off tennis balls, rolling in gross dead things she finds at the off-leash beach, smacking her head into the backs of people's knees to herd them into groups (the cattle dog thing), snatching whole loaves of bread off the counter (the Labrador food thing), and belly rubs. Dislikes include fireworks, the mailman, the vacuum, and when you close the bathroom door and don't let her come in with you. This is the part where I put in a HUGE plug for adopting a shelter pup; she's whip-smart, gets along with everyone, even people who don't really like dogs, is a total lovebug and just the greatest of all time."
---
Erica, Gandalf, Beverly / Sacramento, CA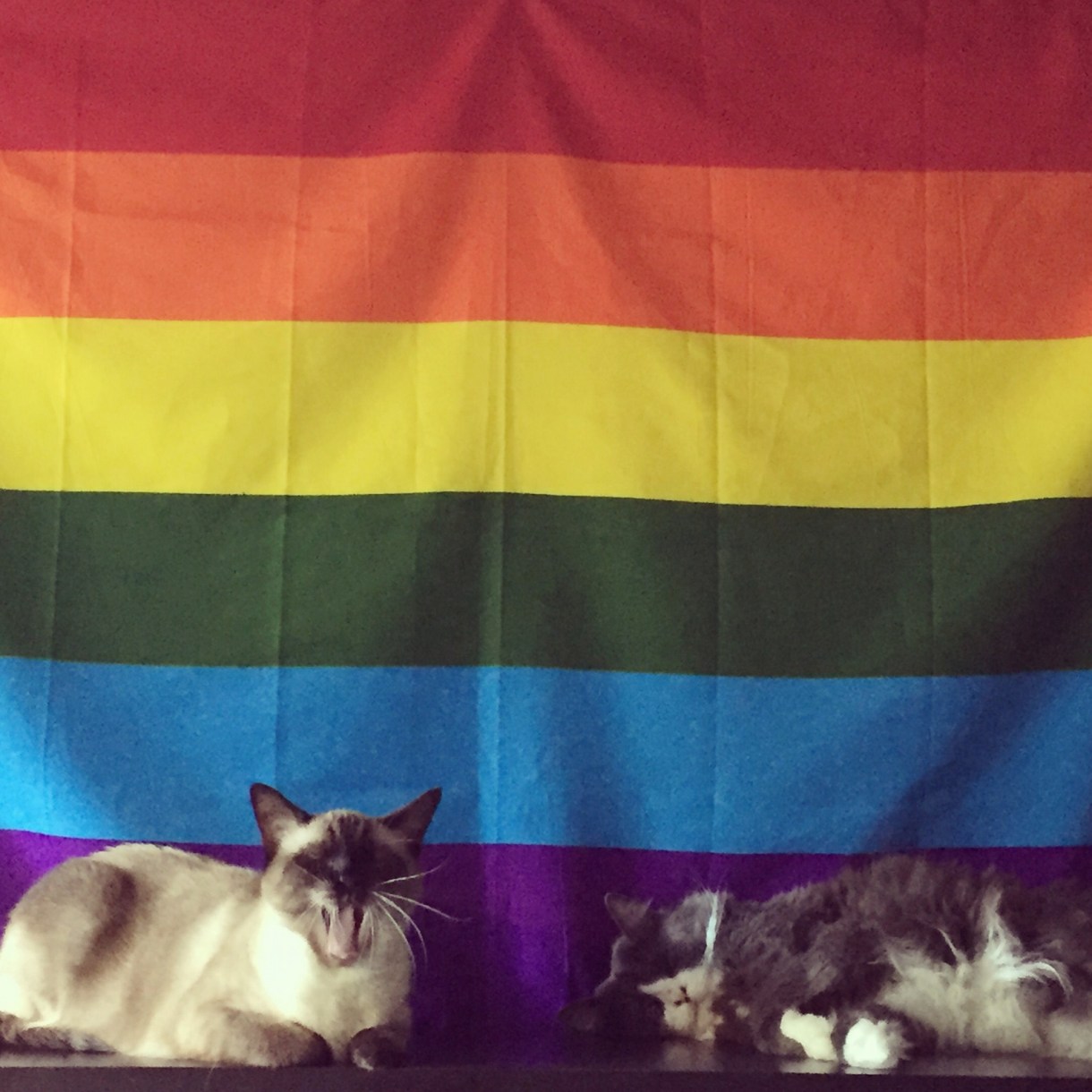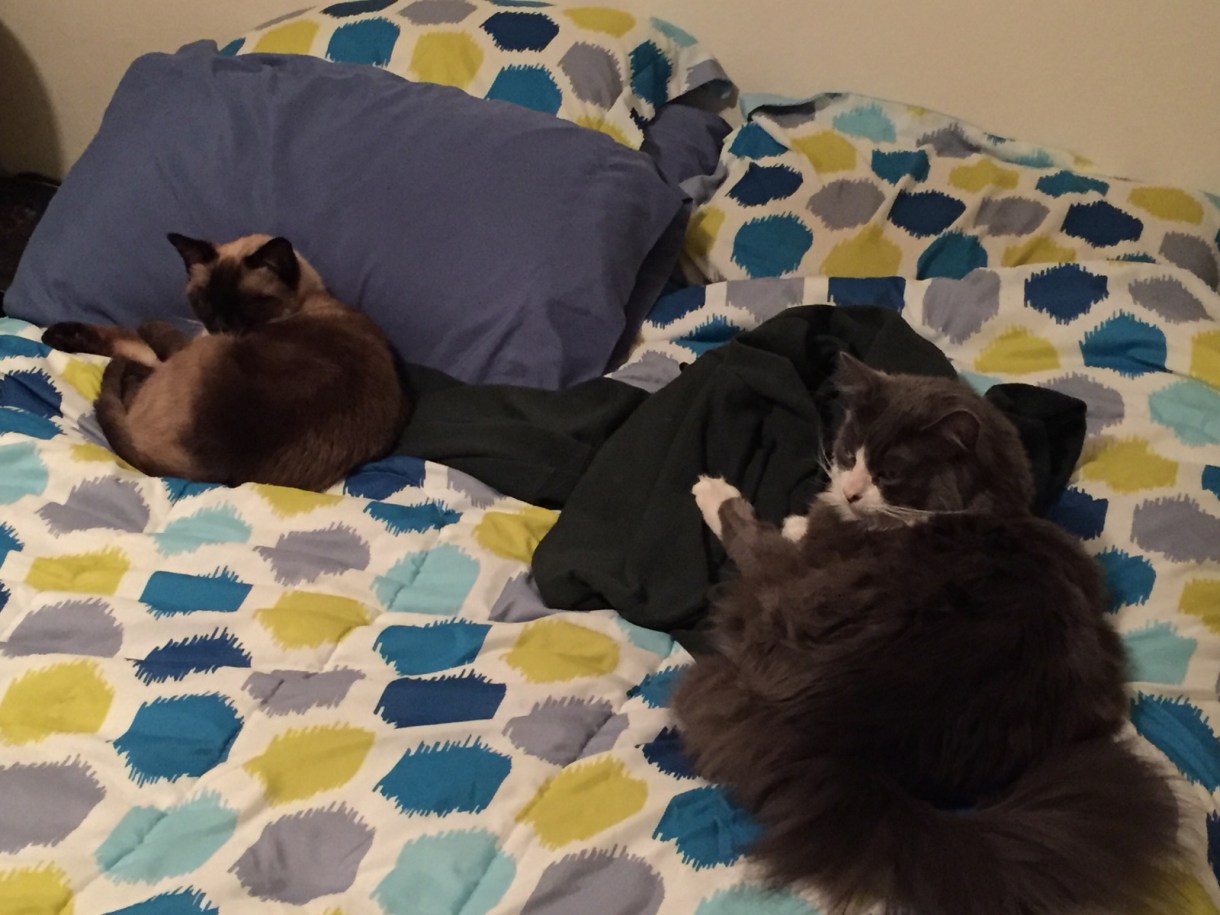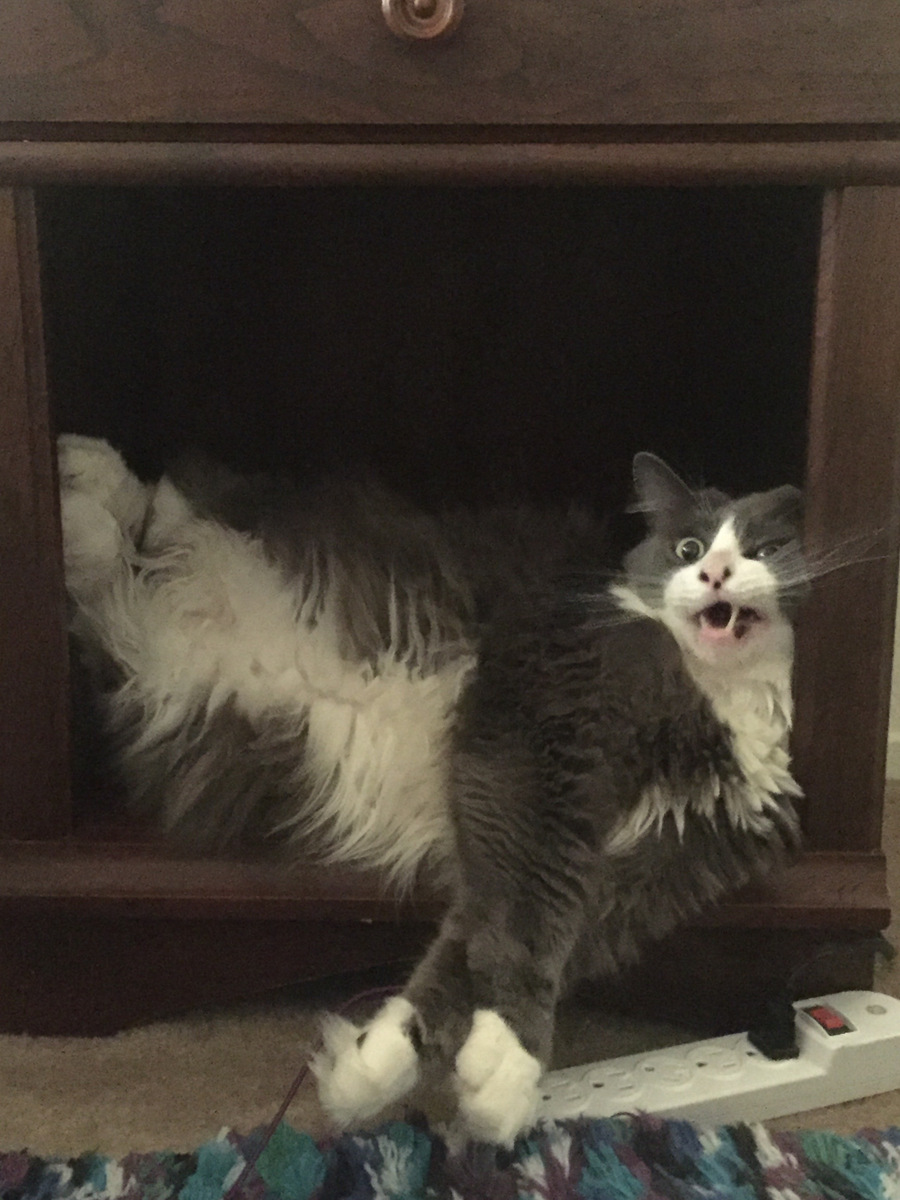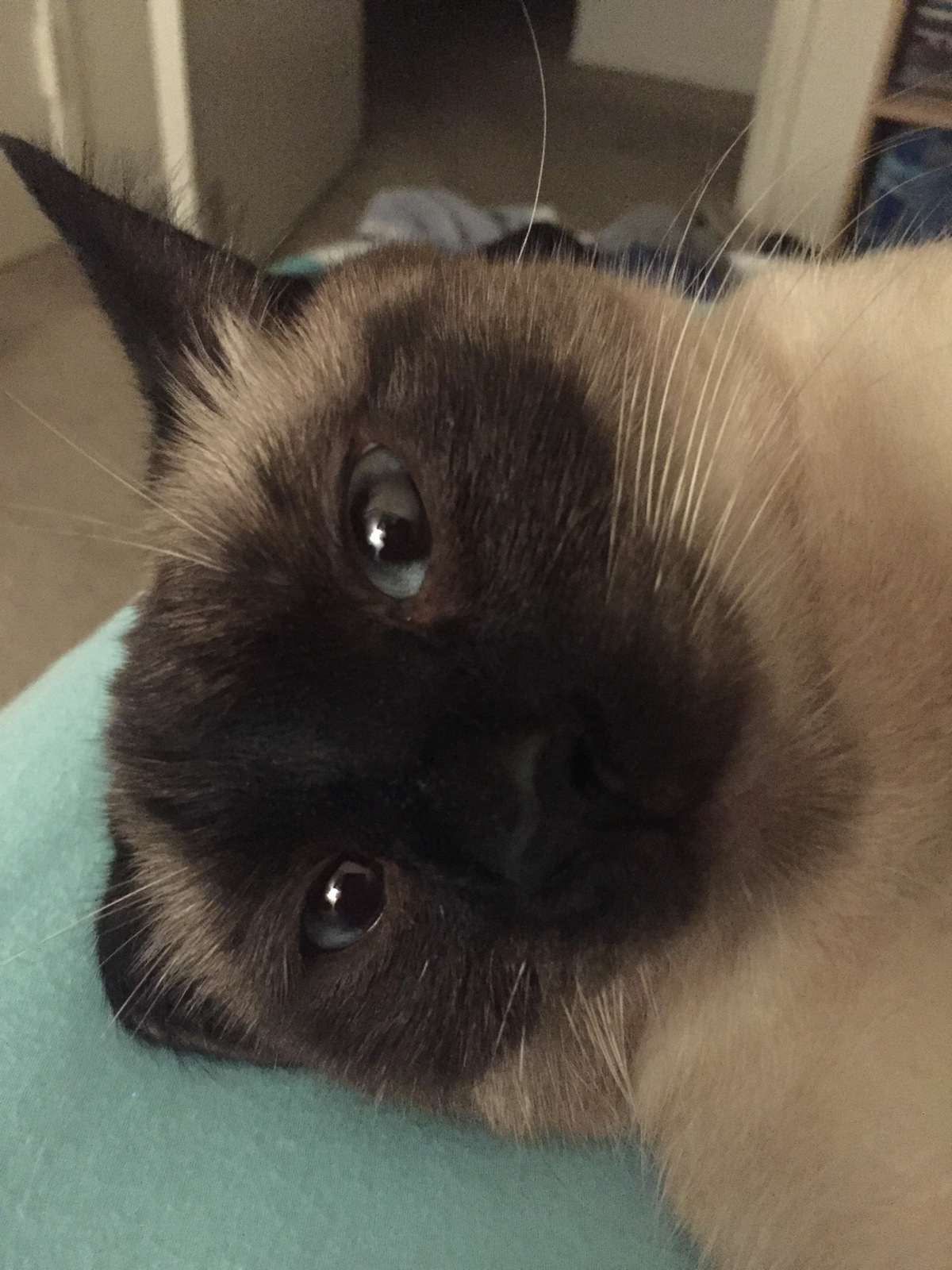 "I freaking love cats. I am a cat lady through and through. So much so that people call me for advice on what to do when their cat escapes and they can't find them, or when their kitten is a kneading menace. Gandalf is my grey and white Norwegian Forest  Cat. He was outside my apartment one early November morning in 2013 and my roommate, who had said she was allergic to cats and was the reason I didn't already have a cat, decided to bring him in because he was so freaking cute and it was cold outside! So he walked in like he owned the place and had been living there for years. He got a bath, amused us with chasing his wet tail for a while, and promptly sat on our couch for a nap. My roommate and I generally shared his food and vet costs, but after a while it became clear he was really my cat (he slept in my room most of the time) and because my roommate didn't have a lot of money I eventually ended up paying most of his medical bills. So he officially became mine after she moved out in 2016. He's so sweet and chill and I wouldn't change a thing about him. He's been such a rock for me through job changes, depression, and current event scares that I can't imagine how I navigated life without him. He is a strictly indoor cat but tries to escape into my apartment complex occasionally. He also really enjoys boxes and licking people's feet and smelling their shoes. WEIRDO.
Beverly (named after Dr. Beverly Crusher from Star Trek: The Next Generation) was brought in to the no kill cat sanctuary I volunteer at as an adorable and slightly feral Siamese kitten in October of 2015. I decided to try to "foster" her after the first cat I had wanted to foster was fostered by someone else. And by "foster" I mean the sanctuary paid for all her medical bills and food and litter while I provided a home for her to see if she would fit in with my other cat so I could eventually adopt her. After a very long and slow introduction to my cat and my roommate's cat, I decided to officially adopt her.
As a kitten she was VERY scared of everything but loved snuggling with me in bed. She hardly ever left my room for a long time and if she did venture out into the living room she would run back into my room at the smallest noise. Eventually she got a lot better about being out and about in the apartment and has even warmed up to a few people who come over, but she's still a big scaredy cat about everything. She is also a harbinger of destruction, having destroyed and eaten parts of blankets, scarves, shoe laces, and a $60 pair of headphones. She is about two now so I don't understand WHY she still does that shit. I will blame it on her being a neurotic Siamese-they're famous for being weird. She also cries a lot right next to my face while I'm in bed trying to go to sleep. She hates being picked up and if you touch her the wrong way she hisses and growls at you, but five seconds later she can be fine and purring again. ??? CATS, YA'LL.
Gandalf and Beverly get along really well, although I wish they would be better snuggle buddies because THAT'S SO CUTE! Sometimes they do decide to sit near each other, and they often bathe each other which I gotta say is the sweetest thing-and then it immediately turns into rough cat play which is extremely amusing. I'm glad I got Beverly to be a buddy for Gandalf even though I think he gets jealous and resents her presence sometimes. Beverly just wants to be good friends with him!! So sad."
---
Paige, Brit, Benny, Gertrude / 25, 25, 6, 9 / Bushwick, Brooklyn, NYC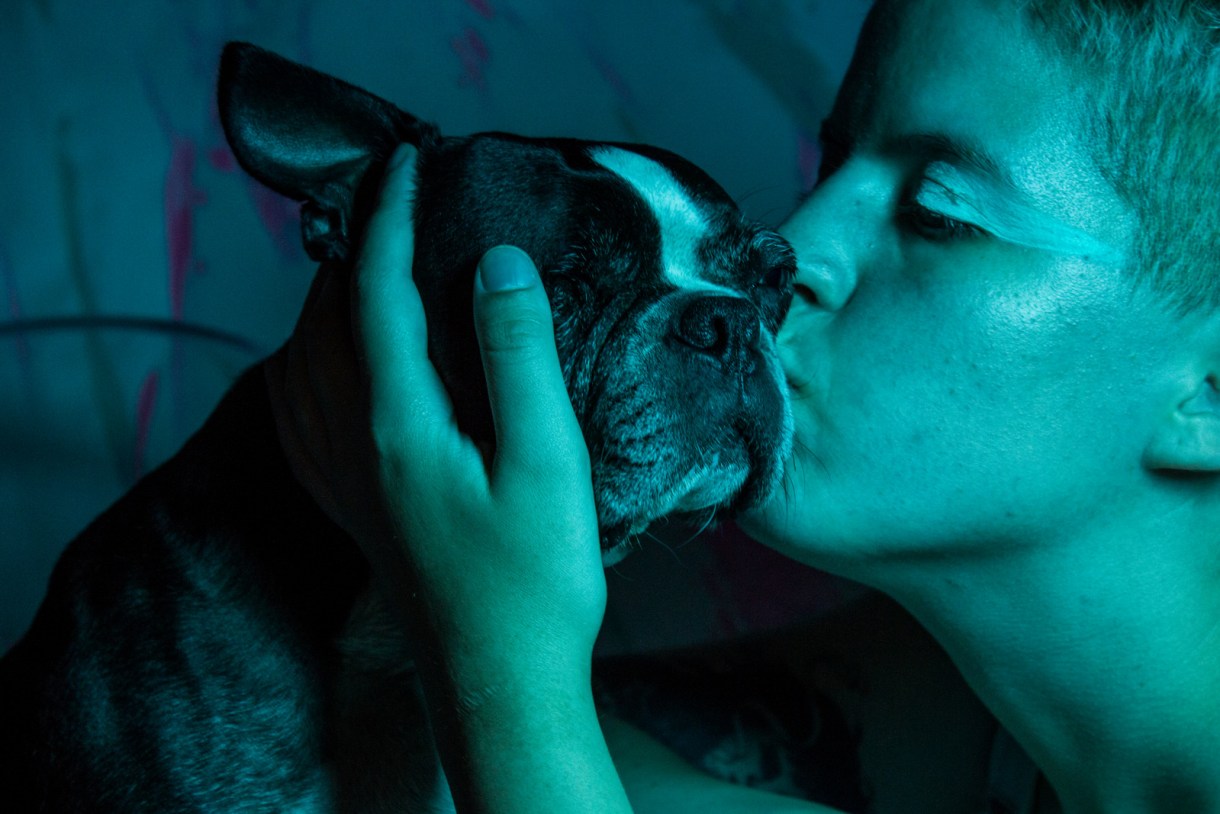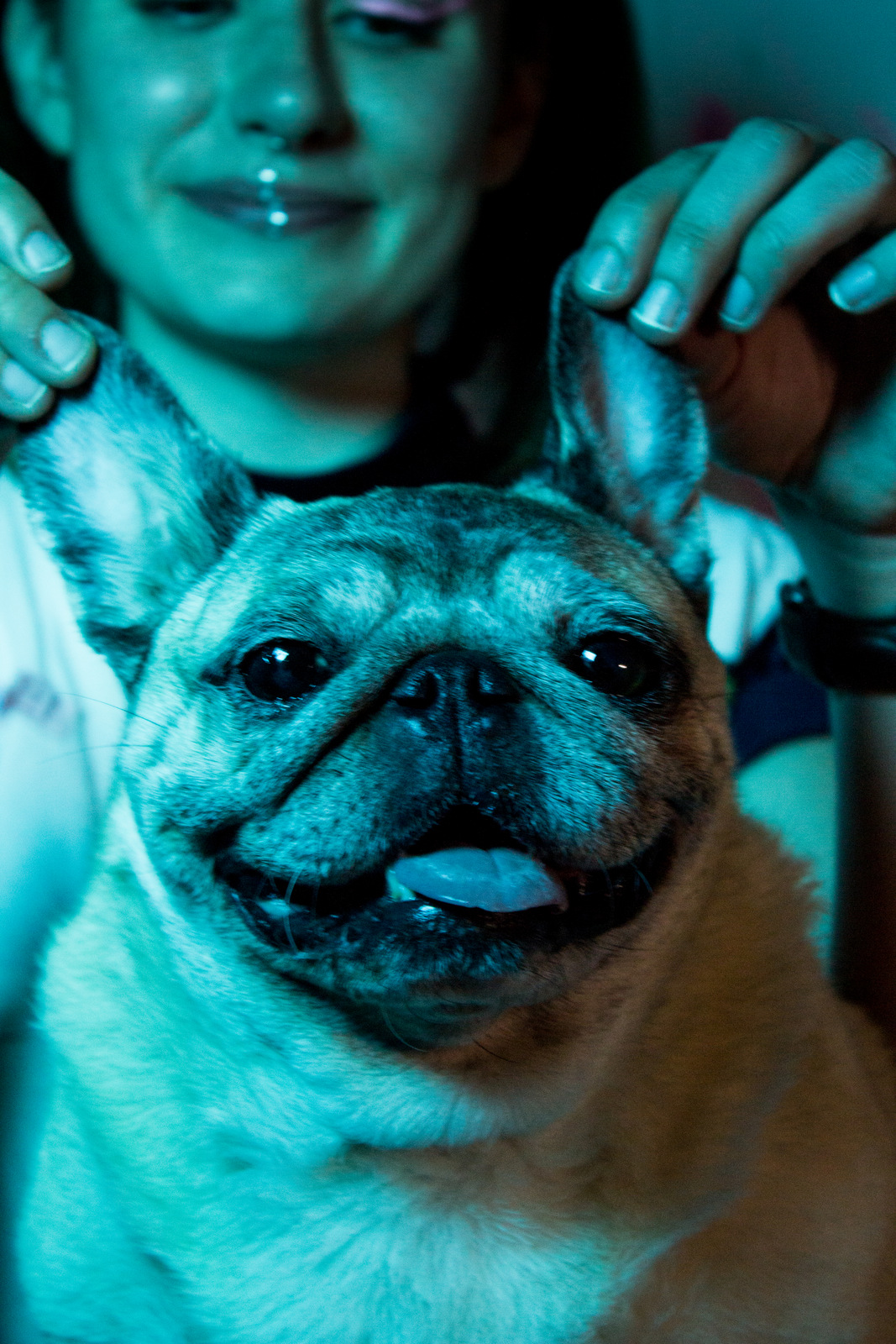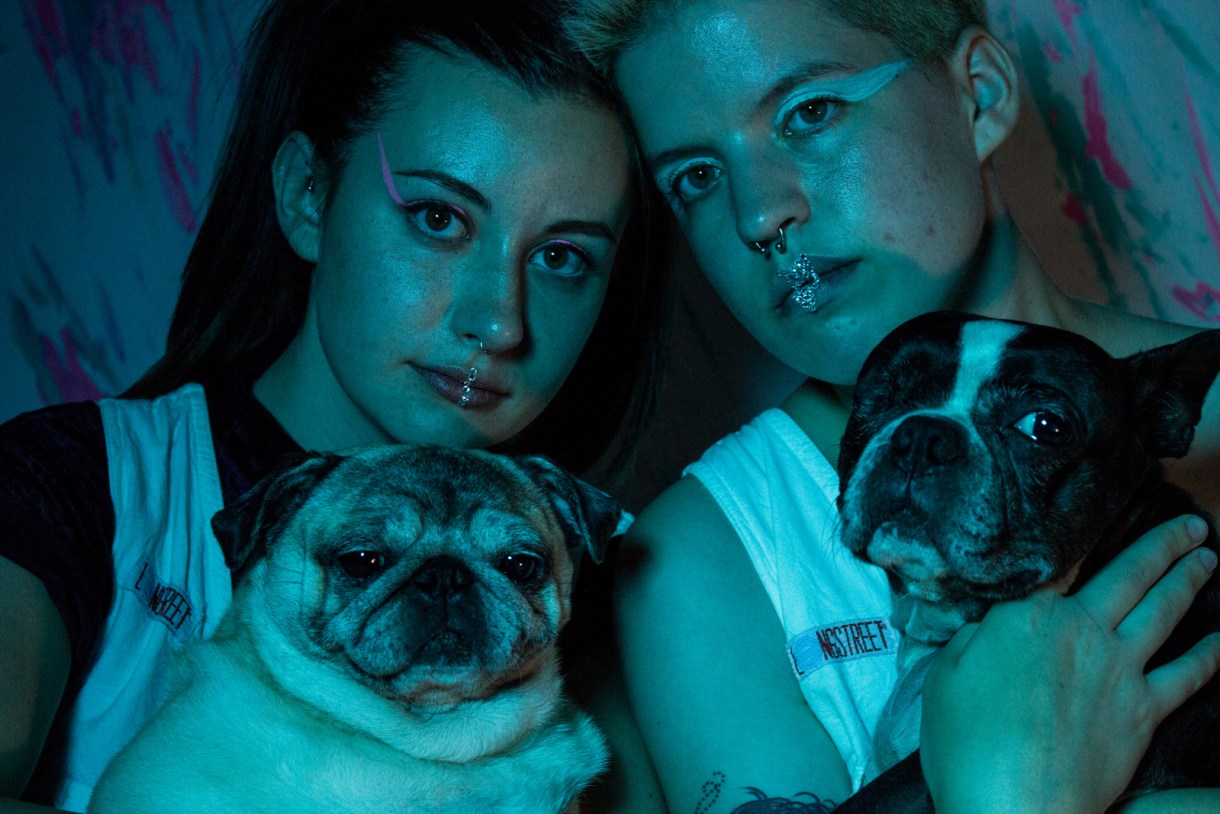 "I (Paige) have bipolar disorder, and Benny is my emotional support dog. Three years ago my psychiatrist recommended that I get one, so I looked on PetFinder.com, saw his picture, and immediately said, "Holy shit, that's my dog." We're soulmates; he has a lot of feelings too.
Gertrude and I (Brit) found each other in the summer of 2012 when her previous owners were giving her up for adoption. I was immediately drawn to her strange noises and hedonistic outlook on life. I named her Gertrude, after Stein, because she reminded me of an elderly lesbian. Our favorite things to do include eating, sleeping, flirting with cute girls, and eating. The best thing about Gertie is her warmth and openness toward everyone she meets. It's hard to pick the weirdest thing about this absolute enigma of a creature, but it would probably be her predilection for eating mouthfuls of sand. Or this bizarre thing she does that I call "corn-cobbing," where she will grab someone's finger and start frantically nibbling back and forth as if eating a miniature corn cob. You can find her on Instagram at @gertiethepug."
---
Kylie, Rosie, Scarlett, Pie, Cosmo Waffles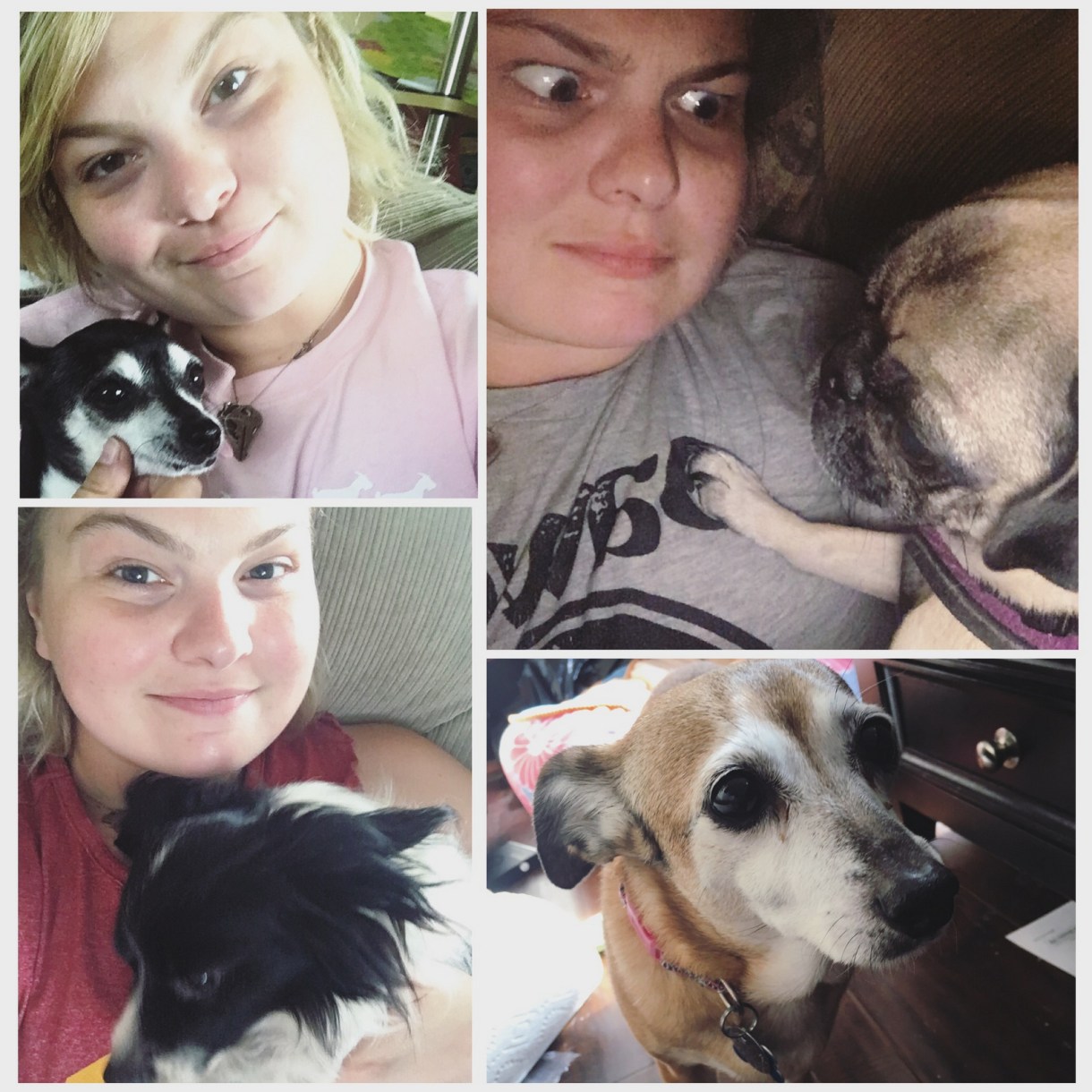 All rescues! Rosie (Chihuahua) and Cosmo (Papillion) are the newest additions to our family as of two months ago.  My mom saw Cosmo on Petfinder and Rosie was the "stowaway" we weren't planning on-when we arrived at the San Pedro shelter to pick up Cosmo, Rosie was so new she didn't even have a name in the system, and we instantly knew we needed her too. Both acclimated so fast to our home that it feels like we've always had them, and even with their health issues (Cosmo is mostly blind, Rosie does not have teeth and missing a bit of her lower jaw and they both have tumors that need to be removed) and being senior dogs, they act like puppies!
Scarlett (Pug) I've had since she was a tiny puppy pug. My dad rescued her and brought her to me the day before I had a major surgery and she has been my bratty teenager ever since (no one tell her she's not a cat because she acts like one!) she LOVES green beans. Her favorite snack since she is grain/gluten/poultry free due to her severe allergies. She eats better than I do most days! Her favorite toy is her Rabbit or what we call "Bun-Bun," but her FAVORITE time is when BarkBox arrives. She instantly knows it has toys and treats for her and her sisters!
Pie (Corgi/Dachshund mix) is really more my mom's dog, but she had such a traumatic past and we adopted her 5.5 years ago.  In the past year she finally has learned how to trust other humans, and she is always down for a good snuggle.  Scarlett is really the reason why Pie has learned how to "dog"-Pie now plays with toys and other dogs because Scarlett taught her! We're a happy little family and I can't imagine life without my zoo."
---
Lauren and Luna / 28, 3 months / Long Beach, CA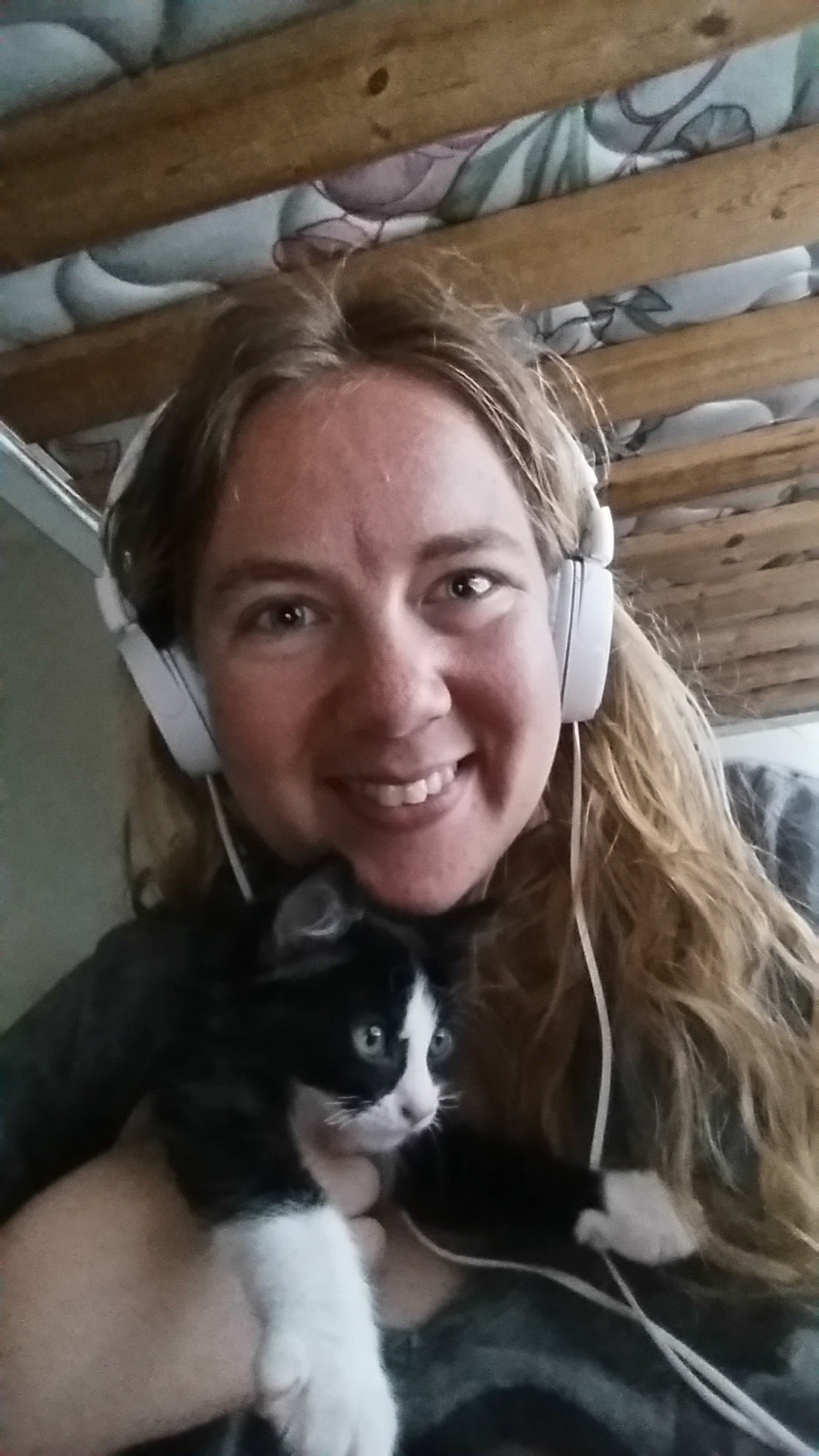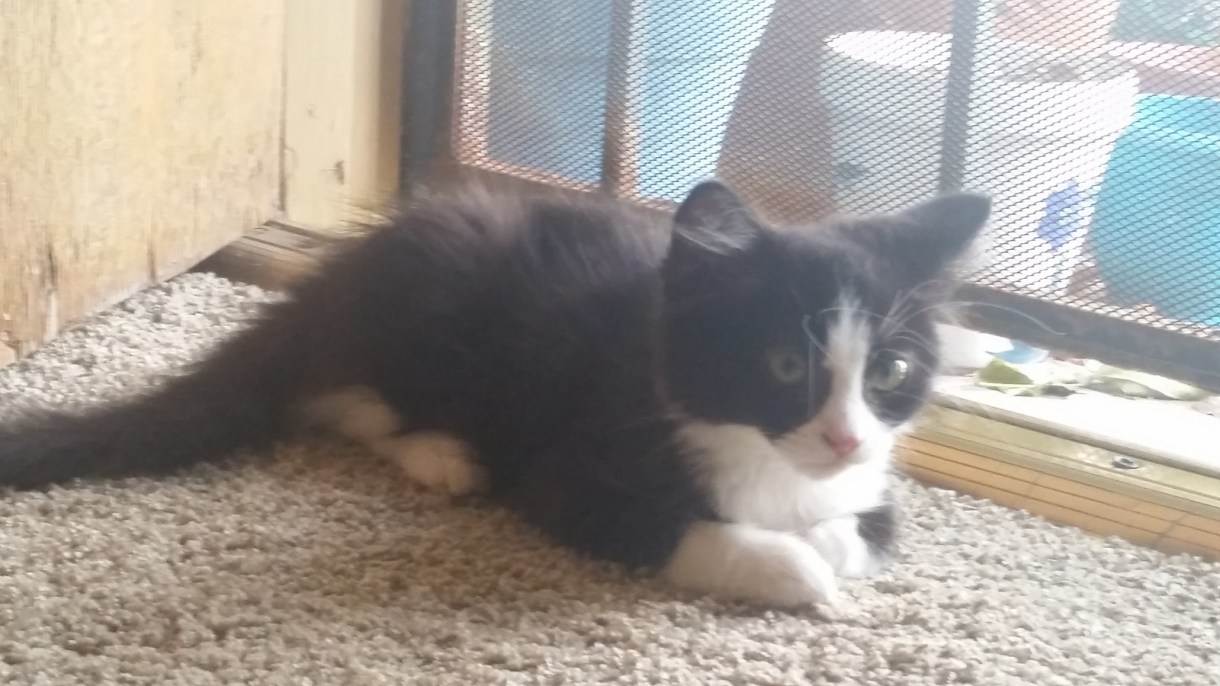 "I just got Luna on September 9th, when a pregnant stray cat walked into my friend's church. My friend has already rescued 35 cats, so she was able to give her a home until she had the kittens. Then she had five kittens, and they spayed her, and my friend was taking care of the family until she found homes for them. I named her Luna, because I'm a witch, and I also love Sailor Moon, and her astrological sign is Cancer, which is ruled by the moon. She's super soft and cuddly, and she loves to purr, and play and sleep."
---
Heather and Auto / 30, 7 / MS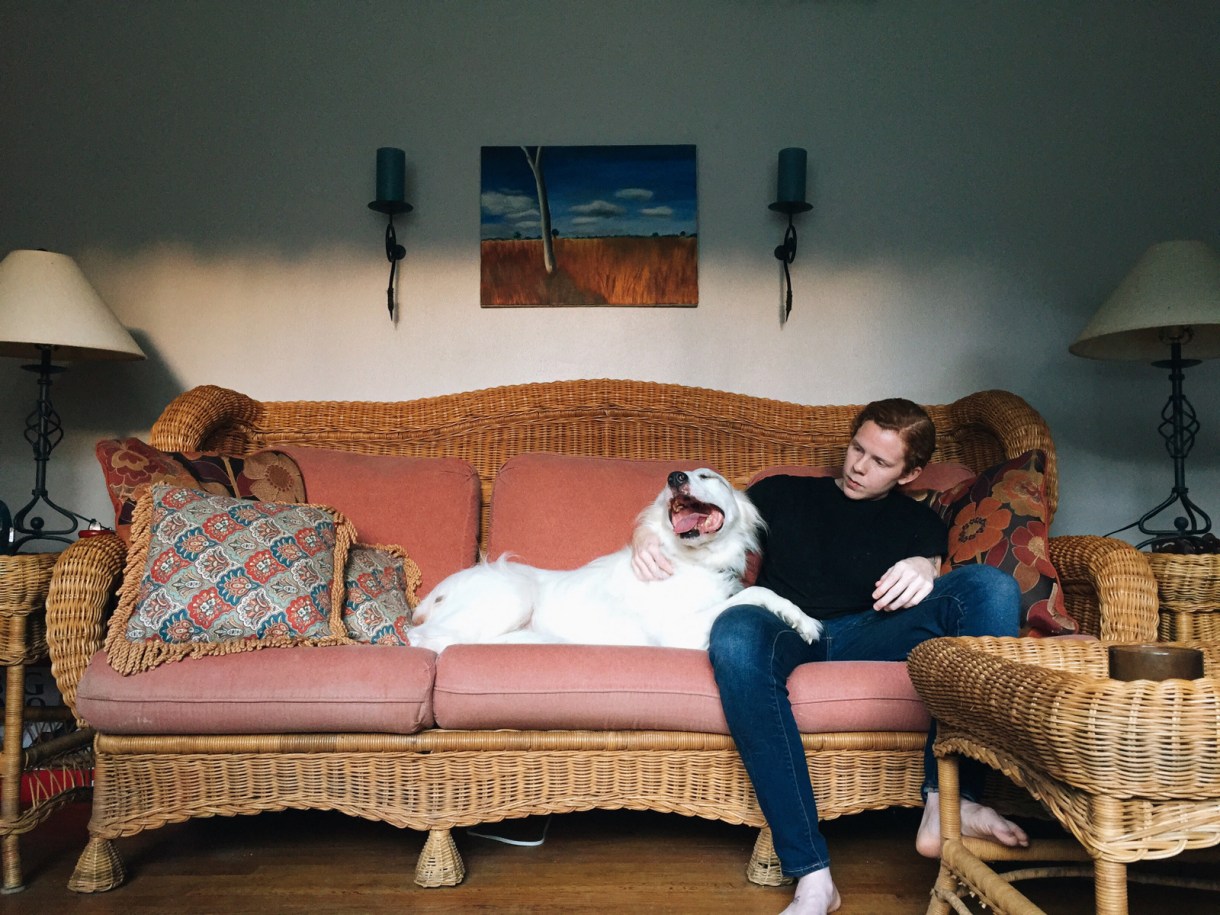 "Take a wild guess why I decided on that name. Auto's the sweetest, happiest dog I've ever met and loves everything in the world except for thunder and bees."
Editor's note: ?
---
Nic and Cayleigh / 34, 10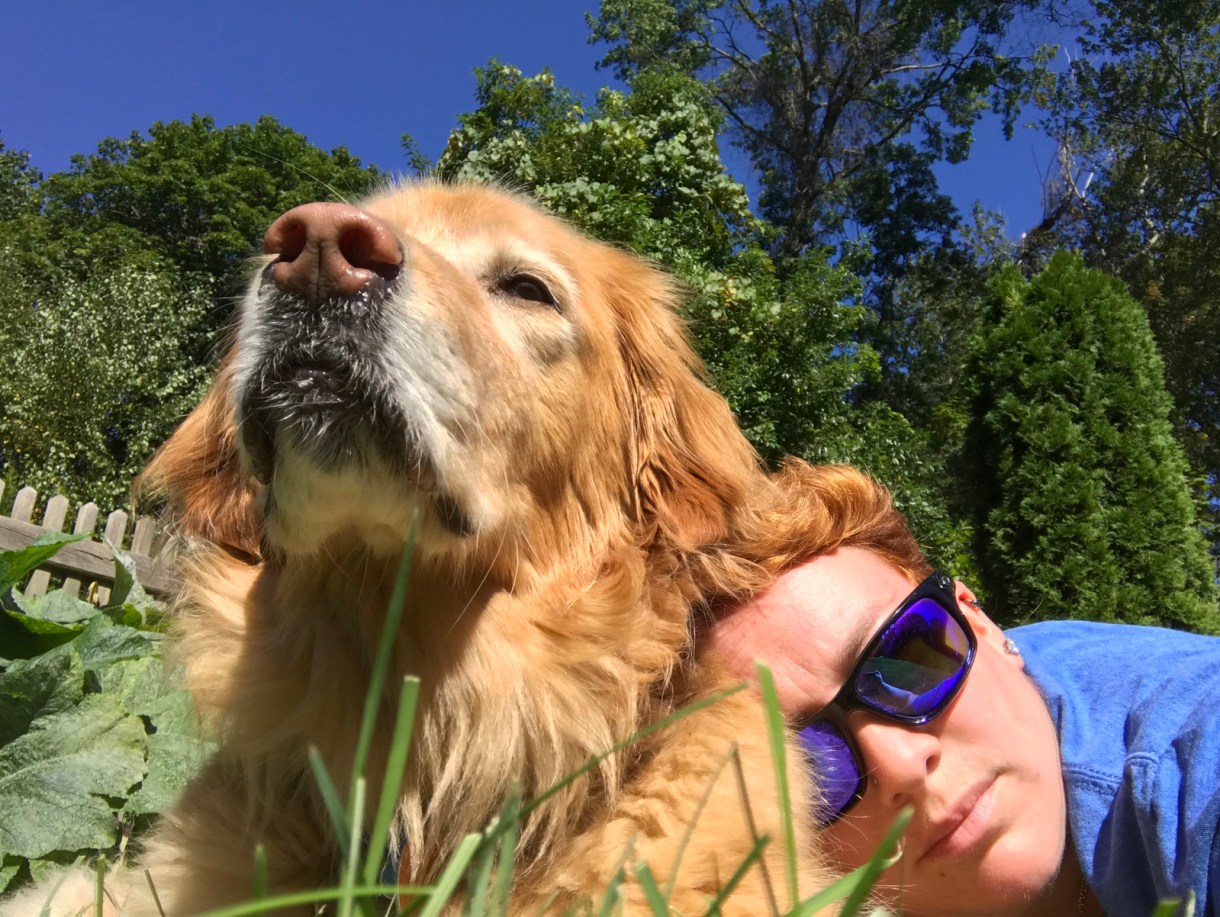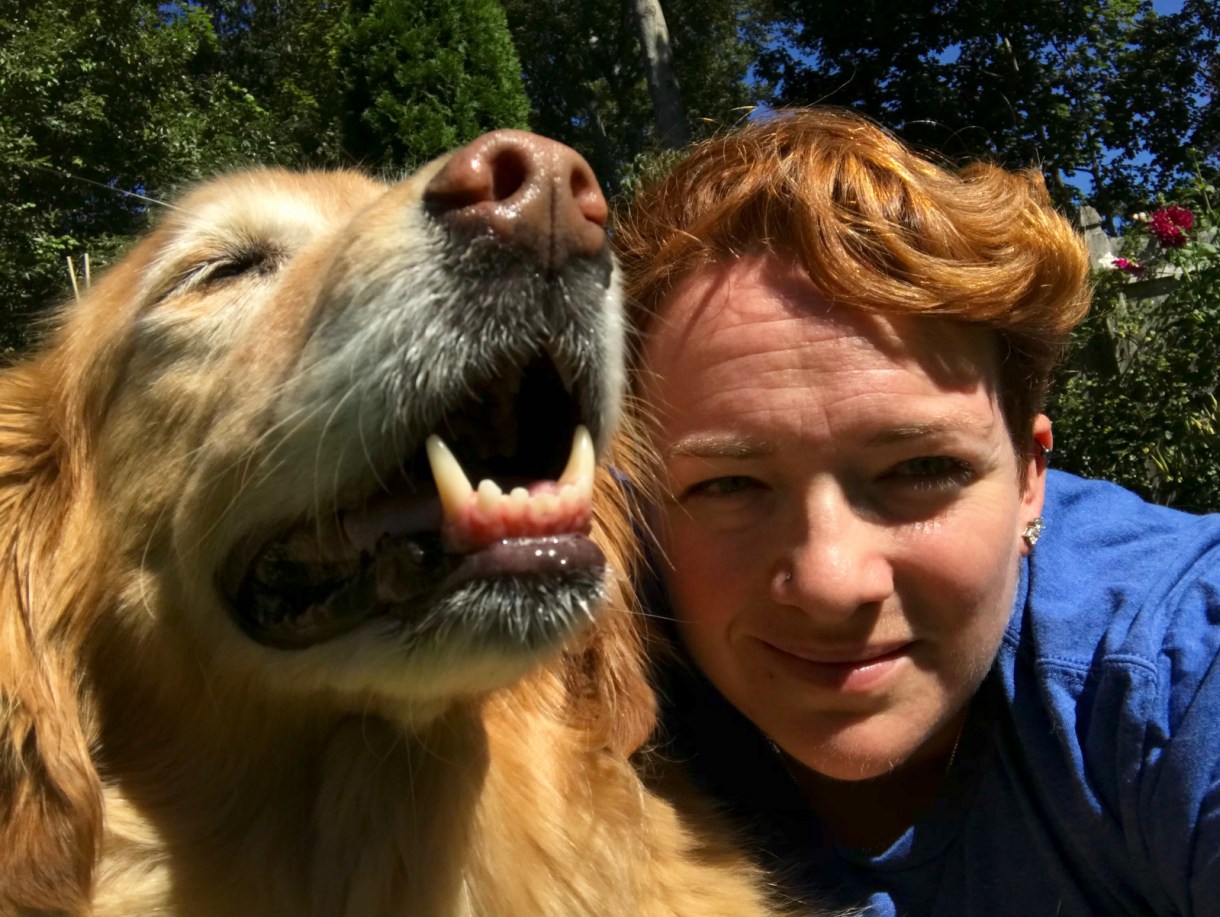 "Cayleigh joined our family not long after we lost our first Golden Retriever. My mom and I went "just to look" at puppies, called my uncle while we were on our way up, and he said he'd pay for the new puppy. Low and behold we got a dog. She's a typically needy Golden Retriever who is obsessed with ice cubes and sheds like it's going out of style but I wouldn't trade her for the world."
---
Cleo, Chester, Cleo / 47, 16 (RIP), 14 (RIP) / Chicago, IL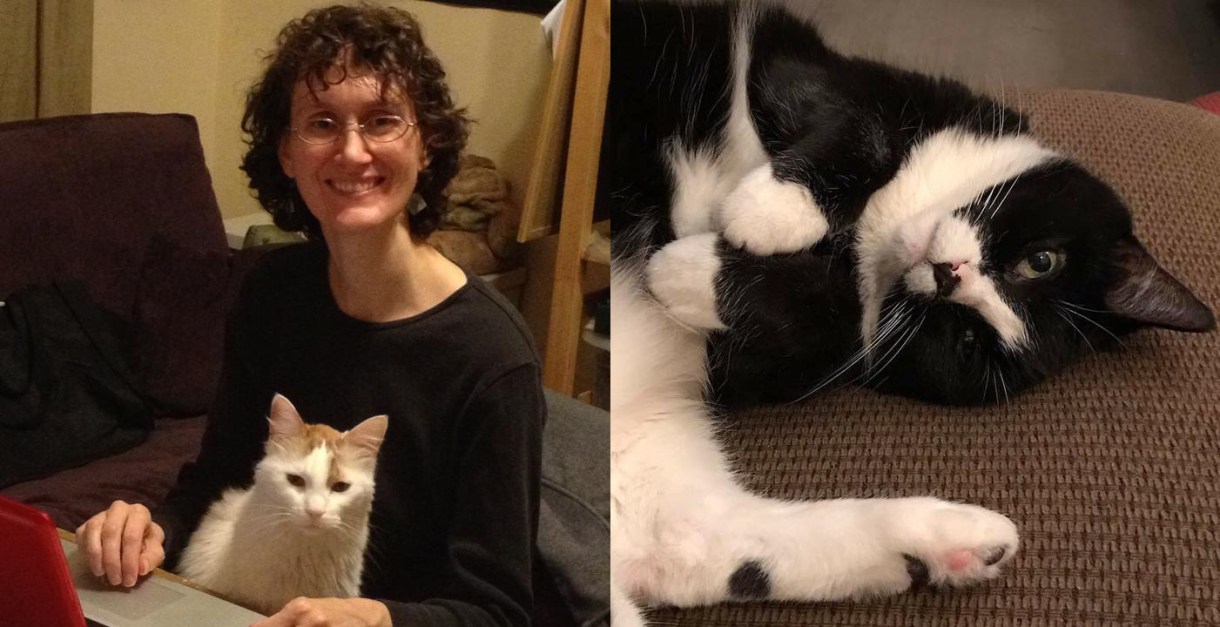 "Yes, I use my cat's name and photo as my avatar. Both of my cats died this past year, so I'm glad to be able to memorialize them here with AS.
I met Chester (white and ginger long hair Turkish Van) when he was a skinny, fluffy stray cat. He showed up on my friend's back porch, limping and meowing his head off. When I went to give him water, he started purring before I even put the bowl down and the next thing I knew, I had a cat. He was my companion for 16 1/2 years. Like many cats, his behaviors kept changing. But he was consistent in his persistence in going after what he wanted – whether that was petting, fresh air, running water, crumpled paper, food, peace & quiet or head scratches. He was an affectionate lap cat and he acted as my "work-life balance couch" – sitting in my lap or next to my laptop while I worked until he decided it was time for me to stop. In this photo, he's helping me grade student projects.
My partner and I adopted Cleo (black and white short hair domestic with tuxedo markings) from a shelter after we bought our condo. We thought we were getting a companion for Chester, but we really were getting her for us. Cleo's hobbies included chasing balls, batting crumpled paper, purring and getting as high up as possible. She excelled at finding the warmest spots, entertaining small children and fitting into boxes of all sizes. She liked to join us for meditation and to supervise my sun salutation Yoga postures. She was an expert practitioner of her own style of kitty yoga.
She was not a lap cat and not fond of petting from strangers. But she'd crawl under the covers and curl up next to my belly on winter nights. She was particularly adorable while hanging out with us in front of the TV."
Vicki and River / 57, 3 / Sugar Land, TX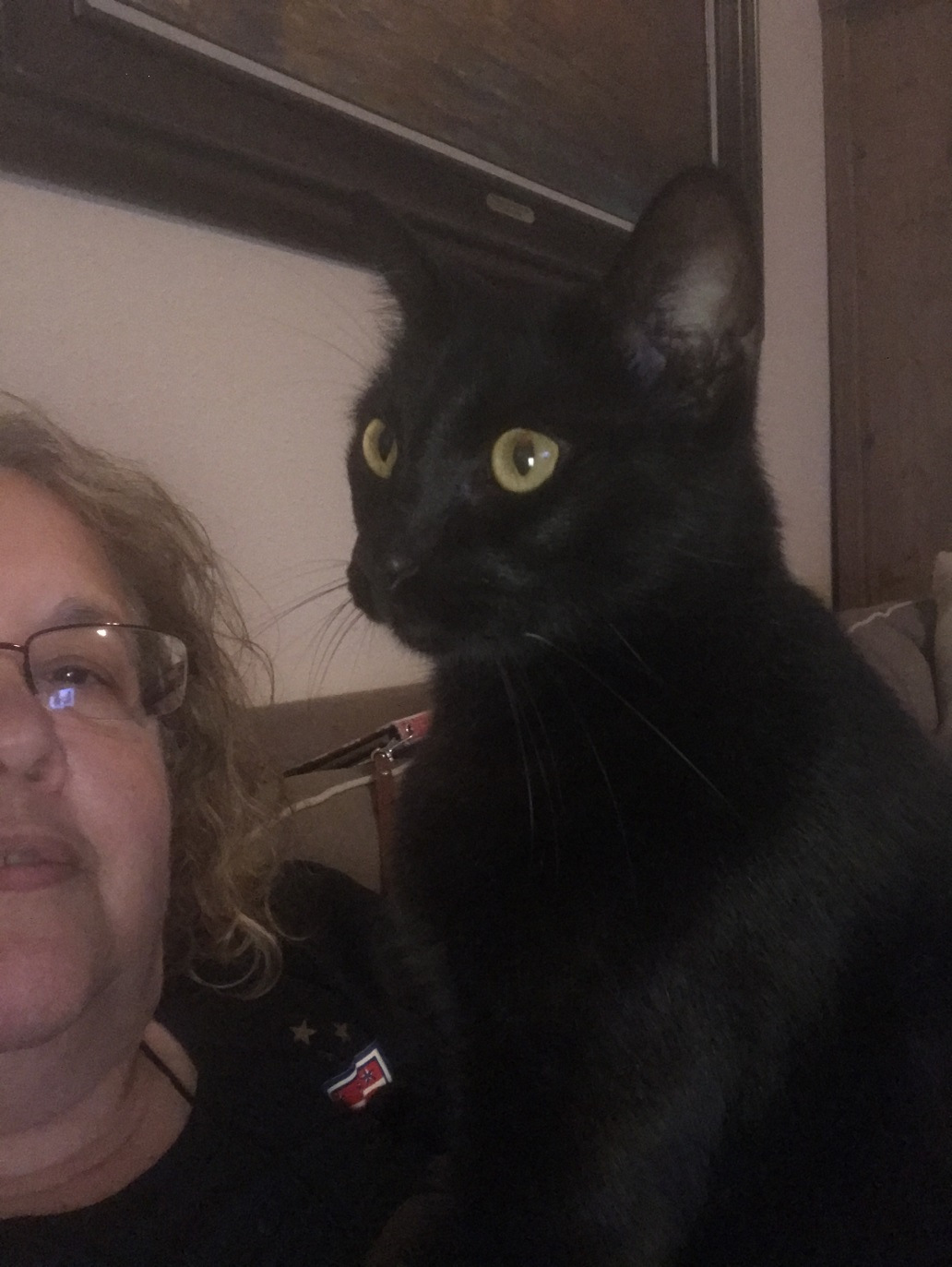 "My niece saved her current cat, Pepper, from a cold, wet parking lot one Christmas, but was living in a dorm and couldn't take her. So, Aunt "Dog Loving" Vicki to the recuse. "Please keep her until I move out of the dorm, Pleassee?" I folded. The day came, three months later, she came to get Pepper. I was happy to reunite them. Finally, no responsibility! No litter box, cat food, water bowls, vet visits but no cuddles either.
A local retailer was having a pet adoption day and I thought what's the harm in looking. Ha. There she sat, the oldest baby left. The ladies said she was going to have to take her back to the shelter for at least a month if she didn't get adopted that day. I asked why and was told they didn't allow black cat adoption during the month of October. Gasp, what?! It was a precaution they took in case some crazies were looking to do harm to black cats because of Halloween. The rest is history. She is mine and I named her for two of my favorite strong, female, syfy, characters, River Song and River from FireFly. River loves to hunt and bring me half-dead spoils of the kill. We enjoy watching, you guessed it, Syfy shows. She talks all the time and always has an opinion as to what we show watch. She doesn't have time for Instagram, but does have a few pics using the #riverthecat."
---
Heather, Pip, RoofCat / Worcester MA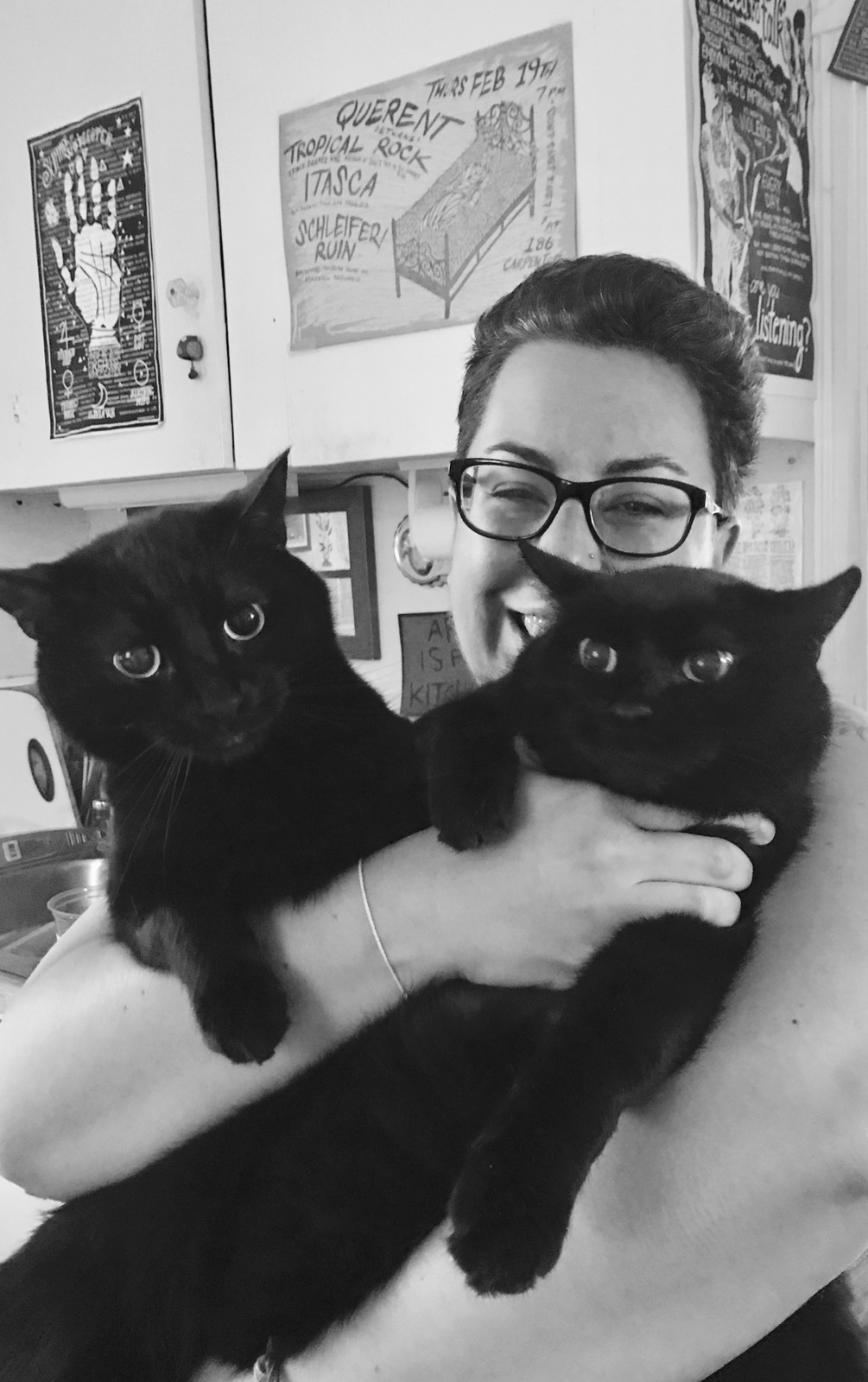 "True story, I got Pip at Deville's Cafe, a (now closed) lesbian bar in Providence RI. The owners had found the litter in the parking lot and what better place to find a home for kittens but at a lesbian bar?! I went for karaoke and came home with an adorable tiny kitten, best day of my life. I found RoofCat on my roof. He had climbed up the back staircase and got stuck on the roof! He climbed through my window (hence acquiring his name) and decided that mine would be his forever home."
---
Heidi, Dewey Dell, Zeke, Huckleberry / 33, 2, 3, 3 / Colorado Springs, CO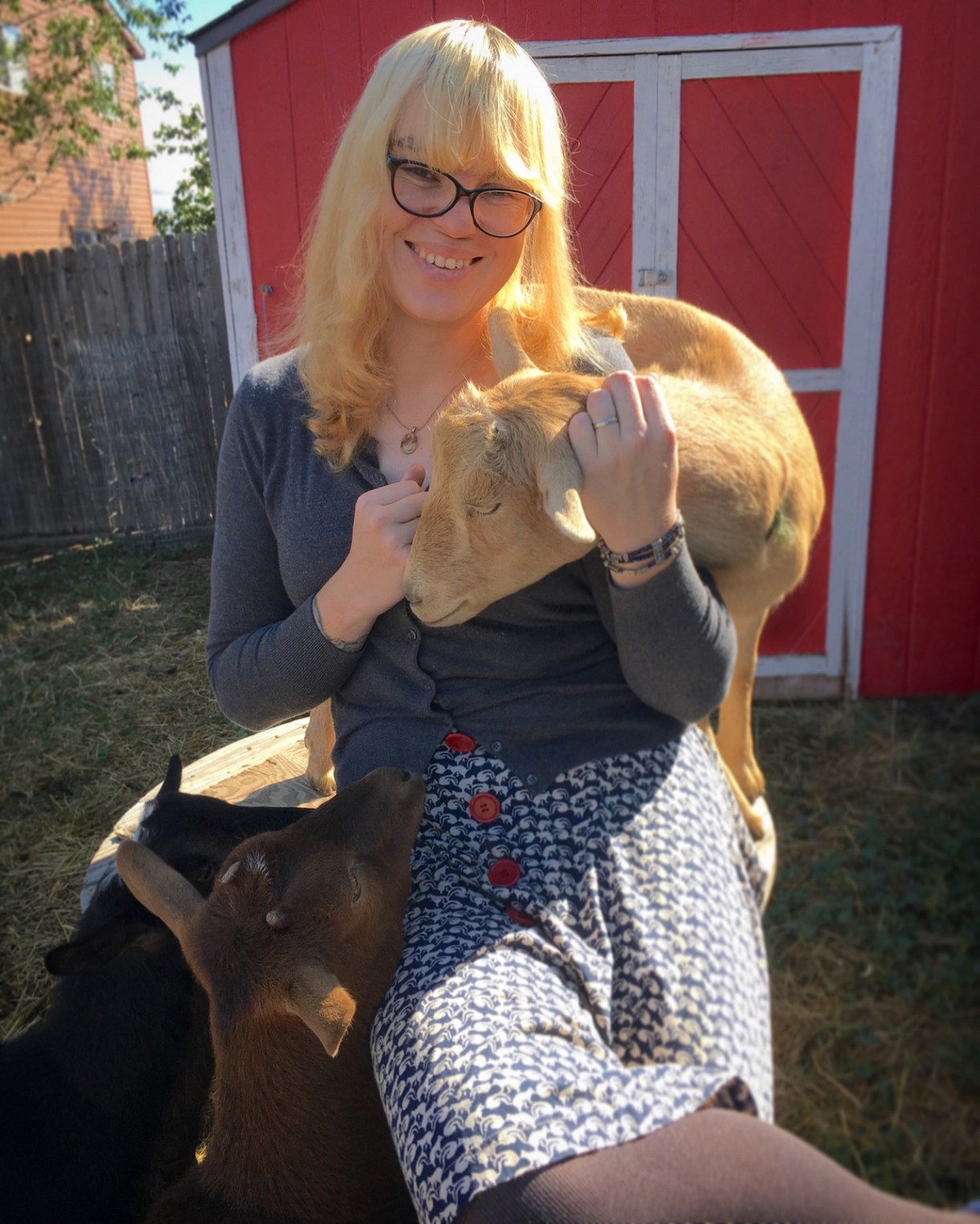 "I originally thought goats were silly pets to get, but when my wife brought them home it was love at first sight. We went through kind of a Southern Gothic phase with our animal names. Zeke (brown) and Huckleberry (black) were generic names, but Dewey Dell (blonde) is named after the character from Faulkner's As I Lay Dying. Goats are the best animals. They are smarter than dogs and pretty independent. They can eat veggie scraps and fertilize the garden. We usually just hang out while I take a bunch of pictures of them. I have packs for them and I take them hiking with me. They love it. The weirdest thing is that goats, especially males because of the way their junk is configured, are prone to kidney stones called urinary calculi. Zeke got one the day after Christmas and he couldn't pass it so we got really lucky that our vet was open or else he could have died. Also some people say their eyes are weird. I actually run a memepage for my goats @anarchistgoatmemes
---
Jill, Kirby, Lisey / 30, 11, 4 / Chicago, IL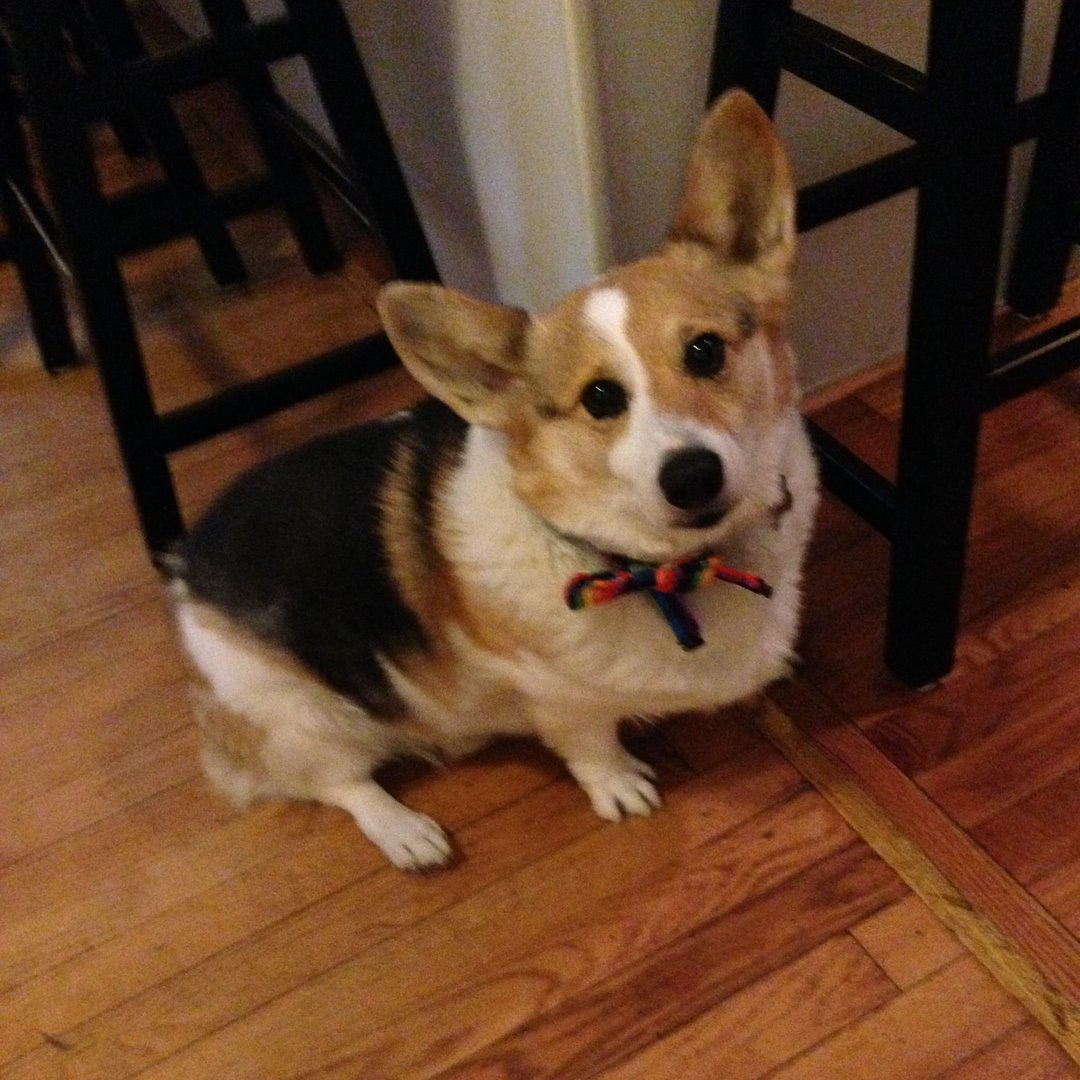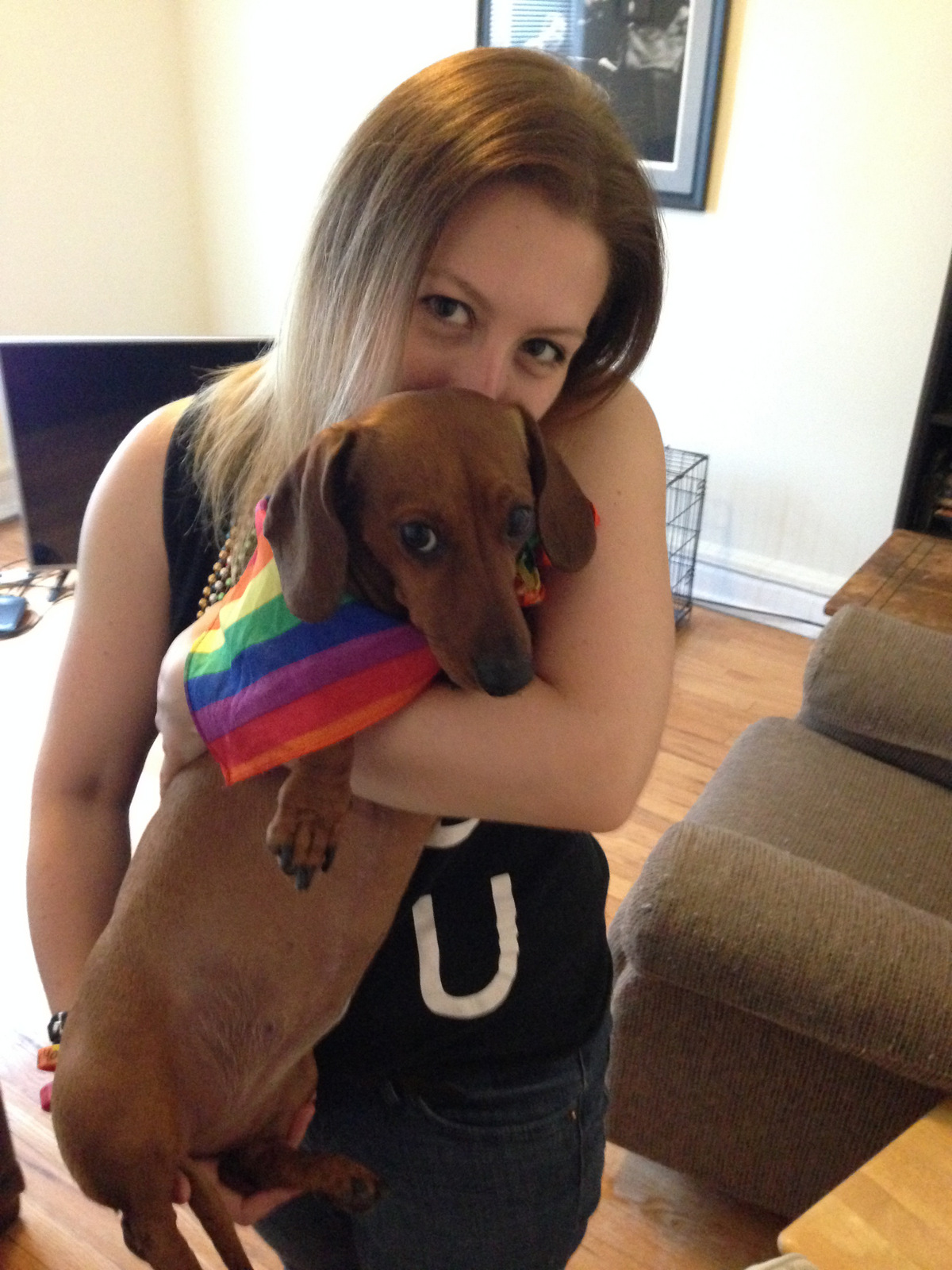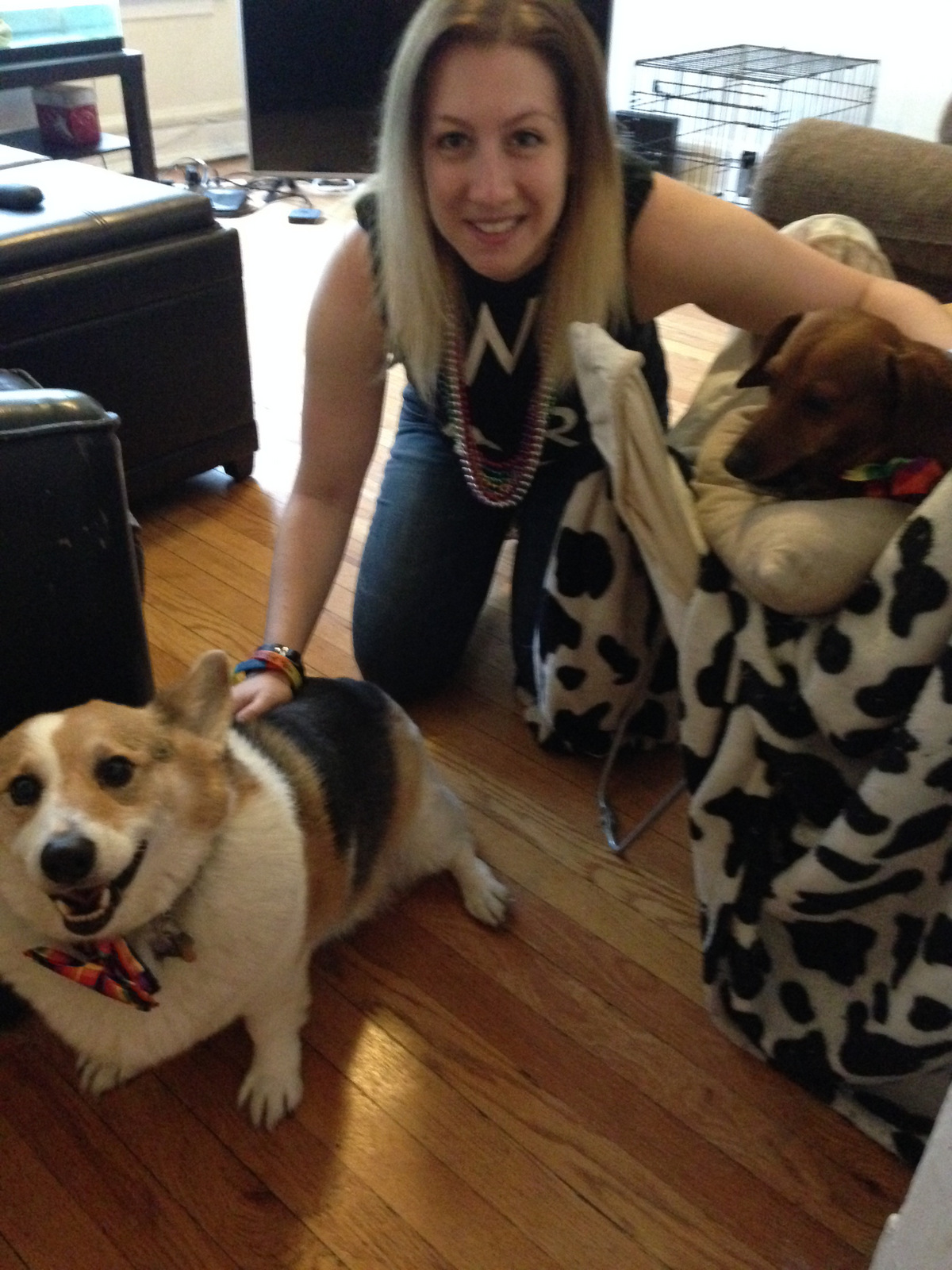 "Here's my goony self with my proud pups the day of the Chicago Pride parade, a couple months before I moved back to Massachusetts. Yes, I am one of those moms who barfs rainbow accessories all over her fur babies. That handsome corgi devil is Kirby, whom I had to leave behind when I moved as technically he belongs to my best friend/ex; we are long-distance co-parents to both of the dogs now (which is possibly the queerest sentence I've ever written). We FaceTime with them; don't worry about it. Kirby is not a fan of doors, and I'd very much like to kick the ass of whomever is responsible for that phobia, but since he's a rescue (actually both dogs are) I have no way of finding that out. He IS, however, a big fan of the ladies, just like his mama. His theme song is "Shake It Off," which makes him wiggle his little stubby tail like crazy, and my willingness to play it is a testament to my love for him because I cannot stand Taylor Swift. His little sister, Lisey, is my favorite wiener in the entire world, which is uh not really a difficult achievement but the point is LOOK HOW CUTE. She is named after my favorite Stephen King novel but has about a thousand nonsense nicknames as well. Chief among them is Thiefy McBoingBoing, because a) she believes that everything belongs to her and is fond of demonstrating that belief, and b) she is a master of parkour and can somehow jump up on anything, usually things she's not allowed on. She also does this super neat (sarcasm) thing where if I'm nearby and she can see me but can't get to me, she screams – not barks, SCREAMS – like a demon. You know what, though? I'm not even mad. Use that voice, grrrl. Anyway, I love them so much that I judge people who don't smile at them when we're out walking. Oh, you don't find my mupfaces irresistible? Clearly there is sewage where your soul should be."
---
Deb and Fancy/ 66, 3 / My Grooming Salon, Pinole Paws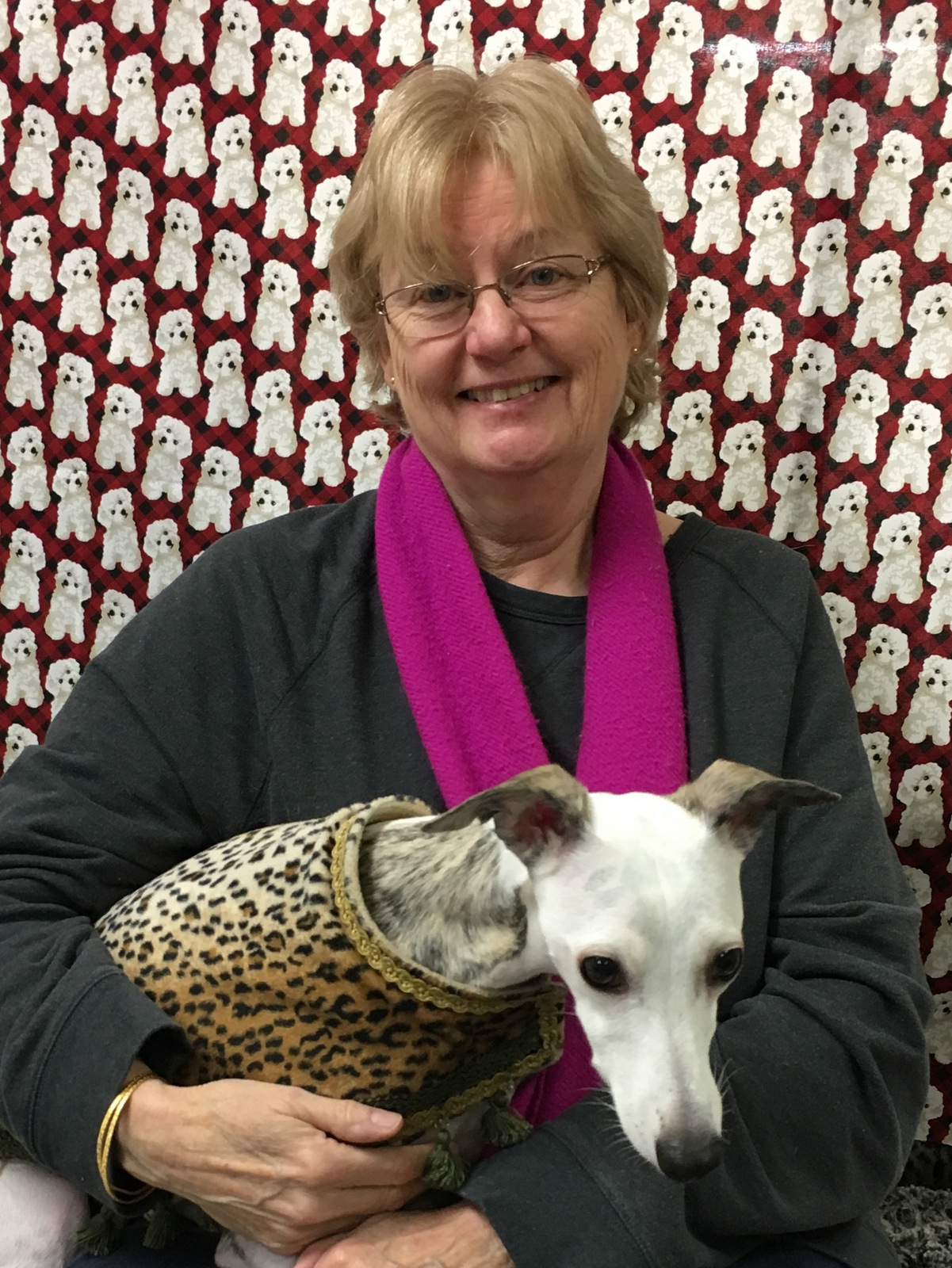 "Fancy, a whippet ,was purchased from breeder Sherry MacKormick in Southern California at age 10 weeks. Omg she was the cutest bestest puppy. I love her to the moon! I named her Fancy Parti Girl cause she is Parti colored and very fancy. The best thing about Fancy is that she loves everybody, and she is wicked smart. Our favorite thing to do is go lure coursing, which is like a race on an open field chasing a white plastic bag on a pulley system. She is fast like lightning. Our other favorite thing is going to the beach! The weirdest thing I guess is that Fancy doesn't like eggs. Never had a dog that didn't like eggs! She doesn't have an instagram but you can like her Facebook page: Cindy's Fancy Parti Girl."
---
Laura and Charlie / 31, 8 / Fanwood, NJ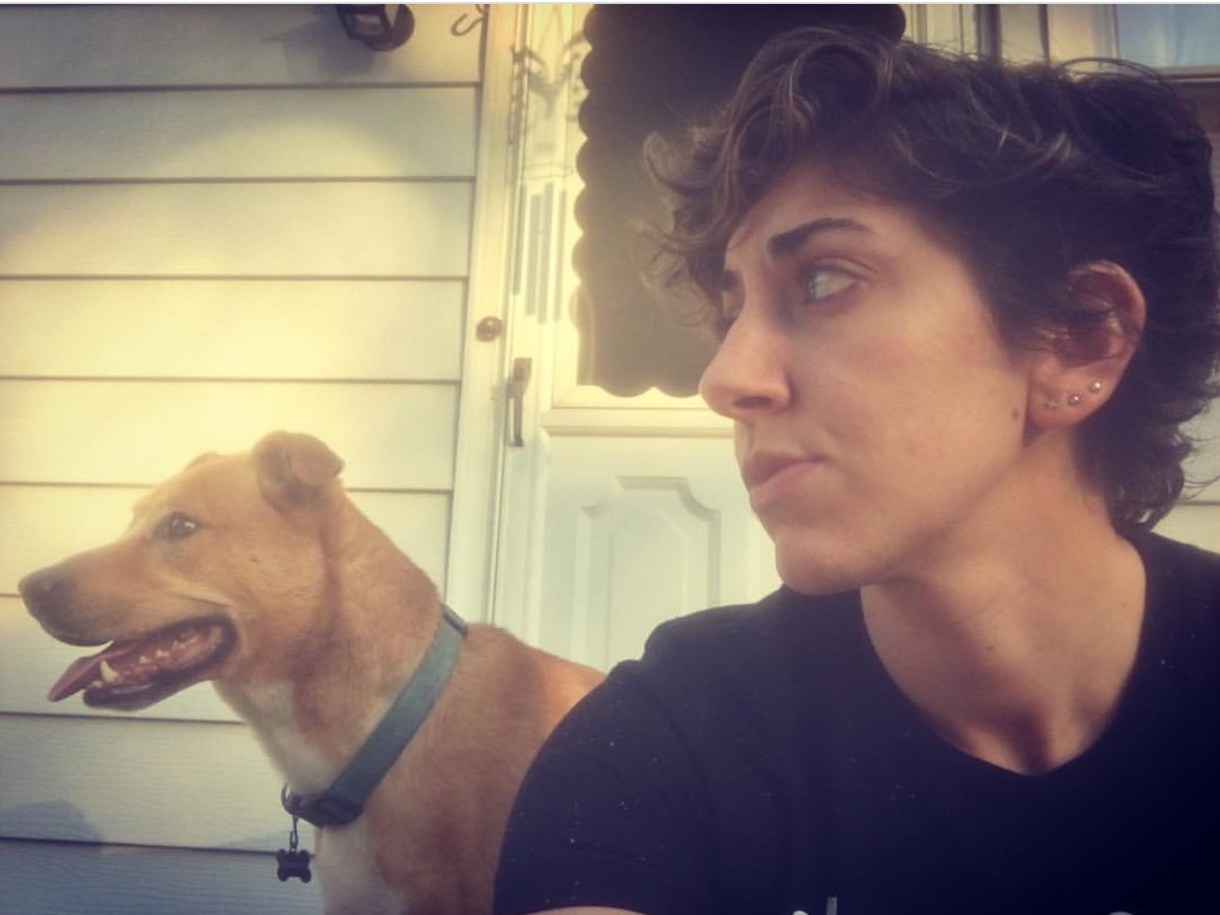 "My wife and I went to a shelter to start looking for dogs. We wanted a rescue that would be medium sized, and the shelter said we have the dog for you! Charlie trotted out, about three months old and 13 pounds, chewed my sleeve, and then laid down in my lap. I was sold. The best thing about Charlie is that he basically speaks English. I can tell him that I'm making myself a cup of coffee and then we're going outside to play ball. He will lay down and wait, ball near him, until I put my mug in the sink– and then go crazy– knowing it's time to play. We love to go for walks at the park, hang on the back steps in the sunshine, and play fetch. The weirdest thing about Charlie is that he jumps up and down when he needs to go out, and he jumps about three feet in the air each time. It's hilarious. No idea how it started, but he's done it as long as I can remember!
---
Bryana, Kelsey, Gladys / Atlanta, GA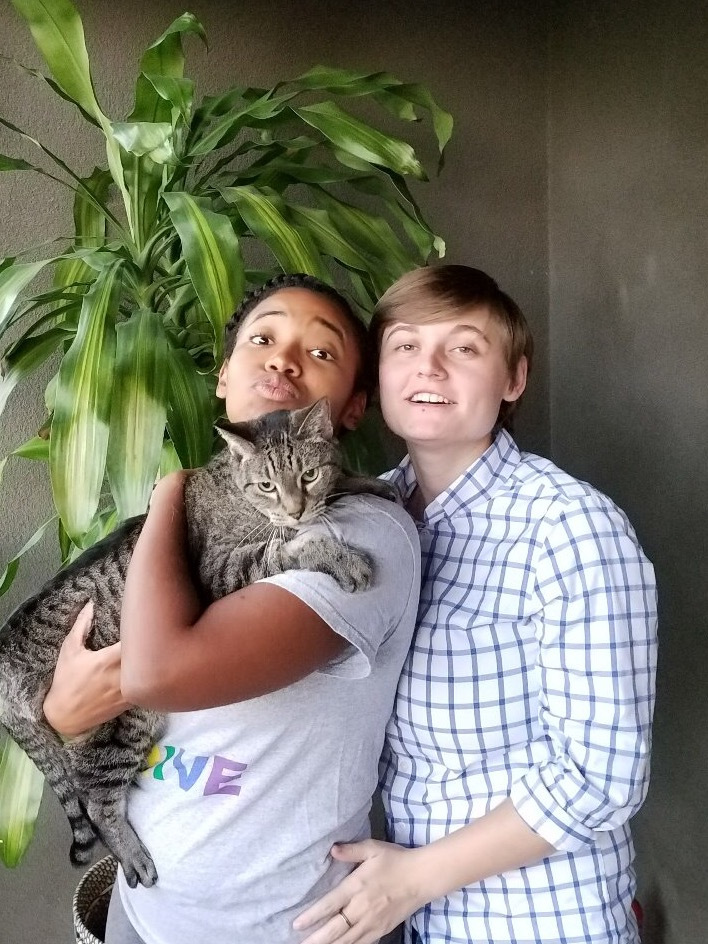 "We adopted Gladys (3 yo.) from Furkids shortly after we relocated to Atlanta from Brooklyn. She is a snuggle bug that enjoys lounging by the window. She also loves to curl up on your lap and watch Steven Universe. After her previous owner passed away we were happy to have her expand our family and our hearts."
---
Niki, Emily, Lyra, Toph / 23, 22, 4, 3 / Grand Rapids, MI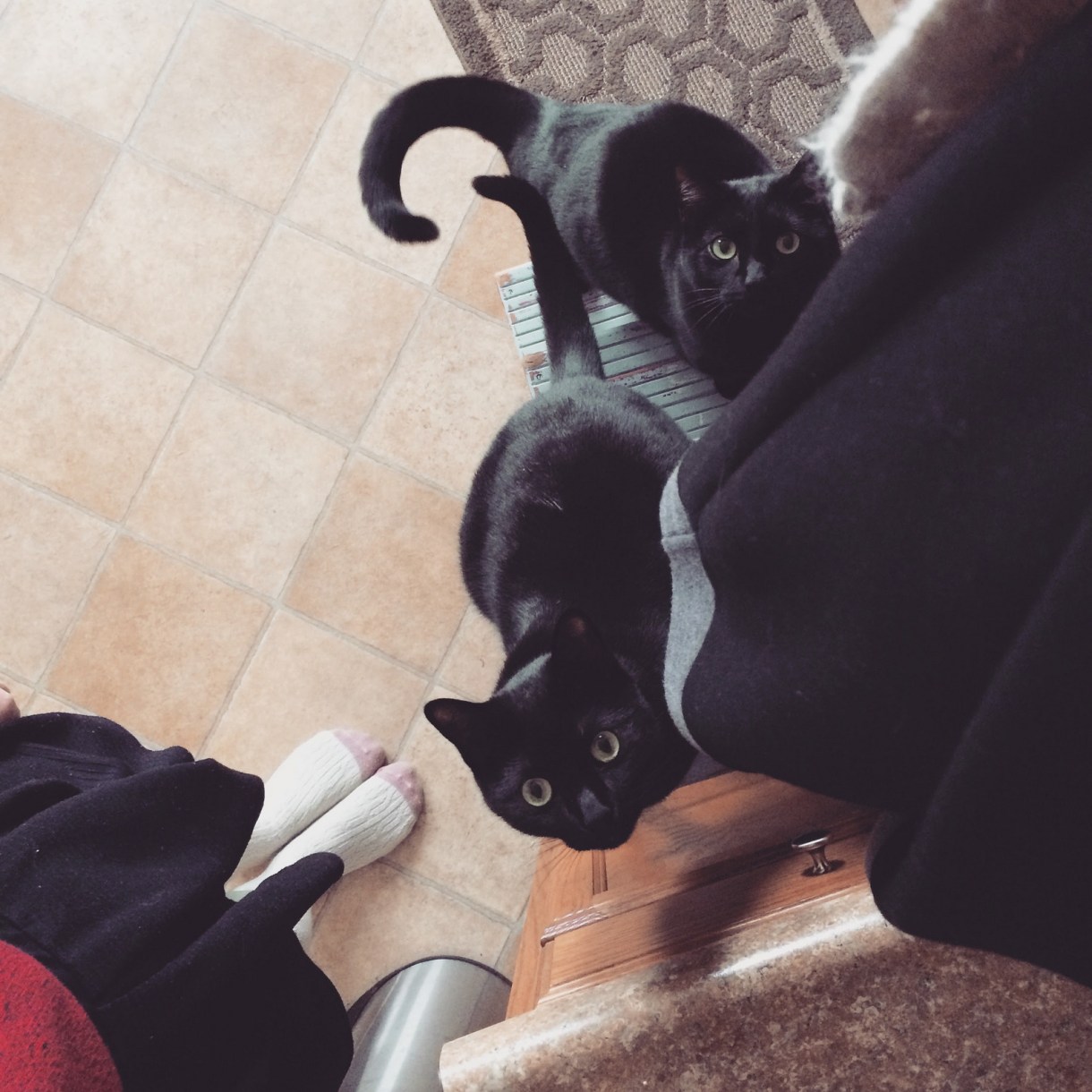 "When we were just best buds, we picked out Lyra together: a classy grown-up cat who charmed us with her too-smart eyes. Toph came three months later: needy, naughty, 100% kitten. Their names are from His Dark Materials and Avatar: the Last Airbender, a product of Niki's obsession with children's literature. Not long after Toph moved in, we fell in love with our weirdo cats and each other. We feel compelled to admit that Lyra is not a cat at all, but a witch in feline form. We discovered this when we were airing out our tarot deck and Lyra was lurking round the cards. On a whim, we asked what her card was. Staring us right in the eyes, she put her little paw on "Death" and pushed it forward. We are trying to be supportive and not afraid. She is coping with her transformation by fetching q-tips and drooling when she's petted. Toph may or may not be a cat, but she is also a dirty rotten thief of earrings and food and succulents. She carries little plastic balls around in her mouth all day then stashes them in Emily's shoes at night. She sleeps at the head of the bed like a human. Both of them snore."
---
Reann, Maggie, Dexter / 27, 28, 3 / Our Apartment's Balcony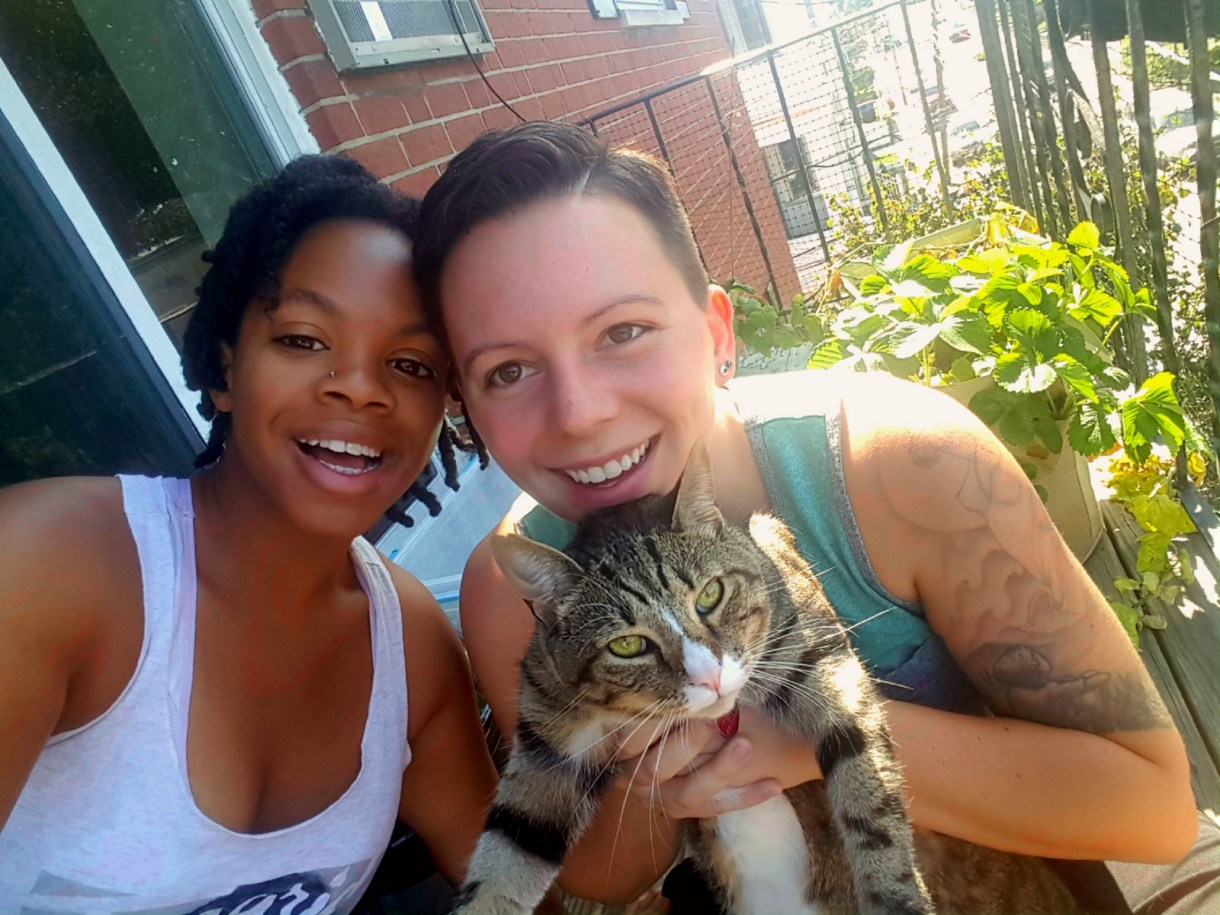 "This is us with our cat Dexter. He's the queerest cat around (and incidentally the second queerest Dexter we know) because he came to us via the Boston Queer Exchange Facebook group – hey there, queer Bostonian who was Dexter's human before us! Our first thought upon seeing him was "Woah, that's a huge cat!" Together with Dexter we like to cuddle, play with the laser pointer, and wonder where he's been for the last several hours (answer: usually inside the box spring that he tore open to create a nest despite our best attempts to seal it up. We've written off the box spring). Dexter LOVES to sit on the balcony soaking up the sun, watch the people pass by, and hunt ants and flies like the true wild cat he is. As you can see from the photo, he'd much rather do any of those things than hang out with us. Dexter doesn't have an Instagram of his own but he does claim ownership of our accounts, just as he has claimed ownership over all of the surfaces in our apartment."
---
Alex and Gabby / 33, 8 / Chicago, IL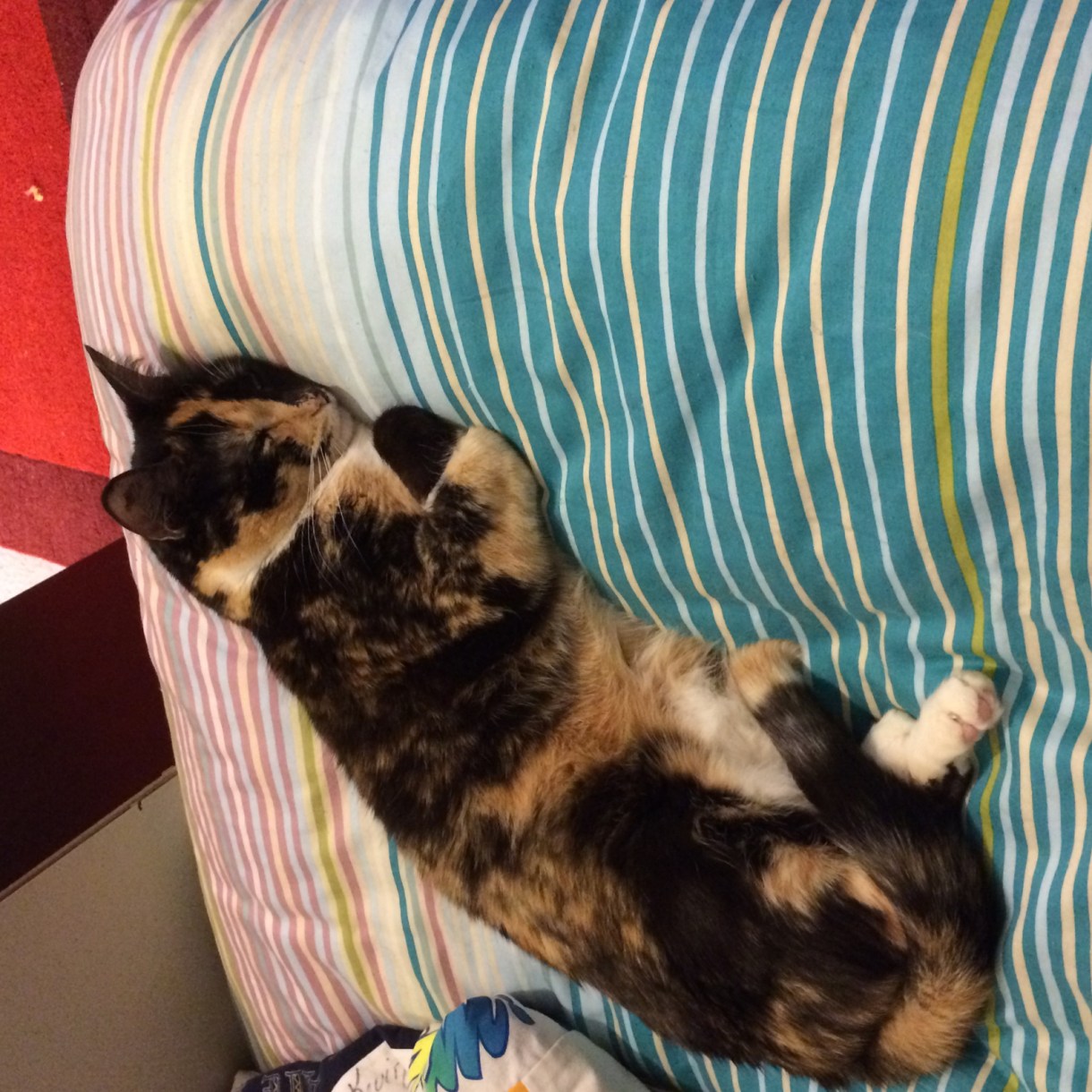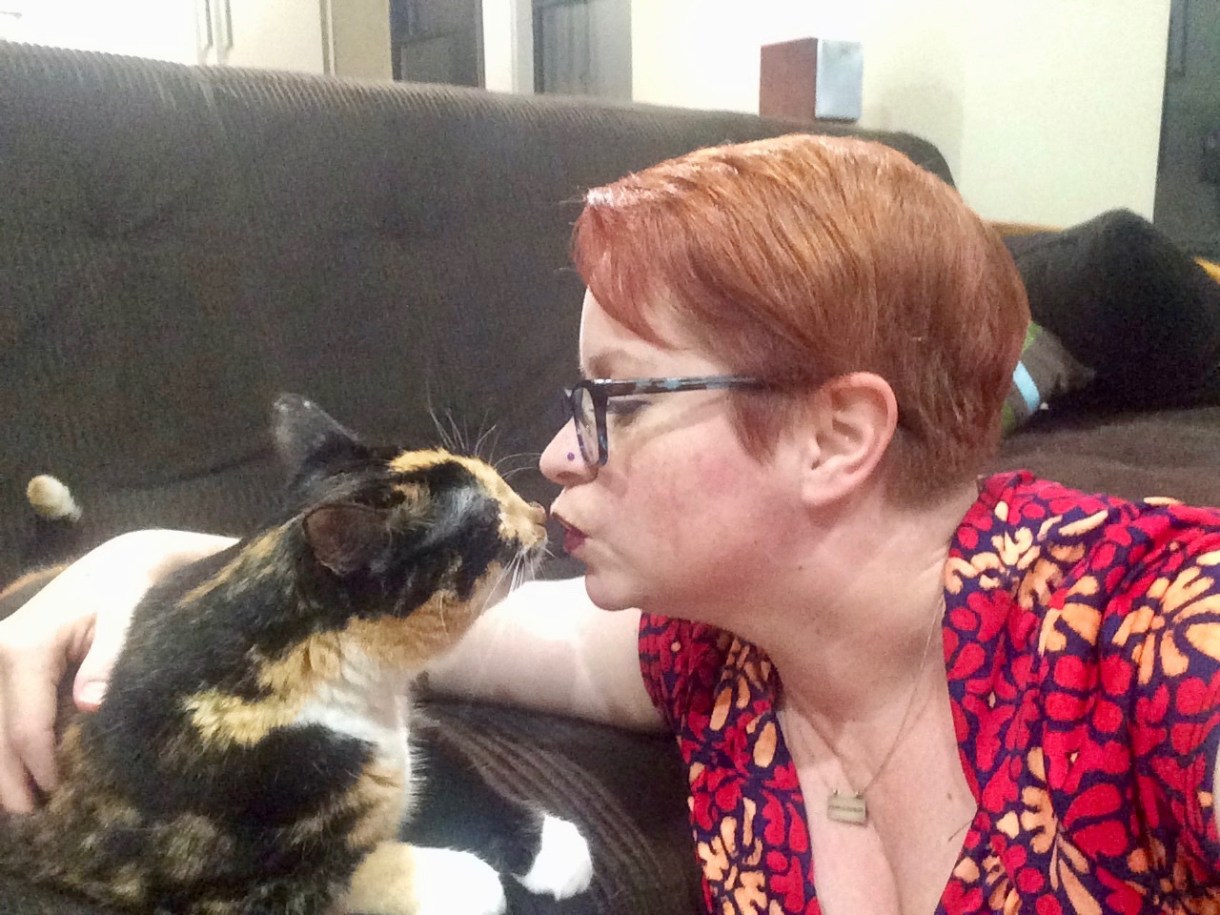 "Gabby got her name because she is the most vocal cat I've ever known. She makes this chirping sound where she is clearly telling me all about her day and it's very important information. She briefly belonged to a woman I was in a…. complicated relationship with, but Gabby didn't get along with this woman's other cats and after about 6 months or so I adopted her. And, really, if Gabby is all I got out of that toxic mess of a relationship IT WAS TOTALLY WORTH IT. She always knows when I need to snuggle and has the loudest, most wonderful purr any cat has ever purred. She is, however, a diva and does not play well with others, which is the only thing that has kept me from adopting all the cats. She's also intensely suspicious of cishet dudes, which, like, me too girl. Me too."
Ema and Ellie (Eleanor) / 24, 2 / Grand Rapids, MI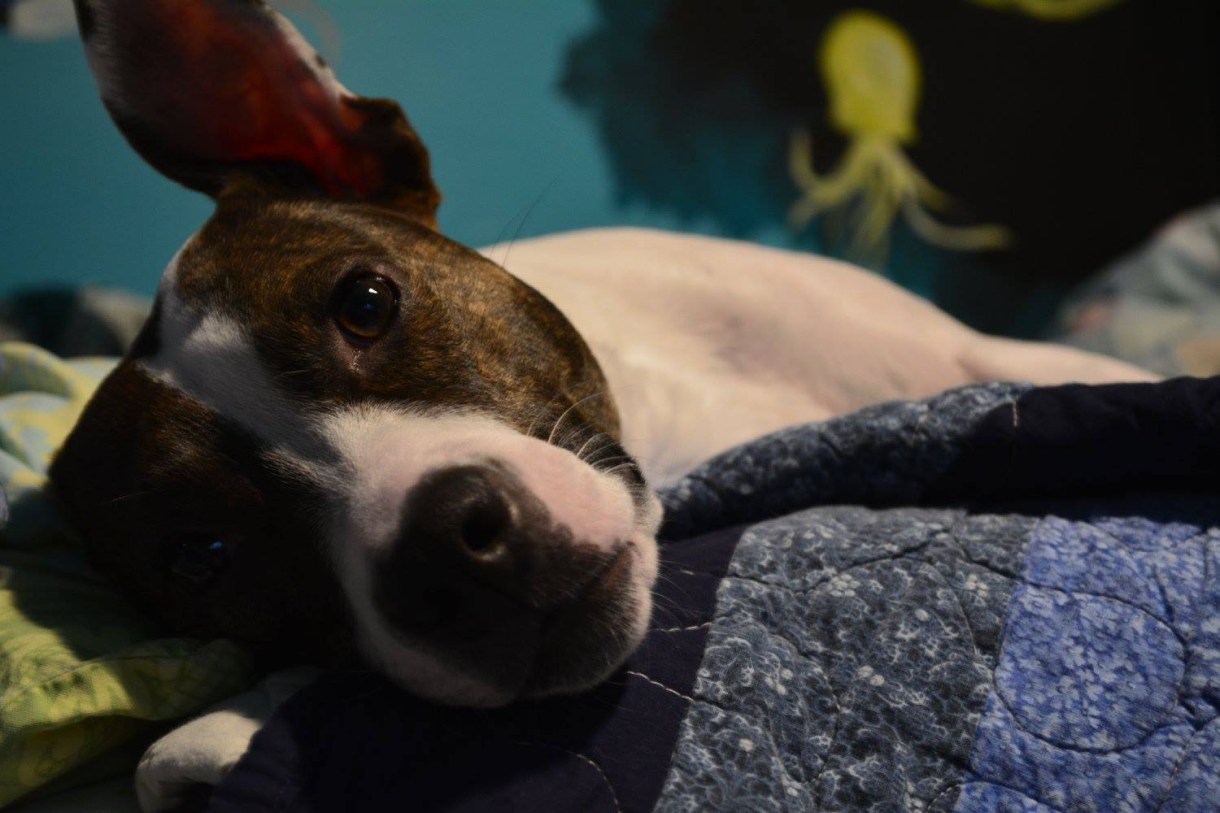 "I found Ellie when I was home for Spring Break my senior year of college. My dad and I had a little time before we needed to pick my brother up from school and decided to stop into the Humane Society to see the pups. Stopping in for a quick visit isn't unusual for us so I wasn't expecting to be taking anyone home, but as soon as I saw Ellie (then Fern), I just knew she was mine.
Ellie's name is half Eleanor Roosevelt inspired and half "oh god, we're bringing this tiny creature home in an hour, we need something to call her that isn't Fern". It kind of just happened, but now, I can't imagine her being anything other than our sweet Ellie girl. It probably sounds super cliche, but everything is the best thing about Ellie. She's the sweetest part of my soul, I get so excited everyday to get home to kiss her little face… I truly worry that I'll never be able to love human children as much as I love her.
Aside from the usual dog stuff like walks and fetch, Ellie's favorite thing to do is to go visit my grandma, to the point that we can't say the 'G' word in our house without her completely losing her shit. When Ellie was a puppy, my dad started this odd ritual of picking her up for a snuggle after dinner every night, which I assume was to keep her from running around like a wild child while the table was being cleared. However now, at two years old, Ellie still sits very impatiently by my dinner chair every night waiting for me to finish eating at which point she cries until I pick her up and snuggle her close while we sit around and chat about our days."
---
Grey, Jackie, Tandy Lion, Dorian / 28, 24, 5, 4 months / St. Louis, MO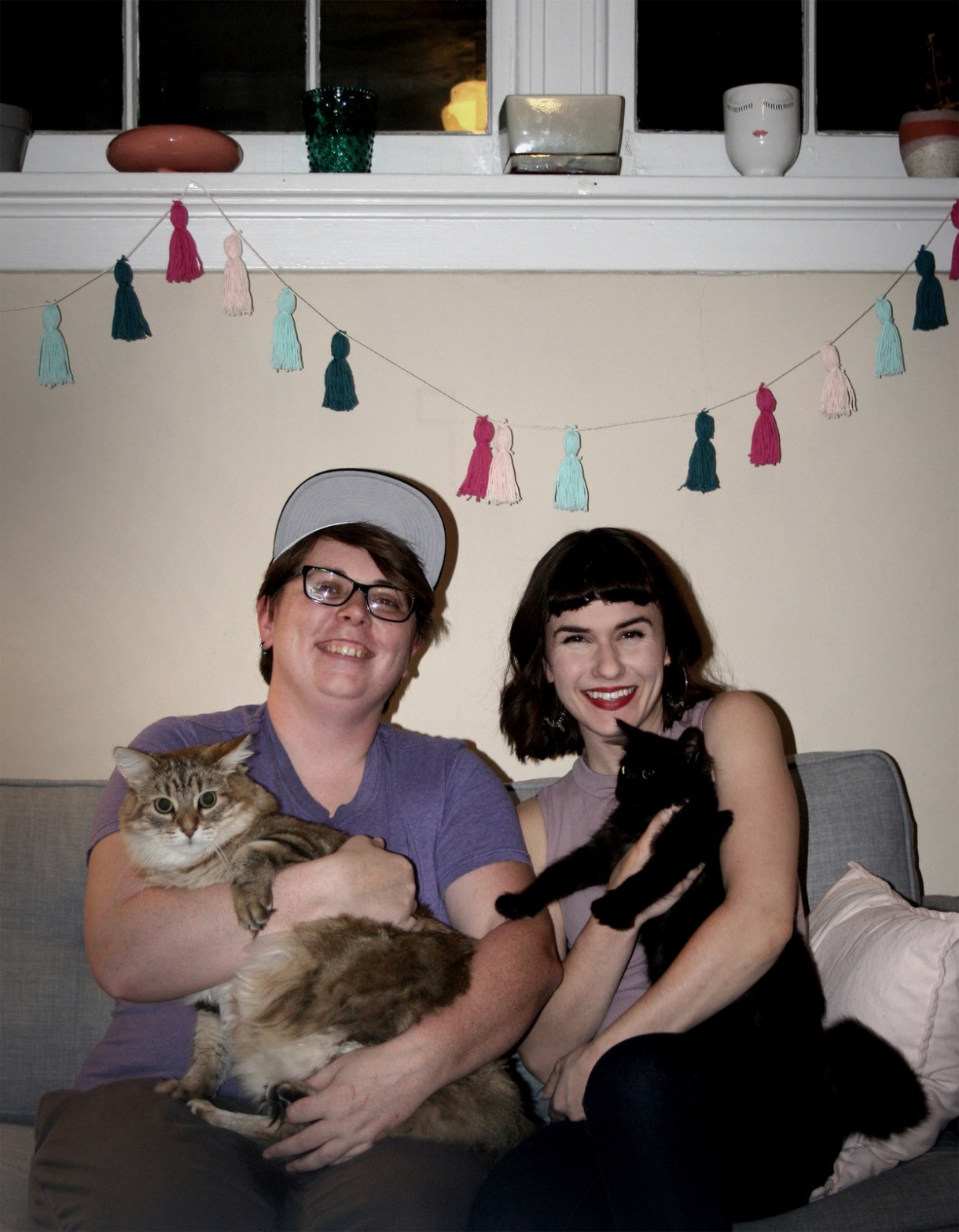 "Tandy Lion used to be a Taco Bell dumpster cat before he adopted us on the street outside Grey's apartment. He still has an affinity for sour cream. He loves helping his parents cook, and we have it on good authority that he was a witch in a past life. Dorian is a country boy, and was found in rural Kansas by one of Grey's friends before hitchhiking his way to St. Louis. His favorite toy is any household item and/or living thing. His claim to fame is that he holds the record for most toilet paper rolls unfurled/annihilated in one day."
---
Skylar, Lilly, Nico / 28, 30, 5 / Denver, CO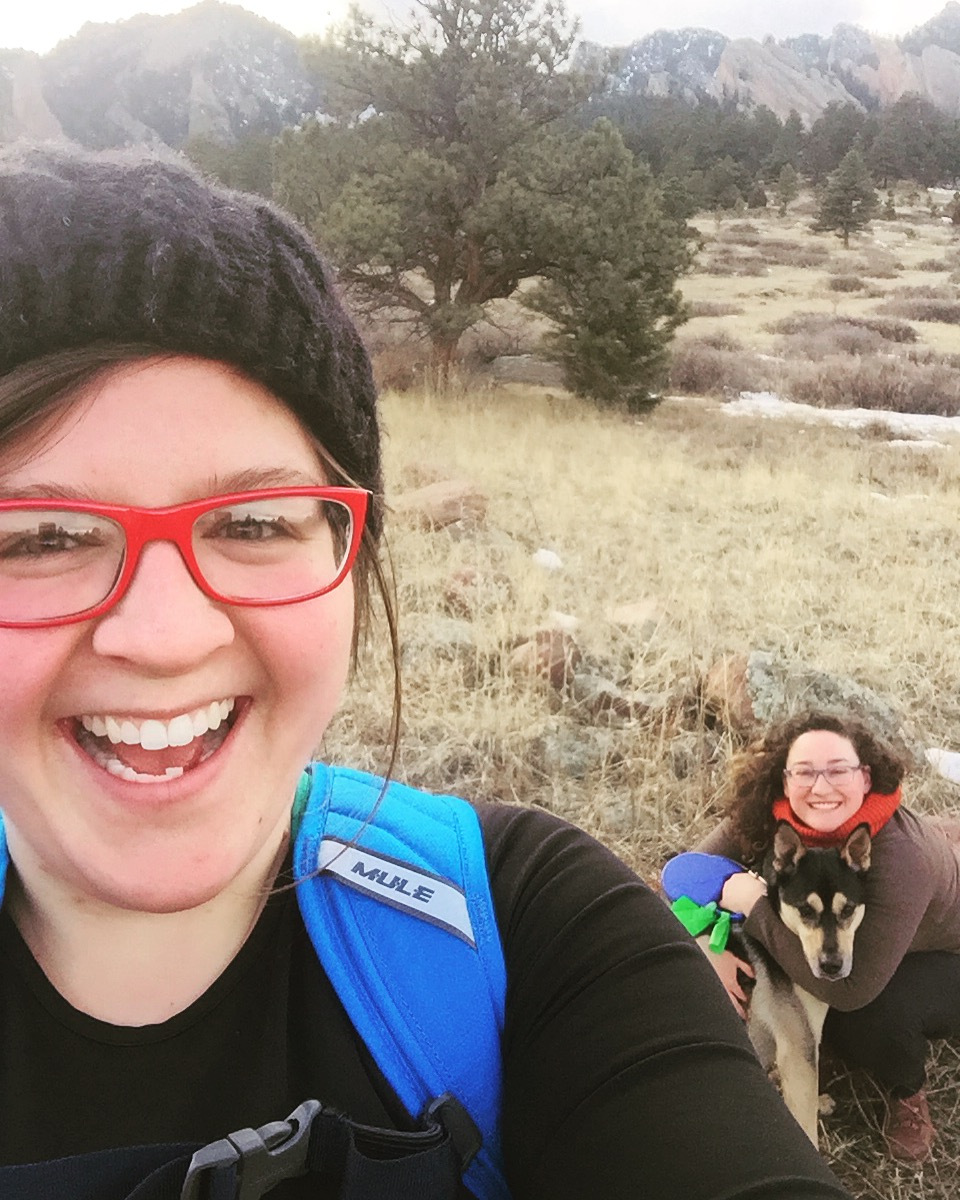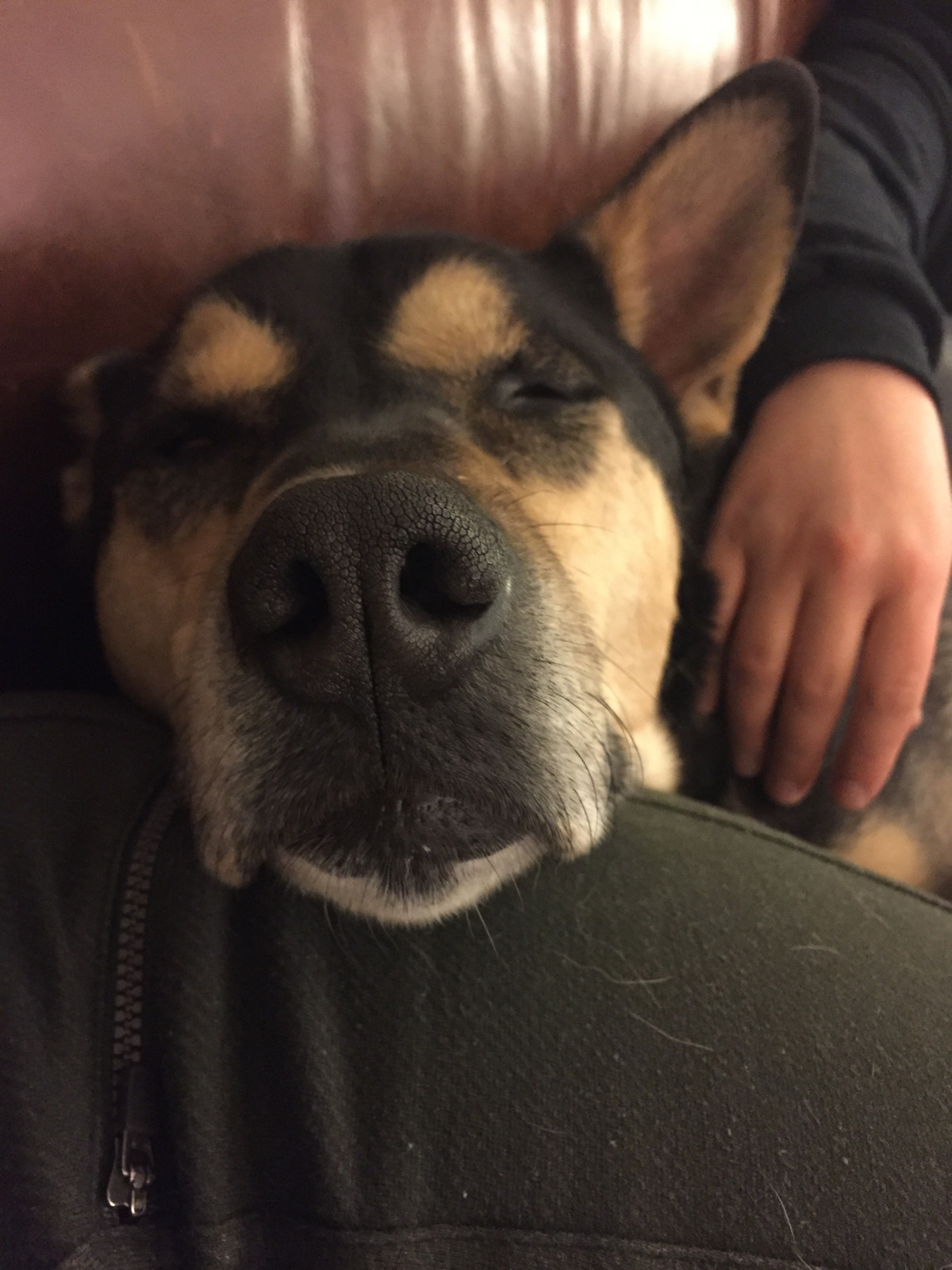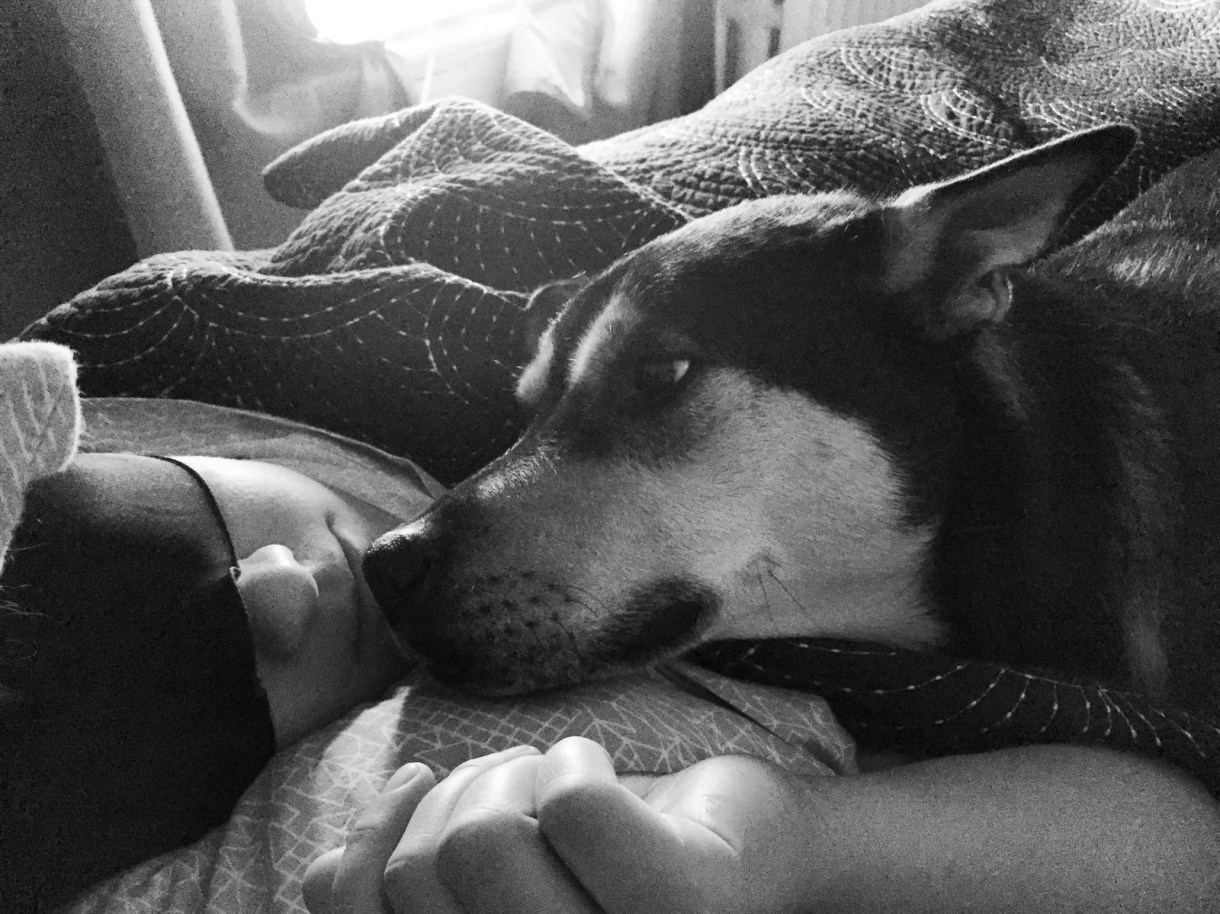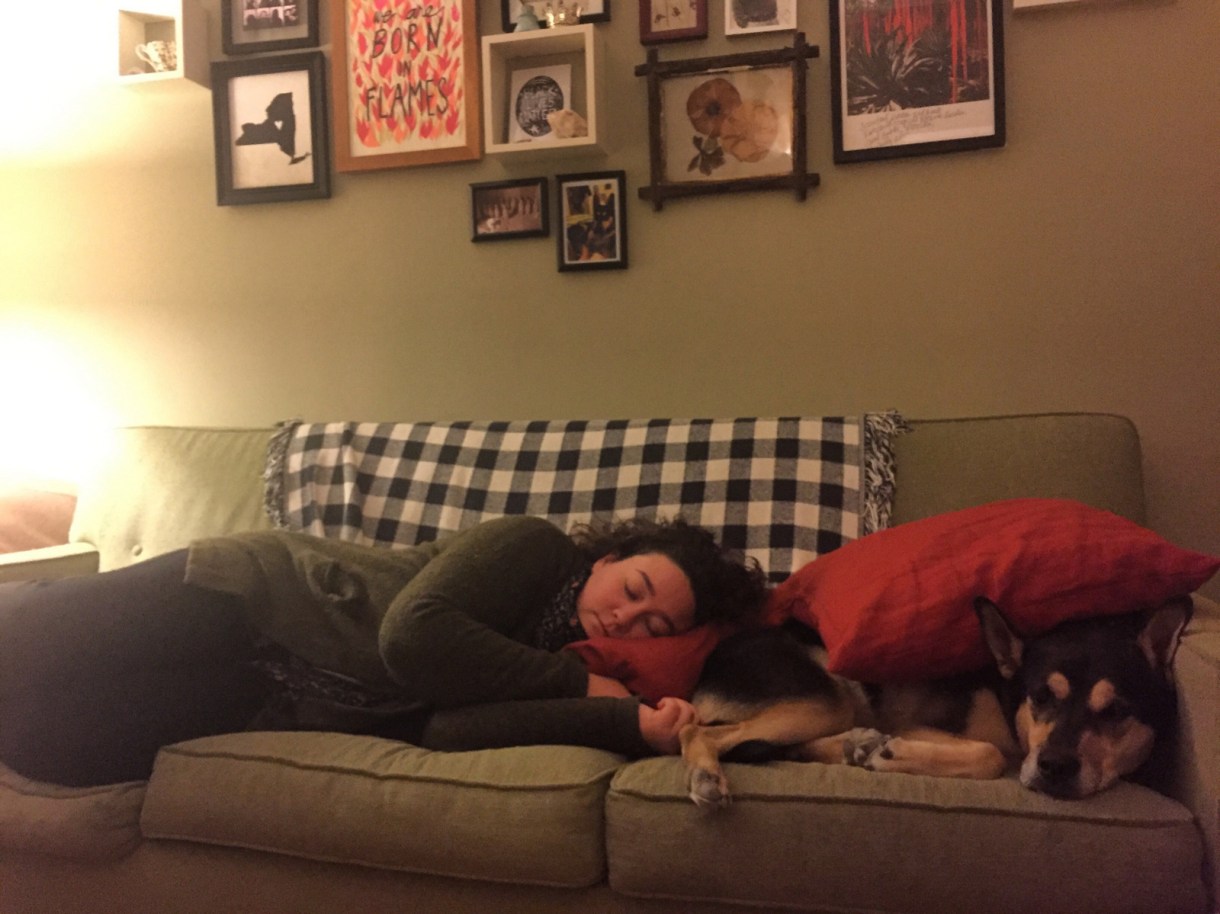 "Here are some really freaking cute shots of me (Skylar), my wife (Lilly) and our fur baby, Nico (alternate names include: Buster Brown Eyes, Noodle Nose, Boopsey Moran, Baby Dog, Nico-roni, Shmuggins, Pugglesmith). Lilly had already adopted Nico by the time I met her, so it was really a two-for-one deal for me (I definitely got the better dowry; all Lilly got was a Vitamix Blender and a lot of my feelings). Lilly adopted Nico during her time in an artist residency in Missoula, MT. Nico was a stray on a reservation and Lill found him by way of a local vet's office. He had been injured (he is missing a little pizza-pie slice out of his lower eye lid) and everyone at the vet's office thought he was so cute and friendly that they made him the official greeting dog for the office. He would sit by the front desk and help boost morale, help people reduce their blood pressure through petting him, and answer phones (just kidding, but he'd probably be very good on the phone). Lilly and Nico came to Colorado for grad school in Boulder, all three of us matched on Tinder and the rest is history.
What I love most about Nico: He is a true companion and is highly empathetic. He can tell immediately when something is wrong, when we have had bad days, and selflessly offers up himself for snuggles and pets to make us feel better. I didn't grow up with a dog (Lilly grew up helping her family run an animal rescue, so, lots of dogs) and it's very special for me to have this lasting, meaningful relationship with an animal in a way I never have before. He is sweet, cuddly, gives kisses enthusiastically, and is a dog that no human has ever not liked. We love to hike, walk, and cuddle in bed. It's pretty simple! The cutest thing he does is tilt his head when there's something crunchy being eaten."
---
Elizabeth and Junia / 20, 1 / Little Rock, AR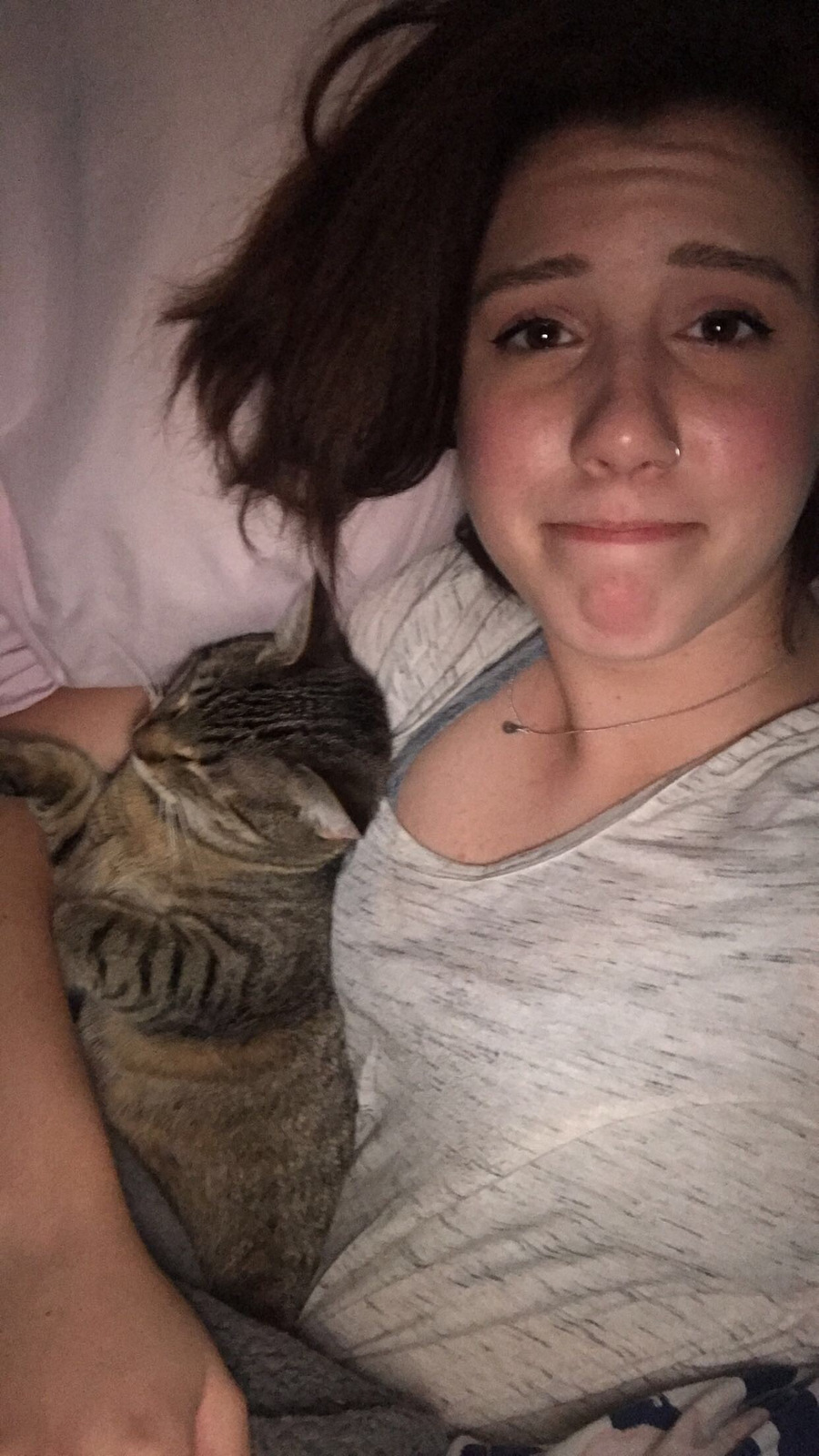 "My psychiatrist and I decided that I was in need of an emotional support animal early last summer so I spent a month going to different shelters in the area to find an animal that I connected with; immediately after meeting this tiny, sassy kitten, we connected. Junia is named after the first (and possibly only) woman apostle that Paul mentions in the New Testament; this is a big debacle but a key argument in favor of women in ministry and church leadership positions (I am in school studying music and theology in hopes of being a worship pastor and voice teacher so this is near and dear to me). This little goofball makes my life so much better! She chases her tail, plays fetch for HOURS, talks a lot, listens to my ramblings, and is an aggressive snuggler!!! She does not have any social media accounts, but she does have a hashtag on Instagram, so check out #JuniaBJones if you're interested in some cute cat pics!"
---
Emily Willet and Lucky/ 27, 1 / Spokane, WA
"I found my fur baby at the local shelter where I was shopping for pets after a break up. I saw him and just thought, "That's my dog." I named him Lucky because when I first saw him, he was already reserved and someone had put a deposit down on him, but they never came and picked him up. And he is such a darling little dog, I felt so Lucky to get to take him home! I love that Lucky is so excited to see me, every day when I get home, regardless of how long I was gone or how horrible my day has been. His love for life rubs off on me and energizes me. We love to do anything outside together, especially running. I can play with him for hours and he will still have more energy left over. He is insatiable! But he is also the biggest cuddlier when he is sleepy. I love how he gets all the way under the covers to snuggle."
---
Audrey and Addy / 19, 4 / IA
"Addy and I met each other through my mom's dog rescue. She was to be put down at another shelter but I fought for her and soon she and I became family. Addy is super affectionate and extremely smart. We love to watch tv together. We both like dogs and pretty girls, as you can see.  Addy loves to play catch and go on walks. Sometimes she drives me around… just kidding!"
---
Casey and Primrose (Prim) / 24, 3 / Jackson Hole, WY and Laguna Beach, CA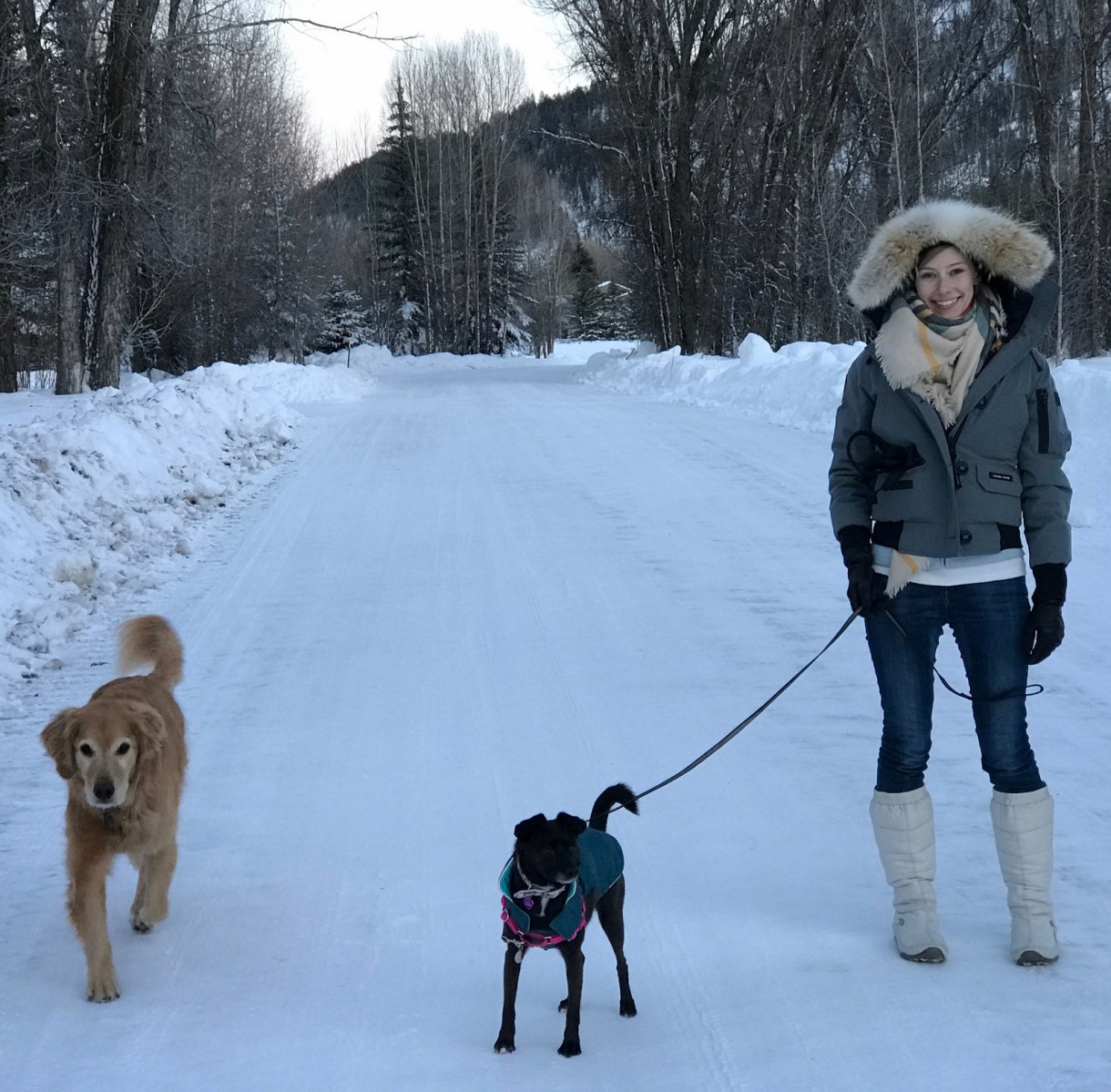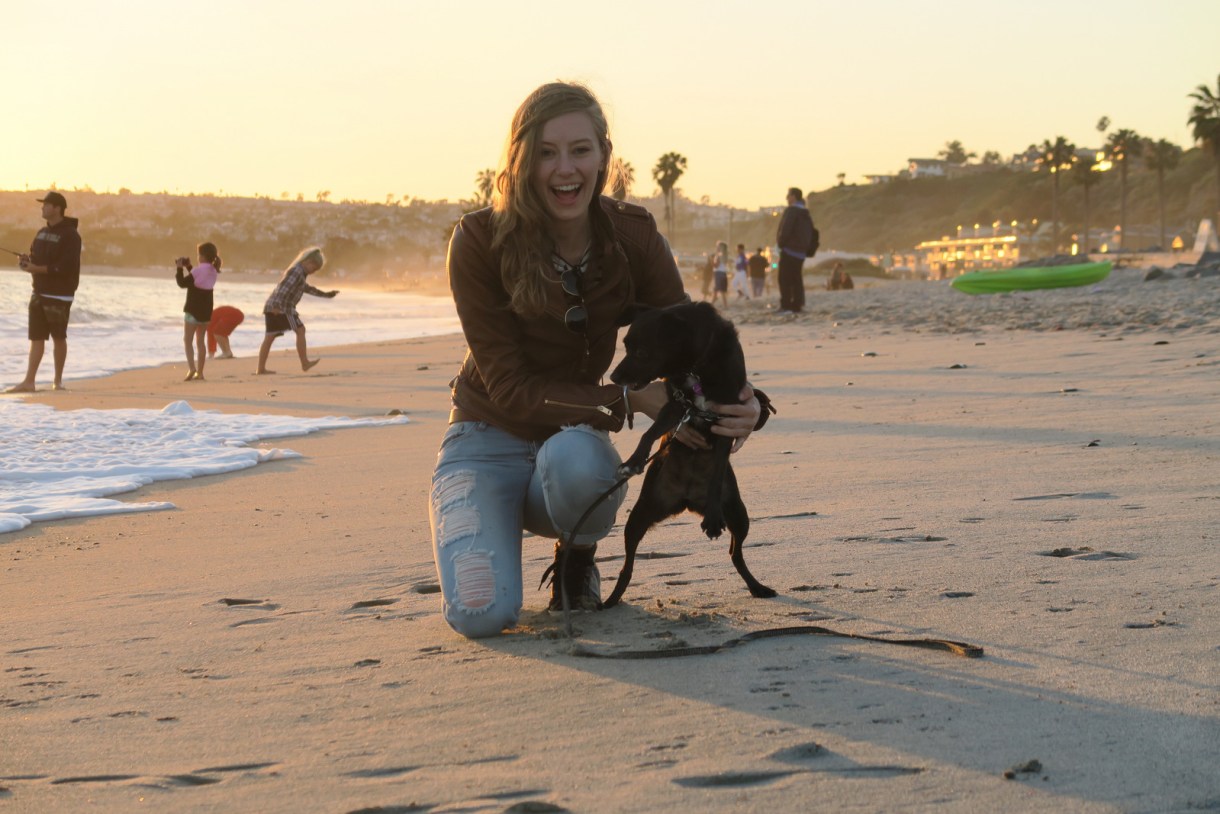 "Prim is a rescue from my time in Phoenix, AZ. The first night I had her I woke up to screaming and, upon turning on the lights, found her licking inside her abdomen — her stitches from her spay wound had ripped open. She required a lot of medical care between repairing the surgical site and discovering her many food allergies (beef, pork, chicken, grains). Two months of healing stitches, infection, bloody vomiting and diarrhea, and crying on the bathroom floor while cleaning said messes, she was on the mend. I didn't think she'd make it and I definitely felt like I volunteered as tribute, so I named her Prim (Hunger Games). We love adventuring and thankfully she is a trooper in extreme weather. She's braved conditions ranging from -30 °F blizzards to 126 °F haboobs. Her Instagram is @puppyprimcess."
---
Anahita and Neera / 27, 8 / My Home in Ahmedabad, India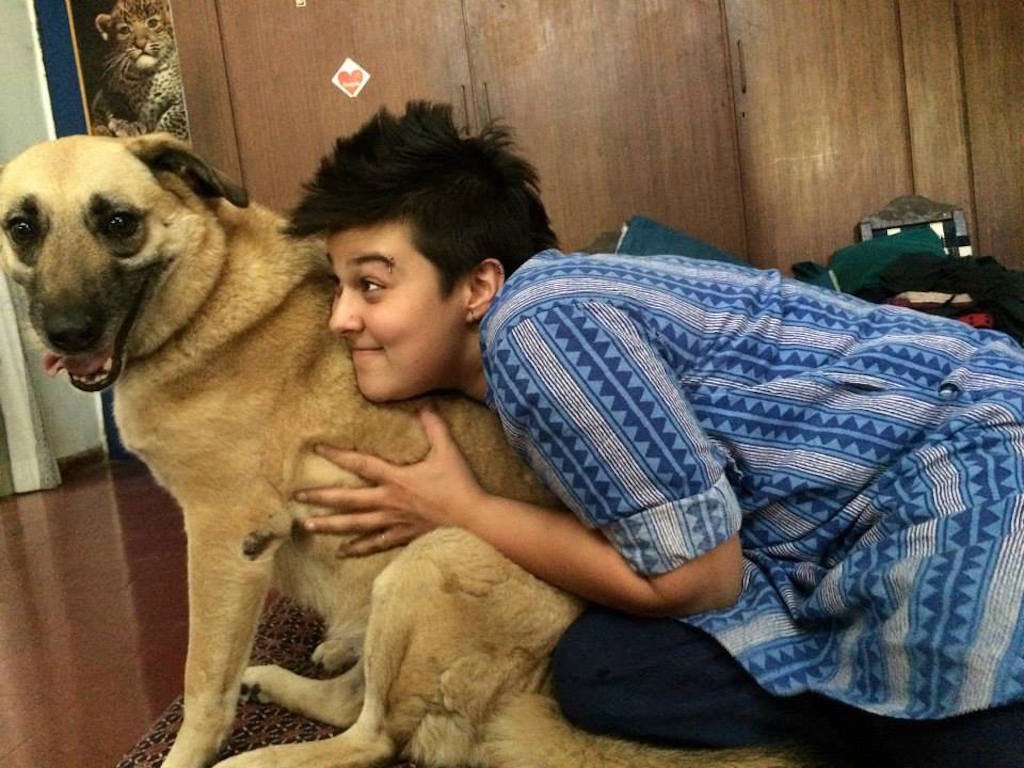 "Her mother, who was one of our family dogs, had a very secret affair with a stray and next thing you knew she was giving birth! So I helped deliver Neera and her brother (it was a litter of only two). Unfortunately the brother pup died soon after and the mother kind of distanced herself from the remaining pup, Neera, too. By this point I had already fallen in love with her, so instead of just four-legged motherly, she got me! She was brought up spending many hours staying warm and snuggled in my sweatshirt pocket! My name in Persian means goddess of water, so when I was looking for names for her I learnt Neera means 'pure water' but also nectar/wine which i thought was a fun fit! The best thing about her is how incredibly goofy and fierce she is! She's like my shadow or reflection. She's a complicated dog and can be very hard to handle, but regardless seems to know exactly when I need her and allows me to love and protect her despite all her space issues! We like lying on the cold floor together and running around outside while I sit and watch her explore everything. We also get into some good tackle and tug of war matches that we both love. The weirdest things are her love for butt rubs and how she will come and forcefully place herself so you have no choice but to oblige! Also the crazy faces she makes when she is enjoying them."
---
Rachel and Trickster / 54, 10 / Boythorpe Cemetery, Chesterfield, UK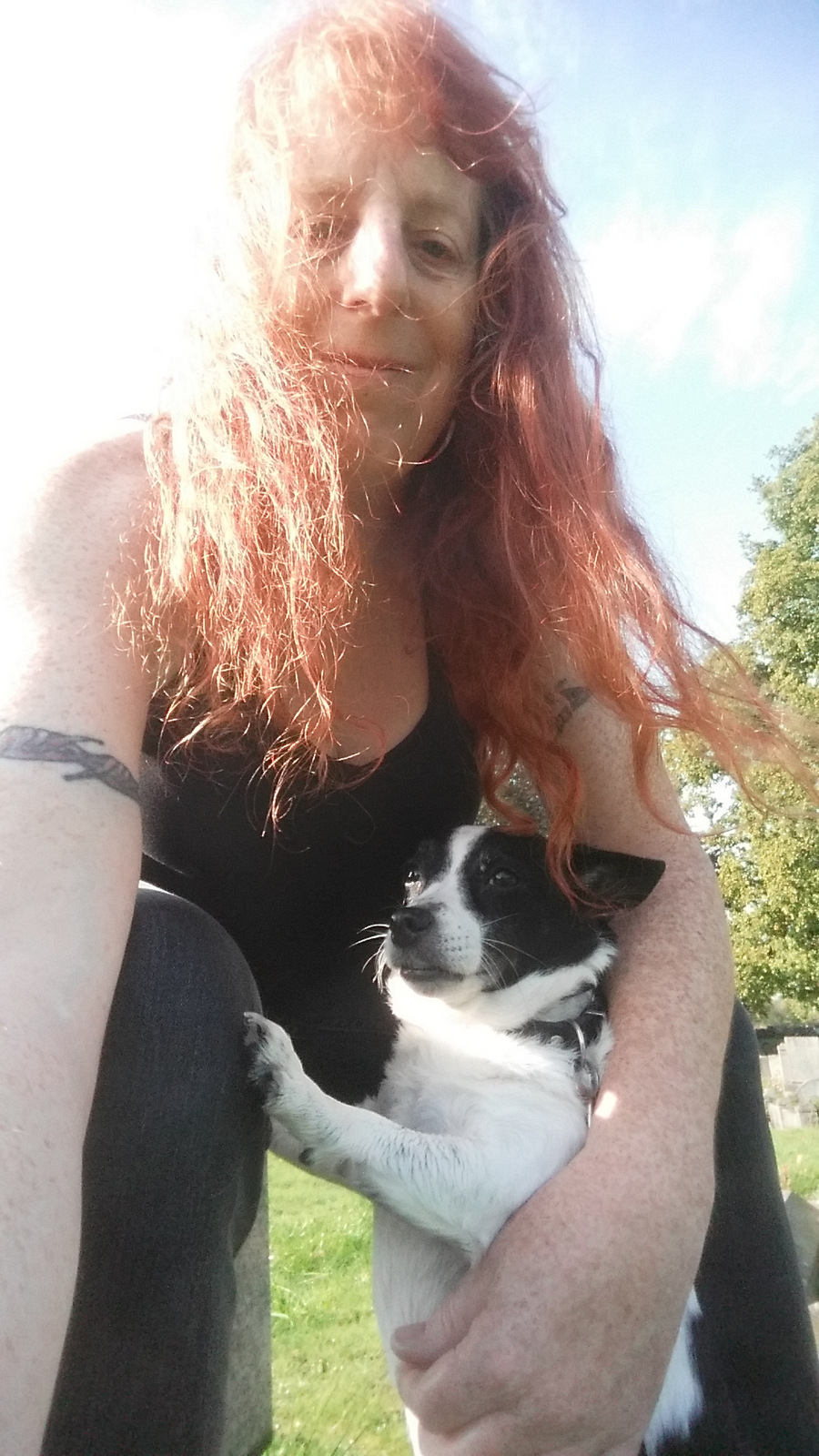 "My my twenty year old corgi/Jack Russell died, so I searched high and low for a replacement and found Trickster in a rescue centre in Liverpool. She was unwanted thanks to her underbite — her bottom teeth are always showing. She's called Trickster after a previous black and white Jack Russell, Jester. We walk every day and she wuffs when she wants fuss. She barks at everyone who comes to the house, especially people wearing hats because to her it looks like they have interchangeable heads."
---
Vicky, La Pez and Lazuli / Madrid, Spain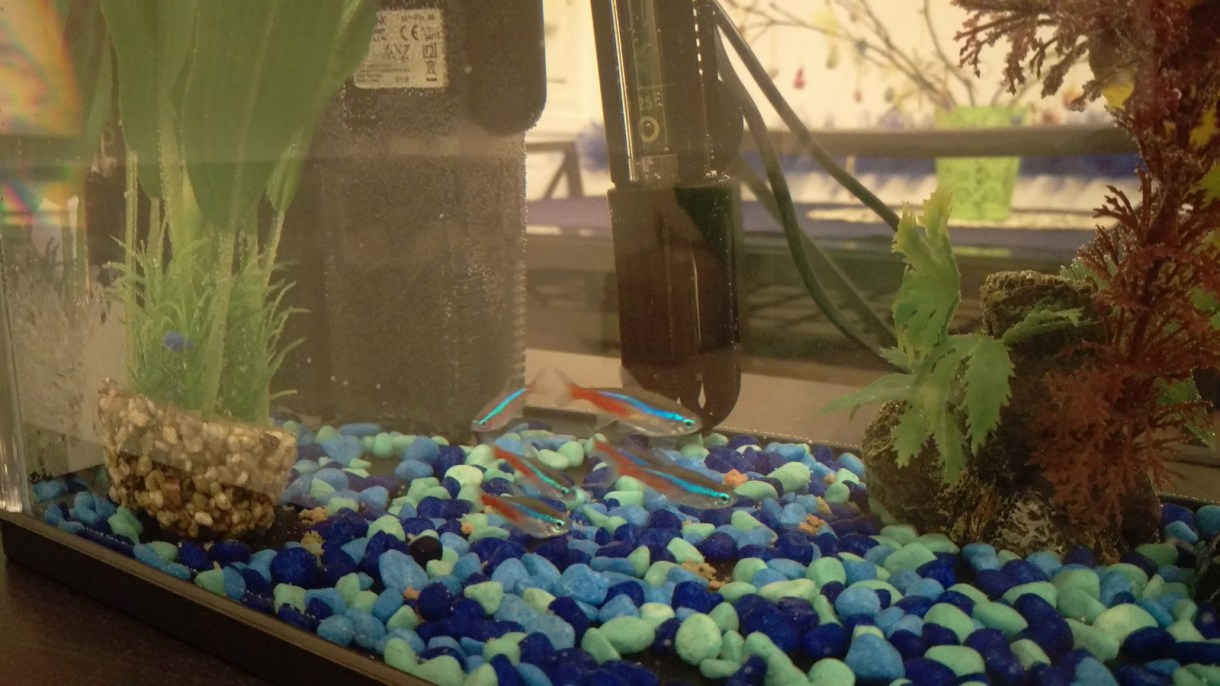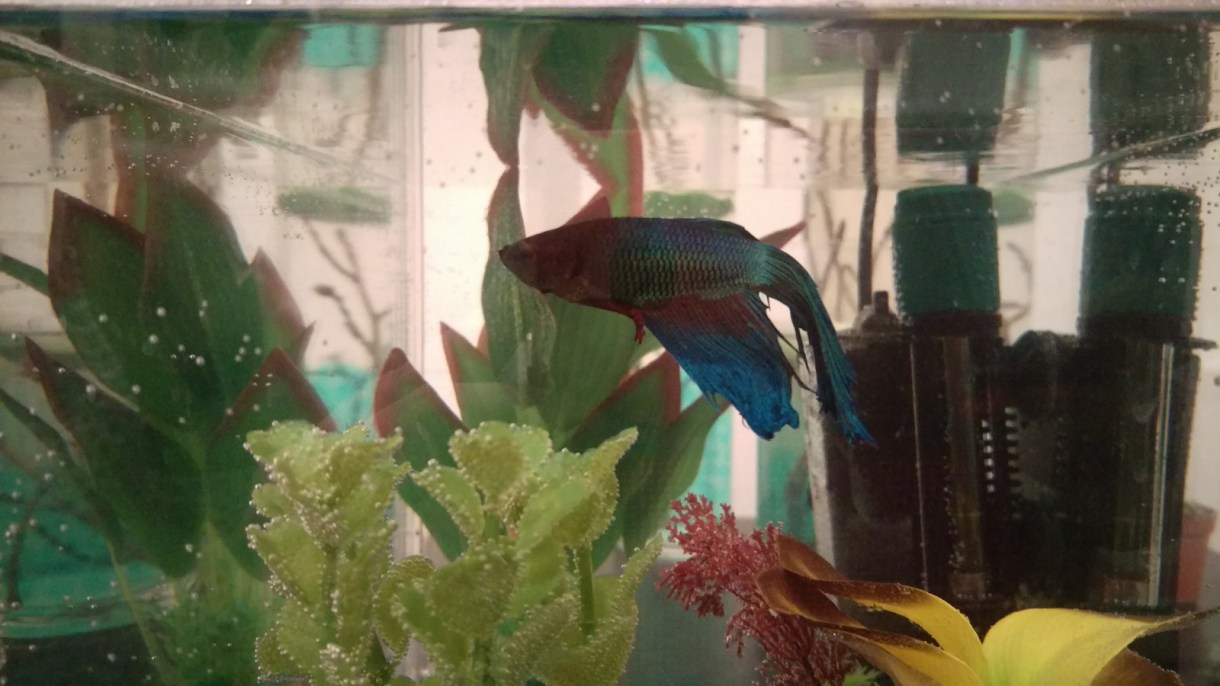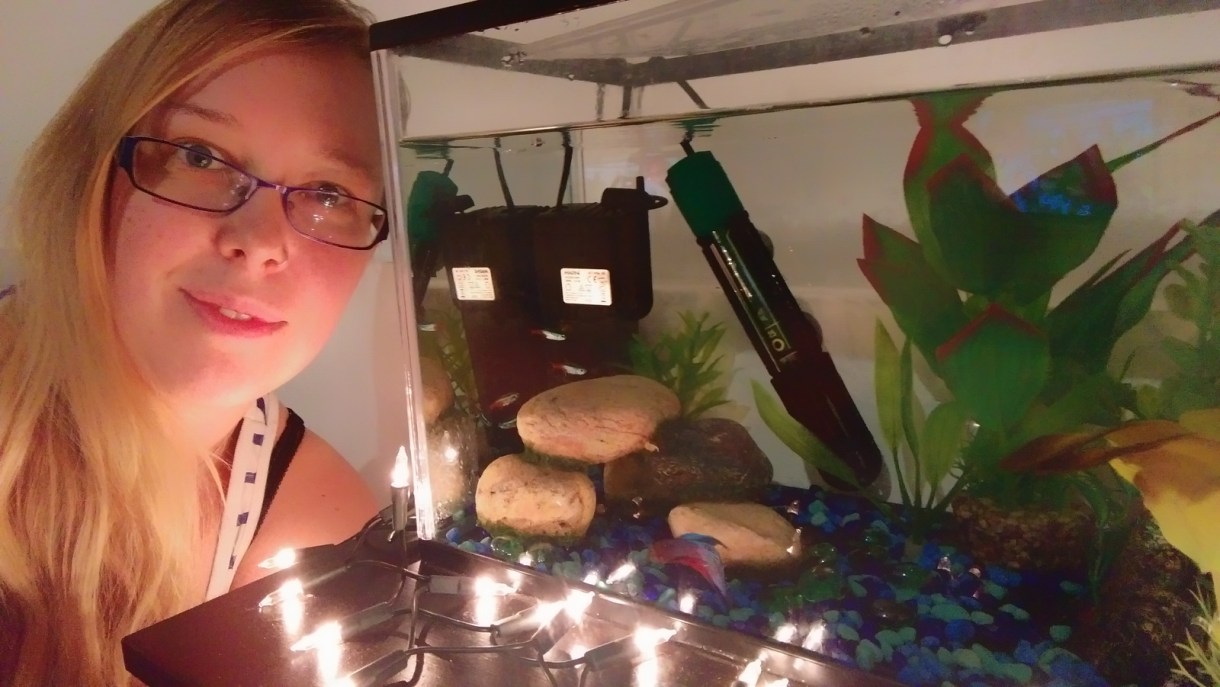 "Much as I'd love a cat or dog, I'm not allowed pets in my house, so instead I have my fish. The neon tetras have the collective name of "La Pez" and my Betta is Lazuli, because I do love a play on words! They all get along well and I love when they come up to say hi when I look in the tank."
Cait, Maddy, Waverly / 28, 23, 1 / South Bend, IN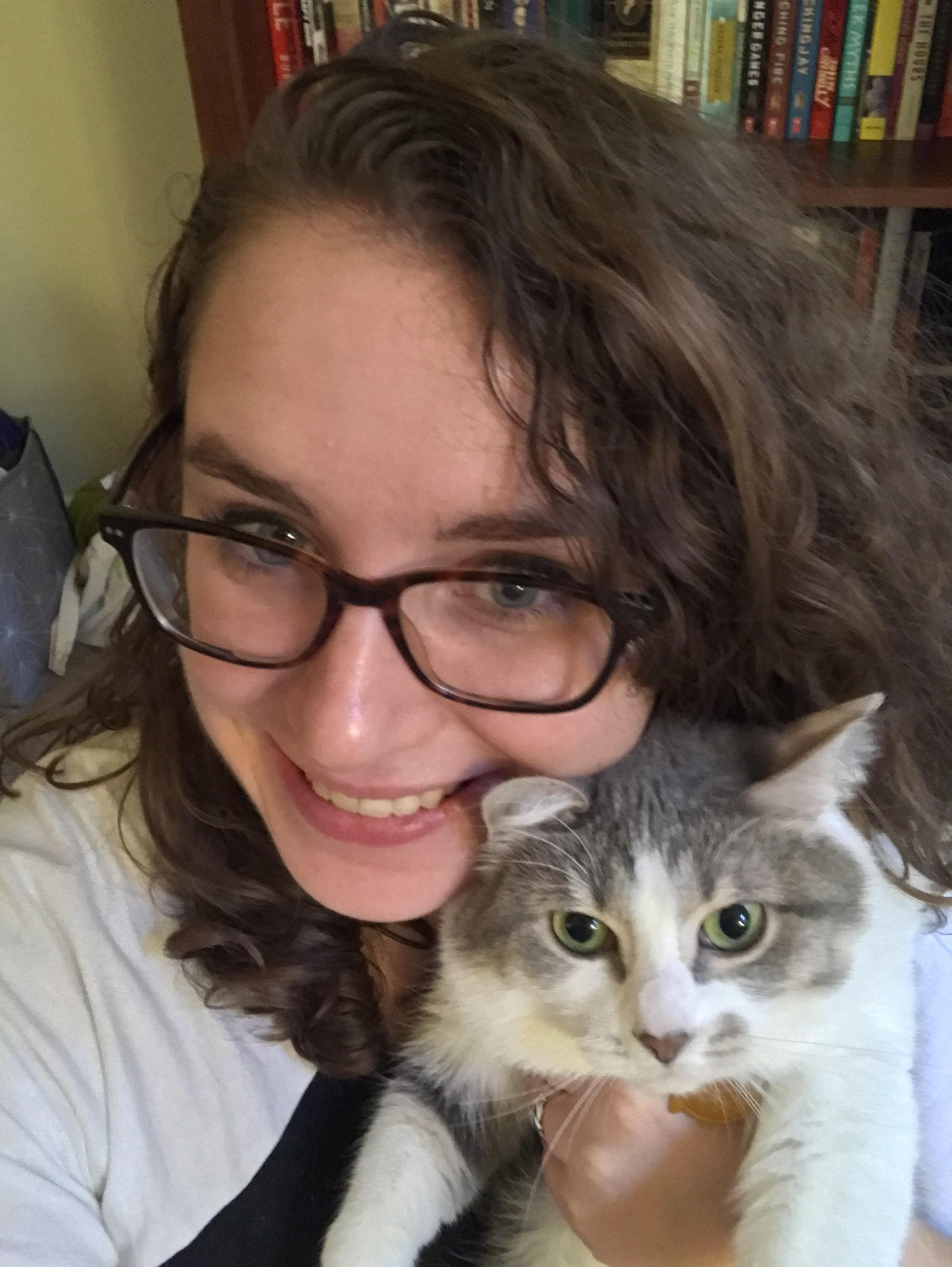 "On a mundane March morning we went to the animal shelter "just to look" at cats. I (Cait) was convinced we needed to wait until we lived together for longer before we adopted a cat child. We saw a little Waverly curled up in a sleepy ball and knew she was the one for us. We named her of course after our favorite brave little toaster, Waverly Earp. Much like her namesake everyone loves Waverly and she is the sweetest cat in the land. The best thing about her is how energetic she is and how she greets you at door when you come home. She often does kitty parkour off the walls in our apartment. She loves snuggles and chasing ribbons. Before we leave for work, we build Waverly a blanket fort at the end of the bed so she is a happy cat with a place to hide. True to cat form, Waverly loves boxes and paper more than the toys we buy for her. We love our little fluff."
---
Agnes, Ylva, Esme / Stockholm, Sweden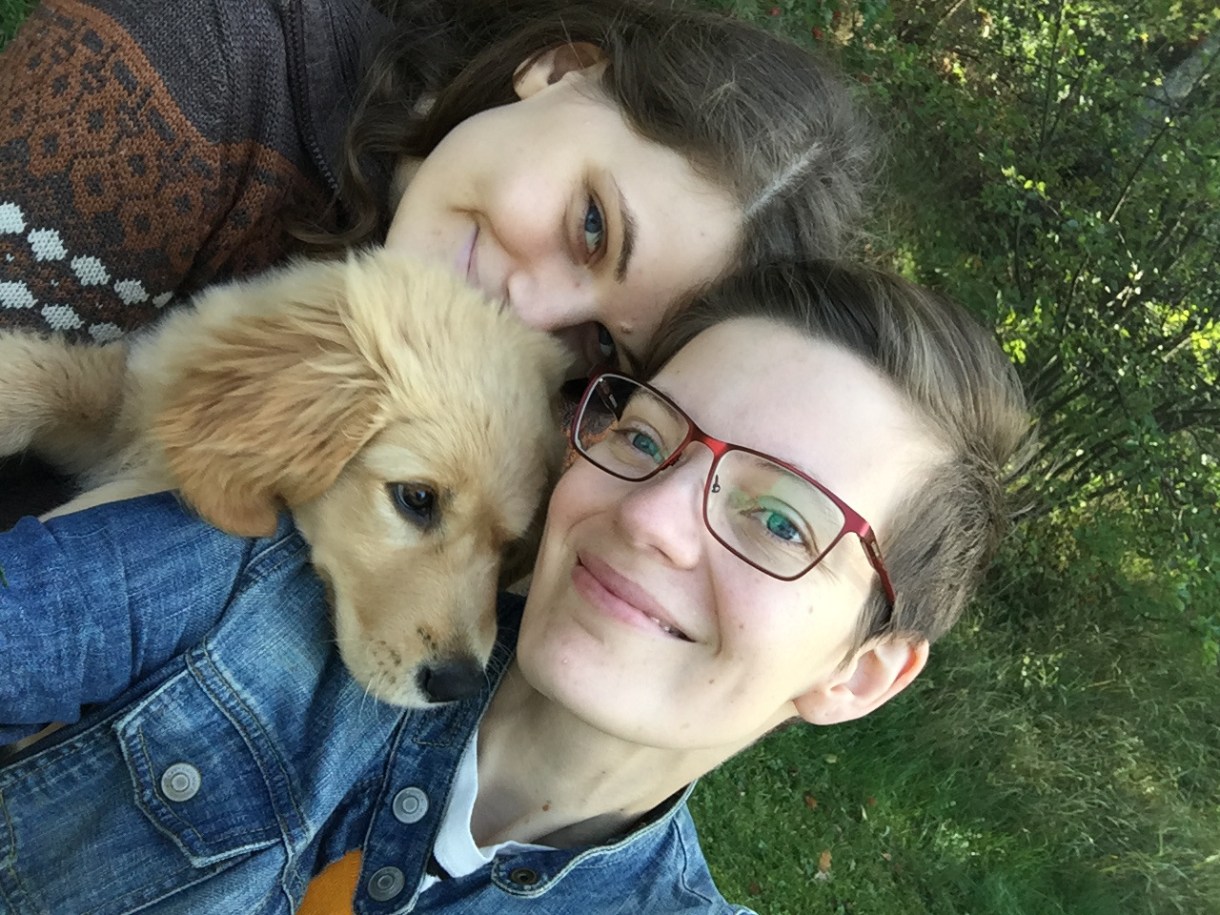 "We've been thinking about dogs for a few years now and finally everything aligned to allow us to look for real and finally welcome Esme to our lives. Unfortunately the reason we have so much time to give her is because Ylva is on extended sick leave and Agnes is unemployed/trying to start a business. We got married in the beginning of August and then Esme moved in on the last of August! A bit quicker than we expected, because we had originally been looking at other puppies. Near the end of August we stumbled upon Esme and her siblings and fell in love. We were lucky, because her origin family lives in the south of Sweden (Skåne) and we live in Stockholm, but they were going on a trip to the north of Sweden so they brought her along. In the end we picked her up at the parking lot of Ikea at 3:30 am!
We were looking for short names that are easy to call to a dog, and at least Agnes wanted it to be subtly nerdy. Finally we hit upon Esme late one night and it just fit. It means loved, and also shining (think of the emeralds!), and we have several fictional Esmeraldas that we like (including granny Weatherwax from Discworld and Esmeralda from The Hunchback of Notre Dame). We love her and she loves us and it's awesome having her in the family! She loves water, especially muddy puddles and sleeping in her water bowl. So far we love hanging out in the forest, discovering new things and chasing toys. She also loves chasing and catching her tail which is adorable. Her Instagram is @goldenesmay because Esme was already taken. Along with Esme we have a pair of tortoises living with us, but Paddis and Pippi refuse to pose for pictures. They are 25 (Paddis) and 5 (Pippi) years old and have been in Agnes' family basically all their lives. They have a lot of character and really make themselves heard when they have opinions!"
---
Mallory and Moz / 26, 10 / Atlanta, GA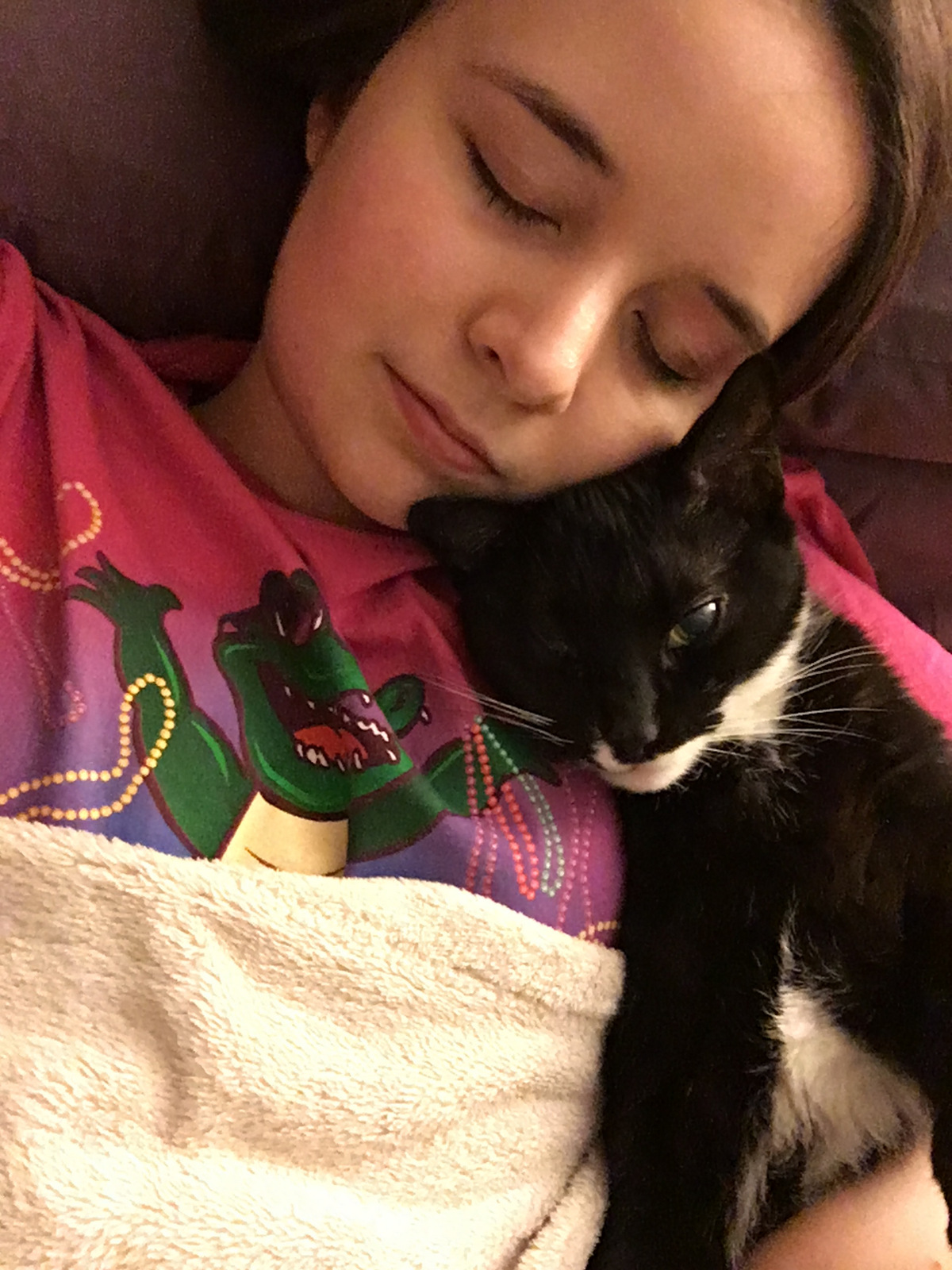 "When I was in high school, my parents finally agreed to let me get a cat. They saw a listing on Craigslist for a brother and a sister cat, who were both feral cats that someone had trapped in their garage, and were "just going to look!" at the brother. I had to work that night, and they said they would still let me pick out my cat. Lo and behold, both cats left with my parents and were waiting at the house when I got home from work. I'm a music nerd to the depths of every bone in my body, and Moz is a nickname for Morrissey, one of my favorite musicians. Unlike the other Moz, my Moz does not cancel concerts or make questionably appropriate comments, at least to the best of my knowledge of his meows.
He's the most loving and sweetest boy, to me and me only. He likes people, usually, but he is a true mama's boy. He follows me around everywhere; we have extended, sometimes deep, conversations in meows; he spoons with me every night; he loves having his belly rubbed; and he takes an interest in my hobbies, pictured here taking a break from reading with me for a photoshoot. Really, if I thought he would tolerate being toted to and from work or around town in a cat stroller, I would be that cat lady. Luckily, for the sake of my dignity and his, he wouldn't tolerate this. So, we spend a lot of time together reading (he enjoys absorbing a book by gumming the corners of it), watching TV, and sleeping, aka 75% of my hobbies. He loves to smell people's breath, after they've eaten. And not just casually smell–my little dude opens his mouth, makes a weird tasting face, and tries to really taste the smell. No one believes me when I tell them to breathe on him after they've eaten because he loves it."
---
Emma, Elyse, Puck / 24, 24, 7 / Philadelphia, PA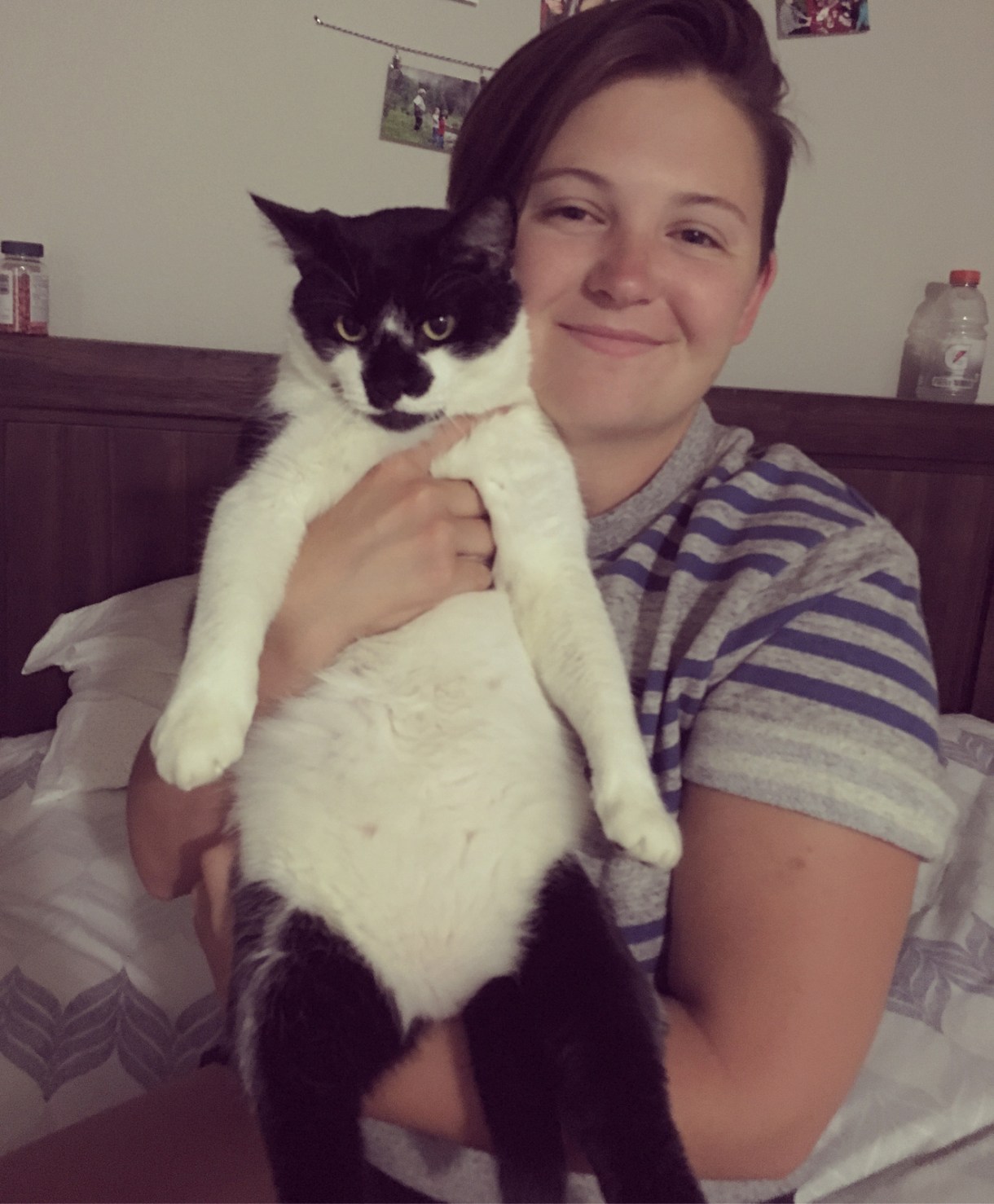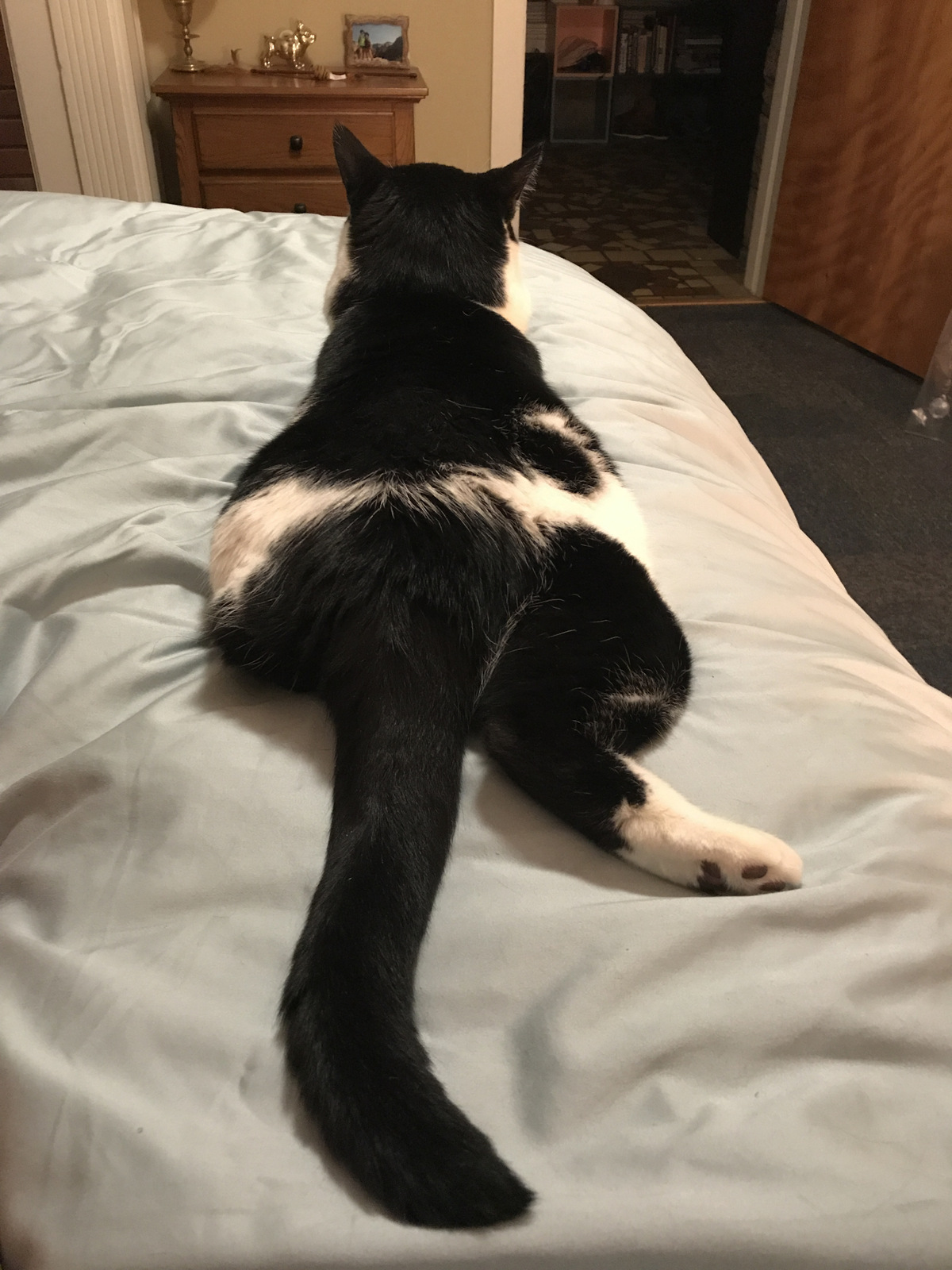 "The Fat Man came into our lives one day when we woke up and said "we should get a cat." At the local shelter, he reached his little hand out of the cage towards us and we were in love. We're unsure of how old he is and how he got to be 18 pounds as a stray, but he was the best $15 we've ever spent. He's named after a troublemaker because that's what he is, though we fought for quite some time over why he couldn't be named Rumpelstiltskin. He enjoys watching birds outside, playing with his ketchup packet of catnip, and biting us when he's hungry. Also screaming at the top of his lungs. Weirdest thing about him: his natural leotard and soul patch."
---
Laura, Julia, Mac / Balsam Lake, WI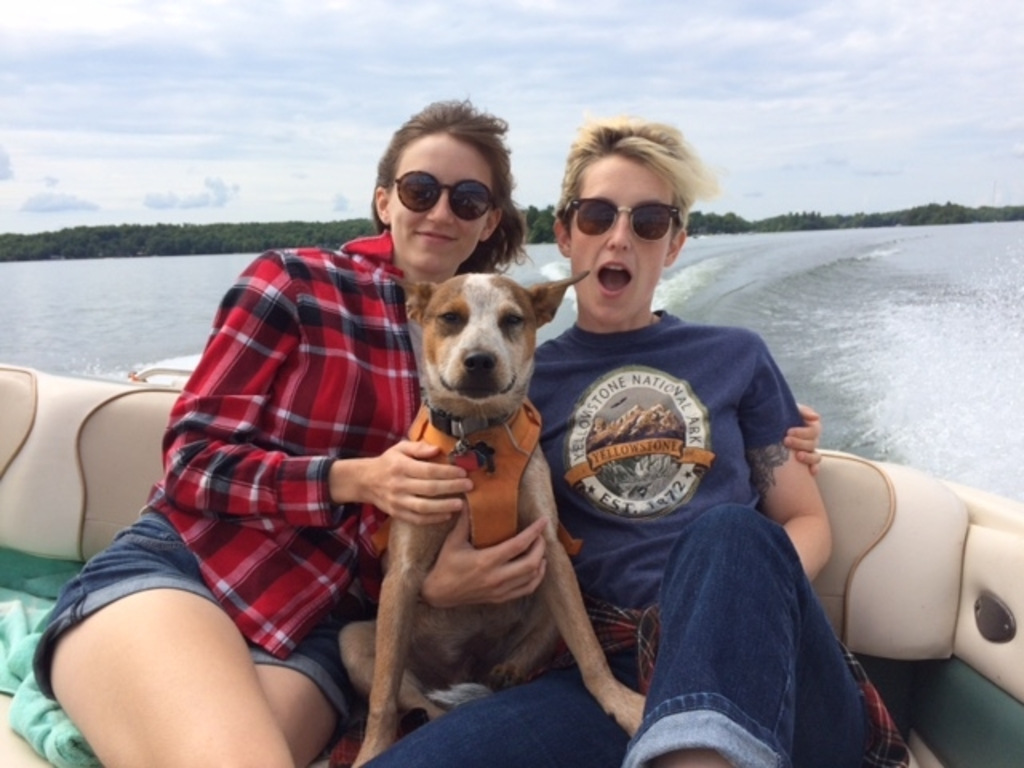 "It's hard to find apartments that allow dogs, so we had to wait a year until we could find one. We decided we couldn't start looking for pups until all the boxes were unpacked at our new place. So, naturally, the boxes were unpacked quickly and we started looking through the pups on the website for the rescue organization Secondhand Hounds. Somehow, we were lucky enough to get a meeting with Mac's foster family! We still feel so lucky – he was one of the cutest puppers on the website! You should see his baby photos…
We instantly fell in love with this crazy furball and we've had him now for almost 4 months. He came with the name Mac (Mac Attack, Mackey, Mackers, MackerDaniel, Mackerdoodle, Macaroni, etc, etc), and he already knew his name when we met him so we decided to keep it. We never would have thought of that name, but we love it! It's very nicknameable. Mac is a crazy lovable adorable big baby. His energy is boundless and he wants to get to everything that moves – birds, cars, squirrels, cars, people, falling leaves… While that can be a bit overwhelming at times, we love how curious and playful he is. We love his adorable giant bat ears and how he looks like Yoda when he sticks them out to the side. We love the heart-shaped spot on his side. We love how quickly he learns new commands. We love how freaking cute he is when he rolls in the grass.
We like to take walks, play fetch until we're sick of it (Mac is never sick of fetch), find amazing sticks, learn new tricks, run on the banks of the Mississippi River, and hike. Mac loves to chase squirrels, find dead animals, and howl at weird new things in the yard like the grill or buckets. We love to snuggle with Mac and pick him up like the big baby he is! Mac's weird habits include aggressively grooming himself in our bed at 6 a.m., licking our mouths and the mouths of his doggo friends, and watching ice cubes melt. Mac doesn't have an Instagram because he's not calm enough to use a smartphone yet. He only has two states: bouncing off the walls and dead tired."
---
Lark, Jezebel, Rufio, Inigo Montoya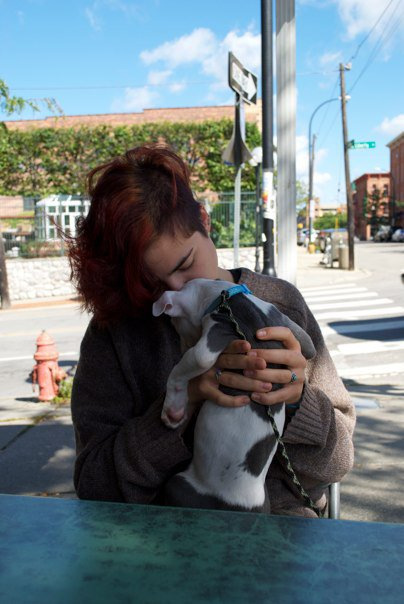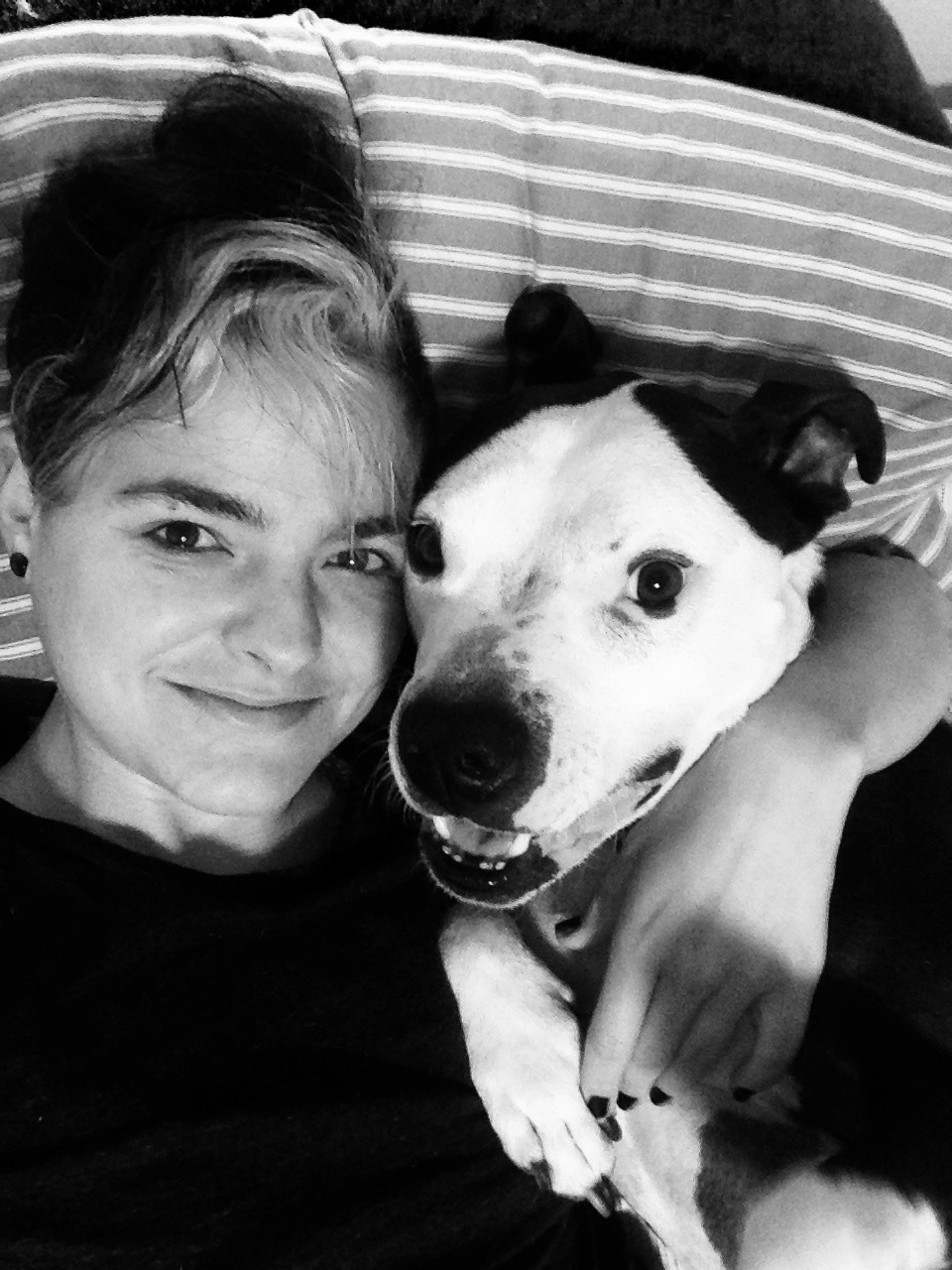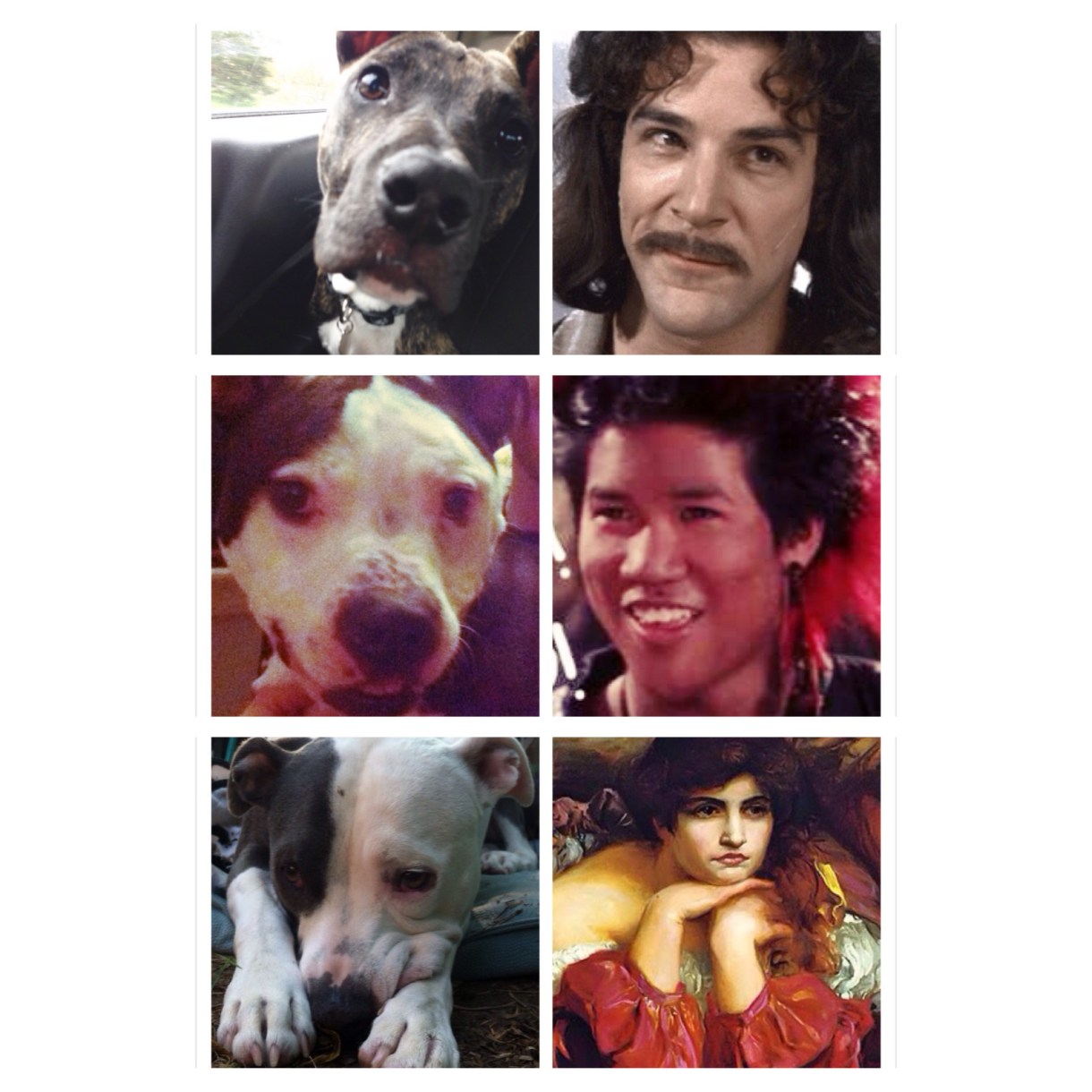 "A friend showed me Jezebel's picture on a shelter's website where she was listed by a number and an expiration date that was rapidly approaching. Her entire litter had been ditched at an abandoned motel, and she was the only one left because her little feets weren't working (she wasn't getting enough exercise for her body to support her growth). I took one look and had to have her. The pic of baby Jbel (and baby Lark!) is from the day after I got her. My partner and I chose 'Jezebel' because we liked it, but it turned out to be a very accurate description–she is the queen of all of us. Jezebel has lived in three states, seven houses, and been all over the country with us. She stood up with us at our commitment ceremony. Her favorite thing is going swimming, where she likes to stick her entire head underwater to pull out rocks and put them on the beach where they belong.
Rufio was the end of a long search for the perfect brother for Jezebel. He was four when we adopted him from the Humane Society, but really he was always ours. We named him Rufio because he's tough on the outside but so very tender inside. He's my dæmon, like in His Dark Materials. He's my soul on the outside. Rufio and I share many traits, including lots of anxiety and Big Feelings. The picture of the two of us is his reaction to me coming home from A-camp this past spring. Inigo Montoya was the product of another long search for the right fit for our family, and he came from one of those rescues with a five page application. We named him Inigo Montoya because we needed him to complete our unit, and his namesake is the only one of his group who can't function without the rest. He's still new to us, and we are watching his personality unfold. He likes to give tiny nose kisses and eat the couch. He spends most of his time attempting to antagonize his siblings into playing with him."
---
Laura and Scout / Pacific Northwest
"My wife and I adopted Scout a year and a half ago after spotting her on a rescue organization's website. She and her blue-heeler sisters were picked up in a pound near Bakersfield, CA and transported to Portland, OR by All Terriers Rescue org. We were looking for a new pup to love after our previous dog, Mattie, passed away suddenly. After many months of dealing with a broken heart, we were ready for new love and I think Scout could tell. When the rescue coordinator opened the door to her cage, Scout leaped into my arms and put her head on my heart. She picked us, we picked her, and we've been an inseparable pack ever since.
Scout got her name because she's a brave girl who is always up for fun and adventure. We do a lot of hiking together, and are about to start agility courses (&eventually sheep herding classes!). We travel with her and she's become a bit of a celebrity around town and in the places we visit. Scout has the most open heart of any creature I've met – she will play with puppies, children, adults, anyone – and people fall in love with her instantly. She's especially drawn to the ladies (well, she has two moms after all), and when we walk down the street she'll often elicit gasps of delight from women who spot her. She's so used to it that now if she hears that sound she'll stop to see which woman made the noise and insist that we go say hi to her. She brings a lot of joy to the world with her silly face. Scout's adventures can be followed at Scout_the_intrepid on Instagram."
---
Kate and Eddie (Edwina)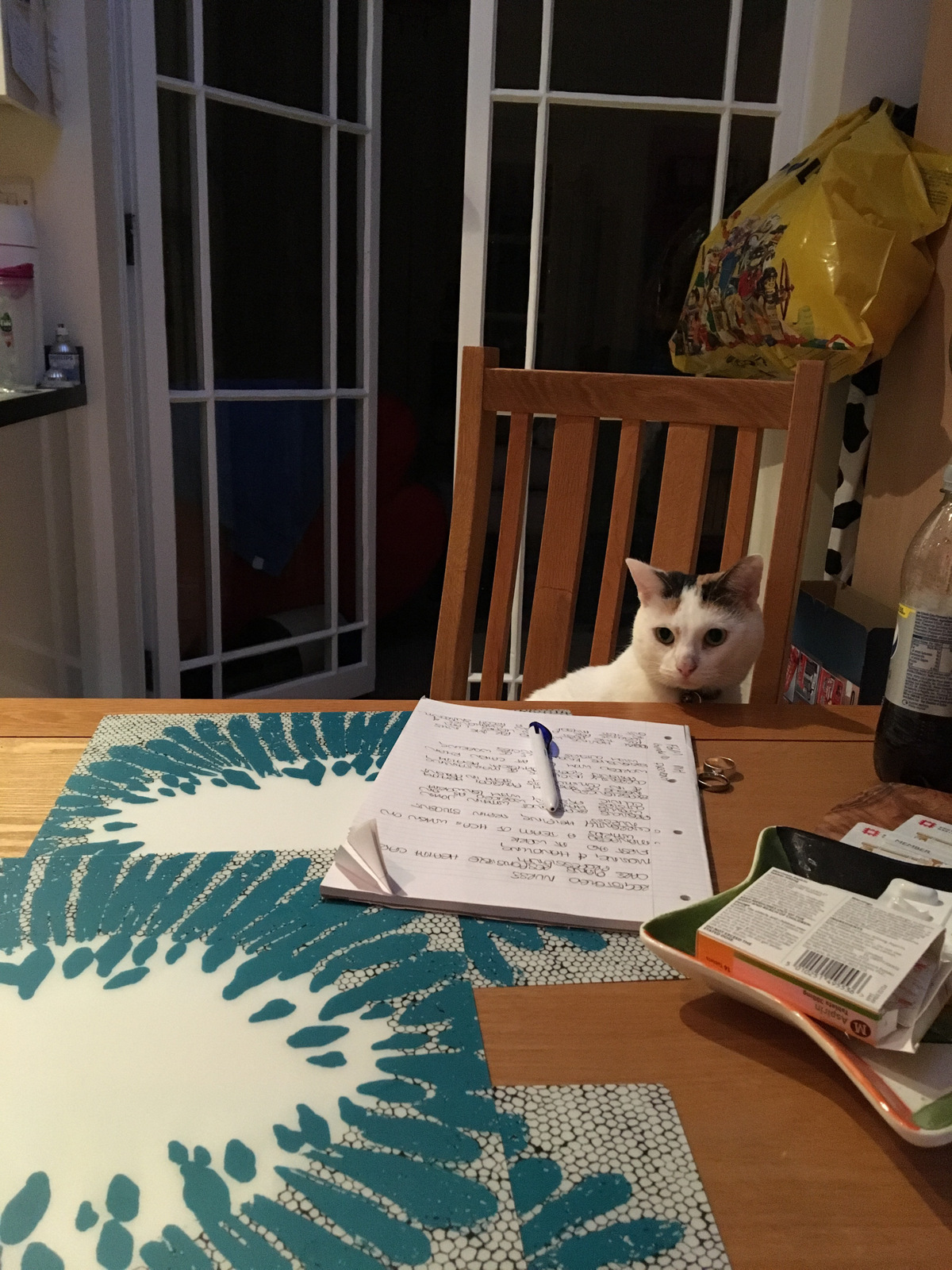 "She thinks she's peoples."
---
Elisa, Lou, Coco, Cappie and Pluto / France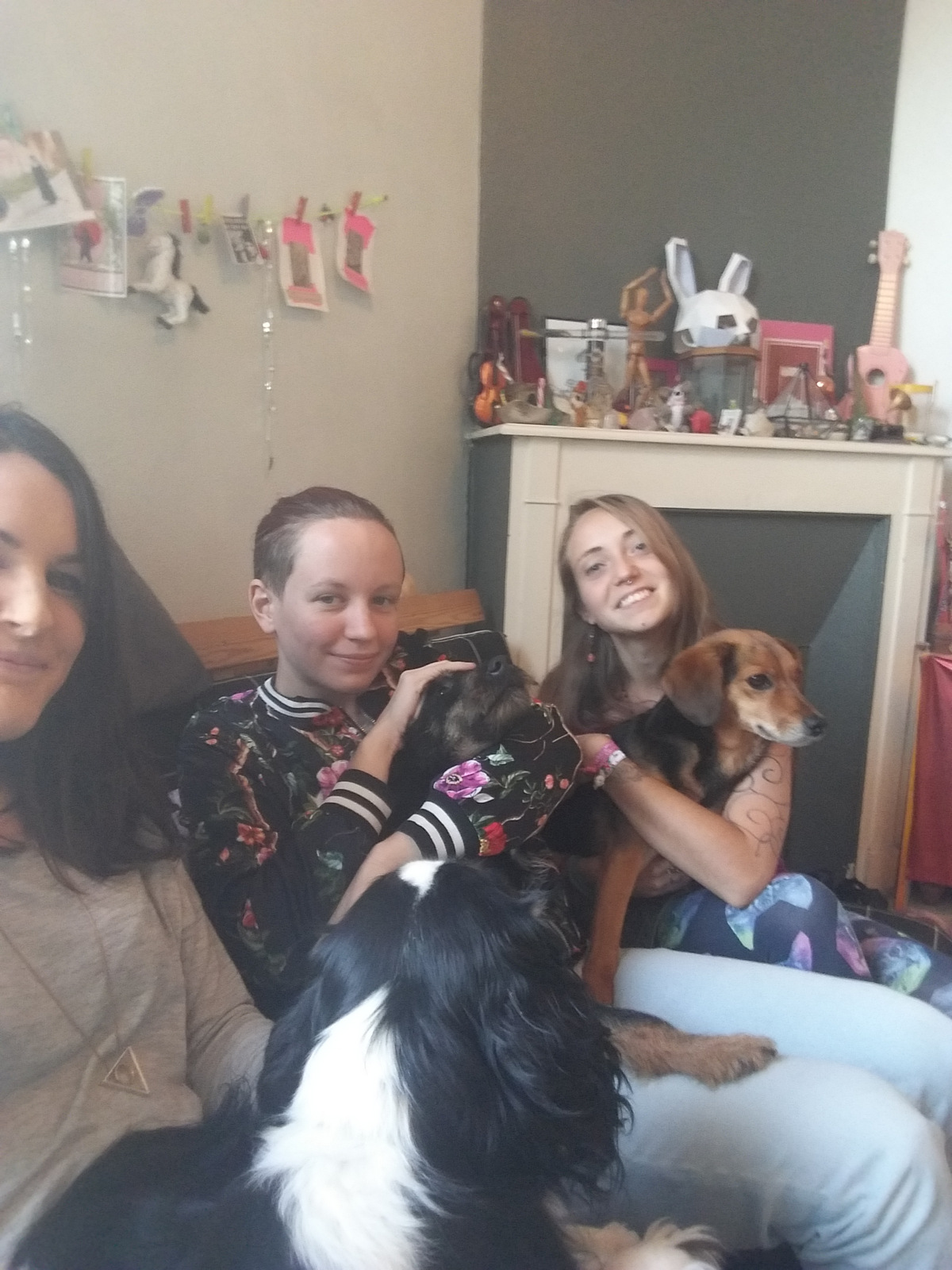 "Jupille is quite simply perfect, Cappie is adorably smelly and we were all dogsitting an energetic Pluto (in the middle) that day!"
---
Eddy and Sasha / 23, 9 / Rest Stop Somewhere in WI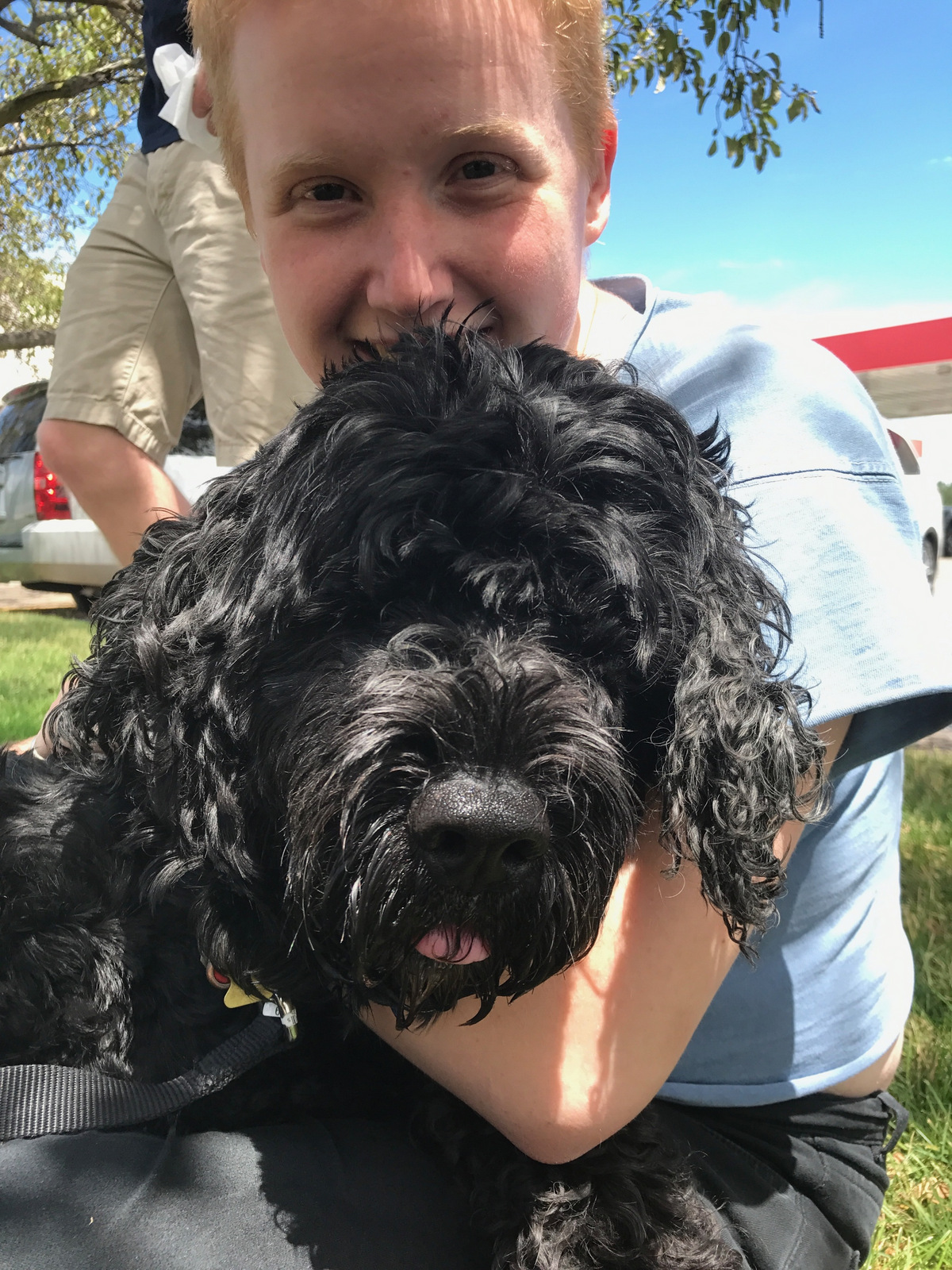 "Sasha used to be my family's dog, but I stole her so now she's mine. She's the chillest and the cutest but is occasionally a little fuzzy ball of panic. We both like to sleep and she likes to do it with her head resting on me. She hates exercise so all of our walks and hikes involve a lot of coaxing."
Stef and Scully / NYC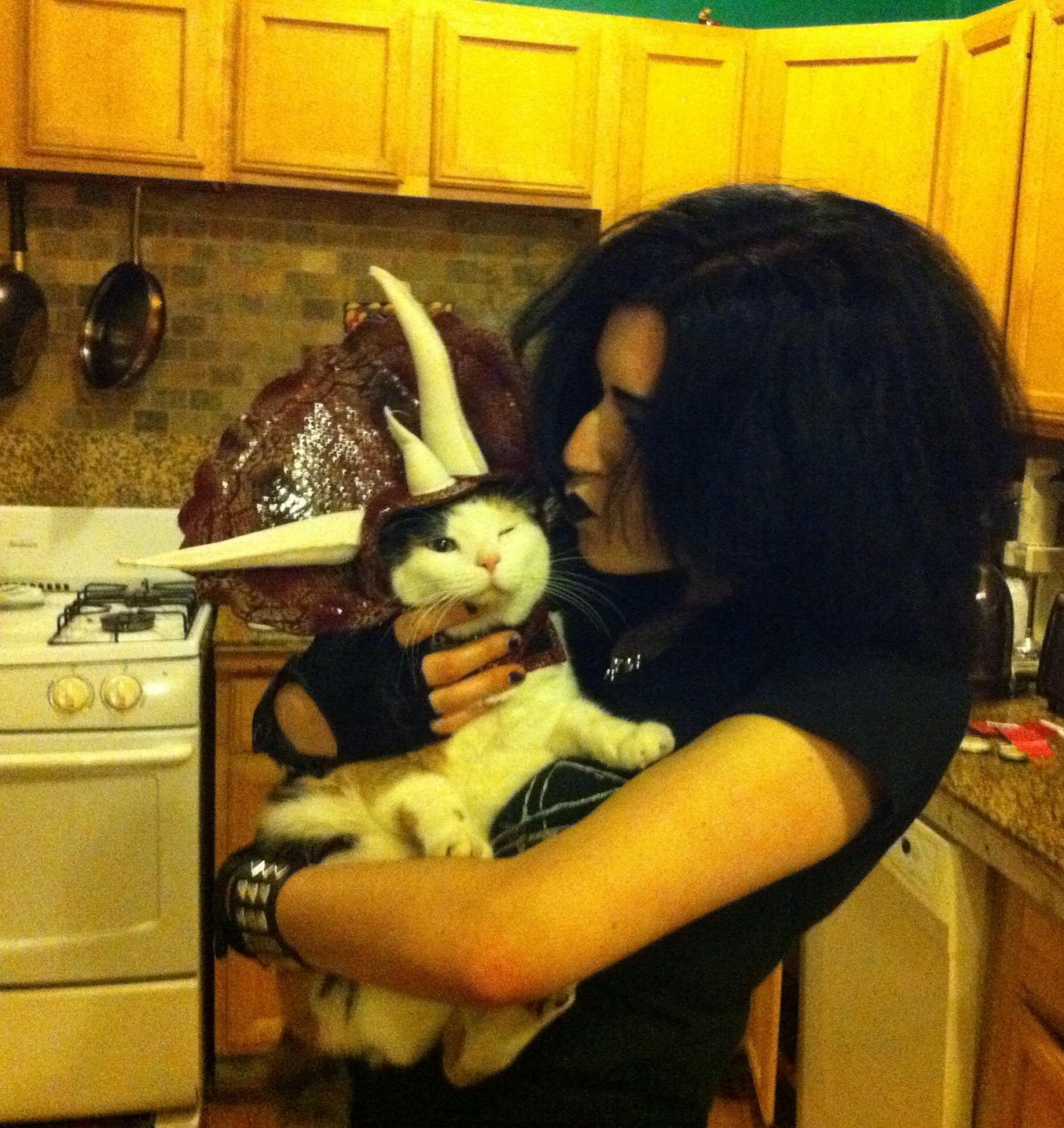 "This is the first time I ever dressed Scully up for Halloween and as you can see, she was 100% into it. Since then she's been a shark, a peacock, a bat, a bumblebee and an elephant."
---
Jillian and Peet / 39, 6 / NY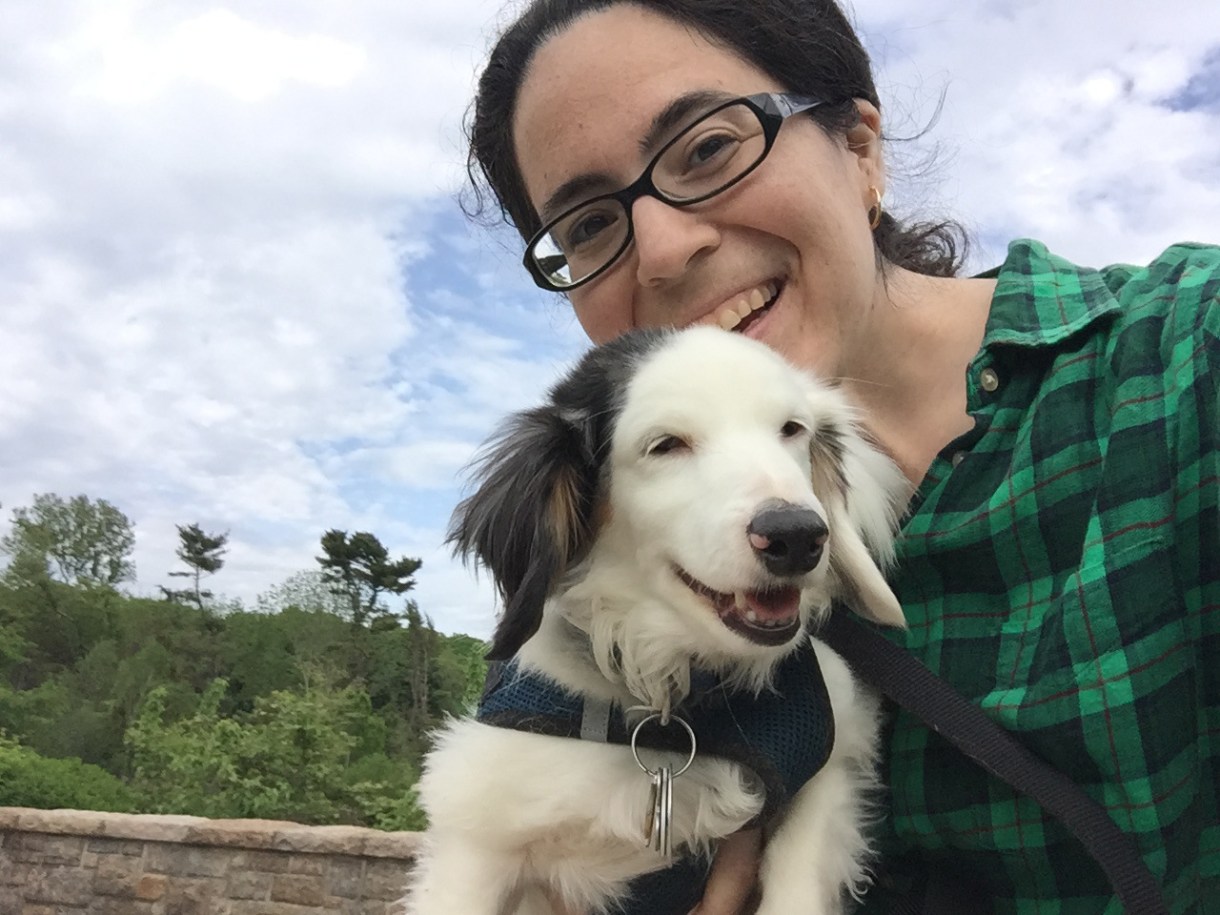 "Peet is a rescue from South Carolina. He got brought up to Long Island via Last Chance Animal Rescue, and we were the lucky ones to get to the adoption event first. He got out of the truck and into our car, basically. People were asking us seconds after we had adopted him if he was available, but he was ours! He chose us – with a little help from a 12 year old daughter of one of the LCAR volunteers peer pressuring us, and a whole lot of adorable. Best decision we ever made!
The best thing about him is he makes me talk to people. He is a town celebrity and makes everyone happy – especially me. He keeps me company while my wife is drowning in work as a resident. Also his flippy ears. We take him everywhere we possibly can, to the point of skipping wineries that won't allow dogs – trust me, it's a big deal to skip a winery on the North Fork of Long Island, and planning vacations and days around his participation. He is super easy to please and loves nothing more than a new parking lot to explore, so he's an excellent co-pilot. His answer for what we like to do together is "Eat foods".
He is a double dapple long haired dachshund, which is super rare, and almost no one has ever seen before, so he is mostly white, with blue eyes and black spots so he is inherently a little weird-looking. He will literally stop traffic, foot and automobile, except he's not super into people – he will make it 90% to them and then make them come that lasssst little bit. He's handsome and he knows it. And once we were walking him downtown, and someone yelled "Hey Peet" from the window of a passing truck – we humans had no idea who the person was, but they knew Peet. Instagram: @PJ_Peetyboo."
---
Kells and MC Sprout / 39, 10 / Lake Worth, FL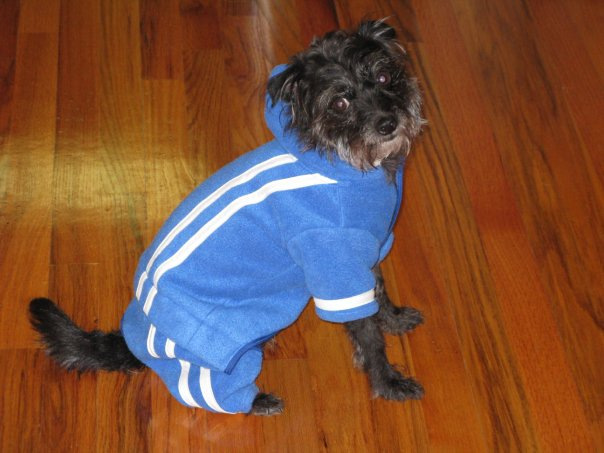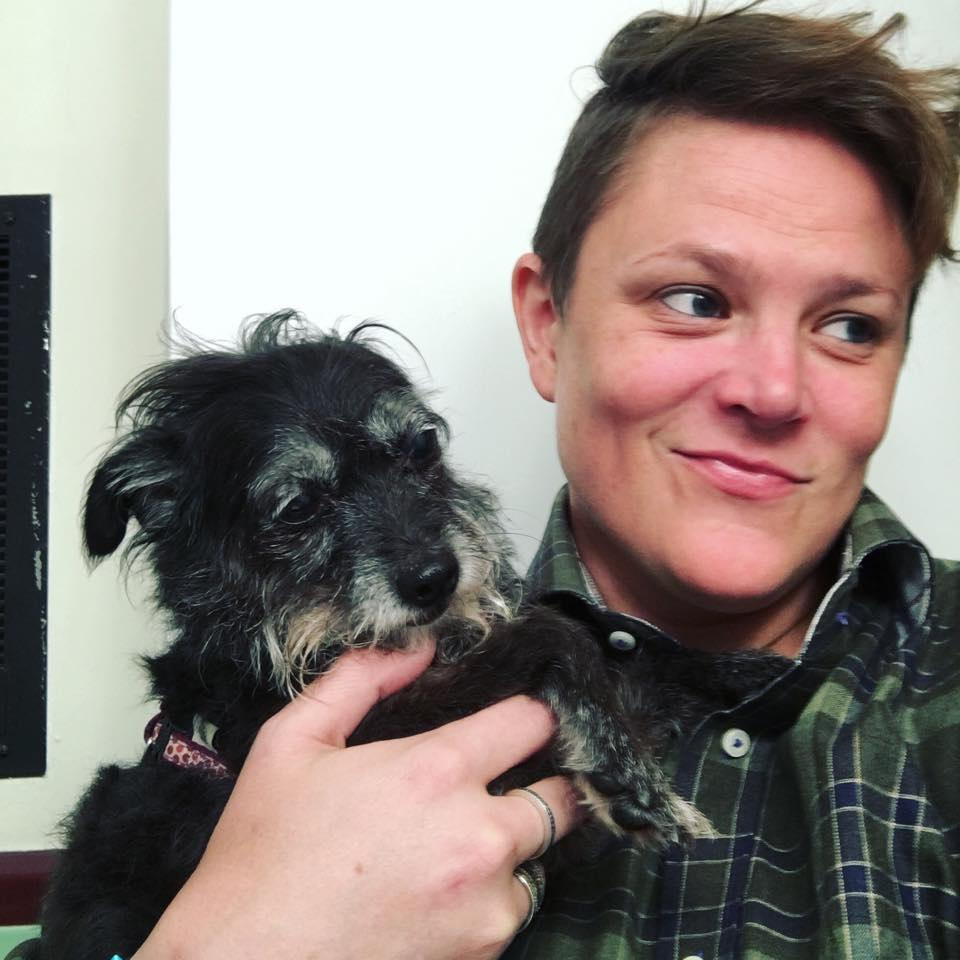 "I met Sprout at the dog park the day she was adopted from the animal shelter by a friend of a friend. I fell in love with this ragtag little 3 month old pup. Another 3 months later, I found myself driving her to her new home with me. She's been my sidekick ever since. She's named after a member of the band Northern State. I'd just fallen in love with them after seeing them open for Tegan & Sara about a month earlier. Sprout is super chill, extremely good-natured, and very portable, so I take her with me everywhere. We live in a very dog-friendly area, so Sprout and I walk everywhere, go to bars and restaurants, chill at the beach, and hear live music regularly.
She absolutely thinks she's a person. Every day when I return from work, she spends about 3-5 minutes "talking" to me. It's pretty much the cutest thing ever. Her weirdest trait: she won't let me out of the bathroom without licking the water off of my freshly showered legs. Her Instragram is (obvs) @MCSprout."
---
Dekel, Michal, Luka / 37, 33, 9 / Dead Sea, Israel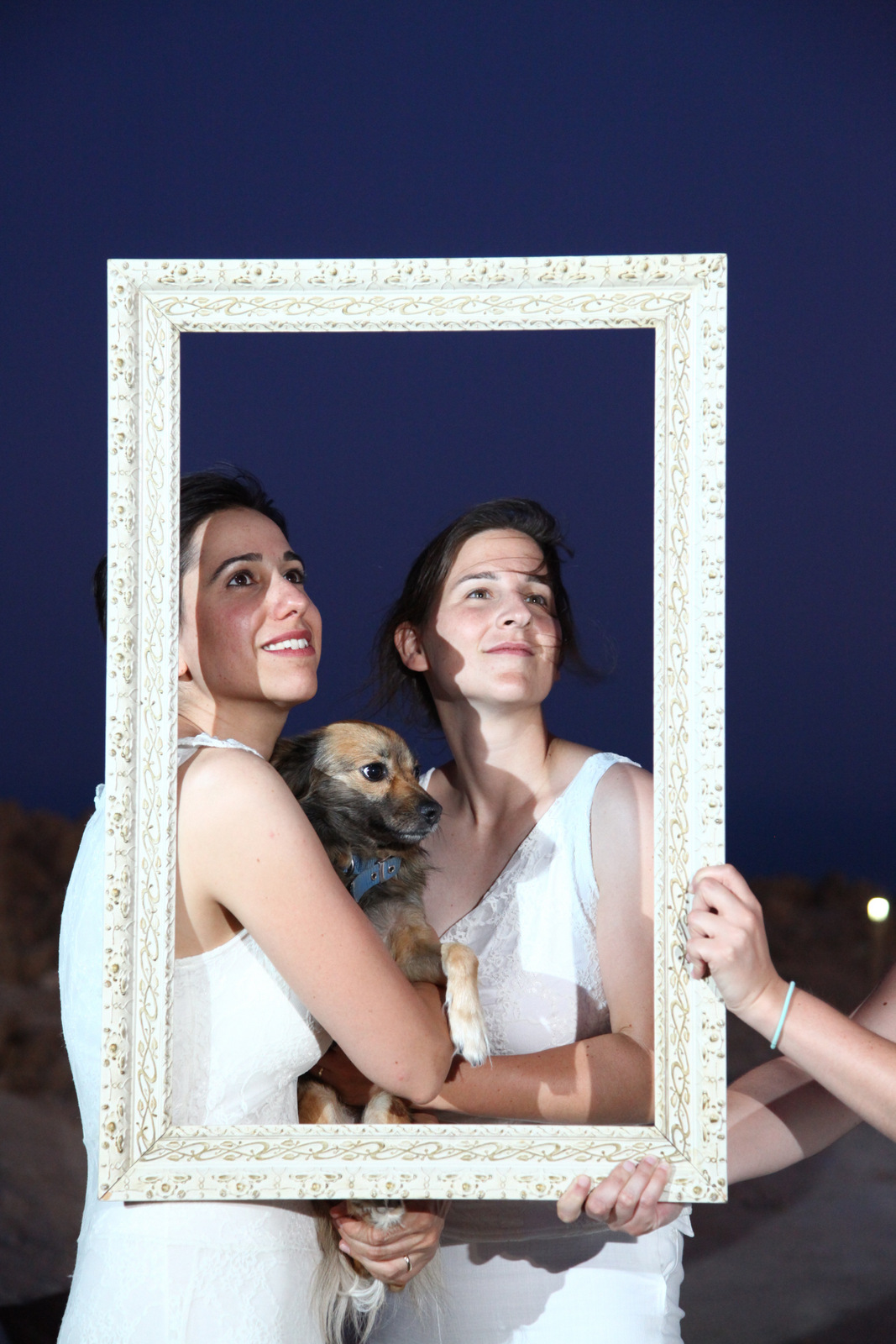 "This picture was taken on our wedding day. Luka was the cutest, most nervous, ring bearer. She was a stray puppy found in Jerusalem, and like many Jerusalem natives, has deep phobia of water. She also pees with both her rear legs in the air in a weird Kung fu stance, just to make sure the pee won't touch her legs. Hiking is a different story. She loves climbing even the steepest mountains, and getting really close to the cliff's edge, without any consideration of our fragile hearts. On weekends, she sleeps in until 11AM, then sunbaths for another couple of hours on the balcony, reminding us what life is all about."
---
Ryn and Moose / 38, 17 / Brooklyn, NY
"Moose was my mom's little guy until she went on vacation and left him with my wife and me for safekeeping. He got so attached to us that she decided to give him to us on a permanent basis. His name is technically Matisse, but as pet names tend to do, it's evolved (variations include Mr. Moose, Moose Moose, Moo, Müs, Der Elch (supposedly the German word for moose)). Once I tried to affectionately call him a douche and a dork at the same time and ended up calling him a duke. He spends most of his old age sleeping on the edge of our bed, completely ignoring the cat-sized bed we bought on his behalf. My wife and I argue constantly regarding his (fuzzy) body of knowledge (me: he is all-knowing and wise! her: he knows NOTHING). His meows are loud, regretful, and sound uncannily like someone saying "hello" at a funeral."
---
Jenn, Cait, Kennedy / 26, 29, 6 / NYC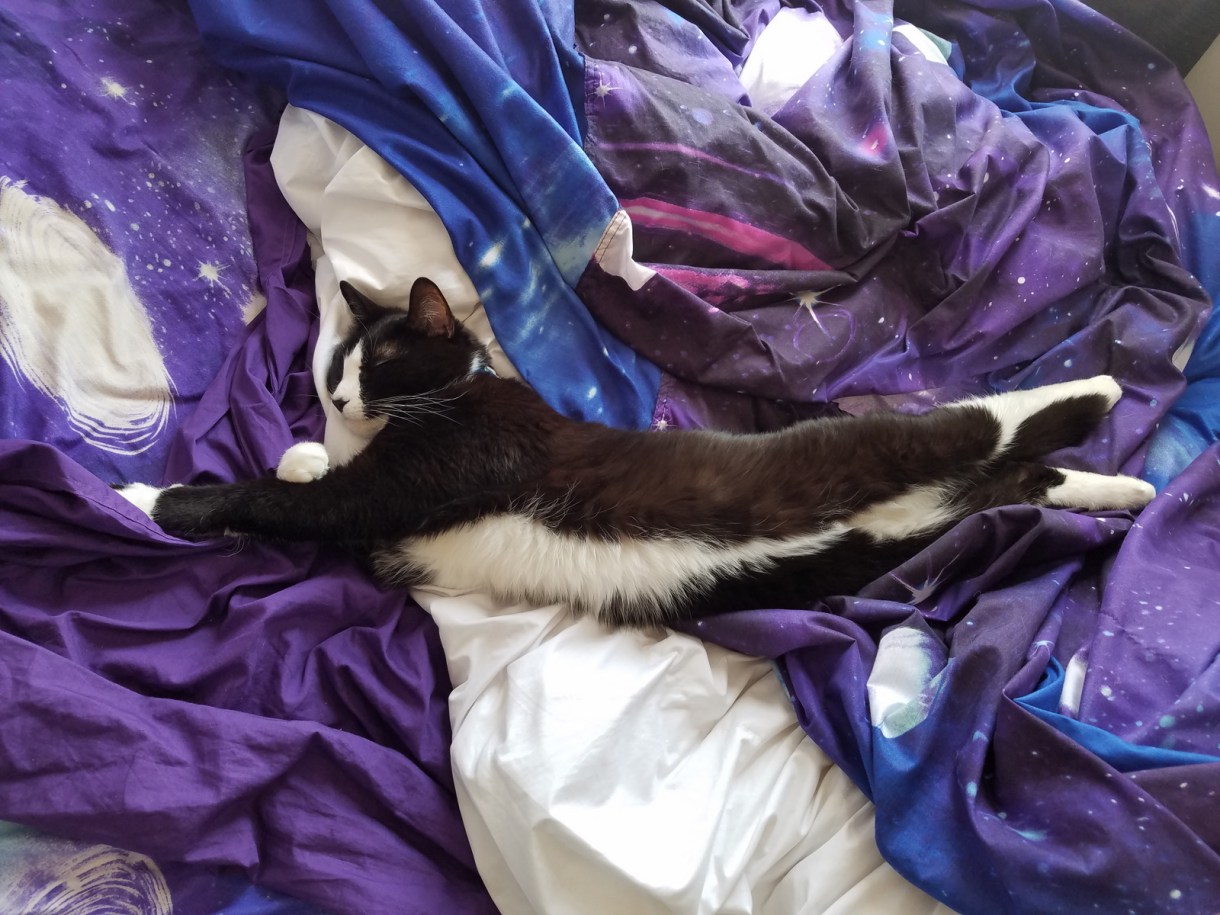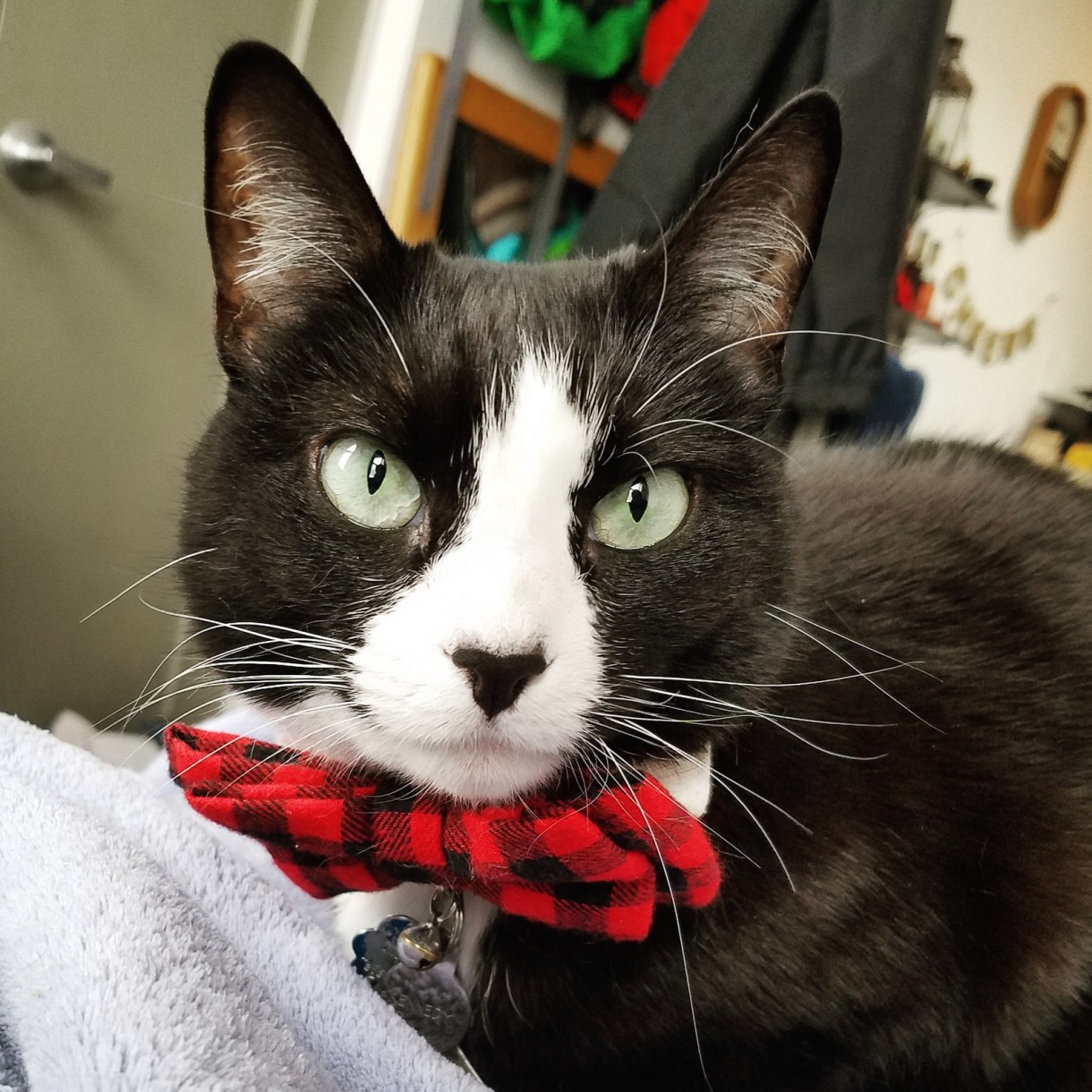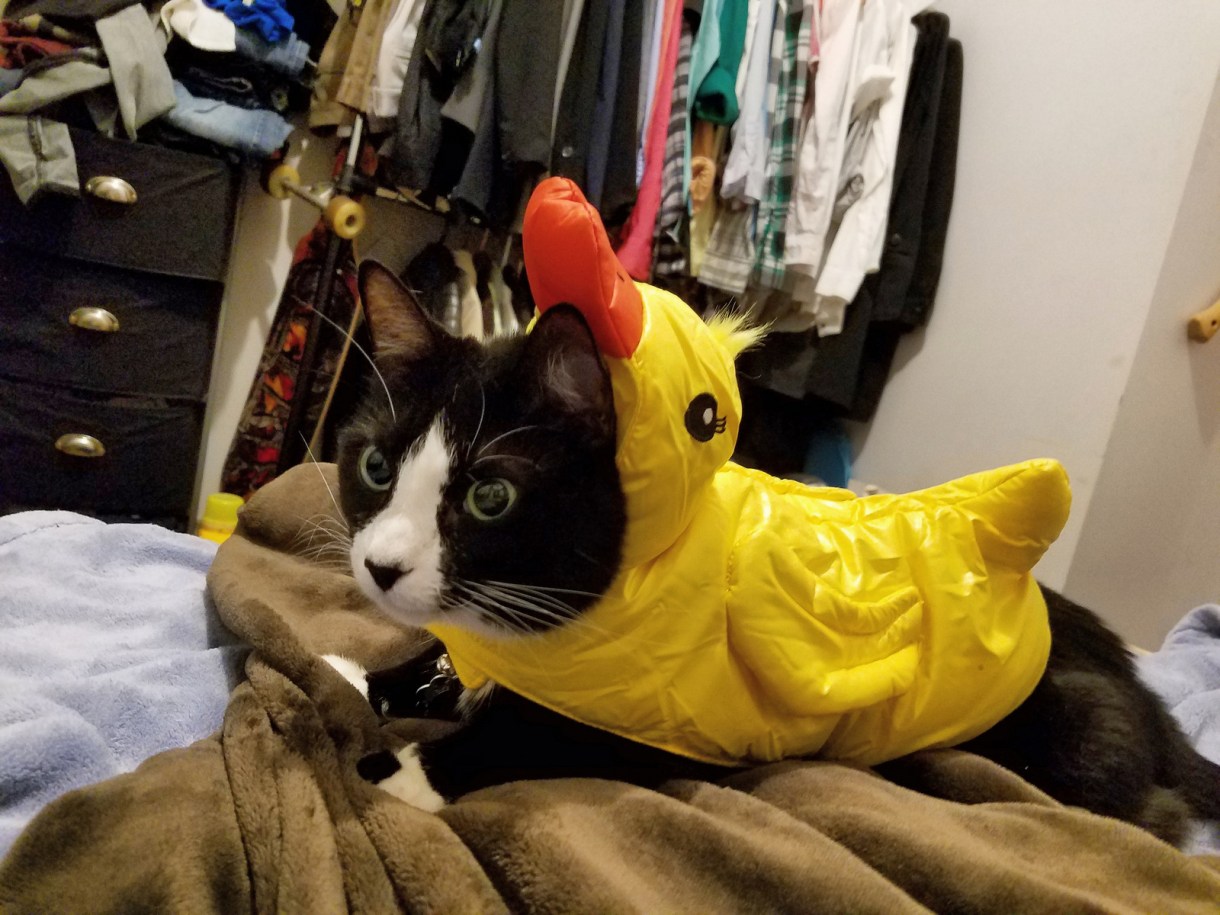 "Kennedy was adopted from a no-kill animal rescue and very quickly decided that she was in charge of the apartment. We let her believe that in exchange for getting rid of mice and begrudgingly letting us take seasonal/costumed photoshoots of her. Her favorite activities are sleeping, terrorizing the geckos, playing with literal trash on the ground, and running around at 3am. We've trained Kennedy to walk on her back legs when we feed her treats, but she has yet to break the habit of snacking on cheese and olive oil when we're not paying attention. Occasionally we take her outside on her leash, but she has a long way to go to reach "dog in a bag on the subway" level. Kennedy doesn't have an Instagram because of the very real fear that she'll be infinitely more popular than us, but gets tagged with #LesbianCatsOfInstagram."
---
Laura and Boriss / Toronto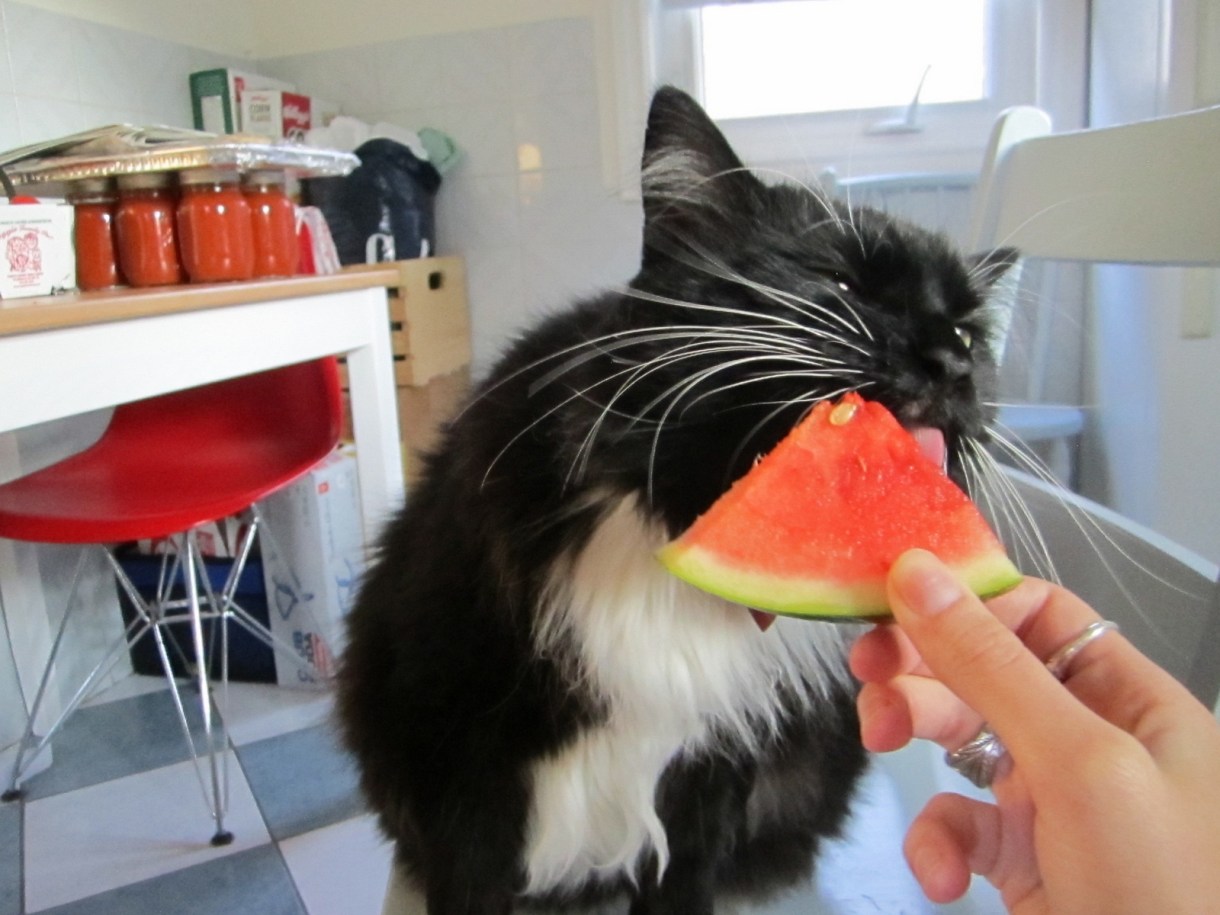 "Boriss' hobbies include long walks in the garden, sleeping in boxes and eating fruit, particularly watermelon. This beautiful beast came from the animal shelter in my ex's hometown, where I fell in love with his whiskers online months before actually being able to adopt him. Apparently he was a jerk to everyone at the shelter while he was there, obviously because he knew his human would be coming for him soon."
---
Katie, Al, HP Lovecat / Chicago, IL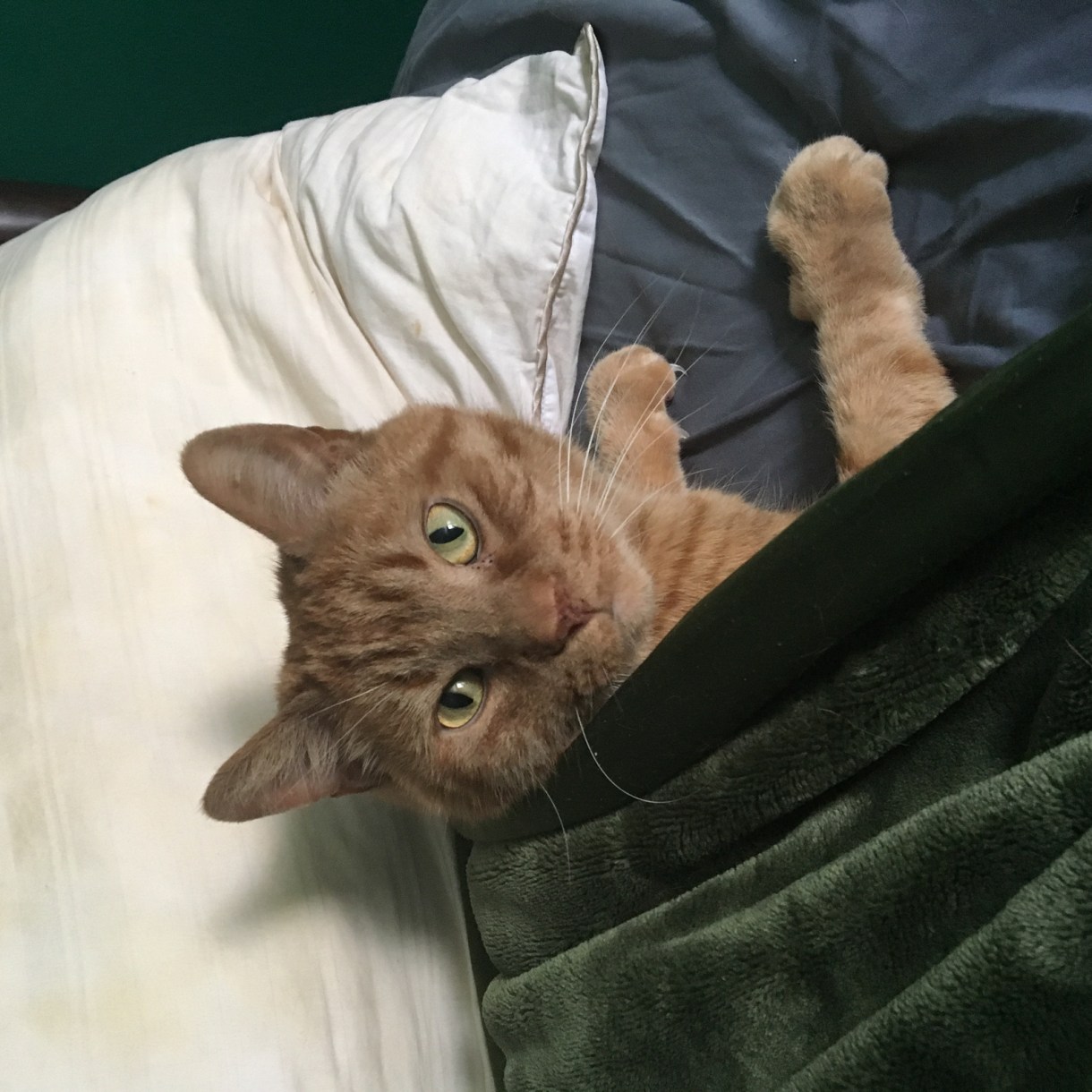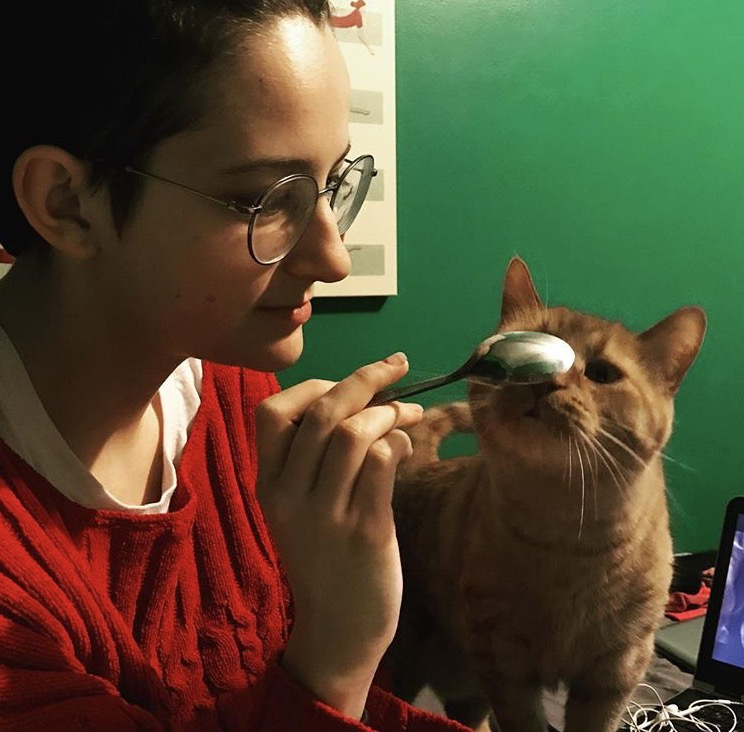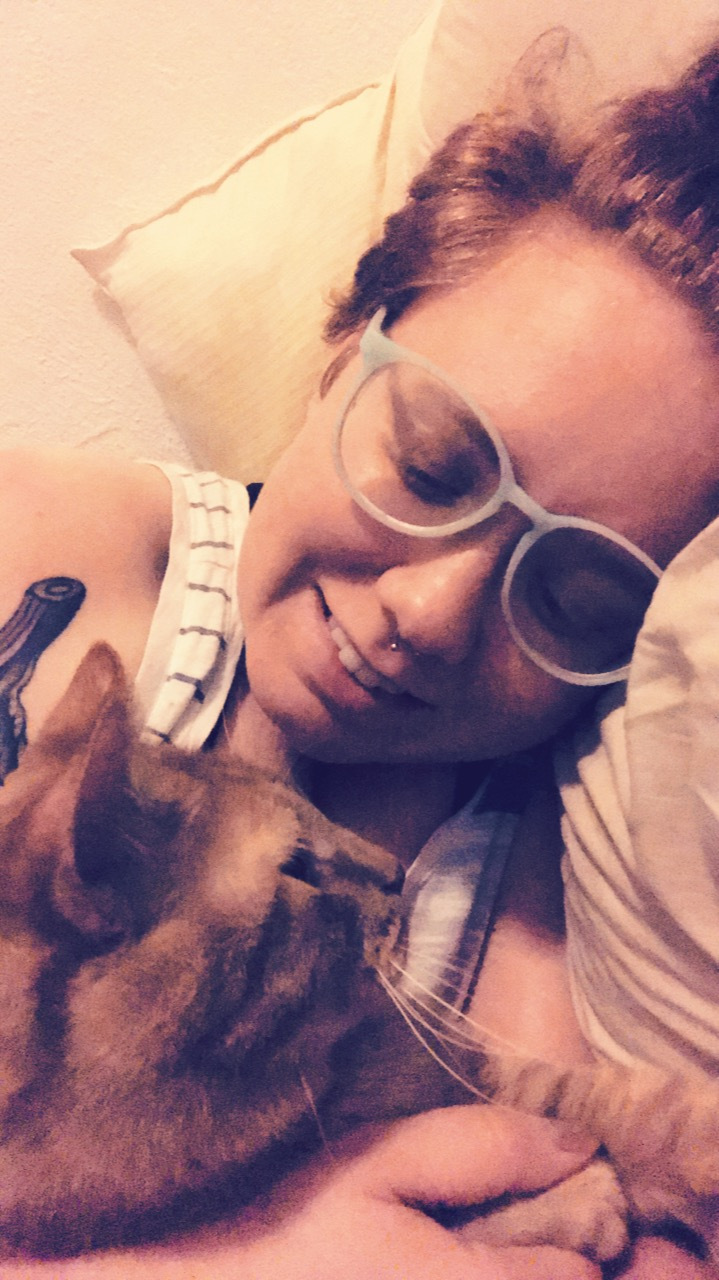 "HP came with his name, but he also answers to: Little B, Tiny Butt, Son, Perfect Being of Light and Joy, Butternut, BunBun, Pumpkin. He spends the long days in anxious vibrations, and all night gently smacking Al's face with the softest of paw. Katie is a Cool Mom and spoils him rotten. He loves holding hands and hates the squirrel out front."
---
Crystal, Monday, St Mark / Chicago, IL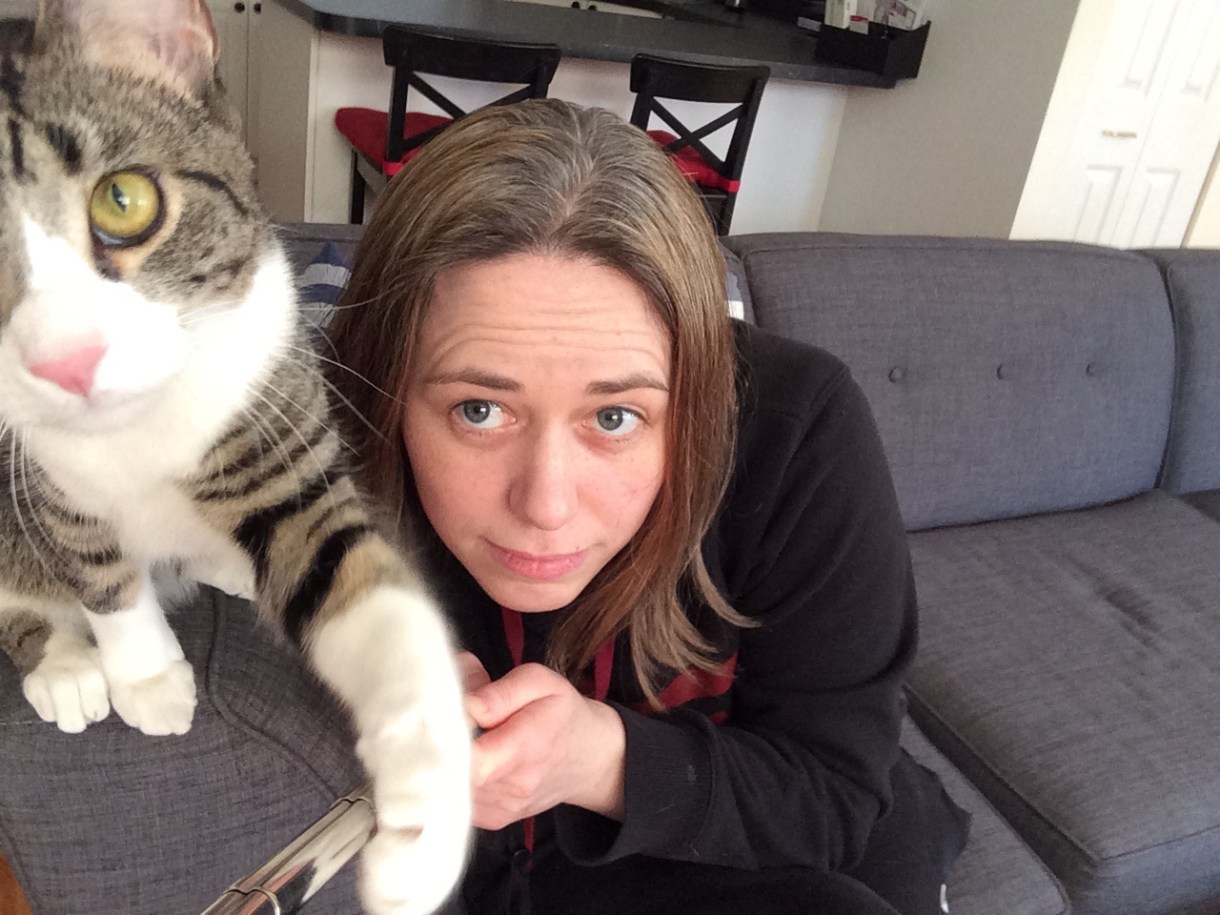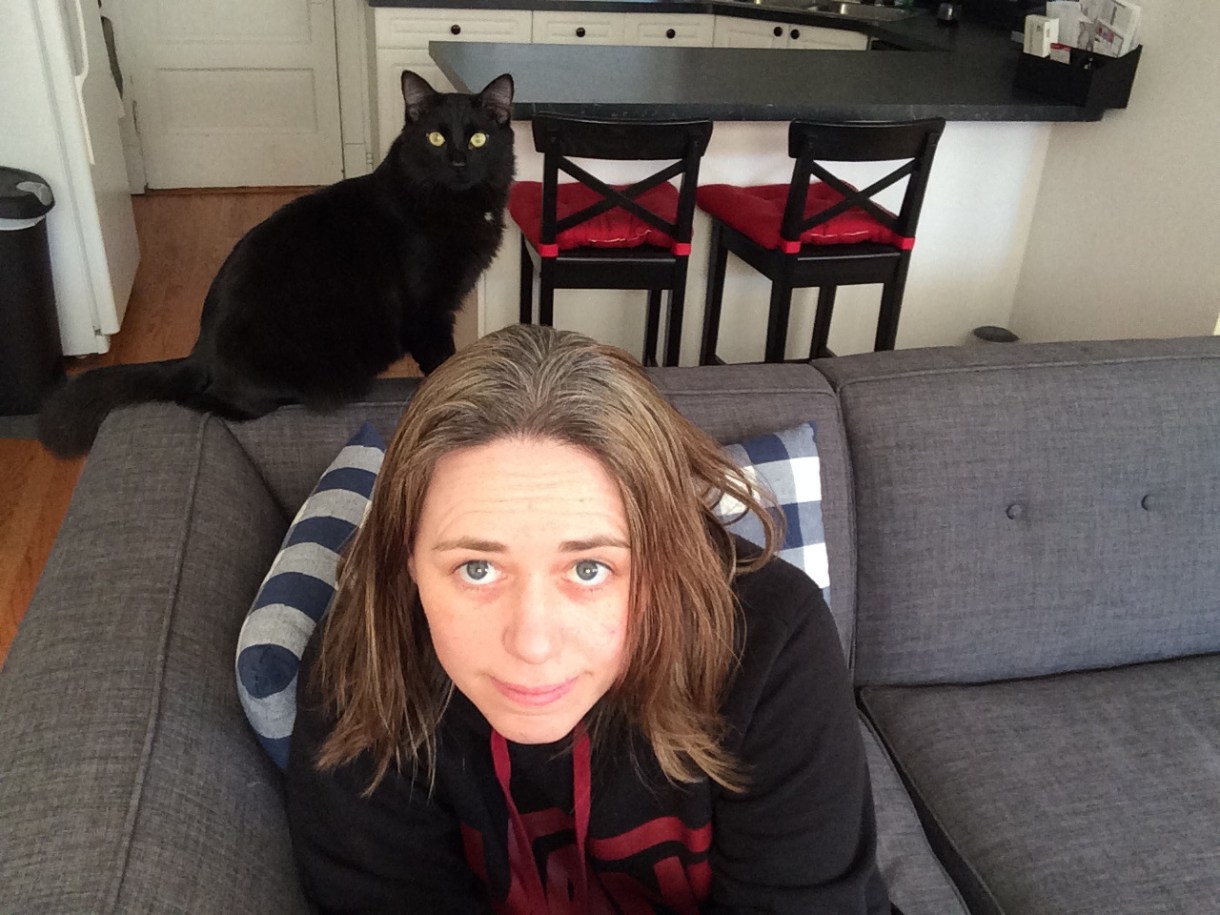 "We adopted Monday from a shelter, alongside his brother, St Mark. He's such a weirdo! He likes licking and nibbling my shins obsessively while I'm sleeping. Here we are testing out our new selfie stick. St Mark was named after a part of NYC I used to love, but we mostly just call him floofy. His favorite things include sitting in cookware and knocking over freshly cracked cans of LaCroix."
---
Maddie, Maddie, Radar / 26, 28, 1 / New Orleans, LA
"After 2.5 years of dating and a year of living together we decided we needed something to pour our maternal love into. Thus Radar was found on Petfinder (thanks, Take Paws Rescue!). Radar was a stray discovered at s high kill shelter an hour outside New Orleans. He had signs of abuse and advanced heartworm. His amazing foster mom nursed him back to health and we took him home two months later! We both love MASH and he had sweet eyes like Radar O'Reilly. Plus he's a sighthound (he's part Italian greyhound) so he has great sight and hearing, also like Radar.
The best thing about him is that he's like Velcro! He'll sweetly follow us from room to room, not needing anything, just wanting to be close to us. He also has a slightly curly tail that he wraps around your wrist when you pet his butt. He runs like such a weirdo! He has long, goofy legs that flail like he's wearing flippers. It looks like he's going to trip himself. Instagram: @Radar_Gaydar."
Meg and Puddin / Los Angeles, CA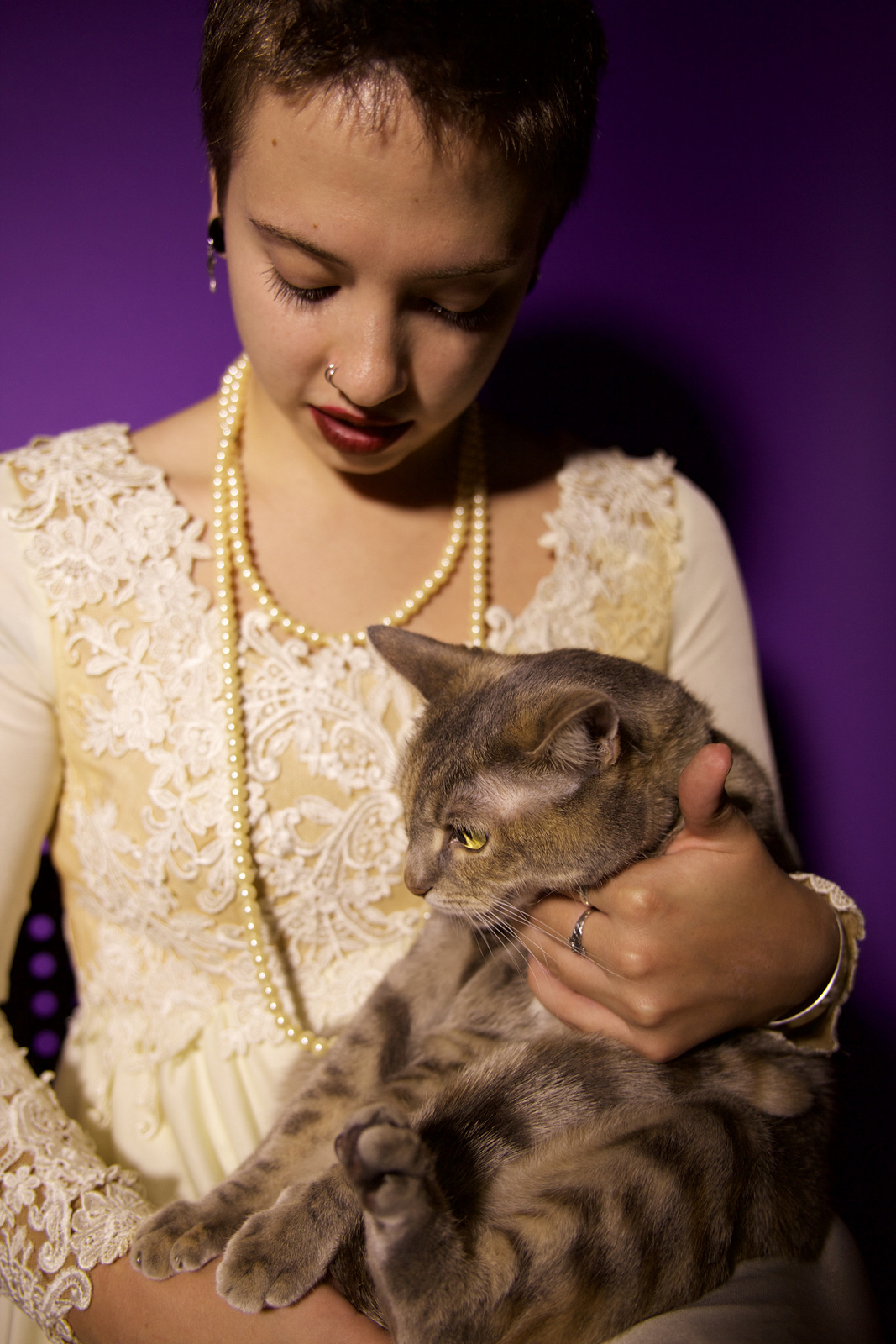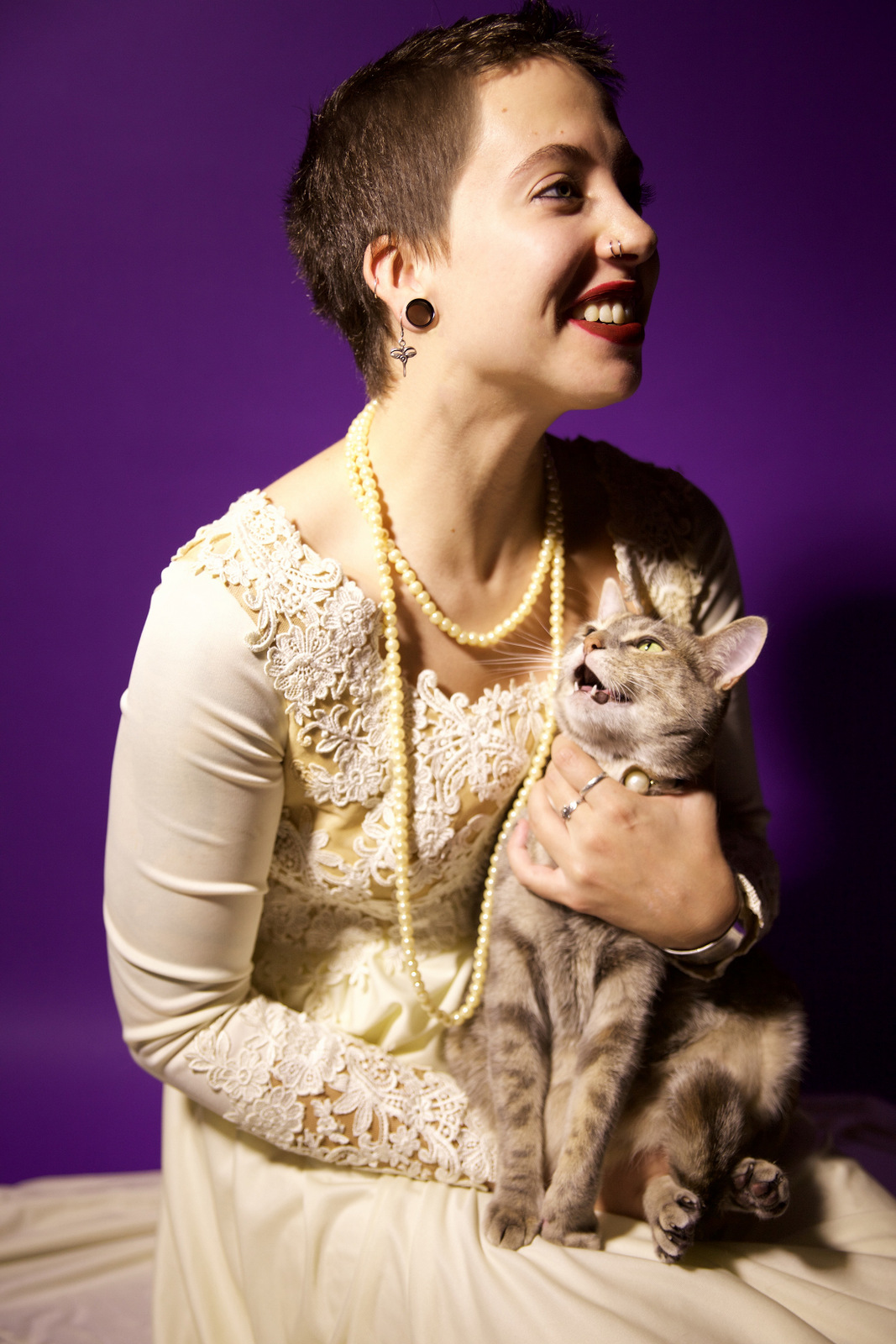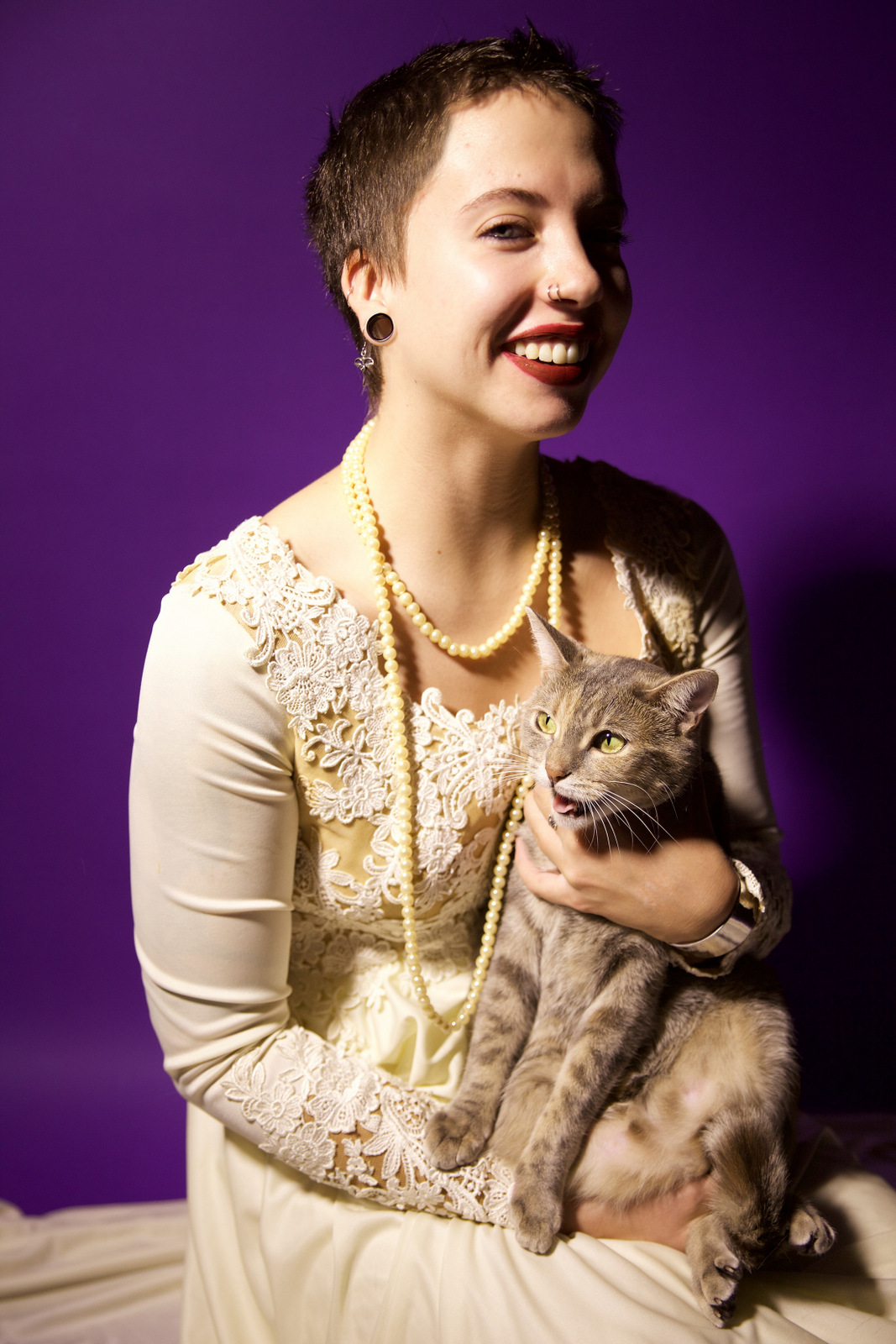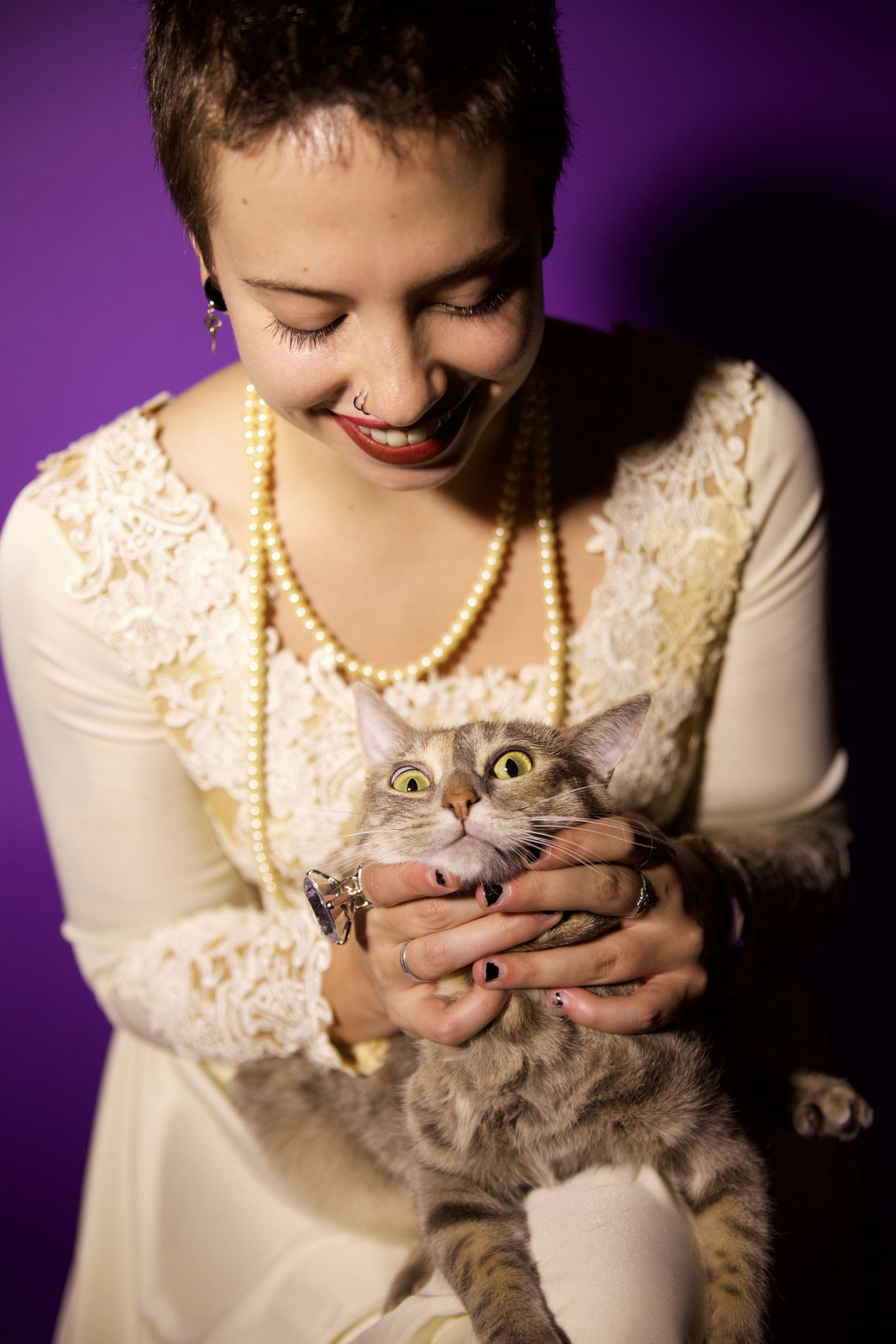 "Meg and Sheri (photographer) are a lesbian couple, and this little beast was adopted by Sheri a couple years ago. The weirdest thing about her is her obsession with flip flops. You can follow along with Sheri and Meg."
---
Cassy, Kristen, Joey, Leah / 33, 32, 9, 8 months / Crimora, VA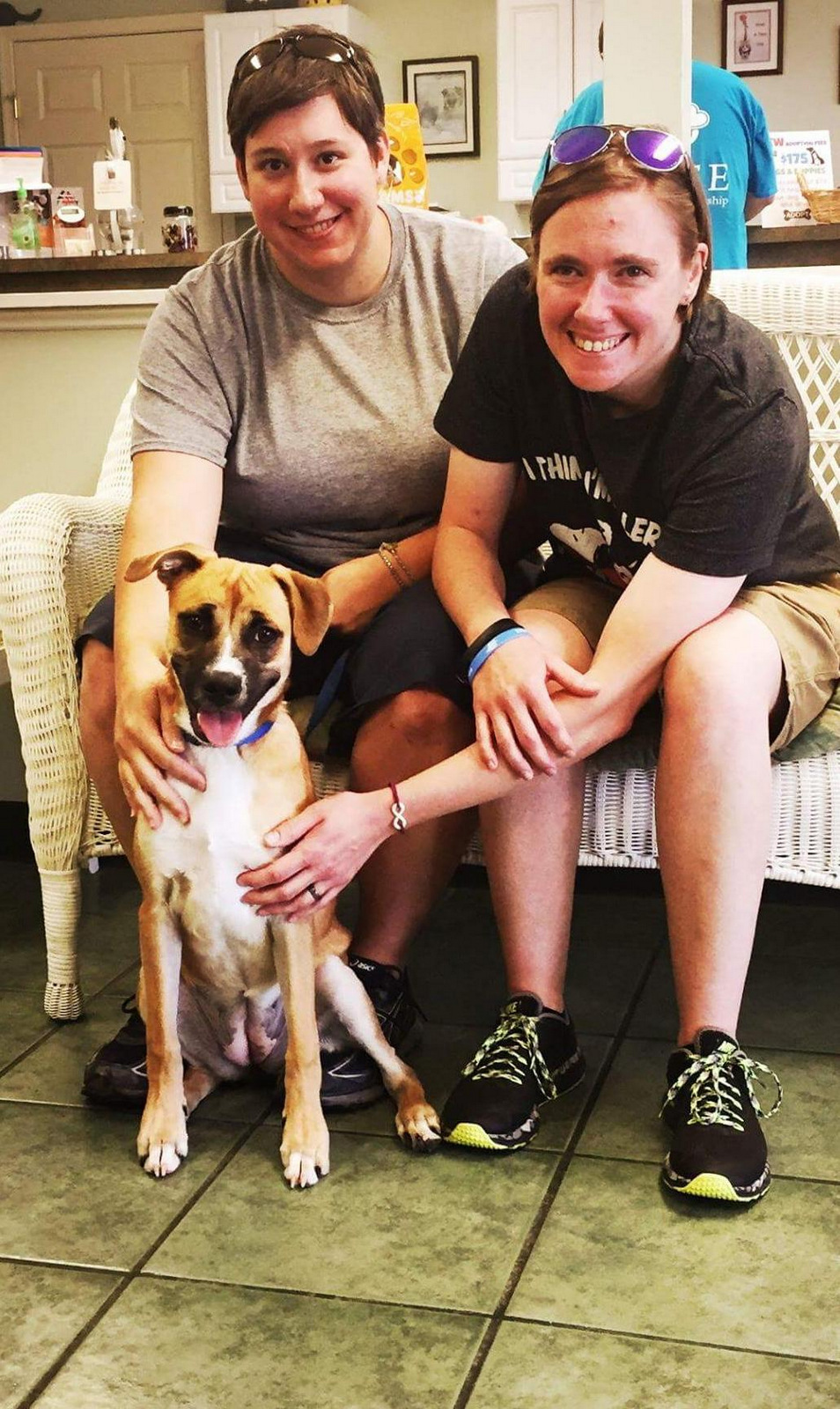 "Joey was a part of a group of feral cats that lived outside of the grocery store where Kristen used to work. They were all very skittish. One day Joey got stuck inside they cage where they keep the propane tanks. Kristen and her co-workers go him out and she brought her home. He's still a big, fat (18lb) scaredy cat who hides most of the time but we feed him so he tolerates us, sometimes. He also hates that we got him a puppy sister. Joey's named has morphed over the years. We actually named him Mocha which turned into Mocha Joe, then just Joe or most often Joey, which is what everyone else calls him, too. In true parent form, when we yell at him we use his full name: Mocha Joesph.
We adopted Leah from the local SPCA just a couple months ago. We couldn't resist her cute face. She was the only dog we took out of her kennel to meet and that was pretty much it. Her previous owners had just dropped her off earlier that day so she didn't even have to spend one night there. They had named her Layla, but we didn't really care for that name so we just sort of randomly picked another name that started with L. However, we mostly affectionately refer to her as pupperoni right now. I'm sure her name will change with time, too. She's a crazy ball of energy with long legs that she doesn't quite know how to control yet. At least she's cute."
---
Vic, Desmond, Bubba / 30, 10, 3 / Southern NJ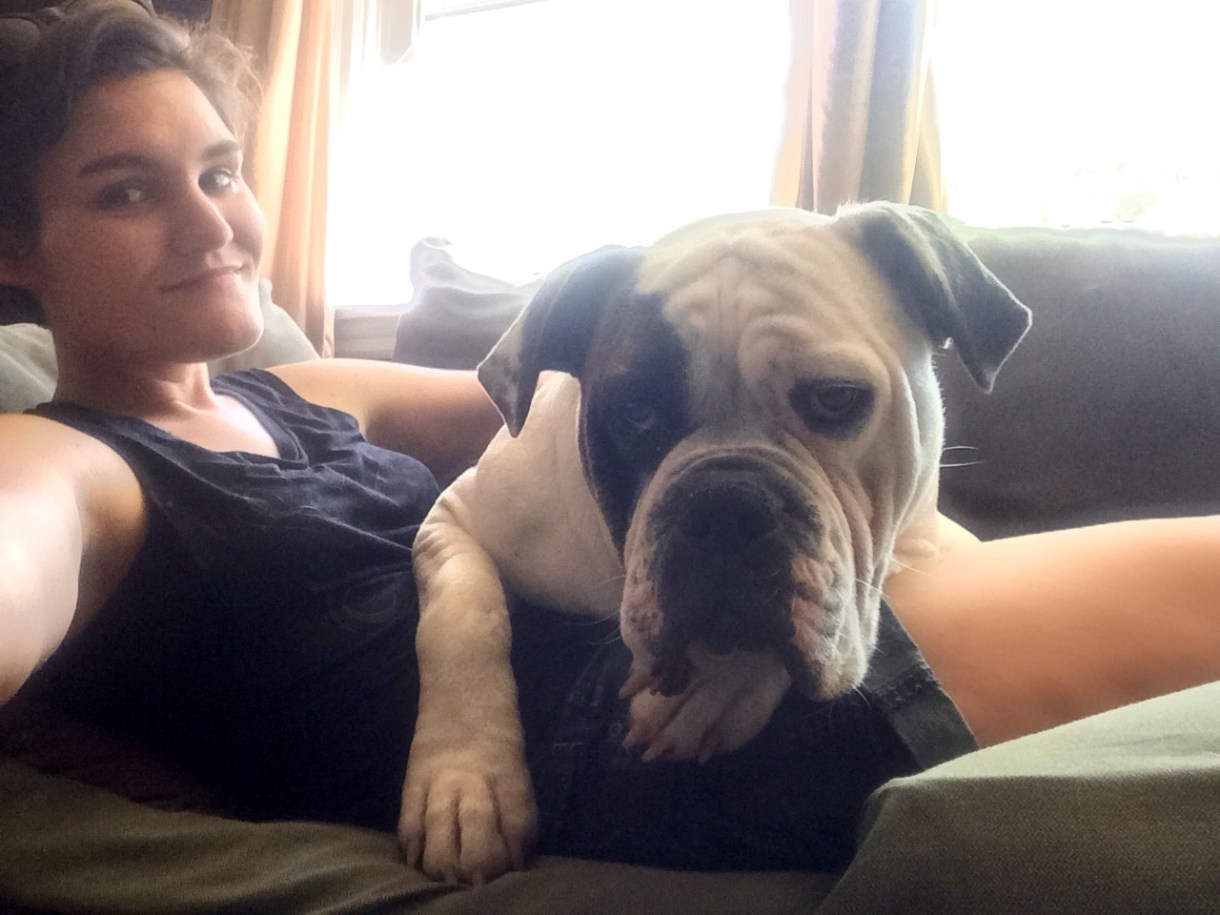 "Desmond (the golden) has been a part of my family since I was 19. My younger brother named him, after a character on the TV show Lost. I gradually became his main person in terms of vet care, food, walks and ear scratches, though he does split his time between my place and my dad's and brother's so that one person can take care of him when the others are at work. His favorite thing to do is take walks down to the bay with me, but he always forgets that he's no longer a young pup and will walk as fast as he can on the way there; heading home, he'll pretend to stop to smell something every minute or so to rest. His least favorite thing is getting a bath, but he's such a good boy about it.
Bubba (the bully) is my mom and stepdad's dog, but I'm including him because I see him almost as often as Des and I couldn't not. He loves cuddling / using people as human pillows probably more than anything else. Also, my mom maintains an Instagram account for him, @bubbalicious_the_bulldogge and would love more followers."
---
Tara and Leonardo DiCatrio (Leo) / 24, 5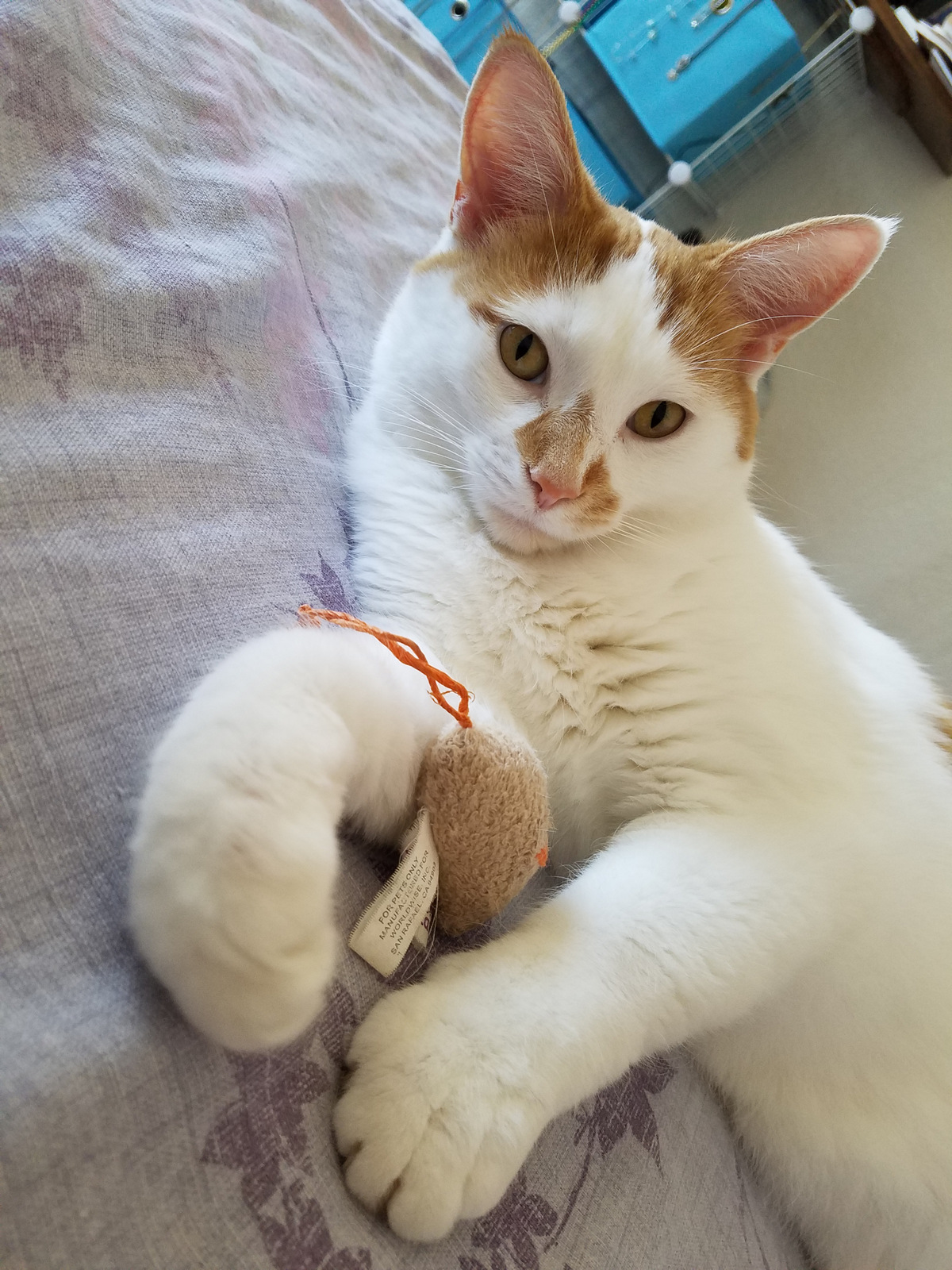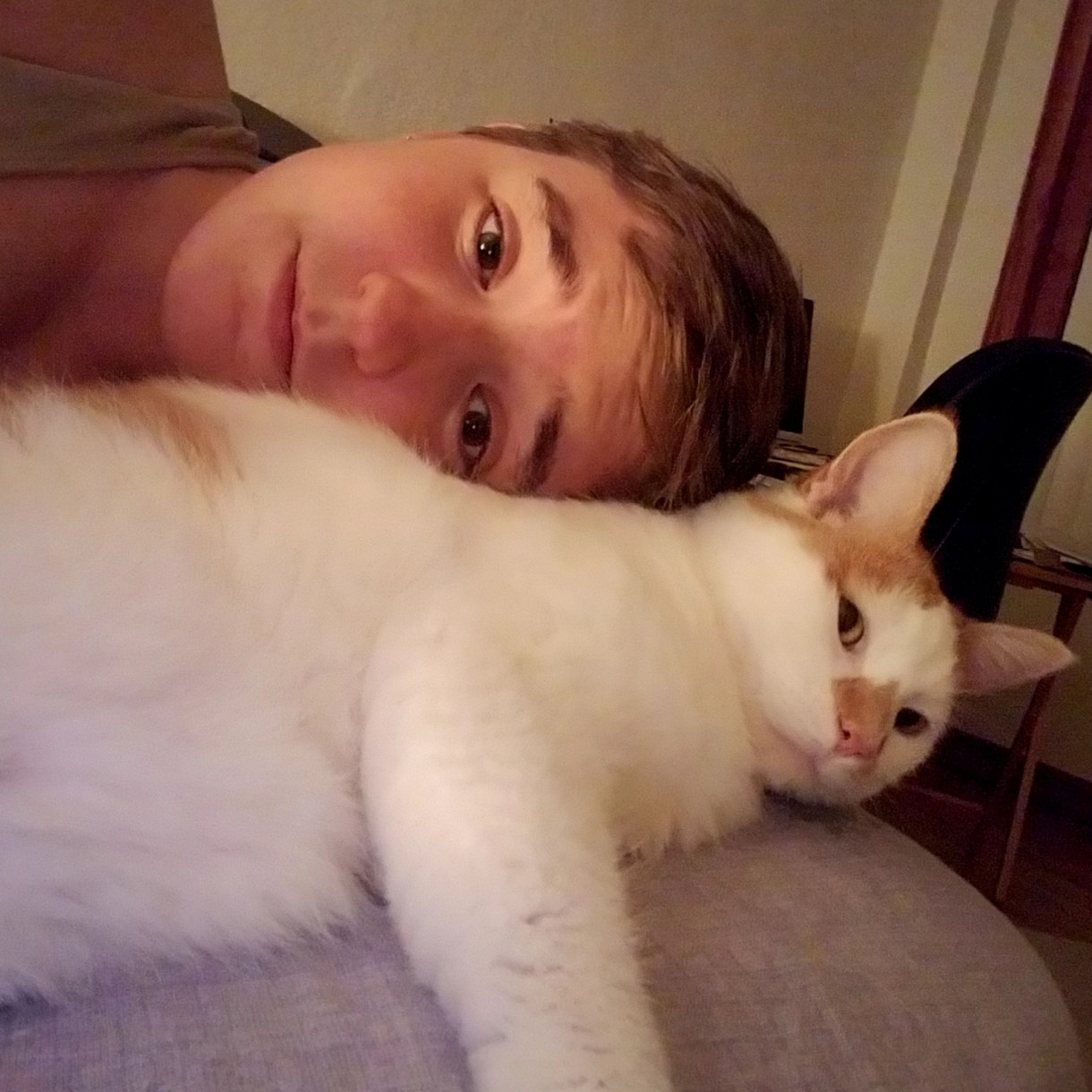 "Leo came into my life shortly after graduating high school, and training for the Army. He was a rescue that I adopted from some folks who found him and his litter on the side of the road. I debated whether to name him after Leonardo DaVinci or DiCaprio. Ultimately, the pun won out. He's my favorite cat in the world. He never leaves my side, has undying love for fetch, and puts up with the chaos of my life."
---
Jenna, Steph, Flapjack, Ellie / Boston, MA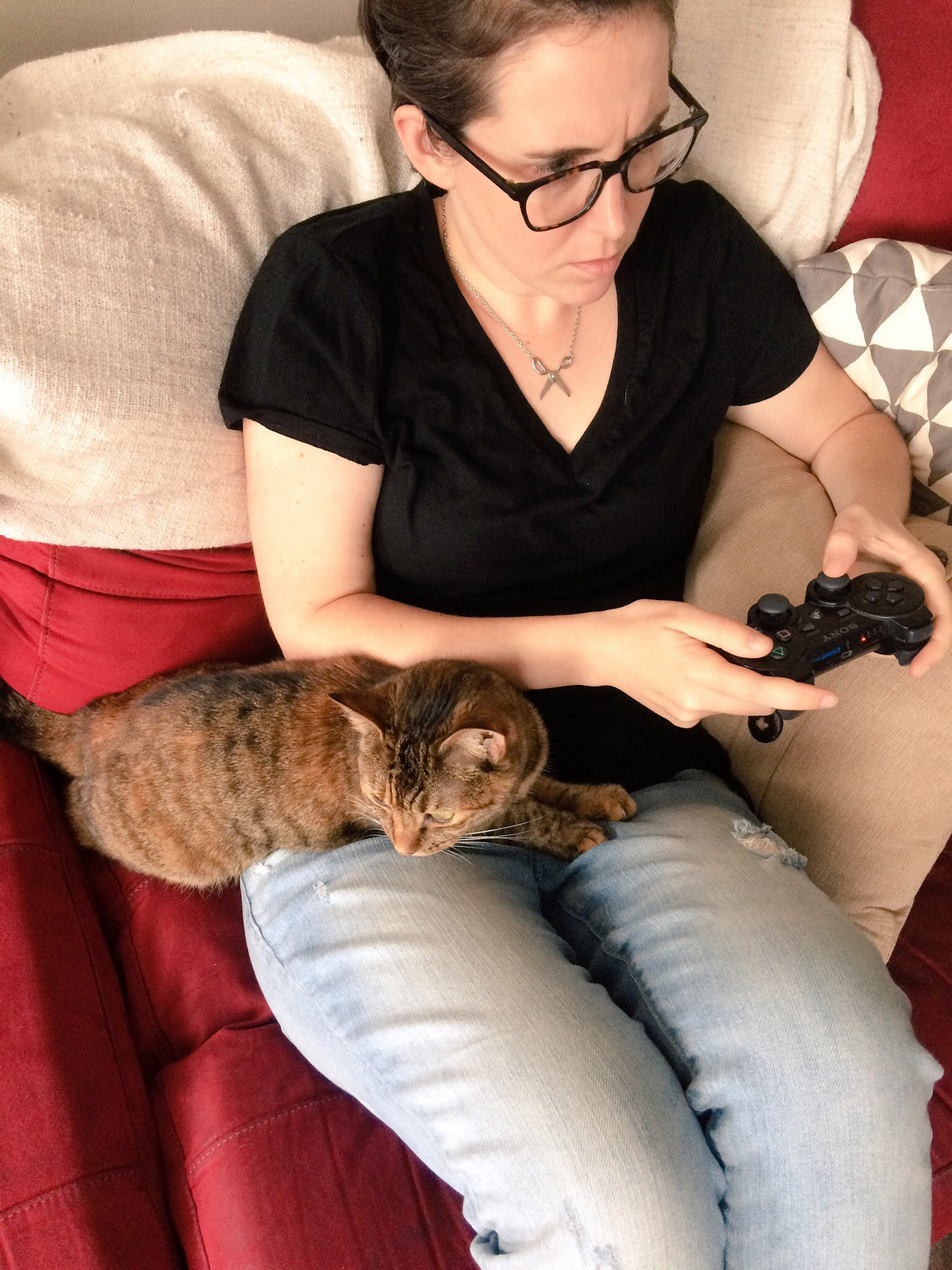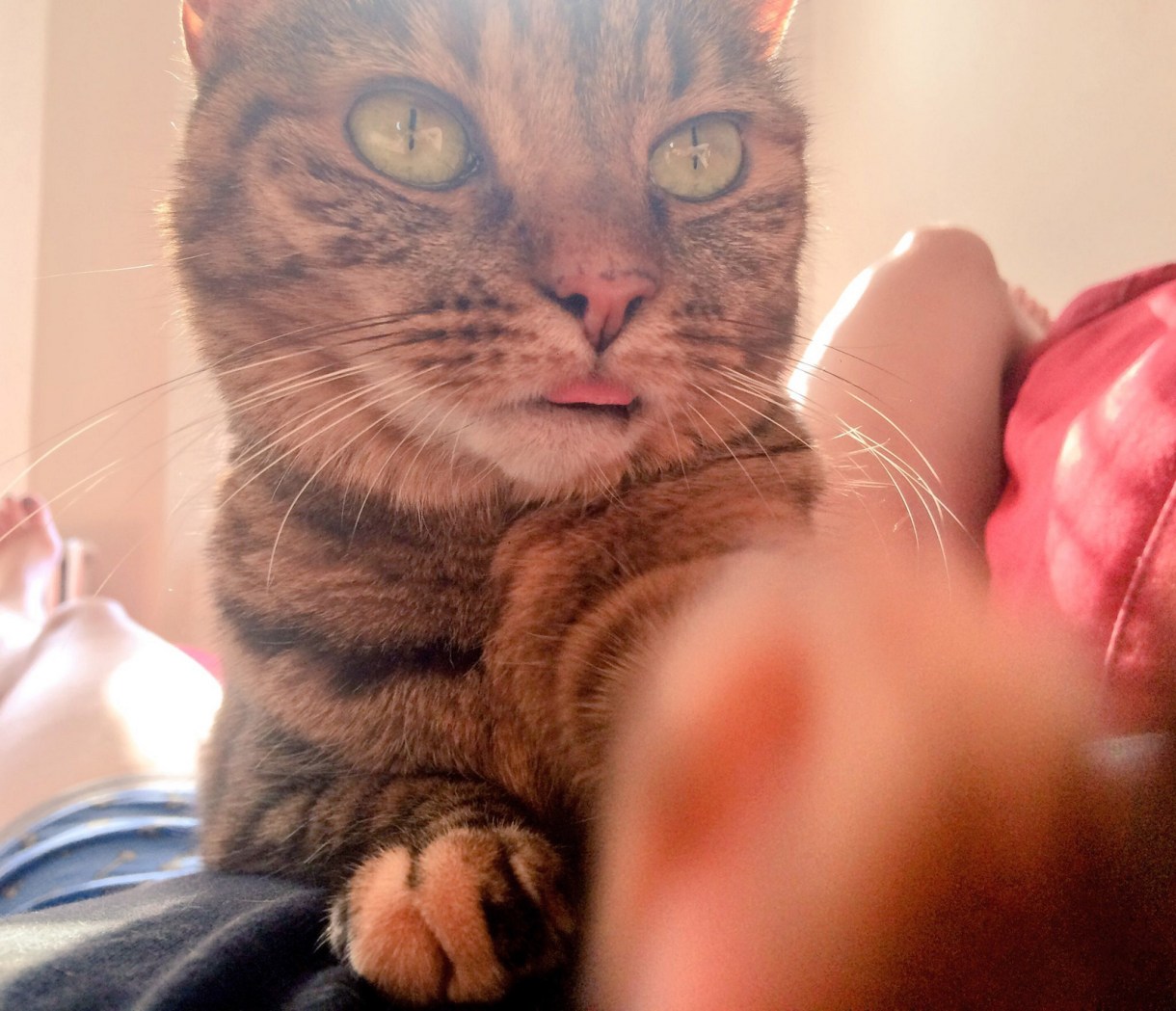 "When we were in college, Steph's roommate showed up with a tiny, four week old ball of fluff orphan kitten and asked, "Can we keep her?" That ball of fluff turned into a very mischievous cat named Flapjack. We adopted Ellie a few years later and I really think she might be the nicest cat in the whole world. About seven years after they first met and became sisters, Flapjack and Ellie recently almost cuddled for the first time. They have learned their worst habits from each other and I would die for them. (Though tbh I haven't even seen any of the other pets in this gallery and I would probably die for all of them.)"
---
Jamie and Newton / 30, 2 / Quincy, MA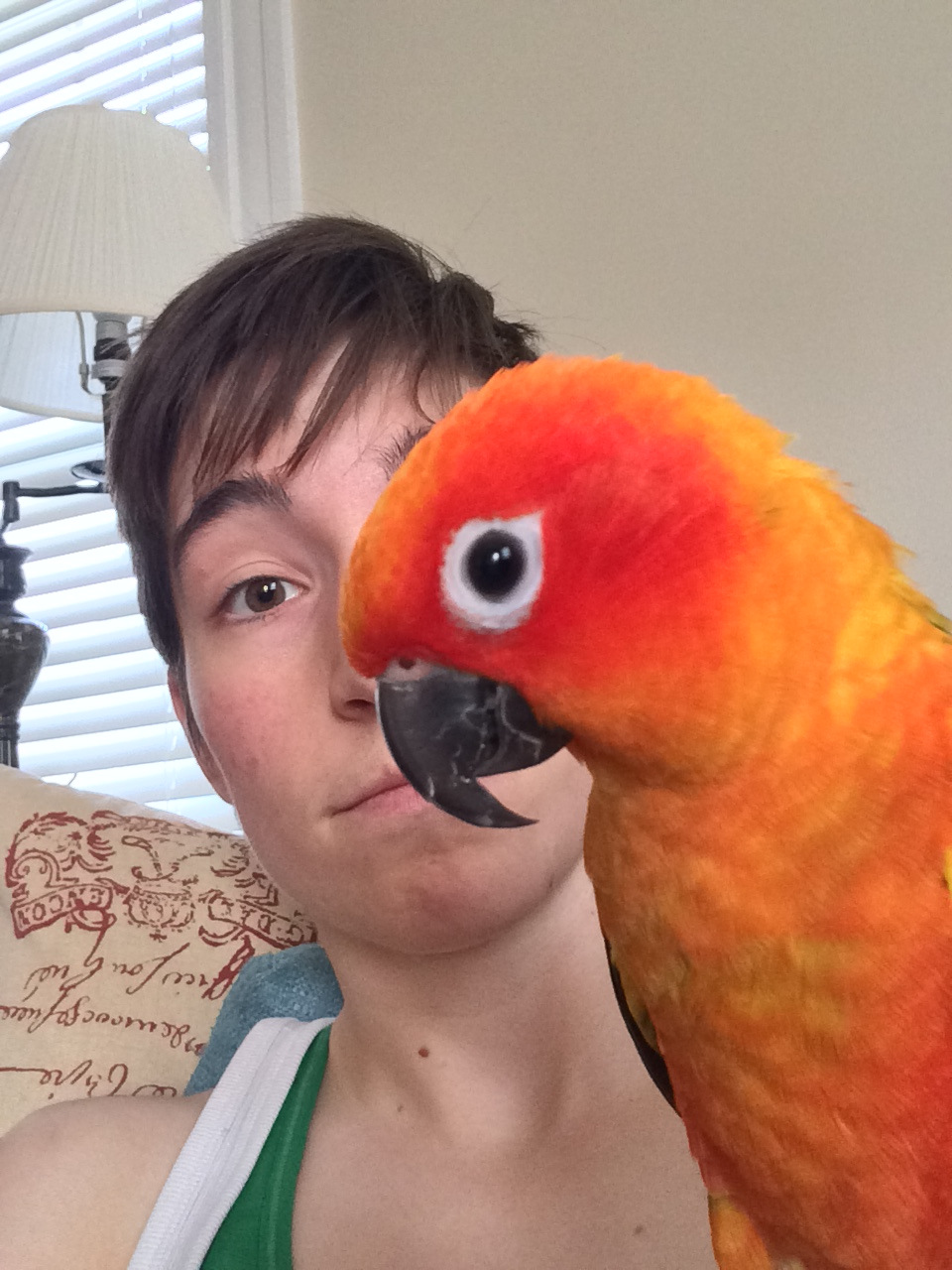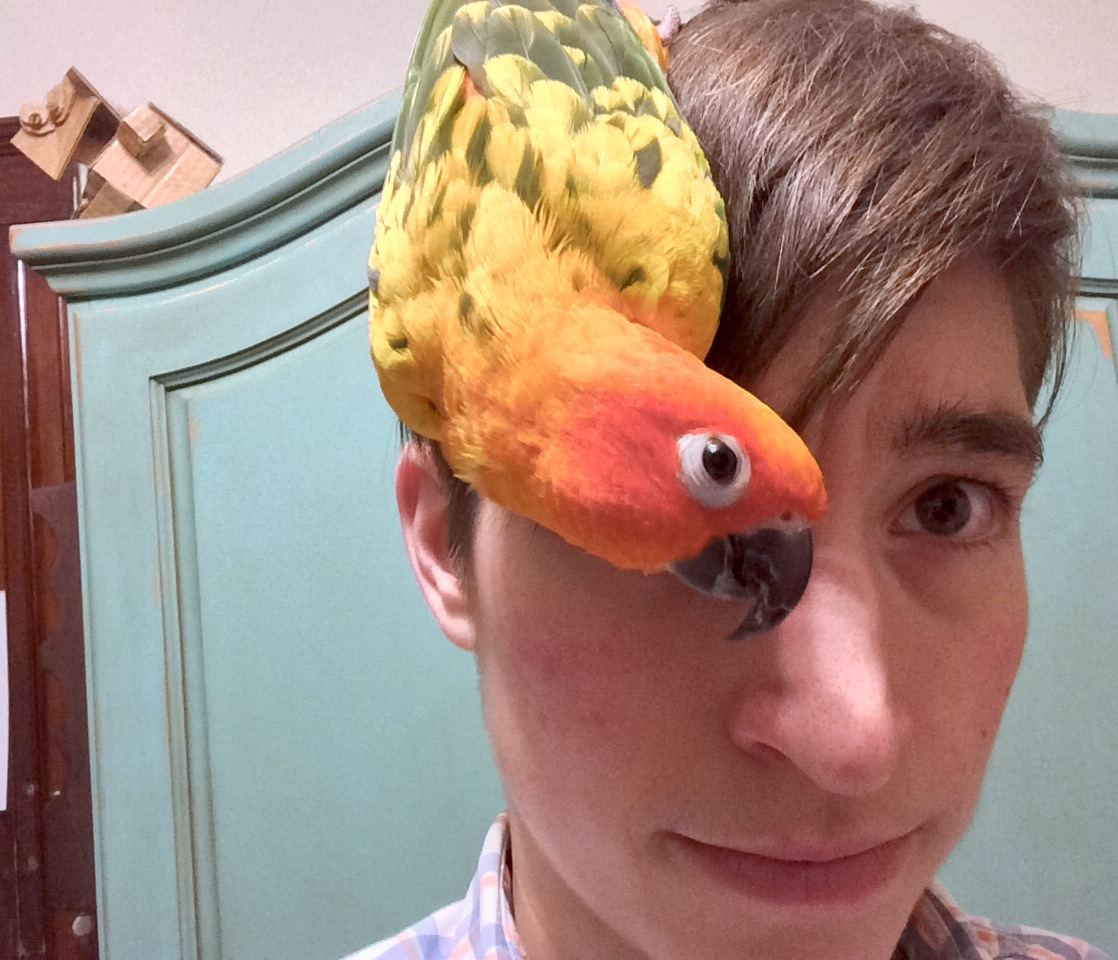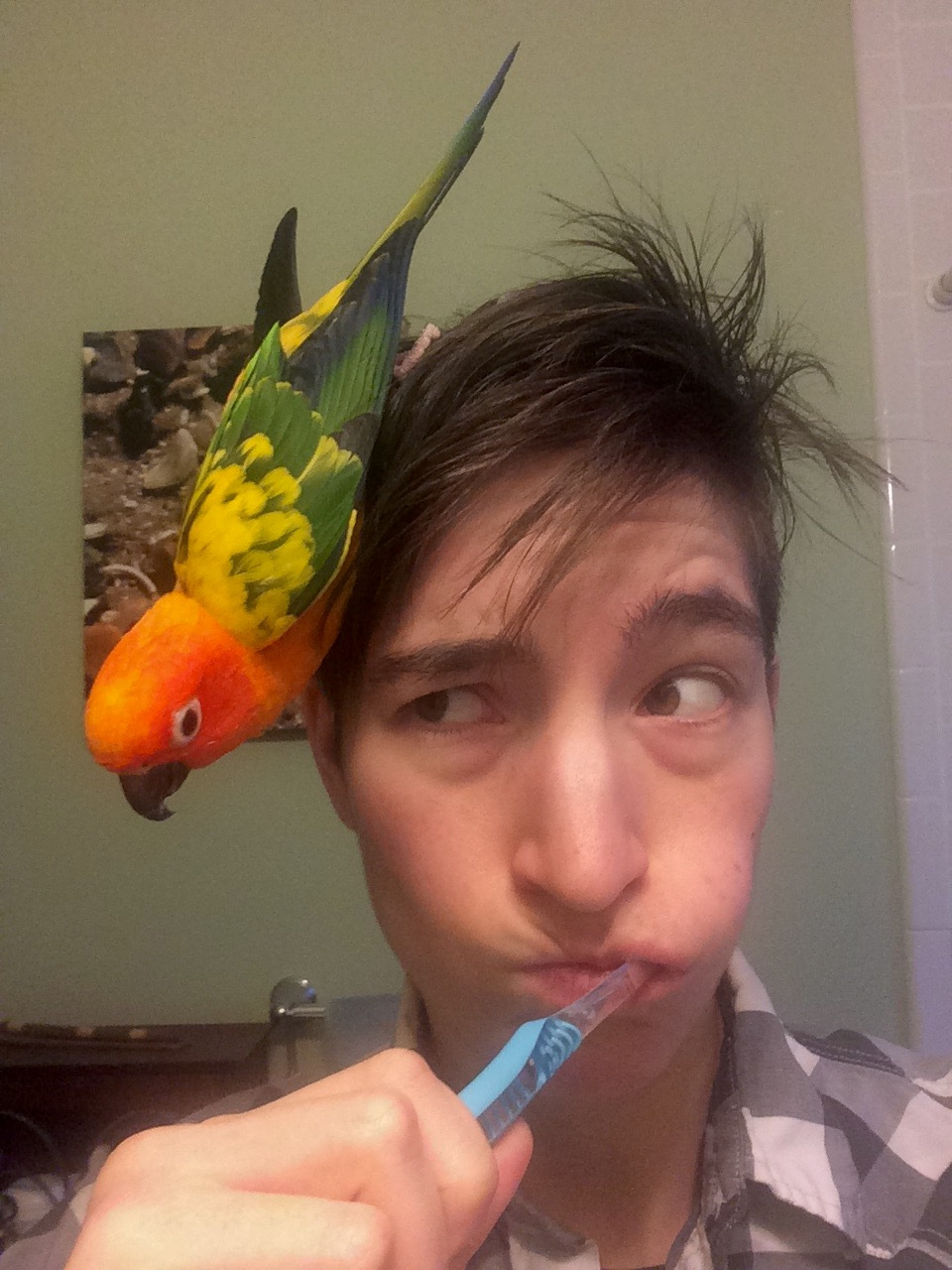 "His full name is Winsor Newton (like the paints)! We call him Newton because when we first got him, his wings were clipped and he had a lot of trouble with gravity. (But he can fly now.) We already had one bird and were thinking about getting a second, so on a whim we stopped at (what turned out to be) the sketchiest pet store in the world. Literally. It wasn't even open for business yet. No signs. All the shelves were empty — they just had some fish tanks, and a bunch of birds flying free around the store. It was definitely NOT a good place to purchase a parrot. But then Newton snuggled up in my hands and I couldn't leave him behind.
We expected Newton to be something like our other bird — dignified, reserved, independent. Instead we got a tiny rainbow snuggle clown. He will hang upside down from anything he can get a grip on, and his favorite place to be is inside my shirt. He doesn't talk a lot, but we laugh at his antics so much that he has learned to mimic the sound of human laughter. When he's bored, he likes to bite holes in my shirts, so I try to keep him entertained in other ways. I've taught him to do flips over his perch, fetch a ball, and put coins in a bank. He is surprisingly smart, so I have to be careful, otherwise, he tries to train ME. He also has his own Facebook page."
---
Hanna, Atlas, Mango, Basil / OK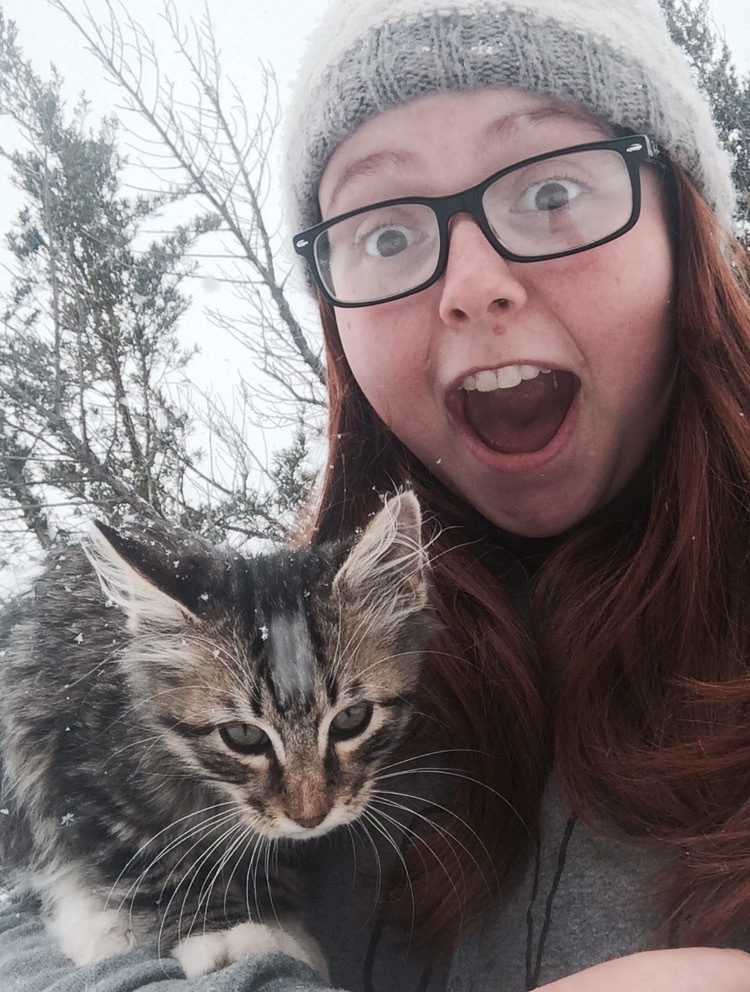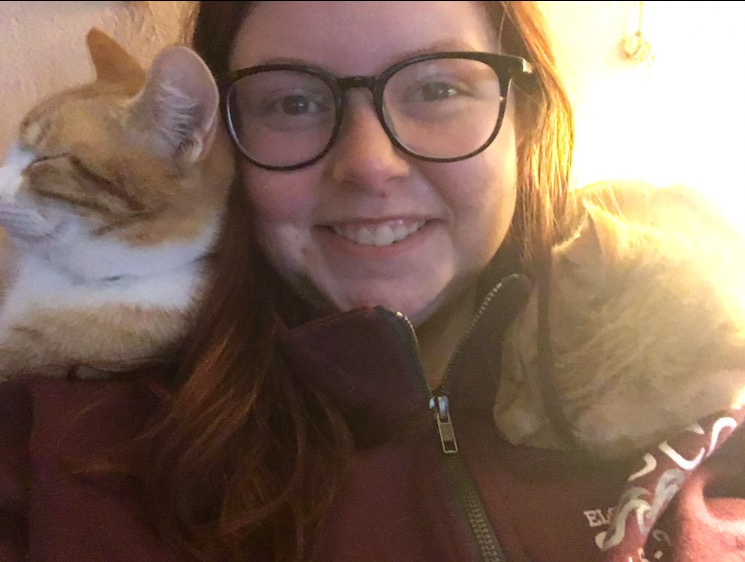 "Atlas likes to be outside when it snows but hates getting her paws wet. Mango and Basil don't even bother with the outdoors because they know my shoulders are the comfiest seat in the house."
---
Larkin, Blueberry / 28, 5 / Suttle Lake, OR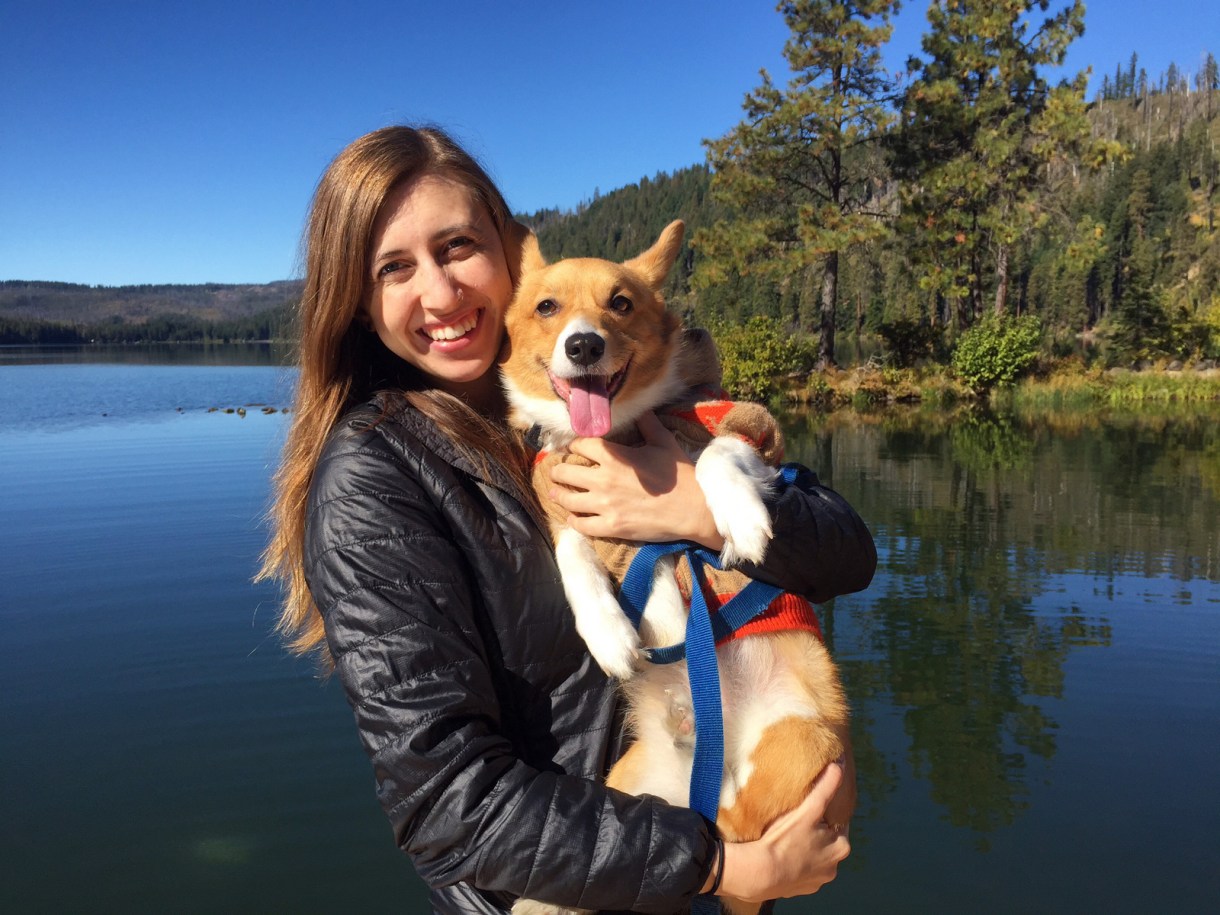 "When I was on my first date with my girlfriend, she told me she had a dog. I was excited because I love animals, but didn't think much else of it. When I went to her place a few days later and she introduced me to Blueberry I almost burst into tears on the spot because she was the most adorable dog I'd ever seen. She immediately wagged her non-existent tail and rolled on her belly, begging me for pets. It was love at first sight! My girlfriend got Blueberry from another family where she wasn't getting along with their dogs. She named her Blueberry after reading aloud a variety of dog names, and Blueberry looked very excited when her new name was called. Coincidentally, she loves to eat blueberries! My favorite thing about Blueberry is that she and I share "touch" as our top love language, so at any given moment we probably both want to cuddle up together. The weirdest thing about Blueberry is that she loves lying on her back, but it makes her sneeze, so she will just lie on her back and continuously sneeze every few minutes! I adore everything about her, and she has brought boundless joy into my life! Instagram: @blueberrythecorgi."
---
Blake and Arlo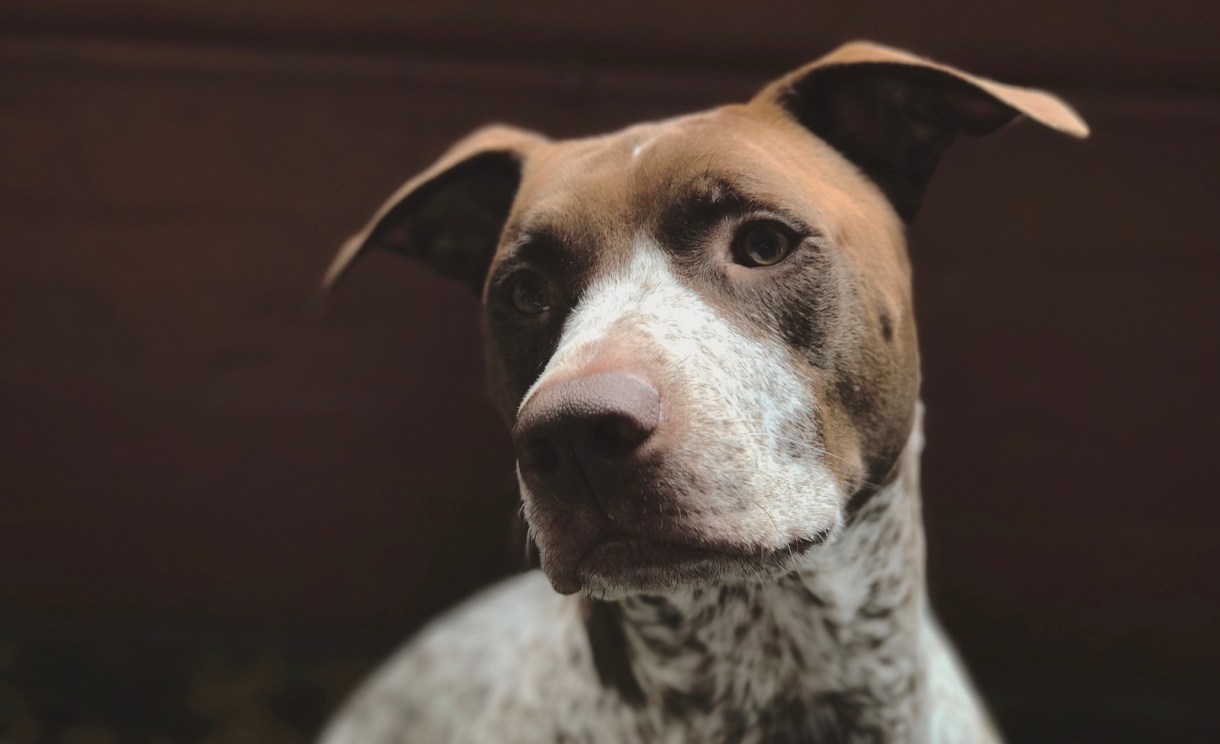 "I adopted Arlo a little over two years ago in search of an emotional support dog. Our first encounter included playing "fetch," or more like roll the ball, in an adoption room at Great Plains SPCA. Arlo was only 2 months old at the time. Although I was in search of an older dog (not a puppy), I instantly fell in love with those beautiful hazel eyes of his. He is named after the folk singer, Arlo Gutherie. The best darn thing about Arlo is he is an extreme snuggler. He also pulls off a Wonder Woman collar with the utmost pride. The weirdest thing about him is his ability to sit in anyone's lap, even if it is a small recliner. Arlo's Instagram account is @arlothepointer.
---
Monique and Elliot / 28, 9 / Tucson, AZ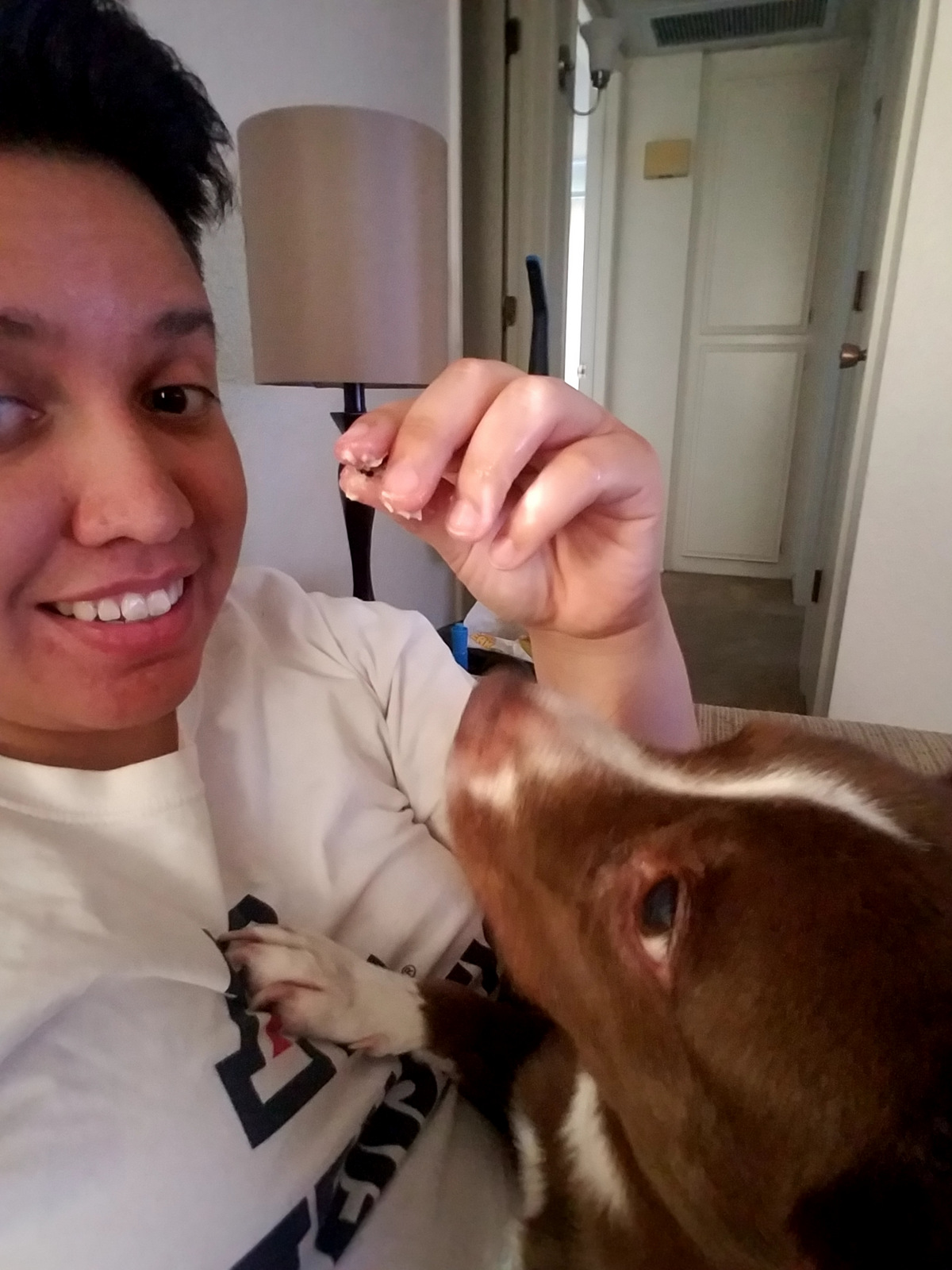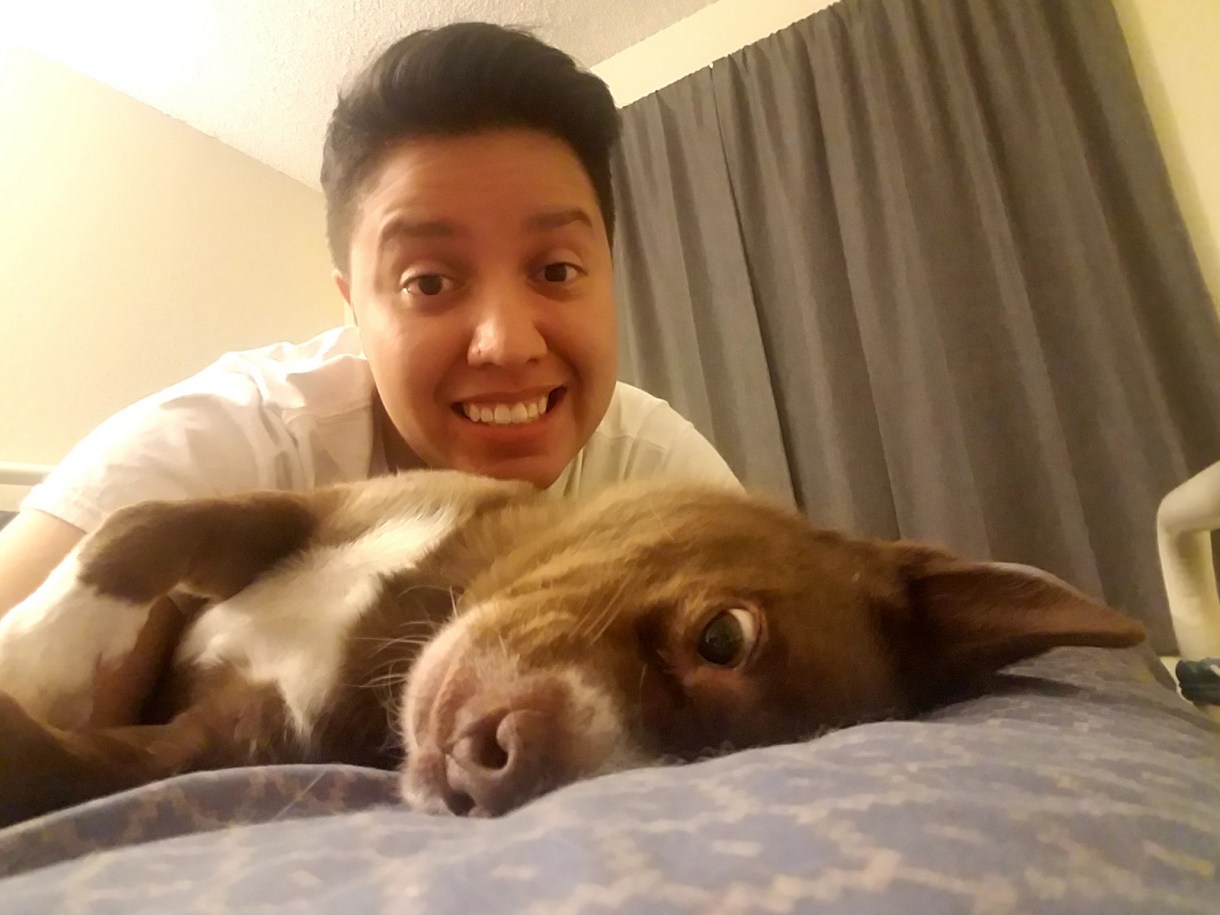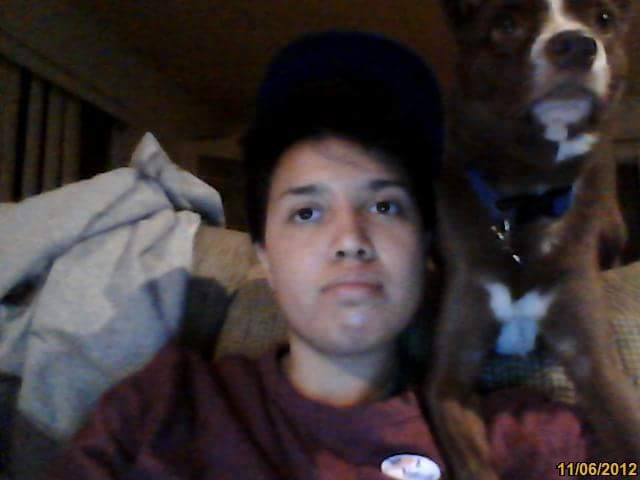 "I wanted to get a dog while I was in college, and I found a tiny, strangely brown puppy on Craigslist. I impulsively ran out to get him that night. He's named after Elliot Reid, the Scrubs character (one of my favorite shows). When I come home or when friends visit, he likes to grab socks or pieces of trash because he wants you to chase him around the house. He's really anxious about everything just like I am, and he has moved with me about eight times over the last nine years including across the country to D.C. and back. His least favorite trick is playing dead (he will refuse as long as possible). He also often straight up ignores me when I call him, and I'm pretty sure he enjoys that I leave him alone to go to work every day because I bug him when I am at home. He gets excited to go on trips but hates car rides?  I have absolutely no idea what kind of dog he is, and many people have told me they don't think he's 100% dog because he's such a little weirdo. (He hates pictures too, if you couldn't tell.)"
Anna, Abby, Clara, Martha, Lucy, Charlie, Simon, Franklin / Pittsburgh, PA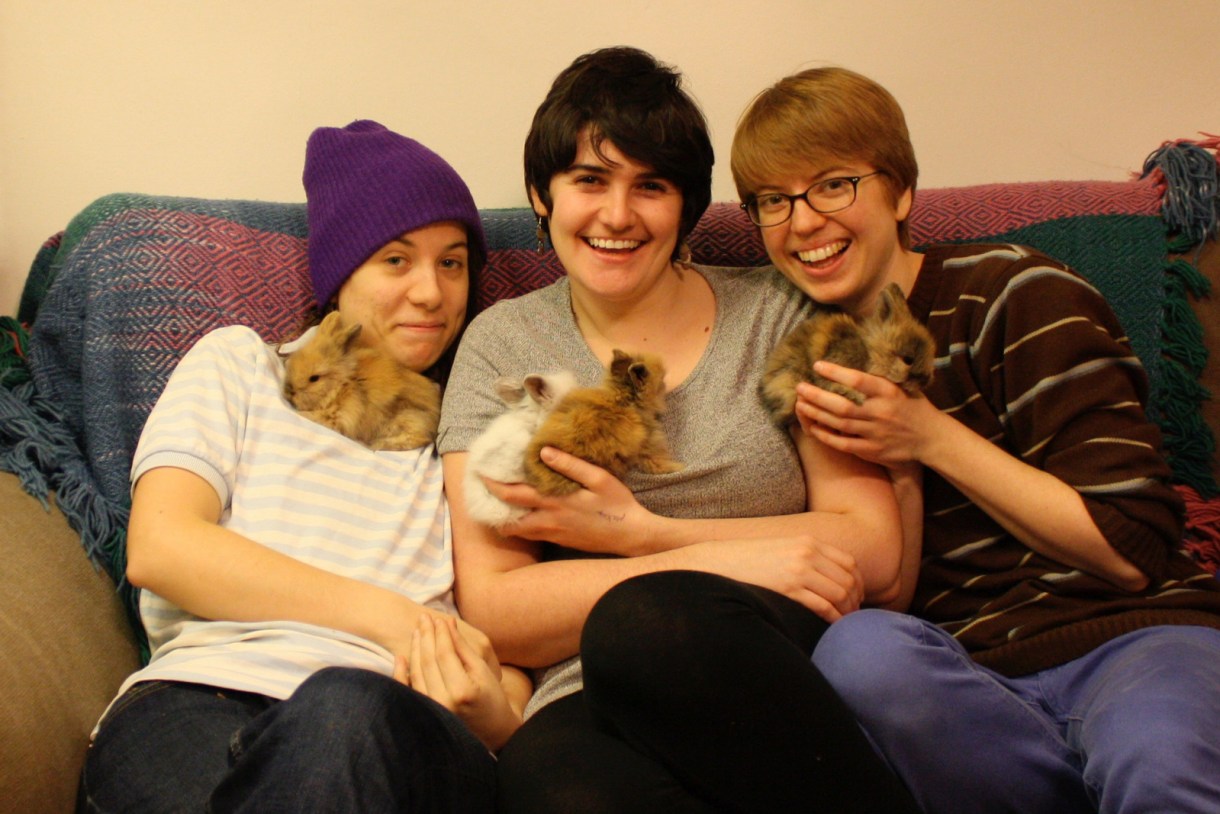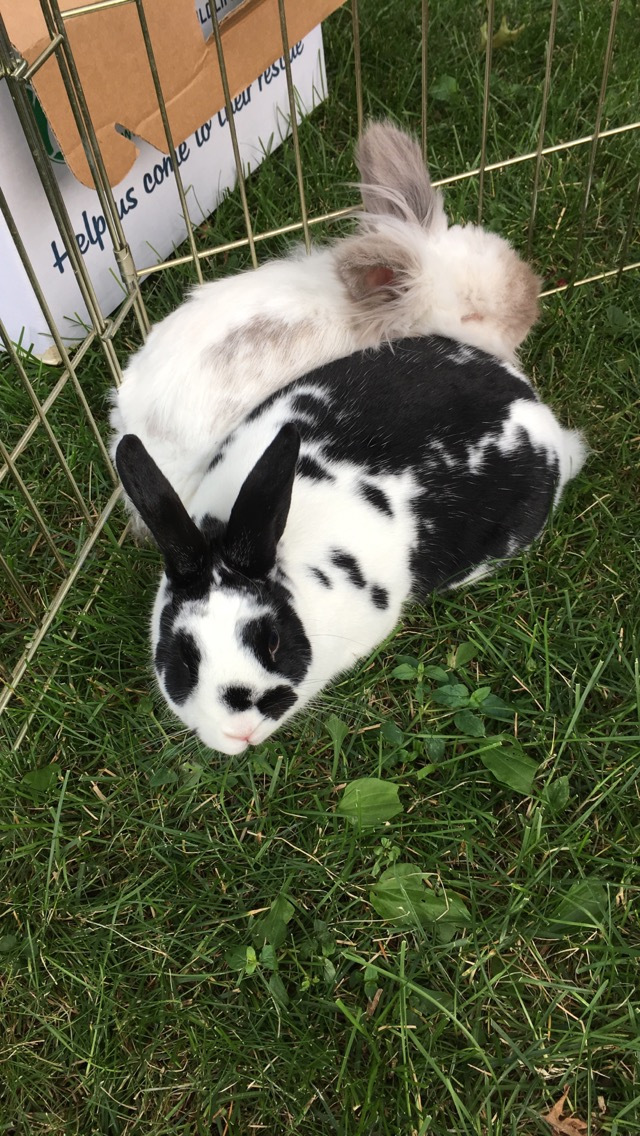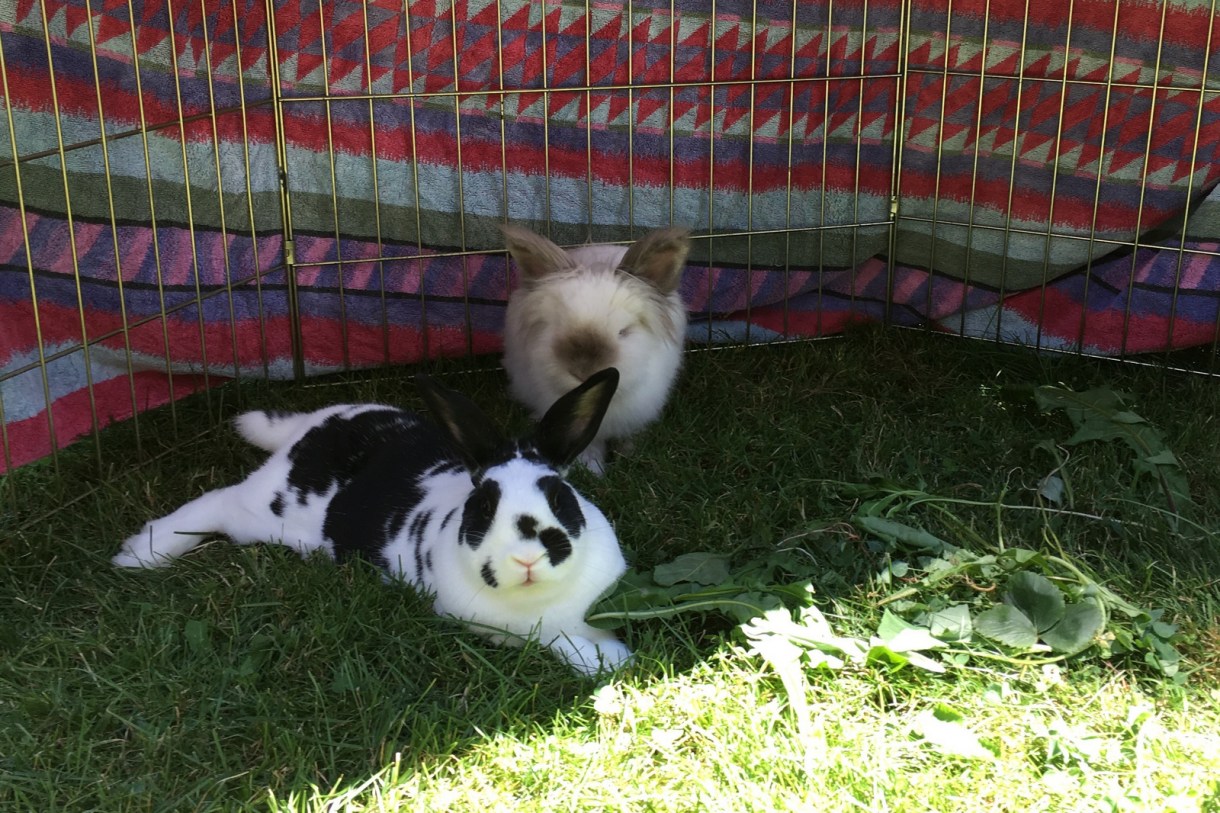 "We fostered 4 baby bunnies! They grew up friendly and fluffy and perfect. We adopted Lucy so she could be best friends with our other rabbit, Franklin. They spend their time spooning, eating basil, and hopping in the grass. We spend our time narrating their every move in funny voices."
---
Michelle, Apollo, Tigger / 26, 3, 5 / San Jose, CA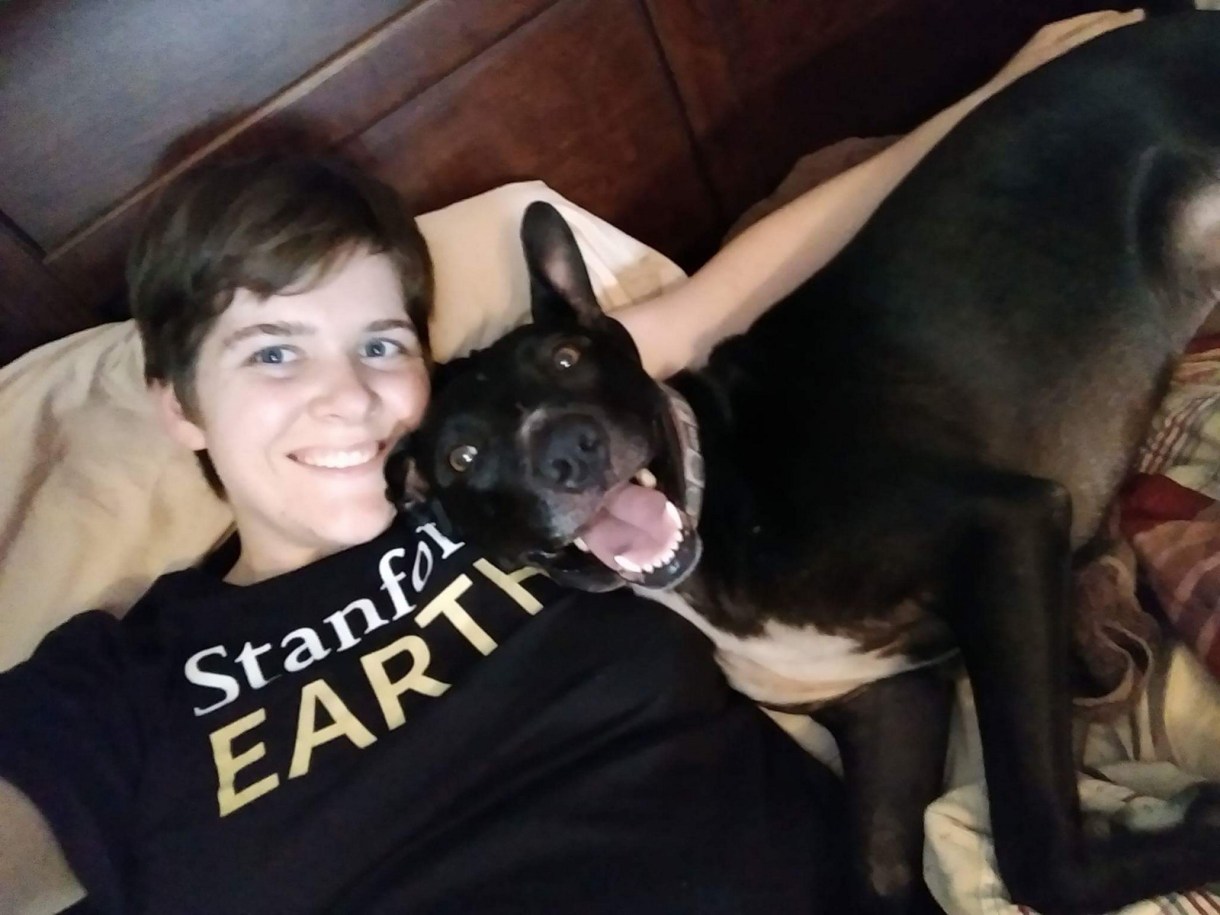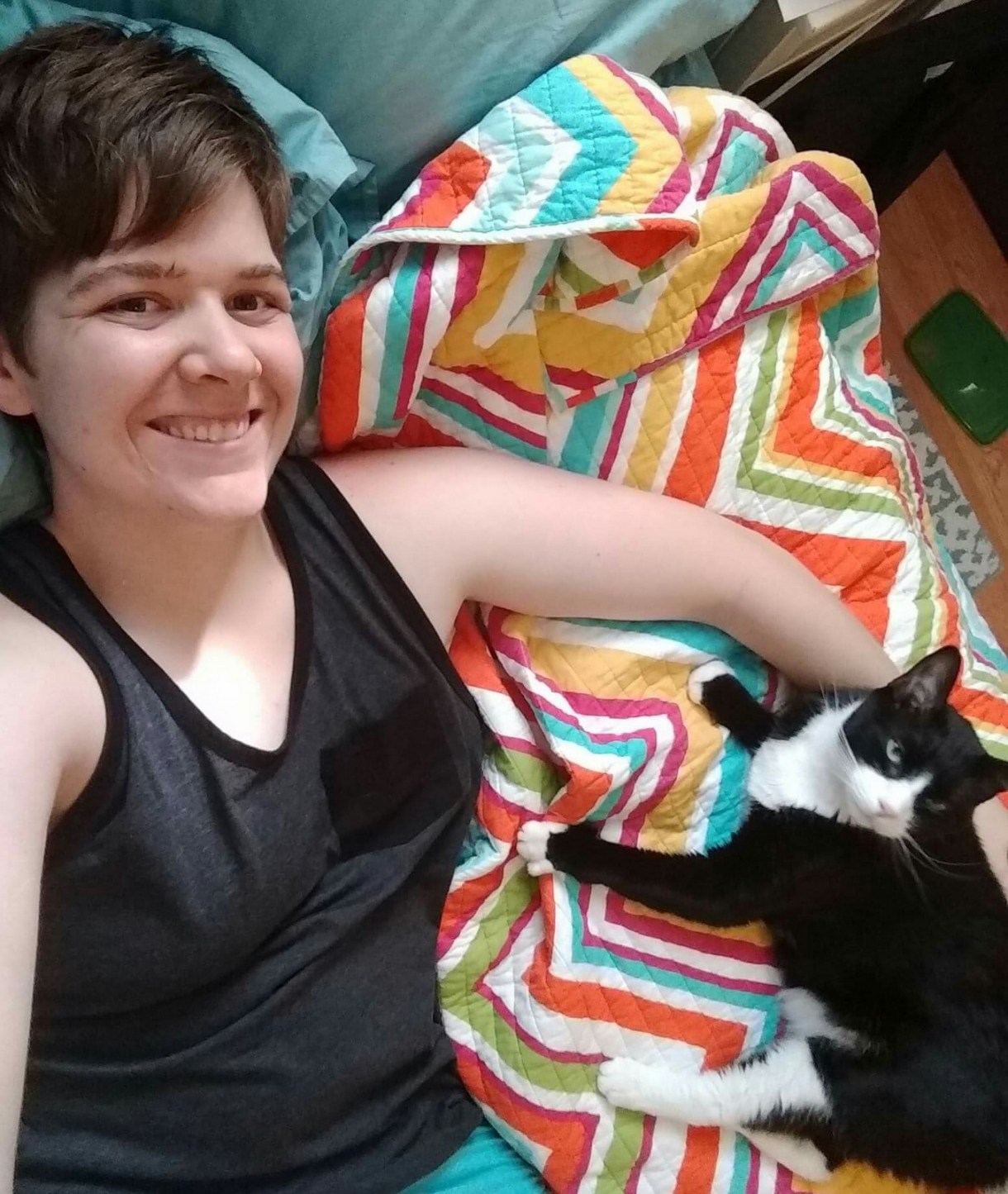 "My (Jessica's) mother rescued these two kittens off the streets and they instantly became part of the family. I named them Apollo and Artemis because I wanted a brother and sister name (and Artemis is my favorite character from Young Justice). They live with me and my girlfriend Michelle as we live up the queer cat lady dream in California. My favorite moments are when all four of us are just relaxing on the bed together. Apollo's nicknames include: My Sweet Baboo, Boo, Boo Berry, Little Prince, and Dandruff Butt.
We watch Tigger when his owners are out of town. He and Michelle are best buds. Whenever I'm not there, my phone is flooded with photos of all the cuddling missing out on. TOO CUTE."
---
Jessica and Artemis / 30, 3 / San Jose, CA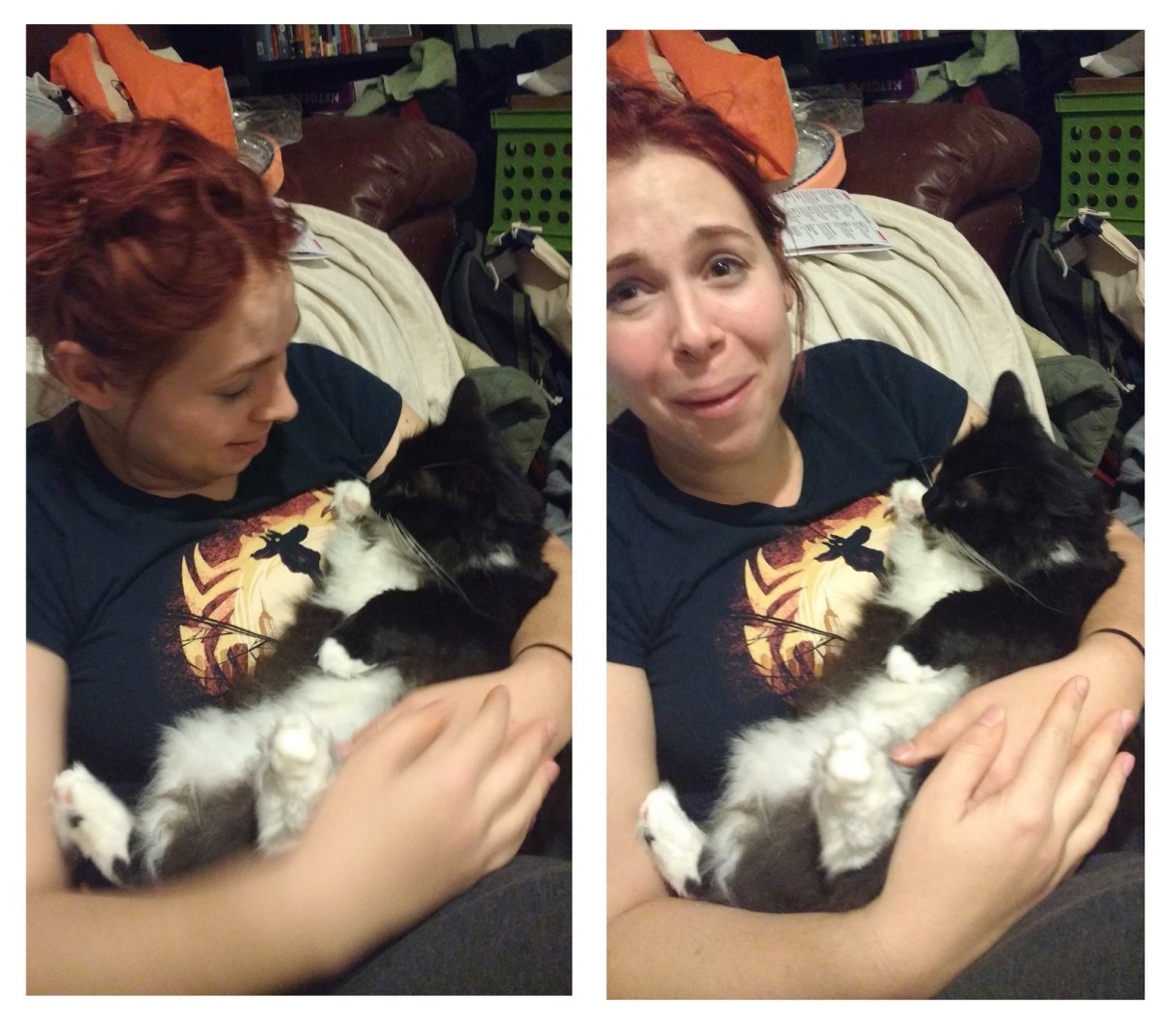 "Because they were feral the first year of their lives, they're not used being handled and are not lap cats (yet, I can dream!). Instead, they awkwardly show their affection by rubbing on every piece of furniture (but never our legs), kneading the blankets like good little bakers, and mewing/looking really cute when I'm trying to leave for work. Here I am about to cry because I picked up Artemis and she sat contently in my arms for the first time. A year later, I'm told I still make the same face when I pick her up. Artemis's nicknames include: Princess (the only name my mom calls her), Miss Miss, Angry Teenager, Fuzzy Buttkins, and Fluff Moose."
---
Alison and Luna / 27, 4 / NJ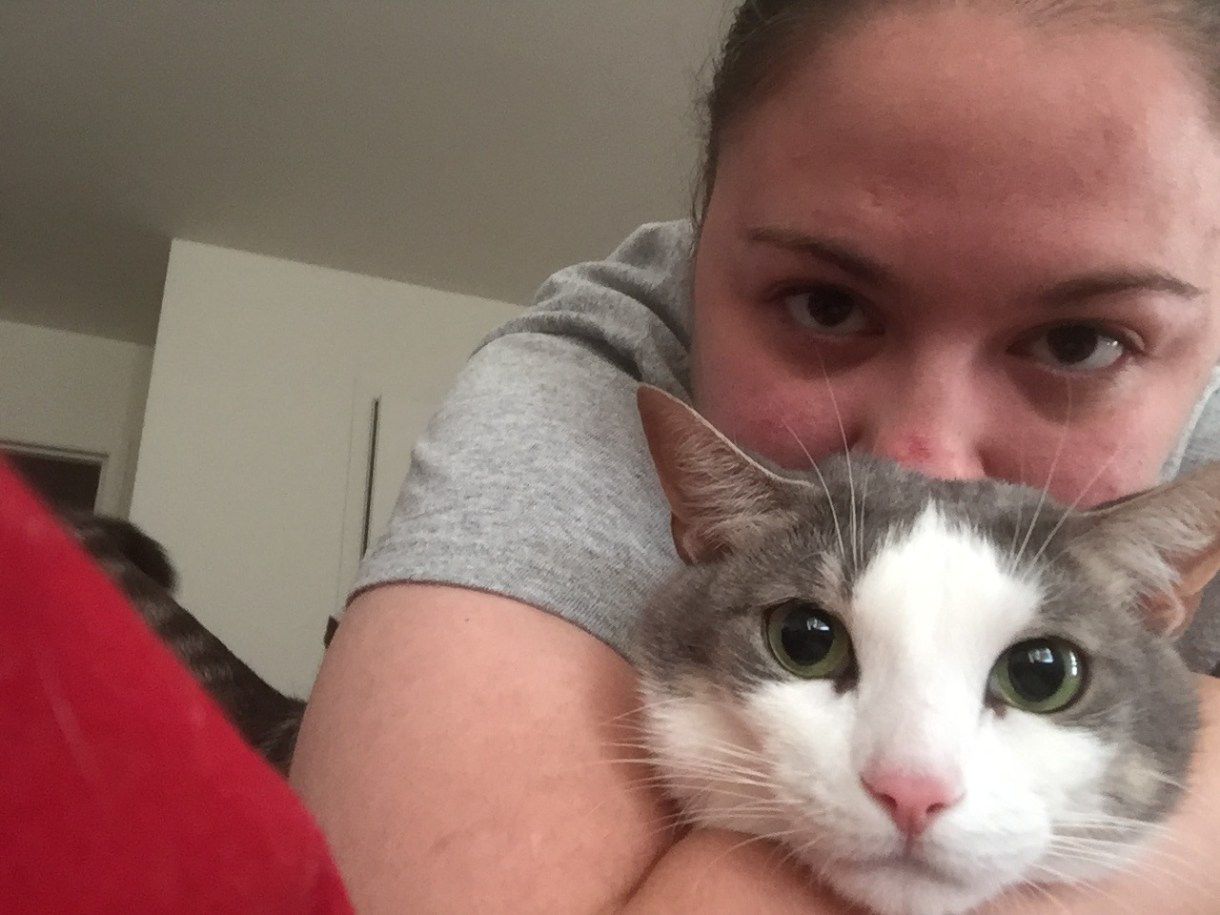 "Luna sort of stumbled into my life. In the aftermath of Hurricane Sandy, the foundation I was working at started doing relief work–which led to countless volunteers showing up every day to help out. I overheard one such volunteer talking one day about how she had a small kitten and if she couldn't find a home she was going to take the kitten to the shelter. It just so happens that she's almost identical to my girlfriend's cat. And that's how I ended up driving home from work that day with a small grey and white kitten perched on my shoulder.
Luna is named after Luna Lovegood from Harry Potter. Best thing about her is how obsessed she is with her catnip pickle toy, especially if her little sister tries to steal it. We like to watch New York Rangers games together, and she'll cuddle up on my feet at night and watch whatever I stay up binge watching. Instagram with her little sister Ollie: the_three_lil_monsters
---
Shannon and Lucy / 18, 2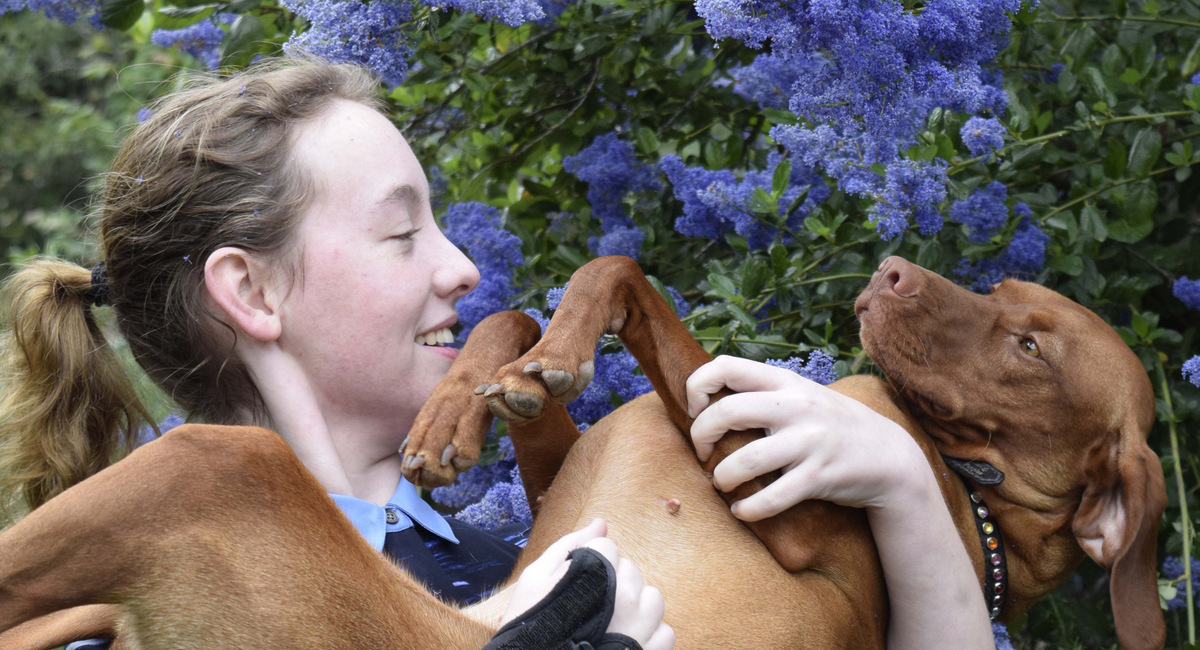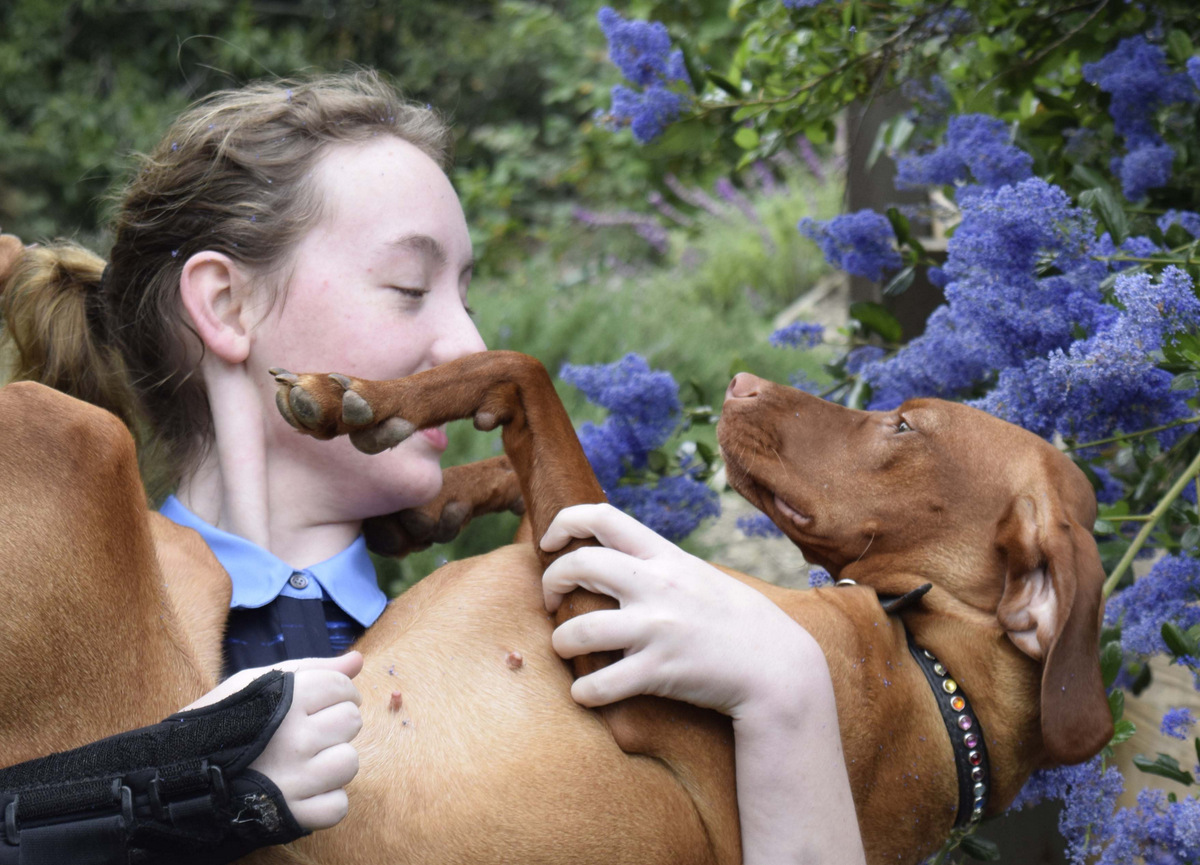 "I named her after Lucille Ball, which, IMHO, is pretty gay."
---
Traci and Oliver / 38, 16 / Bronx, NY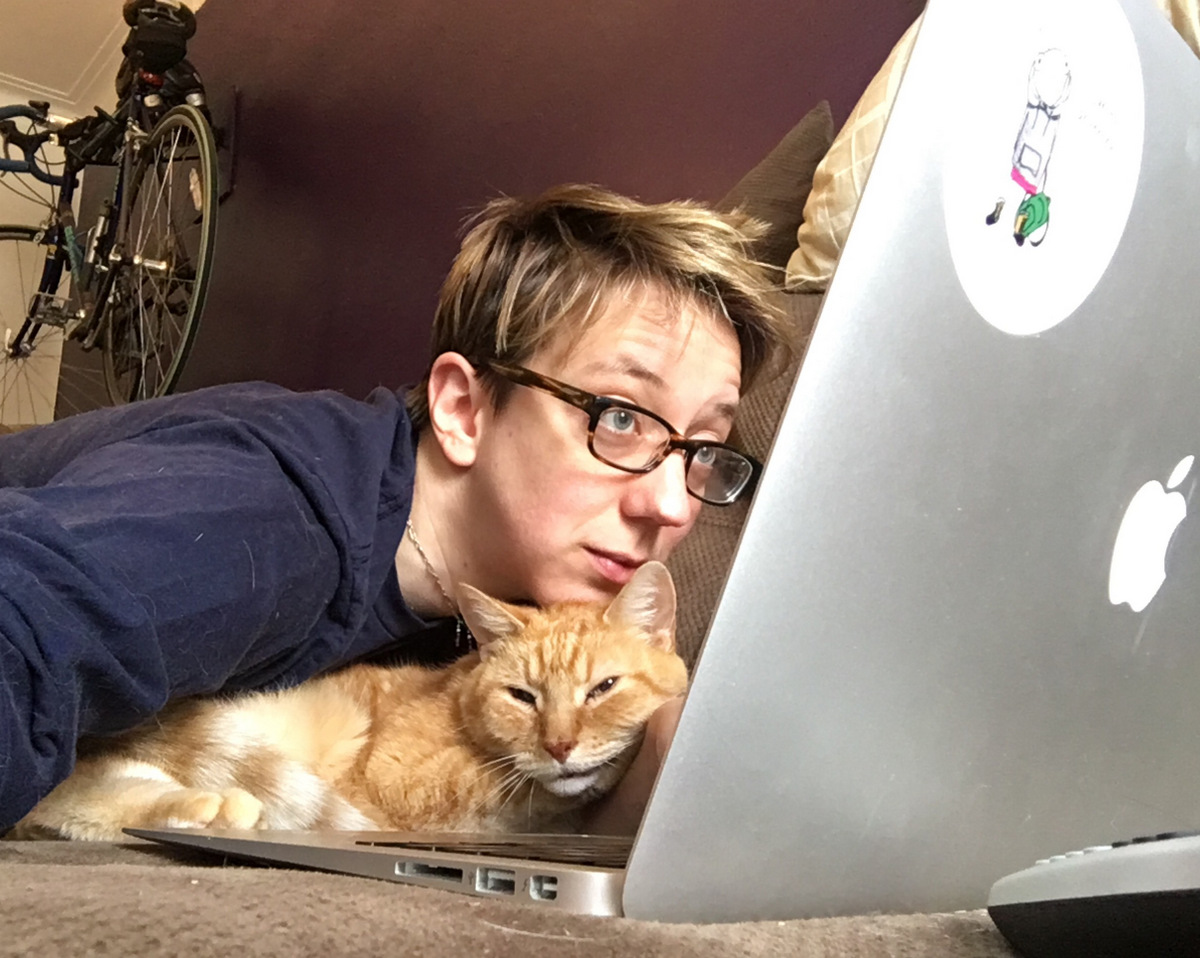 "Oliver and I met about 14 years ago at the Connecticut Humane Society and he's been my orange shadow ever since. He has a purrculatory system, which means he has to purr to circulate blood. He's a pack cat, and likes to always be in the tent that's formed by me hunching over my laptop. This is our usual work from home sitch, pictured."
---
Yvonne, Gloria, Tungi / 26, 26, 4 / Dinosaur Valley State Park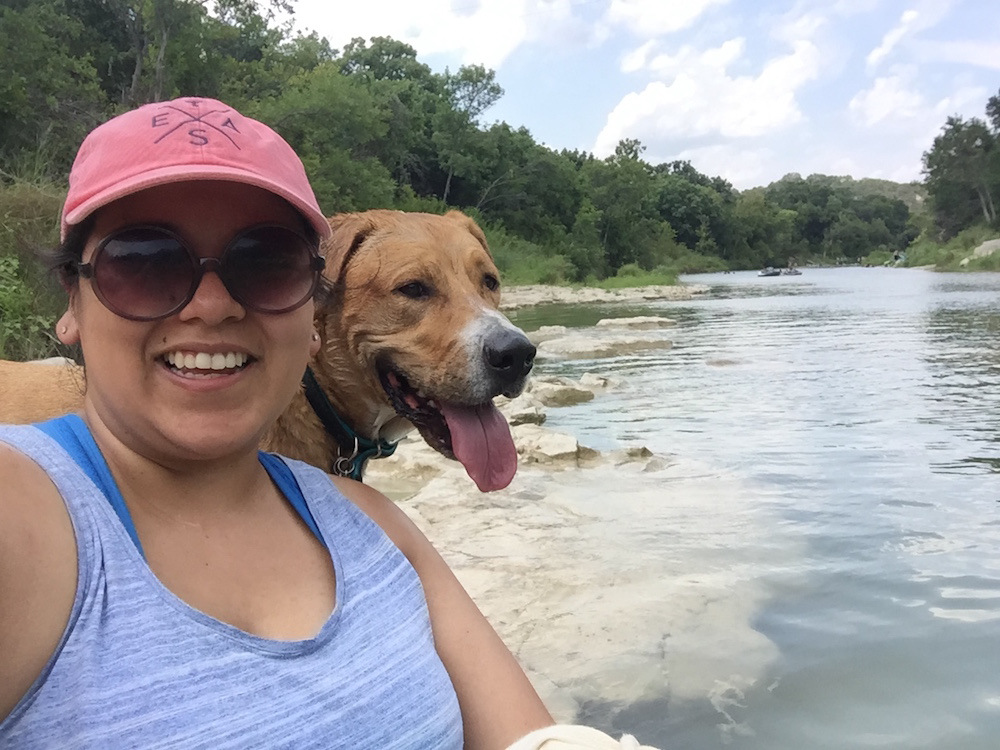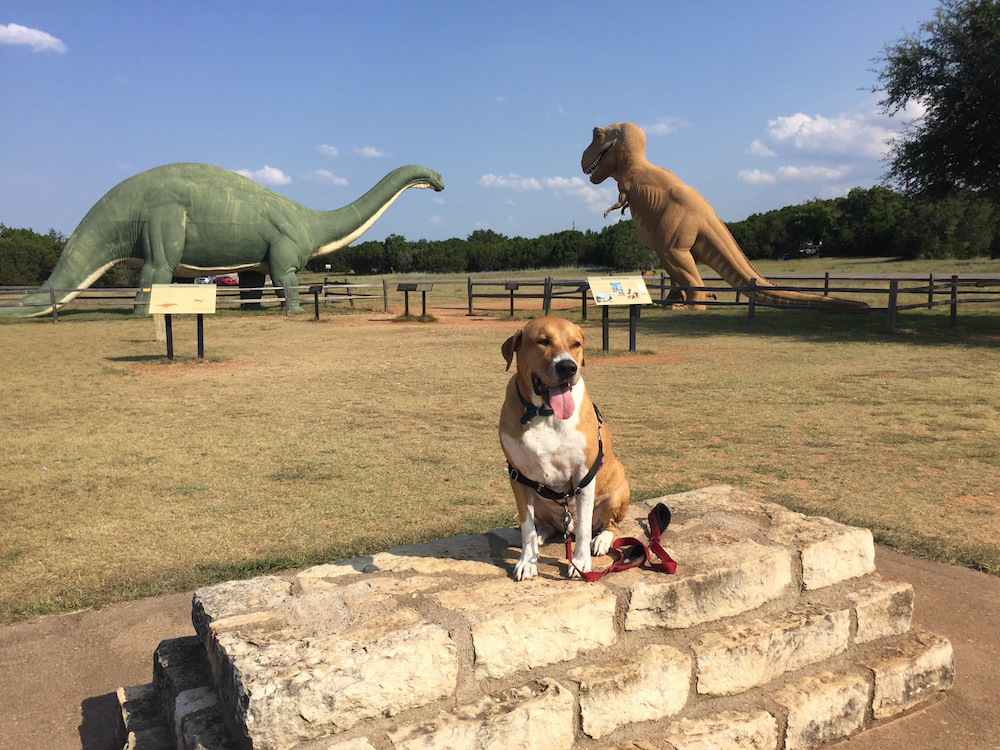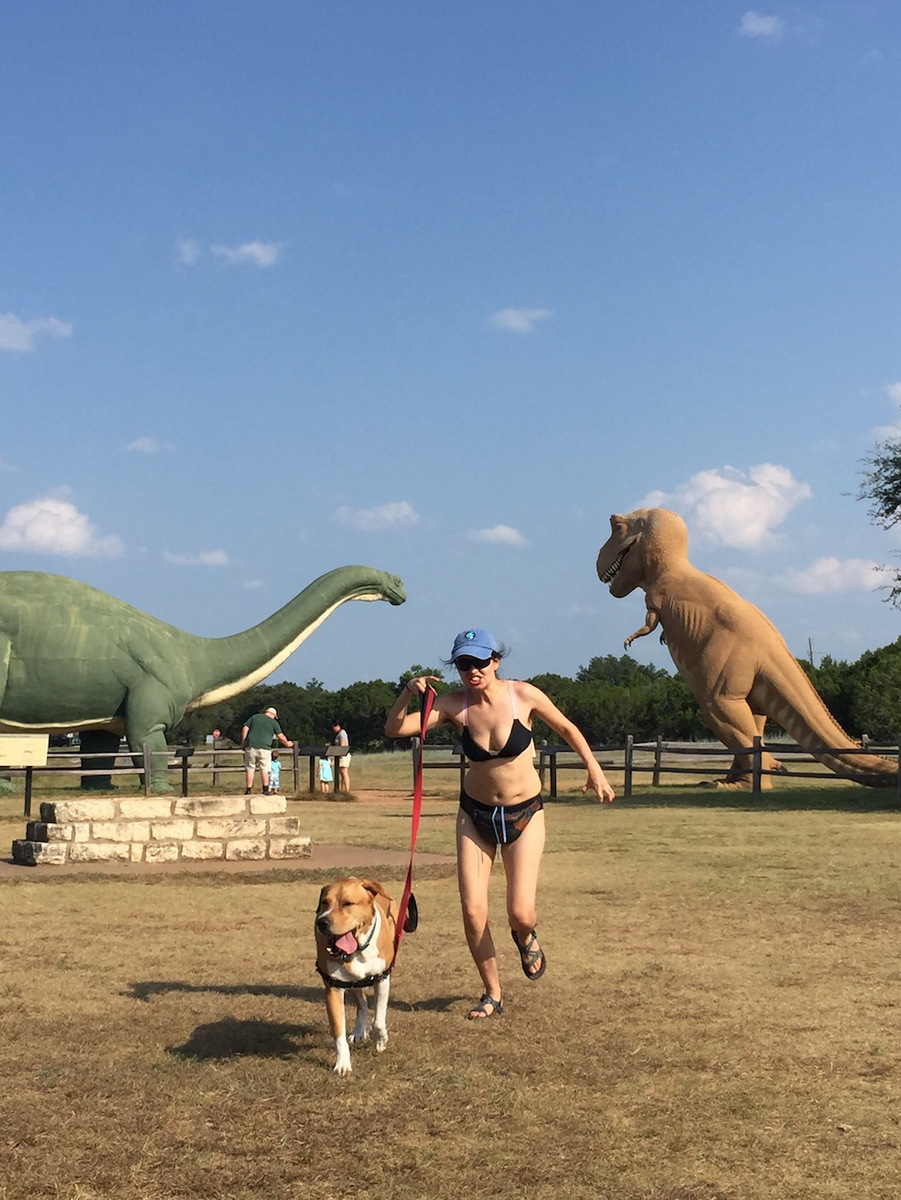 "Tungi is a pit/lab mix and a true adventure dog. Here we are at Dinosaur Valley State Park where Tungi swam, hiked, and made friends with some dinosaurs. We adopted him 4 years ago and he has made our lives tremendously fun! Find him on Instagram under #tungipups."
---
Heather , Dobby, Socks, Beth March, Quasar / 2, 2, 2, 6 / Astoria, NY
"The origin story of Dobby, Socks, Beth, and their little sister Frodo is so well documented I don't know what else to say! We found them as wee feral kittens in our backyard, the babies of our most beloved street cat Bobbi Jean. We rescued them and socialized them and they almost died twice but did not! Quasar appeared on day at my house in Georgia and when Stacy came to visit me (we were dating long distance at the time), she fell in love and brought Quasar home to NYC. I named the feral Bobbi babies after the book characters they most reminded me of, and Stacy loves space so that's how Quasar got her name. They're so different. Dobby loves to play hard and get Furminated and eat people-food, Socks likes to be a little spoon and is still weirded out by music, Beth March likes to sleep in blanket tent under knees and roll around in warm laundry, Quasar is a genius and she's picky about literally everything and she talks all the time. Me and the cats spend most of our time working on Autostraddle business and the rest of it cuddling with Stacy and reading books and playing video games. I have one dog who lives with her other mama in Georgia and her name is Scout. I see her and Facetime her every chance I get. My second Georgia dog, Margaret Jo, went to heaven this year. I think of her every day. My pets are my true heart and I don't know what I would do without them."
---
Chelsea, Melissa, Charles Avocado VanGogh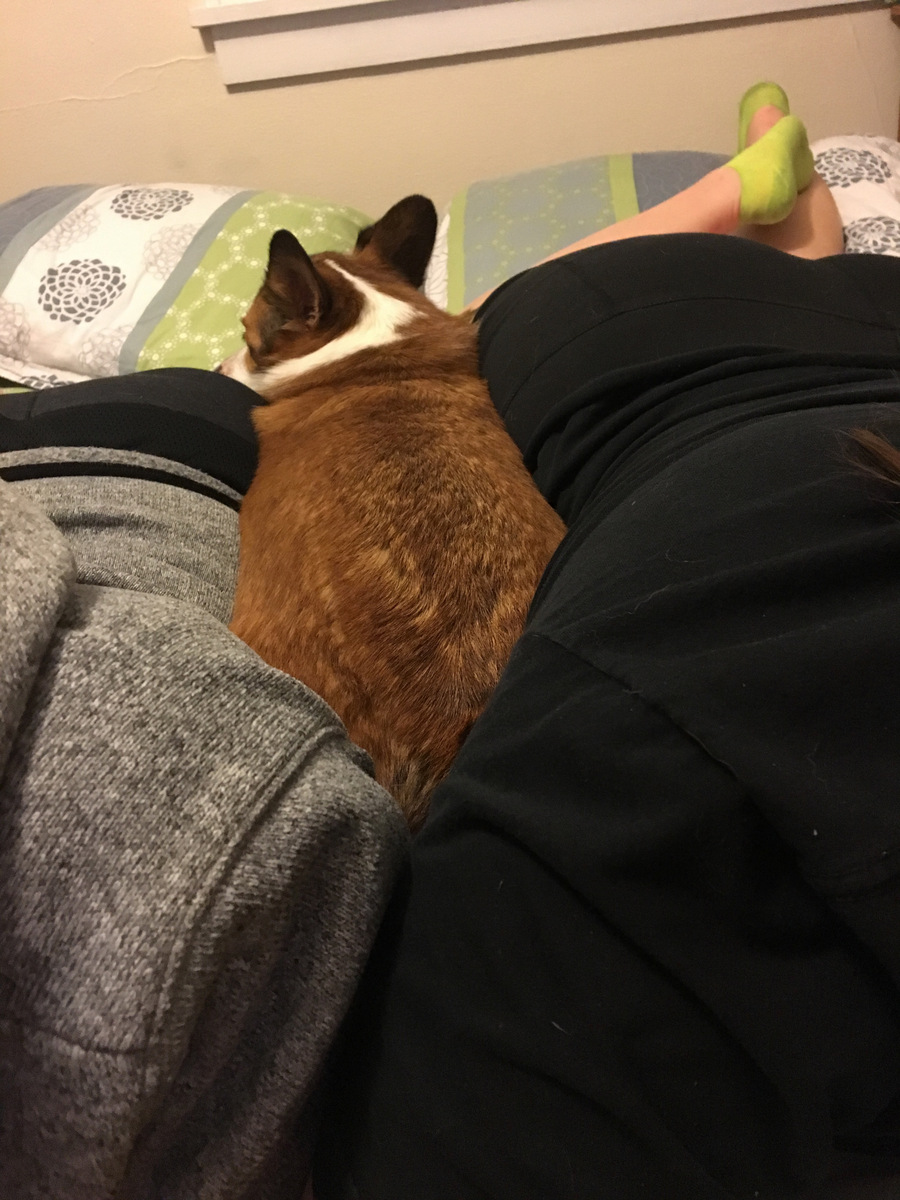 "My ex bought Charles shortly after we had started dating (after we discovered we both had a love for corgis). Though she bought him, Charles and I formed a stronger bond. So when we broke up and I moved away, it was natural that Charles came with me, and he has since come to love my new girlfriend! I wanted his name to be VanGogh (my favorite painter), my ex wanted his name to be Charlie (after Charlie Day from It's Always Sunny in Philadelphia). I took up calling him Charles, which really happened to work out once I realized RuPaul's last name is Charles. And I loved Avocados, so it was natural to make that his last name.
He is a fighter. He was diagnosed with liver failure nearly two years ago and my entire world fell apart. I could not (and still cannot) imagine life without this little doggo. I do everything that I can to medically manage and monitor his condition and he is living a very happy (practically normal) life. Every additional day I have with him is a gift… though part of me likes to think that he understands how much I need him, so he keeps on fighting to stay with me for as long as he can. Charles' favorite activity is playing soccer (though his soccer ball looks more like a dirty rag because of how much he plays). He enjoys walks. He loves swimming (if/when he gets a chance). And he really loves snuggling (especially trying to get in-between Melissa and I when we are snuggling). He loves to get the back of his neck scratched. Whenever he is in the mood for that, he will just walk over and stick his face in my crotch because that's where his face goes while is scratch the back of his neck. What a little weirdy. Instagram: @CharlesAvocado."
---
Sam and Huckleberry / 27, 7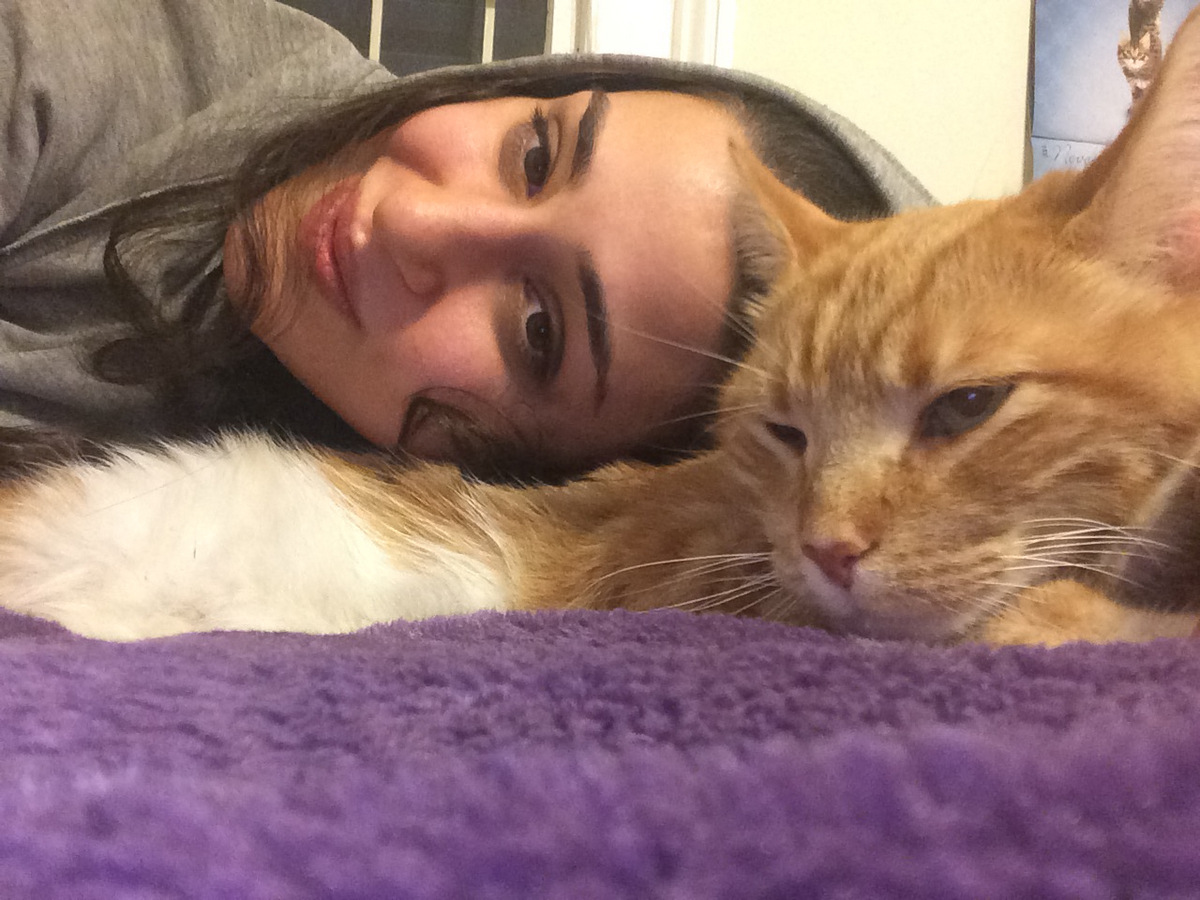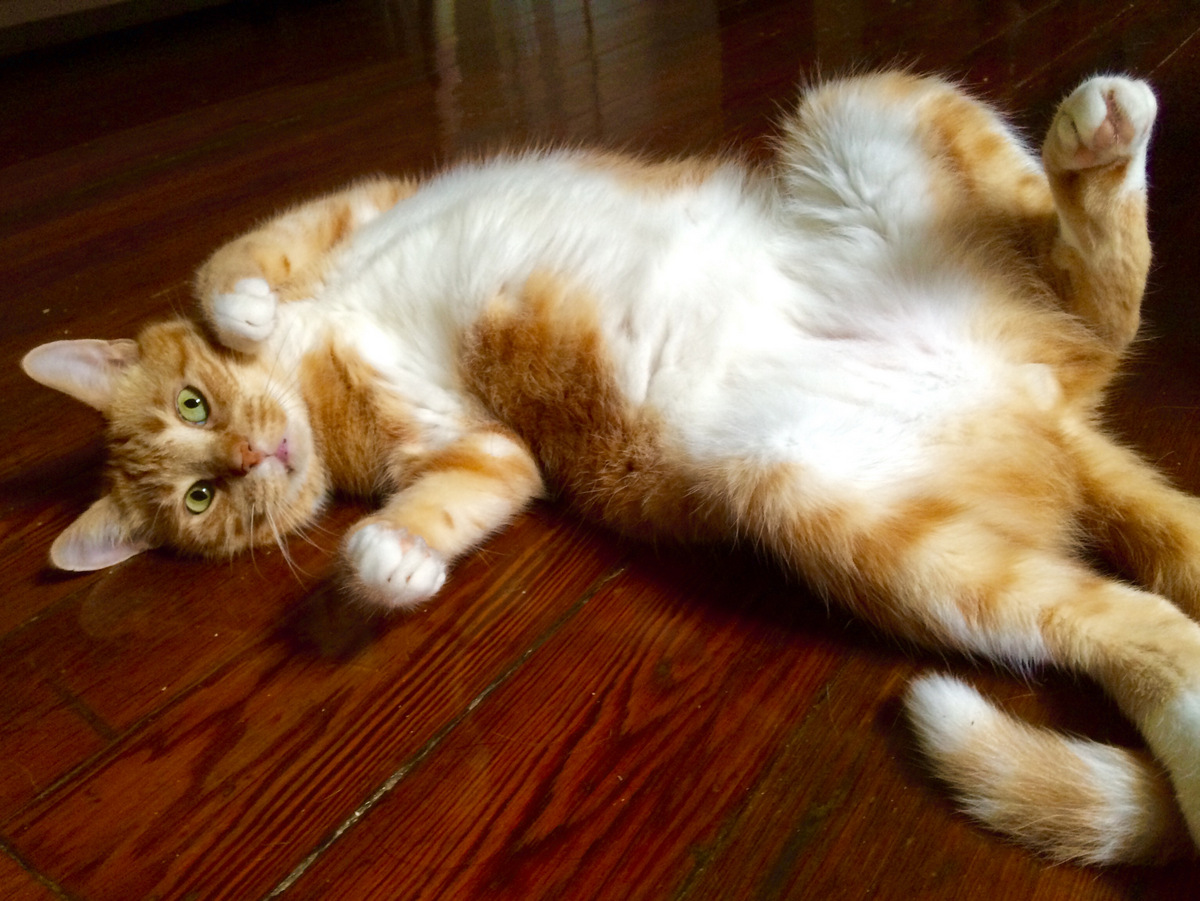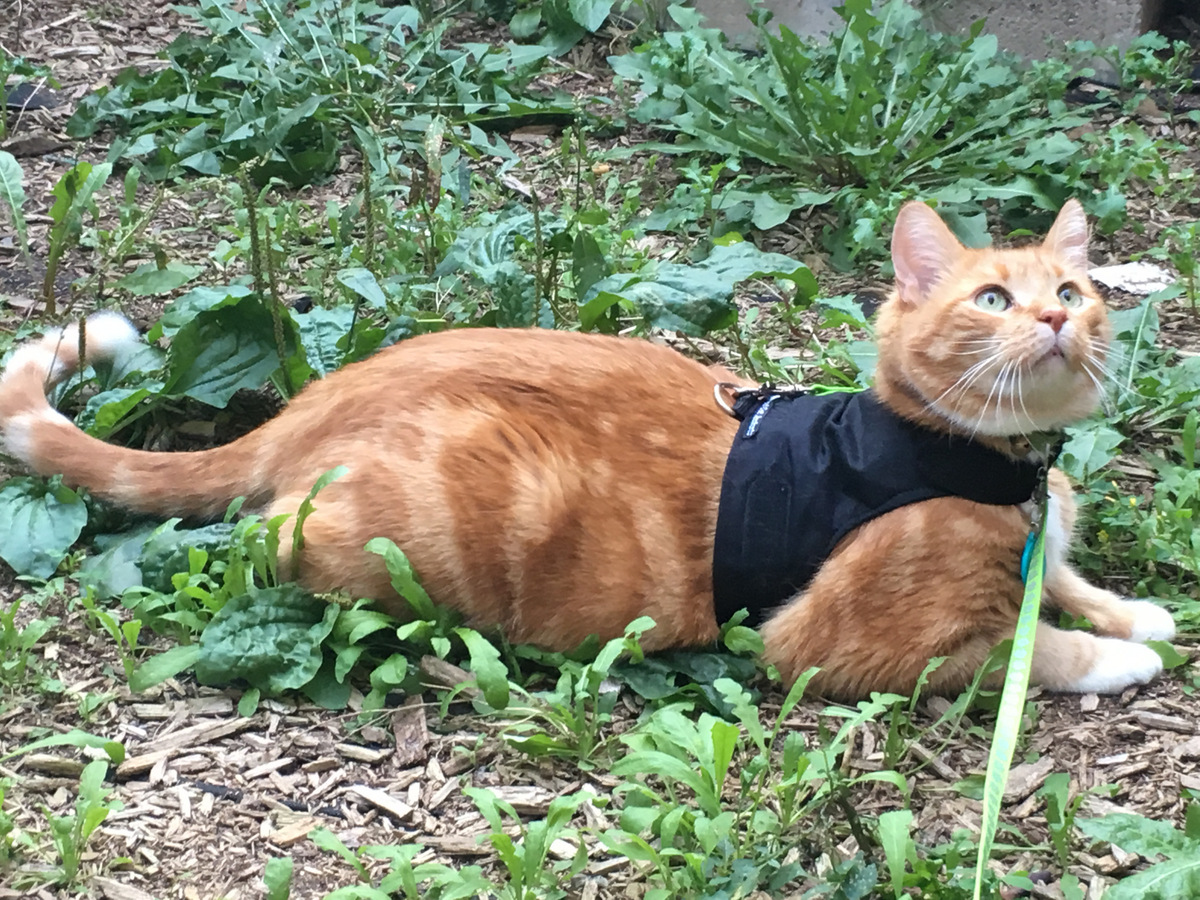 "This is my boy Huckleberry. He has the best personality on top of being the model kitty he is! I rescued him from the street after his previous owners abandoned him 3 years ago, and we have had the best bond since. I switched countries 3 times and he goes everywhere with me. Instagram: I gave up on the pet only account but most of my Insta "stories" feature him: @xxomgitssamxx."
Rachael and Mikoto / 31, 7 / Highland Park, IL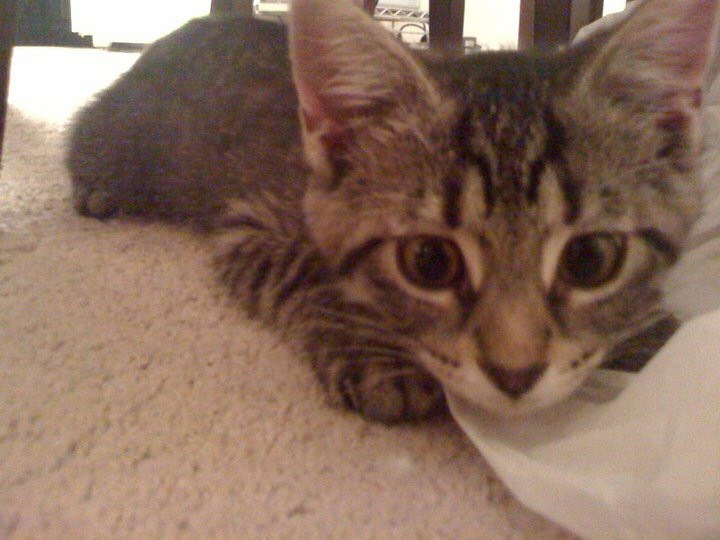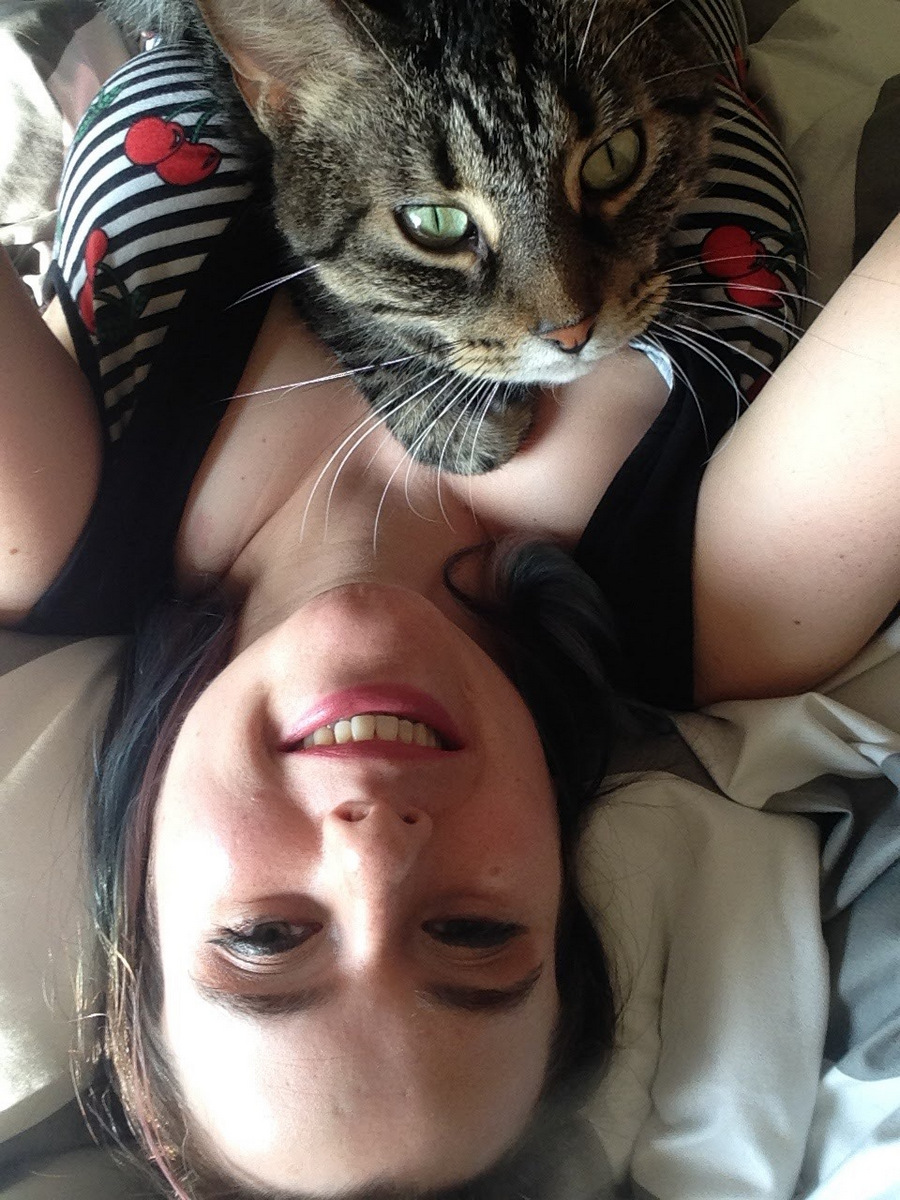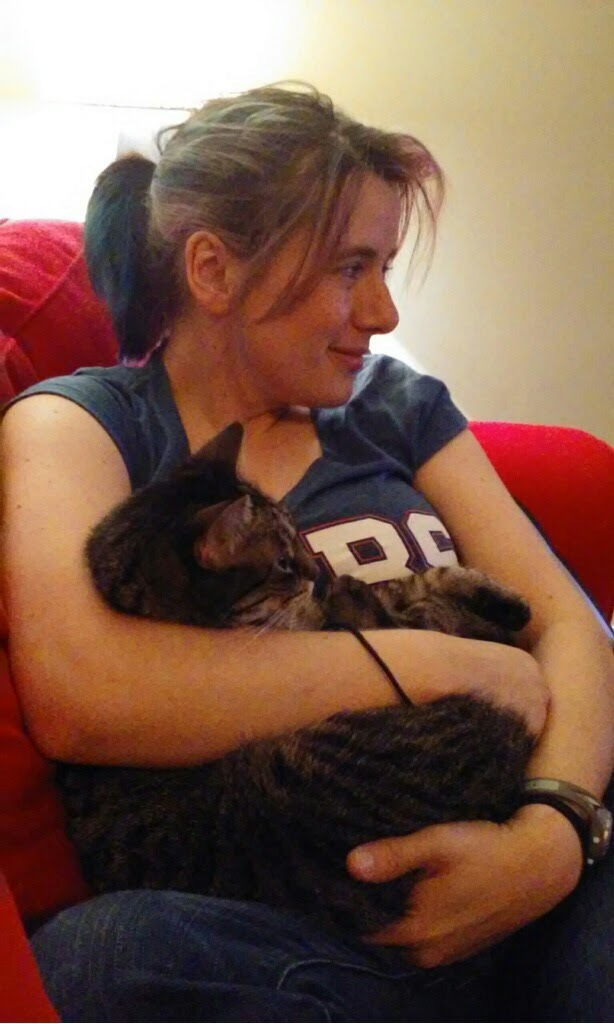 "Mikoto is my kittycat sidekick/kiddo. Her name comes from an anime character who turns into a cat when she gets hungry. She acts very doglike; she fetches, we play tag, and she sits by the front door waiting for me to come home.  She's a lap-cat and sleeps next to my head every night.  She has gotten me through some very rough times and a few times has been the only thing that kept me here on Earth.
My girlfriend (at the time) and I brought her home from a nearby shelter on June 23rd 2010 when she was 9 weeks old. Every year on her Gotcha Day I tell her the story of how she came to live with me. I was walking down the hallway in the shelter looking at kitties, when all of a sudden I got stuck. When I turned around, I discovered a teeny tiny kitten had stretched her leg out and hooked me with her paw. That teeny tiny kitten came home with me that very day; after all, she picked me, and I'm very happy she did!"
---
Caroline, Laura, Saluda / 27, 26, 5 / Brooklyn, NY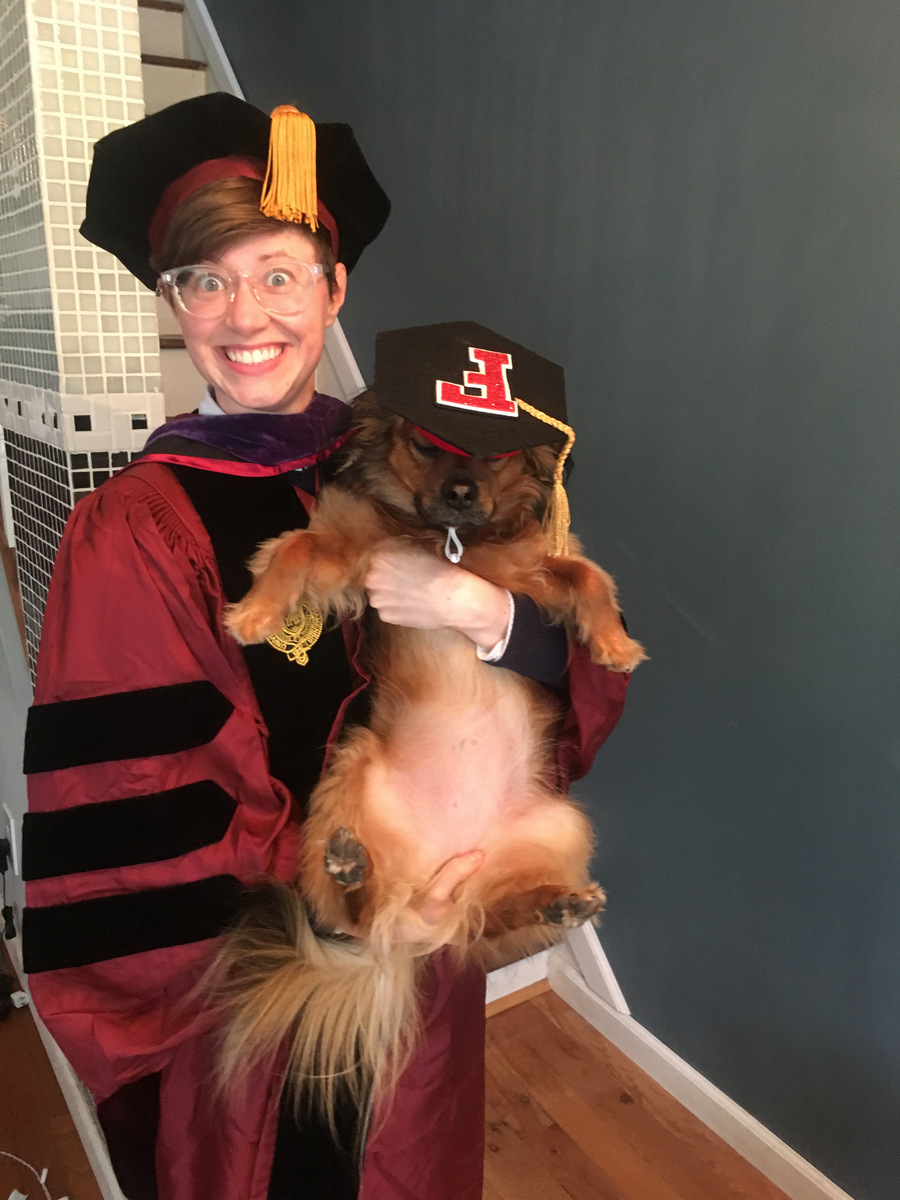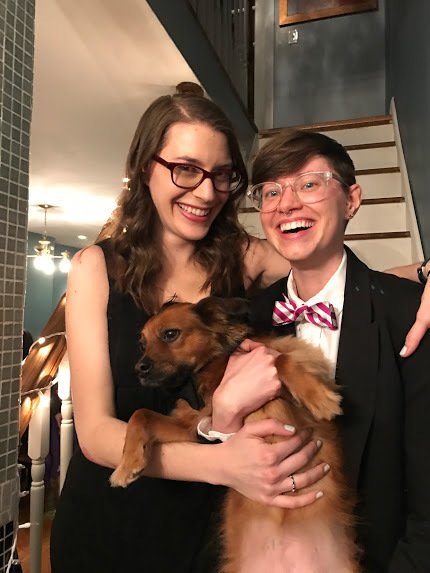 "This little gremlin is a rescue pup. She used to live (and probably reign over many small mountain creatures) in the wilds of Tennessee, but is now an extremely pampered and cuddly lap dog. Her fur has grown in quite luxuriously since Caroline first adopted her nearly 4 years ago, and now she has very glamorous highlights and lowlights, and a very fancy party tail. She is named Saluda after a river in South Carolina (where Caroline is from), and she doesn't have an Instagram YET but there are some more pics of her under the #saludapup hashtag. The weirdest thing about her is that she'd addicted to licking unscented lotion off of Laura's hands/legs/face. Why?? How can it possibly taste good? It makes no sense, but it's very cute."
---
Torre, Shoga, Freesia / Portland, OR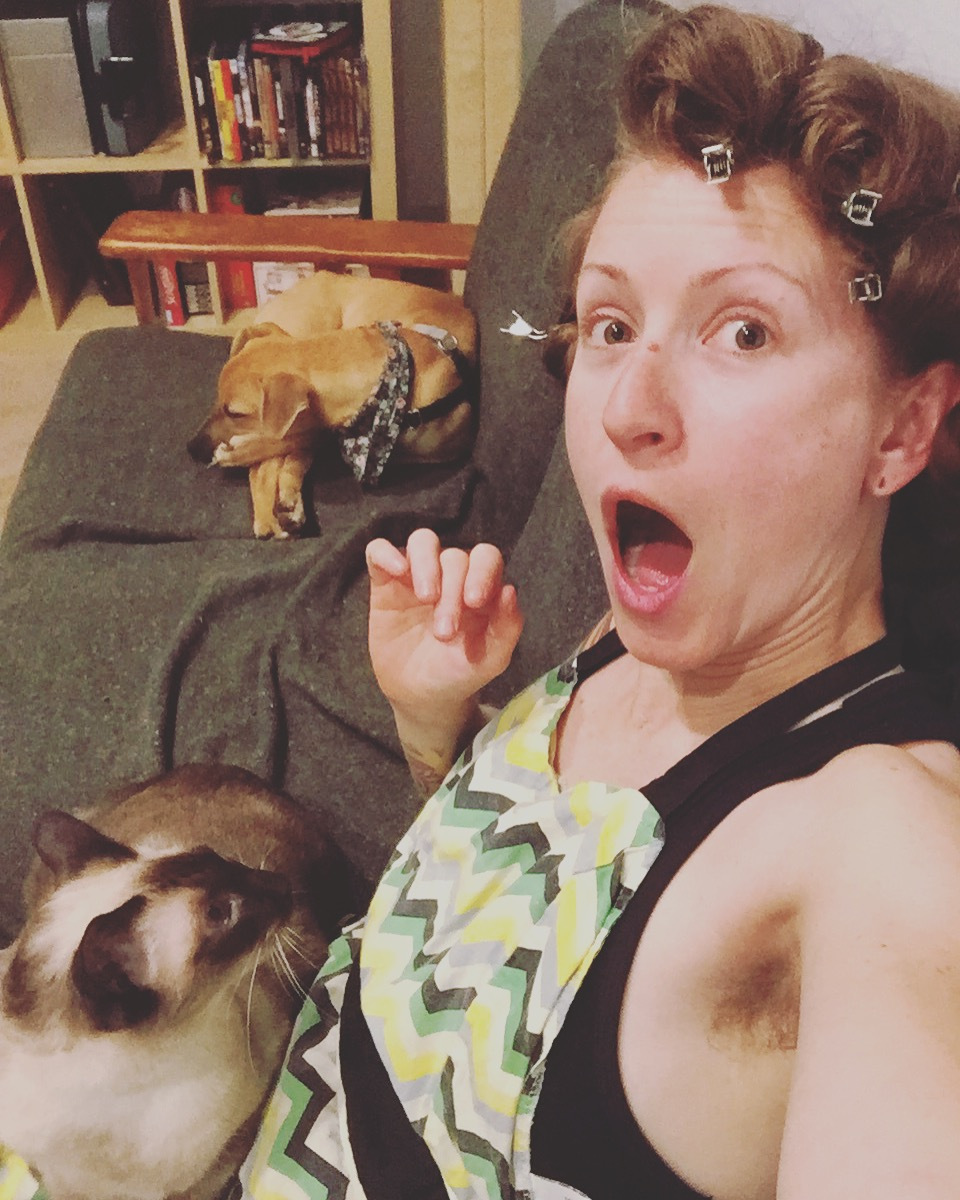 "I've had Shoga since he was a wee babe and we have a very love hate relationship. He is very social, intense, strong and cuddly. He is obsessed with eating paper and actually ate my homework one time. He is pissed that I adopted a dog. I just adopted Freesia a month ago thinking I was adopting a 4 yr old dog. So puppy surprise has been… testing my patience. But, she is so cuddly, velvety soft, extremely clumsy and the fastest pup at the dog park. She is a recent immigrant from Cabo Mexico and is hating the Portland rain. Good thing she is so cute in a raincoat."
---
Emily, Eva, Baba Ghanoush, Cashew / CO
"Baba Ghanoush goes by Noushy and she's 7 lbs of pure sugar and spunk. Cashew is our sweet, neurotic boy that hovers around 14 lbs and loves treats. Noushy chose Cashew at a local dog rescue as her new playmate. Noushy came to us on Christmas Eve from Larimer Humane Society. These two roam the yard chasing deer, cats and even humans."
---
Marissa, Sarah, Oliver / 30, 33, 4 months / Bozeman, MT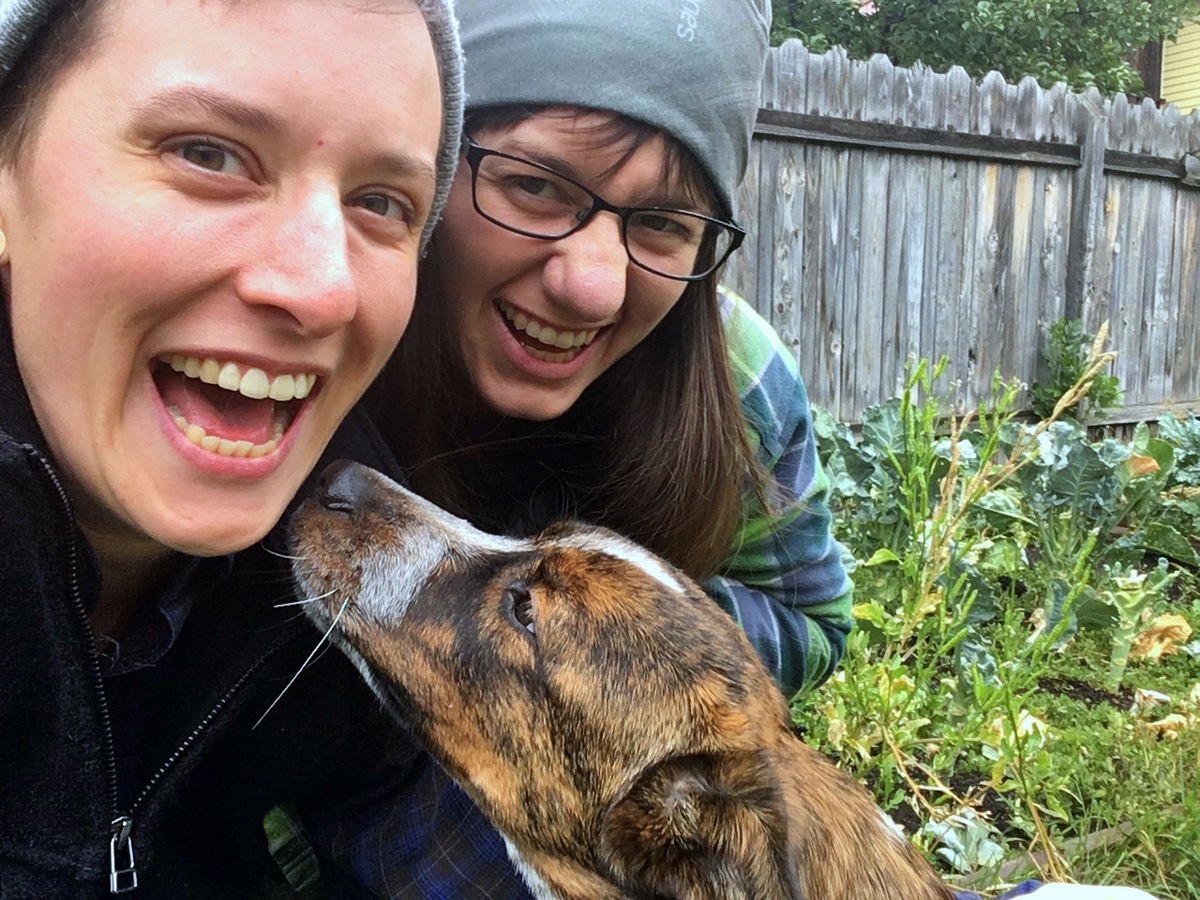 "Getting a photo with a puppy is hard! He's a little shy but loves kisses. Sarah does not appreciate puppy kisses, which is entirely reasonable. Oliver is @puppersmcghee on Instagram."
---
Jenny, Kristin, Sam / 35, 36, 7 months / Los Angeles, CA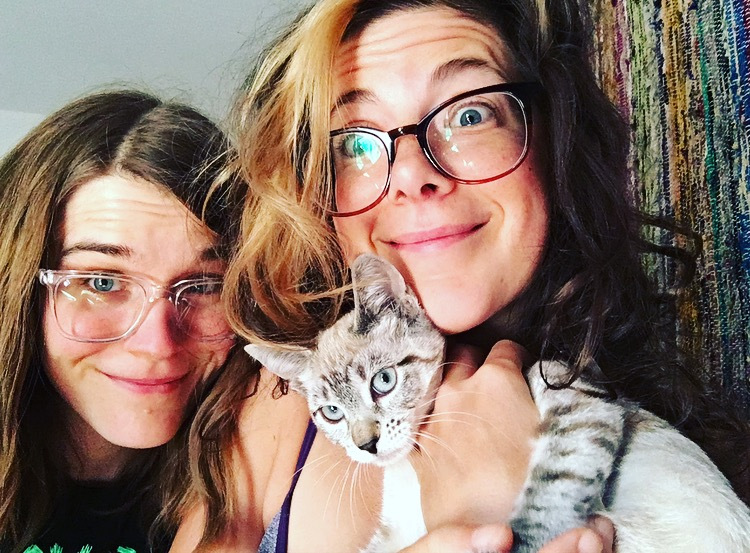 "We adopted Sam from the Stray Cat Alliance in Los Angeles – she came with her name, but if you want the real truth… we only call her "Min" in our house.  You see she is just SO TINY that I had to abandon her given name immediately to shout MINI MINI MINI at her tiny face whenever the urge took me. Mini was shortened to Min, and here we are.
She is 7 months old and the kind of kitten that will eat literally anything. She seems to also have some trouble getting things into her (TINY TINY) cat mouth without the help of her paws, so she is constantly leaping up at us in the kitchen to grab our human food items and then stuff them swiftly in her mouth before we can catch her. She does way too many weird things to possibly pick one that outshines the rest, but a few examples are: she stores her toys in her water dish (then pulls them out and drags water everywhere), she sometimes "takes a rest" inside of her litter box, and she also stands in front of any mirror she can find and paws at it for long stretches of time. She refuses to sleep on anything resembling a cat bed but loves to sleep sitting up on hard surfaces. Oh, and we had to install railing guards in our house because she doesn't understand mortality and will happily launch herself down the 9′ drop to the stairs below…
SHE IS A GREAT TIME, and yes of course she has an Instagram. It is @oncemorewithsam"
---
Megan, Laneia, Emily, Penny / AZ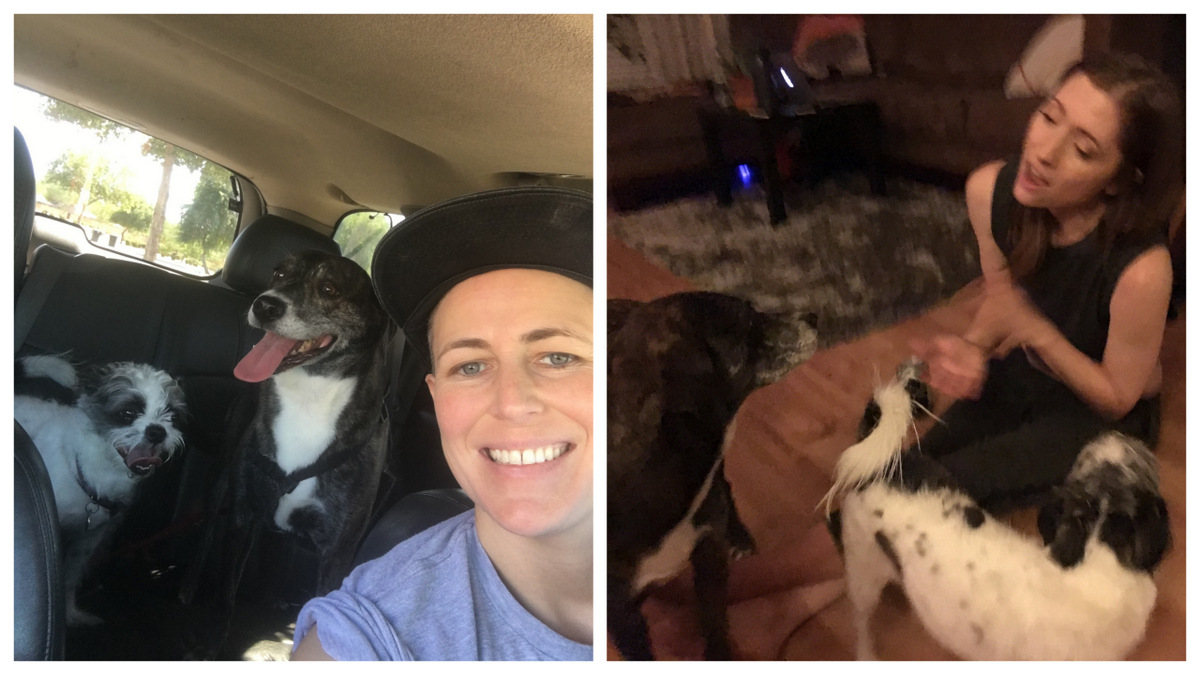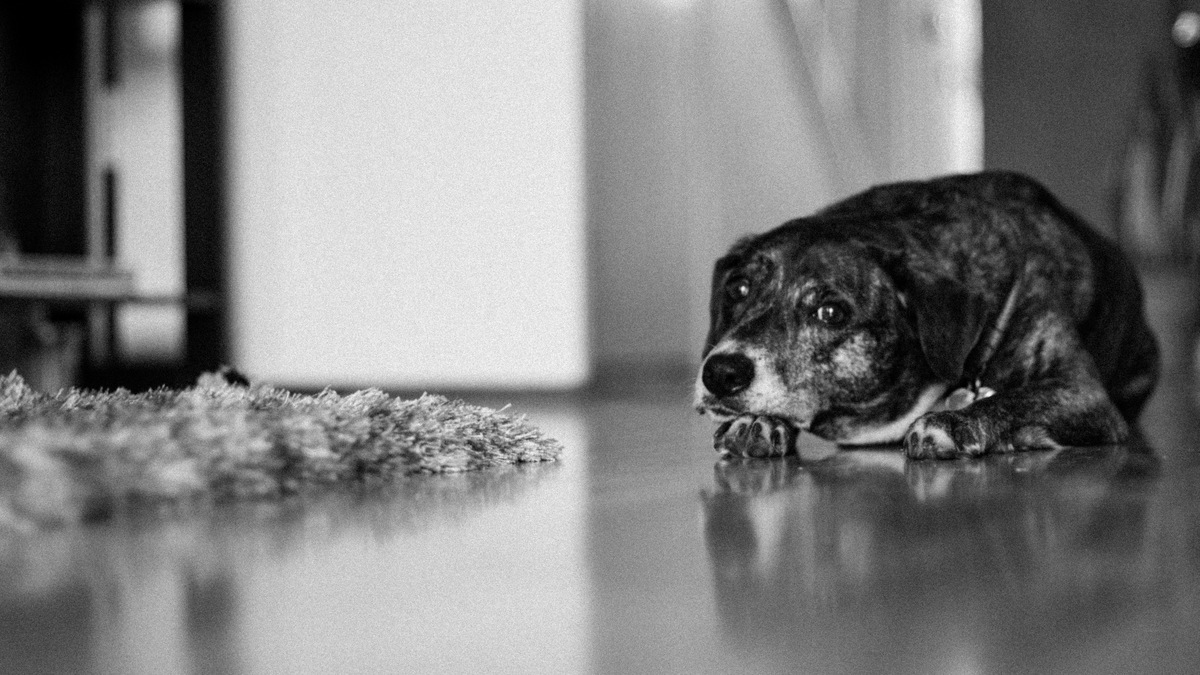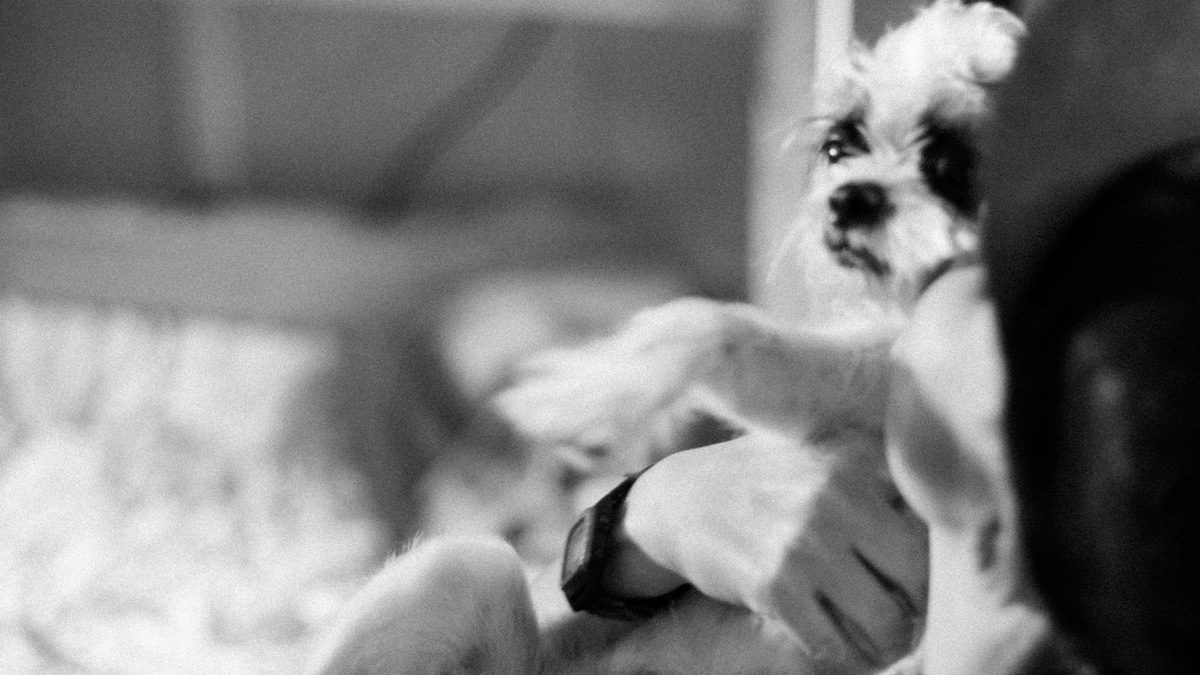 "Megan and Emily were a package deal when I came into the picture, and they're truly soulmates. Megan had been wanting to adopt a second a dog for a while and finally convinced me after agreeing that she would train it and it could be a cute tiny dog that I could pick out. We found Penny at pet store and I thought she was the cutest thing that ever existed. Megan thought she looked weird and crazy (also true). We adopted her thinking she'd be "my" dog, but that didn't happen. Both animals are obsessed with Megan. She is their Harry Styles. This is why I'm in the market for a cat. (Not pictured are the five feral cats we feed and pine for: Samwise, Friday, Struggle Cat, Ducky, and Boy Cat.)
Some weird things these dogs do: Penny can tell when our heart rates go up (like during a tense movie) and will whine and shake until we all calm down. Emily apparently (?) has a fear of wood flooring and can't walk the length of living room floor that would take her to the back door. She would just hesitate forever and then sorta fawn-fall/run until she made it to the kitchen tile. We finally put down a rug and now she's (mostly) fine!"
---
Before you go!
It takes funding to keep this publication by and for queer women and trans people of all genders running every day. We will never put our site behind a paywall because we know how important it is to keep Autostraddle free. But that means we rely on the support of our A+ Members.
Still, 99.9% of our readers are not members.
A+ membership starts at just $4/month.
If you're able to, will you join A+ and keep Autostraddle here and working for everyone?
Join A+
Pages: 1 2 3 4 5 6 7 8 9 10 11 12 13 14 15 16 17 18 19 20 21 22 23See entire article on one page