Korra and Jodie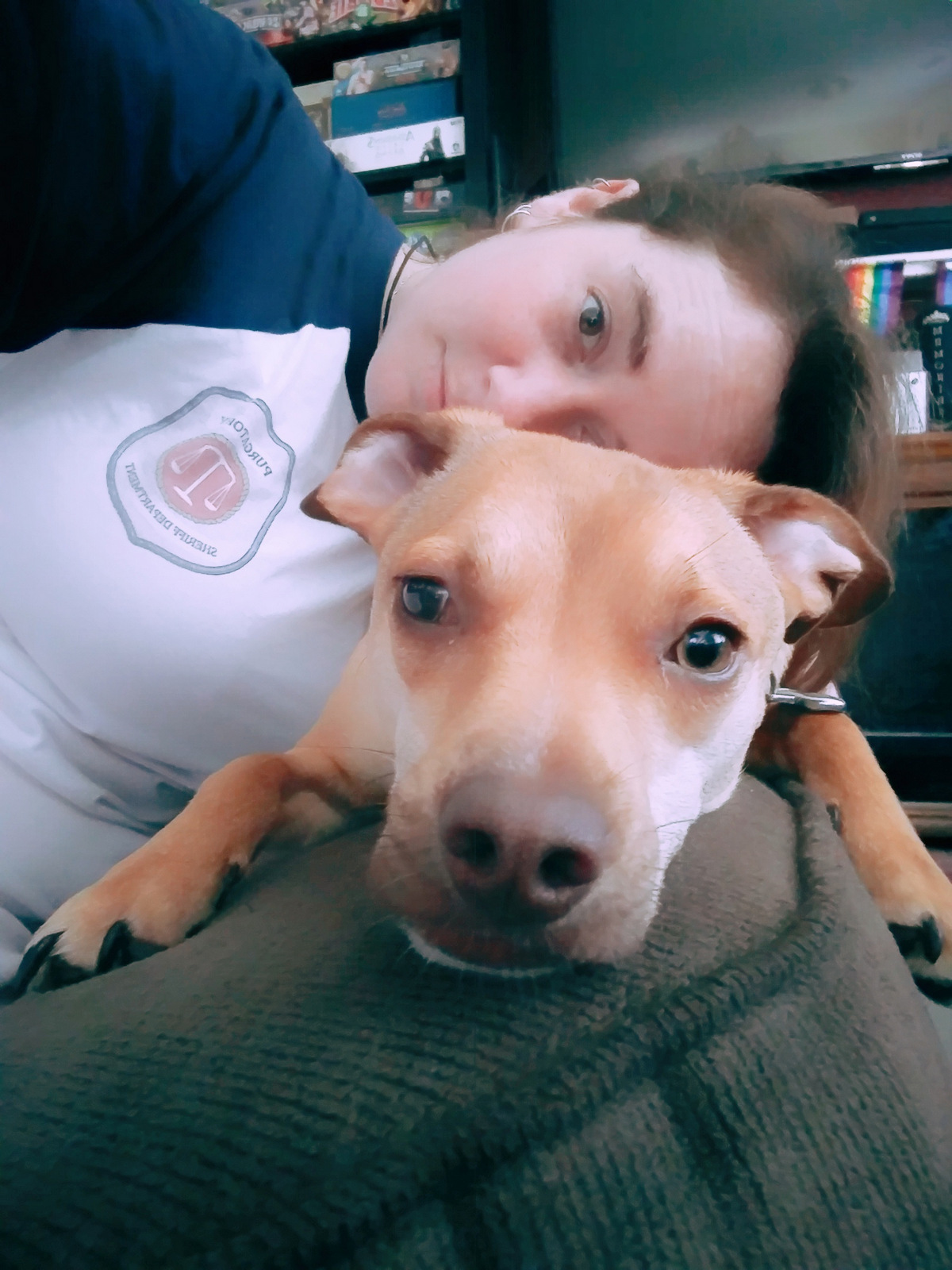 "Korra is a 11 month old Chihuaha/Staffie mix, who was born blind in both eyes. We hadn't intended to get another dog, after our Yorkie, Rolo, died of inflammatory bowel disease in December. But something made me want to look on Pet finder one day in April and there she was. When we called the rescue, they told us that there had been a lot of interest in her, until people found out she was blind. Then they didn't want her. We loved her from the minute we met her. She is a crazy ball of energy, who doesn't let the fact she can't see, stop her in any way. She is completely fearless. Wouldn't have her change for anything."
---
Cassy Lamothe and Risk / Shelburne, VT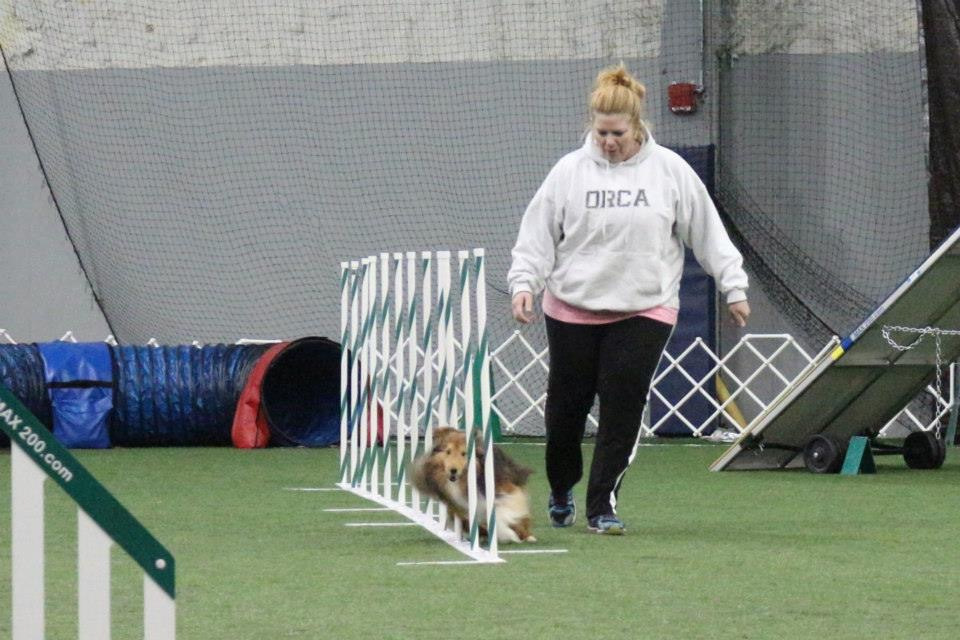 ---
Izabella and Dr. Beverly Crusher / 21, 3 / Houston, TX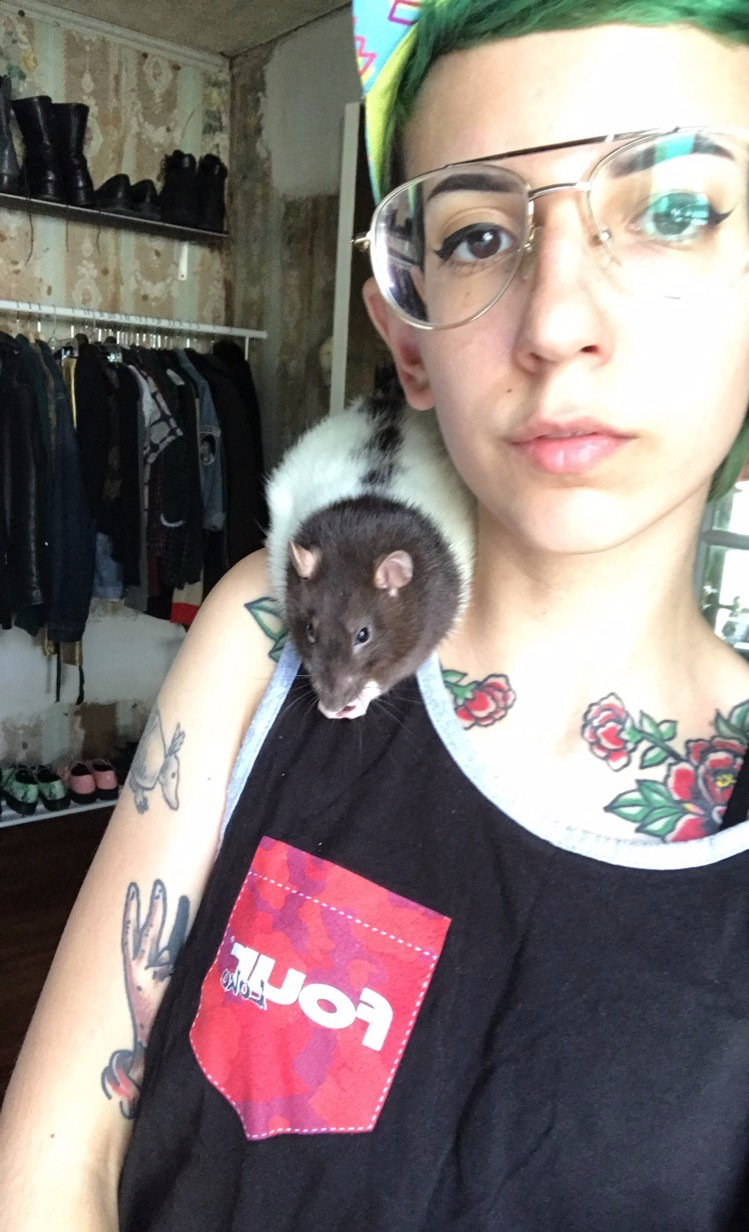 "I went with my partner to a pet store to buy fish food and Crusher and her cage mate were dying to get our attention. My partner and I had only been together for about a month and a half but I knew we needed them. We spent hours trying to figure out names for them; they had to be the perfect duo but not something too cliche, so we decided on Dr. Beverly Crusher and Counselor Deanna Troi.
Our favorite thing to do together is take naps and her favorite snack is spaghetti (same tbh). And for being over 1 pound, she is surprisingly nimble and loves to climb my leg while I'm cooking. She is my little chubby baby and my best friend."
---
Giorgia and Oscar / 21, 2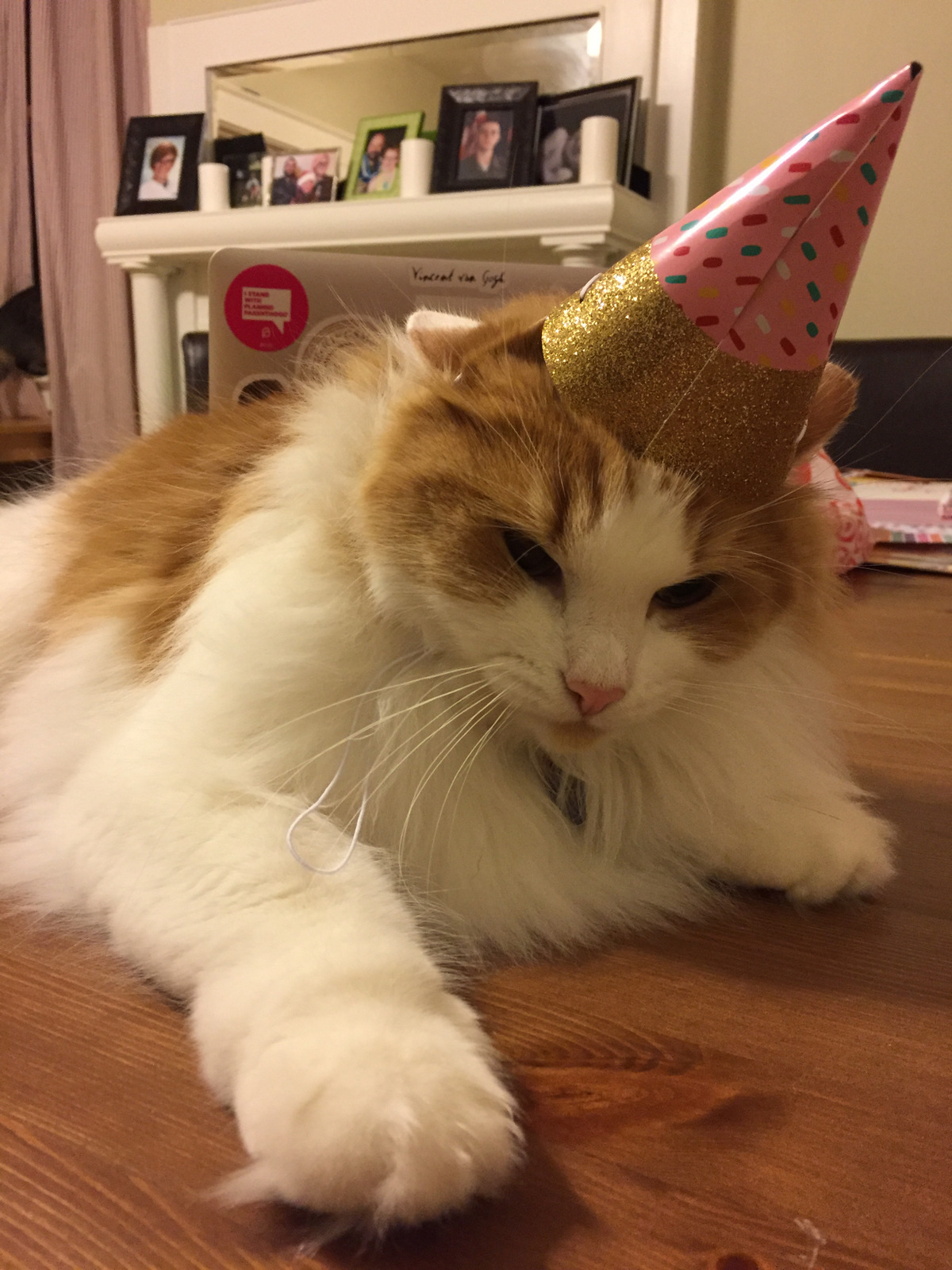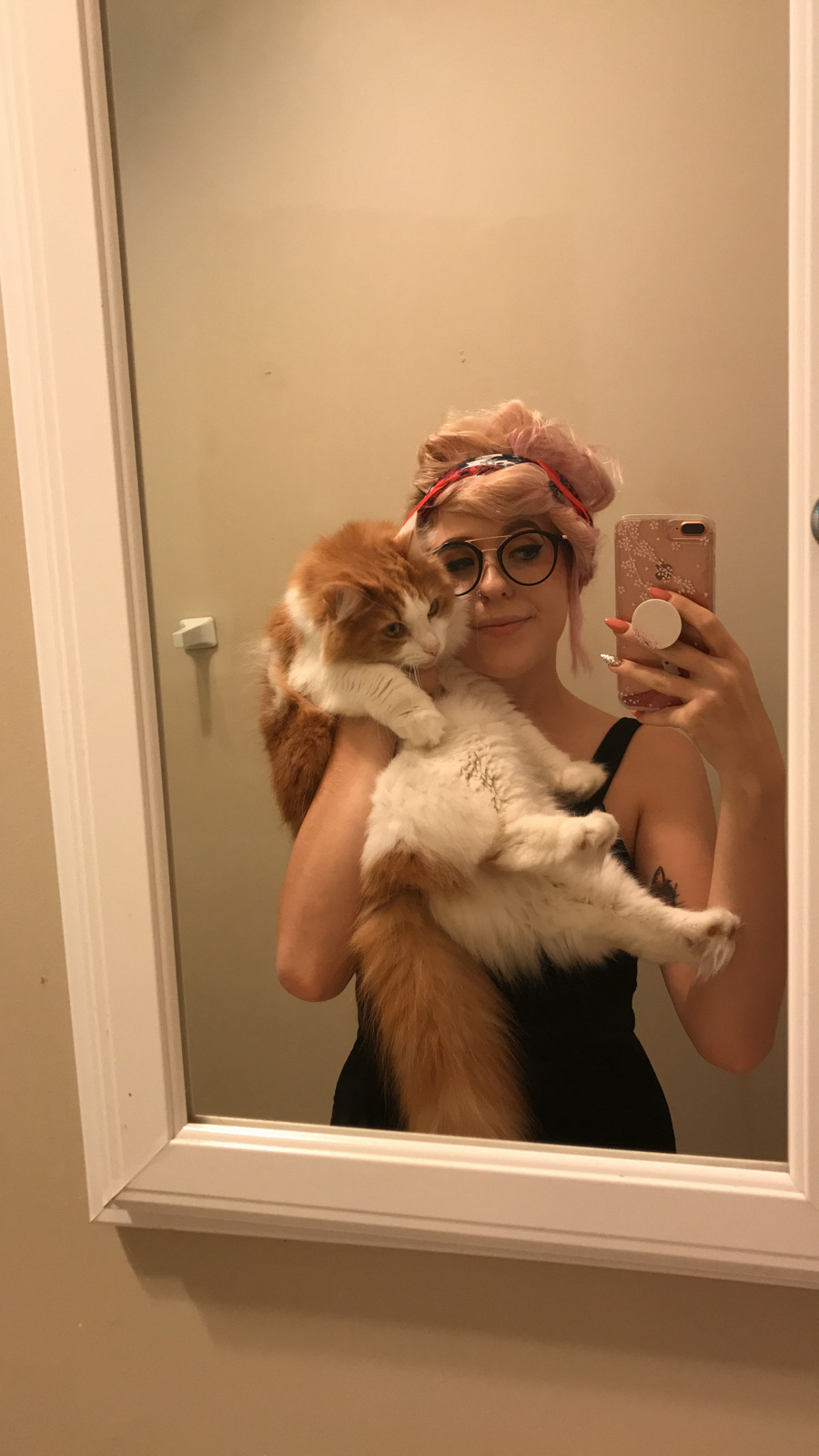 "I was a foster mom for cats for years and never kept any of the kittens I helped birth. Oscar was a tiny scrap that no one wanted, she hid in my room and never came out. Two years later she rules my heart and home. Best/silliest thing about her is that she hates all toys except for Nerf bullets and bouncy balls. Every three months I buy her a pack. She stands on the second floor and drops the bouncy ball down each step, meows because it's far away, then goes to get it and repeat the process. I hold her in her baby carrier and dance around while I do my paperwork. She's the biggest Planned Parenthood supporter I know! No insta for her, but lots of her on mine! My Insta is @authenticvangogh."
---
Sara and KitKat (aka Angel Prince of Darkness) / 34, 7 / Little Rock, AR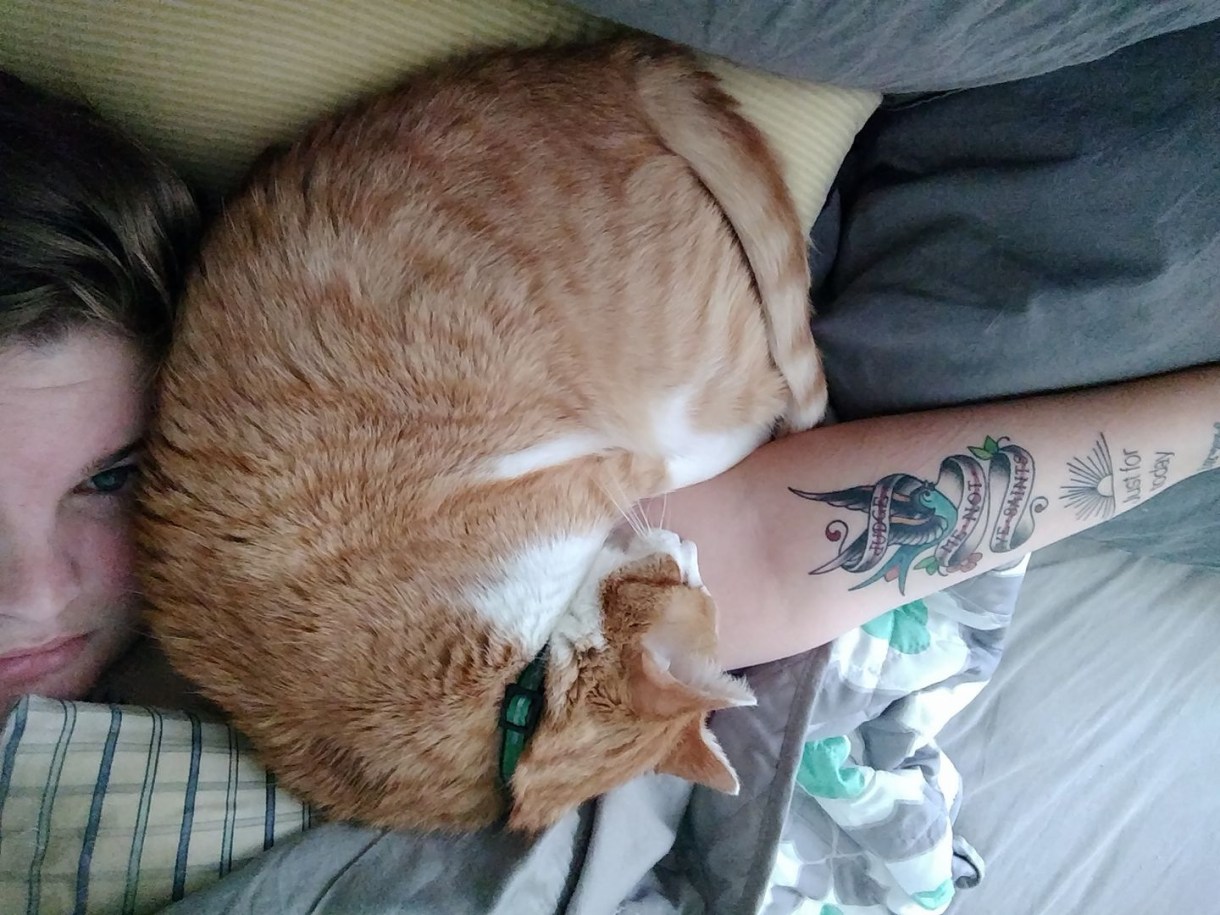 "My fiancee wanted a cat, so I set about finding one to adopt. This crazy guy wasn't being picked because he has FIV and his foster's description of him seemed to fit what I was looking for. I never wanted a cat before, but now he's my baby boy and barely gives my fiancee the time of day. Drives her nuts! As you can see, he has no concept of personal space."
---
Justine and Tucker / Kalamazoo, MI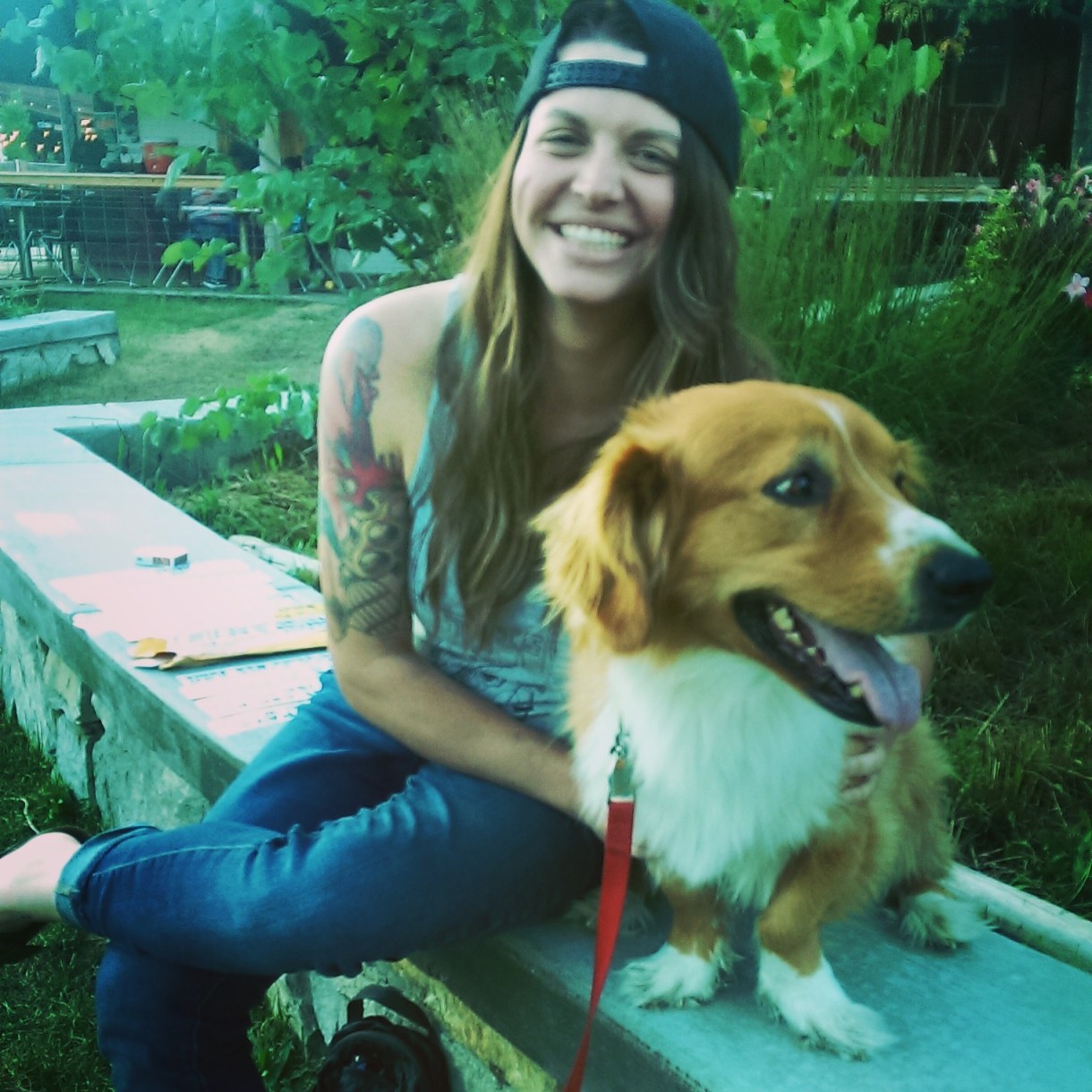 ---
Kelli and Ruby / 27, 6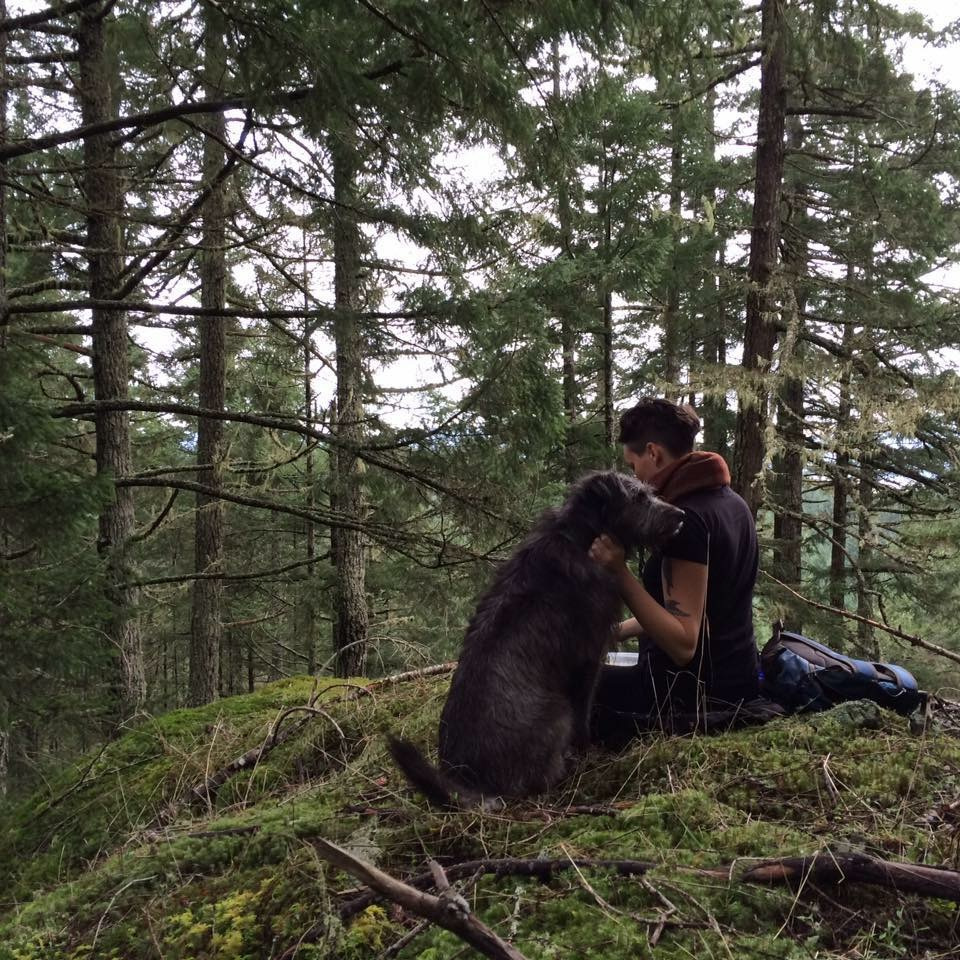 "My family and I adopted her as a puppy from the SPCA. In the first picture, we had gone on a hike together in January 2016. We got lost on the mountain, and ended up spending the night in the forest in a bed of pine boughs. Needless to say, we bonded. Every time I visit my parents now, Ruby is beside herself when she sees me — probably because she's relieved that I haven't died on a mountain somewhere. This second picture was taken yesterday; Ruby wouldn't leave my side, and crawled onto the couch with me as though she's a lap dog. Ruby likes deer, licking the hands that pet her, and sleeping under my parents' bed."
---
Xoe, Christiana, Callie, Bonzai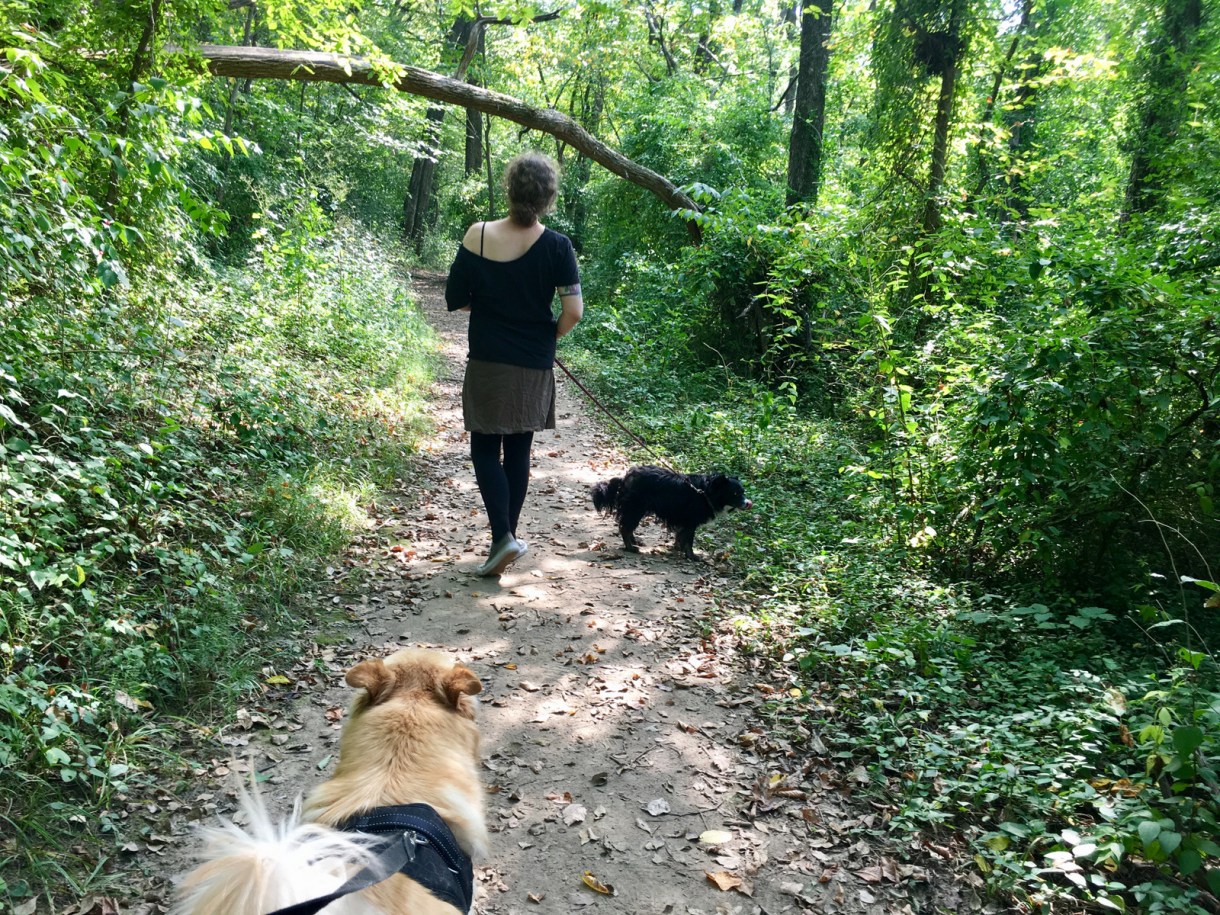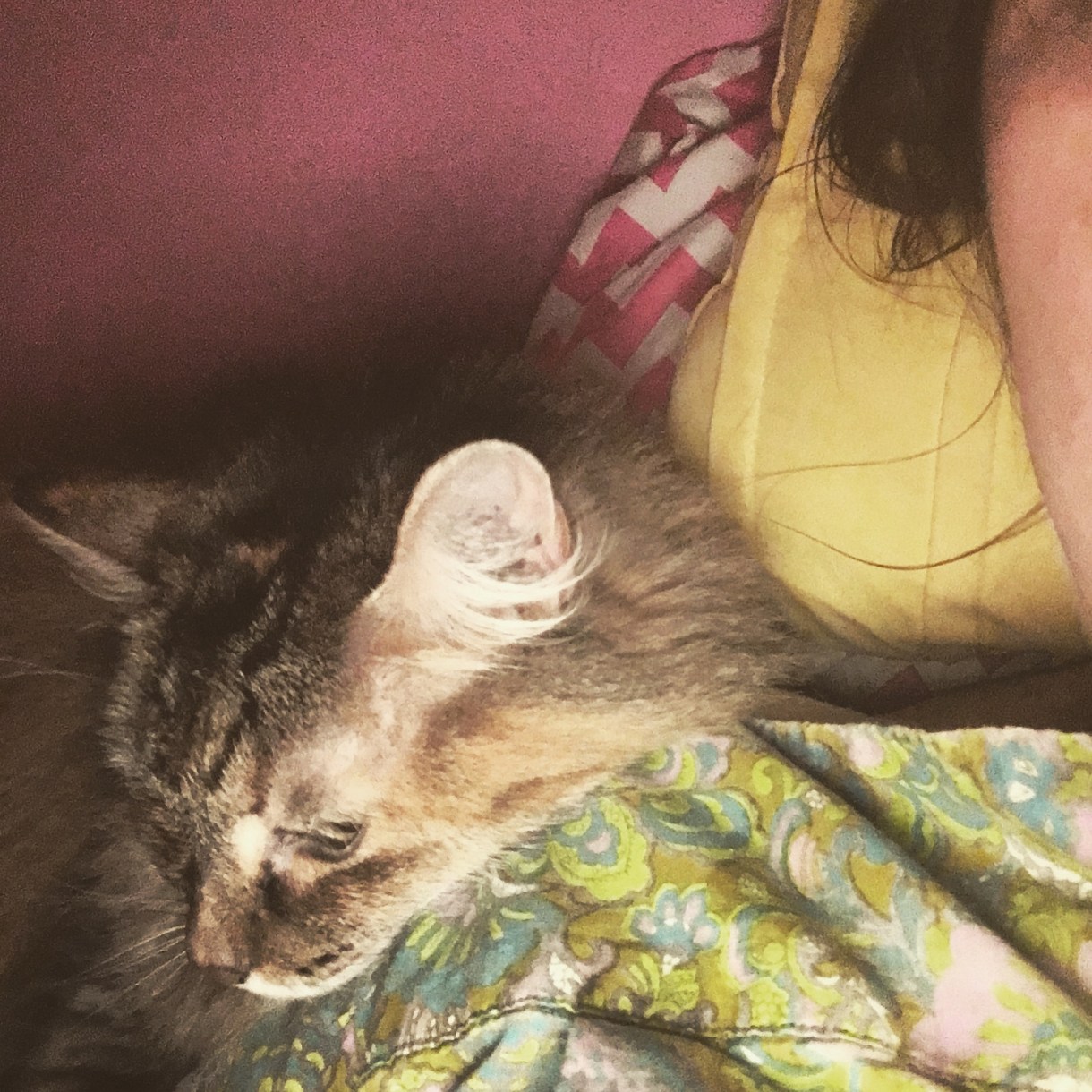 "First is me, Xoe, with our cat Callie. We are both of indeterminate age. Second, my beautiful wife Christiana walking in the woods with our two puppers, Bonzai (the small black chihuahua/Australian shepherd mix) and Boba (the golden honeybear chow/lab mix). Both dogs are around 9 years old. Christiana is significantly older. We are all pictured doing our favorite things: Callie and I snuggling, Christiana, Boba and Bonzai walking in the woods."
---
Jordana and Lady Galadriel / 26, 7 / Childhood Home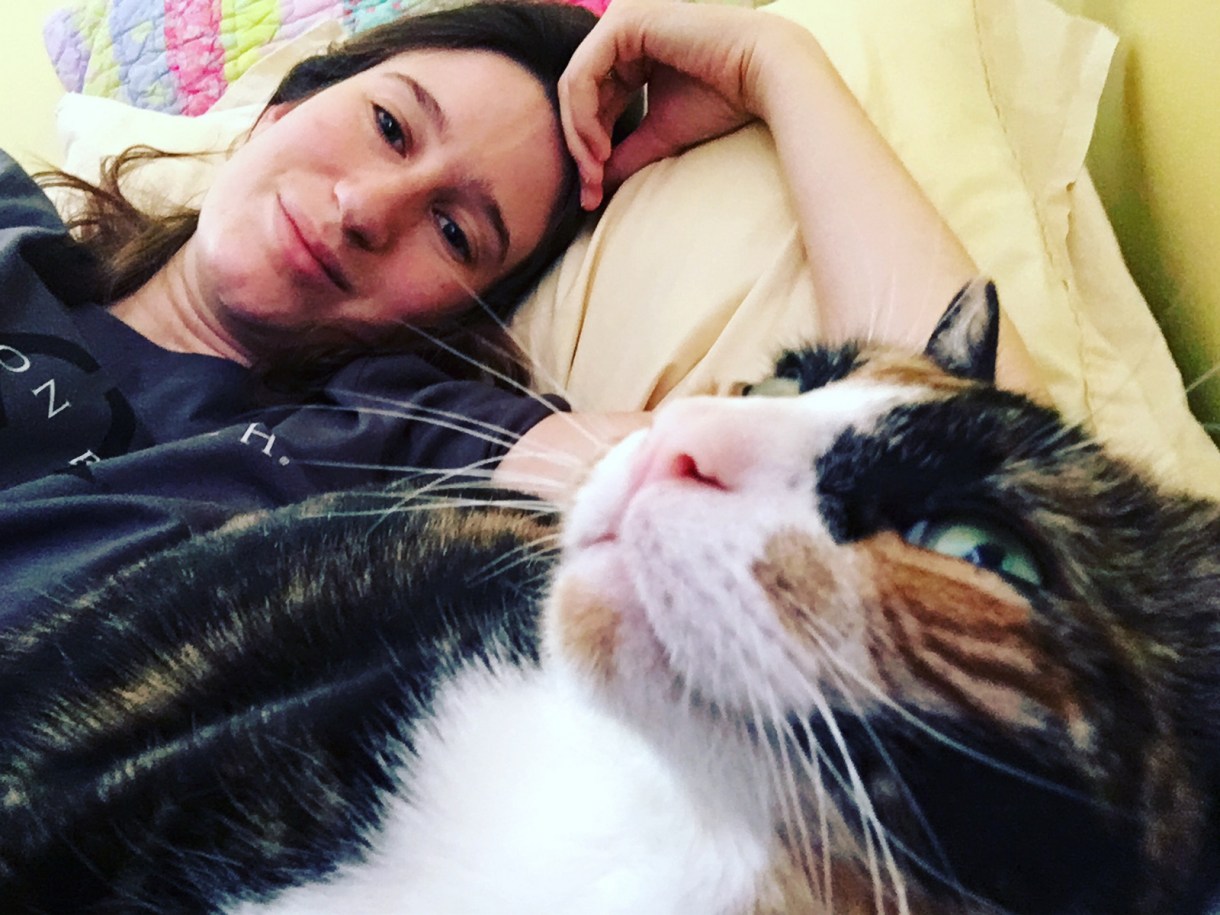 "My mother found Lady Galadriel on a website after the untimely passing of our previous girl cat. We usually adopt rescues, but Lady Galadriel's beauty could not be denied and my mother fell in love. Lady Galadriel came with the name Zara, and that is still what most people call her. But I never felt connected with the name (and as you might know, a cat must have three different names) and neither did she. So once, we were watching Lord of the Rings and Lady Galadriel appears on screen in all her terrifying glory, and I glance over to the girl cat to see if she's paying attention, and I swear she was literally glowing. Like an elfin goddess. She named herself.
Lady Galadriel's best quality is her unrelenting beauty. She is keenly aware of it and uses it to her advantage at every turn, especially in the manipulation of our boy cat, Moishe. LG and I enjoy snuggling and spooning when I am home for a visit, as evidenced by the picture. She is a creature of leisure and our time together is spent as such. Her weird thing is that she addicted to biting charging cords. We think she gets a little shock/high out of it. We are working on it and have covered all the cords in our house so that she does not hurt herself. But yeah it's a weird thing.
---
Deborah and Vasi (Vasi the Asshole) / Washington DC
"Vasi is an Anantolian Shepherd (known as Kangals in Turkey). Discovered the breed when I lived in Turkey and fell in love with them. I had a sad break-up and my therapist at the time recommended before I got into a new relationship, I start with nurturing a plant, if I can keep that alive for 6 months move to a pet, after a year of pet ownership maybe then think about a relationship again. When it was time to move to the second stage, I remembered the dogs I fell in love with in Turkey…thus Vasi came into my life. He is my 170 pound mamas boy."
---
Before you go!
It takes funding to keep this publication by and for queer women and trans people of all genders running every day. We will never put our site behind a paywall because we know how important it is to keep Autostraddle free. But that means we rely on the support of our A+ Members.
Still, 99.9% of our readers are not members.
A+ membership starts at just $4/month.
If you're able to, will you join A+ and keep Autostraddle here and working for everyone?
Join A+
Pages: 1 2 3 4 5 6 7 8 9 10 11 12 13 14 15 16 17 18 19 20 21 22 23See entire article on one page