Vicki and River / 57, 3 / Sugar Land, TX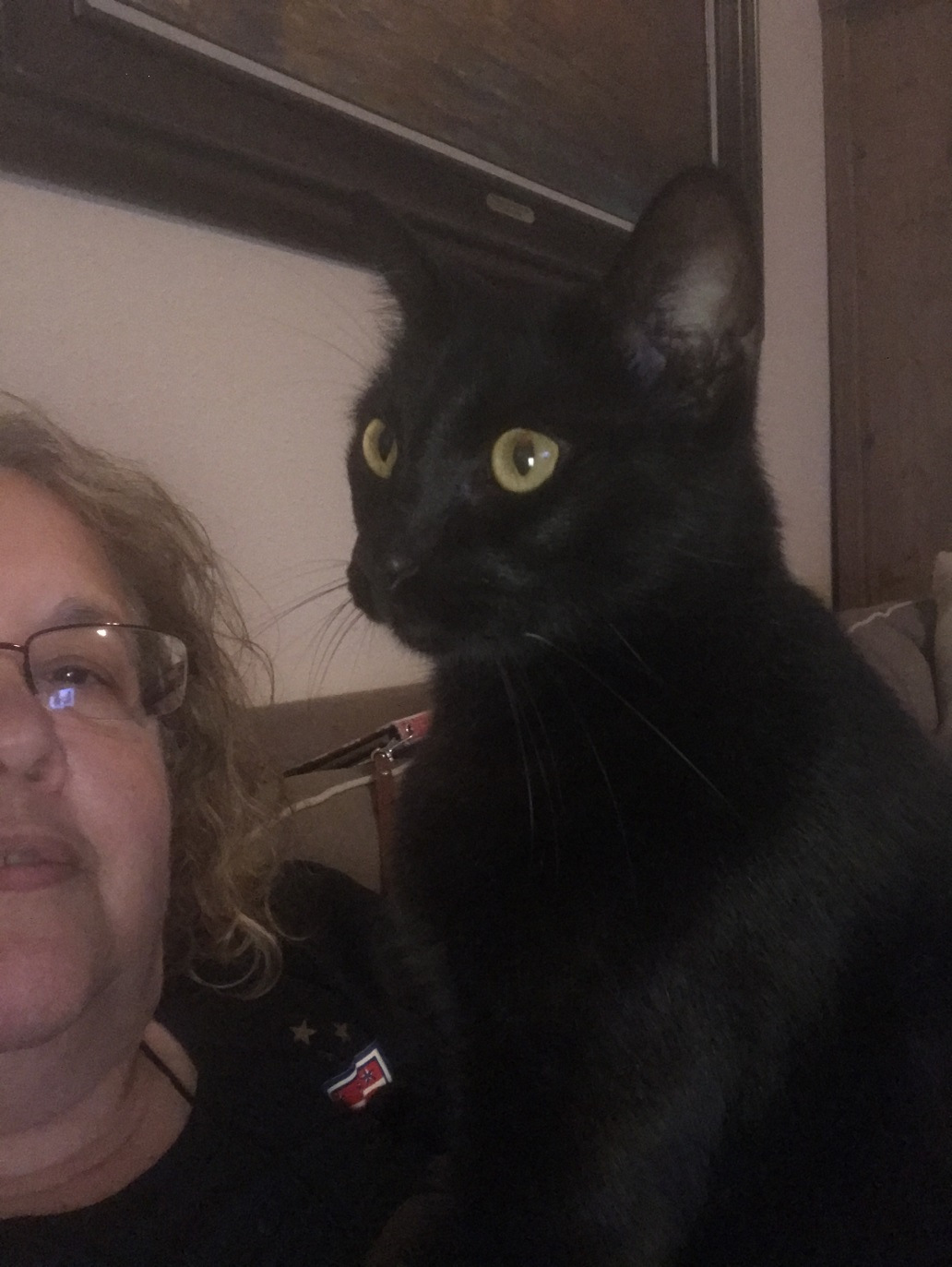 "My niece saved her current cat, Pepper, from a cold, wet parking lot one Christmas, but was living in a dorm and couldn't take her. So, Aunt "Dog Loving" Vicki to the recuse. "Please keep her until I move out of the dorm, Pleassee?" I folded. The day came, three months later, she came to get Pepper. I was happy to reunite them. Finally, no responsibility! No litter box, cat food, water bowls, vet visits but no cuddles either.
A local retailer was having a pet adoption day and I thought what's the harm in looking. Ha. There she sat, the oldest baby left. The ladies said she was going to have to take her back to the shelter for at least a month if she didn't get adopted that day. I asked why and was told they didn't allow black cat adoption during the month of October. Gasp, what?! It was a precaution they took in case some crazies were looking to do harm to black cats because of Halloween. The rest is history. She is mine and I named her for two of my favorite strong, female, syfy, characters, River Song and River from FireFly. River loves to hunt and bring me half-dead spoils of the kill. We enjoy watching, you guessed it, Syfy shows. She talks all the time and always has an opinion as to what we show watch. She doesn't have time for Instagram, but does have a few pics using the #riverthecat."
---
Heather, Pip, RoofCat / Worcester MA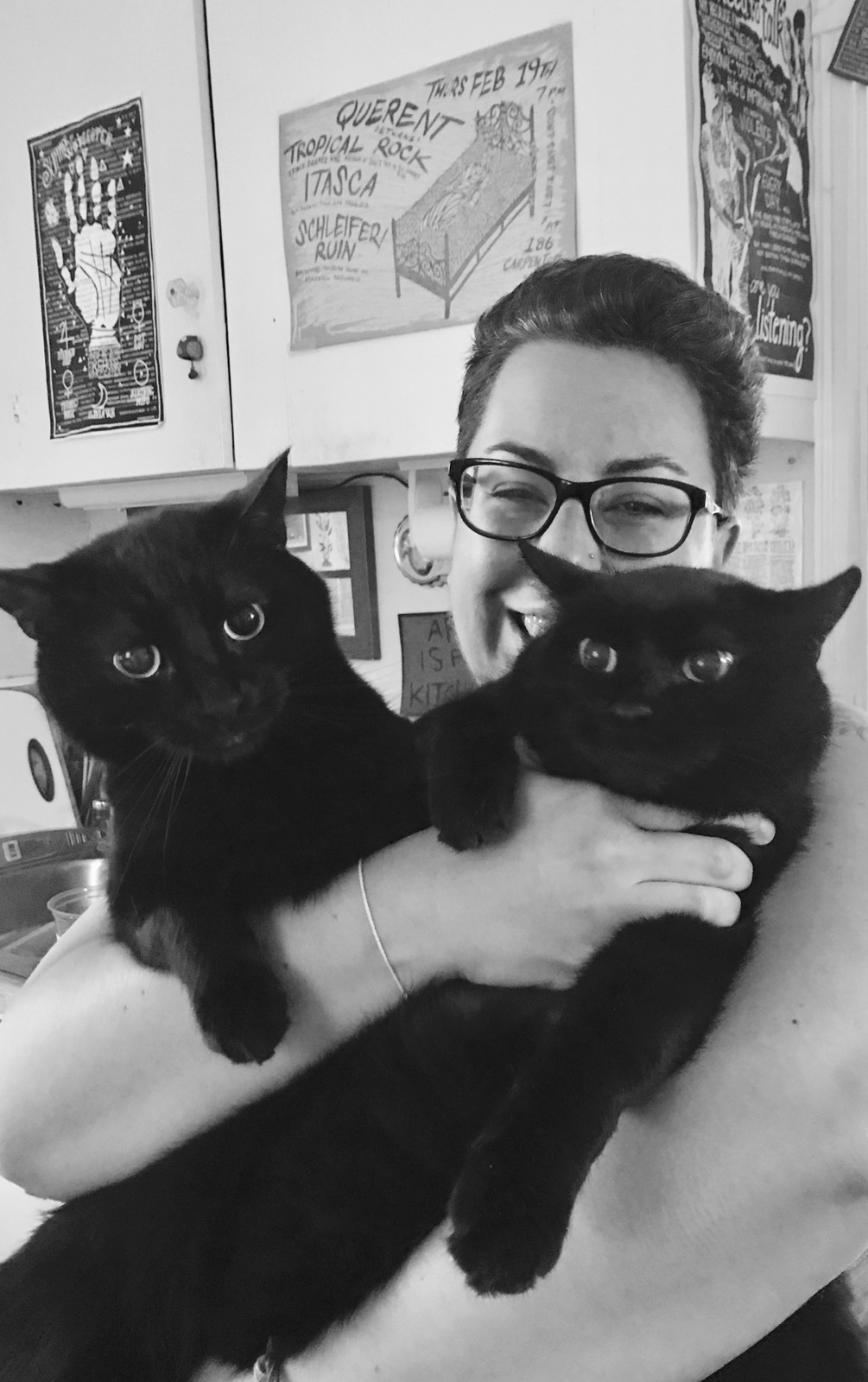 "True story, I got Pip at Deville's Cafe, a (now closed) lesbian bar in Providence RI. The owners had found the litter in the parking lot and what better place to find a home for kittens but at a lesbian bar?! I went for karaoke and came home with an adorable tiny kitten, best day of my life. I found RoofCat on my roof. He had climbed up the back staircase and got stuck on the roof! He climbed through my window (hence acquiring his name) and decided that mine would be his forever home."
---
Heidi, Dewey Dell, Zeke, Huckleberry / 33, 2, 3, 3 / Colorado Springs, CO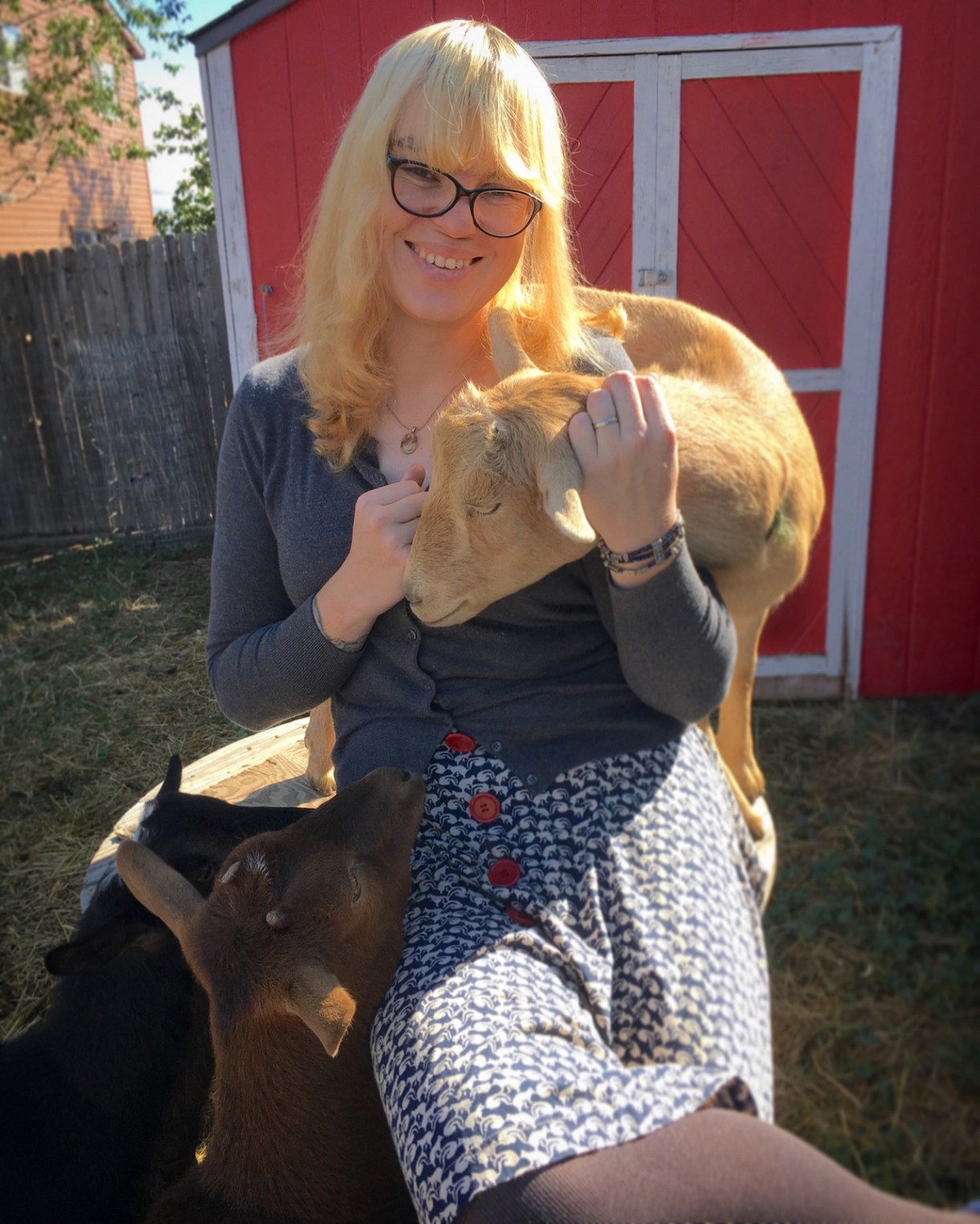 "I originally thought goats were silly pets to get, but when my wife brought them home it was love at first sight. We went through kind of a Southern Gothic phase with our animal names. Zeke (brown) and Huckleberry (black) were generic names, but Dewey Dell (blonde) is named after the character from Faulkner's As I Lay Dying. Goats are the best animals. They are smarter than dogs and pretty independent. They can eat veggie scraps and fertilize the garden. We usually just hang out while I take a bunch of pictures of them. I have packs for them and I take them hiking with me. They love it. The weirdest thing is that goats, especially males because of the way their junk is configured, are prone to kidney stones called urinary calculi. Zeke got one the day after Christmas and he couldn't pass it so we got really lucky that our vet was open or else he could have died. Also some people say their eyes are weird. I actually run a memepage for my goats @anarchistgoatmemes
---
Jill, Kirby, Lisey / 30, 11, 4 / Chicago, IL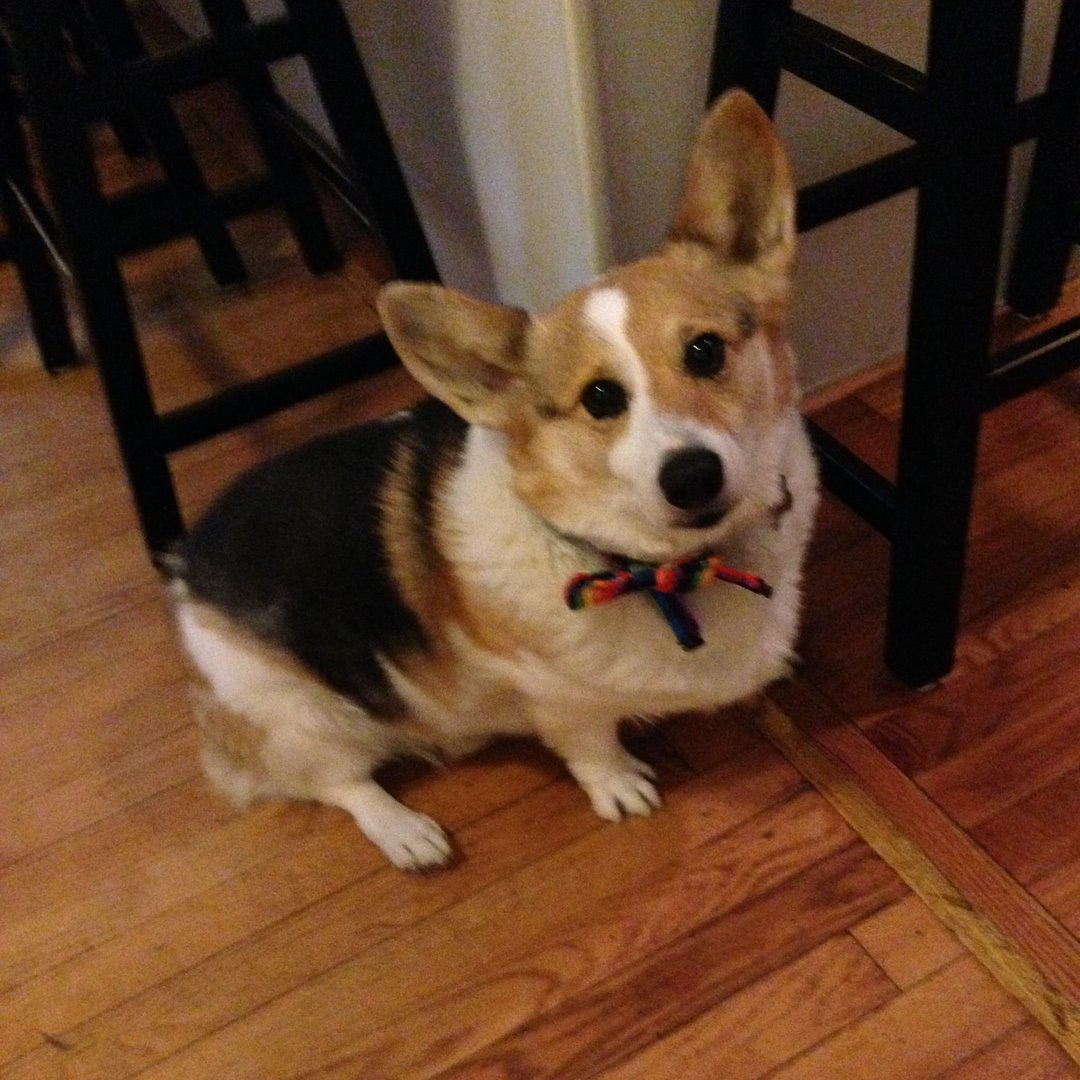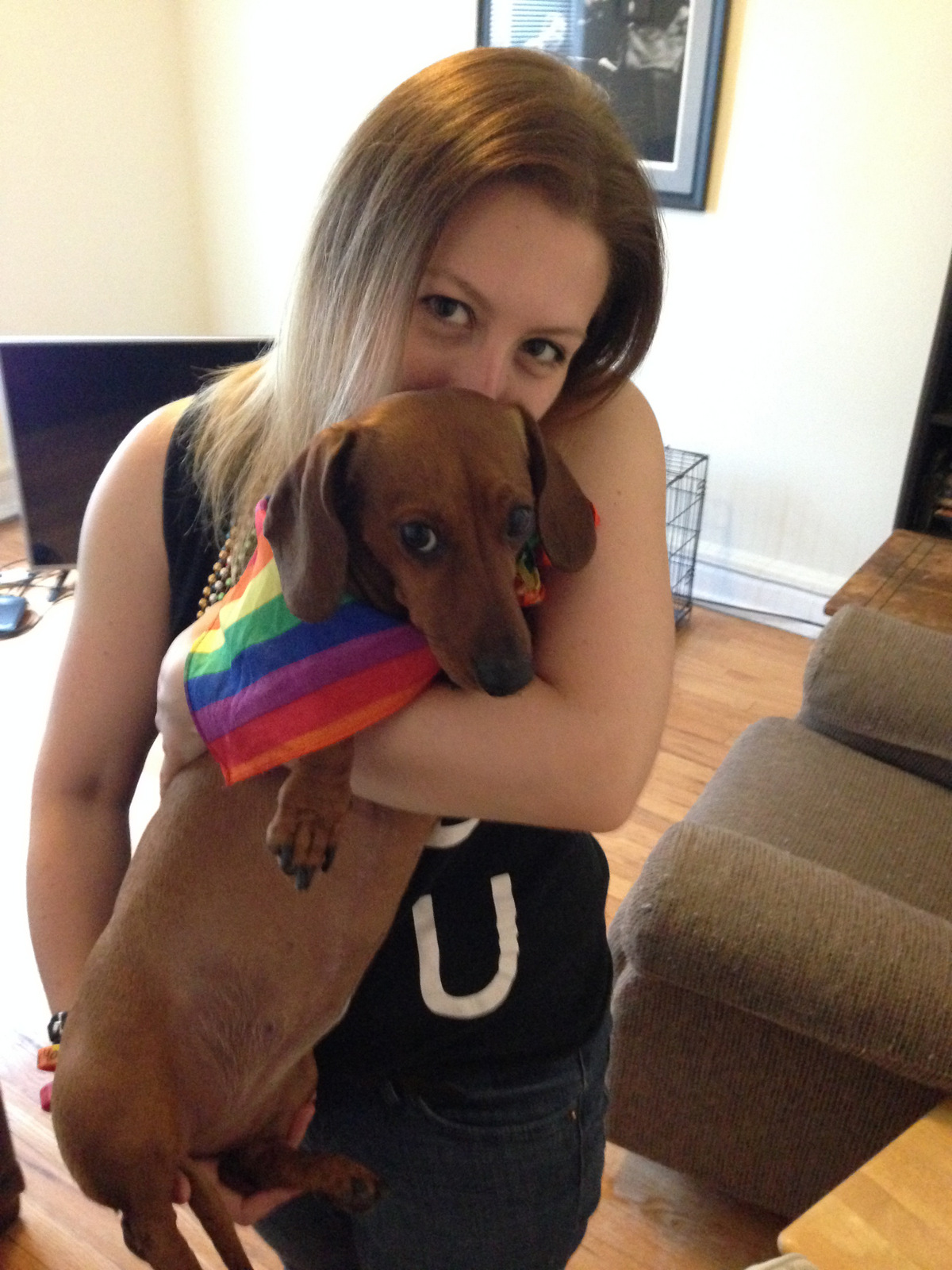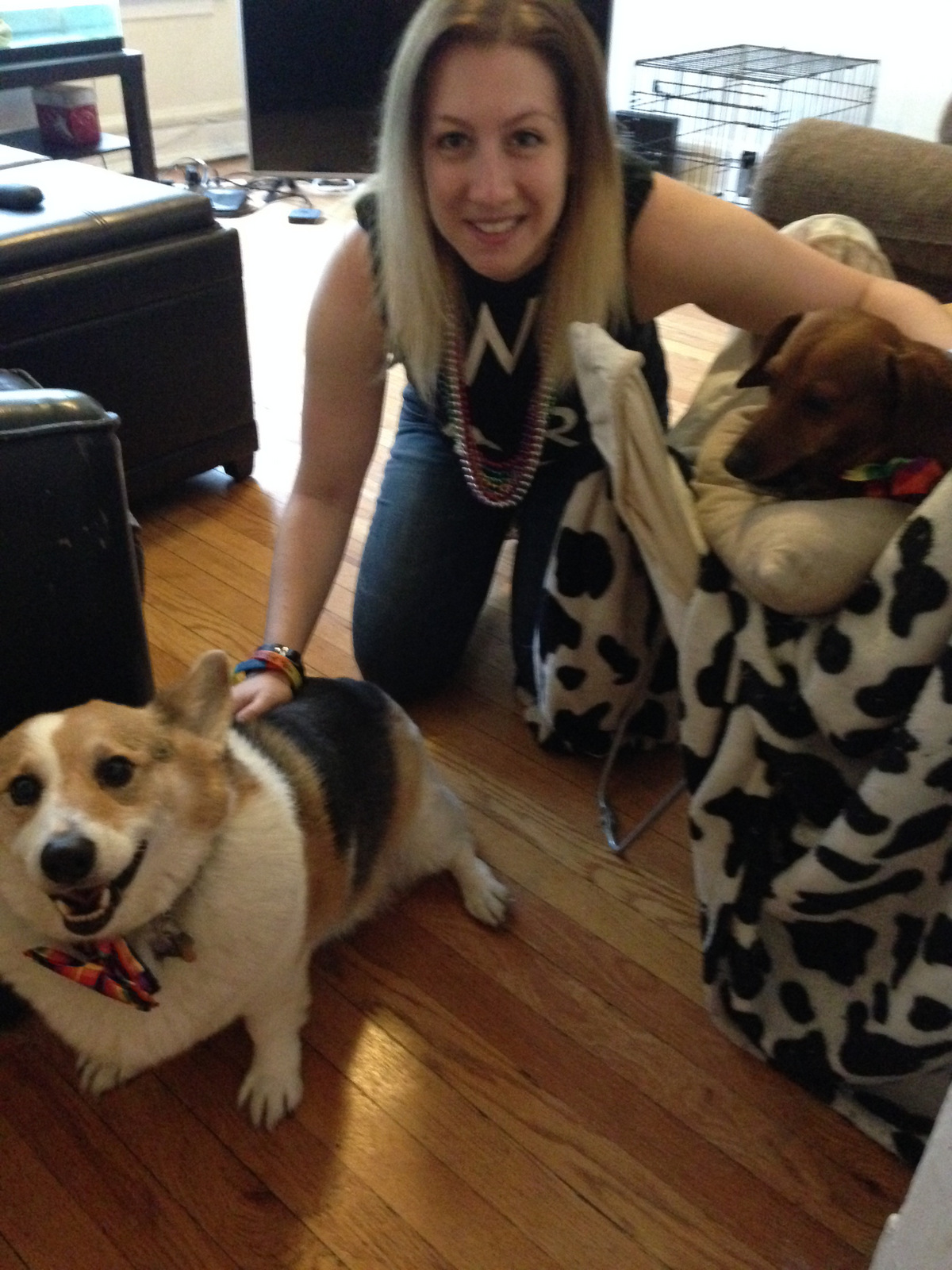 "Here's my goony self with my proud pups the day of the Chicago Pride parade, a couple months before I moved back to Massachusetts. Yes, I am one of those moms who barfs rainbow accessories all over her fur babies. That handsome corgi devil is Kirby, whom I had to leave behind when I moved as technically he belongs to my best friend/ex; we are long-distance co-parents to both of the dogs now (which is possibly the queerest sentence I've ever written). We FaceTime with them; don't worry about it. Kirby is not a fan of doors, and I'd very much like to kick the ass of whomever is responsible for that phobia, but since he's a rescue (actually both dogs are) I have no way of finding that out. He IS, however, a big fan of the ladies, just like his mama. His theme song is "Shake It Off," which makes him wiggle his little stubby tail like crazy, and my willingness to play it is a testament to my love for him because I cannot stand Taylor Swift. His little sister, Lisey, is my favorite wiener in the entire world, which is uh not really a difficult achievement but the point is LOOK HOW CUTE. She is named after my favorite Stephen King novel but has about a thousand nonsense nicknames as well. Chief among them is Thiefy McBoingBoing, because a) she believes that everything belongs to her and is fond of demonstrating that belief, and b) she is a master of parkour and can somehow jump up on anything, usually things she's not allowed on. She also does this super neat (sarcasm) thing where if I'm nearby and she can see me but can't get to me, she screams – not barks, SCREAMS – like a demon. You know what, though? I'm not even mad. Use that voice, grrrl. Anyway, I love them so much that I judge people who don't smile at them when we're out walking. Oh, you don't find my mupfaces irresistible? Clearly there is sewage where your soul should be."
---
Deb and Fancy/ 66, 3 / My Grooming Salon, Pinole Paws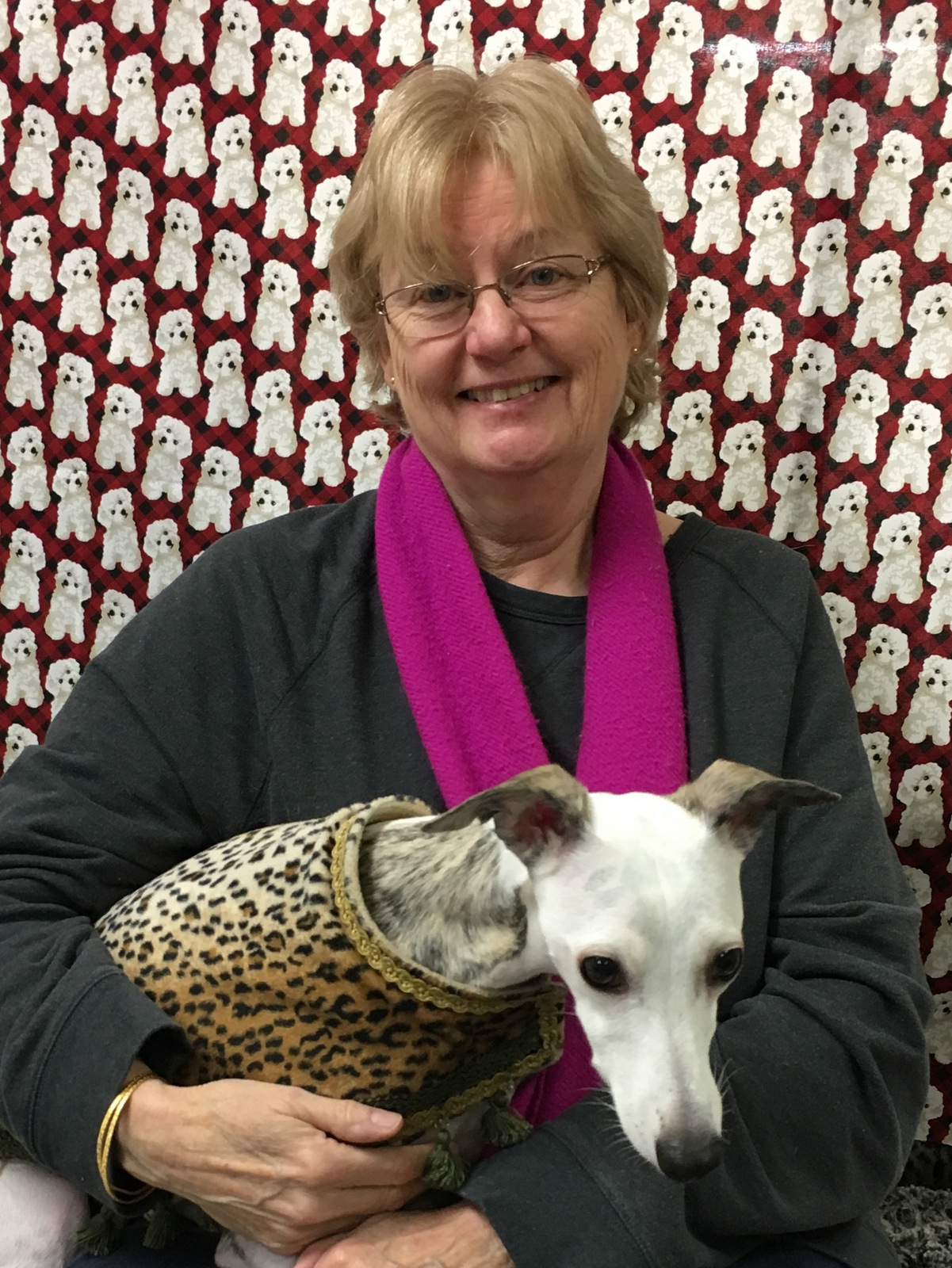 "Fancy, a whippet ,was purchased from breeder Sherry MacKormick in Southern California at age 10 weeks. Omg she was the cutest bestest puppy. I love her to the moon! I named her Fancy Parti Girl cause she is Parti colored and very fancy. The best thing about Fancy is that she loves everybody, and she is wicked smart. Our favorite thing to do is go lure coursing, which is like a race on an open field chasing a white plastic bag on a pulley system. She is fast like lightning. Our other favorite thing is going to the beach! The weirdest thing I guess is that Fancy doesn't like eggs. Never had a dog that didn't like eggs! She doesn't have an instagram but you can like her Facebook page: Cindy's Fancy Parti Girl."
---
Laura and Charlie / 31, 8 / Fanwood, NJ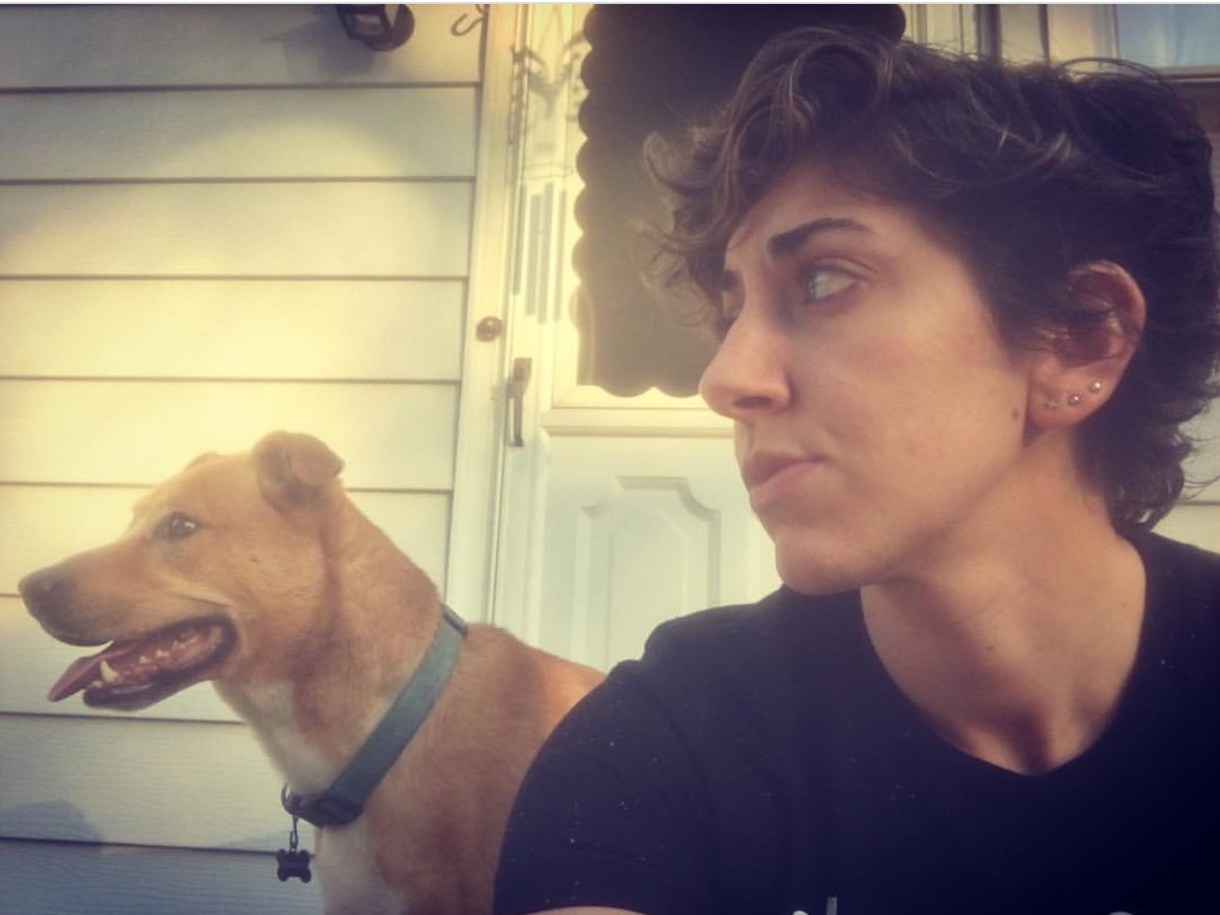 "My wife and I went to a shelter to start looking for dogs. We wanted a rescue that would be medium sized, and the shelter said we have the dog for you! Charlie trotted out, about three months old and 13 pounds, chewed my sleeve, and then laid down in my lap. I was sold. The best thing about Charlie is that he basically speaks English. I can tell him that I'm making myself a cup of coffee and then we're going outside to play ball. He will lay down and wait, ball near him, until I put my mug in the sink– and then go crazy– knowing it's time to play. We love to go for walks at the park, hang on the back steps in the sunshine, and play fetch. The weirdest thing about Charlie is that he jumps up and down when he needs to go out, and he jumps about three feet in the air each time. It's hilarious. No idea how it started, but he's done it as long as I can remember!
---
Bryana, Kelsey, Gladys / Atlanta, GA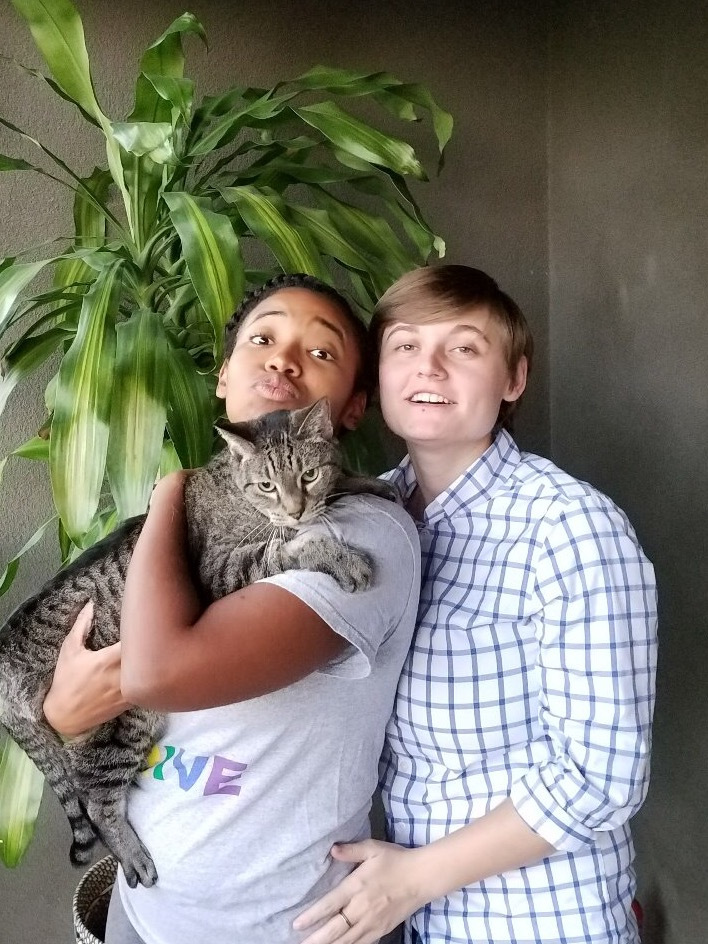 "We adopted Gladys (3 yo.) from Furkids shortly after we relocated to Atlanta from Brooklyn. She is a snuggle bug that enjoys lounging by the window. She also loves to curl up on your lap and watch Steven Universe. After her previous owner passed away we were happy to have her expand our family and our hearts."
---
Niki, Emily, Lyra, Toph / 23, 22, 4, 3 / Grand Rapids, MI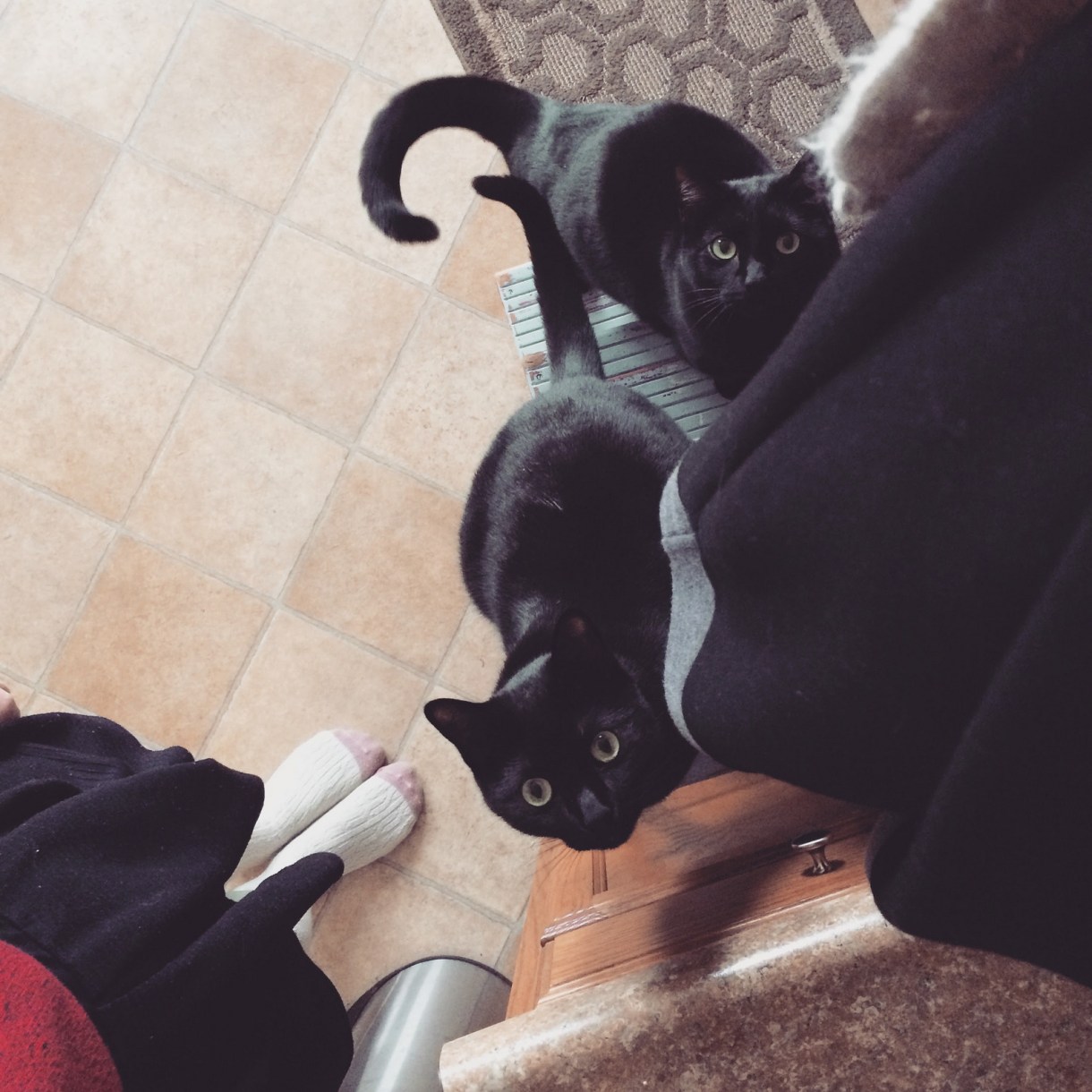 "When we were just best buds, we picked out Lyra together: a classy grown-up cat who charmed us with her too-smart eyes. Toph came three months later: needy, naughty, 100% kitten. Their names are from His Dark Materials and Avatar: the Last Airbender, a product of Niki's obsession with children's literature. Not long after Toph moved in, we fell in love with our weirdo cats and each other. We feel compelled to admit that Lyra is not a cat at all, but a witch in feline form. We discovered this when we were airing out our tarot deck and Lyra was lurking round the cards. On a whim, we asked what her card was. Staring us right in the eyes, she put her little paw on "Death" and pushed it forward. We are trying to be supportive and not afraid. She is coping with her transformation by fetching q-tips and drooling when she's petted. Toph may or may not be a cat, but she is also a dirty rotten thief of earrings and food and succulents. She carries little plastic balls around in her mouth all day then stashes them in Emily's shoes at night. She sleeps at the head of the bed like a human. Both of them snore."
---
Reann, Maggie, Dexter / 27, 28, 3 / Our Apartment's Balcony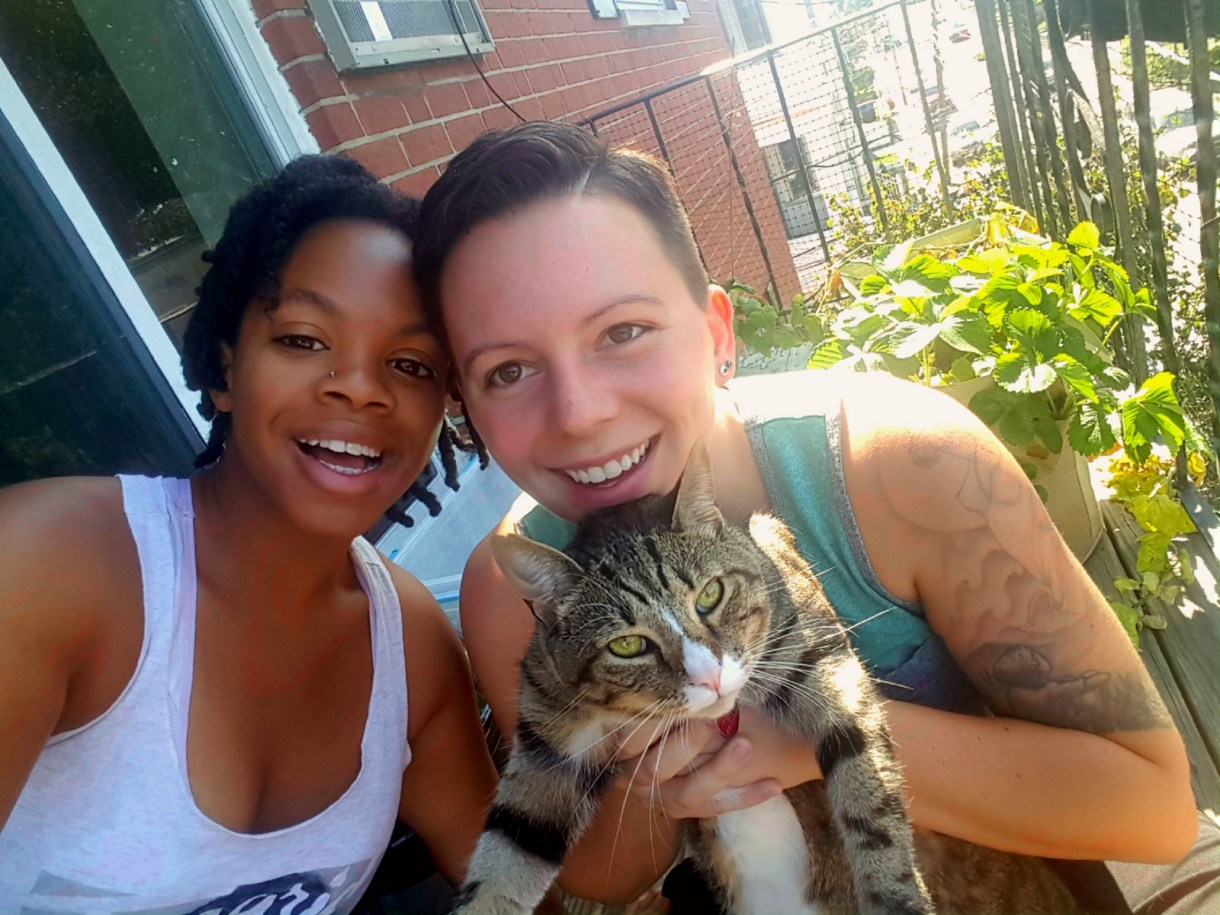 "This is us with our cat Dexter. He's the queerest cat around (and incidentally the second queerest Dexter we know) because he came to us via the Boston Queer Exchange Facebook group – hey there, queer Bostonian who was Dexter's human before us! Our first thought upon seeing him was "Woah, that's a huge cat!" Together with Dexter we like to cuddle, play with the laser pointer, and wonder where he's been for the last several hours (answer: usually inside the box spring that he tore open to create a nest despite our best attempts to seal it up. We've written off the box spring). Dexter LOVES to sit on the balcony soaking up the sun, watch the people pass by, and hunt ants and flies like the true wild cat he is. As you can see from the photo, he'd much rather do any of those things than hang out with us. Dexter doesn't have an Instagram of his own but he does claim ownership of our accounts, just as he has claimed ownership over all of the surfaces in our apartment."
---
Alex and Gabby / 33, 8 / Chicago, IL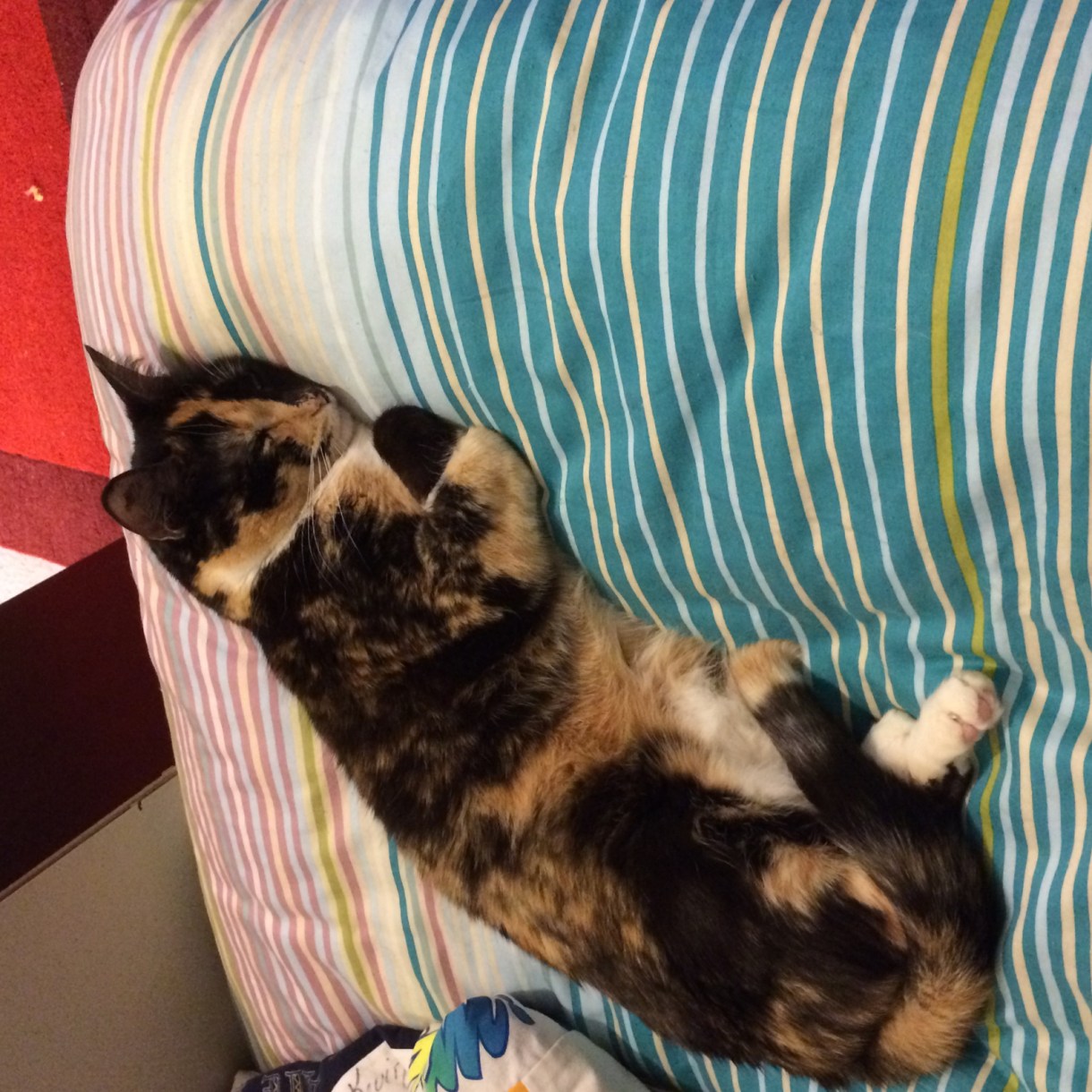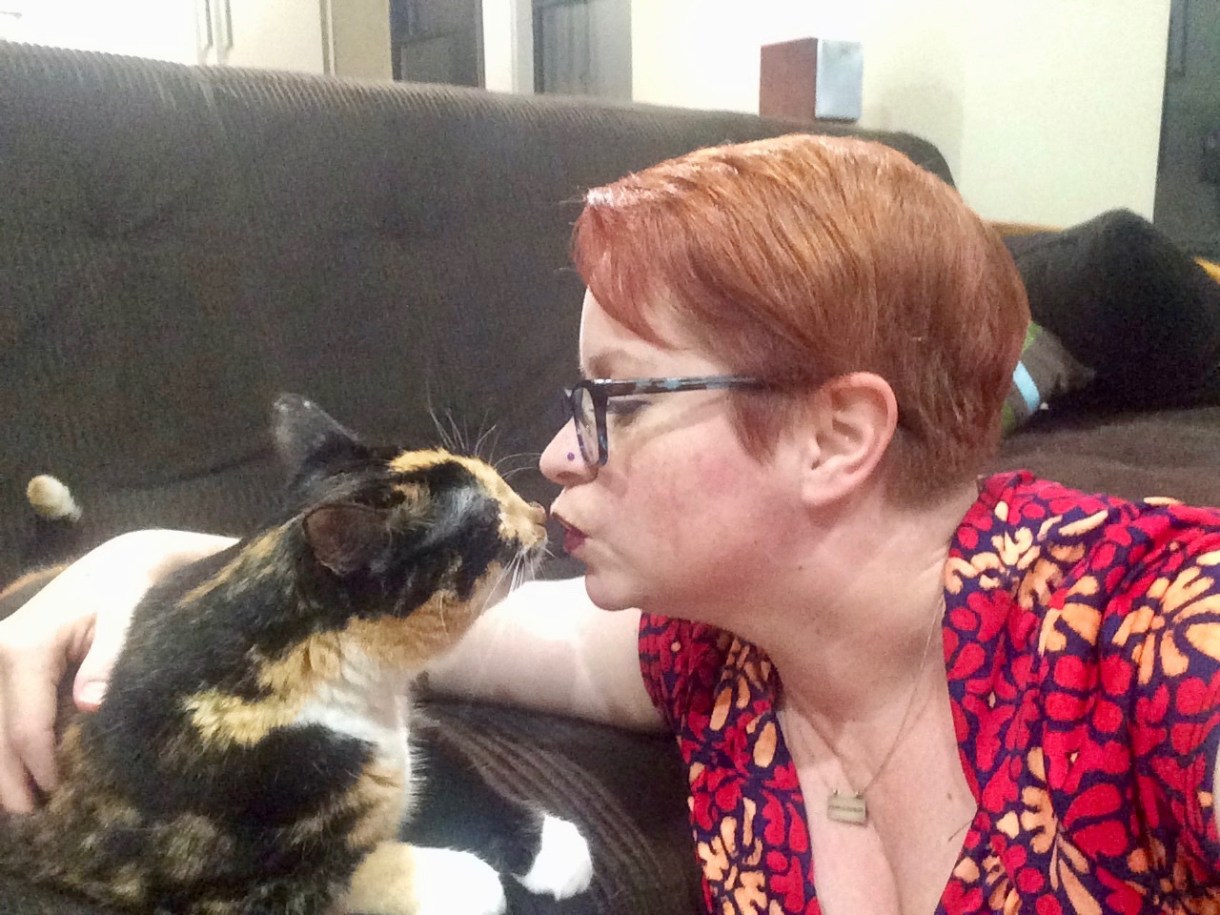 "Gabby got her name because she is the most vocal cat I've ever known. She makes this chirping sound where she is clearly telling me all about her day and it's very important information. She briefly belonged to a woman I was in a…. complicated relationship with, but Gabby didn't get along with this woman's other cats and after about 6 months or so I adopted her. And, really, if Gabby is all I got out of that toxic mess of a relationship IT WAS TOTALLY WORTH IT. She always knows when I need to snuggle and has the loudest, most wonderful purr any cat has ever purred. She is, however, a diva and does not play well with others, which is the only thing that has kept me from adopting all the cats. She's also intensely suspicious of cishet dudes, which, like, me too girl. Me too."
---
Before you go!
It takes funding to keep this publication by and for queer women and trans people of all genders running every day. We will never put our site behind a paywall because we know how important it is to keep Autostraddle free. But that means we rely on the support of our A+ Members.
Still, 99.9% of our readers are not members.
A+ membership starts at just $4/month.
If you're able to, will you join A+ and keep Autostraddle here and working for everyone?
Join A+
Pages: 1 2 3 4 5 6 7 8 9 10 11 12 13 14 15 16 17 18 19 20 21 22 23See entire article on one page