I imagined my first Valentine's Day as a newlywed would be a traveling sapphic extravaganza. My wife hadn't traveled much before we'd dated, and I loved watching her face light up when we explored together. I could see us sipping rooibos tea in my favorite Cape Town cafe. Maybe we'd rent a cozy cabin in Nova Scotia so we could try cooking bannocks in the fireplace, based on her love of flannel shirts I was sure she had latent woodchopping skills that I could admire. And while I never mentioned it to her, I'd been dreaming of going back to Ireland. A country I'd loved visiting with my hibernophile mother and aunt but had never experienced without the guardrails of parental supervision.
On my long commutes to work, I dreamed about all the places we could go to—while doing nothing to make those dreams come true. I typically enjoy the anticipation of travel dreaming and planning, but I was too swamped at work to do more than absentmindedly scan Budget Travel Magazine on the subway. As the days ticked closer towards our first married Valentine's Day together, it was clear that none of my travel dreams were going to be coming true.
Then, one day in early February, I came home to discover that my wife had taken matters into her own hands. She booked a last-minute package to the cheapest destination available in winter—Dublin. Oh, girl, being rescued from difficult decisions is my love language! And since I hadn't shared my Ireland fantasies, this also felt like kismet. There were a few moments of buzzy anticipation until the other half of my nervous Gemini tendencies kicked in. I realized two things, this was our first trip to Europe together, and after long travel days on either end—we would only have 48 hours in the city.
I picked up the travel magazine I'd been reading in case I'd missed an article like "The Most Lesbian Parts of Dublin" and it fell open to a "Trip Coach" contest. Send in your trip details, and the monthly winner would be matched with a local guidebook writer to personally plan your trip. Perhaps there was a Gay Girls Guide to Dublin author? Someone who could handle this for me while I went back to working 12-hour days. It was a long shot but I was desperate enough to send an entry.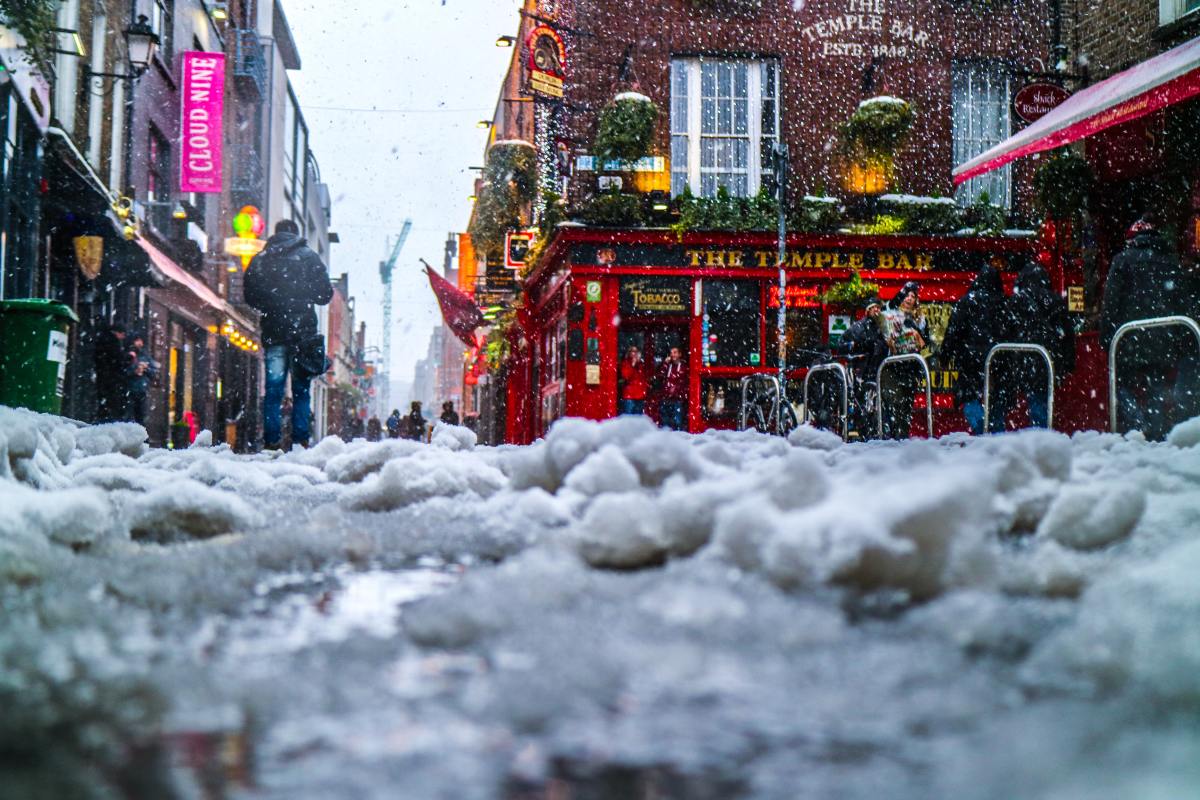 No one was more surprised than I when the magazine wrote to me the week of our flight to tell me we'd won. A very patient Irish playwright was in charge of laying out our trip. He handled my dozen or so emails—mostly about food, beer, and lesbians—with bemused advice. In the end, only the anodyne and hetero parts of our conversation ended up in the magazine. Yet, thanks to his insider knowledge, we were going to pack our 48 hours in the city with just the type of deliciousness I'd hoped for.
We snuck out of work early that Friday, giggling the whole way to the airport. It felt like a grand adventure, even as our energy waned through multiple flights and a long layover in London. My wife napped on my shoulder, and I pictured all the foods I'd read about and wanted to try. At the top of my list was colcannon, a potato-cabbage dish. I'd tried a version from a vintage vegetarian cookbook with questionable recipes—the lima bean and egg curry was a memorable disaster—and I knew my homemade attempt was likely a pale imitation of the real thing. Our local expert had warned me that colcannon was traditionally a seasonal Halloween treat in Dublin, and apparently, Dubliners do not celebrate Halloween in February, so my chances of finding it were slim.
We staggered into town just in time for Saturday brunch, which meant tucking into a fried Irish breakfast before we'd even checked into our hotel. If only every red-eye flight could be followed by taking photos, bleary-eyed but radiant, over coffee and toasted cheese at Metro Cafe. Later, we drank Guinness at lesbian bars that we would never have known about if it wasn't for our local coach, sadly, they have both closed since our trip, meeting a fate similar to so many of our hometown lesbian hangouts. As a loud fat Black American woman from Washington, D.C. I easily fell into rollicking and often tipsy conversations with strangers who felt like our new best friends, there is even photographic proof in the form of blurred selfies where I am laughing far too hard.
The mood was steadily ideal. We took perfectly timed sunset walks along romantic bridges, dipped in and out of bookstores, and snuggled on the street instead of in our cramped hotel room. It was everything I'd imagined, but I couldn't help looking for colcannon on every menu. I hadn't located the elusive dish and even through the romance and spontaneity of the trip, I couldn't stop thinking of it. Then finally, on Valentine's Day, it happened. I finally found the mixture of mashed potatoes and buttery cabbage at a restaurant near Trinity College.  It was everything I'd hoped for, rich, earthy, creamy, and vegetal, the greens tasted like they were melting into the potatoes, the butter behind hearty spoonfuls—it was well—love at first bite. I'd found the ultimate comfort food on a spur-of-the-moment trip, it was the cherry on top of a sweet Valentine's Day.
We left Dublin that Monday morning with full bellies and luggage, my suitcase heavy with the novels my wife had bought me as we strolled through the city. The customs agent was shocked that we'd spent half of our long weekend in transit. Even though the trip was glorious, I vowed to splurge for a nonstop flight next time. But the long flights couldn't dampen our post-holiday glow, and I still remember this trip as one of my favorite Valentine's Days.
This year we're spending February 14 at home in California. Thinking of how much better Guinness tastes in Ireland, cuddling on the couch while A Date for Mad Mary plays on tv, and using my hippie homegrown kale to make colcannon while dreaming of Dublin.
---