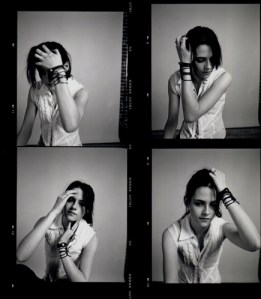 RUNAWAYS: Kristen Stewart & Dakota Fanning will embrace the 70's by sharing a passionate lesbian kiss in The Runaways. Dakota Fanning says, "It was passionate. We're playing Joan Jett and Cherie Curie and they're best friends in the film and became really close in real life. And that's something that went down back in the '70s." Actually it still happens in the 00's, but honestly, I can't seem to wrap my head around the fact that Dakota Fanning is the same age as Kristen Stewart. Is she? Furthermore, although we all want K-Stew to be gay … there's really no rumors (the kind that typically accompany a closeted actress) about her, just a lot of pings. That being said, it's a good thing either way! If a total tomboy who plays gender-bending roles and eschews Hollywood's sexed up siren culture can bed this apparent Vampire British heartthrob guy, then we've come a long way from 50s notions of leading-lady femininity, haven't we? Jo March got a boyfriend in the end too, you know.
ADAM LAMBERT: Adam responds to OUT magazine via Entertainment Weekly: "I can talk about relationships and personal experiences because as an artist those things involve writing lyrics and that part of my process. But I didn't feel comfortable talking about the March on Washington. I didn't feel comfortable, so I asked my publicist to ask the interviewer to stay away from the political questions. I take full responsibility for that."
WOMEN ARE ALSO OUT: Speaking of the OUT 100… although OUT is a men's magazine, they did feature 30 kickass women this year. I think that's admirable, and their selections were often unconventional and in all cases justified (a necessary correction after last year's Katy Perry blunder). It's easy to see this as a shaft, but perhaps we're at a crossroads in the movement where rather than focusing on our inclusion in gay male spaces, we should instead concentrate on fostering community and supporting media within the lesbian community. The more succesfull profitable media outlets of our own that we have, the bettter, especially when they're awesome enough to cross lines of gender and sexuality while remaining true to their initial purpose. So let's all support each other and put what money we do have into women-owned businesses with their own lists. For example, Go Magazine Has a 100 Women We Love List and:
Nominations are now open for women to be featured in GO Magazine's 100 Women We Love: Class of 2010, our annual Pride roundup of amazing women of substance making a difference in our community. Send us the name of your nominee, a brief description of her accomplishments, her email and website, if applicable to 100women@gomag.com.
We were delighted to see novelist Sarah Waters, blogger Pam Spaulding, musician Erin McKeown,  Nurse Jackie co-creators Linda Wallem and Liz Brixius, coreographer Elizabeth Streb, writer Malinda Lo (misspelled in the magazine as "Malindo Lo," but really who am I to criticize anyone's misspelling of anything), and filmmaker Tina Mabry among others on the list this year. However, this picture of Ilene Chaiken is really confusing to us on many levels, and Cat Cora is hot:
TILA TEQUILA: … isn't feeling too well, and had a naked late-night meltdown on her U-Stream channel, reacting to her ex-boyfriend's abuse and the anxiety it has caused her. Apparently she had a meltdown on her ustream channel, explaining, "People call me an attention whore … or whatever … but excuse me, I'm a grown ass woman and I'm confident in myself … I think a woman's body is a beautiful thing … that's why I'm a lesbian … I was born naked … anybody who is against that is gay and in denial."
You guys, maybe she's been a lez all this time and the rest of it was just that slut phase some of us go through to over-prove our heterosexuality? No, just me? She does look like a critter in a hoodie. She's just not that bright, really. (@usweekly)
ANTM: America's Next Top Model: Where Are They Now? includes Kim Stolz, who says her girlfriend Christine has a crush on Alessandra Ambrosio and that she's gonna go to law school in the fall. In other news, Lisa has become super terrible/AWESOME and provides perhaps the most genius walkaround way to explain "Celebrity Rehab with Dr.Drew" as just a summer camp for self-awareness, and Amanda is suddenly a total idiot, I wish fourfour could just recap Furounda's answers, if he could hear them between all that out-loud laughing she's allegedly got going on, and omg, Caridee opens with, "First off just let me start this off by giving my absolute gratitude to my gay community. I am just as dedicated to you as you are for me. Your big loving support means the flippin' world to me. Thank you."
---
Before you go!
It takes funding to keep this publication by and for queer women and trans people of all genders running every day. And A+ members keep the majority of our site free for everyone.
Still, 99.9% of our readers are not members.
A+ membership starts at just $4/month.
If you're able to, will you join A+ and keep Autostraddle here and working for everyone?
Join A+