THE LYNCH CAN DO NO WRONG:
Jane Lynch hosted SNL this weekend where she sang a new Glee theme song, seduced Andy Samberg and played Suze Orman's former "roommate." The Lynch fit right in with the SNL crew, confident as ever – with her improv skills to fall back on.
The monologue:
As Suze's former roommate on The Suze Orman Show:
THE REAL L WORD:
Big news!! Nikki & Jill finally GOT MARRIED Saturday night. The wedding happened. Dunzo.
The deets: It was a private Jewish ceremony in Malibu attended by most of the RLW cast minus Mikey. Jill's mother and father gave her away and Nikki was given away by her mother. The brides wore gowns and dresses by UK designer David Fielden and Winnie Couture, cause they're fancy like that. Nikki is now a full fledged law firm, taking Jill's last name: Nikki Weiss-Goldstein. Mazel Tov! (@advocate)
JARED LETO:
A hot girl with amazing make-up skills transforms herself into Jared Leto.
GLEE: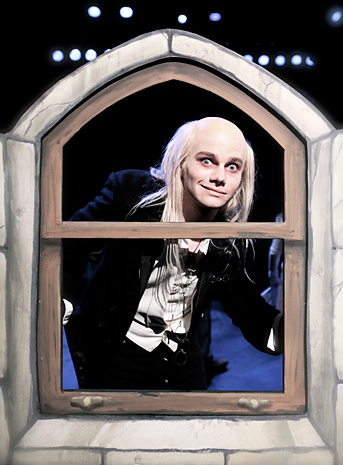 Glee is doing Rocky Horror! The episode airs October 26th for Halloween and Chris Colfer is psyched:
"Riff Raff is the best character, and everyone was amazed at how incredible the makeup was," says Colfer. "I was mistaken for a blonde woman a couple times. All I kept thinking was, 'You did this to yourself, Chris.'"
Here's what we know, casting-wise:

Kurt as Riff Raff
Rachel as Janet Weiss
Finn as Brad Majors
Mercedes as Dr. Frank-N-Furter
Quinn & Santana as Magestic
(@ontd)
MELISSA ETHERIDGE / TAMMY LYNN MICHAELS:
And so it goes. Tammy, Melissa's former partner and mother of her twins, has blogged again explaining how her financial situation has left her and her children hungry and depressed after the break up earlier this year. Toward the end of the post she comments that chemotherapy changes brain chemistry and people rarely emerge the same after going through it.

"pays all the bills"
not entirely true
"pays all the bills she chooses to pay"
"pays all the bills her people thinks
are important enough to pay"
is more accurate
when i went to get cash
just last week
for the three of us to eat
nothing
today i was shopping for birthday decor
4th next sunday!
little cash for lunch?
nope- not enough funds
no food
someone told me that chemotherapy just messes with a brain chemistry, changes the brain, the person, and makes them just in general different. they might b meaner, or illogical, often imbalanced, or whatever. but they just don't come out the same. hardly ever, i am told. and they can't help it. it just is.
and i think about that alot too.
(@hollywoodfarmgirl)