Happy Sunday Funday! Happy day after Valentine's Day! Oh, happy day! Here's some mushy, wonderful, all-around good news because I love you so much, seriously.
Meet America's First-Ever Out Bi Governor
Kate Brown is about to become Oregon's interim governor. In the process, she's making queerstory as the first out bisexual governor in America ever.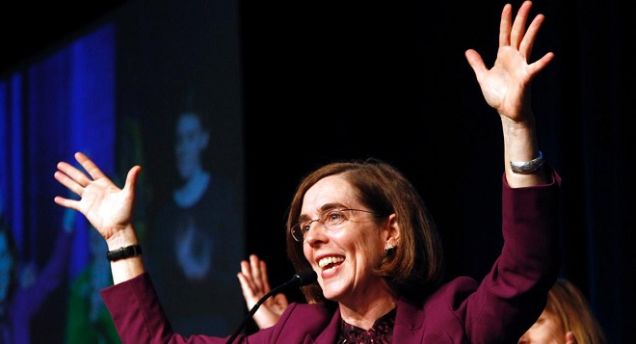 Notorious RBG: I Wasn't Sober at the SOTU
Y'all, Ruth Bader Ginsburg drank wine before the State of the Union, fell asleep, and then just 'fessed up to it because this is 2015 and we're all living our truths and the Notorious RBG is an American Hero.
"The audience for the most part is awake because they're bobbing up and down all the time," she said. "And we sit there, stone-faced, sober judges. But we're not —at least I wasn't — 100 percent sober, because before we went to the State of the Union, we had dinner together."

Ginsburg added that there was a "very fine California wine that Justice Kennedy brought. And I vowed this year just sparkling water, stay away from the wine. But in the end, the dinner was so delicious, it needed wine to accompany it."

The Queen Loves You, PS
The Queen of England thinks gay marriage is "wonderful." Honestly, Elizabeth, can I call you Liz?, okay, fine, Elizabeth, I'd invite you to my wedding but like, I'm gonna have to work on my hat game first.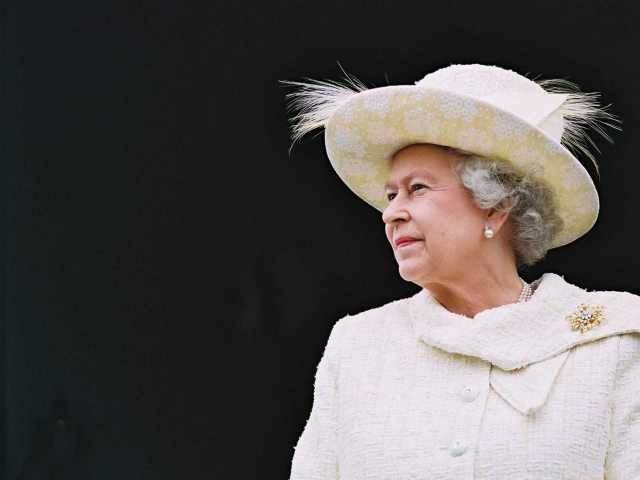 Come Out, Come Out, Wherever You Are
Surprise! LGBT kids who don't lie about who they are as teens have higher self-esteem as adults.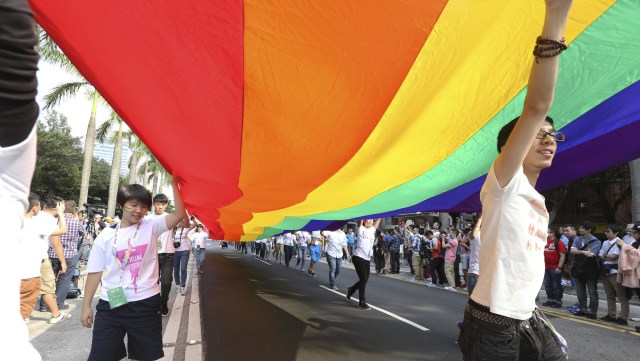 Chubby Puppy or Teddy Bear? YOU DECIDE
This is the best quiz of all time because the answers are all the same: SQUEEEEEEEEE.
I Think This Is Your Kind of Cocktail
I saw a Tinder-themed cocktail and I knew you'd like it so here it is! Wheeee!
Best. Period. Joke. Ever. Period. But Really.
Rest of the world, I'mma let you finish. But Cameron Esposito just made the funniest and most real period joke of all time.
We Won These Things
+ A New Jersey judge found that selling anti-gay conversion therapy is consumer fraud. Someone's going to need ice for this burn, so let me know where to send it.
+ Chelsea Manning might (finally) get the care she needs! Wooooo!
+ Over 80% of Alabama residents now live in a county that will marry them if they, y'know, are totally gay.
+ I'm celebrating this town of five in West Virginia that passed an LGBT non-discrimination law because size doesn't matter and also, do you think this all went down at a town meeting Gilmore Girls style? That'd be really amazing.
The ordinance is similar to one enacted in Charleston, the state's capital and largest city. "The big message was just, from the smallest town to the biggest town, West Virginians believe in equality," council member Tighe Bullock told the Post. Huntington, Morgantown, Athens, and Harpers Ferry also have such ordinances,

West Virginia has no statewide law banning anti-LGBT discrimination. Fairness West Virginia executive director Andrew Schneider, who worked with Thurmond's council on the ordinance, thinks municipal actions will influence state lawmakers. "The fact that there's this growing number of communities taking this step to bring fully inclusive nondiscrimination policies back home is a message to the rest of the state," he told the Post. "This is important for moving the state forward." His group is working on ordinances in other towns, such as Elkins and Beckley.
BABY WOMBATS, Y'ALL
Mother Jones just watched this video and realized how much they needed more footage of baby wombats in their world. For the record, Laneia and Audrey have always liked baby wombats because we're hip like that over here.
https://www.youtube.com/watch?v=MbbtLAx6ohw
Mushy Sh*t
It's not Valentine's Day anymore, but it's still technically Valentine's Day Weekend which like, I'm making a thing. I am totally gonna make it a thing.
+ This Vietnamese lesbian couple got married on a plane on Valentine's Day because f*ck the church and the state and also, solid ground.
Same-sex marriage is not legally recognised in Vietnam – but last month the government repealed a law which actively criminalised gay weddings.

Passengers on the Vietjet flight to from Ho Chi Minh City to Bangkok today were presumably surprised to find themselves in the midst of a wedding reception for couple Tang Ai Linh and Pham Thi Thanh Phuong.

The pair – who have been together for 13 years – approached the airline to ask about the possibility of a ceremonial wedding – but the airline went all out, even decking out the plane with flowers.
+ ElixHER rounded up 10 trans women of color in el oh vee ee, and it's adorable.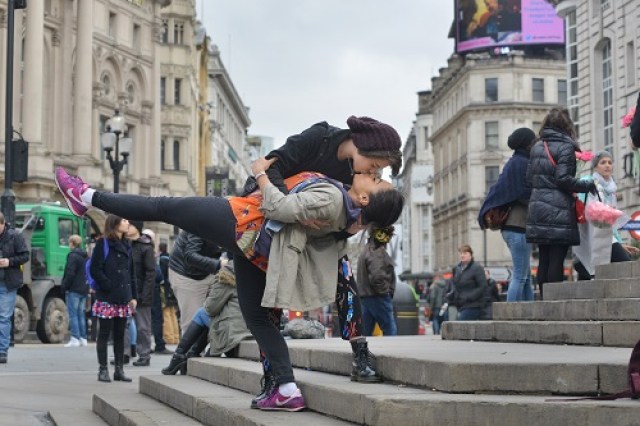 + Queers in London celebrated Valentine's Day at a massive kiss-in.
+ This is the love story of Alabama's first legally wed queer couple, Shante Wolfe and Tori Sisson. It will move you deeply, FYI.
"We've been playing this subconscious game of cat and mouse for seven years. My sister went to her alma mater and actually my sister stayed at her old apartment. Literally, we've been a step behind each other for years," says Shanté. "We met for the first time and I asked her a million and one questions."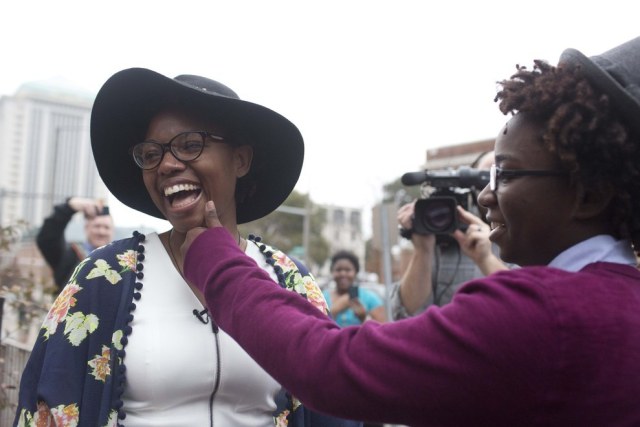 Dykes and Ducks is Still a Thing
It's not too late to get a 2015 Dykes and Ducks calendar. See above about living your truths.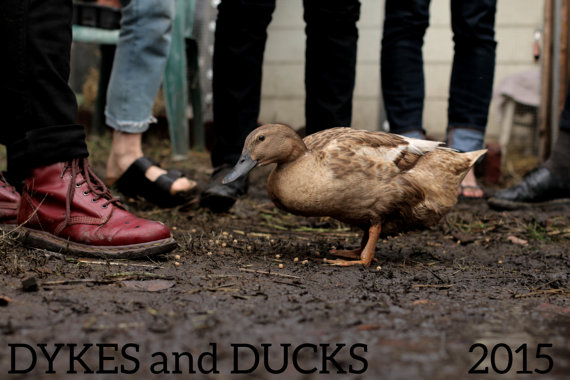 This F*cking Dog Is So Great
You guys. This tiny little pup – this tiny little ten year old dog, Sissy – walked 20 blocks to find her mama in the hospital, and when she got there he walked right through the doors like a good girl. I think I might need a whole box of tissues to get me through these tears of absolute joy.