The Lingerie Addict is, simply put, the largest and most influential lingerie website in the world. Cora Harrington is its founder and editor-in-chief: over the last ten years, the blog has grown from being Harrington's personal lingerie blog (originally written under a penname and called "Stockings Addict") into a six-figure earning fashion website. TLA is the preeminent resource for all things lingerie, complete with a team of writers and an unparalleled commitment to inclusivity and transparency.
So, when a Big Six publisher came looking for someone to write the singular guide to the subject, Cora Harrington was the person they contacted.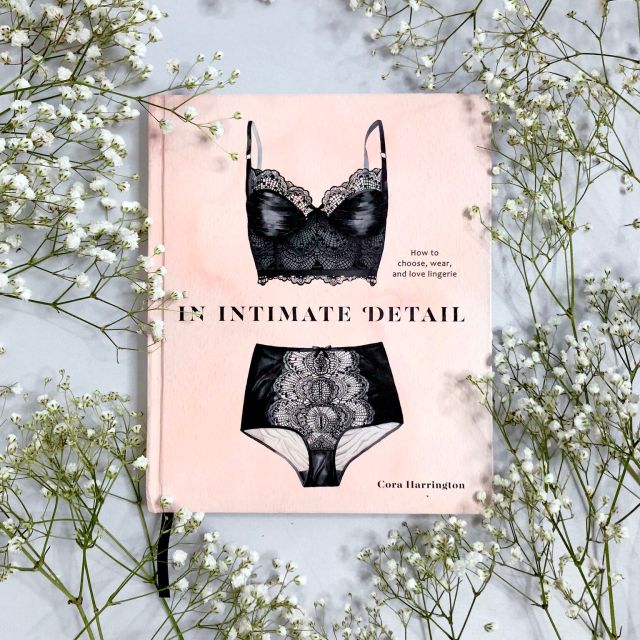 In a particularly conservative corner of the fashion industry, one that is entrenched in white supremacist, heteropatriarchal commitments to the representation of people's bodies and sexuality, Harrington is a consistent, reliable voice advocating for change. She's an advocate for small, independent brands, including those owned by and/or geared to WOC and LGBTQ+ folks. She is conscientious of the ways in which the current political climate (like the passage of FOSTA/SESTA) impacts lingerie — and the people who wear it.
In Intimate Detail: How to Choose, Wear, and Love Lingerie, Harrington's first book, foregrounds the needs of people who wear lingerie above all else. The book is thoughtful and accessible, the most comprehensive lingerie guide to date. There are entire chapters dedicated to bras, underwear, shapewear, and more, as well as appendices which go into detail on topics like binding, for example. The book is intended to provide an overview of the subject rather than a deep dive, but Harrington still takes the time to provide historical context for garments, fabrics, and nuances that the everyday consumer may have questions about.
As a queer woman in the lingerie industry whose store (Bluestockings) benefited tremendously from being featured on TLA, and most especially as a friend who got to witness this book come to life, it was my genuine pleasure to talk with Cora Harrington on behalf of Autostraddle.
JK: In the book's introduction, you say "For many of us, lingerie can feel like a fancy party we weren't invited to…. Nice lingerie is for everyone. It's for you. It's for me. It's for anyone who wants it." Can you expand more on the exclusivity of the lingerie industry and how you've navigated it — and are now helping others to, as well?
CH: I think one of the lingerie industry's biggest failings has been that they perpetuate the idea lingerie is only for certain people. That you have to look a certain way, be a certain way, be a certain size. Obviously, this is taken to its most extreme with Victoria's Secret, a 40-year-old company that only hires supermodels and refuses to expand into plus sizes, full bust sizes, or a range of nudes for all skintones, but almost every brand is culpable. There is a culture of exclusivity in fashion in general, and this is heightened in lingerie. I've had conversations with brands where they've been very explicit about who their customers weren't. They weren't plus size people. They weren't queer people. They weren't people of color. And those attitudes affect me as well as a black, queer woman.
In terms of navigating it, I've tried hard to make TLA as inclusive as I can considering our limited resources (we're a bootstrap business with no outside funding or investors and limited advertising). I also try hard to connect with other marginalized people in the industry, not just professionally, but so they can know I'm here for them and want them to succeed.
You've been asked a lot about your commitment to inclusivity on both your website, The Lingerie Addict, and in this book. What does a commitment to inclusivity mean to you, personally, and how did that guide In Intimate Detail?
I think of inclusivity as an ongoing journey — not a destination you arrive at. You're always learning something. You can always get better at understanding something. You can always tweak your language so it's more clear or more inclusive. To me, inclusivity means creating an environment where people feel welcome, where they feel like even if every article on TLA isn't for them, there is something that's been written with them in mind. A major limitation on our efforts to be inclusive are budget, quite frankly. There's only so much I can publish, so many people I can hire, etc. But we try to push as far as we can with what we have.
For the book, it was important to me from the very beginning that it be unlike any other lingerie guide that's been published before. I wanted to write a book that was relevant and useful and would stand the test of time (i.e. be just as worthwhile 15 years from now as it is today), but I also wanted to show that we can talk about lingerie in a different way. The book uses gender-neutral language, for example. You won't find constant references to "she" or "her." The book uses illustrations instead of photos, because I want people to be able to look at and envision the pieces without comparing themselves to models or experiencing dysphoria. The book has several appendices, including paragraphs on shopping for lingerie if you're trans or have a physical disability. I'm not going to claim the book covers everything, because no book can, but there was deliberate effort and intention to make this a book almost anyone could pick up. And I feel so grateful to have had an editor and a publisher who believed in that specific vision for In Intimate Detail.
What are common challenges you see facing LGBTQ+ folks when it comes to lingerie and underthings?
A lack of options and bad marketing. There is so much resistance in the lingerie industry to making products more inclusive and to making the way we talk about lingerie more inclusive. People want those diversity cookies (i.e. articles and praise for being "diverse," inclusive," and "body positive"), but they don't actually want to take a risk or upset the mainstream too much. An absence of more gender neutral or non-binary options is an ongoing problem. So is marketing that focuses on and prioritizes heterosexual relationships.
In your 10+ years of blogging, how have you seen things change for LGBTQ+ folks when it comes to lingerie and underthings?
The biggest change is that people are actually talking about LGBTQ people, even if it's infrequently and not enough. We're also seeing more visibility for binder brands and masculine-of-center brands. In this case, the internet has been the great equalizer. Brands don't have to rely on getting their products into a boutique if they want to reach customers. You're able to set up your own website, your own storefront, your own social media and reach your customers in your way. That's a change which affects everyone, of course, but I believe it's had the biggest impact for brands that serve customers who will never be able to find options in a local brick-and-mortar or department store.
Your editorial photo shoots are stunning, and are also some of the only lingerie shoots of an out, queer black woman around. How do you use these shoots as a vehicle for your own creative self-expression?
It feels strange to me to think of them as a "vehicle for creative self-expression" because I've never used that kind of phrases to describe the work I do. But I do enjoy the fantasy of lingerie and creating stories around textures and embroideries and embellishments and other details that often aren't appreciated. I wish there were more lingerie editorials in general, and more editorials featured people of color and LGBTQ folks. I don't really have the funds to finance fully-fledged lingerie editorials complete with models, but when I get a bit of money and am able to hire a photographer and a makeup artist, I'm usually my own model, using things from my own collection. I think of it as being a part of being the change I want to see in the world when it comes to representation. And it's also a way for me to tell the story of lingerie.
Now that your first book is out, what are your goals for this next year?
Hopefully to sell a lot of books! I'd like to write a second book about lingerie. I'd like to find an agent. I'm hoping to get back into blogging as there are definitely some things I'd still like to say using that forum. And there are some other projects I'm hoping to get off the ground by the end of the year that I'm not quite ready to share yet. But I'm feeling incredibly optimistic about the year ahead!
---
In Intimate Detail: How to Choose, Wear, and Love Lingerie is available on Amazon (US & UK) and at Barnes & Noble. 
P.S. Straddlers! Cora is doing book signings in Atlanta and Chicago in September — come say hello, drink some champagne, and try on lingerie with other lingerie addicts! Follow Cora on Twitter to stay tuned for updates.Atlanta: Trashy Diva, September 15th from 4-6pm
Chicago: Department of Curiosities, September 29th from 6-8:30pm