Up until this year, I have never believed in vision boards. I've always thought: How is a collage of images, words, and affirmations that reflect my innermost desires actually going to help me? But Olympic athletes, Oprah, and even our Prime Minister of Lesbianism, Ellen Degeneres, have all sworn by them. Last year our staff vision boarded the hell out of their years. Supposedly, vision boards can help change your life, or at least move your mindset because positive visualization is one of our most powerful tools.
Every December or January without fail, groups of my friends get together to have vision board parties where they map out their next year and encourage each other to "dream big" over wine or hot chocolate. I always decline their invitation. It's not that I don't believe in the power of manifestation —I do. I'm pretty witchy, spiritually speaking. I believe that when I light candles, I am taking charge of my destiny. I also love a good craft project! Especially on a cold winter night. Still, the idea that I could glue magazine cut outs together and "keep good thoughts" until positive changes happen in my life always seemed a bit far fetched for me.
But then, 2016 happened. And then 2017 happened. And honestly, I am feeling pretty beat up by the universe right about now. At this point, I am willing to try anything that might help me keep my life on track. So, I returned back to vision boarding. This time with an open mind and heart.
What I've learned is that there's no strict rules on how to make a vision board. They can be as elaborate or inexpensive as you want. A lot of times you can just use what's on hand. Some people prefer to use a app on their phone or computer and create their collages digitally. The sky's the limit. The point is to create something that resonates for you, and keeps you focused on where you want your future self to end up. You'll need quiet time (either alone or a date with friends) to calm your thoughts and open yourself up.
The trick is to keep this in mind: Focus on Your Feelings. Some people make their vision boards about material things, say making more money or losing weight. But for the boards to really work, you want to push yourself deeper. How will making more money make you feel? Are you perhaps looking for security instead? Then keep security in mind. Are you attempting to lose weight because you associate it with health? Then keep health or strength in your mind. Maybe you are a bit like me and feeling lost at the crossroads, then you can use your vision board for self-discovery. And, so on. It is difficult to manifest an item, but you can manifest a feeling. Having a vision board in your home will keep those desired feelings at the forefront of your thoughts.
---
What you'll need:
A board to glue your items on. Don't worry about getting something specific, almost anything will work. Try to think about what is functional, but also aesthetically pleases you and is in your budget. Examples include: heavy poster board, cork board, an old piece of plywood, a frame that still has it's blank cardboard backing (make your vision board on the included cardboard backing, and poof! You have a framed piece of art!). The limits are endless.
Pictures. From magazines and/or printed off the internet. The more magazines you have available, the better because it will give you choices. At the same time, I am always shocked by how much magazines cost these days! I did this vision board with two magazines and my home printer, it worked out fine.
Affirmative Sayings and Quotes. Once again, magazines and the internet are useful here! You can also handwrite messages or quotes from books with colorful paper and markers.
Construction paper, tissue paper, glitter, stickers. Anything that's colorful, really (Optional)
Random trinkets that make you happy. Feathers, bookmarks, inspirational notecards from your best friend. Anything that feels like you and reminds you to feel good about yourself. (Optional)
Writing Instruments. Markers, pens, crayons, colored pencils, paint brushes. You do you.
Cutting Tools. Scissors or an exacto knife.
Adhesive. Glue sticks, paste, tape, pushpins, rubber cement, you name it.
---
What To Do:
1. Get Your Supplies. It's very possible that you already have everything you need laying around your house. If so, way to go! Proceed to the next step. If not, it's time to make a supply run. Any big box, convenience, or craft store will have what you need.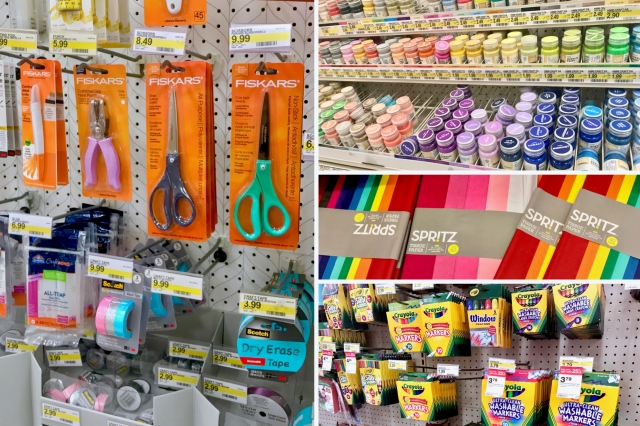 Don't feel like leaving the house or have time in your busy schedule to carve out an extra errand run? That's what Amazon is for!
I had most of these items hanging around from past craft projects, but was short on poster board and magazines. So I bundled up and braved the frigid January temps to go shopping.
2. Set Up Your Space. Now you have gathered your supplies, great! Next you want find a space in your home that you are comfortable in and that is large enough to spread. A kitchen table, your living room floor, a writing desk are all good places to start. If you are thinking about doing your vision board as a part of a group activity with friends, make sure there is enough work and sitting room for everyone.
Once you've identified your space, clean it up a little. You don't have to go overboard, just organize what's around you and clear off open areas for your craft supplies. I find that when I'm about to set intentions, I always work best from a fresh palate.
Now, the fun part! Light candles, burn a little incense, gather your crystals if that's your thing. Make yourself a cup of hot chocolate, lay out snacks. You are creating an environment that will support you, help you relax, and allow you tap into your inner desires. As with all things, music is helpful in setting tone. Don't have a mix in mind? I heard a rumor that Team Autostraddle is rounding up our 2018 playlists, just for you! Get into it.
3. Work On Your Intentions. We have our supplies, our space is ready — it is time to finally dig deep into this vision boarding thing. Pull out a notebook or some spare paper from your craft materials. Write the following questions at the top of your paper:
What Do I Want?
What Do I  Need?
What Do I Value?
Spend at least five minutes writing answers to those questions. You can go with single word lists or you can free write paragraphs. Be gentle with yourself and open when thinking about your feelings, don't shut yourself down. This is just your starting point, but it will help you focus your mind on the task at hand. (if writing makes you anxious, set a timer. You can also feel free to go longer if the words start to flow).
4. Find Your Images and Words. Go through your magazines and cut out images or phrases that appeal to you. If you have friends over, feel free to share materials. If you have something specific in mind, and your magazines aren't giving you what you need, print from the internet. There are no set rules to follow, as long as it makes you feel good and represents what you want for this next year. Be generous with what you collect; this will give you more to choose from later. Make a pile of all of your cutouts together.
5. Paste or Otherwise Adhere Your Items to Your Board. Go through your pile and look specifically for those items that invoke your strongest positive feelings, or best represent your intentions, and start arranging them on your page.
This process will be individual to you — no two vision boards will look alike. Some people will like to leave space in between each item on their board, because it will feel calmer to them. Others may love the feeling of closeness and want everything to touch and overlap. Both are fine. I found that I liked gluing tissue paper as background to my board because it gave off a texture that made me happy.
Once you have everything arranged in a way that aesthetically pleases you, start gluing or pinning your items down. If you would like, embellish your finished board with additional decorations (stickers, glitter, markers, doodles, etc).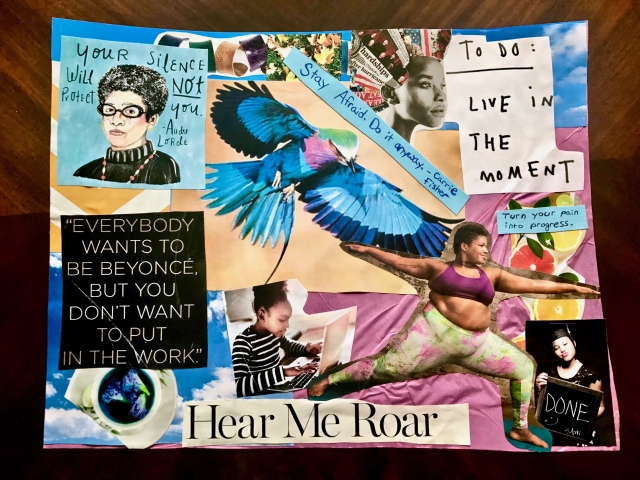 6. Hang Your Vision Board Somewhere You Can See It. This is key, your board is a visual reminder of what you are working towards. Looking at it often will help you connect with why you created it. You don't need to stare at it 24/7, but it should live somewhere you'll encounter it often. Try hanging it on your refrigerator door or in a well traveled hallway. Perhaps above your desk? Let's be real, if you shove it under your bed, you're going to forget all about it. That is NOT the point.
7. Write Your "Action List". Not everyone seems to do this last step, but I think it's useful. Go back to your notebook and make a list of the small things you can start working towards your goals or living out your intentions RIGHT NOW. Write down as many things as you can think of. Be sure to ground your list in actions that you personally can be in control of, not things that you have to depend on others for. Try to get as specific as possible. If you have already formed some helpful habits, include those as well.
Circle three items from that list. These are your "Right Now" goals for this month. Next month, you can revisit this list, adjust, build, reassess, and pick out more items to accomplish.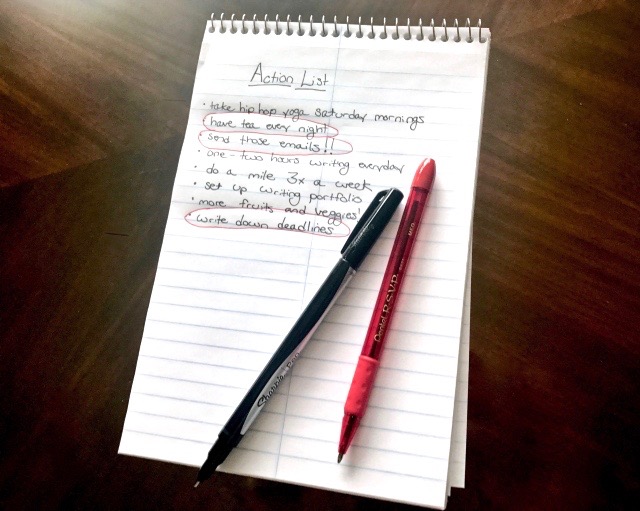 This will help you convert your vision board and into small, tangible, actionable change that you can feel in your life immediately.
That's it! You have Vision Board-ed! Congratulations, my friend. It's recommended that you be flexible about your vision board as your desires shift or change throughout your year. Feel free to add or take down items from your board as necessary and consider completing a new vision board from scratch after six-to-twelve months. That will ensure that it's updated to reflect your new values and priorities.
So did the process of making a vision board change my views? I was hoping to have a definitive answer for you, but the truth is that I do not know. I was surprised how setting a mood before writing out my intention list and then writing an action list at the end both helped to focus my priorities. I also found the cutting and gluing the collage to be incredibly meditative. I feel more sure-footed about my path and spiritually aligned than I did a few hours ago. I'm not sure about the lasting results (yet) — but I can definitely say it was an evening well spent. I am in a better place than I started, and perhaps that's all I could really ask for. I'm look forward to revisiting this project again in a few months and see how I have changed.
If you are looking for some other examples of vision boards, check out this amazing photo gallery that the team put together last year. They are gorgeous!
Talk to this skeptic about your own vision board feelings! Have you ever tried one before? Have you found the practice to work for you? Do you have other ways that you like to set intentions for your goals and dreams? I want to know all about it!