You like scallions. I like scallions. Everyone likes scallions. What if I told you you could have infinite scallions from just one bunch? Are you calling me a liar? Fools! I'll show you all! No, but seriously, what if I taught you how to regrow whole new scallions from the bits you trim off before cooking them? Wouldn't that be awesome? Well here you are.
You will need:
+ Kitchen knife of some kind
+ Scallions with some of their roots still attached
+ Jar, mug or little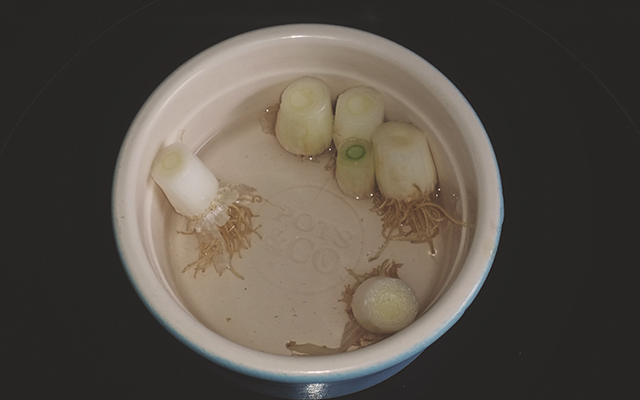 All you have to do is take the ends you've trimmed off and set them in water in the jar/little dish/whatever. Supposedly you need to leave an entire inch of the white stuff above the roots when you do this but I've found it works even if you cut it right down to the line, though I've left a little more on than I usually do in the pictures just in case. It also won't work if the roots have been removed. You can see my little friend who doesn't have any roots is in there anyway, but he didn't make it, even though he did put out some new growth before giving up the ghost. RIP little friend, you tried.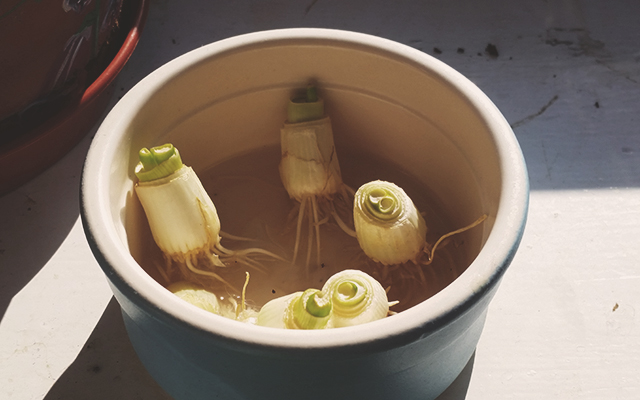 You want to leave them alone for a bit other than topping up the water until they've put out a good amount of green. Some people just leave them in the water jar and apparently that works fine but I always think they'll grow better/last longer if you transplant them into soil. You do need to wait until the roots and the green have grown a reasonable amount first, though; otherwise they tend to die off after you've transplanted them. If you're transplanting them, stick your finger up to the second knuckle into the soil to make the hole and then push it in. If you plant them too shallowly they tend to work their way up and out and that isn't good.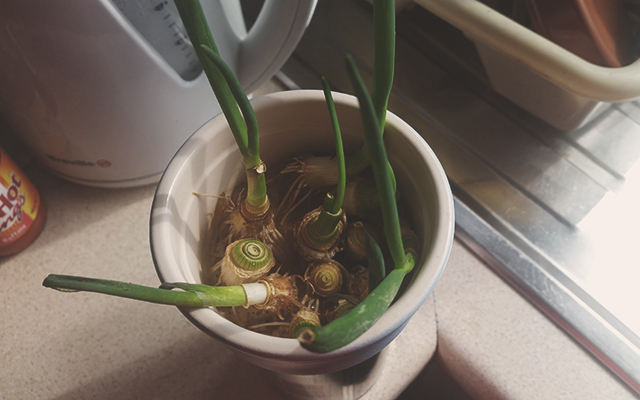 Now all you have to do is let them grow and trim some off whenever you need them! Make sure to water the soil whenever it looks dry and move them back a bit if the sun gets too strong and they start to look burnt (weird Scottish summer heatwave has made mine a bit patchy). If they start getting yellowish that means the soil is sad and nutrient depleted and you should give it some strong black tea (seriously), black coffee or actual fertiliser of some kind, I guess. They won't actually last forever but you should be able to get at least one pretentious coffee's worth of savings on your grocery bill out of doing this, as well as the ability to brag to your friends at the co-op about how you grow your own vegetables on the windowsill.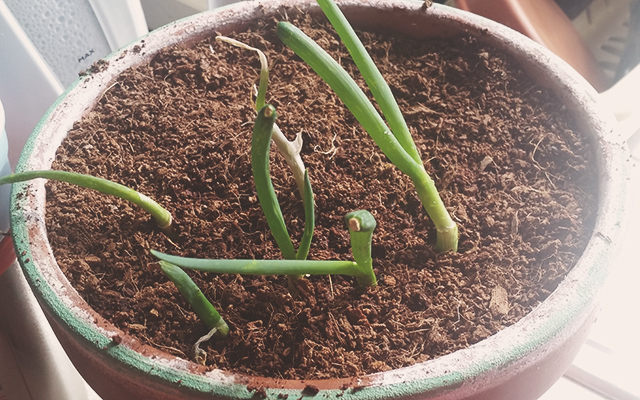 You can also do this with leeks, celery, lettuce and cabbage but that tends to work less well, probably because the supermarkets usually remove most of their roots before selling them. No harm in trying though.