Updated Editors Note, March 12, 2013: We've caught wind that this essay is being used in some college courses, so we thought it'd be a good idea to check back on what it is that was said here, because we used to be pretty ignorant and didn't question the cissexist and trans misogynistic implications of this position and ensuing commentary. We're very sorry. We recommend that you check out this piece on Bitch Magazine (ETA: and our piece on the policy), which contains links to lots of other sources of valuable ideas, for more information on Michfest's unacceptable trans-exclusionary policies. We're not going until all women can go, and we urge Michfest to reconsider their policies so all women can enjoy this potentially transformational experience!
ETA #2: Read Andrea Gibson's statement on why she won't perform at Michfest, read the Indigo Girls statement on why this is their last year at Michfest, read Queer Porn TV's explanation for why they're not screening their film at Michfest, read Nona Hendryx's tweet saying she won't perform at Michfest, and read this article on Transadvocate which contains Nancy Burkholder's story.
ETA #3: Read our own article about Michfest's trans-exclusionary policy here.
---
Ed. note: Autostraddle reader Lindsay wrote us to say she was going to the Michigan Womyn's Music Festival this year and asked if we wanted coverage of the event. Obvs, YES! However, because of MichFest's emphasis on being a safe space for womyn, no photography is permitted. So we found visual aids elsewhere: 1. Some stunning photos by Angela Jimenez via The New York Times — actually, Angela turned her MichFest photojournalism work into a book called "Welcome Home", 2. Google Image Search! and 3. We got our master cartoon recapper Stef to do some homespun cartoon-rcap art for the piece. Without any further ado, here's Lindsay, our Canadian roving reporter! And Stef's cartoons!

"It was nothing I expected, and it was everything I expected."
-Staceyann Chin, "Michfest: Nature, God and Free-Roaming Vaginas"


Welcome Home
During the six days I spent with about 10,000 other women camping out on 650 acres of Western Michigan woodlands, I was asked multiple times how I'd heard about the Michigan's Womyn's Music Festival to begin with.

My answer to that is the same as my answer to why it took me so many years to actually attend the event; the Festival was part of the intrinsic Lesbian Folklore I'd been hearing about since I started coming out ten years ago. Therefore, I thought MichFest was for old lesbian hippies who like folk music, not younger womyn like me. I was wrong. Not only did it defy all my (admittedly unfair) expectations … but it felt like coming home.
In fact, it was a lot like how I felt returning to my homeland of Canada after a year studying abroad in Norway. Despite how adept I'd become at Norwegian culture and language, I hadn't realized how little I'd been myself there 'til I was back in my comfort zone with friends & family. Similarly, the womyn-only "home" of MichFest made me feel more like myself than all the years I've spent living in a patriarchal society.
The sense of safety, well-being and complete Freedom I felt at the festival, which I attended with my cousin and her three young daughters, caught me by surprise. In the best way possible.

Returning womyn know the magic of Michigan is as much what happens off the stages as on them. Everywhere you turn – from the womon-built stages to the outdoor kitchen serving thousands to the follow-spot operator up high in the scaffolding – Festival is living evidence of what womyn are capable of creating. The tangible creative energy that is everywhere on the land explodes into spontaneous woodland parties, parades with outrageous costumes, and performance art on every path. Healthy food, clean air, green woods, art and music will recharge batteries you didn't even know were fading.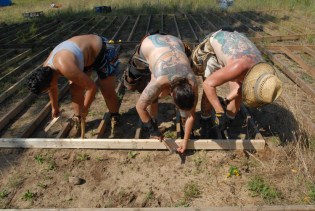 The Michigan Womyn's Festival celebrated its 34th year in 2009 and is completely built, staffed and run by women. Women cook meals, provide childcare, facilitate workshops, build stages, run the concerts and provide security and medical support for between 3,000 to 10,000 women (many lesbian-identified) each year. It was founded by three working-class women from Michigan in response to the misogyny they experienced working at festivals & venues run by men.
In addition to the music performances, the festival offers Intensive Workshops (titles include "Breast Casting for Women of Color" and "The Matrix of Oppression.") There's also a film festival, an artisan/craft show and a full roster of workshops, parties, dances, networking events and full-service childcare.

Those Legendary MichFest Topless Womyn:
Right before we left for MichFest, this conversation happened:
Littlest Cousin (once removed): But mum, who will drive the tractors?
Cousin: Womyn will drive the tractors.
Honestly I don't think she believed it 'til she saw it with her own eyes. So yeah, let's get it out there: there's a lot of nudity and topless ladies at the Festival. Many of these women are driving the tractor-drawn wagons that shuttle people across the land from the camping areas to the stages and kitchen, and some of the drivers are a little smoother on the clutch than others … as my eight-year-old cousin (once-removed) observed …
Little Cousin: Lindsay, don't you think she's a good driver?
Me: Yes, I do.
Little Cousin : The ones without their shirts on are the best drivers!
Me: Umhmm…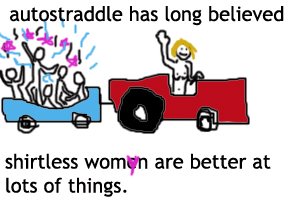 Interestingly, the promise of tractor-driving shirtless womyn were one of my cousin's reasons for taking her daughters to the festival. She wanted to expose them to empowered womyn capable of anything.
Littlest Cousin: "Did you see that man on the tractor?"
Her Friend:"That's not a man, remember — all the boys are girls here this week."
To be honest it took some getting used to — all the topless womyn. I had to stop myself from staring (especially at the extra-beautiful ladies) but eventually I got used to it. In fact, it had an incredible effect on my self-esteem. For one thing, it was a relief to be in the woods far far away from all those unrealistic images of womyn in magazines, on television and in advertisements. But also, being exposed to hundreds of normal topless womyn of all shapes and sizes for an entire week was remarkably healing. Perhaps for the first time ever, I felt comfortable with myself.

Our Cunts Go Marching On, Dildos, and Butch Struts
There was no such thing as a typical day at Michigan and I wanted to try a little bit of everything. At the Lesbian Tent Revival with Carolyn Gage, we preched radical feminism while singing, "Our cunts go marching on." Two womyn put on one of Gage's plays about being mistaken for a man in a womyn's bathroom, which was followed by a conversation about identity, safety and rape in our culture.
Though I didn't attend any, there were more workshops about anal sex and choosing the right dildo than I ever thought possible. There were three parades: the Butch Strut, Femme Parade, and Gaya Girls Parade (for girls aged 5-12). You could learn to walk on stilts,  hula hoop, salsa dance, or do archery.
There were more workshops about anal sex and choosing the right dildo than I ever thought possible.
One morning I spent four hours at an African Dance workshop under a tent. At the beginning of the morning there were 3 drummers and about 20 dancers plus Queen, our fearless leader, an African American woman with bright green eyes wearing dreads with bells woven into them that jingled to the beat of her dancing. Four hours later there were around 10 drummers, 40 dancers, and a crowd of 20 womyn watching.
At a Toe Reading workshop I learned I have "juicy Priestess Toes." There were also impromptu activities, like the naked revelry in a giant mud puddle after a rain storm, and the drumming I heard late into the night.

Womyn-Entertaining-Womyn, With Extra Fisting:
In addition to comics like Elvira Kurt, Gloria Bigelow & Poppy Champlin, this year's festival featured musical performers including God-Des and She, Sia, Amy Ray, Issa (formerly Jane Siberry, her song "Love is Everything" played in The L Word episode 211 while Shane was telling Carmen about her hamster), Girl in a Coma and Jen Foster.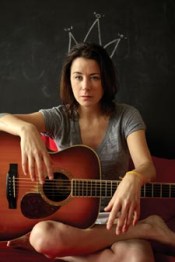 Every stage performance had an ASL (American Sign Language) interpreter on hand (get it?! HA!), and though I've never learned much signing beyond the alphabet and numbers, I got hooked on watching the interpreters. They added serious depth to the performances and so I wasn't surprised when Amy Ray mentioned that the interpreters actually attend rehearsals and speak with the artists to ensure that the signing reflects the musician's true lyrical intent.
This was especially obvious during my favorite performance of the week, Melissa Ferrick. First of all, I should say that Melissa Ferrick's not your typical folk singer. Her songs are hot & fast, her voice is throaty & raw, and she tells hilarious pre-song stories. As the festival program adeptly put it, Melissa "has the kind of relationship with her audiences that few performers are blessed with. Her firey live shows are compelling experiences that exhibit her magnetic personality, quirky sense of humor and outstanding musicianship."
So clearly by the end of her 45-minute set, Melissa had the audience in the palm of her hand. When she says her next song was written when her girlfriend challenged her to write something sexy, we were all ears.
Though the literal lyrics were relatively innocent, one particular section is clearly about making her girlfriend come. Then out of the corner of my eye, I see the interpreter wildly elaborating on the lyrics. ASL interpreter Pam Parham, who is clearly a genius, is doing a SERIOUS FISTING GESTURE with devilish delight all over her face.
Ferrick's playing for all she's worth and she amps it up when the audience goes wild for the interpreter. Because of this response we get ten more minutes of the song. It was the best performance I have ever seen in my entire life — and I wasn't alone in that assessment: my cousin, who couldn't go to the Night Stages 'cause her girls needed to be in bed, said the audience response she heard from the campsite was the most enthusiastic of the week.
Honestly before the festival the only performer I'd heard of was Amy Ray (also one half of the Indigo Girls), but I ended up being totally impressed by the variety of great acts and diverse sounds I saw, including nervous but excited, Hanifa Walidah and her band Black Patti and Po'Girl. and Sia.

Like Pride, only Better!
"This was a really anti-establishment movement when it happened. It was separatist. As women, and as gay women, it was a move to create a space that valued women, and that valued being a lesbian, that mainstream society didn't."
MichFest is VERY gay-friendly. I know I was hyper-aware of this 'cause of my cousin — actually, everyone assumed she was a lesbian. I admit this über-gayness is one of my few criticisms of the festival. My cousin didn't have a problem with it, but I felt that if the purpose of the festival is to provide a community representing all womyn and if the festival is billed as an inclusive environment, that needs to include straight womyn's voices too.
Here's the thing: straight women have an important direct link to influencing the patriarchy in a way that most queer women just don't.
I met a handful of straight womyn but many of the workshops, all of the comedy acts and most of the musicians were lesbians. 'Cause here's the thing: straight women have an important direct link to influencing the patriarchy in a way that most queer women just don't, and if straights don't see themselves reflected to some degree here, they won't feel welcome, and they won't come, and we'll miss out on their important perspective.
But I can't lie, I did love the lesbian environment too. It's like all the best parts of Pride but without the frustrating commercialism or naked men … and plenty of partying & music & fun! Anyone looking for alternative lesbian culture would find it here and you'll also see every type of womon imaginable.
(That's the first time I've spelled out womon, I'm making a concerted effort to integrate "womyn" into my vocabulary, but "womon" is still a struggle.)
As further proof if you don't believe me that MichFest is truly inter-generational (I am openly trying to recruit you to the festival next year, and figure that many of you have the same prejudice as I had before going) consider that I saw nine of the 100 Hot Butches of 2009 there! It would have been ten, but Daniela Sea had to cancel for some reason. [ed.note: DS is a chronic canceler]
Here you have my list: Amy Ray (#7) Hanifa Walidah (#25) Julie Wolf (#28) Toshi Reagon (#32) Angie Evans (#37) God-dess (#39) Kaia Wilson (#43) Melissa Ferrick (#51) Daniela Sea (#72) Elvira Kurt (#95). There may have been more, but those are the ones I noticed.
So to summarize, MichFest was a place for magical music, beautiful womyn, like Pride only better: Straight, lesbian, butch, femme, big, small, Latina, women of colour, white, single, couples, girl children, young womyn, middle-aged womyn, older womyn, tattooed womyn, rural womyn, urban womyn, womyn with disabilities, naked, clothed, topless, leather, hippie, and the list goes. I am already planning to go back next year. Go write the date on your calendar now, the first week in August 2010, the 35th Michigan Womyn's Music Festival.


"If someone tries to tell me [Michigan] is transphobic, I tell them to stuff it. There's so many trannies there. And it's not trans people being marginalized. It's people who were born as men. The festival is for people who suffered a girlhood. That's all it is."

–Bitch (of former band, "Bitch & Animal")
Don't Believe Everything You Read on Google
Soooo, if hypothetically you were gonna google MichFest, you'd find a ton of info about the trans policy debacle from a few years ago. I found this interview with Bitch of "Bitch and Animal" to be similar to my own take on the issue. I mention this debate even though I have reason to believe that the issue has died down despite the Google results; I only noticed a single mention of the topic the entire week and I met many people who I assume might have been FTM (or passing as male in the outside world) and whom were accepted unconditionally at the festival.

WELCOME HOME
"This was a really anti-establishment movement when it happened. It was separatist. As women, and as gay women, it was a move to create a space that valued women, and that valued being a lesbian, that mainstream society didn't."
Coming home was hard. I felt so relaxed by the end of the week but I also felt a deeper affirmation of my feminist bent that left me ready to tackle the mainstream patriarchy with renewed strength. Also, it took a day to readjust my mindset to recognize that the men I saw around me were actually men and not mannish women.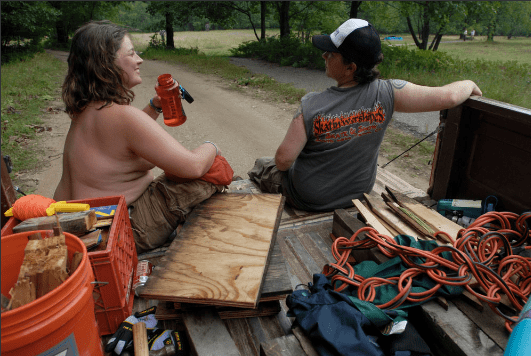 The festival blew away my preconceptions of what might happen there, and my mind was opened to new ideas and to a deeper affirmation of my own feminist bent.
Yesterday my cousin asked me, "Is your life changed?" I said it was, and she said her's was too. And we both hope that an annual injection of festival will chip away at our preoccupation with how others judge us or how the patriarchy imposes limits upon us. So maybe by the time we're 60 or so we'll have amassed a strong enough sense of well-being to be as comfortably outrageous as the incredible older womyn we met in Michigan.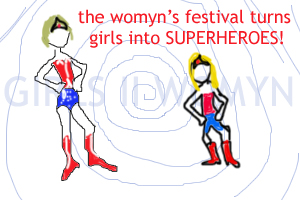 The first words I heard upon arriving at the gates of the Festival were "Welcome Home" by a gal in a fantastic super-womon outfit, and now I extend the same greeting to you: WELCOME HOME!
Pages: 1 2See entire article on one page