When I turned sixteen, my mom wanted to throw me a big party. You know, Sweet Sixteen, and all that. I told her absolutely not, that I'd much prefer to save us all a lot of stress and money and celebrate my birthday in my favorite way: by ignoring it. We ended up sort of compromising, and I brought a bunch of friends to see Harry Potter and the Sorcerer's Stone when it premiered instead. If I had to acknowledge my birthday, I was going to at least enjoy Harry Potter while doing it.
Like so many other queer kids, I had fallen in love with the wizarding world — with its mail-delivering owls, and chocolate frogs that jump — almost immediately. Hogwarts was a place where being different was something to be celebrated, not hidden, and that sounded like heaven to my closeted teenage ears. I'm not a kid anymore, and I came out a long time ago, but I still love Harry Potter with all of my heart. So it really does pain me to tell you that the new mobile game, Hogwarts Mystery, makes me want to smash my phone into a million pieces.
None of the sense of wonder that made Harry Potter special is anywhere to be found in Hogwarts Mystery. Instead, the game is a hollow and nearly unplayable attempt to cash in on a billion-dollar franchise. It's advertised as a narrative/RPG-style game "where players can create their own character and experience life as a Hogwarts student," but none of the choices you make seem to actually impact the story in any meaningful way.
The general plot of Hogwarts Mystery is that your older brother tried to find some Cursed Vaults in Hogwarts, but something went wrong. He was expelled and has since disappeared. It's your turn to start at Hogwarts now, and you're determined to figure out what happened. As far as story set-ups go it's fine, I guess, but the notoriety surrounding you because of things you didn't do (and don't really know about) plays out a lot like the beginning of Harry Potter. You even have your very own version of Draco Malfoy named Merula, a pure-blood obsessed Slytherin who despises you from the get go.
One of the only good things about Hogwarts Mystery is that I was able to create the softest butch imaginable from a pretty limited character creator. She also makes consistently hilarious facial expressions, like this one:
Once you create your character, there's a brief tutorial that introduces the gameplay. Gameplay is a term I am using very loosely here, because the main mechanic, and probably about 85% of the game so far, is tapping on anything that is outlined in blue. I figured I would just go with it, even though it was repetitive and boring, in hopes that the game would pick up once I actually made it to Hogwarts. Reader, it did not.
In fact, the very first time there's any excitement at all, the game hits a wall. You see, the little blue lightning circles were actually "energy" all along and it turns out you only have a finite amount of energy to complete tasks, which was somehow not really covered in the tutorial. So here you are, being literally strangled to death by Devil's Snare: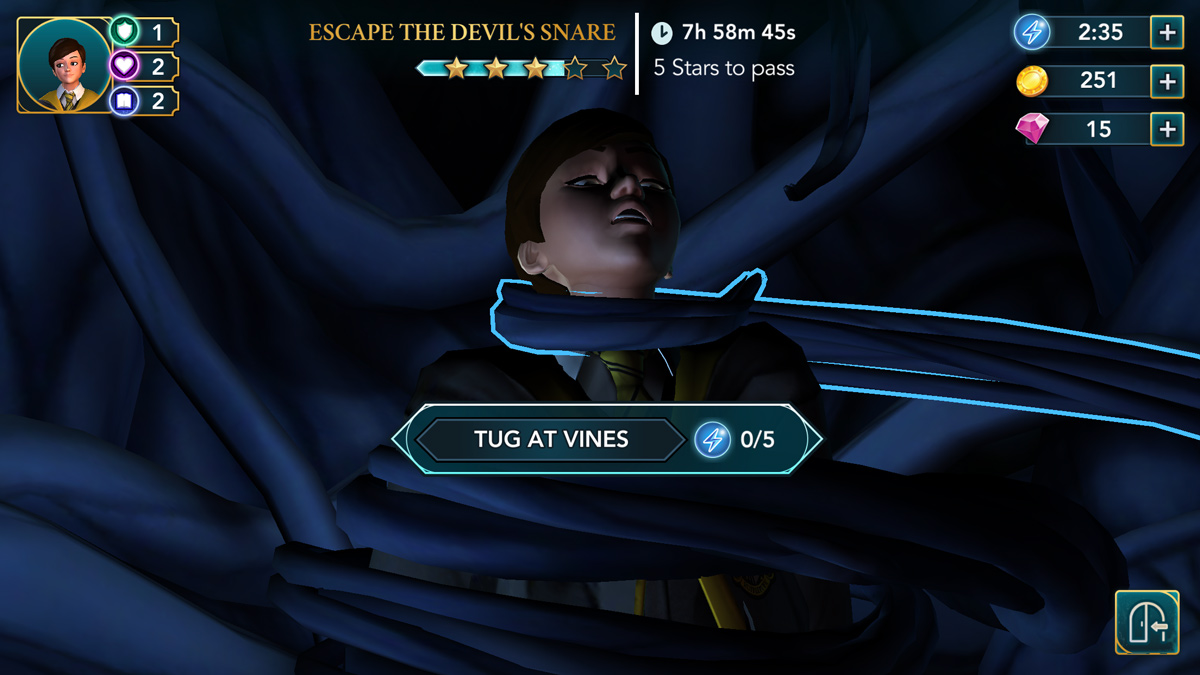 And suddenly you run out of energy! Never fear though, you can just buy more energy with gems. Easy enough, right? But what if you run out of gems (which you will surely do all the time)?
So at this point your options are to shell out some cash or wait like an hour for your energy to recharge, which makes absolutely no sense given your current predicament. And that's basically the whole game. Sure there are dialog options and choices to make, but the main choice of the game is this: do you pause and break up the flow of the story in inexplicable ways or do you pump money in to keep blindly tapping.
"Freemium" isn't a new concept and Hogwarts Mystery isn't the first game to use dark patterns in an attempt to make some money, but the blatant lack of effort to create an entertaining game here is disheartening. Puzzle games like Candy Crush that use a similar tactic work because there's actually some level of skill involved; you want to keep playing to solve the puzzles.
In Hogwarts Mystery, the only thing that keeps you going is the story, which is… still fine, I guess. You mostly interact with Rowan, who becomes your best friend after you meet in Diagon Alley during the tutorial. She's in your house no matter which one you choose, which is another thing that doesn't make sense because she is so clearly a Ravenclaw: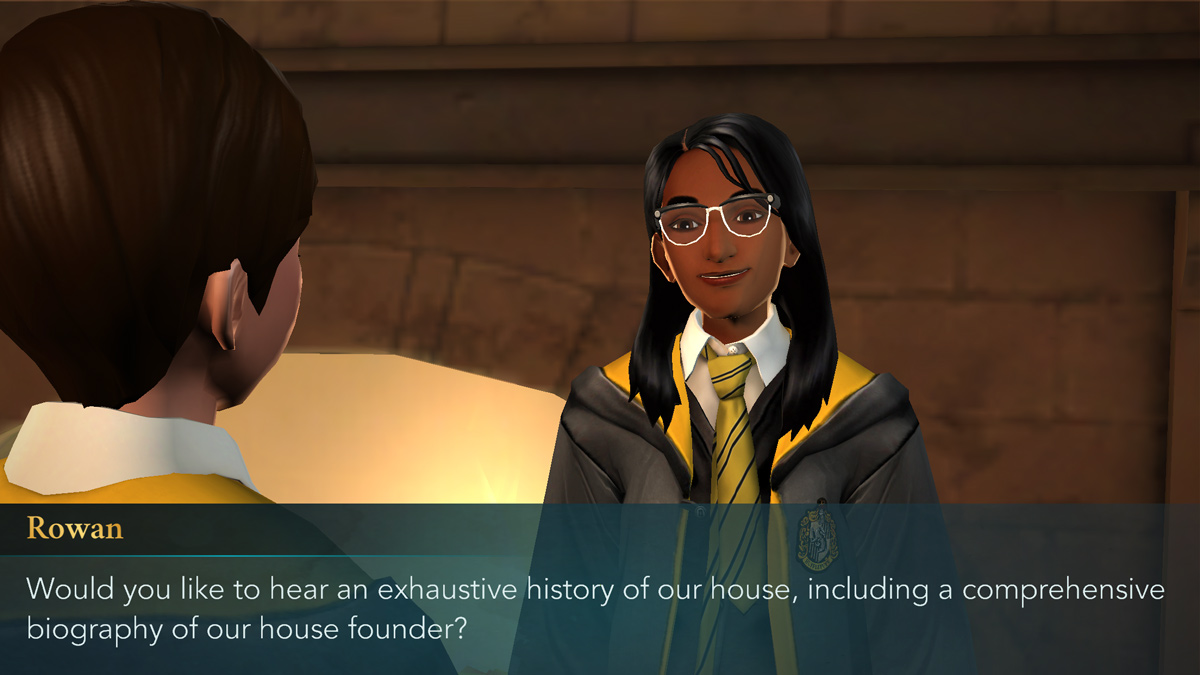 She's a cute nerd though, which is 100% my type, and if I don't uninstall this game from my phone before year four or five I'll probably try to romance her (if that's even an option). Anyway, Rowan is down to help you investigate the Cursed Vaults and also help you learn to how to duel, which is another part of the game that I think was probably created by someone who has never read or seen any of the Harry Potters.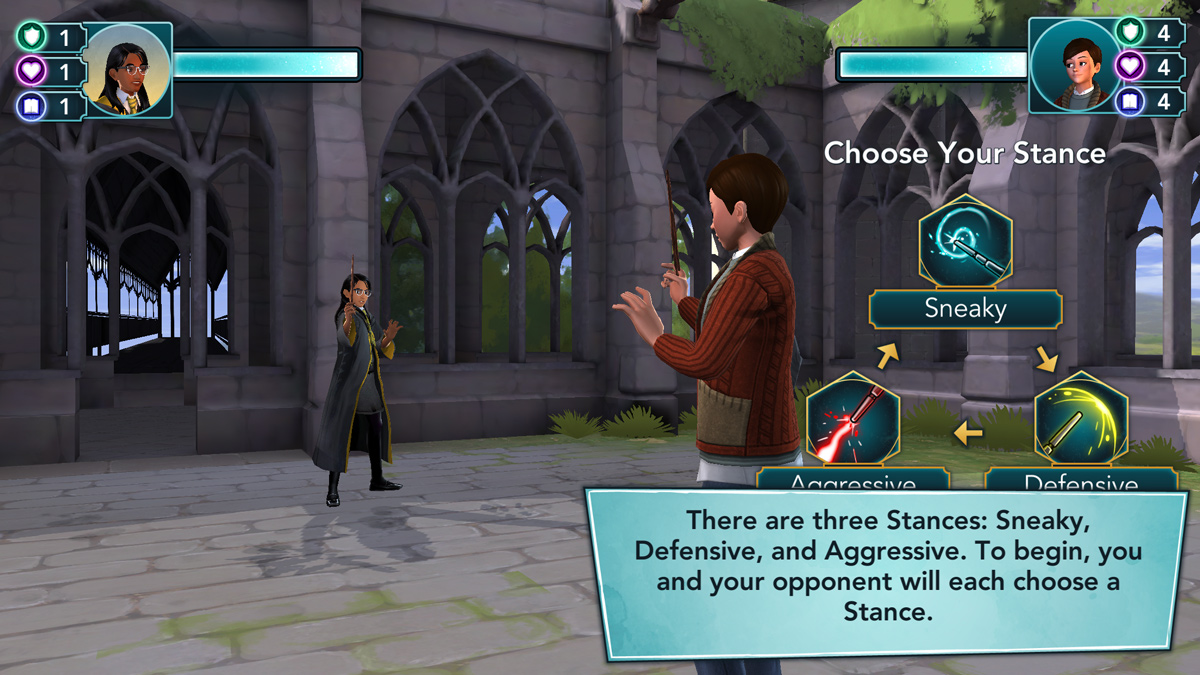 The way duels work in Hogwarts Mystery is that they're exactly like rock-paper-scissors, and also sometimes if you win a round you can "throw a vial" to reduce your opponent's stamina (which is definitely not a thing). It makes no sense, but it's such a relief not to be tapping randomly at the screen that I don't even care.
Throughout your first year, you also meet a few more friends named Penny Haywood and Ben Copper. Ben is a cowardly Gryffindor and mostly a boring character, but Penny is a total babe with a heart of gold. She takes an interest in you because you stand up to Merula's bullying and beat her in a duel, like a badass. Penny starts talking to you and reduces you to a stammering gay disaster, which is the truest part of the whole game so far.
At the end of the year, you can choose whether to take Penny or Ben (along with Rowan) on an adventure to try and find a Cursed Vault. Obviously, the correct answer is to take Penny, which I did, but apparently that choice doesn't actually matter because in the beginning of the second year Ben is somehow the one affected by the trip. Hey look, it's another thing that doesn't make sense!
As of right now, the game is only playable into the third year, but I haven't made it to that point yet because I'm not willing to spend a single cent on this thing. The idea of a Hogwarts RPG is such a good one, and it had the potential to be a robust and fun experience, but Hogwarts Mystery is a complete let down. Unless the developer, Jam City, makes some serious and fundamental changes, I do not recommend this incredibly frustrating game — even (or maybe especially) if you're a Harry Potter fan.