Hello and welcome to another episode of Glee, a show about boys and the girls who dance behind them. This week Glee was mercifully jam-packed with musical numbers, leaving little room for Finn, Artie, Mr. Schuster, Irish Breakfast, Jacob Ben-Getoutofmyface, Mike Chang and every adult character besides Sue to speak.
Three pieces of business before we begin:
1. I know I've introduced and perpetuated the concept of Finn being a lesbian, but I'm sorry to say the man is now a Hasbian, which is a term I hate in every single context besides the one I'm inventing right now which is the "Finn is a Hasbian" context.
2. Finn is now officially a member of my own personally assembled League of Unnecessary Characters With Excessive Screen Time Despite Audience Apathy. Here, I made this graphic for you (ALL BY MYSELF!) of everyone else I'd like off my television set: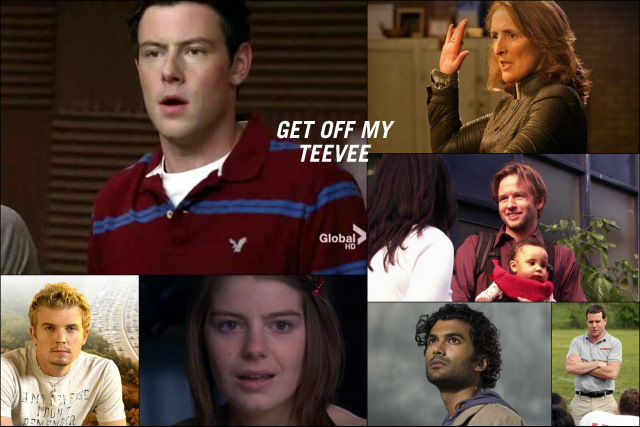 3. We need a shipper name for Will & Finn, The Dynamic Duo of the Daytona Speedway. Our options are (with source of suggestion in parentheses):
Schinn splints (@BisHilarious)
The good ship 'Dork'n'Pork (@midnightfeeling)
Fisting (@therealchipster)
WiFi (@kd_15)
Win (@heathereileen)
Schunn (@e1e0r)
Schwinn (@lindsayeanet)
Hudster (@dorothysnarker)
Fill (@dorothysnarker)
WE SUCK (@dorothysnarker)
 Thoughts/feelings?

We open — where else? — in the haughty hallways of McKinley High, where Rachel's gathering her homework and the seventeen folders required to execute said homework. Rachel tells Quinn and Quinn's wicker hat that Quinn is more than welcome to solicit singing lessons from Rachel during this hard dark time.
Quinn doesn't need lessons, because she's a cyborg replicant killer from outer space with a plan to out Shelby & Puck's affair to the Principal of Flexible Principles and thereby get Shelby fired. This'd clearly provide an opportunity for Quinn to snatch up the unsupervised Troubletones' voices and trap them in a jar, a la The Little Mermaid.
Rachel's unimpressed:
Rachel: "First of all, Puck is 18. so what he and Shelby are doing, even though it's just wrong and so gross, is not illegal, so all you're doing is you're getting her fired, which is going to take away her income to provide food and clothes and put a roof over her child's tiny little blonde head… Beth loves her mom. Shelby is her real mom. You've done a lot of really bad things, Quinn, but if you tell people about Shelby and Puck, you'll ruin this little girl's life and then you'll have really hit rock-bottom."
Where Quinn comes from, there's no rock-bottom, only rocky cliffs of horror, like Rocky Horror:
Smear to the Glee Clubhouse, where Finn is playing Pinky to Will's Brain, except totally not funny and slightly off-putting. Bla bla bla sectionals we'll loose bla bla what will we sing blooblah bla bla gahhh.
NEXT!

Blaine, dressed like my grandfather who died in 1989 and seriously did have that sweater, is drinking coffee out of paper cups with his male lover, Kurt, who is dressed like Hellen Keller in a flip-flopped collar-and-gemstone garment.
So, SURPRISE!, Kurt's still freaking out how he and Rachel won't get into NYADA and they'll be forced to wile away their lives doing summer stock (a perfectly respectable job) and swilling java at The Lima Bean. Blaine is absolutely no help at all, whining that New Directions is a hot mess not dressed for success.
Kurt's got nothing to live for, which is so cute and seventeen of him, but MAY I JUST SUGGEST Kurt, that you schedule an AUDITION with NYADA, 'cause that's what matters most — and MAY I ALSO MENTION Kurt, Kurt! Kurt. Kurt listen to me — there are other schools. It's not like NYADA vs. Jamba Juice, it could be NYADA vs. CCM or UofM or about 100 other schools with decent-to-fantastic musical theater programs. And Kurt. KURT ARE YOU LISTENING? No school — not a one — no school IN THE ENTIRE UNIVERSE will care whether or not your Glee Club wins Sectionals. Not even Julliard. That is completely fucking stupid.
I feel like Ryan Murphy was homeschooled. Blaine says this:
Blaine: "Every time I open my mouth, Finn gives me these looks like, 'What does he think he's doing?' I know what I'm doing."
Anyhoo, it's time for the Gillin (Gay Villan), Sebastian, who slithers in to the Petulant Lovers Pod to shake things up.
When Blaine excuses himself to get more imaginary coffee, Kurt dives right in to Gillin, paws out:
Kurt: "I don't like you."
Sebastian: "Fine. I don't like you either."
Kurt:"I don't like the way you talk to my boyfriend. I don't like your smirky little meerkat face. I don't like your obnoxious CW hair. I'm onto you."
Sebastian: "Let's get a few things straight. Blaine's too good for you. New Directions is a joke. And one of us has a hard-luck case of the gay face, and it ain't me. Odds are by the end of the school year, I'll have Blaine, and a Nationals trophy, and you'll have khakis and a Lima Bean apron, and that gay face."
Kurt: "You smell like craigslist."
BRAVO, Kurt. Bravo!

Finn has convinced Will that a fourteenth baby-faced boy singer is all New Directions needs to win, and thus he and Rachel are tracking down Sammy Boy at one of rural Kentucky's many male-staffed women-targeted strip clubs, which Rachel believes, for some reason, to be dinner theater.
Moments after entering, "White Chocolate" is called to the stage. It's Sam, duh, Sam and his abs and his penis and his Bieber hair and his trouty mouth, wooing the Ladies Who Lunch until they empty their pocketbooks. Rachel lurches to the orchestra pit to give Sam a dollar and get his attention.
We then segue to White Chocolate's Fancy Dressing Room, where Rachel and Finn trot out old tropes about strippers while shaming Sam for taking this lucrative job — a job he seemingly enjoys, too — which enables him to support his family. Seemingly they feel he's "throwing his life away" in that outfit and would be better off at his old job, selling overpriced ice cream for $6 an hour so the CEO of  International Dairy Queen, Inc, can buy another yacht, which isn't exploitative at all.
Regardless, Sam's not old enough legally to be an exotic dancer regardless so I will restrain from my eloquent tirade regarding Finn and Rachel's disappointing dialogue in this section. So, Sam's quickly convinced to drop whatever random education situation he's currently enrolled in and return to Lima, live with Rachel and/or Finn, and help Glee Club win sectionals.
Cut to Sam taking Finn and Rachel to his home via a fenced-in-lawn vaguely reminiscent of Ryan Atwood's place in Chino. Once inside the home, however, we're in a wonderland of shiny kitchen appliances and appropriate mood lighting and in the presence of very attractive parents who look like they invented soap or something.
Sam's parents cut him loose and we're off to The Glee Clubhouse, where the gang's whining about global warming and the possibility of losing Best Jam at the 4-H Fair.
Of course the prospect of losing sectionals is ripe on everyone's brain. "I know for a fact that we're going to win at sectionals," says Quinn like a total crazy person, pacing in her imaginary foreign hellscape of sinister baby-shaking terror.
But before the team can adequately assess the power of Quinn's voodoo, Finn & Will arrive with Homeless Sam, who tells the class he "lost his way" but "true friends help you find the way back," which, again, REALLY?, but also — WHATEVER.
Sam launches into "Red Solo Cup," which I'd never heard prior to this episode, and almost immediately Finn sings/shouts "1-2-3" like Sam the Eagle on tranquilizers, causing me to throw up everything I've ever eaten in my entire life. Later, a wayward "GOD NO!" from Finn's jowly jowls will assault my sensibilities and hurl me into an endless coma.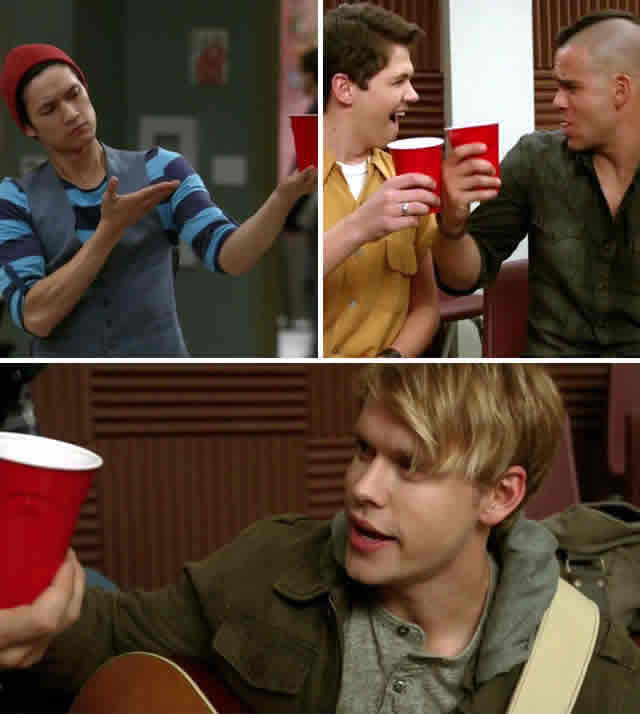 Often Glee Club impromptu dance numbers are a fascinating peek into the psyches of these dynamic children, who all seem to have their very own idea of how one celebrates the song in question, in this case, "Red Solo Cup."
So basically; Quinn's obliviously hopping around on her toes with her poofy skirt like a pretty girl at a garden party. Artie's pumping his arms maniacally into the air like he's surrounded by drunk college students on a Football Saturday, Irish Breakfast is moving his limbs in a pattern reminiscent of a really enthusiastic fan of Newfound Glory at his first Vans Warped Tour, Mike's actually performing a mime act in Cirque De Soliell over in his GapKids-Wardrobed Section of the Room and Finn is lumbering around like a self-centered smarmy high school senior from hell named Finn.
Meanwhile Blaine's up for Solo cups 'cause Blaine's up for everything and Kurt is mouthing "what are you doing?" in this super couple-y cute way that makes them seem real. As if Kurt could ever overpower the power of Blaine's desire to open his eyes real big and bop his head back and forth. And then — HARK! A VISITOR?
WHO IS IT?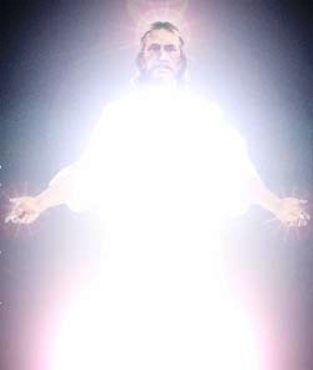 NO, not Jesus! Santana! She's kicking off the episode with a speech she wrote in anticipation of Sam's return:
Santana: "I just heard the news Trouty Mouth is back in town. I've been keeping a notebook just in case this day ever came. Welcome back, Lisa Rinna. I've missed you so much since your family packed their bags, loaded them in your mouth and skipped town. Can't tell you how many times I've wanted to enjoy a crisp pickle, but couldn't find anyone to suck the lid off the jar. I assume you've been working as a baby polisher, where young mothers place their infants head in your mouth to get back that newborn shine. So glad you're back, I haven't seen a smile that big since the Abominable Snowman got his teeth pulled by that little gay elf dentist. Love, Santana."
Sam: "I love you too, Santana."
Sam, who's always been kinda the best guy of them all, can take a joke and embraces his old friend:
Oh also:


Back in the Haute Hallways of McKinley Technical Institute, Quinn reminds us both that Sam and Mercedes dated for a scorching hot minute last season and that Mercedes is now "with boyfriend." Now that Sam's returned from the dateless vortex of his prior life, he probably wants Mercedes back but won't get her back and therefore Quinn thinks he should be with Quinn, because Quinn is desperate and sad.
I think all Quinn really wants is power over something. Anything.
Quinn informs Sam she'll be getting her baby back baby back baby back shortly, 'cause if the scent of desperation didn't already win Sam over, the prospect of caring for yet another child certainly will.
Bring 'er home, Sam:
Sam: "Quinn, you've got what I call rich #whitegirlproblems. It's a tough world out there, I know, I've been through it. But we only get one senior year. Enjoy it. You know that song 'Jack and Diane' by John Mellencamp? My favorite line is this one: 'Hold onto 16 as long as you can."
He walks off, leaving Quinn there to think long and hard about how to hold onto sixteen when she's actually already seventeen. (Sidenote I found the usage of "white girl problems" delightful)

Oh by the way, that same Mike/Dad subplot is playing out for the third time, and it's a pretty much identical arc to the first two times, so I won't bore you with it. Instead I will bore you with THIS:
So back in Glee Club, everybody's wicked riled up and whiny about who will be sent to the reaping. Will says something motivational and obvious, Blaine does a little hop-step, and then Sam thrusts his genitals in the air 'cause you can take the boy out of the strip club, but you can't take the strip club out of the boy. Sam says the best way to win is to be sexy, which has already been suggested and carried out by the Glee Club seventeen thousand times in prior episodes.
Blaine: "We don't have to resort to that. It's cheap. It's selling out."
Sam: "I came back here to win. When you're desperate, sometimes you gotta use your assets in order to get back the advantage. This…" – [COCKTHRUST] "–is the advantage."
Blaine: "Of course that's what you think; you have to think that in order to sleep at night."
Oh, all those nightmares Sam had about making a lot of money by dancing in his underpants.
Sam: "What the hell does that mean?"
Blaine: "It means. That I'm not for sale."
Oh, neat. Now I hate Blaine. NEXT!

Blaine's getting all Eye of the Meerkat with the punching bags when Finnstein arrives, because he is all powerful and on an Odyssey of Redemption.
Finn: "Is that Sam's face?"
Blaine: "Yup. Yours, too. Don't act so surprised. After getting bullied so much, I took up boxing. I also started the Dalton branch of Fight Club, which I obviously can't talk about–"
Har har.
Blaine: "…what is your problem with me, anyway? Ever since I got here you've given me nothing but crap."
Finn: "Honestly, dude, I was kind of jealous. I felt threatened. Your talent kind of freaked me out. Made me question whether or not I was good enough. Blaine, I'm sorry. I've been acting like a jackass to you… With Rachel gone, you're the most talented, well-rounded member of this team, and now more than ever we need to be on the same page. United."
Blaine: "Tell me what you need me to do."
So jazzed for Finn's Redemption, the story of an enormous terrible boy who enjoyed layering polo shirts and admitted he was jealous and Blaine made him question whether or not he was good enough, but apparently not hard enough 'cause I think Finn still thinks he's good.

Then Sam tries to get Mercedes back and Tina tries to get Mike's Dad back for Mike and they both fail.
Let's skip to the part where Tina's confronting Mike's Dad at his Serious Office, pulling shit out of the sky like, "He's gonna spend the rest of his life doing something he hates, dying inside." Basically, Mike's gonna die inside at Stanford, or die outside dancing on a street corner. JK, I bet he'd get lots of dancing jobs on TV shows and in ipod commercials.
Anyhow, enough about him, I'd like to talk about Brittany. It seems like when the dancing starts, there's no more Brittany, it's just Heather Morris, being an infinitely more skilled and talented dancer than anyone up there besides Mike, and it's rarely (if ever) addressed. It's just implicitly known. 
Glee's always obsessed over every child's special snowflake talent — the thing that makes them SO exceptional — and wouldn't Brittany's character be so much more fleshed out if her Step it Up 3-D skills were given the same attention as tertiary Mike Chang's? She may be stupid, but I bet you a million bucks she could snag a gig dancing backup for Beyoncé at a major awards show.


It's time for Sectionatozialsarofskygagganzas! Santana snarks that New Directions is welcome to jump ship and get into some Trouble(tones) should they lose the upcoming battle of the bands.
Finn and His Fun Police wheel in, sirens blaring:
Finn: "That's incredibly rude, Santana."
Santana: "Rude? I'm being nice. Rude would be if I followed you around all the time and every time you tried to say something, I played a note on a tuba."
Oh, Santana, never change. Even post-IKAG, she's still a bitch.
Then Quinn steps forward to issue random ominous Eric Northman threats to a bunch of teenagers too self-absorb to notice she's had a psychotic break. "Puck here is gonna come through for us, he's such a bright shining star in every conceivable way, don't you think?" Quinn asks, like a crazy person who has gotten even crazier since the last time she said something crazy.

It's time for the show! First up is their sole competitor, the Unitards, and Rachel is seething in her seat that The Glee Project Girl is stealing three minutes of screen time we could've spent watching Brittany and Santana talk about their feelings and maybe touch one another's hair.
"That should be ME singing that song," Rachel says. Classic Rachel©.
After that epic waste of time, Rachel allegedly spies Quinn exiting the auditorium and runs her down so they can make out just like they do on tumblr. JUST KIDDING, Rachel tracks down Quinn in the hallway to intercept Quinn's night-time journey to what surely is an empty principal's office at this hour, because proving student-teacher affairs and swiftly issuing judgment on them is a clean, neat, ten-minute problem. CAN'T JUST ONE THING ON THIS SHOW MAKE SENSE IN A REAL WAY? JUST ONE THING?
Rachel: "Where are you going?"
Quinn: "Aren't you supposed to be in the auditorium?
Rachel: "I saw you leave the auditorium. I know what you're going to go do; you're going to tell Figgins about Shelby and Puck."
Quinn: "I'm an adult. I can do whatever I want."
Rachel: "If you want to be a destructive force in the universe, that's your business. But can you just please wait until after the Troubletones perform?"
Quinn: "Why?"
Rachel: "Because we don't want to wreck all the hard work our friends in that group put into their performance."
Quinn: "So we win."
Rachel: "No. Not like that. Look, if you're going to go through with this, you owe it to Shelby to tell her first. It's the adult thing to do. — I got a taste of what it's like to do the wrong thing, and it feels awful."
Rachel's sweet to Quinn here, and also vulnerable and really decent, too, so maybe Rachel's been humbled by the taste of defeat and the possibility of thwarted ambitions. In the past she used setbacks as motivation to compete harder, but this year she seems to be learning the value of team work.

Quinn takes 40% of Rachel's advice and swings by Shelby-Shack to spew additional crazy-ass shit. Shelby's so fucking classy here, though, accepting fault, resigning to fate, wanting her cameo to be over already, etc.
Quinn tells Shelby she shouldn't have come here, it was a weird distracting subplot nobody cared about and it made Quinn sad or something.
Shelby: "You're so young, pretty–
Quinn: "Don't talk down to me."
Shelby: "It goes away, you know. Not the pretty, you'll always be pretty. But the young. It happens really slow and you don't even notice it and then one day everything just feels different."
Quinn: "I can't wait to feel different."
Shelby: "Don't wish away your life, you're exactly where you're supposed to be. I think I thought that being with an eighteen year old would make me feel 18 again but mostly it just made me feel even older… alright, I'm gonna enjoy my last few hours of being [something I didn't transcribe] and I recommend that you enjoy being up on that stage… I am sorry, Quinn."


The Troubletones explode onto the stage dressed like Jiffy Pop in high heels and are fantastic with this "I Will Survive/Survivor" Mashup that gives Santana and Mercedes many opportunities to shine. If The Troubletones were a real band, I'd buy their album and go to all of their shows.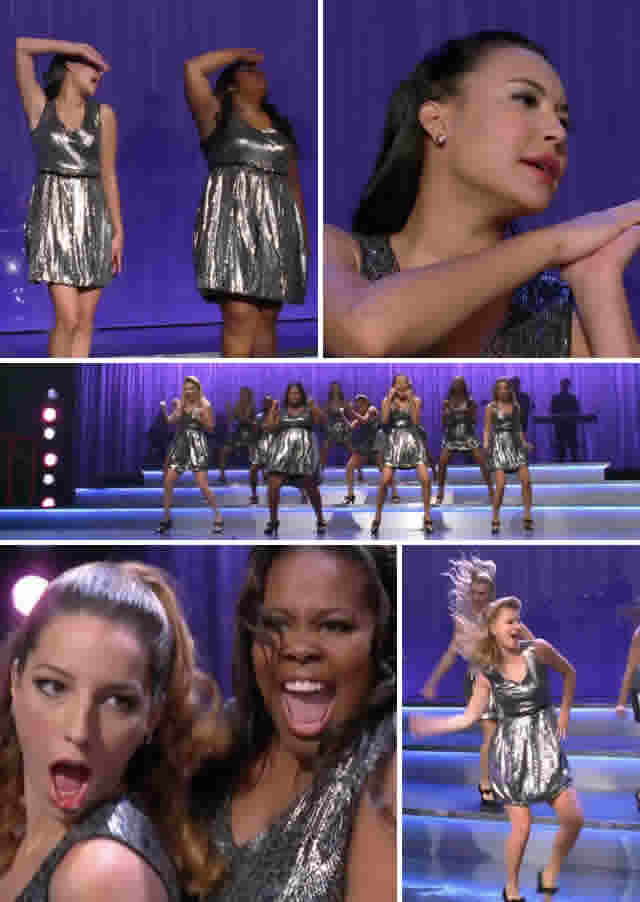 Obvious highlights include and are limited to waltzish-section wherein the ladies paired off and a devious cameraperson gifted us with a clean focus on Brittany + Santana looking fierce and smokin' hot.
They're good, really good, and everybody knows it.
Now pop your popcorn, put on your patriarchy pajamas and settle up for an hour of nonstop New Directions. Not gonna lie, though, I liked The Troubletones and (unlike my intern, apparently) also liked the New Directions, although I'm unsure why Finn and Mike Chang were given so many solos. I guess I just like singing and dancing SO MUCH.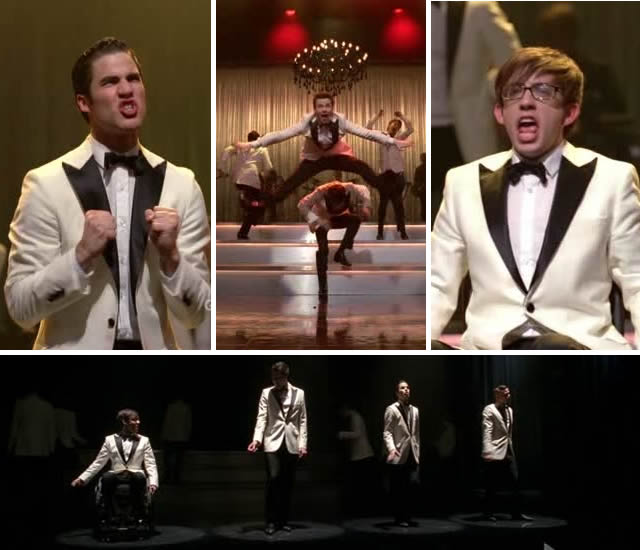 The New Directions, dressed as cater-waiters, lead with one of my fave songs ever, the Jackson 5's ABC, and Tina's teenage popstar voice is perfect, as is Kurt's sudden ability to be sexy and fantastic. Sam gets to thrust his cock in the air, which delights everybody including the drunk clown judge (don't ask). Everyone cheers, shit goes dark, and the spotlight illuminates Quinn and her deathless Lady Gaga voice leading into Janet Jackson's "Control":
Quinn: "This is a story about control, my control. Control of what I say, control of what I do, and this time, I'm gonna do it my way."
Blaine leads "Control" effectively and at the conclusion of "Control," Finn emerges from the deep fog to ruin Michael Jackson's "Man in the Mirror" and I re-eat everything I've ever eaten in my entire life and re-throw-it-up. Then the other boys take over and I deal.


Post-performance, back in the dressing room, Sam gloats: "TOP DOGS! Yeah that's what I'm talking about!" 'cause he's holding on to thirteen as long as he can. Judging time!
Surprise, The Unitards snag third place and the Gerber Baby pees in her pants with delight:
Um, Troubletones get second and New Directions get first and everyone laughs/claps in slow-motion.
We cut back to The Troubletones who look troubled because their feet are glued to the bleachers. Lights out, and SCENE. G-ddamn, show.

Cut to some office somewhere, where Rachel and Quinn both show up, ready for a pizza party or maybe an ice cream cone to the face:
Rachel: "Well, my suspension is officially over. It'll still be on my transcript, though. I'm just hoping that the admissions department at NYADA see it as a sign of my artistic, rebellious attitude."
Quinn: "Good luck with that."
Rachel: "Are you going to go tell Figgins about Shelby? Because I still think it's a really terrible idea."
Quinn: "I came here to talk to you, actually. To tell you I'm not going to tell."
Rachel: "Why?"
Quinn: "Because I love Beth, and I don't want to ruin her life… I wanted to thank you, actually."
Rachel: "For what?"
Quinn: "For keeping me from doing something stupid. Something I would have regretted my entire life."
Mhm. Quinn was this close to devoting herself to Finn Hudson for life, thank G-d Rachel stole him back.
Rachel: "We're kind of friends, huh?"
Quinn: "Kind of."
So Quinn's giving up on Project Beth in favor of everybody's favorite safety school, Yale. It's the second-most competitive University in the country!  GAH this is driving me irrationally crazy, this unnecessarily fake universe where all schools seemingly have rolling admissions, theater conservatories are more concerned with your Student Government experience than your audition, NOBODY is applying to ANY backup schools, and Ohio State came to McKinley to maybe recruit Finn. These kids need a meeting with Tami Taylor stat.

ANYHOW – cut to the restroom, where Santana's carefully applying Brittany's eyeliner 'cause Eyeliner Lesbians are the new Lipstick Lesbians. I think Shane started it. Today's bathroom chat topic is "losing to New Directions," which is partially blamed on Sam's Penis Thrust. Santana says:
Then Quinn shows up and I'm so out of recap-energy-juice
"Do you know what growing up is about," Quinn begins with poise after Mercedes crosses her arms and says "we're listening." The girls, always ready for a teachable moment, eye her mysteriously. Quinn continues: "Losing things."
Quinn goes on to divulge her age (17), how much of her life she has in front of her (the rest of it), who she loves ("you girls" and Glee Club) and when she'd like to look back on these months as the best times of her life (at 27 or 87). It's grim but the ladies lap it up and Brittana even cutely hold hands like twelve-year-olds who don't know they're gay yet.
Quinn suggests the girls return to Glee Club 'cause Mr. Shu & Rachel approved The Troubletones getting their own number at the International Ghostspace Hacksaw Karate Cinema Awards or whatever. Quinn then requests their presence at a sure-to-be-epic singalong in the auditorium and skips off.



Cut to the auditorium, where New Directions is ripe with youth, fervor, and, certainly, ecstasy or some other kind of drug that induces near-record levels of Choral Euphoria. The song of the hour is "We Are Young" by Fun and Janelle Monáe.
Then something catches Quinn's eye — it's Sugar Motta and those three other girls from the music team thing! — at which point The Troubletones, also infected with Enthusiasm, practically leap to the risers to hug all the wrong people.
Brittany hugs Irish Breakfast, Quinn and Mercedes dance gayly about, Brittany then hugs Mike and Tina at the same time, all while Santana stands proudly like a soldier in a turtleneck, belting the fuck out of that song, until even her steely defenses break down and she is ENCHANTED BY THE GLEE OF GLEE.
Rachel takes Santana's hand and leads her over to Finn, and THEN SANTANA HUGS FINN AND I throw up all the food I didn't eat in addition to re-re-throwing up all the food I've ever eaten in my life.
At that point I died, I don't know what happened next.

Soooo… my intern alerted me to the presence of this this blow job. You'll like this better. Then there's also this, which is probably a lie, but whatever. COME BACK NEXT WEEK FOR THE CHRISTMAS EPISODE!!
Pages: 1 2See entire article on one page