It's time for Sectionatozialsarofskygagganzas! Santana snarks that New Directions is welcome to jump ship and get into some Trouble(tones) should they lose the upcoming battle of the bands.
Finn and His Fun Police wheel in, sirens blaring:
Finn: "That's incredibly rude, Santana."
Santana: "Rude? I'm being nice. Rude would be if I followed you around all the time and every time you tried to say something, I played a note on a tuba."
Oh, Santana, never change. Even post-IKAG, she's still a bitch.
Then Quinn steps forward to issue random ominous Eric Northman threats to a bunch of teenagers too self-absorb to notice she's had a psychotic break. "Puck here is gonna come through for us, he's such a bright shining star in every conceivable way, don't you think?" Quinn asks, like a crazy person who has gotten even crazier since the last time she said something crazy.

It's time for the show! First up is their sole competitor, the Unitards, and Rachel is seething in her seat that The Glee Project Girl is stealing three minutes of screen time we could've spent watching Brittany and Santana talk about their feelings and maybe touch one another's hair.
"That should be ME singing that song," Rachel says. Classic Rachel©.
After that epic waste of time, Rachel allegedly spies Quinn exiting the auditorium and runs her down so they can make out just like they do on tumblr. JUST KIDDING, Rachel tracks down Quinn in the hallway to intercept Quinn's night-time journey to what surely is an empty principal's office at this hour, because proving student-teacher affairs and swiftly issuing judgment on them is a clean, neat, ten-minute problem. CAN'T JUST ONE THING ON THIS SHOW MAKE SENSE IN A REAL WAY? JUST ONE THING?
Rachel: "Where are you going?"
Quinn: "Aren't you supposed to be in the auditorium?
Rachel: "I saw you leave the auditorium. I know what you're going to go do; you're going to tell Figgins about Shelby and Puck."
Quinn: "I'm an adult. I can do whatever I want."
Rachel: "If you want to be a destructive force in the universe, that's your business. But can you just please wait until after the Troubletones perform?"
Quinn: "Why?"
Rachel: "Because we don't want to wreck all the hard work our friends in that group put into their performance."
Quinn: "So we win."
Rachel: "No. Not like that. Look, if you're going to go through with this, you owe it to Shelby to tell her first. It's the adult thing to do. — I got a taste of what it's like to do the wrong thing, and it feels awful."
Rachel's sweet to Quinn here, and also vulnerable and really decent, too, so maybe Rachel's been humbled by the taste of defeat and the possibility of thwarted ambitions. In the past she used setbacks as motivation to compete harder, but this year she seems to be learning the value of team work.

Quinn takes 40% of Rachel's advice and swings by Shelby-Shack to spew additional crazy-ass shit. Shelby's so fucking classy here, though, accepting fault, resigning to fate, wanting her cameo to be over already, etc.
Quinn tells Shelby she shouldn't have come here, it was a weird distracting subplot nobody cared about and it made Quinn sad or something.
Shelby: "You're so young, pretty–
Quinn: "Don't talk down to me."
Shelby: "It goes away, you know. Not the pretty, you'll always be pretty. But the young. It happens really slow and you don't even notice it and then one day everything just feels different."
Quinn: "I can't wait to feel different."
Shelby: "Don't wish away your life, you're exactly where you're supposed to be. I think I thought that being with an eighteen year old would make me feel 18 again but mostly it just made me feel even older… alright, I'm gonna enjoy my last few hours of being [something I didn't transcribe] and I recommend that you enjoy being up on that stage… I am sorry, Quinn."


The Troubletones explode onto the stage dressed like Jiffy Pop in high heels and are fantastic with this "I Will Survive/Survivor" Mashup that gives Santana and Mercedes many opportunities to shine. If The Troubletones were a real band, I'd buy their album and go to all of their shows.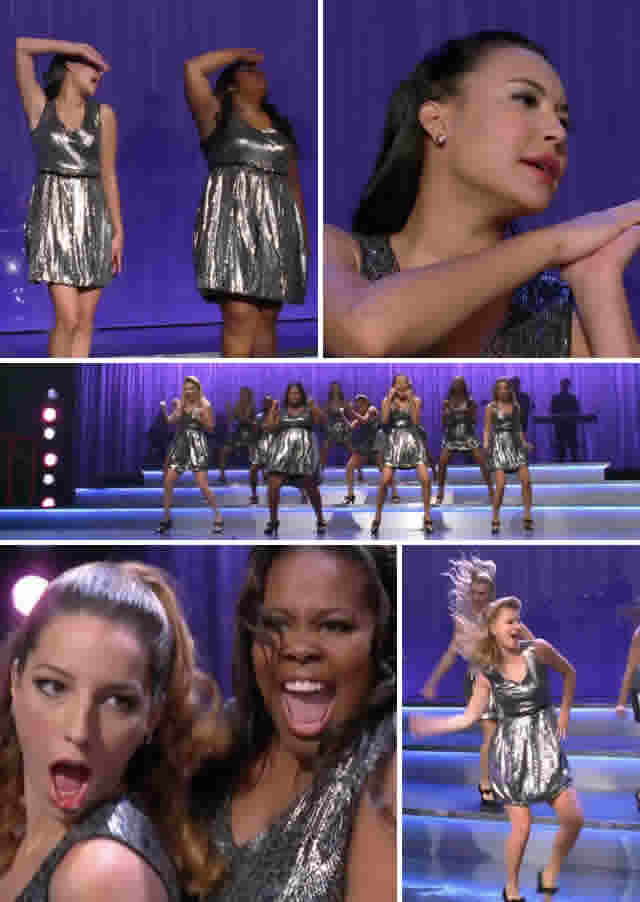 Obvious highlights include and are limited to waltzish-section wherein the ladies paired off and a devious cameraperson gifted us with a clean focus on Brittany + Santana looking fierce and smokin' hot.
They're good, really good, and everybody knows it.
Now pop your popcorn, put on your patriarchy pajamas and settle up for an hour of nonstop New Directions. Not gonna lie, though, I liked The Troubletones and (unlike my intern, apparently) also liked the New Directions, although I'm unsure why Finn and Mike Chang were given so many solos. I guess I just like singing and dancing SO MUCH.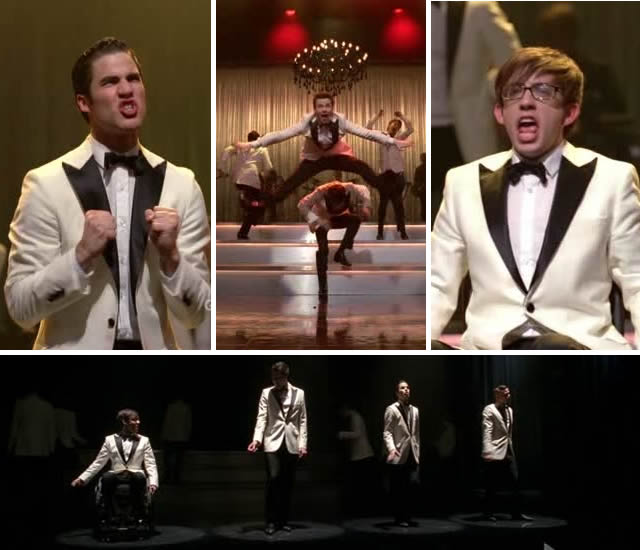 The New Directions, dressed as cater-waiters, lead with one of my fave songs ever, the Jackson 5's ABC, and Tina's teenage popstar voice is perfect, as is Kurt's sudden ability to be sexy and fantastic. Sam gets to thrust his cock in the air, which delights everybody including the drunk clown judge (don't ask). Everyone cheers, shit goes dark, and the spotlight illuminates Quinn and her deathless Lady Gaga voice leading into Janet Jackson's "Control":
Quinn: "This is a story about control, my control. Control of what I say, control of what I do, and this time, I'm gonna do it my way."
Blaine leads "Control" effectively and at the conclusion of "Control," Finn emerges from the deep fog to ruin Michael Jackson's "Man in the Mirror" and I re-eat everything I've ever eaten in my entire life and re-throw-it-up. Then the other boys take over and I deal.


Post-performance, back in the dressing room, Sam gloats: "TOP DOGS! Yeah that's what I'm talking about!" 'cause he's holding on to thirteen as long as he can. Judging time!
Surprise, The Unitards snag third place and the Gerber Baby pees in her pants with delight:
Um, Troubletones get second and New Directions get first and everyone laughs/claps in slow-motion.
We cut back to The Troubletones who look troubled because their feet are glued to the bleachers. Lights out, and SCENE. G-ddamn, show.

Cut to some office somewhere, where Rachel and Quinn both show up, ready for a pizza party or maybe an ice cream cone to the face:
Rachel: "Well, my suspension is officially over. It'll still be on my transcript, though. I'm just hoping that the admissions department at NYADA see it as a sign of my artistic, rebellious attitude."
Quinn: "Good luck with that."
Rachel: "Are you going to go tell Figgins about Shelby? Because I still think it's a really terrible idea."
Quinn: "I came here to talk to you, actually. To tell you I'm not going to tell."
Rachel: "Why?"
Quinn: "Because I love Beth, and I don't want to ruin her life… I wanted to thank you, actually."
Rachel: "For what?"
Quinn: "For keeping me from doing something stupid. Something I would have regretted my entire life."
Mhm. Quinn was this close to devoting herself to Finn Hudson for life, thank G-d Rachel stole him back.
Rachel: "We're kind of friends, huh?"
Quinn: "Kind of."
So Quinn's giving up on Project Beth in favor of everybody's favorite safety school, Yale. It's the second-most competitive University in the country!  GAH this is driving me irrationally crazy, this unnecessarily fake universe where all schools seemingly have rolling admissions, theater conservatories are more concerned with your Student Government experience than your audition, NOBODY is applying to ANY backup schools, and Ohio State came to McKinley to maybe recruit Finn. These kids need a meeting with Tami Taylor stat.

ANYHOW – cut to the restroom, where Santana's carefully applying Brittany's eyeliner 'cause Eyeliner Lesbians are the new Lipstick Lesbians. I think Shane started it. Today's bathroom chat topic is "losing to New Directions," which is partially blamed on Sam's Penis Thrust. Santana says:
Then Quinn shows up and I'm so out of recap-energy-juice
"Do you know what growing up is about," Quinn begins with poise after Mercedes crosses her arms and says "we're listening." The girls, always ready for a teachable moment, eye her mysteriously. Quinn continues: "Losing things."
Quinn goes on to divulge her age (17), how much of her life she has in front of her (the rest of it), who she loves ("you girls" and Glee Club) and when she'd like to look back on these months as the best times of her life (at 27 or 87). It's grim but the ladies lap it up and Brittana even cutely hold hands like twelve-year-olds who don't know they're gay yet.
Quinn suggests the girls return to Glee Club 'cause Mr. Shu & Rachel approved The Troubletones getting their own number at the International Ghostspace Hacksaw Karate Cinema Awards or whatever. Quinn then requests their presence at a sure-to-be-epic singalong in the auditorium and skips off.



Cut to the auditorium, where New Directions is ripe with youth, fervor, and, certainly, ecstasy or some other kind of drug that induces near-record levels of Choral Euphoria. The song of the hour is "We Are Young" by Fun and Janelle Monáe.
Then something catches Quinn's eye — it's Sugar Motta and those three other girls from the music team thing! — at which point The Troubletones, also infected with Enthusiasm, practically leap to the risers to hug all the wrong people.
Brittany hugs Irish Breakfast, Quinn and Mercedes dance gayly about, Brittany then hugs Mike and Tina at the same time, all while Santana stands proudly like a soldier in a turtleneck, belting the fuck out of that song, until even her steely defenses break down and she is ENCHANTED BY THE GLEE OF GLEE.
Rachel takes Santana's hand and leads her over to Finn, and THEN SANTANA HUGS FINN AND I throw up all the food I didn't eat in addition to re-re-throwing up all the food I've ever eaten in my life.
At that point I died, I don't know what happened next.

Soooo… my intern alerted me to the presence of this this blow job. You'll like this better. Then there's also this, which is probably a lie, but whatever. COME BACK NEXT WEEK FOR THE CHRISTMAS EPISODE!!
Pages: 1 2See entire article on one page