This guide is written by an Autostraddle community member! The Queer Girl City Guides are compiled and written by volunteer community members who are excited to share their favorite places and experiences with you. They cannot be independently verified by Autostraddle. We also recognize that cities change and venues close. Due to team restrictions, these guides may not always be up-to-date as time goes on. Feel free to share your own info about these locations (or others!) in the comments!
---
Welcome to Glasgow! Yes those are traffic cones on that statues head. No it's not technically part of the statue, but in all honestly it's genuinely disorienting to see it without. Glasgow is Scotland's biggest city, and boy are we thrilled to finally have a Queer Girl City Guide here. Four out of our five main political parties here in Scotland have been led by LGB people and it totally isn't even a big deal. It's also the home of the since-deceased BBC lesbian drama Lip Service (RIP). "People Make Glasgow" is our city slogan and we really live by that motto. We're known for our friendliness, and you only need to look at campaigns like Refuweegee to see why. And for the record, yes, Glasgow is better than Edinburgh.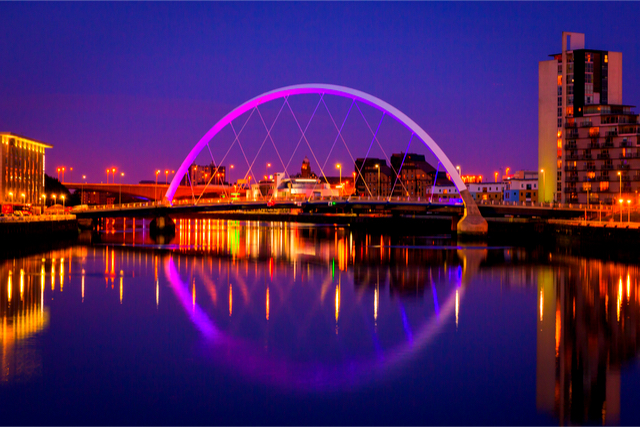 ---
Get Into The Groove
Glasgow has a great nightlife that spans across the city. There's even an entire street that is solely made up of bars, restaurants, casinos and nightclubs that was once lovingly nicknamed Glasvegas, and may have inspired a certain band's name.
Outside this main strip there's plenty of LGBTQIA+ specific and friendly places to have a drink, a dance and the chance to chat up a cutie.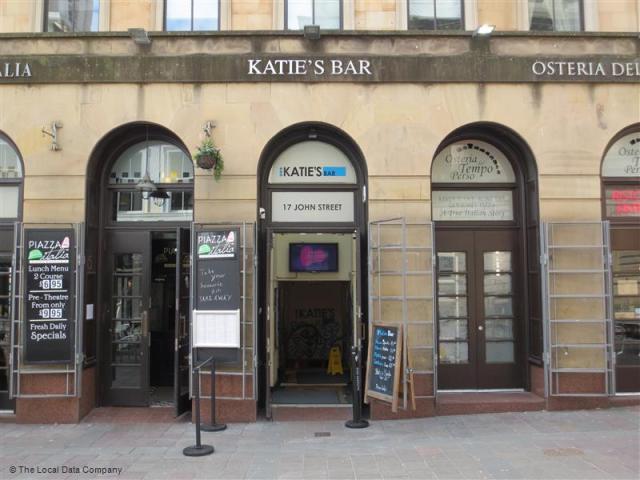 Katie's Bar
7 John Street, G1 1HP
Do you like cocktails? Do you like karaoke? Do you like bars for queer women? Congratulations, you've now found yourself at Katie's Bar. Nestled in The Italian Centre in Merchant City, this place hosts plenty of Drag Queen's, tribute acts to pop artists such as Little Mix and Pink, and regular DJ's. Up for a little more conversation than music? Why not impress a cute gal with your knowledge during the regular quiz nights? Plus the bar staff know how to shake up a cocktail or two, with the Jessica Rabbit being a particular favourite.
The Polo Lounge
84 Wilson Street, G1 1UZ
Polo is probably the most well-known gay nightclub in Glasgow. A staple of the city, it's housed in a beautiful building in the Merchant City area of Glasgow – a place filled with high-end designer clothing, lots of culture, and great places to wine and dine. You can chill out (or make out) upstairs in the glamourous interior, with its baroque mirrors, chaise lounges and couches, or head down into the nightclub for neon lights, secluded booths and more pop music that you can shake a stick at. Wednesday is the main student night with cheap drinks for all you skint folk, and Saturday is your best bet for a cracking night out.
Push it @ Stereo
22-28 Renfield Lane, G2 6PH
Stereo overall is a cool vegan bar and basement gig space but Push It by far is their best and queerest night. Happening on the second weekend of each month, it's a night of exclusively female artist tunes that's super fun and full of cute people. They have an excellent safer space policy that doesn't tolerate bullshit of any shade. If you're looking for a good time and some serious 90s nostalgia then this is your night!
Cathouse
15 Union Street, G1 3RB
The Cathouse Rock Club is kind of a mythical place. A part of the city's club scene for 27 years, it's cemented as the place to go if you're into metal, emo, rock, pop punk or the occasional screamo cover of Taylor Swift. Whilst not LGBTQIA+ specific, it is a welcoming place, and you'll always see a wide mix of people there. Plus, they usually do discounts if you've been at a gig that night, and loads of bands and artists come to the Catty to play DJ sets (or just hang out for a drink) post-concert. Oh, and their Halloween parties are pretty legendary too.
Queer Theory @ Nice n' Sleazy
421 Sauchiehall Street, G2 3LG
Easily Glasgow's most bizarre evening, you never know what's going to happen at this cabaret night. Hosted by local queer band Black Doves, the only certainty is that their performance will round off the night. Previous personal highlights have included being taken onto the stage to find an egg on a local drag king, a Kim Jong Un themed reinterpretation of Boom Boom Boom Boom by the Vengaboys and a pal getting chained to a pillar and receiving a lapdance. Leave your expectations at the door upstairs and enjoy the surreal queer universe of the basement.
---
Sport Scene
Glasgow hosted the Commonwealth Games back in 2014 with a commitment to getting more people involved in sport. If you're visiting and fancy getting active there's a bunch of groups you can get involved in. Plus you can hire the lovely pink People Make Glasgow bikes to go explore the city!
Glasgow Roller Derby
Whether you're Bambi on ice or whipping it like a pro, you'll find your place at GRD. Fresh meat training is twice a week, from 7-10pm on Tuesdays at The Firhill Complex, Maryhill and from 1-3pm on Sundays at the ARC Sports Centre (part of Glasgow Caledonian University in the centre of town). Keep an eye on the Glasgow Roller Recruits (GRR) Facebook page for the next skater intake if you want to get involved! If you don't fancy skating yourself but fancy checking out the action, then come along and cheer your favourites on at the regular matches!
Women's Only Swimming at Glasgow Club North Woodside
10 Braid Square, G4 9YQ
This Glasgow Life club hosts women-only swimming twice a week, for women and girls aged 14 and above in their beautifully restored Victorian-era bathhouse. You've also got the use of the health suite, sauna and steam room during these dedicated times. Unfortunately, it's not quite fully trans inclusive.
---
Eating Out
Fun fact: Glasgow has been voted the most Vegan-friendly city by PETA for at least four years now, so if you're looking for food with no animals involved it's definitely a great place to eat. Glasgow is probably the best place to eat in the UK outside of London – so no matter what makes your mouth water, you'll have bundles of choice!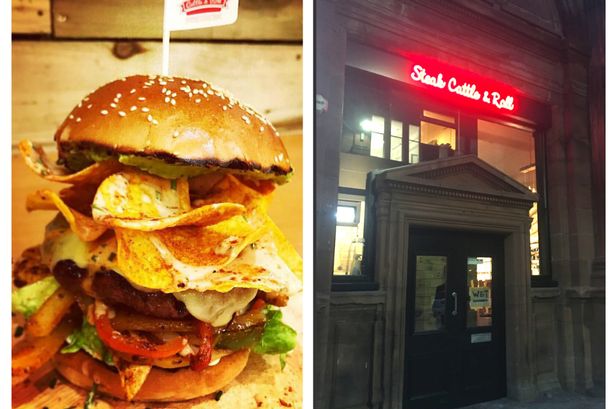 Steak, Cattle and Roll
321 Sauchiehall Street, G2 3HW
Dilemma: you have a bunch of friends both vegan and non-vegan and you need to find somewhere to eat. Solution: Steak Cattle and Roll. They serve up huge portions of vegan and non-vegan burgers, hotdogs, fries and more.(Seriously, the portion of chips they dish up has to be shared by two, don't be a hero and try to finish one on your own).  There's a variety of vegan dessert options to choose from here, most of which include chocolate and ice cream!
The Flying Duck
142 Renfield Street, G2 3AU
The Flying Duck is legen(dairy-free) for its vegan food and drinks. Tucked away in a side street and down some stairs, this definitely a hidden gem you want to explore. The graffiti-art and string lights welcome you along a dark corridor before you eventually find yourself in the main venue, tables spread out everywhere and with a well-stocked bar. The Flying Duck also hosts a bunch of gigs, screenings, and events, but you know in your heart that the food will always be the main attraction – be sure to get the vegan mac n cheese and you will not be disappointed.
Ichiban
52 Queen Street, G1 3DS
The best Japanese restaurant in Glasgow, hands down. Hidden along Queen Street, it's one of the best discoveries in the city. We could gorge on their avocado maki for three days straight and still want to eat more. The quality of the food here is excellent, everything is freshly made, and I'll be honest, it's going to ruin any other Japanese restaurant for you because you'll just be thinking "It's good, but it's not Ichiban…"
Topolabama
89 St Vincent Street, G2 5TF
Looking for good Mexican food at a decent price? And somewhere that also has a really fun name to say? Topolabama is the place for you. They have an express lunch menu which is an absolute bargain (£9.95 per person for a whole bunch of food) and a pretty extensive selection of imported alcohol. Try the salt and chilli fries, and any of the quesadillas on offer, for a fully satisfactory lunch. Plus if you're in the day drinking mood, the multi-flavoured margaritas are excellent.
---
Feelin' Yourself!
We all fancy a new hair colour or crave some new ink every once in awhile, and although there is an abundance of places you can go to get yourself looking fierce, the recommendations below are the places that really are at the top of their game. So if it's something special you want, head here.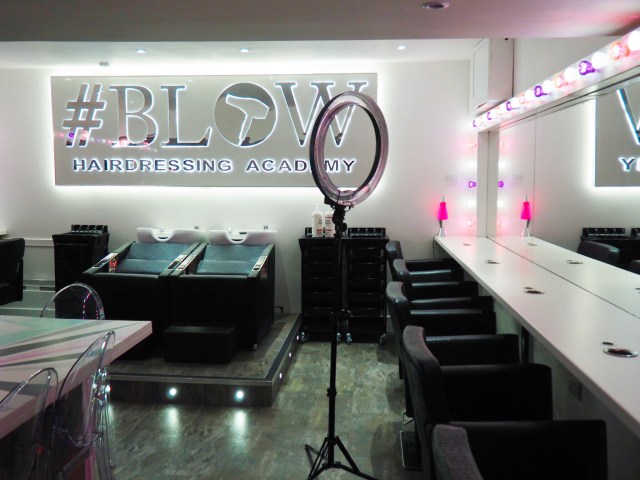 #BLOW
243 Kilmarnock Road, G41 3JF // 1060 Argyle St, G3 8LY
We'll put my hands up right now and say that we're obsessed with #BLOW. They've made a big name for themselves in the city as being the experts in bright custom colours, and have provided many a festival go-er with the perfect braids and glittered partings for a weekend of partying. They serve cocktails and popcorn for their clients and do lots of workshops teaching other hairdressers their crazy hair skills. If you're looking for a brand new 'do, head to one of #BLOW's salons. You won't regret it.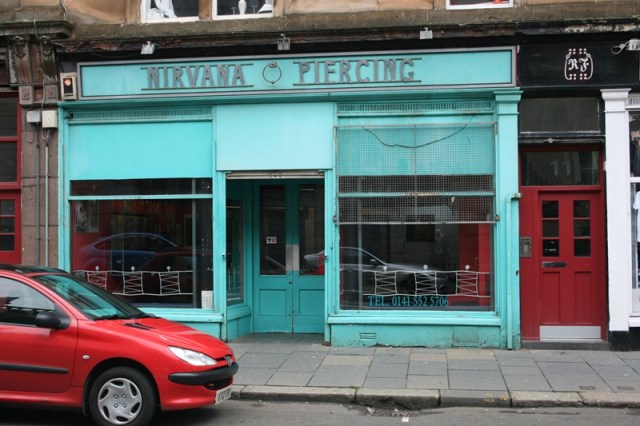 Nirvana
9 Chisholm Street, G1 5HA
Nirvana is your one stop shop for body mods. They've built their business on being the experts in piercings in the city for 27 years, and though the tattoo branch of the shop is relatively new compared to the rest of the store, by god have they got some of the best in the business working there. If you're looking for a beautiful piece of art to stay on your skin or fancy a cute piercing somewhere new, there's nowhere else that compares. But if you're planning on getting some ink on your next visit to Glasgow, book your tattoo first before you even think about flights, accommodation, etc – the artists are high in demand.
---
Books! Books! Books!
Glasgow is a delight if you're a bookworm like me. We've got loads of Waterstones stores across the city, who usually have a bunch of LGBTQIA books in store (or they'll order them in for you). There's also loads of excellent independent comics shops who prefer their stories a little more visual. A1 Toys and City Centre Comics are great places to look if you're looking for particular back issues and some hidden gems. Plus, we have lots of local libraries dotted about the place, as well as bigger libraries such as the stunning Mitchell Library. And if you want to buy some books whilst feeling good, Oxfam also have a couple of shops where you can donate or purchase books that will help the charity do it's awesome work.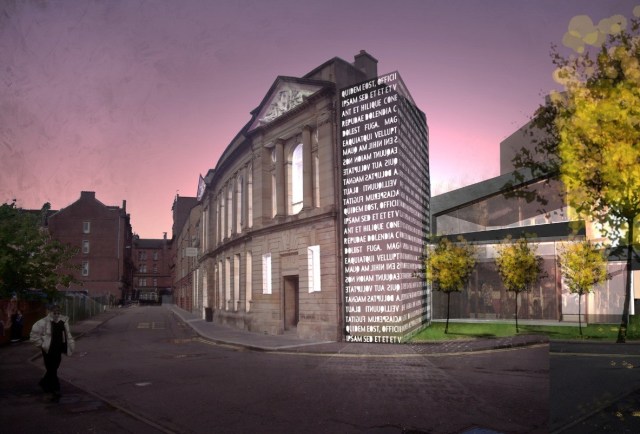 Glasgow Women's Library
23 Landressy Street, G40 1BP
This library started after Glasgow's stint at the European City of Culture in 1990 by people who wanted to highlight women's contribution to culture. Today it is a hub of knowledge on the mark women have made on history, and has an extensive collection of documents on LGBTQIA+ history in the UK stored in the Lesbian Archive and Information Collection Centre. But what's really remarkable about the library is the dedication of the volunteers who've worked throughout the years to make this the national treasure it is today, and the kindness of those who've added to the collection available at GWL – the vast majority of items are donated, and more keep pouring in. They host many events throughout the year, from writing workshops, heritage walks, dance and crafting classes, talks from writers, and much, much more. Glasgow Women's Library is dedicated to telling and listening to the stories of women, and you're always guaranteed a warm welcome here.
Forbidden Planet
168 Buchanan Street, G1 2LW
Forbidden Planet Glasgow is the place to go if you want to pick up the latest edition of Lumberjanes, Gotham Academy and  The Wicked +The Divine as well as any older comics you might have missed out on first time round. The staff are always happy to help out with a request for a particular comic, so don't be afraid to ask! The store also hosts She Reads Comics, a monthly meetup for women who like, well, comics.
Geek-aboo
74 Queen Street, G1 3DS
If you're looking for the latest edition of Zodiac Star Force or Wynnona Earp, or fancy a bunch of cool comics/animation/movie related clothing then head to Geek-aboo. Or if you want to support local comic creators, they have a section dedication to those awesome artists printing stuff themselves. What's even cooler is that they have silent shopping hours for autistic customers on a Sunday from opening until 12 noon – really useful if the usual bustle of city centre shops is a little overwhelming.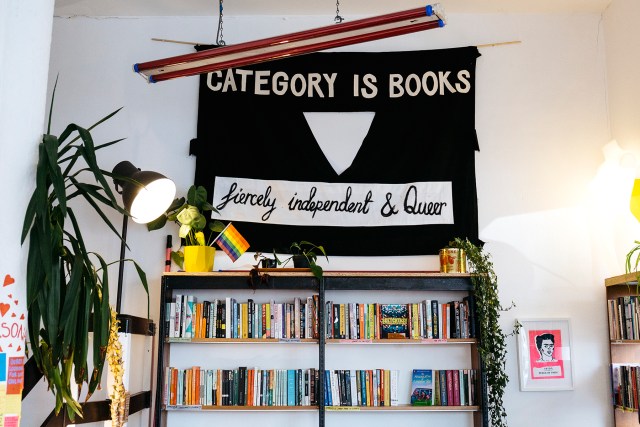 Category Is
34 Allison Street, G42 8NN
Category Is might just be one of the most important places for LGBTQIA+ people in Glasgow. An independent queer bookshop on the southside run by the lovely wives Charlotte and Fi Duffy-Scott, it serves as a place where all members of the community can meet – there's colourful Personals posted all over the shop – read books, and pet a very cute dog. Open Wednesday through Sunday, there's regular events that take place every month, including yoga, dungeons and dragons, and poetry workshops. You can also have your tarot read, get a sharp haircut, or catch up with the best feminist sci-fi. There's also an incredible range of pin badges (our personal favourite being one with an image of Kristen Stewart on SNL with the text "I'm so gay, dude") as well as handmade zines, graphic novels and the latest issue of DIVA mag.
---
Culture Club: Music and Film in Glasgow
Music is pretty big in Glasgow. We love our gigs and we have a flourishing live music scene – about 99% of the bars in the city host regular open mic nights. We've also got some of the most legendary venues, and because of our reputation as being a pretty wild crowd to play for, we're lucky enough to regularly host lots of big acts who come along just to see what the fuss is all about.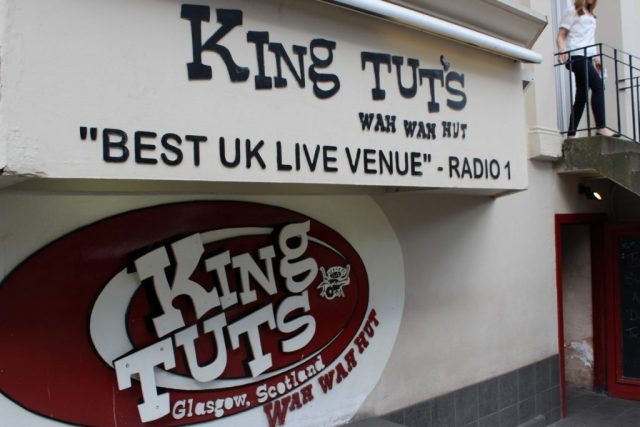 King Tuts Wah Wah Hut
272A St Vincent Street, G2 5RL
"Quite possibly the finest small venue in the World" exclaimed NME magazine. Ever since opening its doors in 1990, King Tut's has been the place to launch many an artists career. Oasis were famously signed here back in 1993, and it's been a 'bucket list' venue ever since. The stairs leading up to the stage tell a 27 year long story of all the amazing musicians that have  performed here, including the likes of AW, Jenny Owen Youngs and Ladyhawke. If you want to have bragging rights that you saw so-and-so in an intimate venue "before they got big", this will be the place where it happens.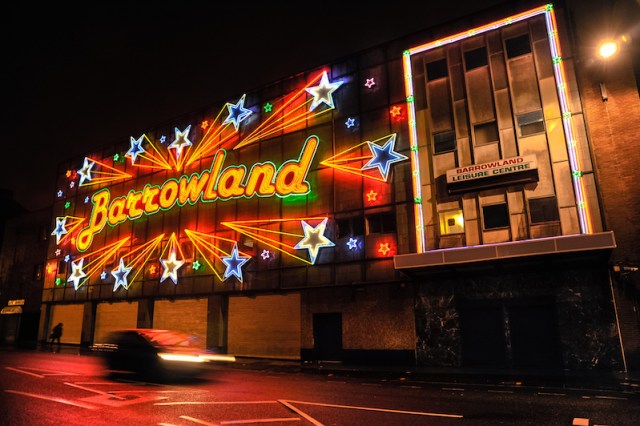 Barrowland Ballroom
244 Gallowgate, 0TT
Another mythical place in Glasgow's music scene, the Barrowland Ballroom is often noted by many musicians to be their favourite place to play. It's a little run down, yes, but that just adds to its character and charm. Part of what makes this place magical is the sprung dance floor, a hark back to it's original Ballroom use, which makes for excellent moments where you feel like you spend most of the gig levitating as the crowd dances, sings and jumps around. Be sure to visit the Barrowland Park, which highlights some of the amazing concerts that have happened in the venue.
Scottish Queer International Film Festival
The delightfully named SQIFF pulls together some of the best less known queer films from across Scotland and around the world. Featuring some of best filmmaking from this generation and those who have gone before us, they screen less heard stories as well as helping local filmmakers hone their craft through a range of workshops and talks. Most of the events are free or ticketed on a sliding scale according to how much you can afford. It takes place in October and you can check out the full lineup on their website.
---
Pride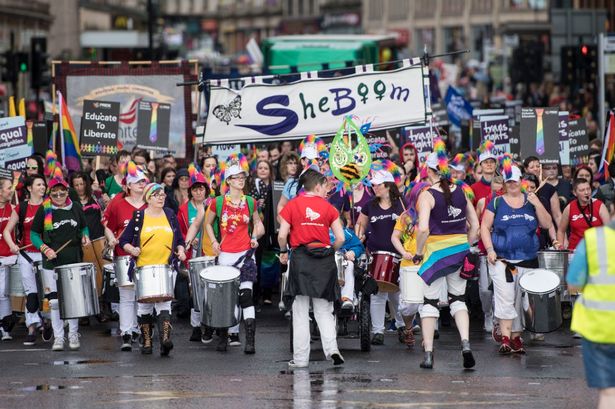 has not just one, but two prides! There is the main Glasgow Pride parade and the alternative, Free Pride. Main Pride is hosted in Glasgow Green, it's been running annually since 2012, usually around the 20th August, and lasts over the Saturday and Sunday. Saturday is the main day, with the parade that travels through the City Centre. LGBT Health and Wellbeing are now in their fourth year hosting a Pride breakfast so you can fill up before marching. The Saturday also hosts the Youth Zone, so if you're a younger member of the LGBTQIA+ community or have children, you can head down there and chat to the organisations across Scotland that welcome LGBTQIA young people. Over the weekend Glasgow Green is filled with stalls from charities and businesses all supporting Pride, as well as performances from pop artists. And if you're looking to head out after, the afterparty on both nights is hosted by The Polo Lounge, who are usually the main sponsors of the event.
Weekend tickets cost £12, and day tickets are £8 each. For those aged 13-17, they can get a Youth weekend ticket for £5.
Free Pride was set up as a response to the commercialisation and de-radicalisation of Pride and focuses on being an accessible and free for everyone. There is a Free Pride bloc in the main parade which anyone is welcome to join, and afterwards a family friendly daytime event with stalls and workshops discussing issues facing the LGBTQIA+ community, a quiet space and lots of arts & crafts, before a banging clubnight at the Art School.
If you're looking for a way to meet new folk in the city throughout the year there's always workshops, self care events and clubnights happening plus planning meetings are fully open and welcoming of new people!
---
Other Things to Know When Visiting
We kind of loathe having to write this, but if you're coming to this city to live or to visit, it's something that can't be avoided. Football is something Glasgow has had an issue with for years. There are two main teams who play in Glasgow, Rangers and Celtic, and the rivalry between these two is not pretty. It's something that has caused the city a lot of issues in terms of violence. Our advice would be that unless you are going to a match as a fan, avoid the city centre or any of the train stations/pubs near the main stadiums (Ibrox and Celtic Park). Match days are usually an excuse to consume a lot of alcohol, and if you're like me and get uncomfortable around loud, shouty, intoxicated men, I'd chill out and stay home or the hotel.
---
Let's Talk About Sex(ual Health), Baby
General life advice: remember to get tested! The most common STI symptom is no symptons, regular sexual health screenings keep you and your partner(s) healthy.
Sandyford Centre
2-6 Sandyford Place, G3 7NB
The Sandyford is Glasgow's main testing clinic and there's a couple of different clinics across the city. They offer full sexual health screenings and you can book an appointment on the phone. There is normally a few weeks wait to be seen but if it's urgent then they'll fit you in.
Terrence Higgins Trust
Breckenridge House // 274 Sauchiehall Street, G2 3EH
Terrence Higgins is a wonderful charity that principally focus on supporting those with HIV through practical work and advocacy. However they also offer HIV tests (results within 20 minutes) as well as screenings for STIs. They're a lovely bunch and if you're feeling a lil bit nervous about getting testing then they'll completely put you at your ease. You can drop in on a Tuesday night 5-8pm or make an appointment by phone.
---
University Life
Glasgow is an education hub, with lots of colleges and universities across the city. There's the University of Glasgow, University of Strathclyde, Glasgow Caledonian University, Glasgow School of Art, University of the West of Scotland and the Royal Conservatoire of Scotland all of which have active LGBTQIA+ societies.
---
Faith Groups
Metropolitan Community Church
Ibrox Parish Church Hall // Clifford Street, G51 1QL
The MCC is a small church run by the LGBTQIA+ community, for the community. Sunday service is at 3pm in Ibrox Parish church and on the first Sunday of each month there's the Big Squeeze, a social where you can get to know everyone and share a meal.
Langside Parish Church
167 Ledard Road, G42 9QU
Langside is explicitly welcoming of everyone no matter how long it's been since your last church visit or your sexual orientation. Sunday service is at 10.30 am and there's a creche for kids. When the church is open you're free to use it as a reflective space.
Glasgow Buddhist Centre
329 Sauchiehall Street, G2 3HW
In the centre of the city's busiest street, you can find this wonderful oasis of calm. The centre is fully queer friendly and offers free meditation and buddhism classes, as well as Tai Chi and yoga. Their website has the full list of classes.
---
Wellbeing and Community Resources
LGBT Health and Wellbeing Scotland
12 Queen's Crescent, G4 9AS
If there's an LGBTQIA+ group taking place, it's probably associated in some way with LGBT Health and Wellbeing. As well as providing information and support across Scotland, they help facilitate many different groups across Glasgow from those whose first language isn't English to 50 year old plus folks looking to make some friends. They host events at loads of lovely venues including The Project Cafe and Woodlands Community Garden. If you're looking for help, support, or just want to meet some other LGBTQIA+ people in the area, then LGBT Health and Wellbeing should be your first point of contact. They also have a helpline (0300 123 2523) that runs Tuesdays and Wednesdays from 12.00-21.00.
LGBT Youth Scotland
30 Bell Street, G1 1LG
This non-profit organisation focuses on young LGBT people in Scotland and they use their skills and knowledge to  provide training for businesses too. They run a number of meetups in their Bell Street office for those under 25, as well as a counselling service that you can self refer to. They've also got a mental health drop in service on Thursday nights (19.00-21.00) where you can chat to someone or get involved in workshops appointment free
TYG: Trans* Youth Glasgow  takes place every Monday night from 19.00-21.00. THis group is for people aged between 13-25 who identify as transgender and provides support as well as allowing those in the group to share their own knowledge and experience on things like coming out, health and legal issues.
StandOUT takes place every Wednesday night from 19.00-21.00. This group is for people aged between 18-25 who identify as lesbian, gay, bisexual or transgender, and gives those who attend the opportunity to make new friends and learn new skills.
---
Come visit Glasgow! We'd be glad to have you!