Welcome to this thing that I'm doing now called Gay Your Makeup, where I teach you how to turn your face into a sexy magic trick! I'm excited about the direction of this column, and hopefully you'll come out of this experience knowing how to wear glitter on your face in millions of different combinations. But today we're starting with a very simple, natural look for people who want to trick everyone into thinking that they're not wearing makeup. This look will make people think: I can't believe it's makeup (and not just naturally good skin)!
---
Primer
Behold, internet: my face without makeup. This is an inside exclusive, you've seen it here first. Seriously though, I've worn full-on makeup every day for most of my life (due to acne, boo). And even after Accutane cleared my skin once and for all, I still have scars on my cheeks that I'm uncomfortable showing to the general public. So if you've seen me in the light of day, you've seen me with makeup on. Which means I've gotten the hang of makeup not through expertise per se, but through good ole' repetition, day in and day out.
And I'm not pretentious about it. For example, before you put makeup on your face you'll want to use a moisturizer and then a primer. Do I think it matters which ones you buy? No. Absolutely not. I mean, sure, more expensive products are better for your skin, but forcing someone to buy more expensive makeup because it's "better" is lowkey classist. And I know some of us are broke, so I won't make you go to Sephora. In fact, go to the drugstore. Buy a moisturizer and a primer. If you're really feeling indecisive, use the ones I've recommended above. Spoiler alert: they're very similar.
---
Color Correction
After I put on primer, I correct some of my problem areas by using this fancy color correcting palette. I apply makeup with my very own freshly washed fingers, but I'll be the first to admit that even after washing my hands, it's an unsanitary method of makeup application. If you want to up your game, buy a cheap beauty sponge to apply makeup with! As far as color correction and how it works, there are a bunch of videos online to explain the process for different skin tones. Here's a good color correction video for fair skin, and one for lighter brown skin, one specifically for Indian folks, one for lighter black skin tones, and one for darker black skin tones. If you think your skin is pretty alright on its own, you can skip color correction altogether.
---
Concealing
The most expensive item in my makeup bag is this concealer, mainly because it's the only one I've found that actually takes on the challenge of covering my intense under eye circles. But the best inexpensive dupe for this concealer is NYX's HD Concealer.
---
Foundation
When I was bougie and had a bunch of money, I used the Makeup Forever Ultra HD foundation, which gives heavy coverage but looks lightweight. These days, I use the inexpensive dupe for the Makeup Forever foundation, which is Revlon's Colorstay Liquid Foundation. Both of these are considered "heavy coverage," which is not really the trend in makeup anymore. These days, it's much gayer to wear a sheer, dewy, light foundation. But listen, those foundations won't do a thing to cover my acne scars. So I'm going to keep wearing the heavy stuff. But if you want to know of the best foundations on the market in terms of gay trends, it's definitely the foundations made by Glossier and Milk Makeup. I love both of these brands and you're going to hear much more about them in the future! Oh, also, just so you know, I put powder on top of my foundation to help it look more natural. That's something that you'll need an actual brush to put on.
---
Contour
Like I mentioned, I'm obsessed with Milk Makeup. It's so, so gay. It's also really expensive. But it's where the majority of my splurge playchecks go. If you have lighter skin, I highly recommend using Milk Makeup's Matte Quad for your androgynous contour. The contour that I'm using in this photo is the brown shade in Milk Makeup compact that has four different shades. It feels literally like a marshmallow when you touch it, and you can glide it on easily with your fingers. It basically does all the blending work for you. It's definitely worth the money, and in upcoming Gay Your Makeup posts, I'll show you how to use the other three shades in the quad!
If your skin is darker, I found some videos for contouring on different skin tones. For dark skin tones, look at this video by Khloe Dosh, and this one which is longer and super detailed. There are also some videos for medium/deep skin tones, including this one by Bianca Harris and this one by Nabiha Yusufali. Tell me what y'all think of these, and if you have favorite contouring products for darker skin, please share those in the comments!
Oh also, when you contour with a cream shade like I'm using, make sure to only blend upwards, towards your temples. I don't know why. I think it was something I heard once in a video tutorial. Congratulations, now I want to pass on the information to you. If makeup had recipes, I would be the kind of makeup chef who says "fuck it," and throws the recipe away, hoping that something made up will work. This little trick works!
---
Eyebrows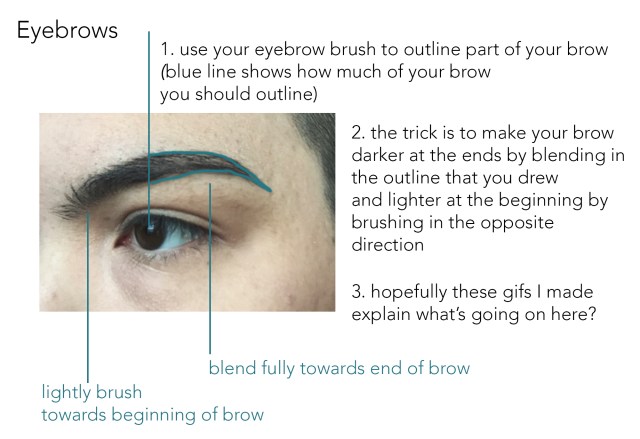 As far as eyebrows products go, I've used the Anastasia Beverly Hills Brow Powder Duo for two years and I kid you not, the container looks like I haven't used any of it. Some people prefer the Dipbrow Pomade of the same brand, but it's really just a matter of trying both and seeing which one you like. The most subtle and gayest eyebrow product, though, is definitely Glossier's Boy Brow. Oh, also, you'll need an eyebrow brush to do the eyebrow thing.
Now for a brief PSA. If you see the gifs above and think, "Ew, that's not what eyebrows on the internet look like!" let me just say: please stop being rude, I feel very fragile today. But also? You're wrong. So take a seat, I have a little lesson in Eyebrow Politics to share with you. The good news is that if you're any sort of queer, your eyebrows don't need to be perfect anymore. Perfect eyebrows are so 2015, and they're associated with The Straights™. It's 2017 and if you're gay, you're allowed to never pluck your eyebrows again. While you're at it, throw some vaseline on your brows to really emphasize how gnarly they look. Then go ahead, bedazzle your eyelid, why not? We're playing fast and loose and glittery in this world.
---
Highlight
The best way to bring this look together is by throwing some highlighter on top of your face. Highlighters are another category where I allow myself to spend money, because I'm lazy and the expensive ones literally do all of the work for you. I love Becca's Shimmering Skin Perfector in Moonstone, which I'm wearing in this photo. Becca is a great brand of highlighters for a bunch of different skin tones. I love how the shades Champagne Pop and Opal look on darker skin! Oh, you'll also need a brush for this step, lol.
---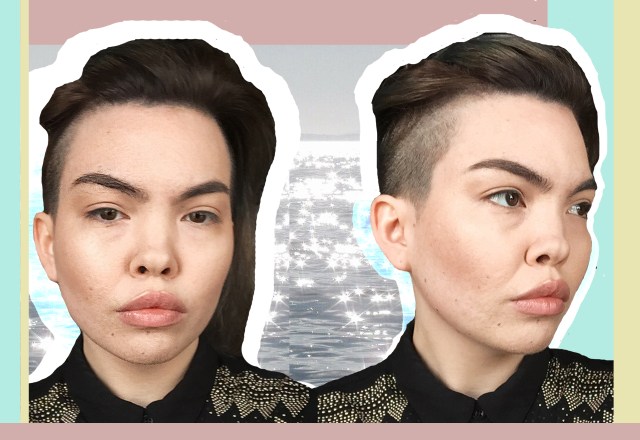 Now put on some chapstick and that's how you do it, folks! This is the look I'm sporting nowadays. It's nice because it doesn't include blush, which is the makeup product that reveals 1) you're wearing makeup and 2) you're blushing "like a girl ought to blush" which feels really cringe-worthy for me personally, gender-wise. This look is intentionally natural and basically just contours and highlights the parts of your face that pick up light while also defining your features more clearly. I hope you have fun with it, you radiant queer sunbeams.