The alarm on my phone goes off every day at 5:30 AM. "Fuck!wp_postsI say out loud to myself, pressing snooze a few times. I'm warm and relatively pain-free in this sleeping bag, and it's freezing fucking cold outside. I don't want to face the day: the work, the morning cold, the afternoon heat, the exhaustion is all overwhelming in this rare moment of comfort, and I'd strongly prefer to avoid all of it. But sleeping in isn't an option. I have to be at the kitchen tent by six, and on the trail by seven. I have ten hours of manual labor ahead of me, for the next seven days straight. It's my job, and I have to get up.
It's still dark outside. I pull myself out of my warm bag and put on my cold pants, still wet from fording a river the previous day, and dirty work shirt still damp with sweat. My belt buckle is frigid to the touch. I lace up my boots and head to the kitchen tent for breakfast. Toad-in-a-holes, again. I'm never hungry this early in the morning, but I make myself eat two. I'll need as many calories as I can get. The other folks on the crew and I all wait impatiently for the water to boil for our coffee without speaking. We shovel the food into our mouths, chug our coffee, clean up the dishes, make sure all of the bear-proof boxes containing our food are locked, pack our bags, and hit the trail. Our camp, where we're working from for the next eight days, is ten miles in the backcountry, meaning away from any roads or development. We have a three-mile hike from camp to our worksite. The standard pace for a trail crew laborer is three-miles an hour, but today I'm struggling – I injured my ankle yesterday and I fall behind. We have to ford two rivers along the way. Limp, stop, remove boots, put on sandals, walk through the freezing cold river, almost fall in, put boots back on my frozen pale feet, limp some more, repeat. I use the shovel I'm carrying to balance myself in the rushing water. I always prefer a long-handled tool for fording.
I work on trail crews. This season I'll be in the Bitterroot National Forest in Montana; it'll be my first season working for the Forest Service. Previously I've worked for the National Park Service, at Yellowstone National Park and Mt. Rainier National Park; before that I spent a season wildland firefighting at a contract company and two years at a conservation corps. This will be my second season on a backcountry crew. Backcountry crews work ten-hour days on eight-day hitches, with six days off in between. We get all of our food, tools, and gear packed out by pack mules. The first day of a hitch is spent helping the packer load the mules, hiking out to the campsite, unloading the mules, and setting up camp. We work for six days before the packer returns with the mules to pack us back out. We take a break and do whatever we want for six days (typically it involves a lot of beer), then go back to work. Repeat for 5-6 months. Then half a year of unemployment (unless you're the type to get a job at a ski resort, but I'm not) before going to our next job.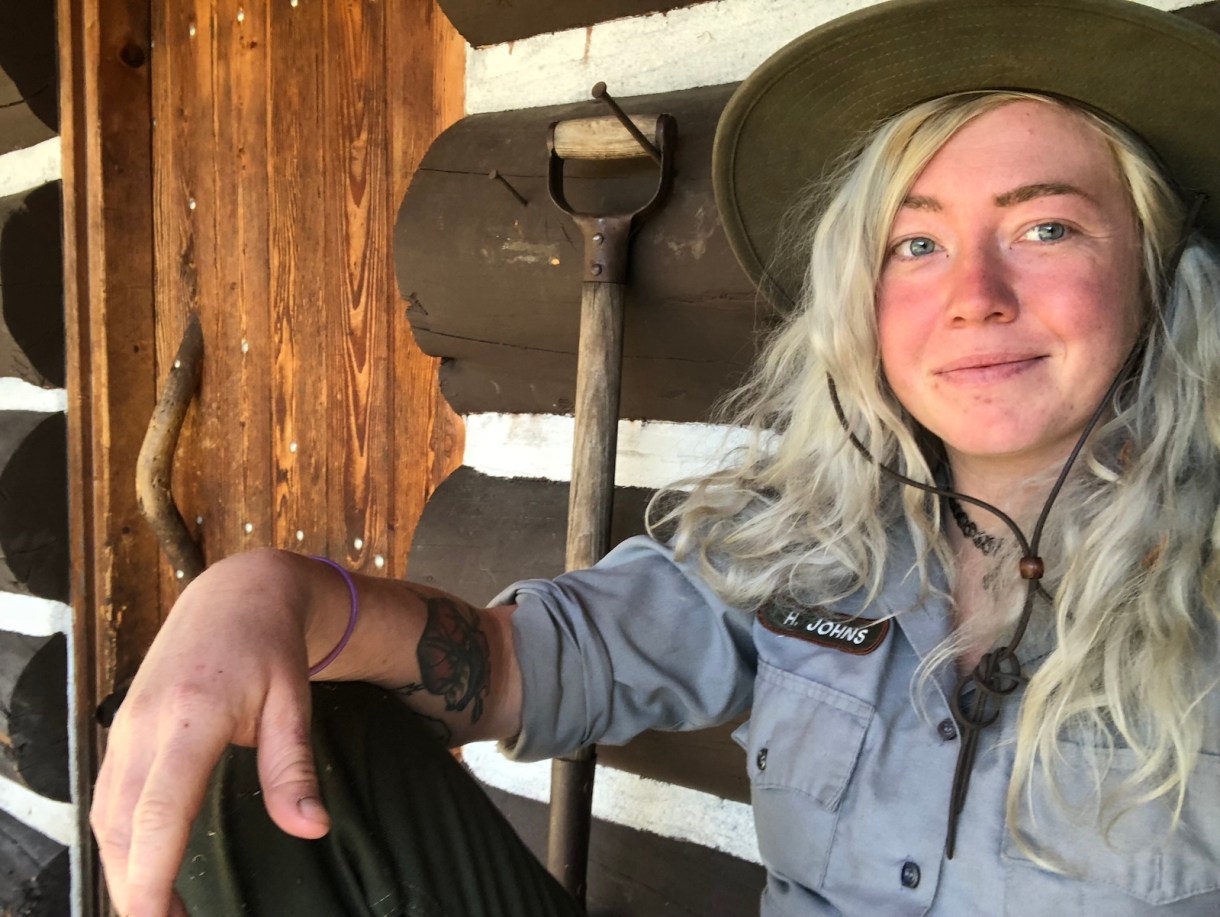 If you'd told me in my early 20's that I'd be working on backcountry trail crews or regularly running a chainsaw, I wouldn't have known what the fuck you were talking about. I was a queer femme urban party person, an aspiring comic book illustrator. I'd never used much more than a hammer or hiked more than a few miles in the Columbia River Gorge. But after a series of unfortunate events in 2014, my already chaotic life completely fell apart. I had recently gone through a break up with someone I was madly in love with, who immediately started dating my best friend, so was without a girlfriend or a best friend. I don't have a close relationship with my family, so my connection to my best friend was pretty much everything to me. Losing her was devastating. I was also without a job and without a home. I wound up back at my dad's house in Eugene, Oregon. I was alone, depressed, and broke; I had no sense of self worth, no direction in life, and I hated myself. I felt weak and worthless.
It was at this time that I found out about a conservation corps in Eugene that had a leadership development program that functioned as a 6-week trail crew. I was 26 at the time, and this was the only program they offered that accepted people my age (most of their programs were for younger people). I had no idea what else to do with my life, so I applied. Most people I told were surprised. Manual labor in the woods didn't seem like something someone who looked like me (small, blonde, femme, often wearing bright red lipstick) was cut out to do. But I had to do something. I had to prove to myself that I was capable of doing something uncomfortable and demanding. I also just needed to get the fuck away from the shit show of my life.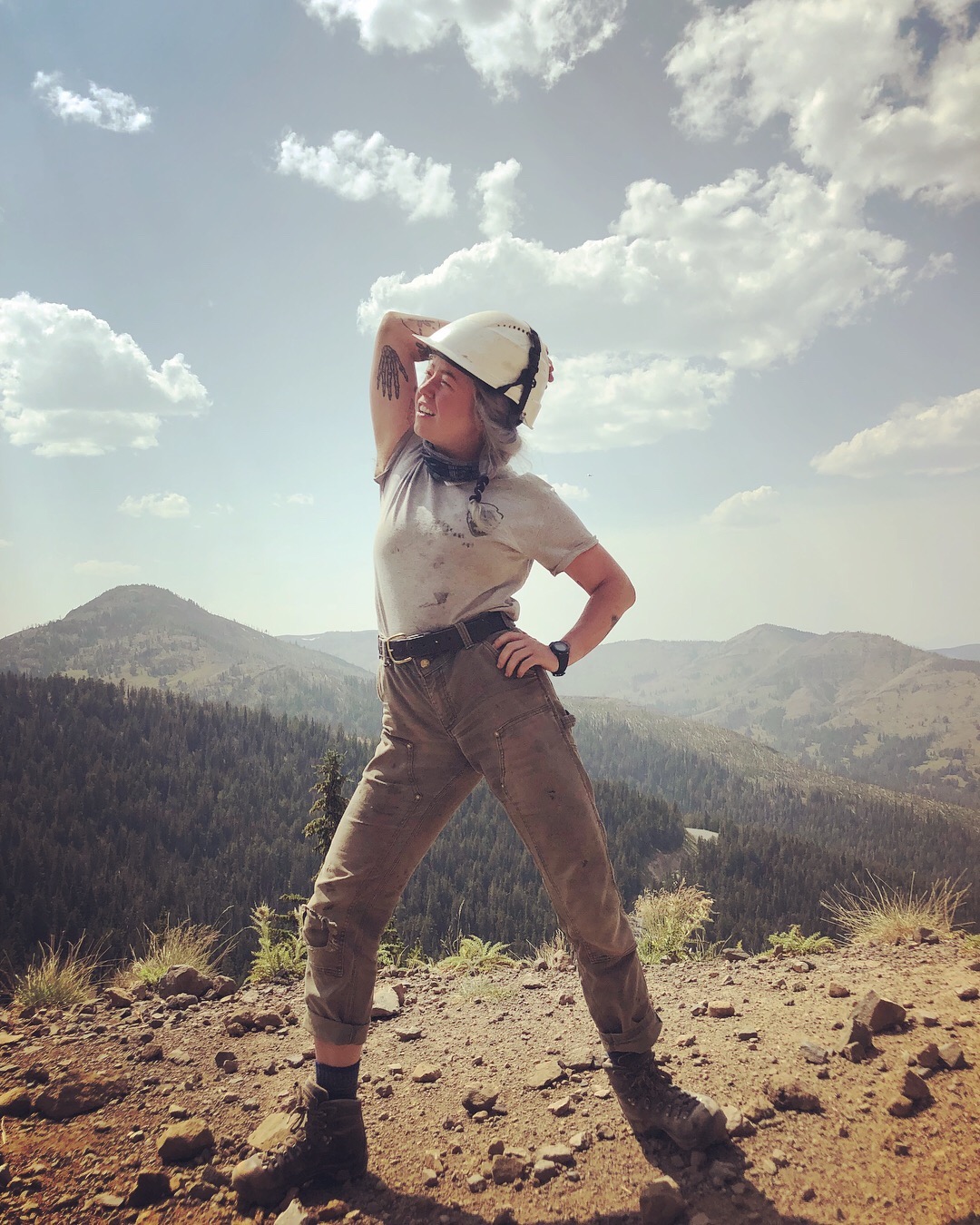 The first week of that crew I couldn't stop asking myself, What the fuck have I gotten myself into? I felt utterly trapped. It was the first time in six years I was spending much time outside of my queer Portland bubble with people very unlike me. I wasn't allowed to drink. I had to follow a strict schedule, without the ability to call out. I had to learn how to cook for large groups of people under a tarp. I had to learn how to swing a tool, how to start a saw, how to cooperate. We were discouraged from asking what time work would be over. We were encouraged to interrogate our experiences with leadership, stress management, and interpersonal relationships. We were encouraged to be vulnerable to each other about our lived experiences. Every day, I reluctantly worked myself to exhaustion. I complained a lot. Every night, sober and terrified, I considered for the first time my own problematic, avoidant, and self-destructive behaviors and coping mechanisms, rooted in trauma, that had lead me to this point.
Eventually, however, I had to accept that I was, indeed, stuck on that crew for six weeks. Something finally started to shift. I looked around and realized that in this group of complete strangers, no one had any idea about my Portland reputation. I was completely free to be a different, more authentic version of myself. Being in the woods, away from my community baggage, my exes, friends, frenemies, Instagram, constant anxiety about money and rent, away from parties, alcohol, and drugs, was the clean slate that I desperately needed. I was granted the space to manually build a new sense of identity, rooted in strength. I experienced a sense of freedom, purpose, and empowerment I'd never felt before. I couldn't believe what I was capable of. I felt happy and proud for the first time maybe ever. My reluctance to work during the day turned into an enthusiastic love of the challenge, of discovering my limits and pushing myself past them. I stopped complaining. I realized that extreme exhaustion actually felt good and served to quiet my constant, looping anxious thoughts. My insomnia began to subside. At night, alone in my head with nothing to distract myself with, I finally began to face myself with honesty and forgiveness. I believe that crew saved my life.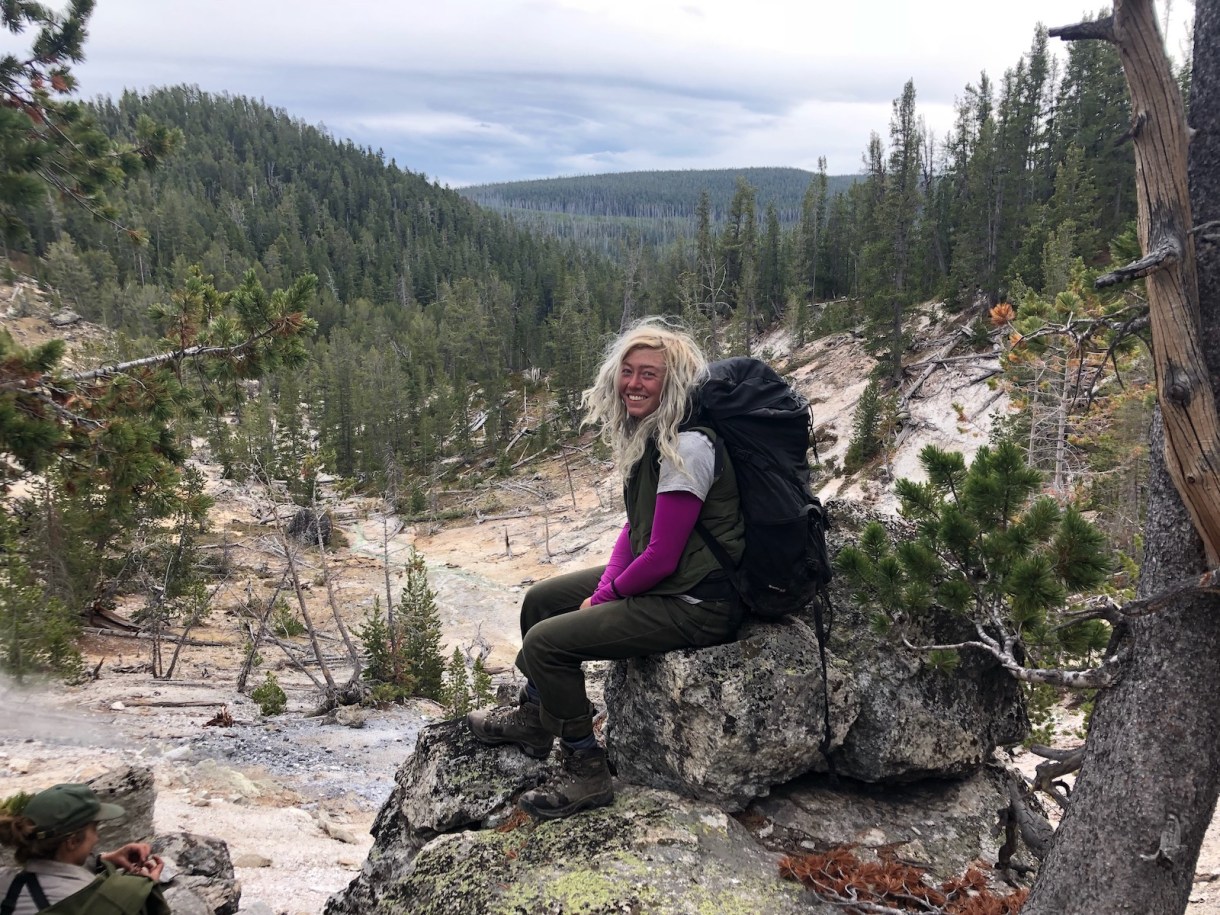 Trail work certainly doesn't come without its pitfalls. I'm unemployed for half of the year. For the other half, during the summer, I'm often very far away from everyone I love, without the ability to communicate with them. I often am lonely. I'm often exhausted, or in pain, or straight up injured and needing to just work through it. I'm often cold, or wet, or hungry, or running out of water. I often find myself in dangerous situations, like hiking through a herd of bison, or hiking in an open field at high elevation in a severe lightning storm where there's nowhere to take shelter as I'm holding a metal tool, or finding myself face-to-face with a pissed-off mama bear and her cub.
It's also a male-dominated field. Trail crews nationally are increasingly diverse when it comes to gender, but not race, and I'm the only queer and nonbinary trail worker I know in real life (although I've met a few others on the internet). That means that I almost always remain in the closet while at work until I can trust that my coworkers or leaders are safe and won't interrogate me about my identity or culture; I rarely am able to grant that trust. When I say the field is male-dominated, I'm talking about leadership: I've never worked for a non cis-male crew leader or supervisor. I'm very frequently treated dismissively, like an idiot blonde girl who's just going to get in the way, until I prove my work ethic to my crew. When project leaders talk about the project specs, they often don't look at me or talk to me. When crew leaders ask who is chainsaw or crosscut certified, they are often surprised to the point of making a joke when I raise my hand. At the beginning of every season, they're shocked when I say I would like to go to the fire refresher, that yes, I have my red card, yes, I used to firefight. I am used to the assumptions male coworkers and leaders make about me. Every season, my first task is to prove them wrong.
A lot of the sexism I experience is based on the idea that brut physical strength is the only important quality of a capable trail worker, an idea rooted in toxic masculinity. I'm pretty damn strong for someone of my size, but I'm never going to be the most physically strong person on a crew. I'm down to carry the chainsaw for 10 miles up a mountain, but I might go a little slower than a cis-dude. It's an uncomfortable truth I've had to come to terms with. I can often out-pace my coworkers when it comes to long hikes, but carrying immense weight over 40 pounds for long distances quickly is my weakness. What I lack in upper body strength, I make up for in other ways. Physical strength is actually not the only, or most important, kind of strength. I know that I'm smart, a good listener, easy to get along with, compassionate, and extremely safety-oriented. I'm a people-pleasing Libra and can easily ease tensions when they arise amongst crew members. I no longer shy away from challenges once I recognize them. I no longer complain, which is the number one sin for any trail crew member. Don't ever complain.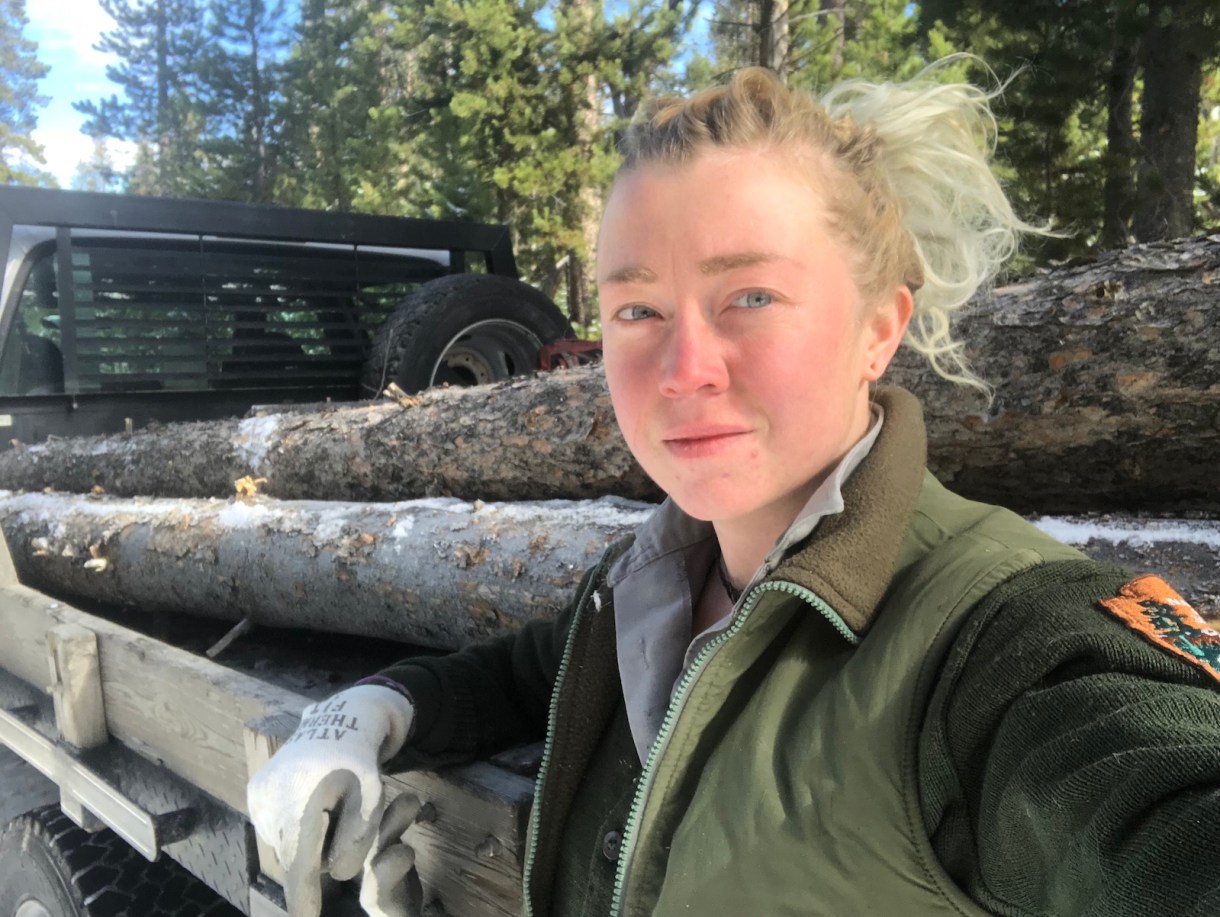 I still struggle with depression and anxiety, especially in the off season when I'm back in the city and have no way to sufficiently exhaust myself. But trail work has given me something real for now. I've grown physically stronger through trail work than I ever thought possible, but there's that different kind of strength that trail work has fostered in me that I believe to be a lot more important. It's the ability to sign up for six months of work away from your friends in another part of the country. The ability to join a crew as a novice, where everyone has more experience than you and you're terrified they're all going to think you're a fool until you're no longer a novice. The ability to be the only queer on a crew, the ability to laugh and have fun despite hiding a part of yourself. The ability to hike through a lightning storm on an injured ankle and know that you just need to keep going. The ability to stop yourself from running from the bear, because you know that would trigger her instinct to chase you, and to turn around and yell at her instead. The ability to get the fuck up out of your sleeping bag and put on your soggy, cold pants at 5:30 AM. The ability to face your fears and the limits of what you think you're capable of, over and over again. The ability to learn to look at moments of discomfort or pain as gifts, as opportunities to mine them for lessons like gold. And to never fucking complain.
That strength often translates during the off season as the strength to take care of myself when I feel too sad to do anything but sleep. The strength to be honest about my boundaries with people. The strength to come out about my identity. The strength to stop avoiding doing the hard shit that has to be done. The strength to be brave and calm when I'm terrified. Honestly, the hardest thing I've ever had to do is sit with myself. I'm finally starting to be able to do that.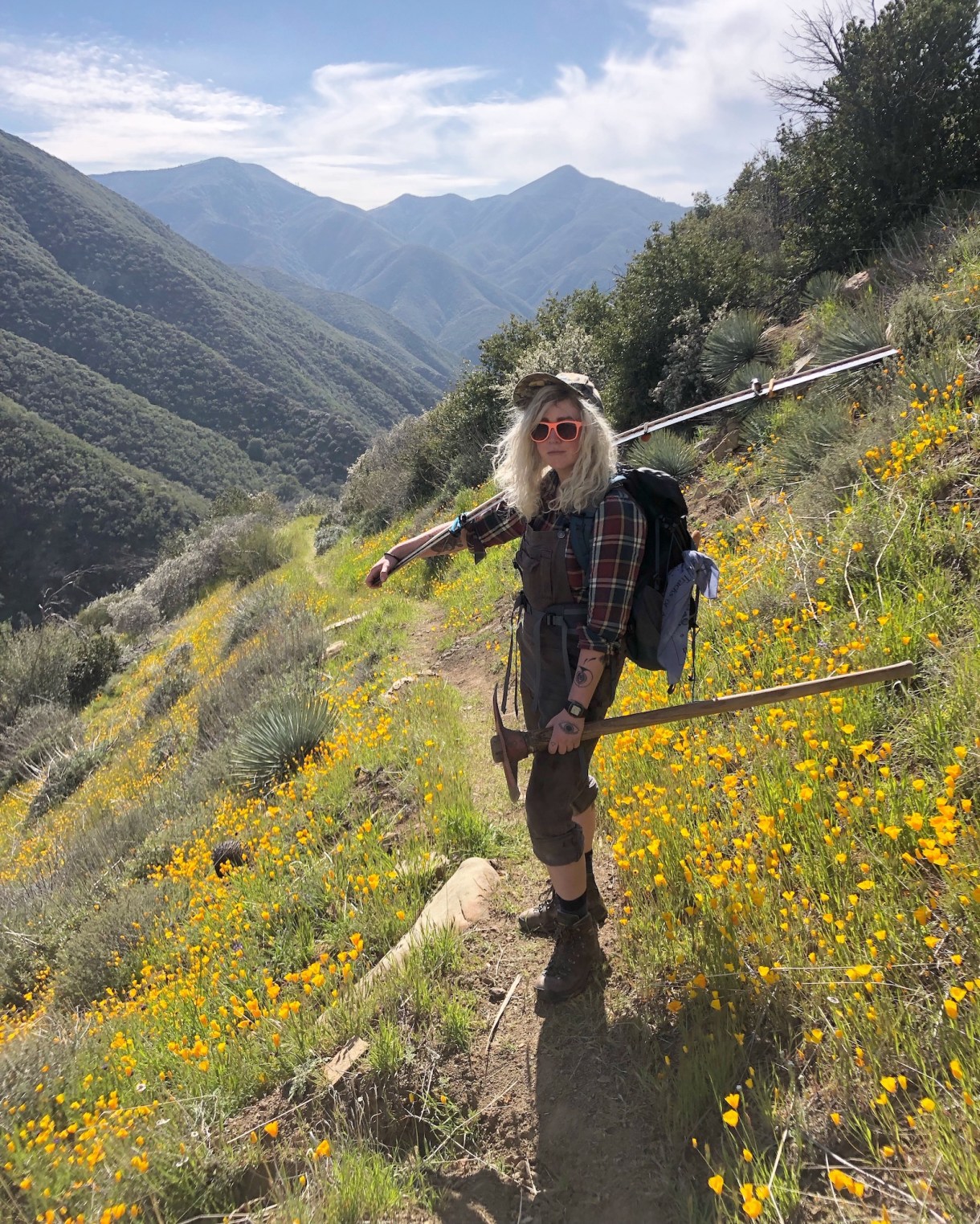 We arrive at the work site after a steep climb for the final mile. A landslide over the winter has wiped out about 200 yards of the trail. There's a steep drop off below us to a river about 1000 yards down. We're going to spend the week re-routing the trail 50 yards lower on the hillside than it used to be. We have to get it to pack-grade, which means horses and mules can pass through it, although the joke is that we really maintain the trails for the bears and bison. It's a steep hill, so we set up a network of plastic webbing strung through T-posts as fall protection incase anyone slips. We saw out all of the fallen trees that are in the way before beginning to dig. We're in the Rocky Mountains, which, true to their name, are rocky as fuck; so digging requires heavy pick-mattocks. We hike, saw, and dig for six days. My ankle injury gets worse. I almost get run over by two bison who try to pass me as I hike too slowly on the trail. One day, across the canyon, I see a doe come to lay down in the sun next to the river. She returns every single day that week. I begin to look forward to seeing her. My lunch break and seeing that deer in the afternoon is what gets me through the week. Whenever I feel overwhelmed, I just remind myself that all I need to do is get through the next hour. And the next day. And the next, and the next, and the next.🌲
---
edited by vanessa.
---