Find Your Fit is a style advice column helping real queer people find the masculine, butch, and tomboy styles that make them look and feel hot.
Today's fit is for Ezra:
Hey Mika!

My name is Ezra, I'm 21, and I'm a fluidly-presenting queer gal (I use both she/her and they/them). I'm also an Aries sun, Scorpio moon. My time is mostly taken up by my accounting desk job, though I do have part time classes and a budding romance. I'm also plus-sized, and of course, that makes fashion so much harder in general.

I can't stand wearing high heels, and I have no idea how to accessorize — wearing jewelry just does not come naturally to me. I've recently shaved my head (again). Historically, I've been most comfortable in solid colors or neutral patterns, but I want to get out of my comfort zone a bit. I'm usually a 14-16 and 2X, shoe size 8.5 to 9.

My style icons are Brittenelle Fredricks and Harry Styles for their androgyny and Lily Collins for her playfully retro femininity.

Thanks for your time!
Ezra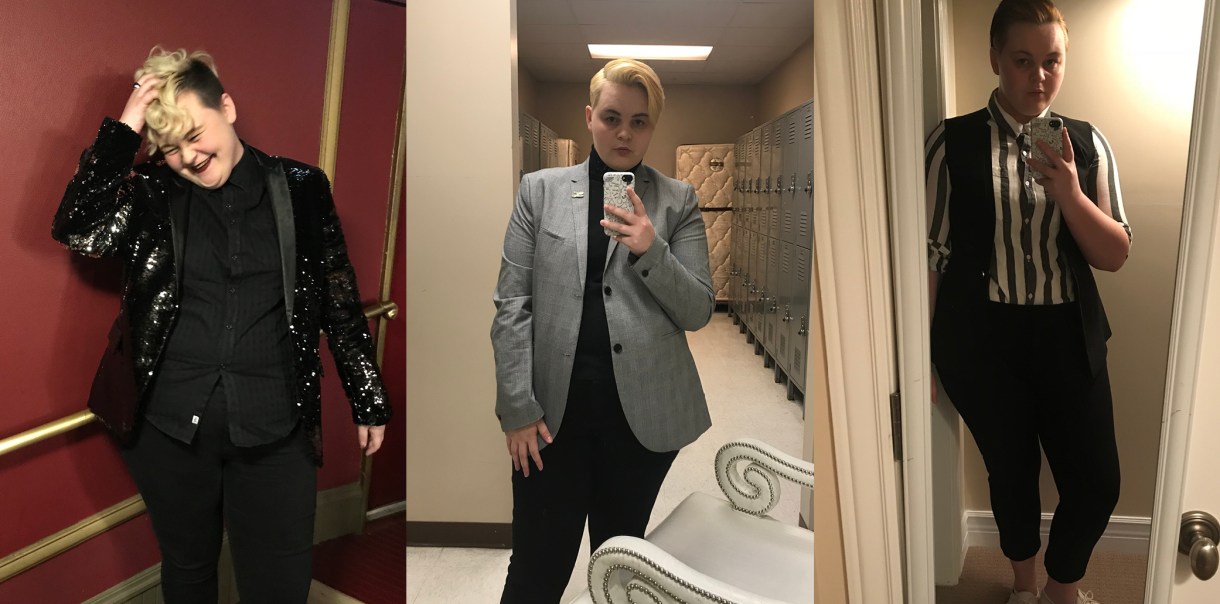 Honestly your style is already pretty fucking awesome, so this is mostly a fun request for me because you definitely have a strong sense of style. I'll focus in accessories and things I consider when picking them for a fit, hopefully this can be the next step to elevate your game even more.
Night Out
1 / Turtleneck
2 / Trouser
3 / Jacket
4 / Shoe
5 / Rings
6 / Bangle
Inspo:
Brittenelle sticks to that LA/NY crisp edge, and has mastered the art of looking like she just woke up, put on a black t-shirt and stepped out of the house looking a million bucks. In concept, when people put such minimalist pieces together thinking that's all it takes, they often realize that they can't capture the same energy. In my opinion the key to mastering this is paying attention to the detailing of your basic pieces.
Styling:
For this first fit I started with this black turtleneck from ASOS; the detailing in the neck breaks the black of the piece without disrupting it. I paired with these trousers from Universal Standard, for a sophisticated modern work look. Trousers like these are perfect for transitioning into colder weather and they're super flexible, so you can wear them with any kind of top (depending on how formal or casual you want to be) or shoe.
For a lazy Sunday coffee date you can wear them with any neutral tone (but preferably white) trainer and a soft tee. In this case, because I'm going for more of a night look I picked these Docs from Wildfang with the same idea in mind, but offering a little more formality. I noticed in your photos you wear a lot of black, so having lighter shoes will help you stand out and make the fit more complete and stylish. Wear these with bare ankles or if it's cold, a dark sock. We don't want to distract from the shoe!
I also picked this faux suede biker jacket from ASOS because it honestly looks dope with a turtleneck and most tops during the fall; the suede adds an extra detail, visually breaking the outfit and adding texture.
For accessories I picked this ring pack from ASOS; because there's already some detailing in the neck of the top you're wearing, maybe staying away from necklaces is a good idea. If your sleeves are long and you're wearing a monotone outfit, rings are a great way to make the fit pop and add that finishing touch. You can go from looking flat in black jeans and a black t-shirt to edgy by adding just a few rings and maybe a contrasting color shoe, or some metals to break the layers a little more. You're still wearing all black, but the small attention to details adds that crispness to the look.
Work Day

1 / Shirt
2 / Pants
3 / Jacket
4 / Boots
5 / Rings
6 / Sunglasses
Inspo:
We've talked about Harry's casual looks vs his performance looks before. Since then his casual style, based on his most recent outings, has shifted to more of a hybrid between the two. He's still very much enamored (just like me) with Chelsea boots, but his style is being influenced a lot more by trends. I want to focus in one of those for this fit I put together, which is Western-ish pieces.
Styling:
This fit started with the boots; I picked these white chelsea boots from ASOS because they scream cowboy to me. You can see Harry's move toward Western trends in the cuts of his pants and suits, as well as even in things like moving away from suede Chelsea boots to a pointed-toe leather boot. These will go well with a lot of clothes and fits I think you're already putting together, and because they're boots they are also perfect for fall.
Pair these with patterned pants from Wildfang to add some fun edge to your fit. To reel it in and really balance out the whole outfit I picked this pink colored shirt from ASOS; wear it tucked in if preferred, no belt, and play with the sleeves and how you want to button it. If you notice Harry's style recently he'll usually pick a patterned suit/trouser/jacket and a solid color top or vice versa. The key to going a little wild is never forgetting to ground the outfit with something else. You can accessorize similar to the previous outfit; I added some shades because I envisioned this as a daytime look.
Sunday Brunch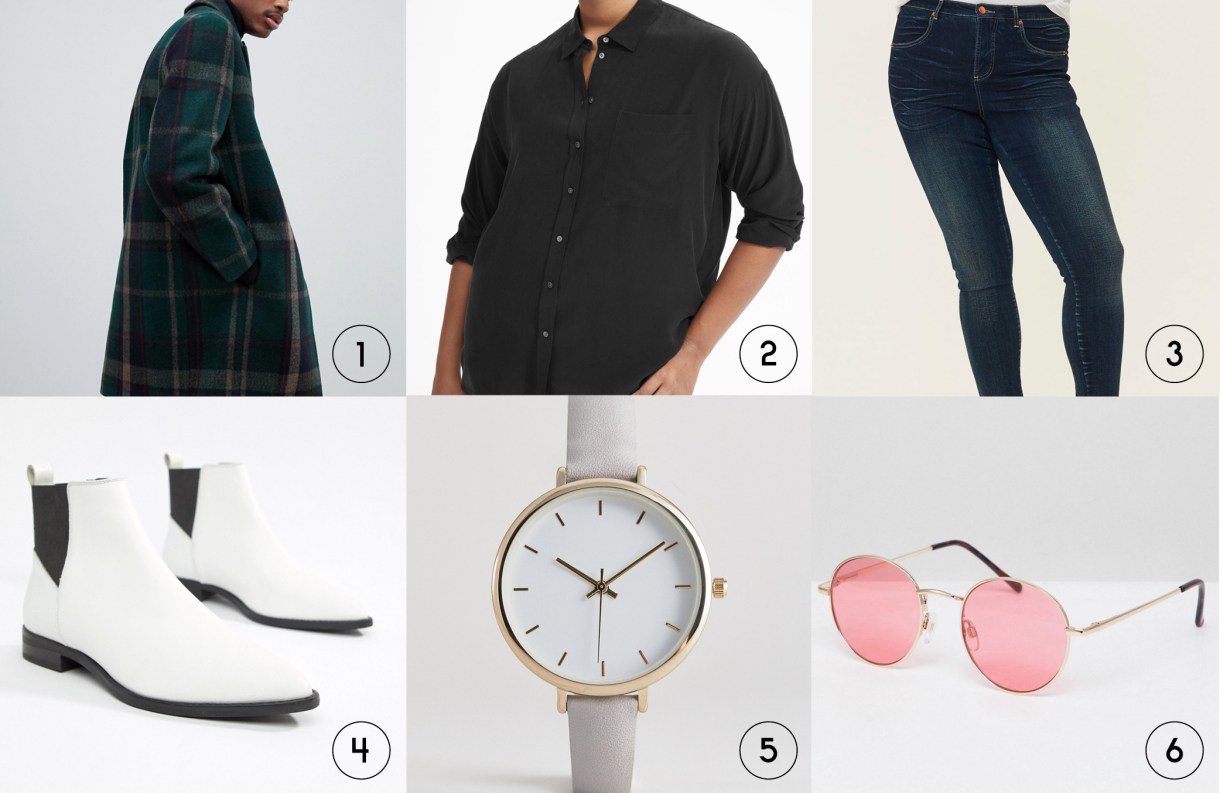 1 / Coat
2 / Shirt
3 / Jeans
4 / Boots
5 / Watch
6 / Sunglasses
Inspo:
Lily definitely plays with some retro/old school femininity in her looks. Something I noticed while looking at her feed is that she tends to stay in the very casual, denim-heavy lane for her more day to day looks.
Styling:
For this final fit I wanted to capture a really casual look you can put together quickly, to get out of the house looking good without a ton of effort.
Lily wears a lot of denim, so I picked these high-waisted skinny mid blue jeans from Universal Standard because they'll go well with a lot of pieces you already own as well as any other kind of basic piece. They are nice and look put together, but are still very casual and timeless. Pair these with this silk shirt from Everlane and experiment with how you tuck it in — paying attention to little things like this is technically another way of "accessorizing." Maybe consider french tucking it, and/or rolling the sleeves?
You can wear this fit with virtually any kind of shoe; I opted for the boots because it will add a little dimension and edge, and I think they'll go well with this wool plaid overcoat from ASOS. Plaid anything is on trend right now (which is great for us queers), so adding patterns like that to a very neutral, simple outfit will really make it stand out.
For accessories, consider swapping rings for a nice leather watch, and pay special attention to the thickness and color of the strap when shopping for one. Because your style is generally very sharp, another tip for accessorizing is going a little wild with the color and shape of your sunglasses, to add that balance and dimension to your looks.
---
For help finding your fit, write to mika [at] autostraddle [dot] com with a little about yourself, your personal style icons, your sizes and three or four selfies in your current favorite outfit(s)!