I have crafted a pie chart that explain the catalysts for my own personal queer awakening, and this is what it looks like: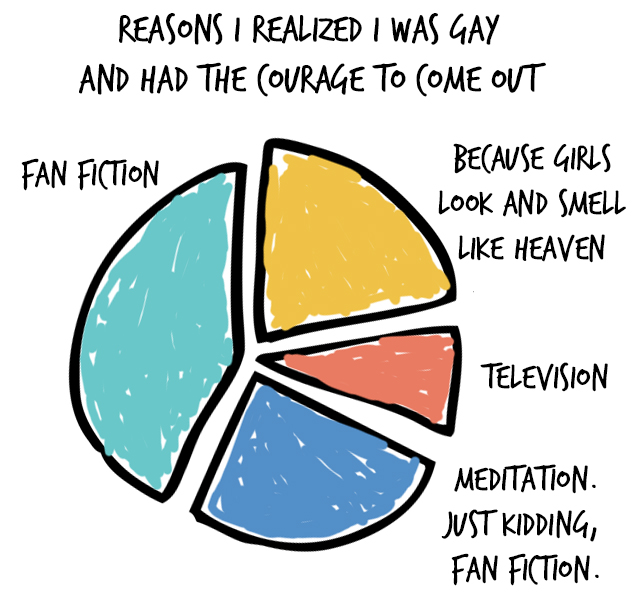 A long time ago, in a cubicle far away, I was pretending to crunch numbers but was instead lurking on the Television Without Pity forums. Someone in the forums mentioned the old British primetime soap called Bad Girls and linked to some fan fiction about Helen Stewart and Nikki Wade, the prison warden and inmate who fell in deep/desperate homosexual love during the show's first two seasons. I clicked on over to read about Helen and Nikki, thinking I would learn a little something about Her Majesty's Prison System. Instead, I learned a little something about breasts and clitorises and the magical things that happen when they are pressed against one another. When I left my office that afternoon, my imagination had gone completely berserk and was never, ever, ever shifting back to normal.
Do you ever wonder why there's such a shameful stigma surrounding fan fiction? If I learn to play the guitar by pinging out classics from the Eagles, no one judges me. If famous artists cover classic recordings, no one even blinks. It's completely socially acceptable to play around artistically in the sandboxes created by musicians — but when we do the same thing with the art of storytelling, we're branded as a bunch of weirdos.
I think the reason is twofold: Fan fiction is a female-dominated dimension, and fan fiction is a sex-positive space. The world has been trivializing women and shaming them for their desires for forever, and so of course society is going to ridicule a hobby where women are working out their sexuality and gender, and exploring a million ideas about the intersection of those things, and being encouraged by other women to not settle in relationships or settle in the sack. Fan fiction is a lust-filled town along the path to freedom where millions of sexually-satisfied women have gathered to break the chains of the patriarchy.
Also, it's just a lot of fun and is a rewarding way to explore the full lives of queer TV characters when networks and showrunners and producers refuse to do it.
So. Starting today, I am going to review femslash fan fiction from every fandom under the sun. I'm kicking it off with Glee, because fandom has written these characters better than the writers of the actual show since all the way back in season one. Here are the 1o sexiest fics I could find.
---
Pairing: Brittany and Santana and Quinn, hey-o!
Plot: The Unholy Trinity are made for each other, in every way.
Hotness level: Sizzling
Show, Don't Tell:
"Santana," Brittany whined. "No fair."

Santana grunted, and when she pulled away she had Quinn's bottom lip caught between her teeth. She let it drag roughly before she finally released it. It made Quinn suck in a hissing breath and she flicked her tongue over it, tasting the way it was swollen and hot.

Brittany sat down on the other side of Quinn and her heart knocked in her chest, filled with anxiety. She kept sucking on her lip and she looked between Santana and Brittany, a little bit intimidated by how confident and easy they were, just sitting there in their underwear. Brittany's was bubblegum pink with white polka dots and Quinn stared at the muscles on Britt's stomach.

"Get comfy, Quinn." Santana said, and she stood up quickly and pulled Quinn's cardigan off. It left Quinn wearing a loose, billowy white top with tight black leggings underneath. She looked up helplessly at Santana and then over at Brittany, who only smiled at her and tucked a loose lock of Quinn's hair behind her ear.

"Santana gets bossy sometimes," Brittany explained. She shifted up and crawled towards the head of the bed, where Santana had a mountain of pillows. She patted the blankets until, reluctantly, Quinn followed. She shifted and sat until her back was resting against the pillows and Brittany began running her fingers through Quinn's hair.

"Don't act like you don't like it," Santana said, and she and Brittany shared a look that Quinn couldn't penetrate.

"We have to be easy with Quinn," Brittany said in response. "She's like a delicate flower with a baby tree troll inside."
Outsider Observations: Brittany, Santana and Quinn are the only triad relationship outside of Harry, Ron and Hermione that I could ever really see working. And now I have compared to Glee to Harry Potter. Feel free to hit me with a Cruciatus curse.
---
Paring: Brittany and Santana
Plot: Britt and Santana meet in college and study a lot of anatomy.
Hotness Level: First time timid sweetness
Show, Don't Tell:
"I'm serious," I said reassuringly. "I feel so good when I'm with you." I kissed her neck again and started to trail my fingers under her shirt.

"Hey, no, its okay," she muttered. "We should…" She trailed off when I pressed my hands against her chest, over her bra. "Should…get…back to…studying."

"You can't tell me you're not turned on right now," I muttered against her throat. I felt her gulp and I smiled. "Why don't you quiz me?" I wiggled my legs beneath her, wrapping one hand around her back as I lifted the other up under her shirt to her shoulder and easily flipped her onto her back. I started to attack her neck again and she groaned.

"God, Brittany," she muttered. She had lifted her hand to her forehead and her other hand was scratching my bare side soothingly. "I can't even remember anything."

"Mm," I said, licking her lips. She fell back into the pillow and let me slide my tongue into her mouth. I think we forgot about her needing to quiz me, because I stayed and made out with her for a while. It wasn't until she twisted and let me run my tongue over her neck that she said anything at all.

"Where's the… s-sternum?" she asked. She sounded so quiet and small, I barely heard her. But I moved down to her chest and ran my tongue over the ridge between her breasts.

"And th-the thoracic arch?" she groaned. I lowered, sucking and kissing every inch of skin between her sternum and the arch were her ribs ended. I felt her shudder beneath me as my fingers fumbled with her pants.
Outsider Observations: One of my favorite Glee things, both on the show and in real life, is how Brittany is the only one who makes Santana act as sweet as a basket of kittens.
---
Pairing: Rachel and Santana
Plot: Rachel and Santana hurt each other's feelings about Finn/Quinn and Brittany all the time and make it up to each other with some breastplay.
Hotness Level: Slow-simmering deliciousness
Show, Don't Tell: 
Santana finds herself staring—only noticing Rachel's slowing words in the vaguest sense—close enough now to see the flashes of pink tongue behind even white teeth. Such a waste, so much turmoil over Finn. A mouth like that…

A few seconds later, the heat of Rachel's body occurs to Santana as an abstract sort of observation. It's cozy and intimate and somehow pressed against the length of her own, her palms already cupping the girl's cheeks. They're warm, too, and she can feel Rachel's jaw moving under her fingers as their lips brush together with slow pressure.

This isn't even their first kiss.

It's that thought that jolts Santana into breaking it. She pulls back dazedly to see Rachel staring back at her with wide eyes and her expression frozen in shock, salty tracks drying down to her chin as her mouth hangs slightly open. Santana can feel Rachel's racing pulse under her fingertips as they stare at each other.

Her lips are shiny. She snaps her hands away from Rachel's face like they're burning as soon as it registers, stepping backwards unsteadily. Turning to put some much needed space between them, Santana bites down on her cheek to jolt some reality into head before she does something stupid, like suck that glistening lip back into her mouth.

What the fuck just happened.
Stray Observations: I've never really thought about Rachel and Santana as more than friends but now that I have, I can't stop.
---
Pairing: Brittany and Santana
Plot: Brittany thanks Santana, in public, for visiting her at MIT.
Hotness Level: Actual mention of scissoring! 
Show, Don't Tell:
Her fingers skimmed up a little higher, her own adrenaline starting to surge as she felt the skin under her fingertips growing warmer and warmer. She carefully edged up so high, she could feel a damp heat coming from inside her underwear. The lean, corded muscles in Santana's legs were twitching under her bold touches and Brittany subconsciously licked her lips, her tongue dragging slightly over the salty, sensitive skin of her palm. Her eyes closed for a moment, letting herself imagine it wasn't her own skin she was tasting.

Santana's leg jerked even harder, the muscles taut and straining now. Brittany glanced up curiously to see rich, chocolate brown eyes fixed firmly on her mouth and realized that Santana had seen the movement. Now that it had stopped, she looked up to meet Brittany's eyes and her jaw clenched, because Brittany was very familiar with what Santana looked like when she was really turned on, and unless everything about her sex drive had changed in the last few months, Brittany was very sure that they were going to be doing a lot more than cuddling tonight.

Her eyes glazed over, caught for a moment in a mental montage of all the things she wanted to do. Since they were sixteen, they had never gone this long without touching each other. Despite their personal issues, other relationships, and Santana's deep denial, they excelled in finding excuses and justifications to have sex. Lots of sex. Any and every way they could think of.

It was the comforting constant in her life. Her safe place. Santana's skin next to hers felt like home. One of the reasons why she loved scissoring so much was because it let every bit of their skin touch that was possible (and Brittany had done extensive testing to be sure).
Outsider Observations: Does Brittany chew on her lips a lot on Glee? I never noticed, but she chews on her lips in every Brittana fan fiction. It's kind of adorable.
---
Pairing: Quinn and Santana
Plot: None, just straight up phone doin' it
Hotness Level: Middle of the Night Quickie Sexy
Show, Don't Tell:
"Are you thinking about it? Thinking about me lying between your legs, my tongue licking at you just the way you need, until you can't do anything but lie back, close your eyes, and beg for more." Santana groans at her own words, bucks up into her hand as she remembers the feeling of Quinn tense and trembling, knotting her fingers in Santana's hair as she tried to guide Santana's mouth into giving her more.

"Tell me, Quinn, do you want my fingers, too? Ask for them nicely." Quinn lets out this strangled little whine, like she wants to tell Santana to fuck off, but can't quite make the words come out. Santana closes her eyes, tries to regain a little control of her breathing before she continues. "You didn't seem to have any problems begging me last time, Quinn. I think you liked it."
Outsider Observations: It's always hard to tell in one-shots if characters are in-character, but I really do believe Santana would do dirty talk better than potentially anyone on earth.
Pairing: Rachel and Quinn
Plot: Rachel's getting ready to marry some bullshit lady who isn't Quinn, which leads Quinn and Rachel to remember literally every second of their relationship starting when they were sophomores in college.
Hotness Level: So good angst
Show, Don't Tell:
"You took too long, Quinn. You drained me. You broke my heart twice and made me break yours just so I could fucking breathe. Everything I associate with you hurts me now! Do you know what that feels like?"

"Of course I know what that feels like! Every time a bus floats by with your face on it, a newspaper clipping with a review of you, and god, just grass! Grass, Rachel! Grass makes my heart ache because I think about the ring I put on your finger."

And Rachel's did, too. God, hers did, too. Quinn didn't know how much and she didn't need to know. She didn't need to know Rachel thought of her when her fiancée proposed because they were sitting in grass. She didn't need to know that. She didn't need to know it took her day to decide simply because of a blade of grass. She didn't need to know.

But looking at Rachel not responding to her, Quinn knew.

"You do, too. You feel it," she whispered. And brown eyes darted from hers.

"No."

"You do," Quinn muttered and stepped forward. Rachel's hands shook, her chest heaved, her teeth bit into her bottom lip and her weight shifted. All of her disguises evaporated. And it reached into Quinn's chest and shocked her heart. She could do this. She could walk away with Rachel.

She stepped forward again and Rachel stepped back.

"I know you're in love with me."

"I'm not," Rachel whimpered, begging for truth in the statement.
Outsider Observations: How come Rachel is a villain in every single fic that isn't a Faberry fic? I'm calling a HBIC foul, fandom!
---
Pairing: Brittany and Santana
Plot: Brittany is the Dragonborn of legend and Santana is Jarl Ulfric's daughter. If that doesn't mean anything to you, Skyrim has never been a part of your life and that makes me sad in my heart.
Hotness level: If you love video games and Glee, find an air conditioned place to read this.
Show, Don't Tell:
She only exposed the blade halfway before Brittany's hand reached between them. With the slightest pressure, Brittany's hand stopped the sword's movement. Santana's eyes jolted up at the physical contact. This was the second time today Brittany had maneuvered into her space without Santana even realizing it. Santana was used to not wearing gloves, but she hadn't noticed Brittany's lack of protection. Her fingers slid down the handle and grazed the outside Santana's hand. A flood of warmth rushed from Santana and up Brittany's arm. The sword remained suspended – half in and out of the sheath; like her words. Santana swallowed hard, but she was acutely aware of the other woman's grip on the handle of her short sword. She had just spent the better part of her day tracking Imperials, watching sentries, and remaining undetected, but within a few minutes, Brittany had disarmed her of her sword and robbed her of her senses.

If she released, Brittany would have complete control, but she would be able to put her hand over Brittany. The space between them shortened. She flexed her fingers and considered what she would give up in order to touch the other woman so brazenly.

"Or whenever." Brittany said. Santana lifted her eyes, grateful that she didn't have to choose. "I know you've been scouting all day and I have a feeling it's going to be a long day tomorrow. I just-" She paused and licked her bottom lip as if searching for the right word. "-I would just really like to learn. If you would teach me."

Tomorrow.

The word hung and Santana suddenly felt a fool for getting caught star-gazing with Brittany. There were forces bigger and greater – and Brittany was one of them. It wasn't the first time she wondered how Brittany had come to discover she was dragonborn – Dovahkiin. What had she been doing in the crypt and why was she here now? Santana look up into Brittany's eyes. Did she realize how important she was?

"Tomorrow. It's going to be chaos. Stay close to me, Dovekin."
Outsider Observations: I had Brittany figured for a sneaky archer character and Santana figured for a heavy armor/warhammer character, but maaaan, I love some sword play.
---
Pairing: Brittany and Santana
Plot: Lord Tubbington is an international talk show sensation and Brittany has scored a hosting/producing gig for an MTV documentary about Quinn Fabray's father, who is running for office. Santana is Quinn's handler, if you know what I mean and I think you do.
Hotness level: Spicy-sweet
Show, Don't Tell
You shift closer without even thinking about it. Her hips are level with the line of your eyes, and you take your hand back from hers and use it to pull the shirt from her pants. She asks Brittbut you don't listen; you lift yourself up and you place your lips to the skin of her stomach, just above her jeans, just in that place where her hips dent inwards. She breathes deep and you watch her stomach rise, you watch the goosebumps jump across her skin, and you lean forward and kiss her again. When she says Brittany the way that she does, you pause and you pull your eyes back up to her face.

She asks what you're doing, and you shoot her a wink, "Looking for awesomeness."

"That's a thing?"

"It's an awesome friend thing," you assure her, and when you lean forward this time, you don't just press your lips up against her; you open your mouth, just slightly, and you suck her skin gently between your lips. When she hisses, you graze against her with your teeth and you pull back again. She's looking at you and her eyes are wide, they're dark and deep and her hands have found a grip on the comforter and she looks afraid to move.

And you know that this is more than friends, and you know this isn't what she's used to.

It makes you move slowly, yet still you move.
Outsider observations: If Glee's writers wrote Brittany five percent as well as fandom, Heather Morris would have won three Emmys already.
---
Pairing: Quinn and Santana
Plot: Quinn and Santana do angst-y scissoring all over the place and keep thinking about that slap fight they got into before going full lesbosexy all over each other at Will and Emmma's wedding.
Hotness level: Three alarm pants fire
Show, Don't Tell:
It might be okay. Maybe. Maybe this is just an inevitable conclusion, because it feels so good, and Quinn's grinding hips agree with her. Her core burns with need and when Santana presses her knee against her, sparks snap in her brain and nearly cause her to crumple against her door.

Fuck, she wants this. She wants where this is going. The unforgiving, relentless pressure of Santana's hard thigh, pressing so violently against her it's almost painful. Santana's fingers slide out of her mouth with a wet pop, smear saliva down her cheek before her lips are slanting hungrily against Santana's.

Instead of a finger sliding inside her mouth, she gets Santana's tongue plunging in with purpose and intent. The moan that rips out of Quinn is embarrassing, but she can't even begin to care. Not when Santana's lips slide hotly against hers, not when she's sucking on that dangerous muscle that is so often Santana's most dangerous weapon. It's a dirty, lewd first kiss, and Quinn's violent drunken impulses take hold when she fumbles between them to rip at Santana's damn distracting button down shirt, tearing it open to get her hands on Santana's perfect breasts.
Outsider observations: Quinn is universally the best at sex in all Glee fics, even the ones where she's not the star of the story.
---
Pairing: Brittany and Santana
Plot: Santana tries to convince herself to marry Sam by seeing a therapist named Brittany S. Pierce, who has a dog named Lucy and a motorbike with a vibrating seat. Rolls in the hay happen in literal hay.
Hotness level: Heaving bosom
Show, Don't Tell:
She grabs both your wrists and suddenly spins you over, lying you down on your back against the hay and pinning your hands above your head once again. She climbs over you, looking down at you, her eyes laced with lust and conflict. Brittany slides her body up over yours so that she glides up over your stomach, then her breasts are pushing up against and sliding by yours.

Your gasp and you begin to pant again as her face comes up to meets yours. She's lying on top of you and instead of pushing her away or feeling guilt you arch your back up into her needing the contact.

You need her to do something.

She does. She leans down and nudges your nose playfully with hers before her lips lean down and press gently against yours. You let out a whimper as you feel your body turn to mush under her weight. You feel her smirk against your lips and you whimper again, the feeling vibrating your lips against hers. She sinks her lips further and more forcefully down onto yours and your whole body is frozen and buzzing and you haven't a fucking clue what to do. You're breathing hard through your nose and your clammy hands grasp at the straws of hay at your side.
Outsider observations: Sam is super sexually incompetent in all femslash Glee fics, even though Riese and I feel pretty confident that he would be the best in bed of all Glee dudes.
My main beef with Glee fic is there's not nearly enough Mercedes and Unique. If you've written something about them, I sure would love to read it. Next week is Pretty Little Liars; leave your recommendations in the comments!
Pages: 1 2See entire article on one page