Katrina's Team Pick:
Whether you agree or disagree with Occupy Wall Street, whether you feel disenfranchised or empowered by it, whether you feel passionate or indifferent or anywhere in between, it is impossible to ignore the fact that, despite "The 99%" mantra, OWS is coming disproportionately from a voice of the youth.
Many of the protesters are college students or recent graduates, whose disaffection has been inspired by the simultaneous rising tuition costs and plummeting job opportunities. Higher education today is being perceived as more valuable than ever, while its tangible benefits and advantages are possibly less valuable than ever. President Obama set the lofty goal of attaining the world's highest graduation rate by the year 2020, but unless he also establishes a plan for making college more affordable – not to mention more accessible – then his goal is also a promise to put more students than ever into debt, a completely horrifying concept for us both as individuals and as a country.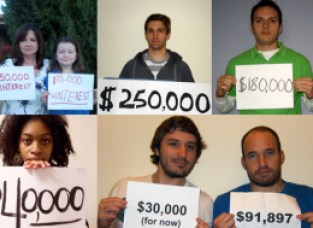 "Default" is a short documentary about the student loan industry and the stories of individuals who have been critically affected by it. And while the trailer maybe not be perfect (an outdated shoutout to the class of 2008, one person of color in the background of one frame), the conversation that it's trying to have is one that's worth noting. How do low-income students experience the higher education system differently than students of means? And what does their subsequent debt say about the true possibilities of social mobility in America? It's a reminder that student debt isn't just about young people, it's about their families as well — families that were under the impression that, if they gave it all to give their children an education, that the benefits would come back.
Education, especially higher education, has been painted for us as the best opportunity for advancement and success in our country and in our world. We have come to understand that, without it, there is little room for mobility, and there is little hope for one's future. If this is true, then the message is clear that hope for one's future is not for everyone. The future is promised to only a few. Those whose families were better able to fund an education (and those whose families were willing to fund their children's education at all), most of whom could afford to spend their time at unpaid internships or who could study without having to balance should with one or more part times jobs. The rest of us – low-income, the working, the non-traditional – it seems, are screwed.
The conversation about student debt is a conversation that everyone who's in school should be having. It should reach beyond the point of acknowledging that our prospects totally suck, and it should recognize that collectively having these problems and feeling this way about our future just isn't right. It should consider whether or not we have the power to affect change, and it should consider not only what those options might be, but what the result could look like for us if we choose not to take them.
Click here to organize a screening of "Default" near you.