This is just the beginning of a project that, hopefully, is never rendered complete. A project meant to challenge intellectual borders and disrupt the gatekeeping of literary canons. A project committed to political education, accessibility, and locating knowledge at the crossroads — backwards, sideways and upside down.
From Audre Lorde's "army of one-breasted women" to Riva Lehrer's golems and monsters to Eli Clare's loggers and spotted owls, the authors in this syllabus imagine queercrip figures that push up against limited notions of embodiment, resist medical pathology and demand more expansive understandings of disability, gender and sexuality.
When designing an intersectional crip syllabus, the question of how is just as important as who and what. This syllabus, then, is a process rather than a product. An emboldened effort to compile works that have no investment in coherence or inscribing order onto the chaos and vulnerabilities that attend the practice of reading and being read; learning and unlearning; sense-making and disorganizing our senses elsewhere.
What follows is a radical and participatory approach to centralizing crip lives (traditionally excluded from intellectual and media participation) by gathering texts that explore multiple and overlapping experiences of disability oppression, gender and sexual politics, racial injustice, economic, legal and medical violence.
I asked several contemporary crip authors to recommend a piece of scholarship that moved them, challenged them, changed them. From there, a list of titles have been assembled that consist of writers, theorists, artists, and performers whose work conceives of bodies beyond the limits of "minority" and assimilationist models, offering broader visions for social justice, accommodation and interdependence.*
An Intersectional Crip Syllabus
---
 Memoir
+ Johanna Hedva, author of "Sick Woman Theory":
"In terms of crip memoir, I recommend The Diary of Frida Kahlo: An Intimate Self-Portrait by Carlos Fuentes. Despite being now known as a kind of capitalist brand name and even mascot, Frida Kahlo was in fact a queer, Communist, disabled, Mexican woman whose fierce-ness, complexity, depth, wit, sensitivity, and intensity was resistant to the hegemonic norms of her time. She was a revolutionary, no question. I have a tattoo of the last words she wrote in it, a couple weeks before she died: Espero alegre la la [sic] saliba y espero no volver j'amás."
+ Exile and Pride: Disability, Queerness, and Liberation by Eli Clare
+ The Cancer Journals by Audre Lorde
+ Mean Little deaf Queer: A Memoir by Terry Galloway
+ Too Late to Die Young: Nearly True Tales from a Life by Harriet McBryde Johnson
+ The Me in the Mirror by Connie Panzarino
+ A Body, Undone: Living on After Great Pain by Christina Crosby
+ Gary in Your Pocket: Stories and Notebooks of Gary Fisher by Gary Fisher and Eve Kosofsky Sedgwick
---
Nonfiction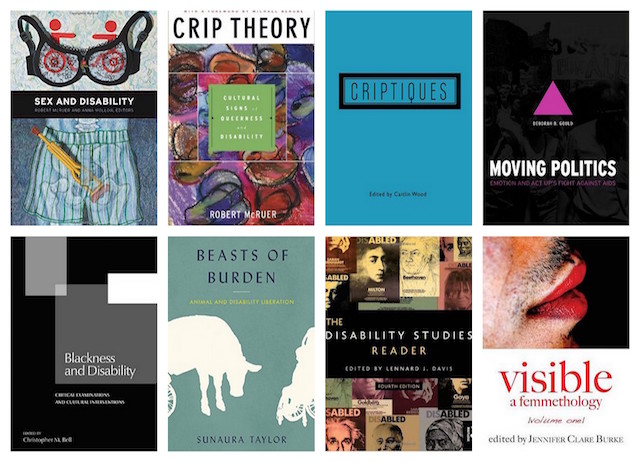 + Neve Be, staff writer for Harlot Magazine:
"I have always loved the writers who are not only writers. Riva Lehrer's piece 'Golem Girl Gets Lucky' in Sex and Disability by Robert McRuer and Anna Mollow had me rushing into contact with my own body in ways I was only just beginning to. I am always looking for people who can speak about themselves with relish as monsters, but also who crave and worship beauty and grace. She articulates so profoundly a disabled, creative, insightful child's knowledge of ableism and normative sexuality. She is desired and desires, complexly, with difficulty and also with grace. Not because her body changes, but because she enters it. I have tears in my mouth trying to write this. 'Golem Girl Gets Lucky' awakened in me the desire to be real and deep about my electrified, glowing and scuttling and flying, weird little creature cripple sexuality."
+ Criptiques edited by Caitlin Wood
+ Blackness and Disability: Critical Examinations and Cultural Interventions by Christopher M. Bell
+ Illness as Metaphor by Susan Sontag
+ Crip Theory: Cultural Signs of Queerness and Disability by Robert McRuer
+ Keywords for Disability Studies by Benjamin Reiss, David Serlin and Rachel Adams
+ The Disability Studies Reader edited by Lennard J. Davis
+ Beasts of Burden by Sunaura Taylor
+ The Ultimate Guide to Sex and Disability: For All of Us Who Live with Disabilities, Chronic Pain, and Illness by Miriam Kaufman, Fran Odette and Cory Silverberg
+ Feminist, Queer, Crip by Alison Kafer
+ Moving Politics: Emotions and ACT UP's Fight Against AIDS by Deborah B. Gould
+ Visible: A Femmethology, Volume 1 edited by Jennifer Clarke Burke
---
Fiction & Drama
+ Origami Striptease by Peggy Munson
+ Bloodchild by Octavia E. Butler
+ The Magic Kingdom by Stanley Elkins
+ Angels in America: A Gay Fantasia on National Themes by Tony Kushner
---
Poetry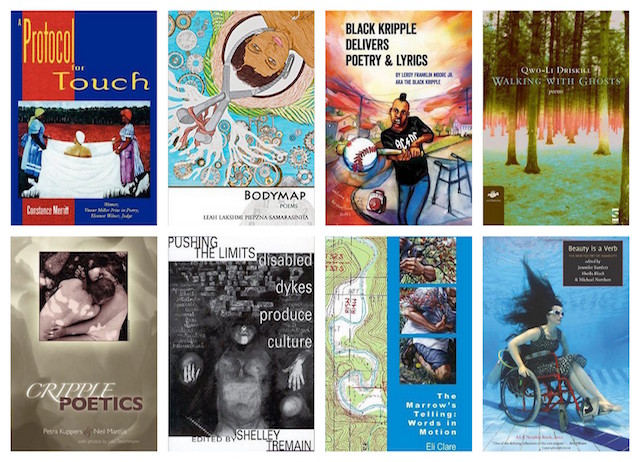 + Jillian Weise, author of The Amputee's Guide to Sex:
"'Bitches on the Bright Side' by Constance Merritt [in A Protocol for Touch] is the best villanelle of all time. Yes, of all time. The poem makes an address and asks us to reconsider the virtues of "Keeping corners, and lying late in bed." Instead of carpe diem, amitte diem. Don't pluck the day; fuck the day. Let it go. "Feign indifference." Be useless. What a brilliant rebuttal to Dylan Thomas! Rage, rage? No thanks, I'm going to sleep in. I love how Merritt posits an alternative and calls it "the bright side." I first read this poem as a nineteen-year-old, sort of lost, sort of wondering why I felt an obligation, as a disabled woman, to be extra special in order to justify my existence. So this poem gave me permission to just be."
+ Bodymap by Leah Lakshmi Piepzna-Samarasinha
+ Black Kripple Delivers Poetry & Lyrics by Leroy Franklin Moore
+ Walking with Ghosts: Poems by Qwo-Li Driskill
+ Cripple Poetics by Petra Kuppers
+ Pushing the Limits: Disabled Dykes Produce Culture by Shelley Tremain
+ The Marrow's Telling: Words in Motion by Eli Clare
+ Beauty Is a Verb: The New Poetry of Disability, edited by Shelia Black and Jennifer Bartlett
---
Blogs
+ Leah Lakshmi Piepzna-Samarasinha, author of Dirty River:
"I like pretty much everything Neve Be, aka Lyric Seal, writes about disability, Blackness, genderqueerfemmeness and sex. In this edition of their advice column, Slumber Party, Lyric takes a question from a newly coming into a disabled identity person and turns it into an amazing meditation on the power and hotness of disabled queer and gendernonconforming bodies. I had the following quote on my altar for a long time: "You are never a deception. I know that as trans people and disabled people, we get used to hearing that we are not what somebody expected. But guess what? We are a beautiful surprise. And next time, they better get themselves ready."
+ Leaving Evidence by Mia Mingus
+ Where's Lulu by Caitlin Wood
+ Autistic Hoya by Lydia Brown
+ "10 Principles of Disability Justice" by Patty Berne on behalf of Sins Invalid
+ Feminist Sonar by Elsa E. Sjunneson-Henry
+ Who Am I to Stop It by Cheryl Green
+ The Lame Dame by Nancy Mairs
+ Did I Stutter? by Zach Richter, Erin Schick, and Josh St. Pierre
+ Crip Confessions by Bethany Stevens
+ Deliciously Disabled by Stella Palikarova and Andrew Gurza
---
Zines

+ Nomy Lamm, performer of Bird Song:
"ET Russian's zine Ring of Fire was hugely influential for me in my early twenties, helping to make prosthetics and being an amputee sexualized parts."
+ Scars Tell Stories: A Queer and Trans (Dis)ability Zine by Colin Kennedy Donovan and Qwo-Li Driskill
+ sick!: a zine about chronic illness by Ben Holtzman
+ Lessons in Taxidermy by Bee Lavender
+ When Language Runs Dry: A Zine for People With Chronic Pain and Their Allies
+ IntersexCritiques: Notes on Intersex, Disability, and Biomedical Ethics (pdf) by Emi Koyama
---
Crip knowledge is being produced everywhere — artistically, intimately, non-verbally, inaudibly, in the inanimate, erotic, anarchic, and cinematic. Which is why this project will never claim completion. This is all to say, please do not hesitate to add more names, book titles, song lyrics, websites, photographs, and links to all sorts of crip creations in the comments section of this article. The work continues.
*There are inherent dangers in writing a syllabus. Namely, there are risks that the works included privilege institutional recognition, marketability, capitalist labor, and uneven access to educational resources and intellectual training. Producing cultural works can often require a certain amount of financial stability, access to digital technology, healthcare coverage, and multiple forms of racial, gender, and sexual security. So while syllabi like this one, invested in political education and social justice, attempt to centralize marginalized voices and expand definitions of "authorship" and "literature," many elisions still remain.