In the middle of a winter night in 1973, while the residents of a small island fishing town in Iceland slept peacefully in their beds, a crack opened up in a flat patch of farmland and began spewing fire. By the time the earth finished its contractions five months later, a new volcano had been born, half the town was buried under lava and ash, and the island's only harbour had narrowly missed being sealed off entirely from the world. 37 years later, as a thirtysomething undergoing my own seismic shifts, I put my hand against a pockmarked red rock at the top of this impetuous peak and could still feel its radiant heat.
I don't know exactly what it was that had drawn me so fixedly to Heimaey, this cracked-apart island, beyond the peculiar thrall that Iceland itself seems to have over me. I'm the kind of person who looks away from traffic accidents and turns off the TV when things get too upsetting, so I'd like to think it wasn't simple rubbernecking. Also there are lots of volcanoes in Iceland, if you haven't heard, and many of them have been destructive in spectacular ways. But none of them captured my interest like this treacherously quiet, steaming infant. I couldn't stop thinking about such an enormously substantial thing appearing from nowhere, materializing atop a meadow like a bewitched mountain in a budget fantasy film. It felt absurd, heinous, and I had to confront it, to climb to the top and frown into its hollow.
There is no shortage of fodder in Iceland for a mind that tends toward fanciful ideas. It feels in places like you've time travelled back through millennia to the infancy of the Earth itself — jumbled black and red rock, bubbling pools of multicoloured mineral sludge, steam vents dotting the landscape. The barren interior desert could just as easily be the surface of Mars. There's a 10-kilometre-long rift valley where you can stand between the North American and Eurasian tectonic plates. There are Hobbit-like houses peeking out from under the turf, black sand beaches curving upward into ominous cliffs, cascading waterfalls in the literal middle of nowhere that send enormous rainbows arcing over miles and miles of grey rock. It's the kind of place you go when you need to remind yourself that, however insignificant you may feel in your daily existence, you are a part of something ancient and full of wonder. It's the kind of place where you tiptoe up to the edge of a gaseous crater named Fire Mountain, because you're tired of your cautious and ordinary life and you want to flirt with danger in the safest of ways, and you know that it's probably not going to erupt again at this exact minute. Probably.

I had a lifelong habit of this kind of quiet little rebellion against my own unassuming image, the timid and self-conscious introvert. Shoving a bully in the schoolyard, face ablaze at age 9. Sitting stubbornly at the wrong cafeteria table at 12. Sneaking booze and stealing makeup at 13. Smoking with troublemakers in the coffee shop at 17. Quitting my safe teaching job at 25 to head for the Rockies. Travelling the world by myself at 28. Buying a plane ticket to Iceland at 34 because, not in spite of, the eruption of Eyjafjallajökull. Announcing nonchalantly that same year that I had a girlfriend, and silently daring anyone to make a big deal of it.
Coming out to myself in my thirties was like moving a couch from the corner it's been in forever only to find, amongst the dust bunnies, the missing piece to a very old puzzle. I felt triumphant, then foolish, and irritated with myself for ignoring that mess for so long. It took two further years to gather enough courage to meet and kiss an actual girl, and I spent those years desperately trying to catch up on as many baby-gay milestones as I could: pining over queer celebrities like I was 12, trying on awkward labels like I was 13, furtively watching L Word reruns with the sound on low like I was 17. Also being tormented by a hopeless crush on a straight girl — but that one's timeless, isn't it?
And so I arrived in Reykjavik in the summer of 2010 a delayed adolescent in a grown-up body, determined not to waste any more of my own precious time on fear. Over the years that promise turned out to be harder than I expected to keep, but it was a start.

I first heard about Heimaey with only a week or so left on this long-anticipated trip, and I immediately knew that I had to change my meticulous itinerary to see it. I managed to time this detour with the town's largest festival weekend, when crowds of mainlanders flock to the area for essentially the world's biggest singalong around a bonfire. Every ferry crossing and hotel was fully booked, but I was determined to make this strange pilgrimage, so I shelled out for a turboprop flight and managed to secure the last bed in a cramped hostel dorm.
Even compared to the rural remoteness of mainland Iceland, and approaching its busiest weekend, Heimaey feels solemn and isolated. I wandered up and down quiet streets that dead-ended where the lava flow had finally stopped. The jutting rock is now partly softened by grass and tiny wildflowers, so that without the remnants of crushed buildings here and there, you could mistake it for any ordinary hill. Although nearly a thousand structures were destroyed that year, only one person lost their life; despite its unexpectedness, the eruption encroached relatively slowly on the town, and there was enough time to evacuate everyone else. Many people chose not to return.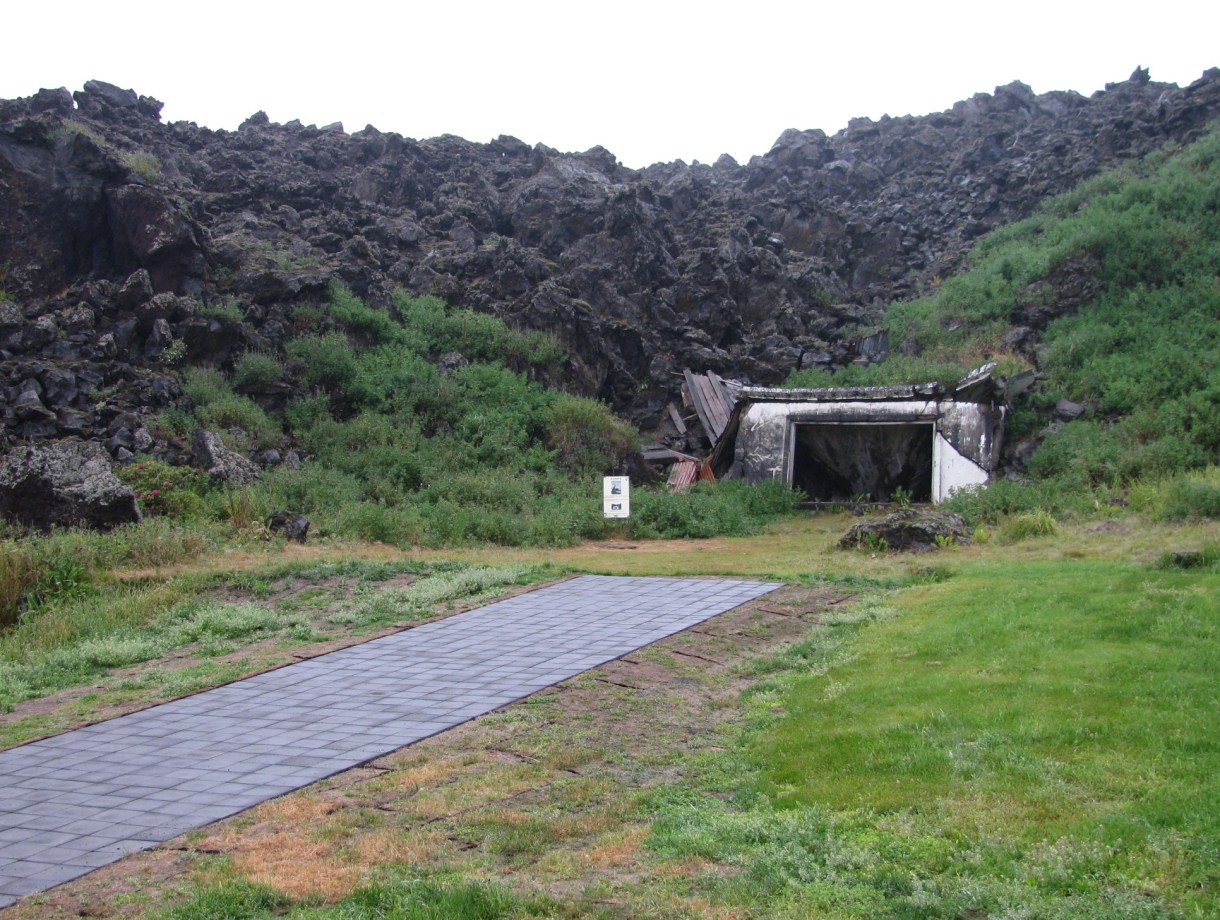 At the edge of the harbour I found a ship's mast sticking straight up out of the ground where it had presumably been buried under fallen ash. Nearby was one of dozens of seawater pumps used in an unprecedented effort to stop the lava flow that had threatened to close the harbour. Fishing has been the main industry of Heimaey for centuries, and if the townspeople had lost their only viable access to the sea it would have further devastated the community, possibly beyond redemption. The project to halt the flow was a hazardous ordeal, involving bulldozing tracks onto an active lava field, laying pipe whose supports burned and melted, and watching helplessly as an enormous chunk of crater wall broke off and slid down towards the inlet — but it was ultimately successful. The advancing blockade broke into pieces, and the lava flow was stopped a mere hundred metres from sealing off the entrance. The end result was a better harbour with a new breakwater and more protection from the elements.
The cone of the volcano, Eldfell, reaches only 200 metres high, while its full breadth added two square kilometres to Heimaey's landmass. I took my time wandering up to the peak, trying to shake off that touristic sensation of watching yourself experience something rather than becoming immersed in it. I felt an insistence to squeeze profundity out of this excursion, like I had called myself here for an answer, but I didn't quite know what the question was. Maybe I wanted to make sure there were no more surprises lurking under my furniture. How could I face my fears if I didn't even know where I kept them?

Reaching the peak, I encountered more of the same unremarkable crumbly red scree I'd been climbing, with only a shallow depression to indicate its centre. This was not something I could stare poignantly into, so I found a little alcove in some more dramatic rocks nearby and settled in to stare poignantly across the sea instead. The air inside the nook was a good 10 degrees warmer, and this was enough to fulfill my need to pretend that I'd climbed into a pit of doom and would re-emerge cleansed by fire like a Phoenix. Did I mention fanciful ideas?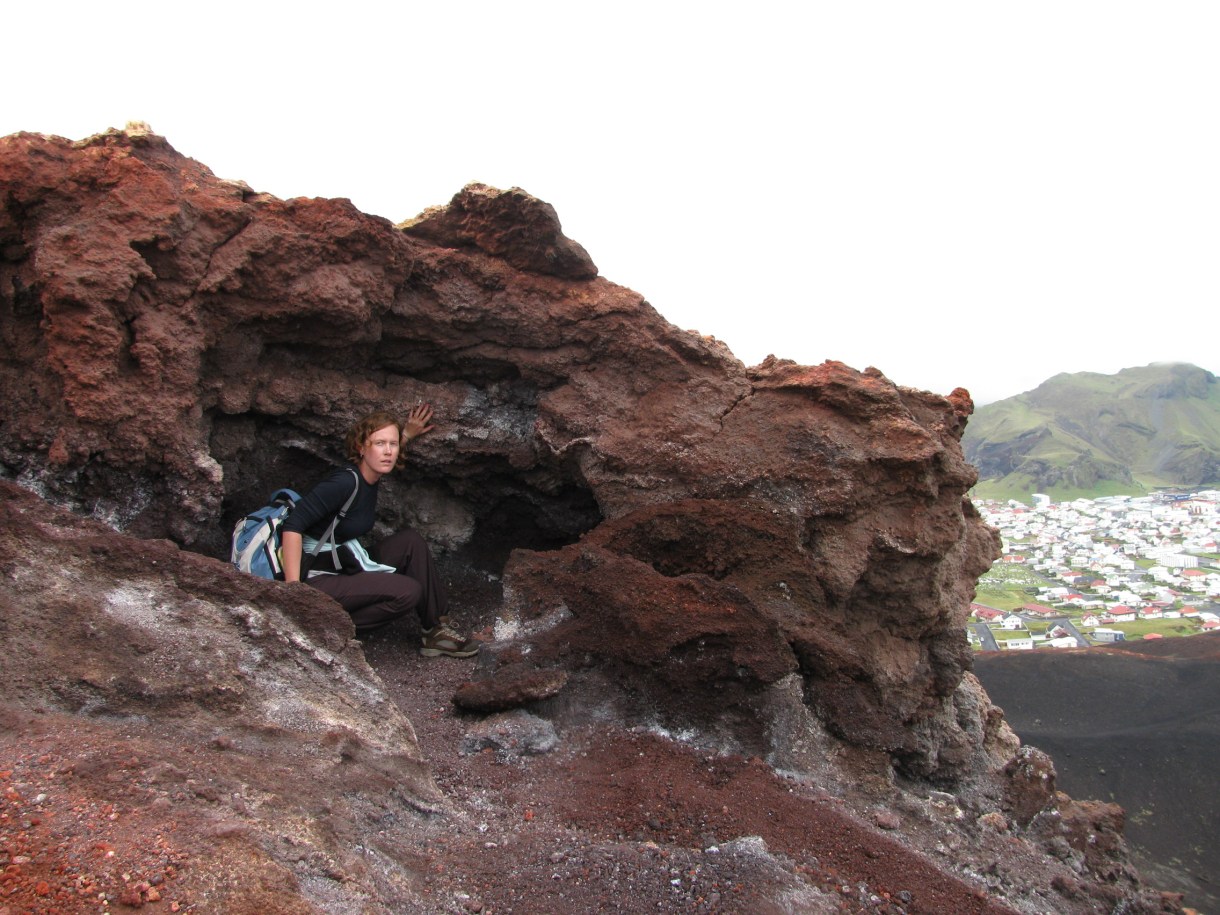 From the top of Eldfell you can see the harbour, the ocean, some of the other small cliff-sided islands of Vestmannaeyjar, that viral elephant-faced rock you've probably seen on Facebook, and the entire spread of the lava field where it smothered the town. At the base of Eldfell's cone stands a cross to mark all that was lost — one person's life, and the livelihoods, shelters, neighbourhoods, relationships, histories, and keepsakes of many others.
The streets below me remained quiet and still on this obscure little enclave in the cold northern sea. A person could be born here, grow up, go to school, get a job, wake up one morning to the cataclysmic demolition of the only life they've ever known, and be ferried away to disappear into another life, while the world went on without anybody to remember their story. We are a part of something ancient and full of wonder, and sometimes to get close to it, our foundation has to be shaken. I climbed out of my little rock cavern, touched my fingertips to the uncanny warmth one last time and started my descent back home.🗺️
Edited by rachel.