Some actual good stuff happened on TV this weekend, y'all! And not a moment too soon.
---
Game of Thrones
Sunday on HBO at 9:00 p.m.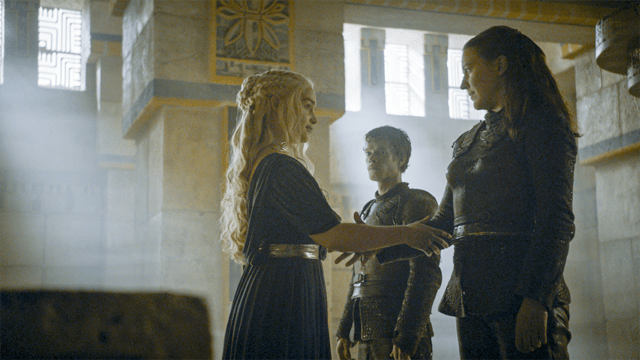 Stacy is not taken to flights of fancy when it comes to two women doing it on TV. In fact, she basically assumes all women on TV are straight and that the gay ones are going to die. So when she came crashing into our bedroom on Sunday night, breathless and urging me to hurry downstairs to watch an important scene from Game of Thrones, I knew I was in for a real treat. Remember when I told you about Yara Greyjoy from the Iron Islands and how she had some gay intercourse with another woman before she set off with her fleet of ships to track down the Mother of Dragons? Well, Yara has now traversed the Narrow Sea and arrived in Daenerys' presence.
For starters, Dany's feeling real good. Some slave masters showed up and fired flaming cannons at her city and demanded their slaves back, and so she just hopped onto one of her dragons and summoned her other two dragons from their place of captivity and flew on out to the ocean and set the Masters and their ships on fire. I don't know a lot about Game of Thrones, but I know Daenerys Targeryan gets off on burning condescending men alive. So, yes, she was feeling a-okay when Yara and her brother, Theon, wandered into her throne room talking about alliances.
Yara wants Daenerys to back her claim to the Salt Throne in exchange for ferrying her army across the sea so she can reclaim the Iron Throne. The Mother of Dragons is never particularly impressed with people, but Yara makes her mouth twitchy with smiles and also makes her eyebrows go bonkers on her face. Dany wants to know if the Iron Islands have ever had a queen, and Yara says no more than Westeros has had a queen. Dany wants to know if Yara's father was an asshole like the rumors say he was, and Yara says she and Dany have that in common too. Theon explains that their uncle is building even more ships and plans to bring them over and offer them to Dany, but for the price of backing his claim to the Salt Throne and also for the price of marrying him.
Daenerys: And I imagine your offer is free from any marriage demands.
Yara: I never demand, but I'm up for anything really.
Khaleesi is so delighted with Yara's audacious flirting that her face does a thing I've never seen it do before. They make a pact to support each other, kill some misogynist uncles, and see where it goes from there.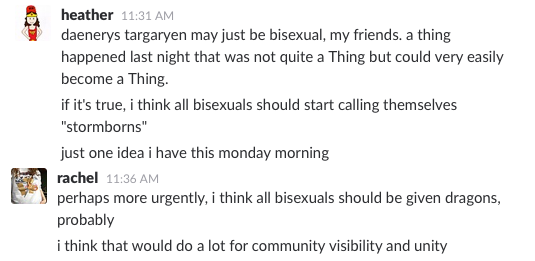 ---
Veep
Sunday on HBO at 10:30 p.m.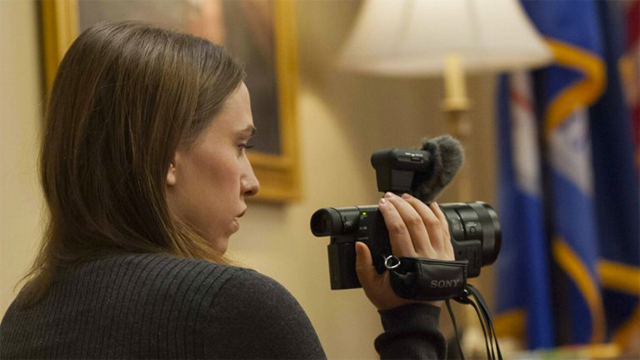 Catherine's film about her mother's presidential legacy finally made its way into the world on Sunday night and it was glorious. I mean, it's a terrible film, of course — but it comes at season five from a completely different angle (literally), allowing us to see what happens in Selina's orbit when she's not in the room. What was particularly delightful was how it dug deeper into Catherine and Marjorie's relationship, from their first date to a quiet morning in bed to their breakup when Marjorie refused to introduce Catherine to her parents as her girlfriend to their reconciliation.
In a surprising but brilliant move, the main question of the season — Will Congress allow Selina to stay in office? — is answered right as Marjorie steps in front of the camera to tell Catherine that she loves her. It's a huge moment of triumph for Veep's most overlooked and overshadowed character; in fact, it brings her into the literal forefront of the story at the most important moment of Selina's career. We hear the answer to the Big Question and see Selina react in the background, behind Marjorie's body.
The name of Catherine's film is "Kissing Your Sister" and it has its own website. The "our influences" and "upcoming projects" made me cackle-laugh.
---
Wynonna Earp
Friday on Syfy at 9:00 p.m.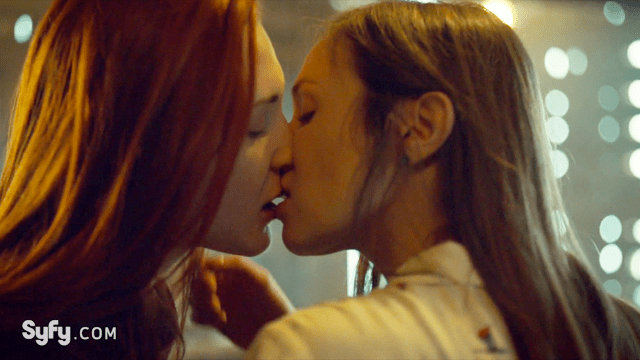 Dang, kittens, if this isn't the sweetest, most tender gay love story I've seen on TV in a long, long time. This week, Haught tries to help Waverly heal from her gunshot wound, but the touching makes them bonkers so they just start ripping their clothes off and prepping to do it right there in the Earp barn. They are interruped by Willa, who is kind of mad that Waverly didn't tell her she's gay and figures Wynonna's going to be kind of mad too. Waverly doesn't care, to be honest; she just wants to make out with her girlfriend.
And so she does just that, again, at the end of the night at a fancy party where everyone is going berserk because they drank hexed champagne. Particularly Champ is going berserk because of the booze and also because of the homophobia and also because of the jealousy. He tries to attack his ex-girlfriend, and then his ex-girlfriend's new girlfriend steps to him and wallops him in the face with her fist and that's that. It's a delight! Haught's gotta go fight the bad guys, but before she does, Waverly grabs her and smooches her right on the mouth in their fancy dresses right in front of everyone. It's a very good way to come out. 10/10. Would watch again.
---
Scream
Monday on MTV at 11:00 p.m.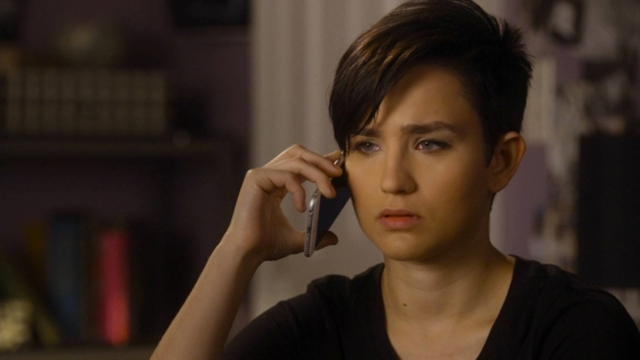 Audrey got totally Pretty Little Liar-ed on this week's Scream. Some nefarious, anonymous person planted a bloody corkscrew in her car, so she disposed of it in the dumbest way possible (by digging a shallow little hole just inside the treeline of the woods and burying it there), so of course when she woke up, Scream's A had retrieved the bloody corkscrew and put it under her covers with her. Scream's A is messing with her because they know she had a tie to season one's Big Bad, even though she herself was not the Big Bad. Also Audrey made out with her best friend, Noah, hopped up on a drug cocktail at a regatta gala. It was kind of a threesome and she was kind of hallucinating that Noah was her dead girlfriend (but resurrected). Anyway, then a dead body fell from the sky. #DramaBomb
---
The Fosters
Monday on Freeform at 9:00 p.m.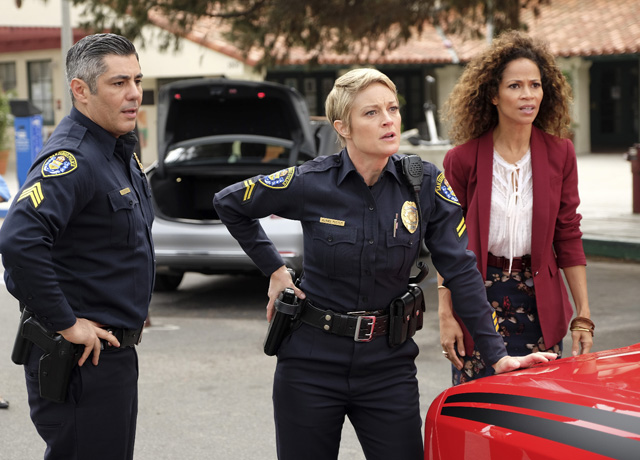 The Fosters returned to Freeform last night and while I do plan to do standalone recaps for it again this season, I couldn't make myself watch and recap a school shooting episode this week. I just need a minute. Hopefully I'll be ready to go next week.