This guide was written by Sierra Billingslea. It is an update to a previously published QGCG written by Rose.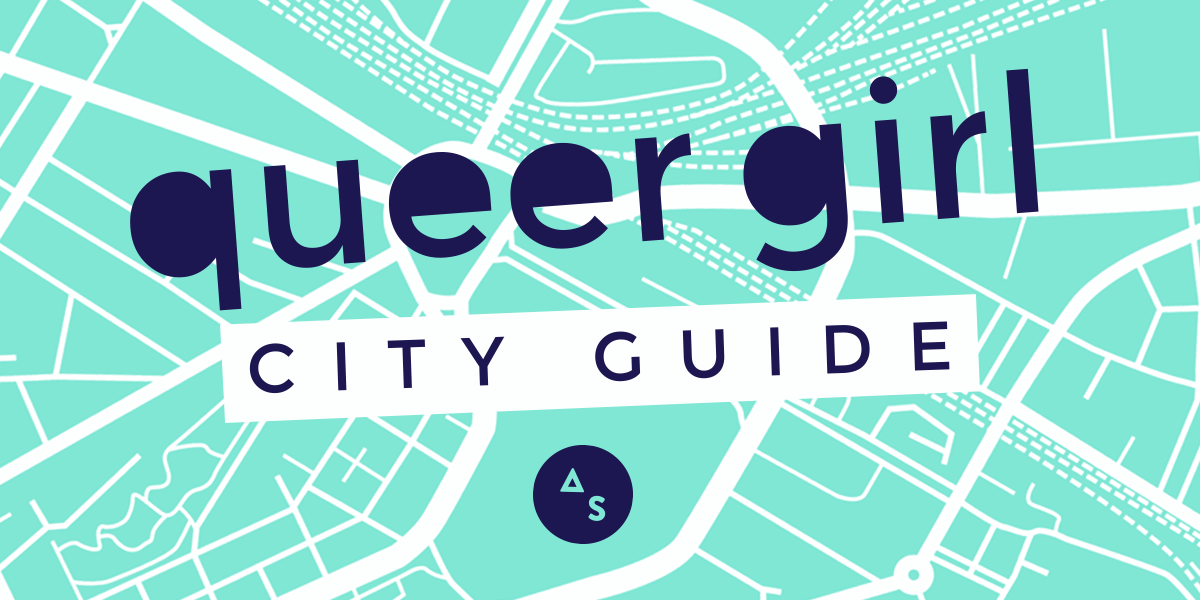 Baltimore is a queer city — from its history of John Waters and Divine to the flourishing trans community and radical fashion of today. Growing up in the rural area around the city, Baltimore was where I first encountered queerness in its lived sense; I went to Baltimore for restaurants, art festivals, and music. Four years ago I moved to Baltimore and what made me stay was a welcoming, open, and eccentric queer community. Although Baltimore is not known as a tourist destination or a LGBTQ vacation spot, the city has an abundance of culture and beauty to offer its visitors and residents.
---
Queer Reads, Social Justice Courses, and Comics
Red Emma's/Baltimore Free School
30 W North Ave
Tuesday to Sunday 8:30am – 10pm
Monday Closed
Red Emma's is a radical socialist cafe and bookstore as well as a burgeoning community center for queer people and other marginalized people. With delicious vegetarian and vegan options, Emma's is always a good place for a good cheap bite. The co-op goes out of their way to hire trans people of color, disabled people, and formerly incarcerated people. I have been coming to Emma's since I was in high school, and it was probably my first enlightening experience with something truly radical. Red Emma's has cultivated not only an excellent cafe and bookstore, but a community of love and support.
Hosted by Red Emma's, the Baltimore Free School is a grassroots, community-funded project that holds a number of classes from "Yoga for Ex-Offenders" to "Literary Review and Criticism of Multicultural Books." Classes are held everyday of the week except for Monday.
Normals
425 E 31st St
Sunday to Friday 11am – 6pm
Saturday 10am – 6pm
Normals is a collectively run bookstore and record shop featuring used books and small press titles at reasonable prices. Normals also hosts local musicians and DJs in their performance space.
Bird in Hand
11 E 33rd St
Monday to Friday 7am – 7pm
Saturday & Sunday 8am – 7pm
An offshoot of Artifact Coffee and The Ivy Bookshop, Bird in Hand features a series where authors read their own poetry and short fiction, sell a small selection of books, and provide excellent vegan-friendly fare.
Atomic Books
3620 Falls Rd
Sunday to Tuesday 11am – 7pm
Wednesday, Thursday, & Saturday 11am – 9pm
Friday 11am – 10pm
Atomic books offers an excellent selection of zines, queer comics, and fiction from independent small presses. They stock many of the titles mentioned in Drawn to Comics such as "My Lesbian Experience with Loneliness" and "My Neighbor Jiaojian." Atomic also contains a small speakeasy in the back where you can get a cocktail, karaoke, or just play Space Invaders.
---
Treating Your Queer Self (Shopping)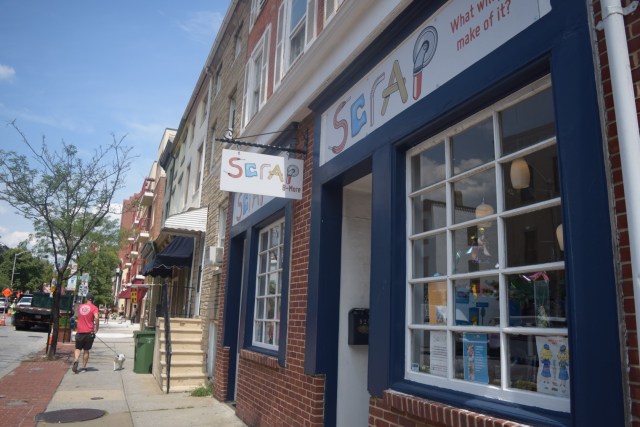 Scrap
925 S Charles St
Thurs & Fri 11am – 6pm
Sat & Sun 10am – 5pm
Scrap is a "donation-based creative reuse store and donation center." Essentially, imagine your wildest crafty dreams. Stop by Scrap in Federal Hill for cheap reused craft supplies or to donate your old DIY kits. Great for cosplayers, youth organizers, and DIYers.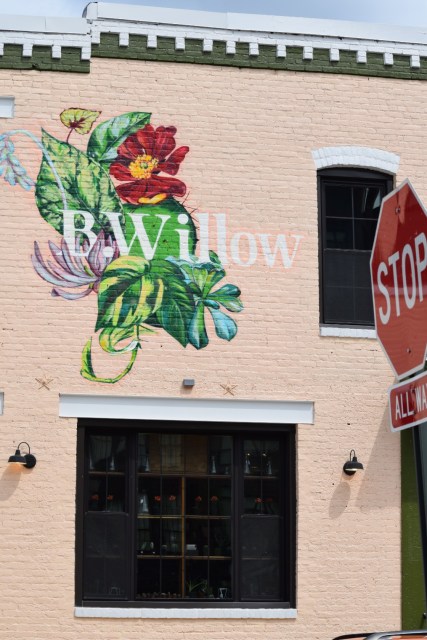 B. Willow
220 W 27th St
Monday to Saturday 11am – 8pm
Sunday 11am -7pm
B. Willow recently opened in Remington and sells a number of non-flowering plants, succulents, and cacti, as well as terrariums, zinc, and gravel. B. Willow invites you to plant your new little green friend right in the shop and holds classes and workshops.
Bazaar
3534 Chestnut Ave
Tuesday Closed
Monday to Saturday 12pm – 6pm
Sunday 12pm – 5pm
Bazaar has become a Hampden staple over the past few years and is filled with outdated gynecology equipment, teeth, creepy post-cards, taxidermy, airplants, and bumper stickers if that's your thing. Occasionally they host community events and taxidermy workshops.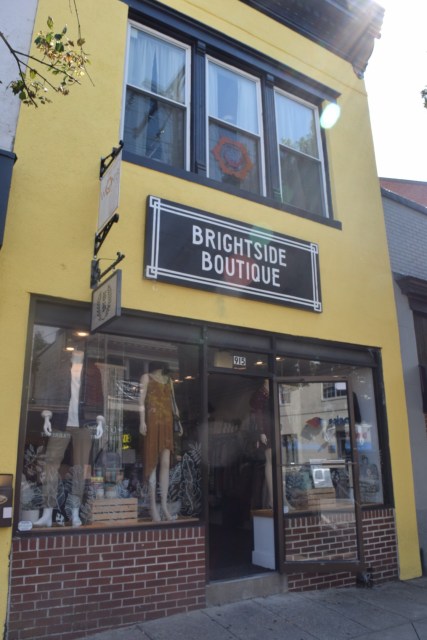 Brightside Boutique
732 S Broadway, 1133 S Charles St, 915 W 36th
Monday to Thursday 11am – 7pm
Friday & Saturday 11am – 8pm
Sunday 11am – 6pm
A rapidly expanding Baltimore Boutique with locations in Fed Hill, Fells Point, and Hampden. It's essentially Urban Outfitters without ripping off artists. Lots of floral rompers, normcore, ironic baseball caps, and cactus everything. I like coming in because the staff are sweet and I can find feminist slogans written in comic sans on clutches and candles. Great for gift shopping or some self-love.
Sugar
1001 West 36th Street
Tuesday to Thursday 11am – 9pm
Friday & Saturday 11am – 11pm
Sunday 11am – 6pm
Monday 11am – 7pm
Queer-lady-owned sex toy store in Hampden on the Avenue. Sugar also hosts events and educational workshops for it's patrons. Sugar manages to be both tasteful and playful; it has a small but high-quality selection of toys, and a helpful staff mostly made up of queer women who are way too cool for me.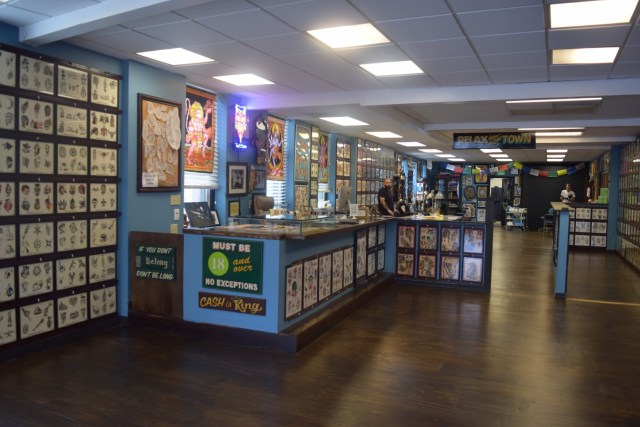 Brightside Tattoo
1130 Light St
Everyday 12pm – 8pm
Brightside Tattoo is located in Federal Hill and offers a diverse range of styles. All of their artists have a good eye and the technical skills to execute most designs. I had my first tattoo done at this shop shortly after it opened and I have yet to find a more hospitable and comfortable atmosphere in a tattoo parlor.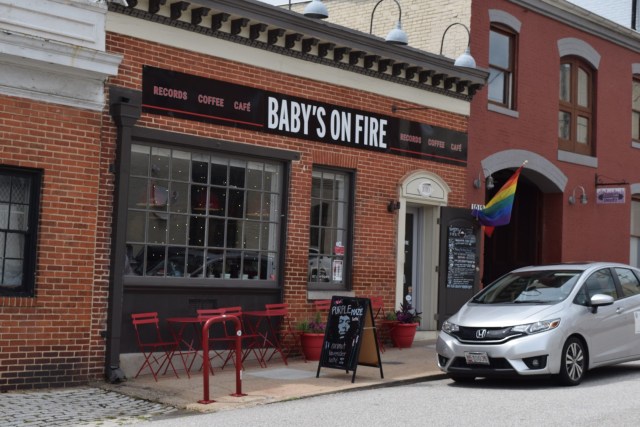 Baby's on Fire
1010 Morton St
Mon-Fri 7am-6pm
Sat 8am-6pm
Sun 9am-4pm
An adorable queer record store and coffee shop in the Mount Vernon Area. You can see its pride flag waving from across the block if you visit this local shop.
Vegetarian Food & Caffeine Fixes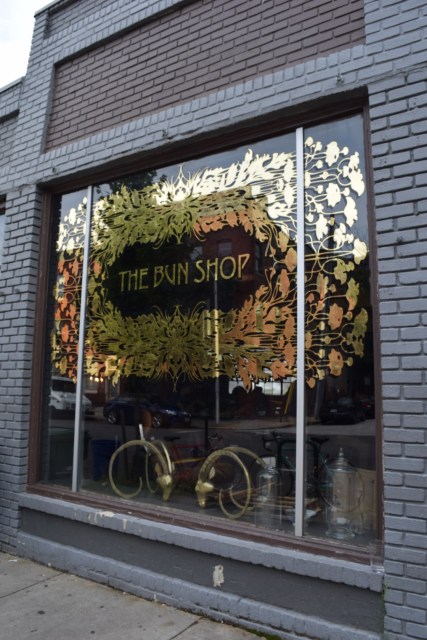 Bunshop
239 W Read St, 22 Light St
7am – 3am Everyday
The Bunshop is one of Baltimore's only late night coffee shops (open until 3am) and serves an array of sweet and savory pastries along with ample bench space and outlets. I enjoy the guava and cheese tarte or the rotiboy. Great for a late-night study session or office space.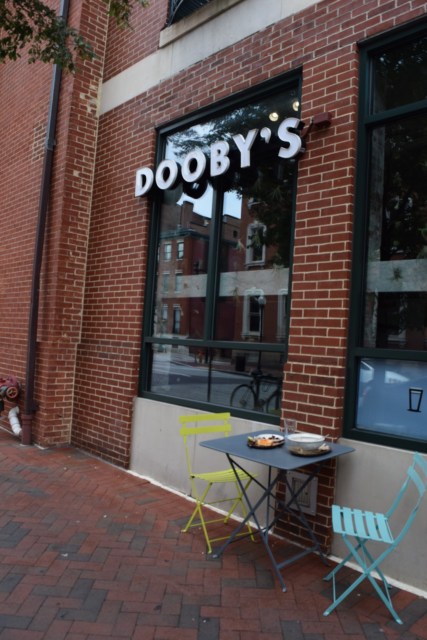 Dooby's
802 N Charles St
Monday to Friday 7am – 9pm
Saturday 8am – 9pm
Sunday 8am – 4pm
Doobys is located in the heart of Mt. Vernon and serves global fare. A great place to stop for brunch before going to the Monument or the Walters. Dooby's has always been extremely successful due to the quality of its food, its location, and the regularity of 9-5ers, but suffers from an identity complex. It began as Korean fusion, the evidence of which is still on the menu, and has since experimented with American fare, baked goods, and a daily changing menu. Dooby's is always good for a cup of coffee and, if you have a little money to spend, the eggs benedict with crabcakes or any of their Wednesday donuts are a Baltimore-must.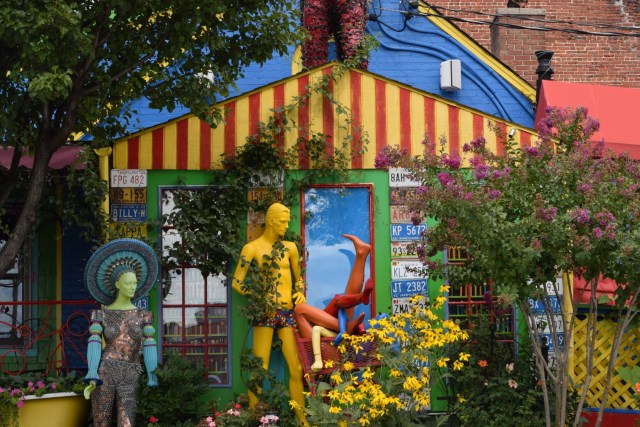 Papermoon Diner
227 W 29th
Tuesday Closed
Wednesday & Thursday 7am – 9pm
Friday & Saturday 7am – 10pm
Sunday & Monday 7am – 9pm
A little expensive and kitschy, the Papermoon Diner embodies the spirit of Baltimore. Laden with knick-knacks, action figures, and scantily clothed mannequins, it's straight out of a John Waters film. The Papermoon Diner serves breakfast all day along with true dinner desserts.
Land of Kush
840 N Eutaw St
Monday to Saturday 11am – 9pm
Sunday 10am – 8pm
Vegan soul food and a Black-owned business. They do vegan chicken and waffles as well as chicken wings on the weekends. Land of Kush is a great example of the movement in Baltimore and other majority Black cities toward a reclamation of vegan food and health culture.
Blue Moon Cafe
1621 Aliceanna St
Monday to Thursday 7am – 3pm
Friday to Sunday open 24 hours
A great brunch spot downtown serving both creative and classic brunch fare. Get the Cinnamon Toast Crunch French Toast. There will be no regrets, I promise you. If you're into a salty brunch, the Huevo Rancheros is also a good choice.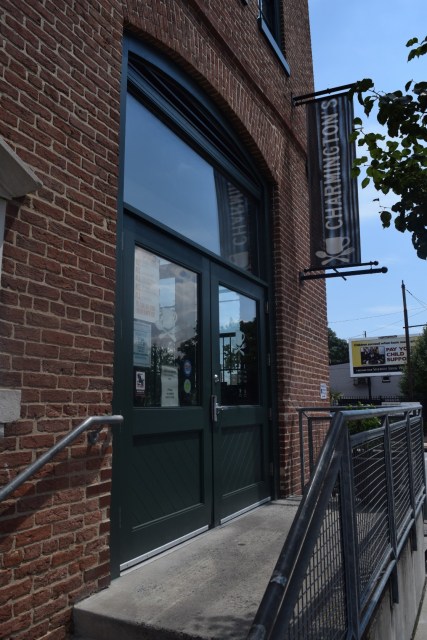 Charmingtons
2601 N Howard St
Monday to Friday 6am – 7pm
Saturday 8am – 7pm
Sunday 8am – 5pm
A little pricey, but the coffee and industrial feel are worth it for this Remington hangout. Charmingtons hosts open mics and poetry readings and plays office for many of Baltimore's remote workers and students.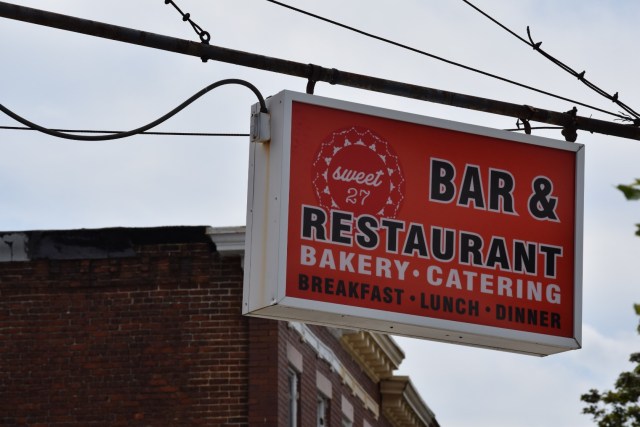 Sweet 27
123 W 27th St
Everyday 9am – 10:30pm
With global fare and gluten-free pastries, Sweet 27 has large portions and low prices in Remington.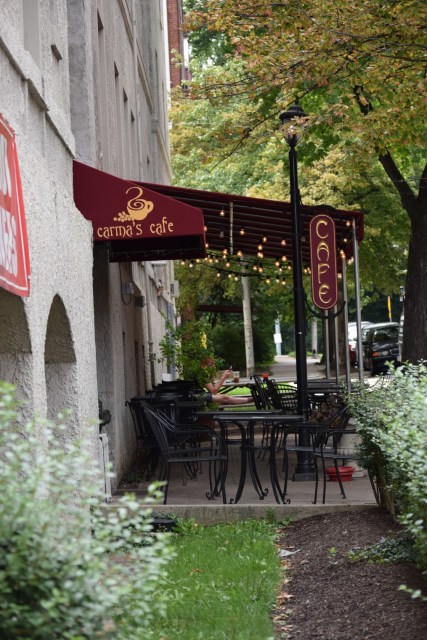 Carma's Cafe
3120 St Paul St #7
Monday to Saturday 7am – 9pm
Sunday 8am – 9pm
A favorite of grad students and professors, Carma has relaxing outdoor dining and low prices for coffee and pastries as well as breakfast Cubano.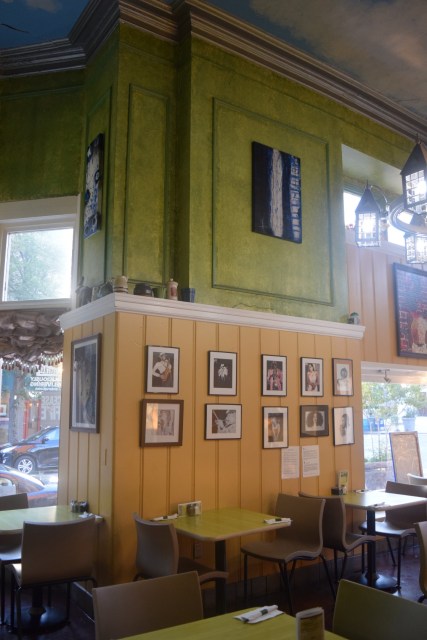 Terra Cafe
101 E 25th St
Monday to Thursday 8am – 9pm
Friday & Saturday 8am – 11pm
Sunday 10am – 7pm
Terra Cafe has a cool vibe, locally sourced foods, and is located in Charles Village — about a 15-minute walk from John's Hopkins University. Terra Cafe serves soul food with a twist (the fish and waffles are excellent!) and is a Black-owned Business.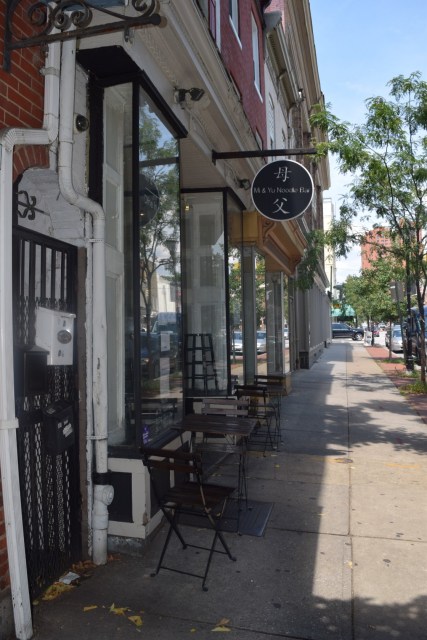 Mi & Yu Noodle Bar
1016 S Charles St
Monday to Saturday 12pm – 10pm
Sunday 12pm – 9pm
The best ramen shop in Baltimore. Mi & Yu is a cute counter-serve ramen bar offering a wide selection of ramen as well as bao and duck-fat french fries. I occasionally break from pescatarianism just for the Spicy Duck Bao, though vegetarian options are available.
---
Nightlife
As in other American cities, queer nightlife has become more broadly defined and less centered around specifically gay bars in recent years. Baltimore still has a few queer-only spots, but here is a list of broader queer(ish) night clubs.
The Attic at Flavor
15 E Centre St #2
Friday & Saturday 9pm – 2am
Located above the restaurant Flavor, The Attic is open every Friday and Saturday to serve Baltimore's queer ladies. Featuring a lounge, full bar, and dance floor, The Attic is Baltimore's only club for queer ladies and is run by a local lesbian couple. The Attic does not disappoint and offers an oasis for lgbtq people who are excluded from traditional gay male night clubs. Like its neighborhood, the bar is sleek and a little pricy, but worth it.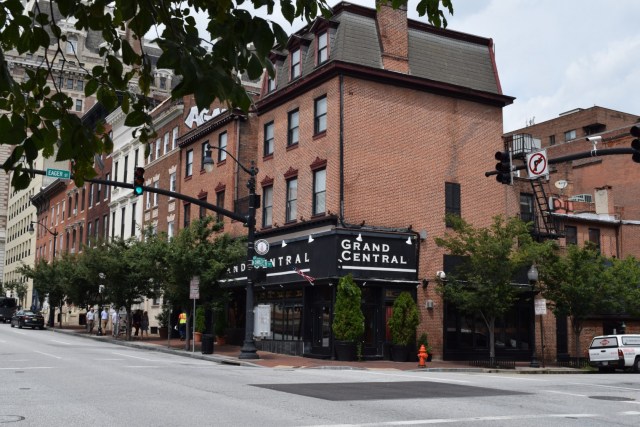 The Grand Central
1001 N Charles St
Monday to Saturday 4pm – 2am
Sunday 3pm – 2am
The Grand Central describes itself as an "alternative nightclub" which means it's a great mix of queer-identified 20-30 year olds and hipsters. Although drinks can run a bit high at times, specials bring them down to a little over $3, which is reasonable for Baltimore. The club hosts a ladies night every third Thursday. Although it looks unassuming from the outside, The Grand Central has quickly replaced Club Hippo as the city's premier lgbtq club and lives up to that title.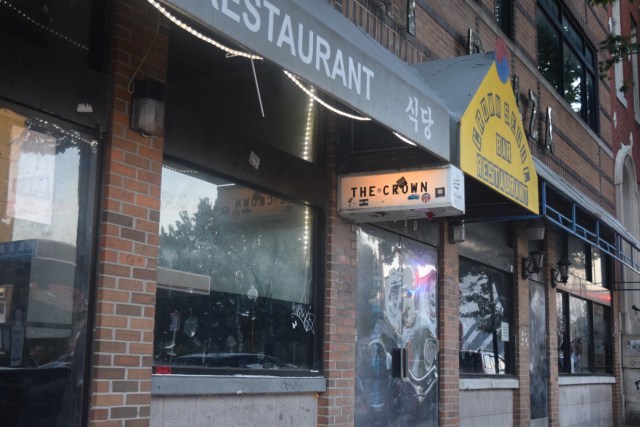 The Crown
1910 N Charles St
Tuesday to Sunday 6pm – 2am
Monday Closed
The Crown is right off of North Avenue and offers a grittier experience than its Mount Vernon counterparts along with Korean-fusion fare. Torn between the artistic influences of MICA and the Station North Neighborhood, The Crown is truly "queer," while not being exclusively lgbtq. It offers cheap drinks, drag, burlesque, music from EDM to punk, and art shows. The first time I went to the Crown, I watched the movie Alien dubbed over with atonal techno. It's quickly becoming my favorite club in Baltimore.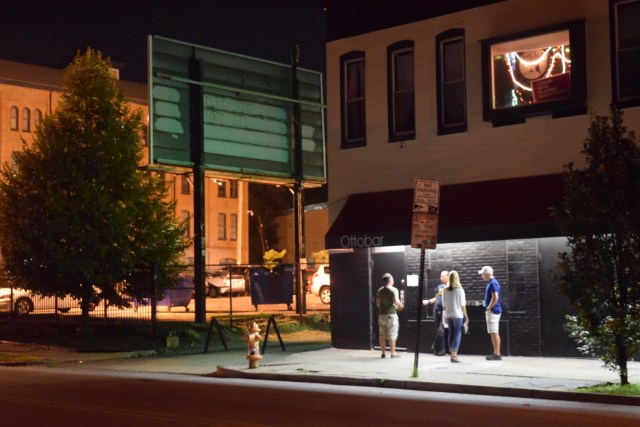 The Ottobar
2549 N Howard St
Everyday 5pm – 2am
The Ottobar is a Baltimore staple, especially for those under 21, as it hosts a number of events that are 18+. Its entertainment ranges from live punk bands to Buffy the Vampire Slayer Burlesque and even flea markets. It's monthly "emo nights" are becoming a favorite of nostalgic college students. I have been going to the Ottobar to see live bands since high school and, as an adult, still appreciate the venue and their upstairs bar.
---
Parks to Take Your Furry Friend/Date
Druid Hill Park
900 Druid Park Lake Dr.
An expansive park in West Baltimore, features a conservatory, frisbee golf course, as well as the Maryland Zoo. This park hosts the annual pride festival.
Sherwood Gardens
4100 Greenway
A great picnic spot with gardens and annual tulip arrangements.
Wyman Park
2929 N Charles St
A small park in Charles Village, walking paths, a playground, and that occasionally hosts live music.
Patterson Park
27 S Patterson Park Ave.
Patterson Park has playgrounds, live music, sports facilities, and expansive gardens.
Canton Waterfront Park
3001 Boston St.
Canton Waterfront Park has beautiful views of the city and hosts WTMD's (a radio station out of Townsend University) First Thursday Concerts in the summer.
---
Queer Ladies on the Silver Screen
The Parkway
5 W North Ave.
A newly reopened 1910 theatre on North Ave, The Parkway is now the main venue for the Maryland Film Festival and shows independent, international, and classic films. Although it is close to the Charles Theatre, The Parkway's architecture alone is worth a visit.
The Charles
1711 N Charles St.
The Charles (originally the Times Theatre) has been open in Baltimore since 1939 and is an essential for the city's alternative crowd. Showing independent films, foreign films and anime, the theatre is a wonderful place to spend an evening between North Ave and Penn Station. The space is amazing and homey and the showings range from packed premieres to nearly empty matinees.
Flicks on the Hill
800 Key Highway
Hosted by the American Visionary Art Museum, Flicks on the Hill is free and plays family films on Thursdays in July and August.
Women and Minorities in Media Film Festival
8000 York Rd.
The Women and Minorities in Media Festival is hosted by Towson University, is free for students, and includes female-focused and queer independent films from around the world.
---
Other Cool Things
The Farmer's Market under the Beltway
330 Guilford Ave
With free parking, lots of food, and local farmers, the Baltimore farmers market is an excellent way to spend a Sunday morning. Also, the fried mushrooms there are incredible.
Graffiti Alley
The corner of Howard and North Ave
Although not necessarily a tourist destination, Graffiti Alley is located next to Red Emma's and is featured in a lot of Baltimore club music videos. It's worth a look and a couple pictures if you are in the area.
The Baltimore Creative Alliance hosts a number of workshops and performances through the year as well as galleries.
Artscape is usually held in late July and is the largest free art festival in the United States. With bands, installation pieces, theatre, and galleries, it's worth braving the heat.
First Thursday Concerts by WTMD
Canton Waterfront Park
A free outdoor concert series held monthly in the summer by WTMD. Features big names from various genres and craft beer.
---
Local Celebrities
Dan Deacon
A local electronic composer and artist that calls Baltimore his home.
Beach House
Beach House, now famous in the indie genre, is Baltimore based and occasionally returns home to do shows at MICA and small venues.
Wye Oak
Wye Oak is an alt band whose lead croons into the mic and who have regular shows in Baltimore.
Rubblebucket
Although it's from the DMV, the Indie band, Rubblebucket, has been adopted into Baltimore and plays local shows.
John Waters
The famous writer and director of irreverent cult films like Pink Flamingos, Female Trouble, and Hairspray (1988). He lives in Baltimore for part of the year and takes fanmail at Atomic Books in Hampden. It's not unusual to still find posters of Divine around the city, or Waters himself.
---
The Gayborhoods
Hampden
Hampden and the Avenue have a number of cute boutiques and wonderful restaurants as well as "hons." This is a wonderful part of town to enjoy some shopping and outdoor dining. In the winter, 34th street is completely covered in tacky (but beautiful) Christmas decorations as well as street vendors with hot chocolate and hot dogs.
Remington
Due to the condos being built in Hampden, many young Baltimoreans are moving south to Remington. Remington is now the "up and coming" neighborhood for some and another loss to gentrification to others. Remington features RHouse and Bar Clavel and boasts a diverse food scene.
Bolton Hill
The home of all the MICA students and host to a huge gay community. Art shows are constantly going on in this area as well as performances and installations. A great area of town to check out if you are into the local arts.
Charles Village
Full of John's Hopkins students and starter families. A fun, queer-oriented, relatively safe area with lots of coffee shops and book stores.
Highlandtown
A cute artsy area around Patterson park that has a number of excellent restaurants and cute dogs. Visit the Creative Alliance or see the local monuments. Although it has started to become more gentrified, Highlandtown retains its old Baltimore charm.
Mount Vernon
The historic Baltimore Gayborhood. F. Scott Fitzgerald, Anthony Bourdain, John Waters, and a number of American presidents have frequented this area. The architecture is some of the prettiest in Baltimore and the monuments and museums make it a must.
---
Queer Resources and Organizations
The Gay, Lesbian, Bisexual, and Transgender Community Center of Baltimore and Central Maryland
2530 North Charles Street
3rd Floor
The GLCCB was founded in the 70's and works to provide services and resources to Baltimore's queer community. These services include case managers and peer navigators to help find housing and other resources for queer people. Until a few years ago, the GLCCB was not a particularly good place for queer people to go to for help, but with a completely new administration and office space, the new GLCCB has proven itself to be a helpful resource for queer people in the area.
The Transgender Alliance in Baltimore is a relatively young organization (started in 2015) and aims to bring Baltimore's trans and queer community together through open events, workshops, and protests. The organization held the Baltimore Trans Uprisings of 2015 and has continuously protested the systematic oppression of transgender people, especially trans women of color. The Transgender Alliance is an in-touch and intersectional organization that works with minimum bureaucracy to improve the lives of trans and queer people in the city.
---
The Scene
Baltimore's dating scene is largely based upon what or who you are looking for. Baltimore does not have a lot of transience as it is not thought of as a tourist destination, but the queer community can fluctuate around university schedules. Since there is not a lot of migration in and out of the city, some queer communities can become a little stagnant for dating. However, it's easy to go on dates with queer people from DC and the DMV and there are several bars geared towards queer people in Baltimore, so it's easy to find a hookup or long-term partner. As for dating apps, I have had the most luck using Her and OkCupid.
---
Pride
Baltimore Pride is put on by the GLCCB and is located in Station North, Charles Village, and Mount Vernon. Pride is a huge deal, closing on of Baltimore's biggest streets for the parade, festival, and food vendors. The parade has a tendency to devolve into a massive party and several of the local bars host drag events, celebrity impersonators, game shows, and other activities. The festival is a more family friendly celebration and is the perfect place to have a picnic while watching the drag competition or listening to live music.
---
Diversity
Baltimore is an extremely diverse city, with large African American, Korean, Hispanic, and refugee populations. There is also a significant Jewish population, a number of Christian non-denominational, Baptist, Greek Orthodox, and Catholic churches that are for the most part, extremely accepting. While diverse, segregation is a huge problem in the city. Neighborhoods and highways create divisions between white neighborhoods and communities of color as well as dividing the city by class. The queer community in the city reflects its diversity, with a wide variety of economic classes represented as well as a large population of trans and genderqueer people.
---
Cost of Living
Compared to neighboring cities, Baltimore is cheap to live in, but its proximity to Washington D.C. affects the prices. An average rented room runs from $400-$800 per month, while a 1 bedroom flat is about $900-$1,300. Water, electricity, and gas will probably add up to $20-$30 dollars per month. Food and commodities vary from dirt cheap to high end — it's just a matter of finding the right deal.
---
College Life
Baltimore and the surrounding county have a number of colleges, though the city is far from a college town. Maryland Institute College of Art and John's Hopkins are the most prominent of queerest of the city. Both have created little microcultures around them and attract a lot of queer undergrad and grad students.
SaveSave