Hello Monday birds! I spent the weekend untangling this paper garland I made for the wedding (but never used) and turning it into a wall hanging, then I hung up two pendant lights, finished off a box of wine, celebrated my new nephew who was born on Saturday (!!!), and nailed a fallen branch to my wall! I'm exhausted. How was your weekend?
---
Queer as in F*ck You
+ Sorry, is this just a Kristin Russo fansite now? Maybe. Maybe it is. Don't worry about it. Here's Kristin and her wife Jenny Owen-Youngs just basking in the glow of marriage equality!
+ Love and Drugs in the Darkest Days of AIDS.
+ Nicolette Mason brings you some stats Beyond Marriage Equality.
+ How Virginia Woolf's Orlando Subverted Censorship and Revolutionized the Politics of Lesbian Love in 1928 over on Brain Pickings.
+ Another video! Colorlines News Five Questions: Gay Pride Edition!
+ Out queer cycling couple Tayler Wiles and Olivia Dillon are on the cover of Bicycling Magazine's August issue! HOW CUTE IS THIS.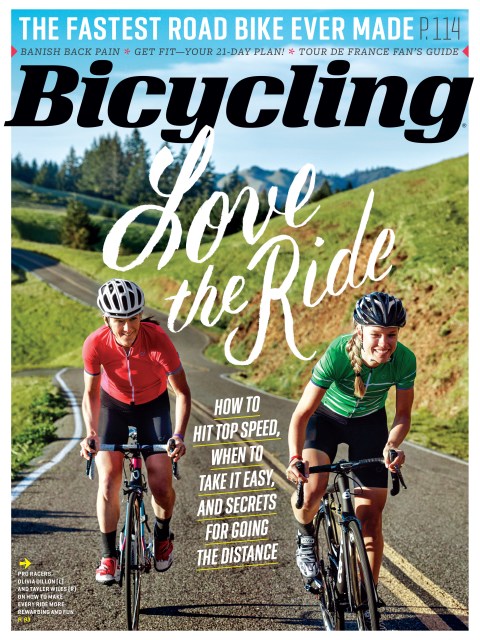 The cover of Bicycling's August issue—the 'Love the Ride' issue—features a couple that best captures the spirit of cycling, romance, and partnership, and it just happens to be two badass women. Pro cyclists Tayler Wiles and Olivia Dillon found each other while racing for the same team and felt an immediate connection, despite the fact that it was something new for both of them.

"We knew pretty early on that we were meant to be together, but we did not have the easiest time initially given that it was all a bit unexpected and unconventional," recalls Dillon. "I suppose our determination to overcome all the obstacles we faced was a sure sign that we were both in it for the long haul."

Long haul is right— the two are getting married in the fall, during a break in their cycling seasons. A gay couple in women's pro cycling isn't surprising anymore: In fact, Wiles says that the cycling community made coming out a simple task. "It really is an environment where it's been easier," she said. "It was a pretty easy place for me to come out; I never felt like it was out of the ordinary. It's been great." Bicycling's August issue will be on newsstands June 30.
---
Doll Parts
+ Here are over 70 Black-Owned Hair and Cosmetic Companies you should buy from now from Bougie Black Girl.
+ Natalie Wilson has Five New Women-Directed Horror Films to Seek Out fuck yesss.
+ John Oliver Declares Trans Issues Next Fight for LGBT Equality, or as Mari put it this morning, "Wow. John Oliver did a 15 minute supportive segment on trans issues with no fuck-ups."
+ There's Nothing Fake About Issues with Artificial Turf at Women's World Cup.
+ You can buy this 11×17″ poster, Jennicet Gutierrez: End Detainment and Deportation, and all the proceeds will go to Familia: Trans Queer Liberation Movement.
---
Saw This, Thought of You
+ Americans have completely forgotten the Afghanistan War.
+ Southern Wesleyan University Offers Full Scholarships to Children of Employee Killed in Emanuel AME Massacre.
+ New Mexico "Star Partywp_postsReminds Us That Wildlands Protect Dark Skies, Too.
+ Were All Those Rainbow Profile Photos Another Facebook Experiment? SIGH.
+ Insomnia, anxiety, break-ups… Musicians on the dark side of touring.
+ Hunger Games Actress Angel Giuffiria Talks Life as a Cyborg.
+ 40 Free Fun Things to do This Summer!
---
Local Autostraddle Meet-Ups
+ 6/30 Rio Grande Valley: Aquí Estamos Poetry Slam Night
+ 7/3 Madison: SHE SAID PARTY
---
And Finally
This happened?
It's rare Ms. Brown and I get to spend time together without some colorful characters barging in. – Ms. Green pic.twitter.com/hnoktsAgAW

— M&M'S® Brand (@mmschocolate) June 28, 2015