ADAM LAMBERT:
Despite watching every interview since 2009 and sitting through his E! True Hollywood Story, I still learned bits of brand spankin' new knowledge from his Behind the Music. The good people at VH1 put the whole thing online so you can watch it right here!
Of the day he finally came out to his family after years of internal struggle his father says they all "breathed a collective sigh of relief. " Adam adds, "It felt amazing; it really did. It felt like a weight was lifted, having that freedom of communication about a part of me that I had kept secret for so long." Also, remember those initial photos of him kissing some guy during the Idol run? The were apparently found on a social networking site called Tribe, where he forgot to cancel his account. What is this Tribe our boy speaks of?
On his upcoming fall musical masterpiece:
"The good news is that I am in love, so that's a good place to be. It's a great time to be making music, I'll tell you."
.


NAYA RIVERA:

She's in the studio this very second recording her debut solo album that will sound something along the lines of dance tracks, heartfelt ballads, and jazz stylings along the lines of Amy Winehouse and Adele. Our little Santana also goes full glam for the new issue of Instyle:

.


GAGA:

Her dragking alter-ego Jo Calderone is back on the single cover for "You & I" (sidenote, pretty much my fave track on Born This Way.)  She also adds that the "You & I" music video will be her 1,000th tweet (she's currently at 992).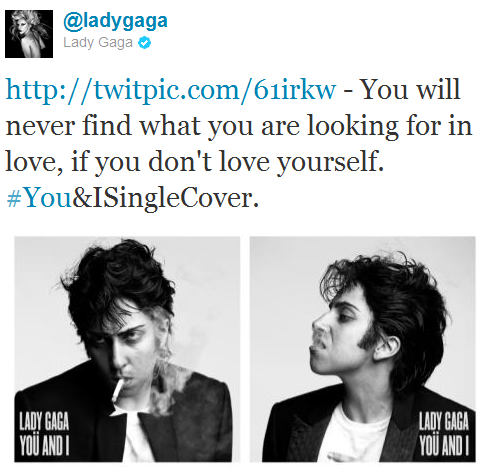 MTV:
The hands down most watchable award show on television, the VMAs, will include a new social activism category this year:
This special category celebrates the powerful intersection of music and social activism, and highlights artists who created music videos with positive messages of self-empowerment or raised awareness of key social issues facing today's youth.  With an outpouring of support from across the pop culture spectrum the last year, artists mobilized to support bullied youth, reject LGBT discrimination and emphasize self worth — issues MTV has been addressing through A Thin Line, its anti-cyberbullying and digital abuse campaign, launched in December of 2009 – and now via this special 2011 MTV Video Music Award Category.
The 2011 VMAs air Sunday, August 28th and the nominees for "Best Video With a Message" are:
.
+ Pink,  "Fuckin' Perfect"
+ Lady Gaga, "Born This Way"
+ Katy Perry, "Firework"
+ Eminem, "Love The Way You Lie"
+ Rise Against, "Make It Stop"
+ Taylor Swift, "Mean"
.
Speaking of MTV, the Village Voice has obtained the 30 page contract that must be signed by cast members of The Real World.  The lengthy document is considered a standard contract for all Real World participants and stipulates that those who sign on the dotted line "may be humiliated and explicitly portrayed 'in a false light.'" Housemates are also required to "grant the Producer blanket rights to your entire life story," which they then have the right to "misrepresent." So, who's gonna leak The Real L Wordcontract for us to publish?
.
JILL BENNETT:
Auto-friend Jill Bennett's latest blog post takes on our very own readers, inspired by the debate within comments of the Sheryl Swoopes article last month.  Jill addresses those comments head on in Labels Aren't Just for Cans, and WTF is Pansexual Anyway? and invites you to continue the discussion via audio or video on her bi-monthly live vlog, "The Gloves Are Off,"  TONIGHT at 7pm PST.
.


ADELE:

21 was inspired by the breakup with her ex-boyfriend but she just revealed that keeping a "drunk diary" helped lubricate the creative juices:

"I used to have to lock myself away in my house, get pretty drunk and write a drunk diary – and that was the first time I could admit things to myself. 'A drunk tongue is an honest one in my opinion and the next morning I would read it through with an awful hangover and, in the cold light of day, had to absorb my feelings about myself.  I was a bit scared that I wouldn't be articulate enough. I started realizing my own flaws and my disappointments and I started regretting a lot of stuff. It was quite an awakening."
---
Before you go!
It takes funding to keep this publication by and for queer women and trans people of all genders running every day. We will never put our site behind a paywall because we know how important it is to keep Autostraddle free. But that means we rely on the support of our A+ Members.
Still, 99.9% of our readers are not members.
A+ membership starts at just $4/month.
If you're able to, will you join A+ and keep Autostraddle here and working for everyone?
Join A+