There's been versions of this joke circling around on Twitter. I don't know if you've seen it, but there are a lot of folks who are prepared to call 2019 The WORST Black History Month Ever.
I mean the last 28 days alone have seen: luxury designer brands like Gucci, Prada, and Burberry thinking it's OK to design sweaters that look resemble blackface and send nooses down their runway (what??); the Virginia Governor's past forays into actual literal blackface (oh and his wife, the First Lady of Virginia? She gave out cotton to African American students during a tour of the Governor's Mansion) (HOW?); there was that one time when Liam Neeson thought about killing a black guy; and – whatever my personal feelings on the matter – I literally cannot say another word about Jussie Smollett even if I tried. Oh and this is comparatively small, but then Green Book won Best Picture at the Academy Awards! Spike Lee almost walked out of the ceremony. I have never felt more in tune with his spirit.
There's been a petition to just pack up this February all together and move this year's Black History Month celebrations to July. I'm sure you can understand why.
That's not to say it was all bad. There was some good in there, too: Ruth E. Carter and Hannah Beachler broke records by becoming the first black women to win in their respective Oscar categories (Costume Design and Production Design) – they also became only two out of three black women to EVER win outside of an acting category. And they did it within 10 minutes of each other! Regina King? Now also an Oscar winner. And perhaps you heard the good news but it looks like R. Kelly may spend the next 70+ years in jail for his decades of statutory rape and molestation of black girls. 🙏🏾
I'm really proud of all our Black History Month work at Autostraddle this month. We questioned the rumors of Josephine Baker and Frida Kahlo's love affair. We highlighted black femmes who are often forgotten. We learned more about the closeted black lesbian political great Barbara Jordan. We re-imagined ourselves in classic films and in cosplay. Sometimes it felt like the world was imploding around us, but we dug our heels in deep. We celebrated each other, our queer and trans siblings, and those who came before. It's a journey that I've been humbled to walk.
But now, I AM TIRED – and I bet a lot of y'all are too. I'm ready to kiss the last hours of the longest 28 days on record away with a fucking party!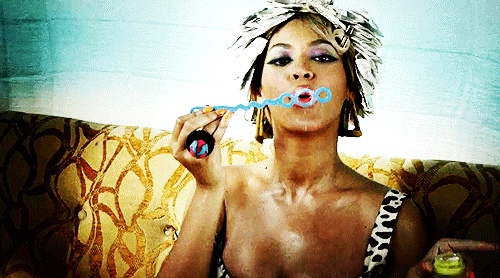 I've been listening to this list nonstop for 24 hours. I promise it's full of cross-generational bangers. Hope you enjoy. Remember – celebrating blackness doesn't end in February. Take this list with you year-round. I believe in being 365 BLACK at all times. Stay black. Stay beautiful. Stay proud. ✊🏾😘
THE PLAYLIST
https://open.spotify.com/user/autostraddle/playlist/6qh29GnGlJobiXtjdZp8Eh?si=PjN_V_zqSz24Oy3iDRl4Ew
If you have Apple Music instead of Spotify, no worries I have you covered.
THE TRACK LIST
1. Jamilah Woods — "Blk Girl Soilder"
2. Labelle – "Lady Marmalade"
3. Betty Davis – "They Say I'm Different"
4. Jill Scott and the Roots – "You Got Me" (LIVE)
5. Vickie Anderson — "Message from the Soul Sisters"
6. Queen Latifah feat. Monie Love — "Ladies First"
7. Janelle Monáe – "Django Jane"
8. The Internet – "Gabby"
9. Mary J Blige – "My Life"
10. Whitney Houston – "You Give Good Love"
11. Anita Baker – "Giving You The Best that I Got"
12. Prince – "The Beautiful Ones"
13. Lauryn Hill – "Everything is Everything"
14. Meshell Ndegeocello – "Fool of Me"
15. Tracy Chapman – "Fast Car"
16. Kehlani – "Honey"
17. Stevie Wonder – "As"
18. Notorious BIG – "Juicy"
19. Lil' Kim, Da Brat, Angie Martinez, Lisa Left Eye Lopes, Missy Elliott – "Not Tonight (Ladies Night remix)"
20. Donna Summer – "Hot Stuff"
21. Tina Turner — "What's Love Got To Do With It"
22. Aretha Franklin – "Rolling in the Deep" (YOU WANT TO HEAR THIS ONE)
23. TLC – "What About Your Friends"
24. Diana Ross – "I'm Coming Out"
25. Patti LaBelle – "Somewhere Over the Rainbow" (LIVE)
26. Chaka Khan — "Sweet Thing" (LIVE)
27. Roberta Flack — "Killing Me Softly"
28. The Fugees — "Killing Me Softly" (Yes, you must listen to them back-to-back. I don't make the rules of blackness. Thank you.)
29. Missy Elliott — "Work It"
30. Minnie Riperton — "Lovin' You"
31. Solange – "F.U.B.U."
32. The Carters – Black Effect
33. Kendrick Lamar – "Alright"
34. Donny Hathaway – "Someday We'll All Be Free"
35. Big Freedia feat Lizzo – "Karaoke"
* BONUS TRACK, because Queen Bey don't believe in nobody's Spotify: Beyoncé — "Freedom" ("Lift Every Voice" Remix from Coachella '18)  *