My third grade Sunday School class had a bookshelf in the back of the room stacked with hymnals, a handful of Precious Moments Bibles (the ones where God's great genocide is illustrated as a super fun boat trip with adorable animals), and a few etiquette books from the '50s. Me and my sister and our friends never thought about those etiquette books until we turned 12 and Caroline Bagby got caught taking her mom's romance novels out of her nightstand. She'd started bringing them to church, where we took turns reading them out loud tucked down in the backseat of my parents' car. In was the very early '90s; the internet did not exist. We'd all heard that everything we needed to know about sex was contained within the movie Dirty Dancing, but none of our Baptist parents would even let us watch the free trial of HBO. Those contraband romance novels were our only hope.
One Wednesday night while we were milling around in the parking lot waiting for the deacons' meeting to be over, my sister had a sudden epiphany. Hadn't there been a book about sex in our little kids Sunday School class? We rushed off to see if she was right, and found it right where it'd always been — Woman: Her Sex and Love Life, by William J. Robinson. It had been originally printed in 1918, but this copy was from 1954, updated with new instructions and pictures.
"Should we really read it?" I asked.
"Well, we want to be good wives, don't we," Caroline said.
We all agreed that we did. It was what we'd been placed on the earth to do.
"It'll help us stay out of trouble," Lorna Knight added. "This author was a pastor and a doctor."
I recently stumbled across a copy of the good Reverend-Doctor William J. Robinson treatise's on women's etiquette at a used book fair in New York City, and decided to see how much trouble I'd actually managed to stay out of.

Rule 1: Avoid homosexuality. (Rule 1a: Don't become a misandrist.)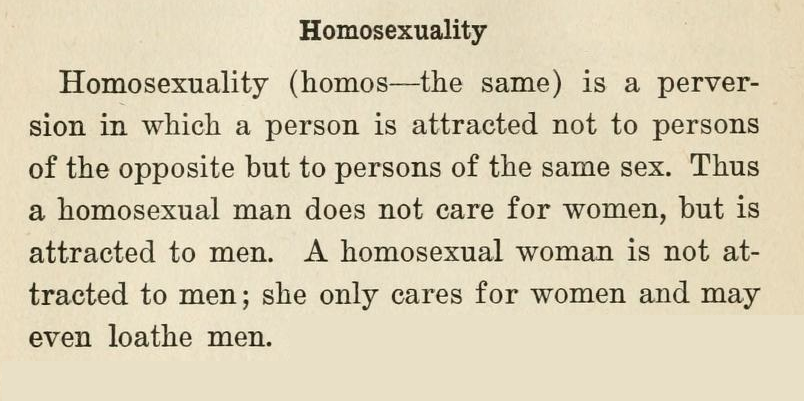 Adult status: Failed, completely homosexual and men-loathing.

Rule 2: Don't let your husband know you are a frigid bitch.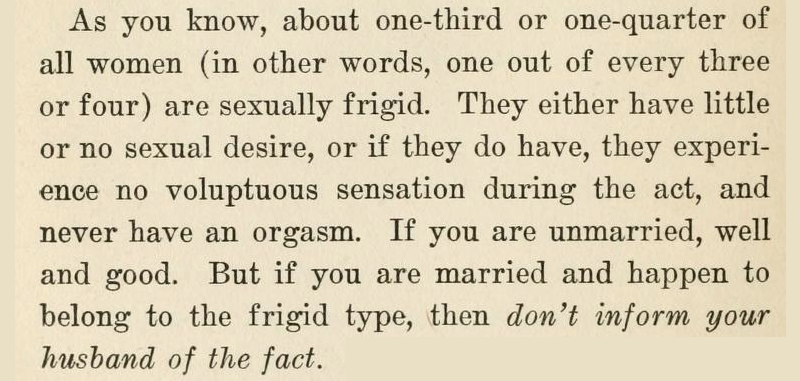 Adult status: Passed, not sexually frigid. Failed, no husband.

Rule 3: If you must be frigid, find a husband who considers it "God-sent."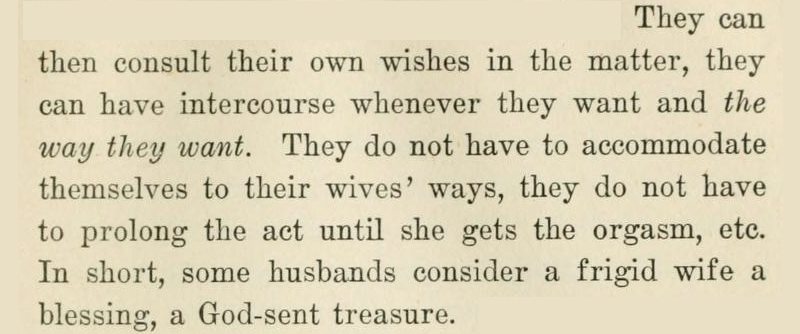 Adult status: N/A, homosexual.

Rule 4: However, do not murder your husband by being too not-frigid.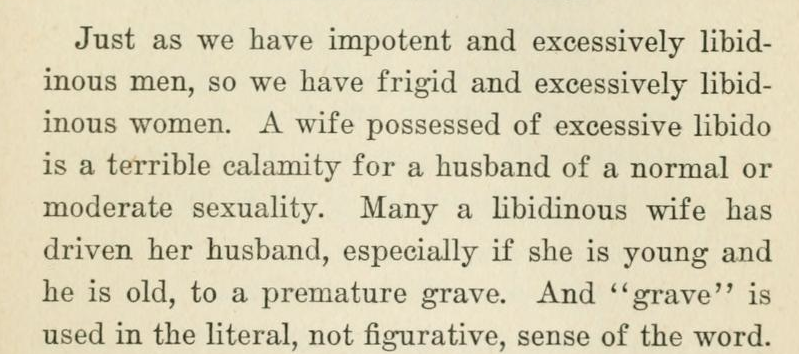 Adult status: N/A, no husband.

Rule 5: Do not flirt with men, and sometimes scowl when they compliment your feminine charms.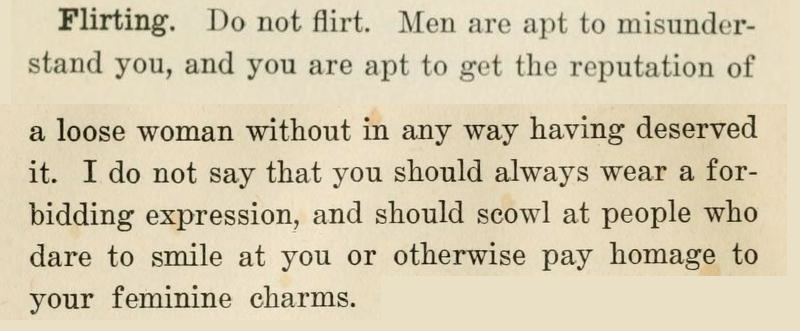 Adult status: Pass! A+!

Rule 6: Wear silk and lace underwear, specifically in pink.

Adult status: Failed.

Rule 7: Don't masturbate unless you want anemia, acne, and a dingy complexion.
Adult status: Suuuuper failed!

Rule 8: And don't masturbate psychically either!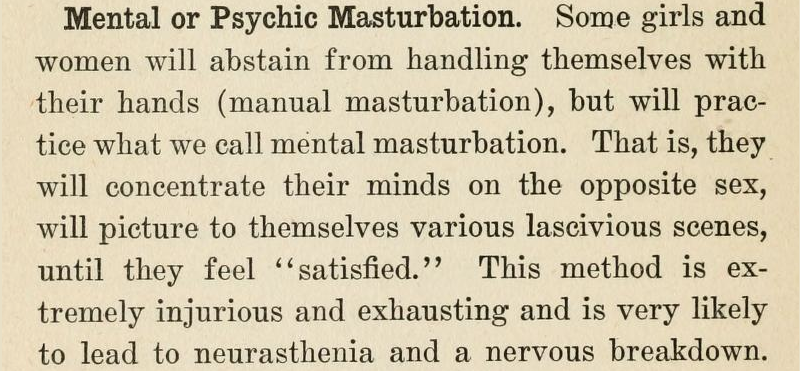 Adult status: Failed!

Rule 9: Do not sleep in a room with another girl without supervision.

Adult status: Failed!

Rule 10: It's actually okay to be grumpy when you're pregnant — er, hosting a parasite.
Adult status: N/A, no children.

Rule 11: Don't let your husband see any proof you have a period!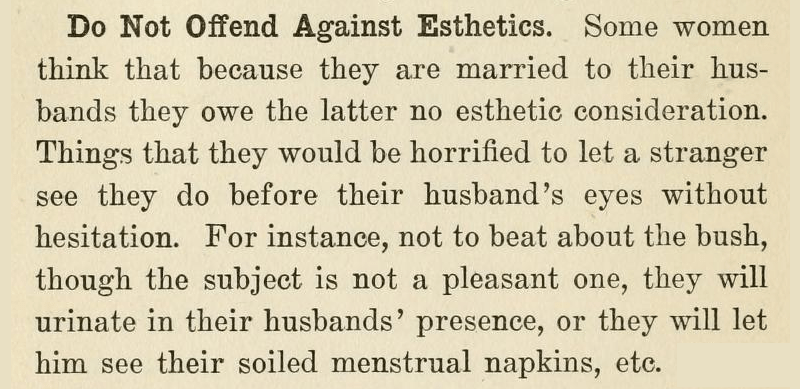 Adult status: No husband, no period.

Rule 12: Don't let anyone know your husband is an idiot.

Adult status: No husband, but I have let people know plenty of other husbands are idiots. Failed!

Rule 13: You're not smart but know about his job as much as you can.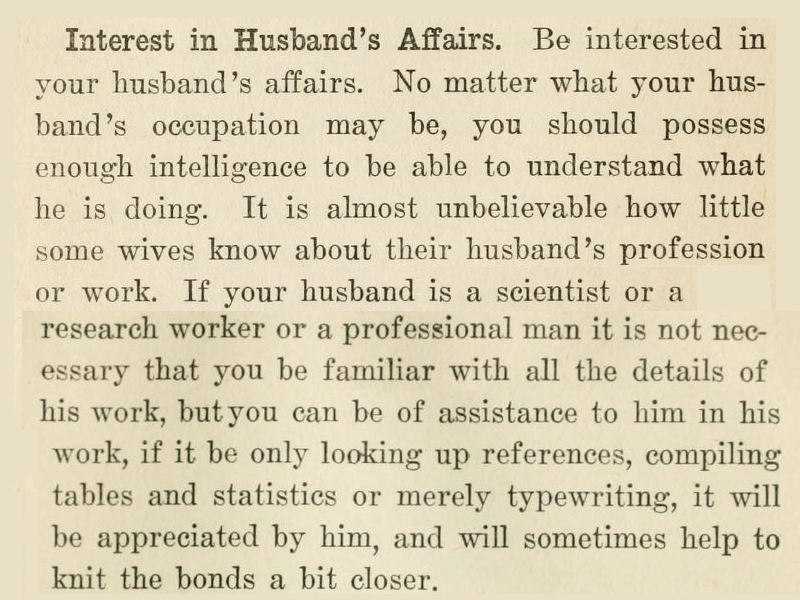 Adult status: Am smart. Failed!

Rule 14: If a man never loves you, you're a failure.

Adult status: Failed!

Rule 15: And always remember that rape is a myth.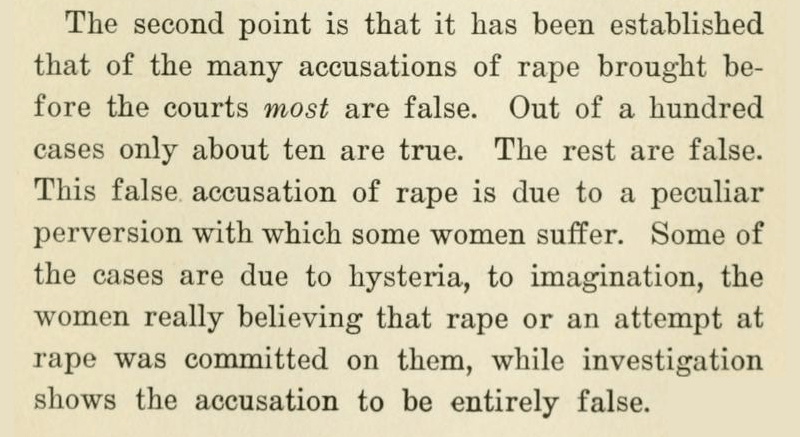 Adult status:  Fuck you, reverend-doctor. FAILED! 

---