Welcome back to your Twenties recap, episode 205 — otherwise known as the closet is a messy place to be and Siri play Brandy's "Almost Doesn't Count." In our last episode, Hattie and Ida had a date night that quickly pivoted into a very honest talk about privilege, the pressures of being first, and looking for accountability between ourselves in Black queer relationships. Which will also be a continuing theme this week! But first…
My Narrator Voice: Excuse any typos or weirdness you see in today's recap, I got my vax booster this morning and I'm hydrating, but this fever is coming with a quickness. Still, I must push on because when they wrote We Shall Overcome they were talking about sitting in sweatpants at your kitchen table writing television recaps. It's in the second verse.
The powers that be at Twenties decided I haven't blushed enough yet this season, so they went ahead and put Jonica Gibbs in a pair of oversized round glasses and a Fannie Lou Hamer sweatshirt for her second writers' group meeting. If you'll remember, in her first outing Hattie — it simply must be said — fucked up. She often fucks up, so that's not new. But she's trying to get her life together, and she has Idina to hold her to that, which very much is.
Hattie gets… umm overzealous in her critiques of others' work, and I'm 100% sure that every single person in that group wishes Idina would just get over her crush already so they could drop this girl. Speaking of which, this sets us up for my favorite meta commentary of the week:
Hattie, completely oblivious: Idina, my girl, your script was so relatable. Like, I could really see myself in Robbie. I mean she was hilarious, a bit of a hot mess, but I liked her! The only thing I didn't understand was why Isabelle was so into her, though. Like, Izzy had a great life! She's got the fly store. She's got the cool whip. She's obviously a great cook. Why is she following behind this dusty-ass girl?
WHY INDEED HATTIE!?!?!?
Hattie wraps up with "I guess I'm just not here for the unrequited lesbian love story right now." Is Hattie setting up a realization about the role Ida's playing in her life right now and why it might be time for them to "move on and go their separate ways"? Of course.
But do I want to save Idina from her own unrequited love story with Hattie? I mean, I want to wrap Indina up in a blanket and couch snuggles because have you seen her? But yeah, that too.
After the writers' group, Idina and Hattie do that thing where they clean up the apartment together and Idina holds every glance for three seconds too long and sets her voice all soft when she says things like "it's been really nice having you" and Hattie ignores it as if these things aren't happening.
Idina nervously plays with the dish towel in her hand as she wonders outloud if Hattie would like to go to a movi— but before she can get out the rest of the sentence, Hattie runs up out of there due to an emergency group text from Marie.
The emergency, of course, is that Chuck is bi. Nia doesn't take the news well (or rather, she takes the news with the same kind of vague horror, confusion, and self-importance that a lot of straight women on television react with when confronted with a man being bisexual). Hattie essentially shrugs. She always knew that Chuck was: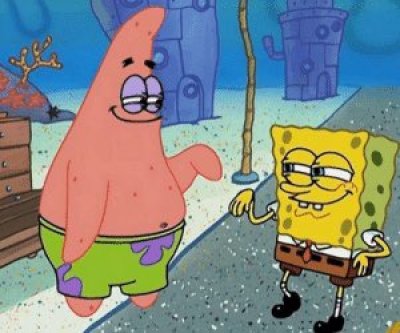 But she didn't think that was her place to say.
Marie goes on to work where she meets with the big swol athlete looking man that y'all have informed me is Iman Shumpert. He wants to try some new things with his feature project, but it's hard to focus because Marie looks like all she wants to do is climb him like a tree.
Meanwhile, Hattie and Ida are having an actual daytime date (!!) out in public (!!) at Idina's coffee shop and I was so proud of Ida for showing some of the openness she promised Hattie in the last episode, but before I could even clasp my hands together and say awwwwww, a work colleague of Ida's walks by and in that instant — everything changes.
Mid-laugh, Ida steels her face. In the smallest, almost indecipherable detail, she moves her legs away from Hattie's underneath the table. Glass shattered.
The colleague leaves and Idina, working her shift, comes up to the table. On paper she's asking if Hattie and Ida would like anything else but she's really checking in on Hattie, having just witnessed an ice cold murder.
Hattie asks Idina for the check. Ida asks what did Hattie expect, that she'd introduce her as her girlfriend?
Hattie gets up from the table, "You could have at least introduced me as your friend. I would've taken that."
That night Hattie's back at Idina's, smoking away her heartbreak and watching what looks to be one of the films from the 1970s L.A. Film Rebellion movement? But I might have to fact check that one. (It's rare Twenties throws a deep cut that I can't place, kudos.) Hattie wants to complain about Ida keeping her a secret but Idina's fed up — why didn't Hattie call one of her straight friends and cry on their shoulder?
Of course we know why, first of all — Hattie has never told Marie about Ida (iiiiinteresting) and most importantly, straight friends never really get it, right? Don't get me wrong, they try. Sometimes our straight friends, they even succeed! But there's that thing, that thin filter you have to communicate through first. It's never a gulf, not exactly, but it's also not the same. In particular, Hattie, Nia, and Marie have a long habit of keeping things from each other, which has always been strange, and finally it seems the show is ready to address it.
Idina can't be Hattie's token "gay friend." And she cannot be the person Hattie cries to about Ida. She doesn't say it (maybe our straight friends aren't the only ones we keep secrets from!) but we all know. It's still too raw. Last season was still too soon.
And why yes, that is Idina holding her head in her hands and gazing at Hattie with a lovesick Disney Prince smile on her face as Hattie walks out the door. This is not going away.
Hattie leaves Idina's for Ida (of course) and Ida wants to apologize for earlier by… decorating her backyard as a date night???
— record scratch —
Y'all know I love me some Ida B. I'm always ten toes down on Team Mean Femme. I think Twenties is bringing up a really important, fairly nuanced, conversation about generation gaps and what it means to "come out" or "be in the closet" and who's closet is it anyway? I wrote a little about this over the summer with Queen Latifah — but it's also true here, I will never know what it means to be a 50-year-old (40something in Ida's case) Black woman who came into her sexuality during a world that, even in the matter of 10 or 15 years, is vastly different from my own.
Black communities are not backwards, homophobic, or divorced from queerness in the ways a lot of media likes to depict us. And we know this! But that doesn't mean that for a woman Ida's age, there isn't baggage. Hell, I'm 35 and for a woman my age there's baggage. I'm positive that even if you're 25, to a 15-year-old, you might be hung up on some shit too. That's how this works, that's how growth happens. Each next group barreling through doors that the ones ahead of us didn't think was even possible.
But Ida is keeping Hattie as her secret. And an extravagant date night in her own backyard, no matter her romantic intentions, only further underscores the point.
Lemme get off my soap box!
Ida looks sexy as hell and soft in a hoodie with her hair down. I love that after Season One of iconically severe dresses and sky high heels, we get to see this vulnerability in her. That's been true all season, but somehow hits harder right now, when we know she's trying so fucking hard to make this messy situation right.
Hattie agrees to stay and watch Mahogany because no Black gay person in the history of never has ever said No to Diana Ross. At first Hattie says no kisses, no touches, but we're talking about one of the most romantic movies ever made, so sure a little pinky touching is ok.
The movie ends and she packs up to go. Ida pouts. She didn't really expect Hattie to keep her word. But it doesn't feel good anymore. It doesn't feel right.
This is the third almost break up we've seen for them this year (the first by my count is when Ida encouraged Hattie to become a better writer and Hattie acted like she was in the 90s R&B group sensation Immature, the second being last week's dinner date when Ida promised to try harder about pushing her own boundaries) — and it's the one that sticks. It's time.
To be clear, I don't think Ida is even in the wrong! Not necessarily! Closets — even big expensive ones that cost more than my year's salary — are complicated. The plain truth is that Ida isn't in a place to provide Hattie with what she needs.
But Hattie? She's in a place to mend at least one of the distant relationships in her life. She calls Marie to meet up at their favorite diner. She still doesn't tell her about Ida, but they share milkshakes and sing CeCe Peniston's "Finally" until they're doubled over the table.
Hey, it's a start?
---
Post-Credit Notes:
+ As a part of her apology, Ida got Hattie a gold plated vape, which is something I didn't know existed (no seriously, how rich is she??)
+ Marie and Chuck laughed together and touched shoulders as they did dishes and talked about Marie's next career moves. I swear my girl ain't never been happier. Do you see what loving your partner for who they are can do for you?
+ There was no Nia in this recap because I'm pretending that her social media influencer storyline/whatever is going on with Ben — ha! finally learned this dude's name! — isn't happening. I already told y'all about my short attention span for straights!
+ Amount of times I thought to myself that Hattie would be a mistake I'd gladly make: 3 (those glasses, that shot of her blowing smoke on the couch with Idina, and the entire last 10 minutes of the episode. Yes the episode is only 22 minutes long. Yes that's half the time. Stop asking questions damn.)
+ Amount of times I thought to myself that Ida would be a mistake I'd gladly make: 0 (two weeks in a row!!! Much like Lauryn Hill, it's killing me softly.)
+ Quote of the episode: "Success is nothing without someone you love to share it with." — THEE Billy Dee Williams, Mahogany