As a touring poet, Patricia Lockwood is, generally, comfortable in hotel rooms. "I know all the soaps," she writes, about halfway through her new memoir, Priestdaddy. "I know all the showerheads. I know that the most popular hotel paintings are: beach after everyone is dead, beige interpretation of the rage of a cat, squares going wild."
On the night that precipitated these observations, the squares going wild are Lockwood herself, and her traveling companion, her mother. They're in a Hyatt in Nashville, they've found something on the bedsheets, and it looks an awful lot like… well, to let her tell it:
"Mom, I'm not going to touch cum."
"Just touch the cum and tell me if it's cum."
"Please don't make me touch the cum."
… An unmistakable look begins to tiptoe across her face. I know that look—all of her children know it. We saw it bending over us tenderly when we were babies in our beds.
"Mom, no. We're not calling the police."
"Can't we call the police… just a little bit?"
"Absolutely not. There is no Special Cum Division."
It's a little hard to review a Lockwood book, because you always want to let her tell it. Priestdaddy — out now from Riverhead Books — is no exception. This whole review could, and maybe should, be made up of excerpts: the religious conversion in a submarine; the part where the entire Lockwood family takes the Psychopath Test. But it's my job to do a little more than that, and if there's anything I've learned from Lockwood, it's that writers have to at least try to do their jobs.
If you've never heard of Lockwood, the best place to start might be this video, from 2014, in which she reads the "Mixed Grill" section of Jonathan Franzen's The Corrections in a rapidly shifting high-society accent. ("There was indeed something endlessly delicious, something irresistibly luxurious, about a bit of lamb, a bit of pork, a bit of veal," the section goes, in part.) It's not her writing — it's nothing like her writing — but as she speaks the words, she wrestles them into the shape she wants. She keeps bald eye contact with the camera, and she licks the book before she starts.
She's making fun — but she's also daring us, as readers, not to be just a little moved. This is what she does with her writing, too: she approaches a situation, finds it so mockable she can't help but love it, and finds it so loveable she can't help but mock it. By turning out its two most vulnerable seams, she claims it as her own.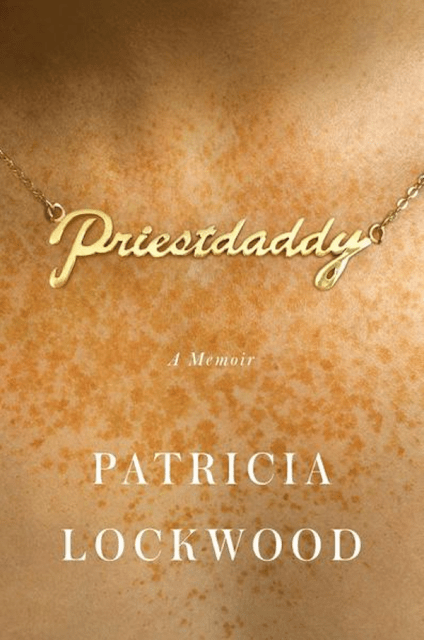 This choice of excerpt is also apt, because by now, Lockwood has served up a veritable mixed grill of literary offerings. There are her tweets, which are tart and seedy and tend to burst on contact. There are her poems, which are gathered in two collections, Motherland Fatherland Homelandsexuals (2014) and Balloon Pop Outlaw Black (2012), and one of which, devoured raw in the morning, will lend your whole day a fevered, uncanny sheen. (My favorite right now is "List of Cross-Dressing Soldiers," and you may already know "Rape Joke," which was published at the Awl in 2013. )
She is also prolific in a less definable medium, General Impishness. She is likely the only poet who has both been published in the New Yorker and contributed to a scholarly examination of how Goofy, the Disney character, reproduces. She once tweeted "so is Paris any good or not" at the Paris Review.
With this CV, it's funny that the story Lockwood has chosen for Priestdaddy — her first full-length work of prose — is, brushed broadly, so modern-day common as to be almost fabular: a woman is born in the early 1980s, reaches numerical adulthood, leaves town, finds herself thrown into dire financial straits by a medical crisis, pulls the e-brake, and moves back in with her parents. Our hero has grown and changed; her parents have largely refused to do the same. There are tears, and hijinks, and childhood-bedroom boredom. "I shrink inch by inch until I am no longer an adult," Lockwood writes, relatably, soon after moving in. "I lie in the bed and feel myself gently going out of print."
The devil is in the details, though, and the specifics of Lockwood's scenario are unique. When she and her siblings were young, their father joined the Catholic priesthood, and the family homestead is now a rectory in Kansas City, Missouri. For Lockwood, going to live with her parents means jumping into a social schedule that is a veritable Mad Libs of beverages and religious figures: any day might include getting too drunk before dinner with the bishop, or offering a beer to the church's handyman, or educating an Italian seminarian in contemporary sins over afternoon tea.
It also means bringing along her husband, Jason, whose sudden emergency eye surgery necessitated their return in the first place. Anyone who has ever visited a partner's childhood home will likely relate to Jason, who did not grow up in a rectory, and who greets his new situation with a sort of wide-eyed gameness. ("Jason and I look at each other and realize, with sad certainty, that we will never have sex in this place," Lockwood writes. "What if the crucifix over the door came to life?")
Finally, it means revisiting her childhood while living alongside the people who oversaw it: her parents. She draws them both larger than life; at times I nearly shut the book for fear they'd leap off the page and suddenly become my responsibility.
There is her mother, who dispenses outbursts and insights in equal measure, like some kind of haunted gumball machine. She inhales conspiracy theories, will drive 18 hours just to bring one of her children a homemade pie, and, in Lockwood's words, "shreds documents with the ruthlessness of someone who believes a French con artist named The Mustache is trying to steal her identity." "There are human Lassies among us," Lockwood sums up. "My mother is one of them, and all humankind is her Timmy."
And then there is the titular Priest Daddy: Greg Lockwood, who found religion after watching The Exorcist on a submarine, and who is the the kind of guy who would probably laugh at the word "titular" even though he's a Catholic priest. On top of fairly textbook dad weirdnesses — knowing (and loving) one riff on the guitar; washing his legs with dish soap; listening to Bill O'Reilly and Rush Limbaugh at the same time — are seemingly job-specific ones, like a love of intense goblets, and a penchant for claiming omniscience. "[If] all fathers believe they are God," Lockwood writes, "I took it for granted that my father especially believed it."
"She approaches a situation, finds it so mockable she can't help but love it, and finds it so loveable she can't help but mock it. By turning out its two most vulnerable seams, she claims it as her own."
Lockwood loves her parents, and in her writing, she treats them both with the the same level tenderness as she does Franzen's portrayal of mixed grill. She doesn't let them off the hook, though. Thanks to their religious choices, Lockwood spent much of her childhood on the front lines of Catholic doctrine — sometimes as a conscripted participant, and other times as an observer, but rarely in a role that allowed her to disagree.
Before she turned five, she was spending weekend mornings at anti-choice rallies, watching her dad get arrested and fearing for her little brother after her mother tells her that "these people kill babies." As a teenager, she overheard her father make excuses for a priest who had molested one of her peers, and felt, she writes, "an old familiar wildness flutter[ing] up my chest."
Growing up this way also cut off certain possibilities. Although she wanted to, and several of her siblings did, Lockwood never went to college. Her father uses the word 'feminist' sneeringly, to the degree that Lockwood wonders "if he has ever… heard a single word I've ever said." And the queer identity she claims in other pieces shows up explicitly in Priestdaddy only once, also in reference to her dad: "He knows he was saved from ever seeing me bring home a girl named Boots with screws in her ears for… one reason only: Because I got married when I was 21 to a man I met in cyberspace." (The book, as with all her books, is still a font of truly alternative sexuality. At one point, Lockwood loses her virginity to a high dive.)
Although Priestdaddy nods at various writers, it's tough to draw a straight line between Lockwood and anyone else. ("I like to think I sprang from a head," she writes. "I like to think the head was mine.") But even poets have to come from somewhere. Priestdaddy is partly the story of how, as Lockwood grows up, the constraints of her childhood have hardened into a useful mold, which she now fills or breaks as she pleases. "I began to suspect that something is not right with the way these people have arranged the world, no matter what their intentions," she writes, of her gynecologist's assertion that the sexual assault she recently experienced should teach her that she "can't trust everyone."
Now, in her writing, she arranges the world differently. But she still borrows tricks from its old architects — a poem might have one of her father's all-knowing laments, a dose of her mother's chatty paranoia, or a solid streak of Catholic pomp and resonance. Later, she reflects on other conversations with other well-meaning men, and how they sparked more lifelong pursuits. "'Actually,' they told me, 'actually'… What else could I do but tease them?" she writes. "I had no real power; it was men like these who were in charge of my life."
These days, she does have real power. She has moved out of her parents' house — she and Jason now live in Savannah, Georgia. She has three books, sixty thousand Twitter followers, and much more hype than the average poet. (Male critics have repeatedly not been able to stand this, but that's another article, and also doesn't matter.)
Most importantly, she has the ability to tell her own story — informed, but not tied down, by her family and her past. And that's good for everyone, because she tells it the best.