Hello, contemporary queers! How are you doing? This week was exhilarating, but trust me when I say that you ain't seen nothin' yet. With one victory comes a whole new slew of sh*t to do. Before we dig into what's next, let's bask in our own glory.
Post-DOMA Firsts and Other Celebrations
You always remember your first.
+ In San Francisco, Kristin Perry and Sandra Stier – plaintiffs in the OG case against Prop H8 – were the first queermos married after the #SCOTUS made history Wednesday.
+ For the first time in U.S. history, a Green Card has been granted to a homo on the basis of their homosexual partnership! Gasp!
+ Gay federal workers can also now include their partners for sharing of benefits for the first time evar.
+ Oh, and alsoalsoalso – there be homos in the Peace Corps, bitches.
Red Bull for Marriage Equality
Red Bull likes gay wedding riiiiiiiiiiings.
in the wake of the Prop. 8 and DOMA decisions from the Supreme Court, [Red Bull] posted an image made of Red Edition (cranberry flavored) Red Bull cans, a version of the HRC's equality symbol, under a subject headline: Energize Equality.

Many of the page's nearly 39 million fans chimed in with close to 700 comments. While there's no way to know how much they've been edited by Red Bull, comments were largely positive, but there were some stating they'd no longer be purchasing Red Bull, opting for Monster or Rockstar instead.
Lady Gaga's America
Oh say, did you see, by New York Pride's blinding lights, what so proudly we hailed, as Gaga's America that night…
George Takei Appreciation Blurb
George Takei gets all gayed up for the Huffington Post.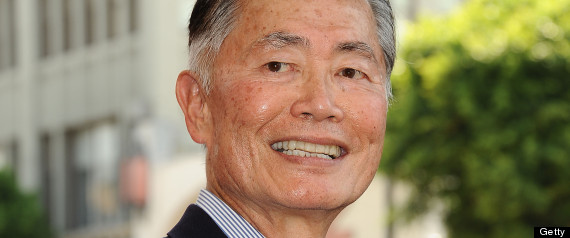 When I was a child growing up, I faced terrible discrimination on account of the fact that my family and I looked like the people who bombed Pearl Harbor. For that "crime," my family and I were locked in two different internment camps for four years. I well understood the pain, and the consequence, of invidious prejudice and ignorance. At that time I also knew that my own sexuality was not something that I could reveal to others without serious consequences, both personal and professional. I kept it mostly hidden although over time I let a few close friends and family members know. My decision to go public, by talking to the press about being a gay Japanese American, occurred in 2005.

I'm heartened to see many young people today able to come out proudly, with nary a bit of drama or pain. That, of course, isn't always the case, and it is still very hard for many to come to terms with their sexuality, whether out of fear of rejection, or the teachings of their particular religion. Just the other day on my Facebook page I shared the story of a high school senior couple, two boys, who were voted by their school as the "cutest couple." It wasn't a question of straight or gay, they were simply a delightful, beloved couple. That never would have been conceivable even 20 years ago, let alone the 60 years that have passed since I was a high school senior. I say to young people, the world is changing, and changing fast. And, for the better. Take heart in that, and be part of that change. It is making a difference.
Cats in Punk Vests