Something really strange has happened. Pretty much my whole life I've despised the flavor of almond extract; I couldn't swallow marzipan the first time I tried it as a child and would pass on cake and frosting if I detected even the slightest hint of almond. Even just last year I bit into what I thought was a lemon poppyseed muffin to discover it was actually almond poppyseed and felt so betrayed I talked shit about that muffin for a solid week. The nerve! I love almonds themselves and almond milk is great but something about the extract has always turned me off, making the craving I had that led to these muffins and the fact that I love them mind blowing to me.
I know it's common to grow into and out of tastes over time, but after 30 years of consistency around almond extract I figured I must be having some weird false craving when I started dreaming of strawberry muffins with almond instead of vanilla extract. I knew there was no way I'd actually like that and assumed the urge would eventually pass so I waited a few days. and the craving not only remained, it was stronger. I went out and stubbornly bought a giant strawberry crumble muffin, ate the whole thing and it absolutely did not hit the spot. So I finally sat down in defeat and wrote this recipe second guessing myself the whole way. When it was done I tested it with both almond and vanilla extracts, and while the vanilla version is delicious too, the almond is just… better?! MUCH better.
My friend Claire described it as the best strawberry cereal flavor but in muffin form and that's totally it. You've got the sweet nutty almond batter filling in for the cereal, bursts of strawberry that are way better than the dehydrated cereal versions, and a sprinkle of white chocolate chips standing in for the creamy milk at the bottom of the bowl. Yes. You need these in your breakfast rotation. Plus, given that the strawberry slices on top bake up to look like little tongues and/or vulva (I know some of you were thinking it!) they're pretty sexy too.
I'll take a sexy strawberry cereal muffin any day. Maybe that's what I should've named them! Either way, I'm sure you'll find the experience of eating these muffins very pleasant.
Ingredients:
1 cup diced fresh strawberries + 2 extra strawberries sliced for garnish
1/2 cup + 1 tablespoon (114g) granulated sugar
1/2 teaspoon orange zest
2 cups (240g) all purpose flour
1 tablespoon baking powder
pinch of salt
1 large egg
3/4 cup (6oz) milk (dairy or non-dairy, they both work!)
1/4 cup (2oz) canola oil
1/2 teaspoon almond extract
1/2 cup (90g) white chocolate chips dusted with a little flour (about a teaspoon)
Makes 12 muffins
1. Preheat the oven to 375° F. Line a muffin tin with papers or oil the cups if you don't have any and set aside.

2. Combine the cup of diced strawberries, 1 tablespoon sugar, and orange zest in a small bowl. Stir and set aside to allow the juices to extract.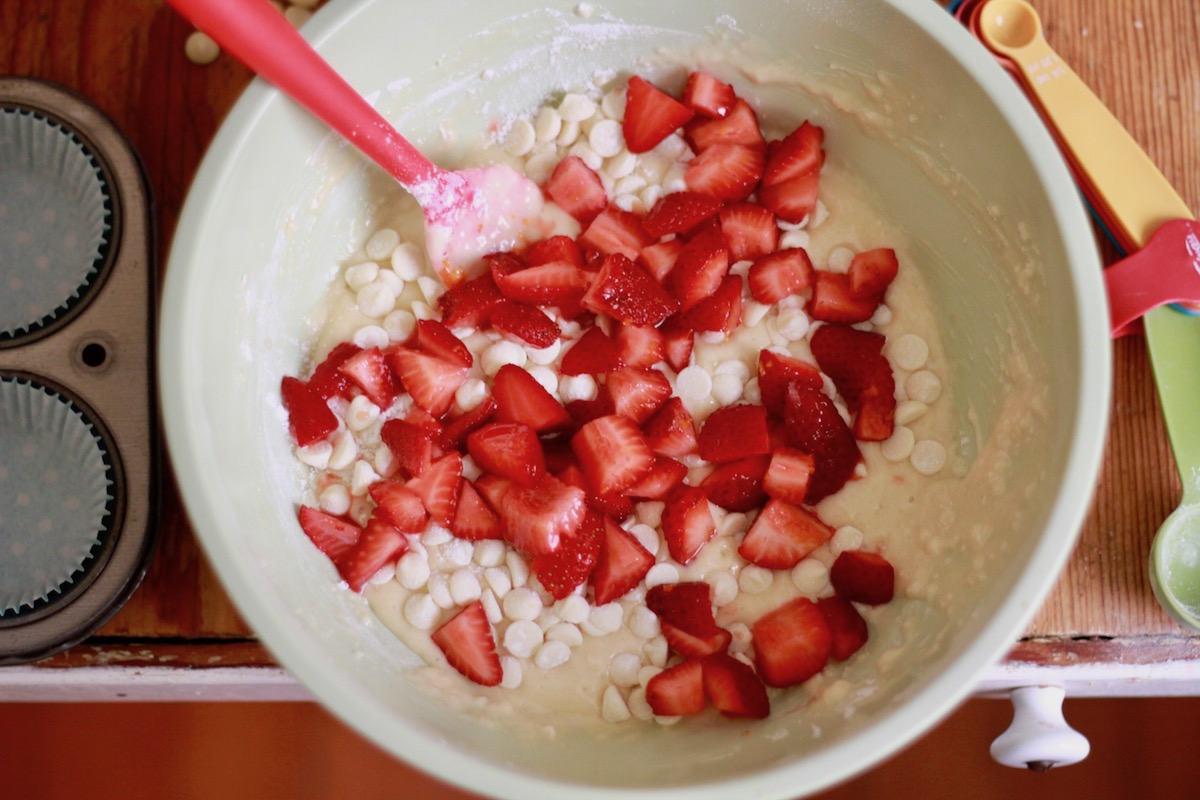 3. Whisk together the flour, baking powder, and salt in a large bowl. Next, grab a smaller bowl and whisk together the egg, milk, oil, and extract. Pour the wet ingredients into the dry and stir everything together just until it's fully mixed and no dry pockets of flour remain. Then add the reserved strawberries and chocolate chips and fold them into the batter.

4. Fill your muffin cups with batter until they're a little over 3/4 of the way full, then place slices of strawberry on top to garnish.

5. Bake for 20-25 minutes or until a cake tester comes out clean. Remove from the oven and allow to cool for 5 minutes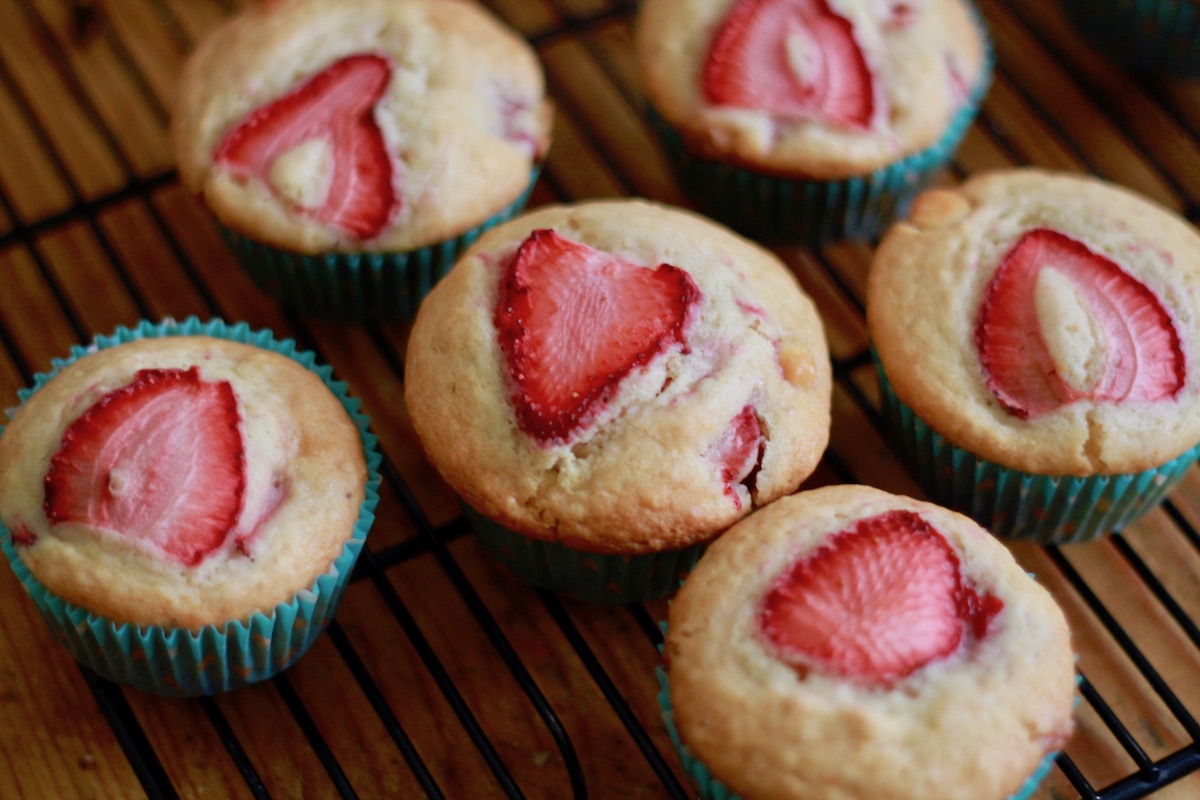 6. Then remove the muffins from the pan and allow to finish cooling on a wire rack.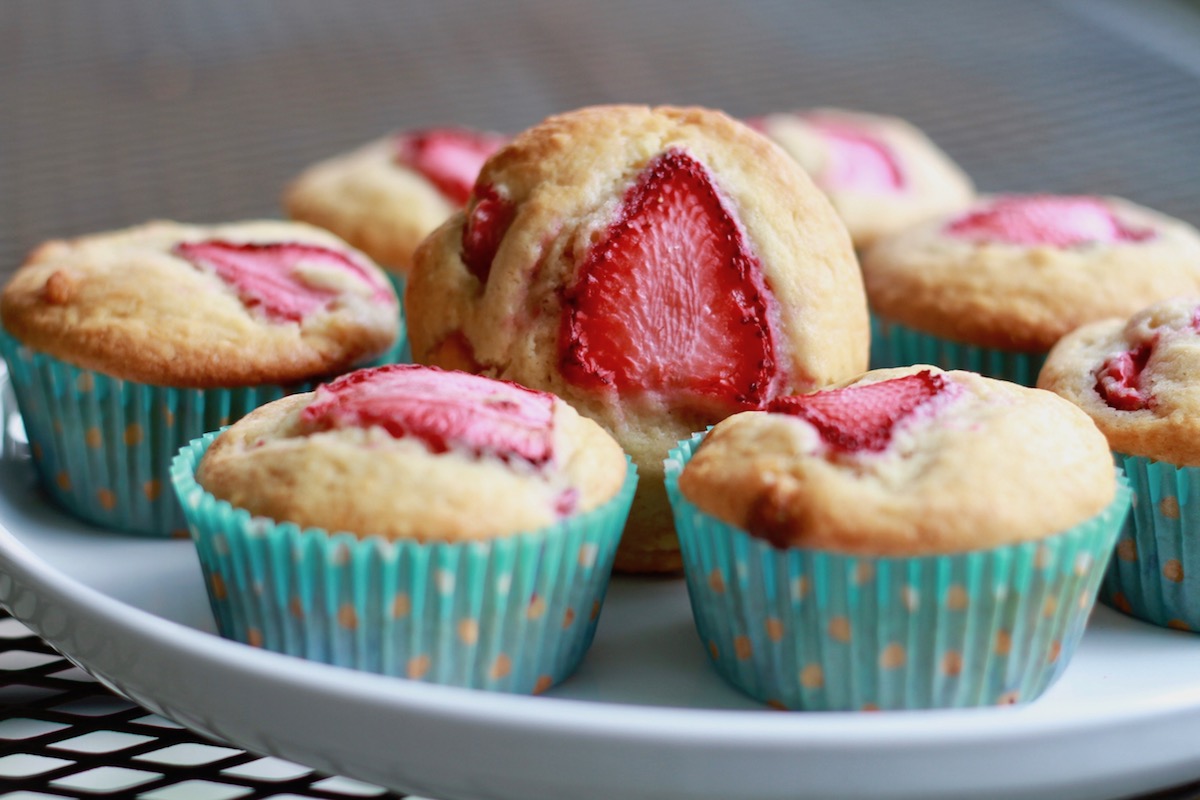 7. Or don't, and eat them warm with your morning coffee, tea, or my personal favorite a glass of oat milk.