What I Wore is a biweekly series about living, loving, and celebrating black femme fashion and confidence.
---
If writing is my first love then fashion is the unrequited crush from 4th-period science class.
My degree is in Fashion Merchandising and Marketing and my minor was Journalism. I always had my sights set on New York and stupidly only applied to one school for early admission, FIT. I cried my eyes out in my dad's office when I got the news that I didn't get in. I then applied to a smaller private college, got my acceptance, and decided to fill any fashion gaps with real-world experience.
I landed an internship at both Missbehave Magazine and Trace Magazine by my sophomore year. I was a showroom intern cataloging pulls and returns at the now-defunct Triko Showroom; I then became one of those people running around NYC with garment bags full of clothes for photoshoots. After graduation, I worked for a stylist I met at Missbehave and she sent me on a pickup to a designer I was obsessed with at the time, Betsey Johnson. I'd been to many a showroom and didn't spend more than 10 minutes inside completing the task of picking up or dropping off pieces so they became old hat, but this one? This one I was excited about.
It was exactly as I expected it to be, a colorful, chaotic, and loud experience. The walls and floors were mismatched prints but they worked, there was floor to ceiling mirrors and garment racks full of clothes ready to be featured in shows or magazines. It was this playful world full of adults doing serious work who looked beautiful and were actually having fun.
When I see Crystal Anderson those same feelings come flooding back. You may know her from her days at Man Repeller but I know and cherish her from my favorite app — Instagram. Simply put, she is the big sister I have always wanted. Funny, kind, proud to be black and of course, stylish. Crystal is a fashion motivator, yes, but more than that she shows me that growth and expression are continuous processes that are ever-changing. She feels like the epitome of "Living Life Out Loud." She's unafraid but realistic about what it took for her to be that way in the complex bits of her life.
Black women invigorate me.
I'm thankful for visibly queer black women like Crystal who make me feel less alone. My intention behind that thankfulness is not to put pressure on black queer women in the public eye, but to just say I see you. Thank you for doing the hard work it takes to be who you want and then, on top of that, sharing yourself so we can see it. My look below started with a green petticoat. I like to imagine that I somehow stole it from Crystal after distracting her with ice-cold Miller Light. I don't think she'd be too mad but I'm sure I'd get a slick text that read "that skirt looks mighty familiar… you look cute tho'".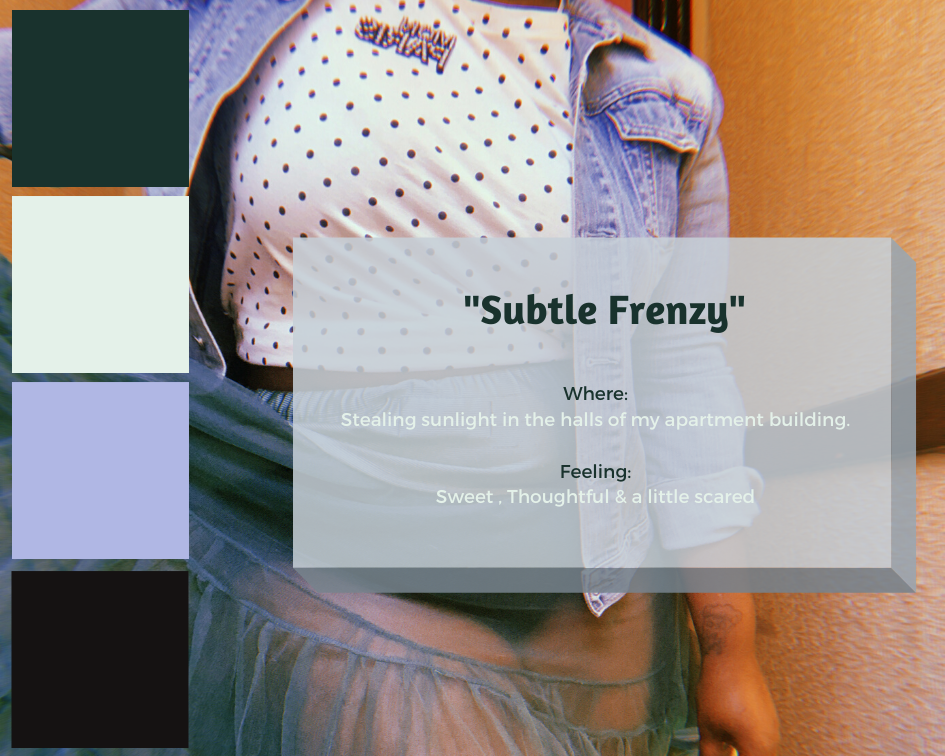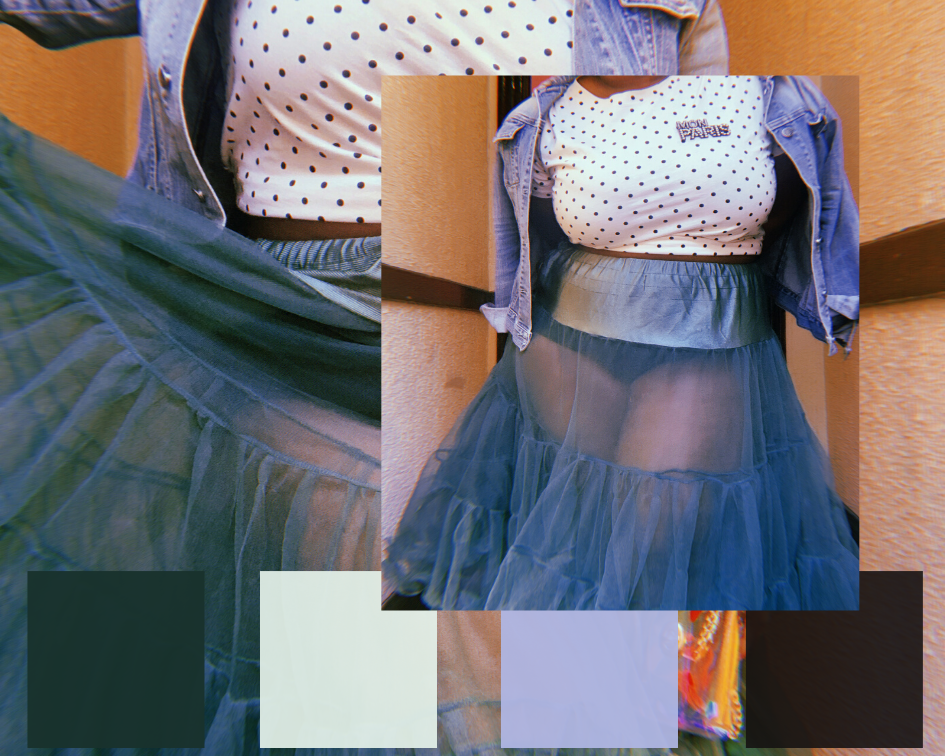 Links to the Fit:
I got this skirt while on vacation in my favorite city in the world, Utrecht in The Nederlands. I went to a kink talk at black and queer-owned Laced up Boutique. It was incredible to find a shop with my interest in kink and sexual exploration AND for it to be owned by a woman who was a reflection of me. I wear this skirt mostly in the fall because I love to layer it with a printed sheer stocking. My favorite memory of it comes from my mother: "I can't believe people can see your drawers!".
I love a printed graphic tee — layering them with a jacket on top and a longer shirt with an opposite print makes them pop. I also fucking love polka dots and this t-shirt was only $10.
My nails are red, pointed, and ready to click-clack away while a brass Black Onyx ring from the queer-owned Palombina Goods chills on my finger. This iridescent purse was only $3 from fast fashion spot Shein. It fits basically nothing but a lip gloss, some cash, and my phone if I take it out the case —— but when I'm day drunk that's all I really need.
I had my hair covered in a cute wrap and would probably toss on a floral wedge shoe to complete the look. After I took these photos and started making my way down the stairs back to my apartment, I smiled at the front door. I wanted to be running late to brunch and have my homies lovingly yell at me when I sit down. I wanted to be the last one to order and make it complicated. I wanted to be creating summer memories outside with the sun beaming down on me.
I might not be able to do that right now but I just have to remember what Crystal says —— We inside… but we stay out here.