---
+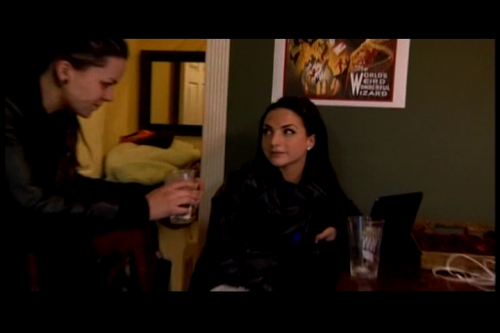 "So Look We're on This Show, And You're Gonna See It in June, And You're Gonna Have Some Questions For Me."
Whitney has gotten herself into an "uncomfortable" "situation" and is "confused" and "curious" about what Tor's feeling. Me too, 'cause Tor never talks.
Whitney: I want to make sure that everything is open. I just wanna know what position I'm supposed to take with you moving out here.
Tor: I was gonna come out here and see what happens. And I see what you're doing — what are you doing?
Whitney: In terms of other people? Like I guess, you mean have I hooked up? Yeah, I've hooked up.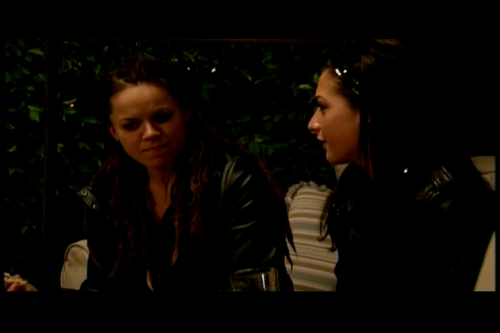 In Terms of This Look? Did I Steal This Look From Edward Cullen? Yeah, I Stole It
Laneia: "What are you doing" "in terms of other people?" FUCK YOU! Does she even know what exclusivity means?
Riese: No I don't think she can read/write —
Laneia: Whitney's completely lying to her!
Riese: She don't know much, she just knows she doesn't love her. And that may be all she needs to know.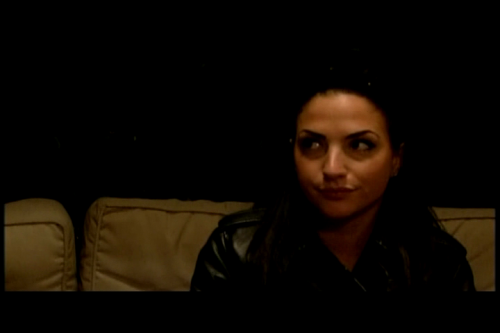 And Her Heart Says Whatever
Tor says she knew none of this. Okay, that's fine, but Whitney's got a strong defense: "I brought up your name every time." This is how we imagine that happening: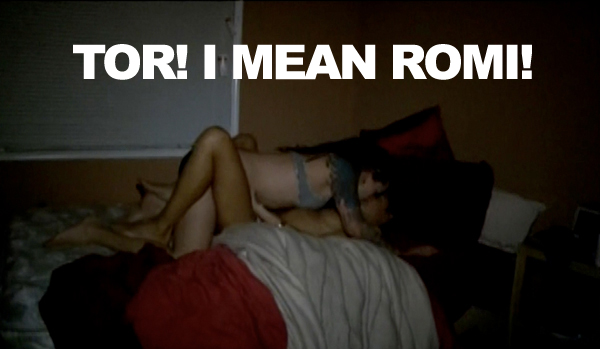 Like, "TOR I WANNA FUCK YOU SO HARD OH SORRY I MEAN ROMI I WANNA FUCK YOU SO HARD! I WANNA BITE YOUR FEATHER EARRING RIGHT OFF AND THEN FUCK YOU WITH IT IN YOUR EAR TOR I MEAN ROMI!" It happens.
Tor says that Whitney has douched her around and hasn't even been a good friend: she's correct on both counts and also just used "douche" as a verb in the most amazing way possible.
I wish I could pour some more drink into Tor's glass to help ease her pain. The pain of knowing she cannot withstand The Power of the Clam. Now she'll never find out what lesbian sex is. Consequently, neither will we.
+
Laneia: "You haven't even been a good friend"! YES YES YES!
Riese: These people need to read a book and have a book club or something.
+
Alexandra: If I move to LA, I will ride my single-speed bike around town and egg people like this.
Riese: Alex when you talk about moving to LA while we're watching this show, I get sad. That's like saying you want to become a Nazi during Schindler's List.
+


---
+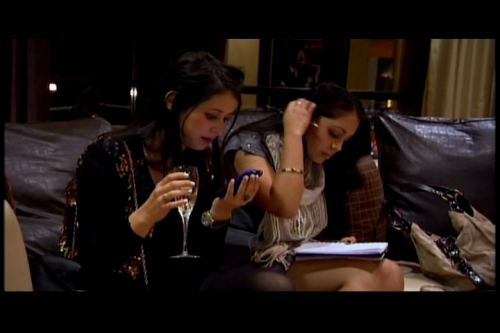 Back in Las Vegas, the assistants can't find a chapel willing to host Mikey's Lesbian Wedding because its Mike's Lesbian Wedding. Shanna's shocked. Welcome to our world, baby, haven't you always wondered how we got so bitter & grumpy. We weren't born this way.
We were born this way: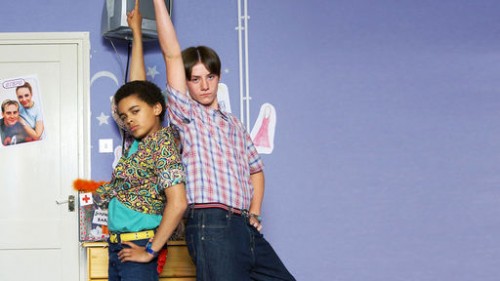 And have become this way:
Mikey's wandering around like a lezbro with a big dick, looking at her big pool table and big windows, etc.
Shanna: Why does nobody do civil commitment ceremonies?
Cecie: You would think in Vegas like of all places!
+
Riese: Because there's no such thing as a "civil commitment ceremony"? She's getting her second-class citizen vocab mixed up.
Laneia: "You would think in Vegas, of all places, where NO ONE HAS ANY MORALS, that someone would be down, right??"
Riese: Honey. Nobody's getting married. Ever. Not tonight.
Laneia: YOU'RE NOT GETTING MARRIED.
+
On the upside, these are also real lesbians with nice posters: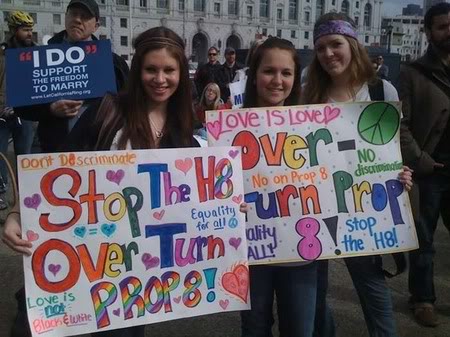 +
A call to the batphone…
The Joke's On Who? Me?!
Hey-o! Raquel missed her flight for that night and will have to come in tomorrow morning. Mikey explains that because Mikey missed her flight on 9/11 from Pittsburgh to LAX, which got hijacked with all her bags inside (she lost her entire collection, it was devastating etc), she's not upset at Raquel. She's just 95% confident that her future wife just dodged a close encounter with Al Queda. Hey, whatever works.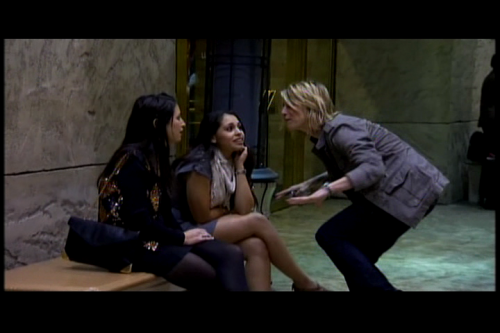 Call, Call it Off, Break my Own Heart
Mikey breaks the news to her ladies: THE WEDDING IS OFF. The good news is nobody's pants are going to explode mid-air. The bad news is; nobody's pants are going to explode mid-air.
Laneia: I think Mikey was really just trying to make good teevee, you know? Like, she's really just trying here.
Riese: Mikey is always making me so sad. I just feel sad, I want better things to happen to Mikey.

---
+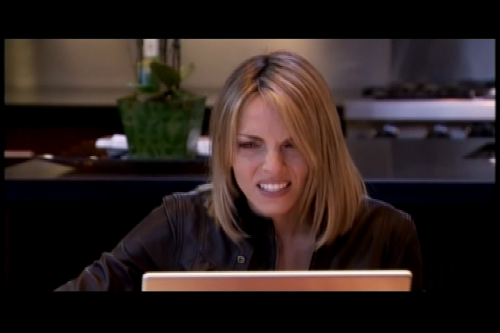 No, Fuck YOU, Penguin.
Lest you feel there's not enough wedding planning happening in this episode, we're back! Nikki's dress is gonna cost $6,175 dollars, which is about $6,135 dollars more than I've got in my checking account and $4,175 more than their initial estimate. Although Nikki's ready to spend some g's, this is way too many g's.
At that price, I'd want something a little more like this: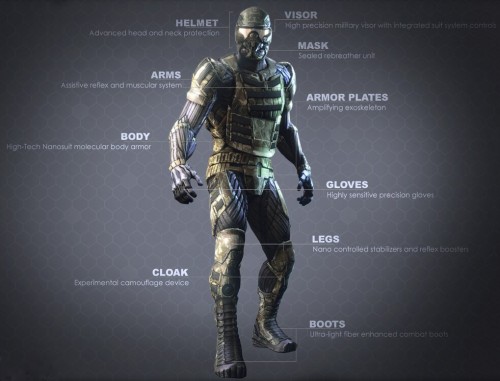 Amirite? TWO WORDS: AMPLIFYING EXSOSKELETON.
Anyhow, Jill & Nikki email Camilla, because unless she's exhuming JoAnn (as in the creator of JoAnne Fabrics, a famous fabric-person/store) to hand-stitch every detail from the skin of baby lambs, this is so not worth it. There's a lot of cute dogs in this episode though:

Lady ISO Tramp
This is just like hanging out with your friends planning a wedding, an activity for which I'd come armed with a novel.
Riese: This is like listening in on a customer service phone call–
Laneia: –while sitting on your girlfriend's lap.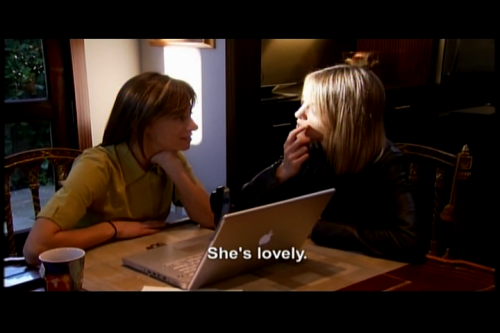 Nikki & Jill are both Jewish and they are both lesbians, so the delegation & execution process for this particular action step is complicated/funny/cute/real/fine. Jill wants to spend less, Nikki thinks Jill should've been nicer to the wedding planner. They're so good at mitigating conflict together, what if they never fight? That would be so sad.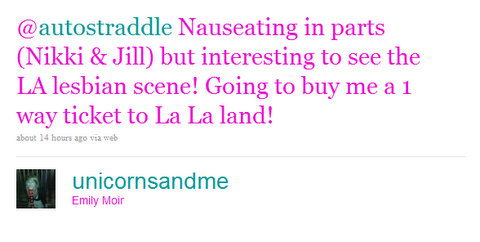 With dresses so expensive, they'll have nothing left to donate to No on 8/spend on the caterers and will inevitably end up wearing their Super Turbo Wedding Dress to an afterparty at Kentucky Fried Chicken! This must be stopped!
One of 'em calls the other a "tough cookie," which is neat. Like a Fig Newton!
---
+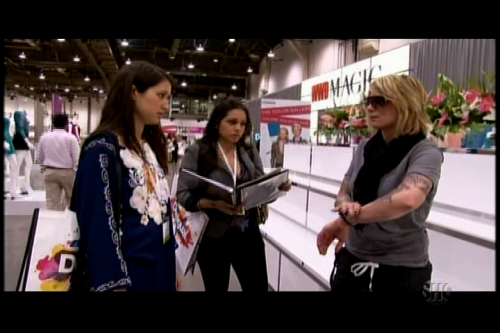 TerminatorCon
Back in Las Vegas the next day, Mikey is soooooo ready to get her Brochure on and excited to see Raquel when she arrives later in the day. Mikey's clients are looking for success, and that's what she's gonna give 'em! Go team! Ann Taylor is in the house, and she's likely as interested in hearing about LA Fashion Week as we are!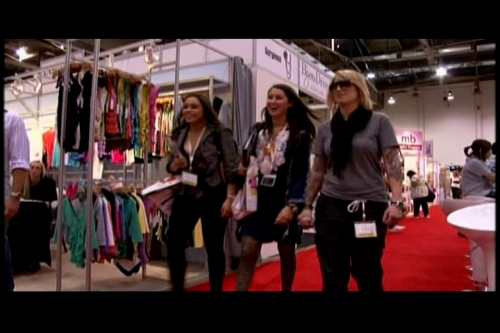 +
Riese: If Mikey wears her sunglasses to meet new clients, I am going to kill myself.
Laneia: I just want to cut her fucking hair!
Riese: Lucky thing she's got Jesus on her motherfucking arm.
+
The hair does not impede Mikey's drive for success. She & her entourage are undaunted. So what if it's actually just a convention for swimming pools? Hello swimsuits are gay and fashion and should be in the show!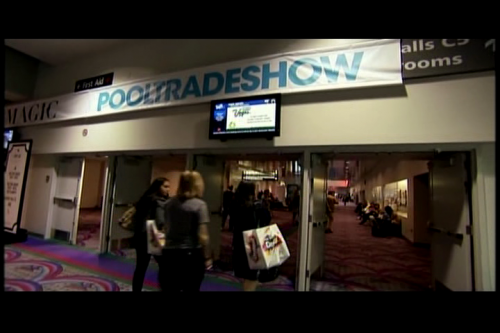 Mikey is chatting up some of the most influential names in fashion. This woman, for example, is famous for transforming my baby blanket into an 80's style leather bomber jacket:
You never know, sundresses could totally come back this year. They're very comfy: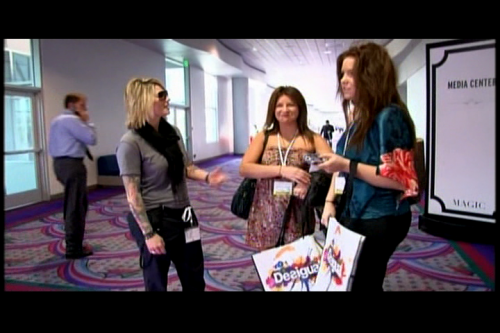 Mikey is a magnet for future lezbros in Fedoras with visible side-boob-bra:
Mikey eyes prospective runway talent, I hope these bitches have comp cards:
Here Mikey attempts to win the affections from the straightest straight girls ever, who seem to be selling posterboard or maybe pink t-shirts? SEE YOU AT FASHION WEEK BITCHES! BRING THAT LIPSTICK, GIRL.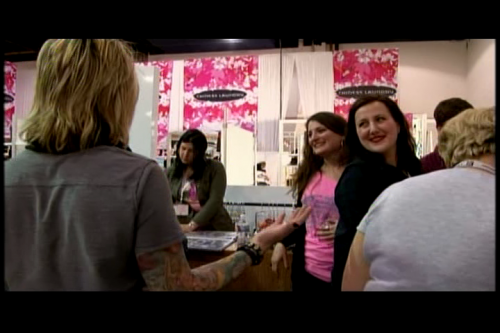 +
Alexandra: You guys are right, she's a 6.
Riese: Sunglasses!!
Alexandra: It's probs really bright in there.
+
Raquel interrupts Mikey's Trade Show Champion Flow by calling Mikey to say she's not coming to Vegas after all, that she can't make it. Mikey gets so upset she almost walks into the Utility Closet to kill herself: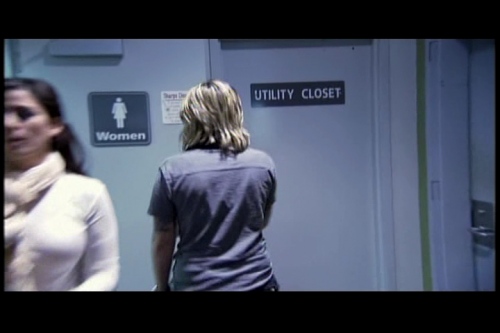 Close Call
But omg here's the thing you guys — RAQUEL IS ALREADY IN VEGAS! What a sneaky bitch/sneaky production team who plotted this shit. Luckily she's hidden beneath her giant ring and Old MacDonald hat, so nobody will find her:
There's an uncertain amount of time between Raquel's cancellation call and Mikey spotting Raquel in the trade center, at which point Mikey is cool as a frozen Terminator cucumber, preparing for her Vulcan Salute:
It's a fake-out but Raquel's gonna give her the makeout! Notice that Shanna likes this situation about 100 times more than Mikey does:
In my book, a good surprise would've involved Raquel removing her clothing while dancing to "Hey Big Spender," with lots of fun leg moves and maybe some background dancers from the Juicy Couture booth. Mikey doesn't like the surprise either, but for different reasons.
+
Laneia: This surprise was stupid, Raquel should've just scratched the whole thing and hugged Mikey. People don't cuddle enough.
Riese: This show should just be cuddling
Laneia: I'd watch that
Alexandra: MOAR CUDDLING
+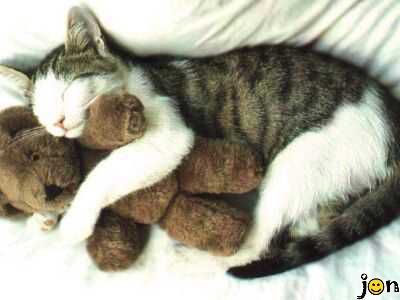 +

---
+
Pages: 1 2 3 4 See entire article on one page