We've been seeing some super amazing strides in queer representation in kids media with shows like Steven Universe and Loud House, and wow, am I happy to see even more strides being taken right now. Representation in All-Ages media is one of the most important things in the world; it allows kids to love themselves and parents to love their kids and kids to stay alive and kids to be themselves. And we're making progress, like real progress. Amazon Prime's Danger & Eggs, now streaming, is the next step in this progress. Not only are there queer characters and themes, but the co-creator, Shadi Petosky (who created the show with Mike Owens) is a trans woman and the cast is absolutely packed with queer and trans (and Autostraddle favorite) voice actors like Stephanie Beatriz, Jasika Nicole, Angelica Ross, Cameron Esposito, Rhea Butcher, Tyler Ford, Jazz Jennings, Laura Zak and Petosky herself.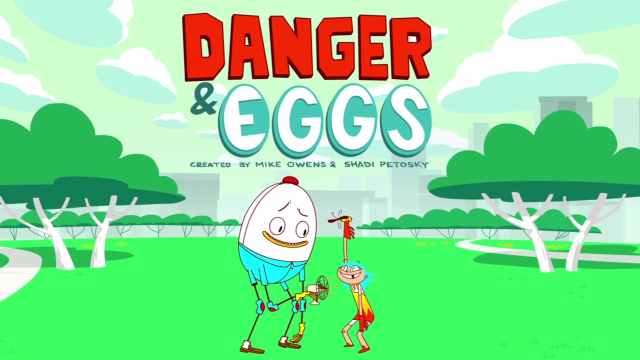 The show is about a girl named DD Danger (voiced by SNL's Aidy Bryant) and her best friend, a giant egg with a face, arms and legs named Phillip (voiced by Eric Knobel). They go on wacky adventures together in Chickenpaw Park, like riding an abandoned water slide, forming a band, inventing games, hanging out with raccoons and discovering a secret underground lab. See, DD is the latest in a long line of stunt people and she's just as reckless and wild as they were, and Phillip is a neurotic and rules-following egg. It's super fun and full of enough wackiness to make sure that you never get bored. There are also a ton of great messages and themes that are important for all kids, but might have a special meaning for queer kids, like finding your own identity, questioning rules and being willing to change your mind.
This show especially makes trans kids know they are valid and deserve happiness and representation. In one episode, DD and Phillip form a band with a kid named Milo who uses they/them pronouns. The other characters never question this, there isn't a clumsy conversation explaining non-binary pronouns, instead everyone just calls them either by their name or "they" or "them." It's transnormativity in action in a kids cartoon and I love it. Milo is voiced by agender model and speaker Tyler Ford which means there's an extra added layer of authenticity to the character, which is especially fitting given so much of the show is centered around being yourself and being true to who you are and to your friends and passions. There's been a lot of non-stop conversation about the casting of trans actors as trans characters over the past few years and Danger & Eggs nails it, with more than just Milo though.
My favorite character in the entire show is a young girl named Zadie, played by teen trans activist Jazz Jennings. First of all this kid is an adorable and precocious, recently-out trans girl who gets on stage at Pride (yeah, that's right, this show has an entire episode that takes place at a Pride day celebration) with a cute haircut and equally cute dress and sings a song about her first day at school as the real her. Plus she's super smart and explains chosen families to Phillip. This episode, "Chosen Family," serves as the season finale and is one of the best and most important episodes of any kids show I've ever seen. It's super queer, super sweet and full of love.
Other AS favorites have amazing roles as well. Her Story star Angelica Ross plays the Mayor who flies in on helicopters, sings to announce whenever she's showing up and is just an awesome and powerful lady. Also, seriously, Ross' voice acting is amazing and she needs to get a ton of roles in cartoons right now. I loved every time she had lines. Jasika Nicole plays Reina, a girl DD's age who quickly becomes one of her closest friends. The friendship between these two girls is magical and I love it so much! Esposito and Butcher show up as the Chill Twins, a pair of sparkly-spandex-wearing, alternative-lifestyle-haircut-having people who try to convince everyone in the park to just be chill instead of caring so much about a political issue. The cast is so freaking good you guys, and by having so many diverse actors, the show has something that many shows can't have: authenticity.
Aside from the amazing representation, this show is so weird and wacky. Like obviously one of the main characters is an egg but you don't get it, like, it's so much weirder than that. There are weird space robots and a giant chicken and a pigeon lady who sings in the park and magic that's perfectly in the language kids speak. I laughed so much, this is so clearly a show designed to entertain kids, which is such a brilliant and important goal. Petosky, Owens and their crew have really created something special that kids will love, adults will cherish and young queer people will thank for giving them the courage to be themselves and love who they are.