I came out to my parents in the dead of winter in the Yukon, as I was circling the drain of my mid thirties. It was something I had been taking with me everywhere I went, like a rock in my boot that I was stubbornly refusing to get rid of. What if everything changed when I took the rock out and it had been the only thing keeping me together all this time? I had come out to other people already. My partner at the time was the first to know, and the coming days brought more tearful phone calls and quiet conversations at the end of a bar where I did my best to whisper the words of my secrets to friends I knew could keep them. Keep them safe until I was ready to let them out of my control.
When I told my mom, I was driving her to an unexpected hospital visit. This was not an uncommon trip for us, there were many days where I would casually drop in to visit and eat some food out of the fridge — maybe make a cup of my dad's coffee that somehow tasted different than the same stuff in my own cupboard at home — when I would have to drop everything and take her to the hospital instead. My mom's illness is something she has lived with now for 27 years, give or take. Dealing with the weight of it has become so common we don't even notice it on our shoulders.
As she was getting herself gathered well enough for the emergency room, she looked me over and asked me what was wrong with me lately, something was off — had been for a while — and she wanted to know. She wouldn't let me leave without telling her. I'll drop dead waiting for an answer she said to me.
So I told her, there in the foyer of the house I grew up in, across the street from the frozen shores of the Yukon river. I told her the version of myself that was about to drive her the 15 minutes to the hospital was not who she thought I was, maybe I never have been. I was someone new; someone with a different name, different pronouns, different desires and dreams and fears.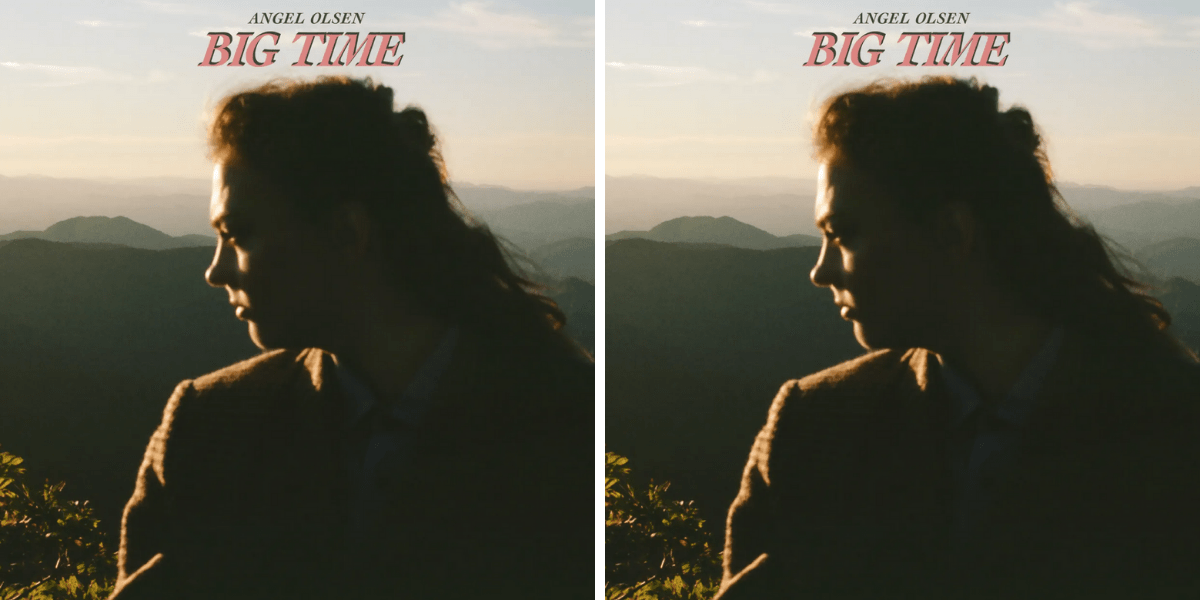 And I can't fit into the past that you're used to, I refuse to – Angel Olsen, "Ghost On" (2022)
On Angel Olsen's new record, Big Time, she sings triumphantly yet forlornly about new love and fresh loss. Olsen has a new lover, fresh and new and exciting love, and in order to introduce them to her family, she has to also come out of the closet to them.
Big Time is a gorgeous record. Olsen is a singular talent with an uncanny ability to make it so easy to join her on a journey that is rife with the pitfalls of heartache. Her voice is lilting and tender, at times she almost sounds like a siren, luring you toward her and uncertainty. The record matches the beauty of her voice with lush instrumentation that dips in and out of the twang of the country records my mom used to listen to when music was the dominant presence in my parents' house. At times, it's sparse and wistful, a piano or an organ and a guitar, always with Olsen's voice living and breathing at the center.
Some truth is never known, until you've lost your hand – Angel Olsen "Right Now" (2022)
My mom and I talked a bit on the drive to the hospital, but she was still dealing with the reality of the truth I had laid before her. It's a lot to let sink in, and her questions weren't yet coming to her, those would come later.
Half an hour after I dropped her off, I called my sister to tell her. The rock was out of the boot, and it was time to let everyone know I had no desire to walk around like that one step further. My sister was taken aback and then briefly upset she had lived for so many decades without knowing she had a sister.
Took a lot to get me here, staring out at the walls – Angel Olsen "This Is How It Works" (2022)
On Big Time, Olsen sings of a loss I cannot comprehend. She came out to her mother at her father's funeral, where she introduced her to her lover. By all accounts it went well, but shortly thereafter her mother was in the ER. Then hospice. Then she too was gone.
I can't say that I'm sorry when I don't feel so wrong anymore – Angel Olsen "All The Good Times" (2022)
My mom called me later that day, a bit confused. Hard to say if it's the drugs she takes, or reeling from the information I had laid before her hours earlier, but she told me she loved me, that she was happy I had found a way to love myself.
She told me, it's not like you're going to be changing your name and wearing women's clothes.
I hadn't the fortitude at that moment to tell her that was a good 25 percent of the process.
Go back to small things, I don't belong here, nobody knows me – Angel Olsen "Go Home" (2022)
Olsen never got to spend much time with her parents living as the version of herself that is able to let go, the version of herself that carries love in her heart in a way that sings and soars to the highest parts of the ceiling.
Maybe there are people out there that know how it feels to be loved well and truly by their parents, the people we want to love us so dearly. Maybe people never have to wonder if the version of themselves that their parents love is also the version that they themselves love.
Olsen never got much time to be loved by her parents that way. By the time she came out, she had her time cut short by the tragic and cruel ways in which the world is unkind to us in our hardest moments.
And yet, she continued to love.
To remember the ghost, who exists in the past, but be freed from the longing – Angel Olsen "Through The Fires" (2022)
My mom and I didn't talk. For almost a year, we avoided it unless we had to. For a while, I let her have her questions, but eventually I grew tired of them and needed to find a way past them. To live in the present, I needed the past to be well and truly dead.
The last time we spoke, before we didn't, she told me she was mourning the death of her son.
Nobody needs me here, I'll go wherever you are going, I'll be somewhere near – Angel Olsen "Chasing The Sun" – (2022)
Years after I came out to my mom — and shortly after I came out to my dad — in my childhood home, we have found peace with each other. I don't live close enough to drive my mom to the hospital anymore; I moved across the country where it's safer for me to discover who I am underneath the weight of who the memory of me was.
My mom has taken to loving me, the me that I am. She has learned to find joy in the light of my life the way it was always supposed to be, and she has let go of the ghost of a past that was never as real as she wanted it to be.
I have a new love in my own life, and she has met my mother who is equally taken with her. My mom and I speak every day, often when I'm out walking my dog at lunch time, and I don't tell her I occasionally sneak a cigarette while she tells me how she's feeling. My dad says I love you to me on my birthday, which for the first 34 years of my life was entirely out of the question.
They tell me they are so proud of their daughter.
I had a dream last night, we were having a fight It lasted twenty-five years, it was a waste of fears, then I ran into you, and you just smiled at me said "I love the new suit you're wearin'" – "Dream Thing" Angel Olsen (2022)