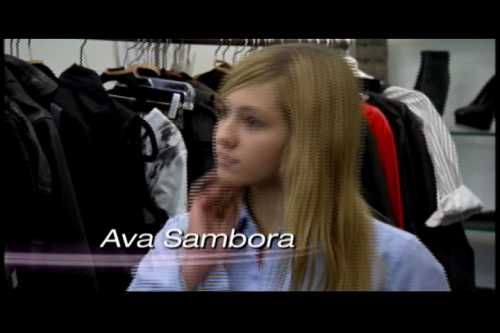 Will Probably Vote Yes on 8 After This
Mikey has tracked down a legendary pre-adolescent daughter of a Celebrity (Heather Locklear), Ava Sambora, to make her runway debut in Richie Sambora's Fashion Show for White Trash Beautiful at FASHION WEEK.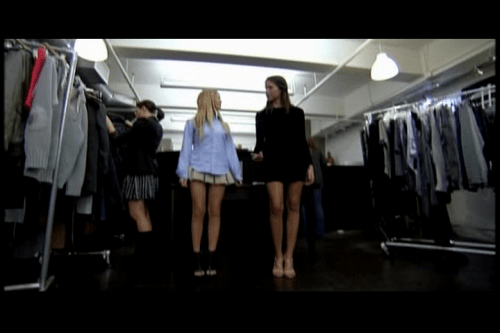 Does That Terminator Chick Freak You Out At All? Yeah Me Too.
Mikey is telling actual models to put "heels on" to "change the shape of their body." Any model not already aware of that must immediately return to her hotel here, pack her belongings, and go home.
Heather's thrilled, just look at her:
Your Face on Fashion Week
Amendment to the "thou shalt not speak ill of a woman's physical appearance" commandment for Autostraddle — "unless she has committed grave sins of Plastic Surgery so severe we'd bust a stinkeye trying to suppress our feelings."
Carly: FASHIONWEEK
Riese: Locklear has had some work done.
Carly: What happened to Heather Locklear's face?
Jess: Heather Locklear??!?
Carly: Haaaayyyyyy! Clap clap!
Riese: Mikey's gonna do something that will make me feel sad for Melrose Place.
Carly: Annnnd cue mortification.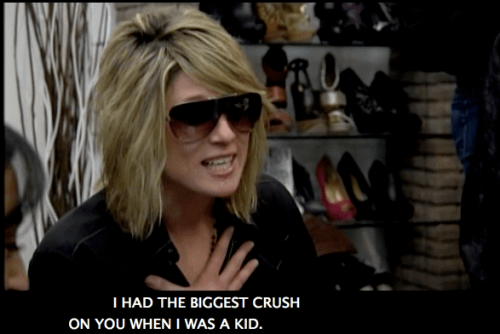 She's referring to T.J. Hooker, whoever that is. Mikey can't see through those shades and Heather can't move her eyeballs, they'd be a perfect couple. Unfortunately Raquel busts up the occasion Gypsy-Rose style, with giant inexplicably mylar balloons and loud feline noises.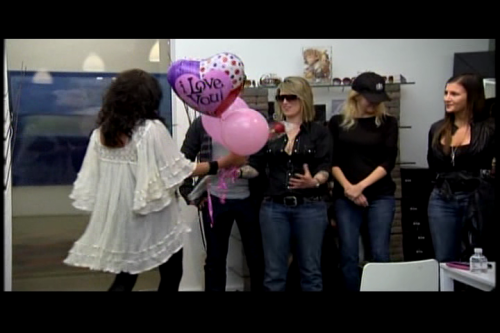 Laneia: Oh is it Valentine's Day now? Like for real?
Carly: Is Raquel drunk? She is talking crazy.
Riese: You guys, Heather's face.
Jess: I love that Heather Locklear got out of rehab and this was her first stop.
Riese: Heather's face.
Carly: Heather should not have signed that release. Guuurl.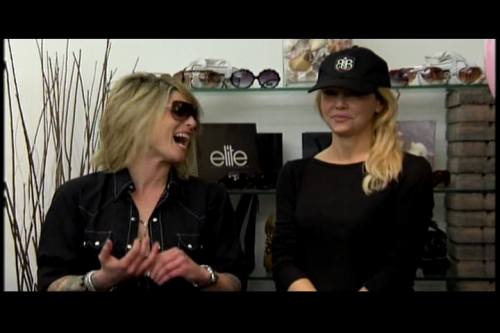 Mikey knows there's a hole in Ava's heart where her mother's facial mobility used to be: a place filled with smiles, surprise, confusion, anger, disgust, laughter and delight. In order to fill that hole, Mikey & Raquel are making EXTRA FACIAL EXPRESSIONS to encourage the young hopeful: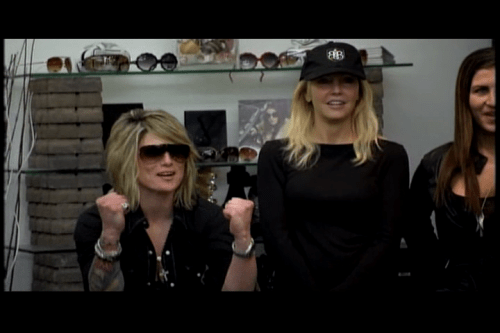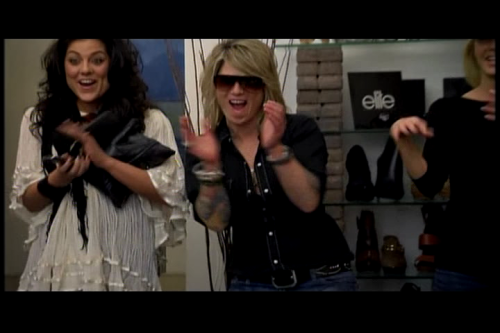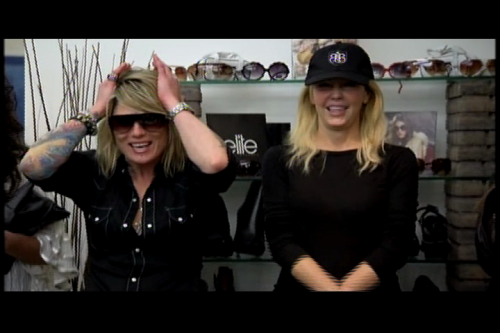 Cue Alexi's Closet theme song, let's practice your signature walk Ava the Dava!
Carly: "The whole trick is about leaning back." Write that down.
Riese: This is sooooo ANTM.
Carly: IT'S TIME FOR A GO-SEE! DO NOT BE LATE FOR THE GO-SEES!
Riese: TYRA MAIL!
Carly: Where is Miss Jay? That's my number one feeling. Where is Miss Jay.
Girlfriend is Busy
---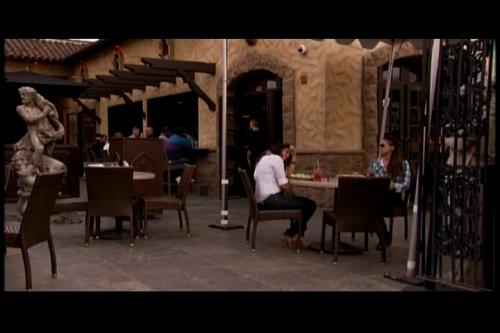 Jess: Back to the one restaurant that would let them film. THE ABBEY.
Riese: This is tragik.
Laneia: GOD PLEASE I WANT SOMEONE ANYONE TO BASH MY BRAINS OUT.
Whitney's ready for Sara to migrate south, 'cause Tor & Romi are so much drama, with their rapey cameras & feelings & physical proximity.
Scarlett: "I think Sara moving here is going to make Whitney have to make a decision."
But who needs decisions when Dinah Shore, Patron Saint Weekend of Indecision, is right around the fucking corner? "It's like a girl's gone wild golf weekend," says Whitney, ready to score her hole-in-one-or more.
Riese: Oh no! They are about to come to where we were!
Carly: Oh no.
Laneia: I am so sober.
Riese: "Girls Gone Wild golf weekend"? No. It was a Spirit Journey.
Laneia: I am going to cry.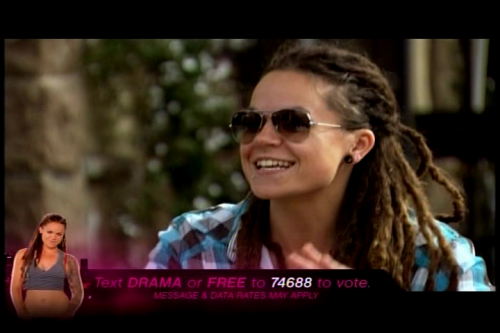 Just Wait 'Til She Sees My OOO EEEEEEE Face
Whitney's feelings for Sara are making her feel she's "lost control." Because the poweerrrr her clam's supplying? It's electrifying!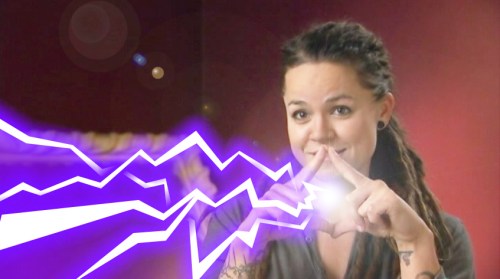 Laneia: I have tears that I'm holding back.
Riese: Why is there nobody at The Abbey?
Carly: Because they didn't want to be affected by the power of the clam.
Laneia: The goddamn clam.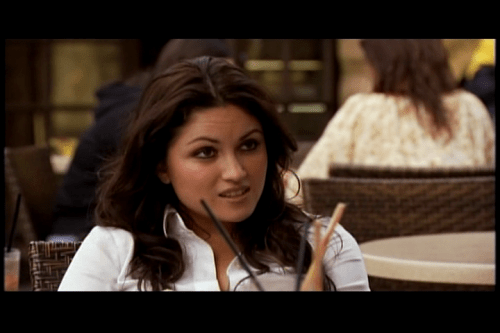 Scarlett: I'm worried about Romi… You need to be the smart one. She doesn't think with her head, she thinks with her heart. You have to be more conscious about her feelings, you know?
Scarlett needs Whitney to zip up her lovership w/Romi, Alyssa needs Whitney to put out Tor's Torch, and Tinkerbell needs a vodka-tonic.
---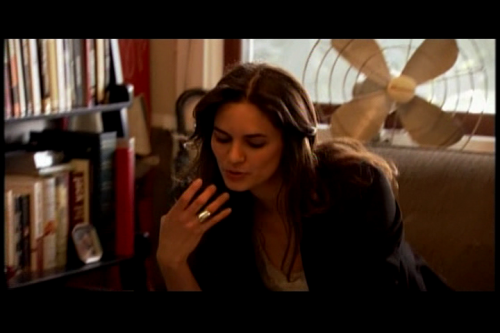 But I Have a Fan…
Tracy's Mom is breaking Tracy's heart. She's just not ready to meet Stamie. OR IS SHE? Regardless, Tracy is good at blazers.
Carly: The call is coming from inside the house!
Laneia: "The call is coming from inside the house" better be the name of this post.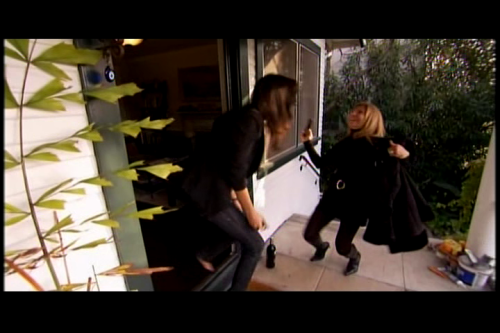 OMG IT'S TRACY'S MINIATURE MADRE!
Carly: THE CALL IS COMING FROM OUTSIDE THE HOUSE
Laneia: OH MOM!
Riese: That tricky bastard!
Laneia: !!!!!!!!!!!!! Carly has won!
Carly: Her mom pwned her.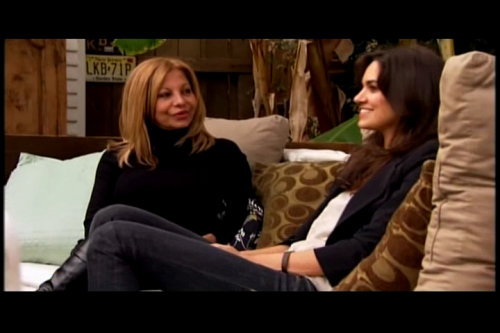 Well, let's cut to the chase.
Tracy: I just did a photoshoot with this magazine it's called BOUND Magazine, it's a new magazine, and its' very like uh, upscale. Like a women's magazine but I think it's geared towards… towards uh… lesbians.
Tracy's Mom: Wow.
Tracy: I'm not trying to change your mind or change your way of life or change anything.
Tracy's Mom: No, you're not.
That's for sure. [Also I call Autostraddle a "women's website" to suspect parties sometimes too.] It hurts to see Tracy try so hard and hear her Mom say that if Tracy were "in her shoe" that she would "think the same way." But no.
Tracy's Mom: I think all the mothers out there would feel the same way.
Yeah, that's what I tell myself when I drink half a bottle of whiskey every night, "oh I bet all the People of the Internet do the same thing," but I'm pretty sure that's just a rationalization I use to avoid confronting life patterns adopted to obliterate my anxiety & sense of failure. My team does the same thing! Oh my god. Maybe we're not really gay. Maybe we're all just drunk. Mom thinks so: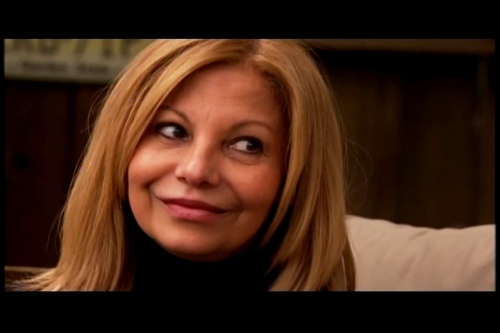 Tracy's Mom is going "step by step" you know, "slowly." Mhm. Let's speed it up. I'm in your shoe, and we're both aging.
Tracy sees a big change in her Mom, she says! We didn't see it, 'cause IFC is saving her screen-time for Whitney's Clam, but hopefully it happened.
"We are not only mother and daughter, we are also best friends," says Mom.
Riese: Your best friend can't be against you being gay!
Carly: Wow, tough day for Tracy. She just found out that her best friend is judgey and is making weird faces.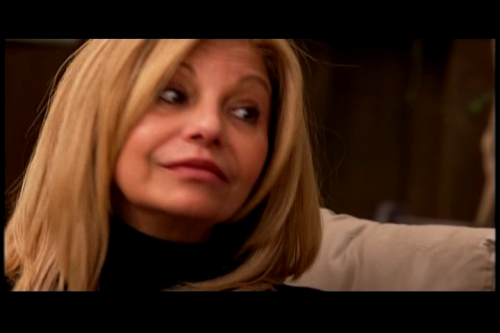 Mom will come to the comedy show. This makes Tracy happy, and as aforementioned when she smiles the whole world smiles with her. I hope this isn't the part that ties into the crying after sex thing.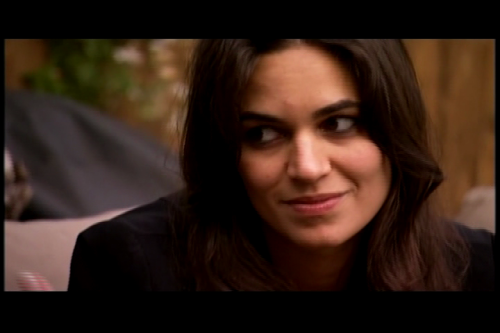 Mom calls Stamie a "close person," and asks they restrain from any kinky shit in front of her, e.g., holding hands. What if there's a shark attack. Can Tracy rescue Stamie? Shark Week may be over, but Fashion Week certainly isn't. Right? Totally.
---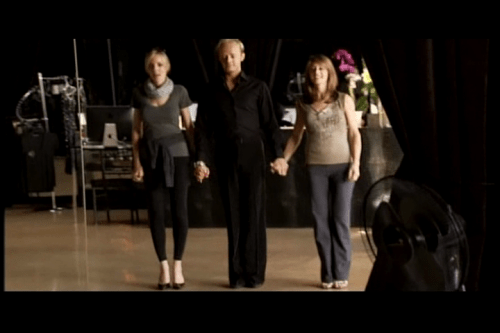 Step it Up 3-D, But Gay
Nikki & Jill can dance if they want to, they can leave their friends behind, because if you can't dance and if she can't dance then you'll not wed with these friends of mine. This whole thing is cute if you're into that kind of thing. Nikki doesn't wanna lead. She's always leading, like when she mind-powered Jill into choosing Cinderella's Castle for the wedding.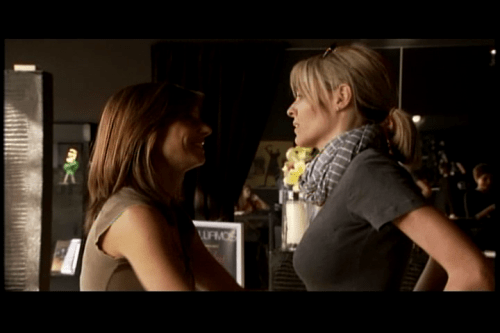 I'm So Excited, I'm So So So SO SO
Laneia: If you don't already know how to dance, just don't fucking dance!
Riese: This is like a movie about Bat Mitzvahs!
Jess: Btw, my Mom did NOT mention strap-on sex which was a huge relief for me.

Riese: I could not even walk in those shoes, let alone dance.
Carly: Neither could I. Also, I'm gonna cry of embarrassment because… I can't watch same-sex couples slow-dance together. It weirds me out. AHHHH! I HATE MYSELF.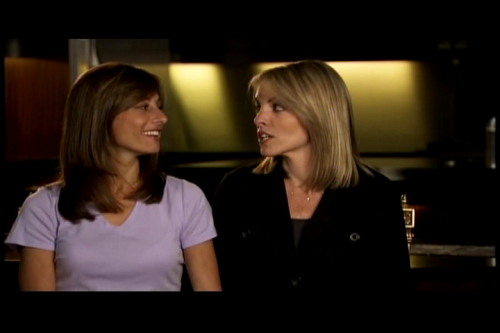 Jill: For some reason, two women slow dancing together, feels a little strange to me. I can't put my finger on it.
Riese: Jill agrees!
Carly: YEAH JILL! TEAM JILL!
Laneia: Two women slow dancing togeths feels strange because SLOW DANCING IS STUPID!
Nikki: I did not get the dance gene.
Jill: No, you did not get the dance gene.
Nikki: You did not get it either — you did not get it either. Listen, Twinkletoes —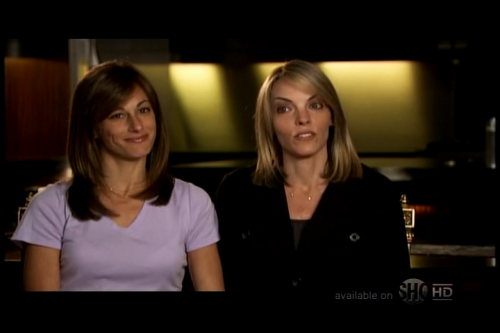 Nikki: And then we're gonna be those two women DANCING! It's so gay!
Jill: There's a couple of things at play here  —
Nikki: It's just — GAY!
Jess: YES IT'S SO GAY!!!!!! THEY AGREE WITH ME
Carly: They should be learning a hip hop routine choreographed by Nappy Tabs.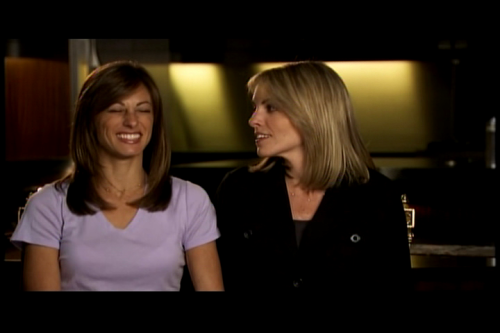 Nikki: Dance lessons were the worst idea I've ever had. I am sorry. Did I apologize?
Jill: Not nearly enough.
Nikki: I'm sorry.
Jill: We'll play hip-hop music when we come out. It'll be much less pressure.
Carly: I really love Nikki and Jill right now.
Laneia: Yes.
Riese: Ok, that was a good scene. That's weird. Also, Mom's drunk.
---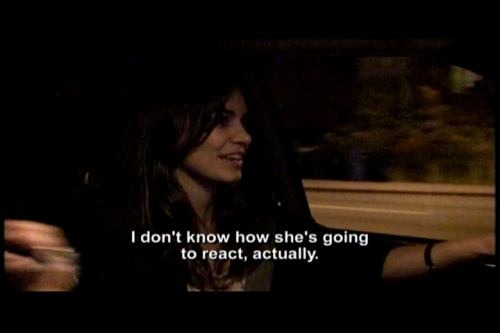 I Just Hope She Doesn't Pee Her Pants 'Cause That Would Be SO WEIRD FOR REAL
Good idea, let's take Mom to see Tracy's girlfriend tell dirty jokes at a coffeeshop. Because grandma said you've got to laugh at yourself, 'cause you'd cry your eyes out if you didn't. Or The Indigo Girls said that. Same diff.
Riese: You guys there is no way she is not going to make inappropriate jokes.
Laneia: Yeah this will be suppppper awkward.
Carly: Which is why i am EXCITED!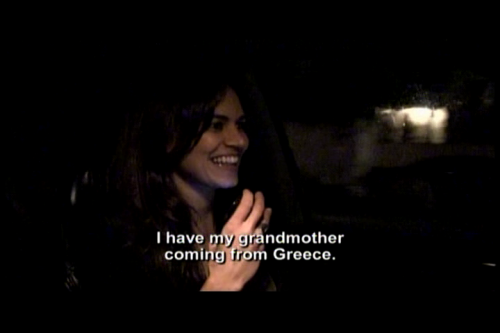 Laneia: Stamie's like OHHH SHIT now I can't talk about female ejaculation!
Jess: Tracy's mom is Stamie's kryptonite.
---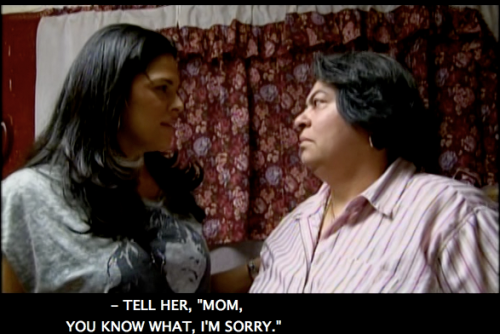 The Woman On Your Shirt — She Should Also Apologize
So it's time for Rose & her mother to make up. Golf clap/tears!
Carly: Rose, driving alone to the sound of  Dulcet Sad Tones.
Riese: If I freaked out every time my grandfather was in the hospital, I'd be constantly freaking out. I'd never have time to eat, drink, shower or work. I'd sleep a few hours a night only 'cause most of them are already dead.
Carly: Seriously. Same here.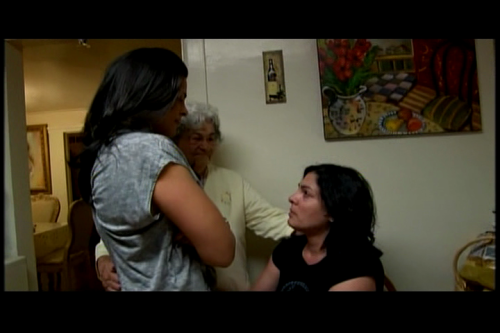 Laneia: Guys. Guys. Did you know. That there's undefined tension between Rose and her Mom.
Riese: Between Rose and Her Mom? Oh so weird. Interesting.
Carly: Tell us more, Rose.
Riese: Do they play her saying it the same way every time, or do they make her say it again each episode? Times keep changing. Nine months. Babytime.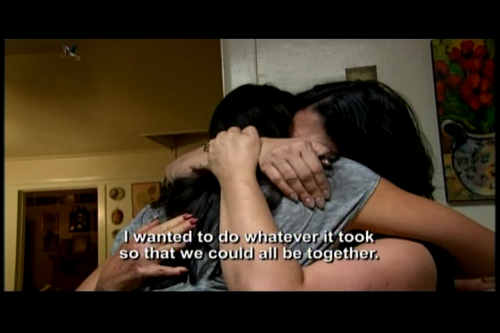 So I Gave Myself Pneumonia
Rose's Mom accepts her lifestyle, and Jesus Christo, this is some intense shit, goddamn I wish we knew what the fuck happened.
Laneia: Her mom looks… gayer than she does. Can I say that?
Riese: There is nothing about this show that does not make me feel weird.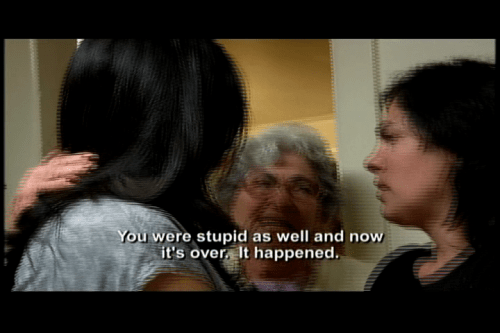 Laneia: AMEN. CHRIST ALMIGHTY.
Riese: SORRY FOR WHAT
Laneia: WHY ARE WE WATCHING THIS. THIS IS PERSONAL
Riese: SORRY FOR WHAT
Laneia: THIS IS PRIVATE
Riese: DID YOU BURN DOWN THE CABIN
Laneia: GOOD GOD.
Riese: HOW WAS SHE DISRESPECTFUL? WHAT DID SHE DO?
Carly: Robin just IMed me this from her office: "all i hear is like, people crying. like, who the fuck is crying now? i can tell this show is lame from two rooms away. write that down."
Laneia: Thumbs up Robin.
Watching this scene again without those cynical assholes, I felt slightly emotionally moved. SLIGHTLY.
---
Here we are. At the scene of the future disaster.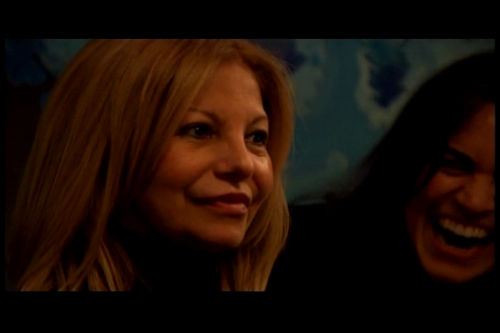 Carly: Oh Stamie. don't kill her mother. Please.
Riese: Coffee shop. Tough crowd.
Carly: Behave, gurl.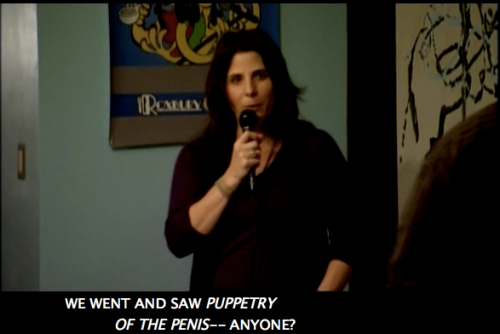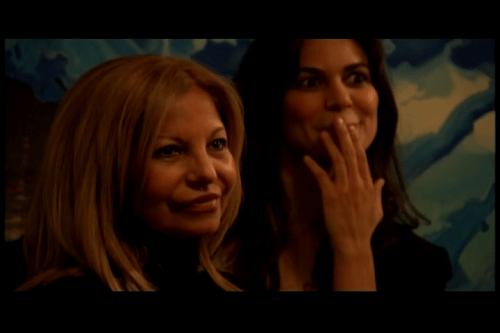 Carly: oh shiiiitttt. ABORT. ABORT.
Laneia: TRACY
Riese: this was a bad idea. TRACY
Laneia: SUCH A MISTAKE BABY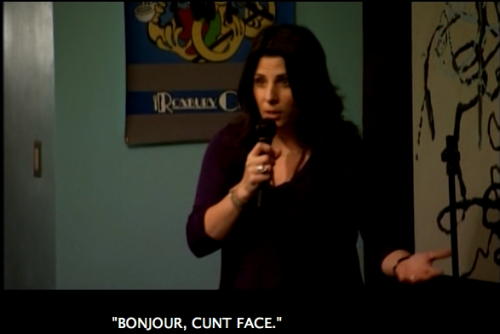 Carly: TRACY. GURL.
Riese: LEVEL WITH US HERE
Carly: NOT GOOD.
Riese: WE'RE FRIENDS. TRACY
Laneia: Yeah friends prepare friends for cock jokes.
Jess: Tracy looks thrilled.
Tracy's Mom can't "do this thing." This thing where she calls Stamie anything besides Tracy's "best friend," Beetlejuice, or Cunt Face. Tracy says reality isn't about skipping off into the sunset. That's so able-ist. I'm done with you, Autostraddle. There's no vegan visibility here besides Miss April.
Pages: 1 2 3See entire article on one page