Welcome to Very Special Gay Episode, a fun little series where we recap of standalone lesbian episodes from classic TV shows that are not otherwise necessarily gay. In this installment, we will discuss Golden Girls Season Two, Episode Five: "Isn't It Romantic?"
---
I didn't really start watching Golden Girls until Betty White died. I mean, I am gay, so I knew enough to get along. I had the basic rubric covered, if you will: all the words to the theme song, that Blanche is… let's say, sex positive, Sophia's snark is legendary, Rose is ditzy and Dorothy has the all the quotable one-liners.
This is redundant to say about what's considered one of the greatest sitcoms ever created, but I've been stunned — and I mean just straight up floored! — by how tight the jokes are in Golden Girls. Every refrain is a one-two punch. Watching it this month, I could barely recover from my first laugh when the next came barreling in, either a light cackled Huh or a straight up fucking screammmm. It's also infinitely comforting — right from the earliest chords of "Thank You for Being a Friend," which again, yes, I am the last one to the party here. I know it. Don't judge me.
But not knowing Golden Girls isn't the same as being lost to its looming legacy, right? I first heard the infamous "Lebanese joke" when Santana Lopez came out on Glee a decade ago. Her future girlfriend and wife, Brittany, knew but the rest of the Glee Club didn't yet. So when everyone went to perform Lady Gaga's "Born This Way" proudly wearing black-and-white t-shits declaring what made them different, Britney makes a shirt for Santana that says "Lebanese" — Santana's confused, "I'm Hispanic."
More than a decade before that, when Ellen pretty much changed gay television as we know it (and it's sad where we are with Ellen now, but it's still true), she joked on the The Rosie O'Donnell Show in '96 about coming out as "Lebanese", even though neither comedian was out yet.
So that brings us back to Golden Girls because 10 years before Ellen, 25 years before Santana (and if you're keeping track — 35 years from today), Blanche Devereaux launched the joke that just will not die.
Because you see, all the way in 1986 Dorothy had a gay friend. That gay friend was Jean, who as Sophia correctly clocked back when the girls were in college — is a lesbiannnnn. Le gasp!
To quote Sophia, "Jean is a nice person. She happens to like girls instead of guys. Some people like cats instead of dogs. Frankly, I'd rather live with a lesbian than a cat… unless the lesbian sheds, that I don't know!" (Is announcing your lesbian character with a cat joke a bit stereotypical? Sure, but we're still making cat jokes now in 2022. This is 1986! When cat jokes were fresh! 10 out of 10. No notes.)
(Did I mention that Jean the lesbian is hot? It matters that she's hot.)
So Jean was married to Pat, who's recently passed on. The other women in the house have been assuming that Pat was a man and Dorothy's been unsure about what to say.
Jean tells her that she's fine with being a lesbian, "I'm not embarrassed or ashamed of who I am" and that if the roommates can handle it, "I'd prefer to tell them" — that is until Rose comes out, right on time as always, with Clown Sundaes, complete with raisins for eyes and ice cream cones turned upside down as party hats. If this had been me that obviously gay sundae would've only been more reason to drop the news, but Pat worries that The L Word will just be a little bit too much… so they decide to keep it to themselves.
Blanche: "Dorothy has told us so much about you, I feel as if we're bosom buddies."
Dorothy, to Sophia: "Ma, not a word."'
WHAT DID I SAY ABOUT THOSE TIGHT ONE-TWO QUIPS. What. Did. I. Say!!!! Ok moving on.
When Rose tells story of growing up in Saint Olaf (it's always Saint Olaf) and her dairy cow, it's not hard to see right away — Jean's smitten. Soon they're regular lunch dates during Jean's time together and really "hitting it off," according to Blanche.
In fact, Jean decides she's needs to leave early. Dorothy worries that something serious has happened back home. And no, it's not "back home" but damn it is serious. Jean thinks she's falling in love with Rose. Jean hasn't felt this way since Pat died. Alright, so record scratch —
How long has Jean been in the house? A week MAX? And already she's in love with Rose, a woman she certainly hasn't known more than 7 days. But also we're talking about lesbians here. So sure, that tracks. Back to the show —
Wrestling with Jean's news, Dorothy can't sleep, she wakes Sophia up.
Dorothy: "How would you react if you were told one of your kids were gay?"
Sophia: "Your brother Phil is gay? I knew it! When he was a kid we couldn't keep him away from those Gladiator movies."
Dorothy: "Ma, Phil is not gay."
Sophia: "You mean you're gay? What your friend Jean is having some sort of membership drive?"
Dorothy: "Ma.."
Sophia: "Dorothy, I know you don't get many dates, but stick with what you know! At your age, it's very hard to break into something new. Goodnight."
Dorothy: "Ma, I am not gay. I just wanted to get your reaction."
Sophia: "I'll tell you the truth Dorothy, if one of my kids were gay, I wouldn't love him one bit less. I would wish him all the happiness in the world."
And yes it was necessary that I transcribed that entire conversation!! I don't know that I'll always take long deep dives into the historical context of these Very Special Episodes that we look at in this lil time capsule of my creation, but the pronoun switch (going from Jean, a lesbian, to Sophia's hypothetical son) is definitely on purpose. Not to over simplify things, but we all know what's happening with gay men in 1986, right? We get what's happening here, what our government wasn't doing (still isn't) and which vulnerable populations they absolutely weren't taking care of. Oh and hey — guess what, in 1986 Golden Girls was a Top Five most watched show in America. Sophia making this statement, at this moment? Not a coincidence.
So Dorothy tells Sophia that Jean's in love with Rose, which is absolutely preposterous because… Rose is Rose, so they both start laughing so loud it wakes Blanche up, too. And that leads us! To the moment we've been waiting for!
Blanche: "What is going on?"
Sophie and Dorthy, in unison: "Nothing!"
Blanche: "Come on, I heard you laughing. What's so funny?"
Sophia: "For starters, Jean is a lesbian."
Blanche: "What's funny about that?"
Sophia: "You aren't surprised?"
Blanche: "Of course not! I mean, I haven't known any personally, but isn't Danny Thomas one?"
Dorothy: "Not Lebanese, Blanche! LES-BIA-N.
Blanche: Lesbian. Lesbian. (gasps) LESBIAN.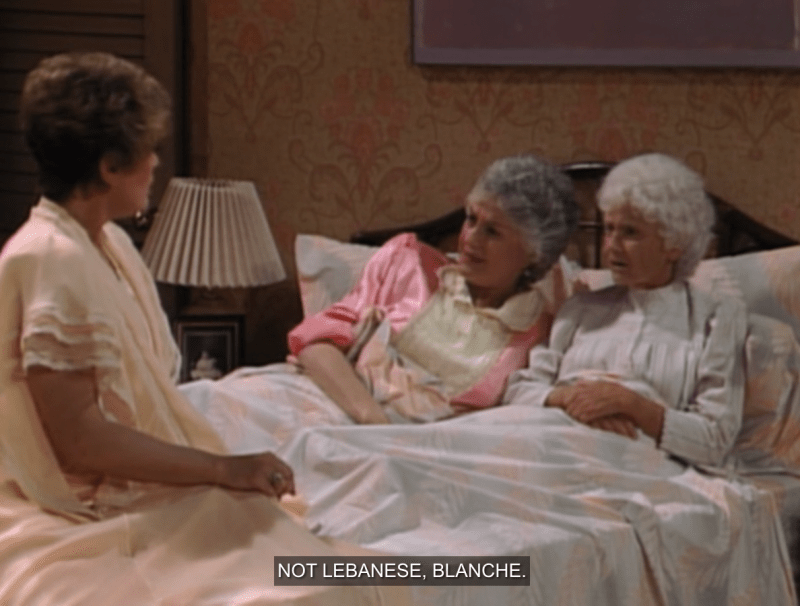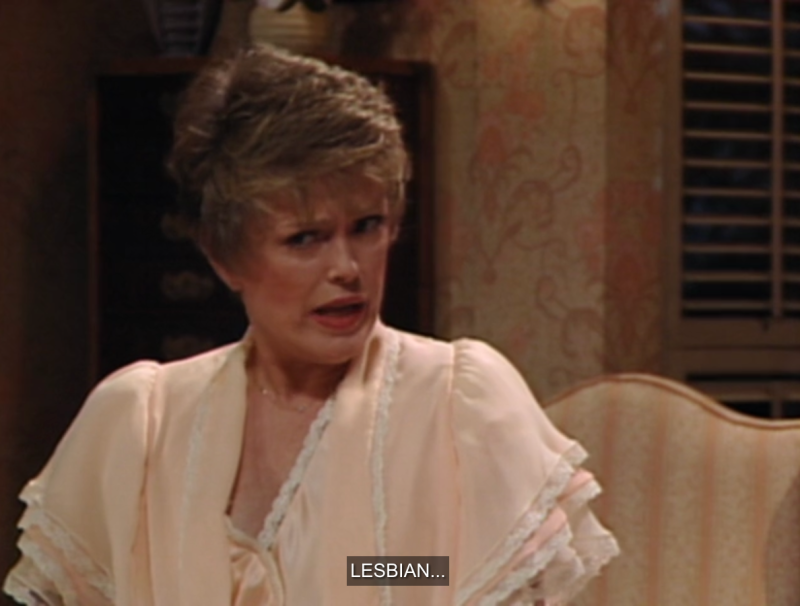 (If we were really gonna go there with our queer analysis on this Sunday morning, we'd talk about how this exchange happens in bed. But I have pancakes to eat. So moving on.)
From here things wrap up more or less as you'd expect. Jean eventually comes out to Rose. Rose, much like everyone else, takes the news with love and compassion that should be corny but somehow isn't. Everyone fits in one last laugh (Dorothy and Blanche crouched outside the kitchen window to hear what's going on) to wrap up… drumroll.. our Very Special Gay Episode!
OK, Is It Worth It? In addition to the whole birthing a 35 year old lesbian joke thing, for this episode Terry Hughes actually won the Emmy Award for Outstanding Directing of a Comedy, along with Emmy nominations for Jefrey Duteil (writing), Betty White (of course), and Lois Nettleton (Jean, for Outstanding Guest Performer in a Comedy). We're talking elite shit. 10/10, Would do it again.