LILO:
Lilo's twitter has been all over the place, and someone needs to talk about it.
First was the YouTube video of her song "Confessions of a Broken Heart," dedicated to her "ex-father" Michael Lohan, and implied in other tweets that he was emotionally/psychologically/maybe physically abusive.
He responded unfavorably — "Michael told X17 he could prove Lindsay's accusations are wrong but, "It would involve recordings and text messages that I have and I don't want to do that. Obviously she realizes that I'm serious about getting her into rehab. She's beginning to panic because I've been contacting people around her, as well as attorneys of my own, to take measures to get her the help she needs." He also used, um, a really weird analogy when he said "maybe she's divorcing me today, but she'll remarry me once she gets her life back." Lilo girl, we're sorry your dad is so weird!
Also, though! Also! In Lesbian News, there is a cute picture of her sharing a booth at a diner with Sam!
She also tweeted Thursday night about going to Voyeur in LA, which we've already established is a debauched out-of-control lesbian sex club, and told a friend via twitter that her music is "so personal," which clearly means our line-by-line lesbian deconstruction of "Stuck" was completely accurate. (@jezebel)
LILITH:
It's cool that Lilith Fair is running a "Choose Your Charity" campaign that allows fans to vote for local charities to receive $1 for every ticket that's sold in their city. It's less cool that Lilith Fair apparently didn't screen the missions of these charities other than that they be "woman-focused," so currently the list of charities includes several anti-choice crisis pregnancy centers that mislead and intentionally confuse women about their reproductive health to convince them not to get abortions. Feministing says that "in the meantime you can join the Facebook group Lilith Fair: No money for crisis pregnancy centers! and contact Lilith Fair to let them know anti-choice CPCs are not feminist or pro-woman charities." (@feministing)
UPDATE: Lilith Fair has dropped the CPC from their list of potential charities, but also dropped NARAL Pro-Choice North Carolina.
COMING OUT:
If you, like the rest of us, are still reeling in shock after Ricky Martin's I'm-a-gaymo announcement, then perhaps you can find solace in our informative and highly scientific guide to Cracking the Coming Out Code. With sexy infographics! Also did you know we were linked by Gawker? B/c we were.
HIPSTERS:
In the space of a single article, Thomas Rogers at Salon discovers what hipsters are: "Young, white 20-somethings dressed in skinny jeans and lumberjack shirts, and wearing thick-rimmed glasses; neighborhoods like Williamsburg, in Brooklyn, and Silver Lake in Los Angeles; trust-fund kids; Chloë Sevigny; cocaine; ironic mustaches; and likely some mixture of contempt and hatred." Then he swiftly announced their imminent demise: "the age of the hipster — and of hipster hate — seems to be winding down. In recent months, the word has been reaching saturation point, popping up in mainstream news outlets like the New York Post, the New York Times and, occasionally, Salon, often as a catchall term to describe young people." And then he interviewed the author of the upcoming print book of Look at That F*cking Hipster. He has a good point about the link between hipster-hatred and homophobia, but he probs should have read Katrina's article, b/c then he might have had some more complex questions than "How did you get the idea for your blog?" (@salon)
WHITE PEOPLE:
National Review invited six white people to explain black unemployment.
AMANDA PALMER:
Jezebel has written a post about how "over" Amanda Palmer they are, citing the problematic implications about disability of her Evelyn Evelyn project, a tweet about the Klan (which others have also taken issue with), and how Courtney Love wants to kill her. Amanda has since tweeted that the Jezebel post got her a NYT interview about feminism. (@jezebel)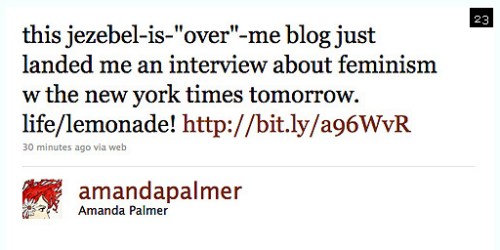 APRIL FOOL'S:
Five minutes spent searching the internet for the best lesbian April Fool's Jokes yielded:
+ Ours! "A new study released this morning revealed that everyone is gay. When judged on a six-by-nine-point sliding scale mixing Marxist & Kinseyan techniques and analyzed against evidence from several longitudinal studies, Dr. Janet Jameson stated, "I always had a feeling about Ellen Page." (@autostraddle)
Just so you know, the other best part of our april fool's day joke is that we set Tess, our webmaster, as the author so that her phone exploded when she got off the plane in Palm Springs, which was awesome.
+ Tila Tequila Announced as Star of "The Real World: Los Angeles"! "About her choice of Ms. Tequila to play the central figure in the new show, Chaiken is quoted as saying, "I'm really proud of The L Word's tradition of portraying the diversity of the lesbian community, and it seemed like such an intuitive choice to continue in that vein by going with Tila as the focal point for this new turning point in what has become the locus of the L World." (@velvetparkmedia)
+ Sarah Palin comes out! "In an interview yesterday discussing the military's USO line up for Iraq this year, "In an interview yesterday discussing the military's USO line up for Iraq this year, Sarah Palin commented that she was "proud to be an American and a heterosexual," but that if she "ever were to, say, find myself stranded on a desert island with only female companionship, I'd have to say it'd be a toss up between k.d. lang and Joan Jett. But I think I'd have to choose America first and Ms. Jett has done a lot for our countries brave soldiers." (@thebilericoproject)
Pages: 1 2See entire article on one page